Pug Box is a monthly subscription built for adorable pugs and their owners! Each monthly dog box contains fun toys and delicious treats for your dog, as well as a cool pug-themed item for the human. The regular Pug Box is priced at $27.50 a month and contains 4-6 items, while the Premium Pug Box is $36.50 a month and contains 5-7 items.
This is a review of the Premium box!
DEAL: Get $5 off on your first box! Use coupon code HELLO5.
The Pug Box dog subscription box made our 2021 readers' choice list of best boxes for dogs!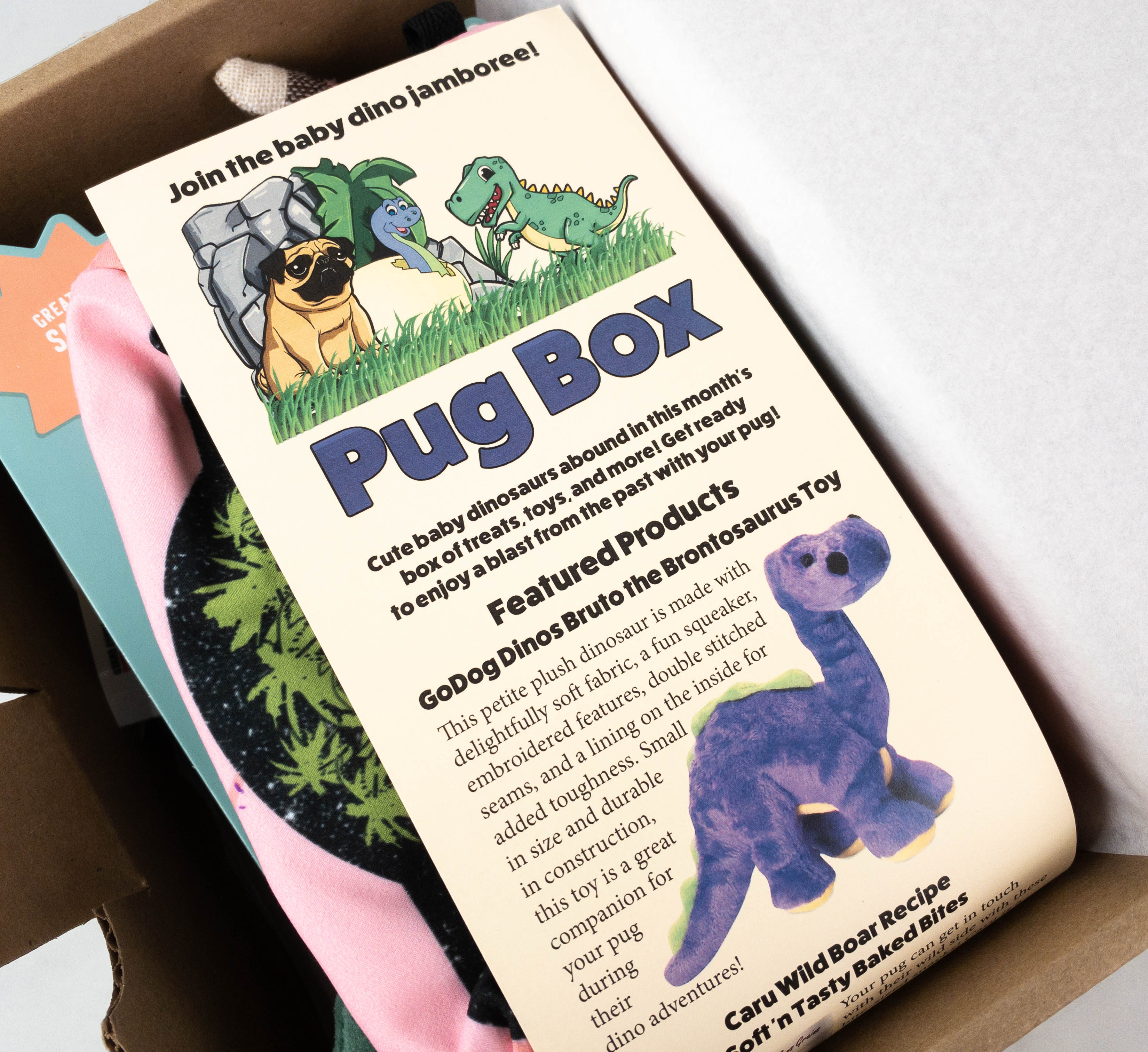 The items were wrapped with white paper.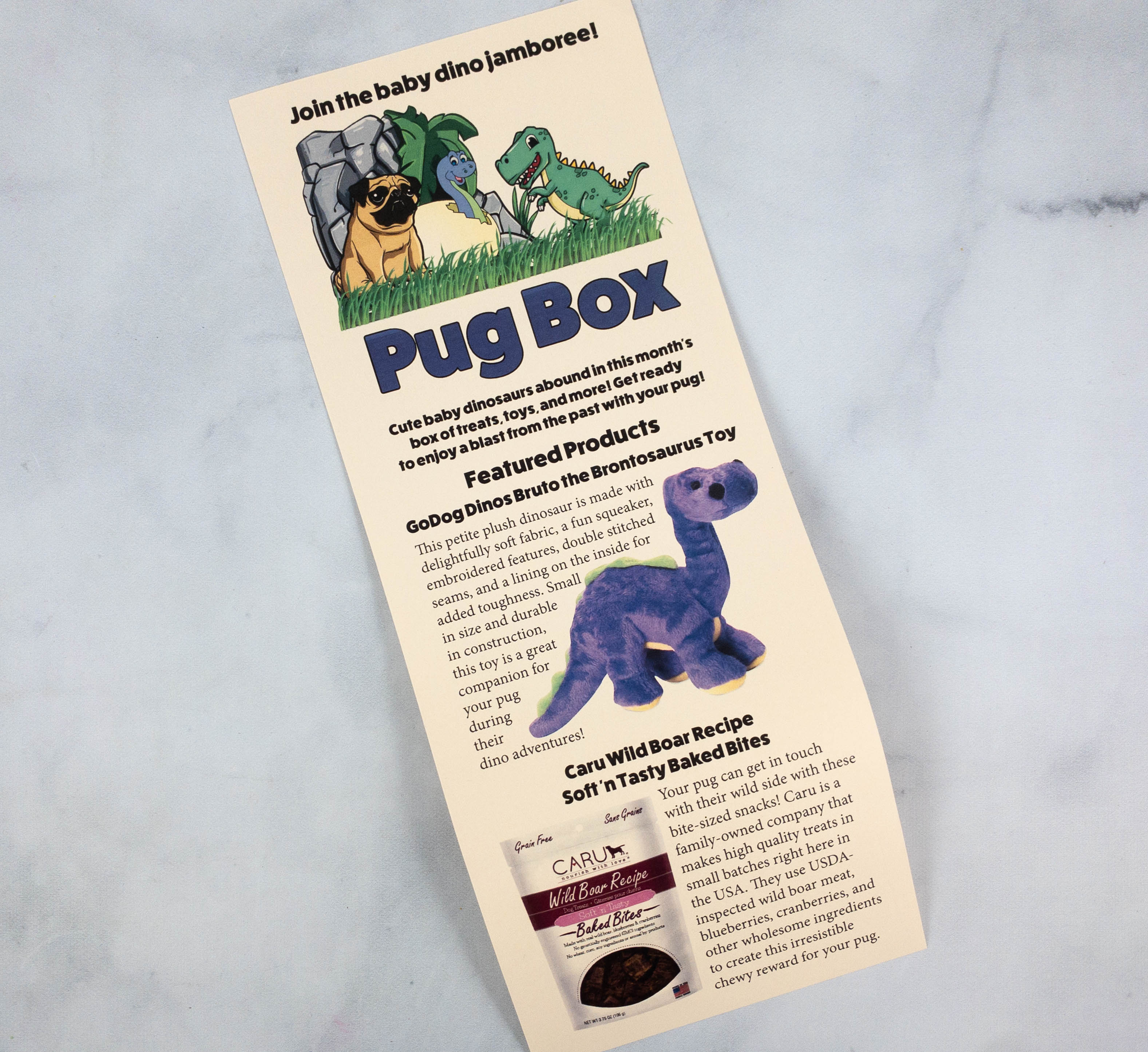 The pamphlet has all the details about this month's featured items.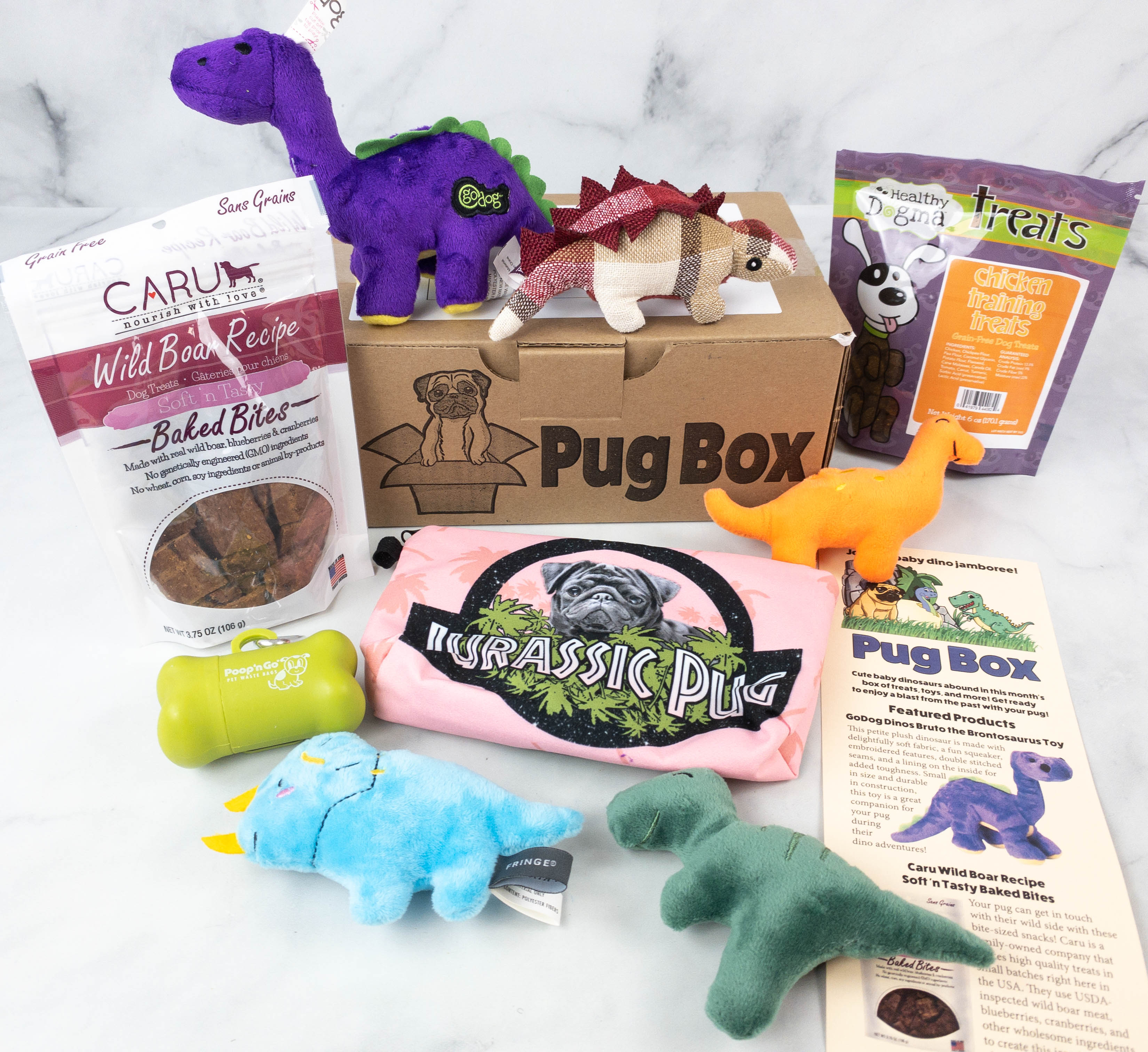 Everything in my August 2021 box!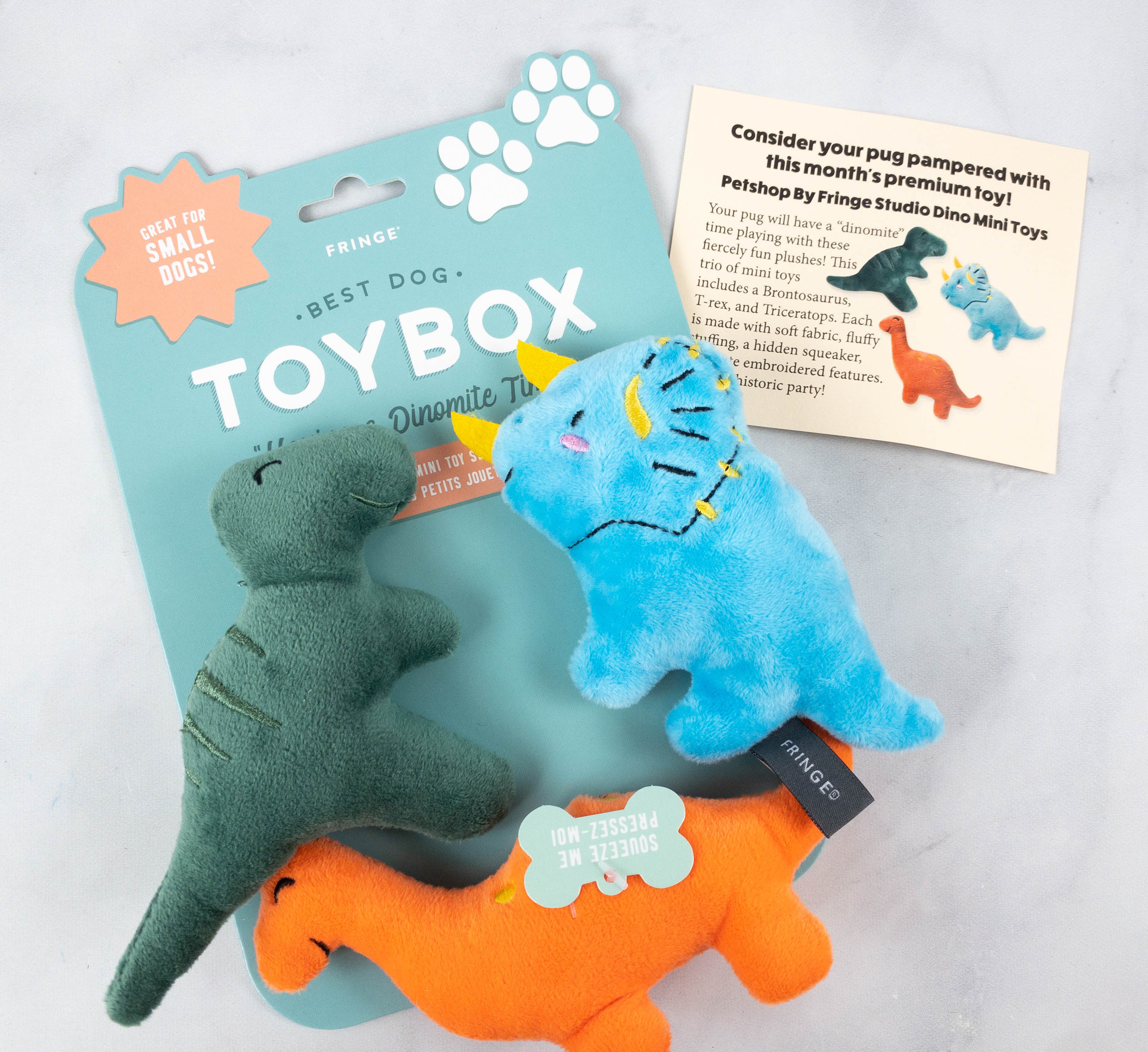 Fringe Toy Box Dog Toy. This month's premium toys are these mini dinosaur plushies for small dogs! Each plushie is soft and cuddly. They also have a hidden squeaker, which makes them appealing to dogs.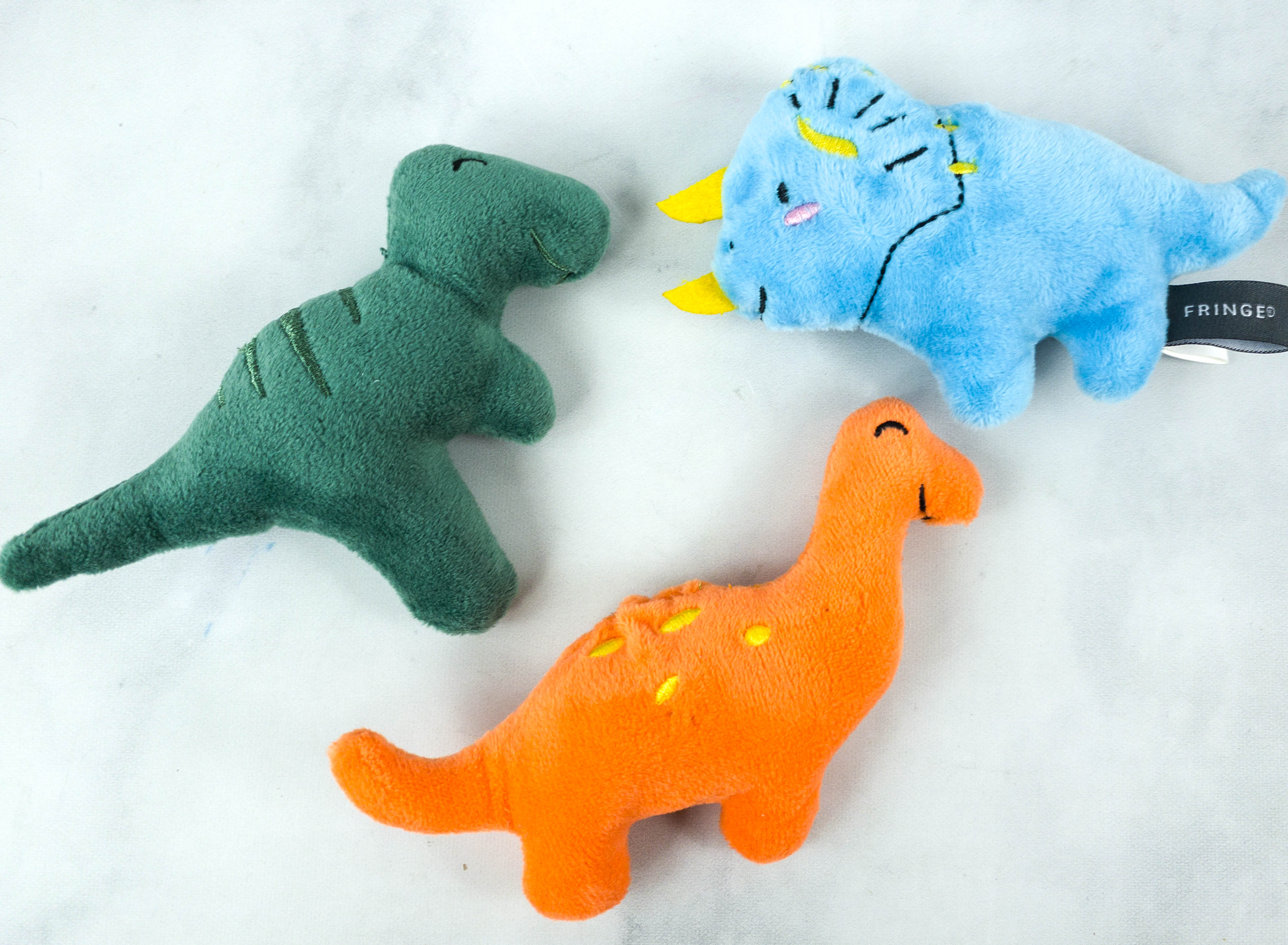 The toys resemble a Brontosaurus, T-Rex, and Triceratops!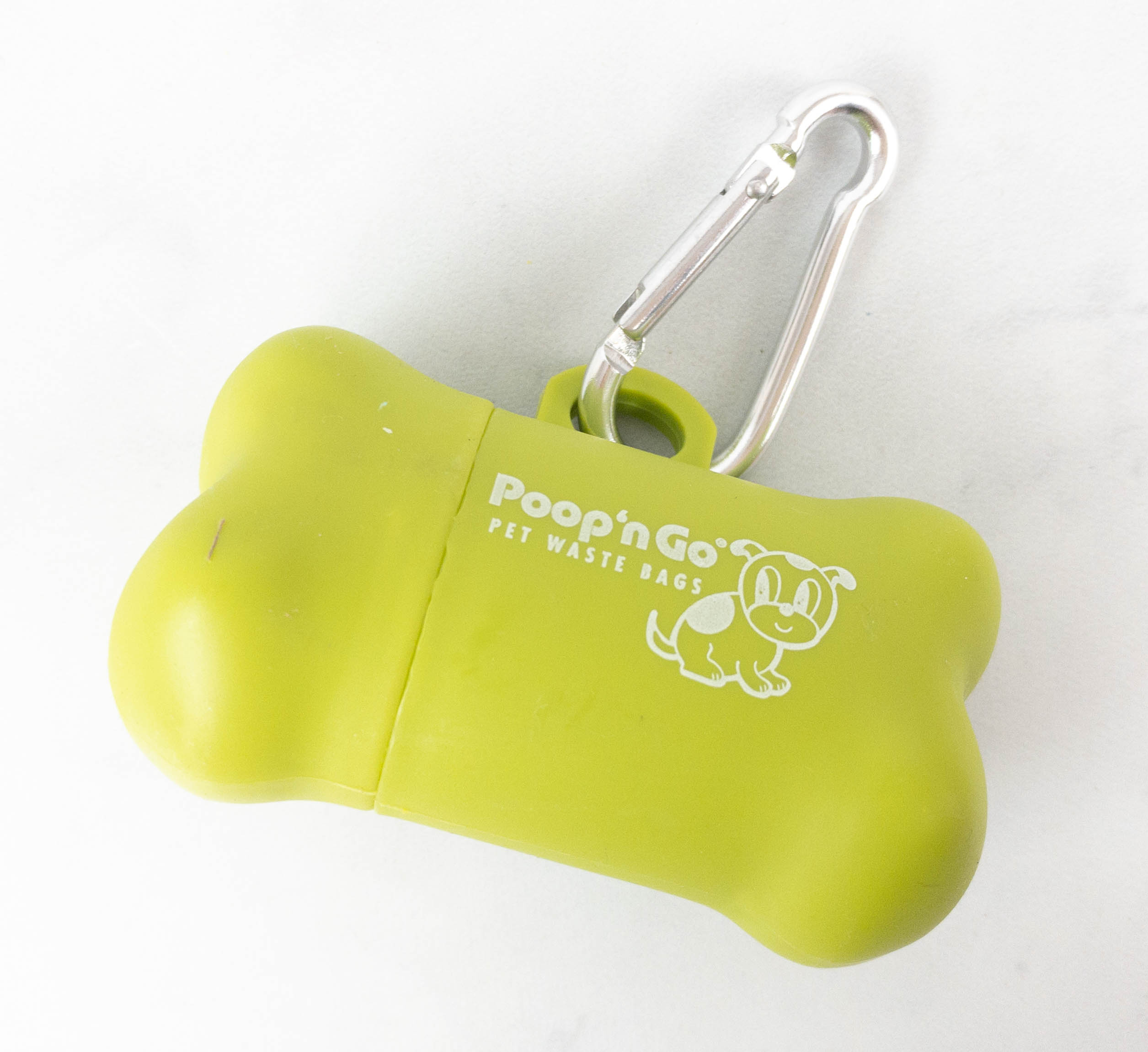 Poop 'N Go Pet Waste Bags. Here's a handy item for pet parents! You can bring these waste bags when going on walks with your dog or when traveling. The bags come in a case with a carabiner, so it can be attached almost anywhere!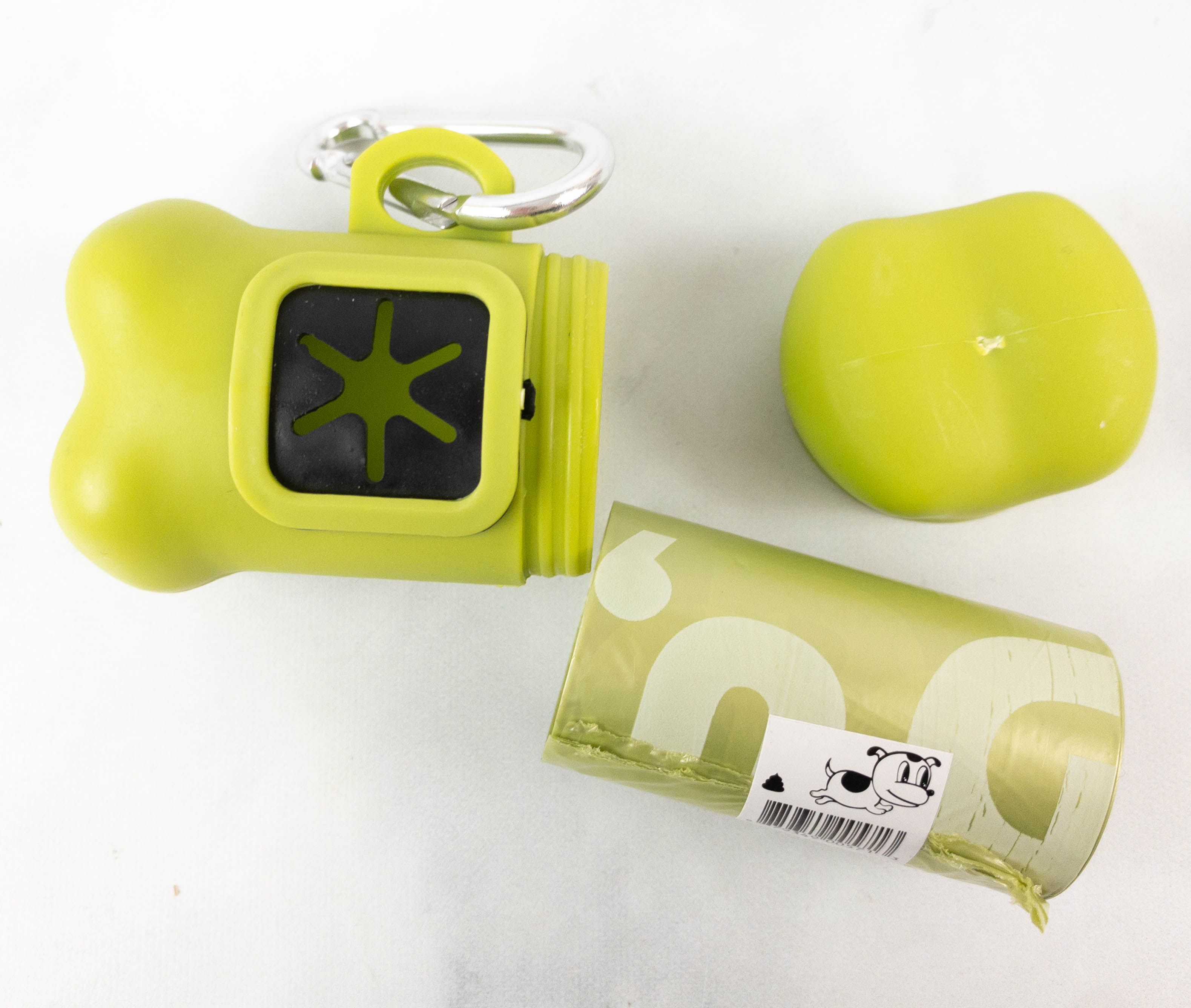 Inside the bone shaped case is a roll of waste bags. When you run out of bags, you just need to purchase refill rolls.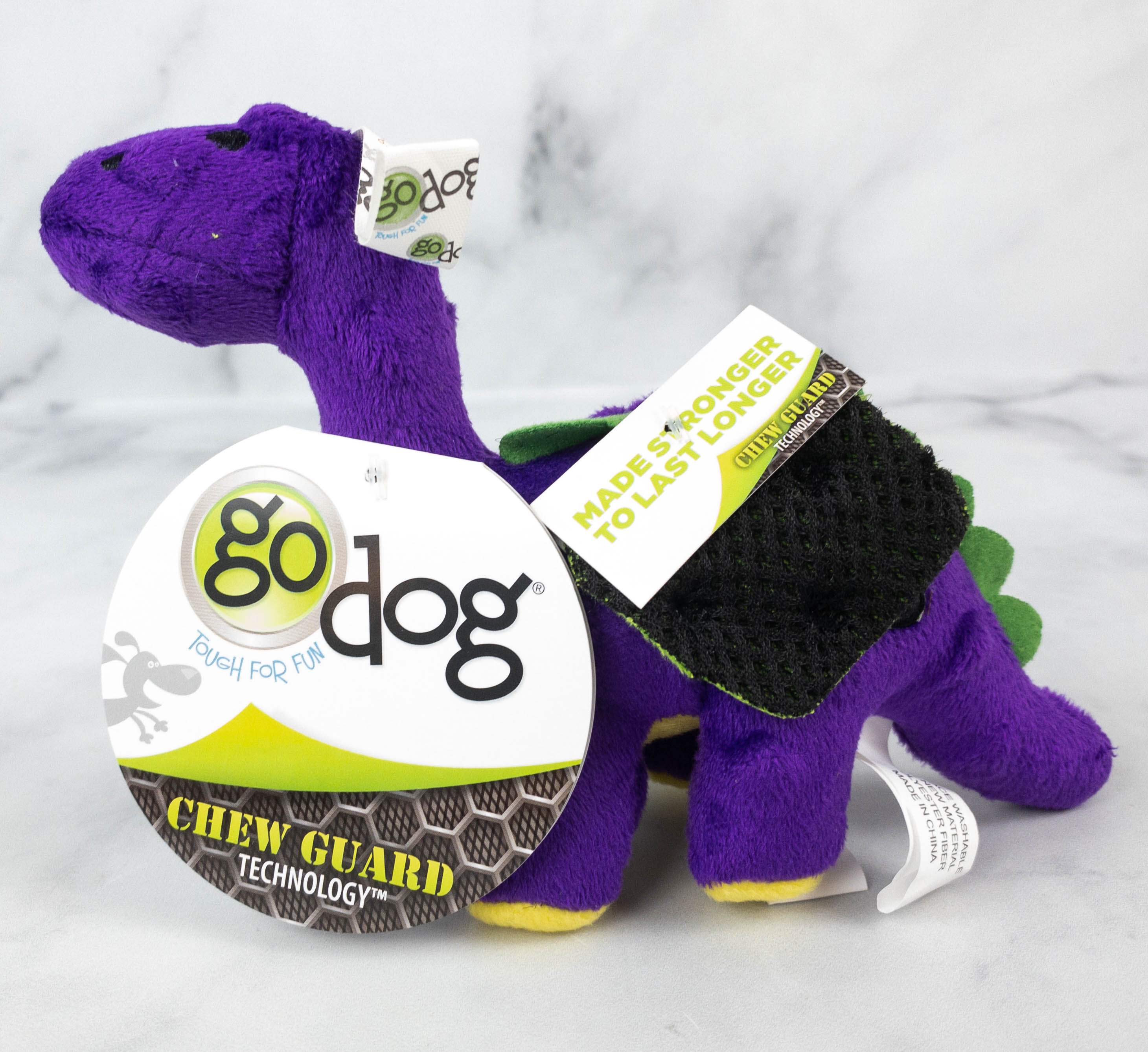 Go Dog Dog Toy. For the heavy chewers, the box also included a Brontosaurus plushie in this month's box.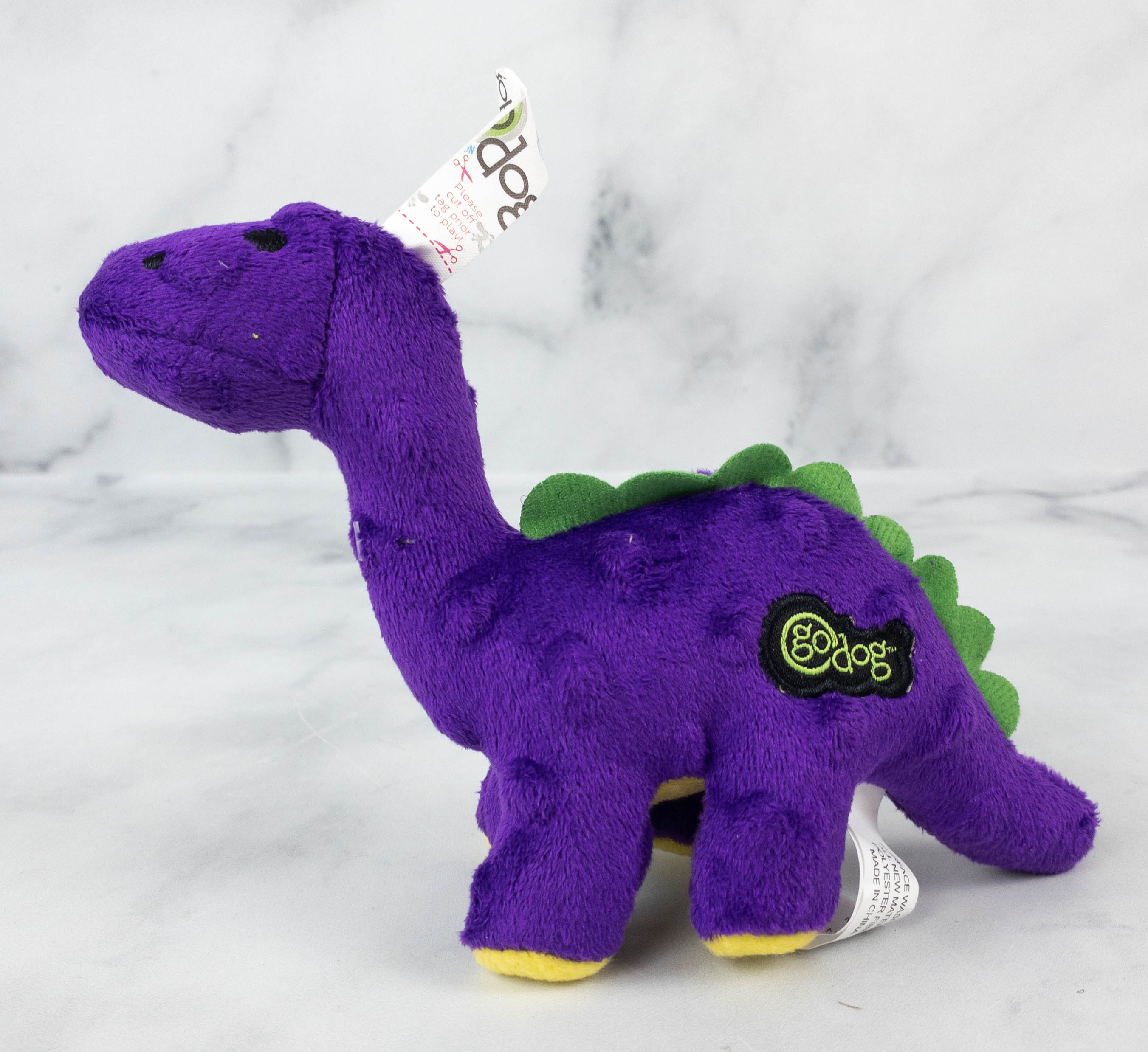 It may be soft in texture but this toy is built to last long with its Chew Guard Technology and double stitched seams. It's also equipped with a squeaker!
Multipet Dog Toy. The last toy in the box is another dinosaur and it's great for cuddling and tossing. This one is designed for gentle chewers.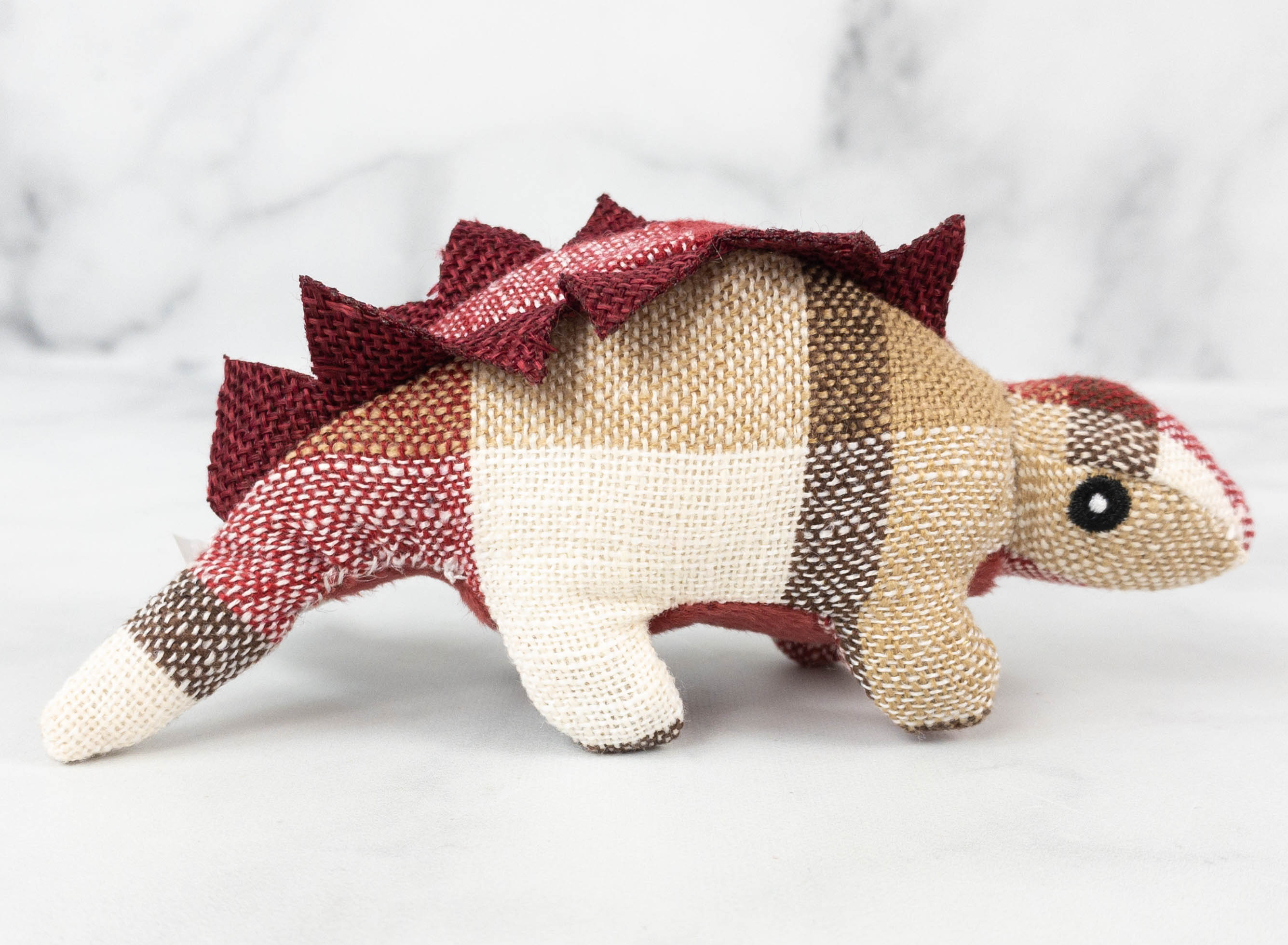 Just like the other toys, it also has a built in squeaker to keep dogs engaged and excited.
Jurassic Pug Pouch. Every box includes an item for pet parents. This month, it's a pink Jurassic Pug pouch! How adorable!
Healthy Dogma Chicken Training Dog Treats. Of course, they also included a healthy snack for dogs! This one is a pack of bite-sized treats made with protein-rich chicken.
It makes a great training reward. Aside from chicken, the treats also contain chickpea flour, flaxseed, tomato, carrot, and turmeric!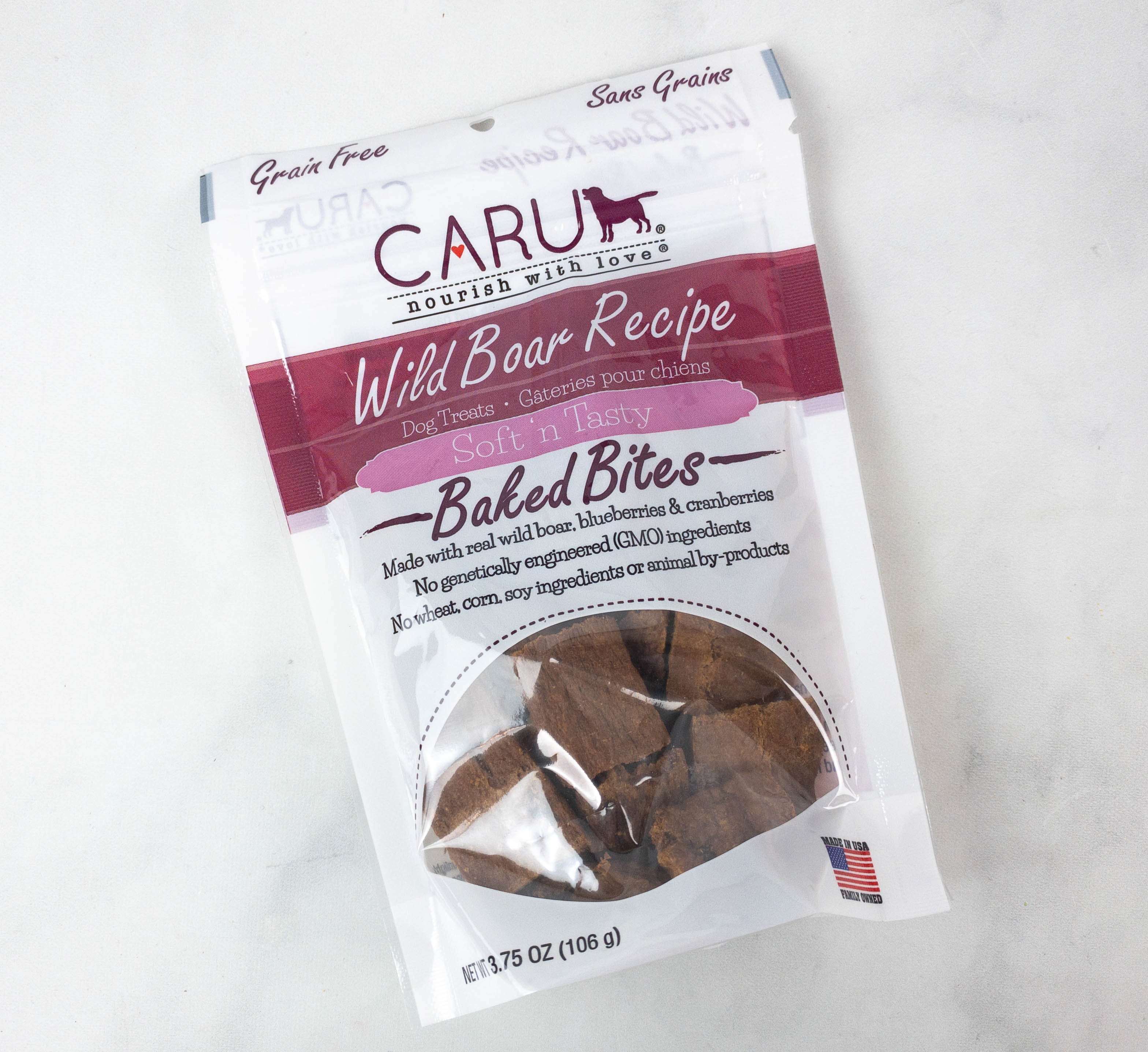 Caru Wild Boar Recipe Dog Treats. My dogs also enjoyed this bag of baked bites made from wild boar, blueberries, and cranberries.
This snack is free from GMO, corn, soy, and animal by-products.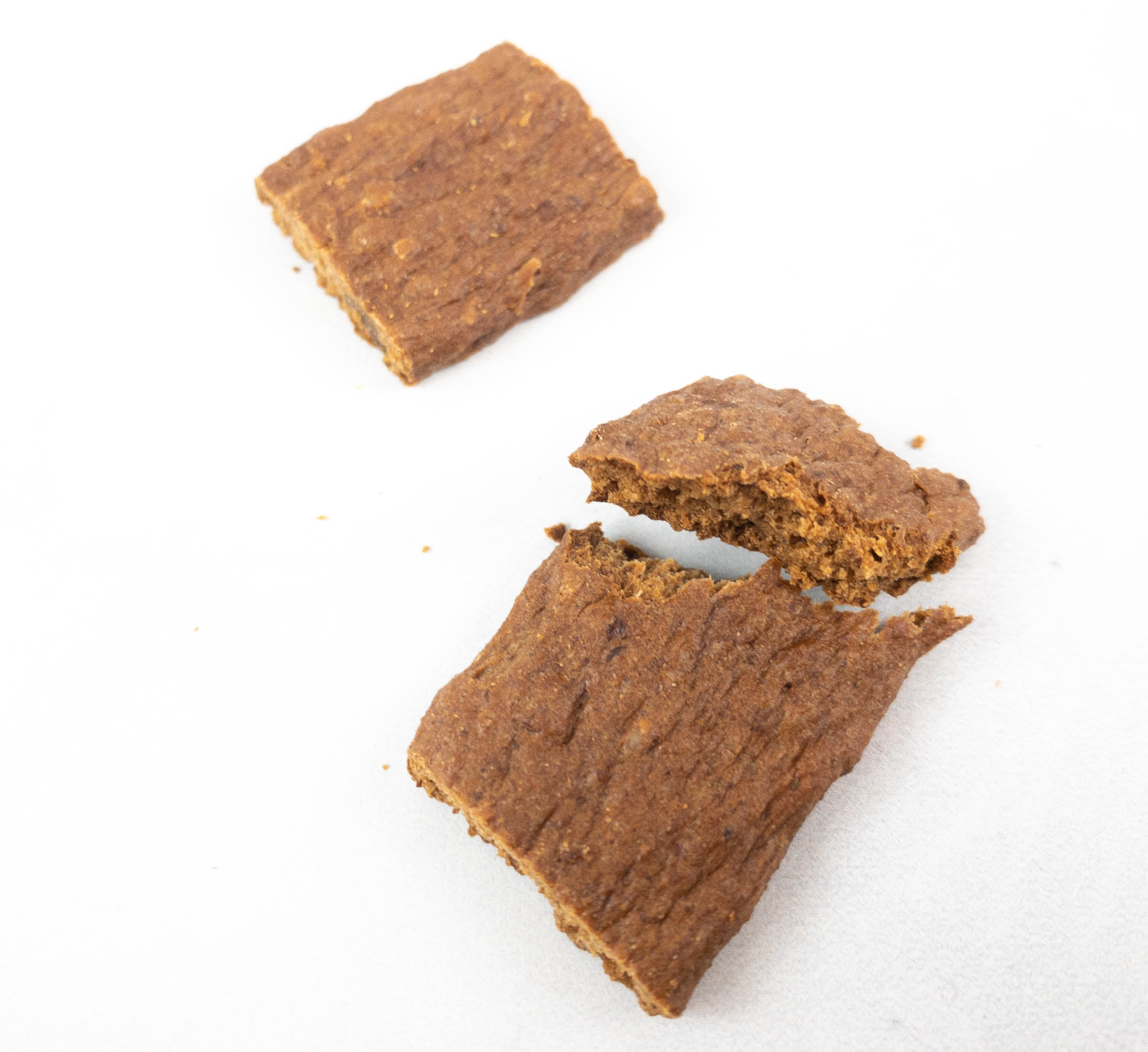 Each piece is tasty and can be fed to dogs of any age, size or breed as a healthy snack or reward during training.
Pug Box really knows how to make our dogs happy and satisfied! This month's box is full of cute dinosaur toys that are fun to play with. Many of them feature squeakers and my dogs enjoyed them all! There's also a couple of healthy treats for dogs. My pups loved the bite-sized chicken treats, they kept wagging their tails as they asked for more! As always, the box includes an item for pet parents and this month, it's a cute Jurassic Pug pouch. The waste bags with a case and carabiner is also a great inclusion in the box. If you want new toys and treats for your dogs as well as a little surprise for yourself every month, this is an ideal box to try!
What do you think of this month's Pug Box?
Visit Pug Box to subscribe or find out more!