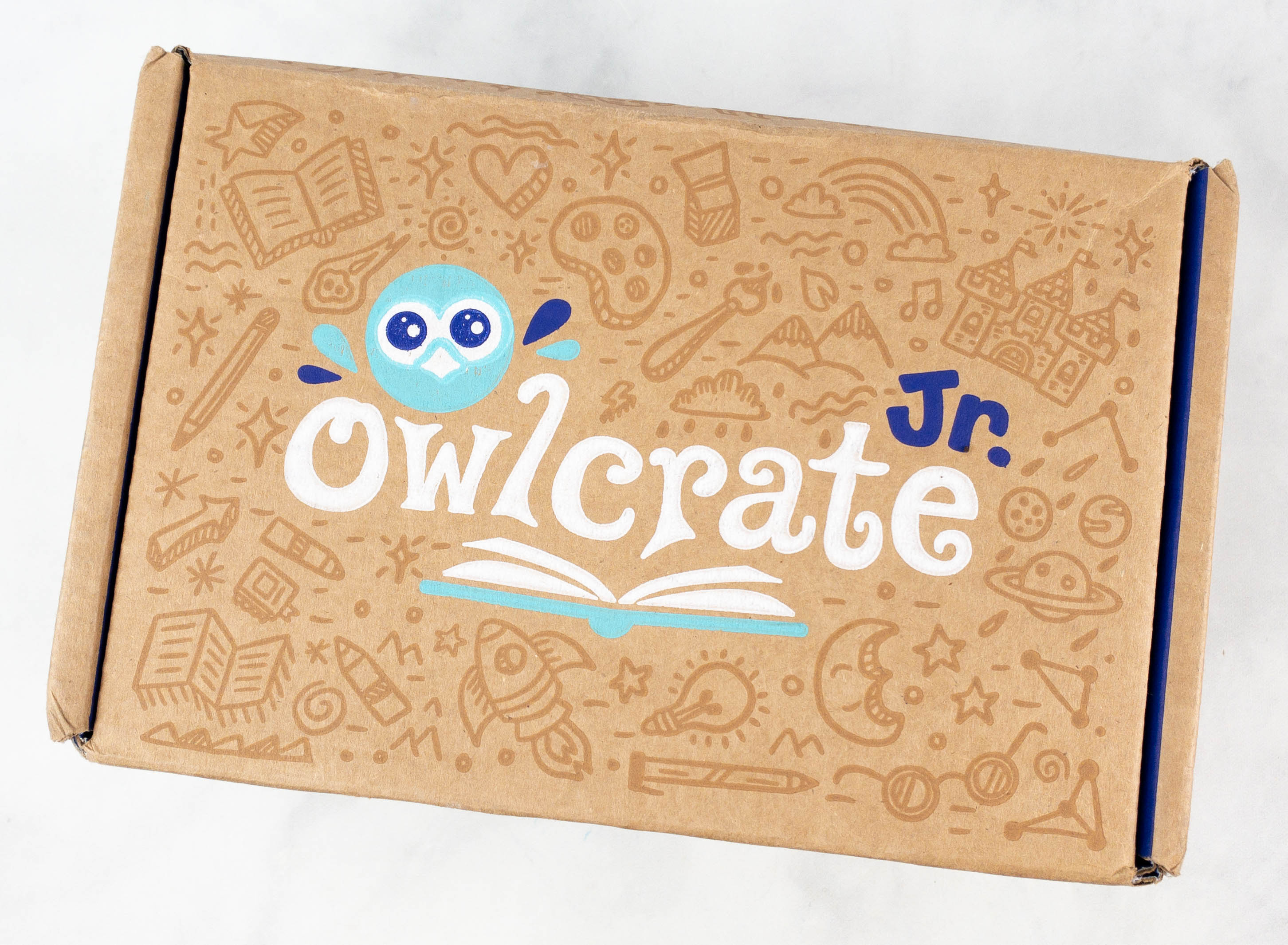 OwlCrate Jr. is a monthly book subscription box for young readers ages 8-12. Each box includes a brand new hardcover novel, an exclusive letter and signed bookplate from the author, fun and unique items based on a theme, a collectible monthly sticker and magazine, and a second book (or game/activity). It's from OwlCrate, a super popular YA (young adult) fiction subscription. They currently offer a Monthly Jr Plan ($29.99 per month), a 3-Month Jr Plan ($86.97 per 3-month period), and a 6-Month Jr Plan ($167.94 per 6-month). Shipping within the US is $8.99 per box. International shipping rates vary.
Owl Crate's middle grade readers box made our readers' choice list of best book boxes for kids!
DEAL: Save 15% on your first 1, 3, or 6-month subscription or gift with the promo code HELLO15 at checkout.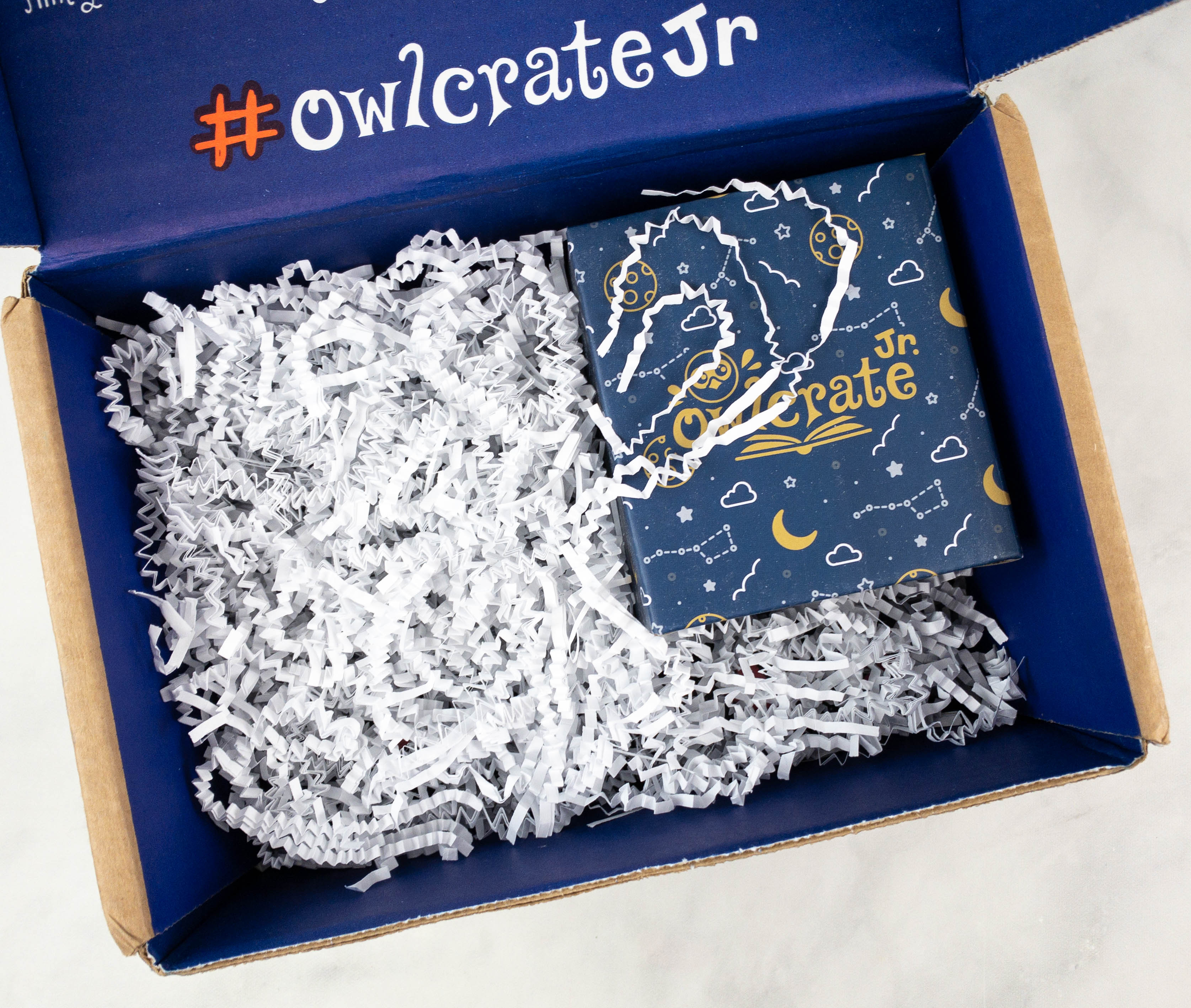 The items were cushioned with white squiggles!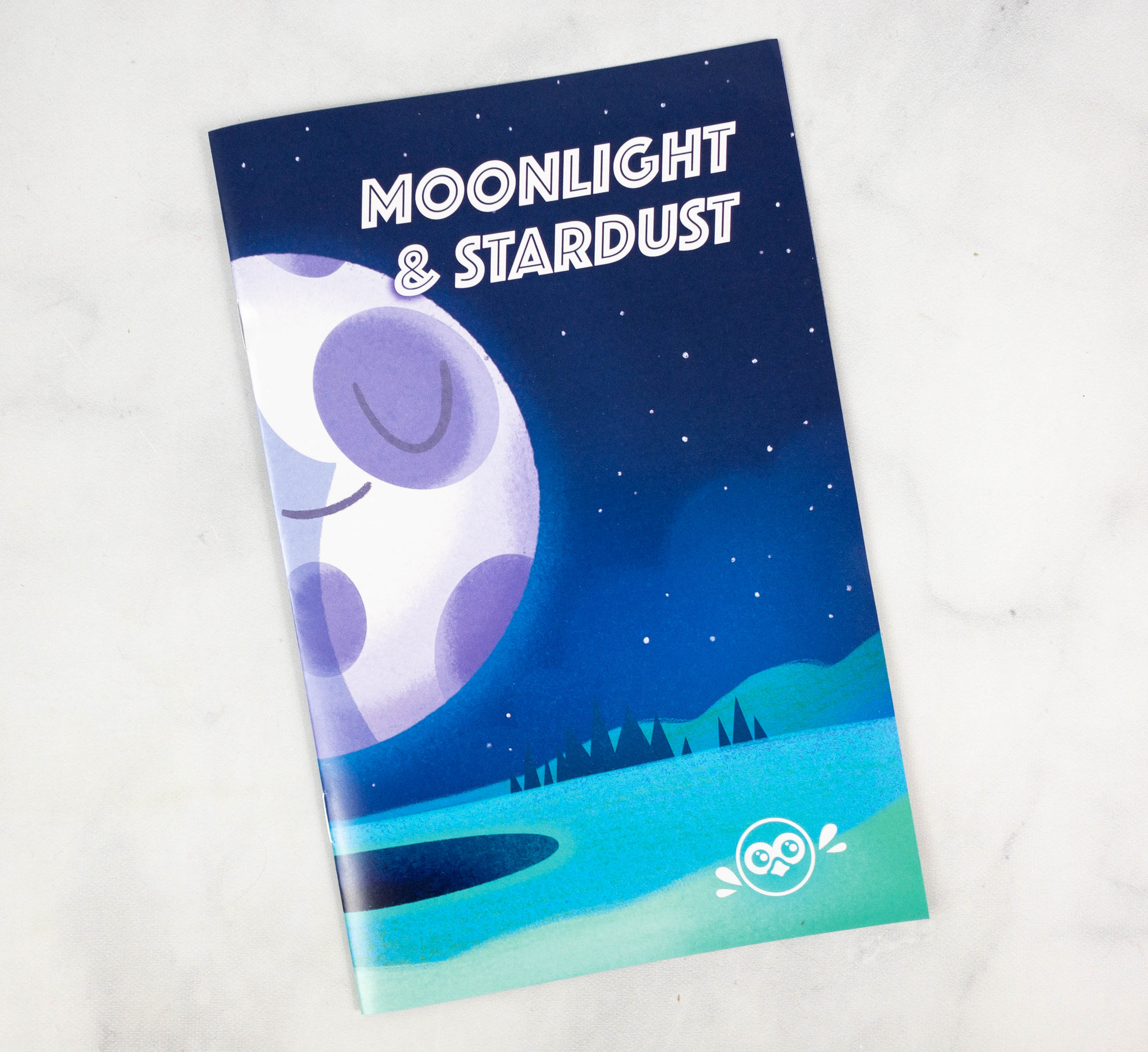 There's a mini booklet featuring the August 2021 OwlCrate Jr. theme, MOONLIGHT & STARDUST!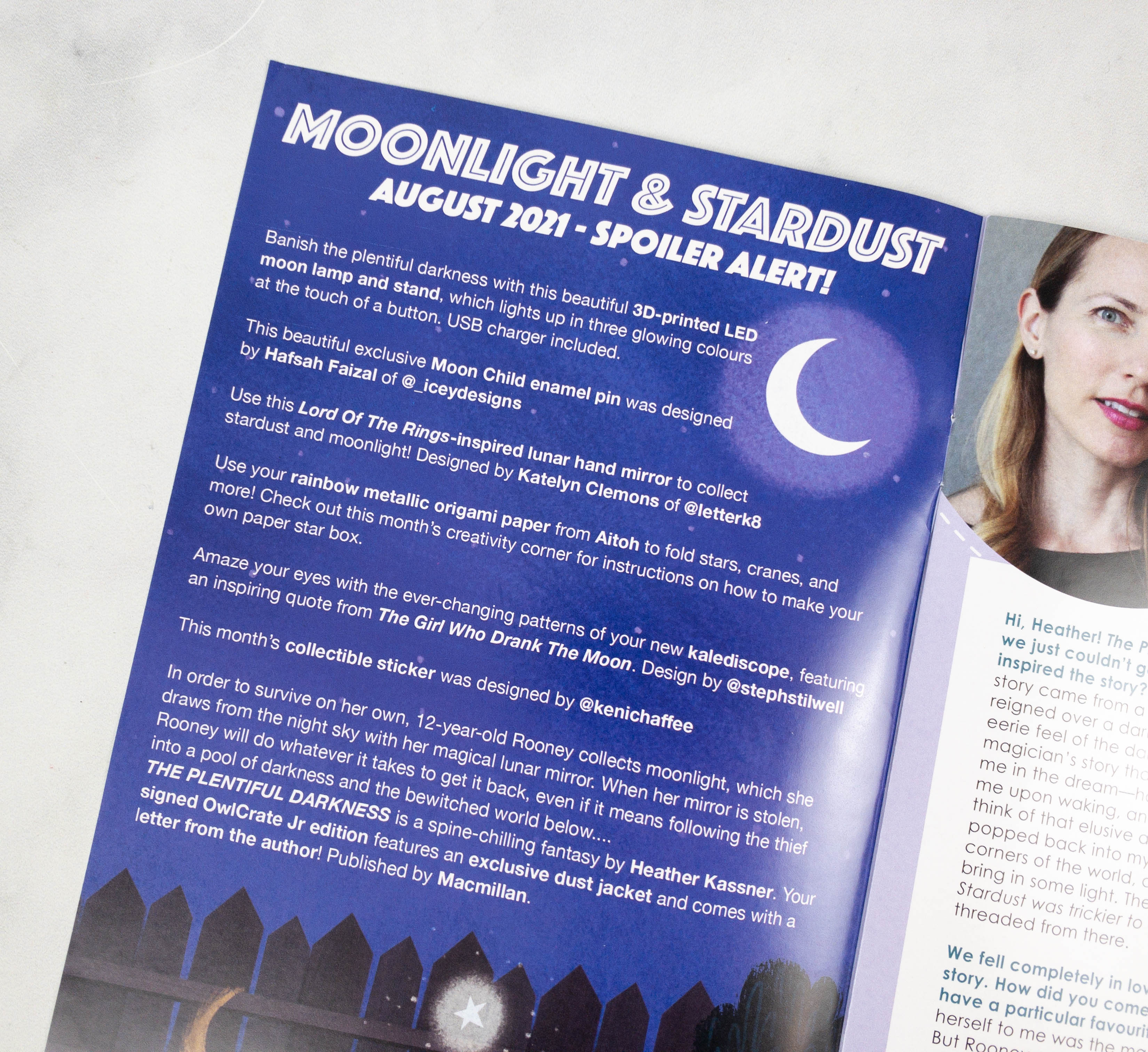 They included some spoilers in the mini booklet!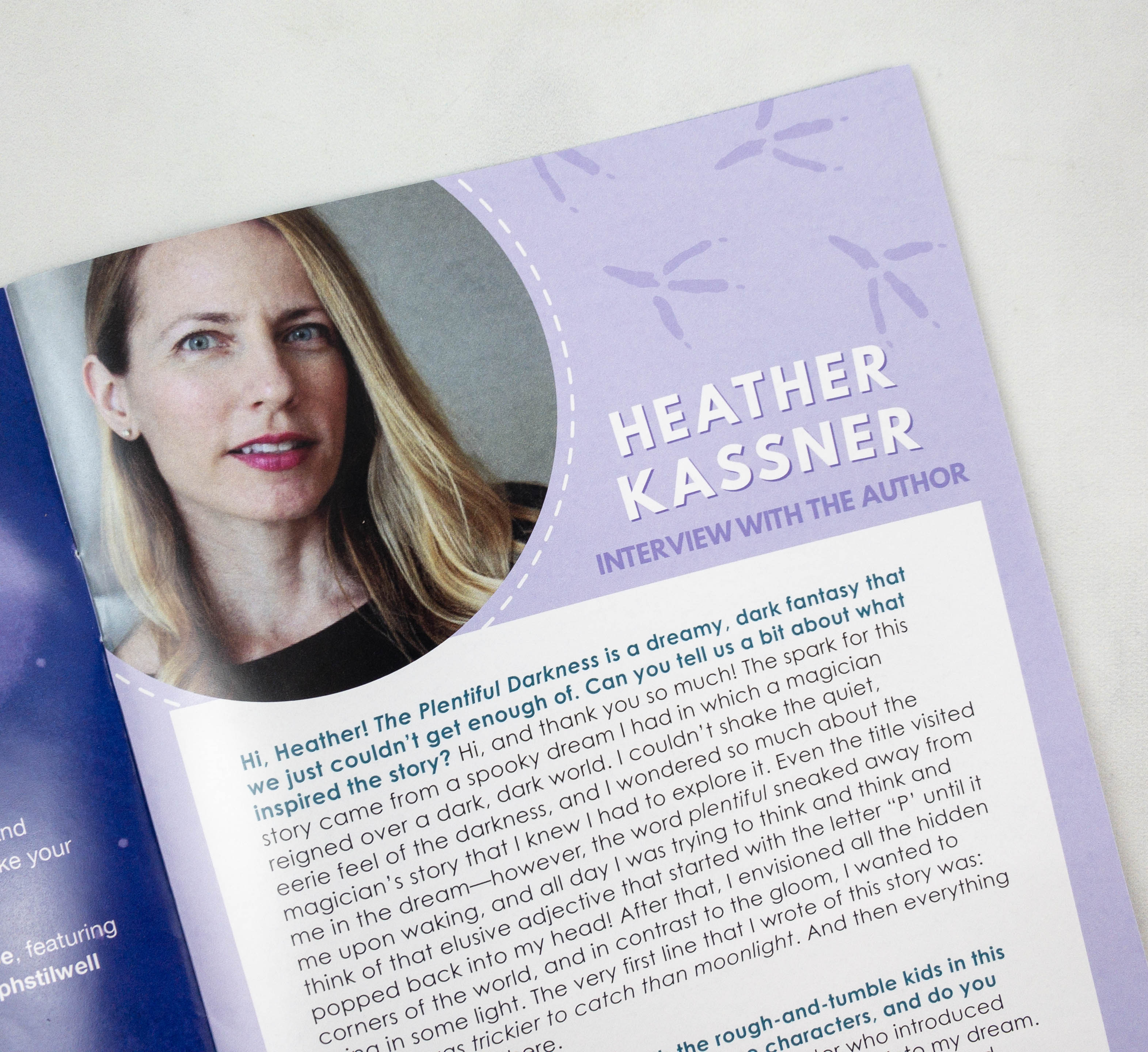 Inside is an interview with this month's featured author, Heather Kassner. Knowing what inspired the author to pen a story can help children understand the book better.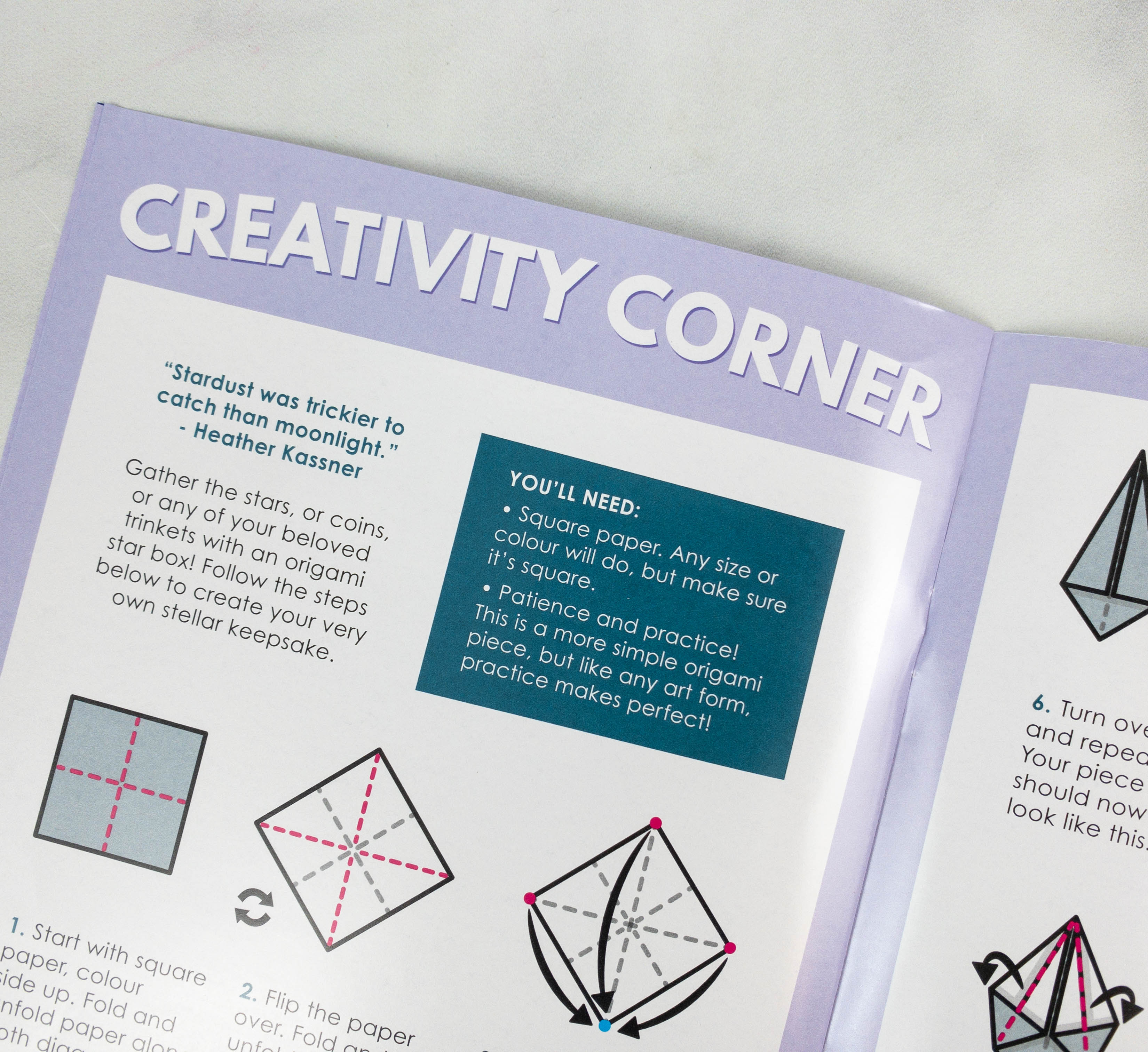 Creativity Corner features a suggested activity related to the theme!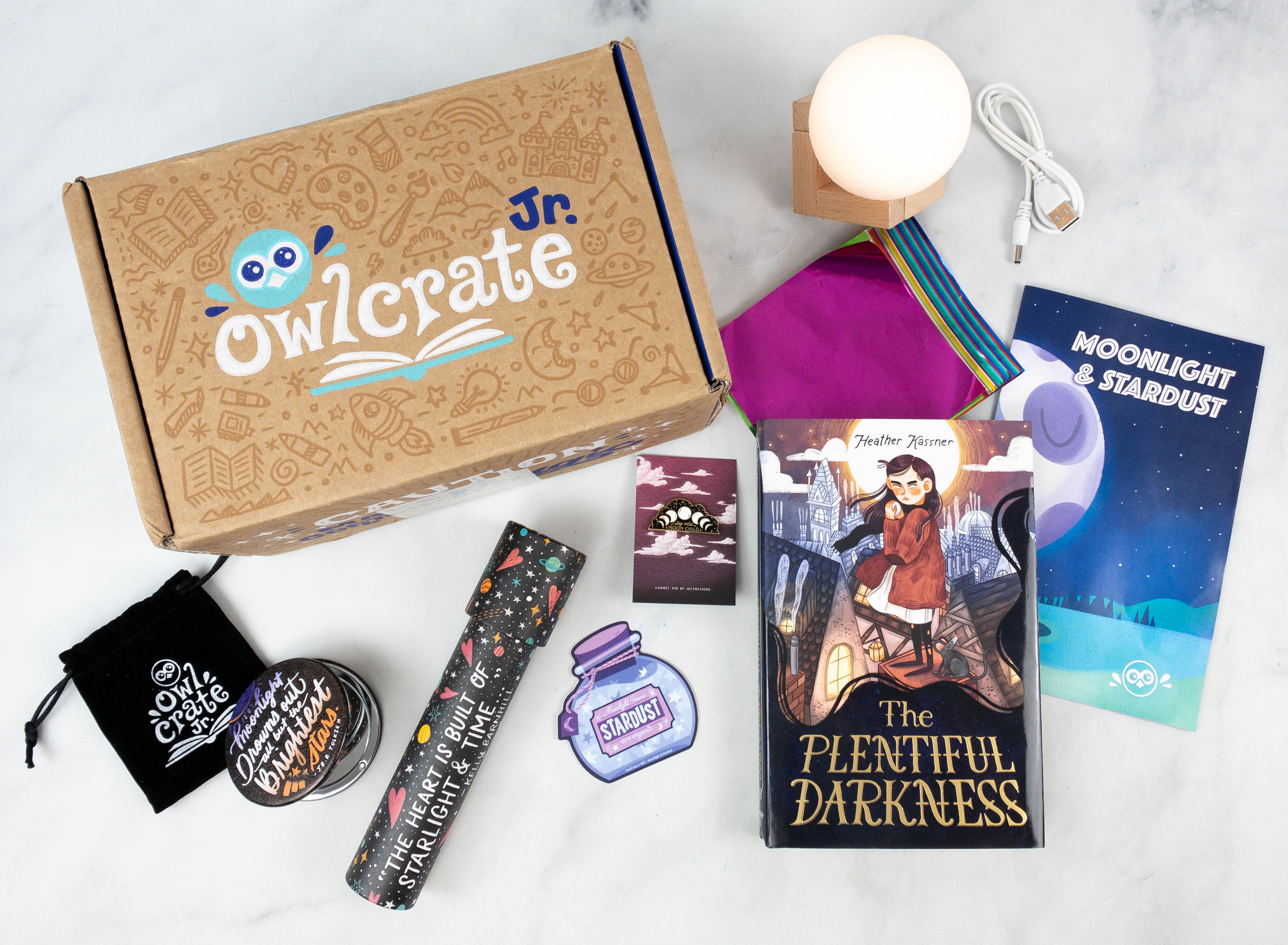 Everything in the August 2021 OwlCrate Jr. box!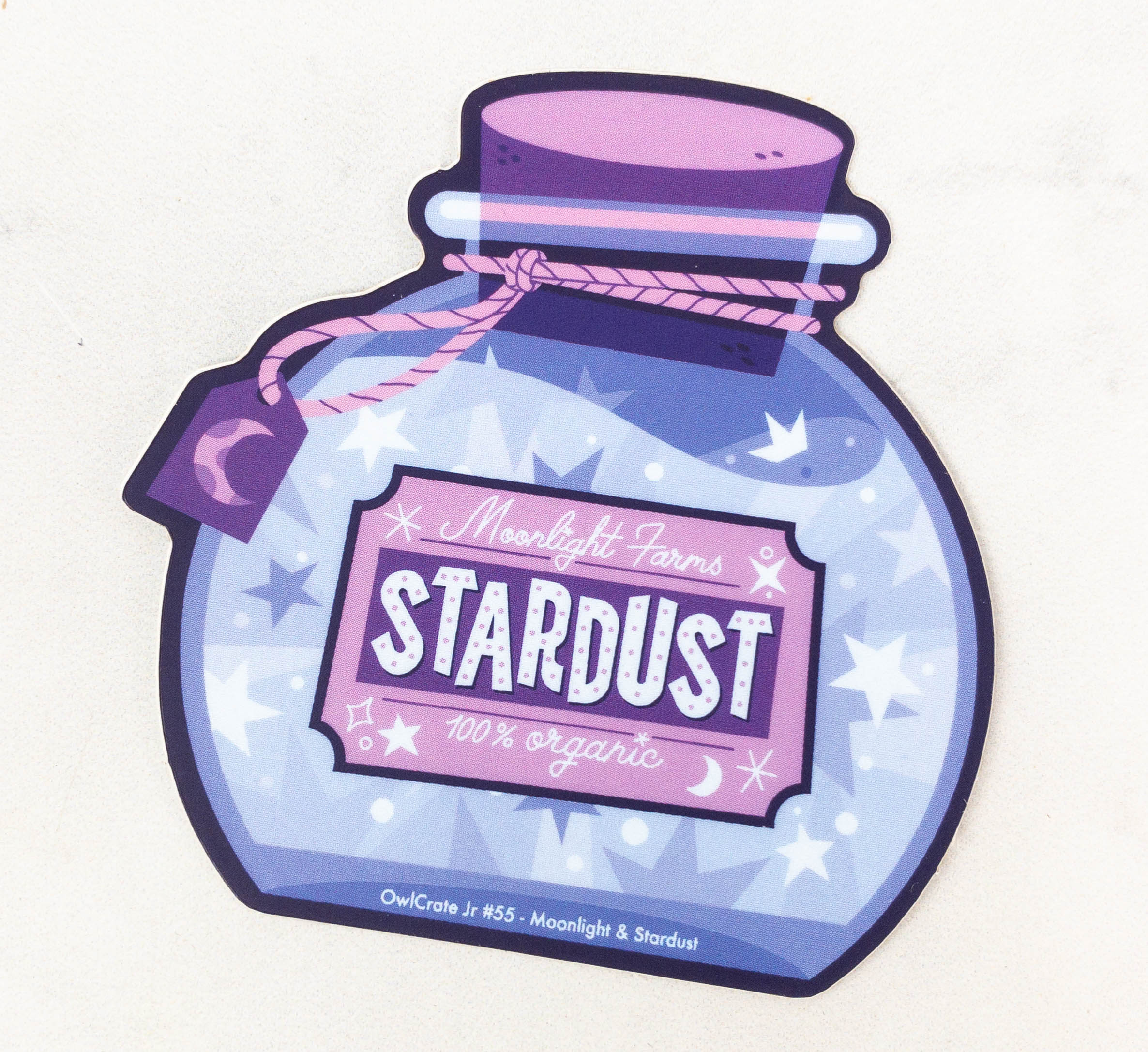 Collectible Sticker. This month's box includes a cute sticker. It's a bottle of Moonlight Farm's Stardust!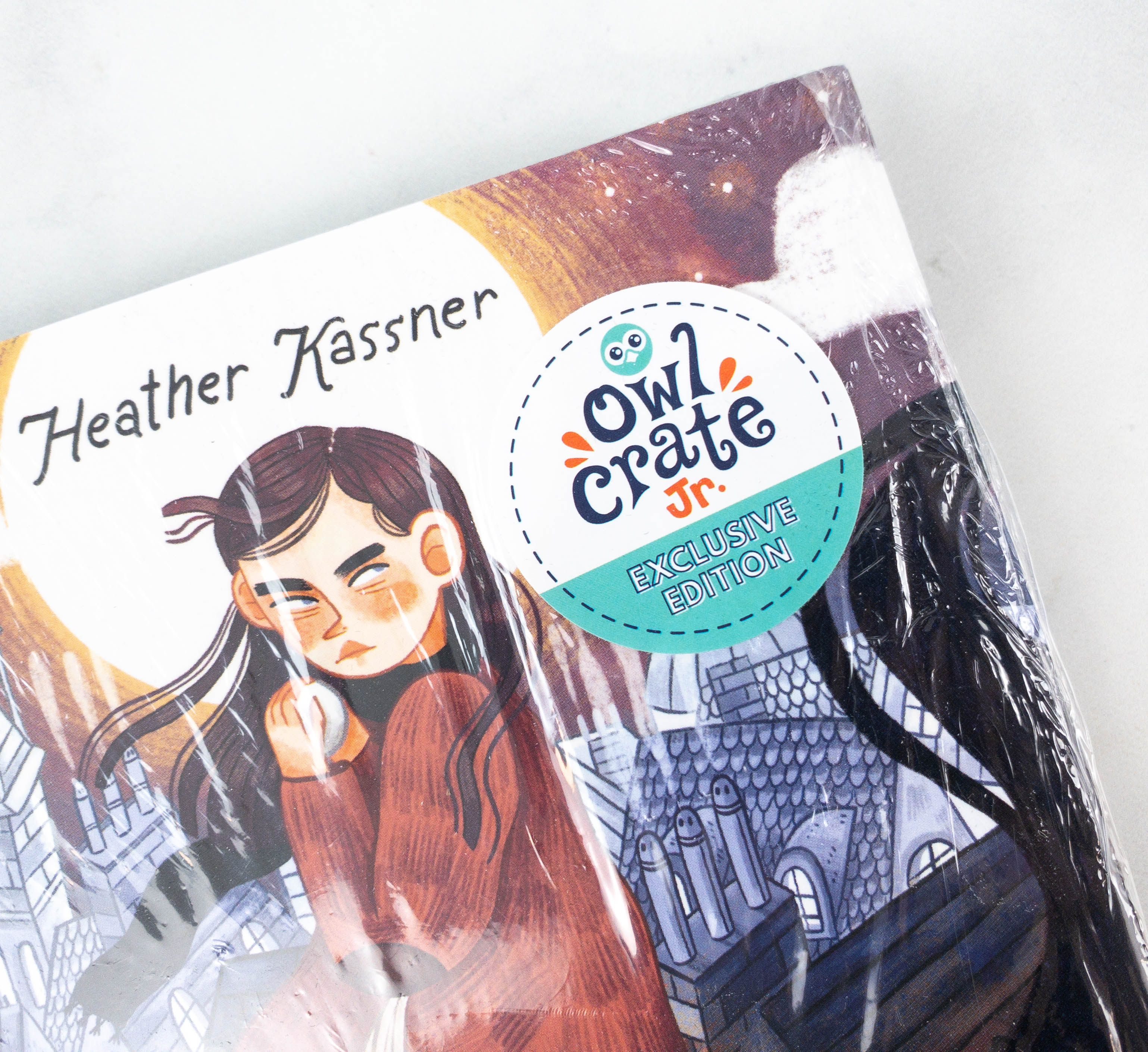 The featured book has a sticker indicating that it's an Owl Crate Jr. exclusive edition.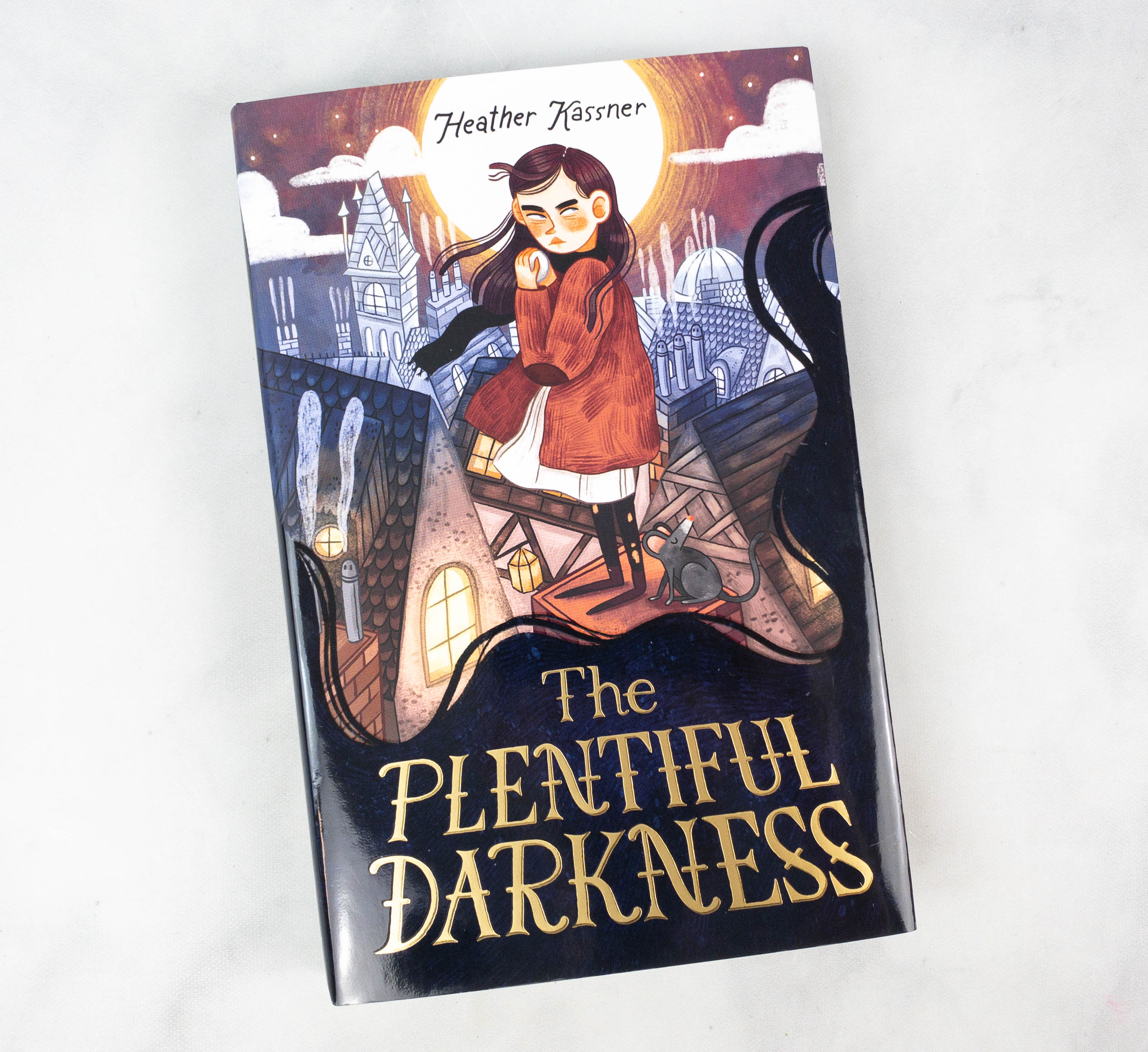 The Plentiful Darkness by Heather Kassner ($15.84)
In Heather Kassner's spine-chilling fantasy novel, reminiscent of Serafina and the Black Cloak, an orphaned girl chases a thieving boy into a magician's land of starless, moonless gloom where other children have gone missing before her.

"Gleams with an eerie magic, its characters burning bright and fierce. A visual treat of a tale." ―Stefan Bachmann, international bestselling author of Cinders and Sparrows

In order to survive on her own, twelve-year-old Rooney de Barra collects precious moonlight, which she draws from the evening sky with her (very rare and most magical) lunar mirror. All the while she tries to avoid the rival roughhouse boys, and yet another, more terrifying danger: the dreaded thing that's been disappearing children in the night.

When Trick Aidan, the worst of the roughhouse boys, steals her lunar mirror, Rooney will do whatever it takes to get it back. Even if it means leaping into a pool of darkness after it swallows Trick and her mirror. Or braving the Plentiful Darkness, a bewitching world devoid of sky and stars. Or begrudgingly teaming up with Trick to confront the magician and unravel the magic that has trapped Warybone's children.
The back of the book contains a review from another author.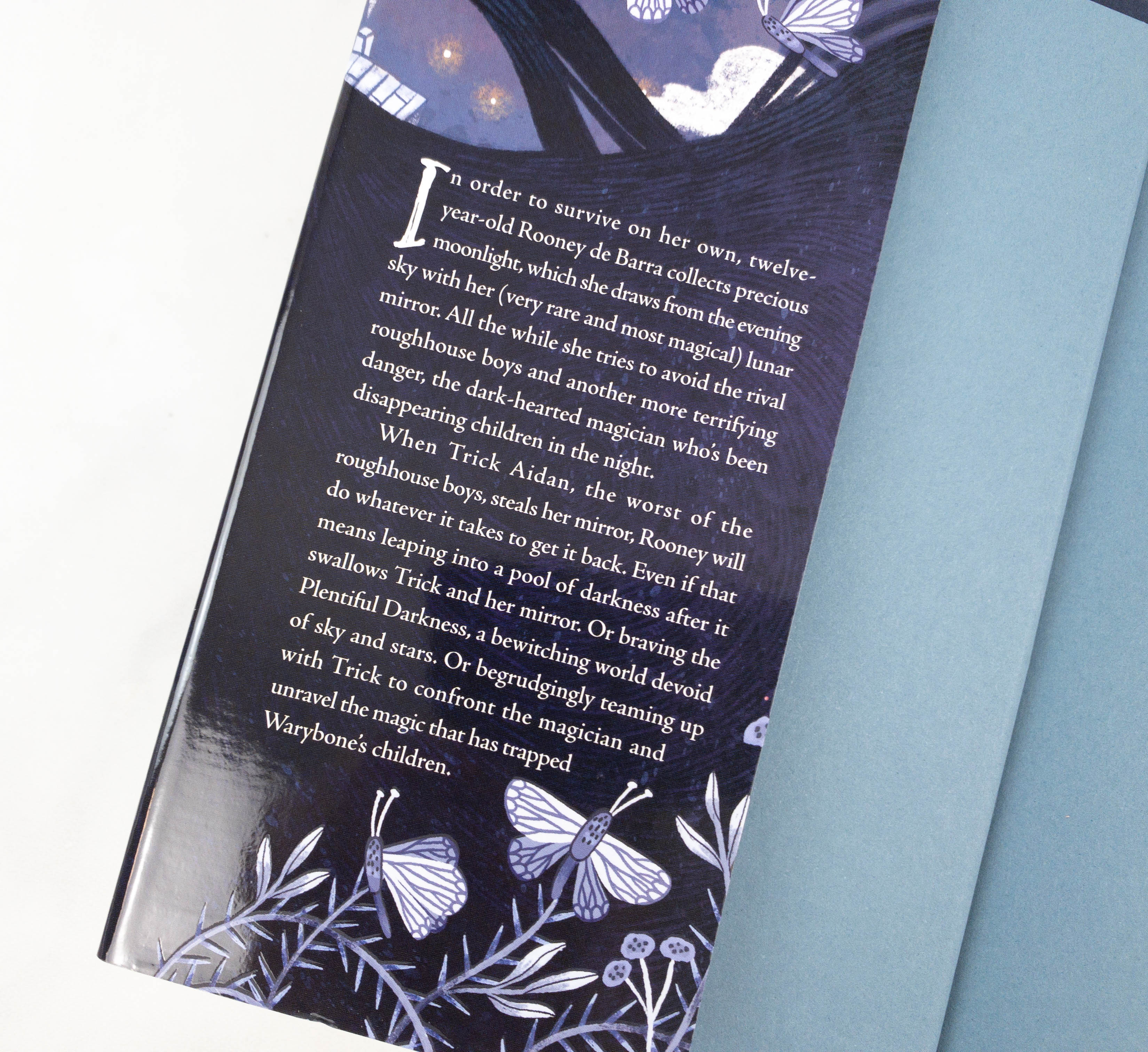 There's also a short synopsis on the book's dust flap jacket.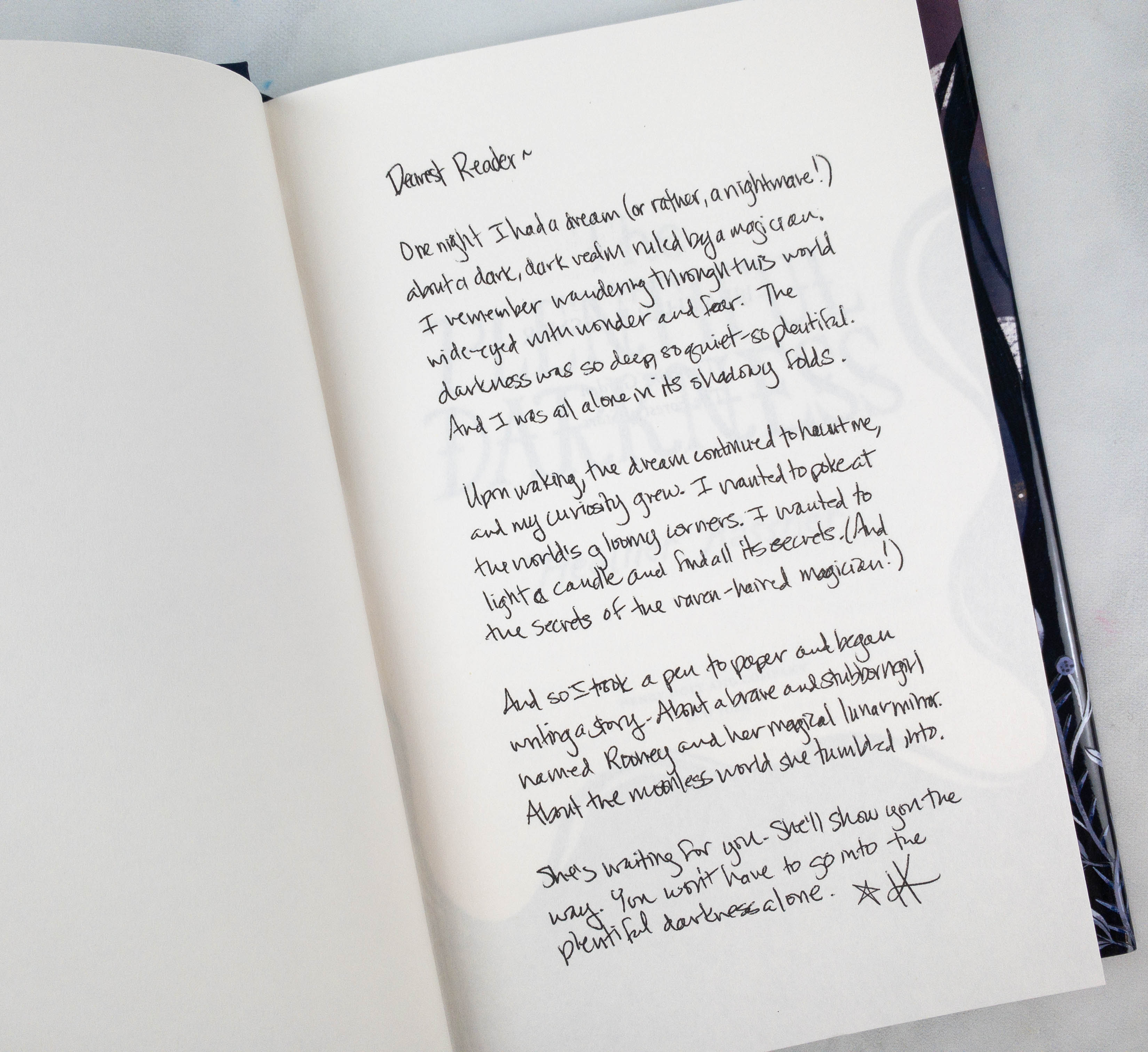 Inside is a handwritten note for the readers, from the author herself!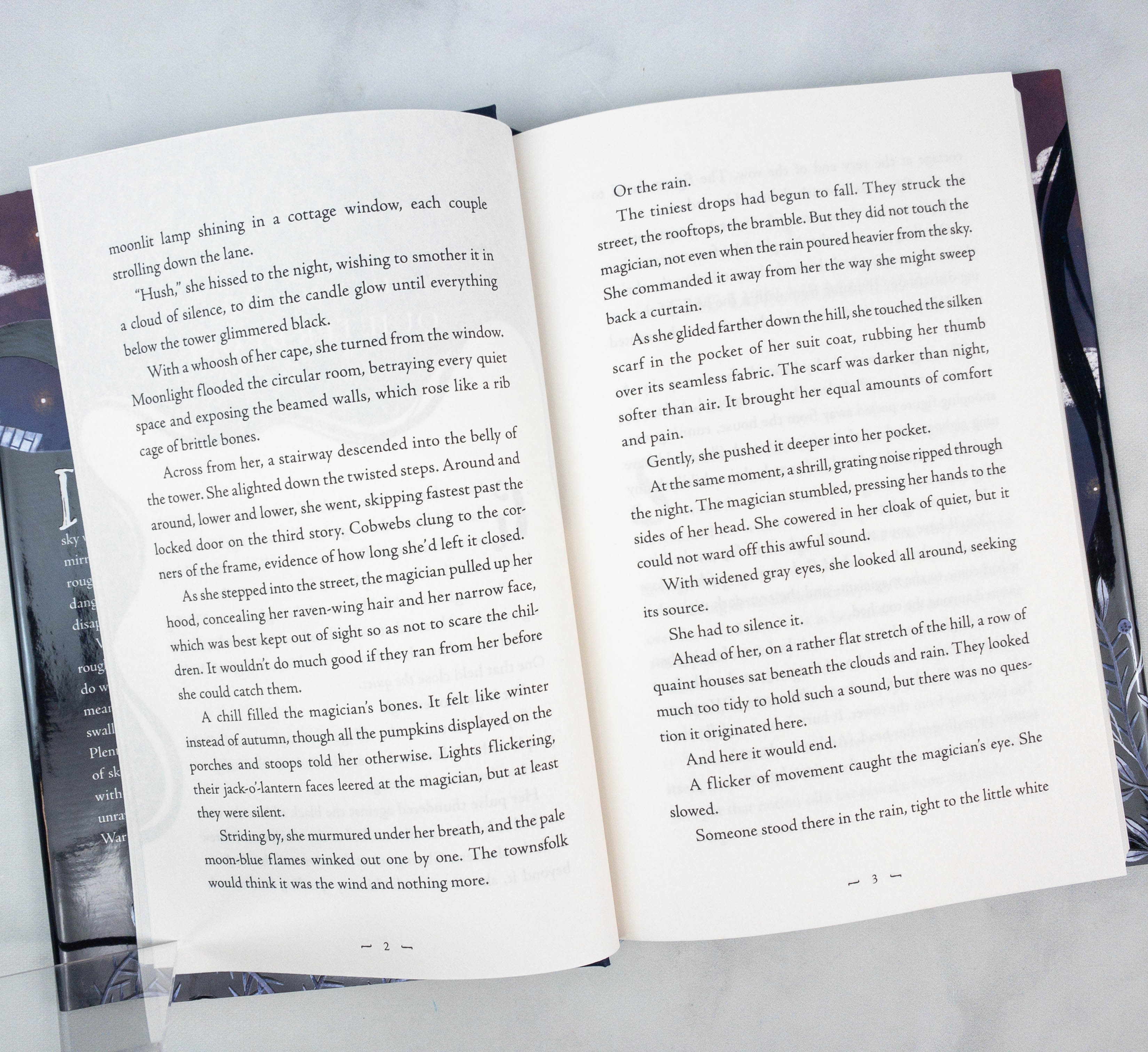 This is a beautiful story that my kids enjoyed. The fierceness of the heroine drew them in despite the creepy setting. It actually reminds me of the movie Coraline, but this is way better. It's filled with shadows and magic, plus it teaches valuable lessons like friendship and the importance of not judging others too quickly.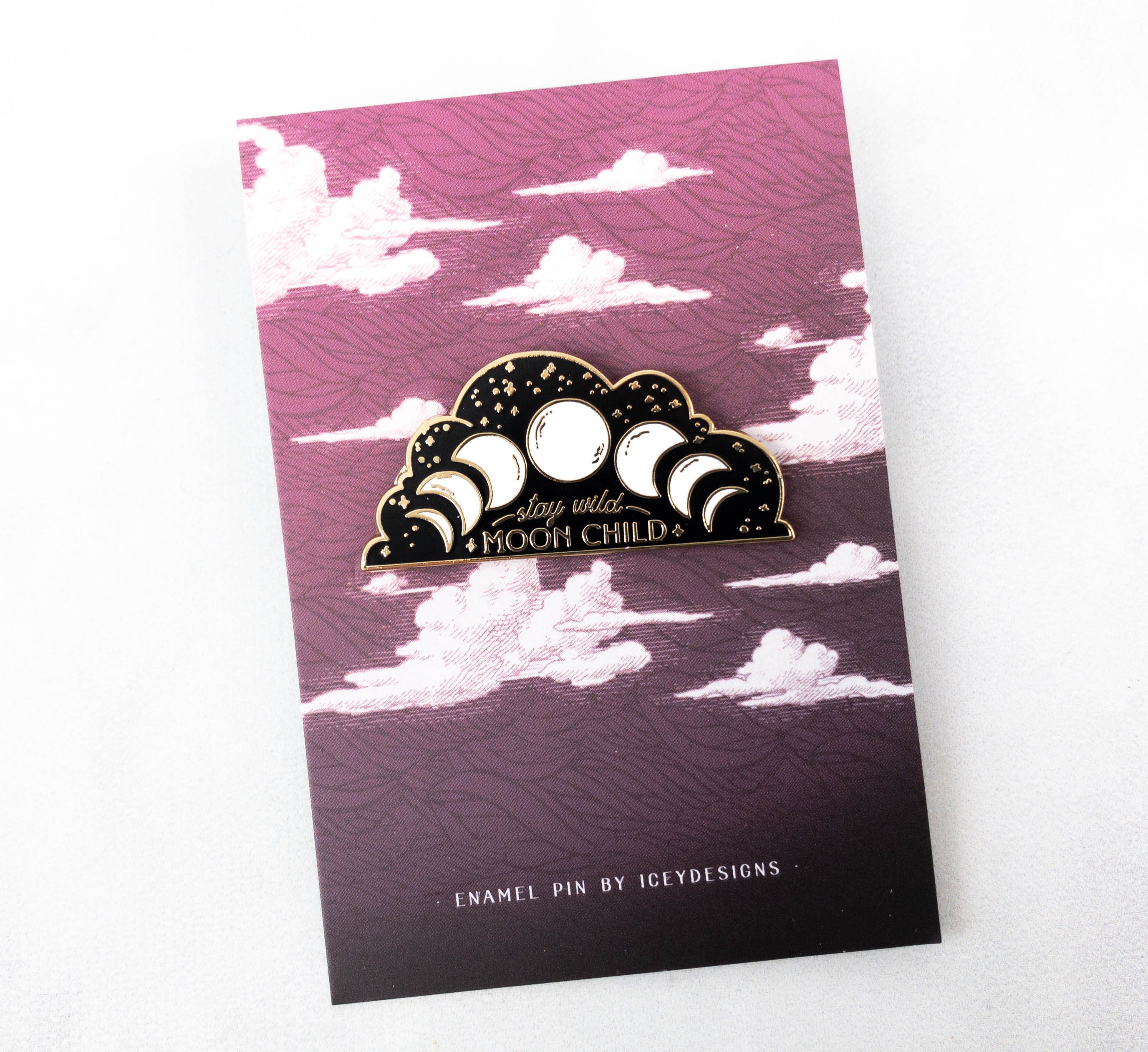 Moon Child Enamel Pin. This enamel pin by Iceydesigns says "Stay Wild Moon Child" an features the different phases of the moon above it. It gives off a magical vibe and my son is so excited to add this to his pin collection!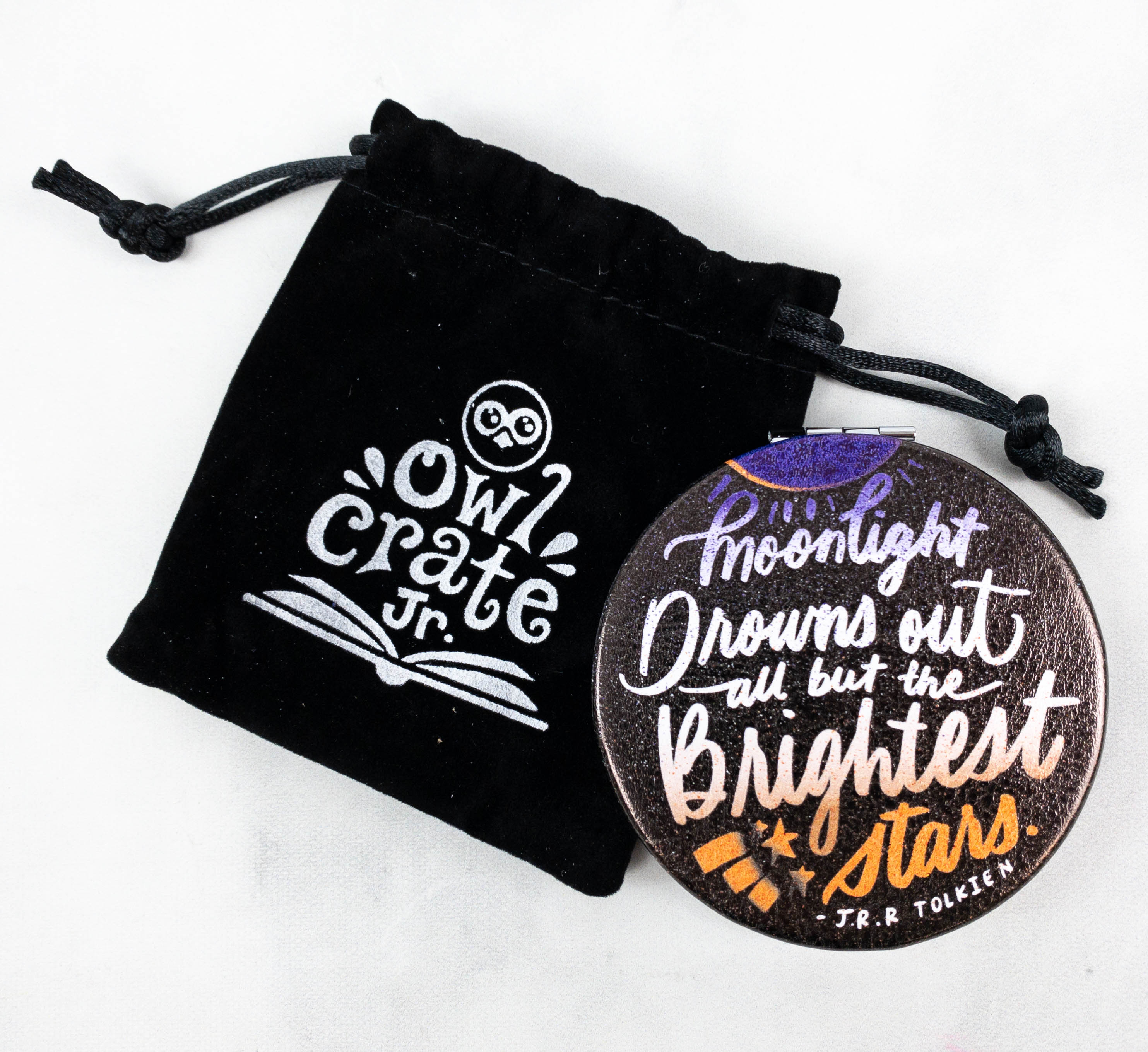 Lord of the Rings-Inspired Lunar Hand Mirror. Here's a Lunar Hand Mirror, just like what's in the book! It came in its own packaging which is a black velvet drawstring pouch with the OwlCrate Jr. logo on it. The mirror has a quote from J.R.R. Tolkien: "Moonlight drowns out all but the brightest stars".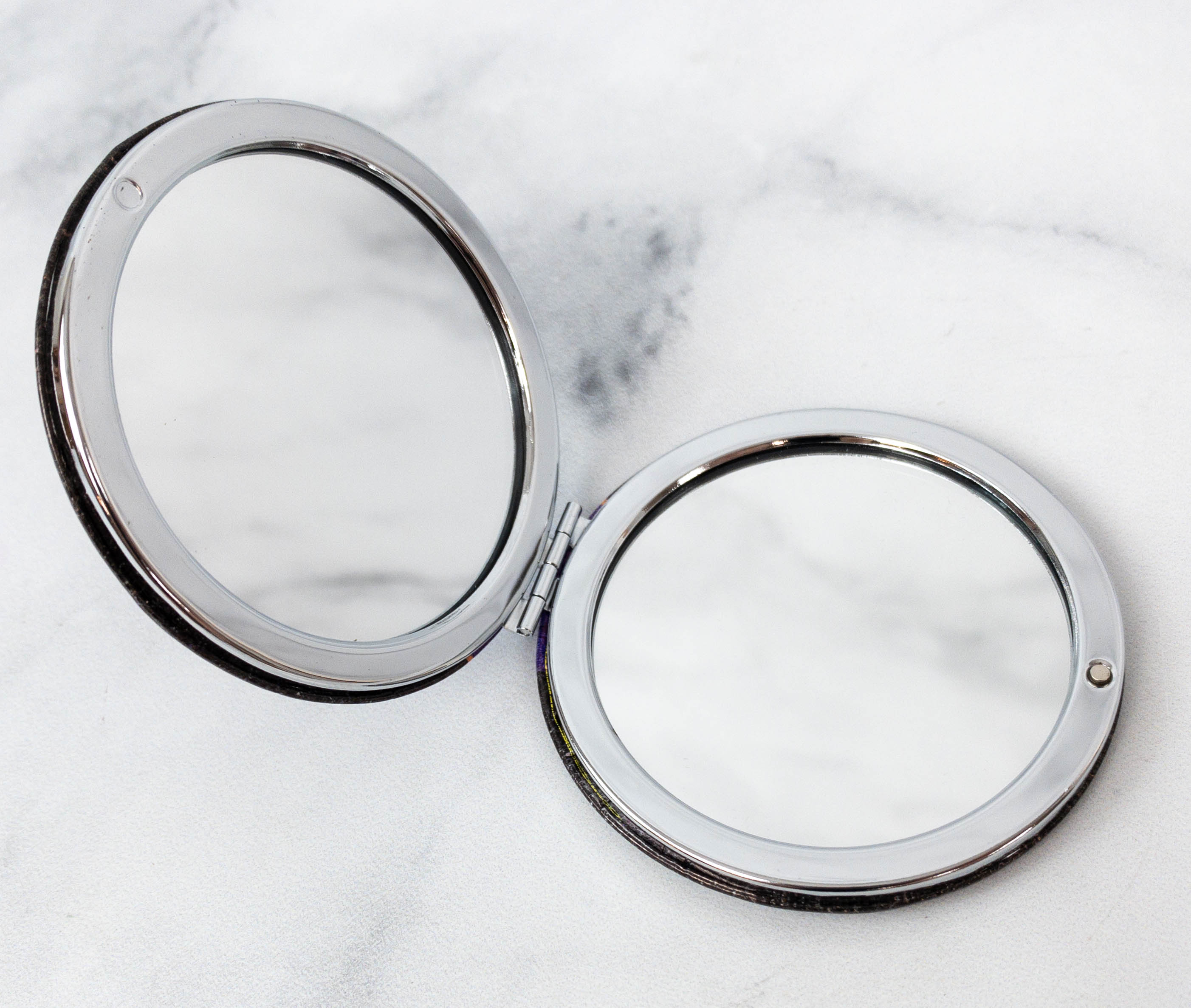 This compact mirror is great for everyday use and for traveling. It's very handy and you can easily keep it inside your pouch. It has two sides with one showing your regular reflection while the other has a bit of a magnifying effect just incase you need to touch up!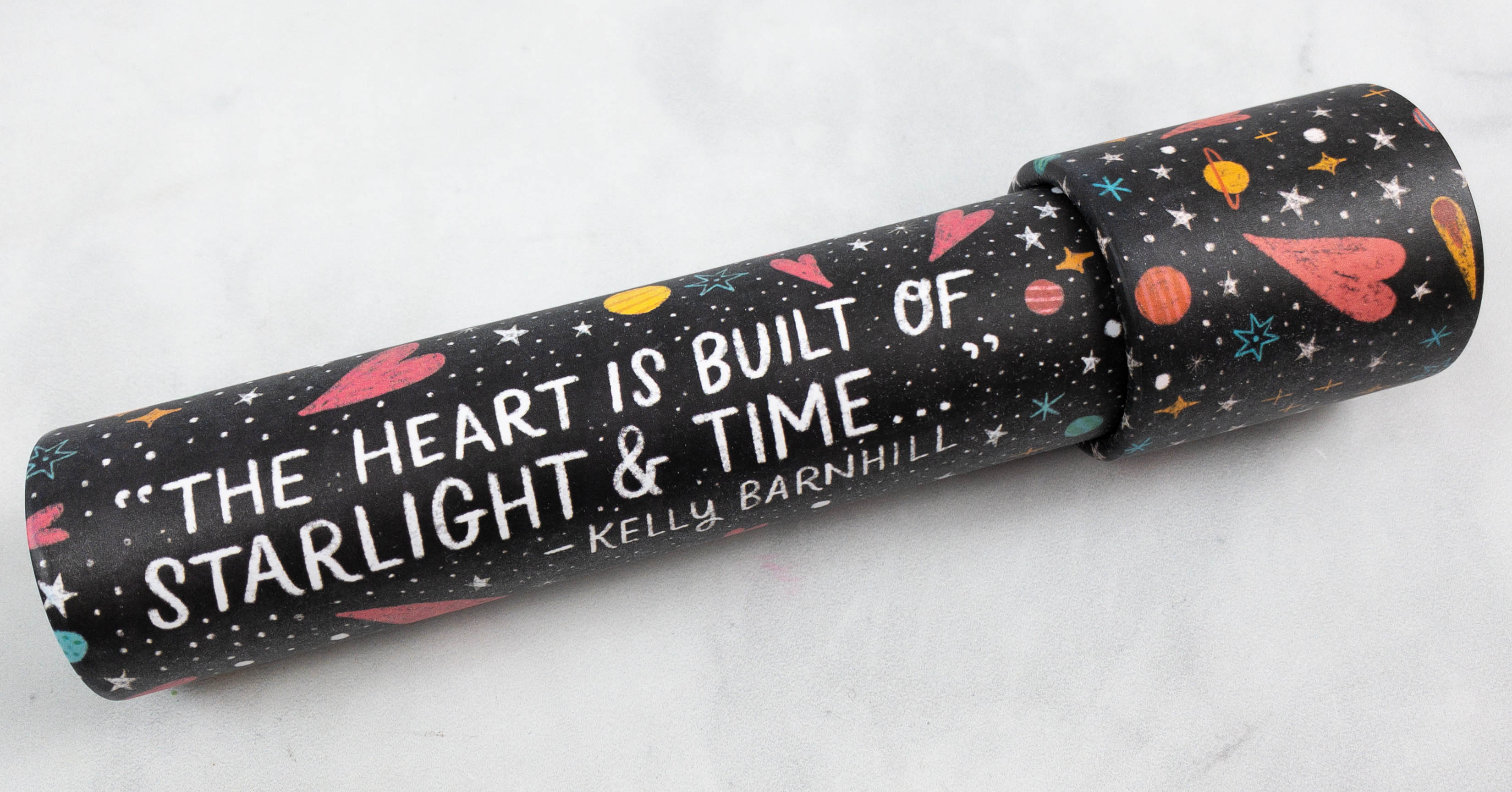 Kalediscope. We also received this kaleidoscope that my kids thought was really cool! The body is filled with a cute galaxy patterns and hearts on it. It also has a quote from Kelly Barnhill: "The heart is built of starlight and time".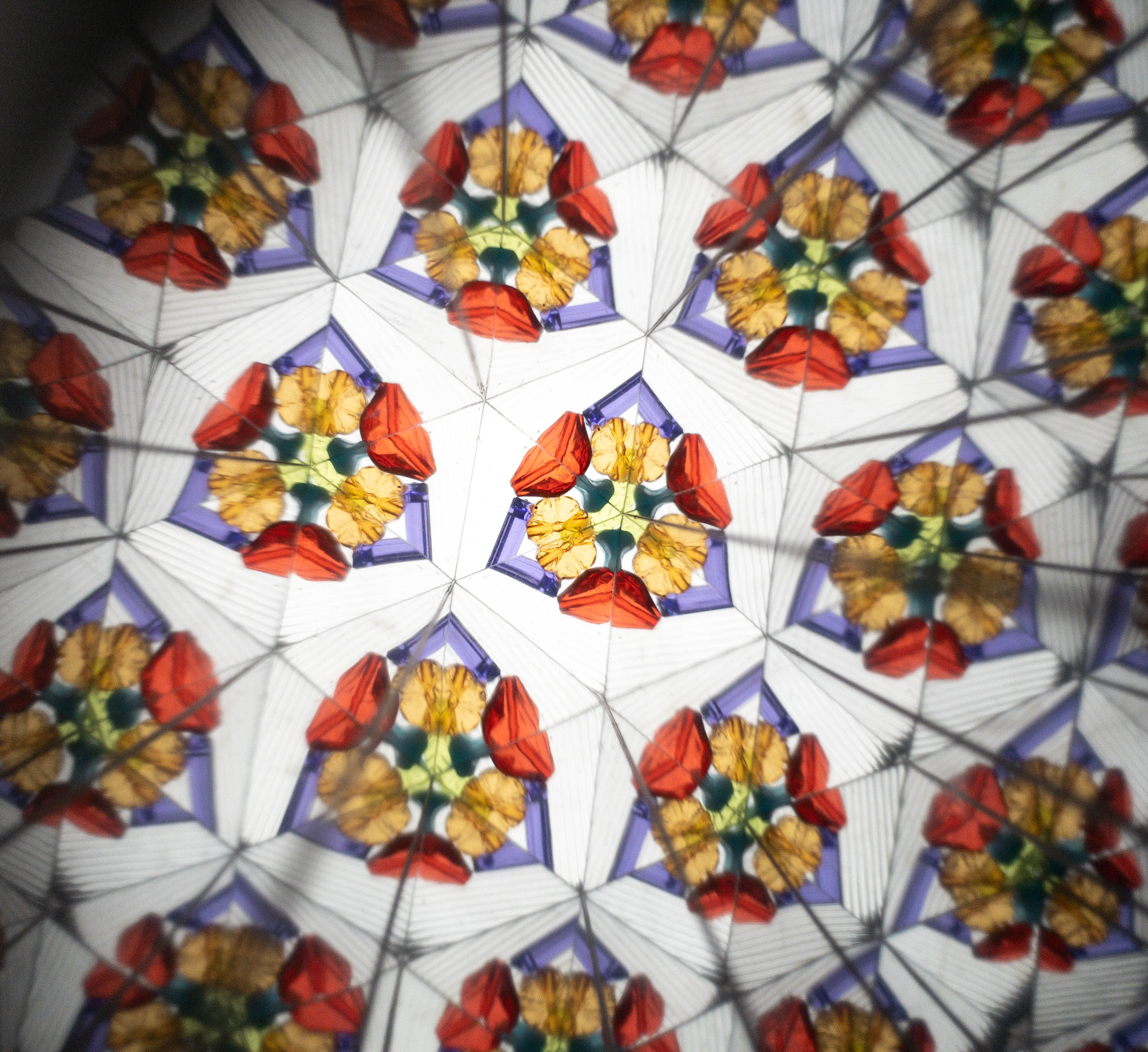 Here's what the inside looks like! You use this like you would a telescope but instead of seeing things from far away, you will see these enchanting illusions dance around the inside of the tube as you twist the front part.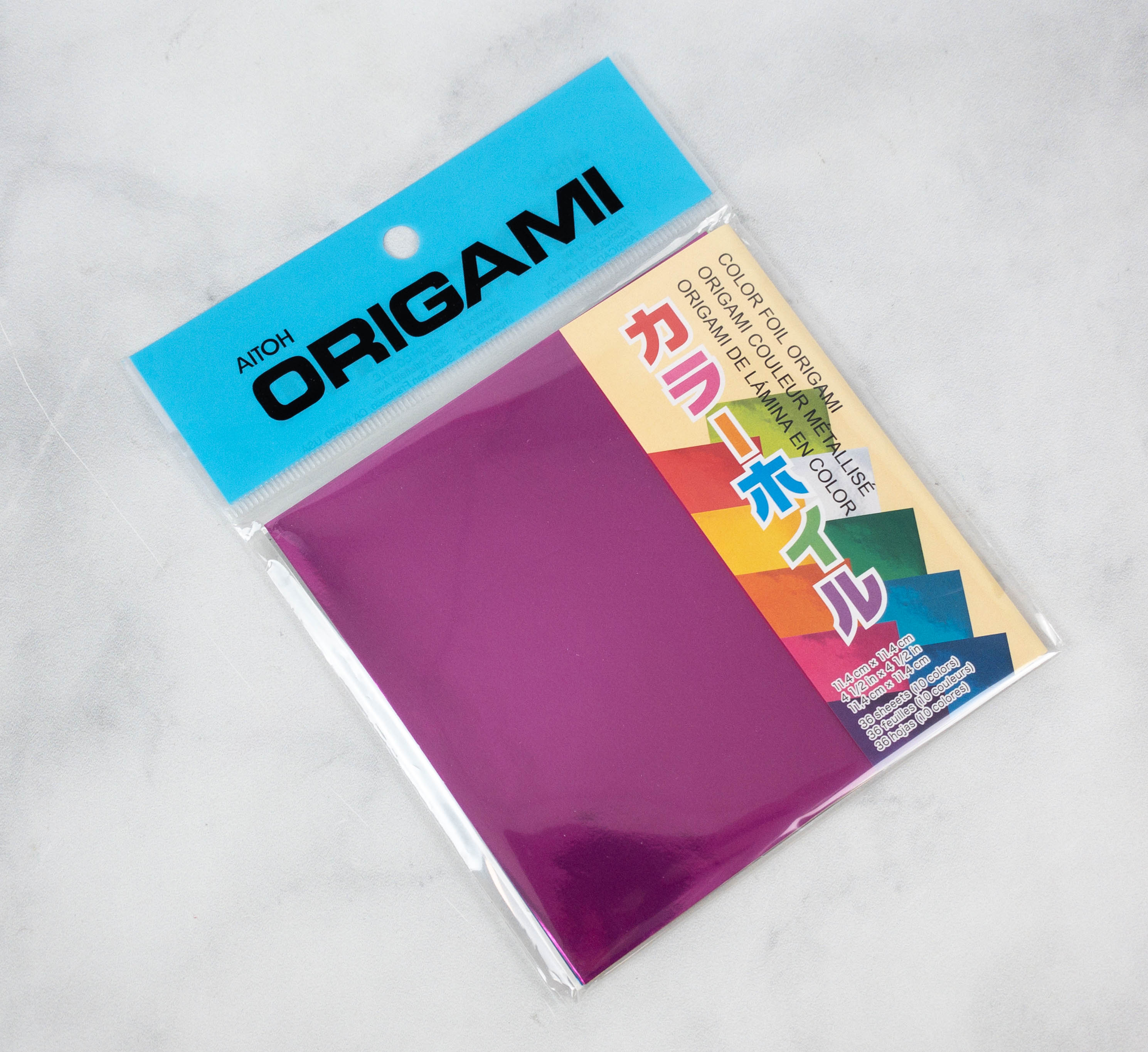 Rainbow Metallic Origami Paper. They also sent a pack of origami paper with beautiful metallic colors!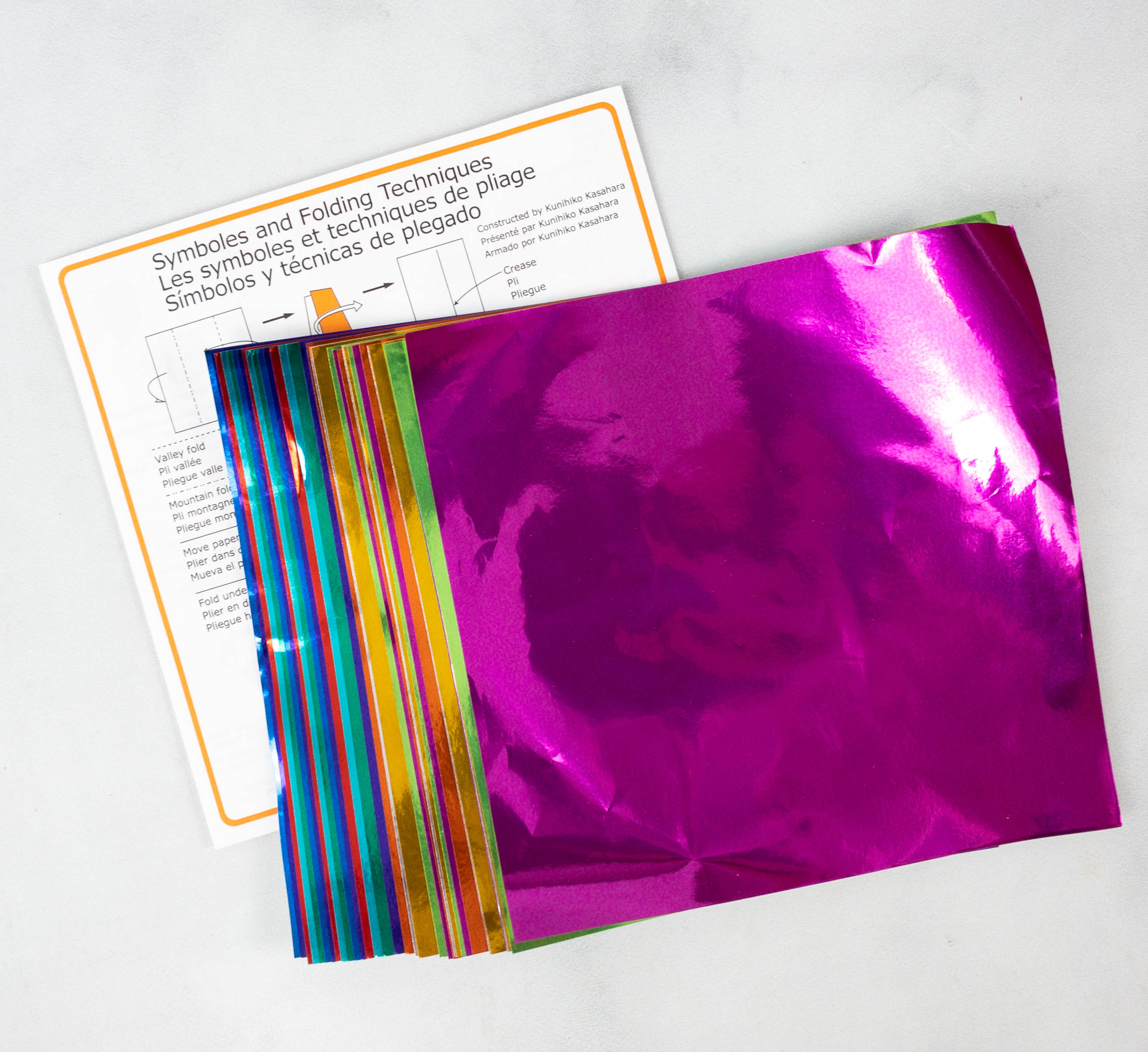 Aside from the paper, they even included instructions for basic origami!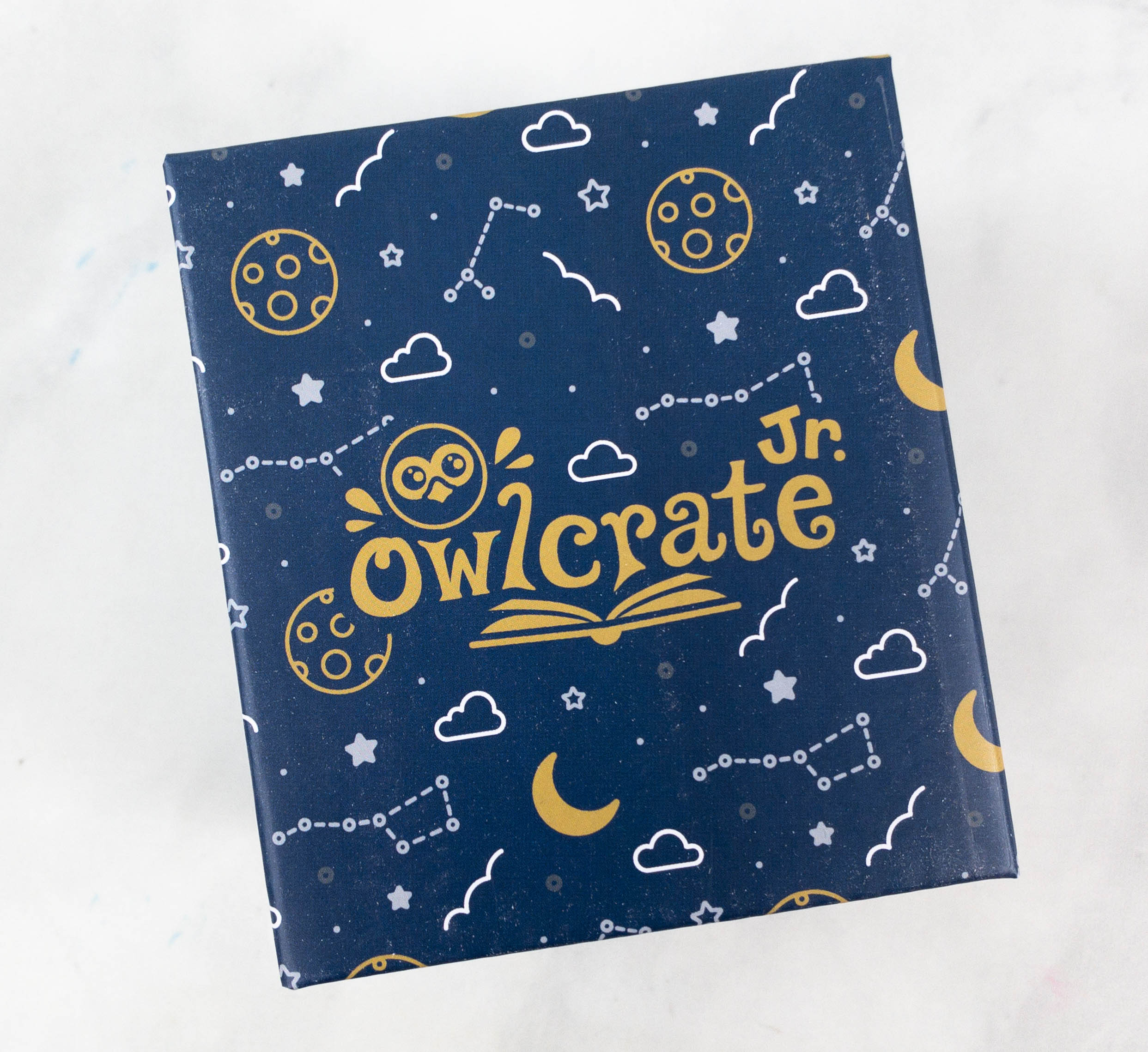 3D-printed LED Moon Lamp and Stand. The last item came in its own box packaging for extra protection during shipping.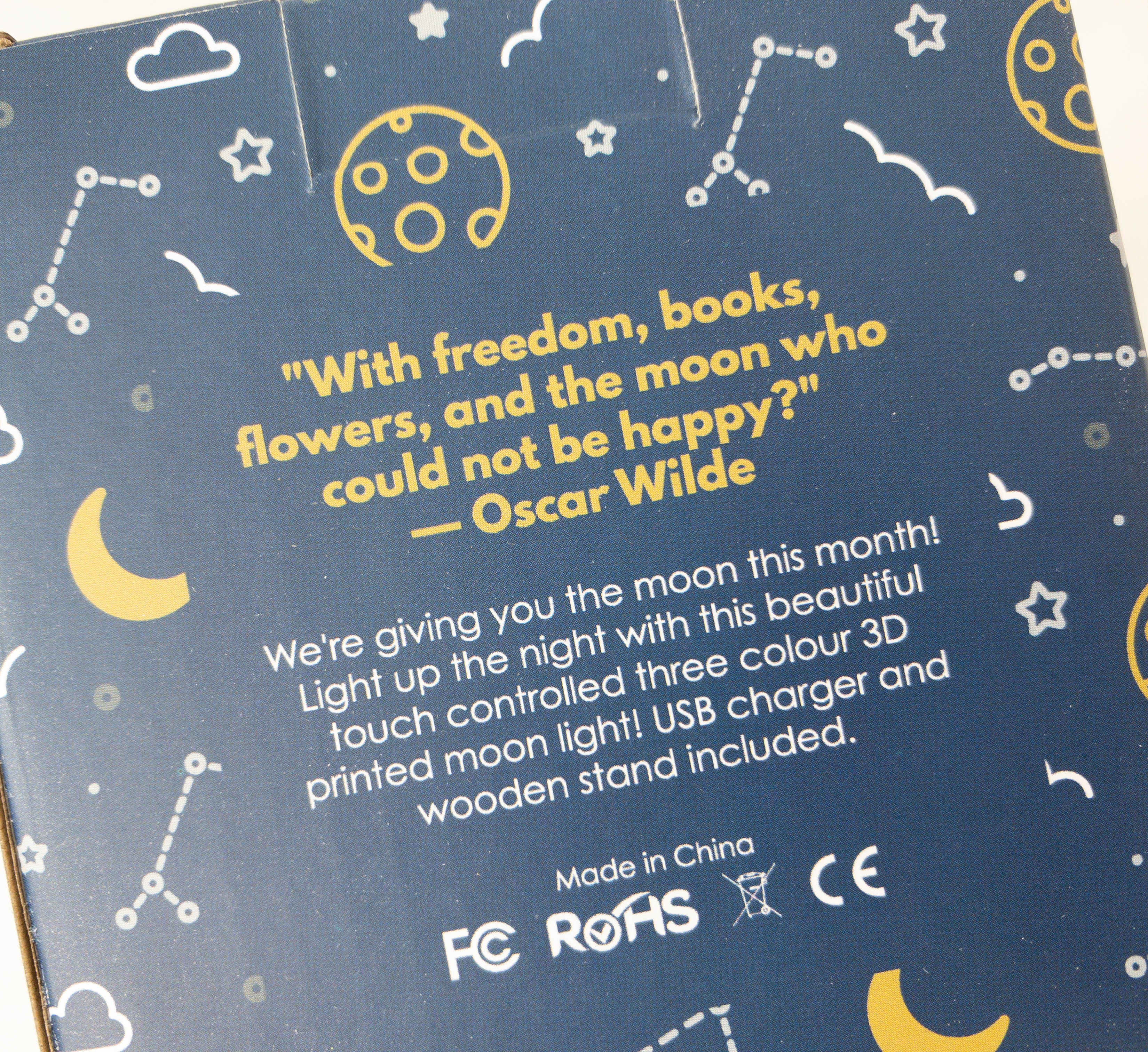 With freedom, books, flowers, and the moon who could not be happy? – Oscar Wilde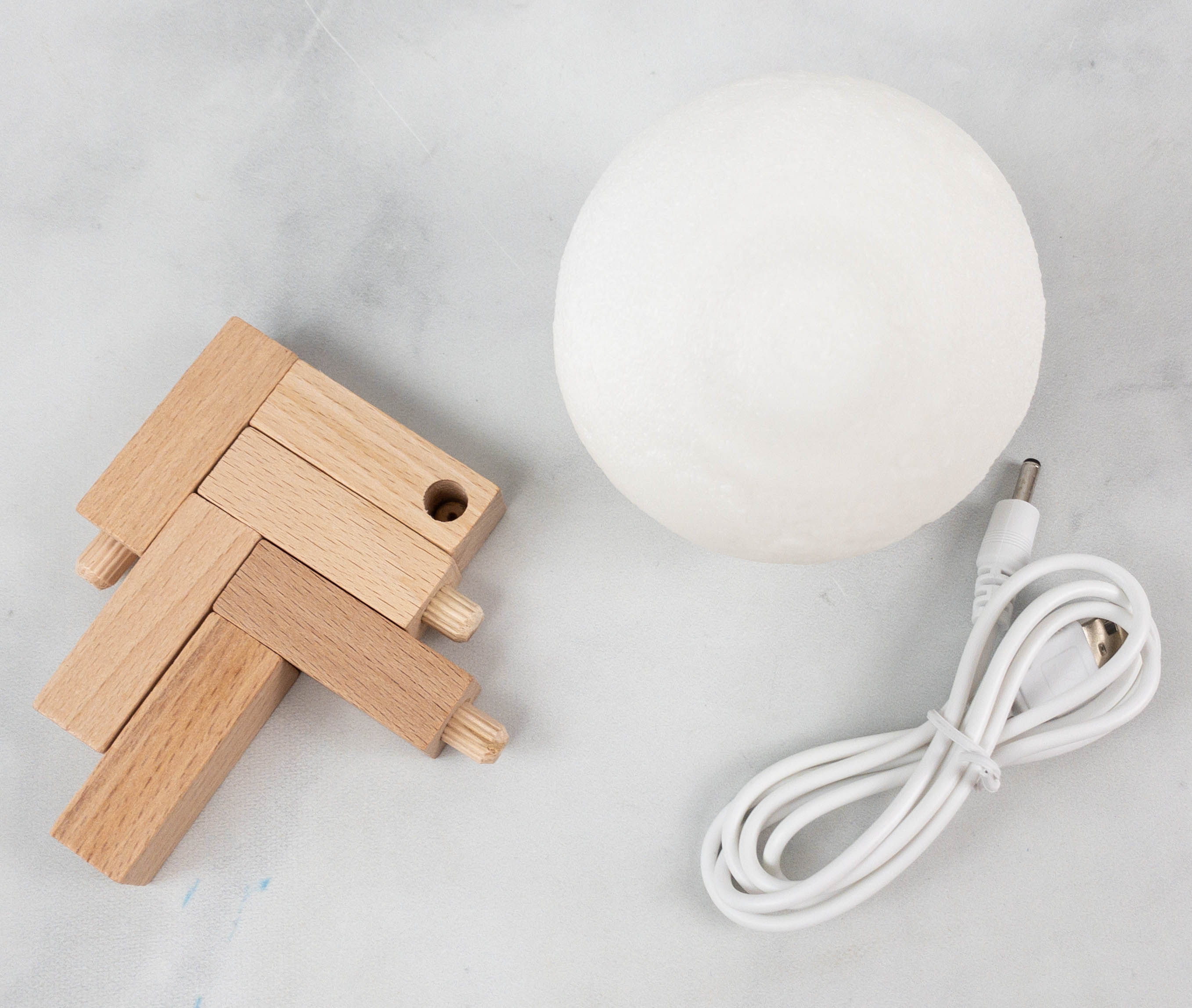 Here's what's inside! There's a moon shaped lamp along with wooden blocks and a USB cord.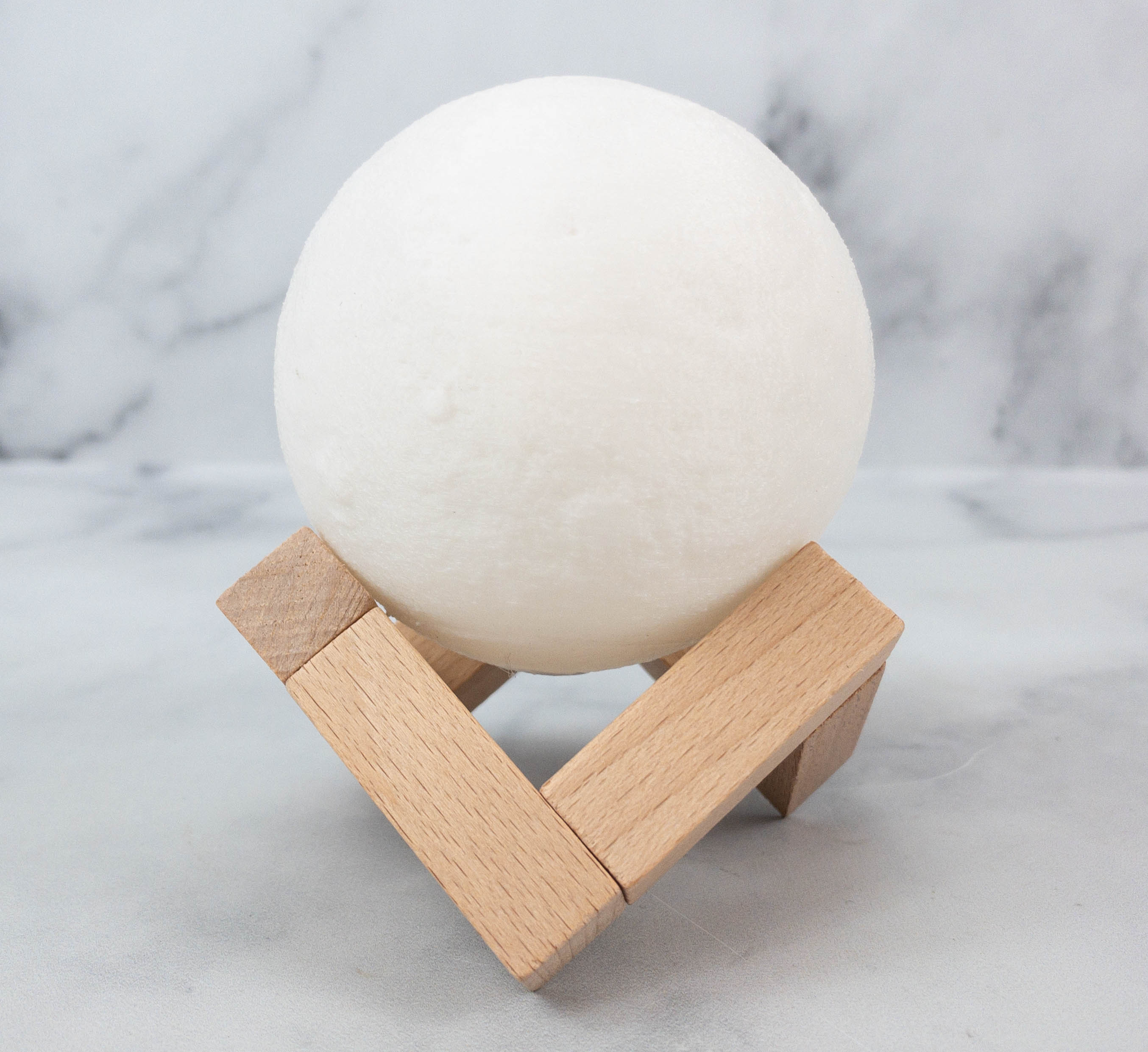 It's really easy to assemble!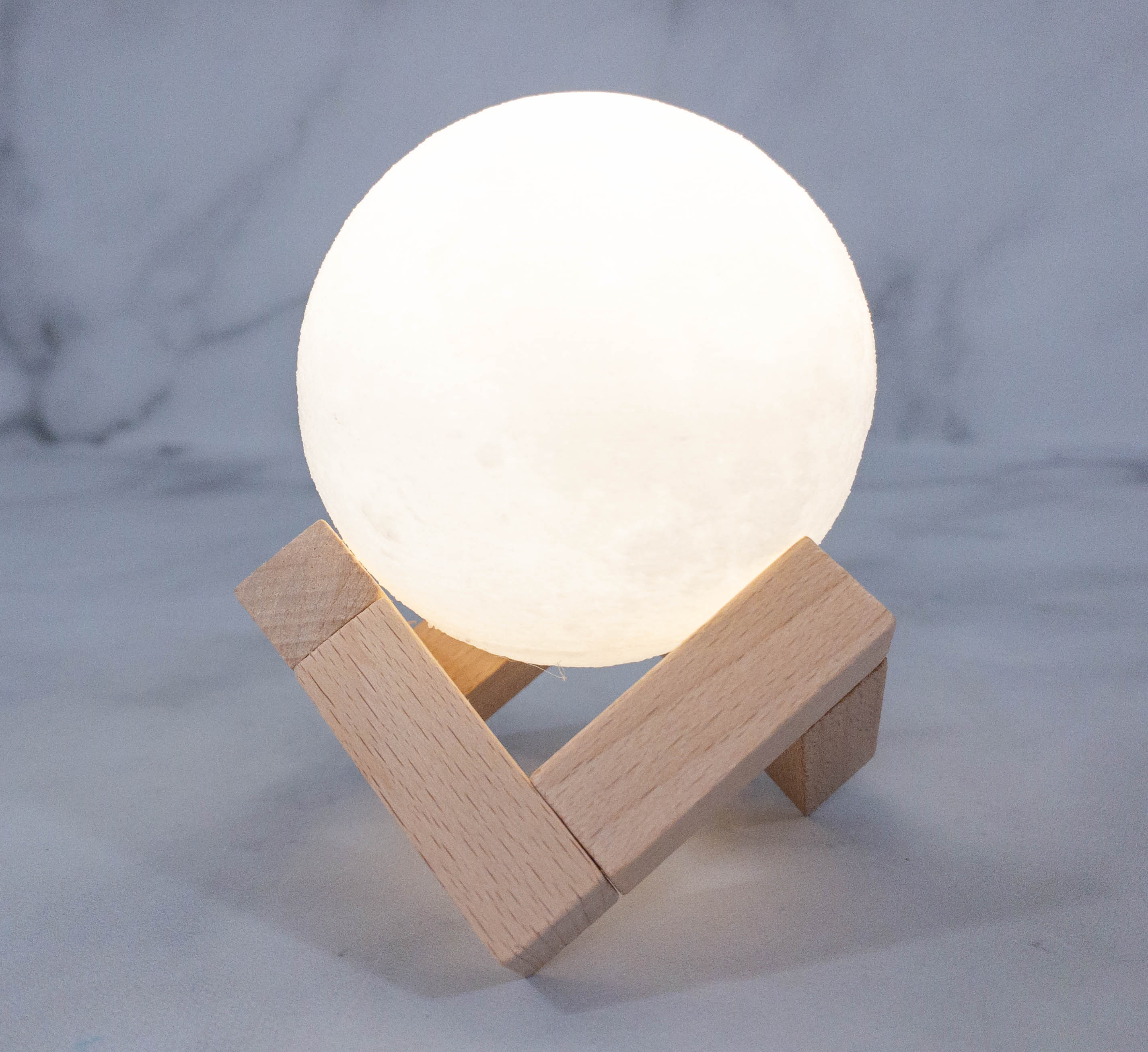 It looks really pretty when lit up, perfect for my son's bedroom.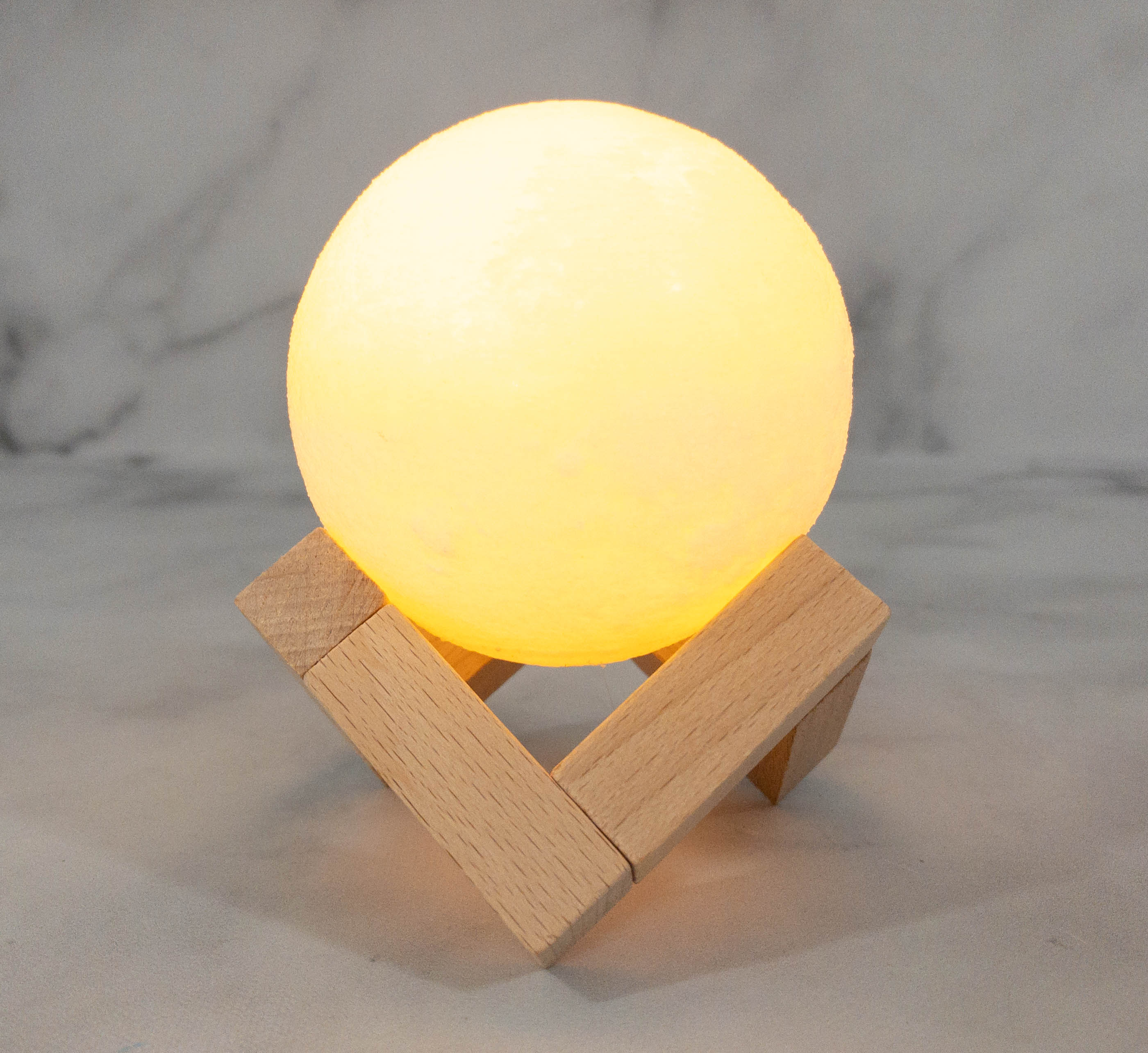 It gives off a nice, warm glow. I like how it can easily be charged via a USB and it's practically cordless when you need to use it.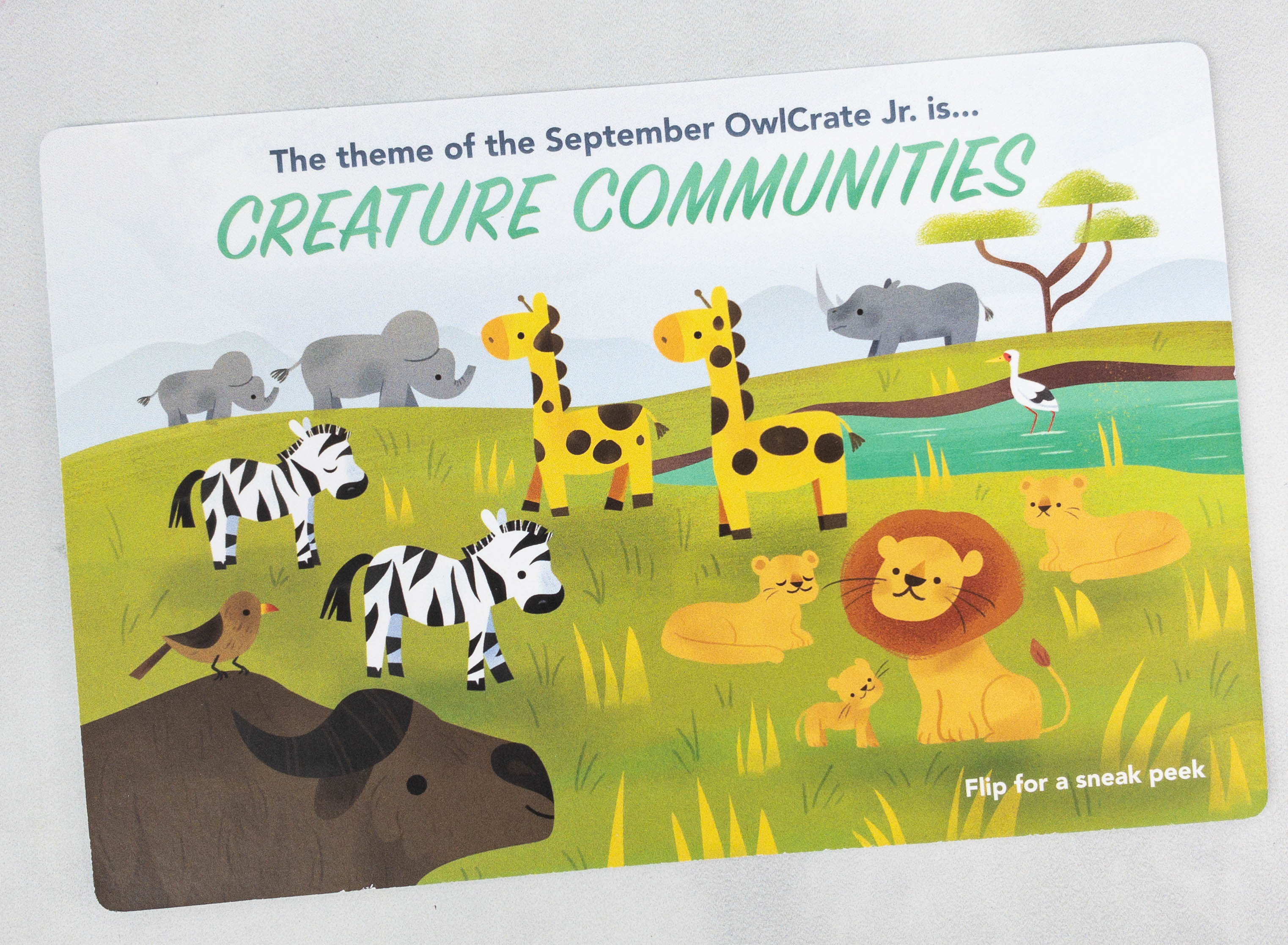 There's also a card that features a sneak peek for the September 2021 box!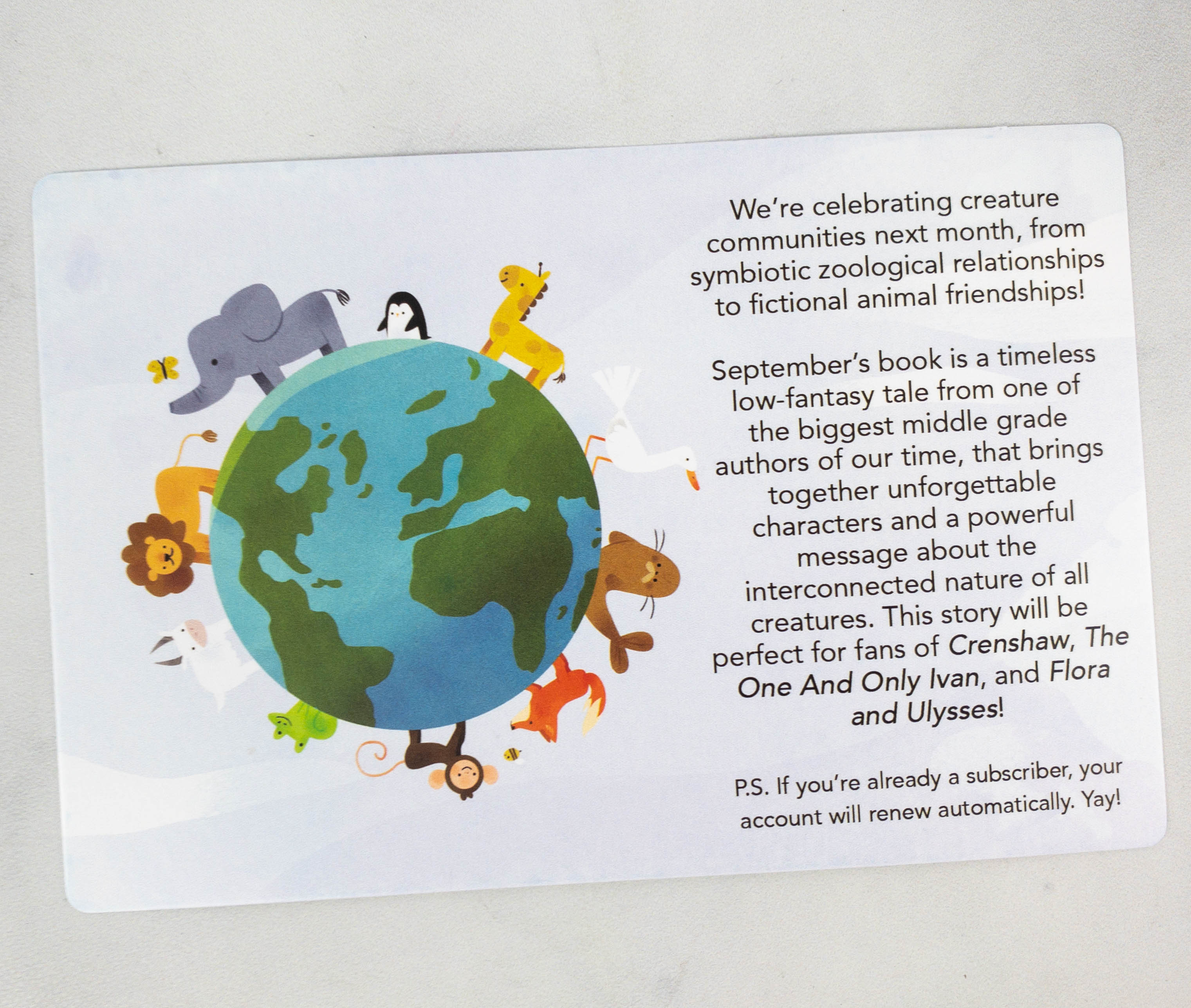 It looks like the next book will be centered around animals!
This month's Moonlight and Stardust themed box was a hit! My kids enjoyed the featured book which took them to an unexpectedly fun adventure. The bookish gifts are also cute and high-quality. They even included an origami kit, and my kids were more than happy to learn the art of Japanese paper folding! Also, we all agree that the night light is the best item in the box aside from the book. It's perfect for display and its warm glow adds a relaxing ambiance to a room. OwlCrate Jr. really is a fun subscription for middle graders who love to read. They send age-appropriate books and kid-friendly bookish items as well, helping keep the love for reading alive!
What did you think of the OwlCrate Jr. box this month?
Visit OwlCrate Jr. to subscribe or find out more!