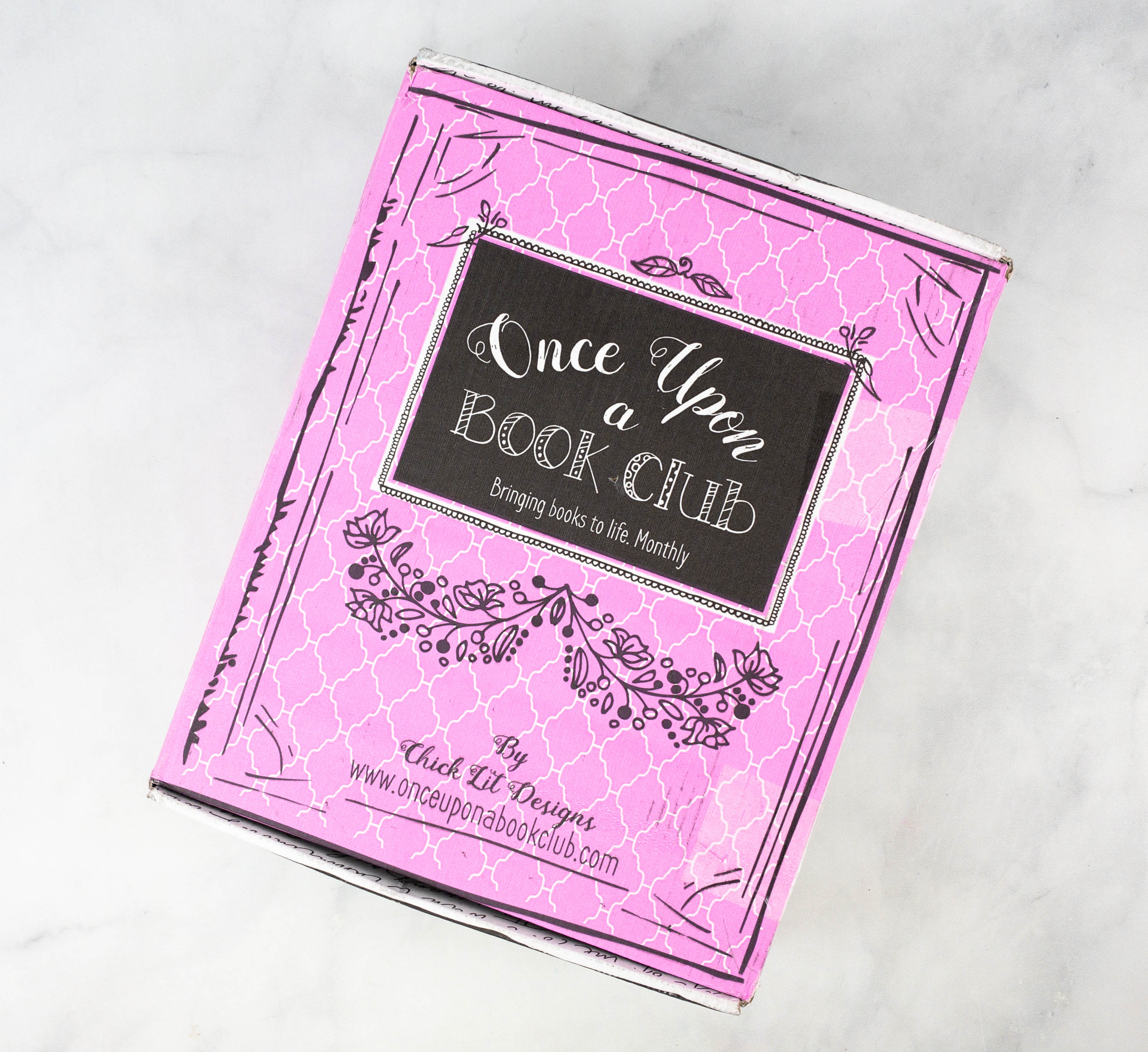 Once Upon a Book Club is a subscription that offers a unique reading experience. For $49.99 each month, you'll receive a book to read, a 5″ x 7″ quote print, along with 2-4 corresponding gifts to match a quote/item mentioned in the book. Readers are advised to open the gifts as they finish the corresponding page to make them feel as if the book is coming to life! This subscription is a top choice in our readers' picks for best book subscription box of the year!
You can choose between Once Upon a Book Club's Young Adult edition and Adult edition. This is the review of the Adult Fiction box.
DEAL: Enjoy 10% off your first box. Use coupon code HELLO10.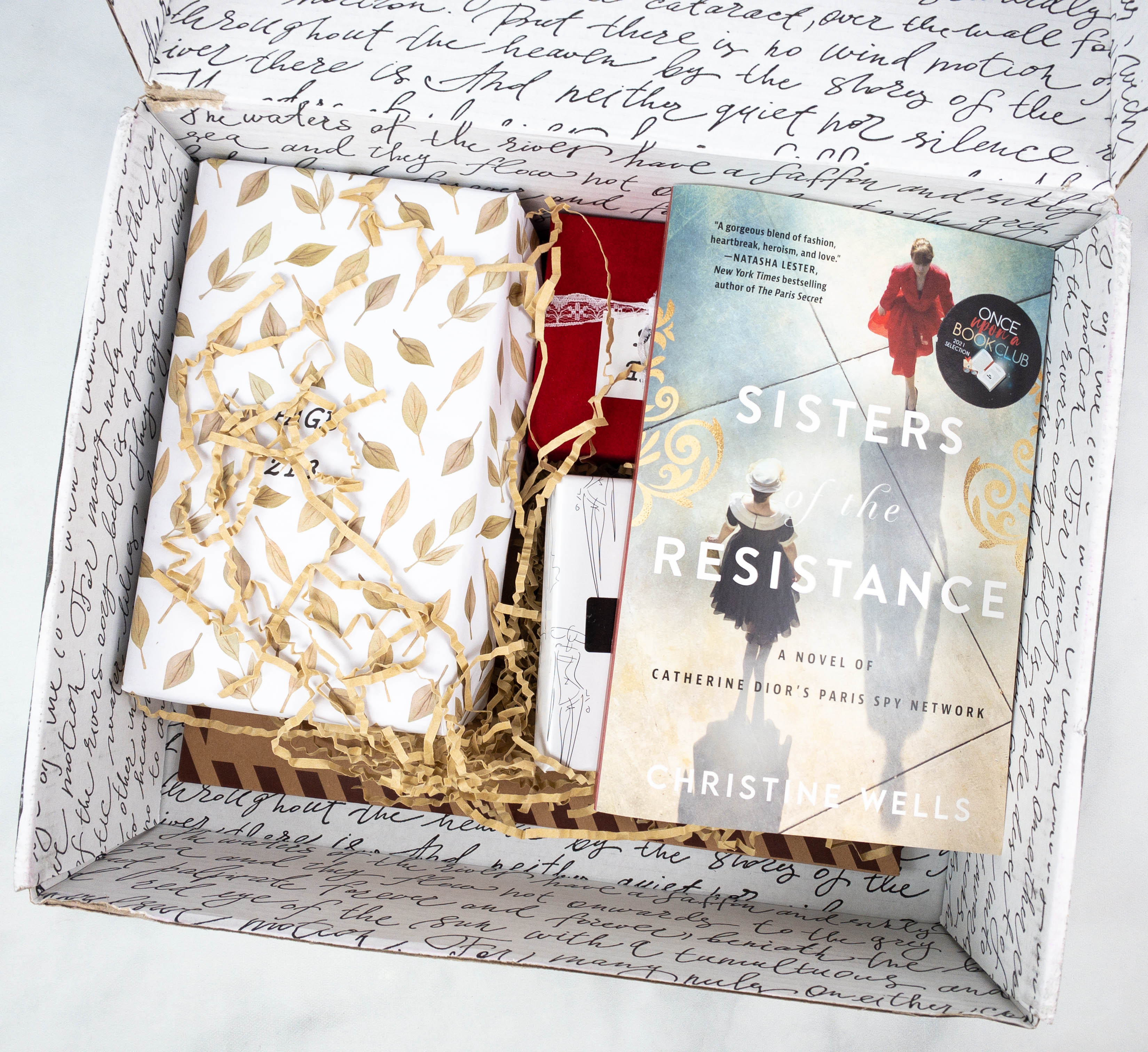 The gifts were individually wrapped. They were also packed with squiggles.
The box also includes a Book Club Kit guide!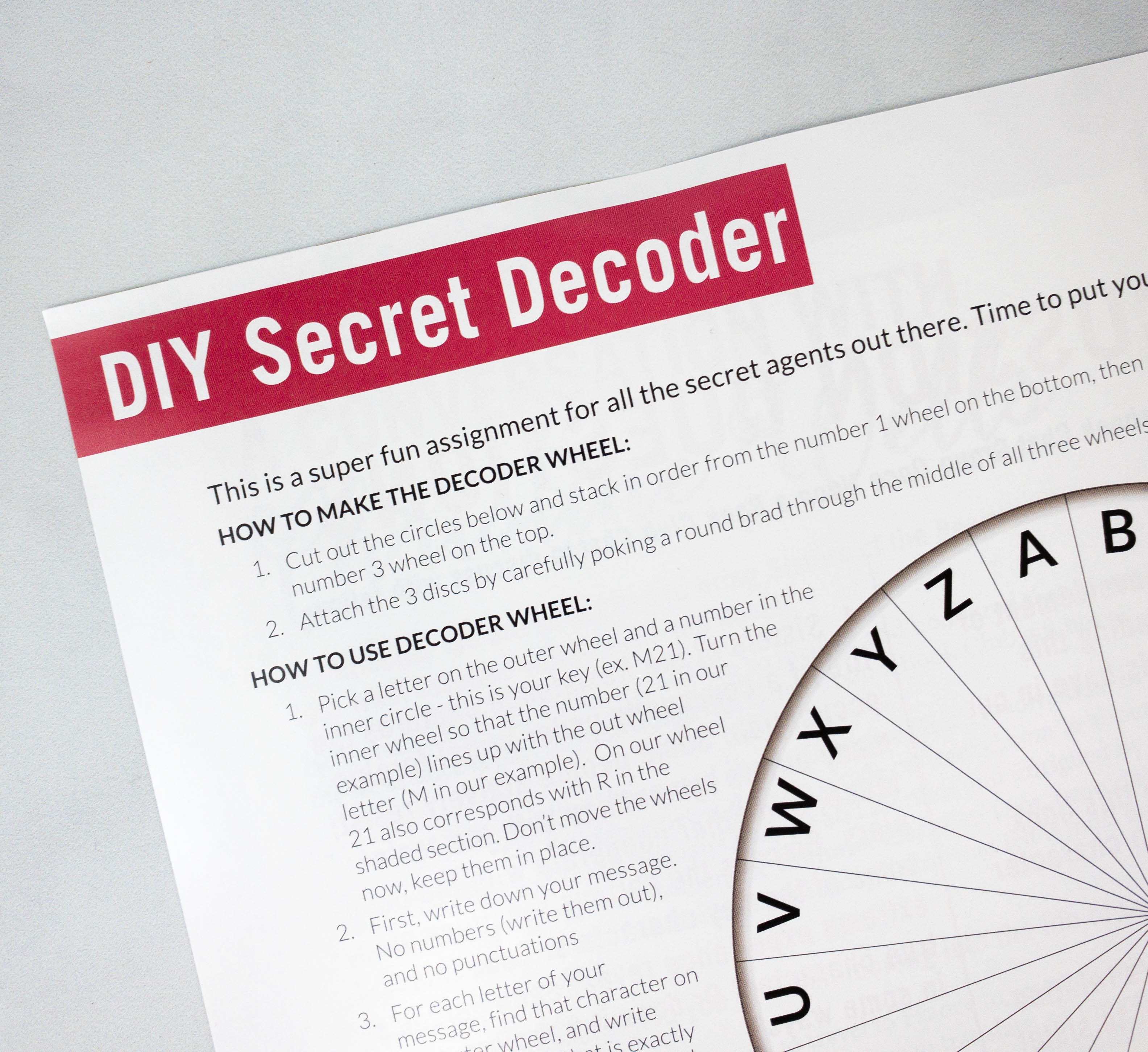 At the back is a fun assignment called DIY Secret Decoder.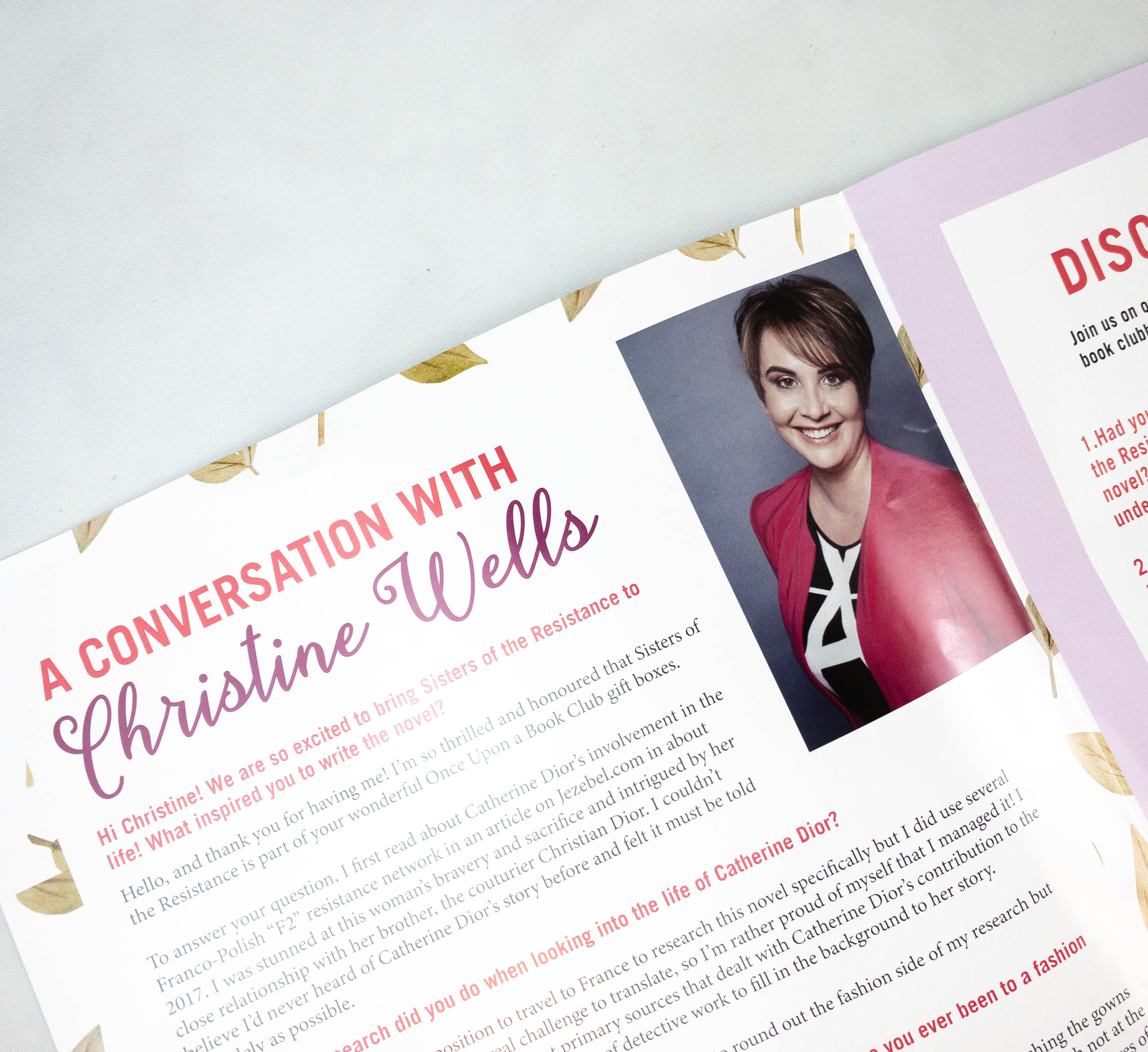 Inside, there's a Q and A featuring the author, Christine Wells.
There's also a card with a quote from the book.
Courage, my dear.

– Christine Wells, Sisters of the Resistance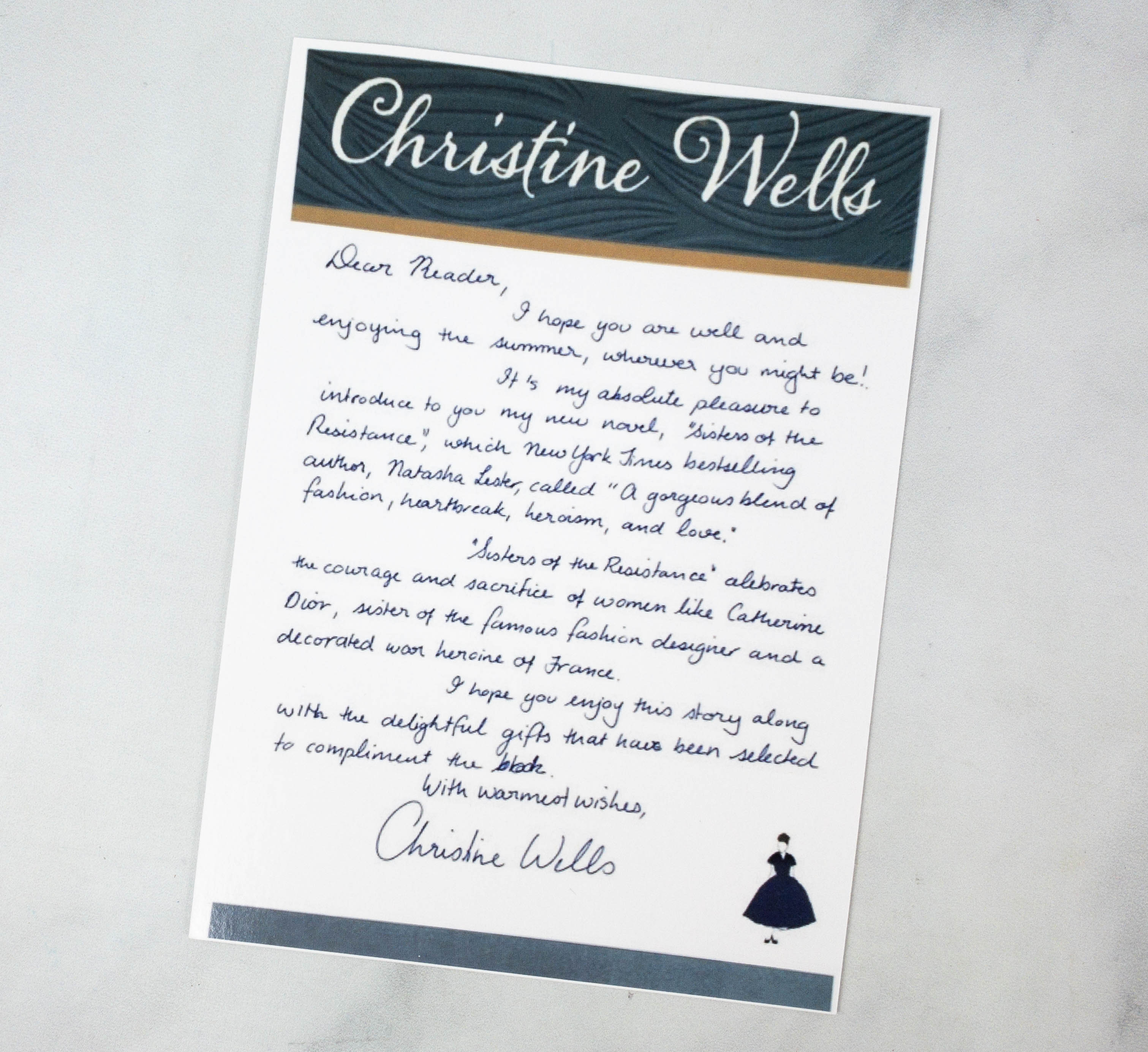 At the back of the card is a message from the author herself.
I also received a book mark in this month's box, with the same quote as the card.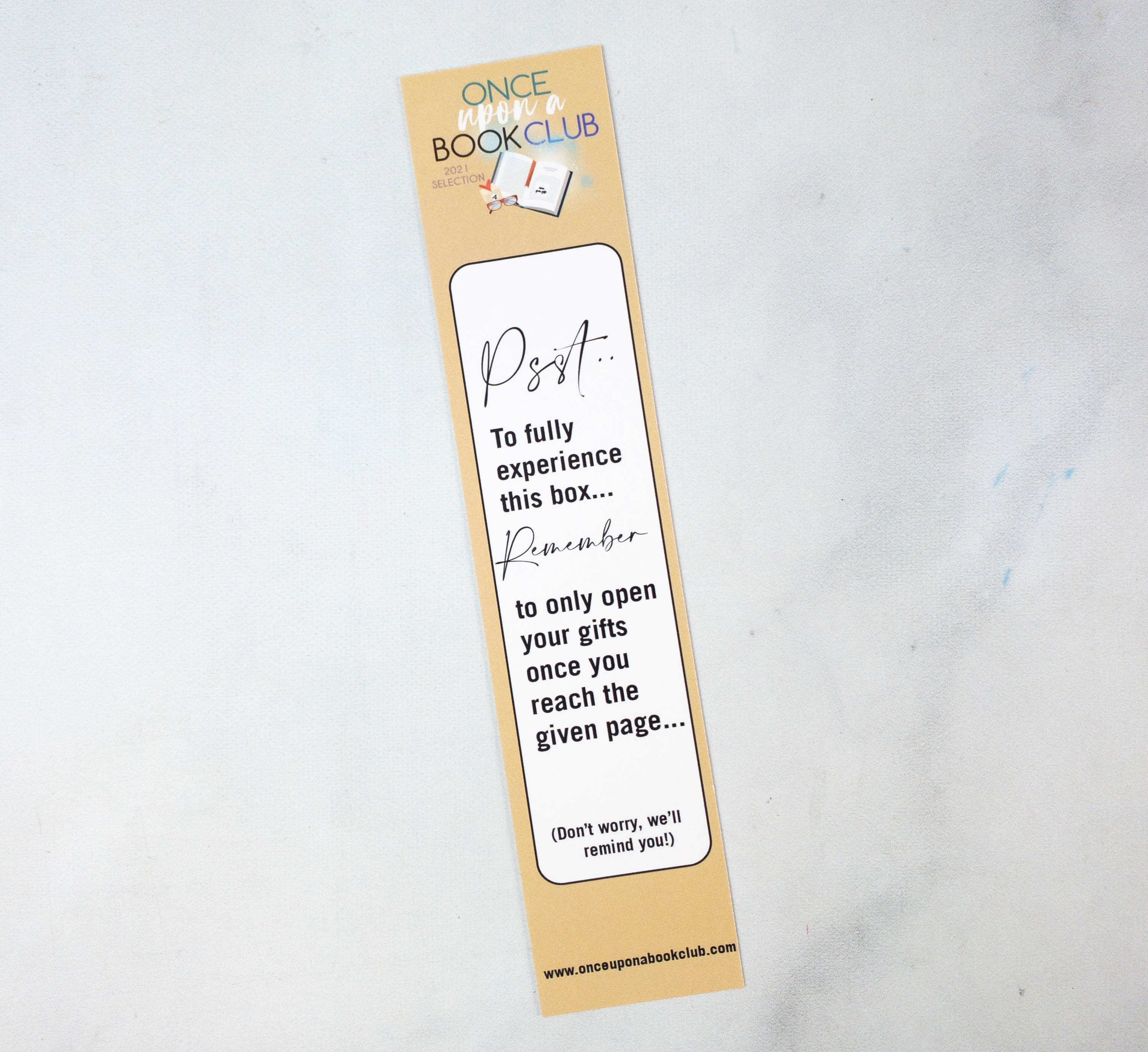 At the back of the bookmark is a reminder to only open the gifts once you reach the given page.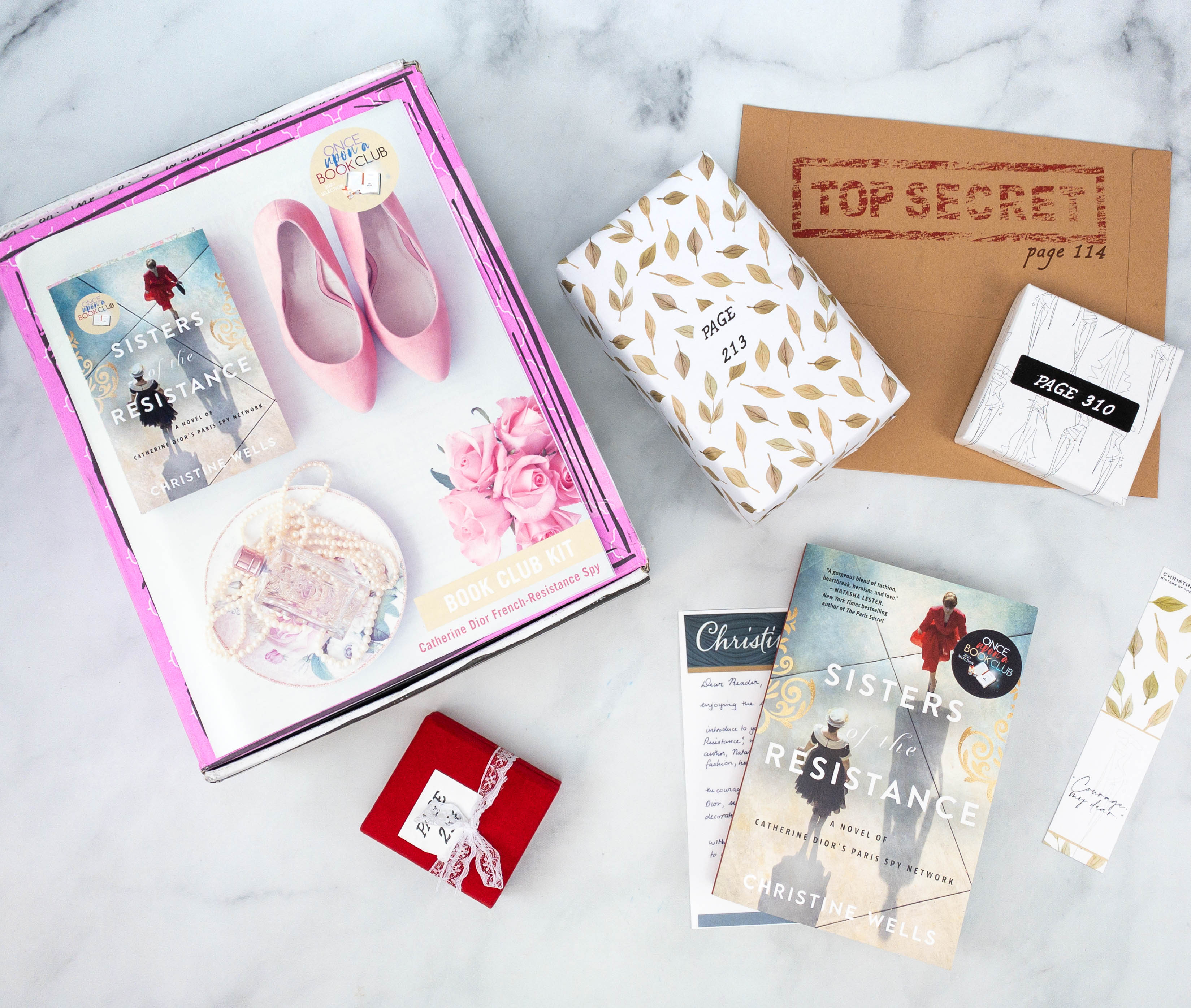 Everything in my box!
The book also has a Once Upon A Book Club 2021 Selection sticker at the upper right side of the book.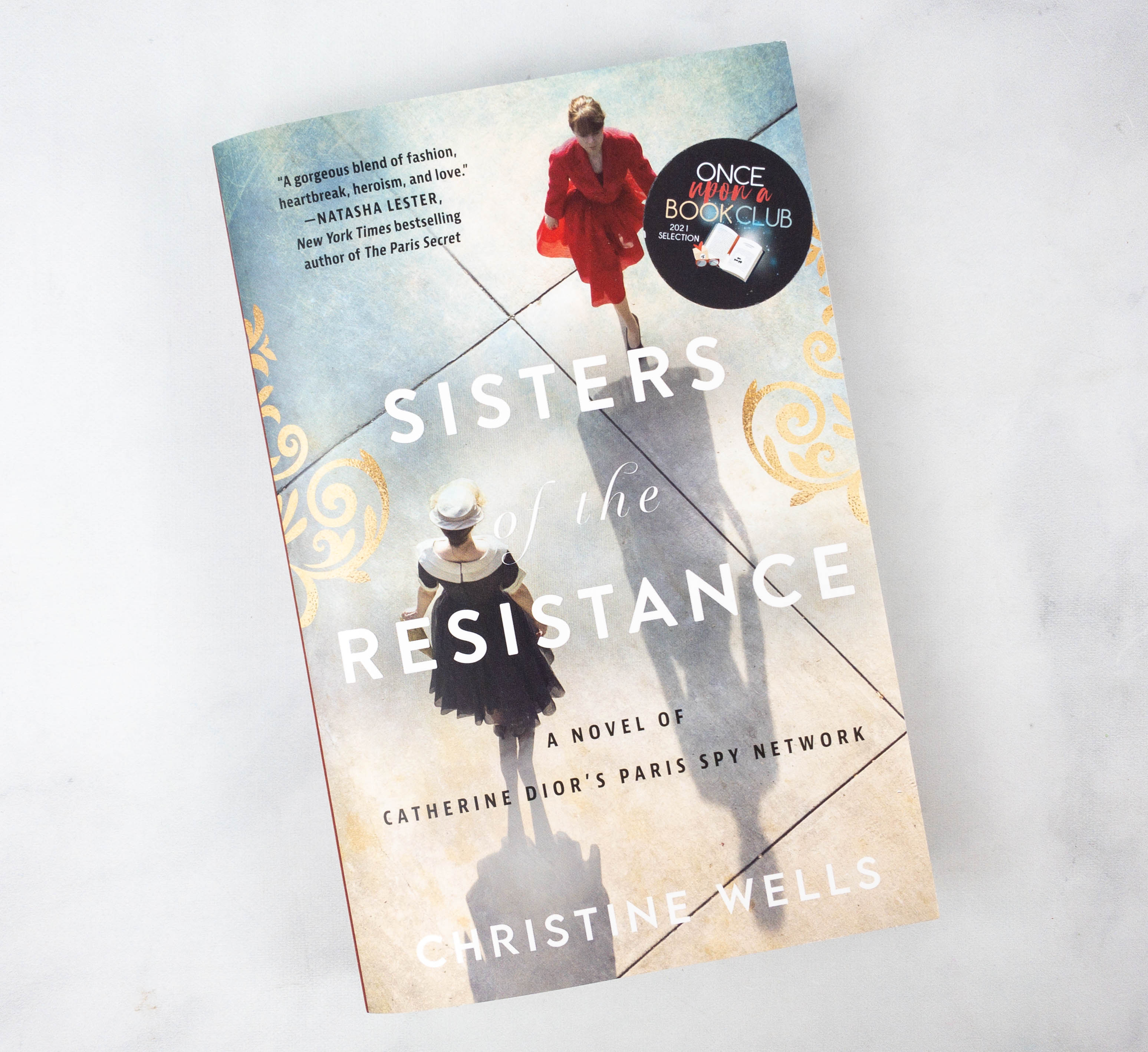 Sisters of the Resistance by Christine Wells ($11.60)
One of PopSugar's Best Books of June!

Two sisters join the Paris Resistance in this page-turning new novel inspired by the real-life bravery of Catherine Dior, sister of the fashion designer and a heroine of World War II France—perfect for fans of Kate Quinn and Jennifer Chiaverini.

Paris, 1944: The war is nearly over, but for members of the Resistance in occupied France, it is more dangerous than ever before. Twenty-five-year-old Gabby Foucher loathes the Nazis, though as the concierge of 10 rue Royale, she does her best to avoid conflict—unlike her bolder sister Yvette, who finds trouble at every turn.

Then they are both recruited into the Resistance by Catherine Dior and swept into a treacherous world of spies, fugitives, and intrigue. While Gabby risks everything for the man she is hiding from the Nazis, Yvette must decide whether to trust an enigmatic diplomat who seems to have guessed her secret. As the threat of betrayal draws ever-closer, one slip could mean the deaths of many, and both sisters must make choices they might regret.

Paris, 1947: Yvette returns from New York to reunite with Gabby and begin life anew as a mannequin for Dior, who is revolutionizing fashion with the New Look. But first she must discover the truth behind Catherine's terrible fate, while Gabby finds that there are many kinds of courage, and that love is always worth fighting for.
This month's book pick is a historical fiction! It's set in Paris during the WWII and a few years after (it has alternate timelines). It follows two sisters, Gabby and Yvette, who were involved in the war in different ways. This book has a lot of twists and turns! I was also really into the whole Catherine Dior story! This books also teaches real life lessons like how love is something that's always worth fighting for and that there are a lot of ways to show courage.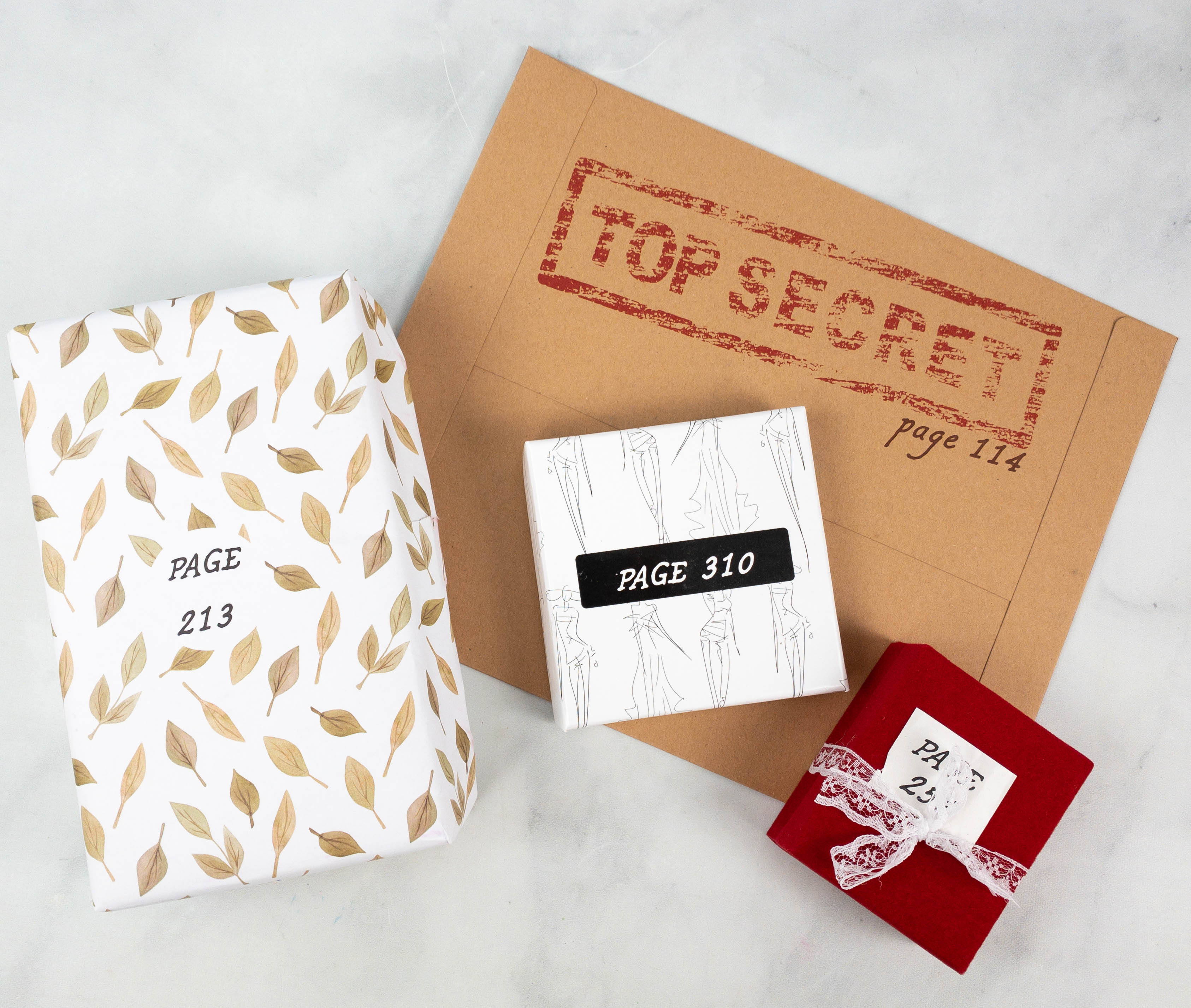 I'm so excited to open the gifts!
I opened the first gift upon reaching Page 114.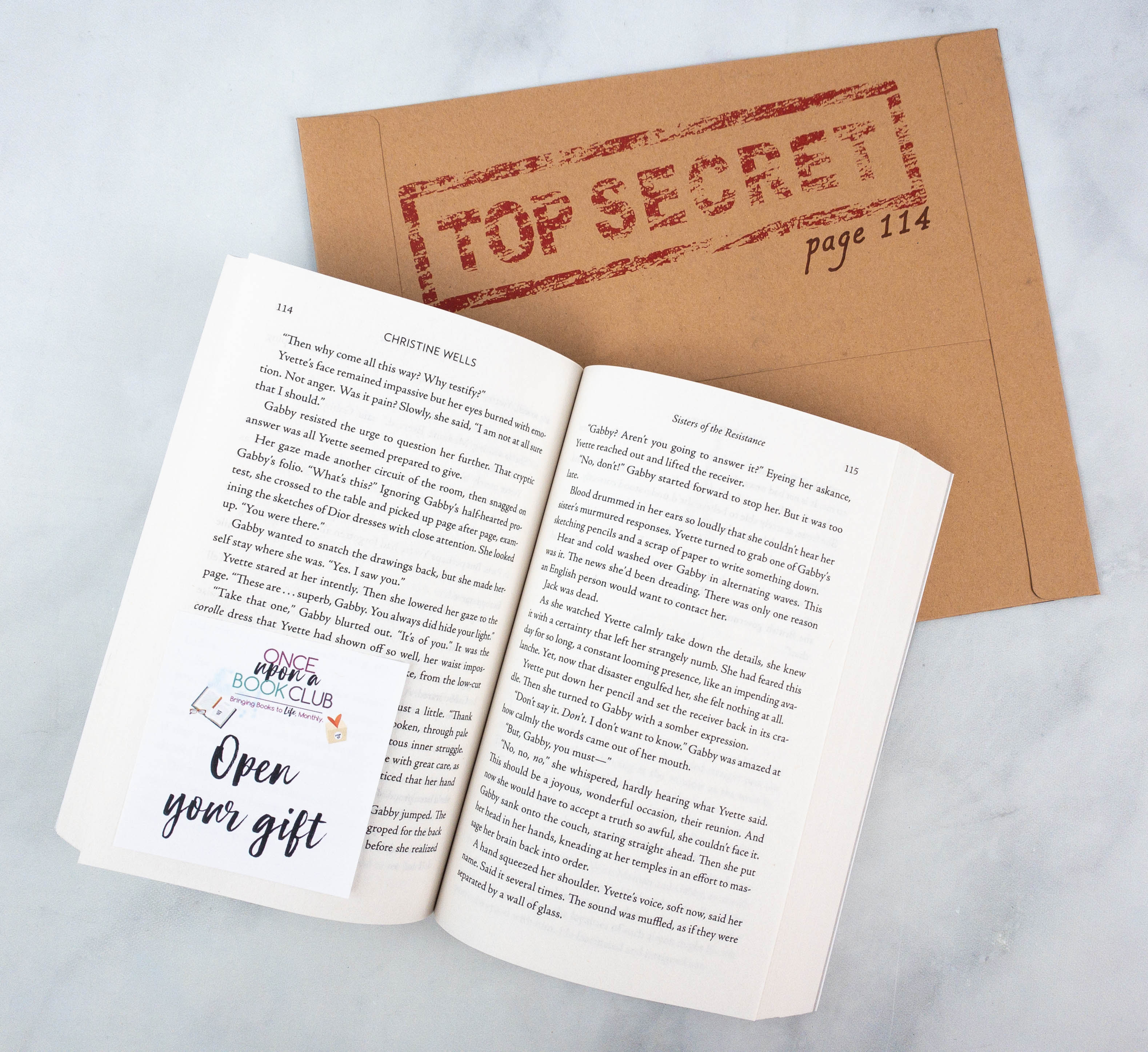 Corolle Dress. It came in a brown file envelope stamped with the words "TOP SECRET".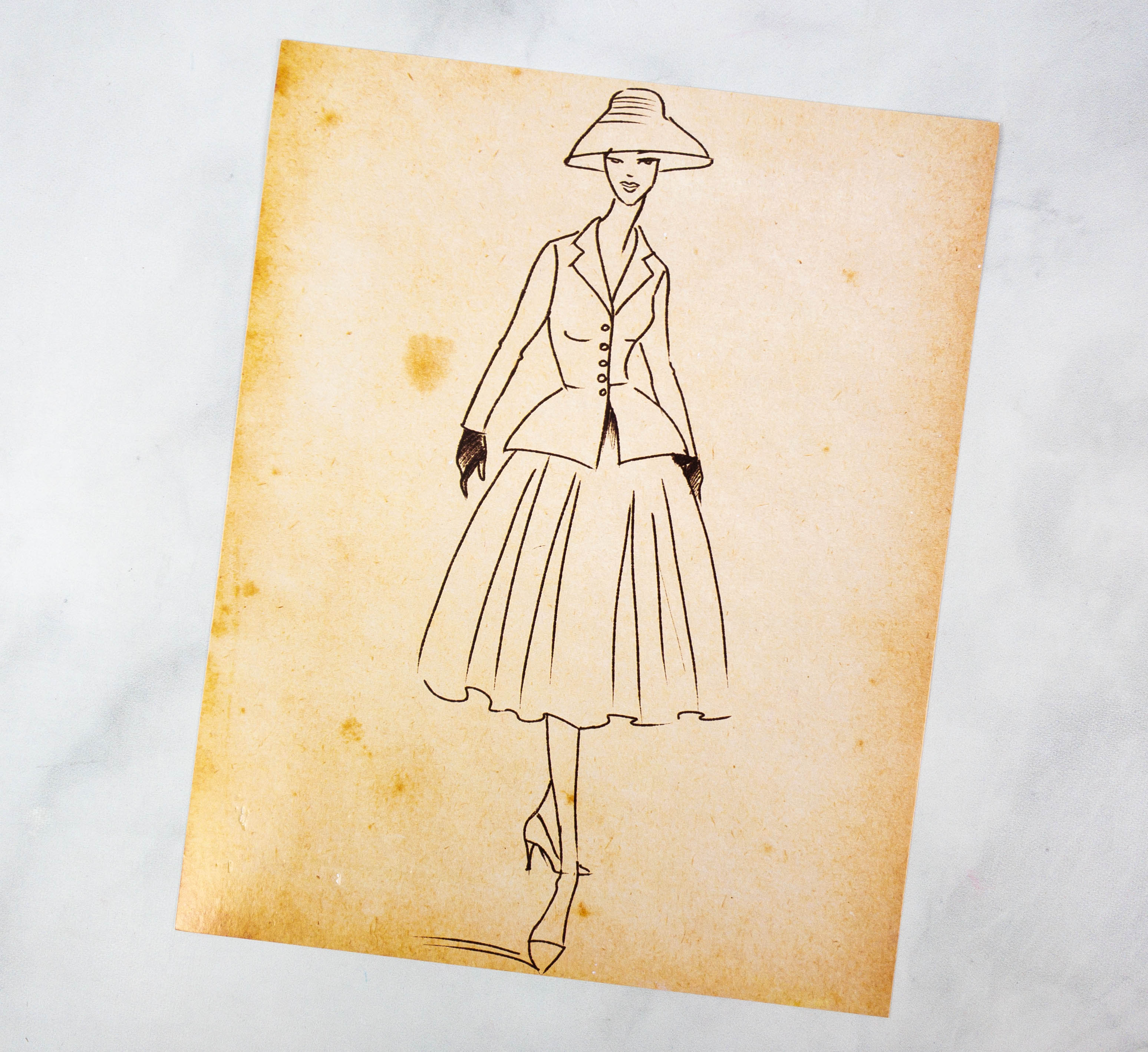 Inside is an old sketch of Yvette in the Corolle Dress. In the book, Gabby has a certain talent for fashion and Yvette saw sketches of dresses from her folio. She noticed this one and told her sister that it was beautiful. According to Gabby, this is her sketch of Yvette because she wore the Corolle dress so well.
The next gift can be opened upon reaching Page 213.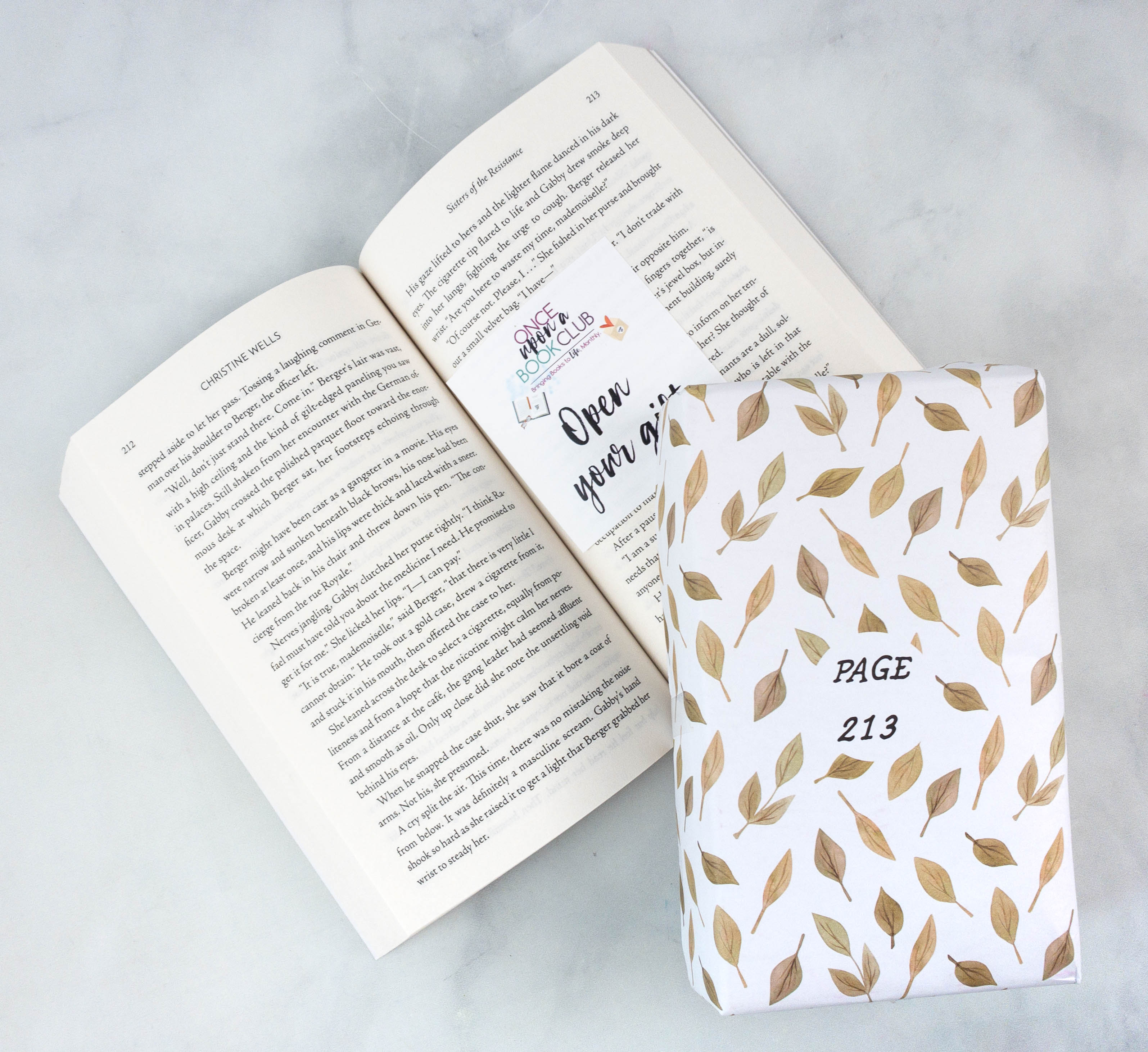 Clutch Bag. This gift came in a box packaging, wrapped in paper with a beautiful leaf pattern.
Look at that gorgeous clutch bag! I love its shade of pink, and how it is accentuated by the golden hardware.
This is a great bag that will suit a formal look. It's quite handy because it can fit some basic things I might need!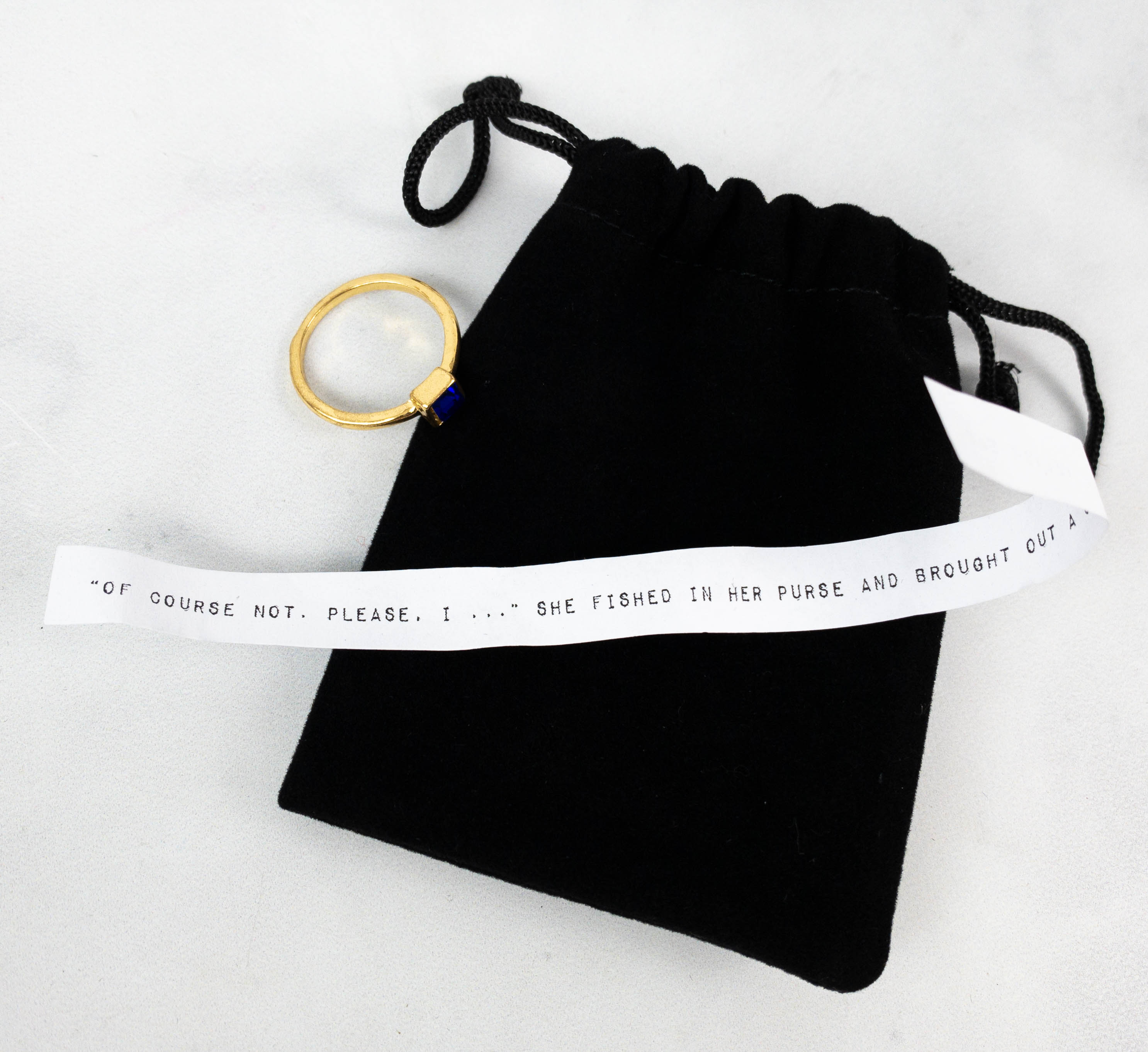 Along with the clutch is a small black velvet pouch. Inside is a ring with a blue gemstone in it and a note that contains a quote from the book.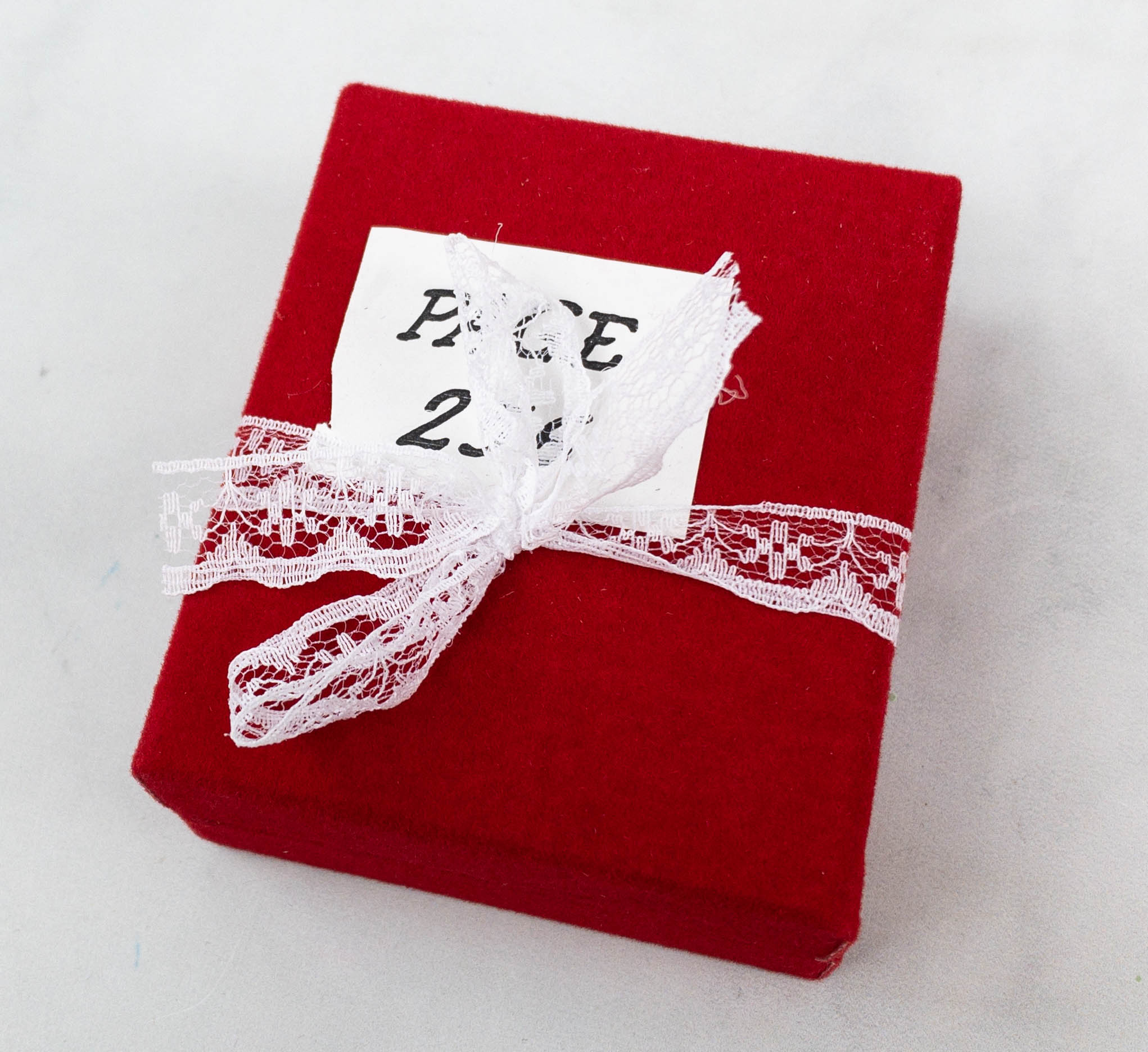 Another gift can be opened upon reaching Page 256.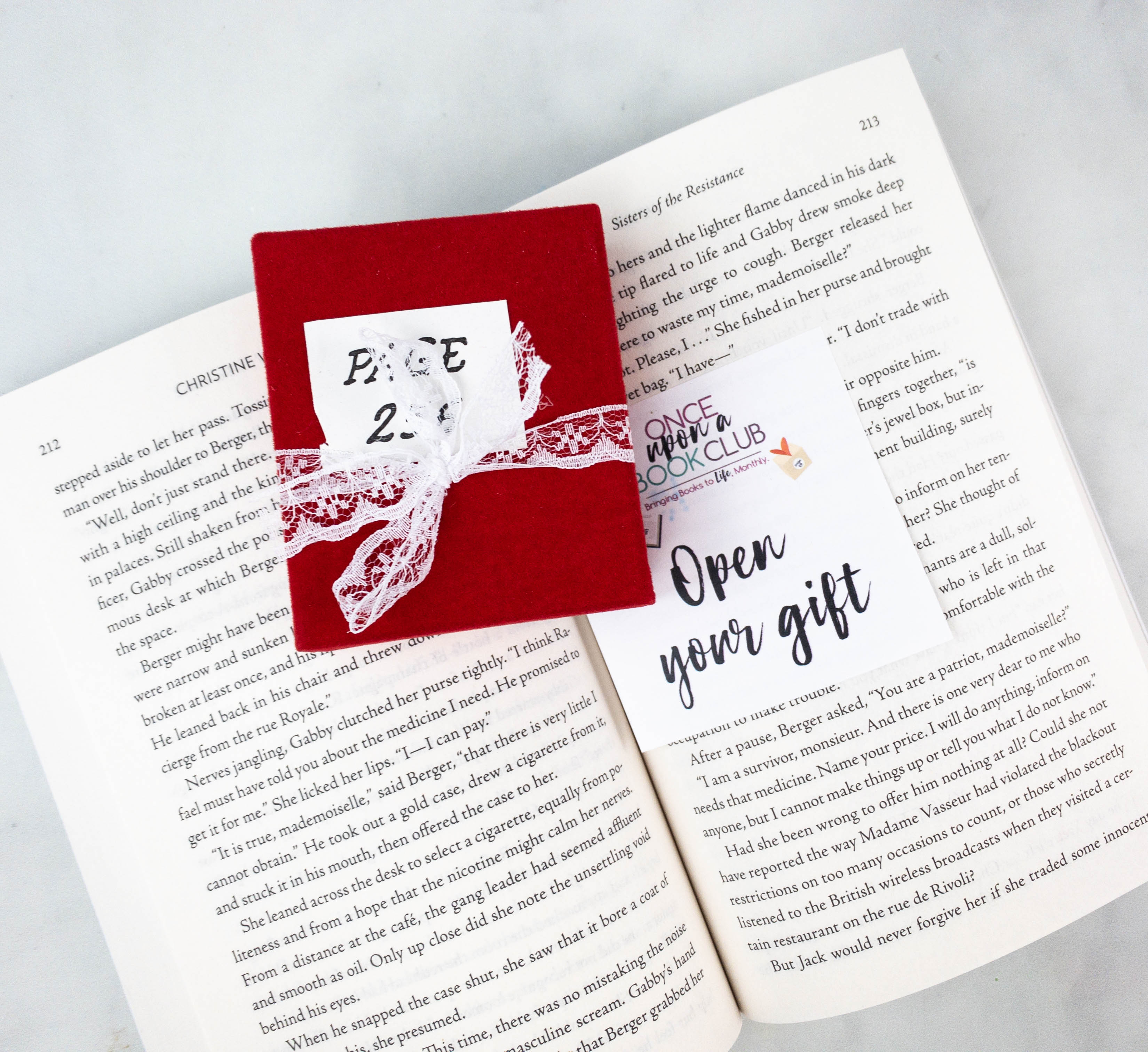 Bracelet. The next gift came in a red velvet box.
There is a string of delicate pearlesque beads inside!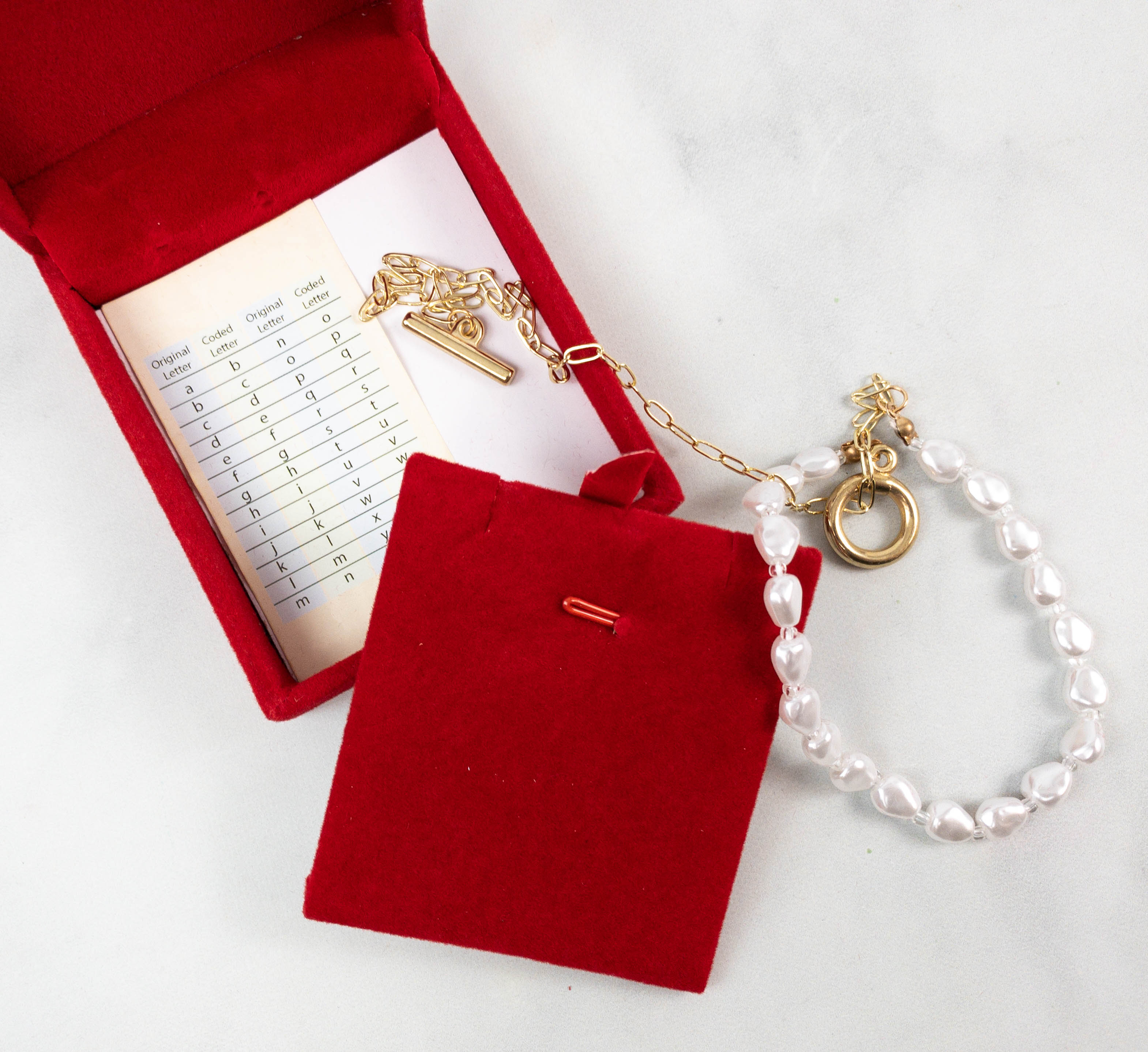 At the back of the cushion that holds the jewelry is a decoder note that teaches how to read and write coded messages!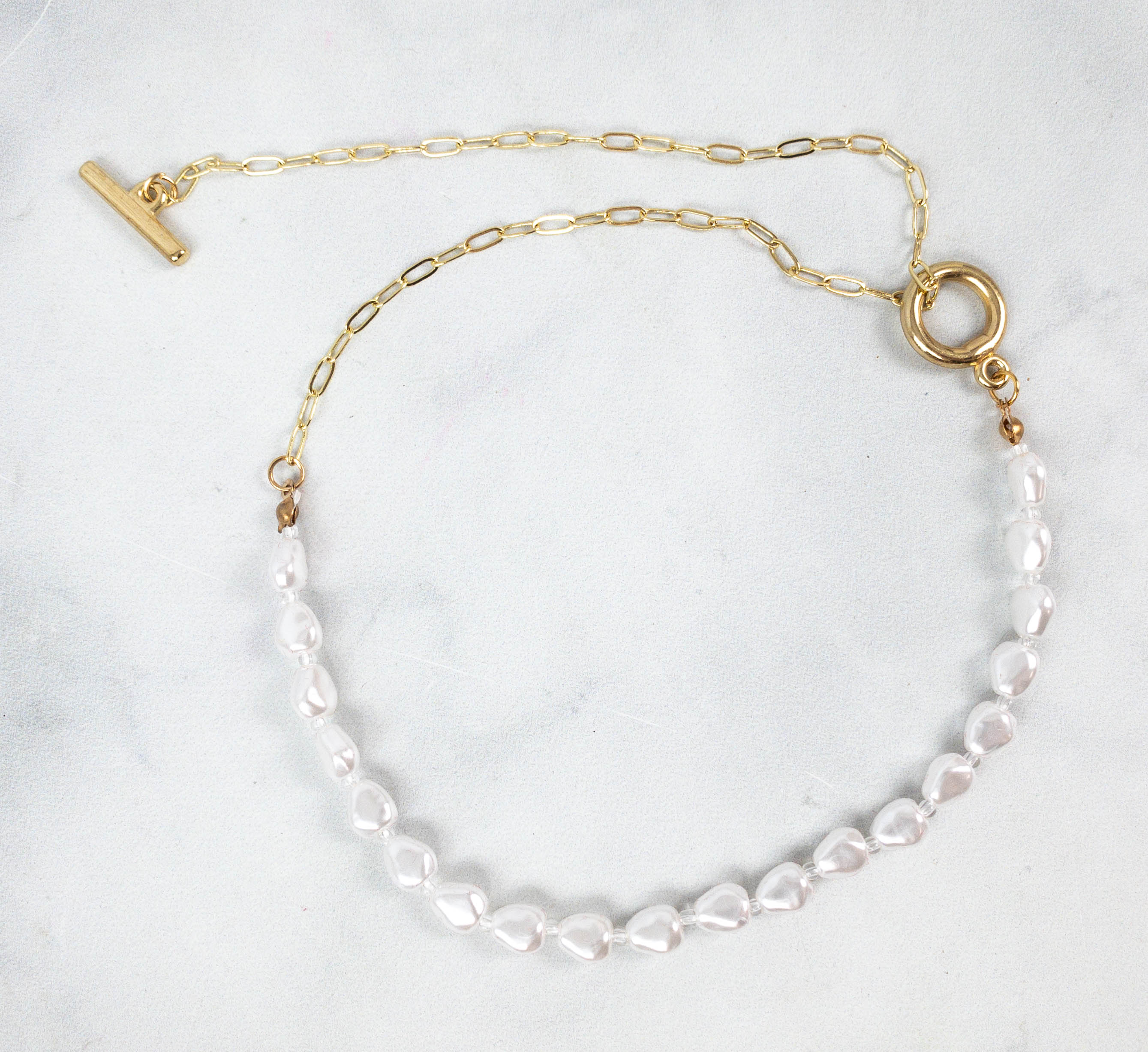 The bracelet itself is lovely. I love the irregular shape of the beads as I think it adds more character to the piece. It would make a good everyday accessory as well.
The last item can be opened when you reach Page 310!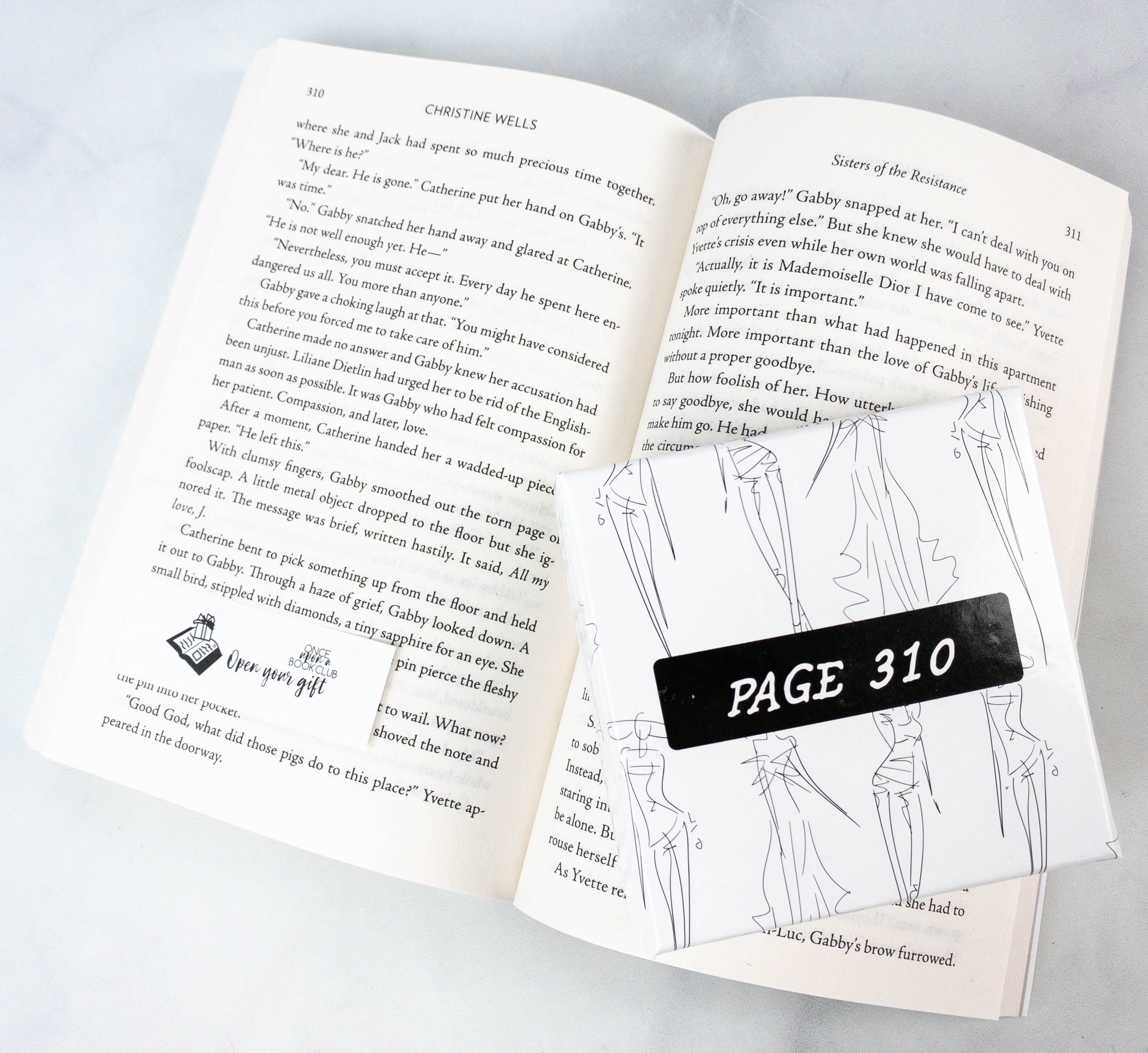 Small Bird Stippled with Diamonds Pin. This one came in a white box with dress sketches printed all over it.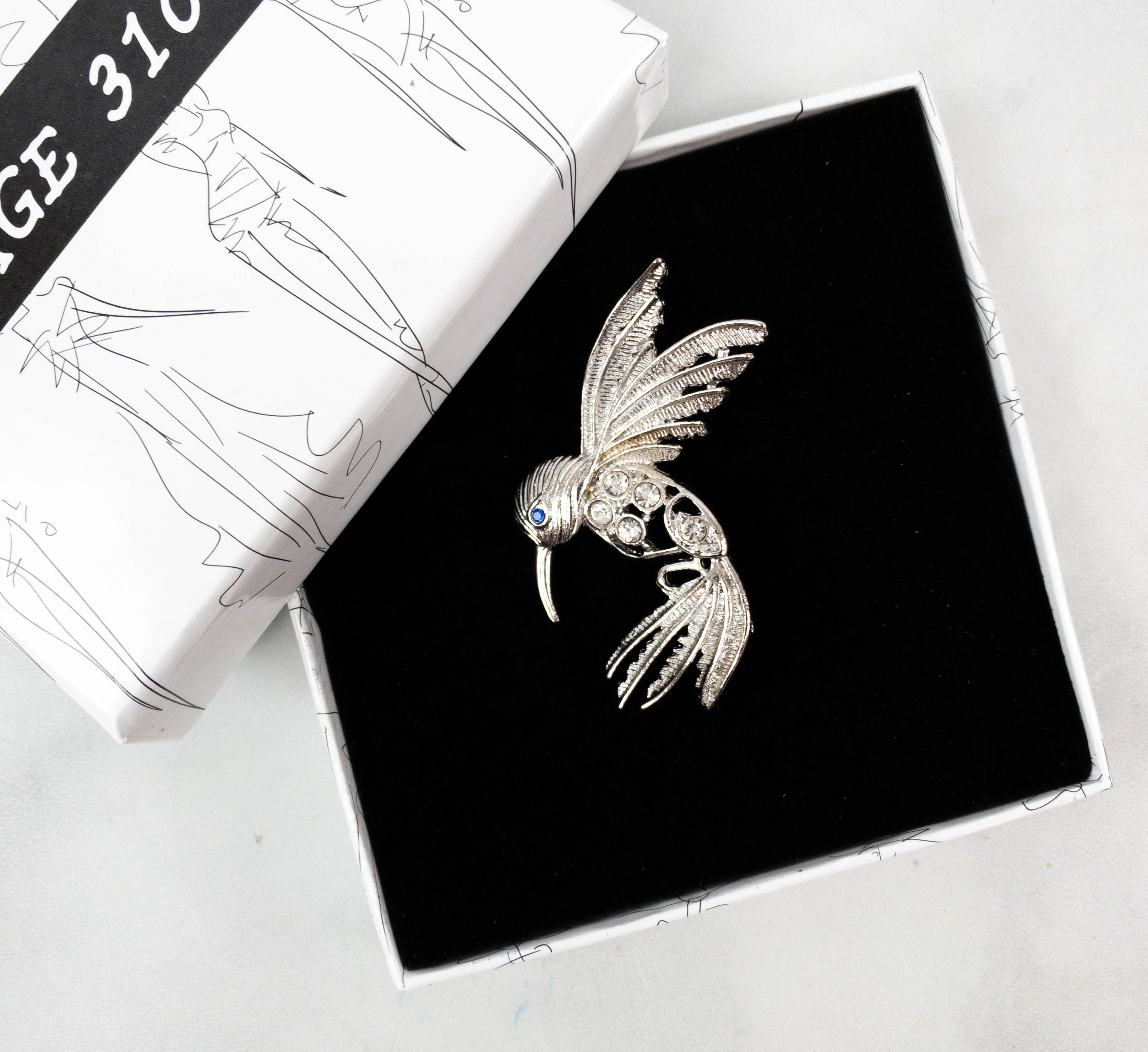 Here's a gorgeous pin that features a bird encrusted with diamonds all over. I love how this shines beautifully when it catches the light. The addition of the blue gemstone on its eye also makes it look even more enchanting!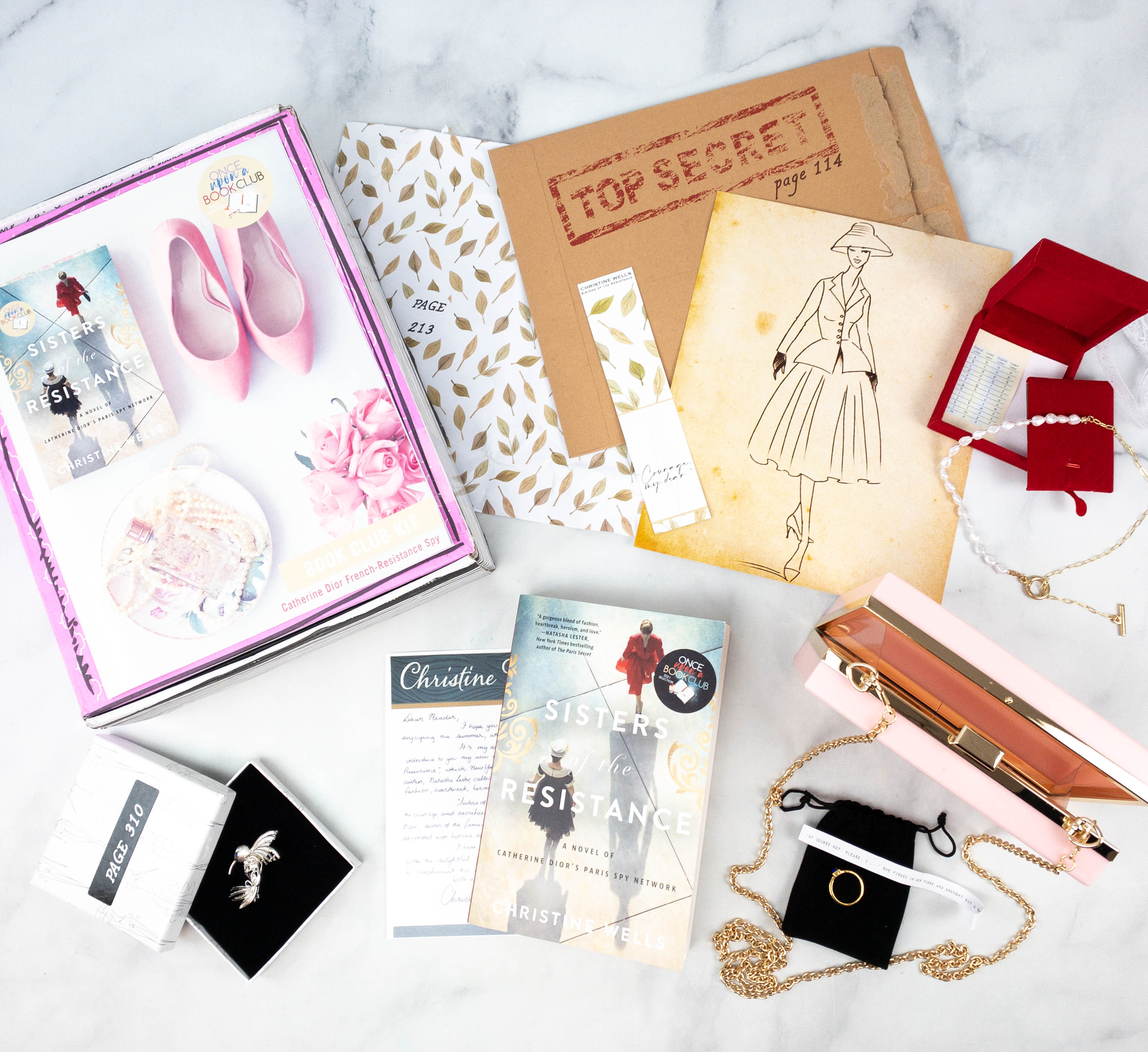 Here's all the gifts I received in this French Resistance Spy box!
I had a great time reading this month's featured title! The twists and turns definitely kept me on the edge of my seat. The book-related items were also amazing. I love that they included the sketch described in the book. The bracelet and the pin are nice accessories as well. If I have to choose a favorite, it would be the clutch, simply because I like its color! It would also be great to pair with a dress for a formal occasion. Once Upon A Book Club really never disappoints. It's a great subscription for bookworms, as they take the reading experience to another level by incorporating story-related surprises!
What do you think of this month's Once Upon a Book Club?