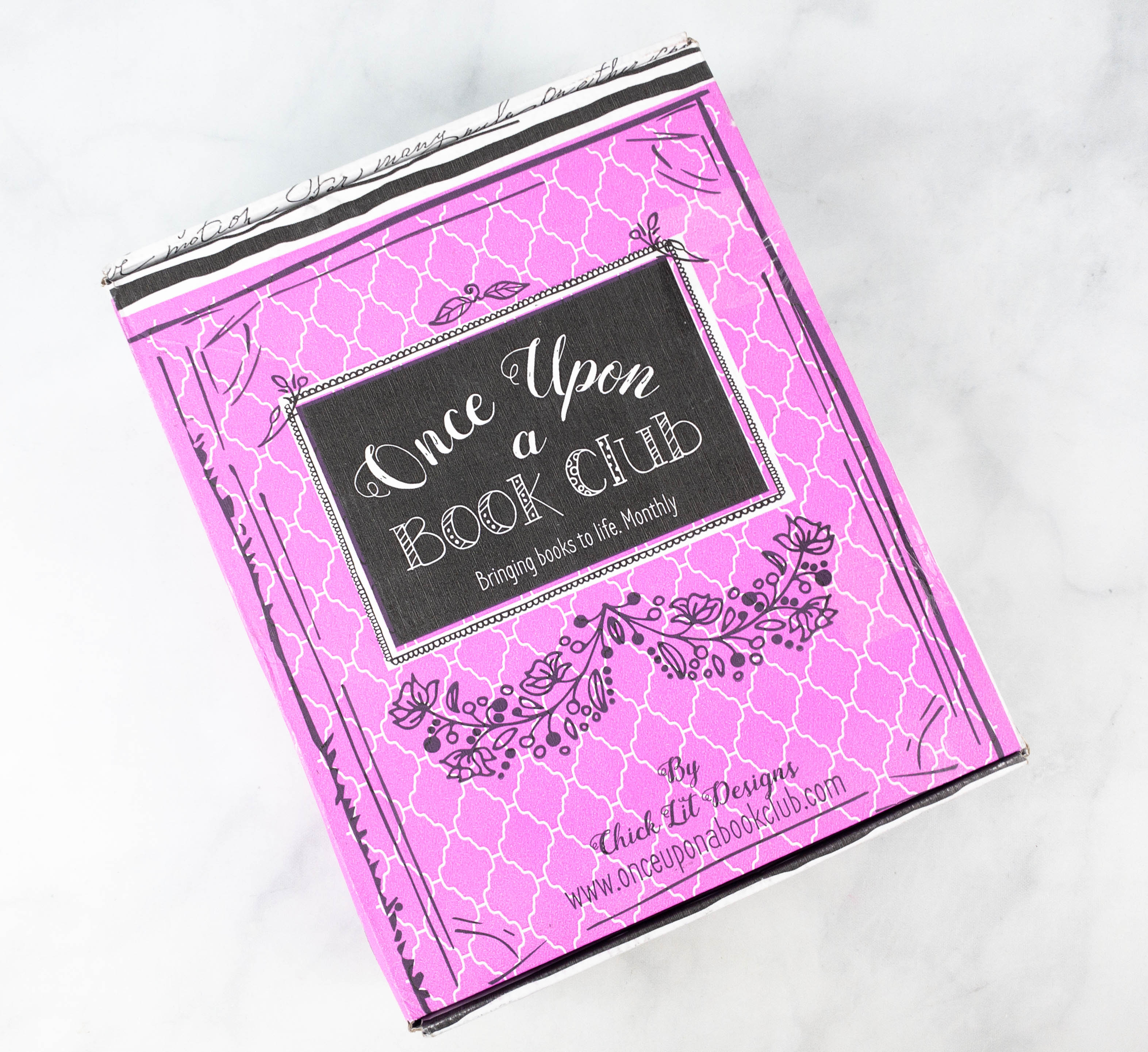 Once Upon a Book Club is a subscription that offers a unique reading experience. For $49.99 each month, you'll receive a book to read, a 5″ x 7″ quote print, along with 2-4 corresponding gifts to match a quote/item mentioned in the book. Readers are advised to open the gifts as they finish the corresponding page to make them feel as if the book is coming to life! This subscription is a top choice in our readers' picks for best book subscription box of the year!
You can choose between Once Upon a Book Club's Young Adult edition and Adult edition. This is the review of the Adult Fiction box.
DEAL: Enjoy 10% off your first box. Use coupon code HELLO10.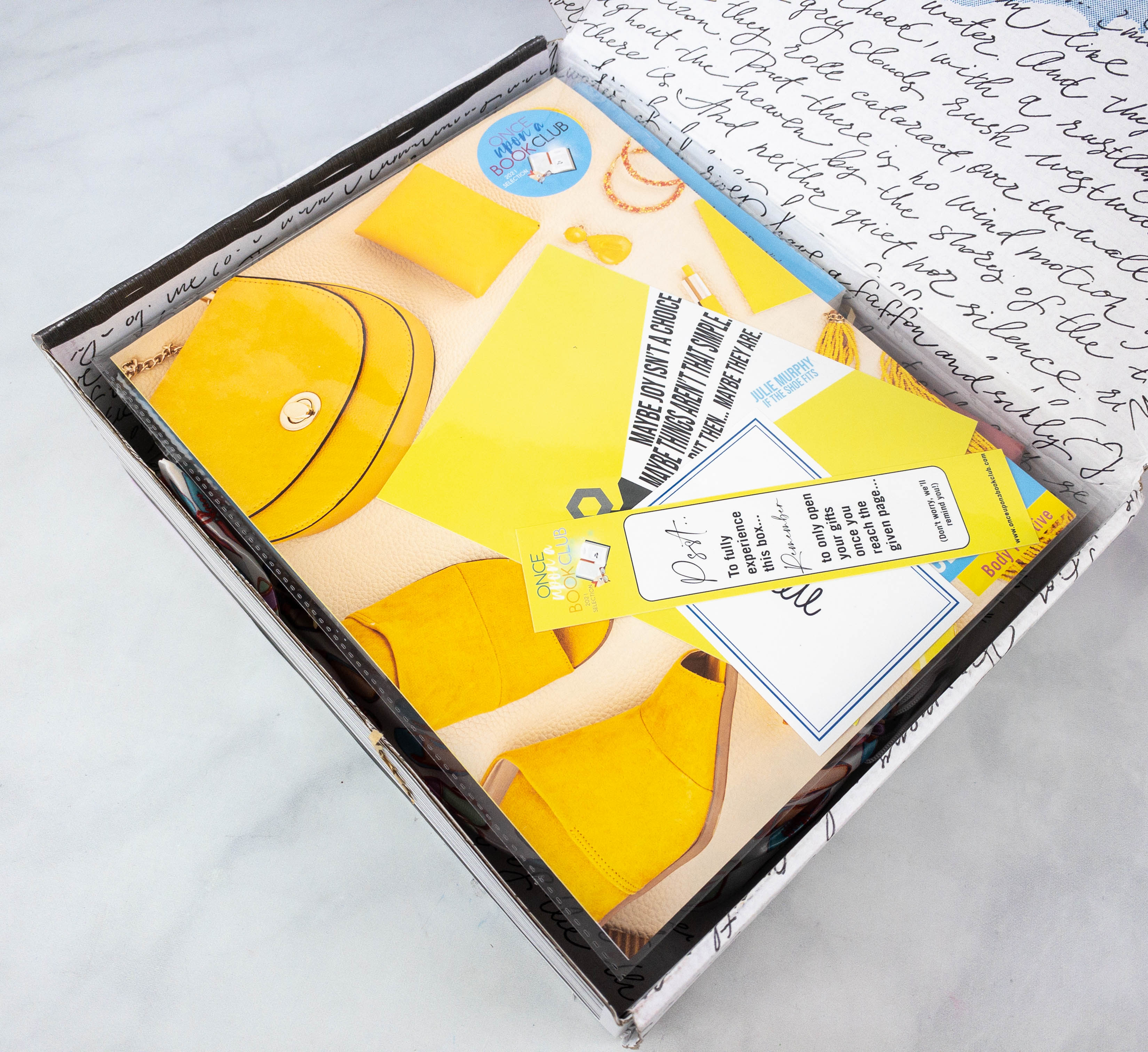 The box is full to the brim!
Inside the Book Club Kit guide, there's a Q and A featuring the author, Julie Murphy.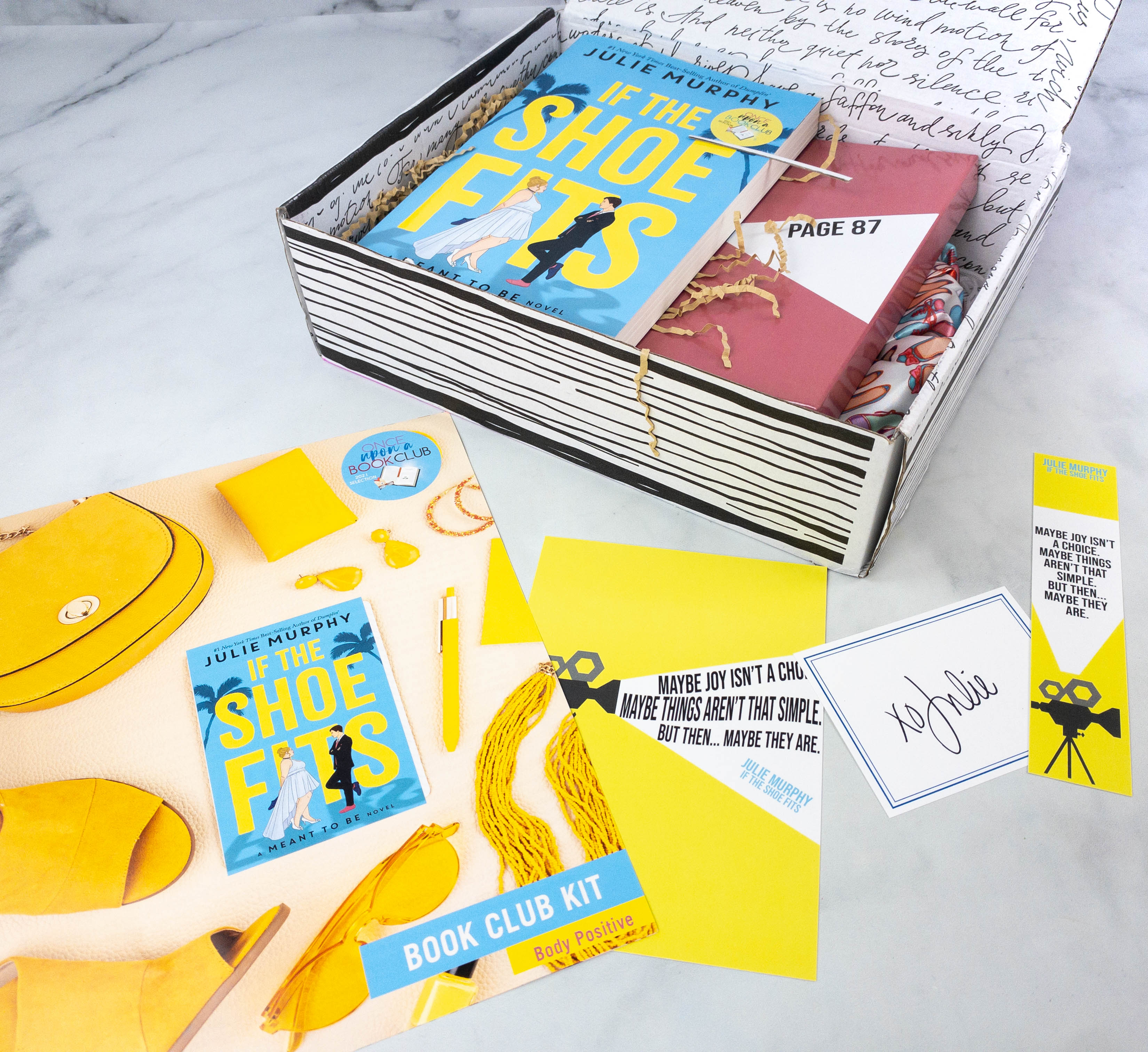 As always, the gifts were individually wrapped. They were also packed with squiggles.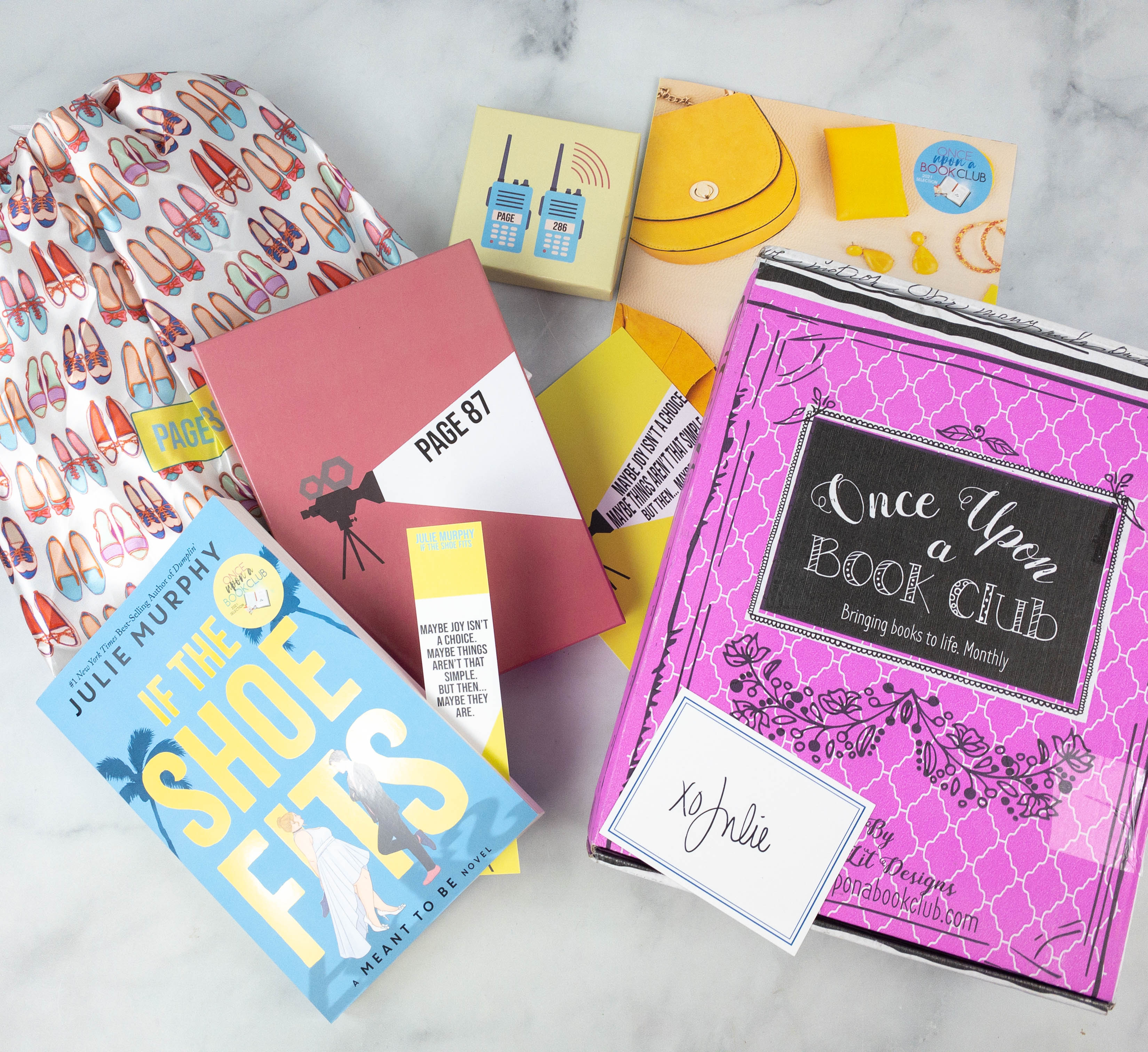 Everything in my box!
I'm so excited to open the gifts!
If The Shoe Fits by Julie Murphy ($11.28) What a pick! Amazing to get a book from Julie Murphy!
If the shoe doesn't fit, maybe it's time to design your own.

Cindy loves shoes. A well-placed bow or a chic stacked heel is her form of self-expression. As a fashion-obsessed plus-size woman, she can never find designer clothes that work on her body, but a special pair of shoes always fits just right.

With a shiny new design degree but no job in sight, Cindy moves back in with her stepmother, Erica Tremaine, the executive producer of the world's biggest dating reality show. When a contestant on Before Midnight bows out at the last minute, Cindy is thrust into the spotlight. Showcasing her killer shoe collection on network TV seems like a great way to jump-start her career. And, while she's at it, why not go on a few lavish dates with an eligible suitor?

But being the first and only fat contestant on Before Midnight turns her into a viral sensation—and a body-positivity icon—overnight. Even harder to believe? She can actually see herself falling for this Prince Charming. To make it to the end, despite the fans, the haters, and a house full of fellow contestants she's not sure she can trust, Cindy will have to take a leap of faith and hope her heels— and her heart—don't break in the process.

Best-selling author Julie Murphy's reimagining of a beloved fairy tale is an enchanting story of self-love and believing in the happy ending each and every one of us deserves.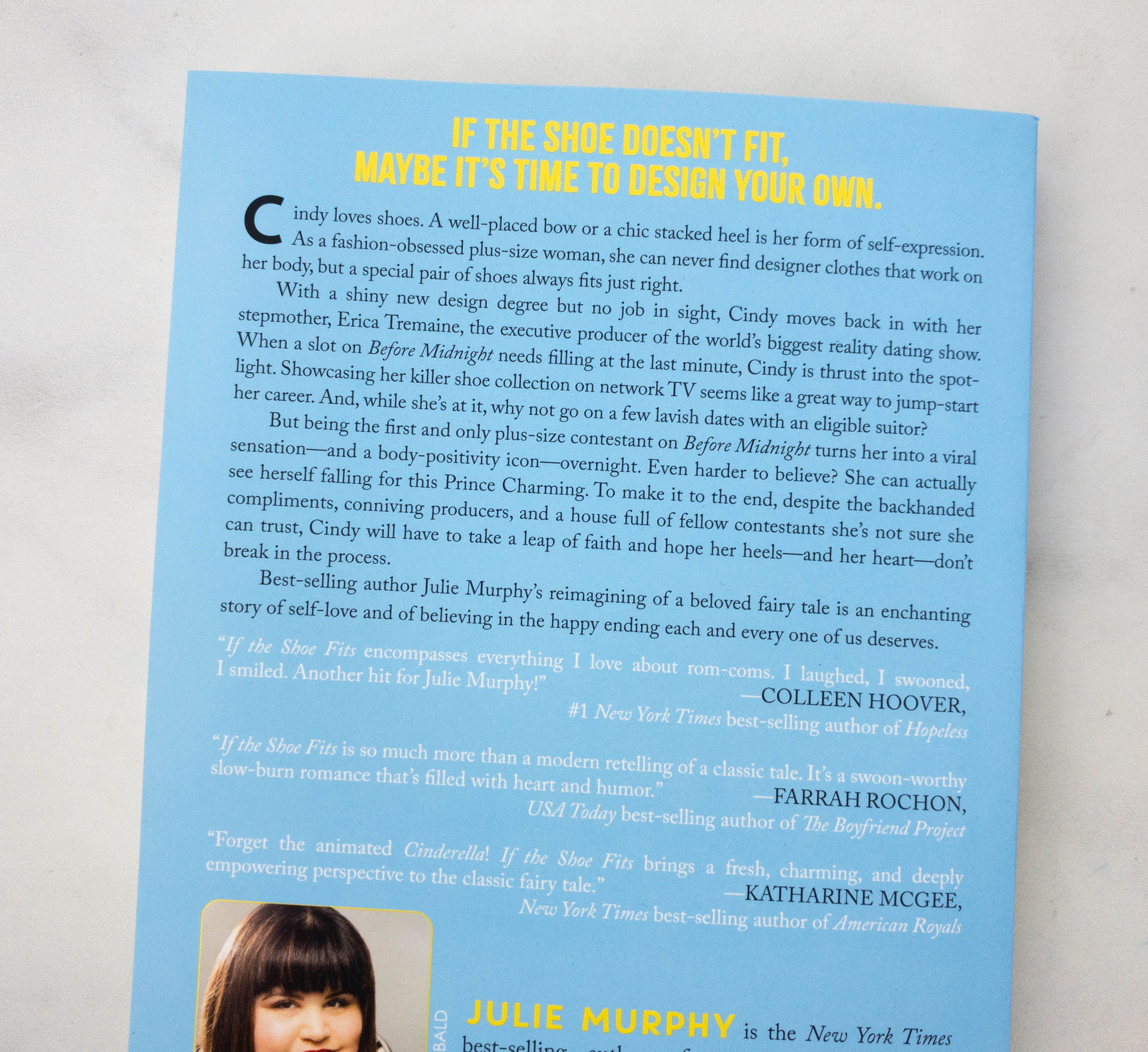 This month's book pick is a contemporary romance!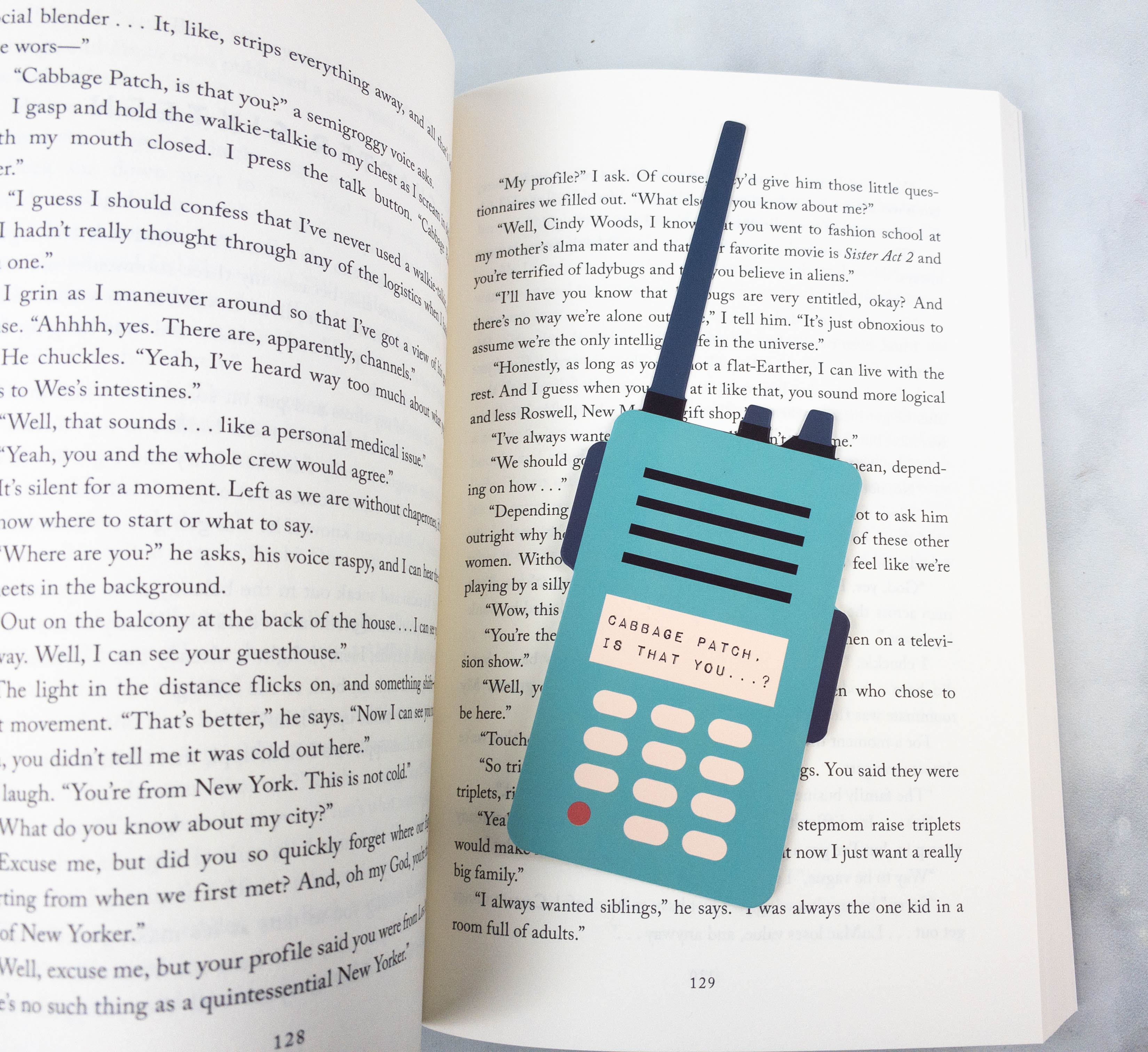 It also included a cute walkie-talkie shaped bookmark! The back even contains a QR code so you can download a walkie-talkie on your phone.
This book sends a strong message about body positivity. This is somewhat a Cinderella story-retelling, with a plus size twist! It's a fun and light read that I really enjoyed because of The Bachelor-like setting and it's very entertaining as it features lots of relatable stories from going after your dreams and real-life family and friendship issues.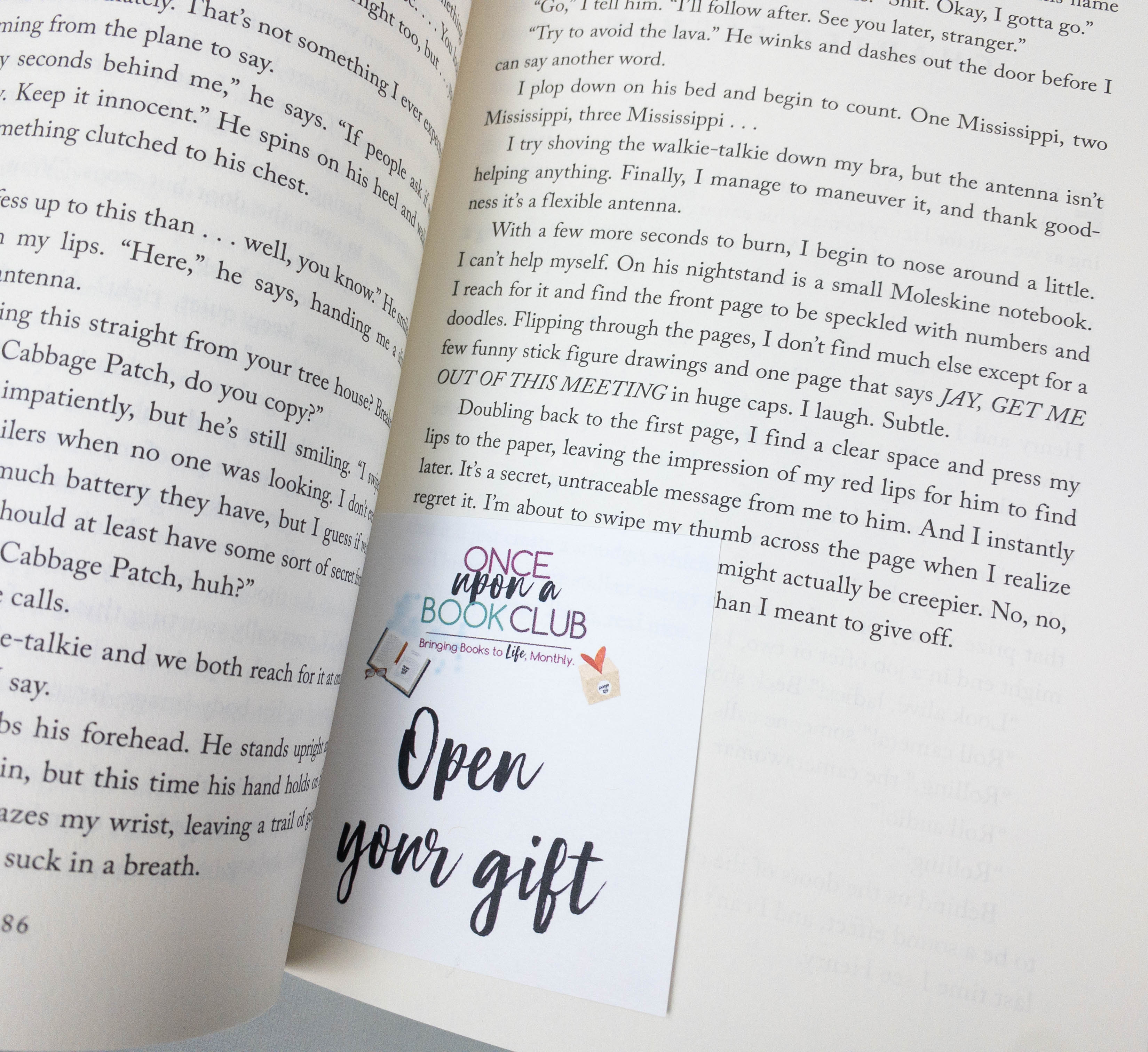 I opened the first gift upon reaching page 87.
Journal. It's Henry's Journal! It has a vibrant yellow cover and I like that it has the rubber enclosure to keep it secure.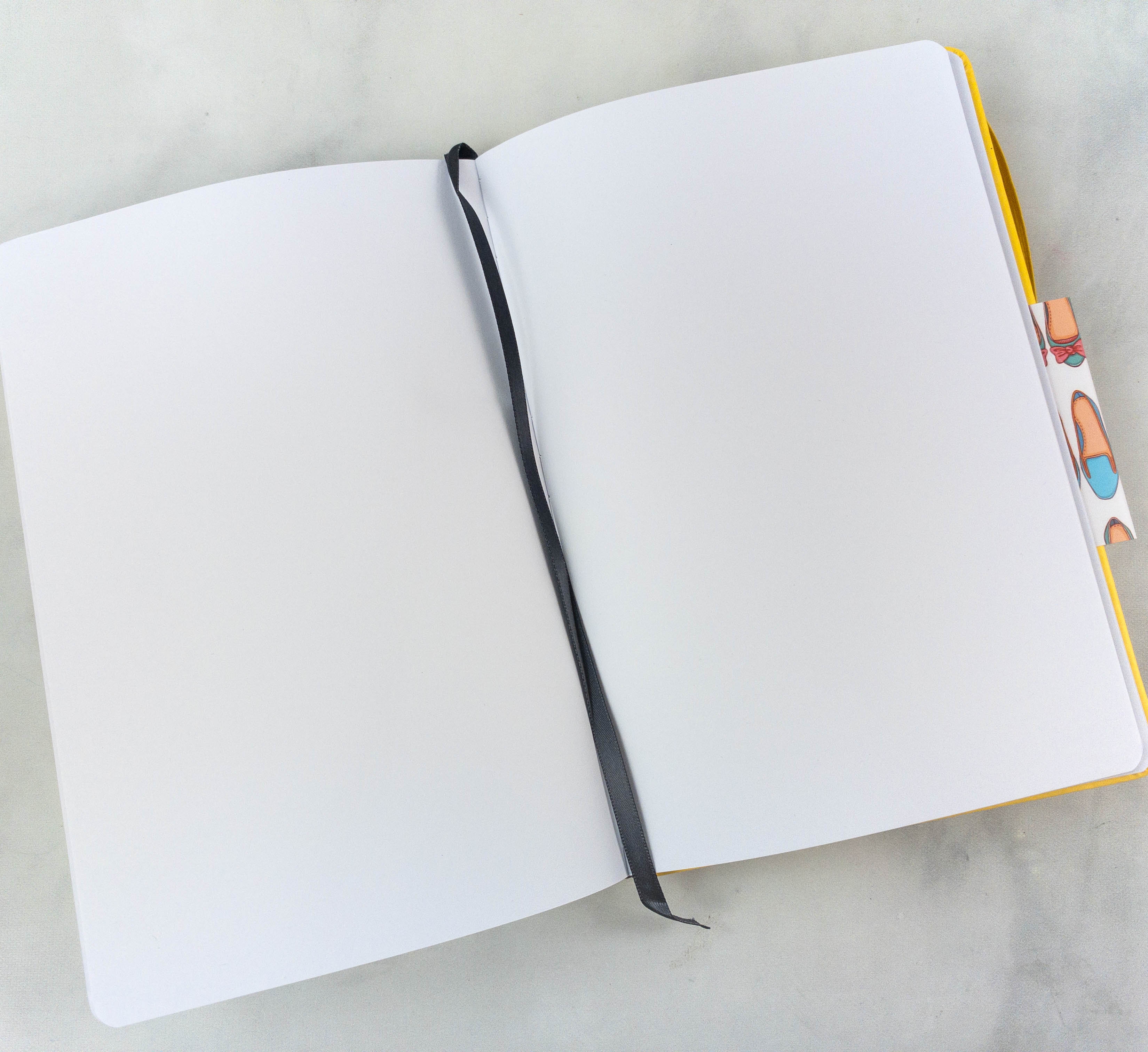 The pages are good quality. It also has a built-in ribbon bookmark so it's easier for me to keep track of the pages I'm using.
The next gift can be opened upon reaching page 232.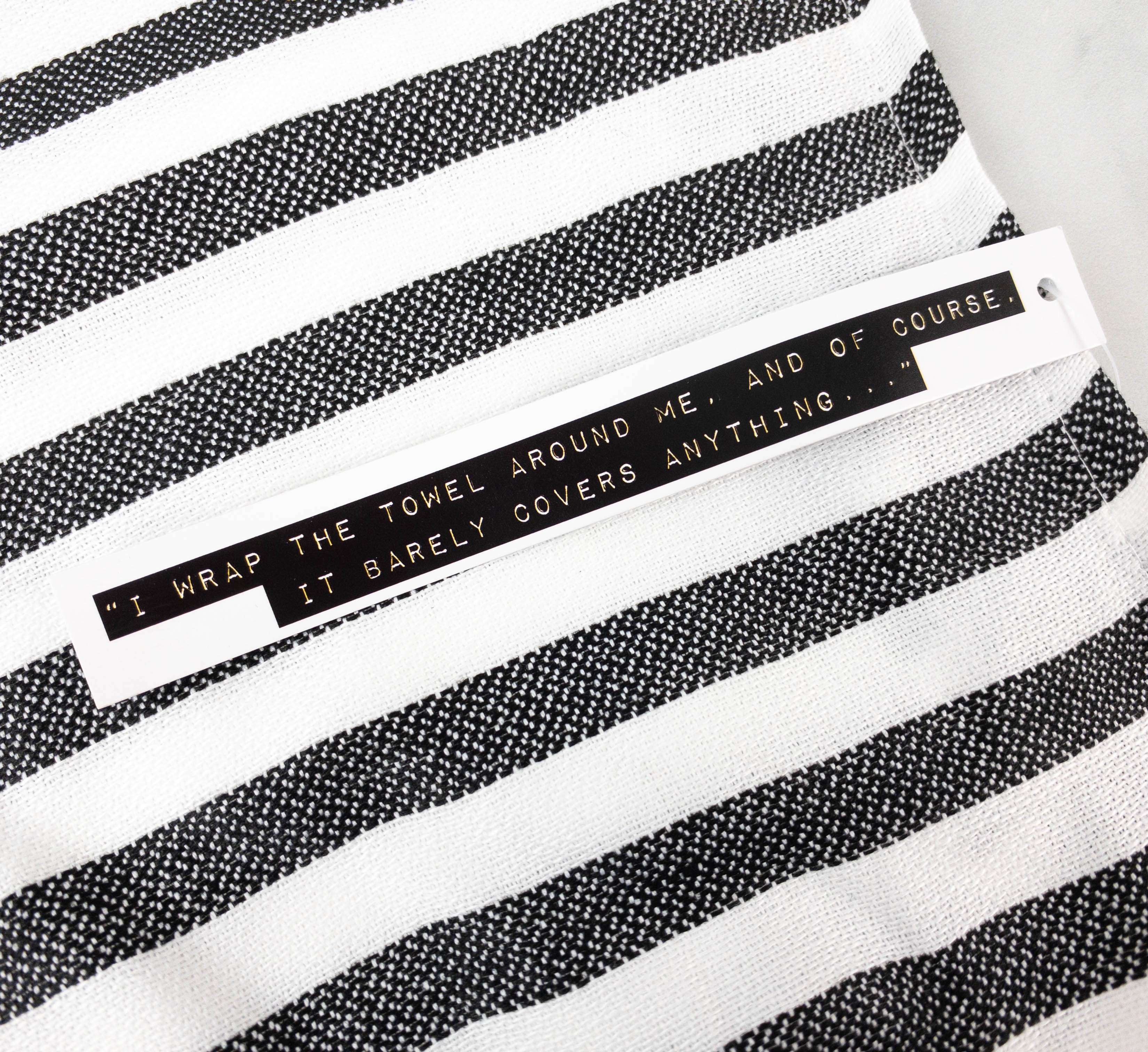 Towel. It's a black and white striped towel. In this scene, Cindy was actually getting out of the tub!
I wrap the towel around me, and of course, it barely covers anything…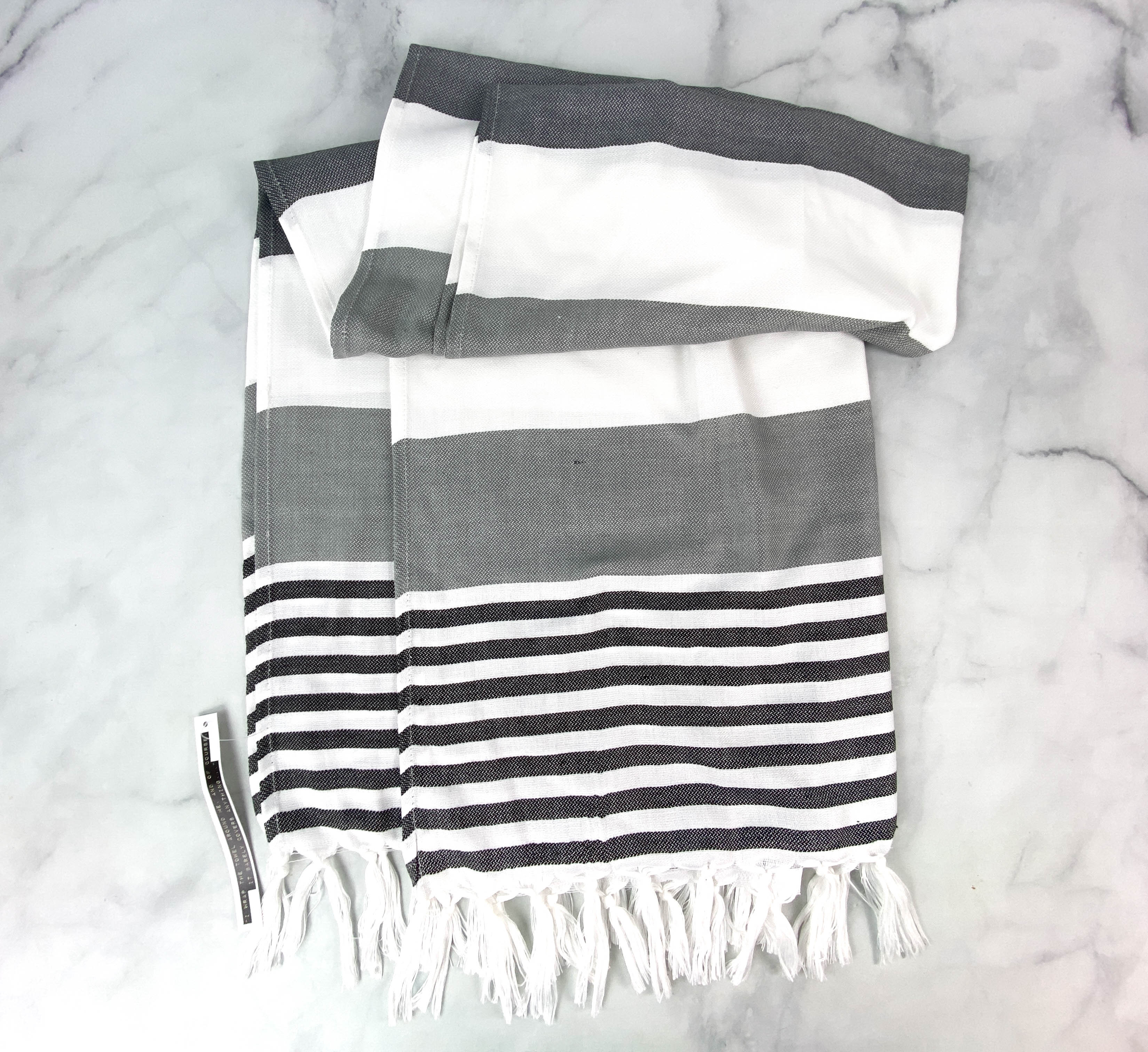 This towel actually feels soft and comfy. It even features tassels on one end and it's great to bring to the beach for lounging around! You can also use it as a wrap or a throw.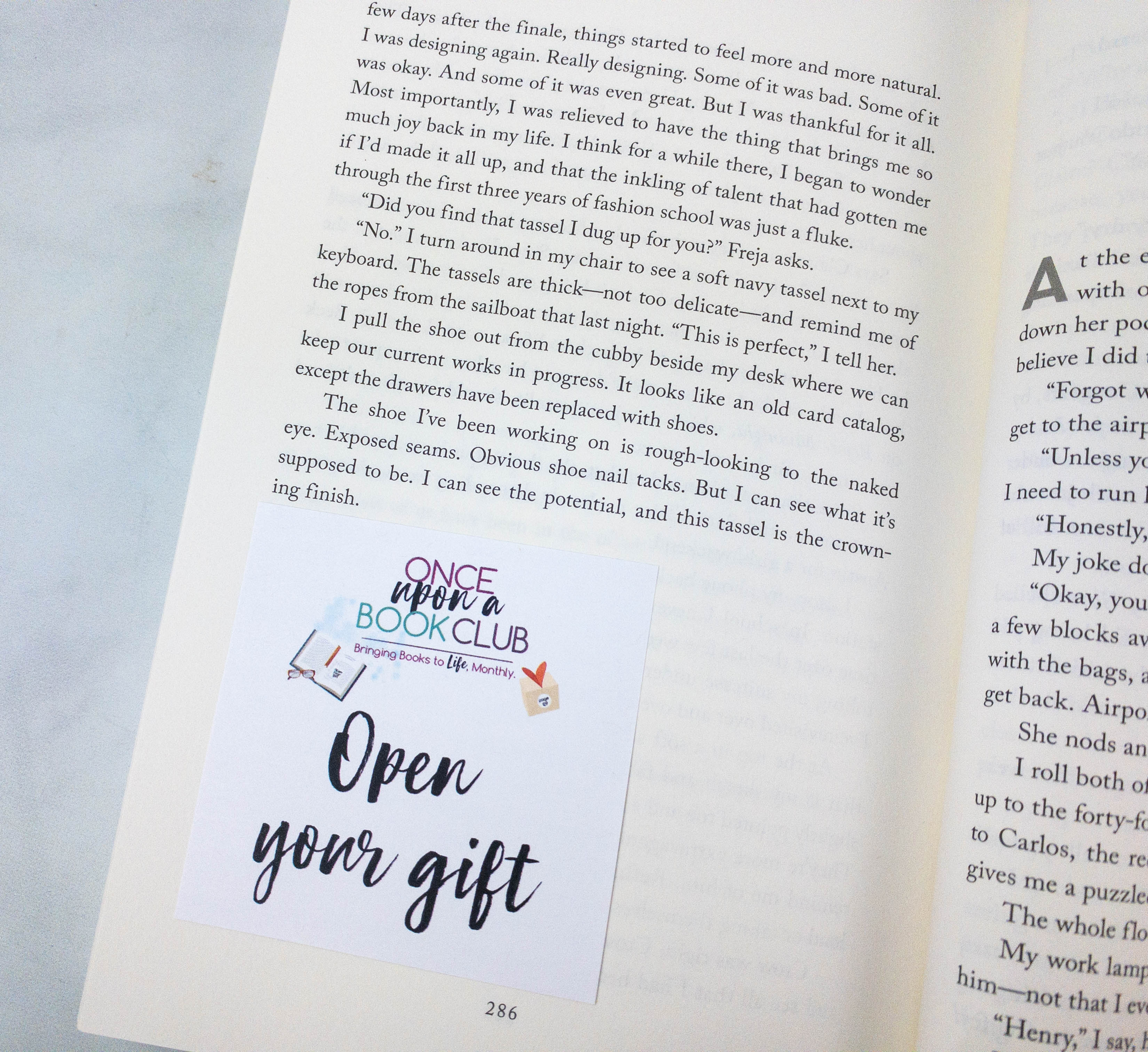 I opened the last gift upon reaching page 286.
Tassel. It's a black tassel keychain that looks really sleek. It even came with a gold keyring which makes the piece look more elegant. There's a leather tag that has an engraving that says "handmade" and the book title in a cursive font.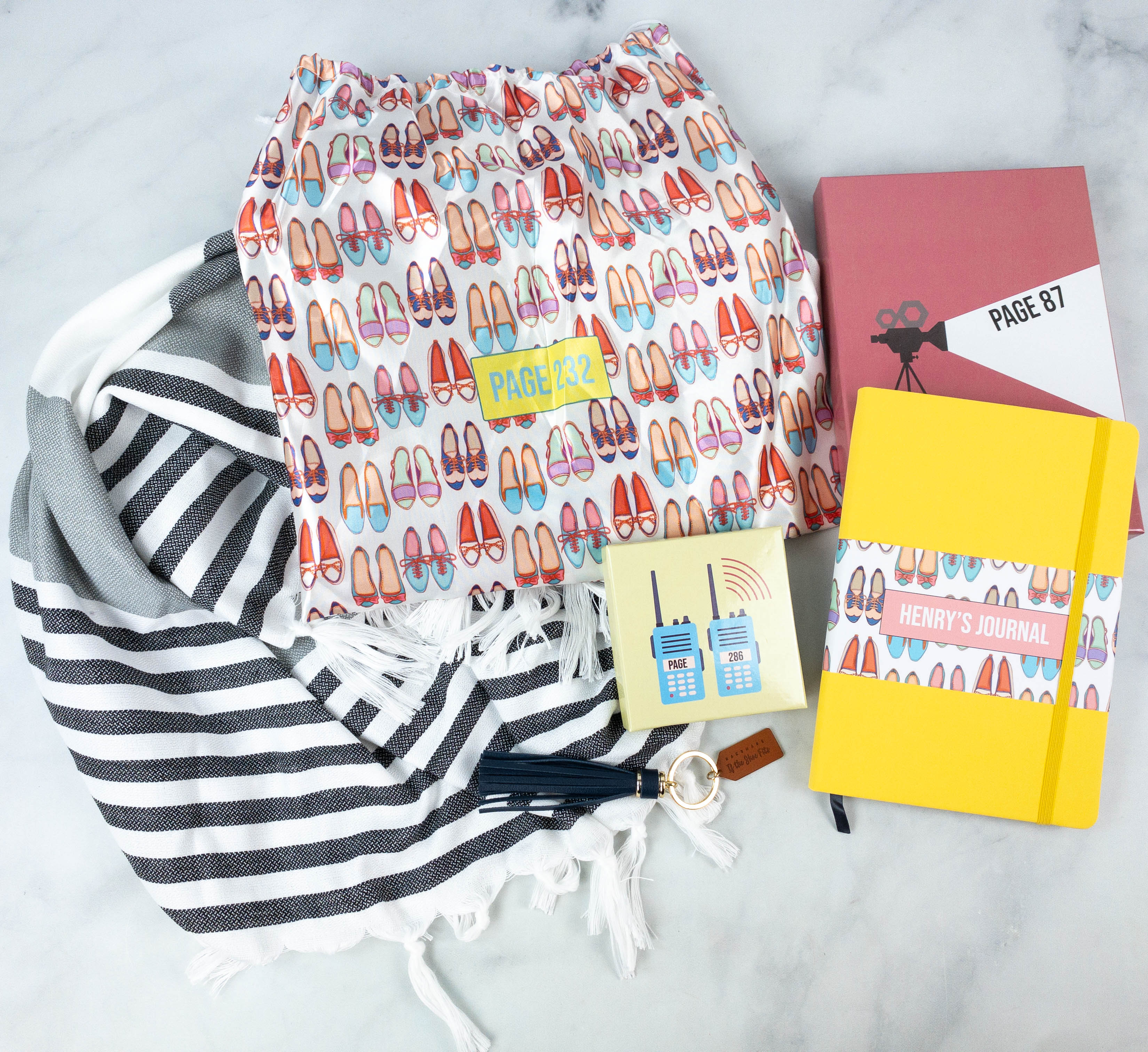 Here's a final look at all the gifts in the box!
I loved this month's book because it sends a really powerful message to the readers and it's written in such an engaging way. The story-related gifts in the box were also great and opening them one by one as I progressed in reading was such a fun and thrilling experience! My favorite is the towel, but the notebook and the tassel keychain are also high-quality. If you love reading and you're looking for a fun box to try, Once Upon A Book Club would be a good pick!
What do you think of this month's Once Upon a Book Club?