Miss to Mrs. Bridal Box is a wedding subscription service made for brides-to-be. The box costs $35 each. Each month, receive stunning bridal accessories, planning tools, apparel, decor ideas, and wedding day essentials. An example is the "Let's Plan This" themed box which is all about items to help at any stage of wedding planning. Engagement ring wipes kit to keep that rock sparkly, a "Bride-To-Be" Tumbler for all those ring selfies, wedding day cards, and more.
DEAL: Use this link to subscribe now and get $30 credit to spend at the Miss to Mrs Box shop – just pick the promo during checkout!
Everything is wrapped in white tissue paper with the subscription box branding printed all over it. It's also sealed with a "Thank You" sticker.
Some of the items came with bubble wrap for extra protection during shipping.
This card tells us the contents of the box. The theme is LET'S PLAN THIS.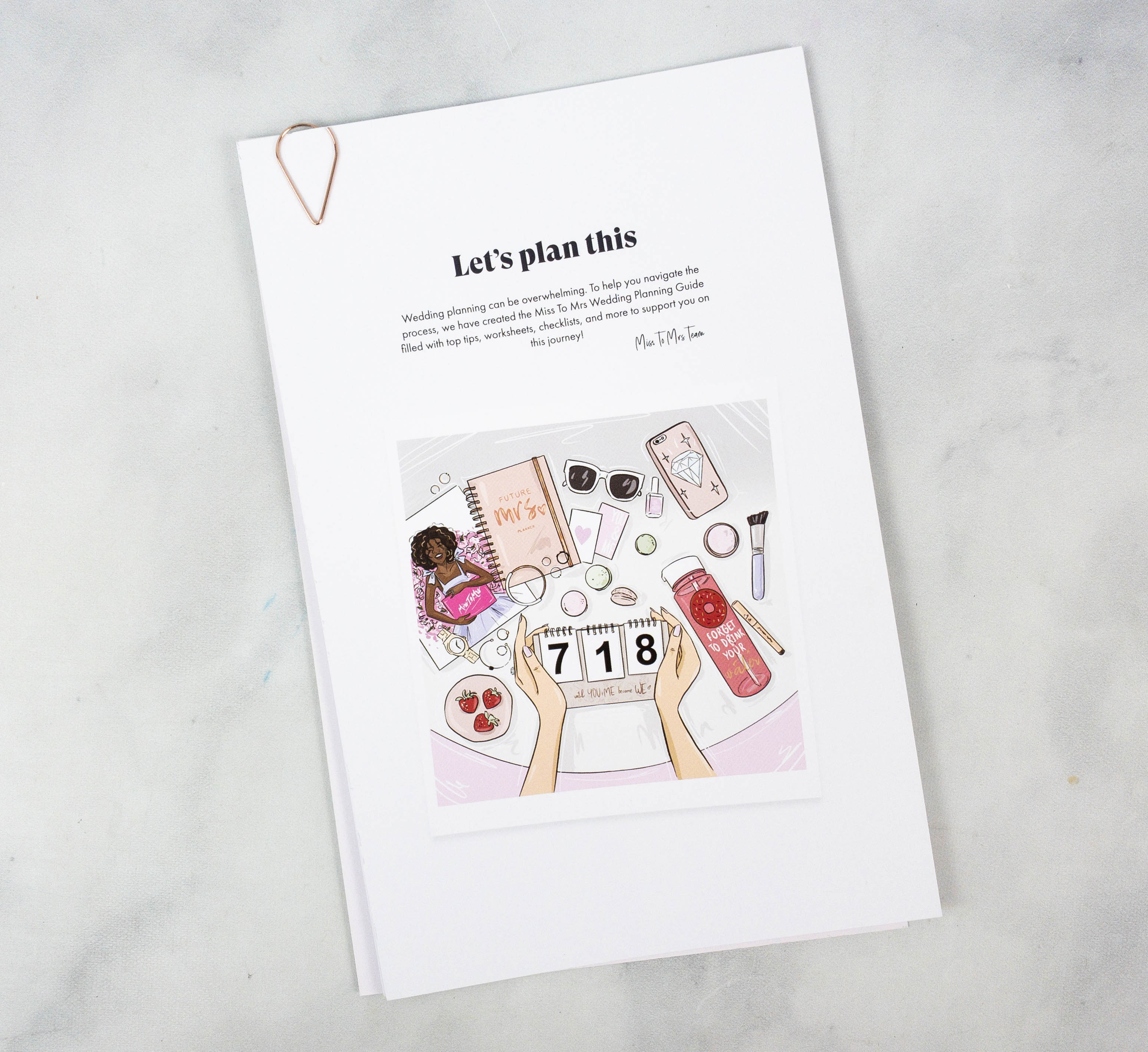 There's a note from Miss To Mrs about this month's theme!
Wedding planning can be overwhelming. To help you navigate the process, we have created the Miss to Mrs Wedding Planning Guide filled with top tips, worksheets, checklists, and more to support you on this journey.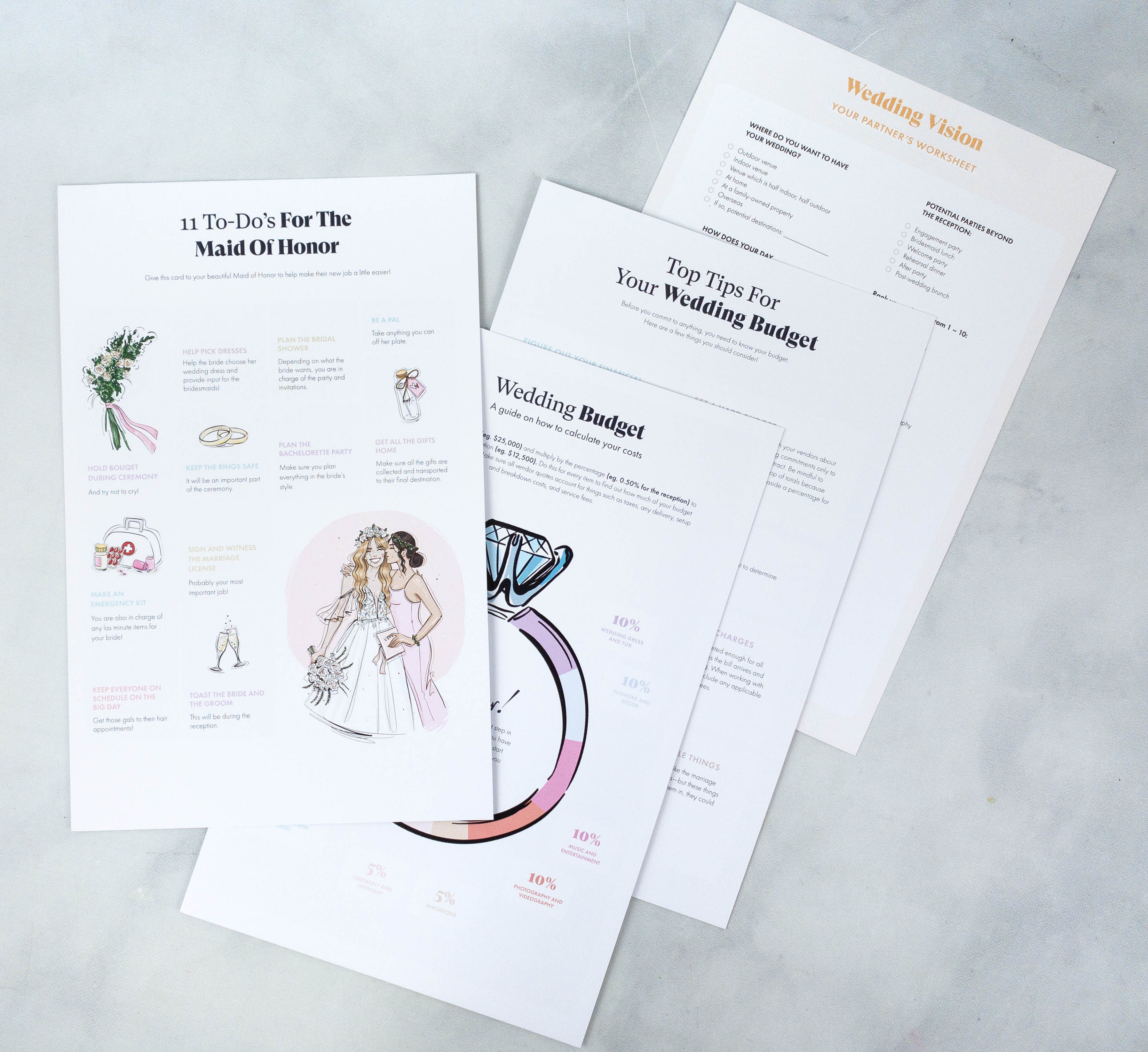 Here are the extra wedding planning materials they provided! There's a list of 11 to-do's for the maid of honor, tips for your wedding budget, a guide on how to calculate your wedding costs, and a worksheet for your wedding vision (including venue, guests, and other parties aside from the wedding reception). These are really helpful.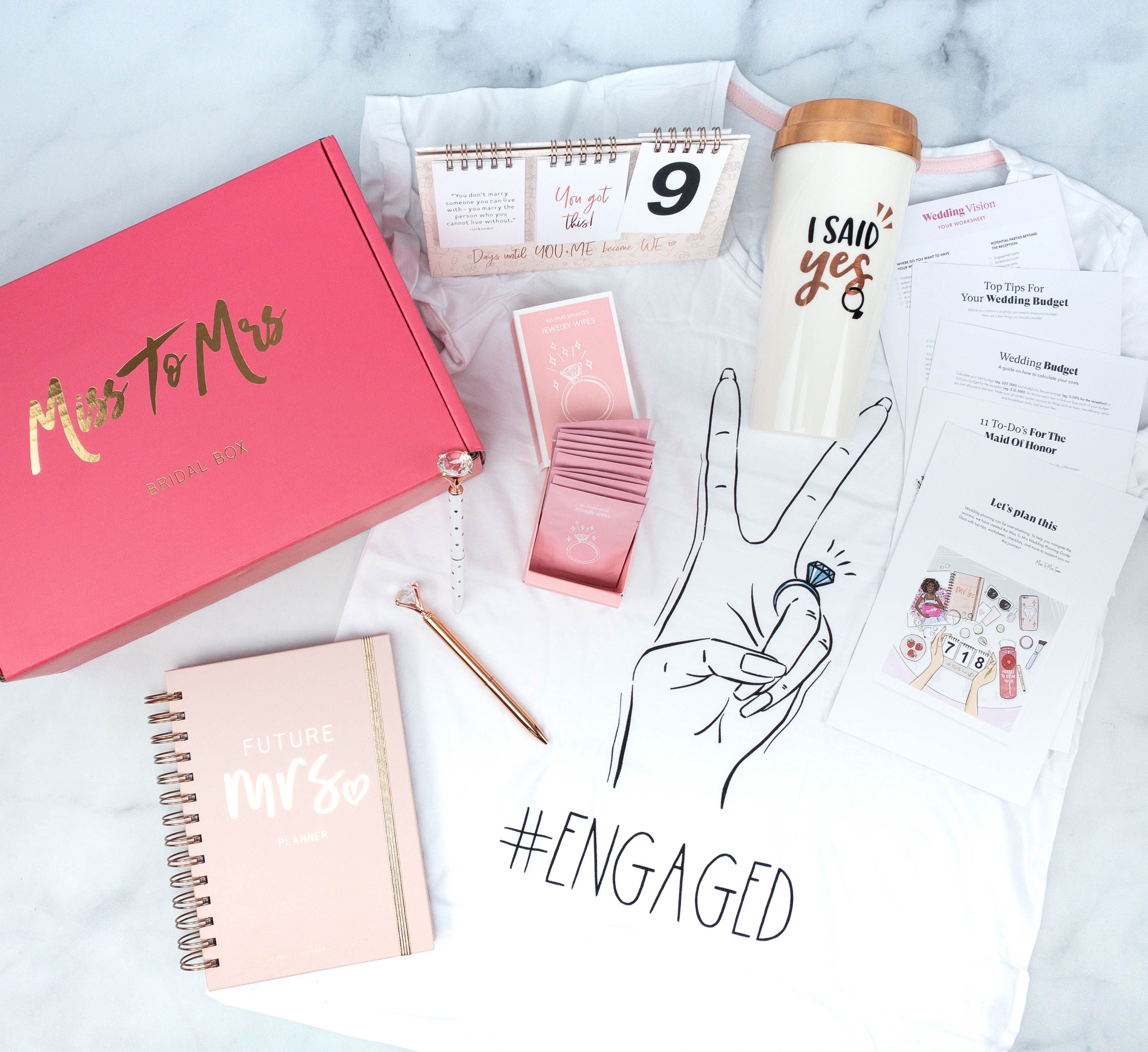 Everything in the "Let's Plan This" box!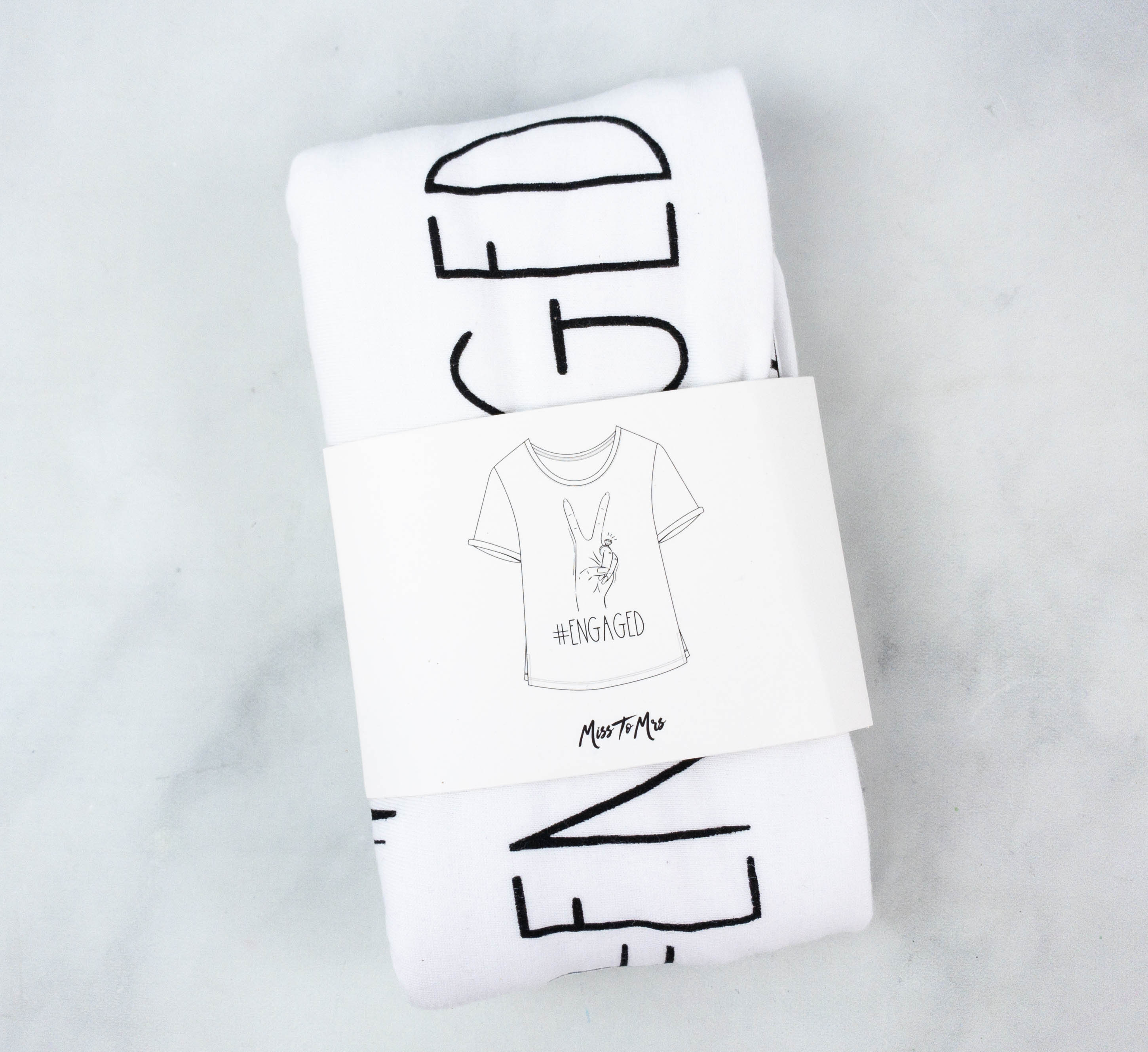 "#Engaged" T-Shirt. Wearing this tee is such a cute way to celebrate being engaged with the love of your life!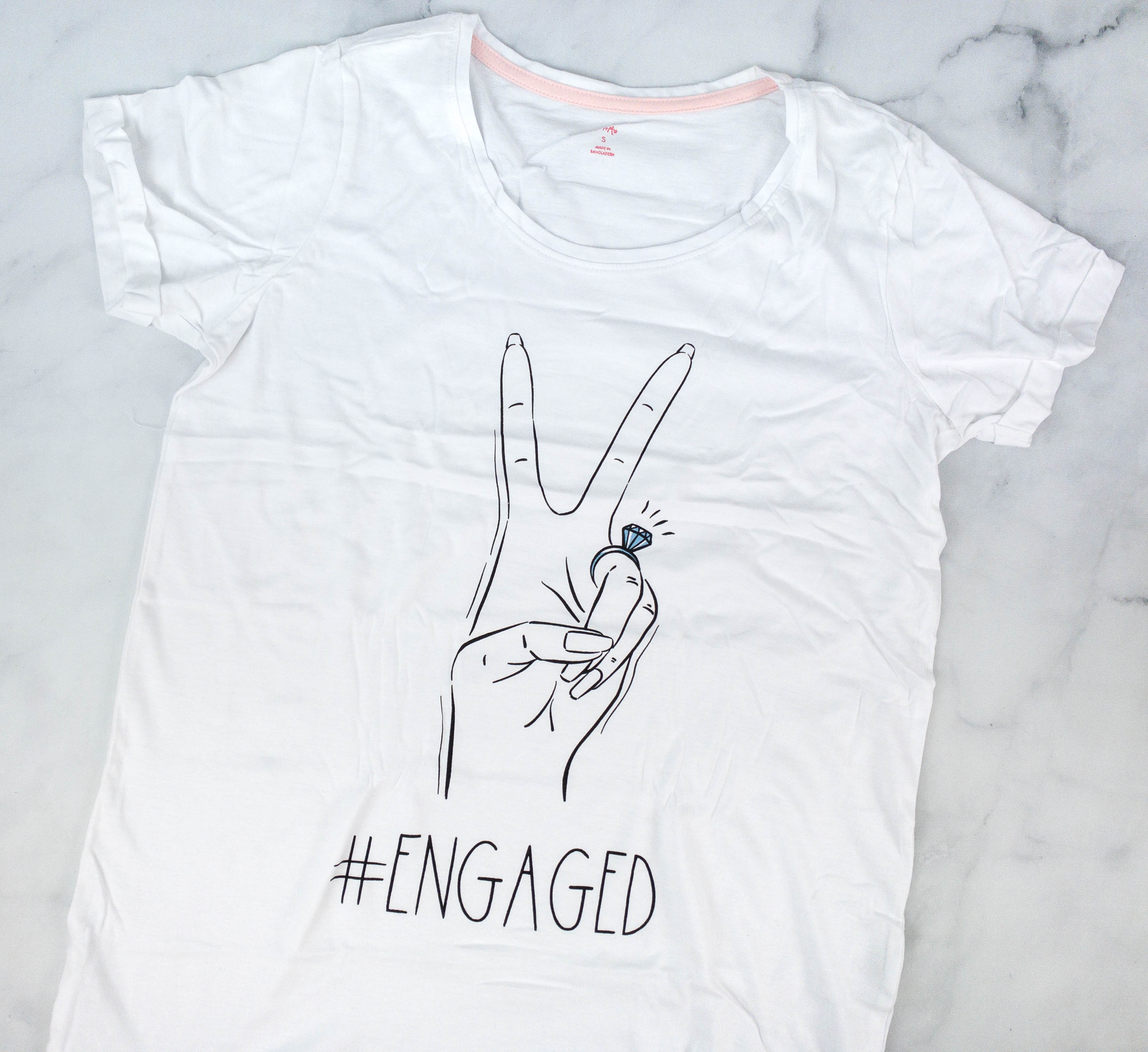 The fabric is light and airy so you can wear this comfortably no matter how busy your day gets as you plan your wedding.
The text on the print says "#ENGAGED". Above it is a hand in a peace sign, showing off a sparkling engagement ring. How adorable!
"All That Sparkles" Jewelry Wipes. To help the bride-to-be take care of her beloved ring, they also provided a box of jewelry wipes! These wipes came in packets that you can easily slip into your bag or pocket so you can bring it with you anywhere. They help maintain the cleanliness and the shine of your ring. Of course, it works with other jewelry pieces as well!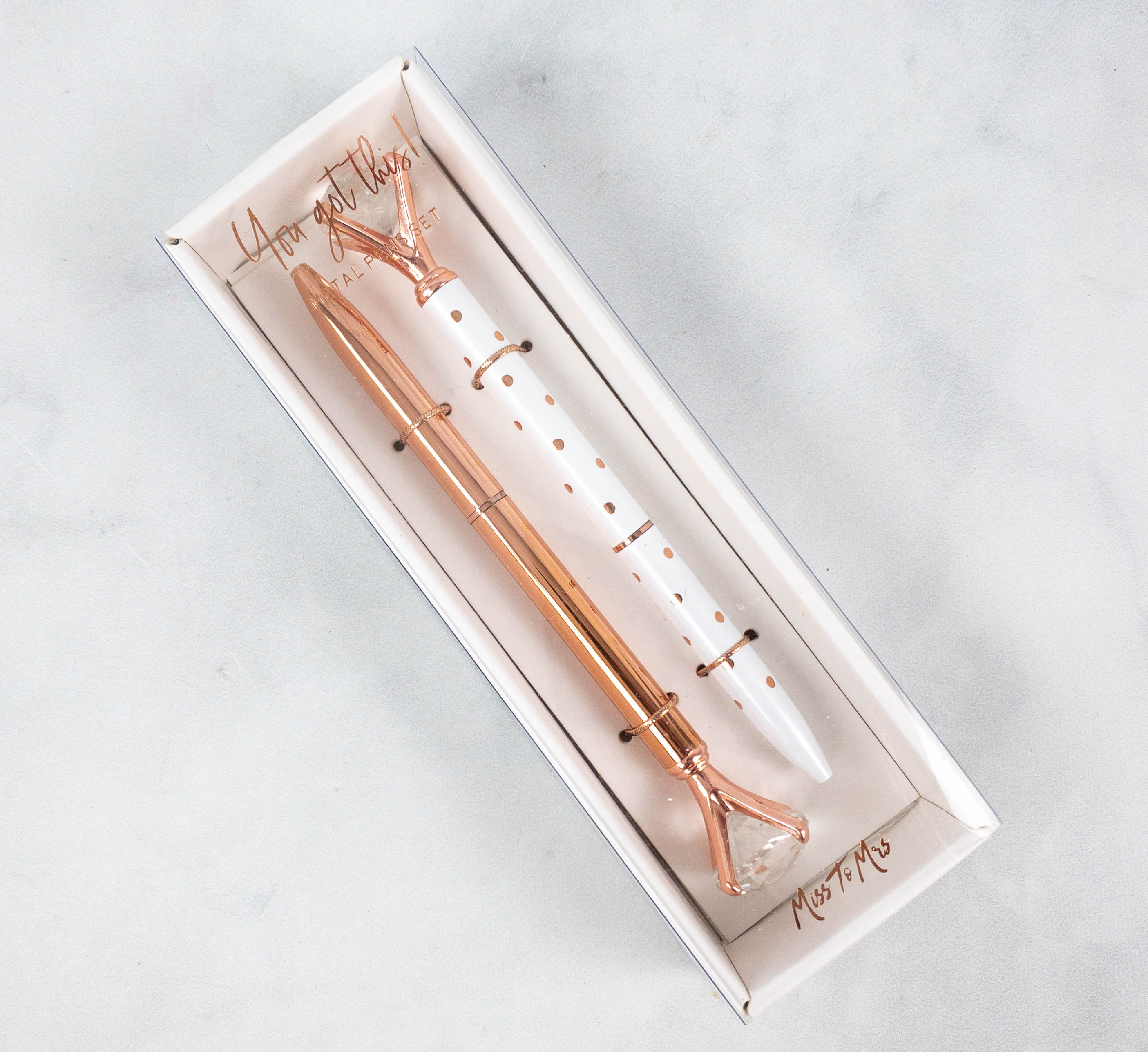 Diamond Top Pens. The box also includes two pretty pens, perfect for writing your wedding plans and taking down notes.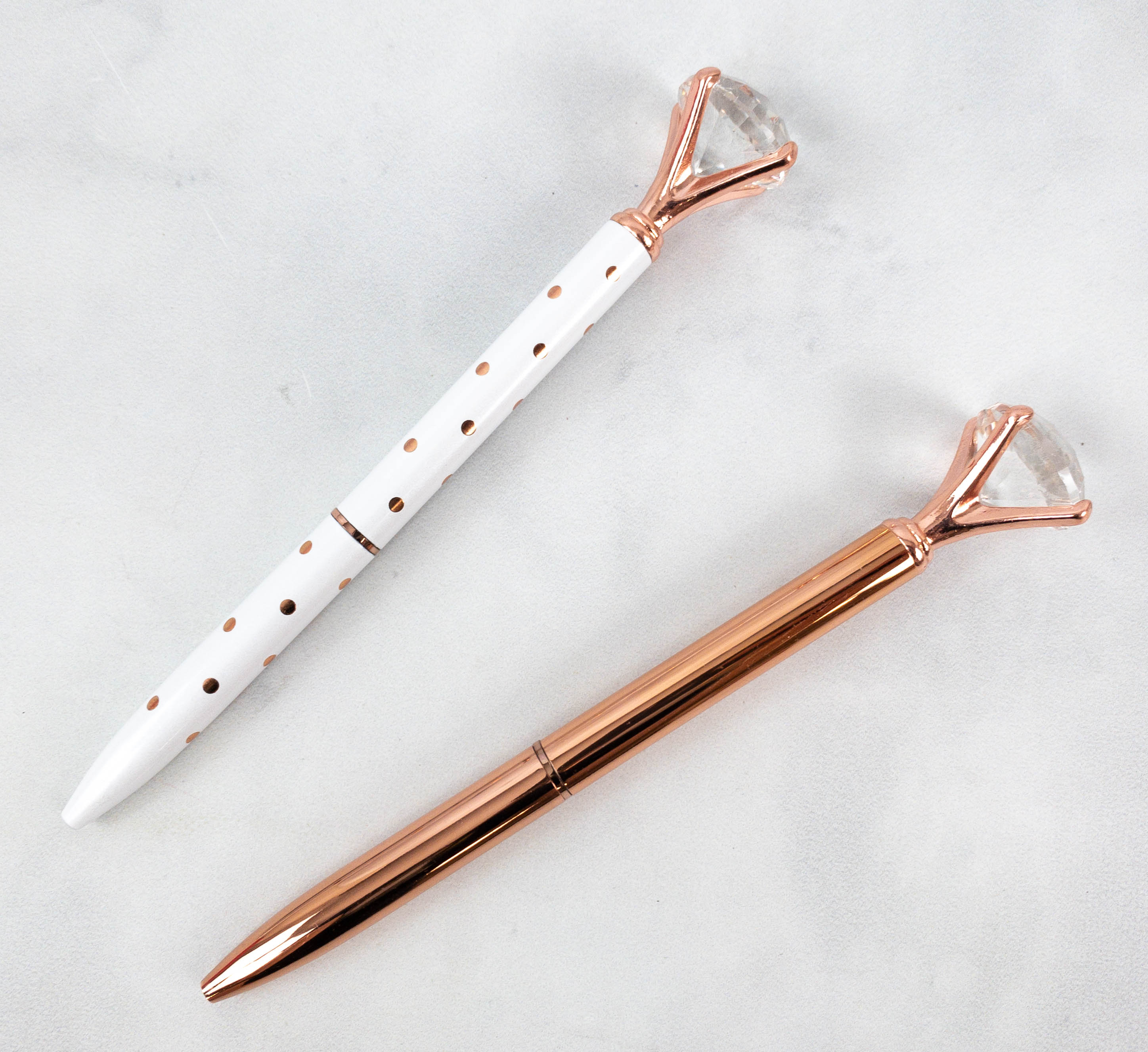 The box includes two pens so you can bring one in your bag and use the other at home.
Both came with a solitary diamond top, but one pen has a rose gold body while the other is white with rose gold polka dots all over.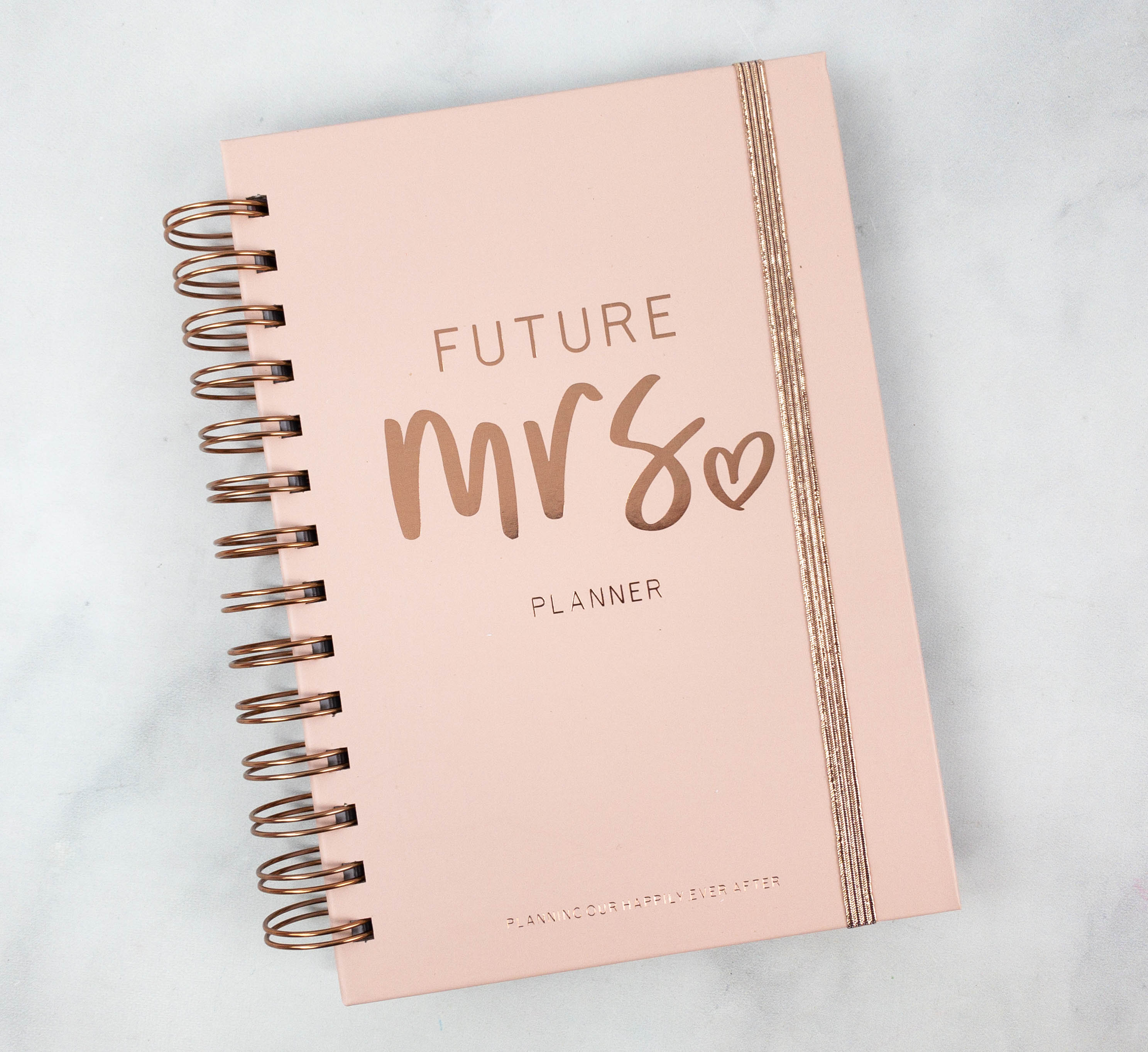 "Future Mrs" Planner. To keep everything organized and in check for your big day, they also included this planner where you can jot everything down from meetings with suppliers to your daily to-do lists. The planner cover's color matches the pens!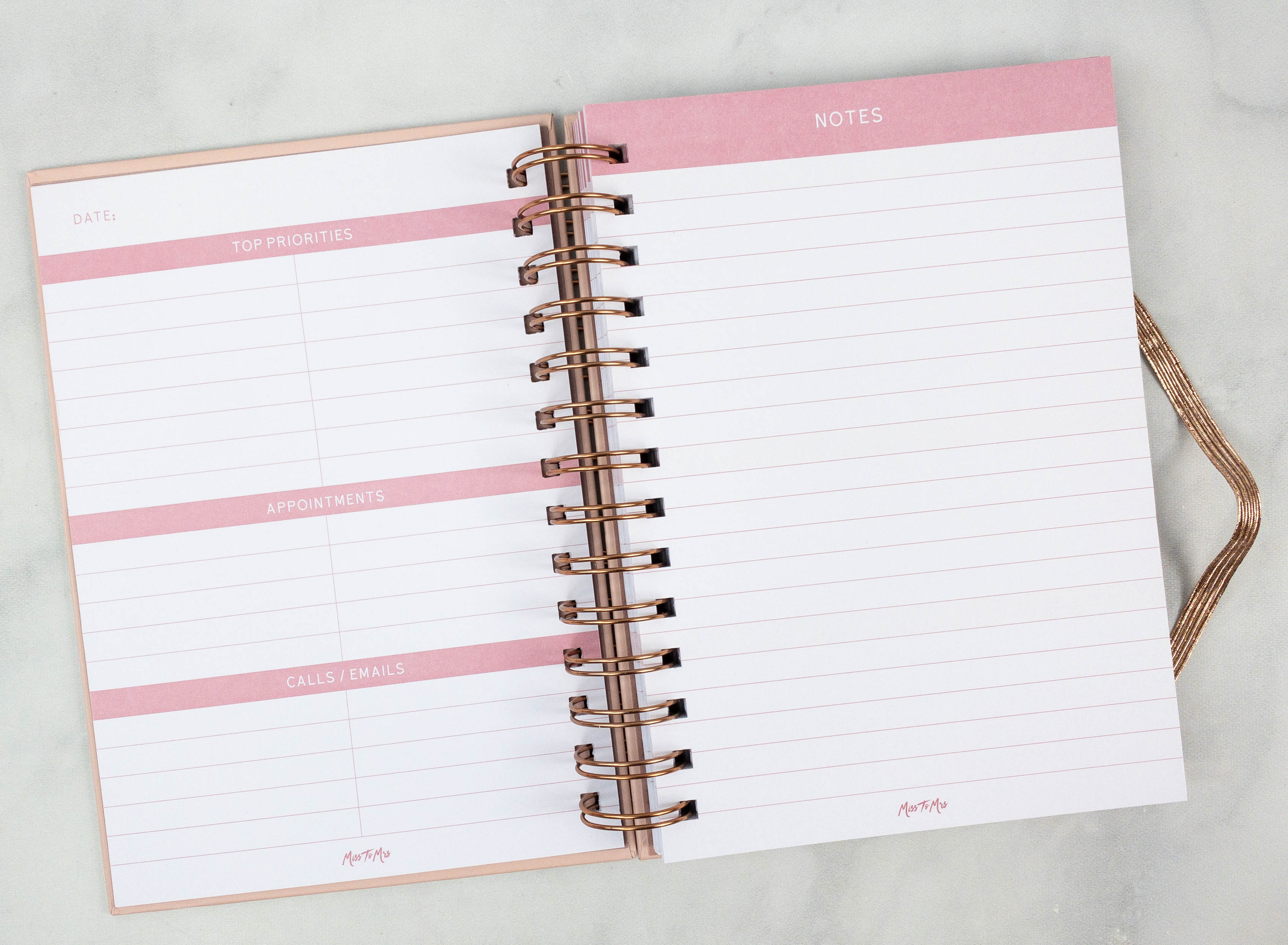 The planner features an organized layout. There's a section for top priorities, appointments, and calls/emails. The other side has a bigger space for more notes!
Wedding Day Countdown Calendar. This calendar is a great way to get the countdown going! Aside from the numbers, it also features lovely quotes for each day. At the bottom part, there's a text that says "Days until YOU + ME become WE"!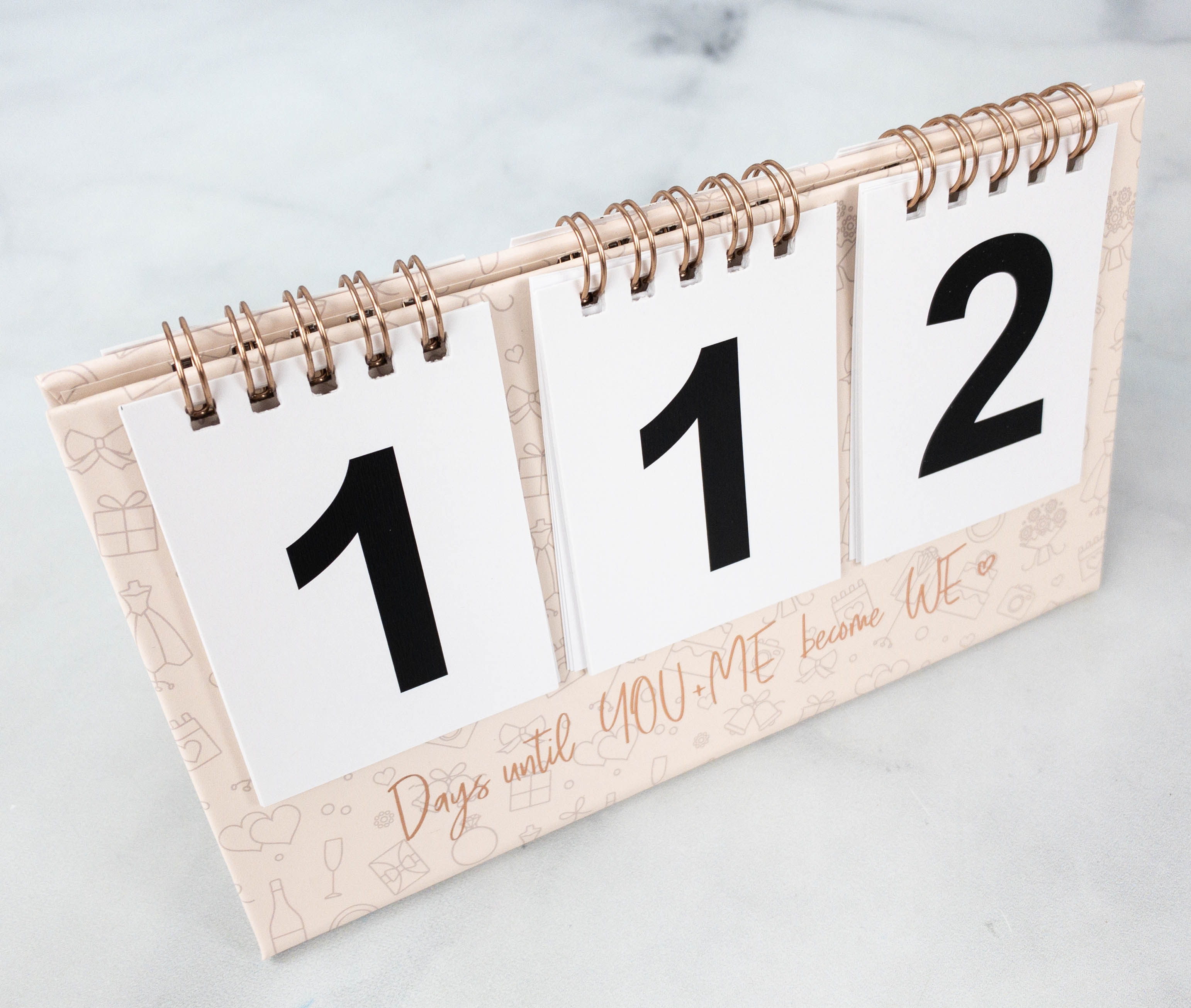 This countdown calendar can stand on its own. You can put it on your desk, or anywhere else you and your future husband can easily see it!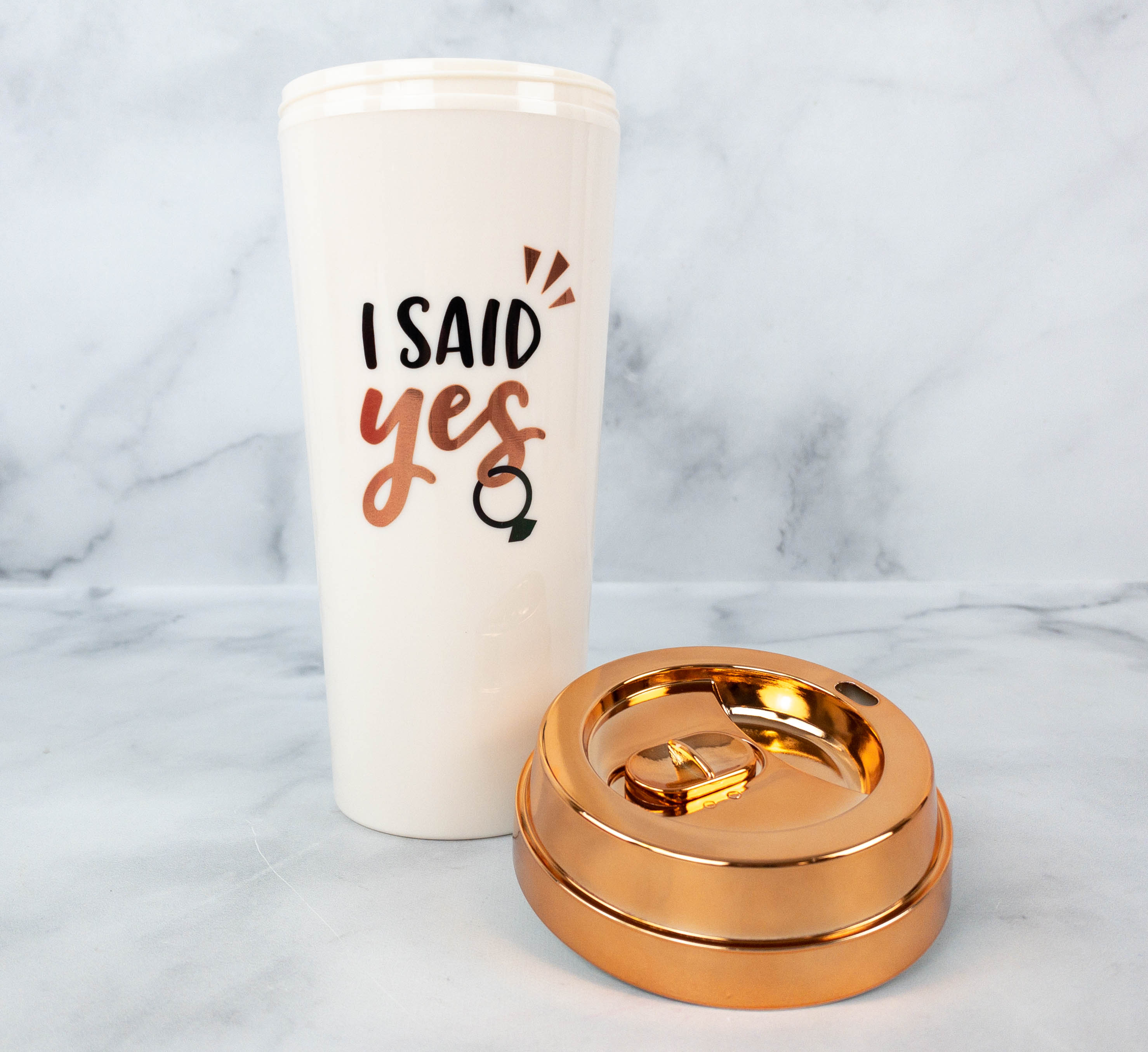 "I Said Yes" Tumbler. Lastly, to make sure you're hydrated even on the busiest days, they included this lovely tumbler in the box! It features an "I said yes" print, along with an illustration of a ring. This can hold water, juices, or even smoothies. The tumbler even came with a golden lid that protects the contents.
Miss To Mrs is a fun and useful subscription service for brides-to-be! This month, most of the items are geared towards helping future brides plan their wedding day. They even included tips and guides for effective wedding planning, as well as a planner and a couple of pens so you can make sure that all the information you need is organized in one place. The #Engaged tee and the tumbler are also really cute! If you're looking for a great bridal shower gift for a friend or if you're the one who is getting married soon, this box is just perfect!
Are you getting this box too?