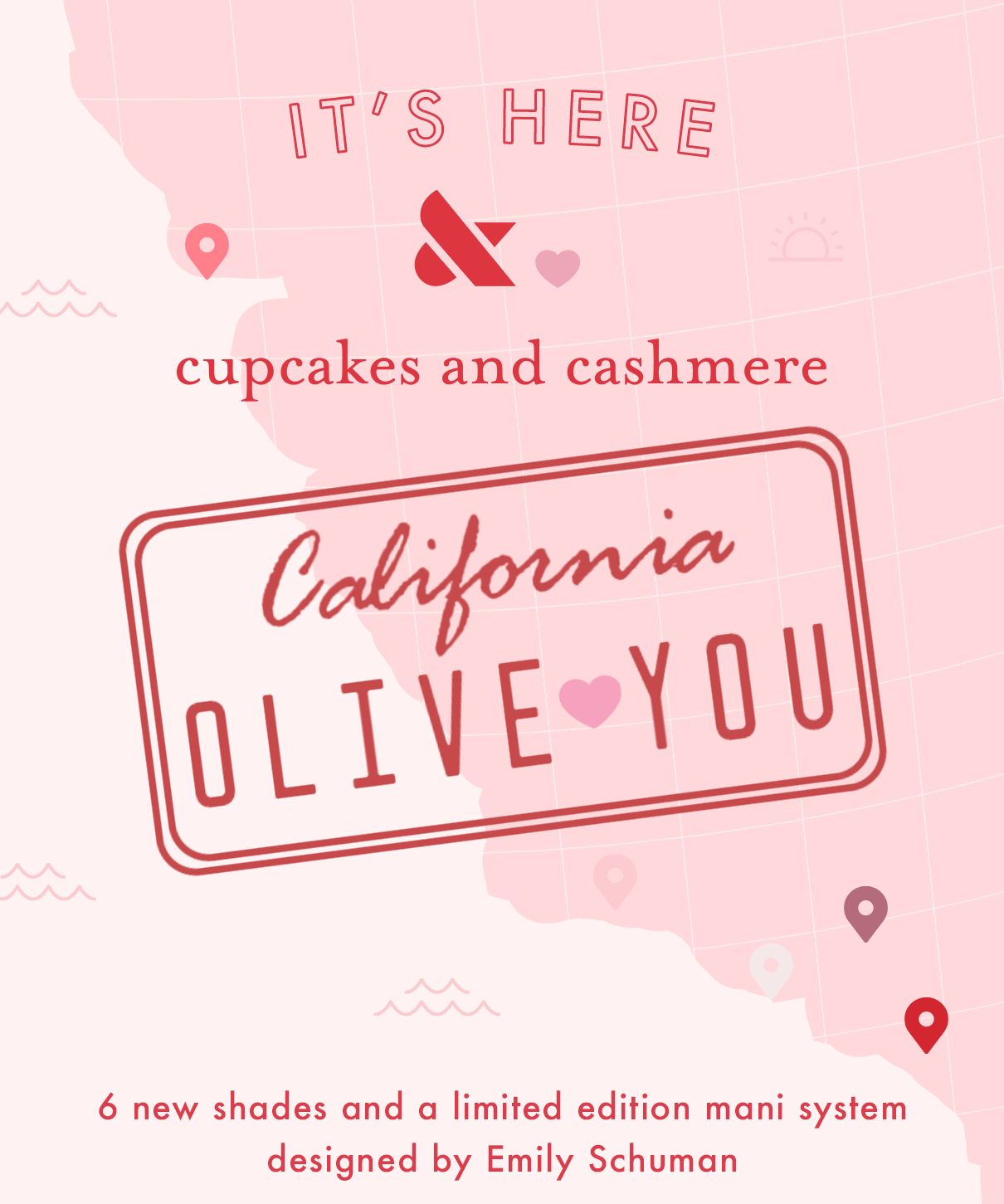 Olive & June has teamed up with Emily Schuman to bring you the limited edition Cupcakes and Cashmere x Olive & June Mani System – a kit that brings you a Crimson Poppy, a Red Nail File, a Pink Pouch, plus Emily's favorite Olive & June new shades! This set is $80, and includes a 6-piece Olive & June Mani System! Already have the set? Grab the new Cupcakes and Cashmere Set for just $56!
Limited edition mani system and 6 new shades, designed by Emily Schuman herself.
DEAL: Save 10% on your first order! Use the coupon code WELCOME10 at checkout.
This set includes:
Crimson Poppy
Red Nail File
Pink Pouch
Straight-Edge Nail Clipper
Salon-Quality Nail Buffer
Acetone-Free Polish Remover Pot
Mani-Perfecting Clean Up Brush
Super Glossy Top Coat- long-lasting shine
6 of Emily's favorite Red and Pink Shades
About the new shades:
POINT DUME– neutral sand
ROSE VALLEY– muted cotton candy
STINSON SUNSET– pinky-peach coral
FIG RANCH– figgy pink
LARCHMONT– blazing red
ES– classic crimson
About Cupcakes and Cashmere founder:
Emily Schuman founded cupcakes and cashmere in 2008 as a way to document the things she loved. The eponymous shop carries hand-selected jewelry, accessories, gifts, and more, elevating everyday life with fun and style. Emily is a DIY mani expert and always has perfectly polished nails.
About Olive & June:
Most people don't have an at-home nail routine — and the women who do aren't excited about it. The reason why? It's hard. It's that simple. Painting is tricky, polish is fussy, and the right tools are nowhere to be found. So we created The Studio Box mani system, innovative tools like The Poppy, and high-performance products like our long-lasting, 7-free polish to make it easier and more fun to achieve salon-quality results on your own.
What sets Olive & June apart from the others? The Poppy Universal Nail Polish Bottle Handle!
Meet Poppy! Our patented universal polish bottle handle makes painting your own nails easier, faster, and better than ever. Pop it on top of your favorite polish for a comfy grip, more control, and even, steady strokes. A perfect mani every time.
What do you think of Olive & June?