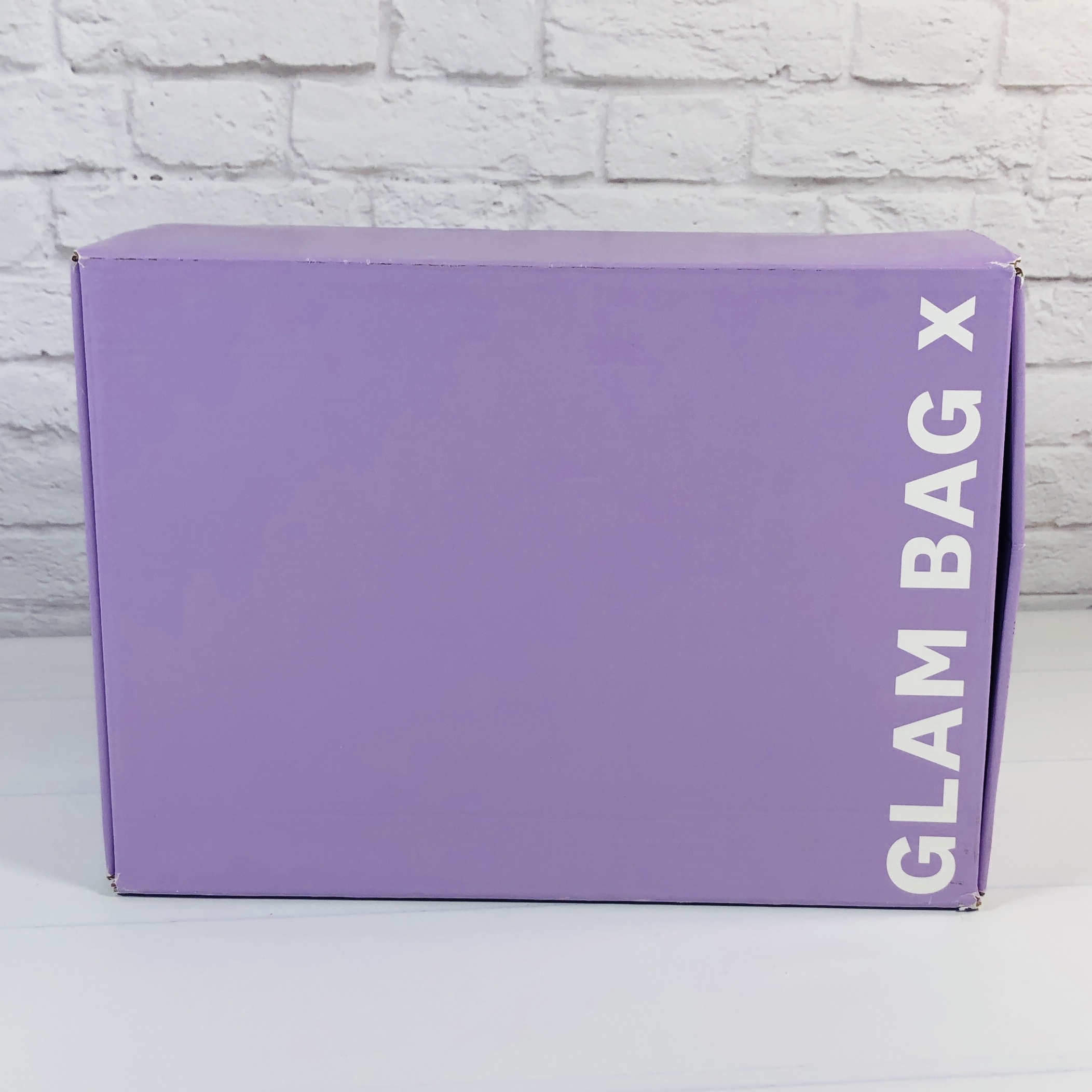 Ipsy Glam Bag X is the upgraded version of the monthly Ipsy Glam Bag! If you subscribe to the regular $13 Glam Bag, you would pay $42 extra and this will replace your usual bag for the month ($55 total). If you are a Glam Bag Plus only member, then this will replace that bag for a $27 upcharge (again, $55 total). If you subscribe to both of those bags, this will replace the Plus bag and you will also get the $13 bag, unless you skip. This will ship in the months of February, May, August, and November.
Think of it as your all-access pass to the most-coveted brands, hottest launches, and need-to-try products in beauty. Your Glam Bag X includes seven to eight full-size products (worth up to $350) specially curated by beauty's biggest tastemakers and celebs, and you'll even get to choose three from a personalized assortment—which, BTW, includes dibs on exclusive product drops you won't find anywhere else.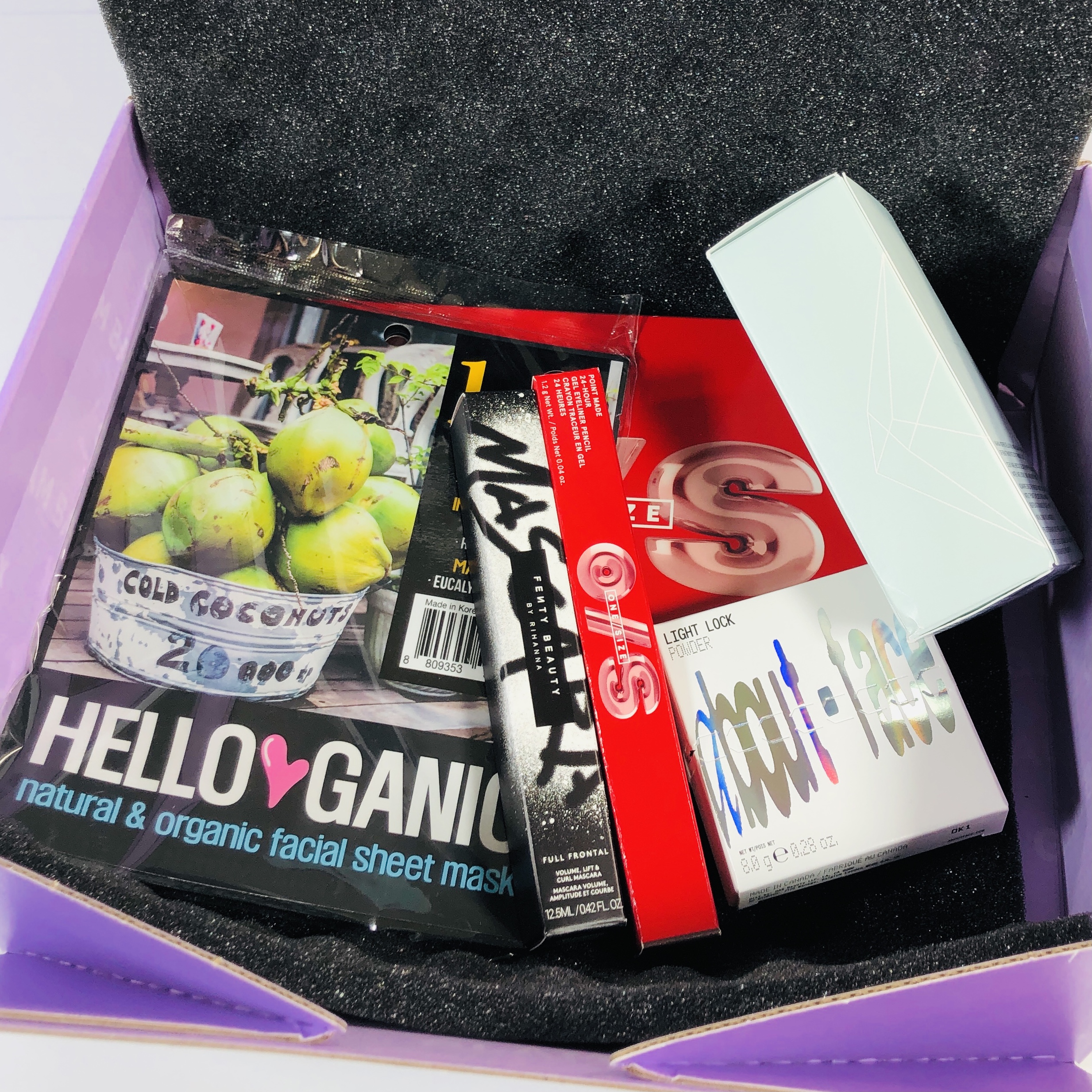 The presentation is simple, just egg crate for cushioning.
Most of the items came in their original boxes.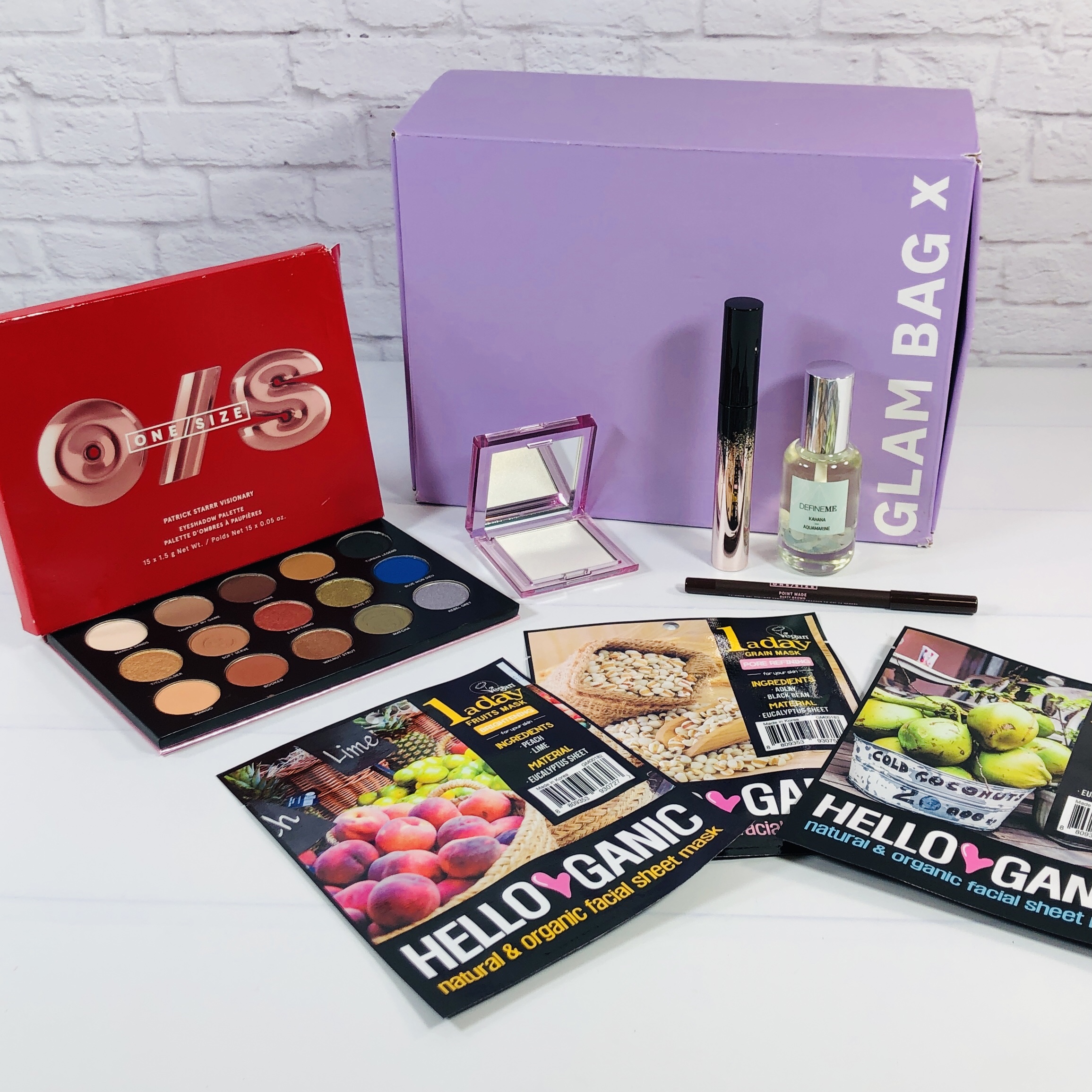 Everything in my box! I am very sad to say that my box, which supposedly shipped on August 10th, never reached me and the tracking has never updated. I contacted Ipsy on August 24th and was told that my bag was on its way. Then I received an email from Ipsy on August 26 that my box would arrive after my billing for September. I reached out again on September 7th and was told I would be issued a replacement bag. They told me that the Volition Yaupon moisturizer and Herbivore Botanicals item I was supposed to receive were out of stock and I was issued a small refund for those two items. I was then told that some of the other items would be replaced with comparable substitutes. I didn't receive a "newspaper" or product info sheet of any kind in my box.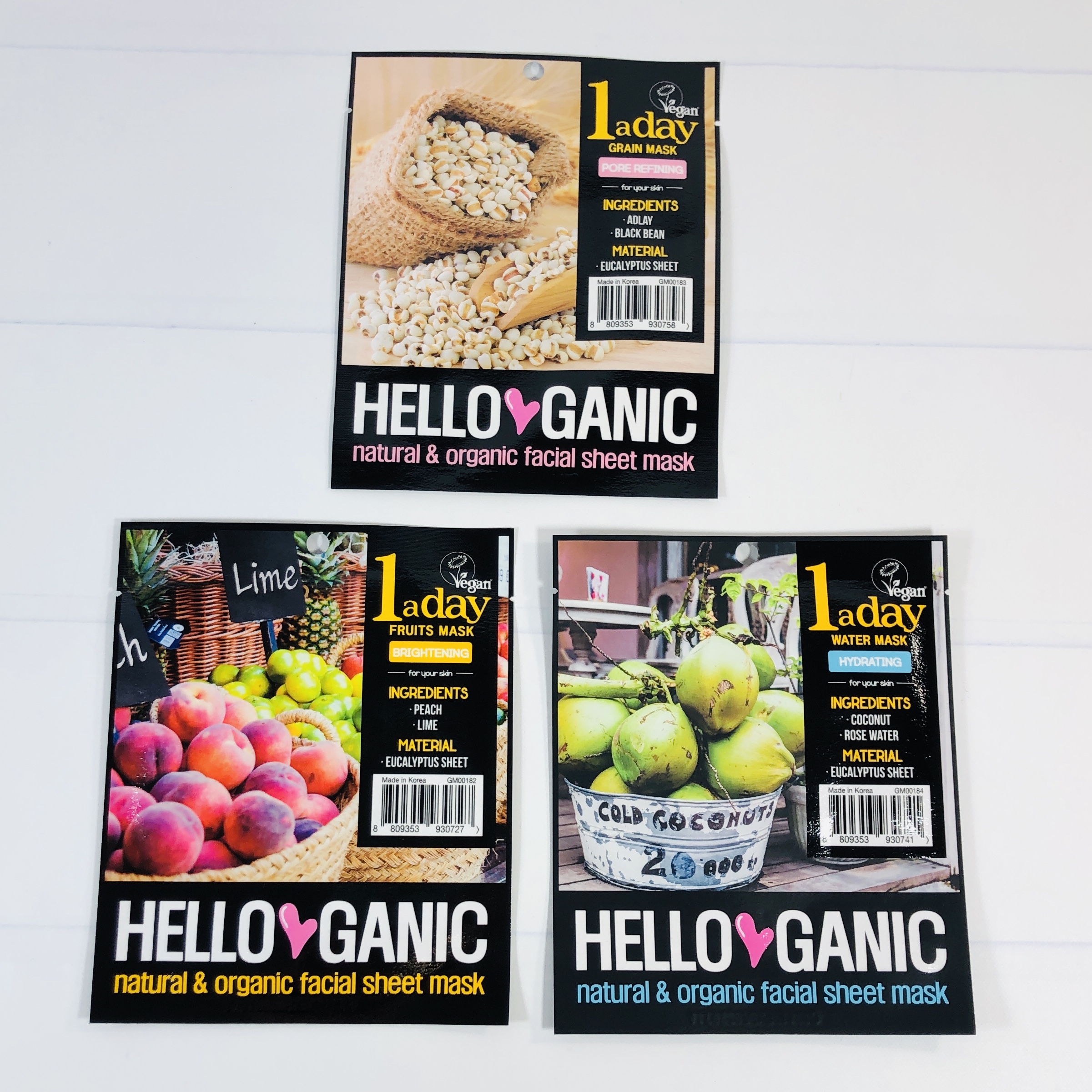 Hello Ganic One A Day Sheet Mask Set ($7.50, replacement item) Hmm, I'm pretty sure I've received this set in a previous box. It's a set of 3 sheet masks – pore refining, hydrating, and brightening.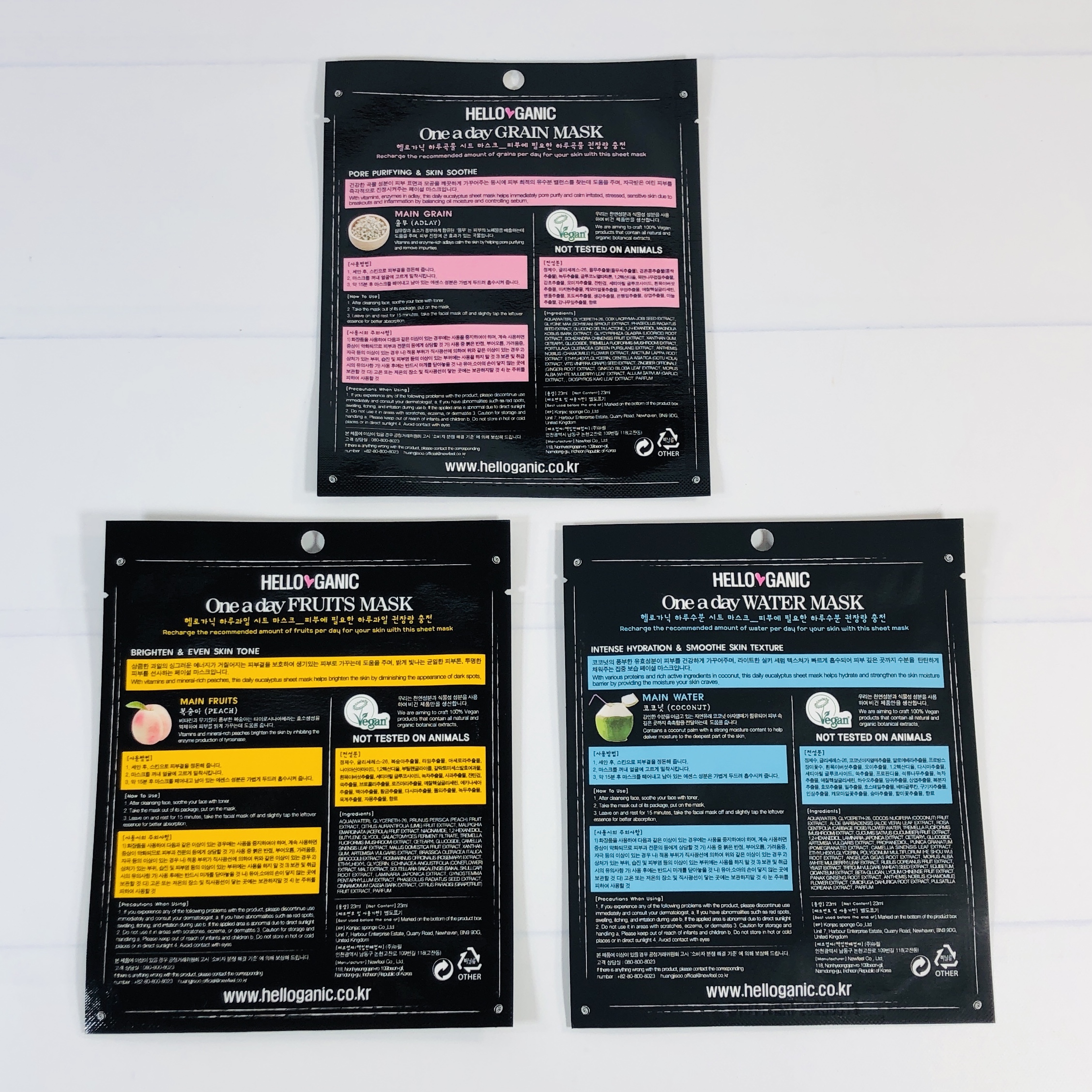 Apply after cleansing and toning, leave on for 15 minutes before removing and then pat in any remaining essence.
Define Me Kahana Aquamarine Crystal Infused Perfume Mist ($40, my pick) Out of the 3 products I originally selected for my bag, this is the only one I received. It's a crystal-infused scent that is supposed to "inspire relaxation, mindfulness and a feeling of being transported to a tranquil place".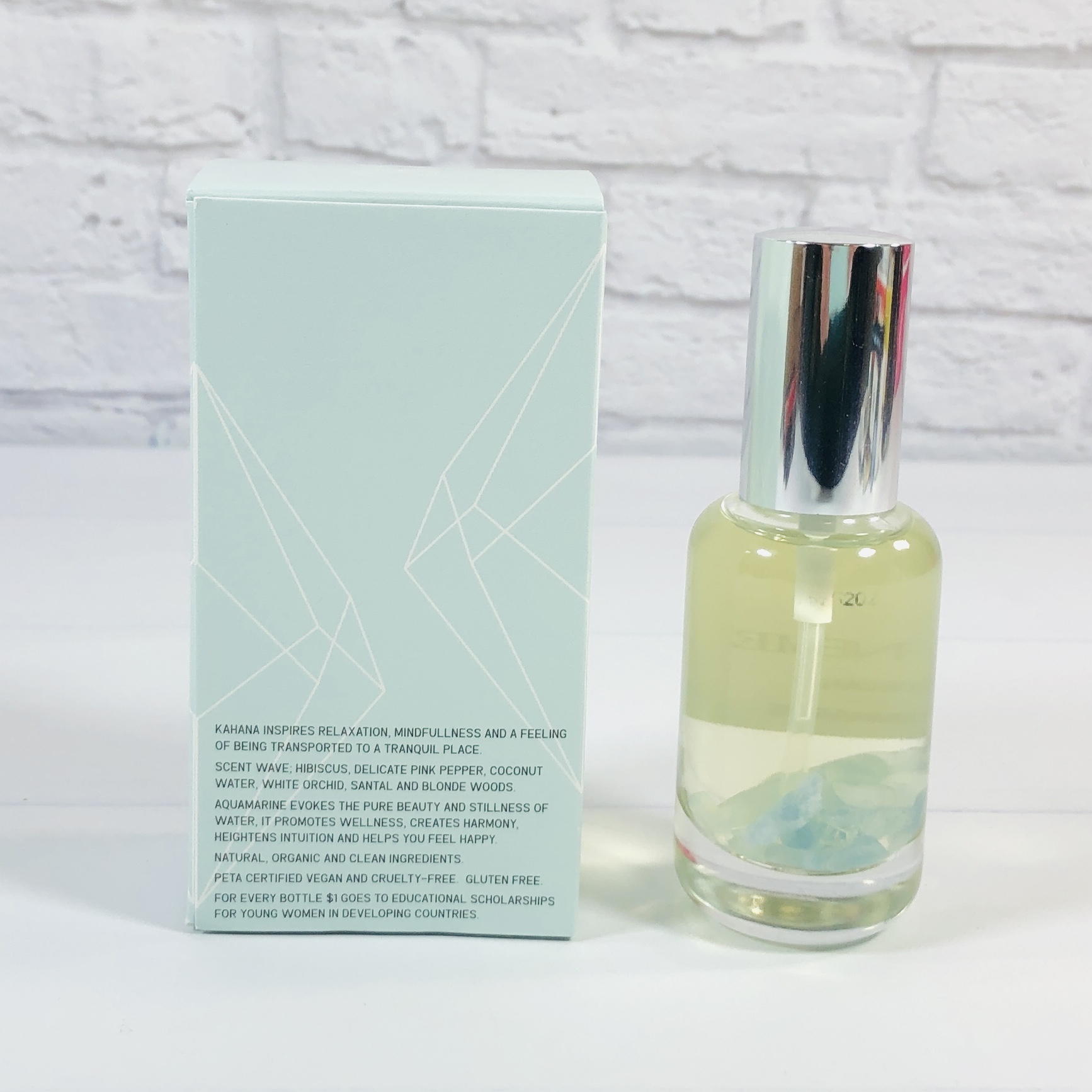 This fragrance has notes of hibiscus, coconut water, and soft blond woods. There are pretty pieces of aquamarine crystals inside the bottle that make noise when you shake it up. The initial blast reminds me of perfume you might find at a store at the mall, like Victoria's Secret or Hollister, it's a young, flirty scent that kind of smells like "beach" and would probably be worn by someone still in school. It is vegan and cruelty-free. I spritzed it once and it is still going strong. The brand made it sound rather natural and herb-infused, but this is a strong parfum type of scent. Update: After wearing for an hour I realized this is pretty much exactly the same as Replica Beach Walk and I discovered many of the same scent notes (pink pepper, ylang ylang, coconut milk).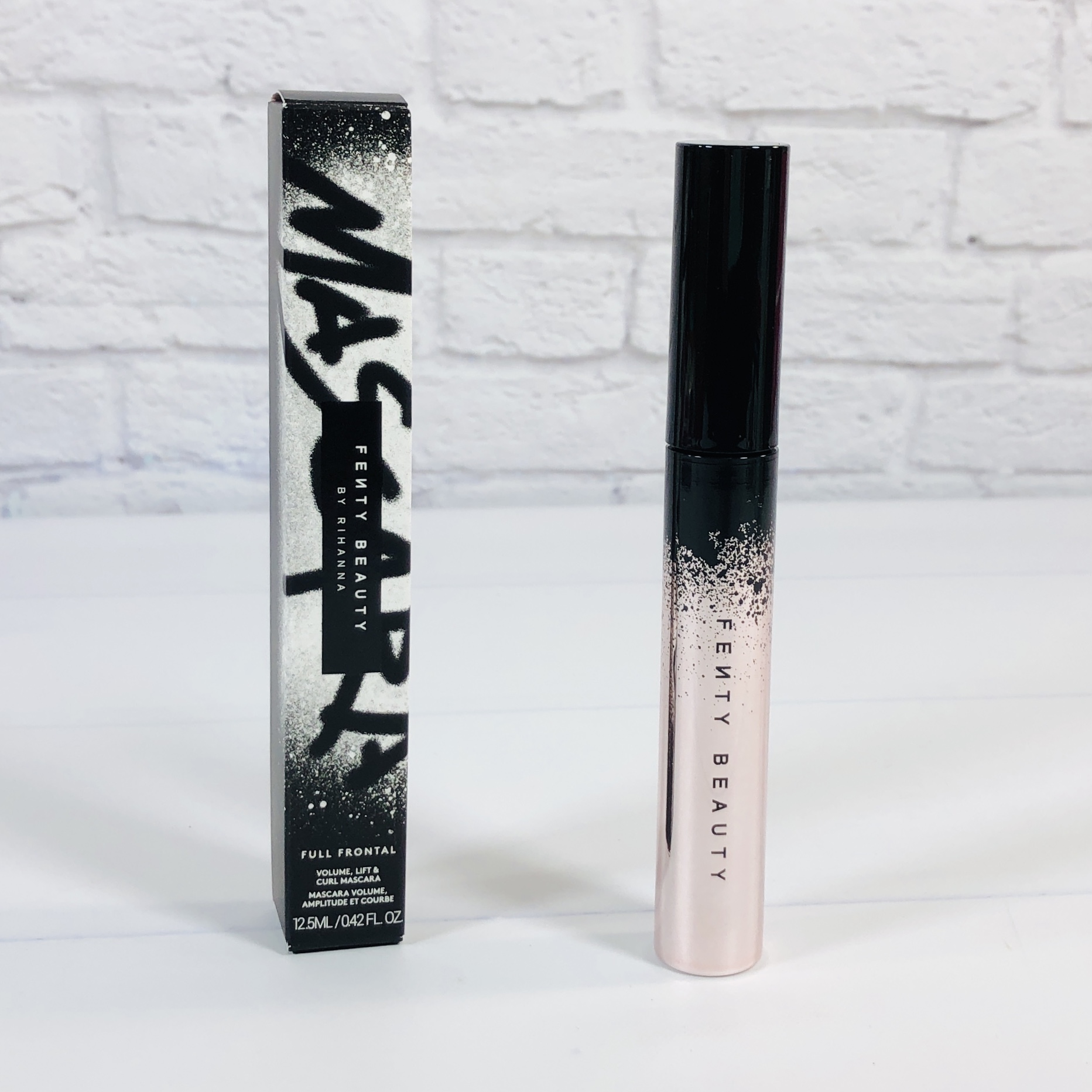 Fenty Beauty Full Frontal Volume, Lift & Curl Mascara ($24, Ipsy picked) I'm always happy to see a Fenty product in my beauty boxes, they tend to work really well for me.
Here's the ingredients and this is a vegan mascara. The mascara is supposed to add volume, length, and curl and as my lashes aren't noticeable without mascara, I can't wait to see if it does what it is supposed to!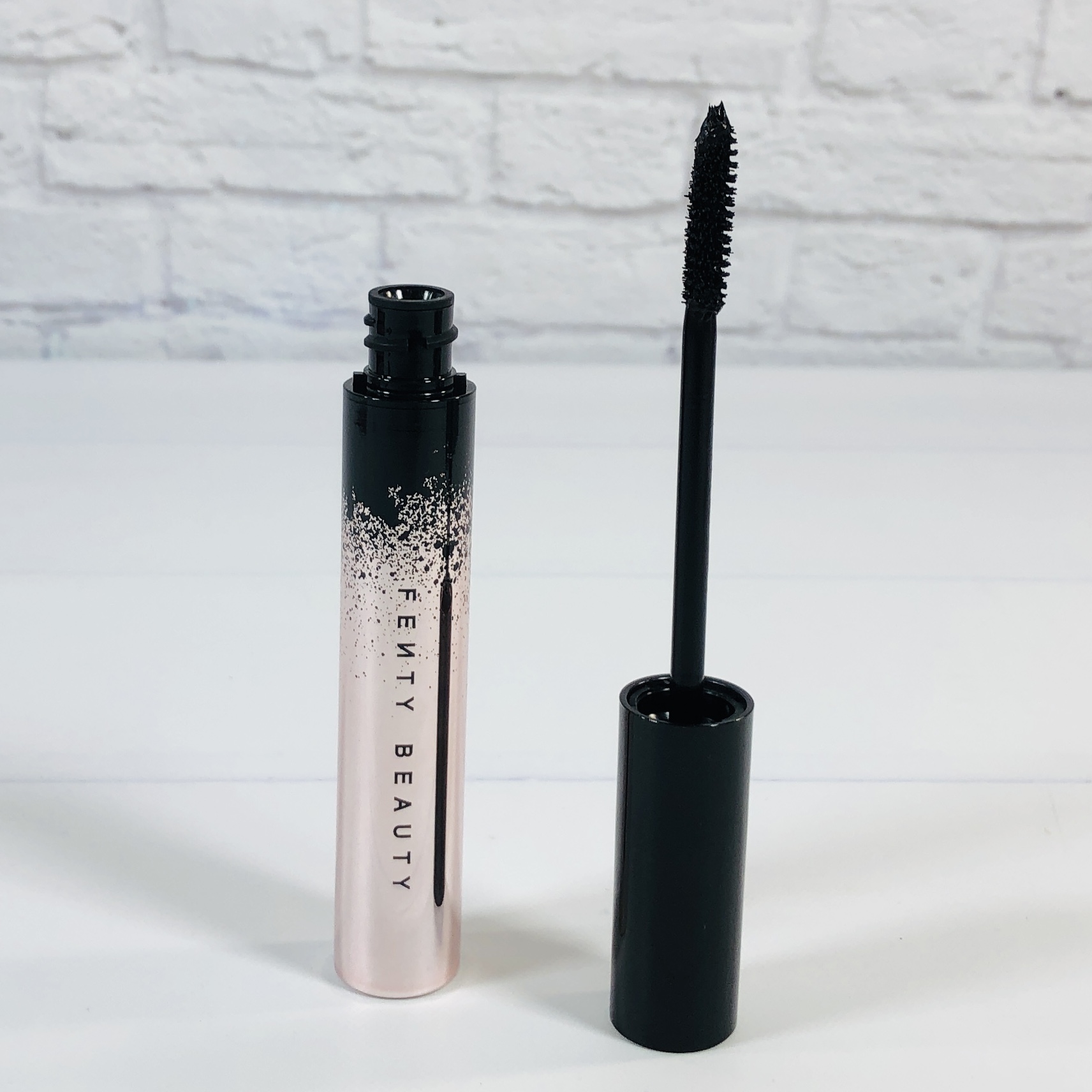 The brush has two different sides and is called fat-to-flat. According to Sephora, the "fat side loads and lifts lashes; the flat side defines and curls. The long-wear formula keeps lashes exposed all day". I thought it worked ok the first time I used, nothing special though, no magical lashes. I tried applying according to the directions but this time I ended up with spidery eyelashes, clumps of lashes packed with product but that's not a look that I desire. I think I will stick to other brands because although I've loved every other Fenty product I've tried, this wasn't worth it to me.
One Size Gel Eyeliner Pencil in Busty Brown ($19, replacement item) I almost always get black liner in boxes but here is a brown pencil, perfect as I move into wearing warm neutrals in the fall.
Here are the ingredients and this is a vegan liner.
This can be sharpened with a traditional sharpener. I swatched it (shown below) and it set almost immediately, it wouldn't budge. I applied an oil-based makeup removed and again, it didn't move. I finally had to wipe it with a towel and then it came off. On my eyes I found it easy to apply and it didn't smear plus it lasted all day but I didn't have any problems removing it at night. Overall I was really happy with this liner.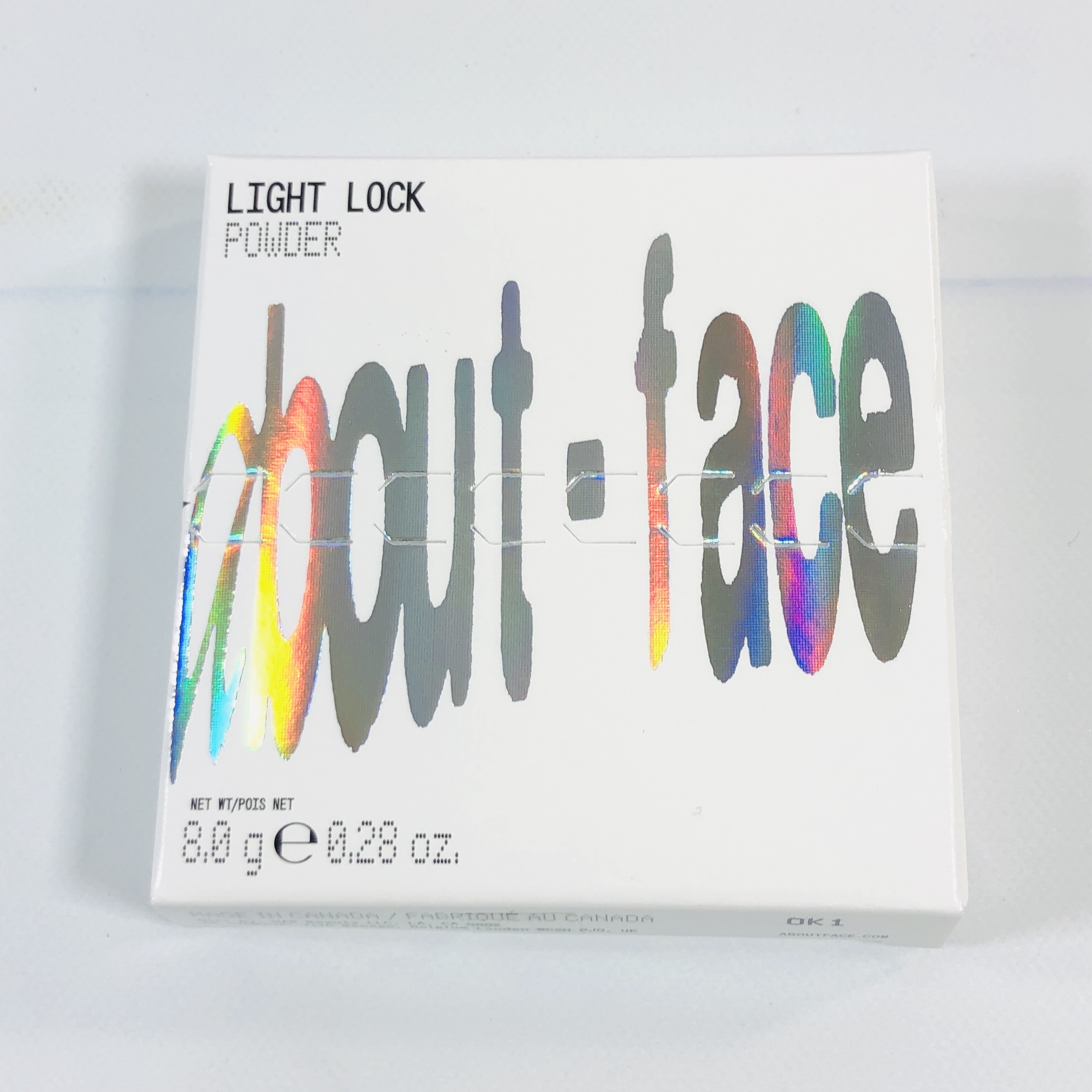 About-Face Light Lock Powder ($30, Ipsy picked) About-Face is from the musician Halsey's beauty line and I was introduced to this brand back in the debut February Glam Bag X.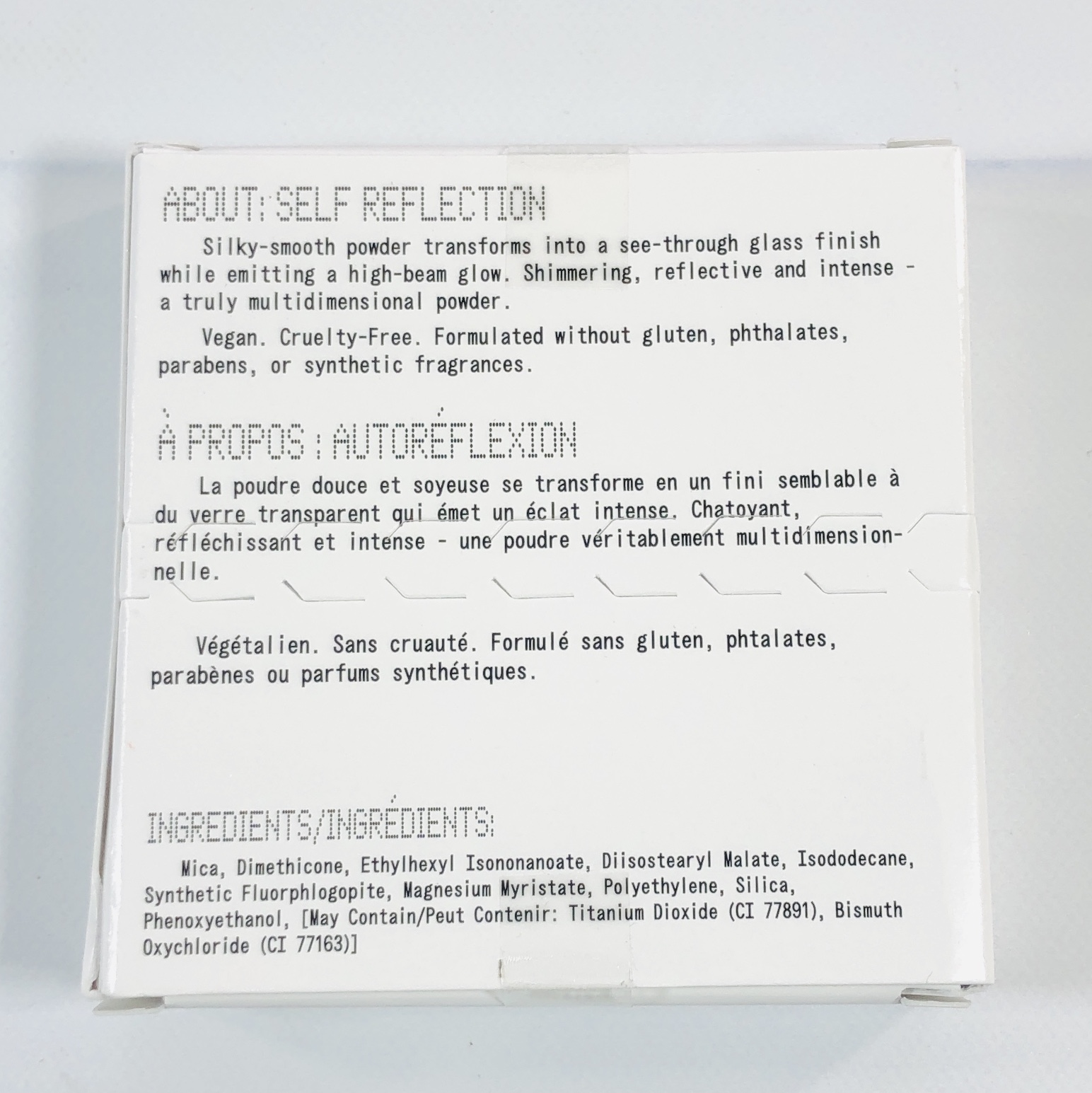 This time around I received a highlighting liquid-to-powder product that is vegan.
The compact has a mirrored front that for some reason has scratches on the inside, can you see them?
The inside has a mirror so this can be applied on the go. You can use your fingers or a brush or sponge applicator. I used a brush and found it had a gold-toned shimmer effect everywhere I applied so I will use it when doing a warm makeup look.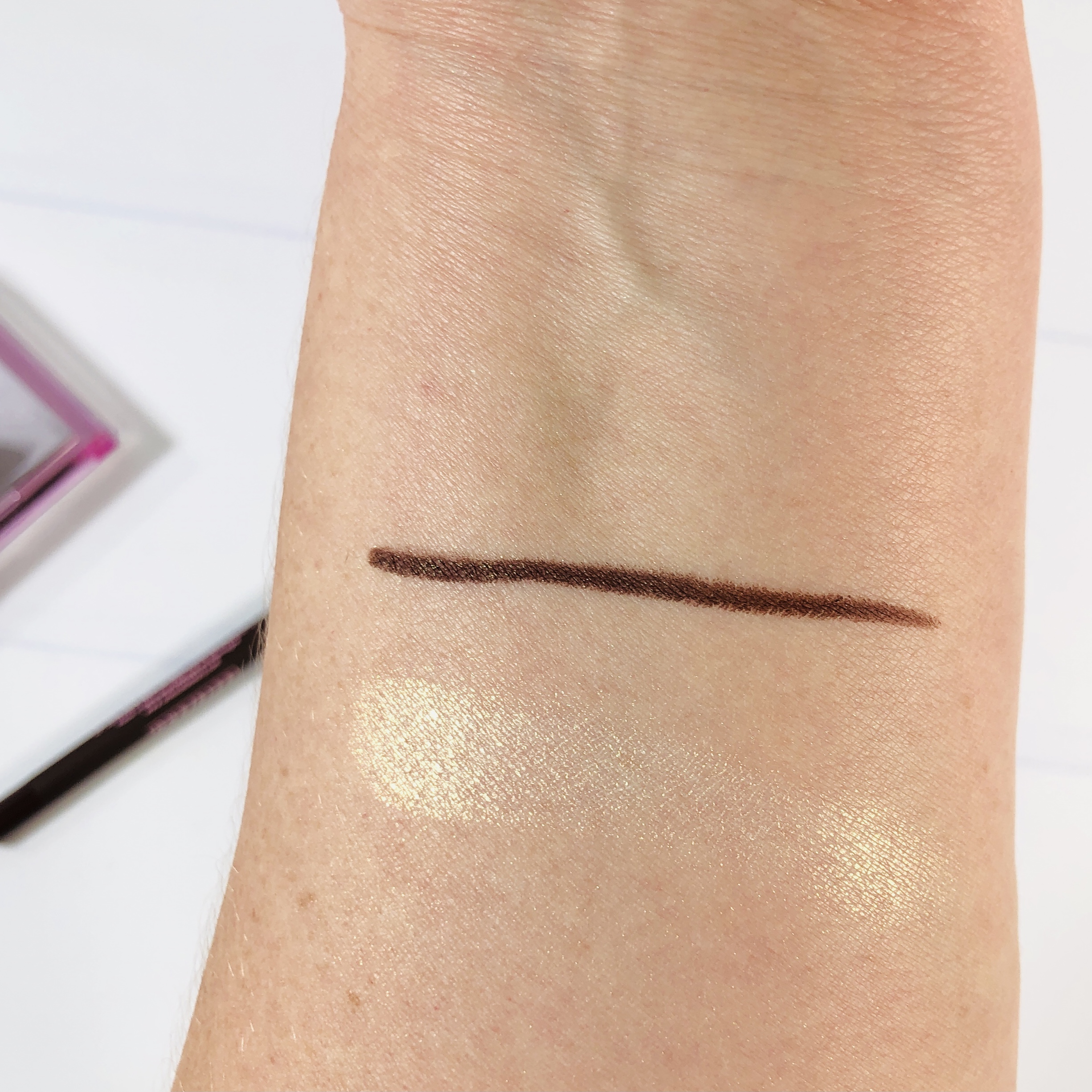 Swatched on top are the liner and the highlighter is below.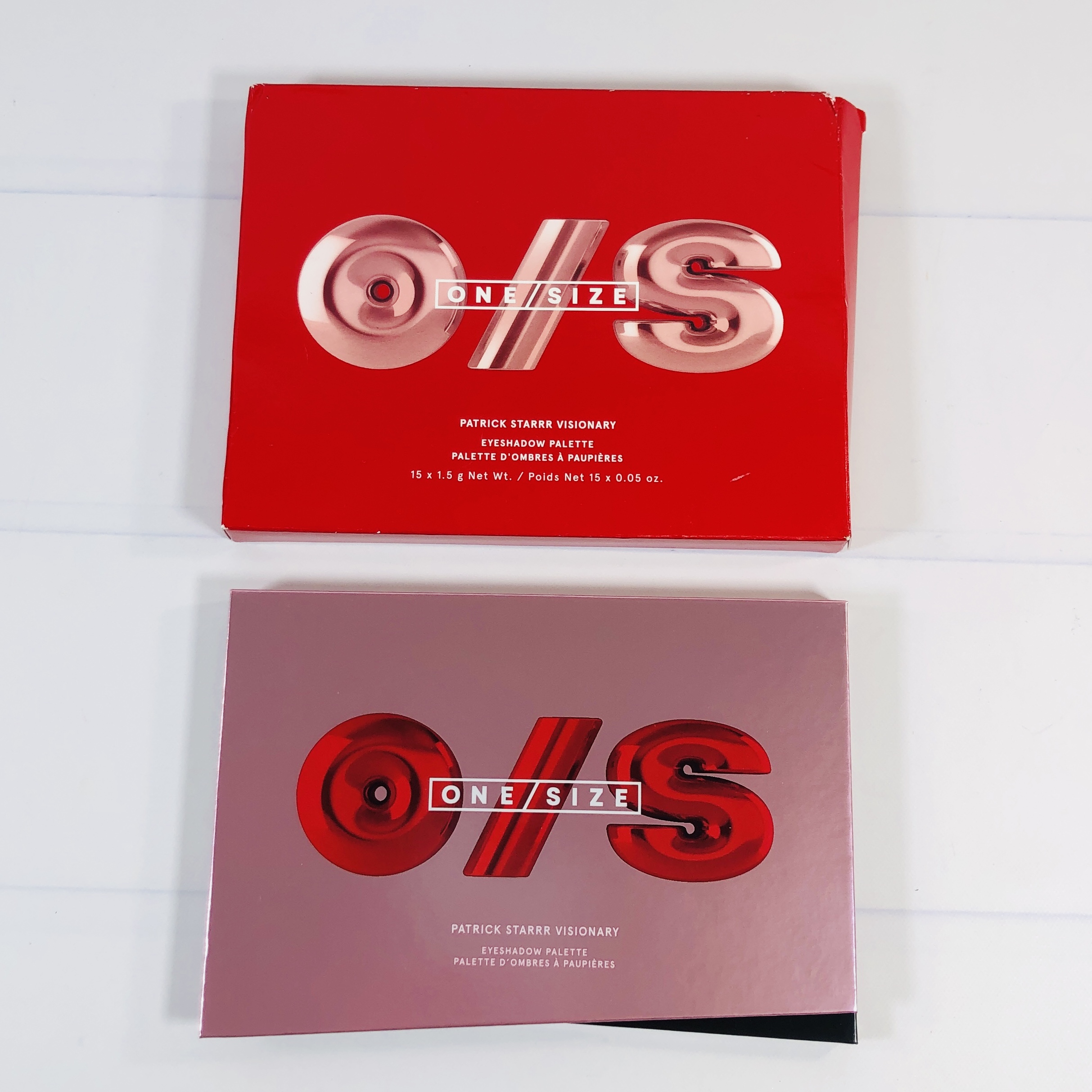 One Size Patrick Starr Visionary Eyeshadow Palette ($21, replacement item) I was supposed to get the gorgeous ATHR Beauty Moonstone palette but I got a different palette instead. This one is currently on sale for $21 instead of the usual $42. Did you notice the way the palette is asymmetrical and different on the bottom? That's because Patrick wanted to make it easy to open for those who have looooong nails.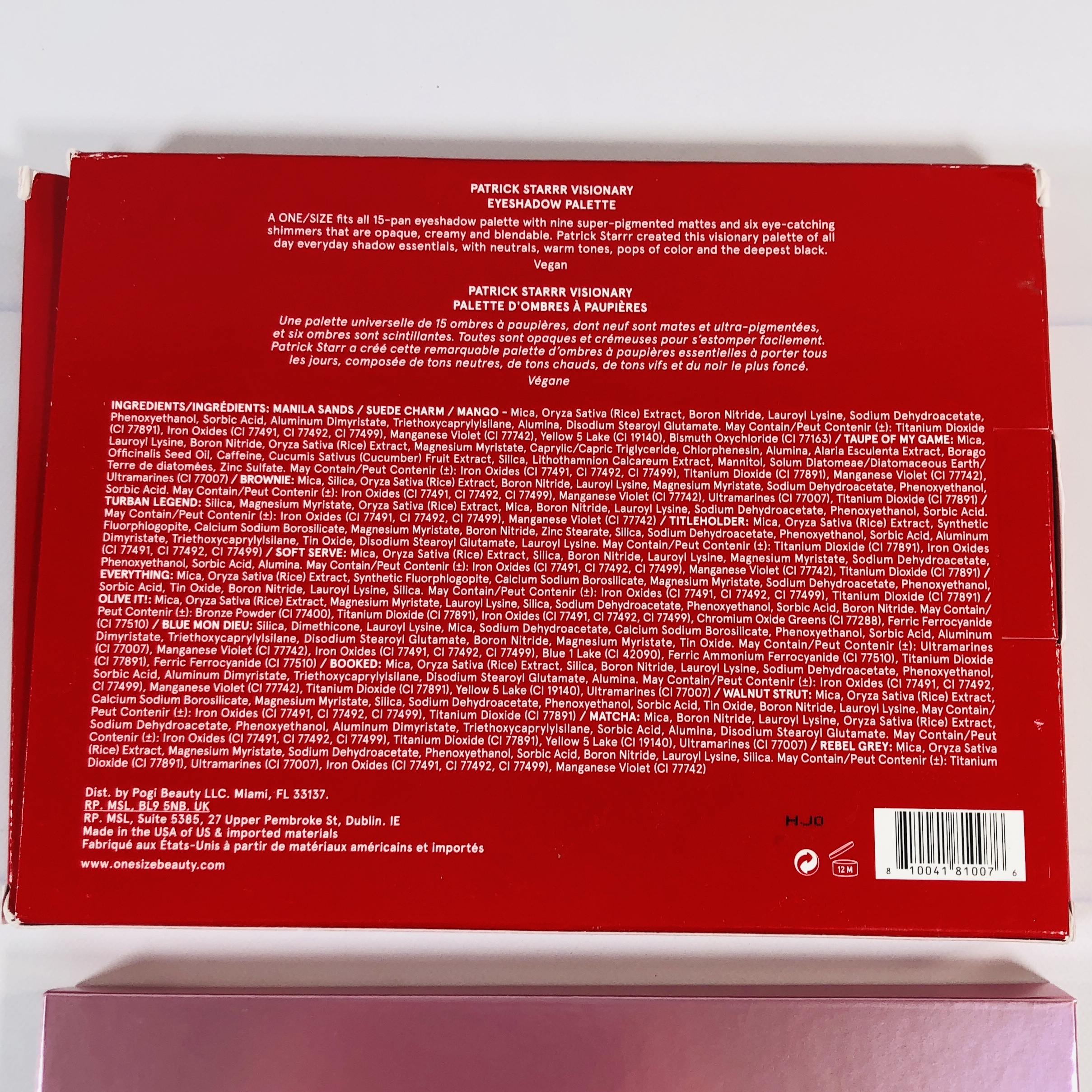 Here are the ingredients and this palette is made in the USA.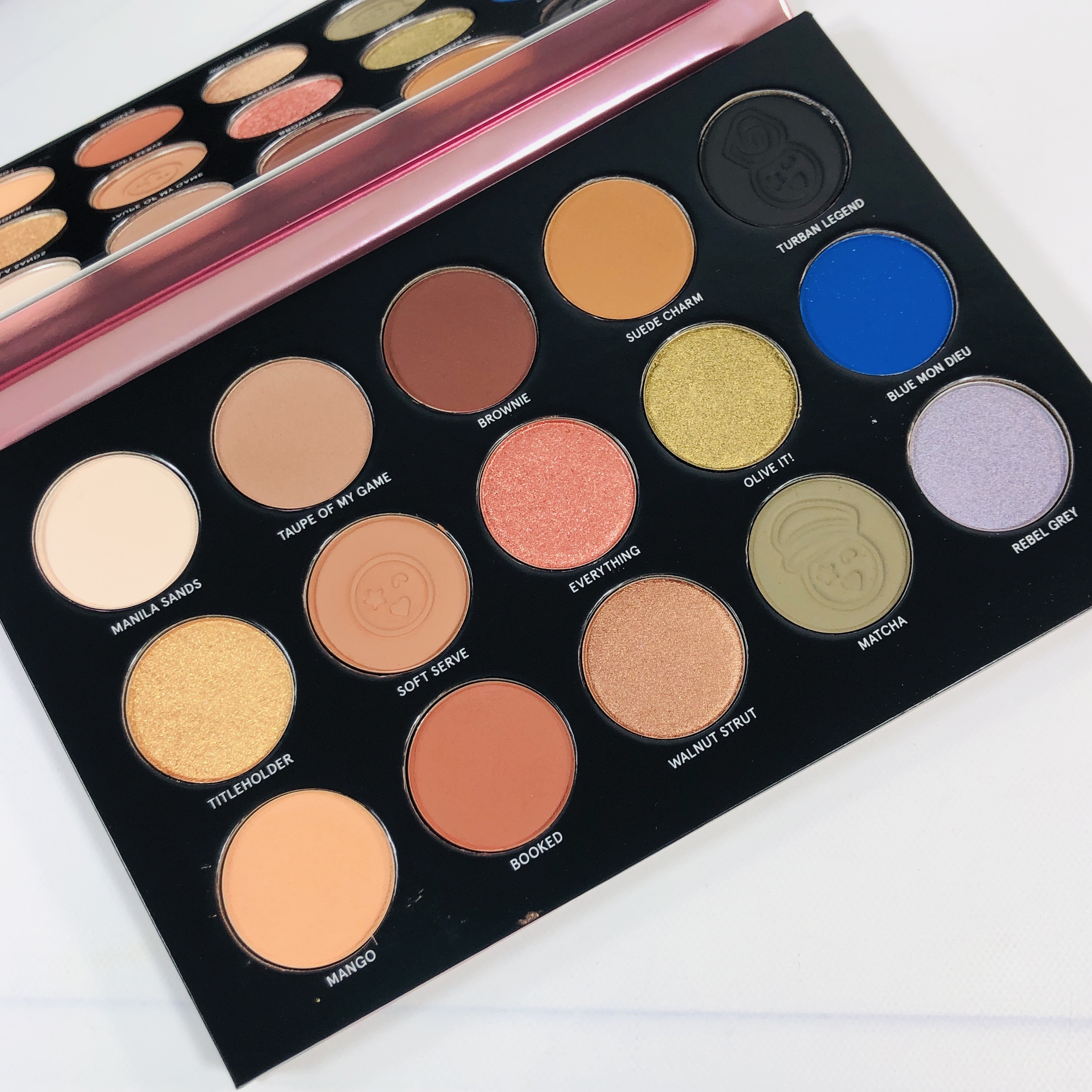 Well, it is now autumn so I think these shades work especially well for this time of year.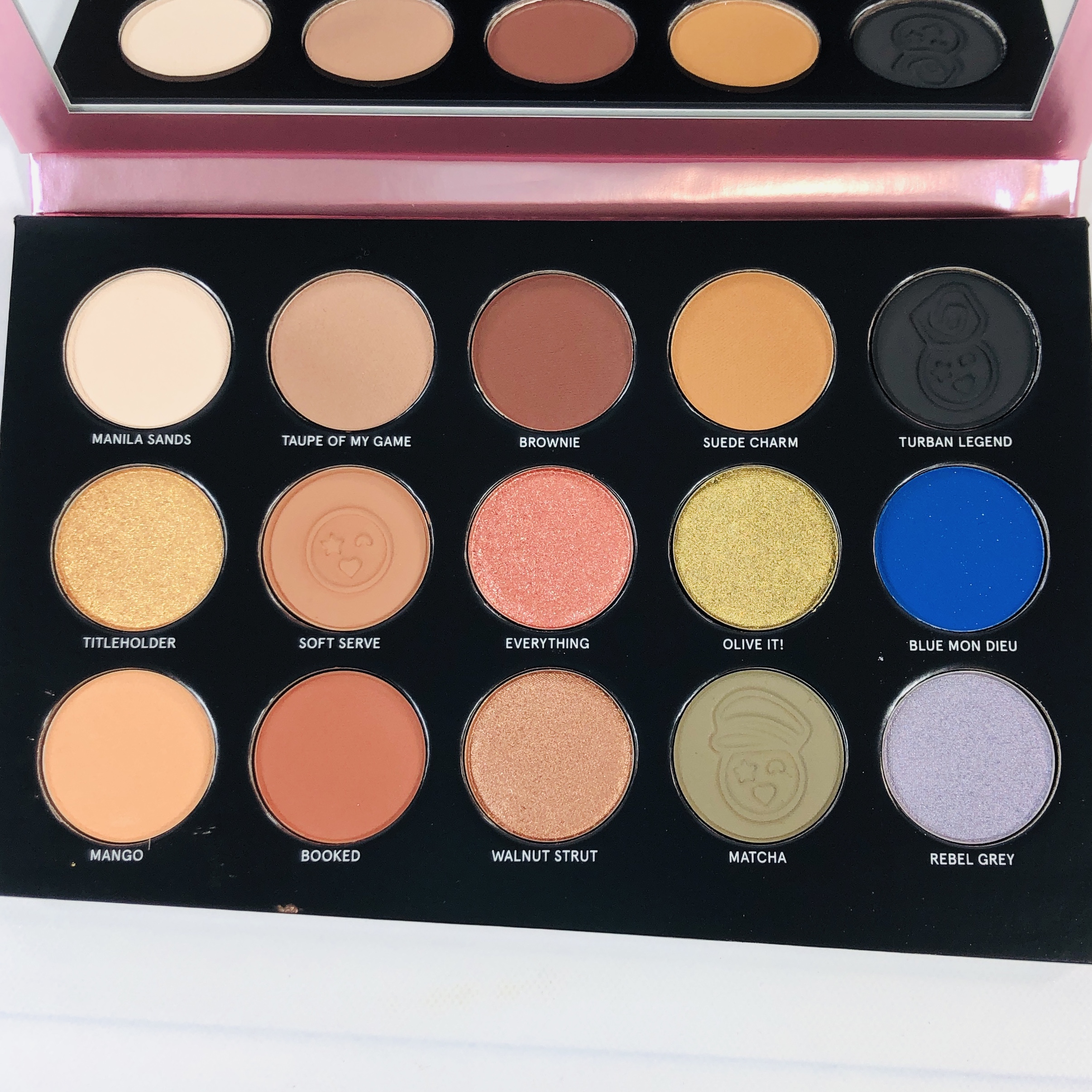 It's a mix of matte and shimmer shades and my go-to's will be Manila Sands, Brownie, Taupe of My Game, Soft Serve, and Walnut Strut, although I also used Everything, it was a lil chunky. Patrick suggests using a finger to apply the shimmer shades and I agree, it makes it easier for some reason, whereas a brush just makes a glittery mess on my cheeks. These were easy to apply and blend and there was some fallout with some of the shades.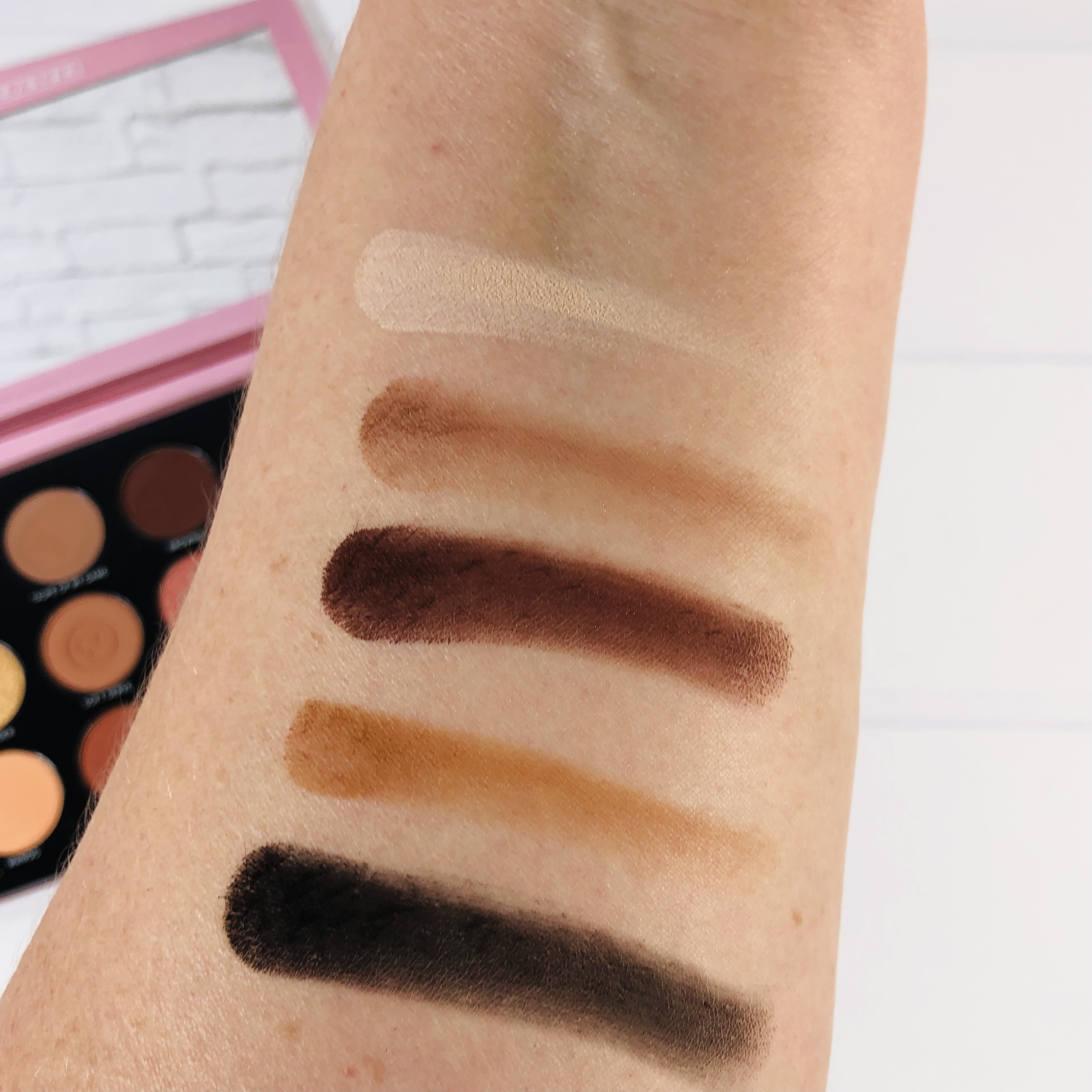 Here's the first row swatched, and it was all matte.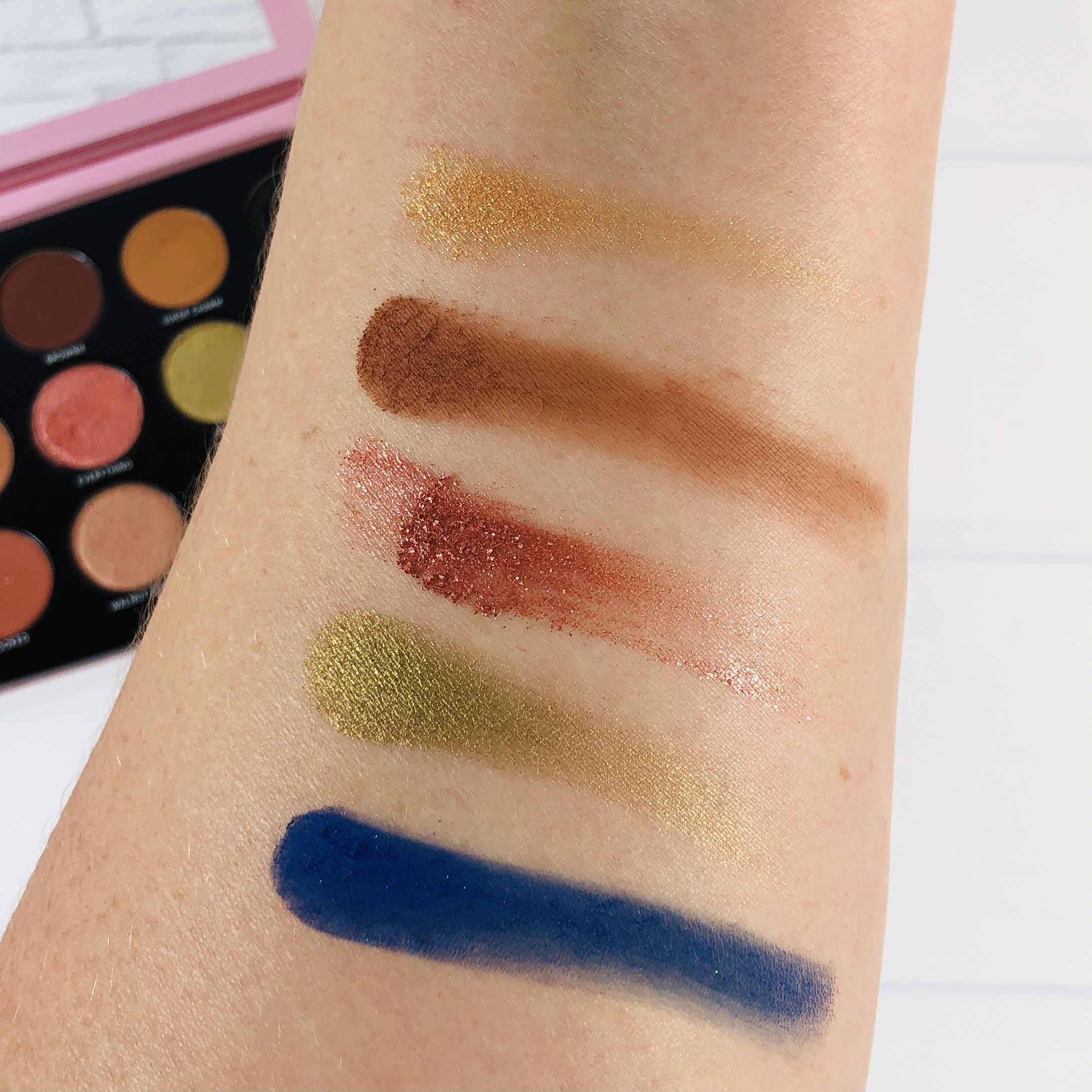 Here's the middle row.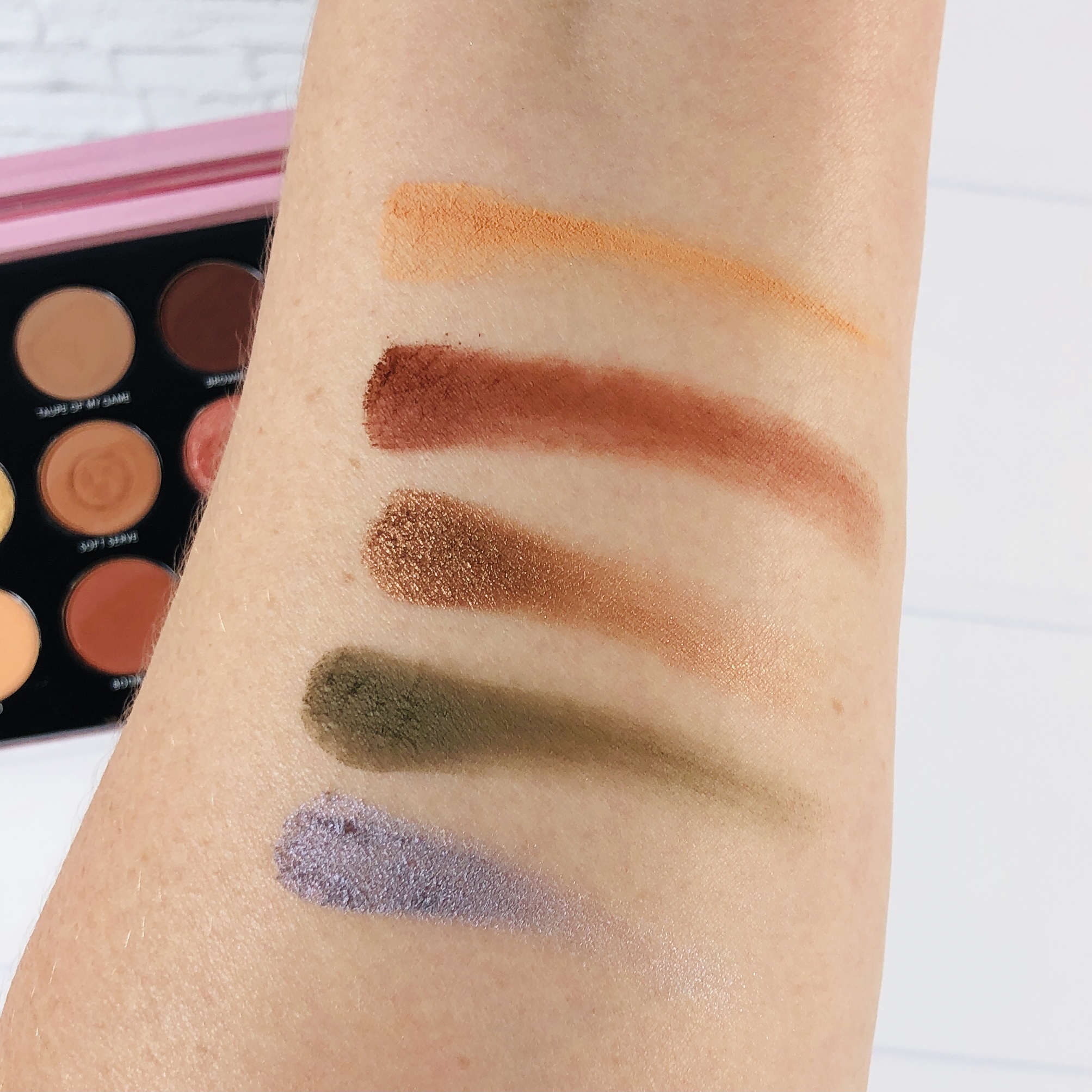 Here's the bottom row. Rebel Grey looks prettier swatched than in the pan so I may have to give this shade a try.
Well, what can I say, my original Ipsy August Glam Bag X never made it to my mailbox and the replacement box was rather lackluster. I ended up really liking the eyeliner and the palette turned out better than I expected. My choice item, the perfume, was not really innovative — I'm sure I've smelled this very scent before, several times in fact (not only at the mall, but Replica's Beach Walk and Bobbi Brown Beach are similar). It's not bad, but it's not my type, although I thought the crystals were pretty. The mascara and highlighter are pretty basic and will get used, and I'm sure I've received those masks before. My box had a value of around $141.50, while my original box was supposed to be around $287. I was also short two items and the insert.
What do you think of this month's Ipsy Glam Bag X?