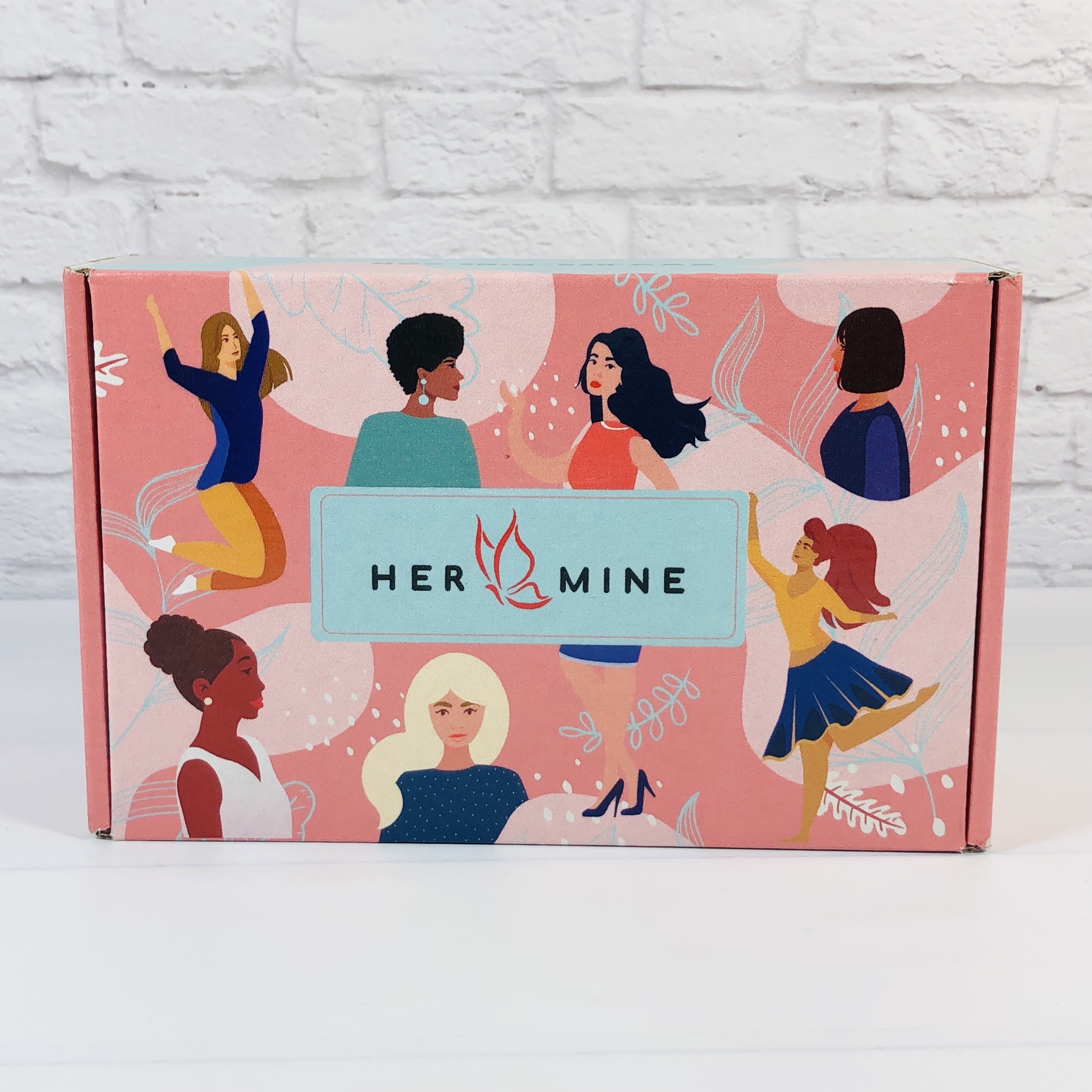 HER-MINE Self-Care Box is an aromatherapy, beauty, wellness, and lifestyle subscription box that sends items that are from women-owned companies. Her-Mine is a box for those who like to relax with pampering products, and who knows that self-care is important. The Deluxe Box is $49.95+ FREE US Shipping and comes with 5-8 products. Products will be both full and deluxe sample sized.
HER-MINE Box is a monthly self-care subscription focused on pampering and empowering women. Each box incorporates 5-8 wellness products sourced primarily from female vendor partners that produce natural, organic, or feel-good products ranging from aromatherapy, clean beauty/skincare, and unique lifestyle goodies. Themes and items change each month so it's always a delightful surprise!
DEAL: Get 10% off on any order! Use coupon code HERTEN.
My items were wrapped in red tissue paper that was sealed with a sticker. My box was packed by Trudy, one half of the team behind HER-MINE (the other is Pam, her mom!).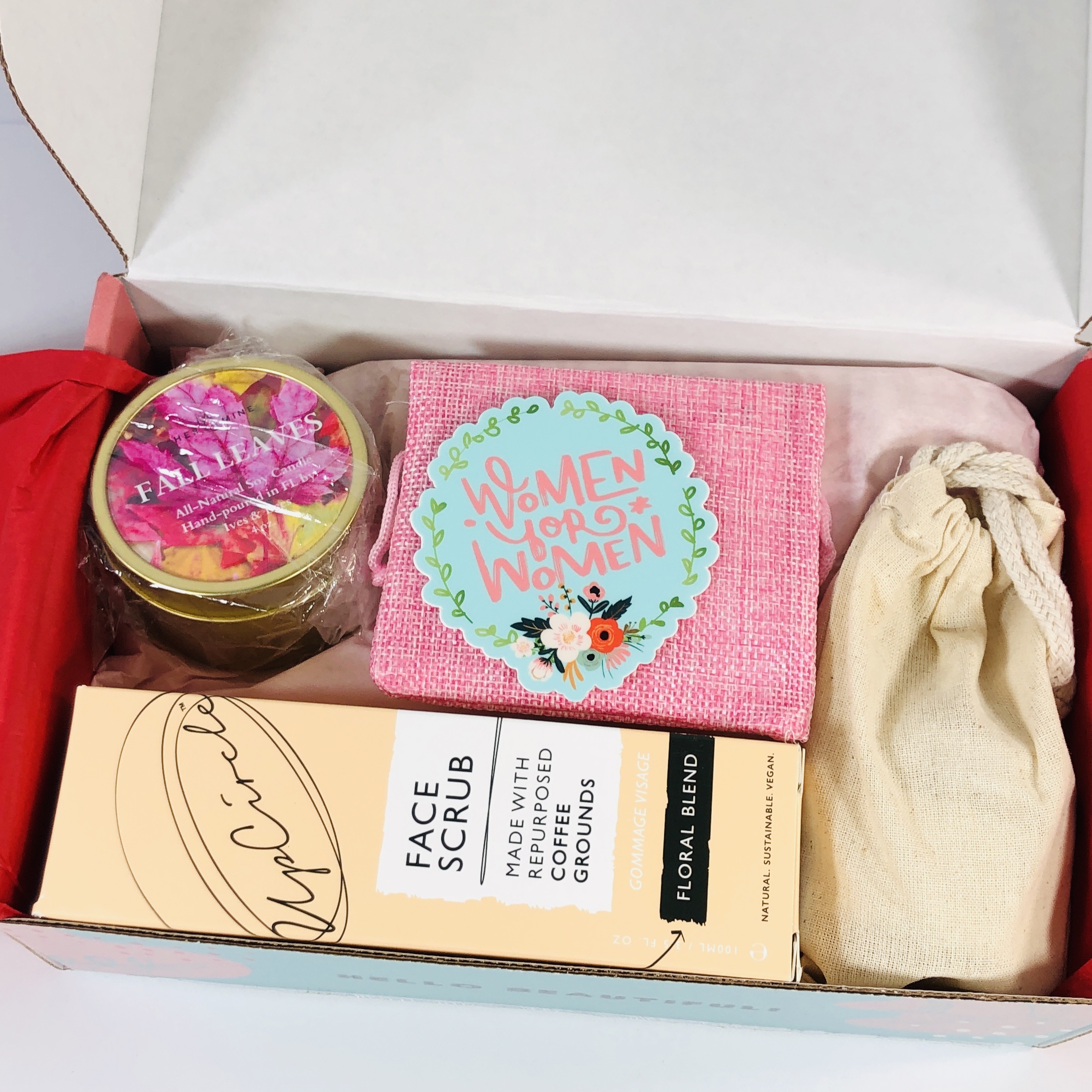 The items were snuggled in shredded paper squiggles. I think the presentation is lovely and I can't wait to see what's in the box!
A lovely pamphlet was included. The theme for September was the Falling For You!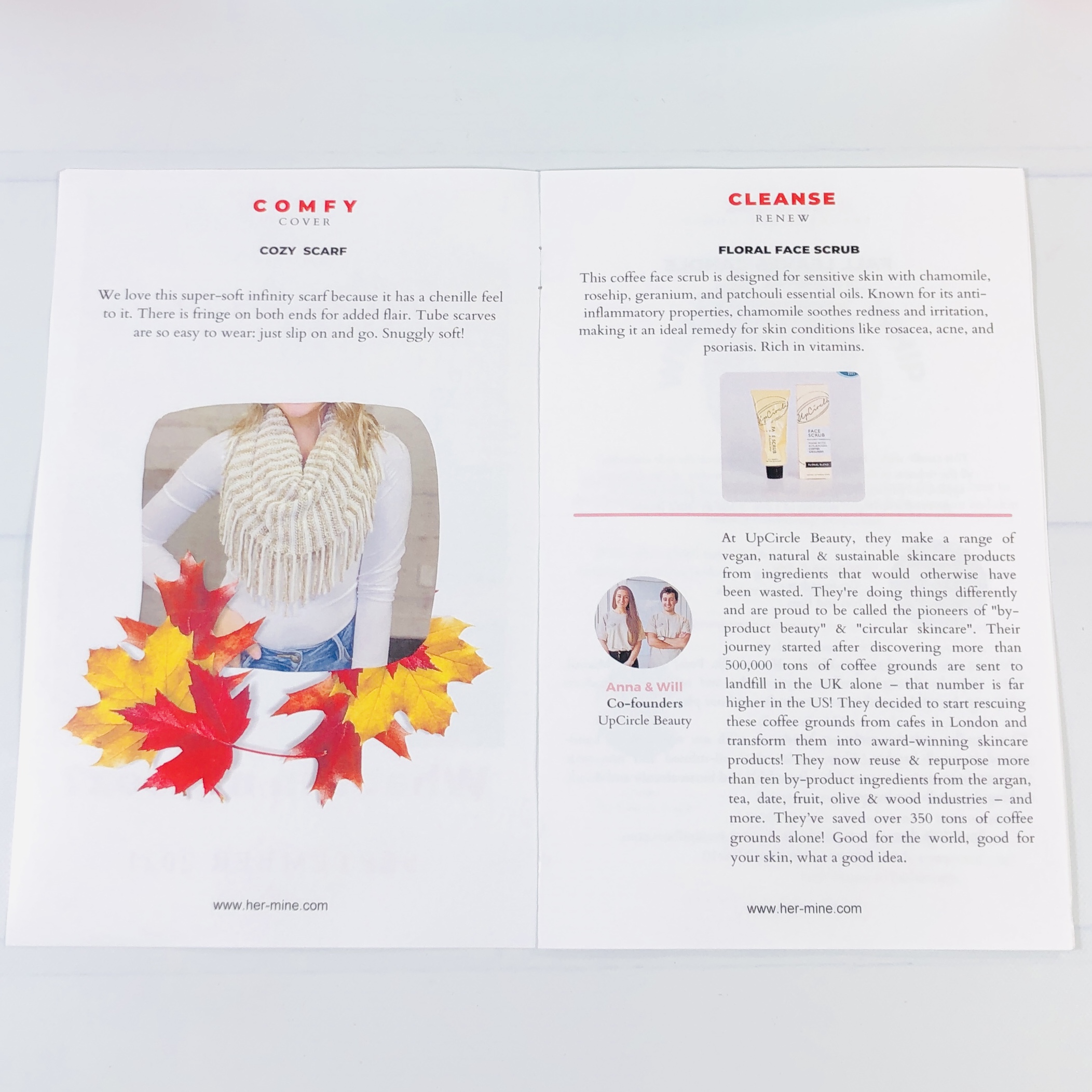 Each product in the box was shown along with its creator.
It looks like a great curation, as always!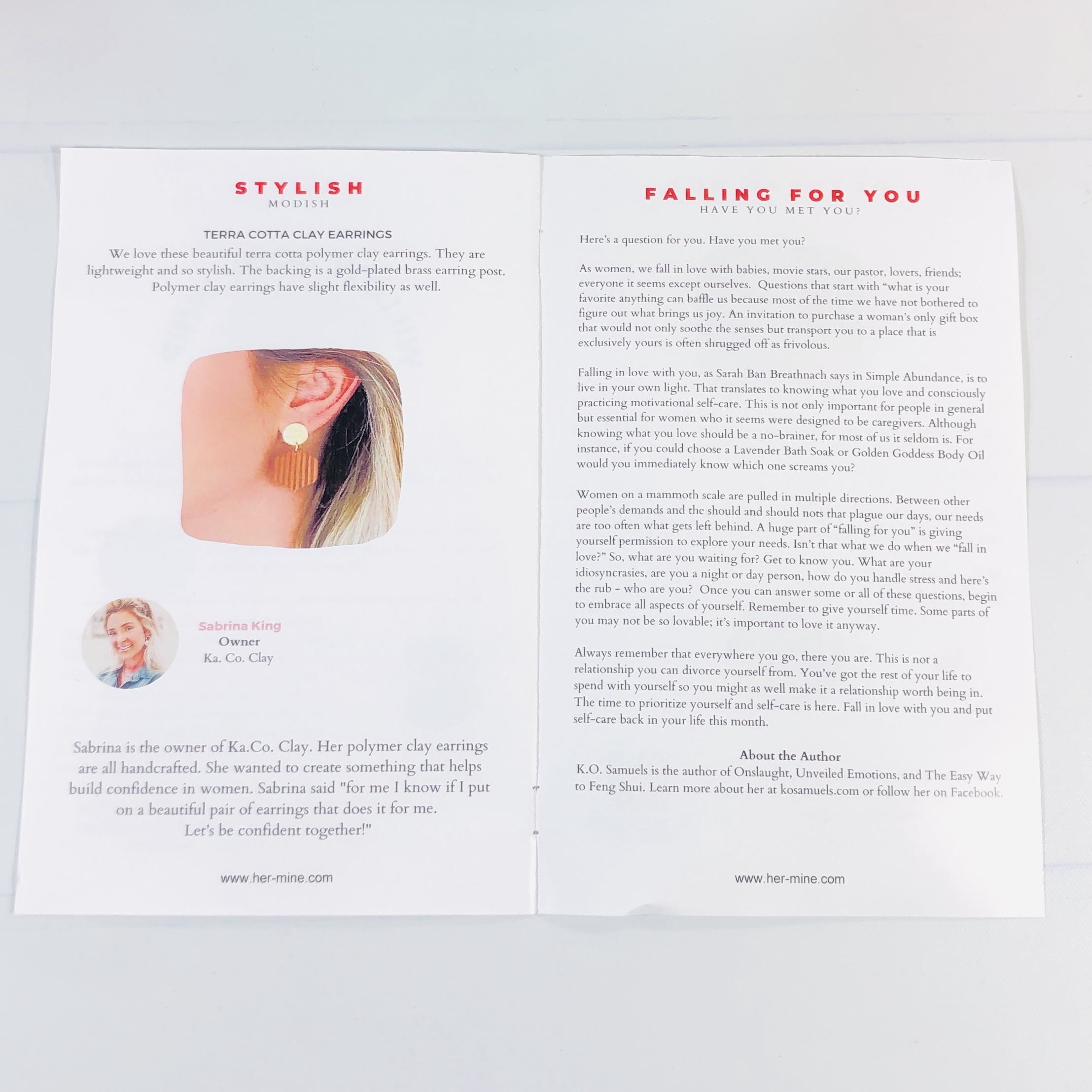 There was an essay about falling for yourself, doing things you like to do!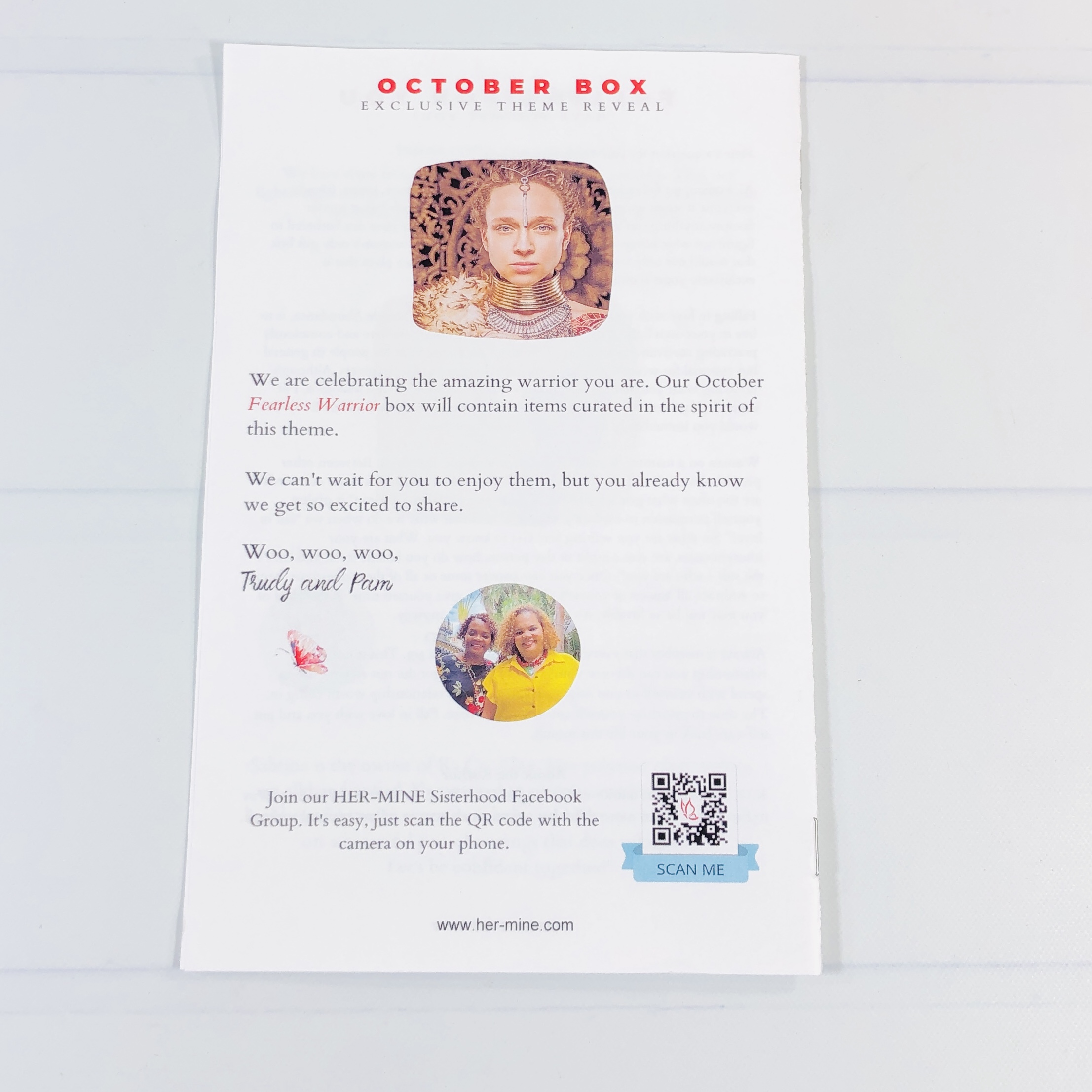 The back of the pamphlet gave us a peek at the October theme.
Looking good!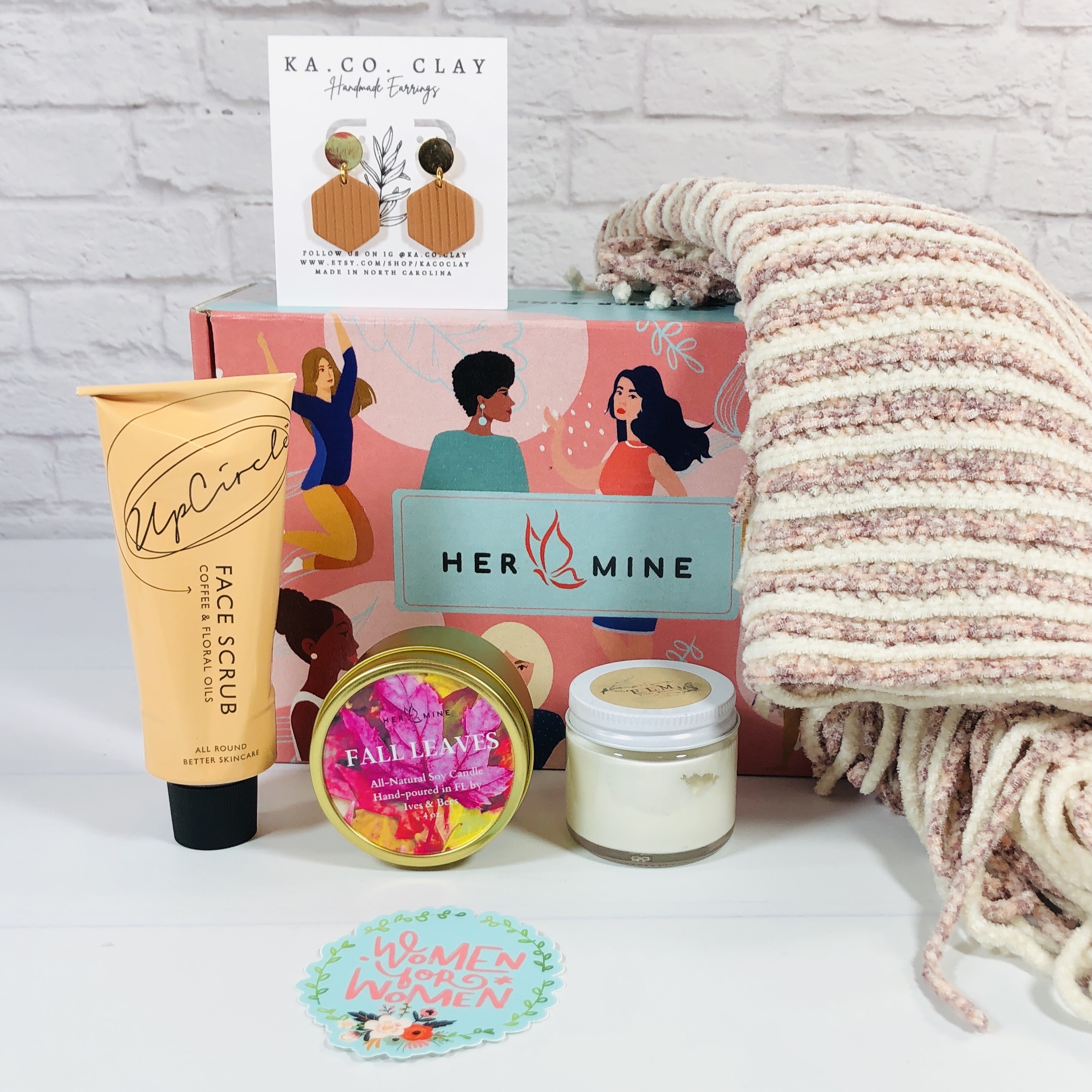 Everything in my box!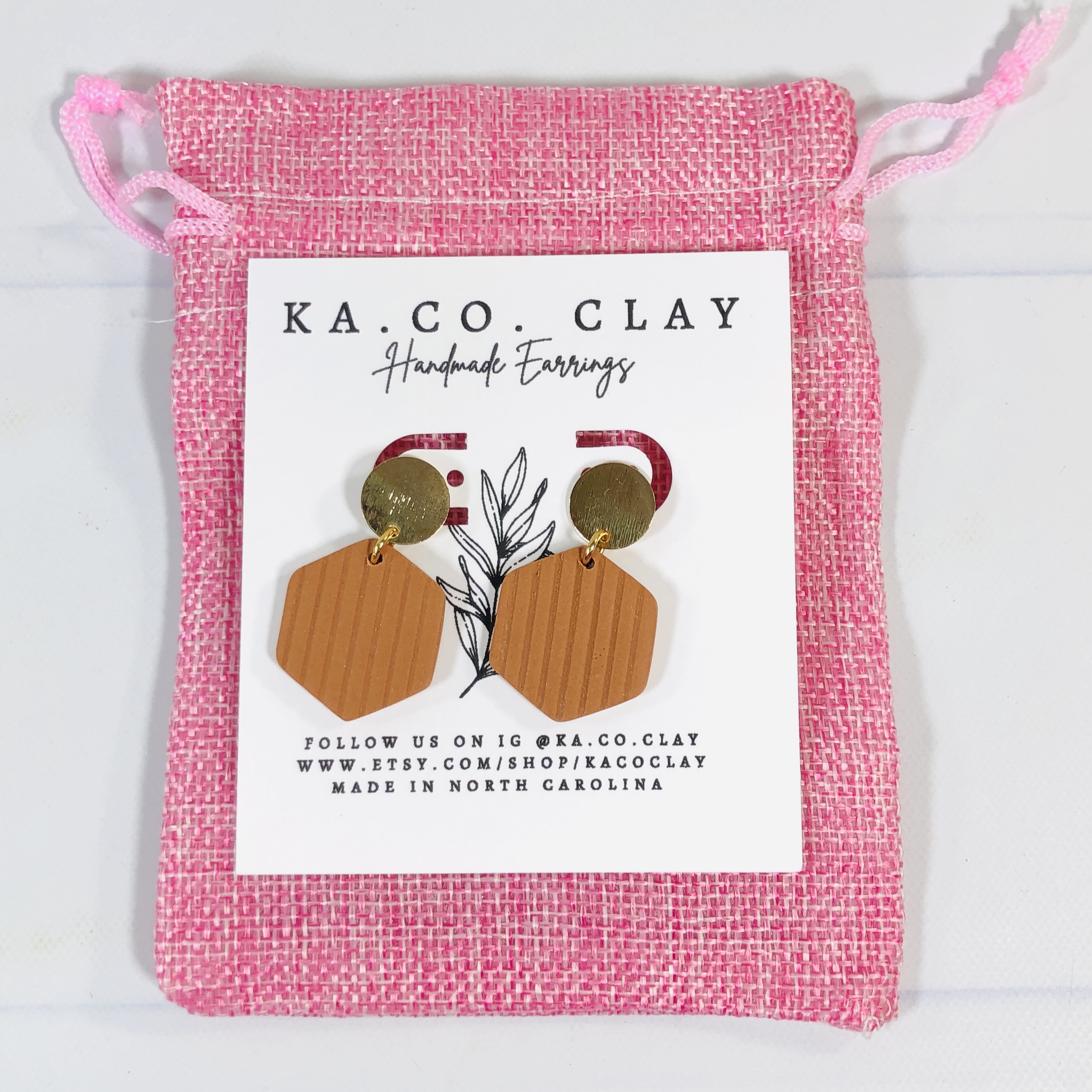 Ka. Co. Clay Terra Cotta Clay Earrings ($26.95 for similar item) This item came in a cute pink pouch. Sometimes I gift items to others for one reason or another (in this instance, I don't have pierced ears) so this is helpful.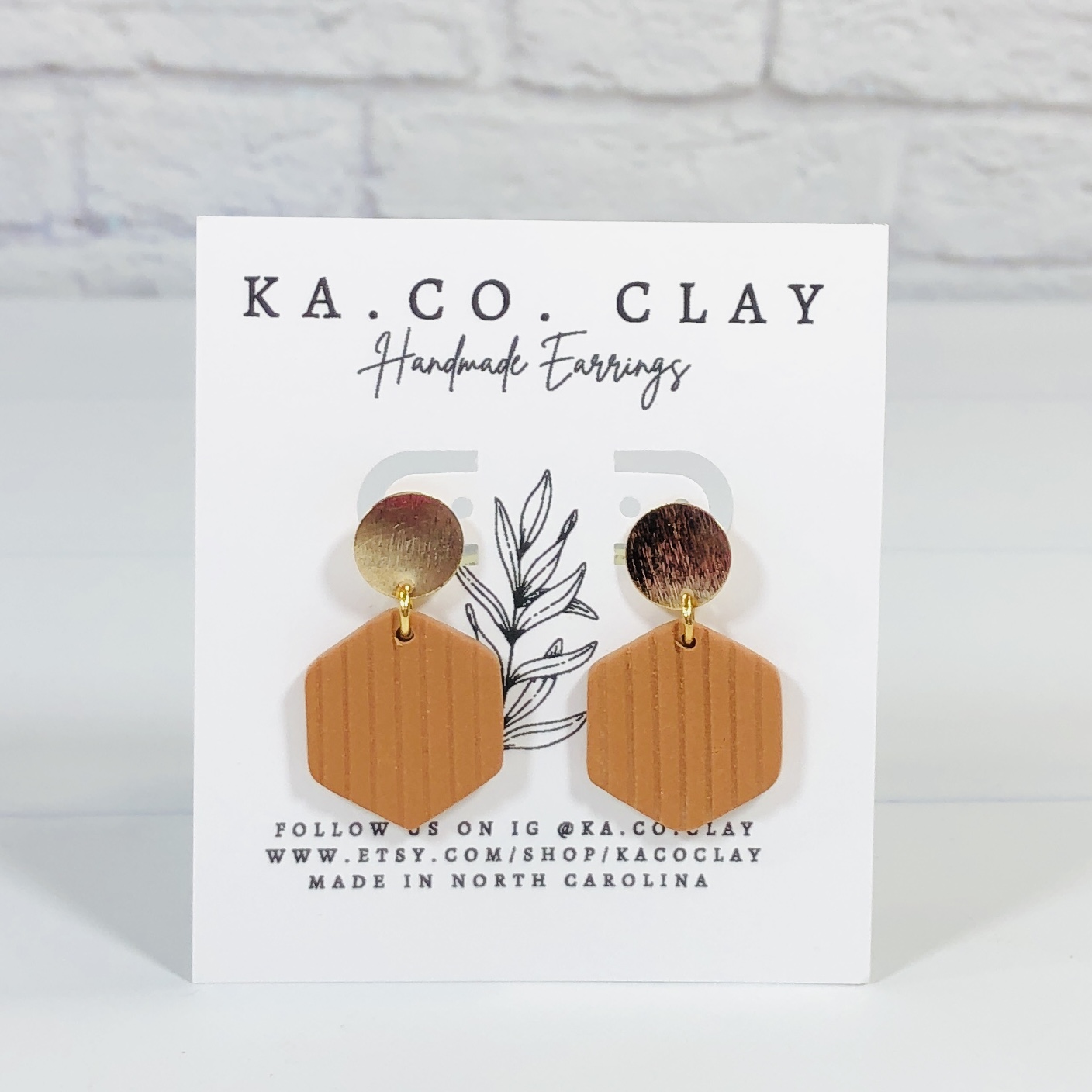 I linked to a similar item, although the other item is made of green polymer clay instead of terra cotta.
The post is gold-plated brass and the earrings feel lightweight to me. I really think my oldest daughter will love these!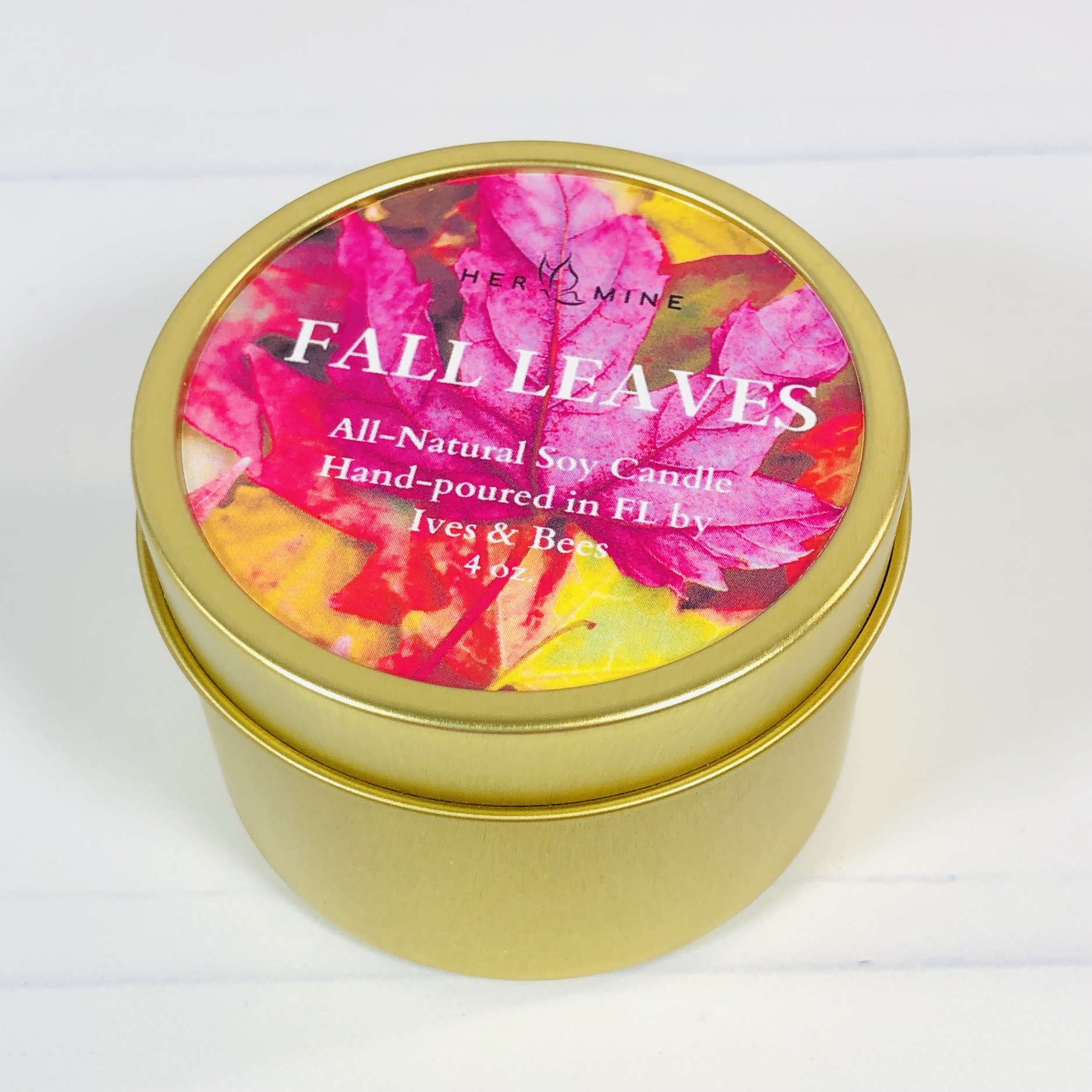 Ives and Bees Fall Leaves Candle It looks like this brand made a special scent and packaging especially for HER-MINE!
Here's the safety info for burning.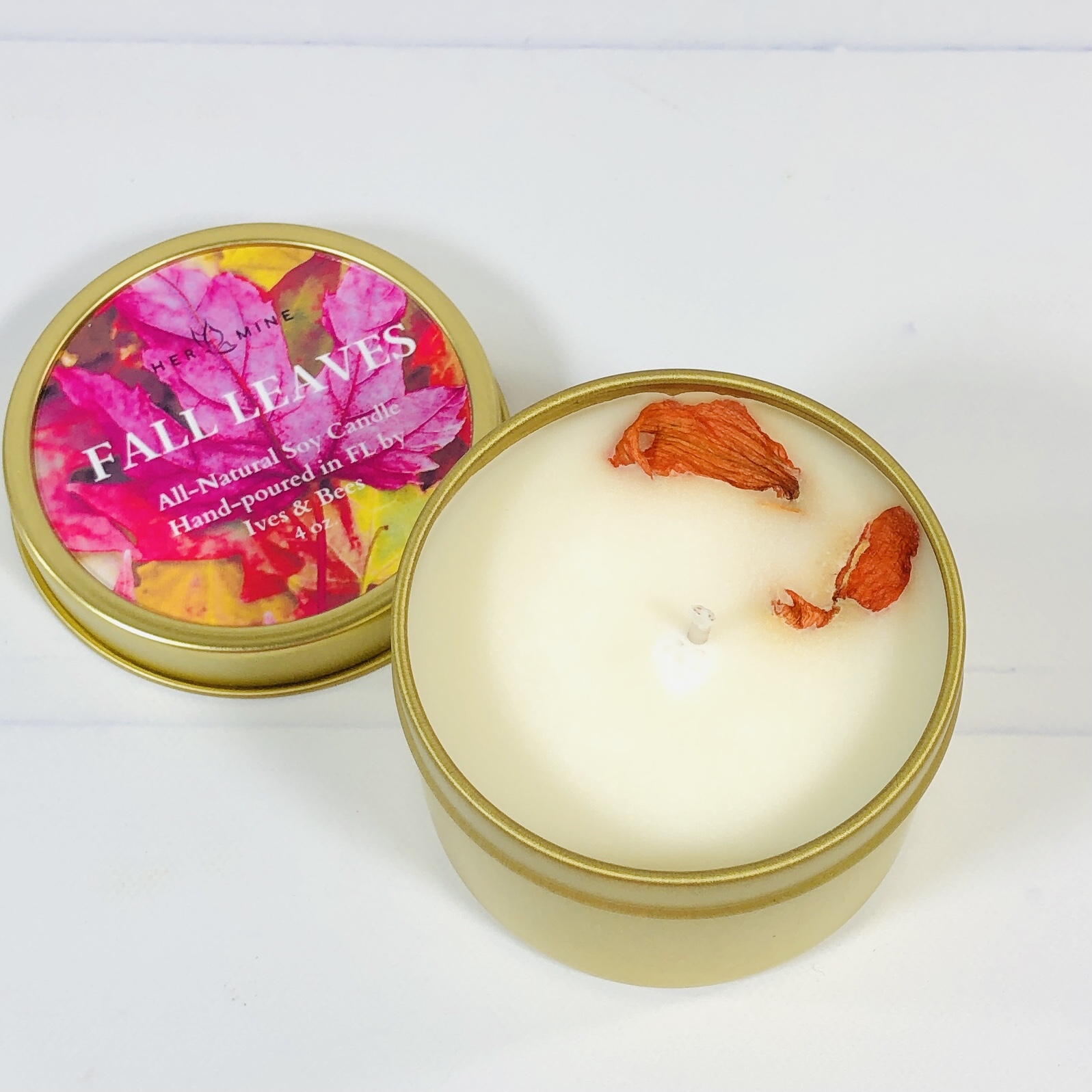 The candles are handmade with soy wax in small batches. They use non-toxic fragrance oils. The scent notes include apples and cinnamon, which is what I smell, plus red berries, golden nectar, and clove. It smelled pretty nice while burning as well as when cold.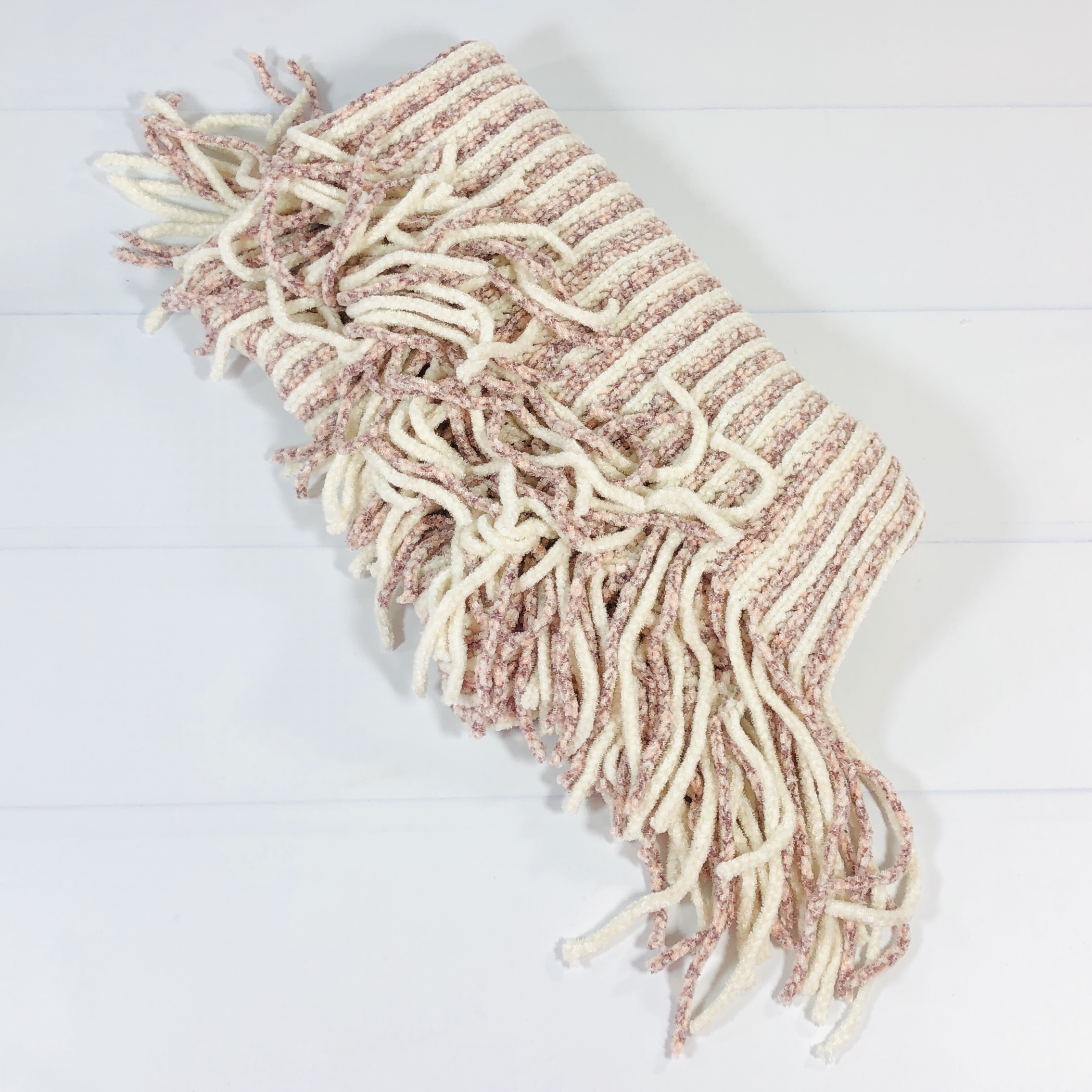 Cozy Scarf I don't have much info on this scarf. It's a tube with fringe on each end and you stick your head through the tube and there you go, a scarf.
It's made of 100% polyester and is hand wash only. It has a chenille texture, it is soft, comfy, and fuzzy. It also sheds so pair with a light colored top.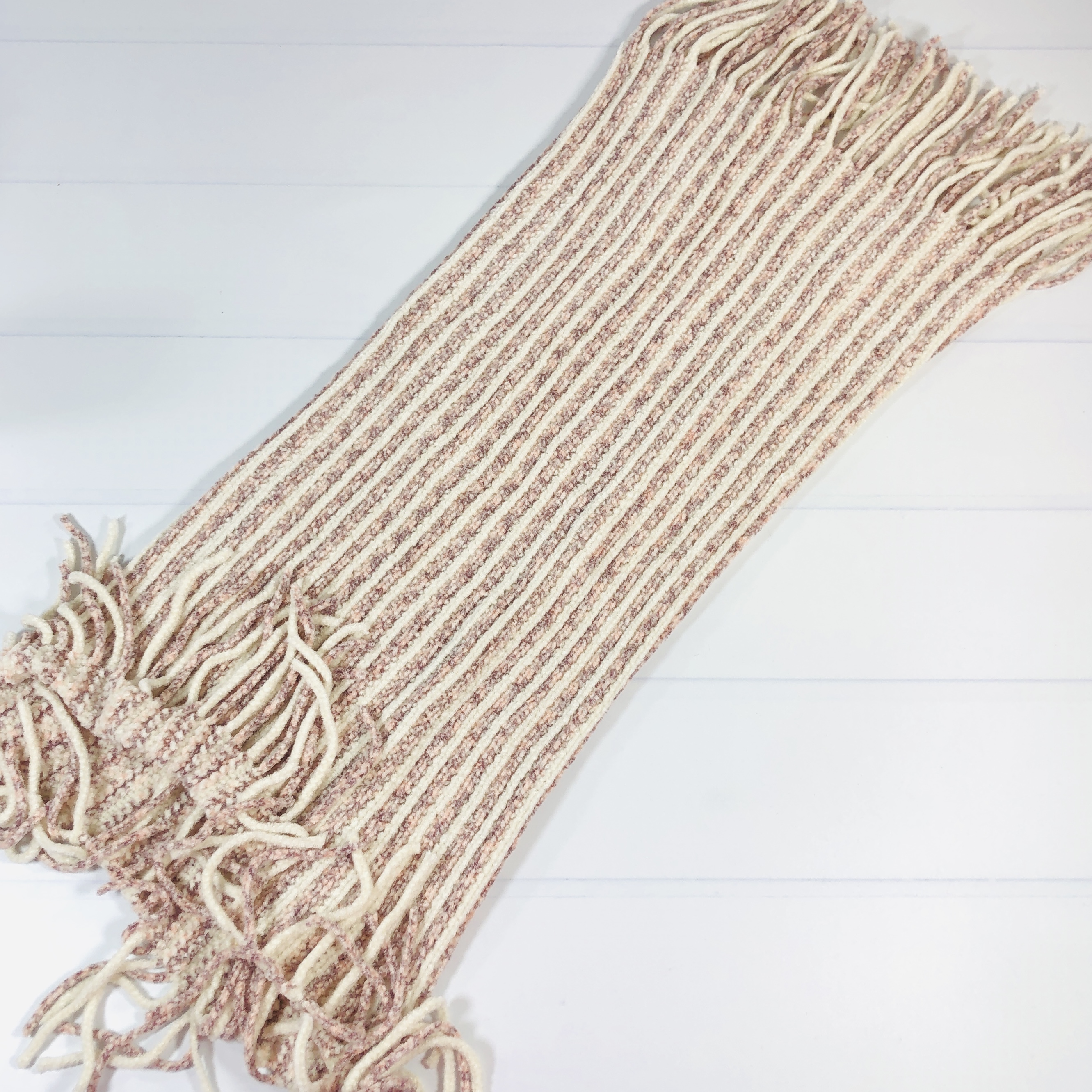 The colors are cream, pink, and purple/mauve, and they are a beautiful color combo.
The Farmer's Touch ELM Willow Body Whip The next item came in a pouch, which can be repurposed.
There was an insert with the ingredients listed. I think these are in the wrong order as I have a hard time believing that bourbon is the first ingredient. Perhaps the list is backward?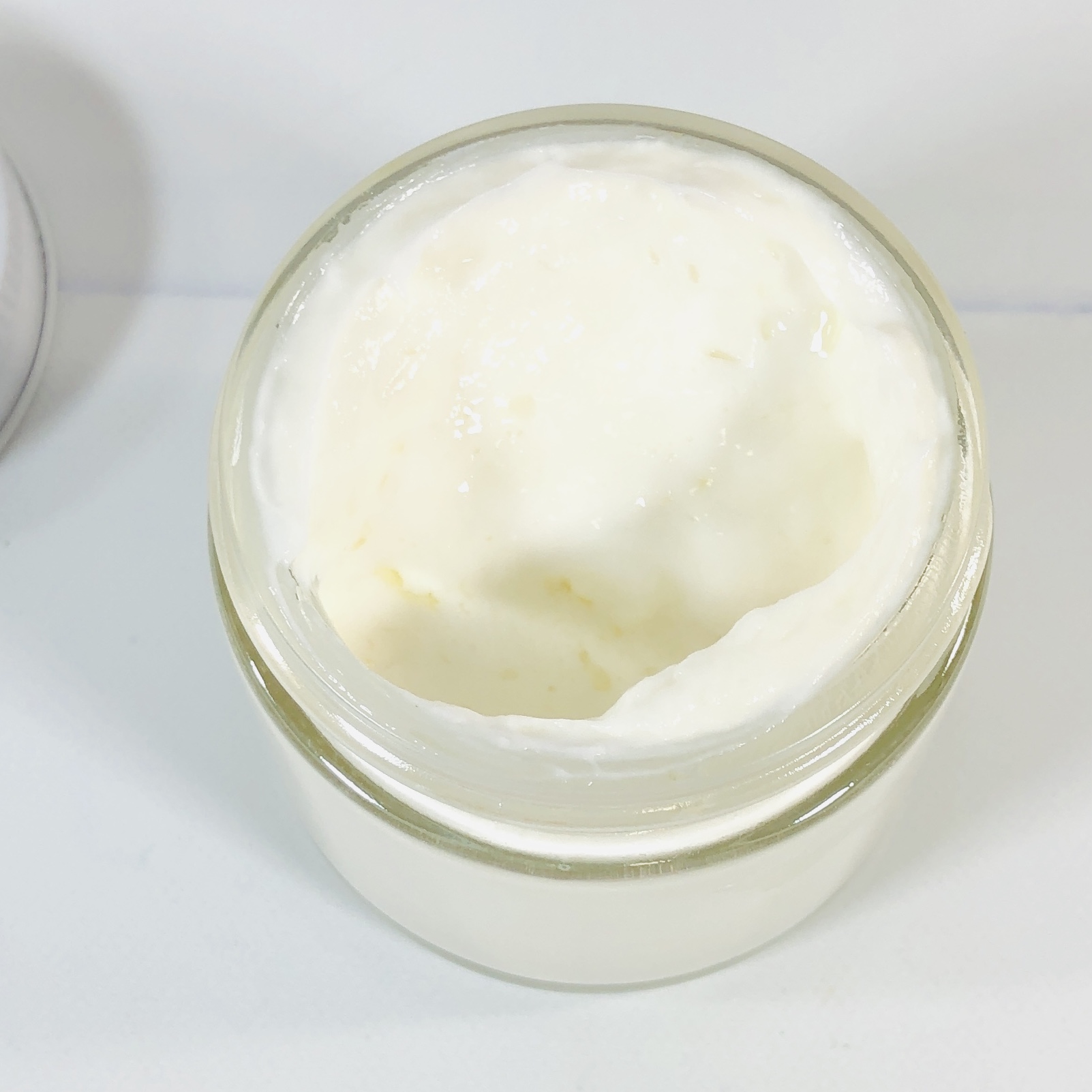 It's a very creamy body lotion but luckily it was absorbed quickly. The scent starts out as smelling almost like Jergens cherry almond but after a while it has a powdery note that must come from parfum, which isn't noted on the ingredients, but which I could still smell hours later. I liked the feel of this lotion.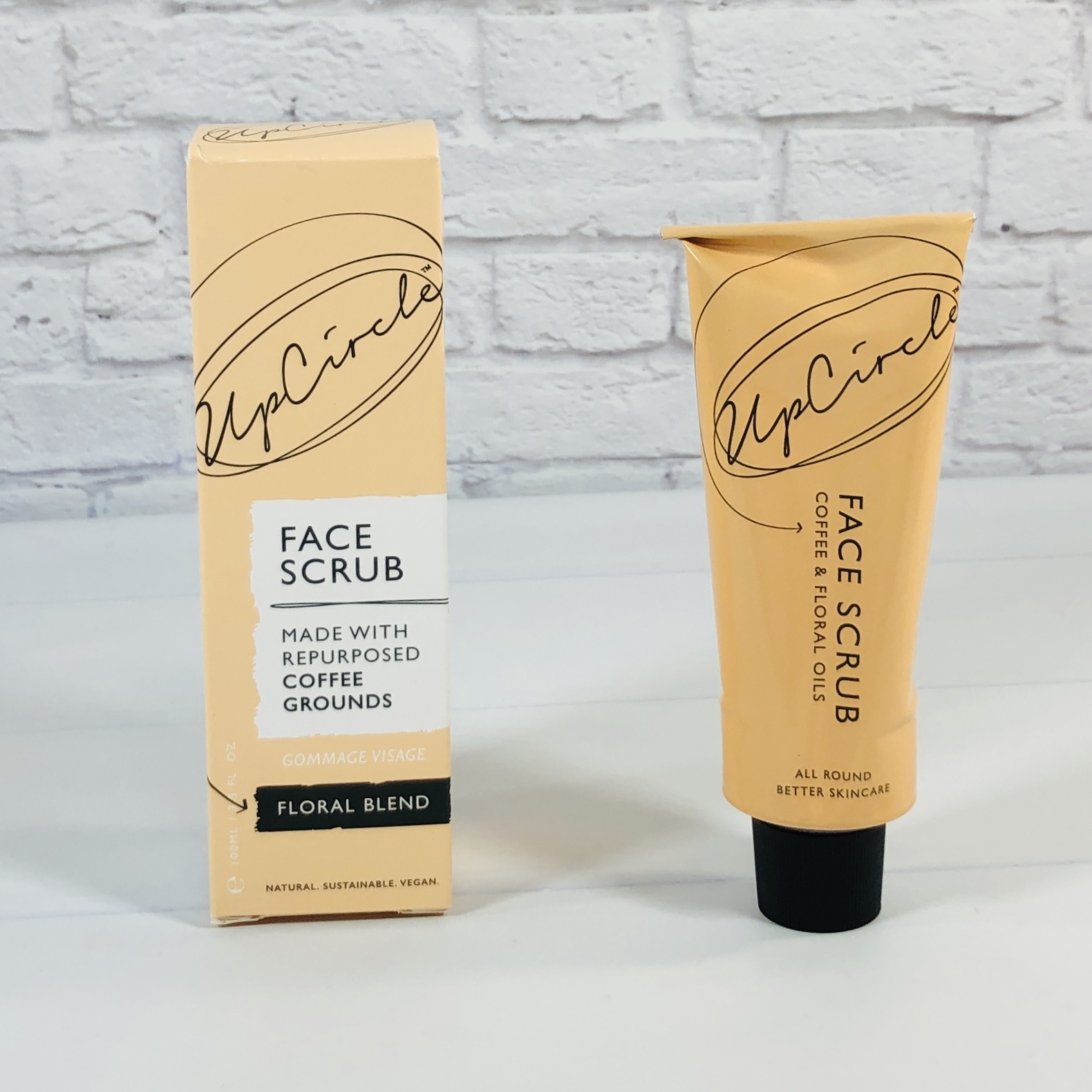 Upcircle Floral Face Scrub ($16) I really wanted to like this product — I have sensitive skin and this is supposed to be specifically for those with sensitive skin. Plus, the company "upcycles" used coffee grounds so they get a second life before being washed down the drain. Sounds like a win-win.
The ingredients also include sugar, shea butter, coconut oil, and quite an assortment of essential oils. I was sad to see three different citrus oils, in addition to the others. Citrus oils can be especially sensitizing to skin.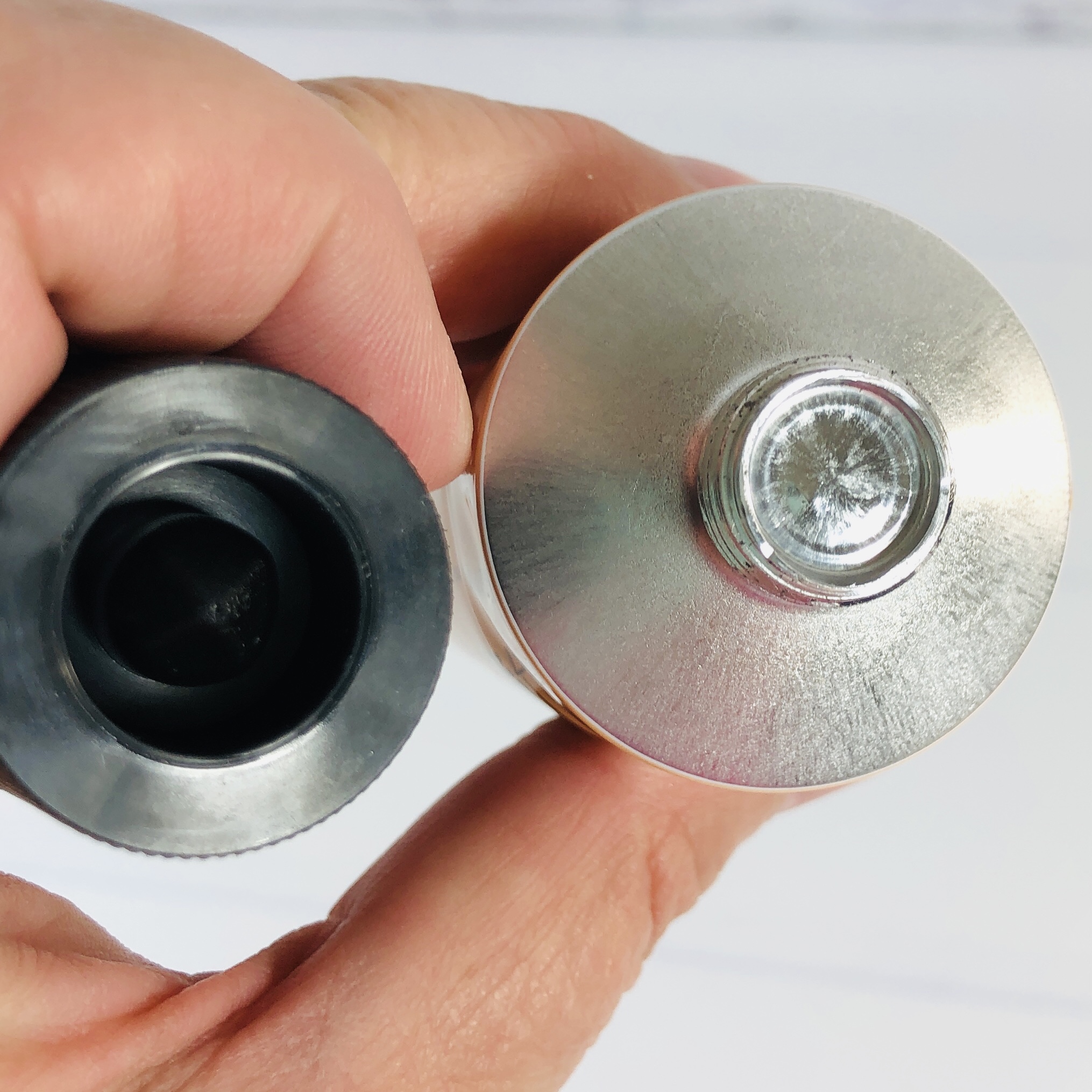 The product is sealed and needed to be pierced with the cap. I gave it a good shake as advised before squirting some onto my fingers and then rubbing onto my face. I should have known better — coffee grounds are too harsh for my face. The essential oils were very strong and I ended up with a mouth full of geranium fumes. Finally, the shea and coconut oils left a coating on my skin. You know when you use a body scrub and don't need a separate moisturizer? It's like that but with potentially pore-clogging and photosensitizing oils. I can repurpose this as a body scrub, and in fact I think this will be perfect for that, but make sure to stand your container upright or the oils will leak out onto the countertop.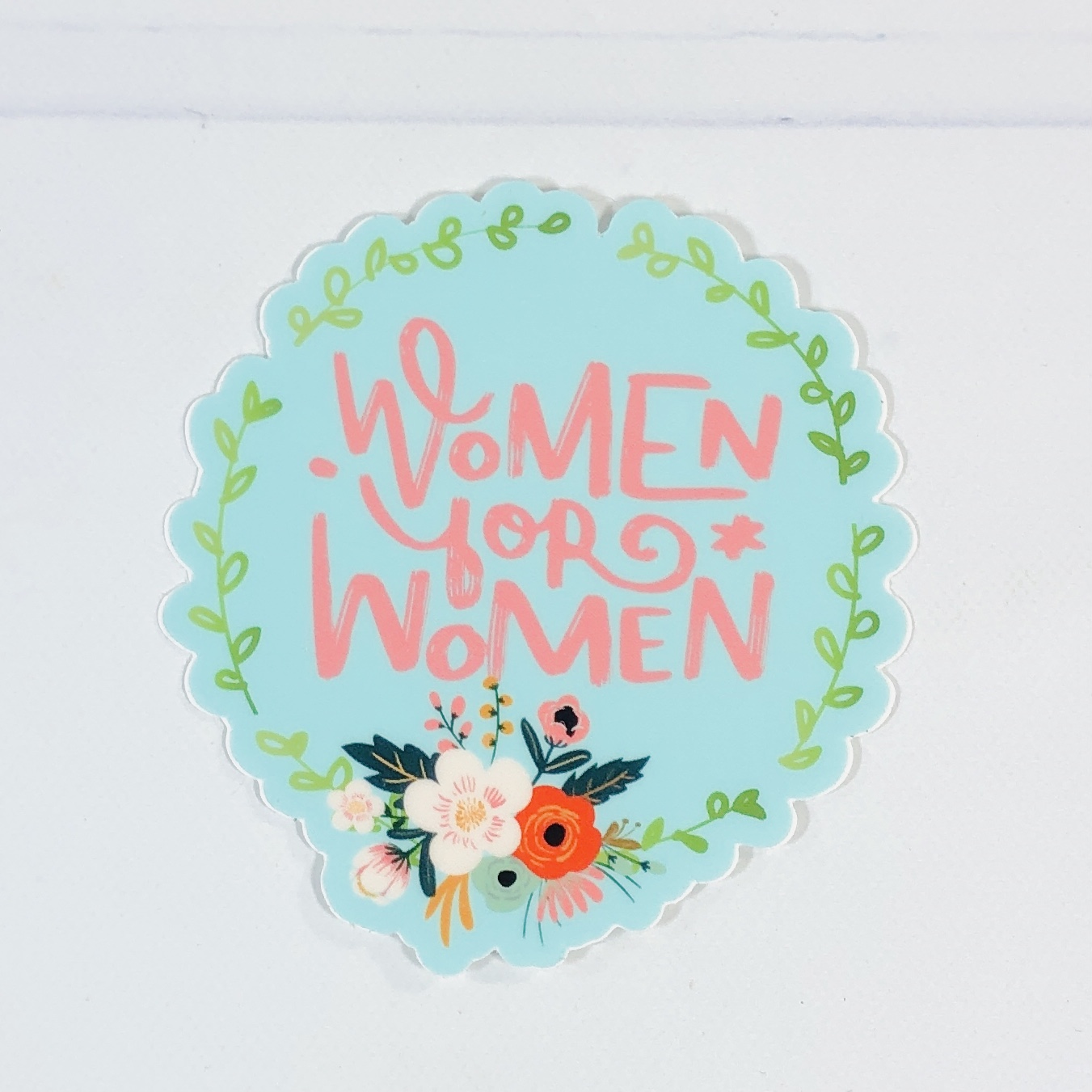 I think this Vinyl Sticker is a bonus as it wasn't in the brochure. It is about 3″ in diameter.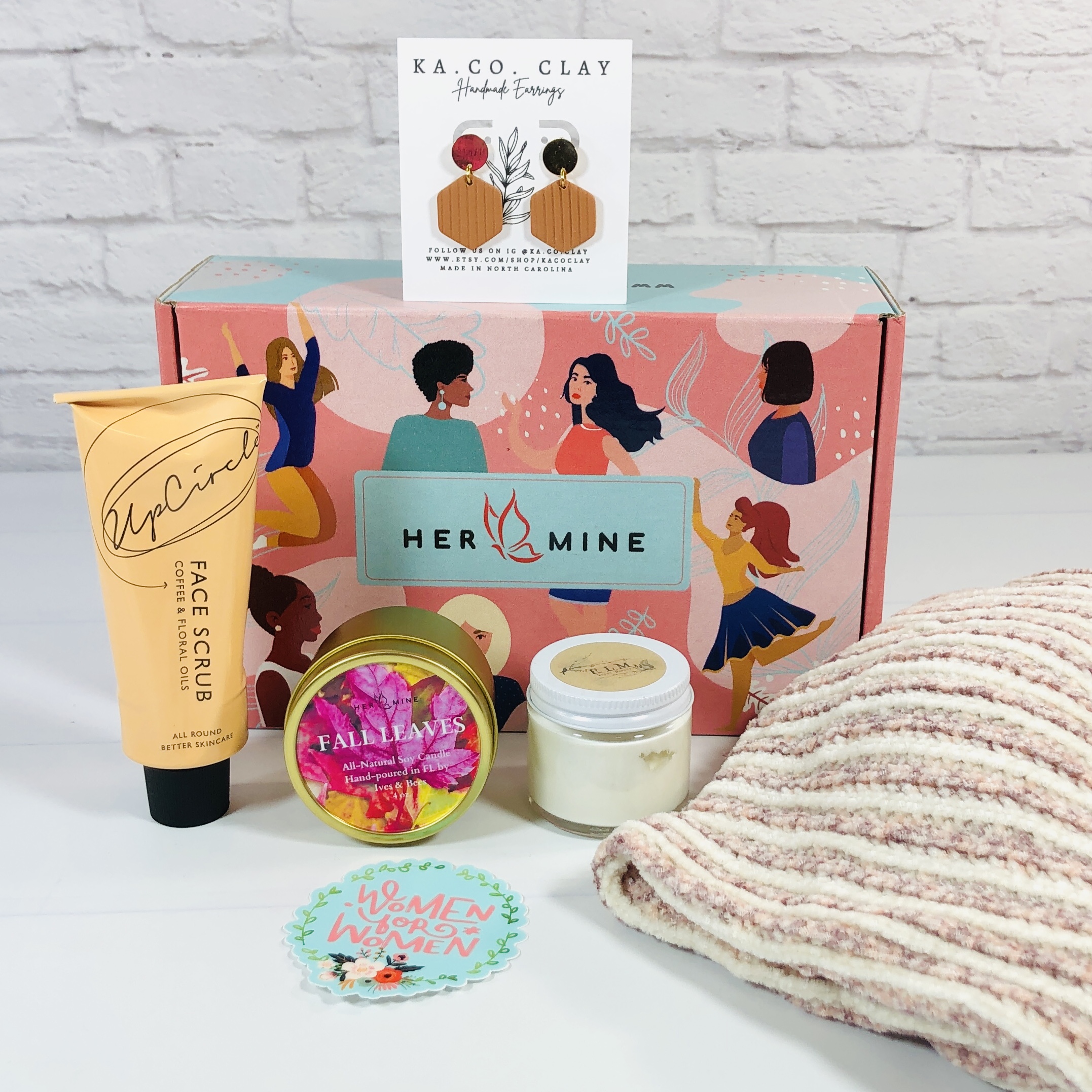 HER-MINE sent a delightful selection of items that are perfect as we head into autumn. The scarf is cute and will jazz up an outfit, while the candle smells like fall, and is just what I want my house to smell like. The lotion also has a hint of warm notes and felt good on my skin. The earrings are adorable and I can't wait to share them with my daughter. The sticker was a cute extra and while the scrub was not good for my face, I think it will be perfect for my arms and legs.
What do you think of this box?