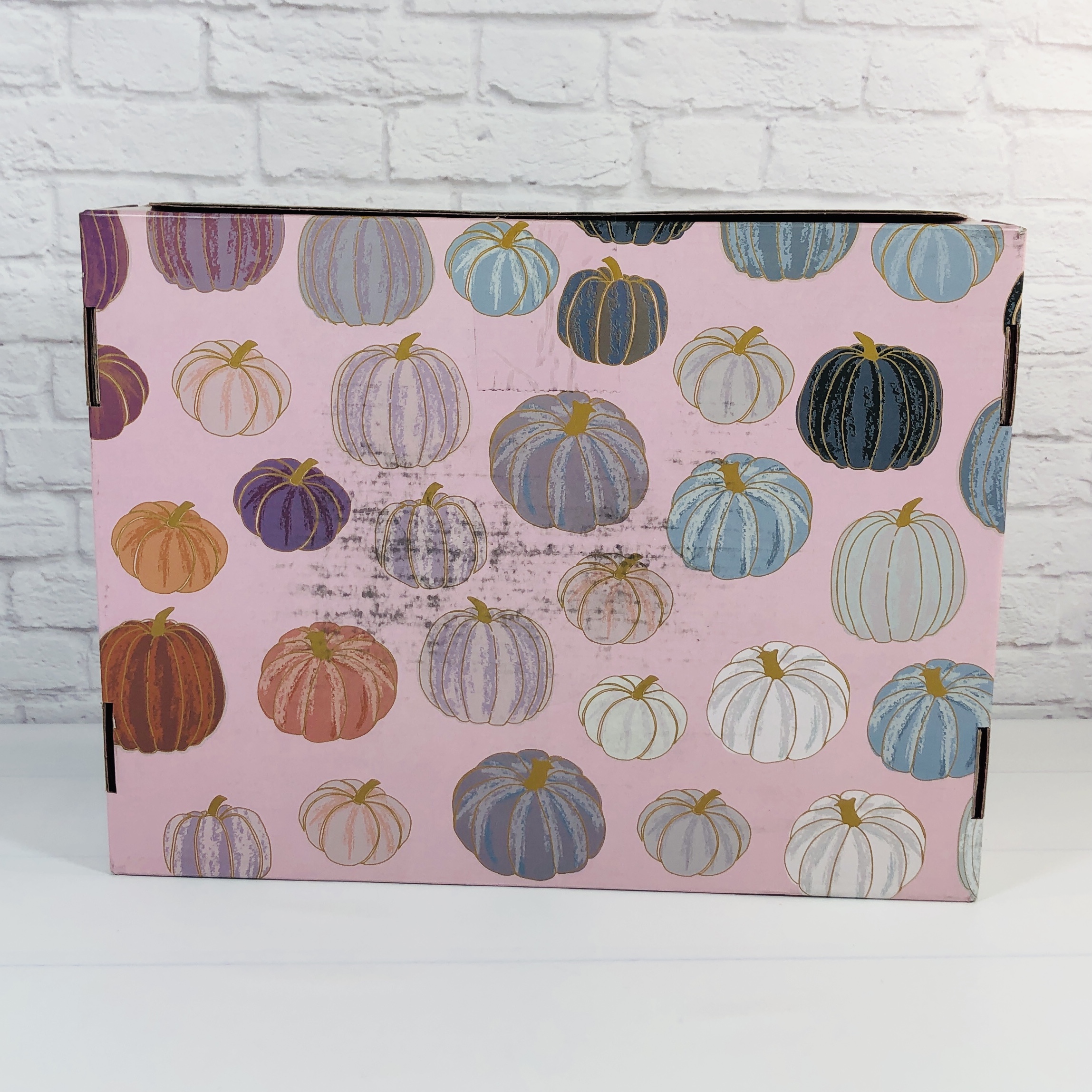 Erin Condren's Seasonal Surprise Box is a quarterly planner accessories and stationery box featuring early access items, popular accessories, and exclusive surprises from Erin Condren. This box isn't available by subscription; you must purchase each box individually. This box usually sells out quickly but click here and tap that blue bell to get notified when the next box becomes available! The box is $40 and includes free shipping to the US.
Our Seasonal Surprise Box is a hand-picked assortment of sneak peeks, exclusives, and best-selling items in a beautiful, reversible, giftable box. This is a special edition, can't-miss collection bursting with wonderful winter surprises!
DEAL: FYI – if you use this referral link to register for the site, you'll get a $10 coupon code emailed to you. It may not work on the box purchase. You can use it on pretty much anything on the site.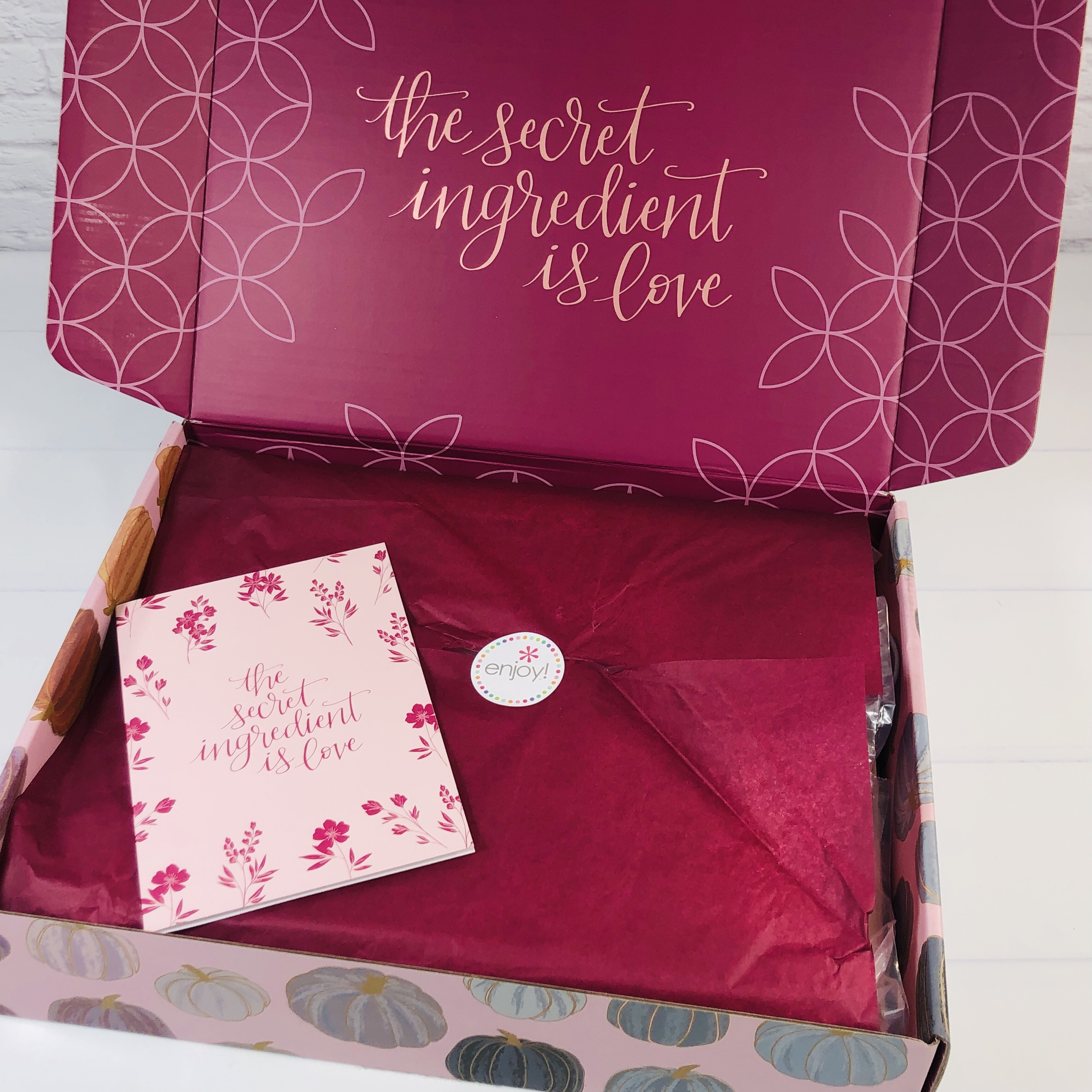 The inside of the box has an inspirational saying printed in metallic. You can turn the box inside out and have the saying on the outside if you would like to use it for storage (see the very last photo)! The items were wrapped in tissue paper and bubble wrap and arrived in perfect condition.
First peek!
The theme for the Fall 2021 Box is THE SECRET INGREDIENT IS LOVE!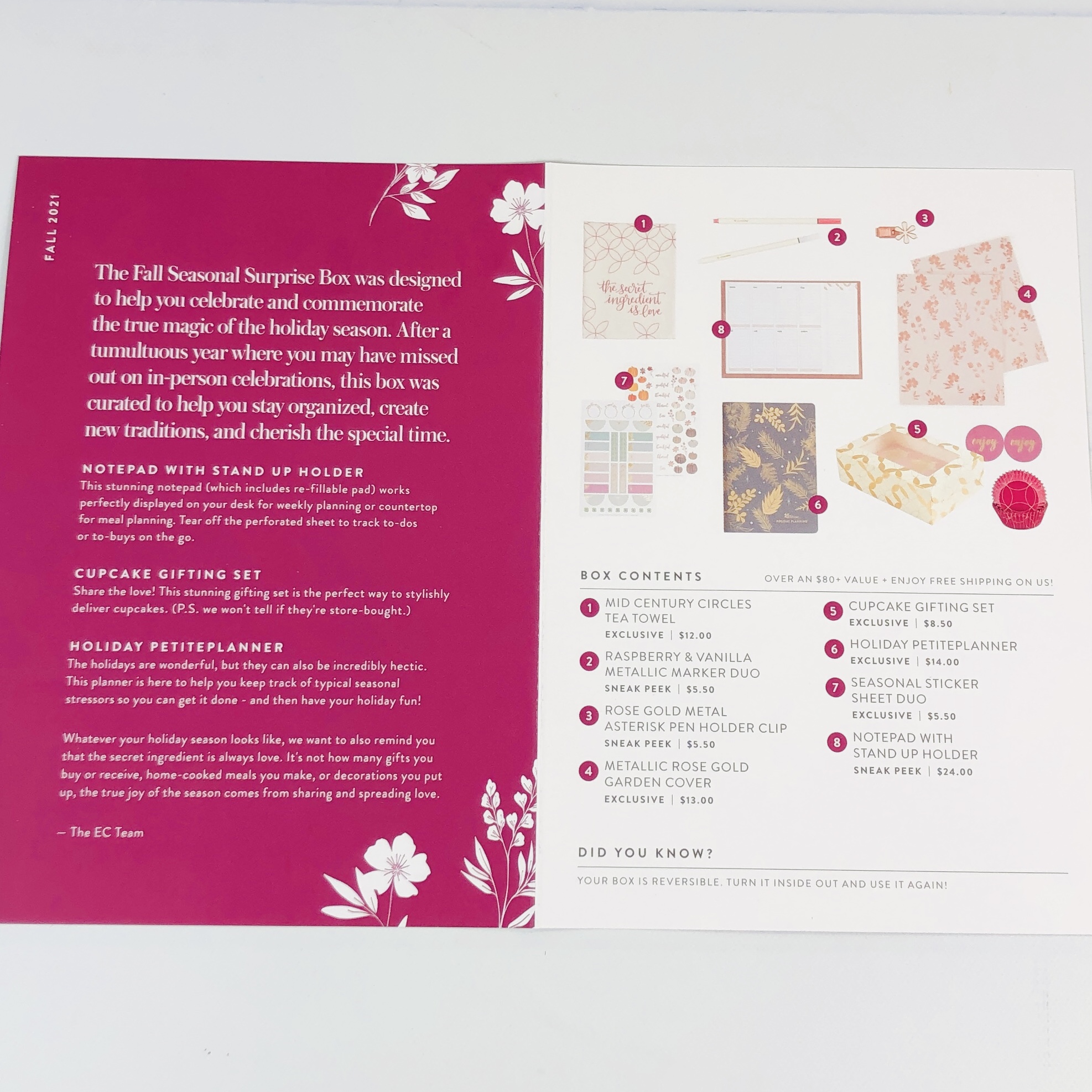 On the inside I found a picture list of all the items included. Some of the items may be available at Erin Condren retail locations, some may be coming soon, and others are exclusive to the box.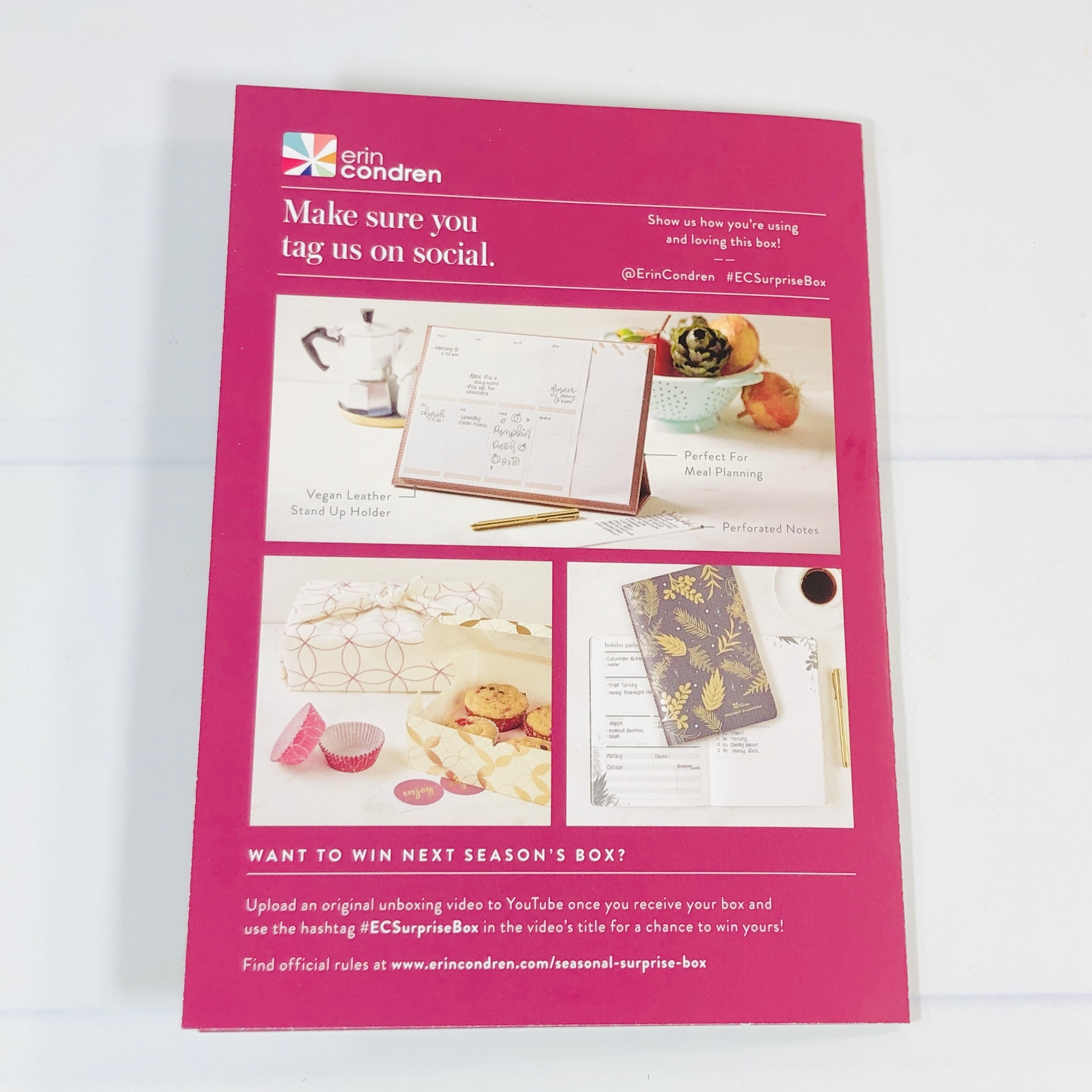 It also described how you can win a box by posting to social media!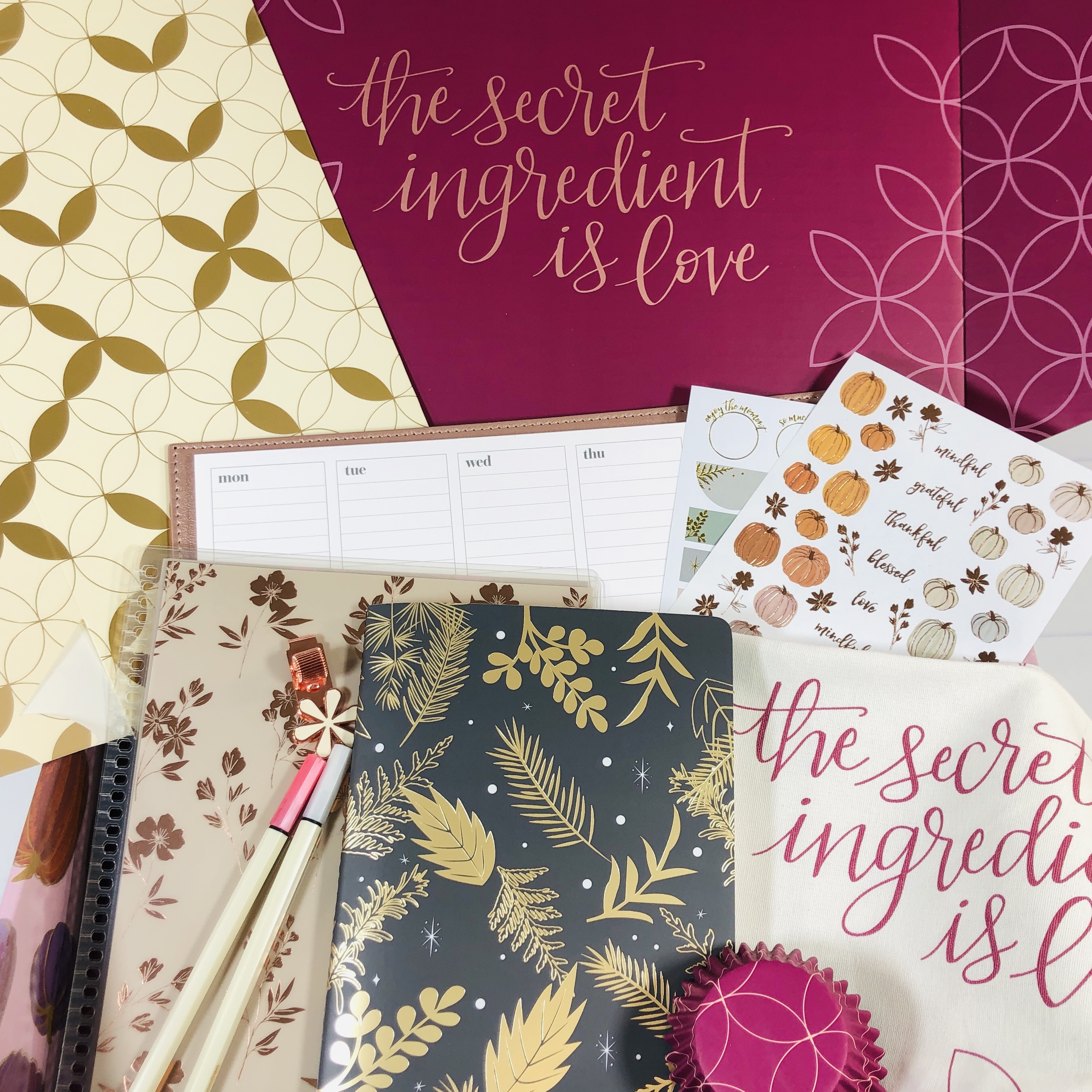 Everything in my box!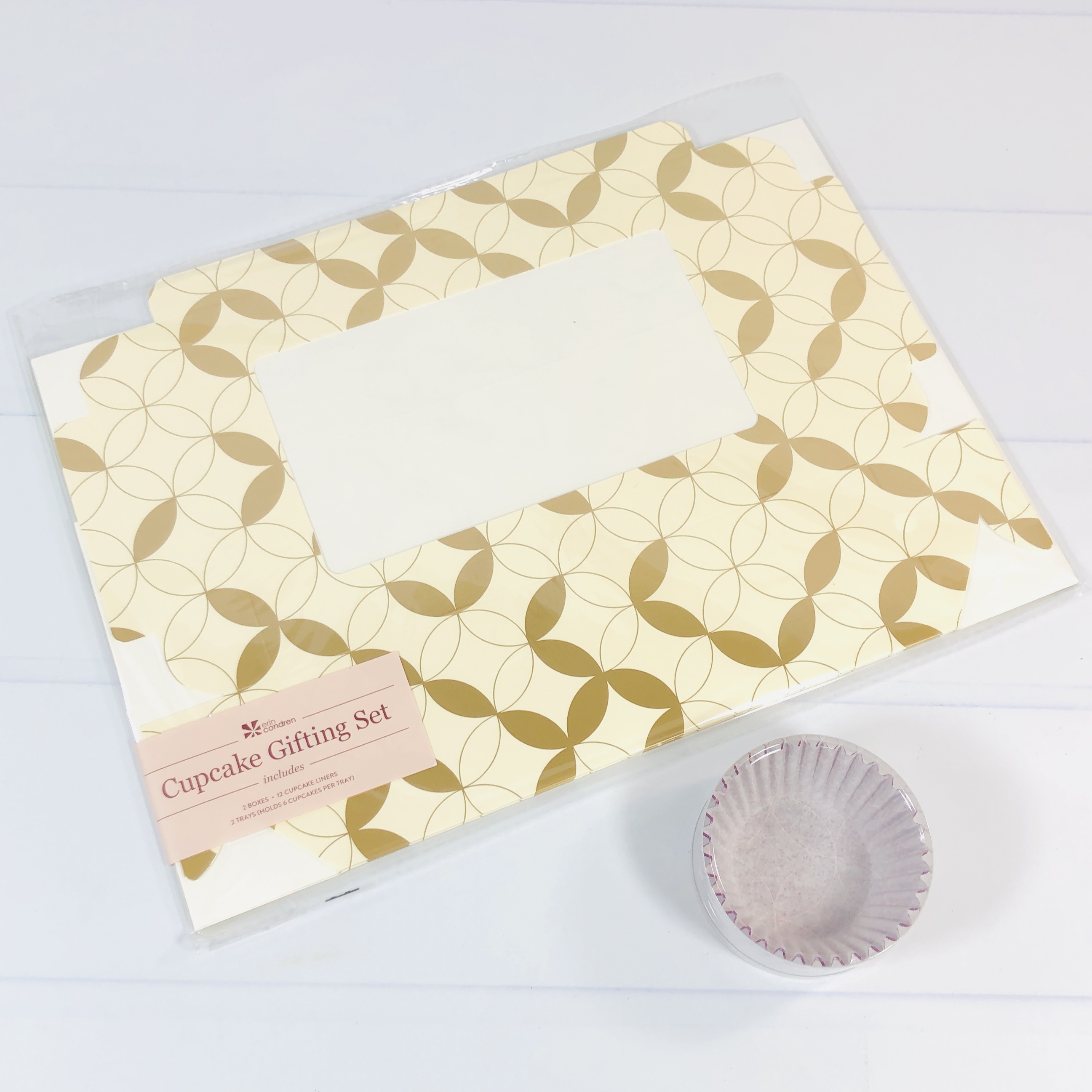 Cupcake Gifting Set ($8.50) is our first exclusive item!
There were two carrying boxes, two inserts, two stickers for sealing, and 12 liners.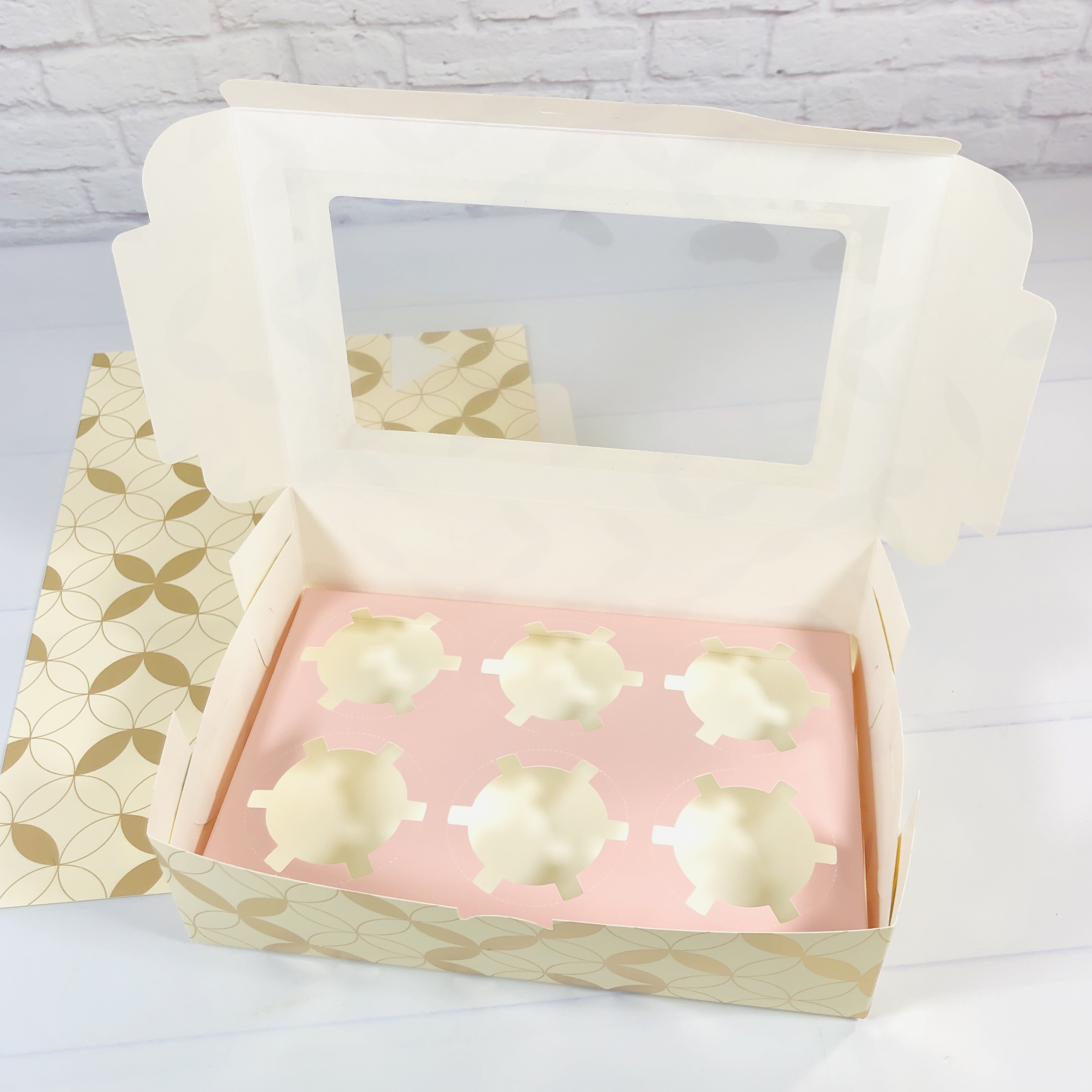 The outer box is cream and metallic gold and features the Mid Century Circles design. The insert is pink and the liners are burgundy and pink, a recurring color combo for this box.
The boxes have a transparent window on top and the stickers have gold metallic lettering.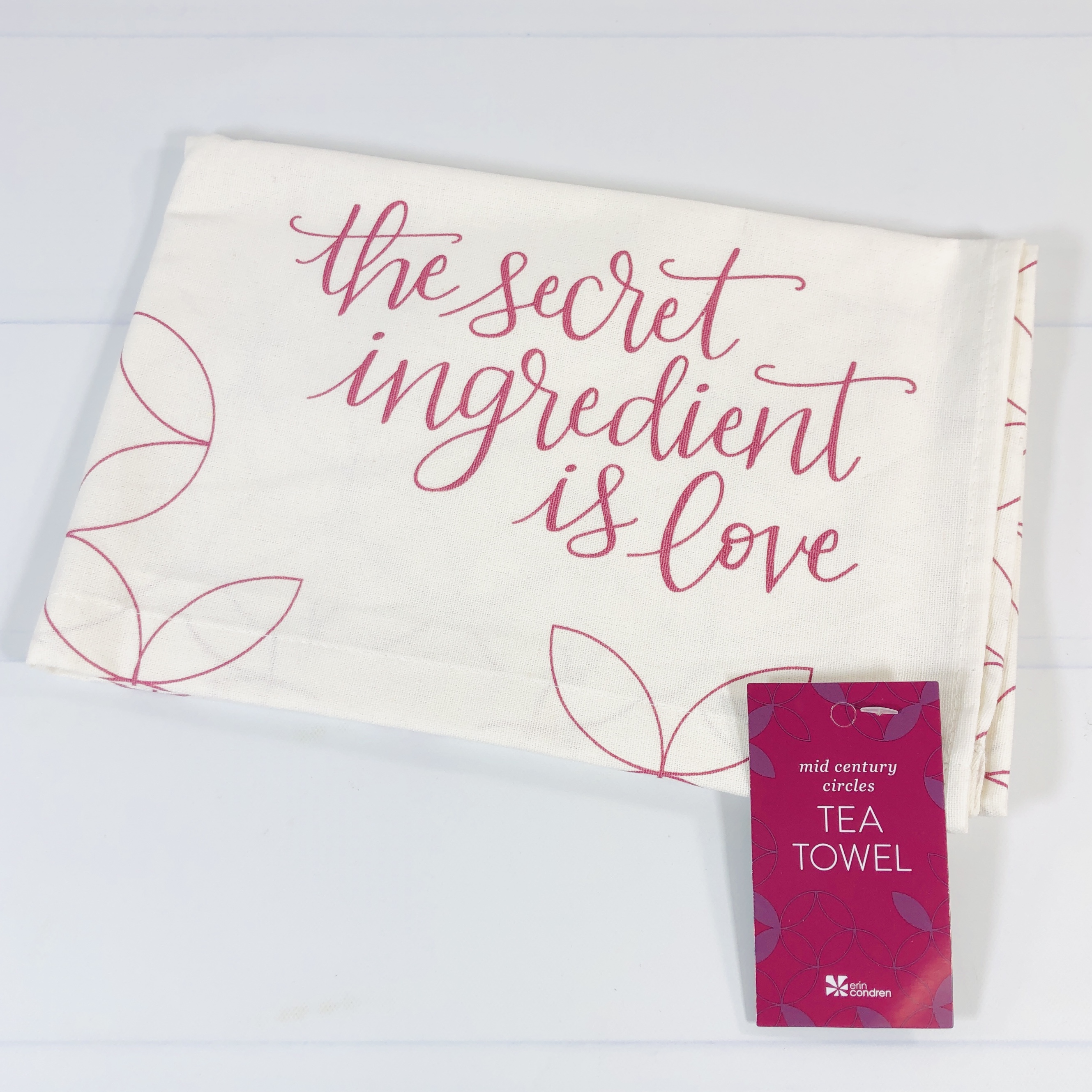 Mid Century Circles Tea Towel ($12) Here is another exclusive item. It's a tea towel!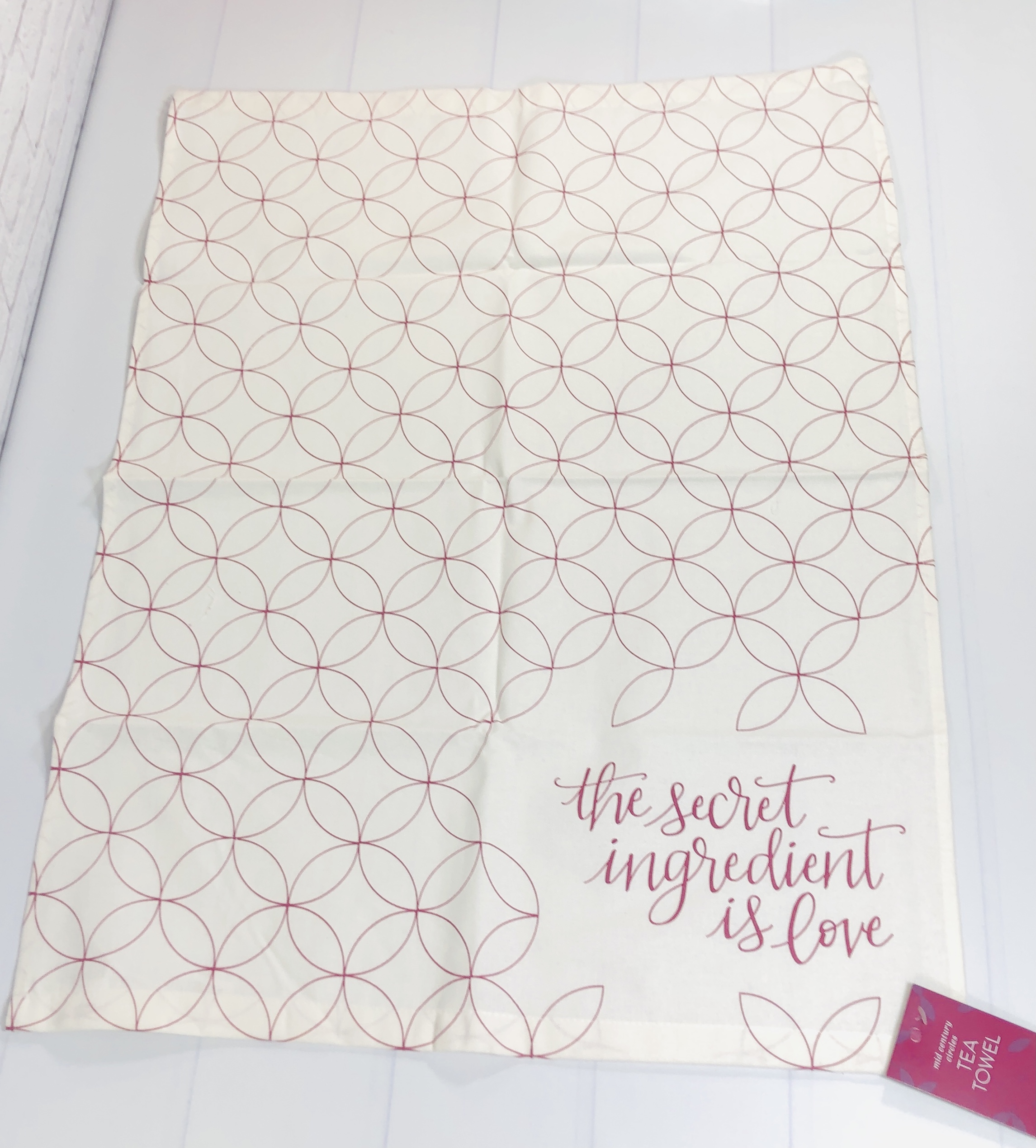 It's made of 100% cotton and measures about 28″ x 21″.
The pattern is once again Mid Century Circles.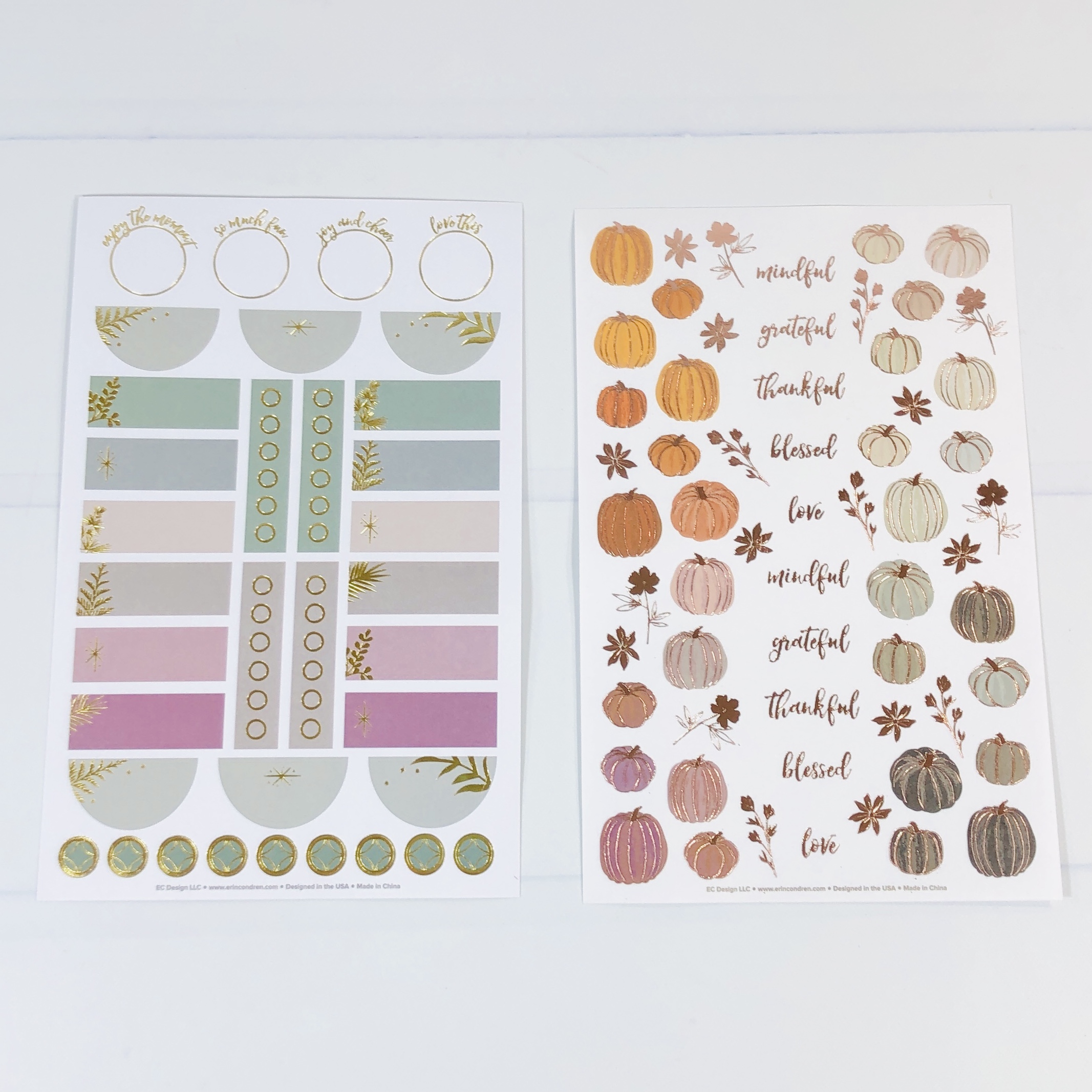 Seasonal Sticker Sheet Duo ($5.50) I think the stickers sent in this box are always an exclusive.
One sheet has functional stickers, the other is all fun, with a lovely ombre selection of pumpkins. Both pages have metallic accents.
Metallic Rose Gold Garden Cover ($13) It's another exclusive! This is a set of interchangeable covers for the classic LifePlanner.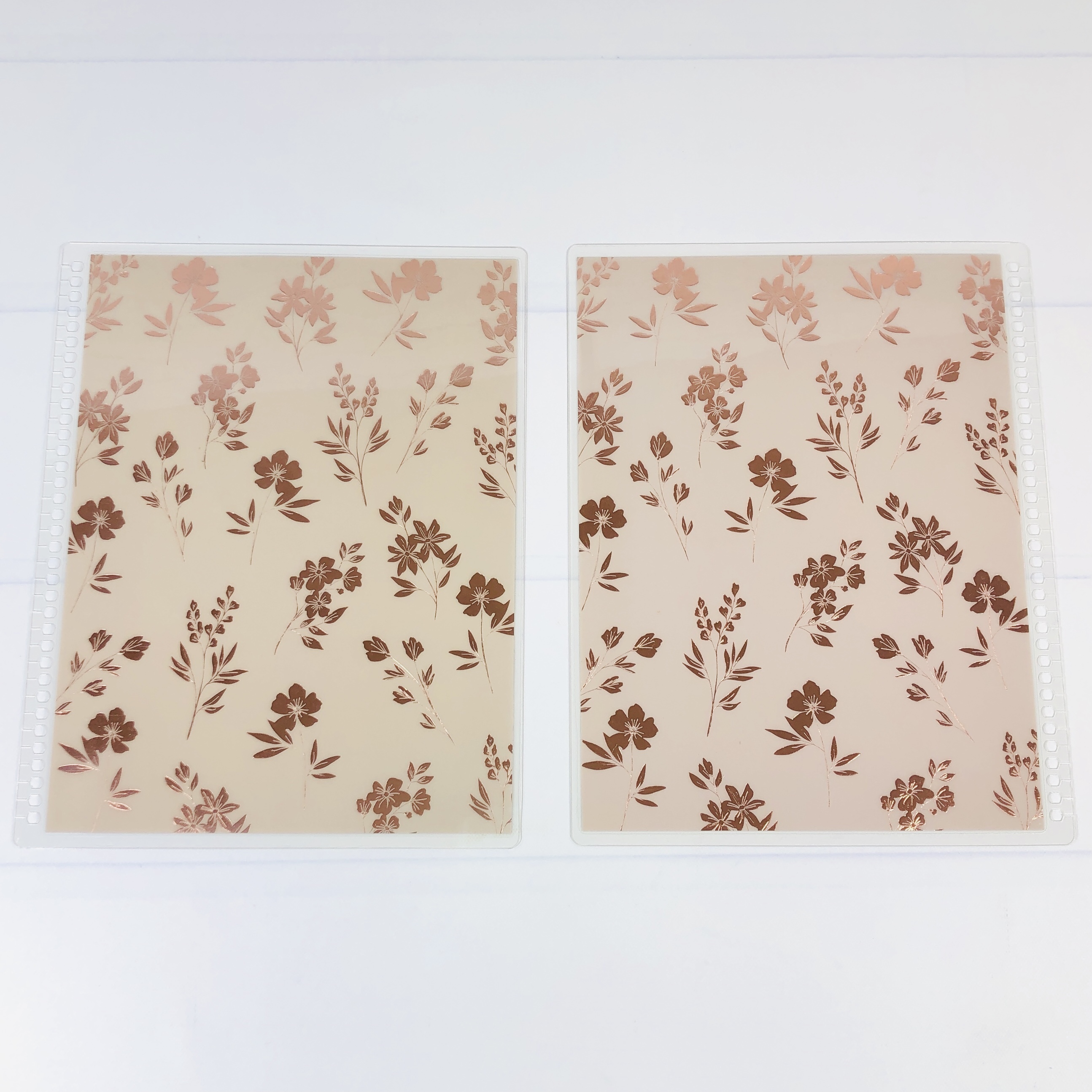 The front and back covers have metallic rose gold flowers and leaves.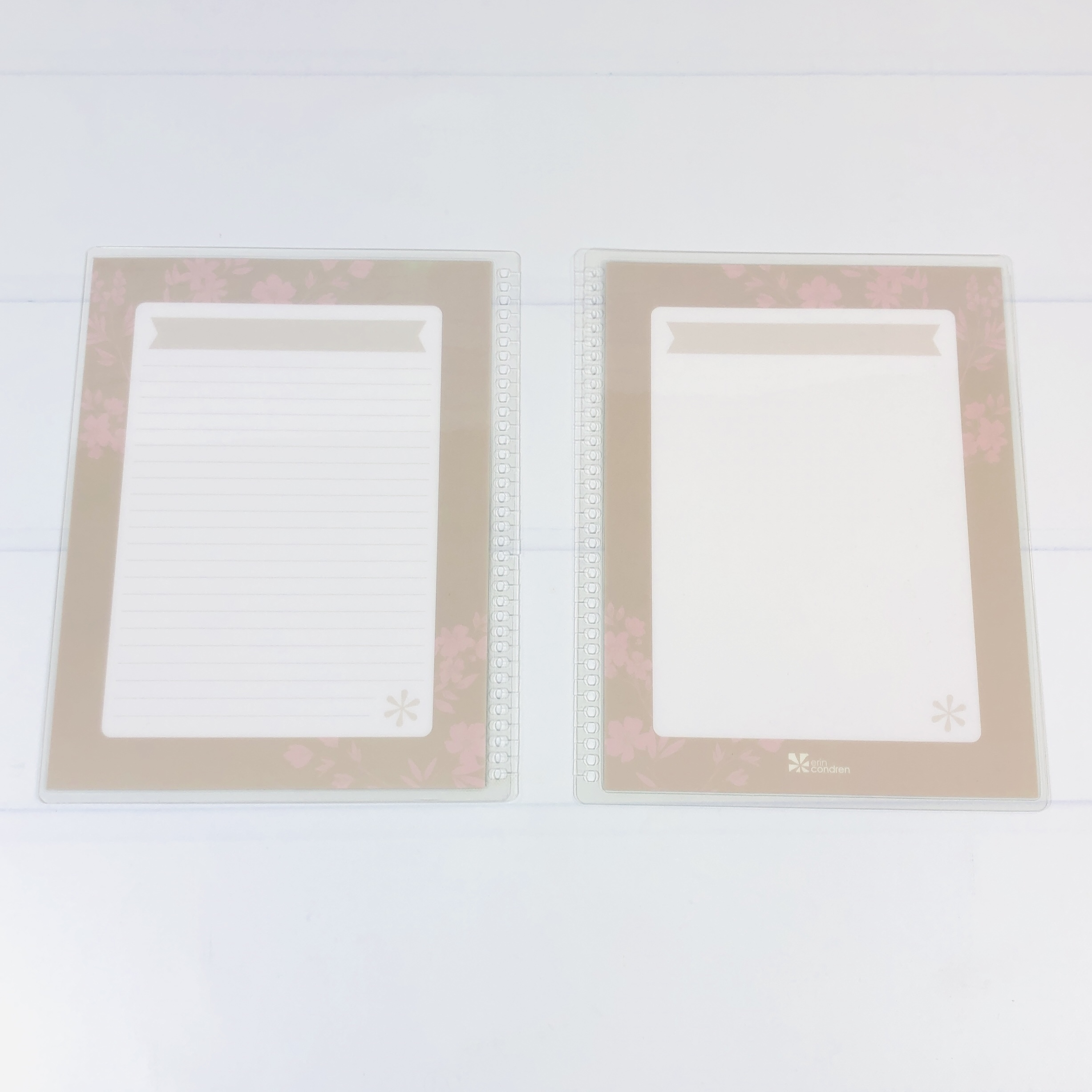 The inside covers are wet erase boards that you can use over and over again.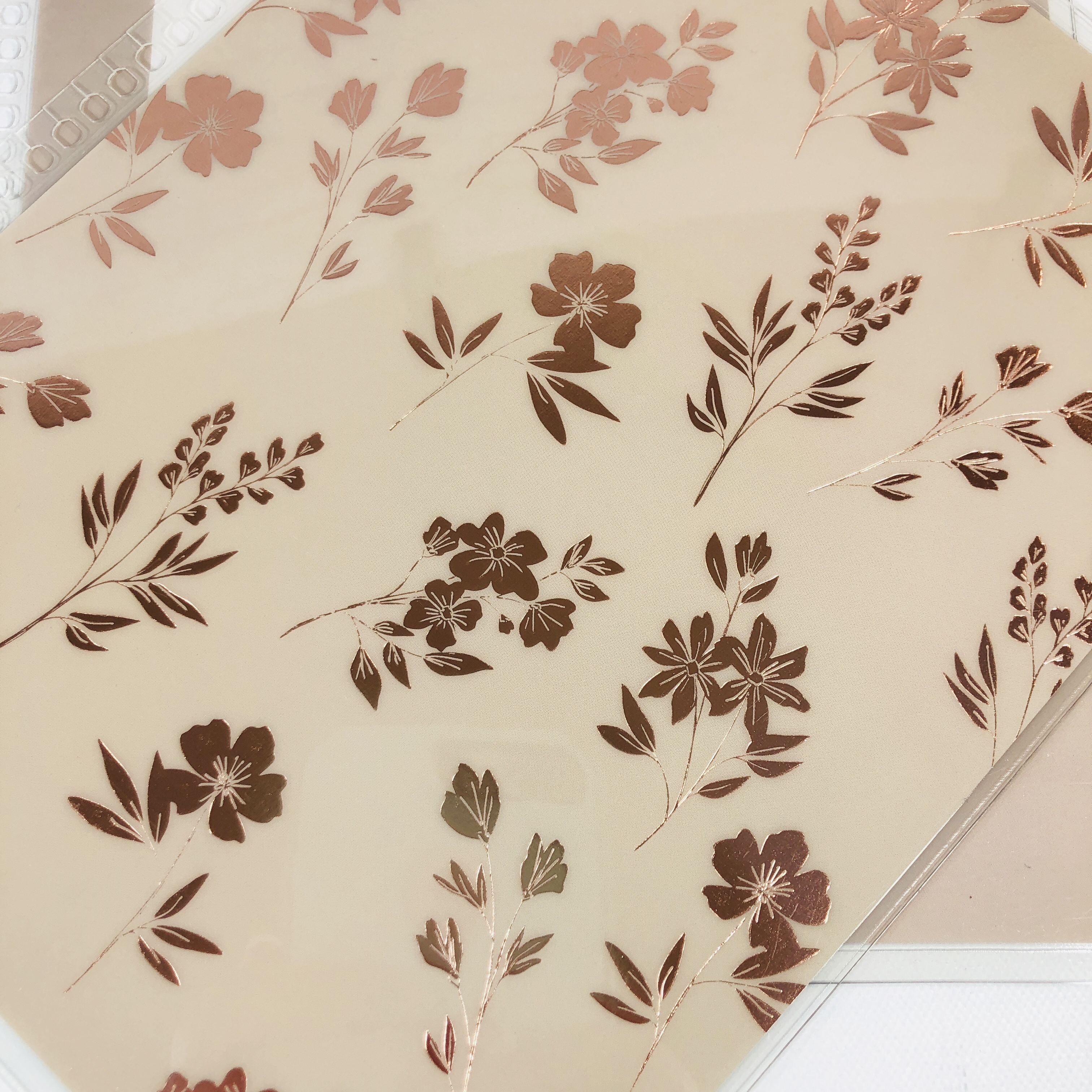 Here's a closer look at the cover!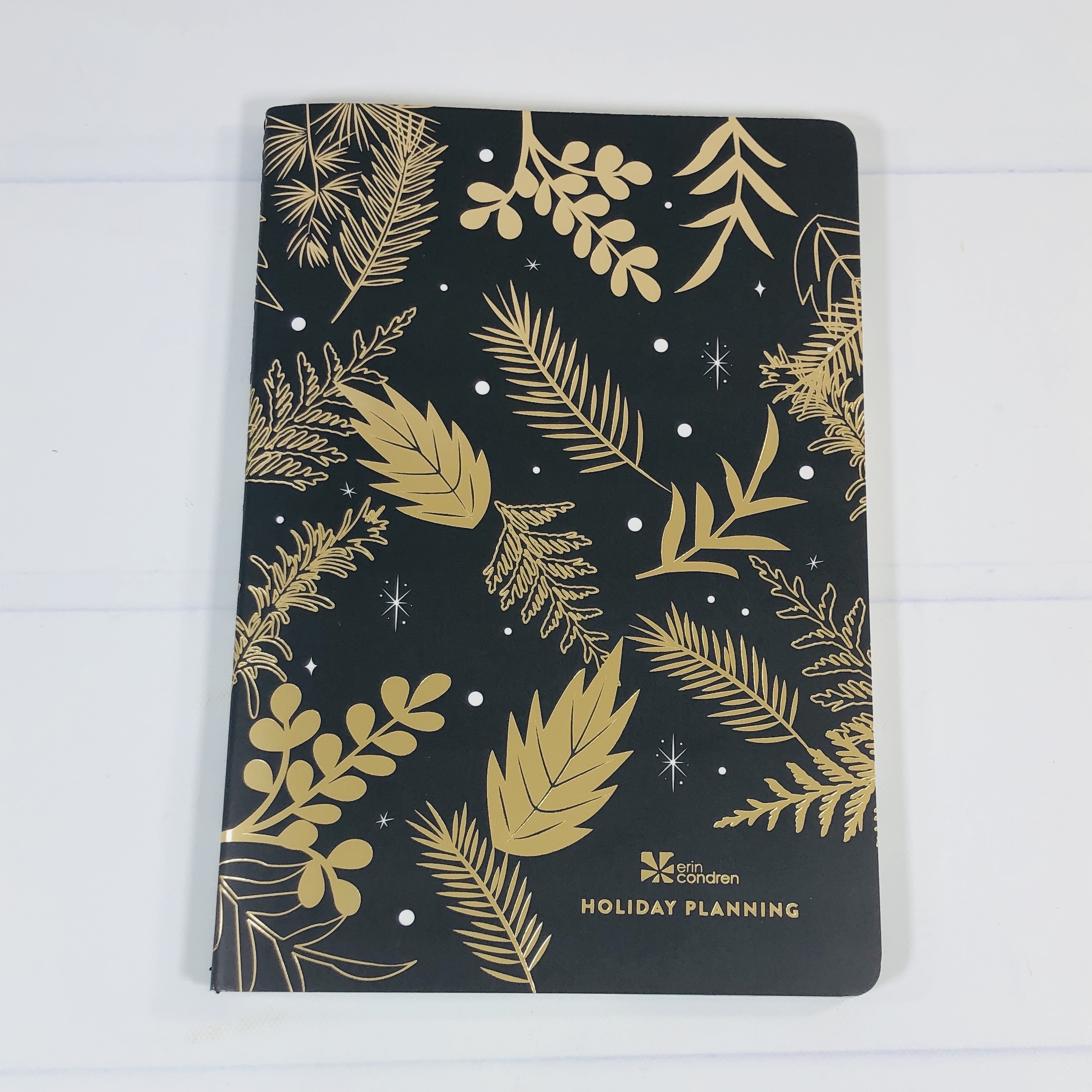 Holiday PetitePlanner ($14) There are several PetitePlanners on the Erin Condren website but none of them were for holiday planning, and this one is an exclusive item.
Here are the measurements and the highlights of what can be found inside.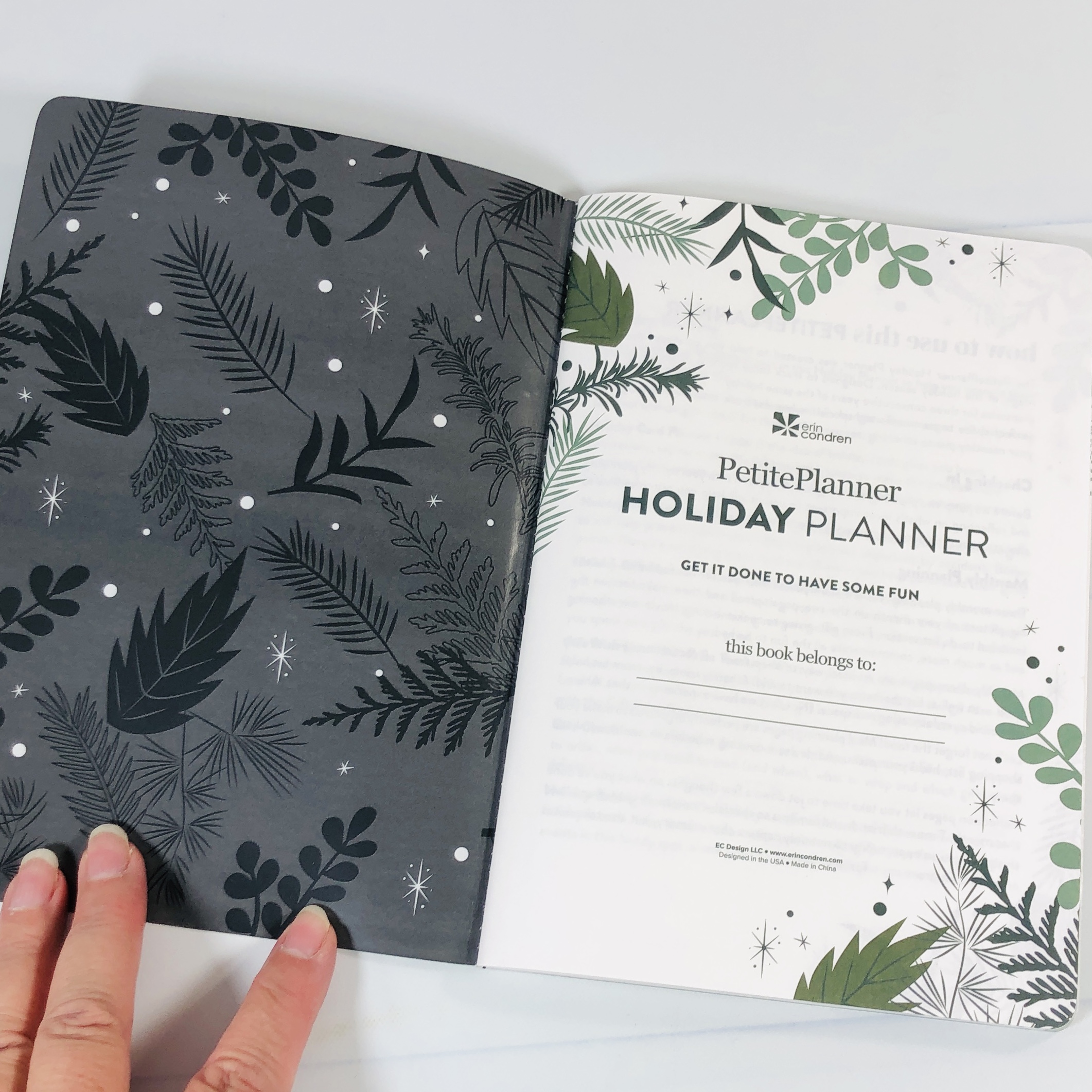 "Get it done to have some fun".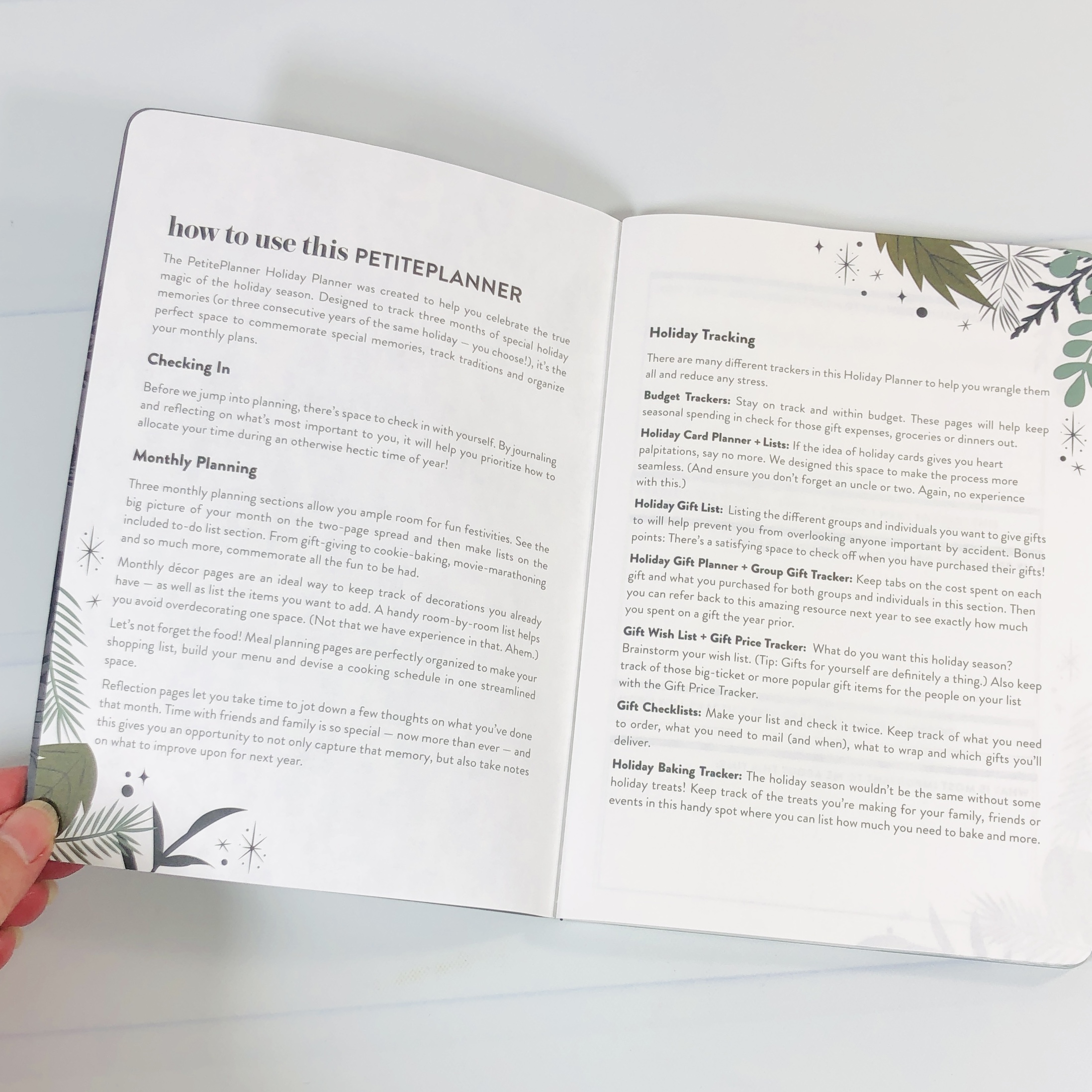 There's instructions on how to use your planner.
Places to write what you want to accomplish for the season.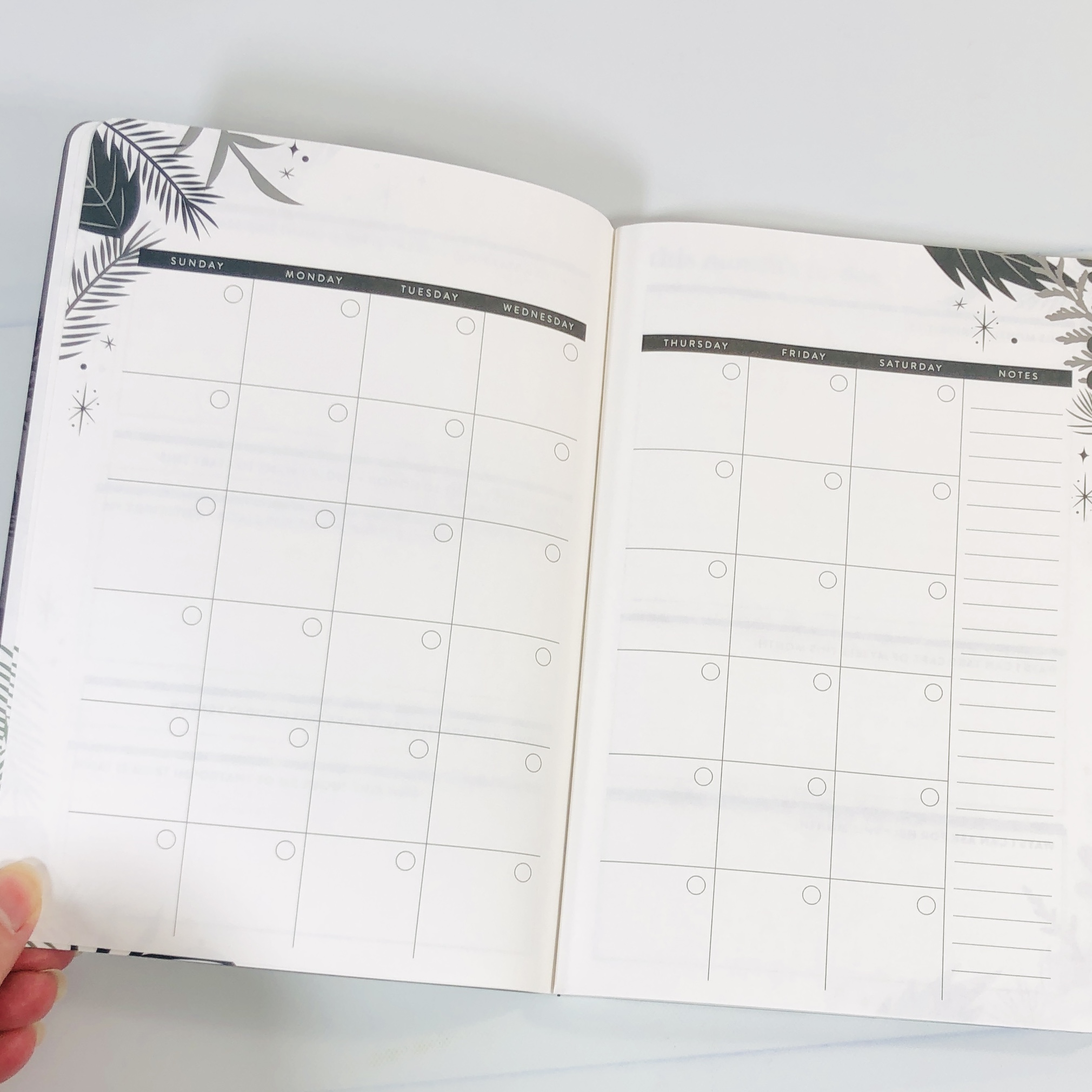 There are three undated calendar spreads.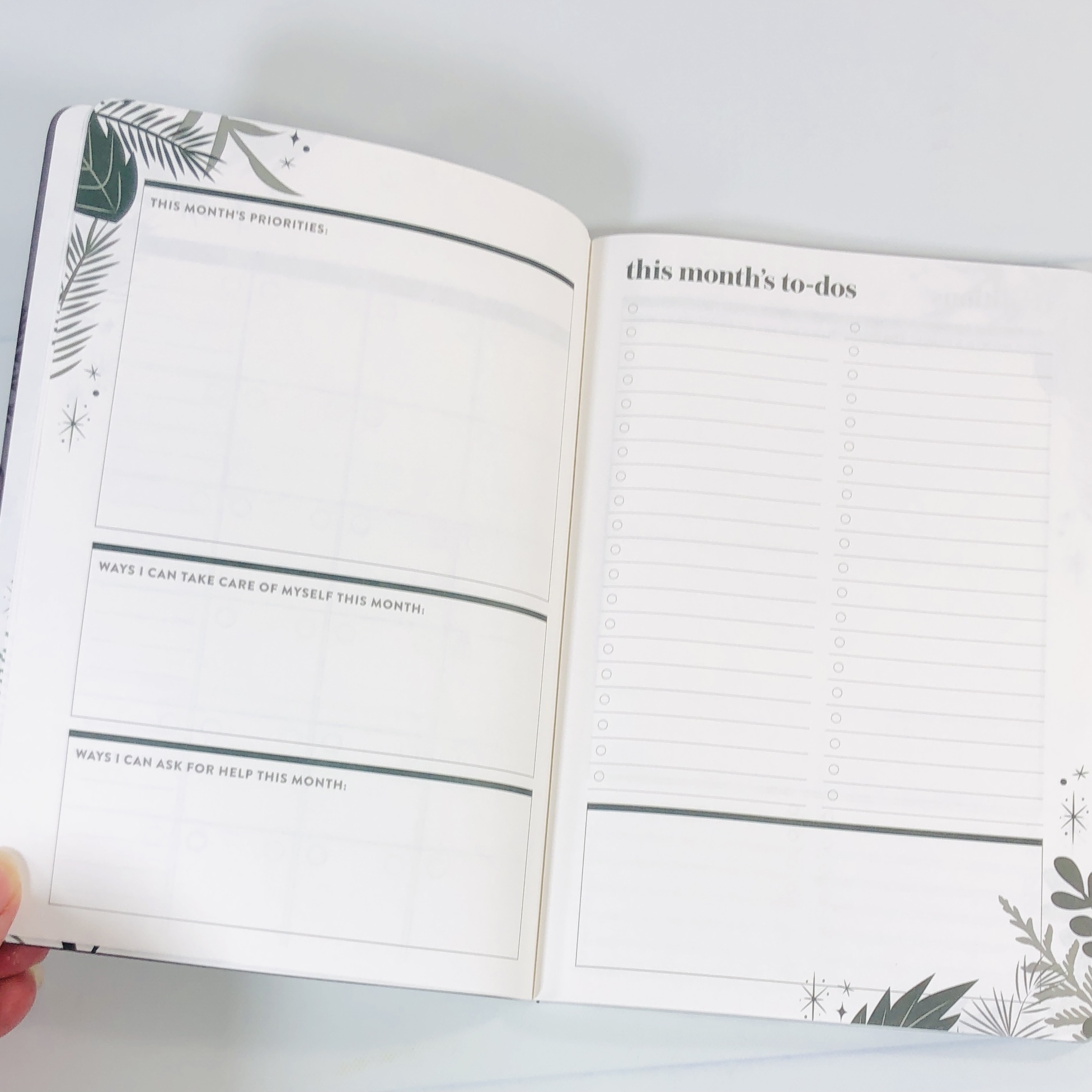 Lists are great for keeping me on track. There are a few more pages and then it repeats twice more. Then there are pages for budget tracking, card lists, gift giving, baking, and more.
Raspberry & Vanilla Metalic Marker Duo ($5.50) Here is a sneak peek item.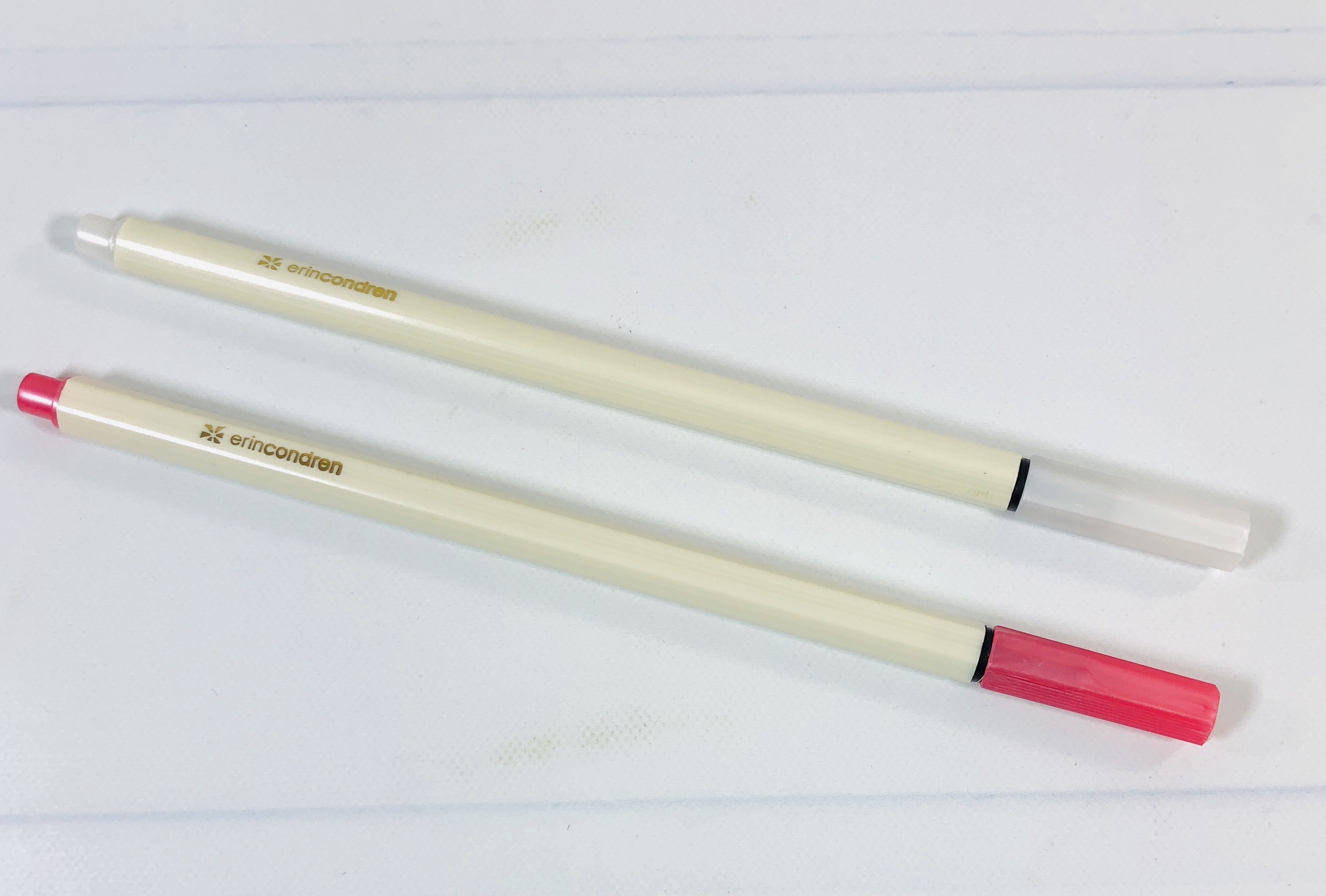 It's two metallic ink pens. I remember something like this being all the rage literally decades ago.
On the left is Vanilla and the right is Raspberry. No, they don't smell like their names.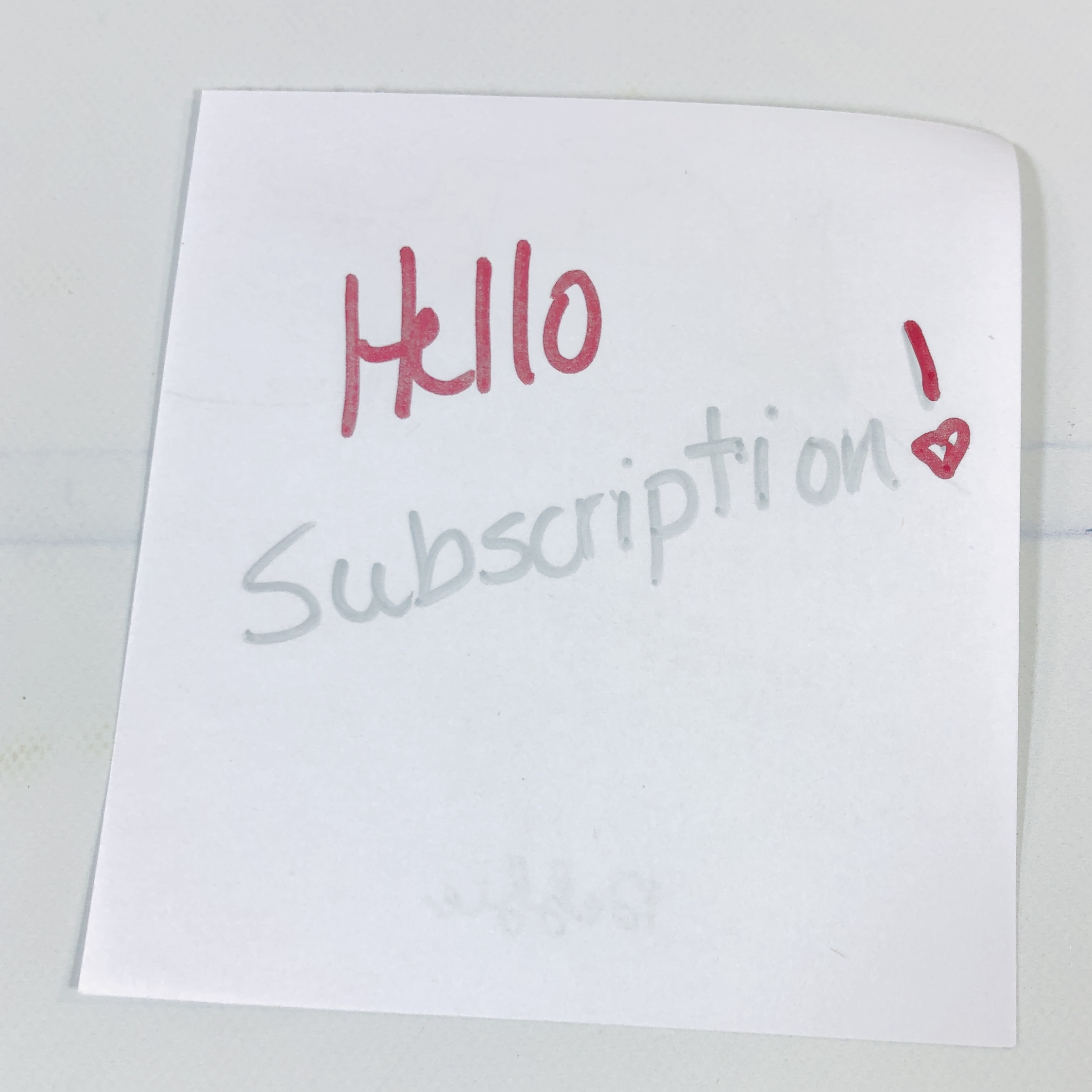 Vanilla is actually silver but both will help make writing cards and gift tags more fun, at least for me.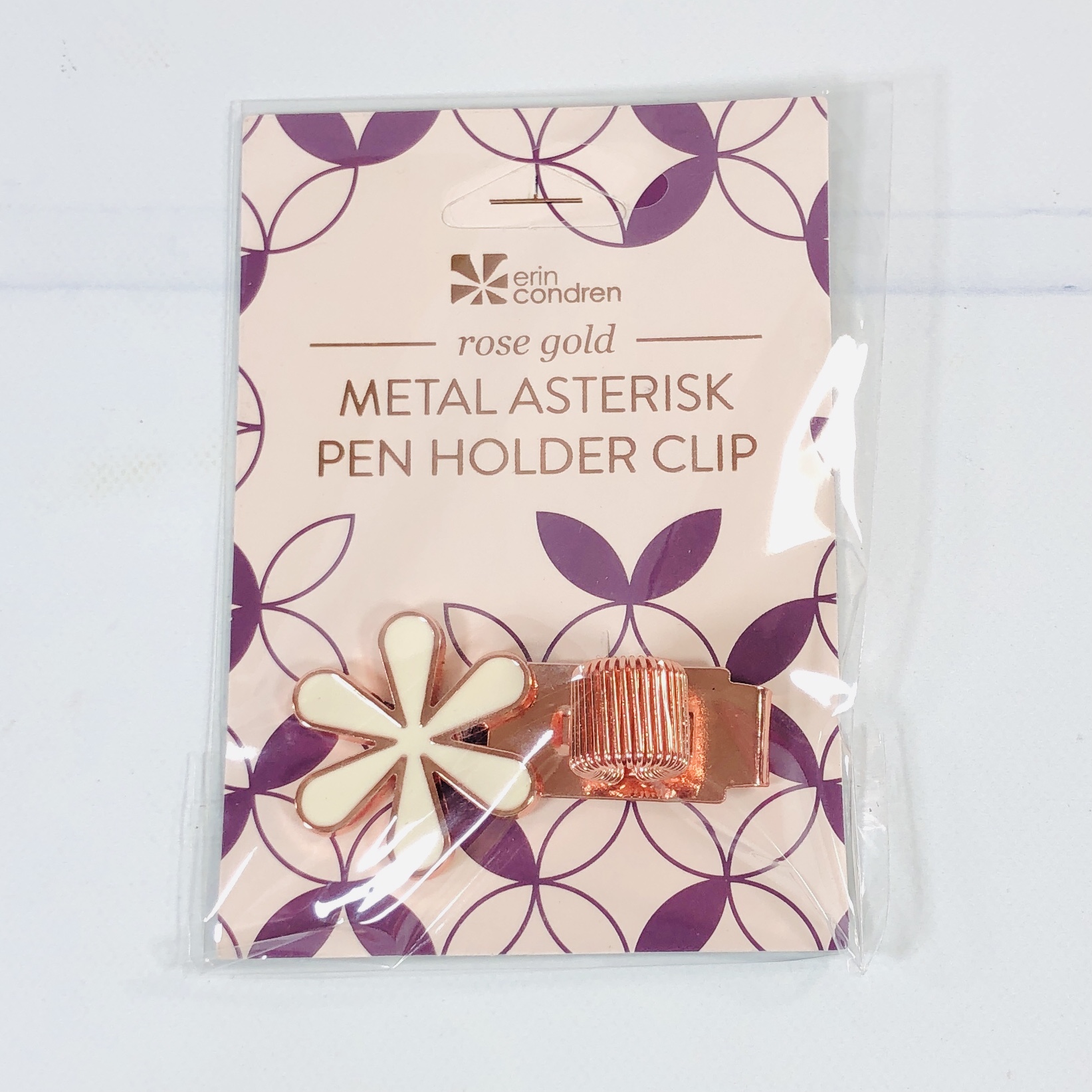 Rose Gold Metal Asterisks Pen Holder Clip ($5.50) Isn't this sneak peek item adorable?
It's rose gold and has a cream enamel asterisk, another Erin Condren signature motif.
The loop is kind of like elastic and it stretches to accommodate a pen or pencil.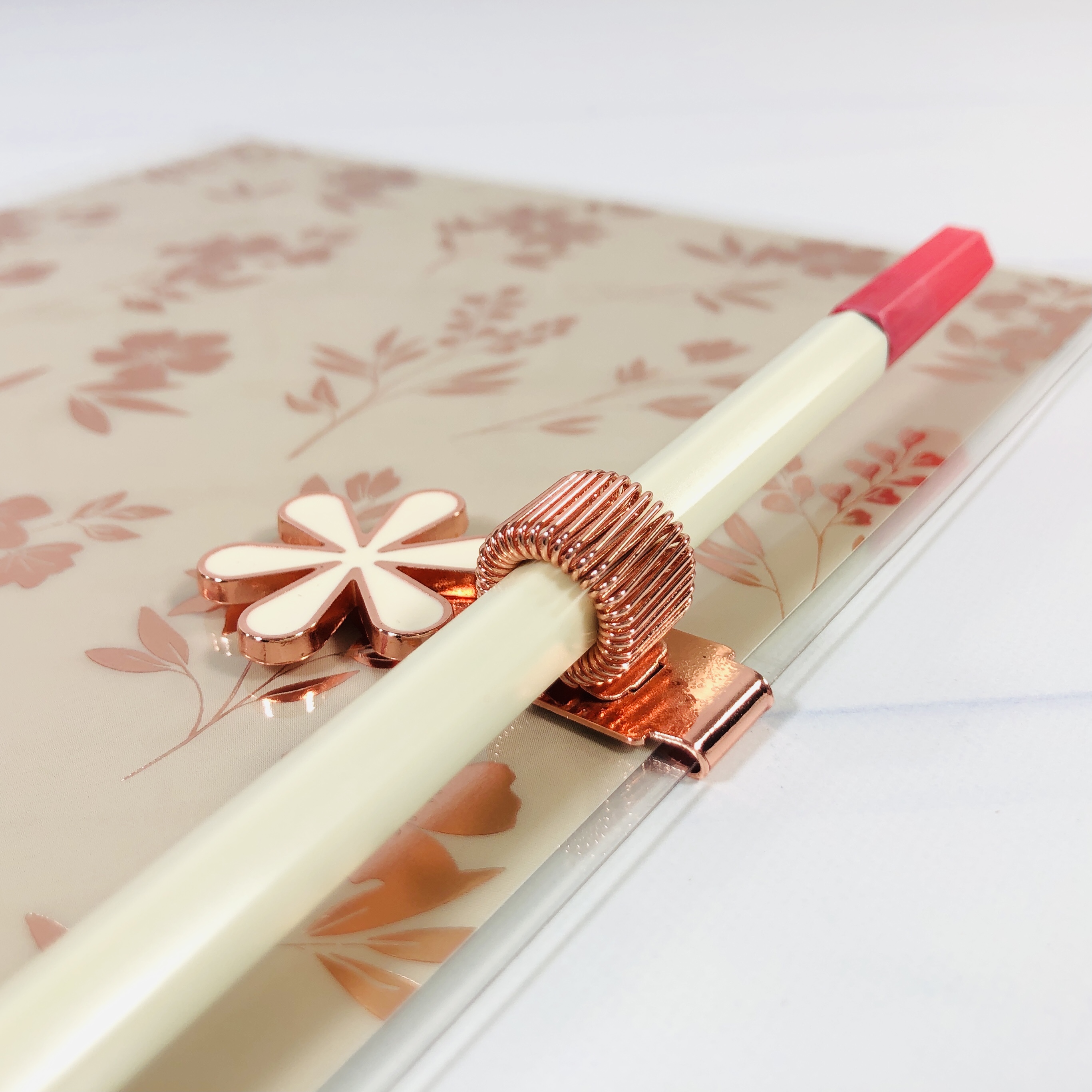 Here it is clipped to the interchangeable cover. It's so cute!
Notepad with Standup Holder ($24) The final item is another sneak peek.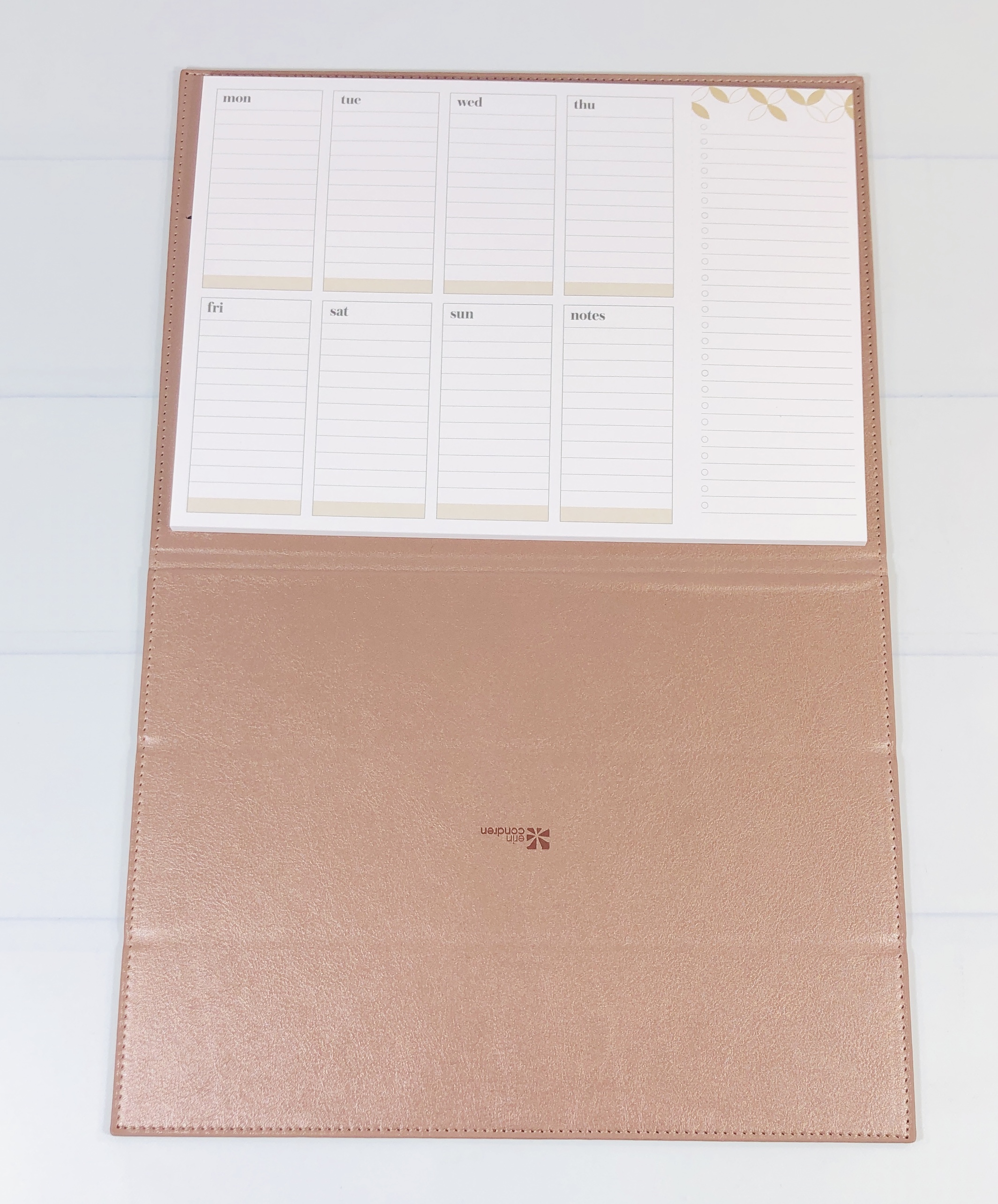 At first, it looks like it is upside down, with the logo opposite, but I figured it out eventually (there were no instructions).
There are 25 pages in all and there is space for daily to-do lists, and the list on the right is perforated so you can write a shopping list or whatever and take it with you. This is a refillable item, or will be eventually when they have them available online.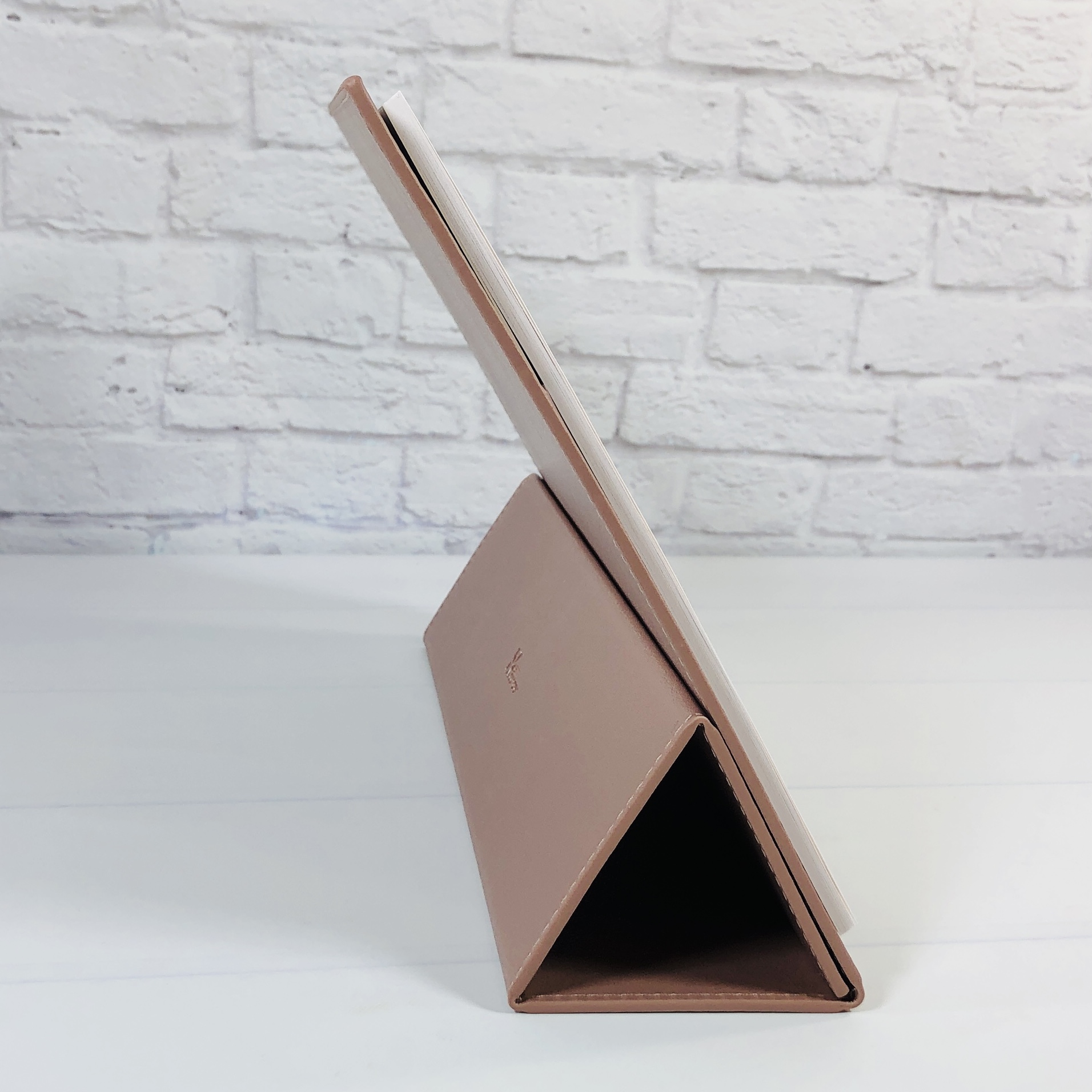 To display you just fold the cover to the back and then fold the indentations until you have a nifty holder.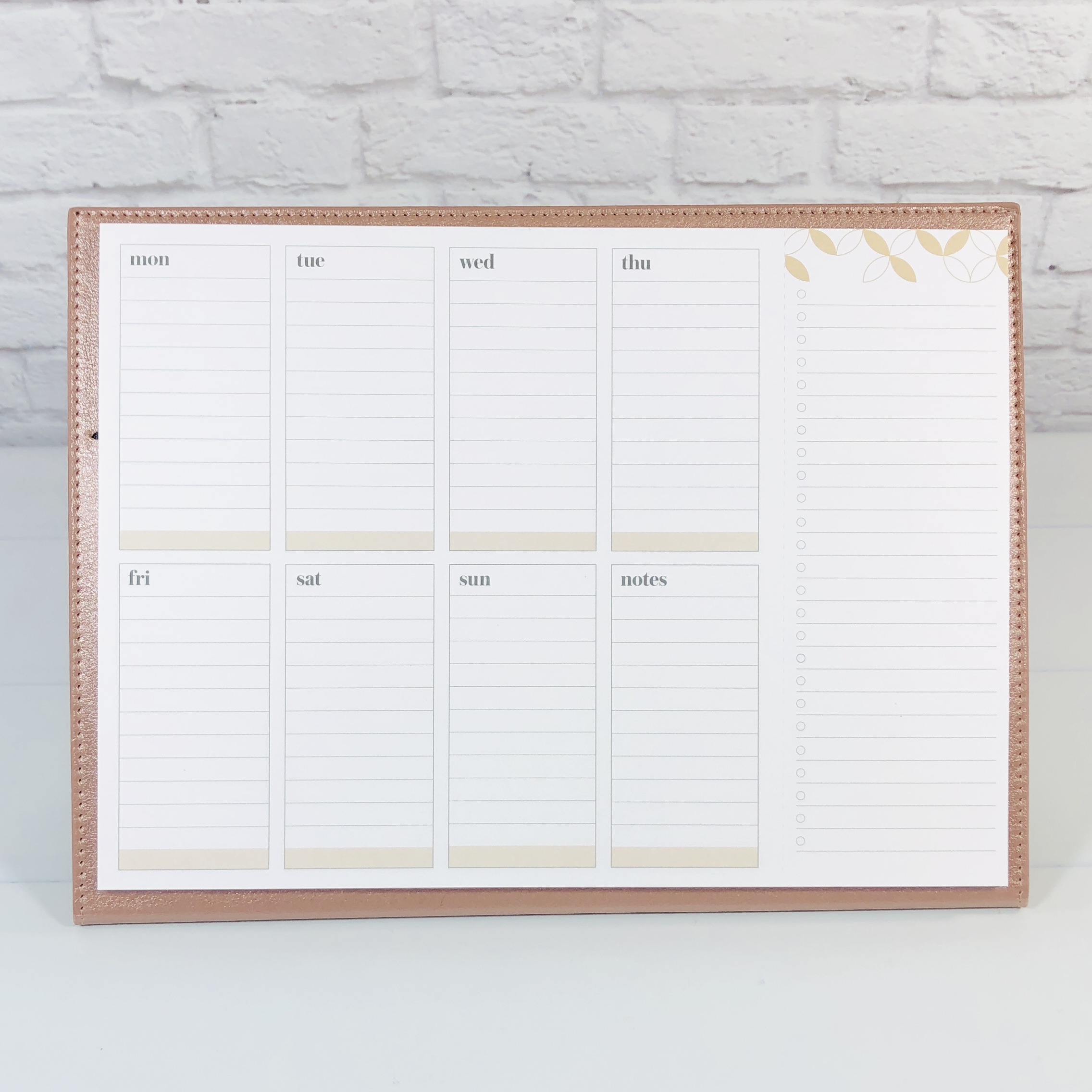 Ta da!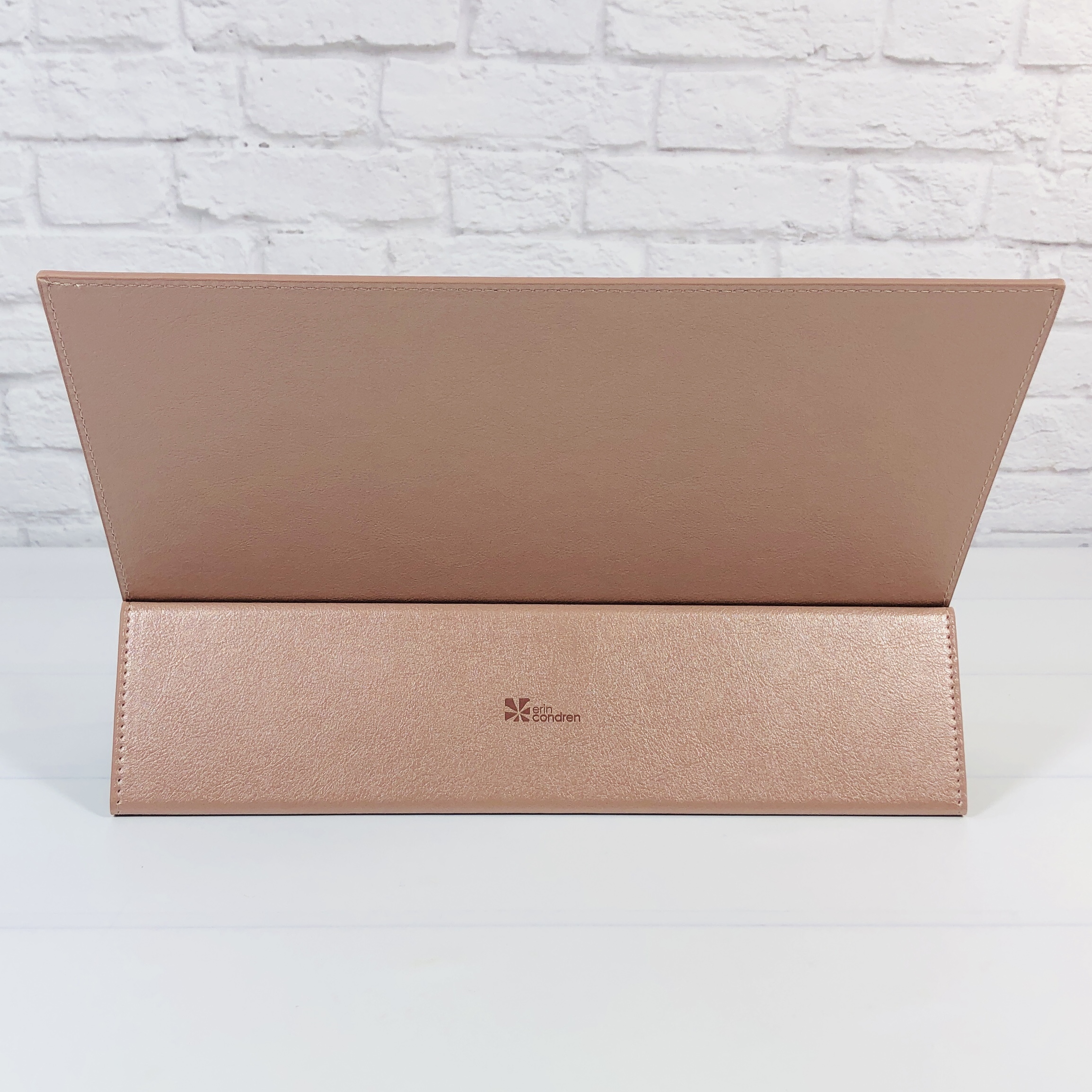 Aww, now I see it! The logo is shown correctly now. By the way, the holder is in one of my favorite colors, metallic rose gold!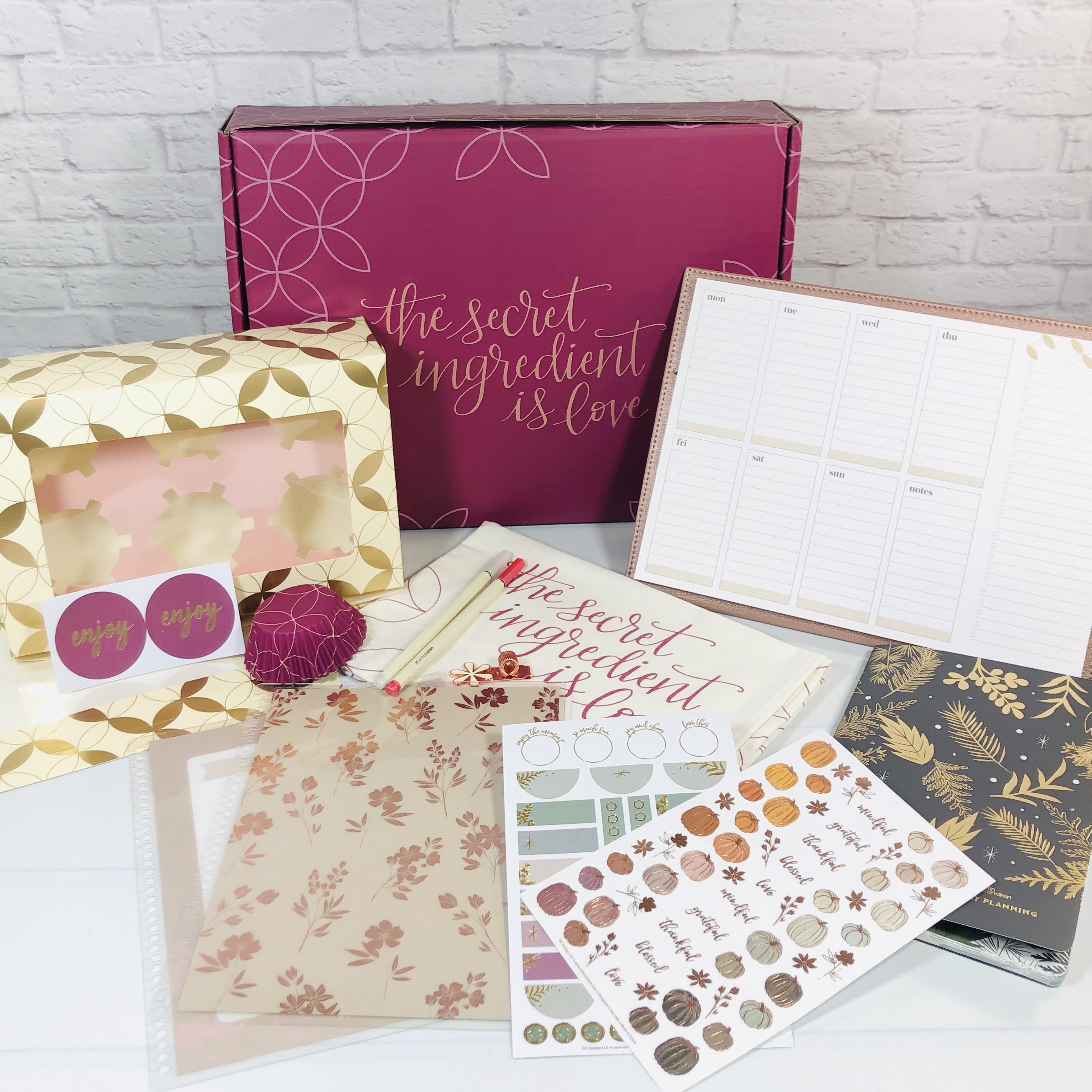 I thought the Erin Condren Seasonal Surprise Box was in a beautiful color scheme and was filled with items that will help increase productivity and that will simply fill me with delight while using (like that pen clip, so cute!). The metallic pens were kind of retro and I look forward to using them. The stickers will look great in my LifePlanner, as will the interchangeable covers. The tea towel will either go on my stove or I might gift it to my daughter to brighten up her apartment. She loves to bake so the cupcake boxes might go to her too, but then again I have some neighbors who I might surprise with some baked treats. The planner and notepad will help keep me on track. I love the Seasonal Surprise Box, I never know what I'm going to get, with the exception of some stickers, and I love the ideas that Erin Condren and her team come up with every time!
What did you think of the box?
Visit Erin Condren Seasonal Surprise Box to subscribe or find out more!