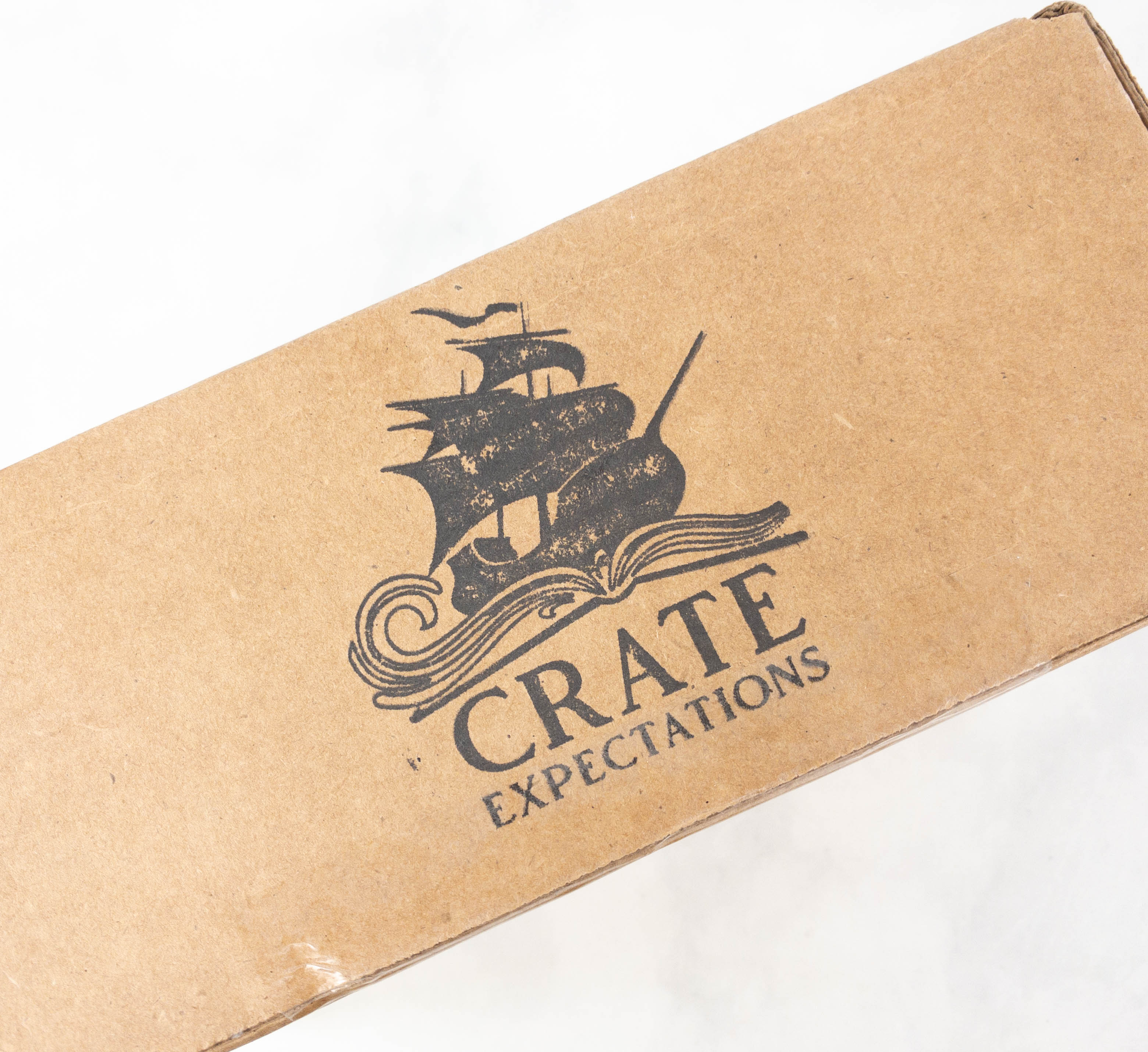 Crate Expectations is a monthly kids' book subscription box that sends a quality book paired with one-of-a-kind Adventure Guide and toys or games. Plans start at $32.99 each month, plus shipping and tax, and they also offer 3-month and 6-month subscriptions. Each box contains their book club pick of the month, 2-4 specially curated toys or games, a book-related STEM activity and supplies, an exclusive author interview, a book-inspired recipe and menu ideas, book club discussion questions, and recommendations for further reading. The box is suited for 8-12 year old kids and a favorite subscription box for tweens and pre-teens!
The Crate Expectations middle grade readers box made our 2021 readers' choice list of best subscription boxes for kids!
DEAL: Get 10% off your first purchase! Use coupon code HELLO10.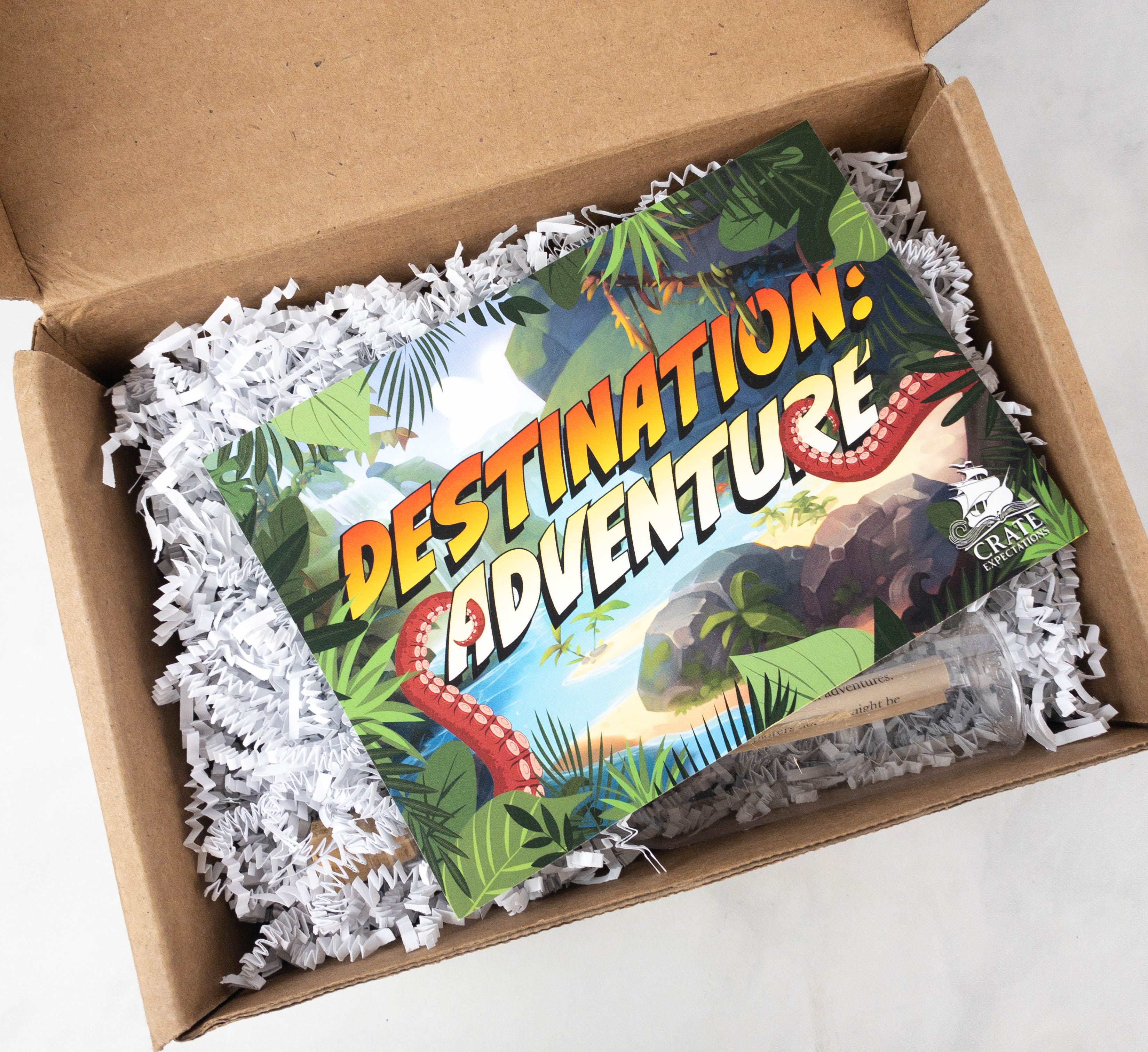 The theme for July 2021 is Destination: Adventure.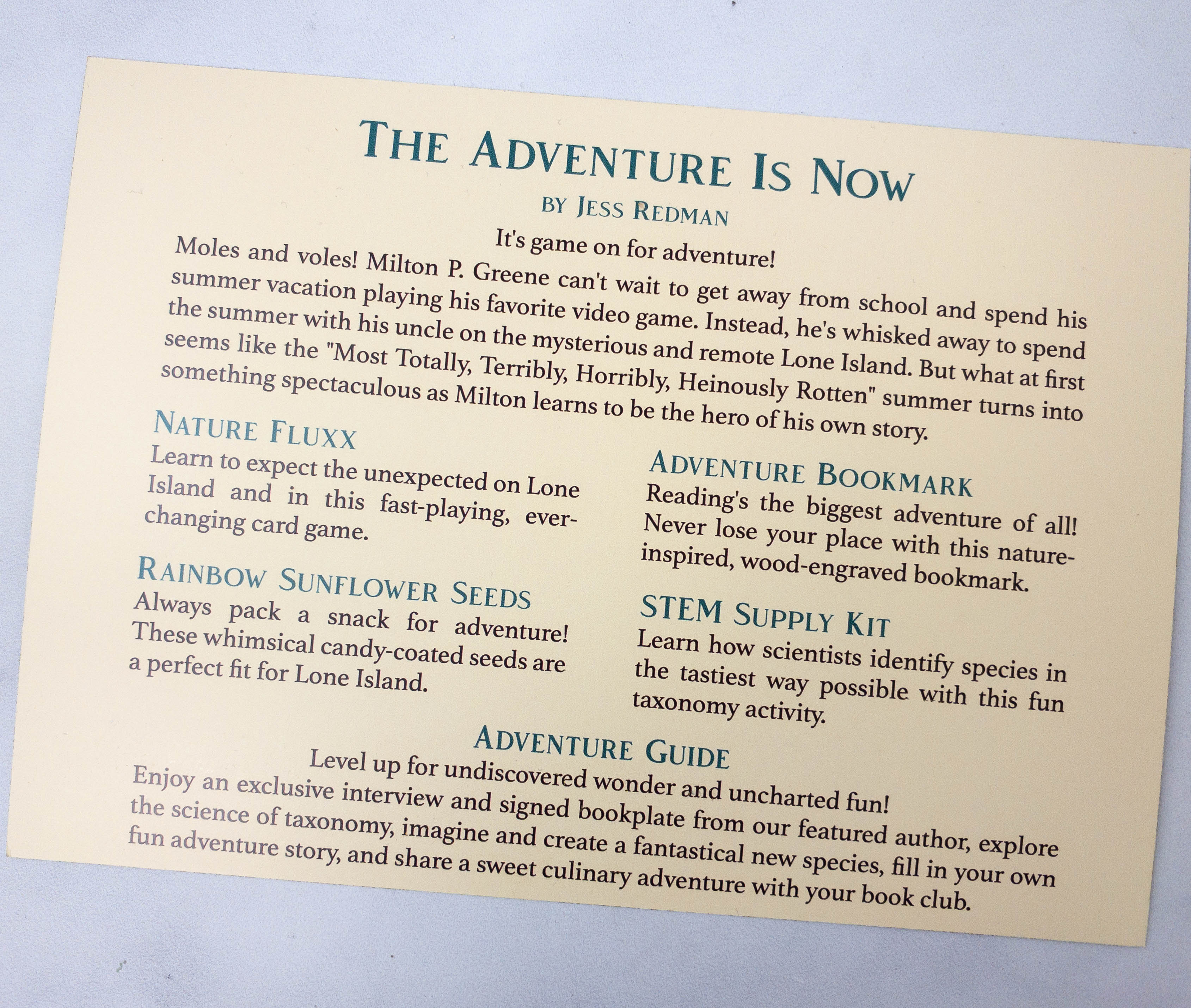 The flip side of the info card lists all the contents of the box.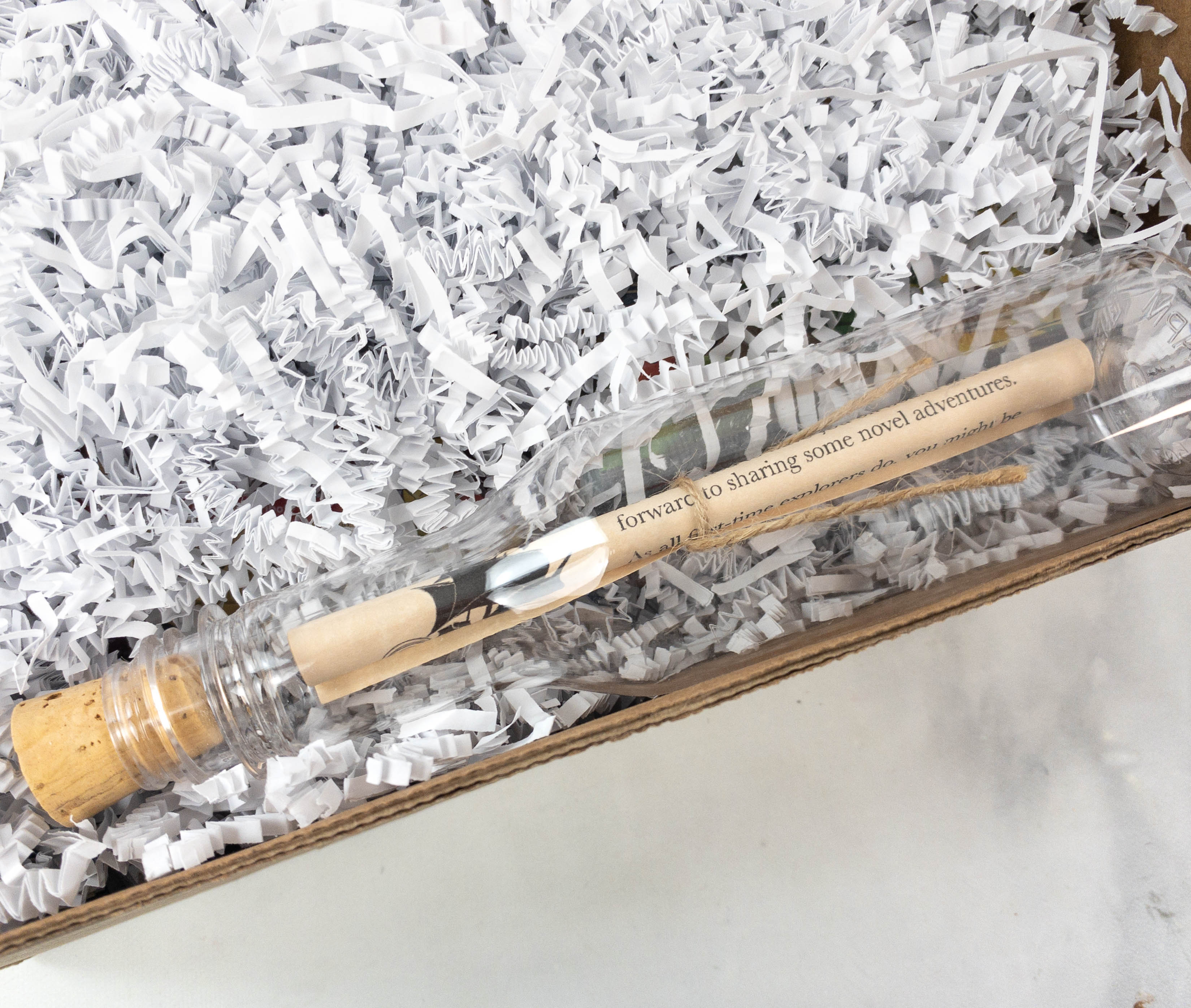 Like the crew of a ship, the box included a message inside a corked bottle.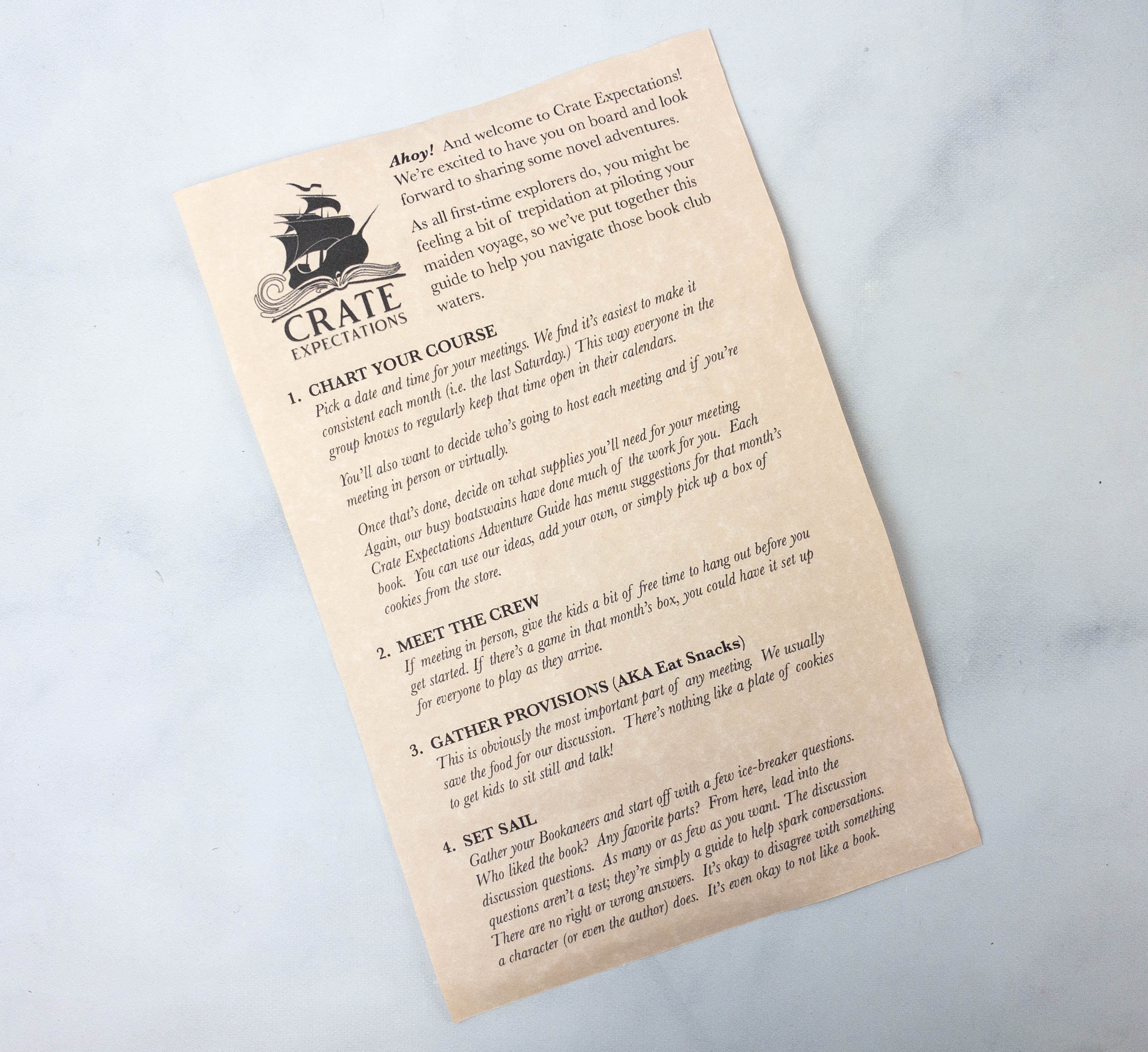 My kids popped the bottle open and took the rolled paper from inside. It has a message that welcomes them to a new adventure!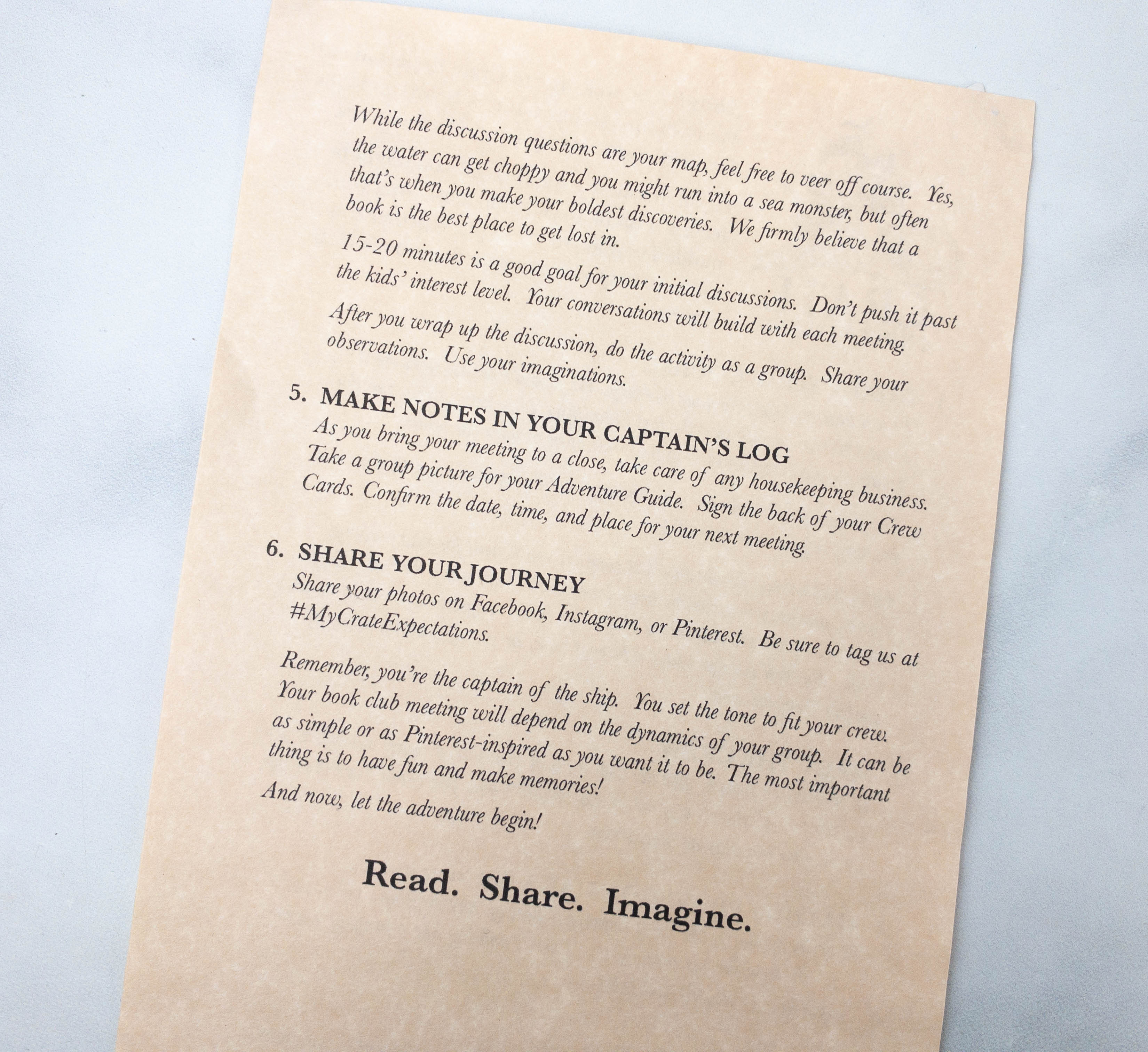 A continuation is provided at the other side of the paper inside the bottle. It gives exact directions for this month's book club!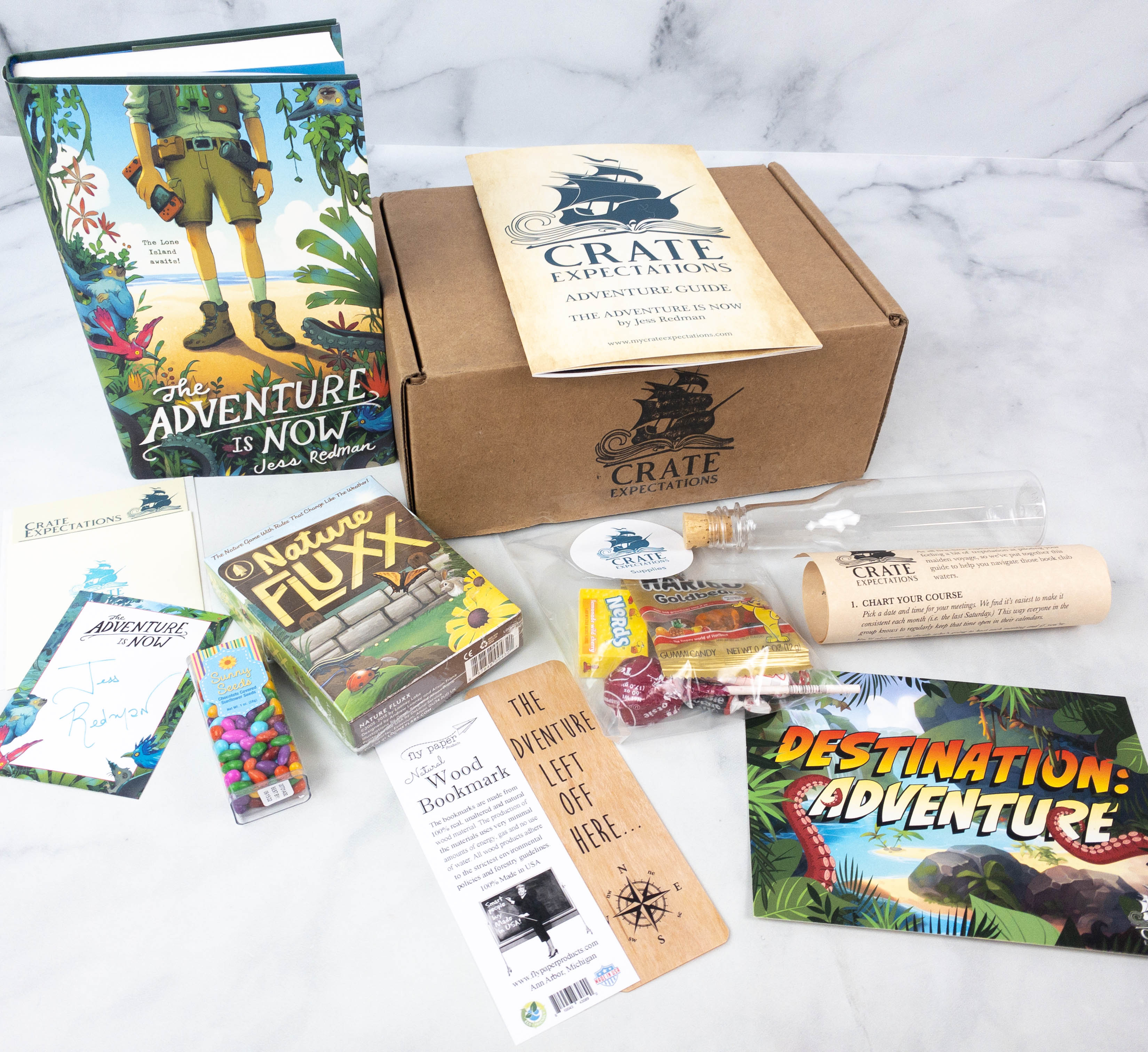 Everything in the box!
The box also includes an adventure guide.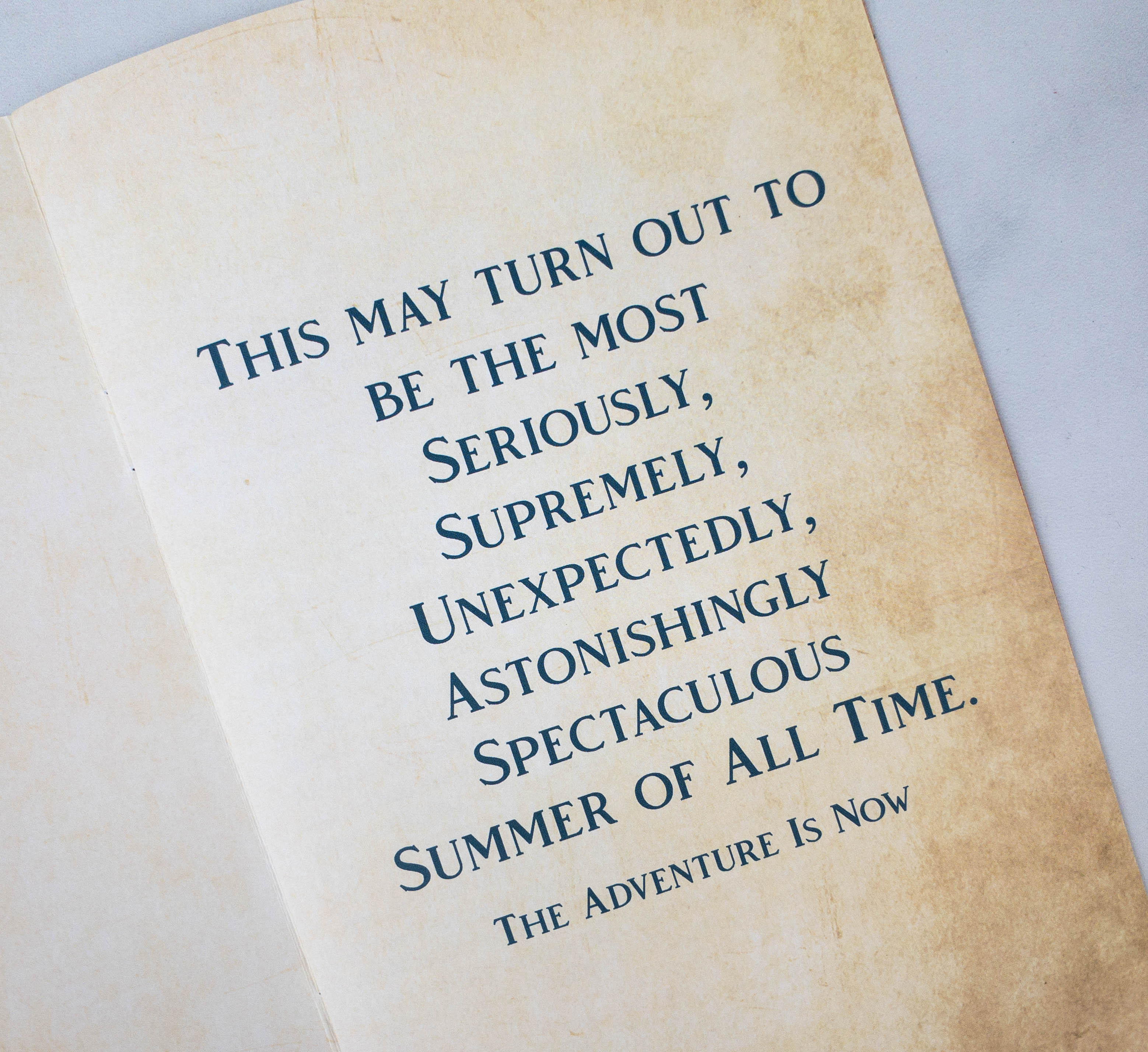 This may turn out to be the most seriously, supremely, unexpectedly, astonishingly spectaculous summer of all time.

The Adventure is Now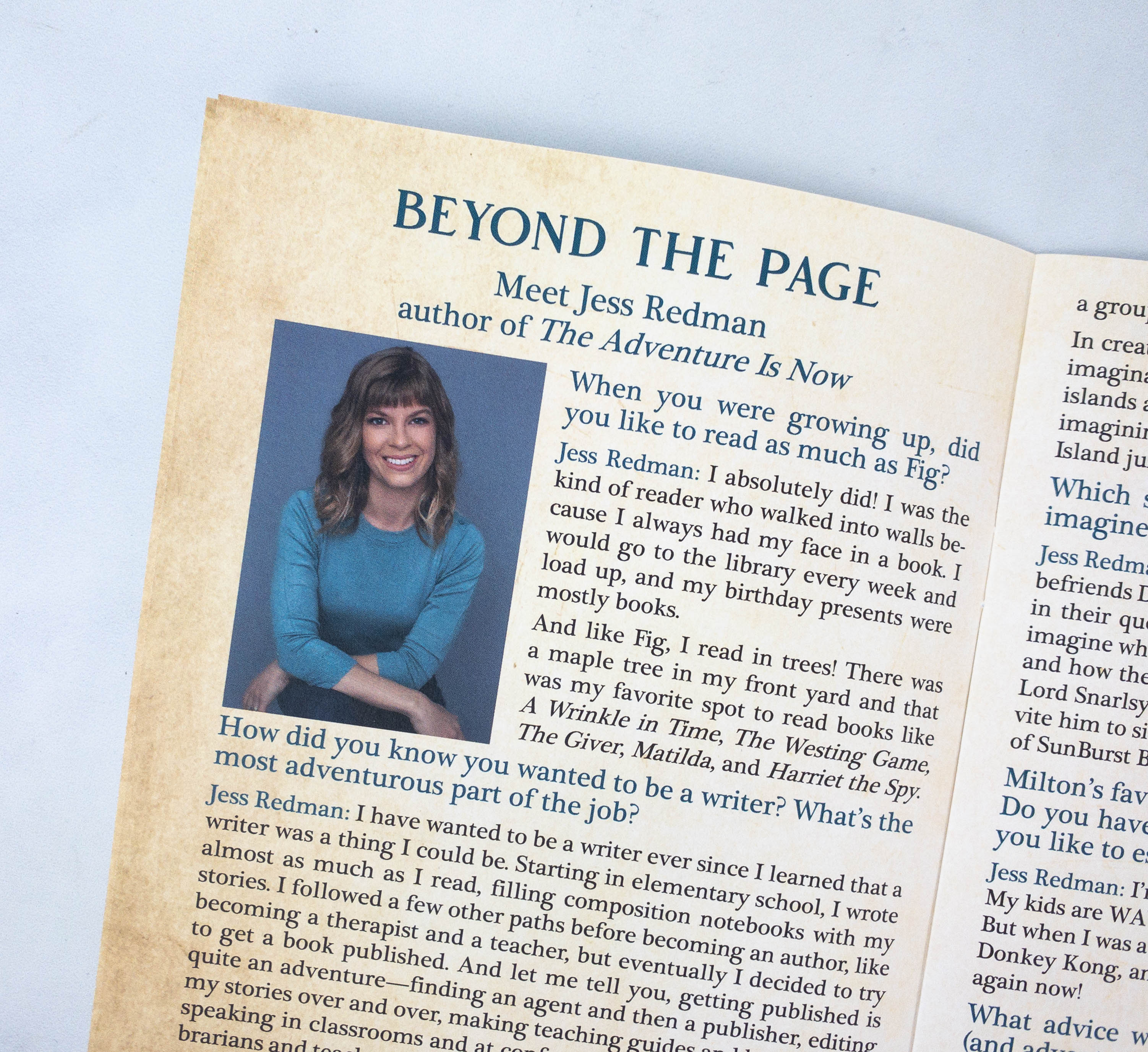 There's an interview included in the guide. This month, it features Jess Redman, the author of The Adventure is Now.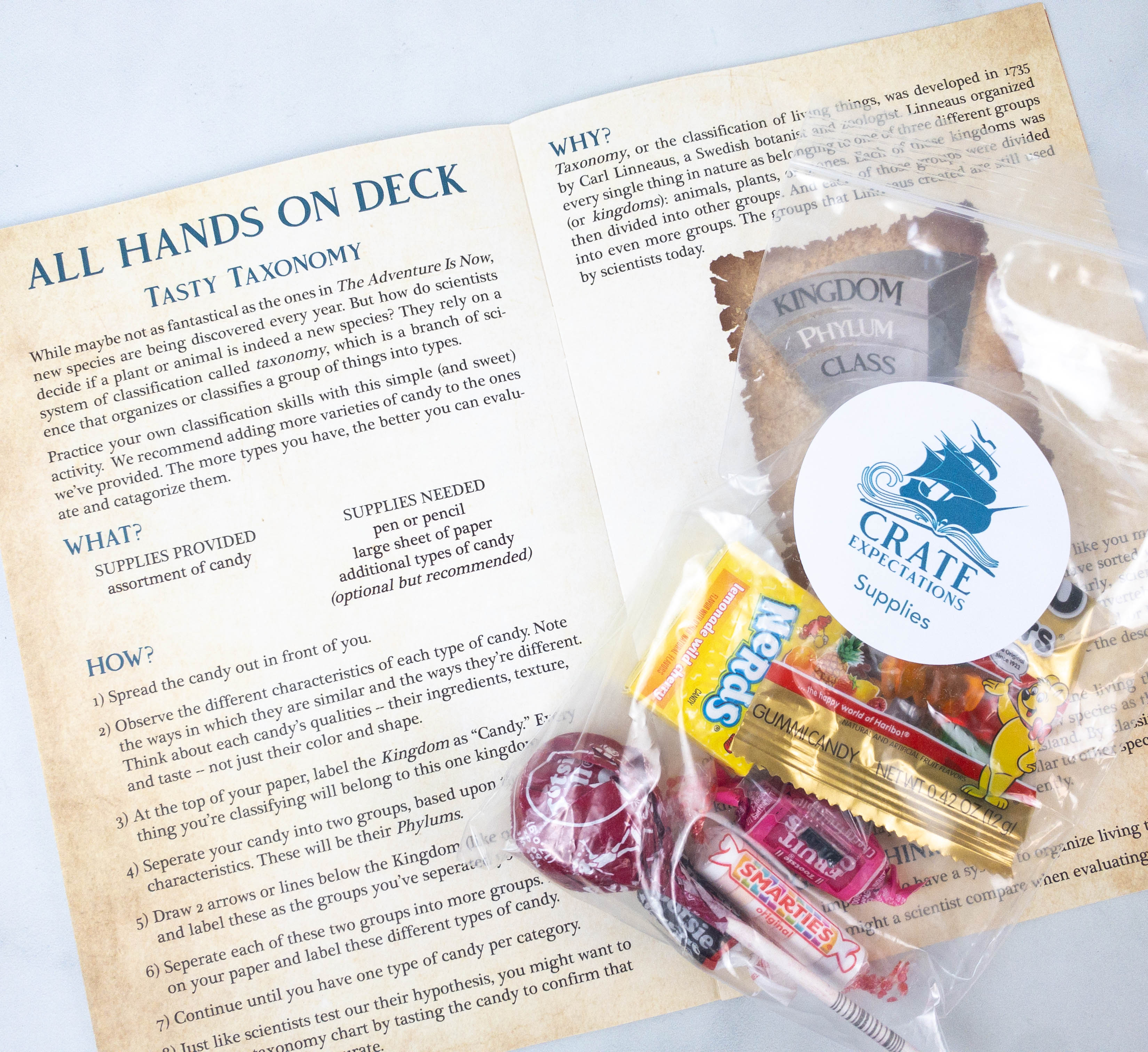 Next is an interesting activity for kids! It's called Tasty Taxonomy, and it teaches kids about taxonomy, a branch of science that organizes or classifies a group of things into types. I had the best of intentions of getting a good photo of this activity, but failed, because my scientists were really into tasting them all to these their hypotheses!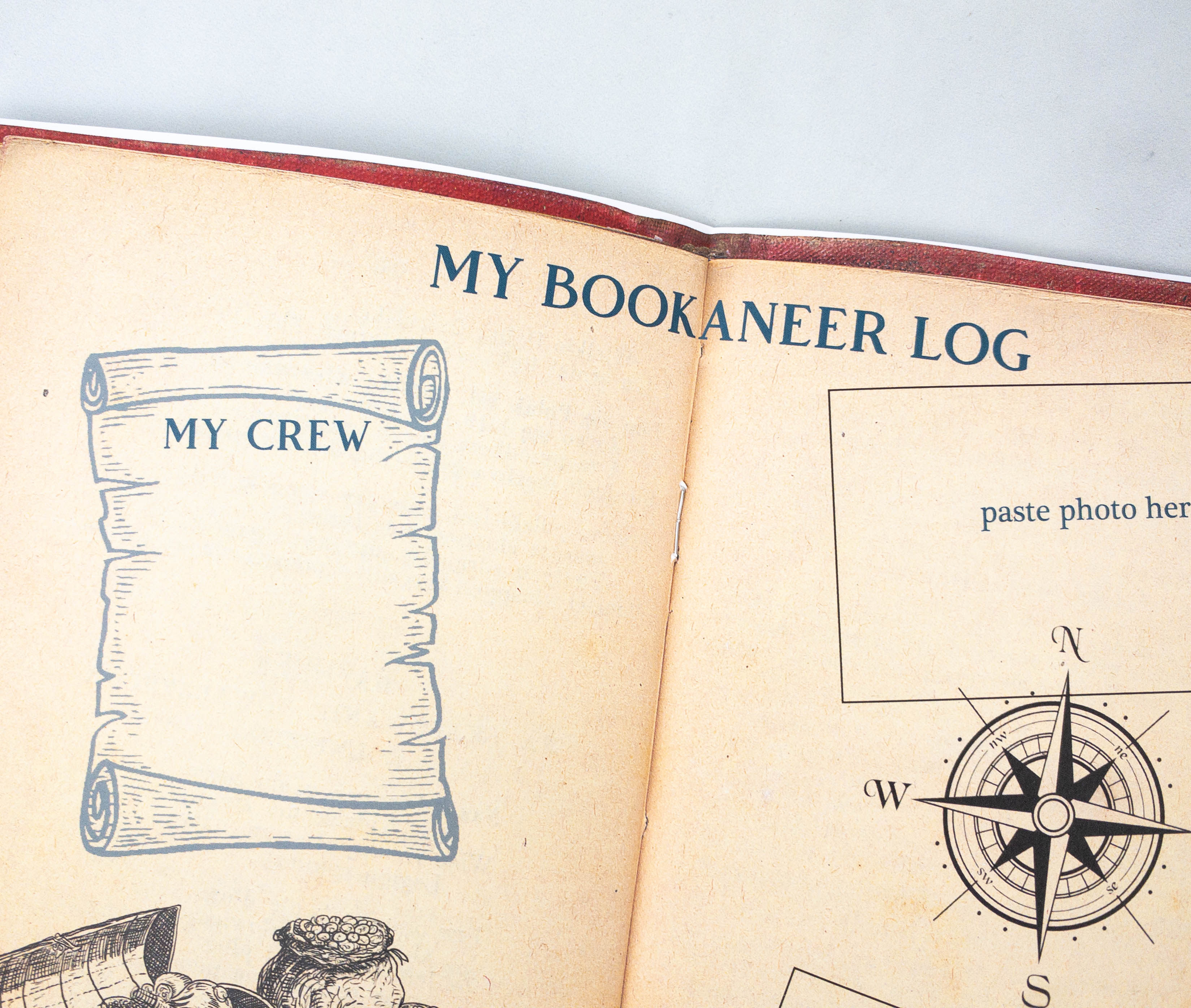 This part of the booklet is called the Bookaneer Log and it is where the kids can write about their crew and put some pictures!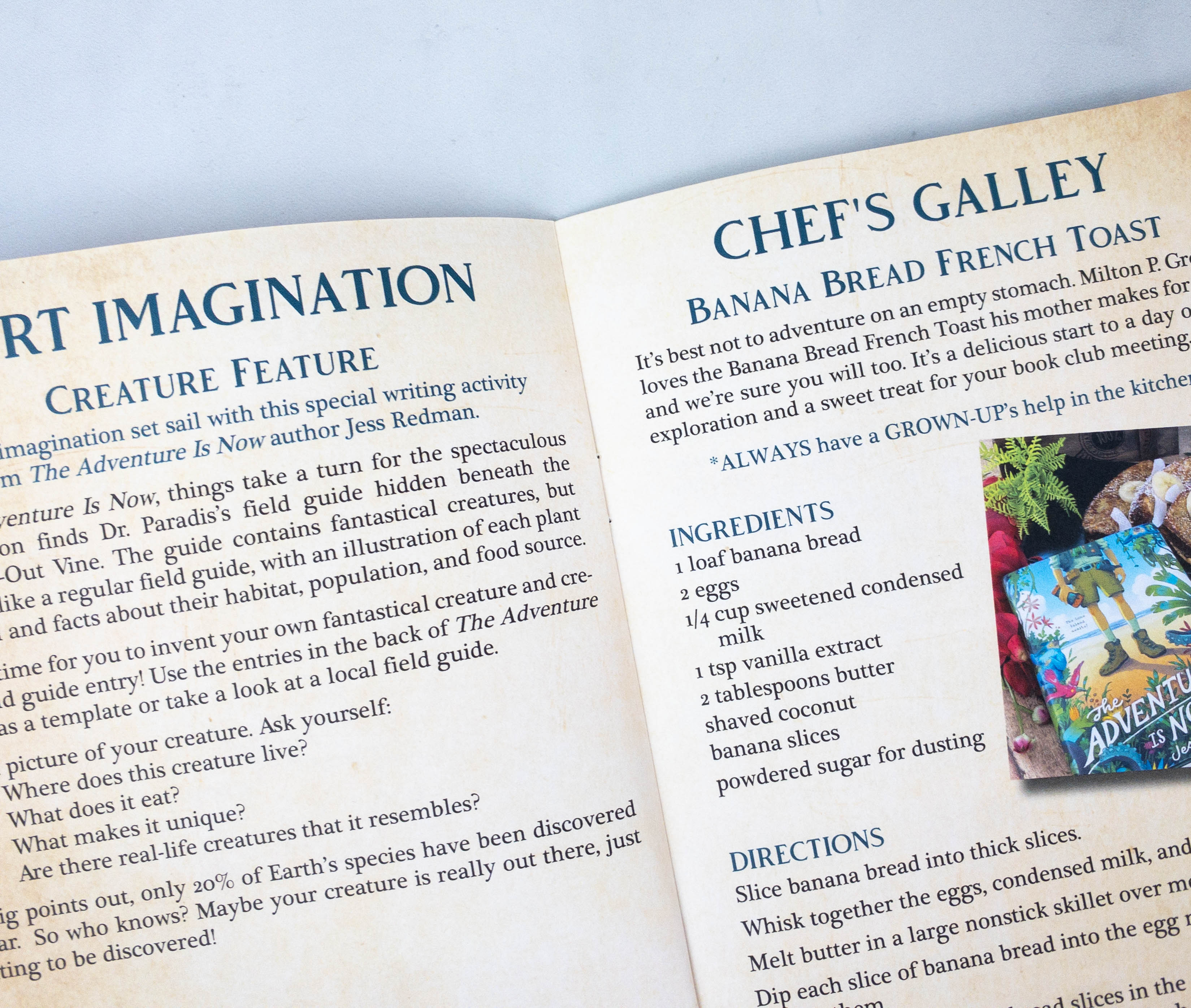 They also included a recipe for Banana Bread French Toast. This is a MUST make for our book club!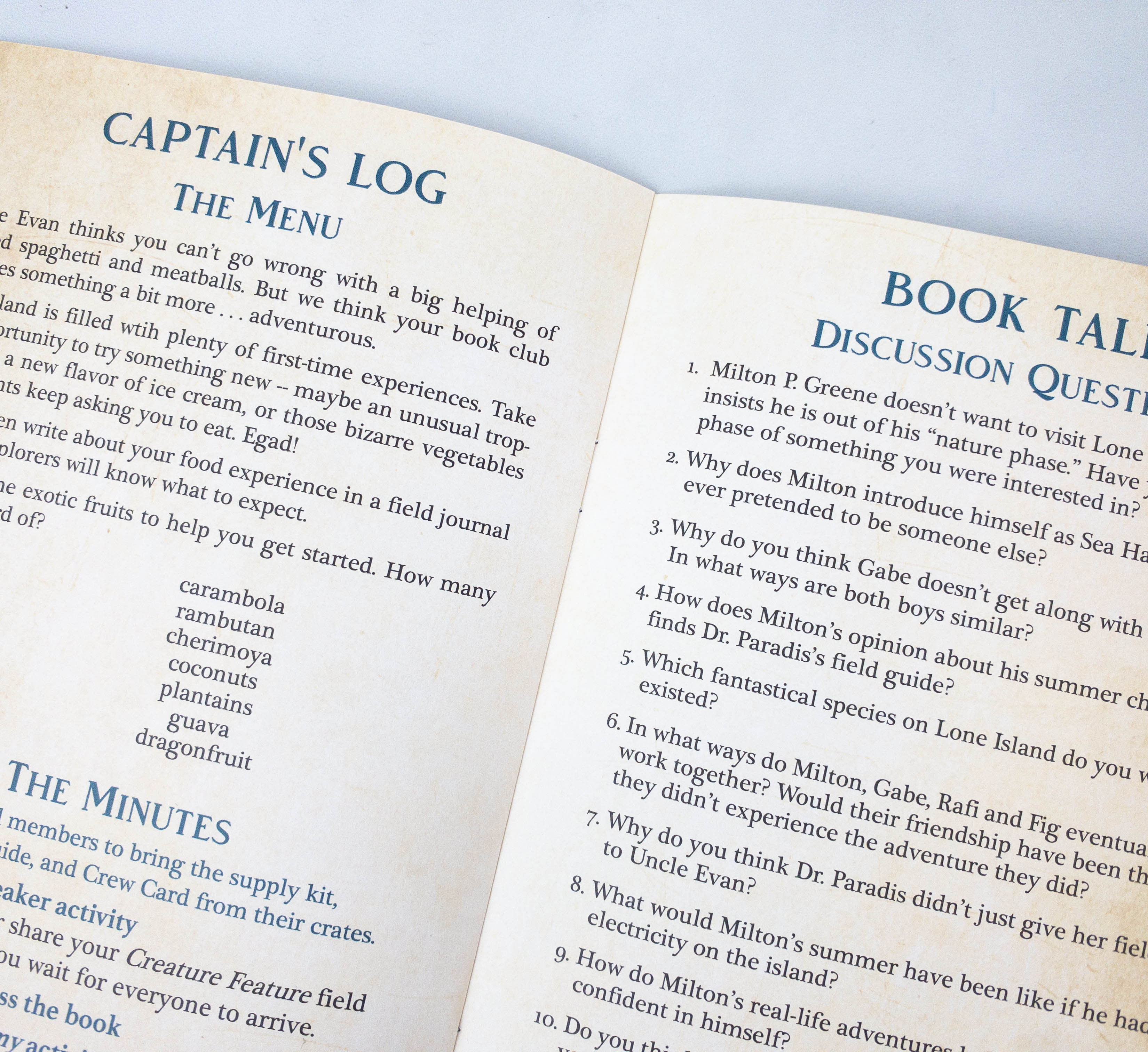 Next is the Captain's Log, where they suggest food and activities for your book club meeting.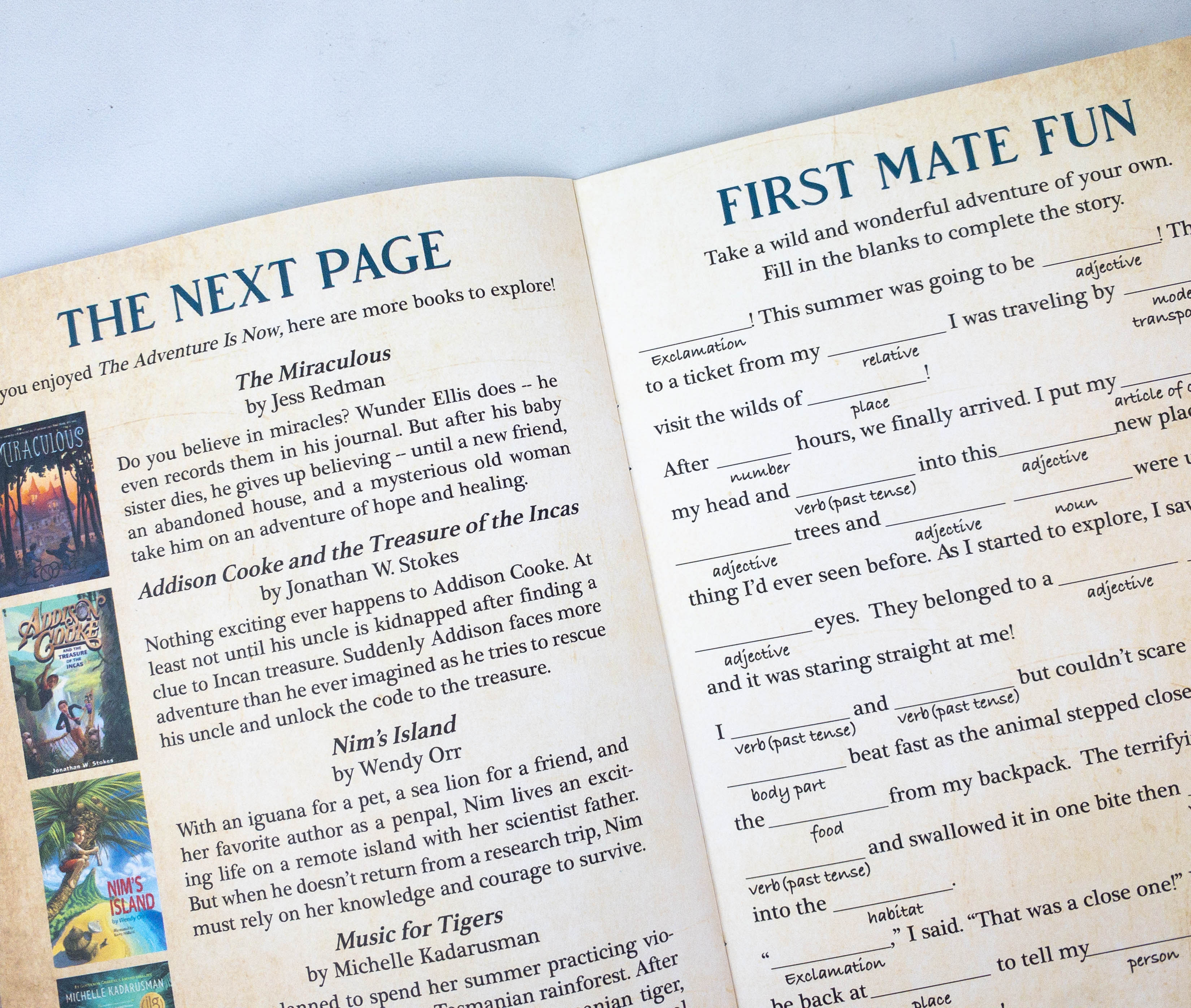 Of course, the booklet also shared a list of other books that kids can enjoy if they like the featured book. It includes The Miraculous, Addison Cooke and the Treasure of the Incas, Nim's Island, Music for Tigers, and more!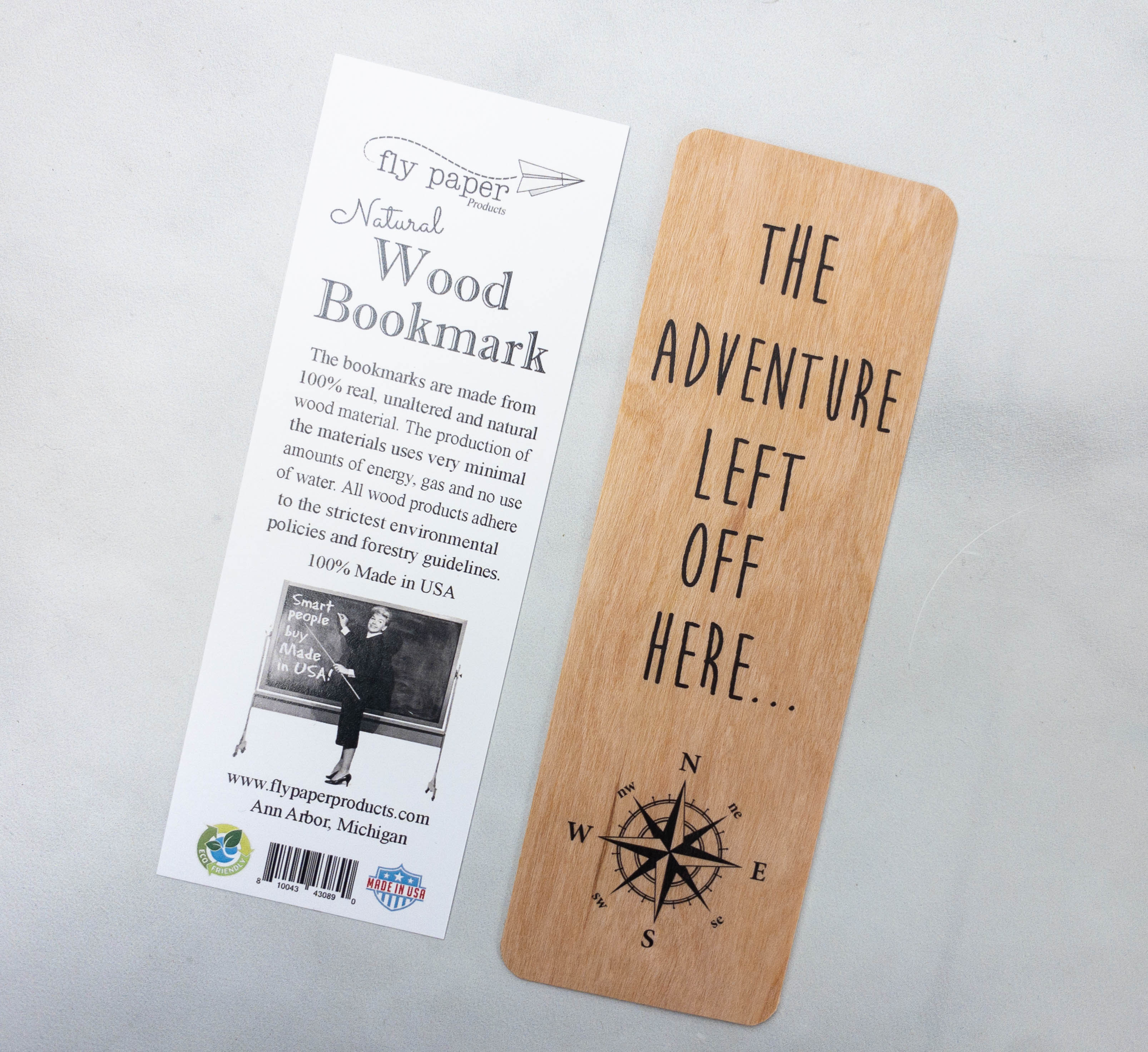 Adventure Bookmark. This month's box includes a beautiful bookmark. It's made from wood material with the words "The adventure left of here…".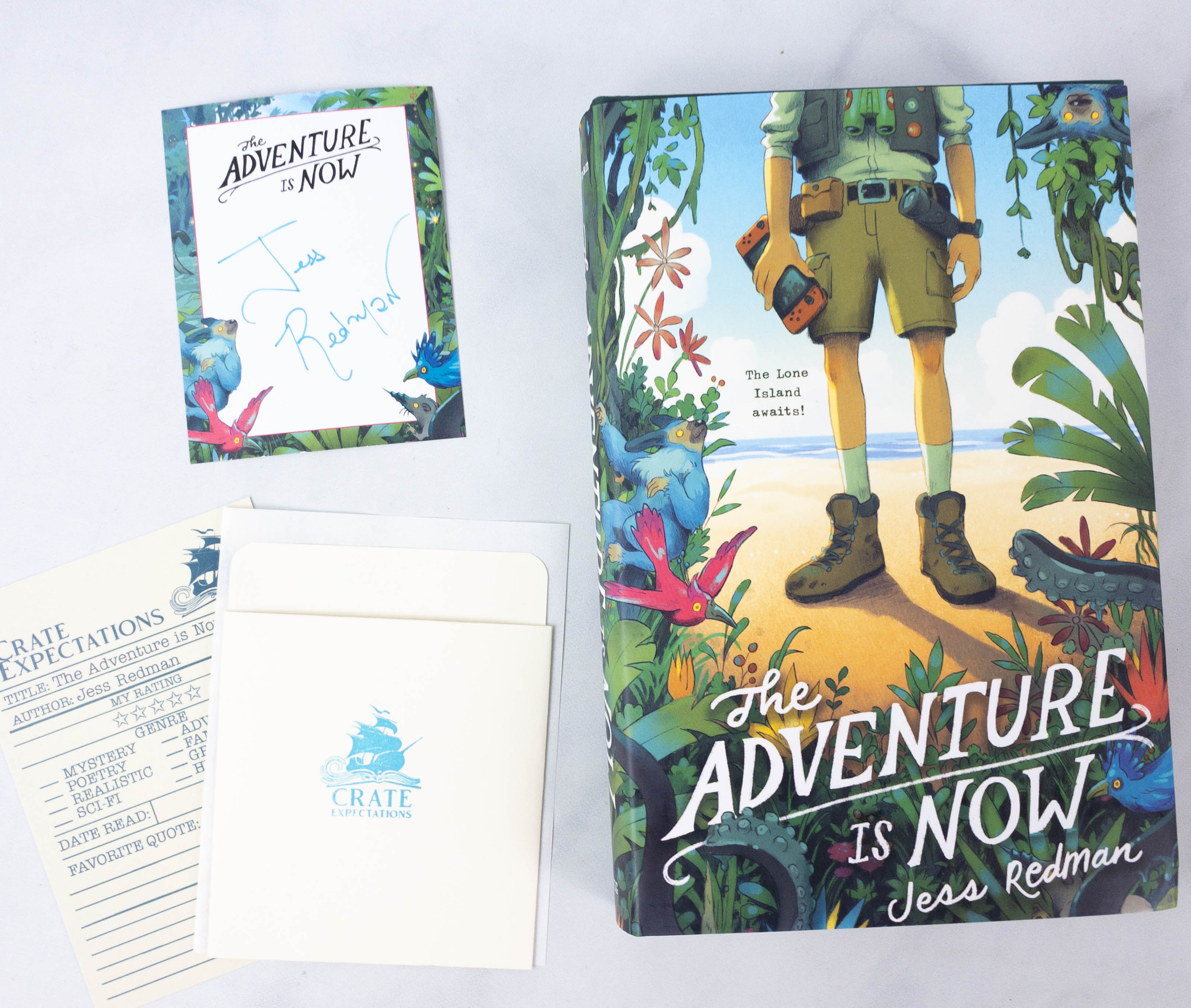 The Adventure Is Now by Jess Redman ($13.49)
A fun-filled, action-packed middle grade novel about a boy who learns about protecting the environment, finding real friends, and living in the now while spending the summer on a remote island.

Sometimes it's hard to be Milton P. Greene. He says all the wrong things, his family is falling apart, and everyone at school avoids him because of the very embarrassing Bird Brain Incident. But when Milton plays his video game Isle of Wild, he becomes someone else―Sea Hawk, the brave and brilliant naturalist explorer who conquers danger at every turn.
Then Milton's parents ship him off to the remote Lone Island for the summer, where his uncle Evan is an environmentalist researcher. The island is chock-full of spectaculous species, and Milton realizes this is his chance to become the brave and brilliant naturalist he's always wanted to be―and even meet some fellow explorers!

But as it turns out, the future of the Lone Island is in some pretty serious peril, and the only thing that can save it is a field guide full of cryptic clues. If Milton and his unexpected new friends are going to protect the island, they'll have to trust each other, discover new truths, and embark on a wild and wondrous adventure all their own.

The Adventure is Now is a dazzling, fun-filled story from Jess Redman.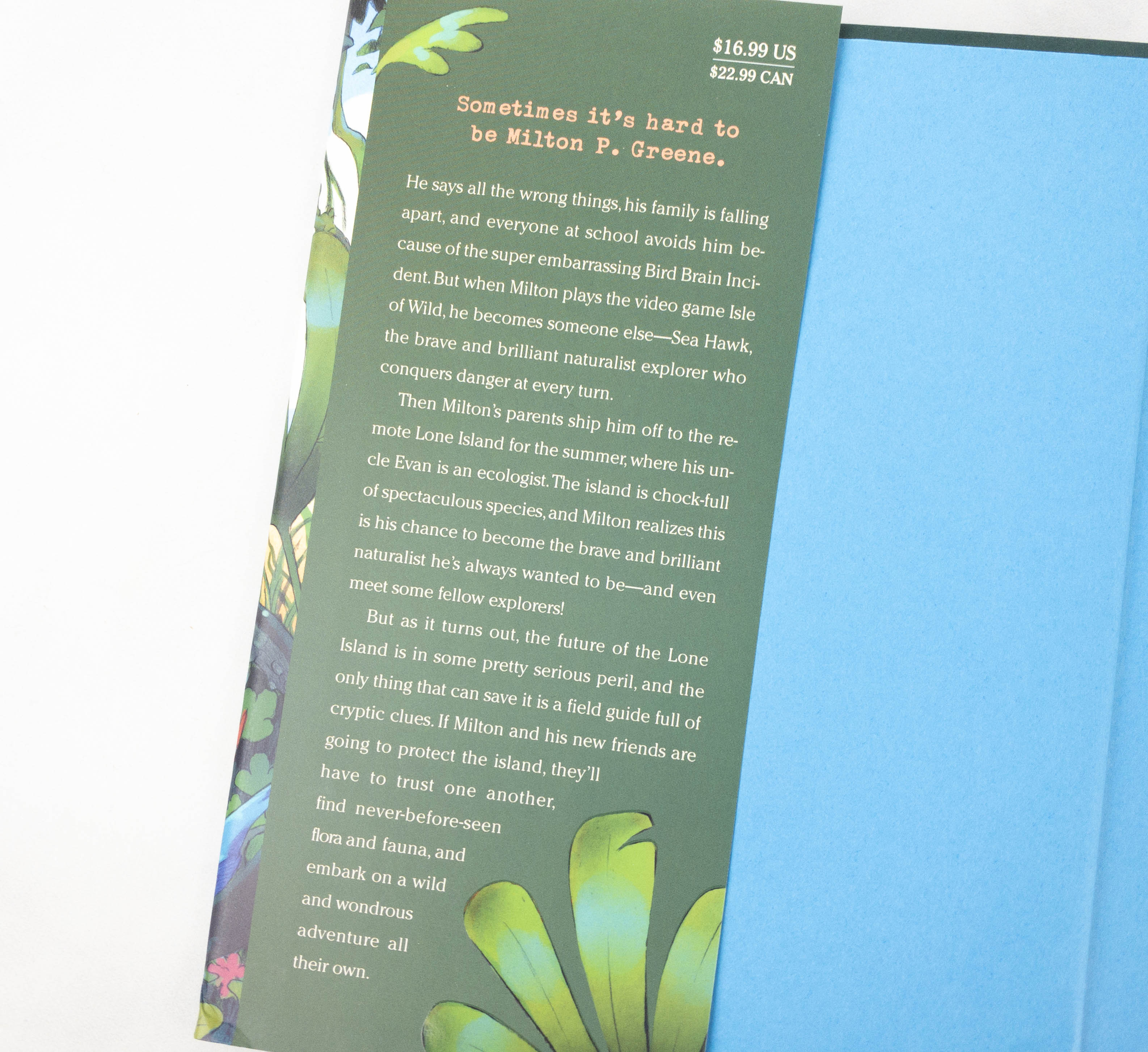 This month's book is a middle grade fantasy and adventure!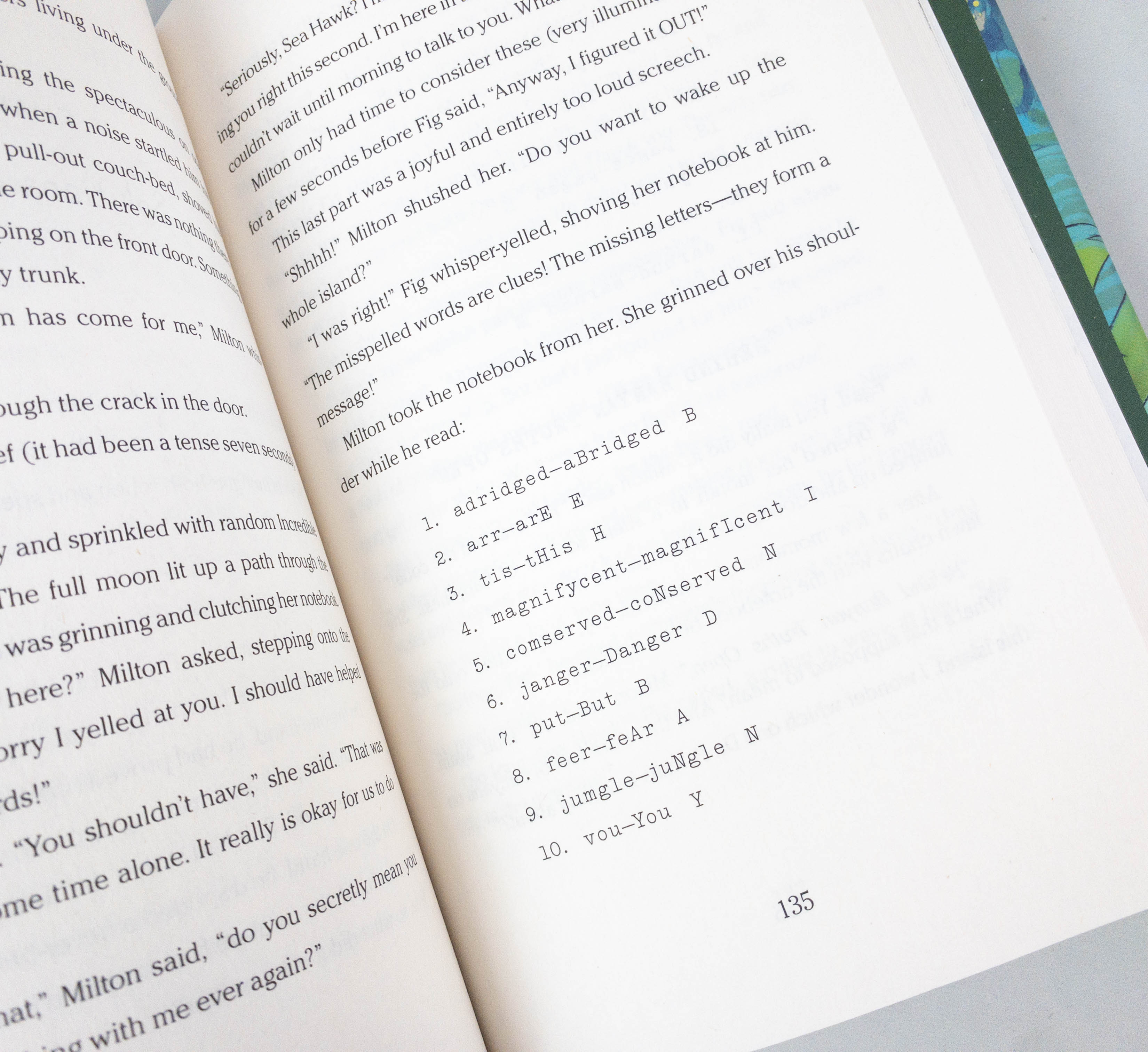 The story teaches kids about protecting the environment. It also has lessons about friendship and fitting in. There are lots of action packed scenes and the descriptions are vivid as well!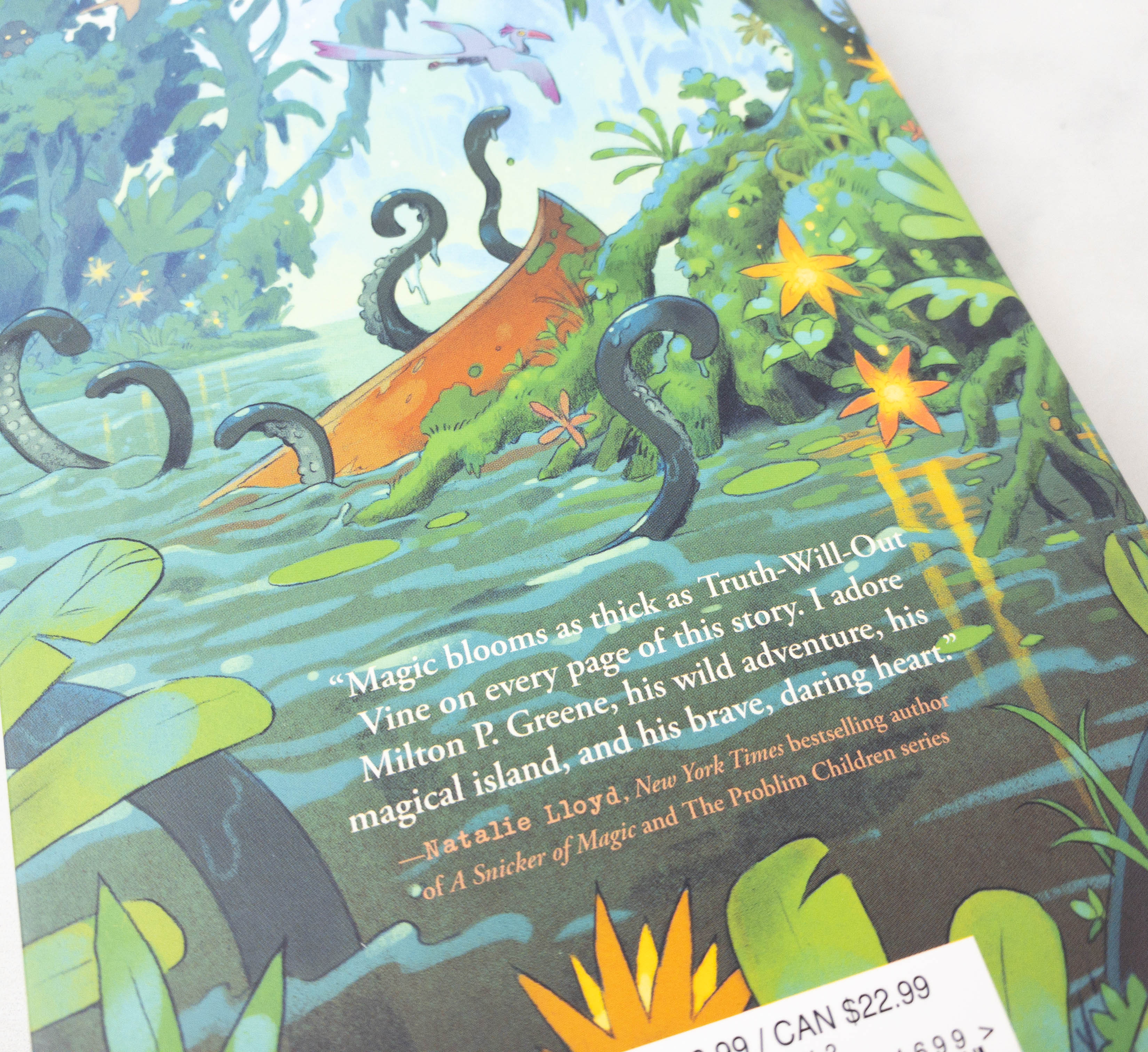 My kids enjoyed reading the book and were inspired by the main character, Milton!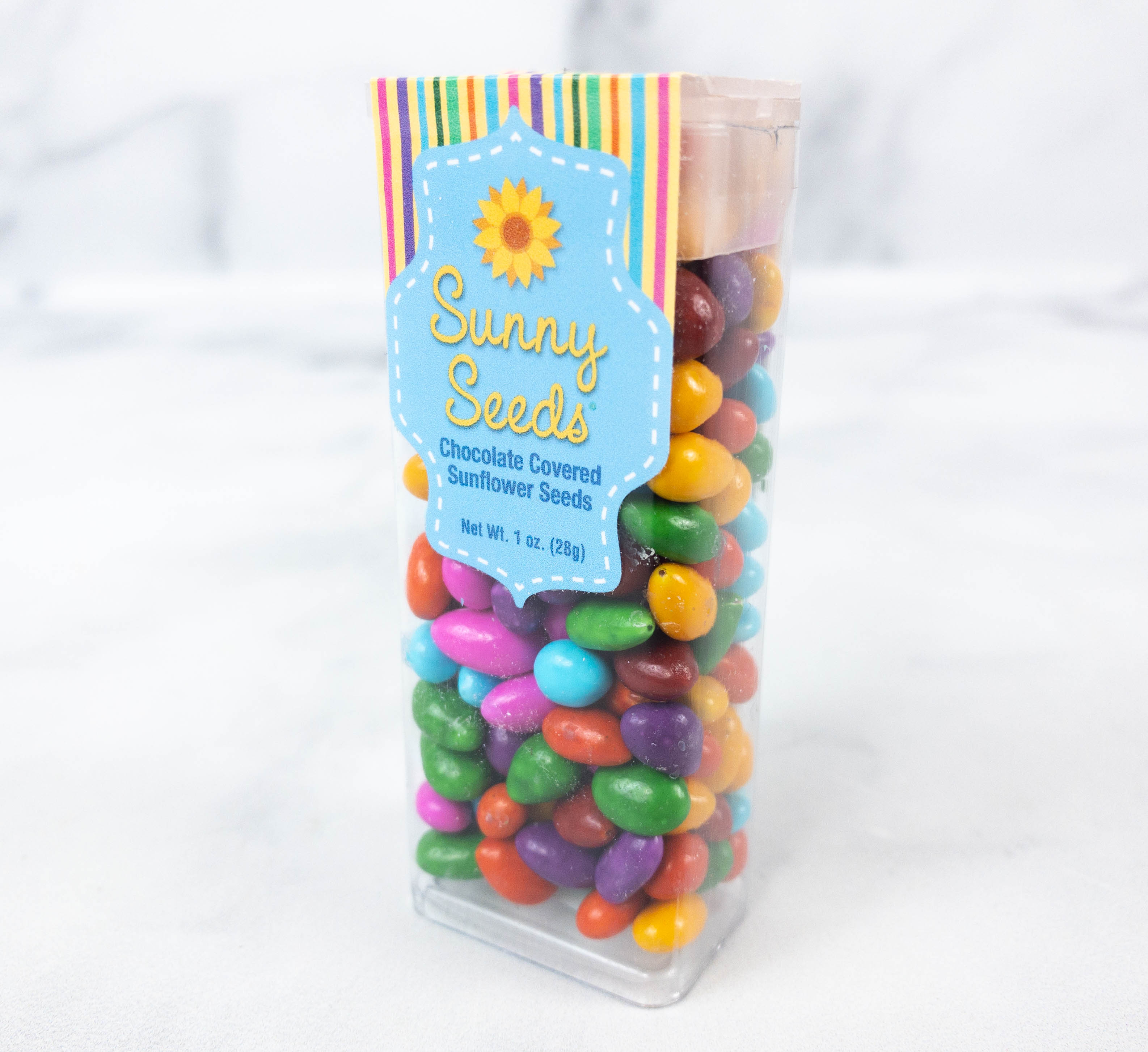 Rainbow Sunflower Seeds. This month's box includes delicious sunflower seeds covered in chocolate! It's a yummy snack that kids can munch on while reading.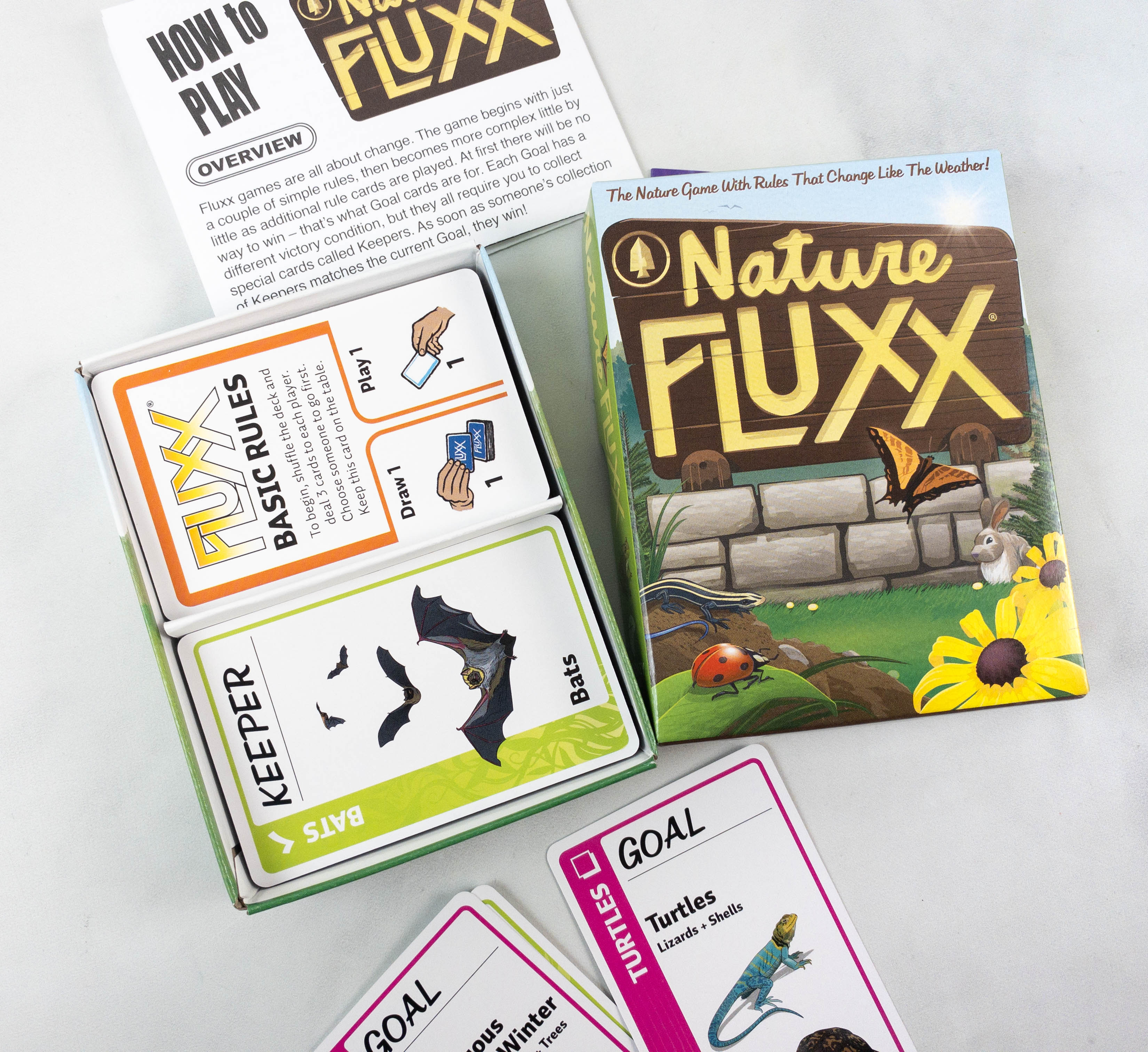 Nature Fluxx. Since the featured book is set in the jungle, they included a fun nature themed game in the box as well. It's called Nature Fluxx game and the rules are simple. Winning it depends on the cards that each player randomly receives!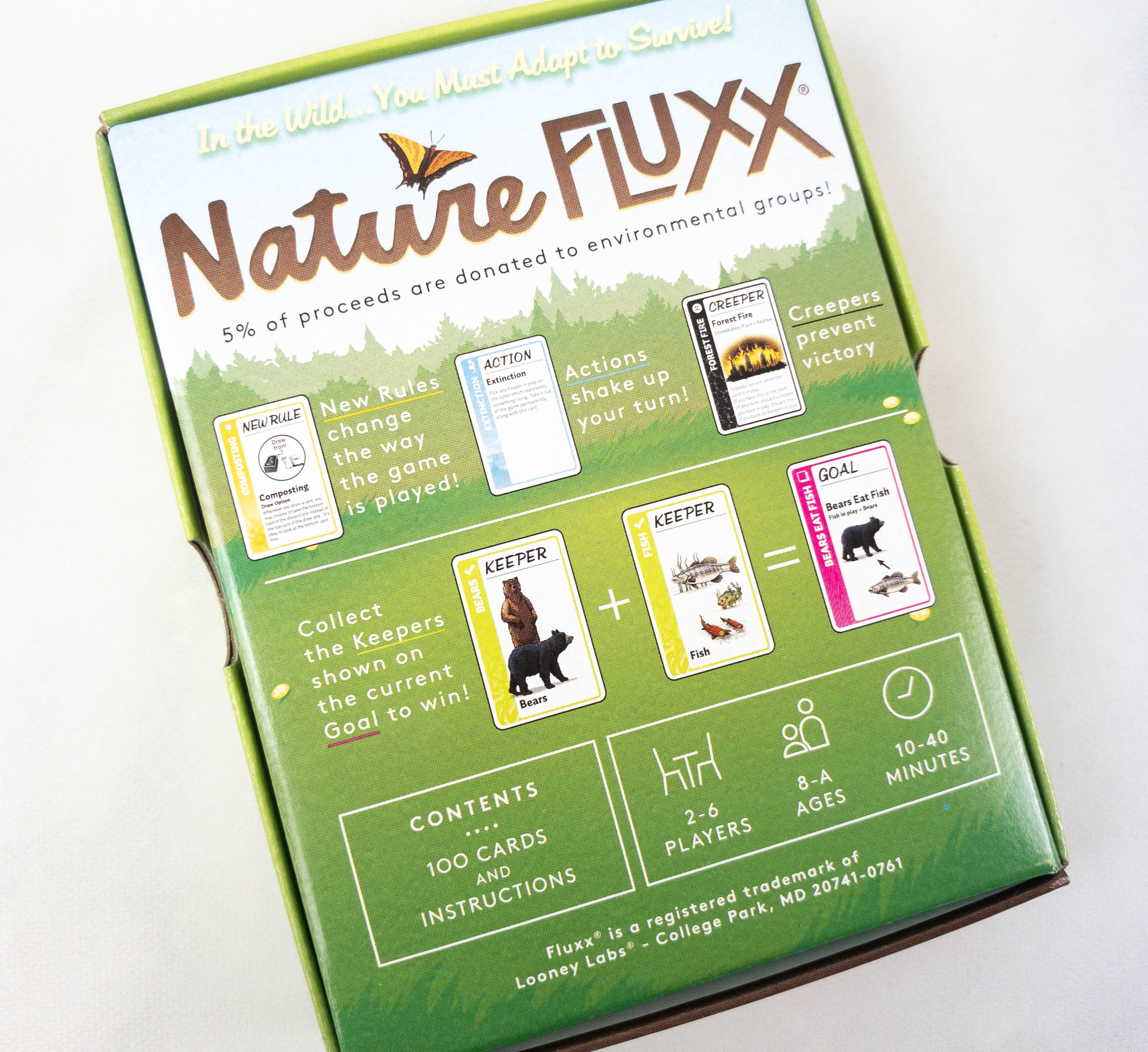 Inside the box are 100 cards and an instruction sheet on how to play the game. It's also nice that a portion of the game's proceeds are donated to help environmental groups.
This information card has a sneak peek for the next box's theme!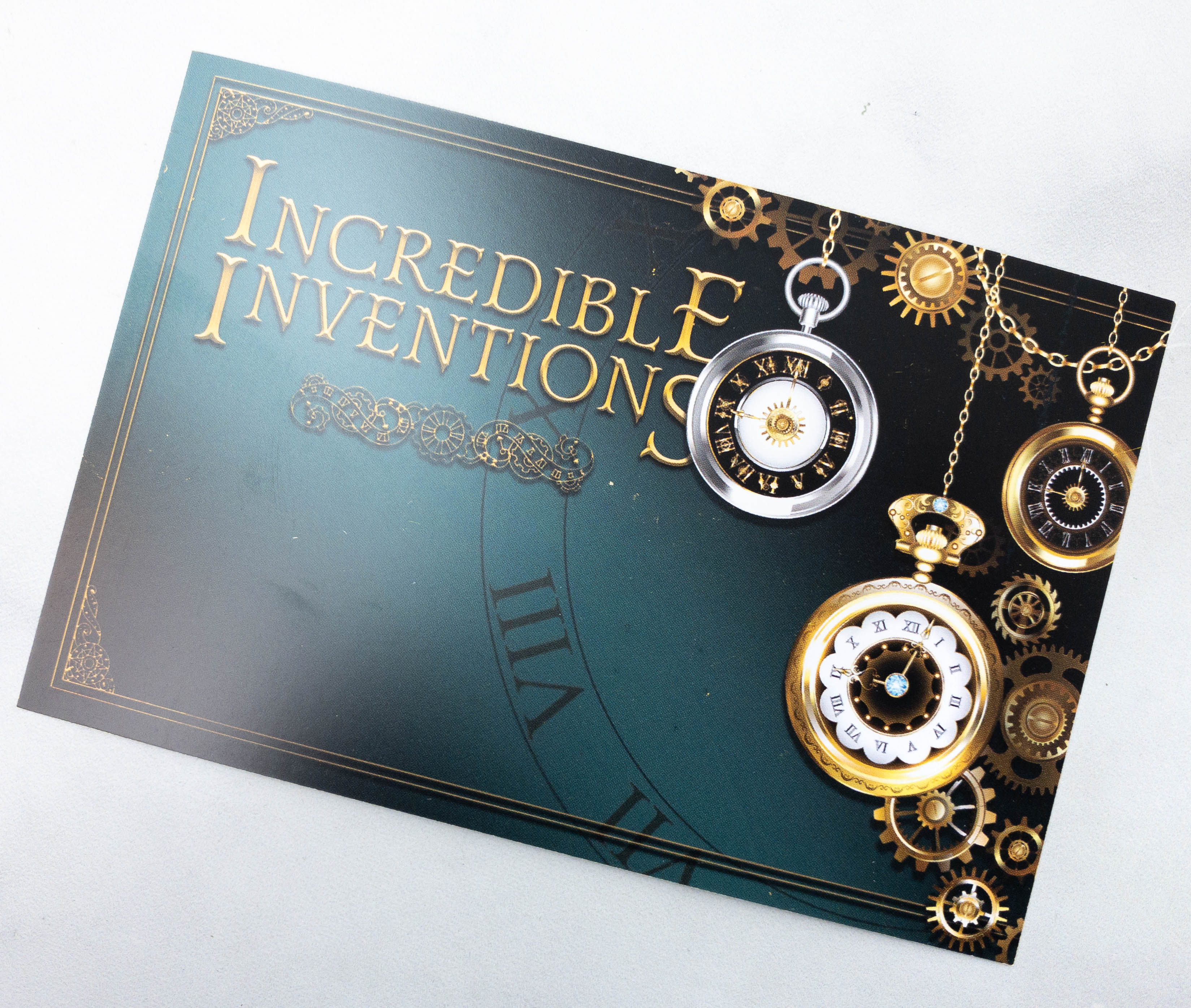 Incredible Inventions.
This month's Crate Expectations includes a fantasy novel that my kids enjoyed! It's a worthwhile read because aside from taking readers to a fun adventure, it also imparts great life lessons and even lessons about taking care of the environment. Of course, the box includes an adventure guide that makes it easy for kids to discuss the book after reading, like having their own little book club at home. There are also activities and games related to the theme, plus a delicious recipe that the kids can try. Also provided in the box is a hint for next month and it got my kids excited once again! This is really an excellent subscription for young bookworms and also for kids who need encouragement and motivation to read! It's also a great family oriented subscription – and if your kids aren't quite reading middle grade novels by themselves, every one of the Crate Expectations selections are great readalouds, too!
What do you think of the Crate Expectations box?