Crate Expectations is a monthly kids' book subscription box that sends a quality book paired with one-of-a-kind Adventure Guide and toys or games. Plans start at $32.99 each month, plus shipping and tax, and they also offer 3-month and 6-month subscriptions. Each box contains their book club pick of the month, 2-4 specially curated toys or games, a book-related STEM activity and supplies, an exclusive author interview, a book-inspired recipe and menu ideas, book club discussion questions, and recommendations for further reading. The box is suited for 8-12 year old kids and a favorite subscription box for tweens and pre-teens!
The Crate Expectations middle grade readers box made our 2021 readers' choice list of best subscription boxes for kids!
DEAL: Get 10% off your first purchase! Use coupon code HELLO10.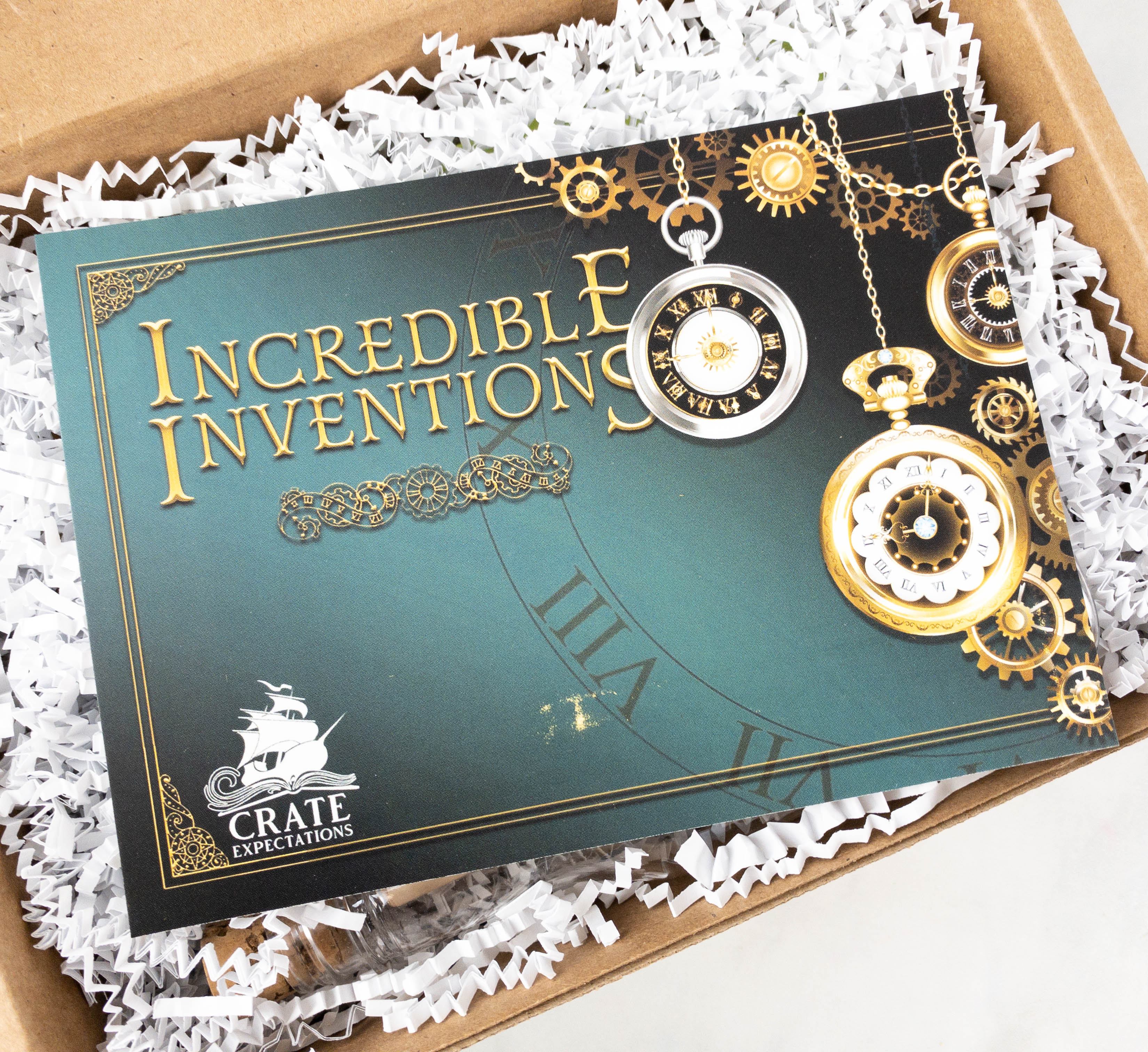 The theme for August 2021 is Incredible Inventions.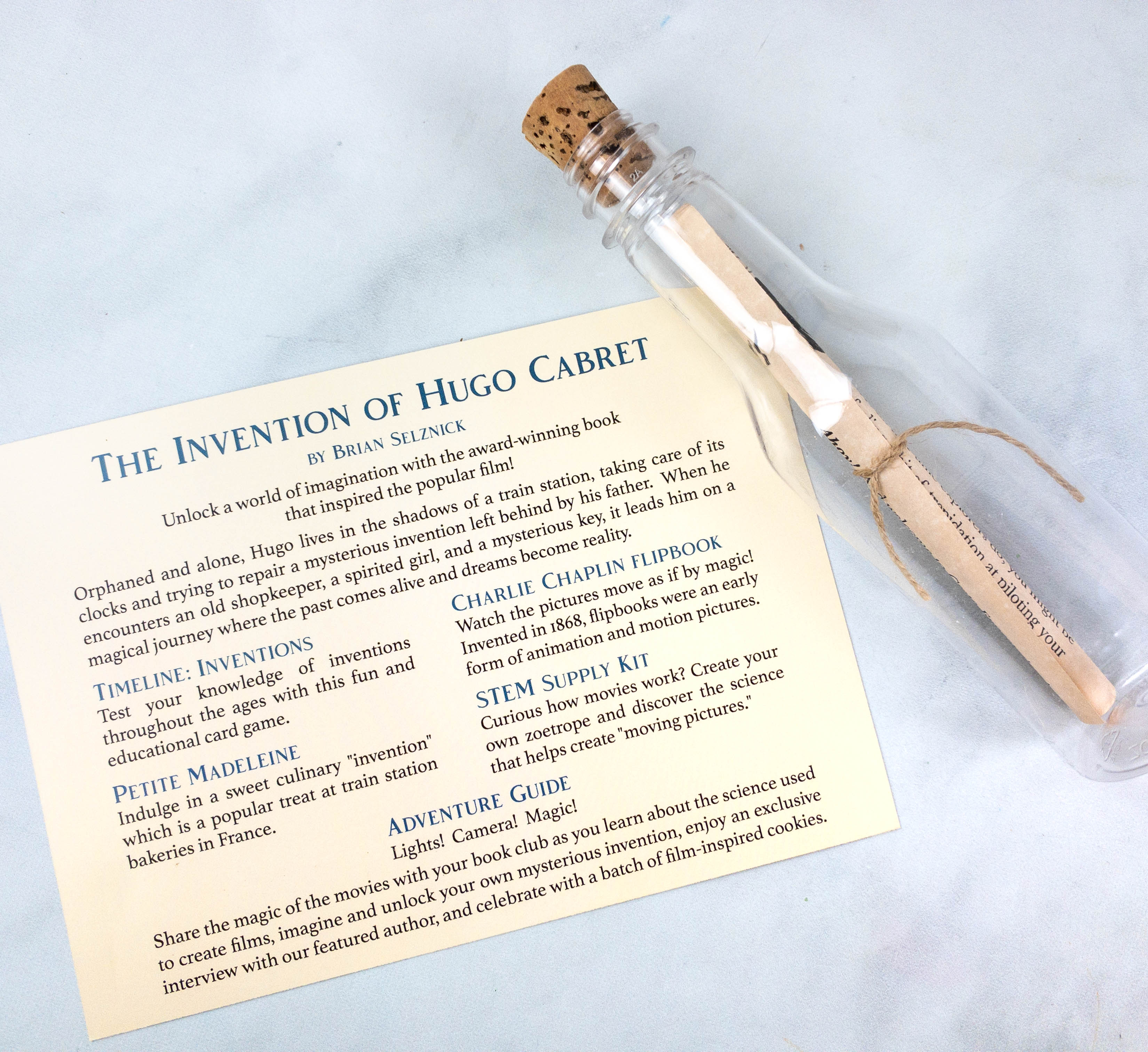 The flip side of the info card lists all the contents of the box.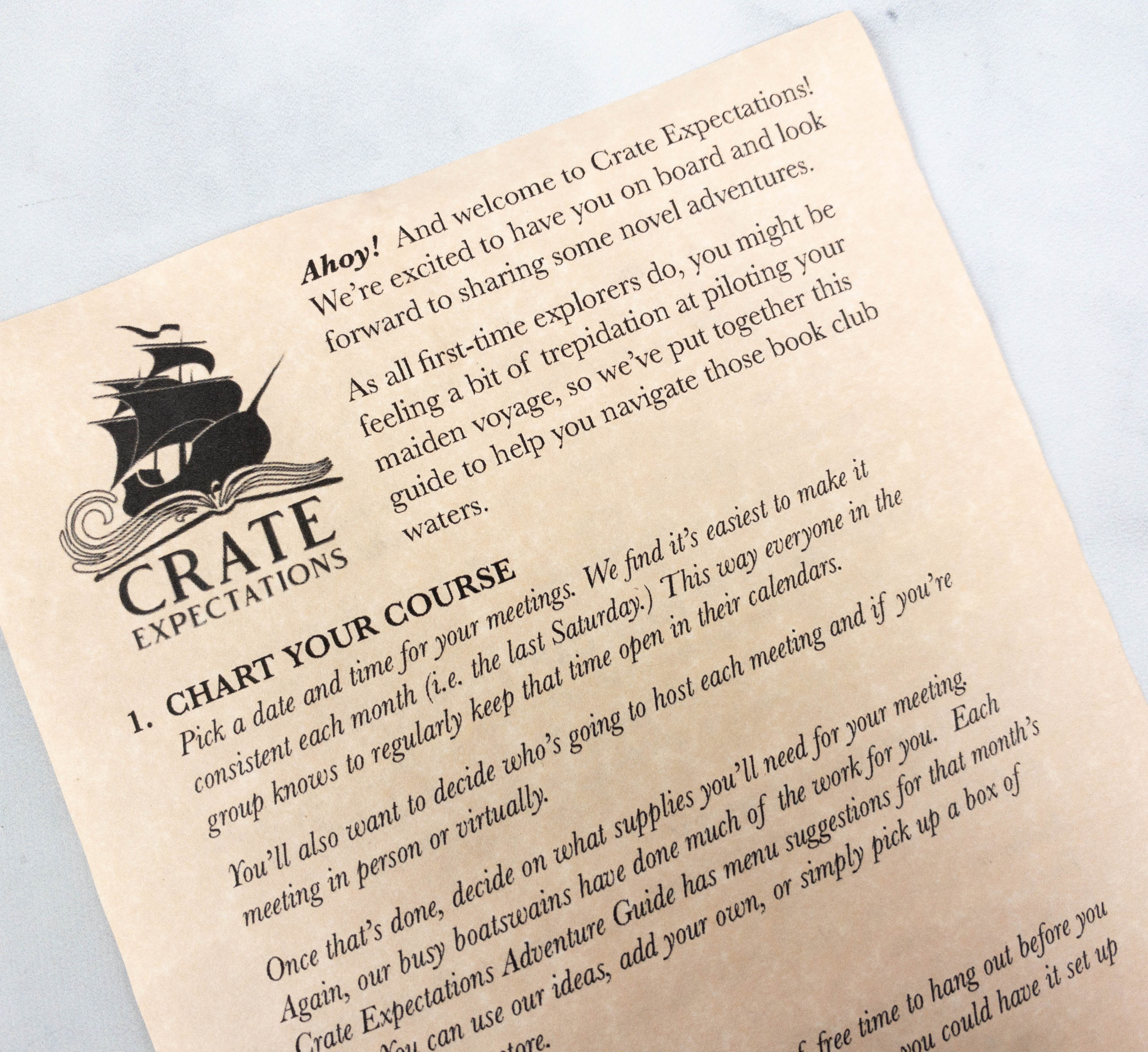 My kids popped the bottle open and took the rolled paper from inside. It has a message that welcomes them to a new adventure!
Everything in the box!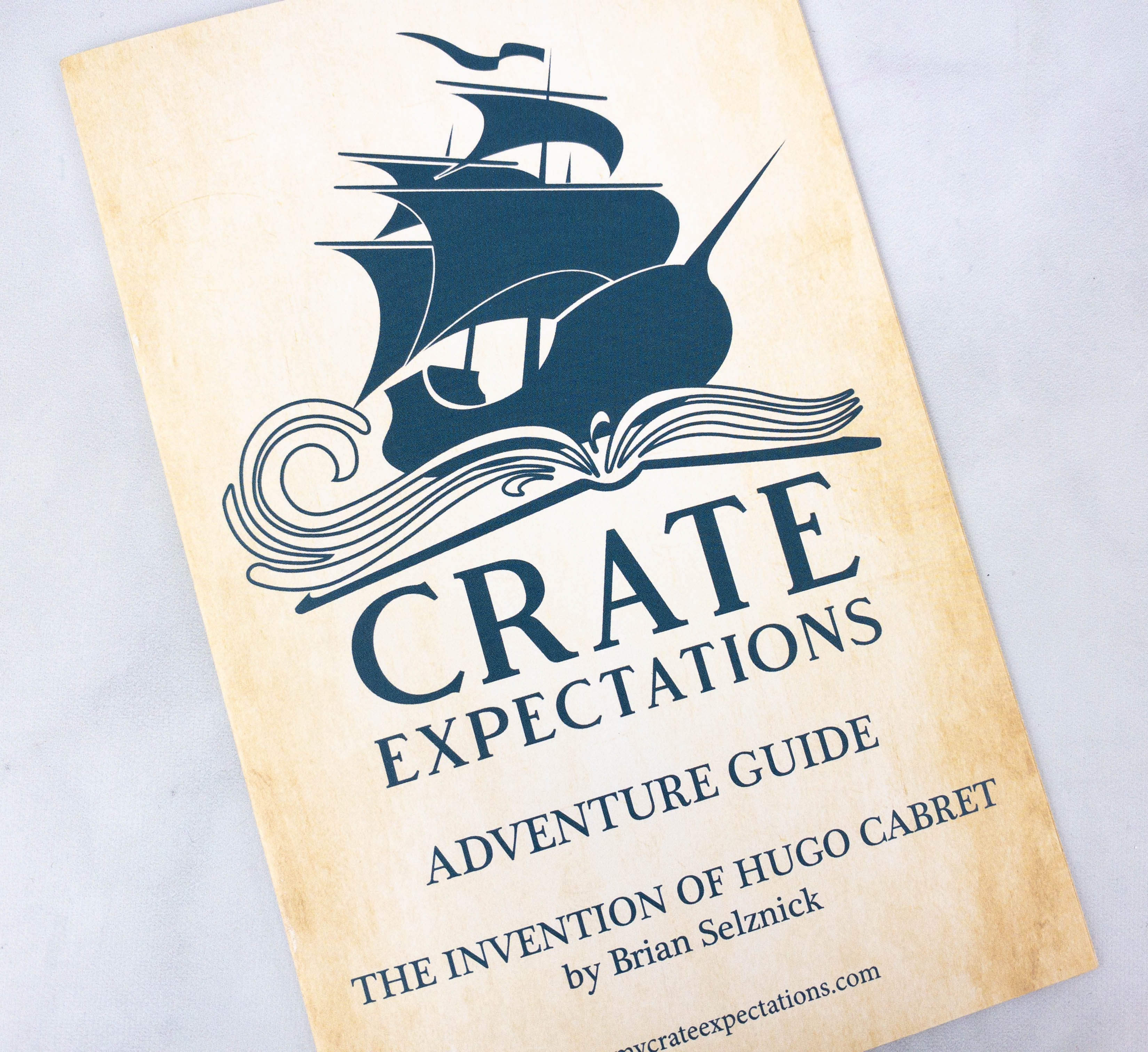 The box also includes an adventure guide.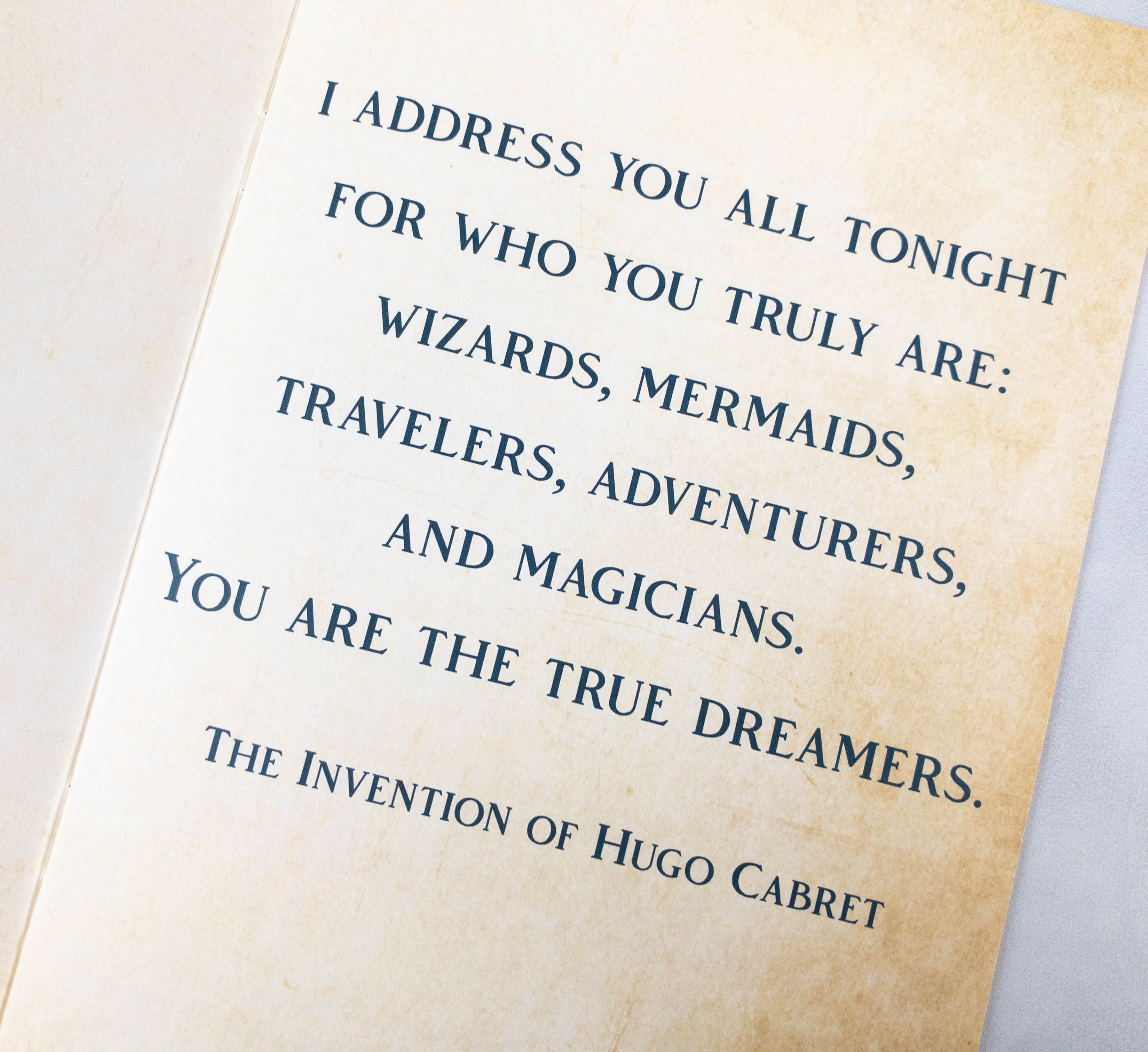 I address you all tonight for who you truly are: wizards, mermaids, travelers, adventurers, and magicians. You are the true dreamers.

The Invention of Hugo Cabret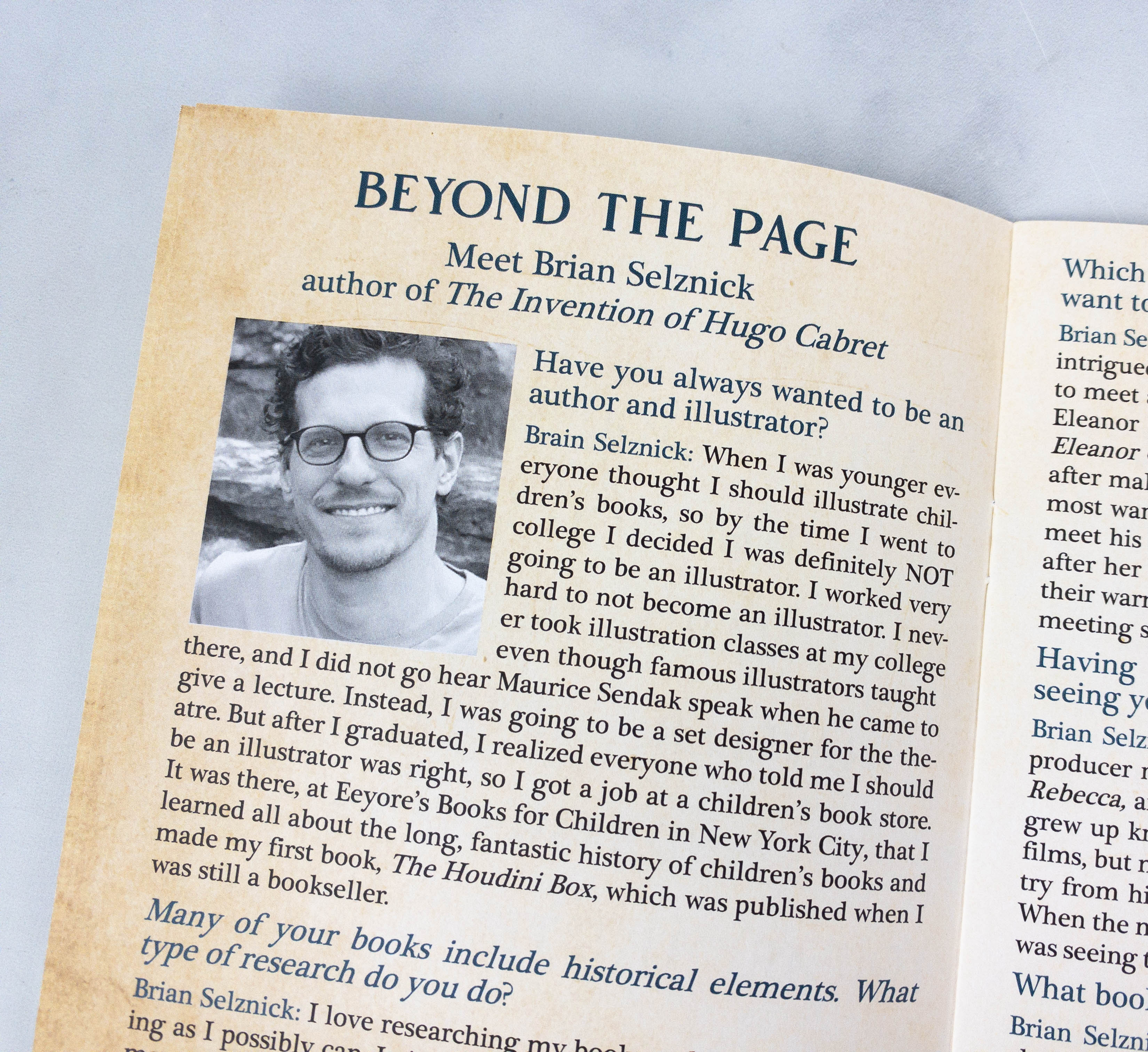 There's an interview included in the guide. This month, it features Brian Selznick, the author of The Invention of Hugo Cabret.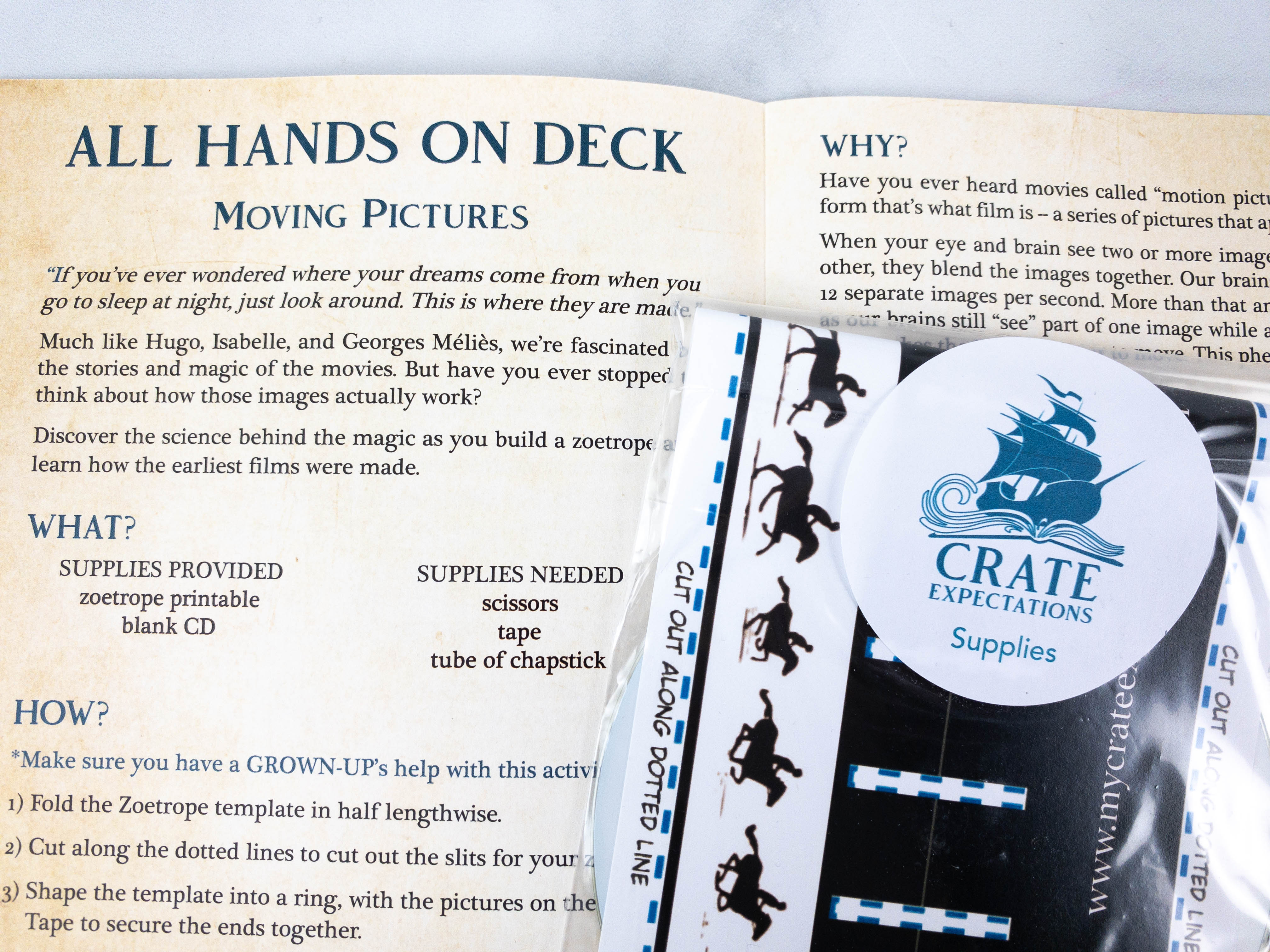 Next is an interesting activity for kids! It's called Moving Pictures, and it teaches kids about how films work.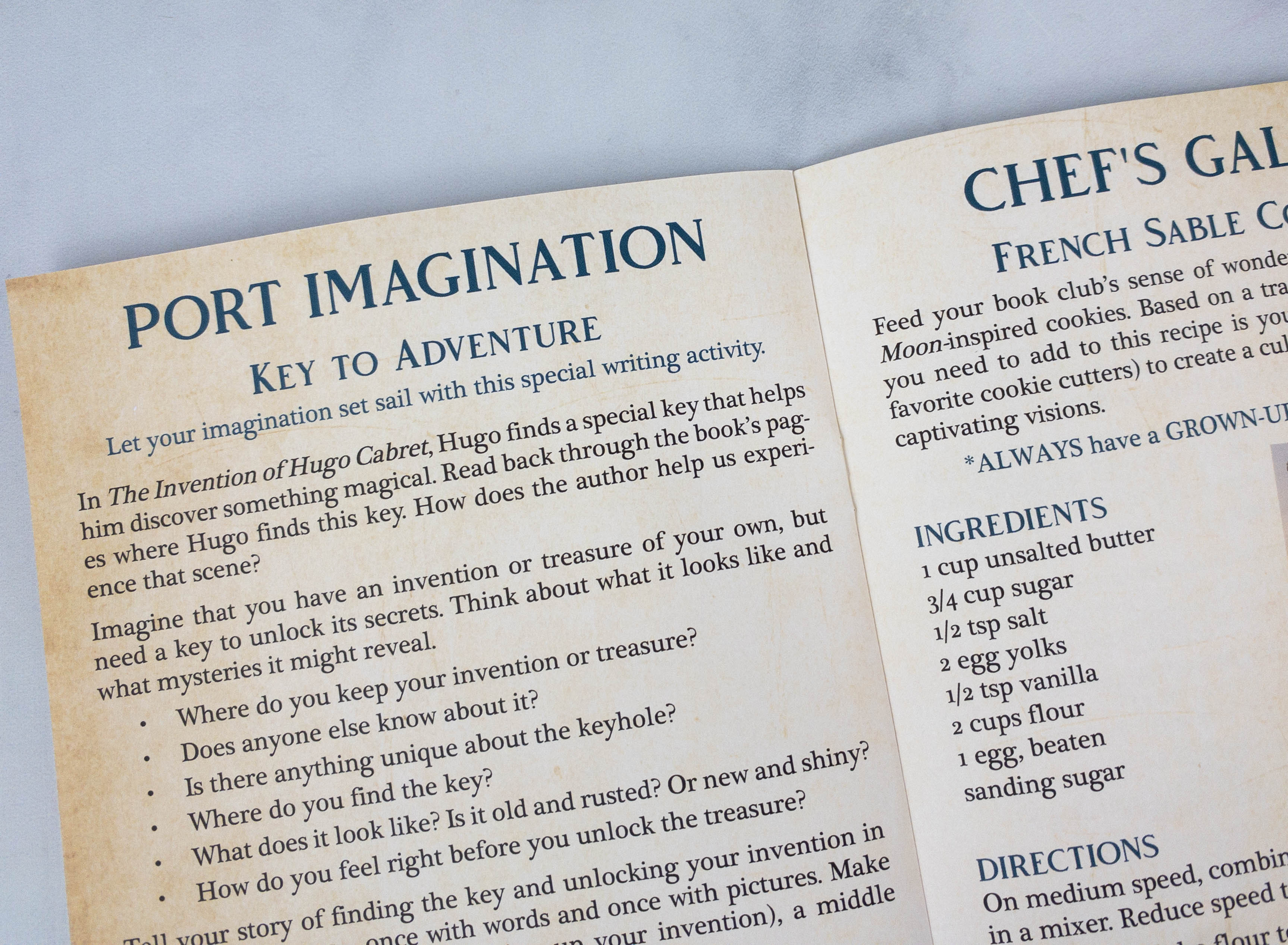 They also included a writing activity and a recipe for French Sable Cookies.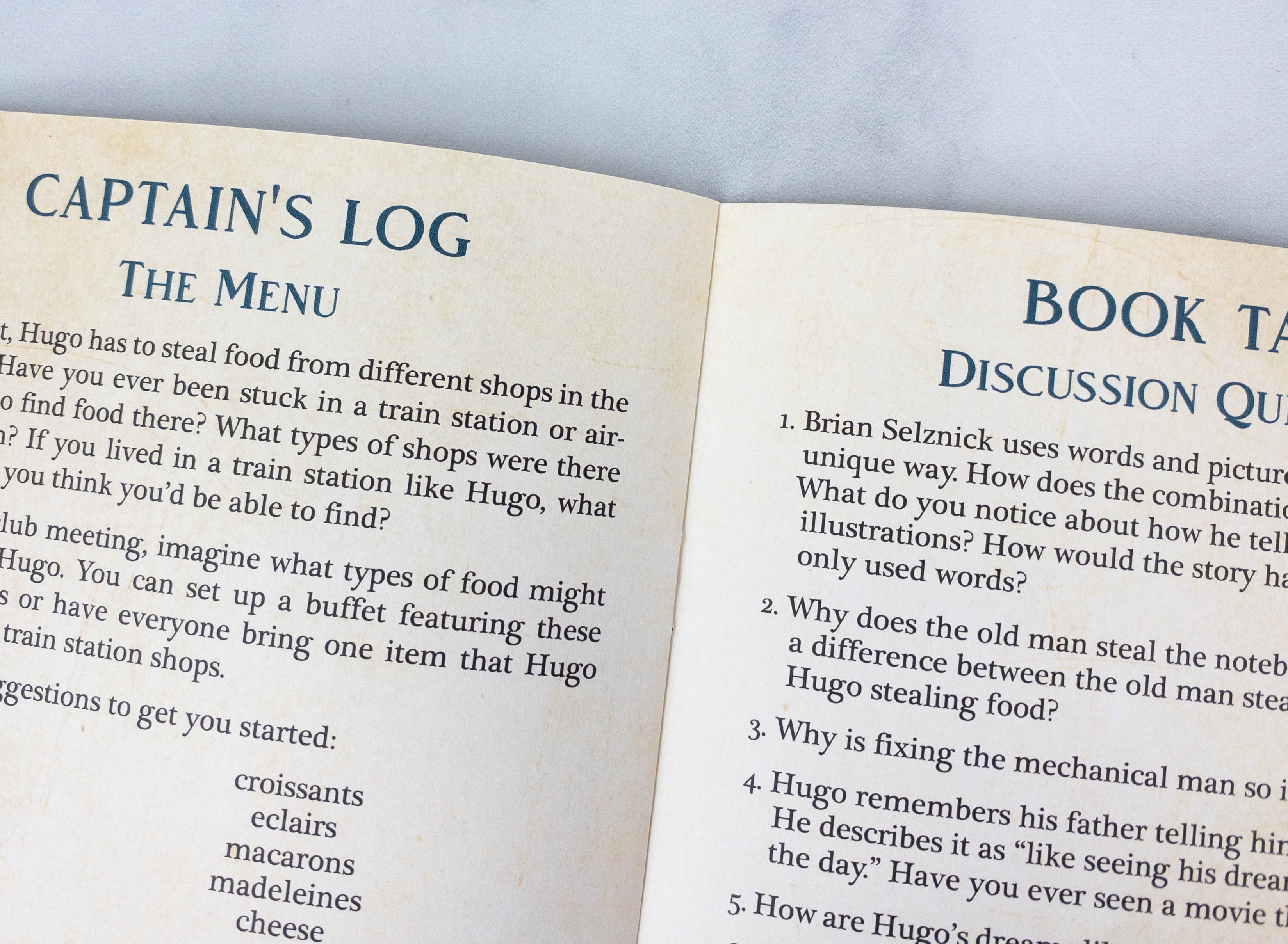 Next is the Captain's Log, where they suggest food and activities for your book club meeting.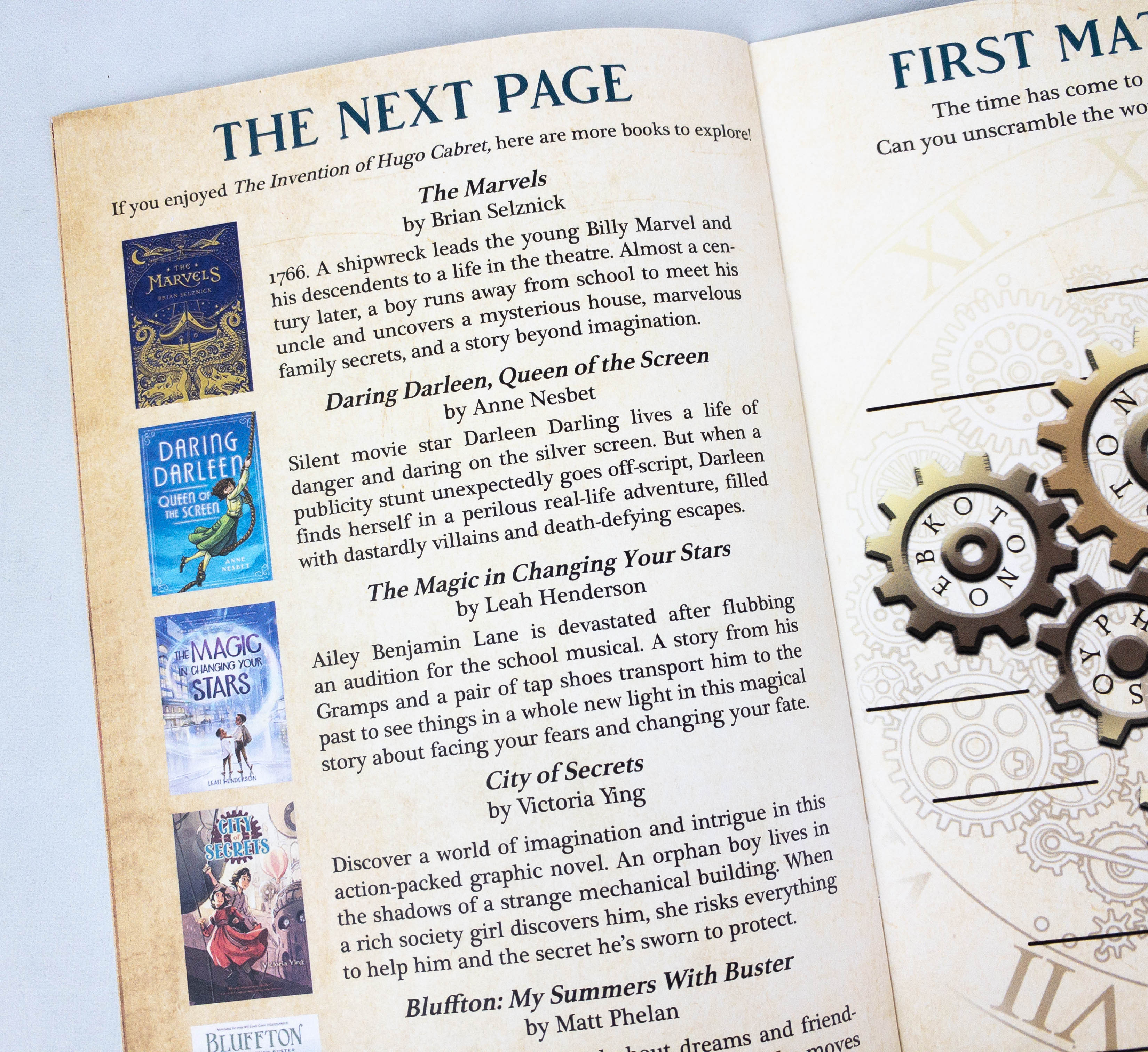 Of course, the booklet also shared a list of other books that kids can enjoy if they like the featured book. It includes The Marvels, Daring Darleen, Queen of the Screen, The Magic in Changing your Stars, City of Secrets, and Bluffton: My Summers with Buster!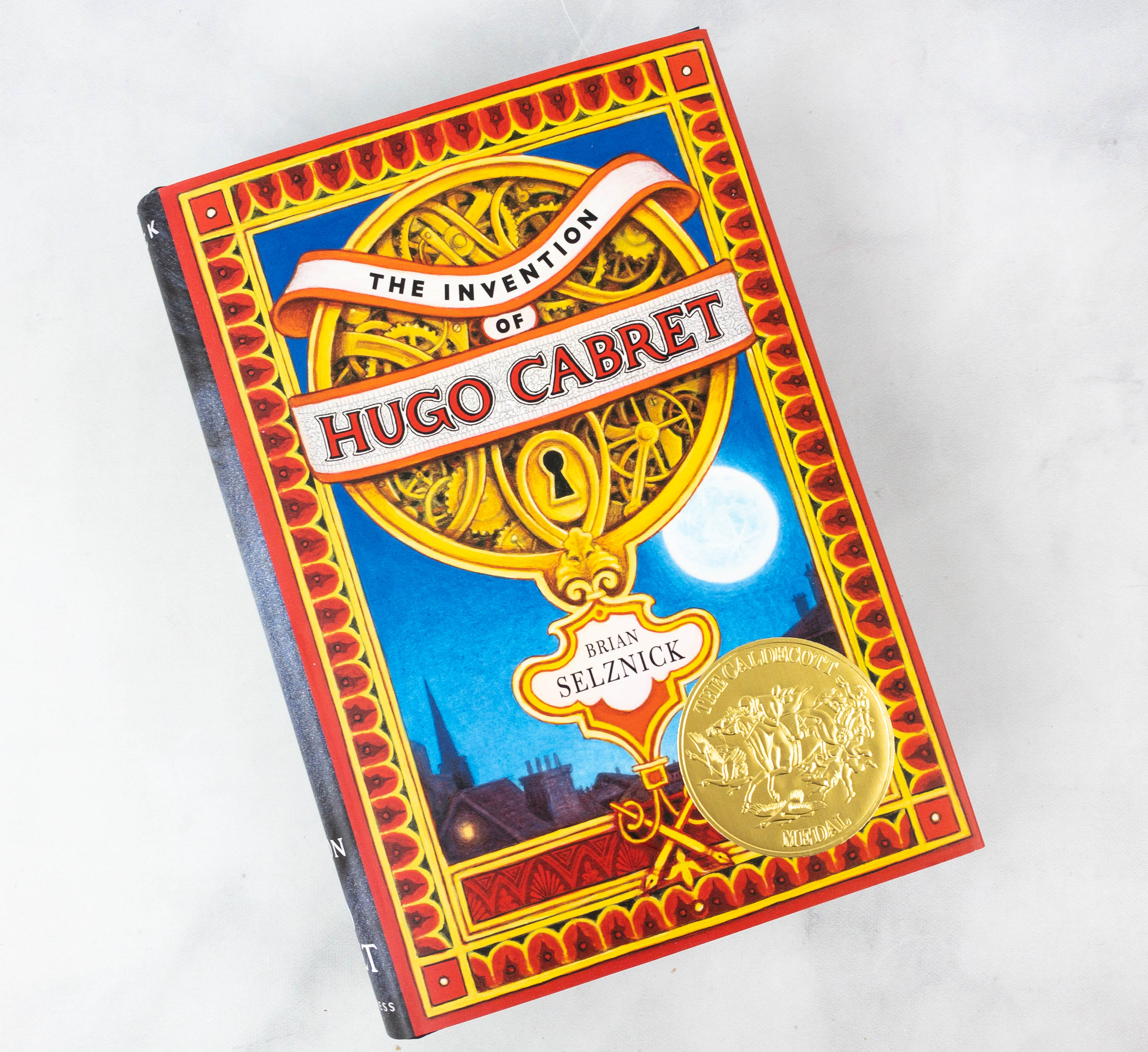 The Invention of Hugo Cabret by Brian Selznick ($13.12)
Orphan, clock keeper, and thief, Hugo lives in the walls of a busy Paris train station, where his survival depends on secrets and anonymity. But when his world suddenly interlocks with an eccentric, bookish girl and a bitter old man who runs a toy booth in the station, Hugo's undercover life, and his most precious secret, are put in jeopardy. A cryptic drawing, a treasured notebook, a stolen key, a mechanical man, and a hidden message from Hugo's dead father form the backbone of this intricate, tender, and spellbinding mystery.
There's also a book card with its own envelope that you can stick to the book's endpaper.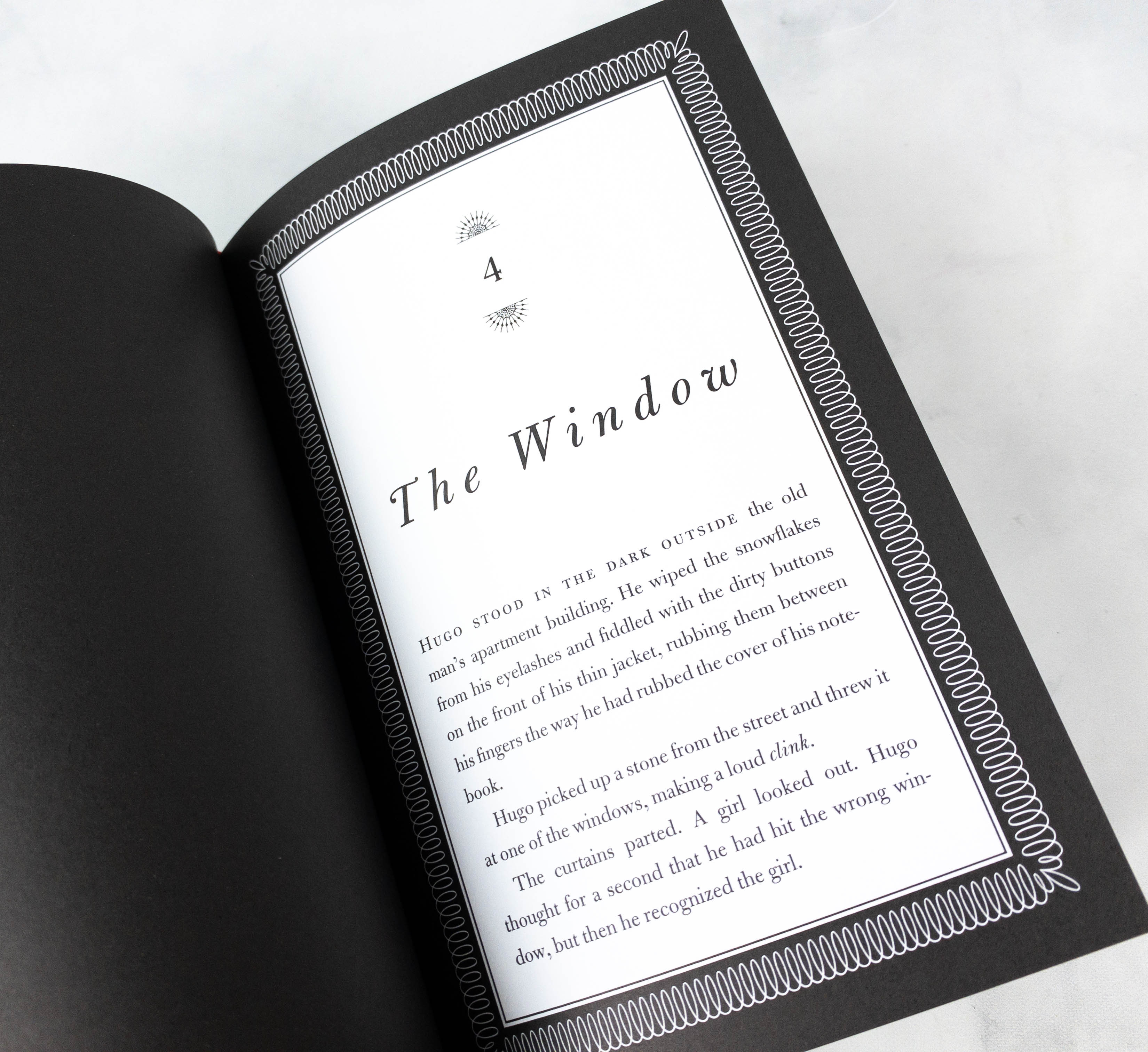 The story revolves around Hugo, an orphan, clock keeper, and thief whose survival depended on secrets and anonymity. Everything changed and his identity was placed in jeopardy when he crossed paths with a girl and a bitter old man who runs a toy booth at the station that eventually revealed the secrets that tie them all together. This novel is a great read for children and my kids definitely enjoyed the twist and turns!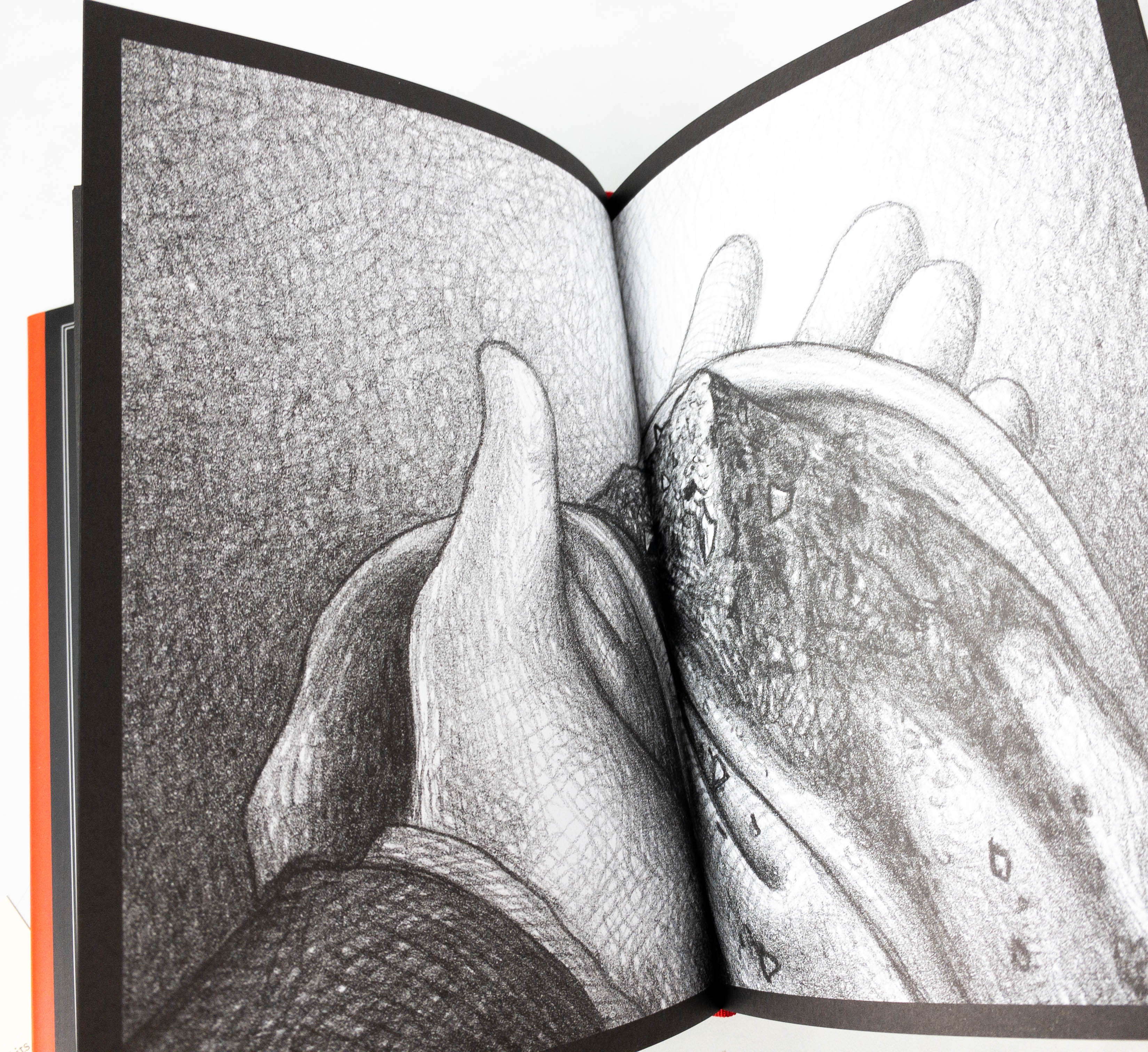 The book features illustrations as well!
Timeline: Inventions. Here's a fun card game featuring different inventions! Each card depicts an invention and the year in which that invention was created.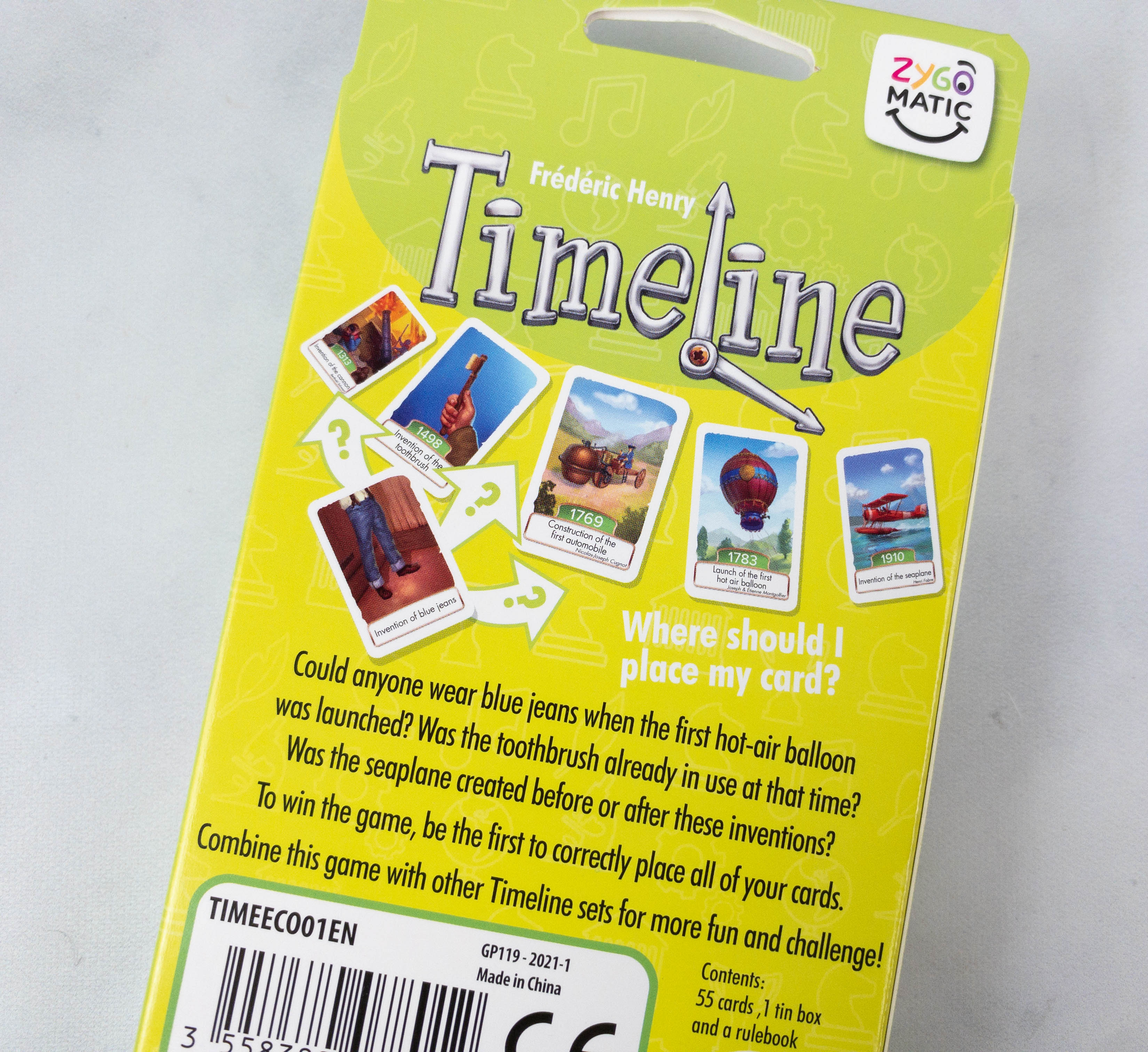 Inside the box are 55 cards, 1 tin box, and a rulebook. As suggested by the name of the game, you have to put the inventions on their correct place in the timeline. The player who correctly puts all of their cards in the right order wins!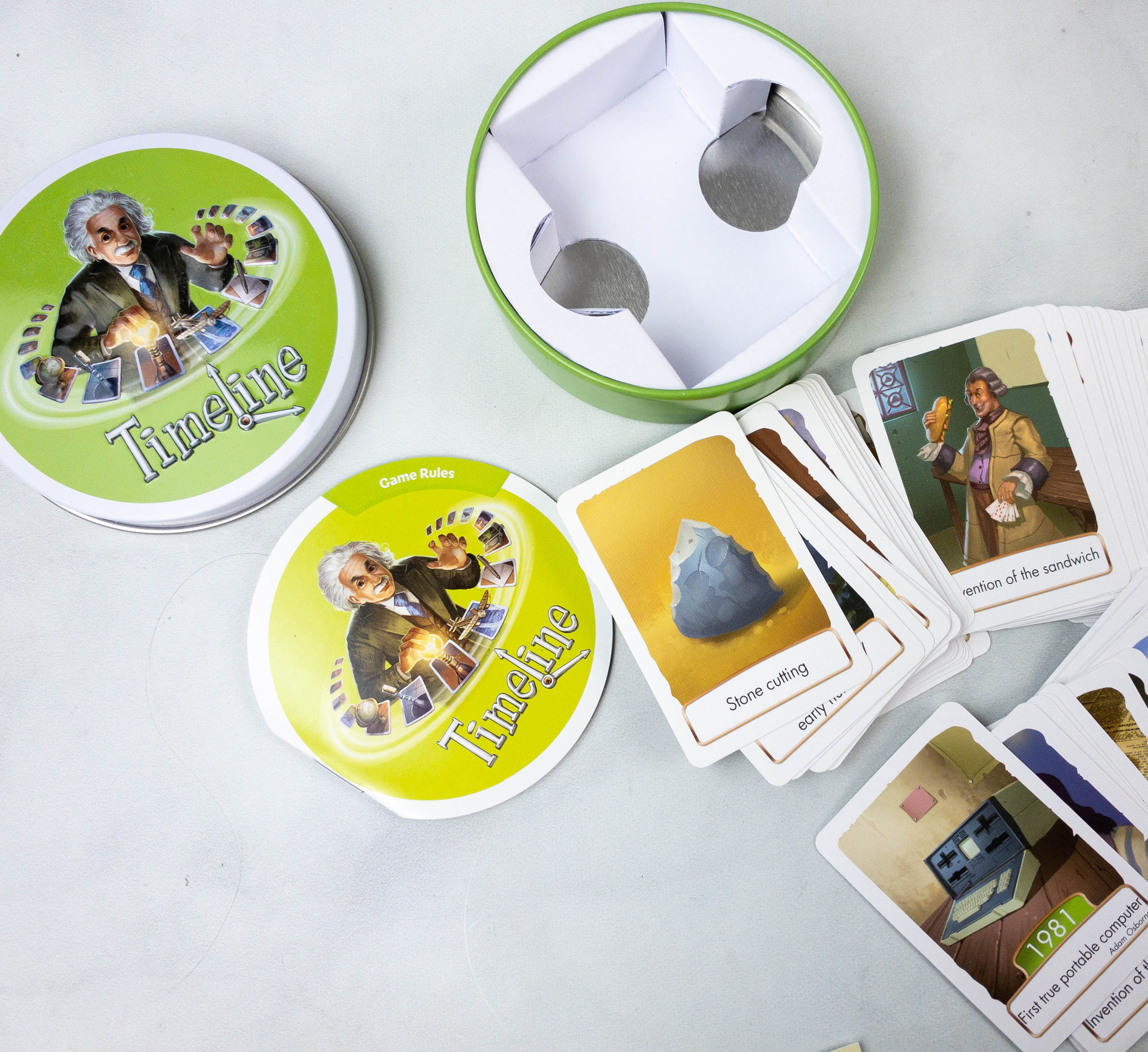 Aside from keeping them entertained, my kids also learned a lot while playing this game! The cards are sturdy and it's also great that they included a tin to keep the cards safe when not in use.
Petite Madeleine. The featured snack in this month's box is a popular culinary "invention" that's available at train station bakeries in France. It's called the Petite Madeleine cake and it's delicious!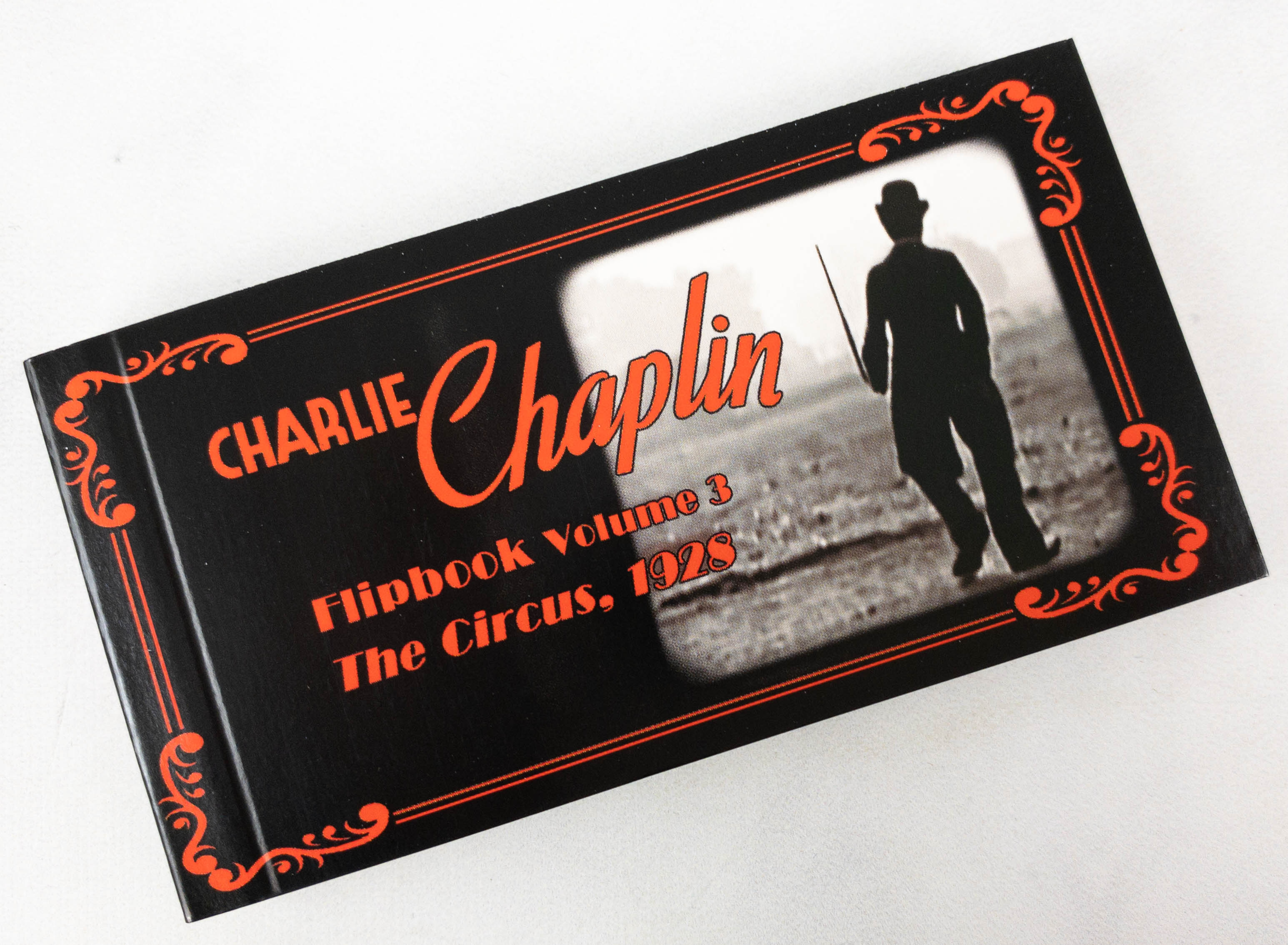 Charlie Chaplin: Flipbook. Next up is flipbook about Charlie Chaplin. This type of book was invented in 1868 and was recognized as the earliest form of animation and motion pictures.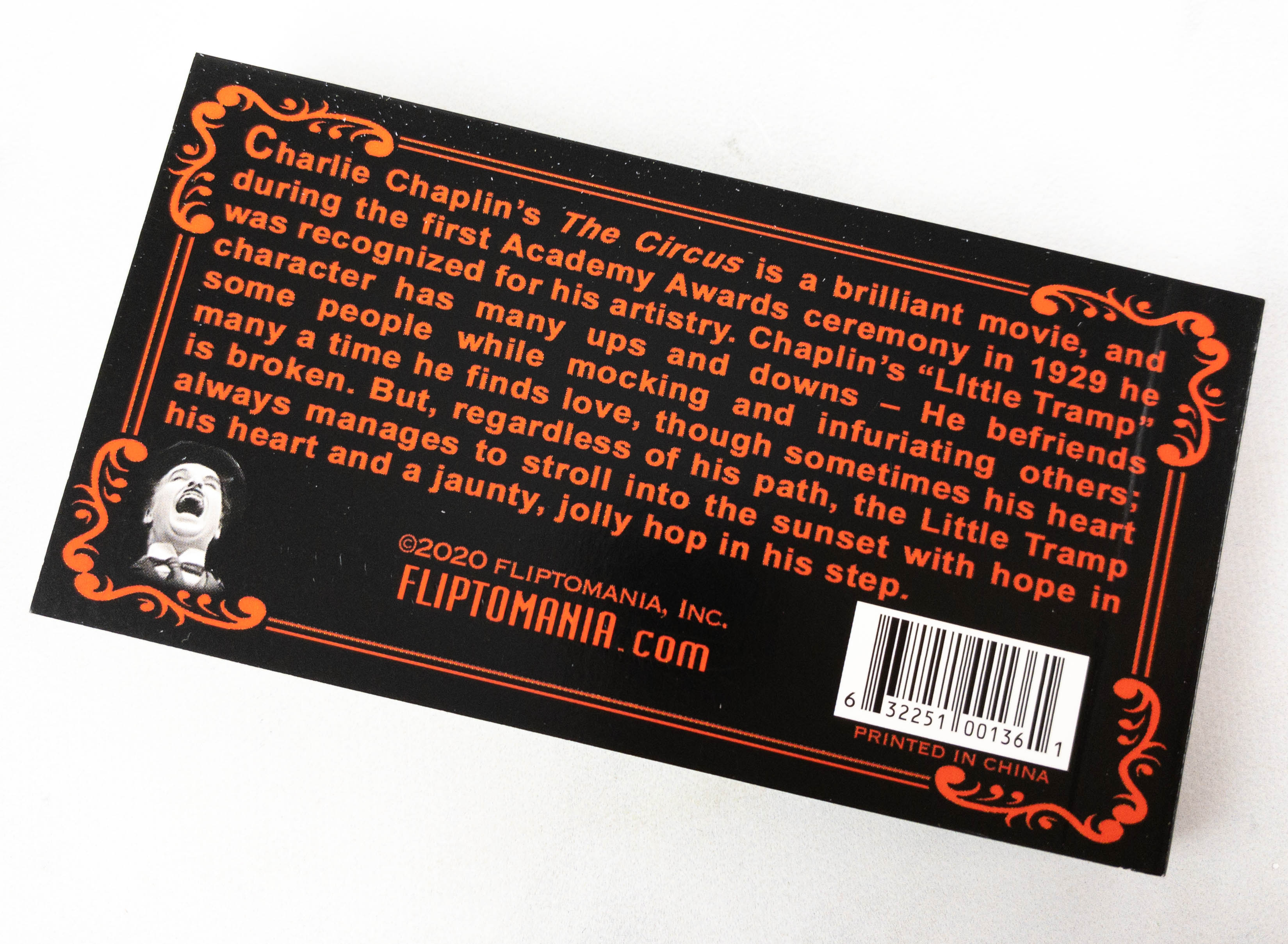 Charlie Chaplin's The Circus is a brilliant movie, and during the first Academy Awards ceremony in 1929 he was recognized for his artistry. Chaplin's "Little Tramp" character has many ups and downs – He befriends some people while mocking and infuriating others; many a time he finds love though sometimes his heart is broken. But, regardless of his path, the Little Tramp always manages to stroll into the sunset with hope in his heart and a jaunty, jolly hop in his step.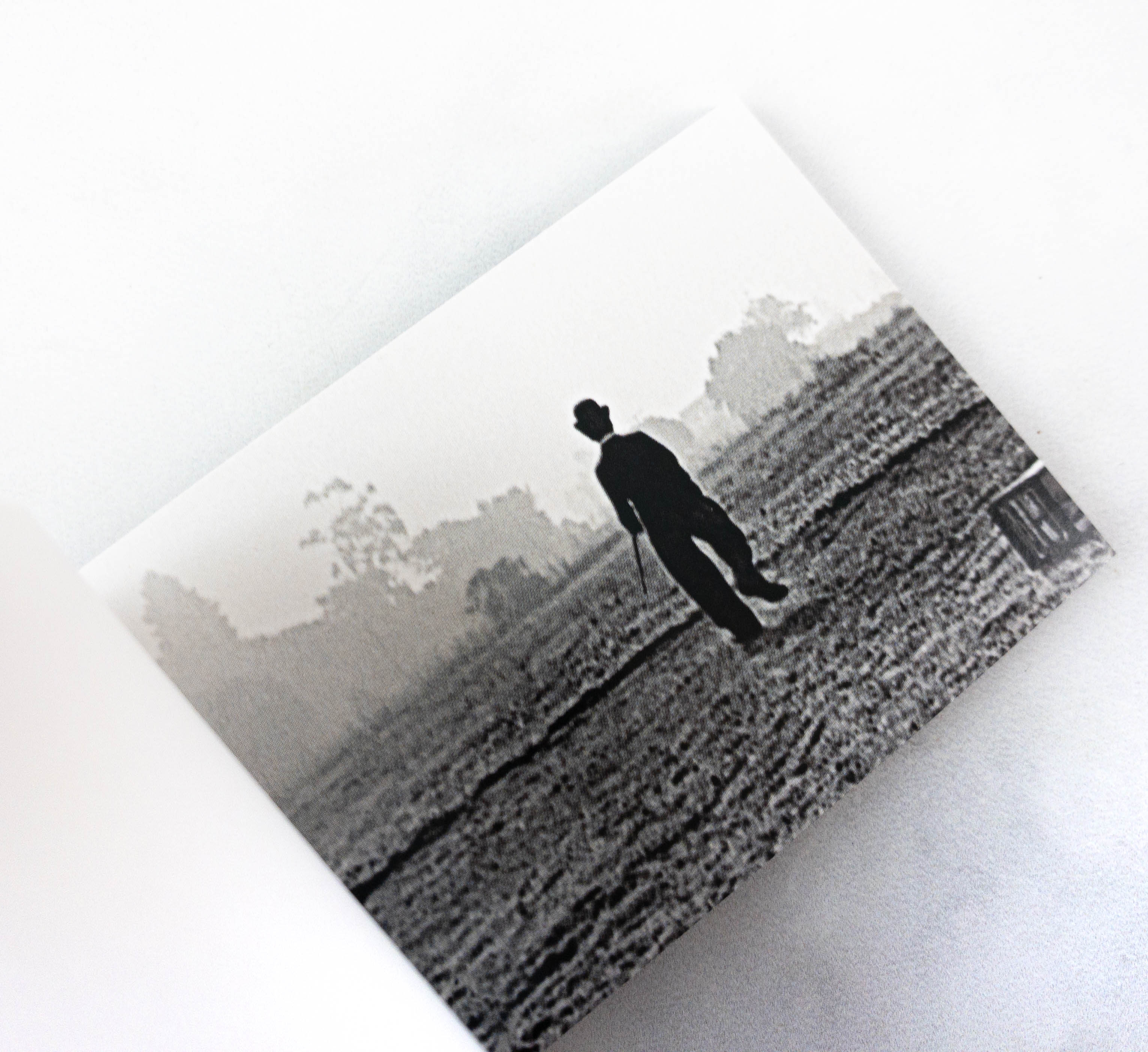 Here's a photo of Charlie Chaplin walking in the field. Flip through and see him walk across!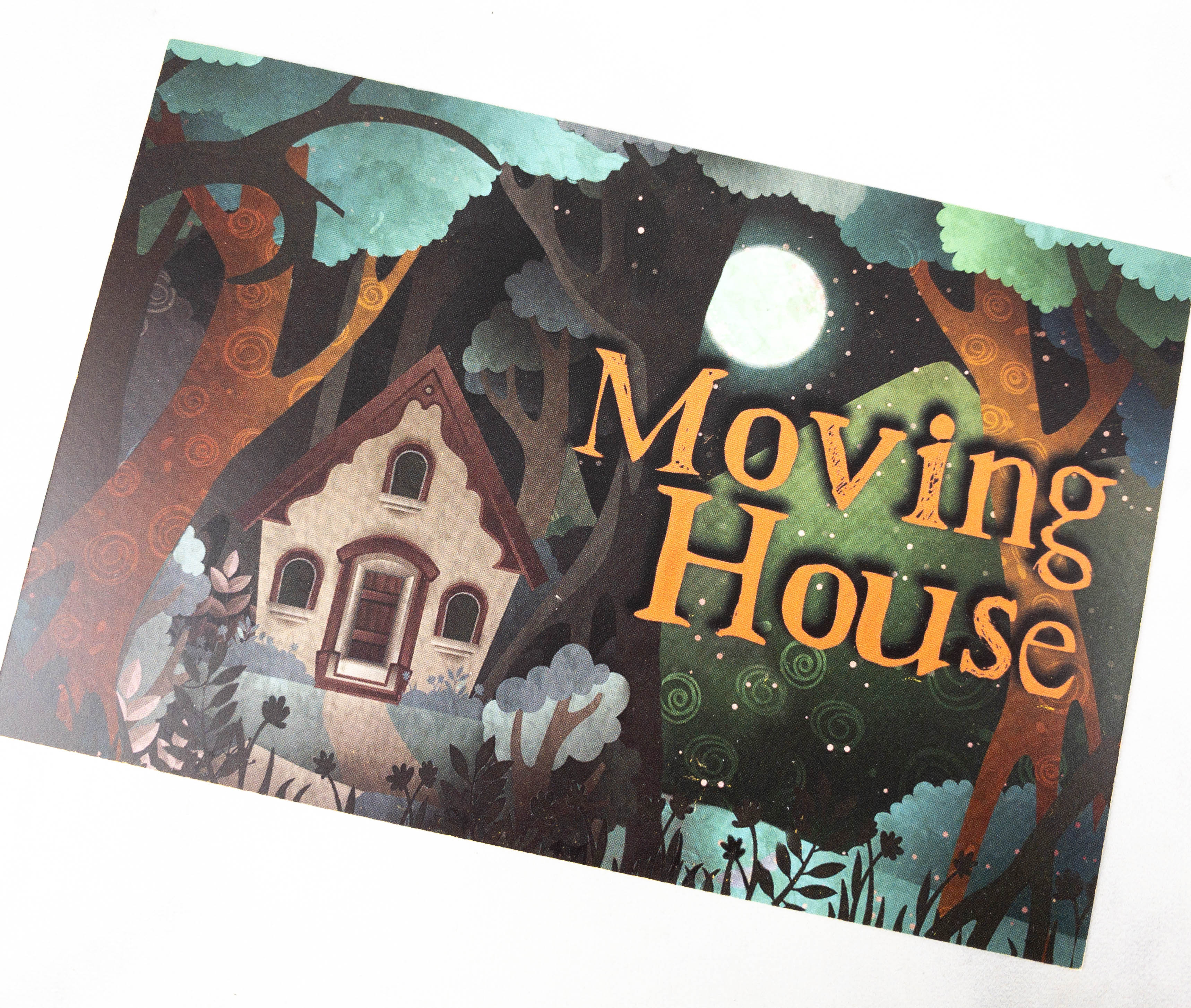 This information card has a sneak peek for the next box's theme: Moving House.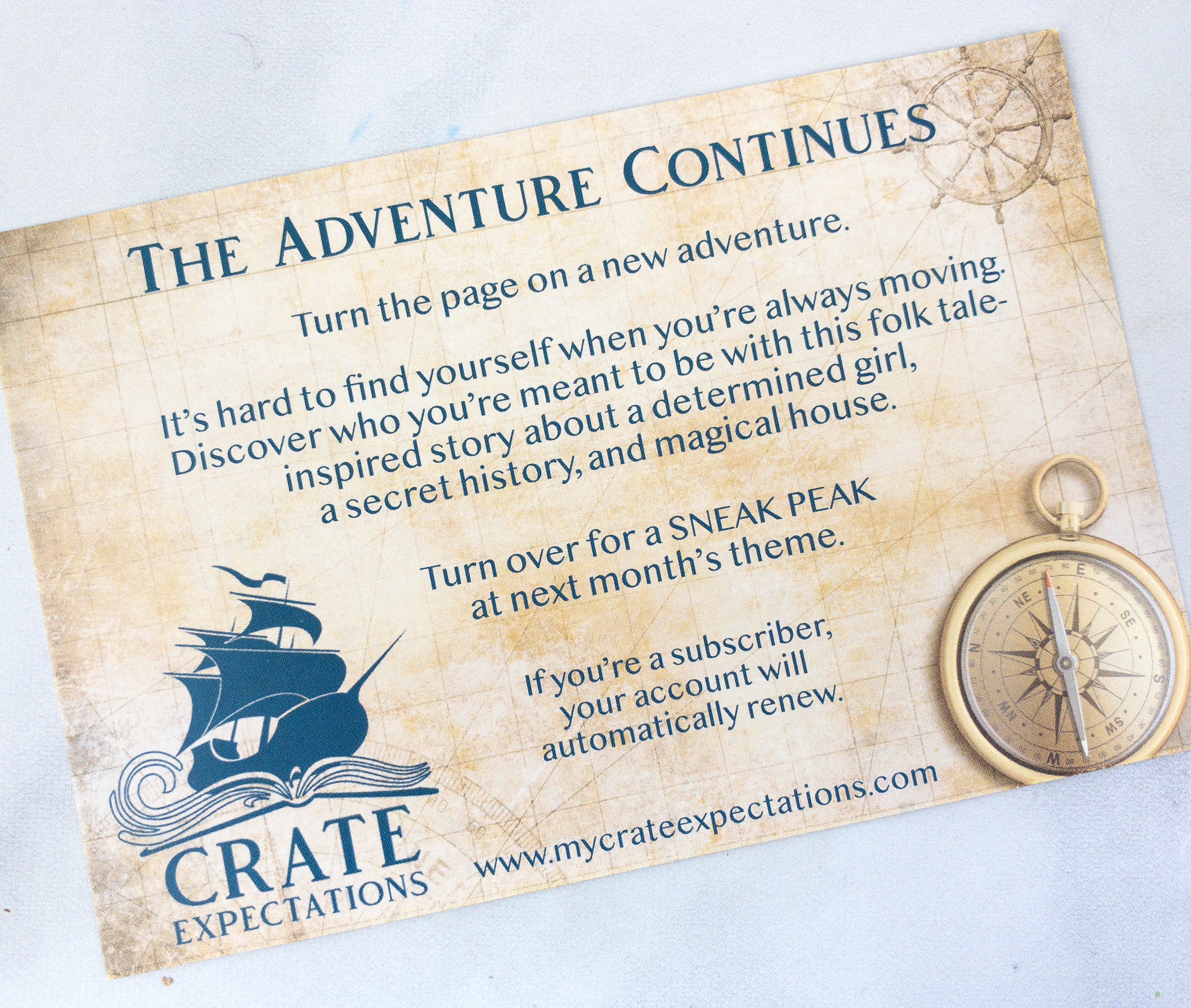 This month's Crate Expectations theme is all about inventions! My kids enjoyed the book by Brian Selznick and they were amused by the characters, especially Hugo. Aside from the book, the box also included other exciting items in line with the theme like the card game and the flipbook of Charlie Chaplin. Overall, this curation taught my kids the importance of inventions and how we benefit from them at present. With the inclusion of the adventure guide, it makes the kids feel like they have their own book club at home! The hint for next month's box also kept them excited!
What do you think of the Crate Expectations box?