CatLadyBox sends monthly boxes for cat ladies and their cats! This cat subscription box offers two types of boxes: the Crazy CatLadyBox that contains cat-themed items for you and your cat, and the CatLadyBox which contains things just for you. Each curation might include cat-themed shirts, jewelry, home decor, accessories, art, and more – all delivered in a box your cat can keep. Cat Lady Box topped the list in our 2021 readers' choice picks of best subscription boxes for cats!
This is a review of the CatLadyBox without the cat toys.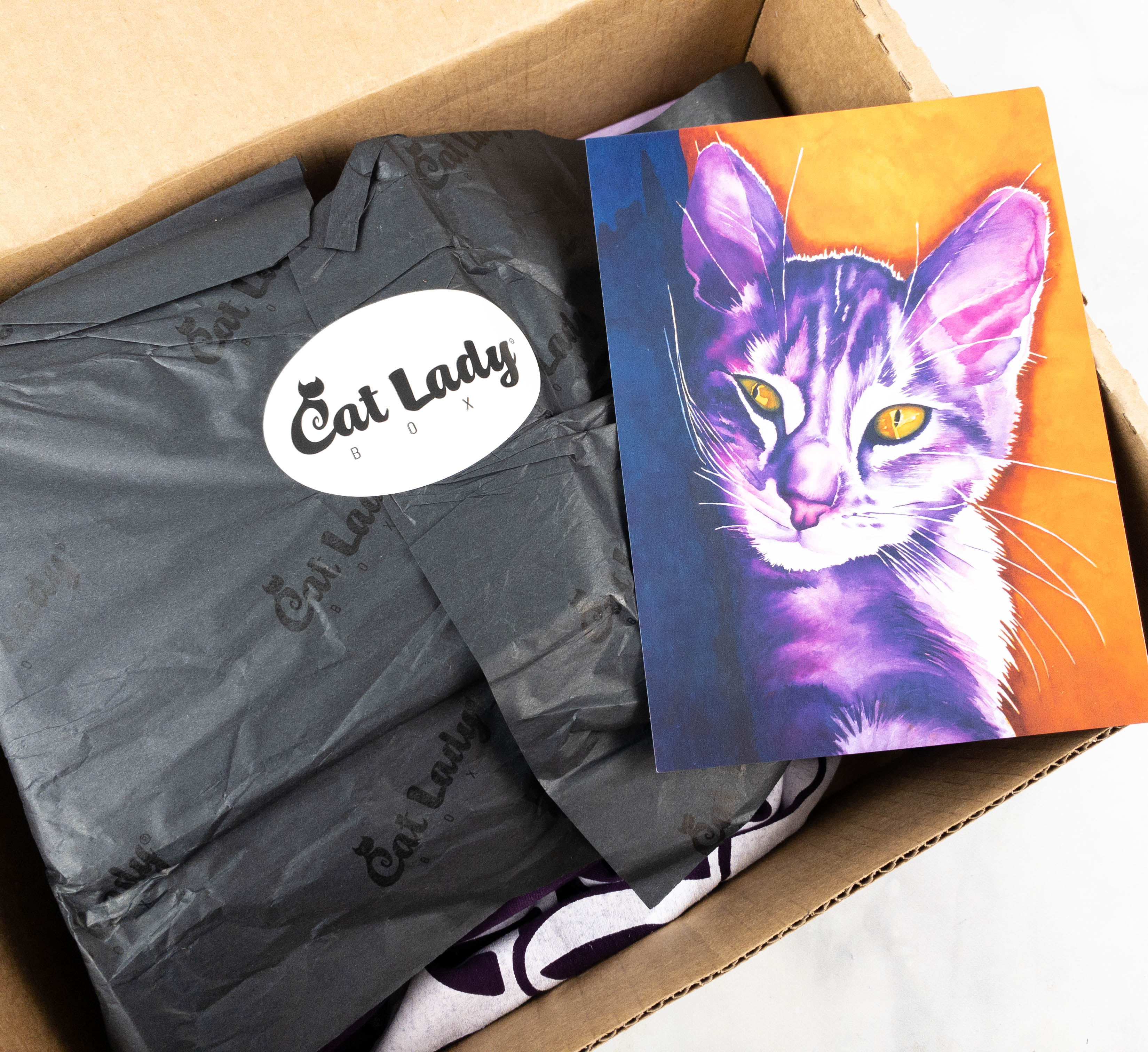 Everything arrived in a brown box with a Cat Lady Box branding. There's also an information card with a cute cat artwork by the featured CatLady artist, Sinclair Stratton.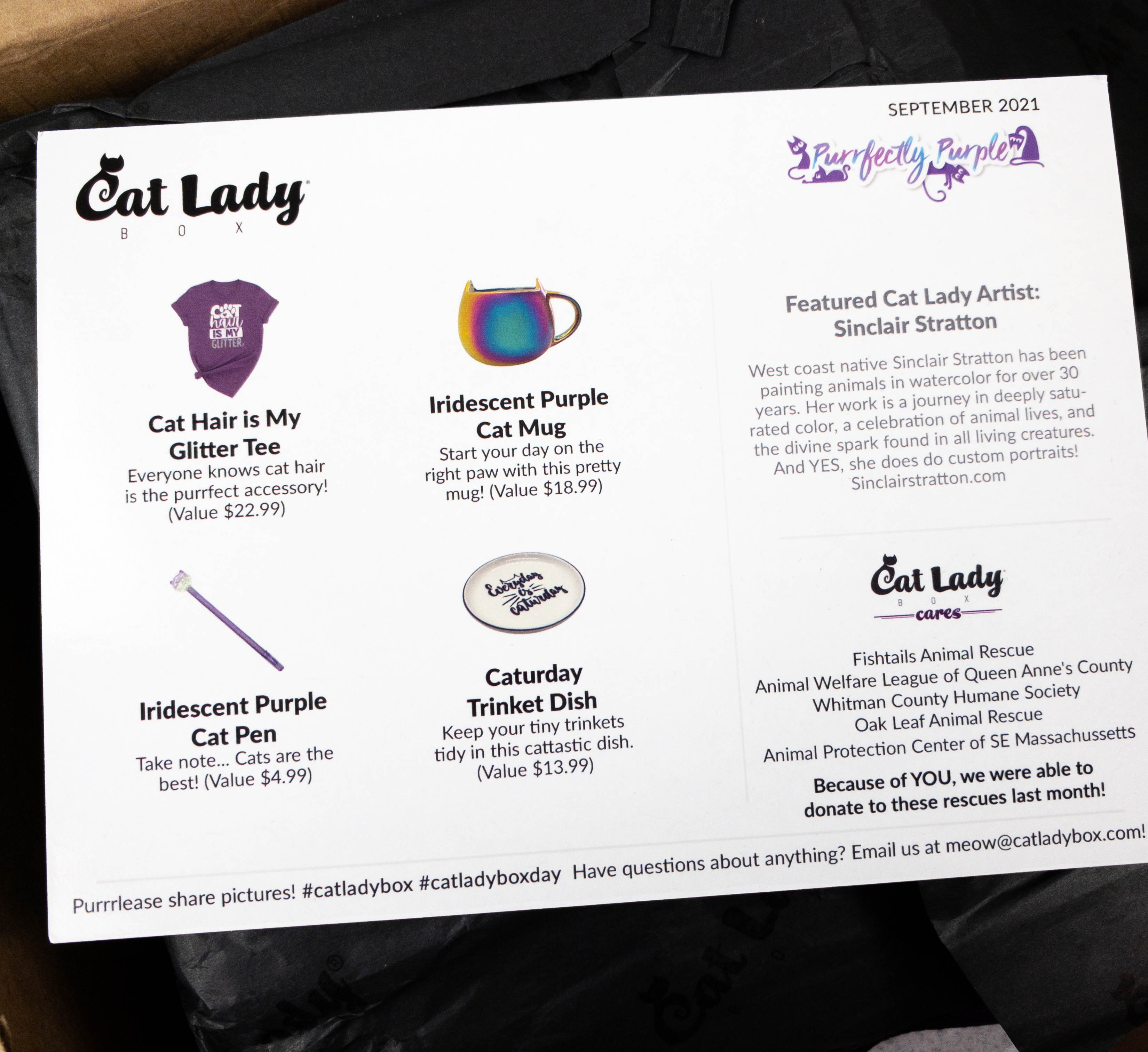 The other side of the card has a list of all the items with their retail value and a brief description.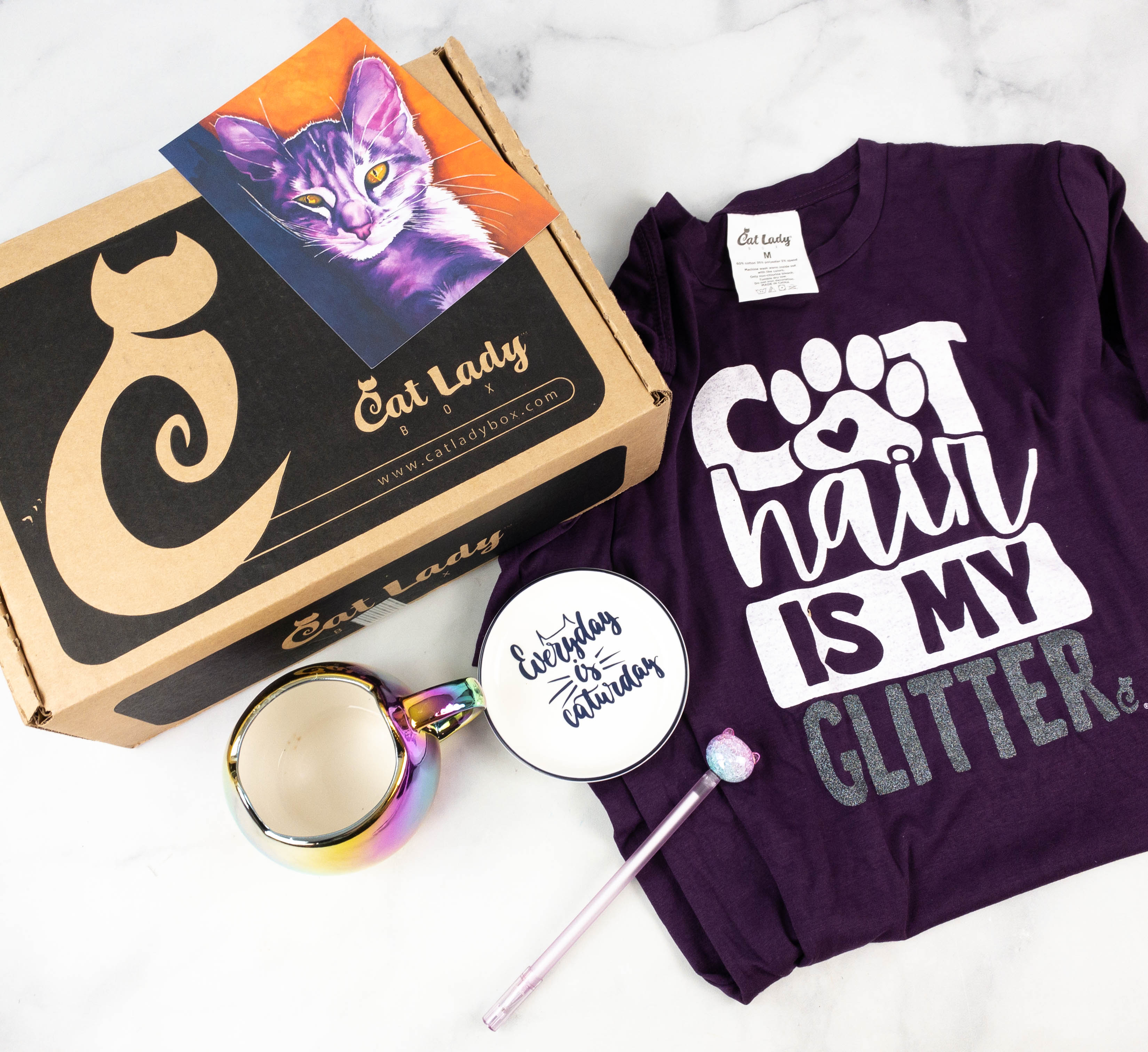 Everything in my CatLadyBox, with the theme PURRFECTLY PURPLE BOX!
Caturday Trinket Dish ($13.99) The trinket dish came in its own box packaging for extra protection during shipping. The box is a lovely shade of purple!
The other side of the box says CatLadyBox donates a portion of all their profits to cat rescue organizations!
Here's a look at the trinket dish! The print in the middle of the dish says "Everyday is Caturday" and it's so adorable. This is perfect for keeping jewelry pieces organized. You can also place this on your foyer so it can hold your keys once you enter the house.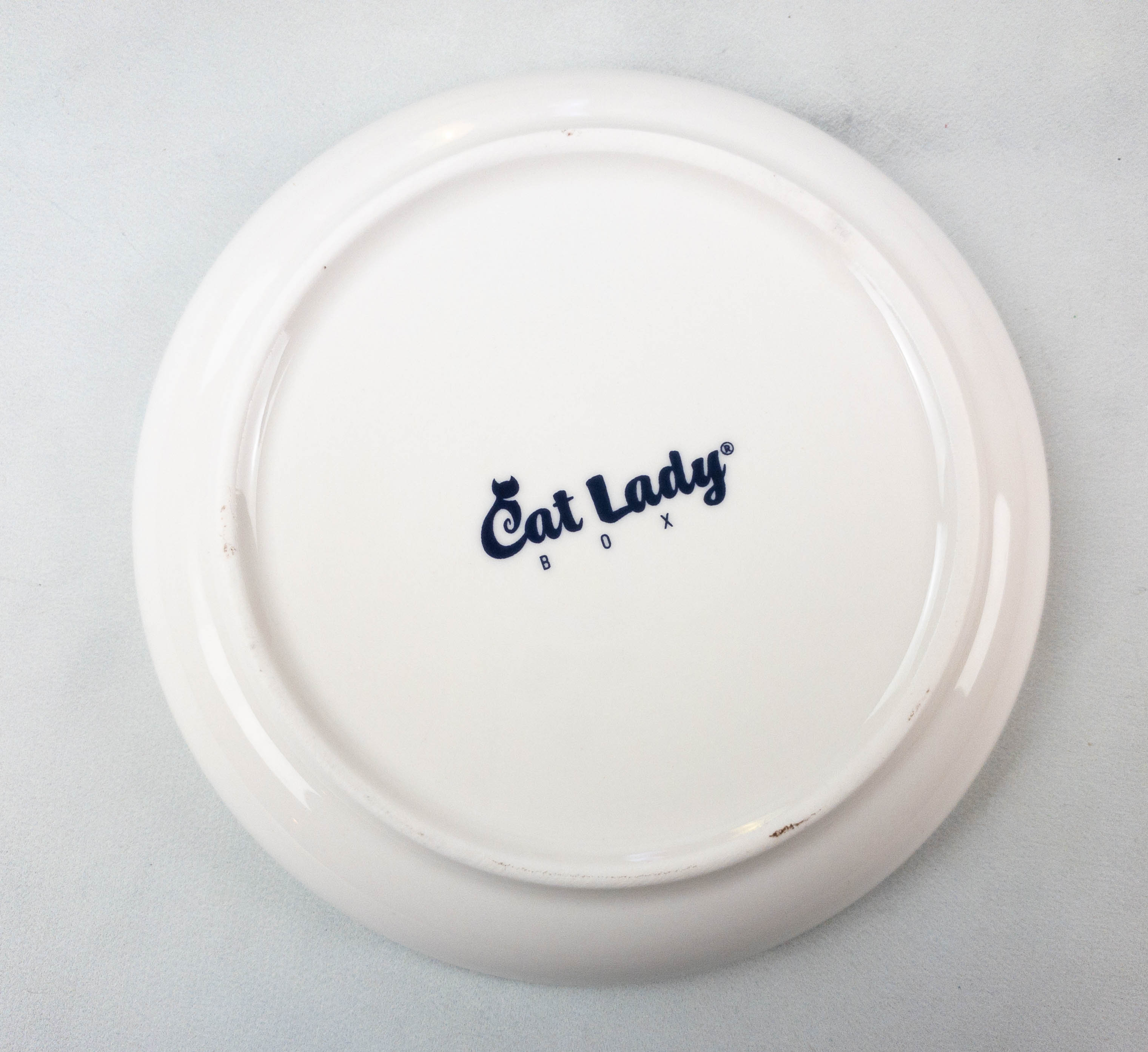 At the bottom, it features the Cat Lady Box logo.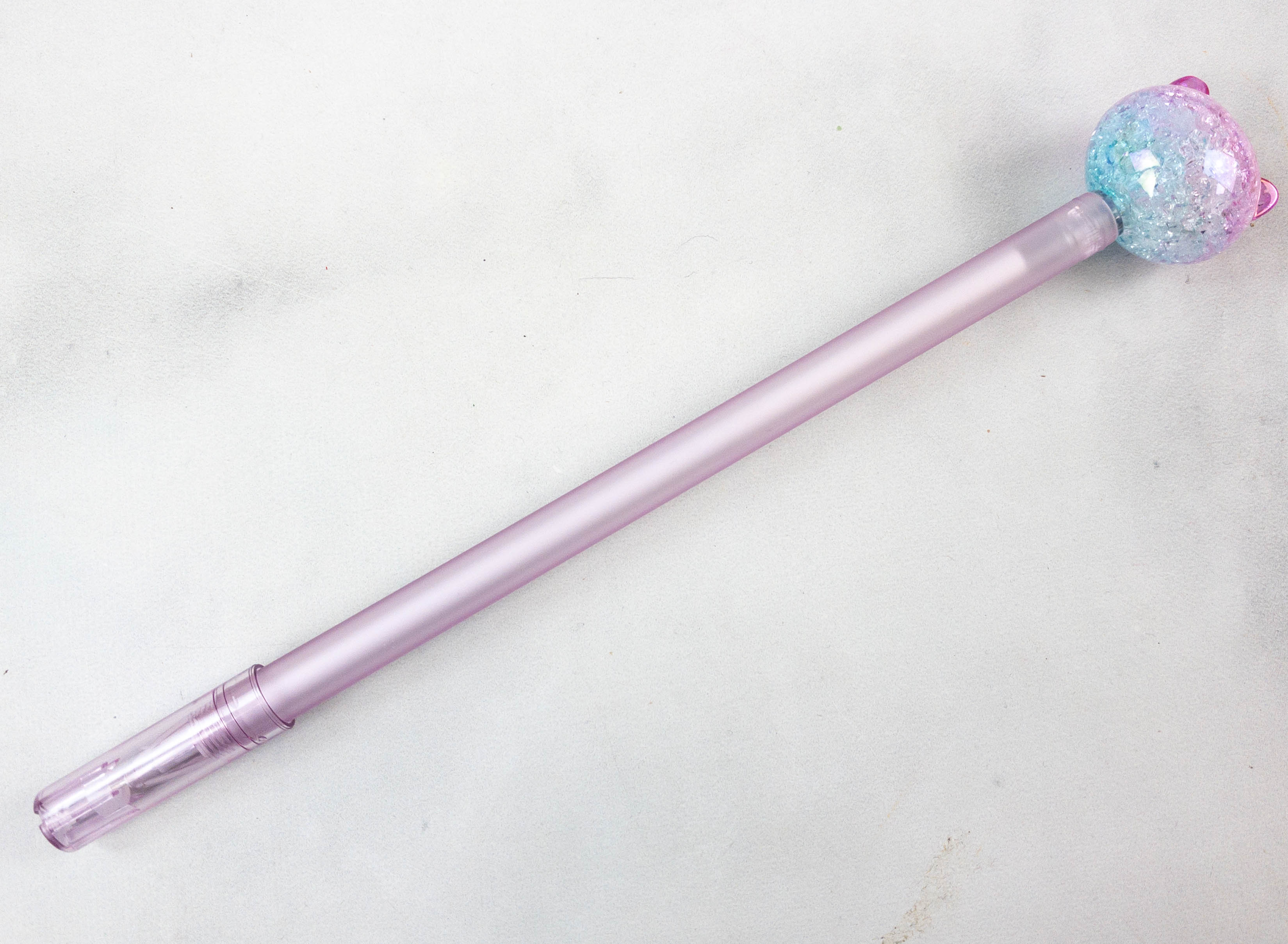 Iridescent Purple Cat Pen ($4.99) It's a cute pen with a charming cat head topper. It's great for everyday notetaking or journaling. It's also lightweight, so you can bring it anywhere and showcase your love for cats!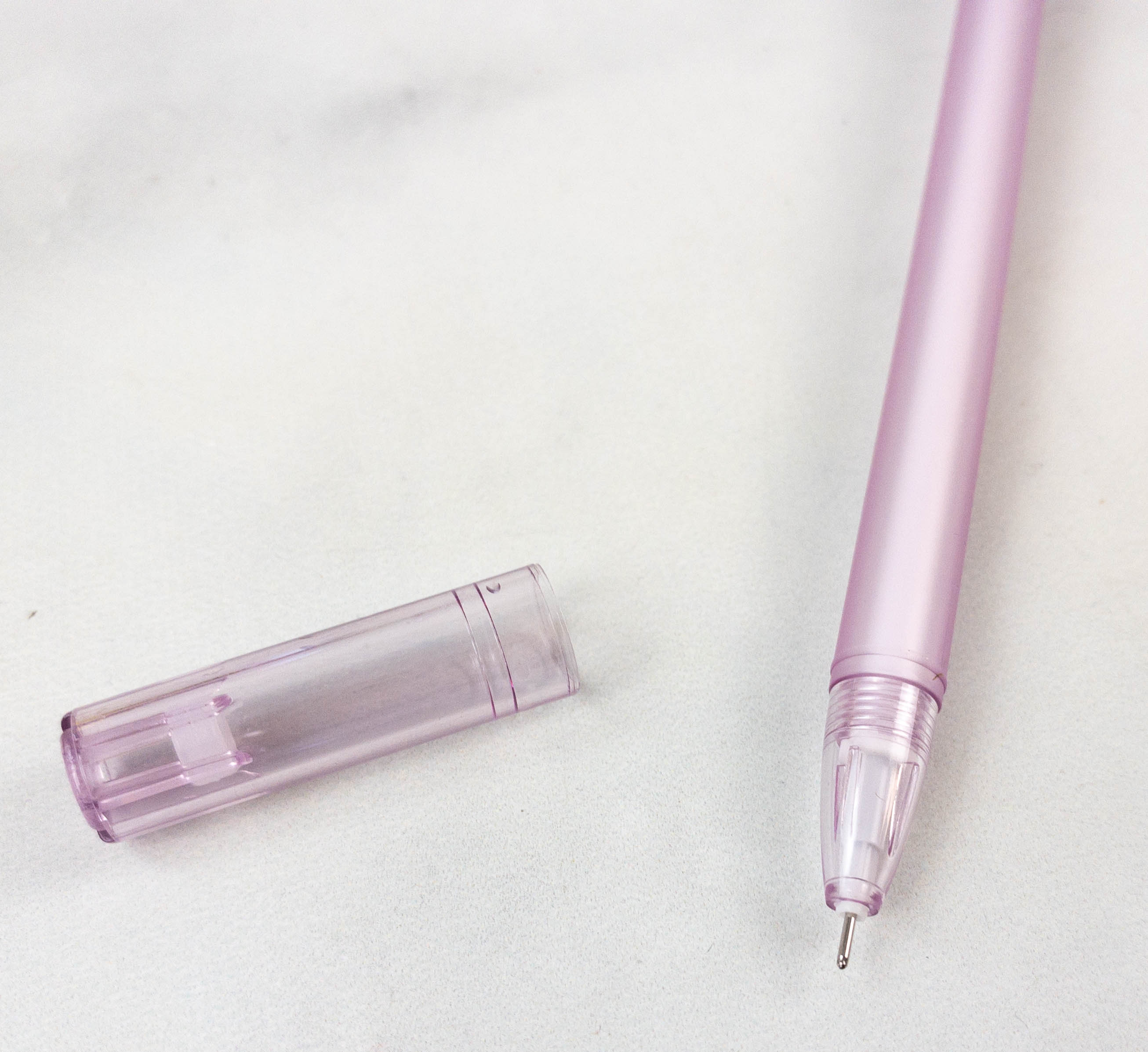 The pen itself has a fine tip and it writes smoothly!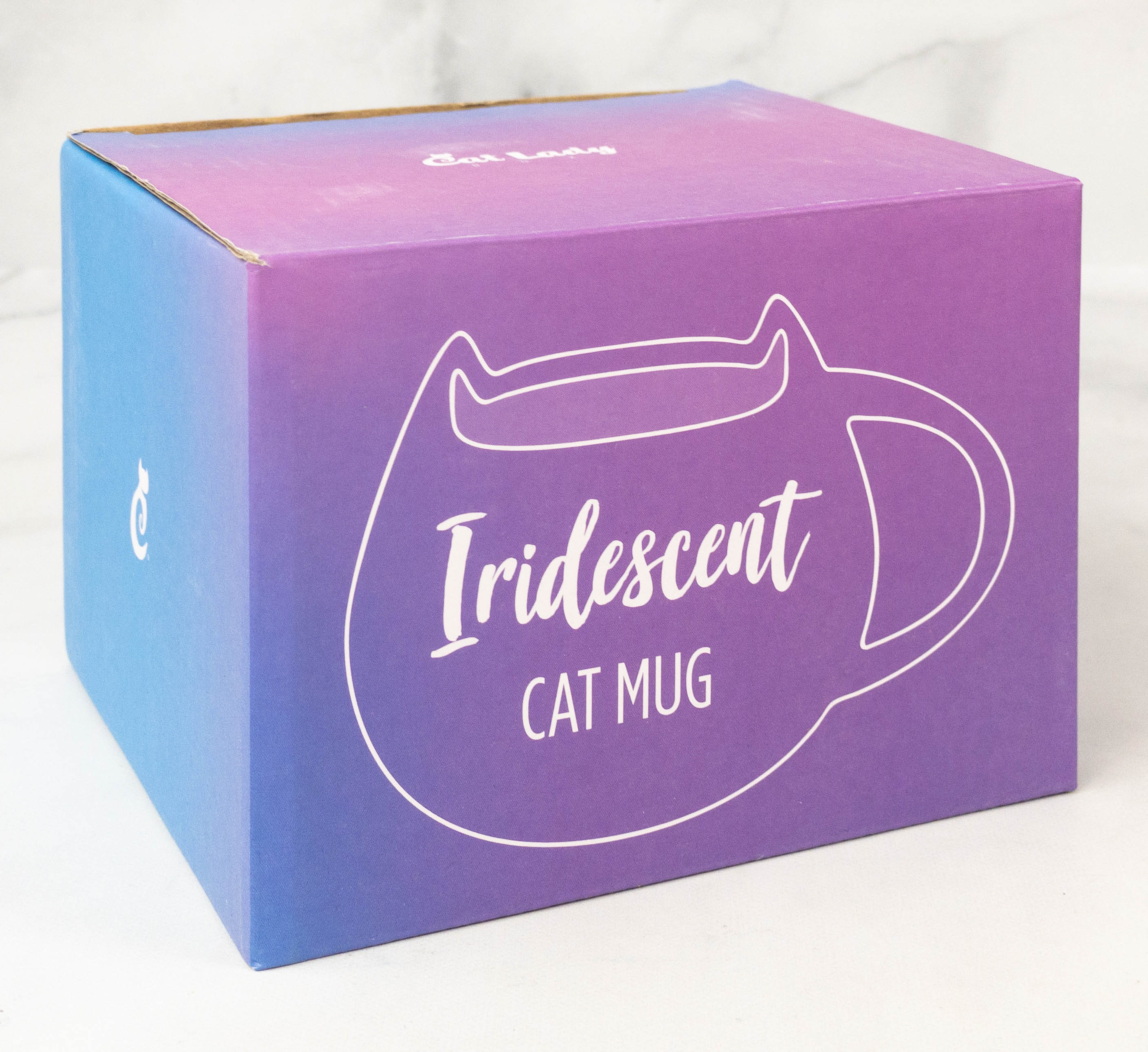 Iridescent Purple Cat Mug ($18.99) Here's another item that came in its own box packaging. I love the ombre colors of the box!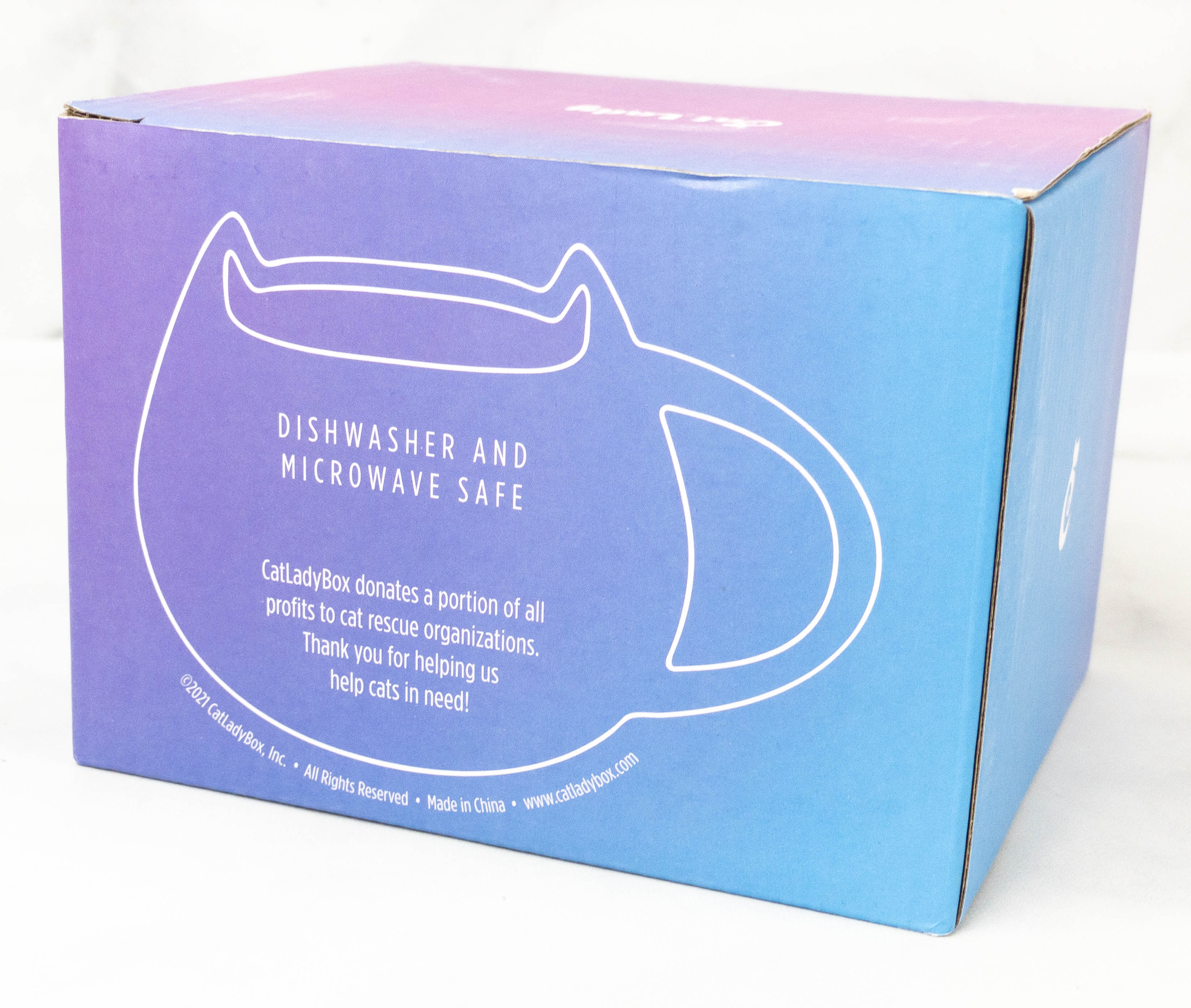 The box packaging says the mug is microwave safe. However, CatLadyBox informed us that it may become hot with microwave usage so they recommend NOT using it in the microwave and with hot liquids.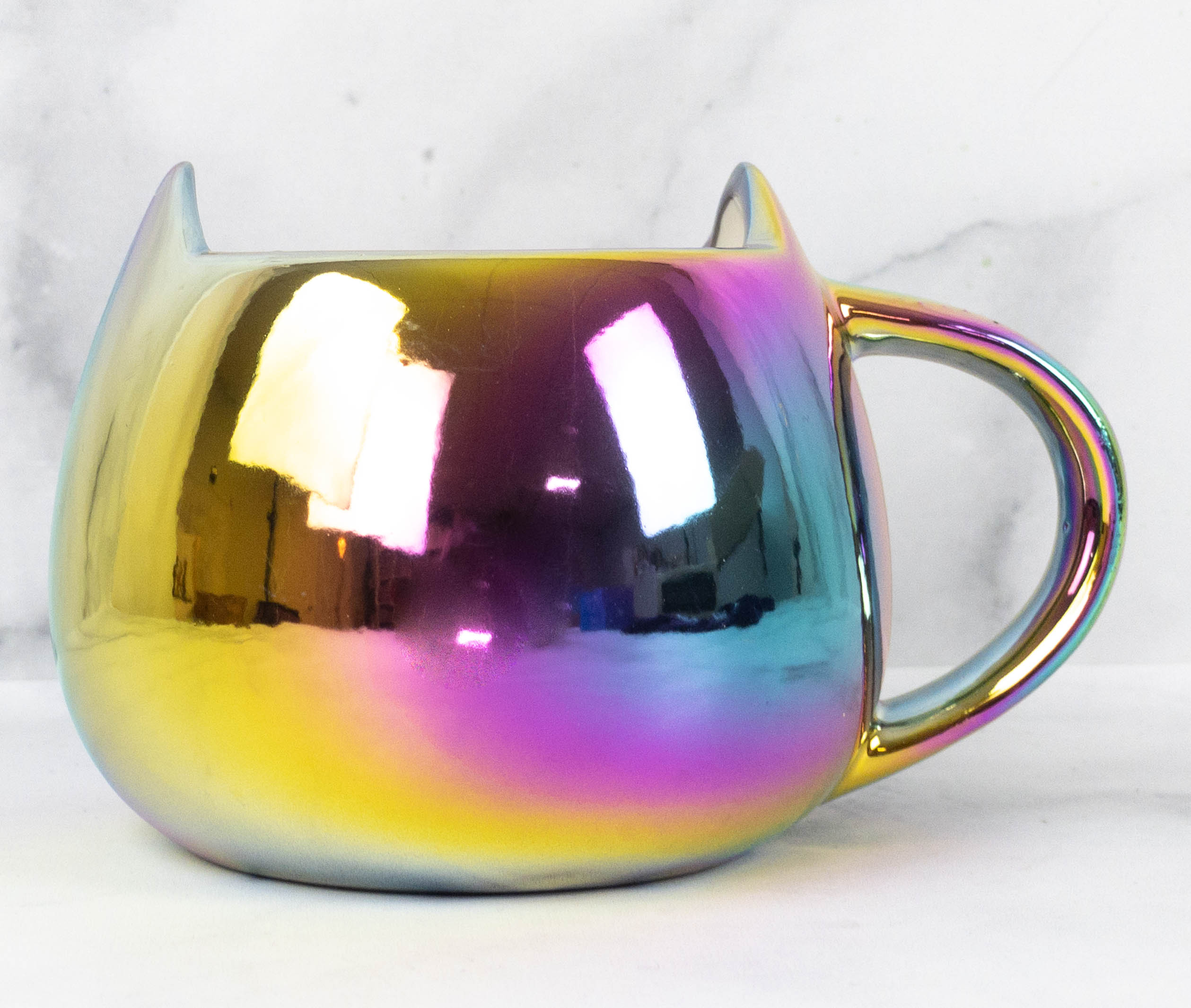 It's such an adorable mug featuring a multi-color chrome. I love it ven came with little cat ears!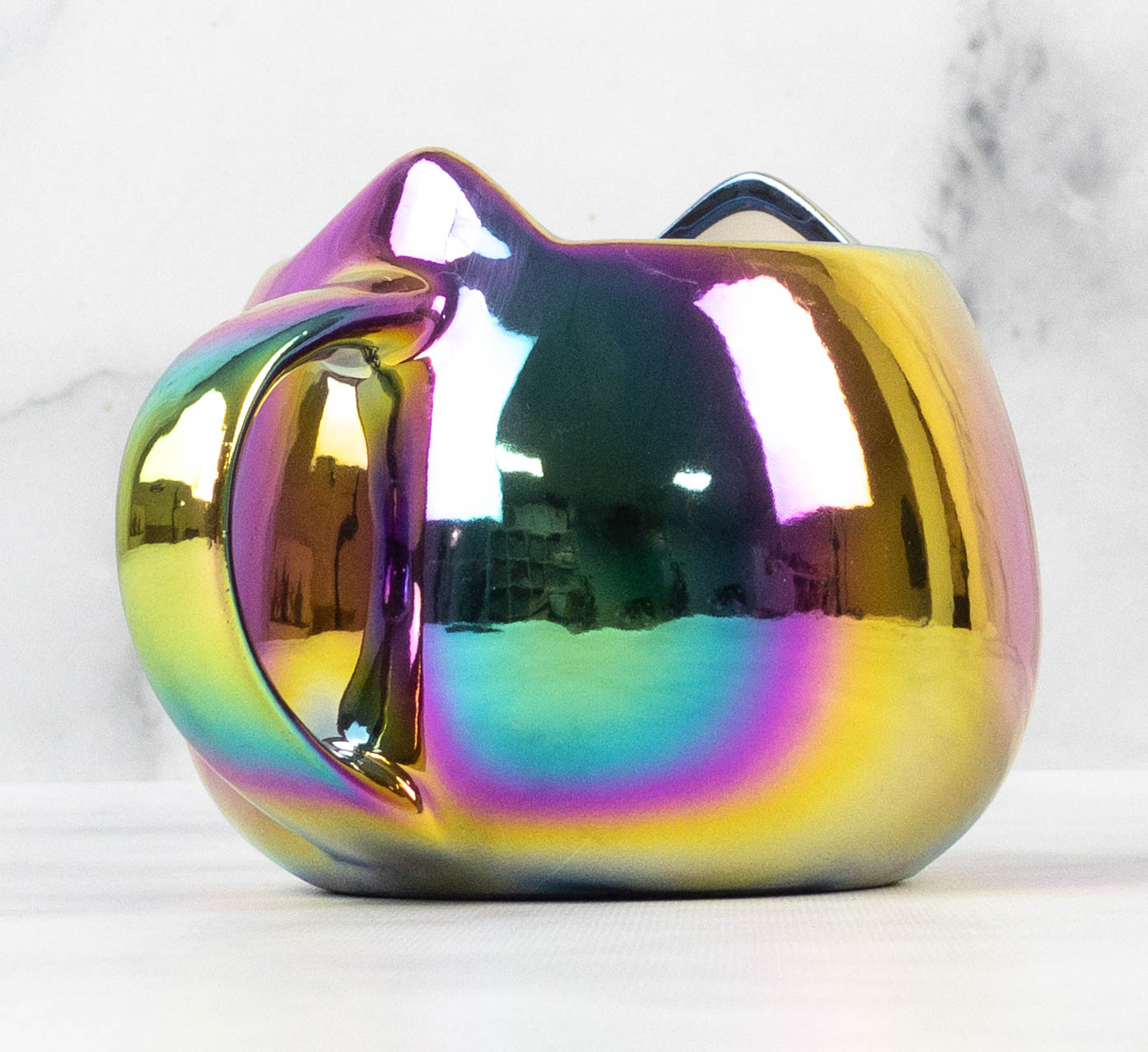 This is definitely going to be my new favorite mug. It's not suitable for hot drinks, so maybe I'll use it with juices and sodas!
Cat Hair is My Glitter Tee ($22.99) Of course, the box includes a wearable for cat ladies! This month, I received a purple shirt that says "Cat Hair Is My Glitter". It's really funny because cats shed like crazy and their hair tend to cling to clothes easily! This is surely a fun way to show your love for your favorite feline friends!
This card shows us a sneak peek for the next box!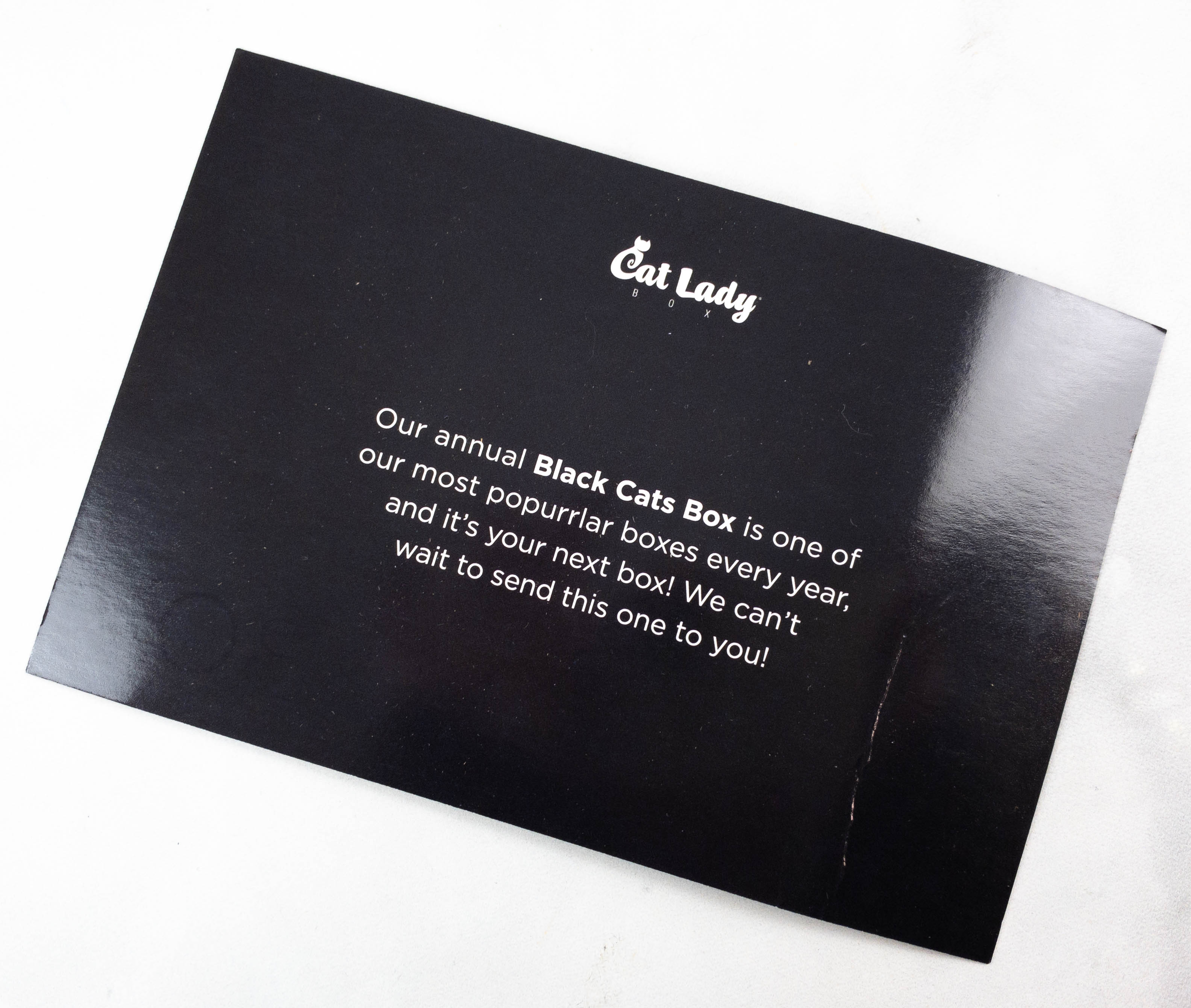 Our annual Black Cats Box is one of our most popurrlar boxes every year, and it's your next box! We can't wait to send this one to you!
The Cat Lady Box truly is a great way to celebrate one's love for cats! They send unique cat-themed items, and most of them are also functional. This month, my favorite is definitely the iridescent mug because it's just too adorable. I can't use it for hot drinks, but at least I can use it with cold drinks such as juices and sodas. I also liked the shirt because I found the print really funny. The rest of the items are also great! If you're a cat lover, then this box is definitely for you. They also offer a box which combines cat-themed goodies with items for your feline friend as well!
What do you think of this month's box?