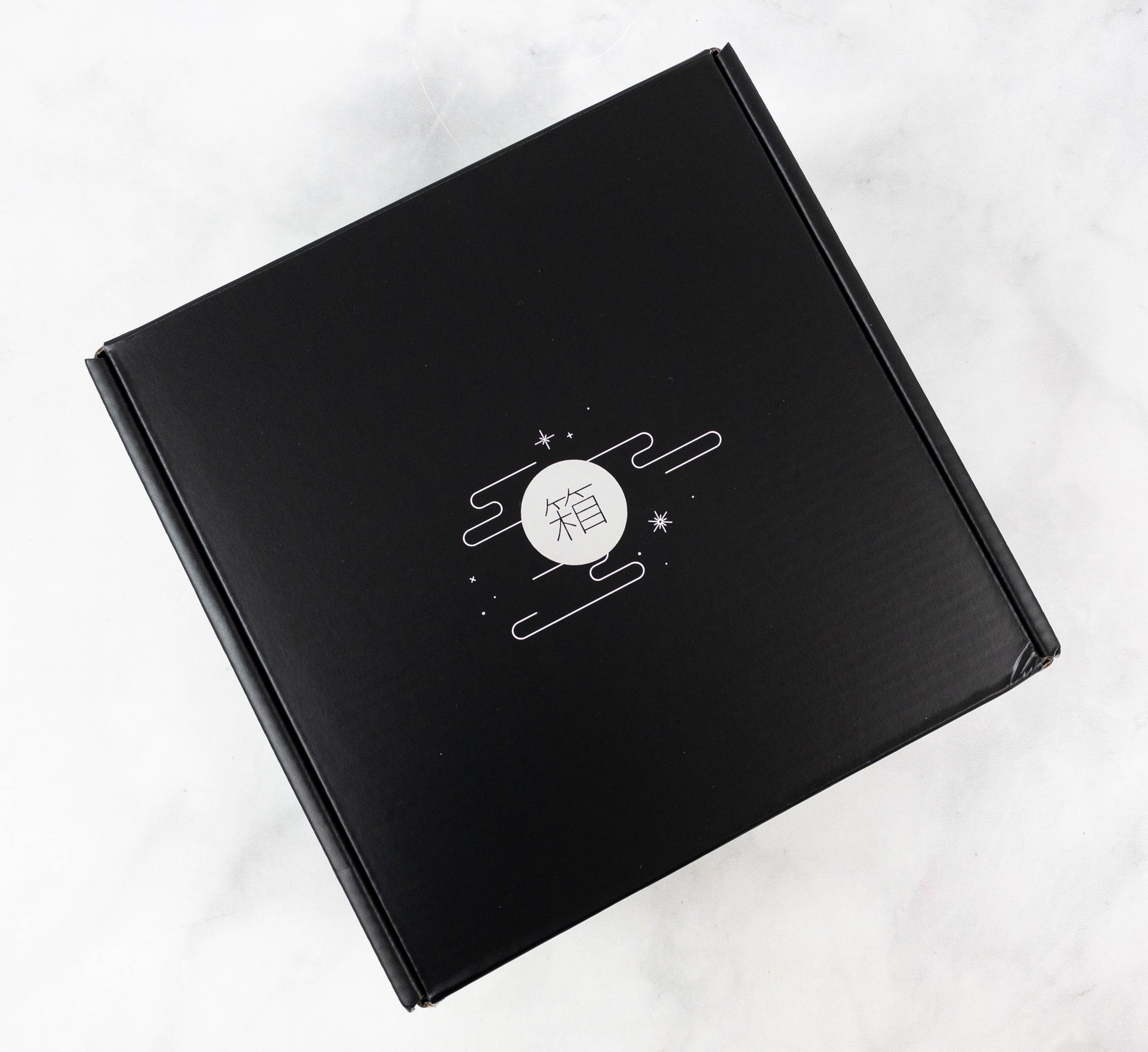 Bokksu is a premium snack box that features authentic Japanese snacks, as well as a tea pairing to go with it. There are two levels to choose from: Classic Bokksu ($44.99 USD) includes an assortment of 20-25 premium Japanese snacks and a tea pairing; Tasting Bokksu ($29.99 USD) includes 10-14 premium Japanese snacks and a tea pairing. Both boxes offer a discount for longer terms. The snacks sent are not easily found outside of Japan and this subscription ships internationally from Japan. Shipping is already included in the price.
Other Japanese snack subscription services use mass-produced mainstream snacks that can be readily found in most Asian markets outside of Japan. Bokksu directly sources its artisanal snacks from local snack makers in Japan (some of whom have been around for over 200 years!). We only curate high quality and gourmet snacks, never filler items. We are also the ONLY service that hand selects a tea pairing for each box to complement that month's flavors.
This is the review of the Moon Festival Box! For a limited time only, all new subscribers will get the Moon Festival Limited Edition Box as their first box.
DEAL: Save $5 on your first box with coupon code HELLO.
Bokksu's authentic Japanese snack subscription box was voted as a top subscription in the 2021 list of our readers' favorite snack subscription boxes!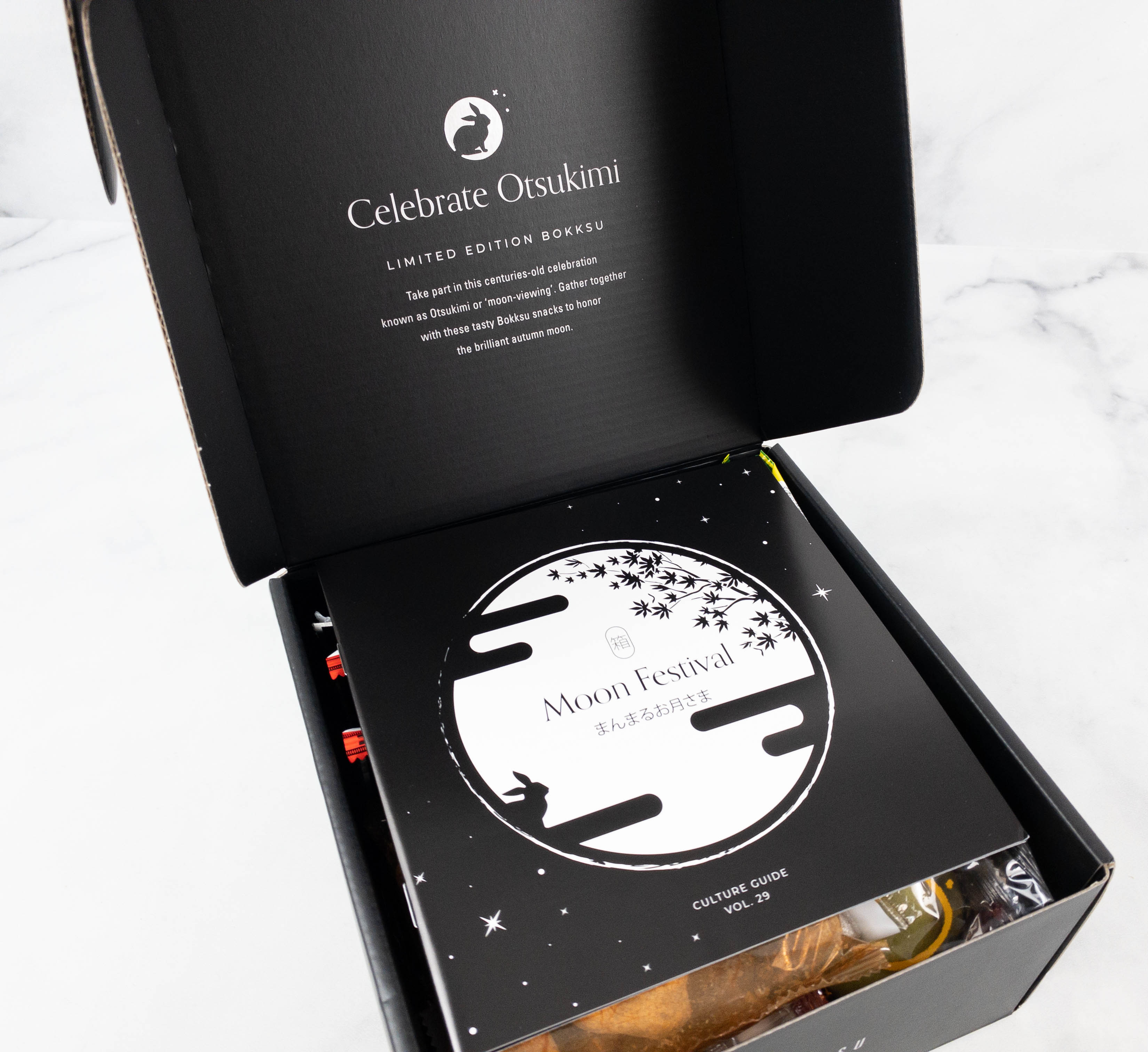 The goodies arrived in a black box instead of the usual bright orange box.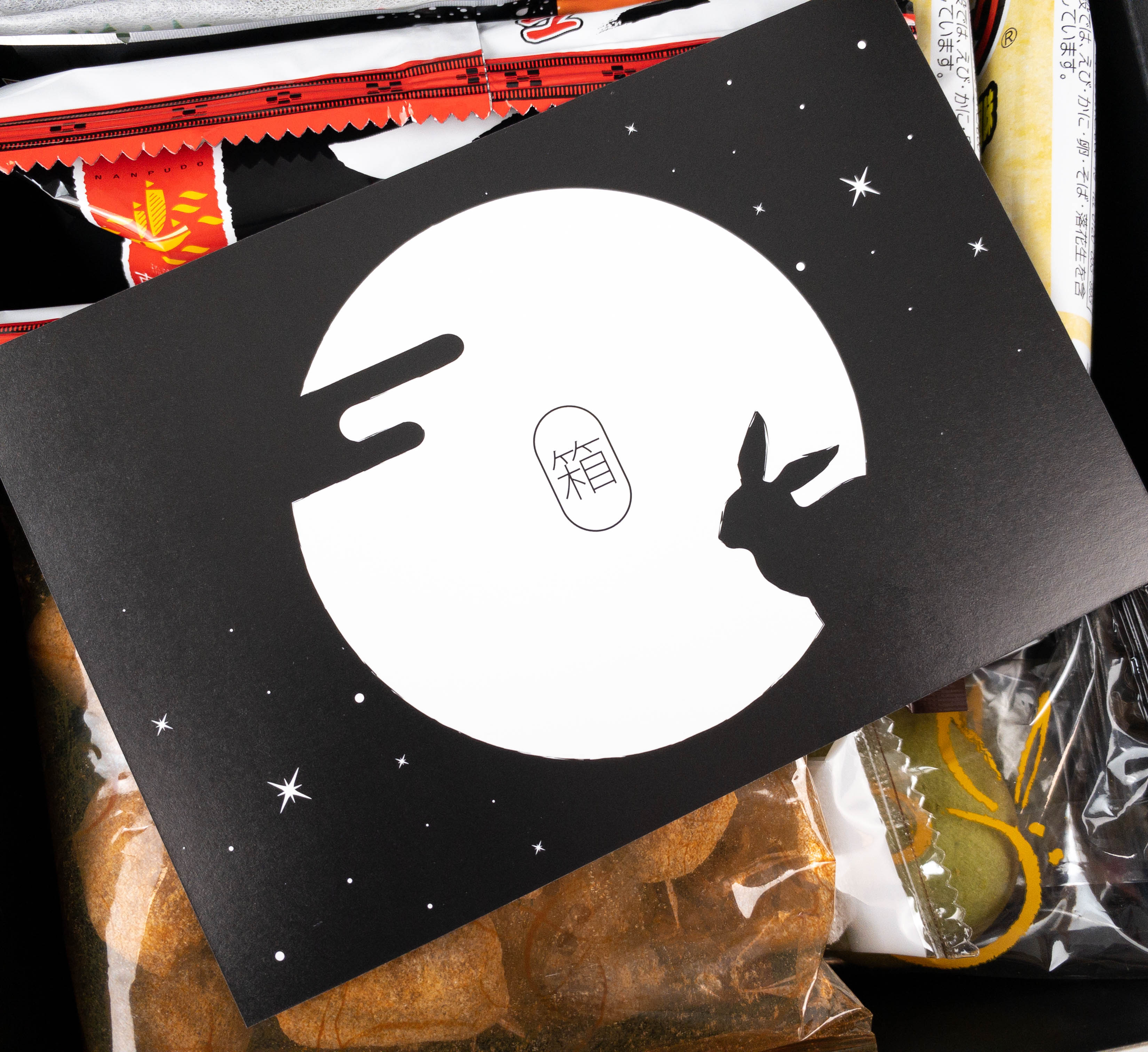 The box also includes a card.
The back of the card contains a message from Bokksu's founder, Danny Taing.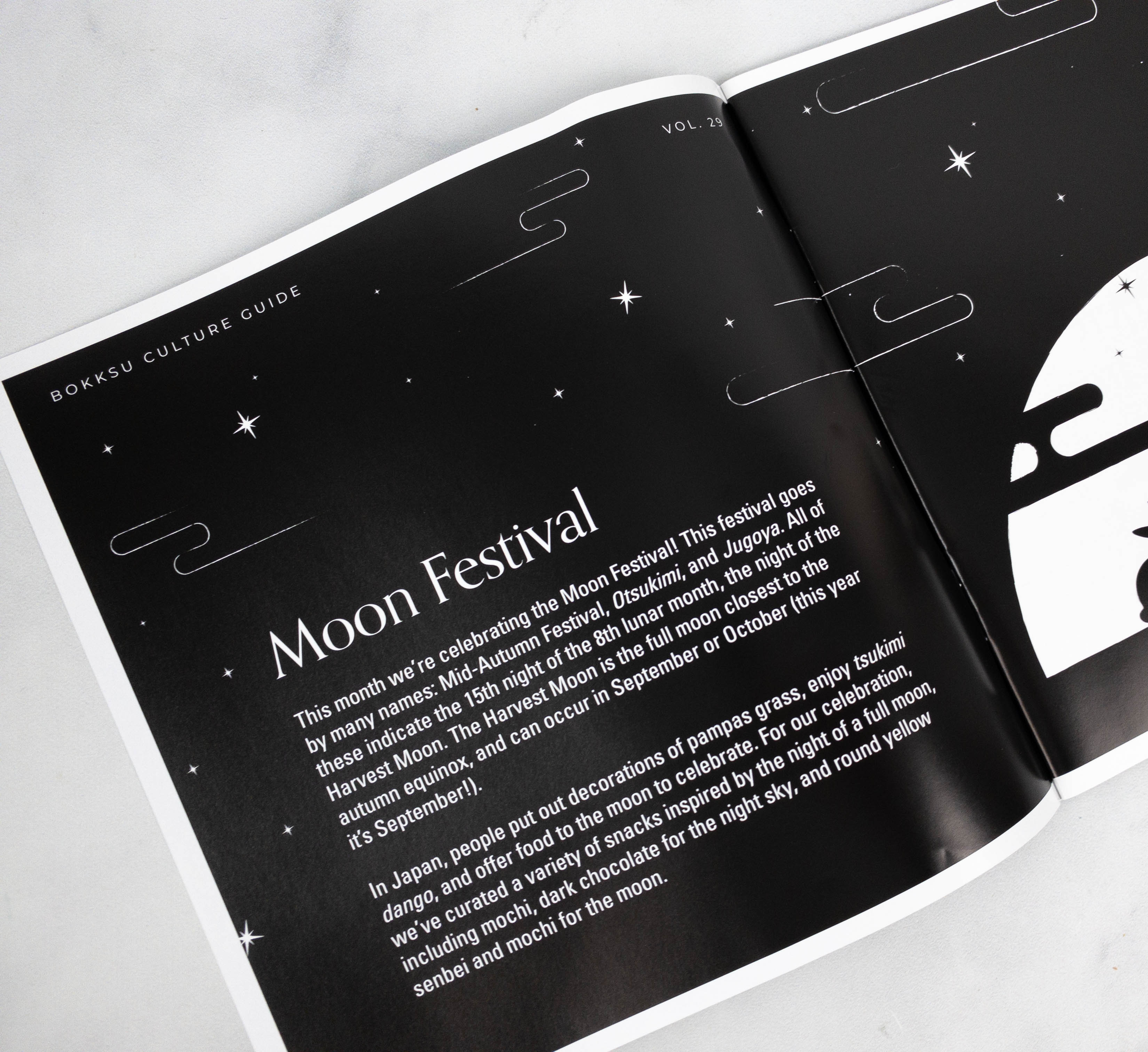 There's also an included culture guide!
Inside the booklet is a map showing where in Japan each snack originated.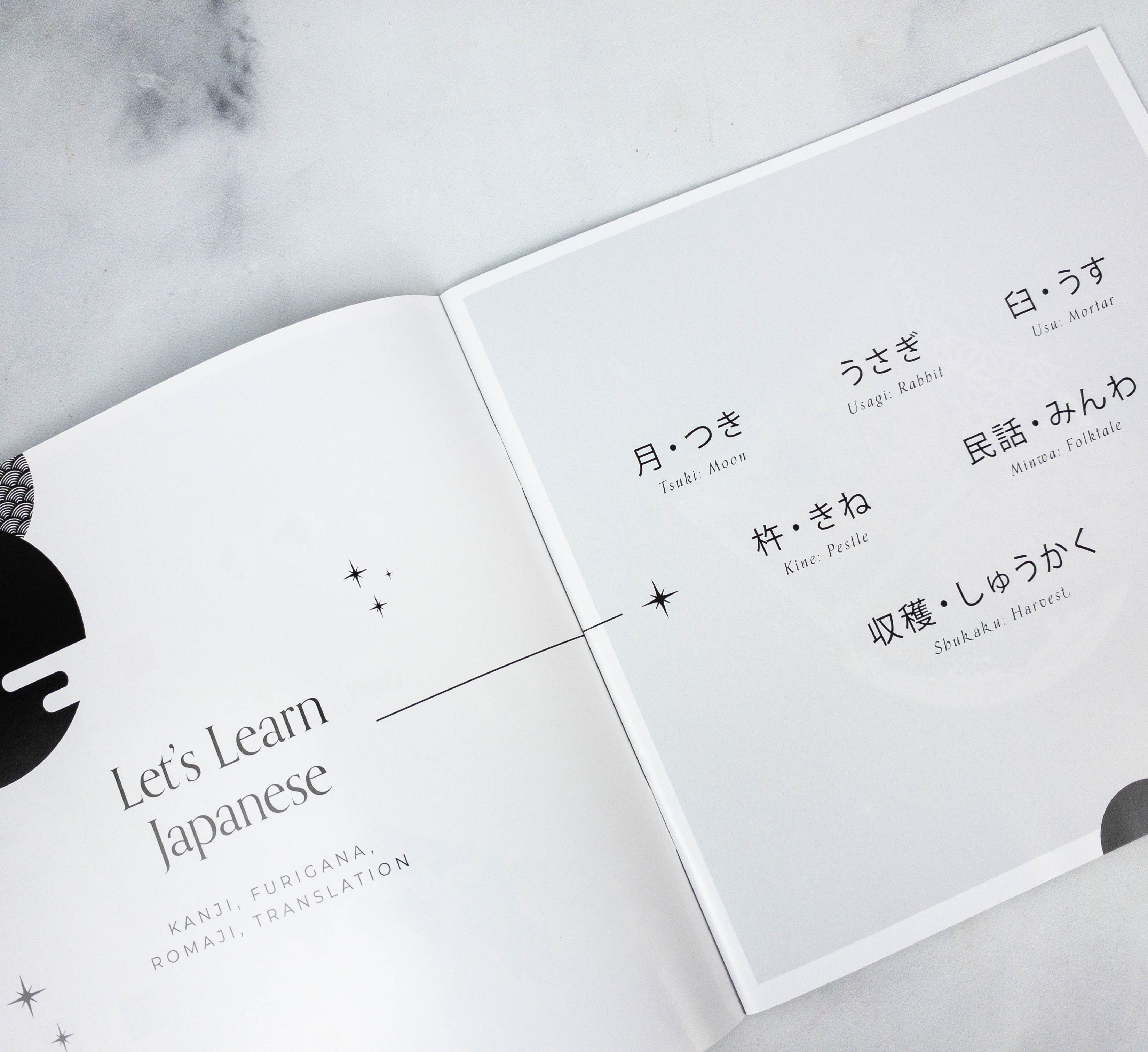 They also featured a few vocabulary words in Japanese.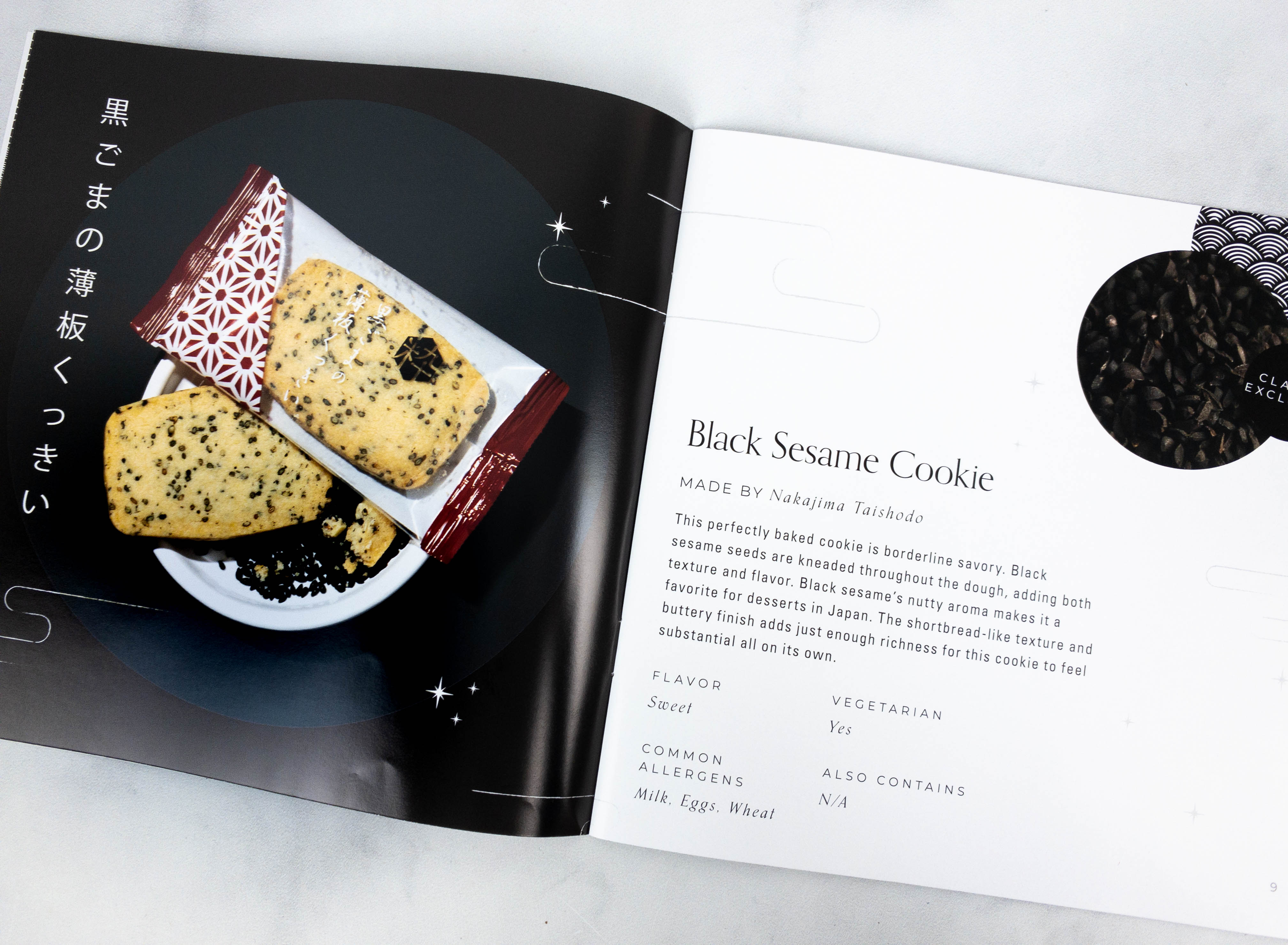 I appreciate the inclusion of product descriptions in the booklet, since most of the items come in their original Japanese packaging.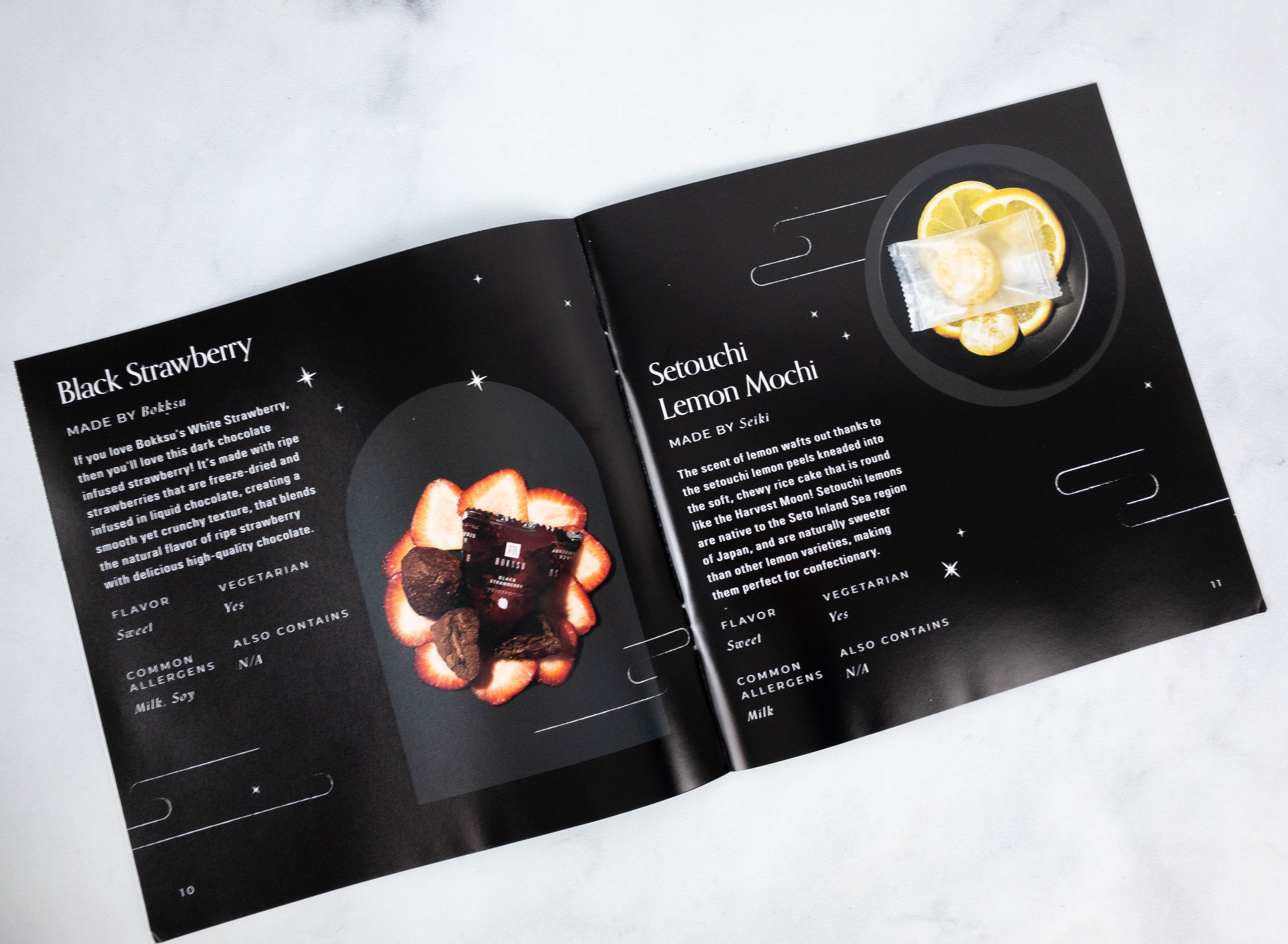 It also lists flavors and common allergens, and it even indicates if a snack is vegan.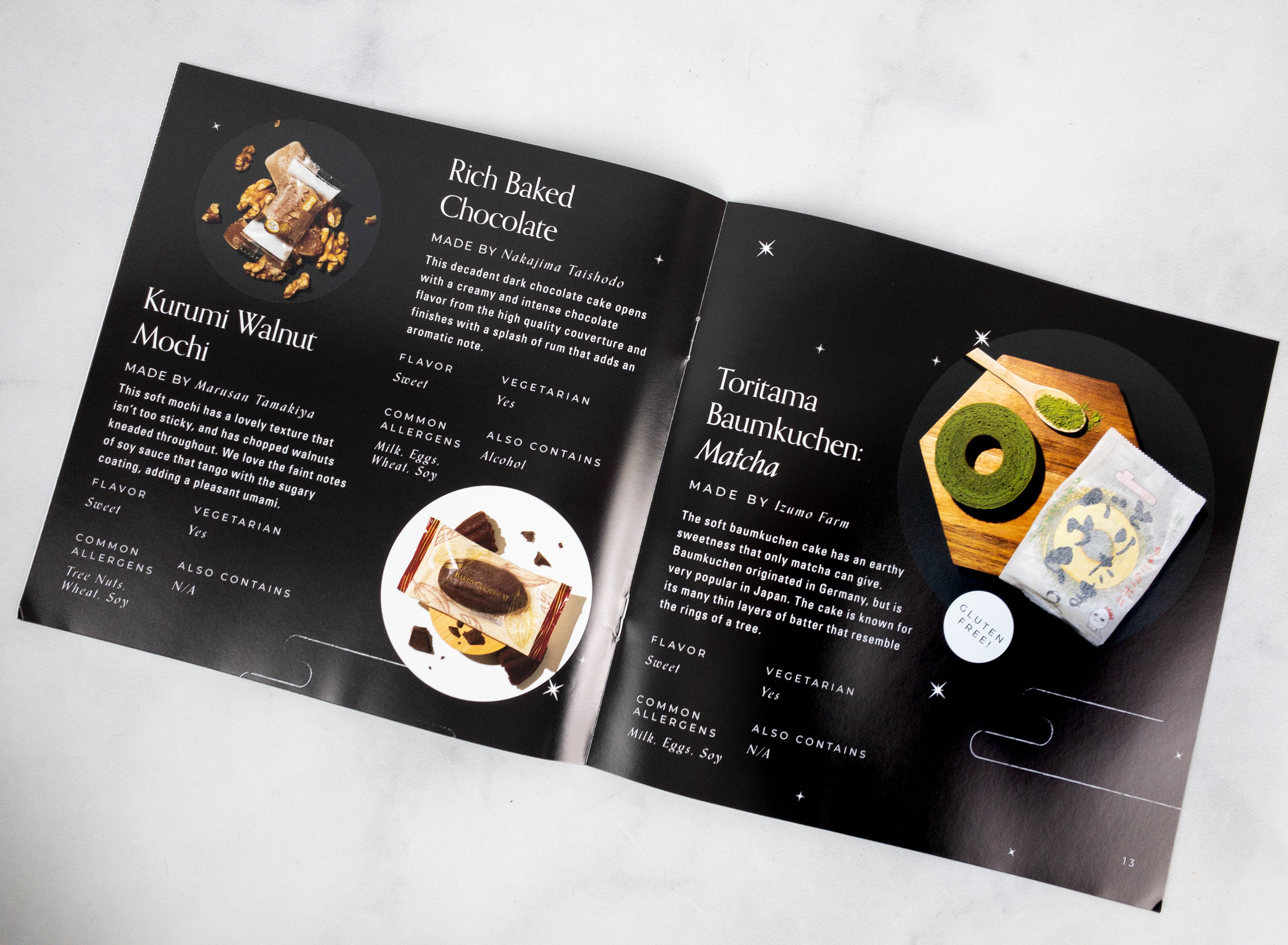 Of course, they provided photos as well!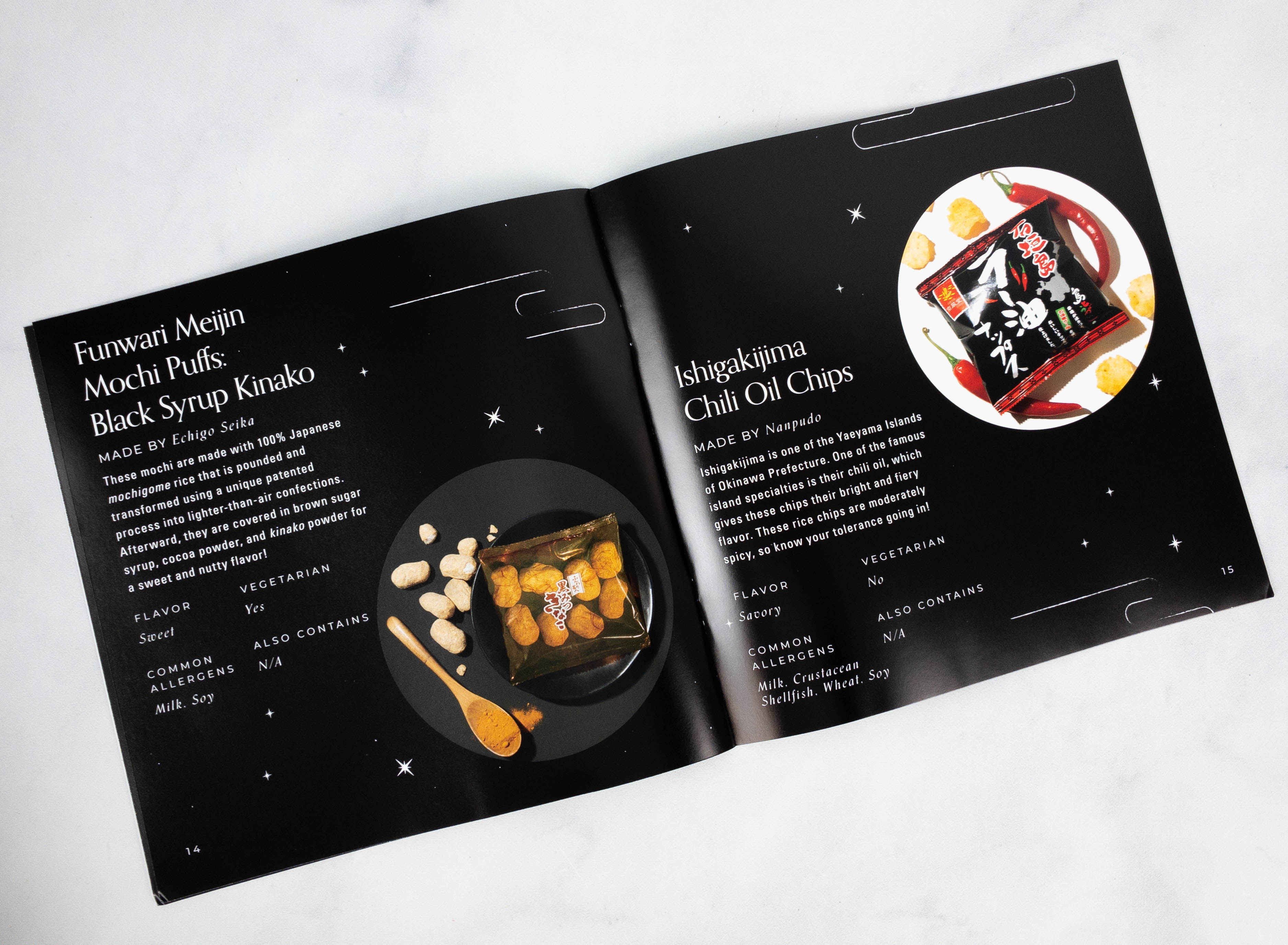 I enjoyed reading this before diving into the snacks!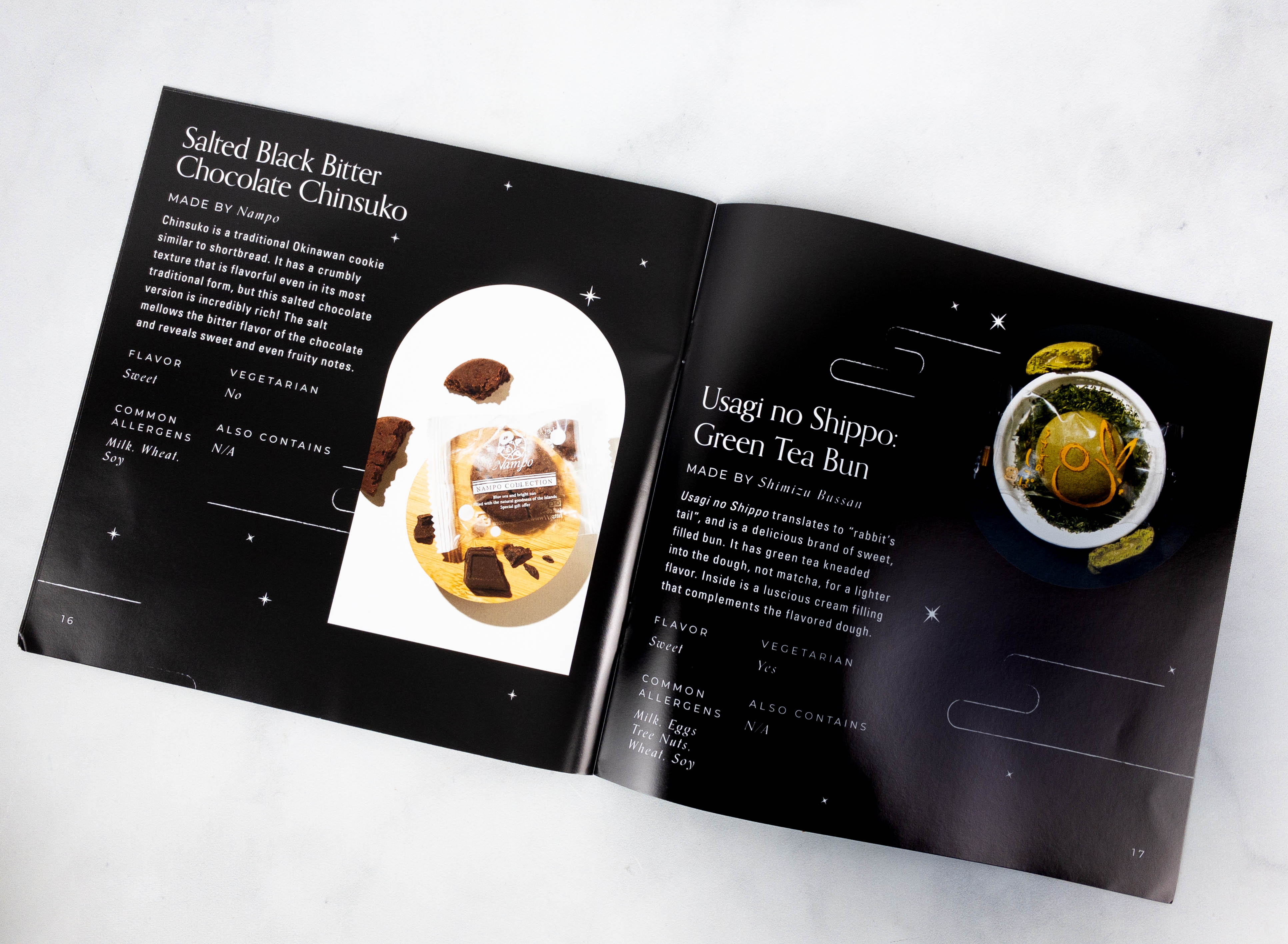 Both the packaging and this booklet give off a premium feel!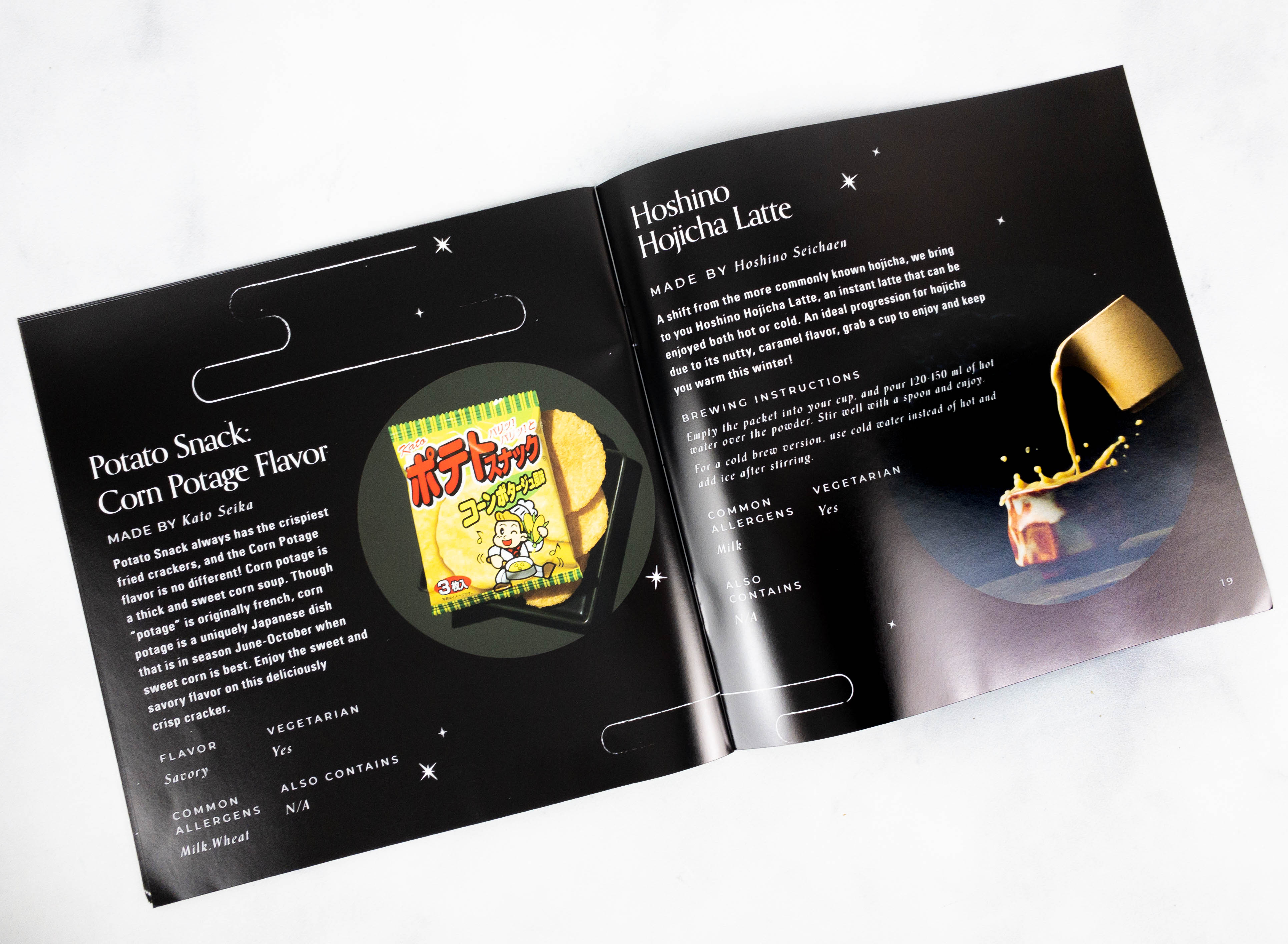 According to the booklet, there's a drink in this box as well.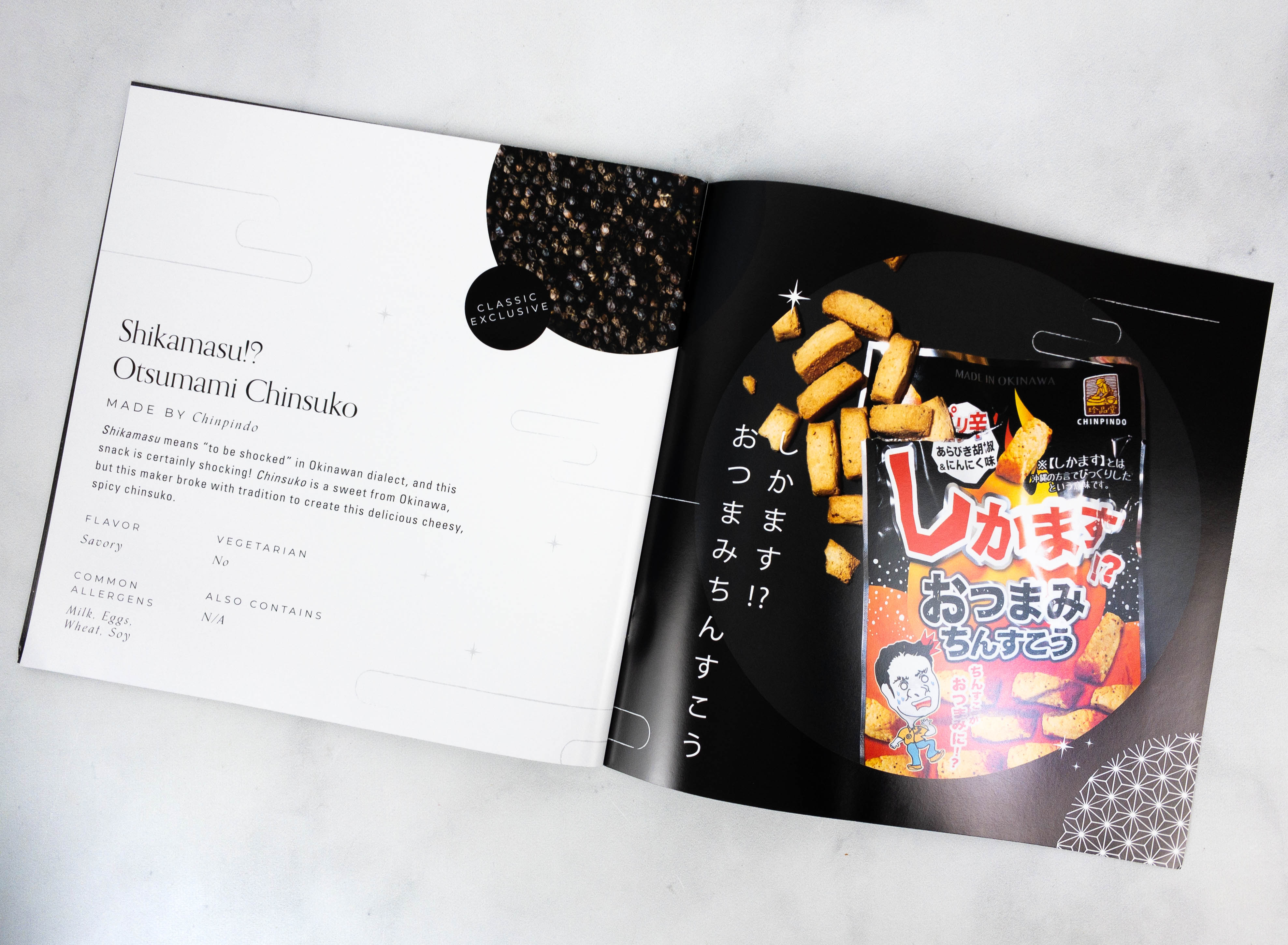 I'm excited to try all these goodies!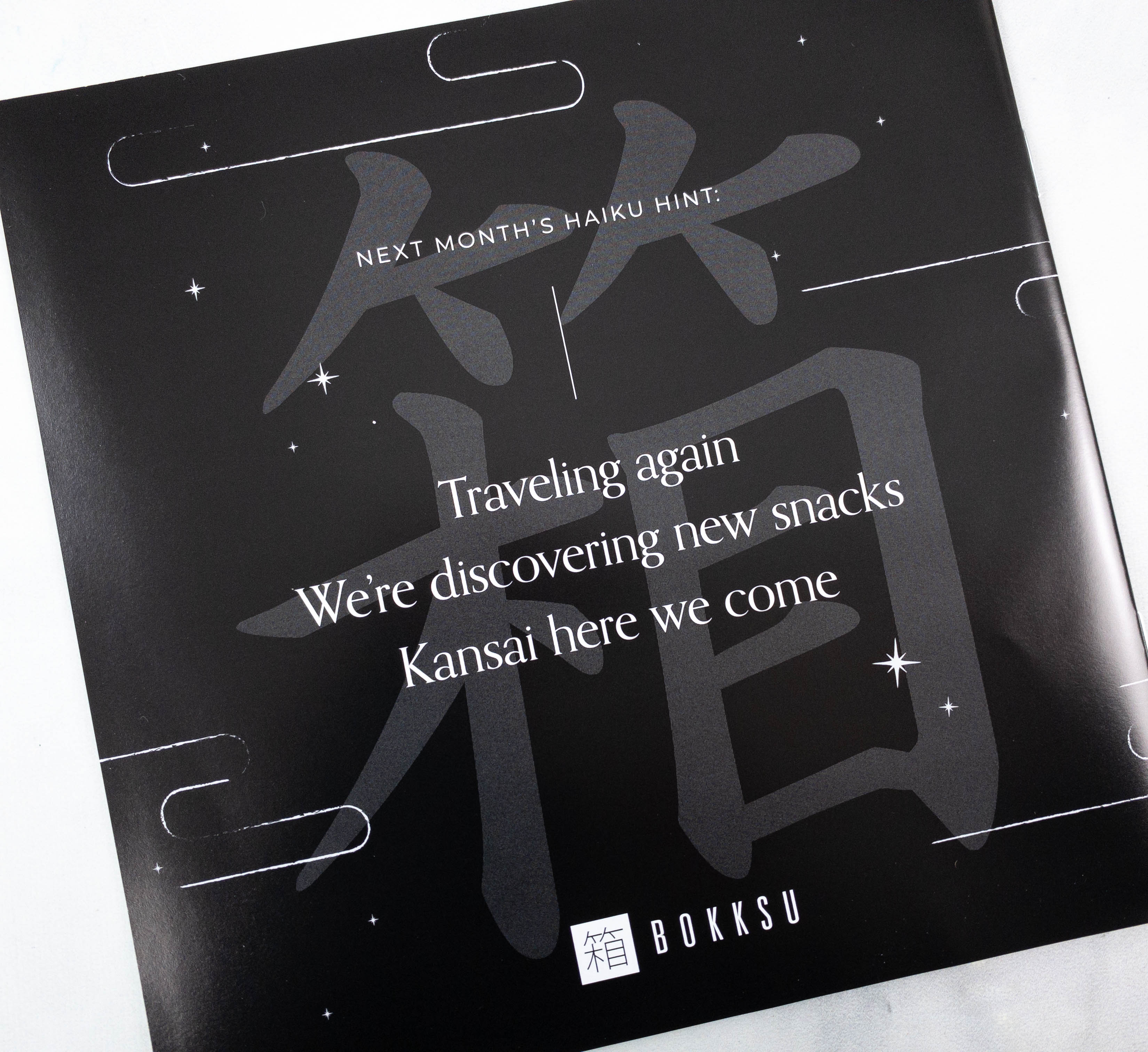 The back of the booklet has a haiku hint for next month's box!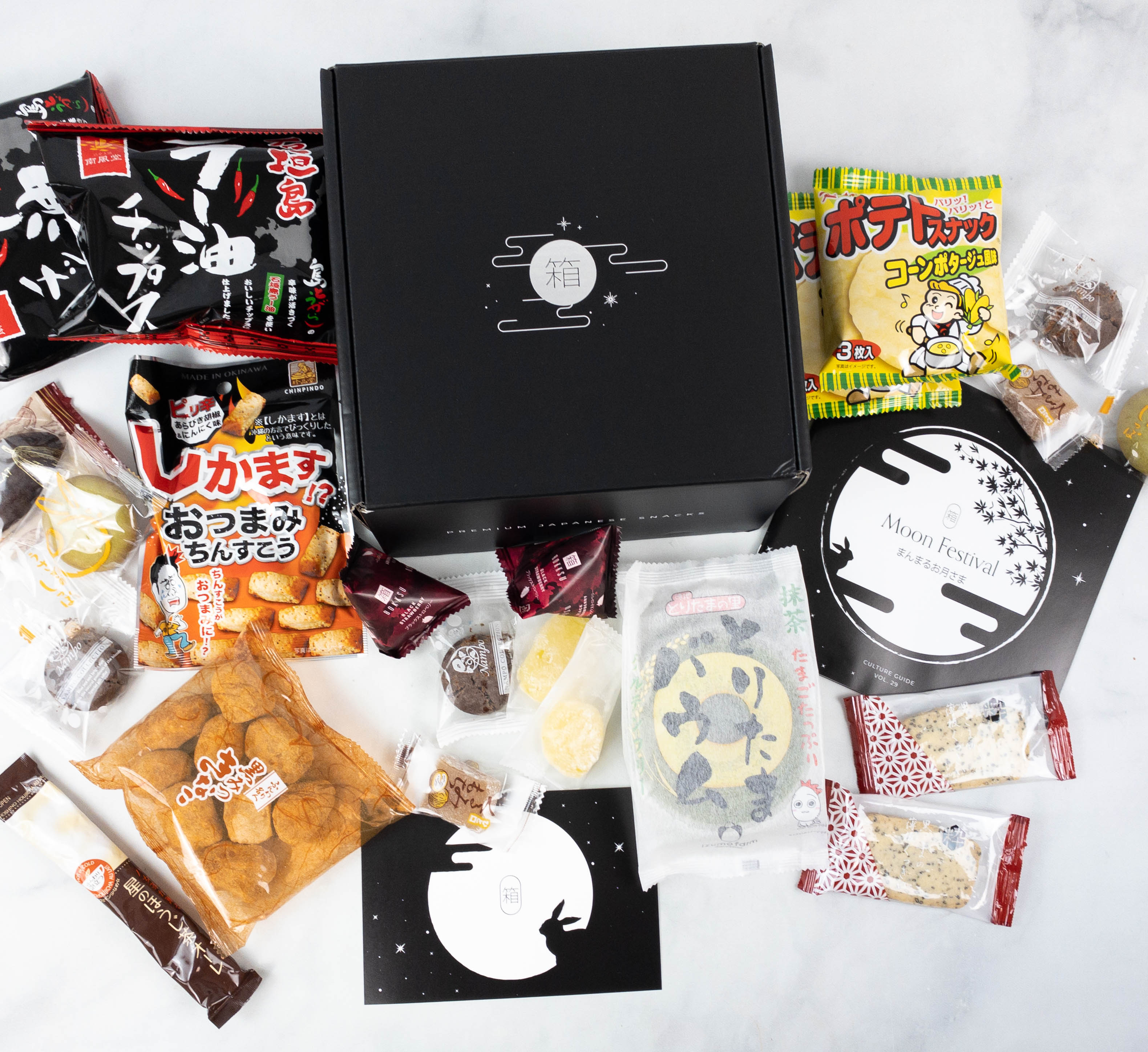 Everything in the September 2021 Classic Bokksu!
Black Sesame Cookie. Originating from Osaka, this perfectly baked cookie was made by kneading dough and black sesame seeds. It has a nice texture and flavor with a nutty aroma, no doubt it's a popular Japanese dessert. Another amazing characteristic of the cookie is its shortbread-like texture and buttery finish!
Funwari Meijin: Mochi Puffs: Black Syrup Kinako ($3) This mochi snack from Niigata is made with Japanese mochigome rice and covered in brown sugar syrup, cocoa powder, and kinako powder. Each piece is sweet and nutty! There are several pieces in one pack, making it great for sharing with the family.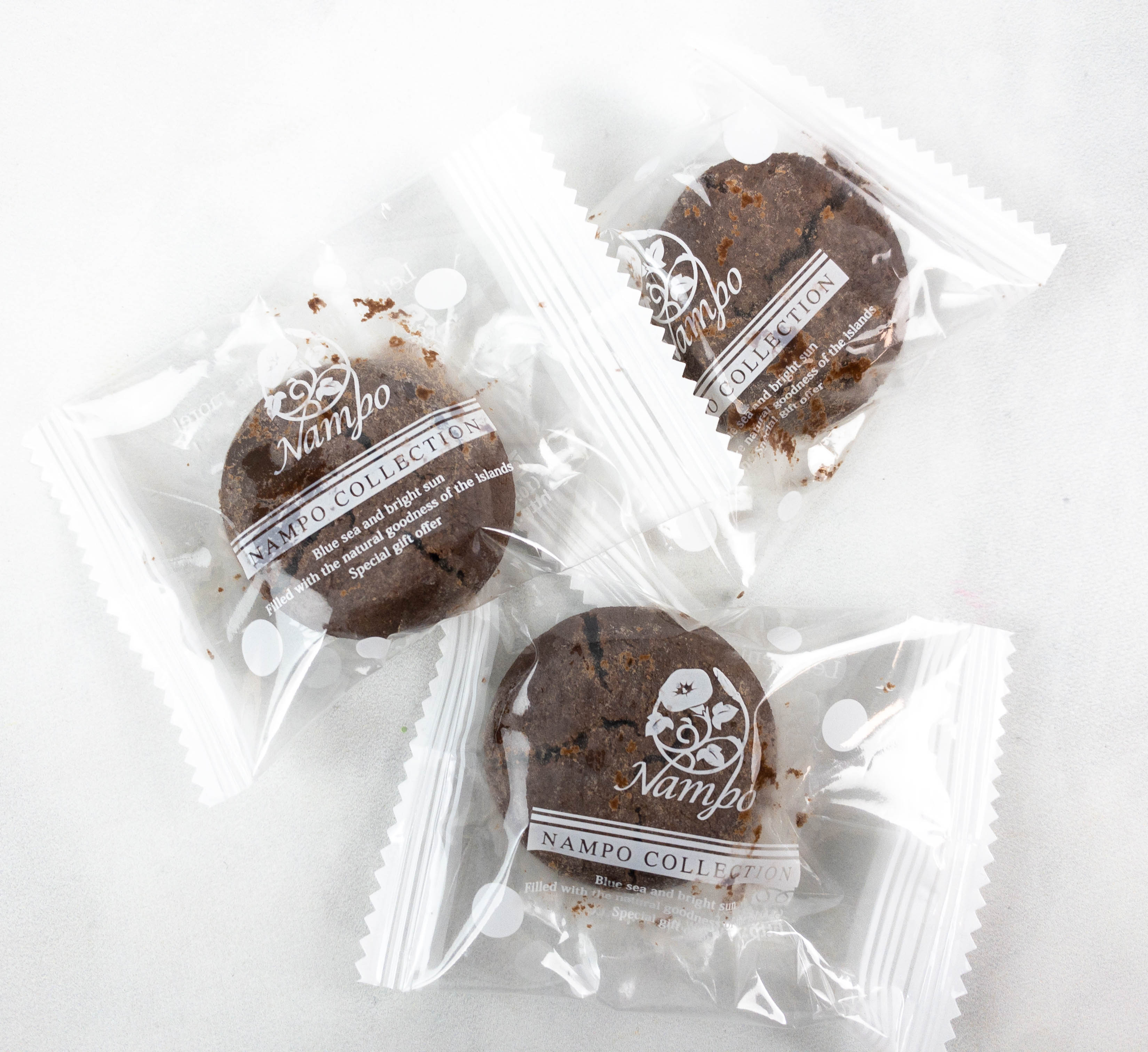 Salted Black Bitter Chocolate Chinsuko. Here's another traditional snack from Okinawa! It's called Chinsuko, which has a crumbly texture and dark chocolate balanced by the addition of salt. Since these shortbread-like cookies they are individually wrapped, they are perfect as an on-the-go treat or a lunchbox dessert.
Usagi no Shippo: Green Tea Bun. A product of Shizuoka, this bun contains green tea that gives a light flavor to the dough and a cream filling that complements it perfectly. Each bite has a perfect balance of flavors. If you're a green tea lover, this snack is for you!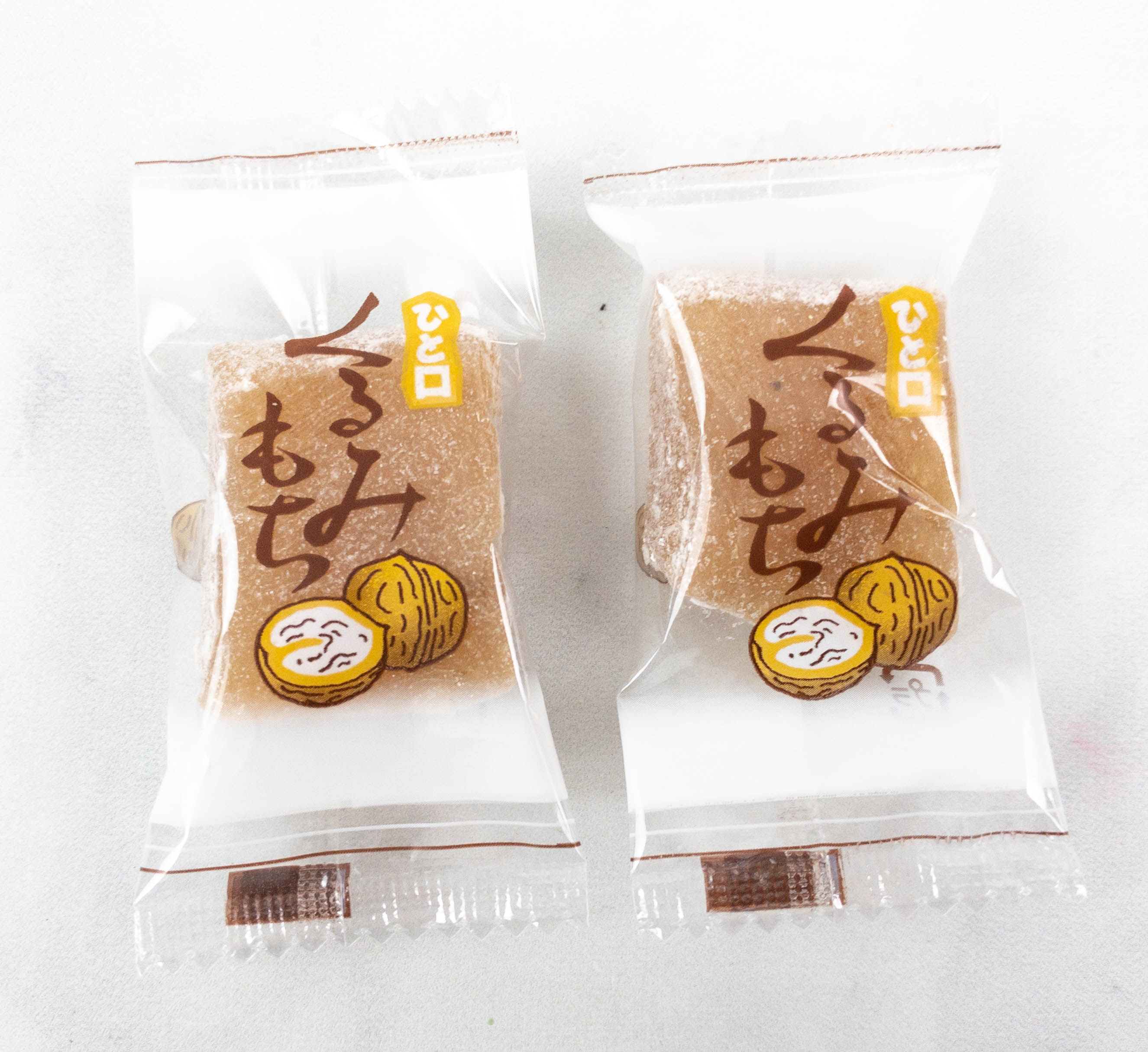 Kurumi Walnut Mochi. Another mochi snack was included in the box and this time, it's combined with chopped kurumi walnuts to create a nice texture. It has a hint of soy sauce that complements well with its sugary coating. It sounds like a weird combination but it works! This snack originates from Nagano.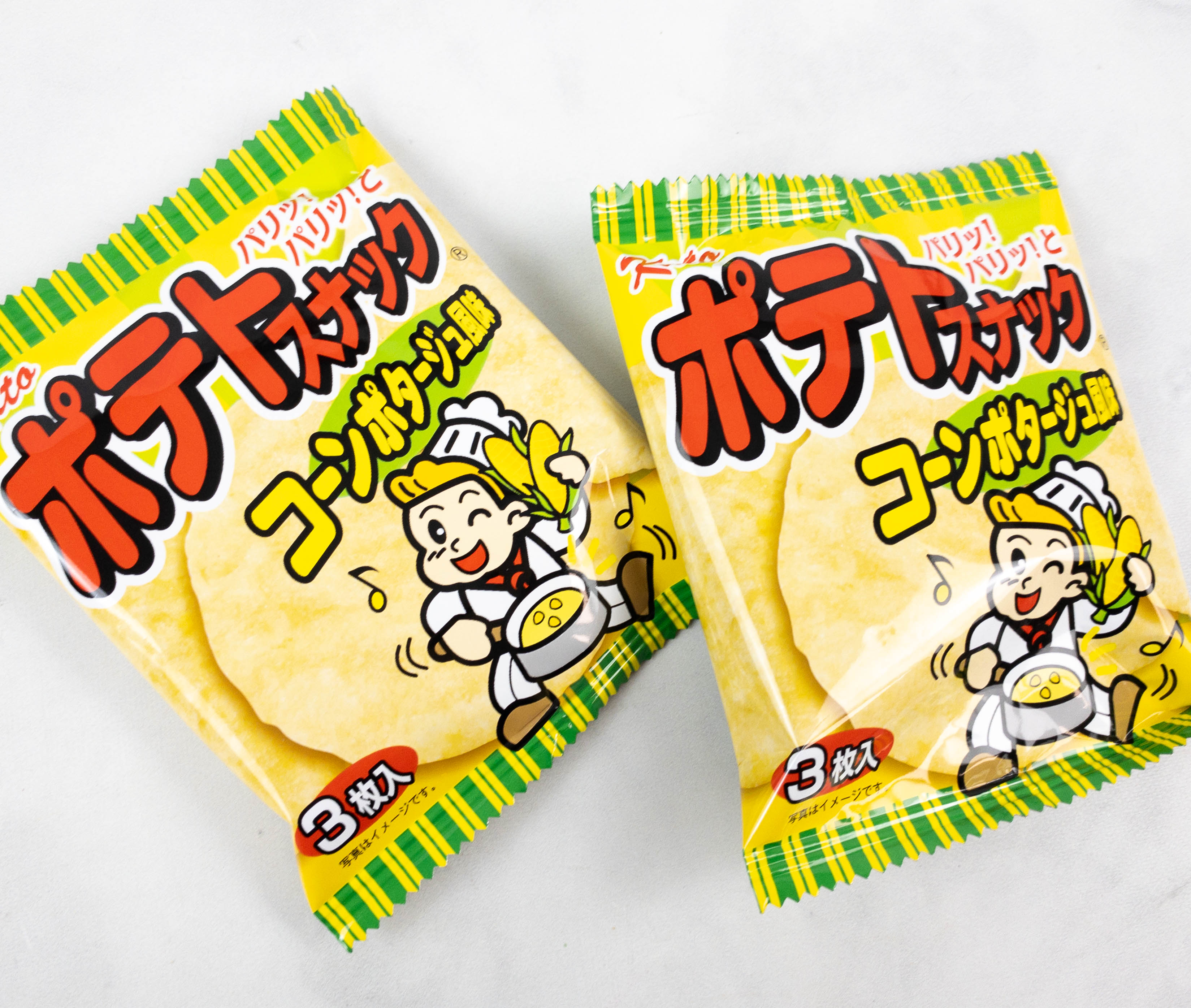 Potato Snack: Corn Potato Flavor. I also enjoyed these packs of sweet and savory fried crackers from Aichi.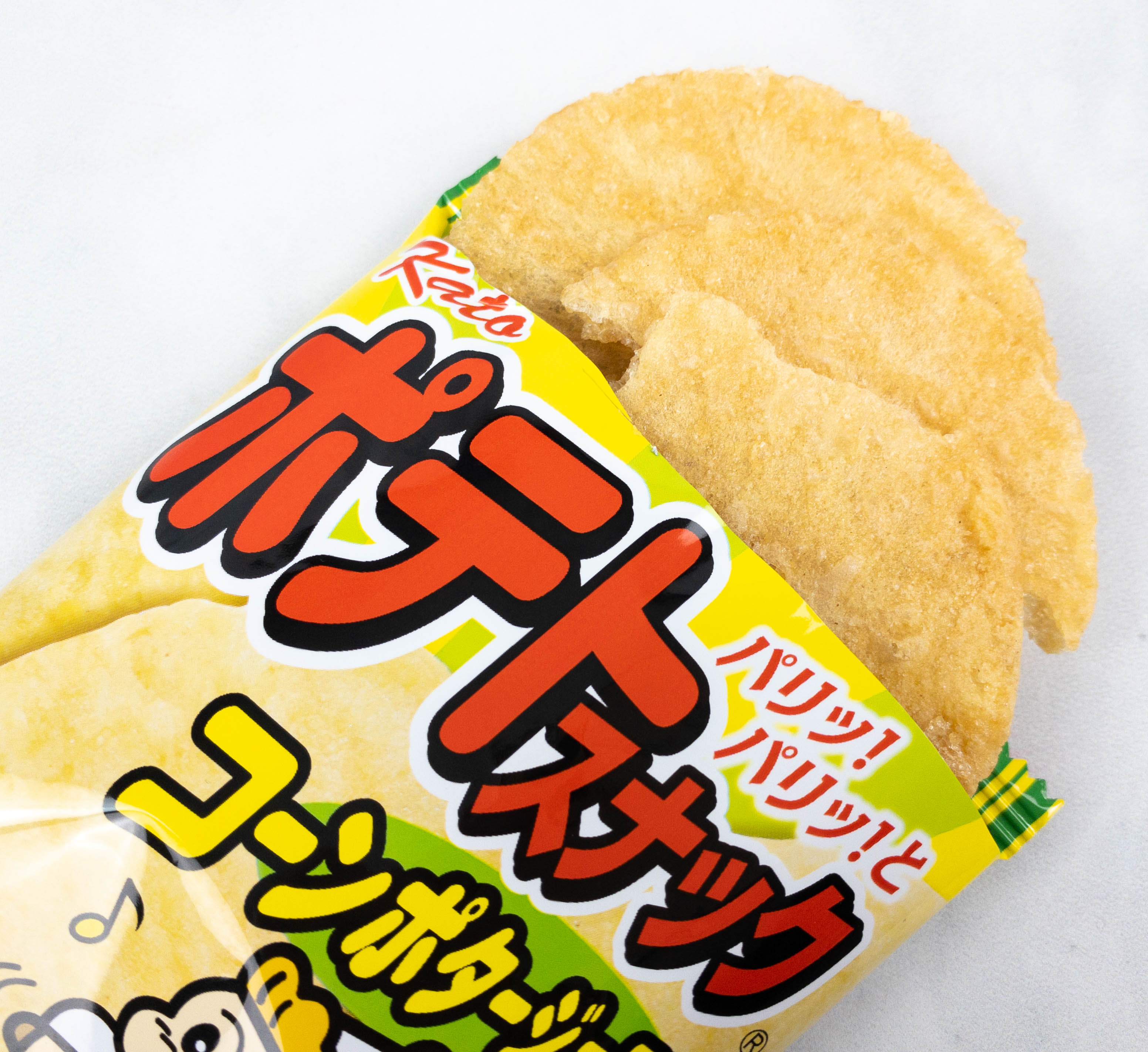 The flavor is inspired by corn potage, a thick and sweet corn soup that's popular in Japan. They were also perfectly crispy!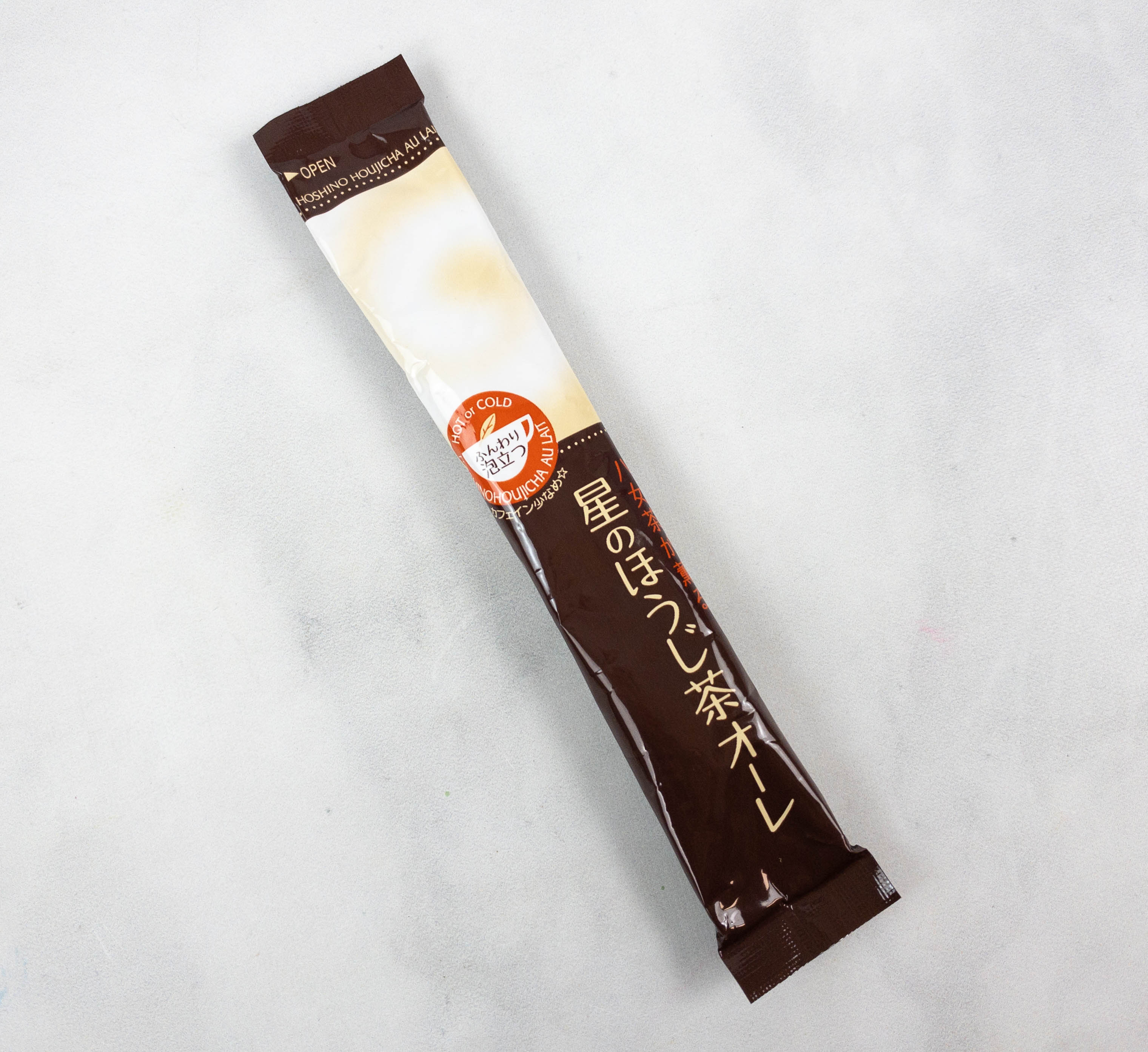 Hoshino Hojicha Latte ($2) Also known as Hojicha, this instant latte can be enjoyed either hot or cold. It has a nice nutty, caramel flavor that I liked. This one is a product of Fukuoka.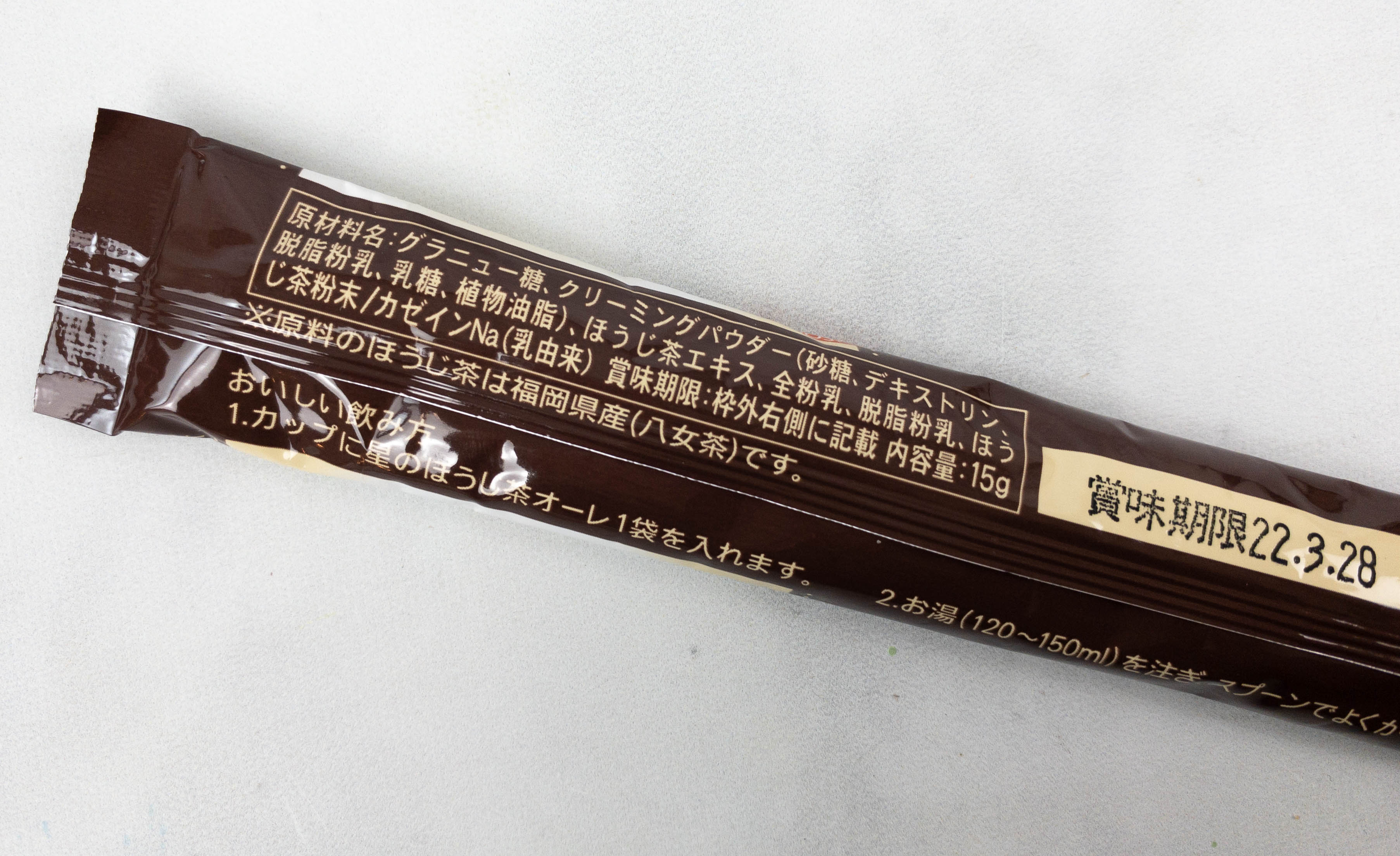 To prepare, just add the contents of the packet in a mug or glass then pour 120-150 ml of hot water. Stir well and enjoy. If you want to try it cold, just use cold water and add ice after stirring.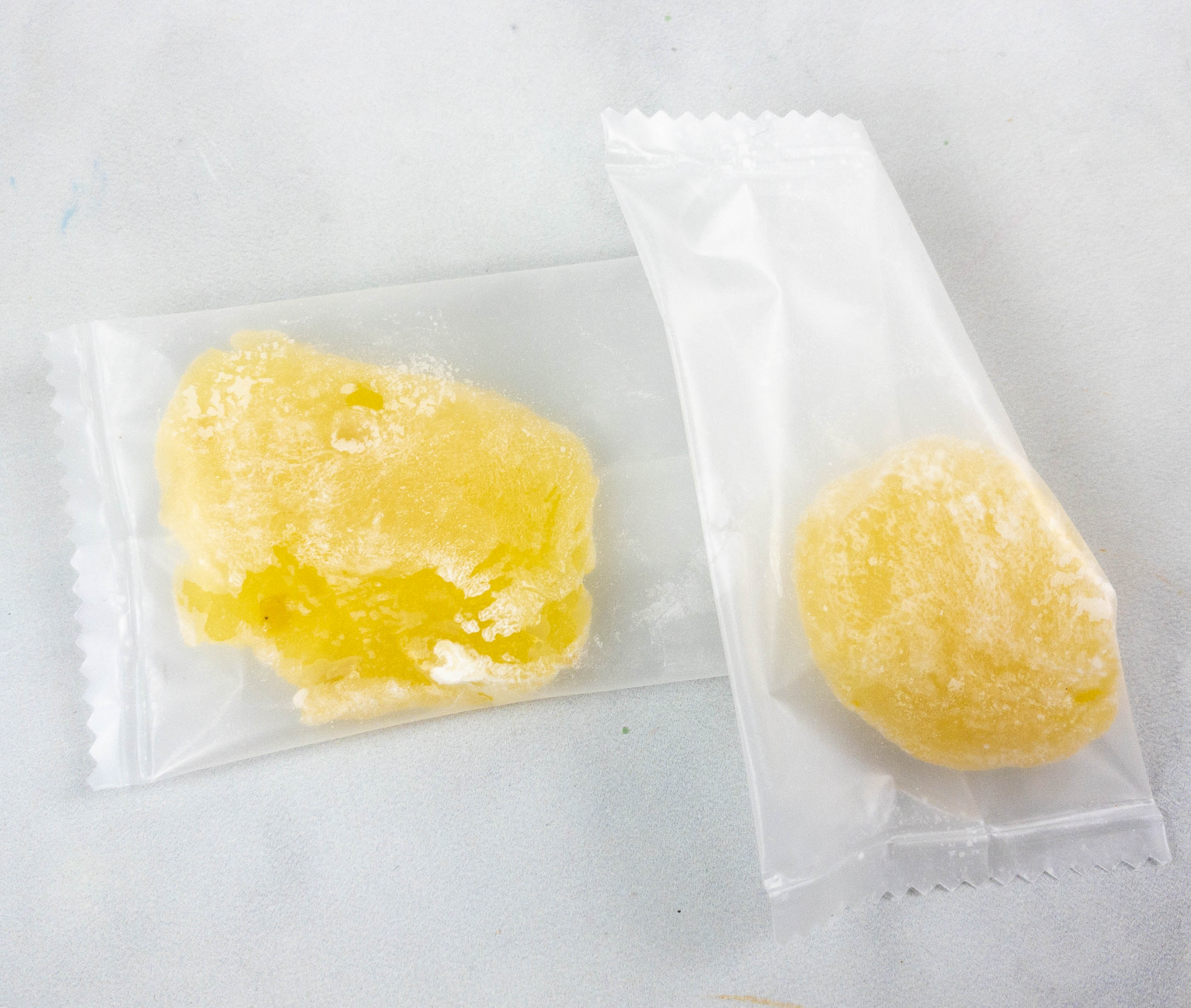 Setouchi Lemon Mochi ($1.60) This version of mochi from Ehime features the sweetness and tartness of Setouchi lemons. It love its lemon scent and its soft and chewy texture as well. If you're looking for a uniquely flavored mochi, this one is worth a try.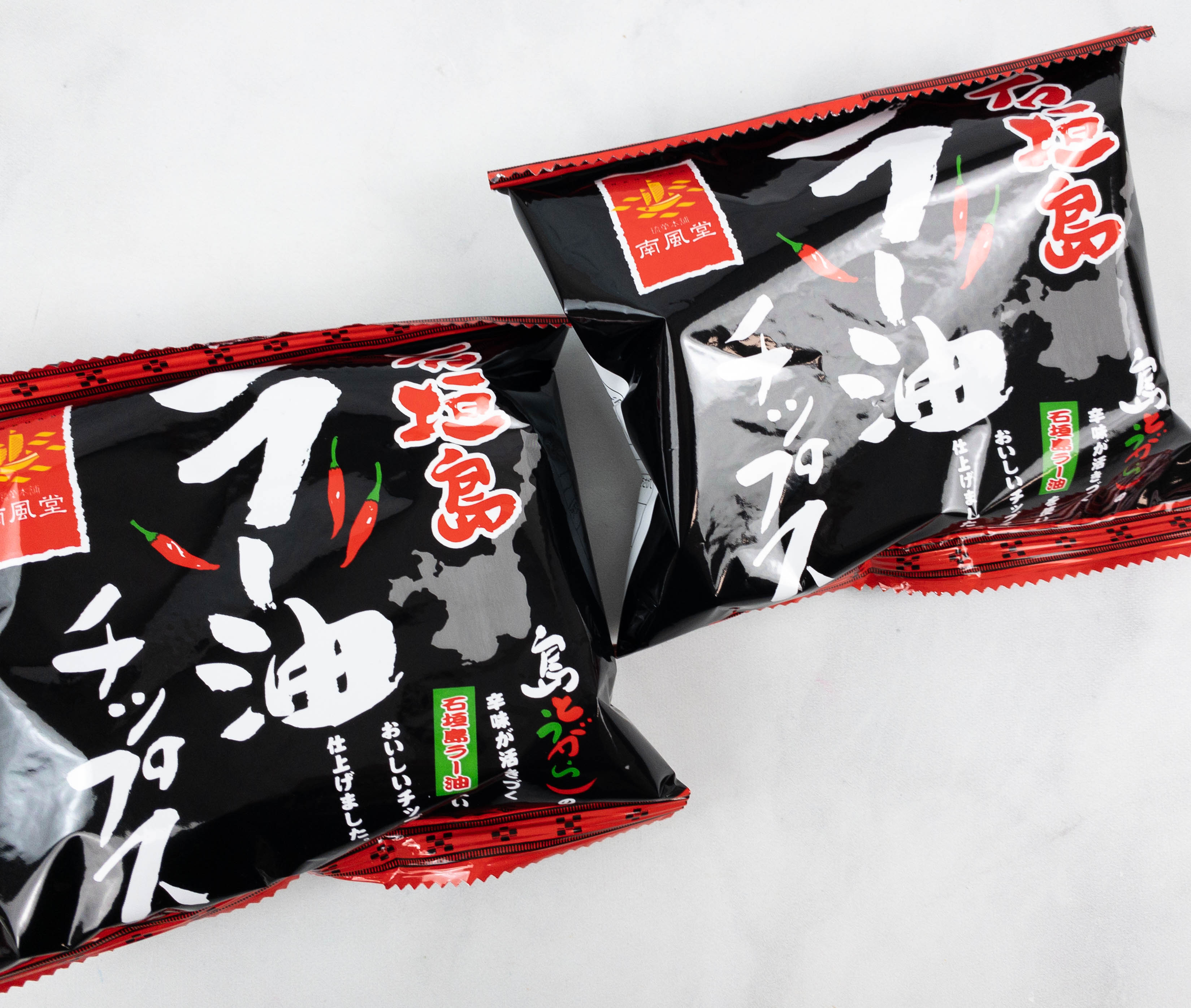 Ishigakijima Chili Oil Chips. There are a lot of spicy snacks that I have tried but this has got to be one of the most interesting flavor that I have tasted so far. Infused in these rice chips is pipaji, a variety of long peppers from Ishigakijima.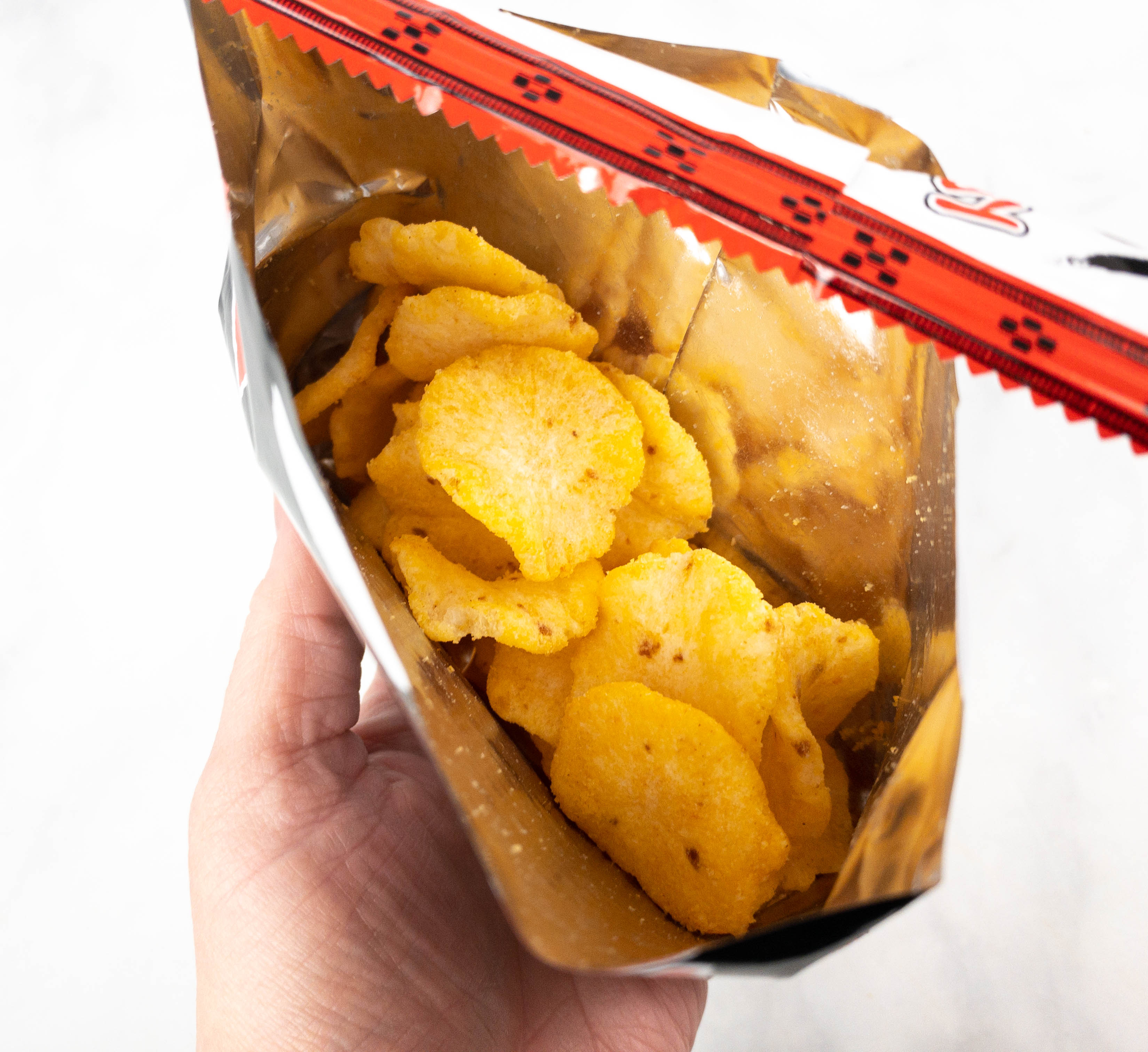 The aroma is really inviting and the chips have a moderately spicy flavor.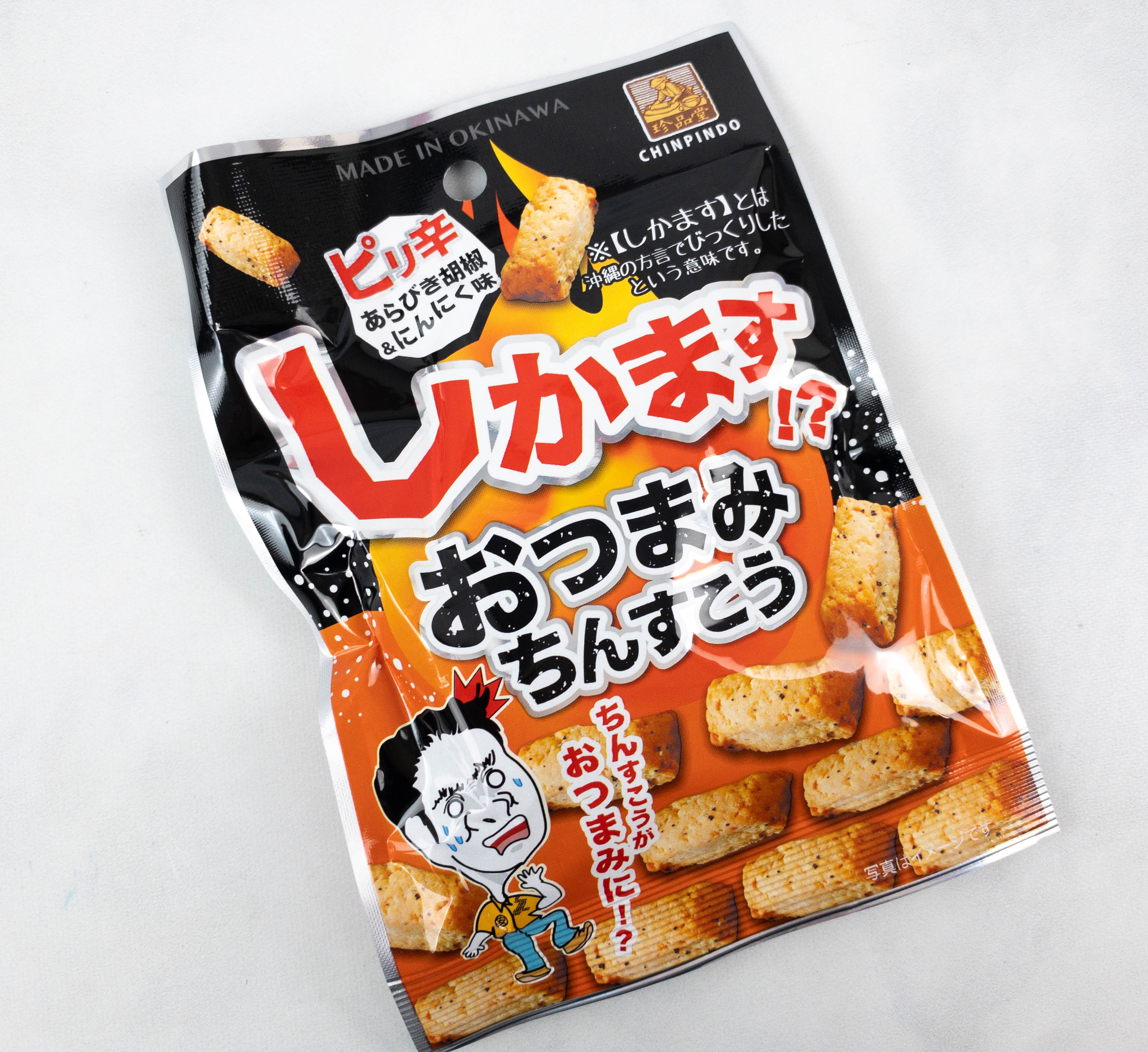 Shikamasu!? Otsumami Chinsuko. This snack's name, Shikamasu, means "to be shocked" in Okinawan dialect. It's indeed shocking as chinsuko is known to have sweet flavors but this one is cheesy and spicy!
This makes a perfect pair with beer!
Rich Baked Chocolate ($3) Here's something for the chocolate lovers, a decadent dark chocolate cake from Osaka. It has a rich chocolate taste with a touch of rum that enhances its aroma.
Toritama Baumkuchen: Matcha. Baumkuchen is originally from Germany, but it's a popular treat in Japan. This cake features thin layers of batter, and I love that they gave it a unique Japanese twist by using matcha.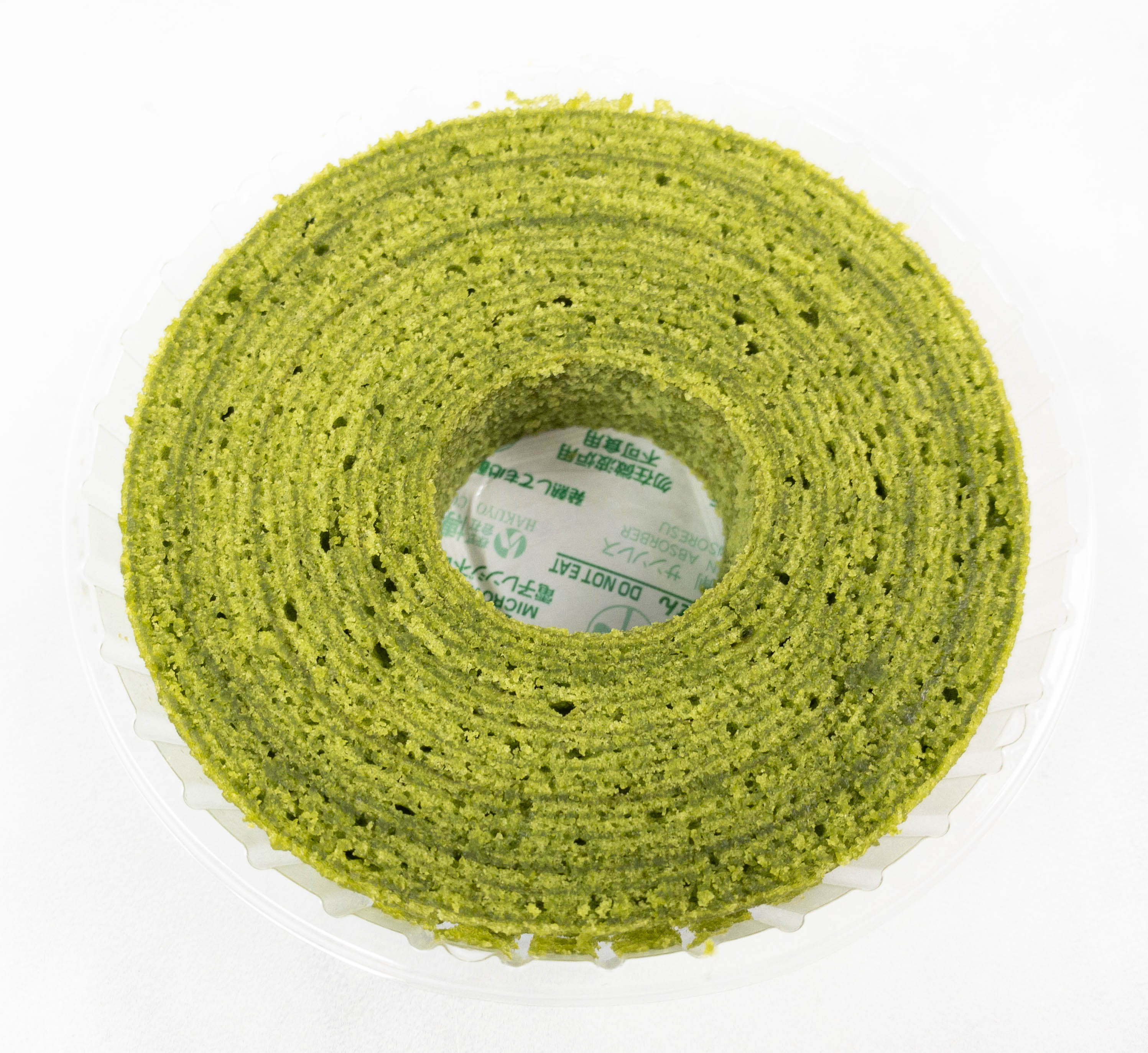 When you look at it from the side, it resembles the rings of a tree. The cake itself is soft and moist and the matcha flavor is perfectly balanced. I liked its earthy sweetness as well!
Black Strawberry. These freeze-dried strawberries were infused with chocolate. The result is a crunchy dessert treat, with the perfect flavor of ripe strawberry and the sweetness of chocolate.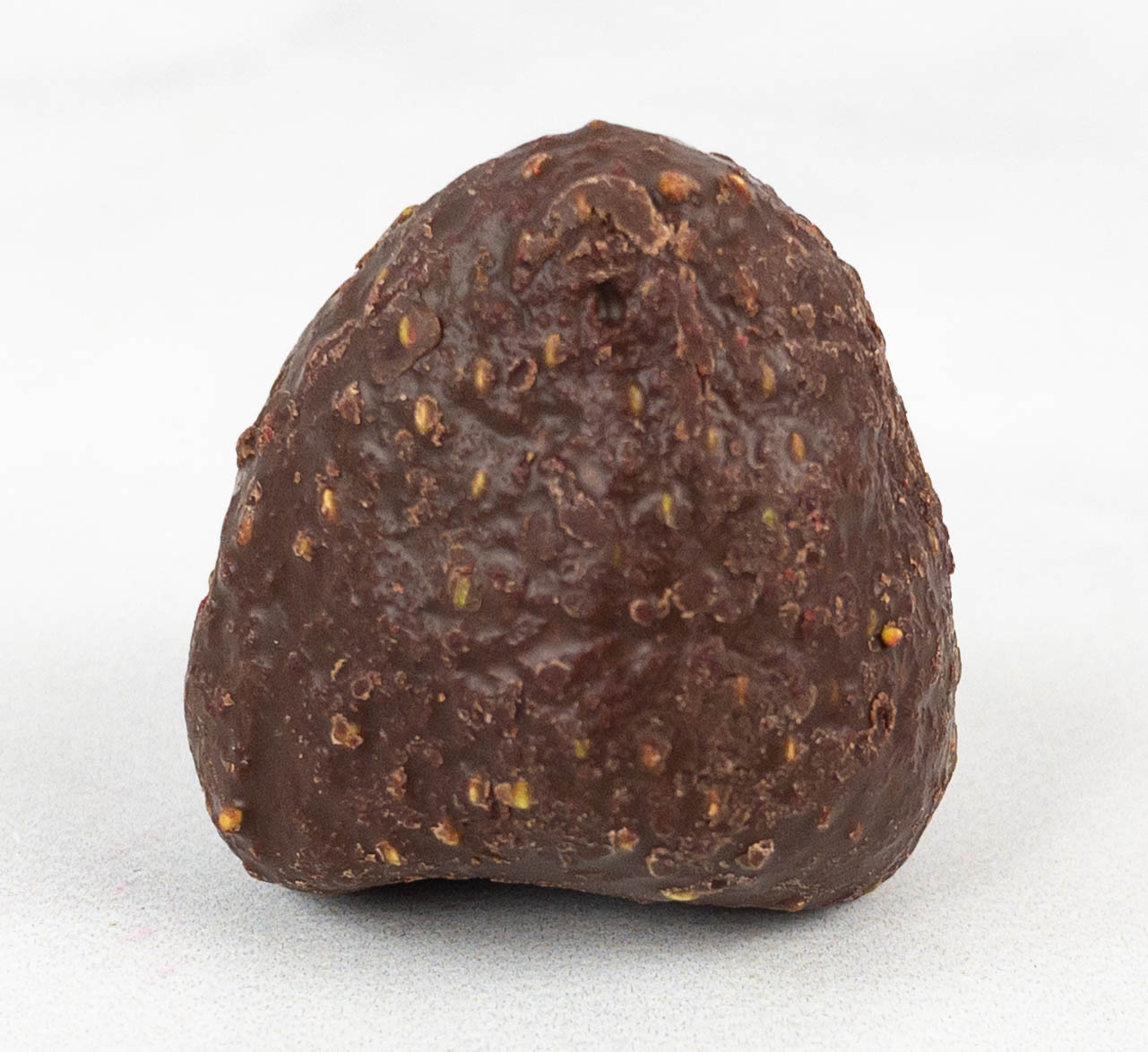 Yes, they used a real strawberry!
Strawberry and chocolate is indeed a perfect combination. This makes a great dessert treat! It's so amazing and innovative and I have only ever seen this in Bokksu!
It's Moon Festival season once again! Bokksu celebrates it with a limited edition box, filled with traditional Japanese snacks and unique flavors from the country. There's something for every craving from sweet to spicy and everything in between. Of course, there were also green tea and matcha flavored goodies! I was also happy to see different mochi flavors in the box, as well as an easy-to-prepare drink. I really appreciate the inclusion of the booklet that explains each snack and tells us where it's from. It was a good way to learn more about the snacks and the Japanese culture! I loved everything but if I have to choose a favorite, it would be the Black Strawberry. I love fresh strawberries dipped in chocolate, and although this one uses freeze-dried strawberries, the taste is still on point. If you're not yet subscribed to Bokksu, this limited edition box would really make a great first box!
What's your favorite snack from this month's box?