Want the very best deals on the very best subscriptions and boxes? They're right here!
Whether it's a promo code, free bonus item, or coupon, we are always on the hunt for a great deal for you to try out a new favorite subscription! Whether you're looking for kids' boxes, fashion finds, beauty products, fine wines, delectable snacks, lifestyle items, or home decor, we have the best deals to spice up your subscription experience!
So grab the best deals, promo codes, free bonus items, and discount offers and take advantage of them to save more bucks and time! It's your pass to some great goodies and experiences!
Still want more? Check out the newest subscription box deals!
---
Ipsy has an amazing and super rare deal for new subscribers!
Get FREE month of Refreshments when you subscribe to any Ipsy subscription - that's up to $18 value! No coupon needed, just use this link to subscribe.
Get a FREE Month of Refreshments at Ipsy!
Ipsy offers three subscriptions - the $12 Ipsy Glam Bag that includes 5 beauty products worth $50+, the $25 Ipsy Glam Bag Plus that includes 5 full-size products worth $120+, and the $55 Ipsy Glam Bag X (an upgrade of $43 to the Ipsy Glam Bag) that includes 8 full-size products worth up to $529! See all our Ipsy reviews and Ipsy Refreshments review to find out more!
P.S., Starting in October, membership prices will increase from $12 to $13 for the Glam Bag, and from $25 to $28 for the Glam Bag Plus.
---
ButcherBox's BEST-SELLING Ground Beef deal is BACK, but ending soon!
Get 2 pounds of grass-fed, grass-finished ground beef FOR LIFE! No coupon needed, just use this link to subscribe. Ends 10/15.
Get FREE Ground Beef FOR LIFE at ButcherBox!
Check out all our ButcherBox reviews to find out more about one of our favorite subscription boxes!
---
Allure Beauty Box has a new free gift with subscription for September 2021!
Act fast to get a bonus ninth (yes, ninth!) product in your September box! In addition to your new favorite fall beauty products from SUNDAY RILEY, BELIF, ANASTASIA BEVERLY HILLS and more, you're also getting a FULL-SIZE EYE CREAM FROM VERSO (WORTH $65).
In addition to the FREE ByMe x MyBeautyBrand Liquid Eyeliner AND Huda Beauty Samantha Lashes, new will also get FREE full-size Verso Super Eye Serum! Be sure to scroll down here and check that this offer is still available.
GET FREE Gift from Allure Beauty Box!
---
Ready for a MUNCHDOWN?
Barkbox and Super Chewer has released a limited edition theme - the College Football Collection! 
Celebrate the best team with your best bud! Shop BarkBox's LIMITED EDITION Collegiate Collection today!

Your dog never gives up, they're loyal to the end, and they can bark all the words to your team's fight song. That's why we filled this box with squeaky toys and tasty treats for our favorite animal alumni. Get ready to play!
Start your subscription with the College Football Collection when you sign up for BarkBox using this link and for Super Chewer using this link. Valid until 9/30.
---
In honor of her 100th birthday CURATEUR has collaborated with absolute style icon Iris Apfel to bring you the new The Icon Welcome Box worth $450! We have a deal to bring it down to $39.99 - just visit CURATEUR to pick it up with coupon code WELCOME10!
CURATEUR's mission is to uplift and empower women to feel like their most confident self, and we can't think of a better muse for that concept than fashion icon and entrepreneur Iris Apfel. As she rings in her 100th year of timeless style, we're thrilled to partner up with the legend herself as well as Tanqueray to offer you a box of luxury items that will encourage your sense of personal expression!
After receiving your welcome box, your next box will be the Winter 2021 CURATEUR box! This membership will renew as a seasonal membership ($99.99). You can instead select the Full Fall 2021 curation (save $25 with FALL25).
Get the CURATEUR Fall 2021 Icon Welcome Box!
Elegant Essentials and Everyday Edge Fall 2021 Welcome Boxes are still available.
---
Menlo Club has EXTENDED their "Midlife Crisis" Sale!
With summer coming to a close (unfortunately), that can only mean one thing (fortunately)... A Menlo Club sale! We are kicking off Dee Murthy's (Menlo Club Co-Founder) "Midlife Crisis" with a sale for the ages. With both promo options, new Menlo Club subscribers will be receiving $175 worth of clothing for a mere $35! 
Get your first package for just $35 (valued $175) including a Stanton Sneakers in Slate, Vista Sneaker Sock in Ice Grey, Clifford Shirt in Taupe, and Shelton Shorts in Brown! Just use this link and use the coupon code MIDLIFECRISIS1TB at checkout. OR Get your first package for just $35 (valued $175) including a Stanton Sneakers in Silver Birch, Vista Sneaker Sock in Ice Grey, Clifford Shirt in Black, and Shelton Shorts in Brown! Just use this link and use the coupon code MIDLIFECRISIS2TB at checkout. Ends 9/30. Must use all caps. Case sensitive coupon.
After your first package, you'll be charged $60 per month or $75 per quarter. Check out our Menlo Club reviews to find out more about this men's clothing subscription box!
---
Beachly (formerly Coastal Co.) has a new coupon!
For a limited time, get $30 off your first box! Use the coupon code FALL30 at checkout!
For a limited time, get a FREE Beauty Bonus Box ($100 worth of extra goodies) when you use the coupon code BEACHLYBEAUTY at checkout
OR Get a FREE BONUS BOX ($100+ value) with your Summer Box! Use the coupon code BONUSBOX at checkout!
Beachly offers two subscriptions - the Men's and Women's surf subscription box! Each quarterly box includes beach-inspired apparel and accessories worth $250+.
And ICYMI, Beachly has just launched the Beachly Beauty Box! Beachly's Beauty Box includes 4-6 carefully curated, beach-inspired cruelty-free, clean beauty products to add a dose of vitamin sea to your regimen. The Beauty Box is $29 per month, with a promised $75+ retail value in every box. The first box ships free; thereafter, future boxes have a $2.99 shipping charge.
See all our Beachly reviews to find out more!
---
The Grove Collaborative new subscriber deal is back this Fall with new seasonal Mrs. Meyer's scents!
Attention autumn enthusiasts! Fall has arrived early at Grove

You can now shop limited edition seasonal scents from Mrs. Meyer's Clean Day , including Grove-exclusive Pear Tree!

Available for a limited time only — so don't wait for the leaves to turn!
Get FREE Mrs. Meyer's Fall Bundle at Grove!
When you start your subscription with a $20 purchase you'll get a new subscriber Mrs. Meyer's Fall Bundle FREE. Get FREE shipping on your first order, too! Mrs. Meyer's Clean Day household products are made from earth-friendly ingredients and essential oils. They're also known for their garden-inspired fragrances that'll brighten your day, and the cleaners come in recyclable packaging!
---
RocksBox has an amazing exclusive offer for Hello Subscription readers to try out their jewelry rental subscription - FREE!
Get your first month FREE! Use the coupon code MOMMYSPLURGEXOXO to get the deal!
Rocksbox is a designer jewelry rental subscription service. For a flat monthly fee of $21, you can have as many boxes as you can ship with 3 fabulous pieces of jewelry to try out and experiment with, and return when you're done and get your next set (free shipping both ways!). You can also keep the pieces you want to love forever at a discount off retail.
See our Rocksbox reviews to see the awesome jewelry we received in the past.
---
---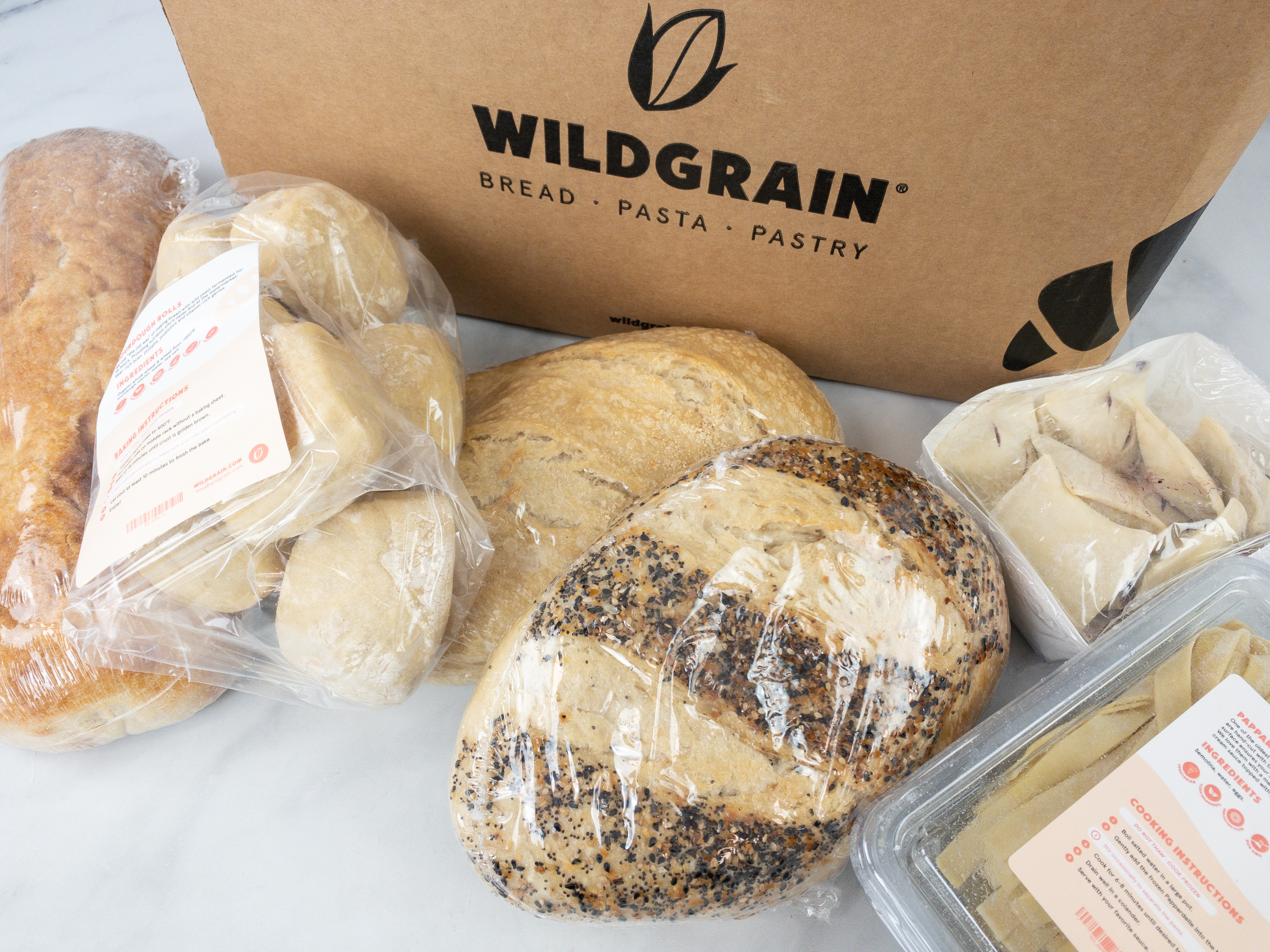 Wildgrain has an exclusive deal for Hello Subscription readers for their bake-from-frozen subscription box for breads, fresh pastas, and artisan pastries. All of the Wildgrain products are baked within 30 minutes (no thawing!) and are made with clean ingredients. Wildgrain bread, pasta, and pastries subscription is $89 per month that sends healthy ready-to-bake goodies. For every Wildgrain subscription, they also donate 6 meals to The Greater Boston Food Bank.
When you subscribe to Wildgrain choose from the mixed box - bread, pasta, and pastries - or the bakery box - pastries and bread!
Get $10 off your first box + FREE 8 Brioche Rolls in every box! Use the coupon code HELLOSUBSCRIPTION at checkout.
---
Ready to amp-up you time with a monthly box of natural candles?
Vellabox candle subscription box has a coupon code exclusively for Hello Subscription readers! Vellabox expertly curates scents that pass the smell test made with natural ingredients for a clean burn and it's one of our favorite affordable subscriptions!
Natural Candles Delivered Monthly Transform your space with the strike of a match. Think of us as a monthly box of you-time.
Get $5 off any purchase when you use this link and the coupon code HELLOSUB5 at checkout.
You can choose from The Lucerna Box ($10) which includes a 4 oz candle monthly, The Ignis Box ($20) with an 8 oz candle monthly, and The Vivere Box ($30) with an 8oz + a 4 oz candle monthly. Each level receives the bonus lifestyle gift, and the biggest box includes free shipping. See our Vellabox reviews to get the complete unboxing experience!
---
Scent Box is a great and fun way to try out new designer fragrances each month. They're currently offering 50% off your first box! Use coupon code SCENT50.
Scent Box is a unique designer fragrance subscription box service. Every month consumers can choose from over 850 fragrances and get them delivered right to their door! Save money and discover new scents on your terms with Scent Box!
Your first month of a premium subscription will be ONLY $9.98! Standard subscription? $7.48!
Check out all our Scent Box reviews to find out more about this subscription box!
---