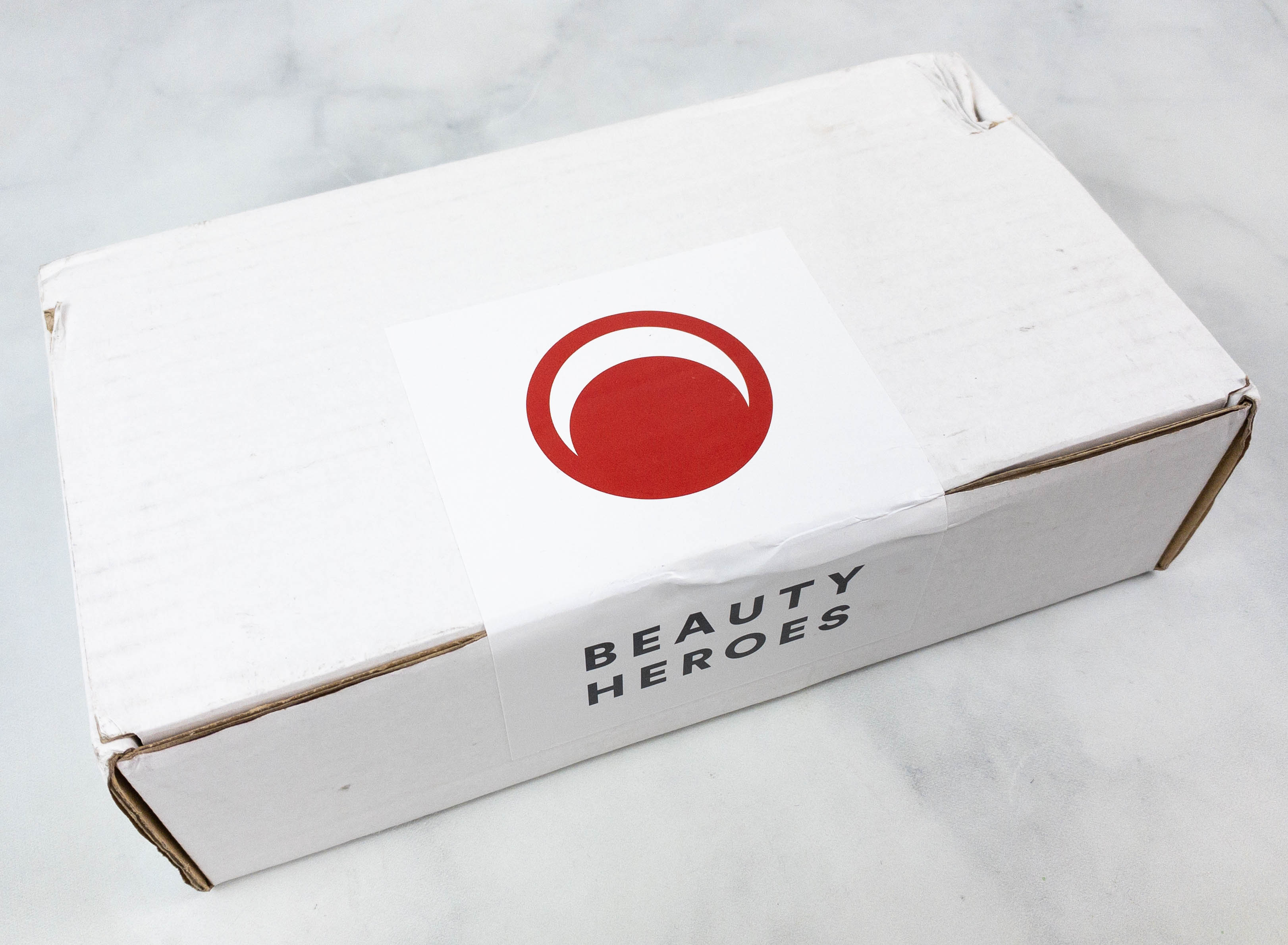 Beauty Heroes is a healthy beauty discovery service featuring one clean beauty brand each month. They send a full-size Hero product in every box, plus a deluxe size Sidekick. Sometimes, they send more than one Hero or Sidekick, depending on the featured brand. Boxes are always $100+ in total value. Beauty Heroes members also receive a 15% discount in the Beauty Heroes Beauty Store, insider exclusives, and early access to new product launches. They currently offer 1-, 3-, 6-, and 12-month membership subscriptions. Here are the prices: 1-month – $58.95 ($58.95/month), 3-months – $137.85 ($45.95/month), 6-months – $251.70 ($41.95/month), 12-months – $479.40 ($39.95/month).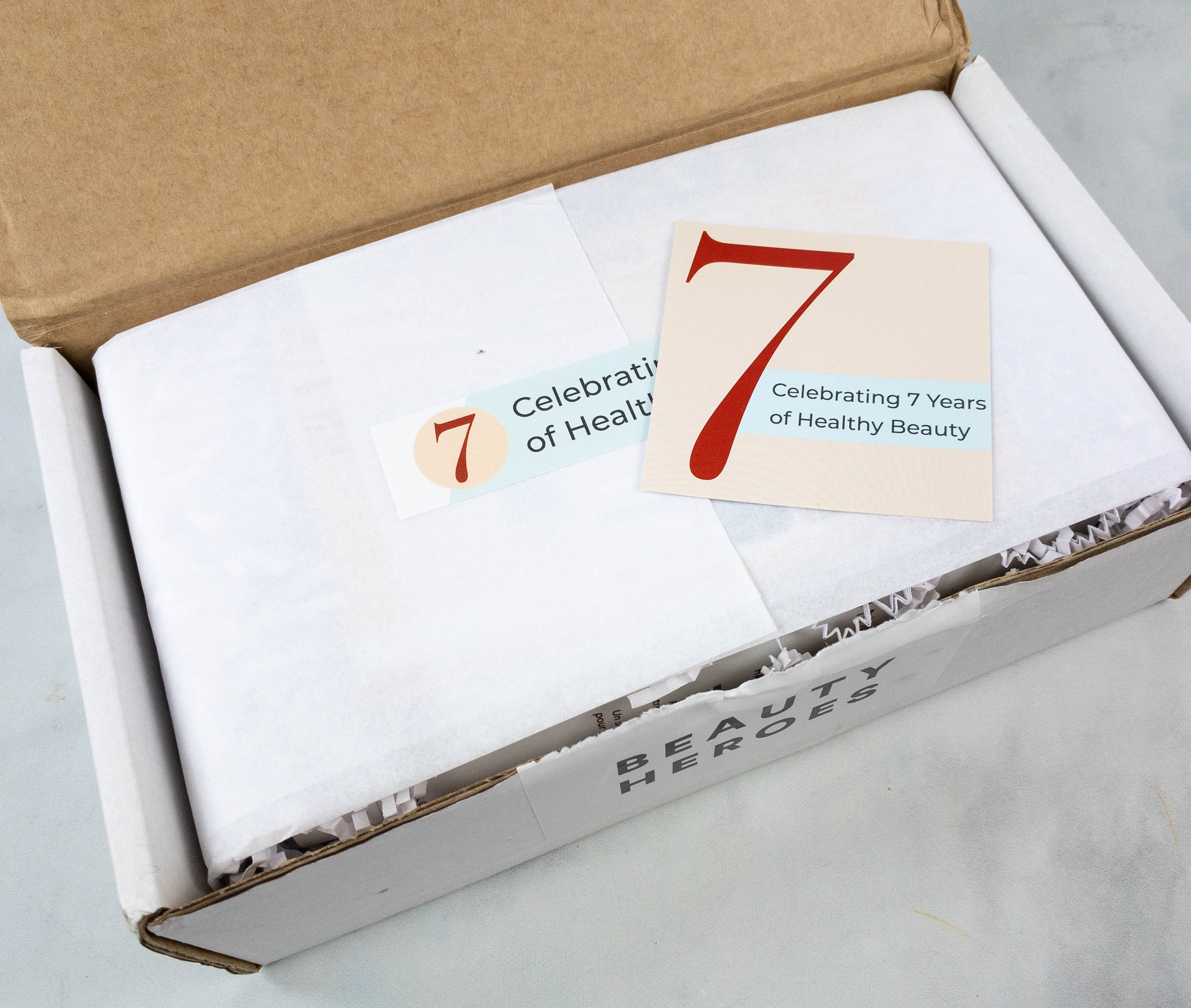 The items came in a simple white box with Beauty Heroes branding.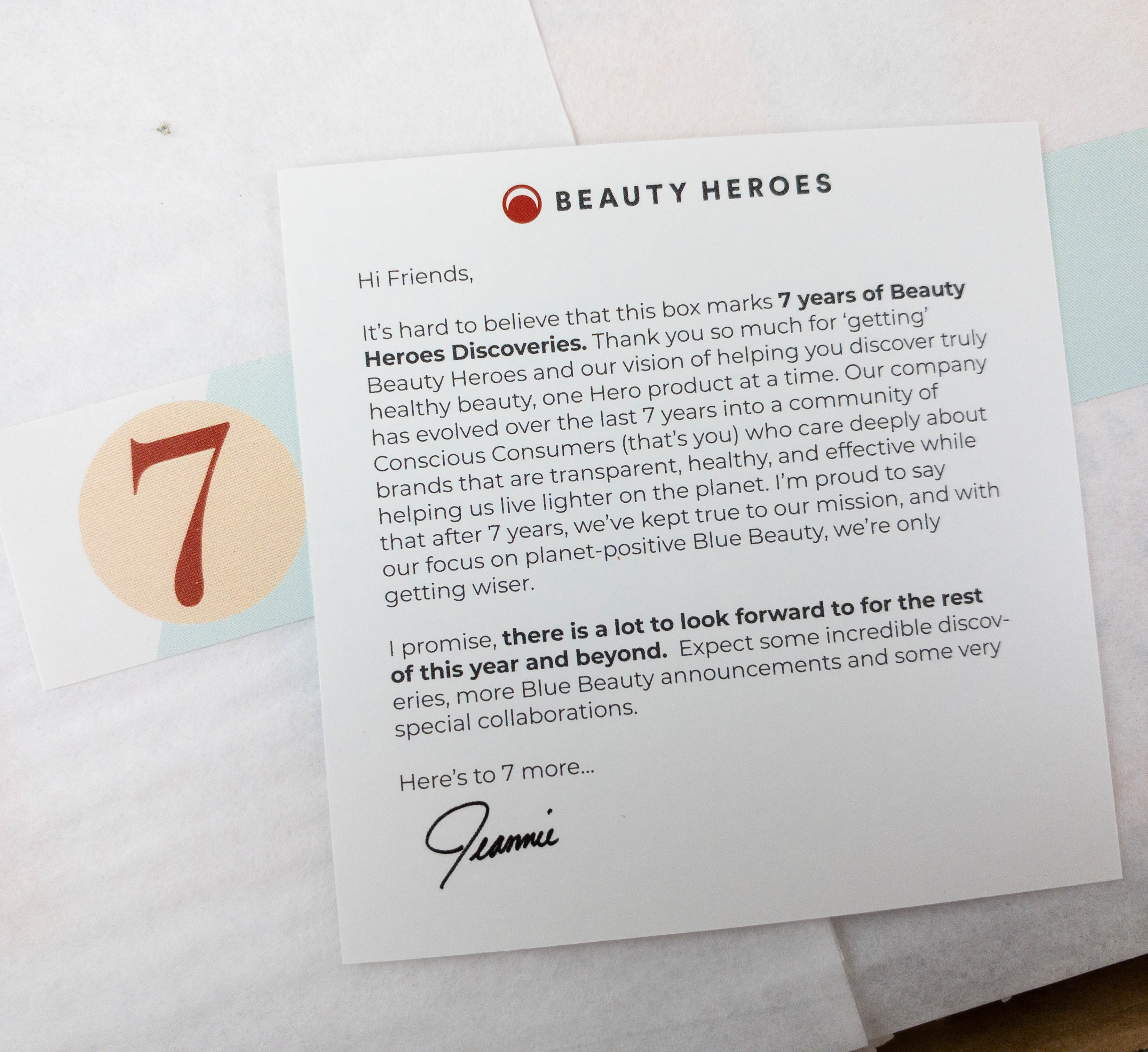 There's an info card on top of all the items. There's no featured brand this month. Instead, the theme is 7th Year Anniversary Discovery Worth Celebrating!
Everything is cushioned in white squiggles.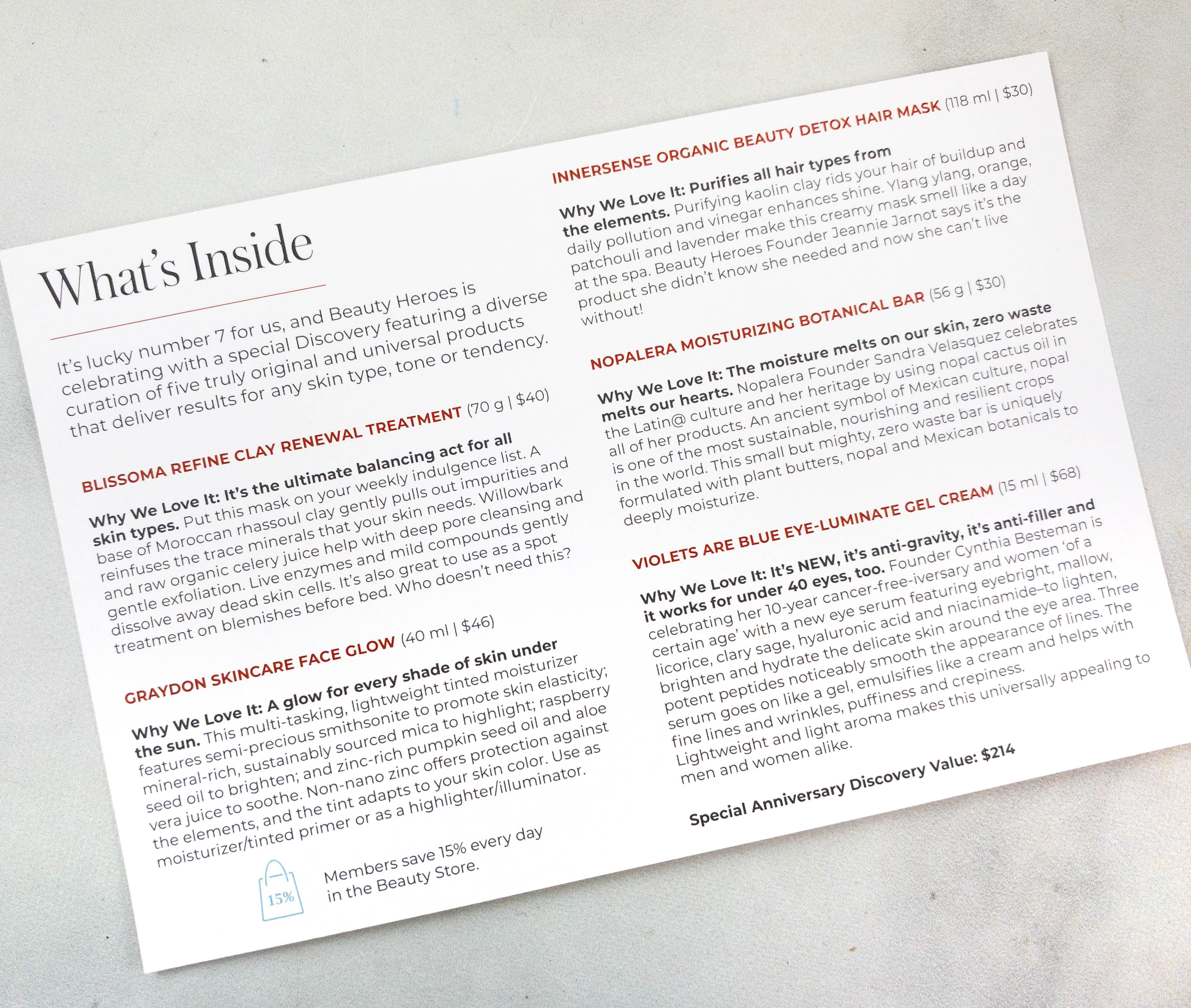 Here's a list of all the items included in this box!
There's also a note about the moisturizing bar included in the box.
The Nopalera Moisturizing Botanical Bar is sensitive to extreme heat. If the external tin feels warm upon receipt or the bar feels soft when you open it, simply put the tin in the refrigerator for 30 minutes. Tap the tin gently on a hard surface to loosen the bar.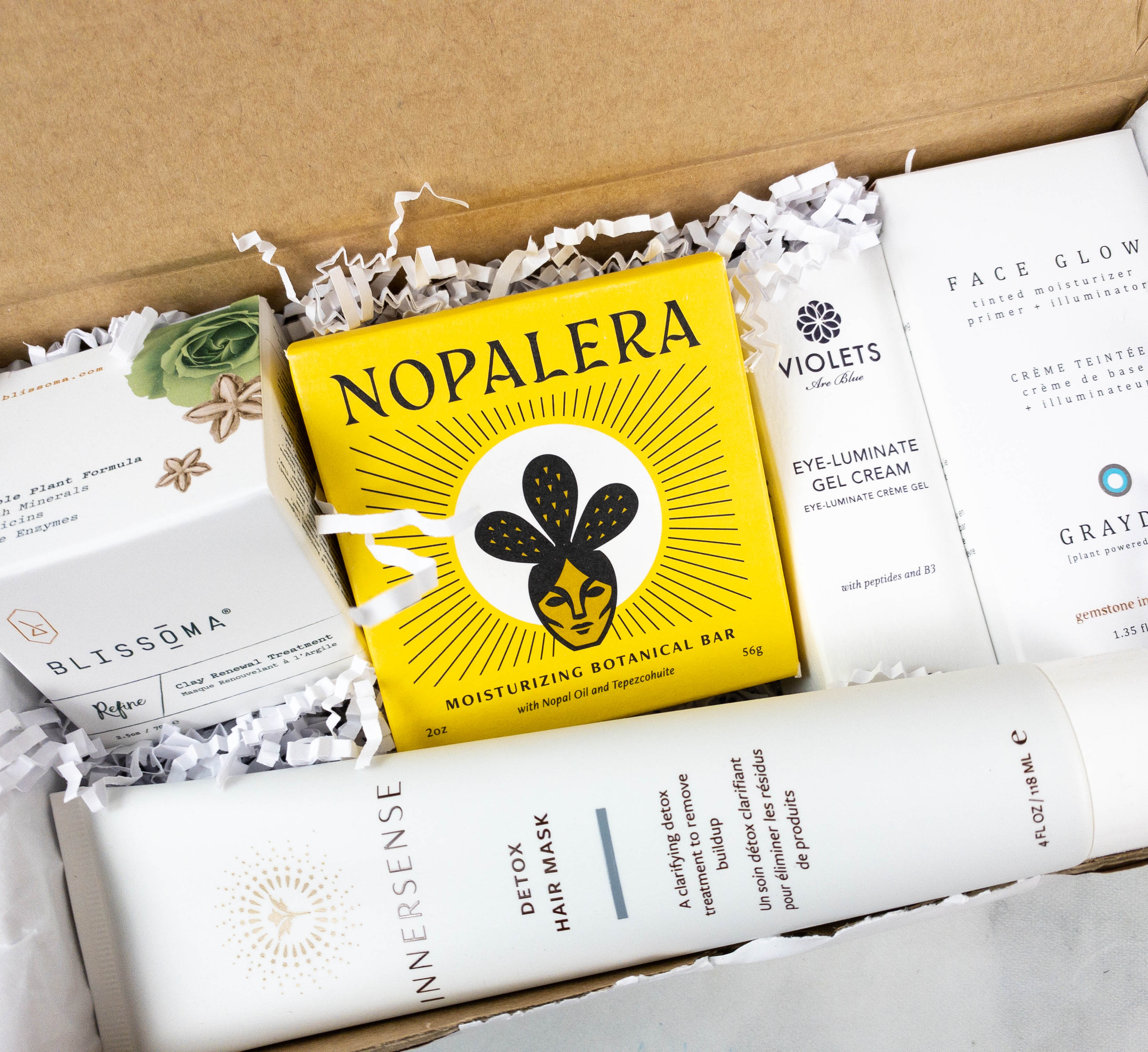 I'm so excited to try everything out!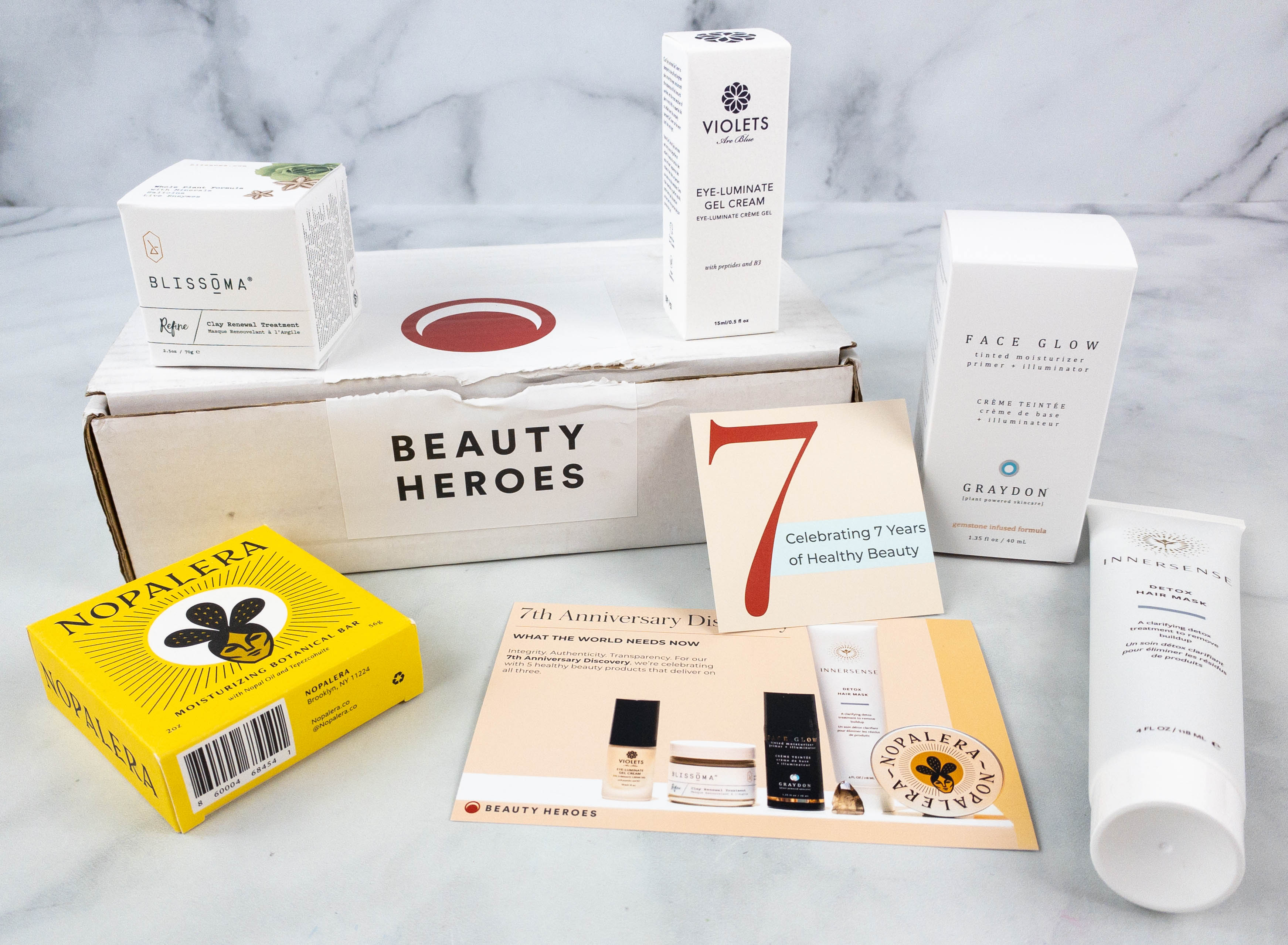 Everything in the 7th Year Anniversary Discovery Worth Celebrating Beauty Heroes box!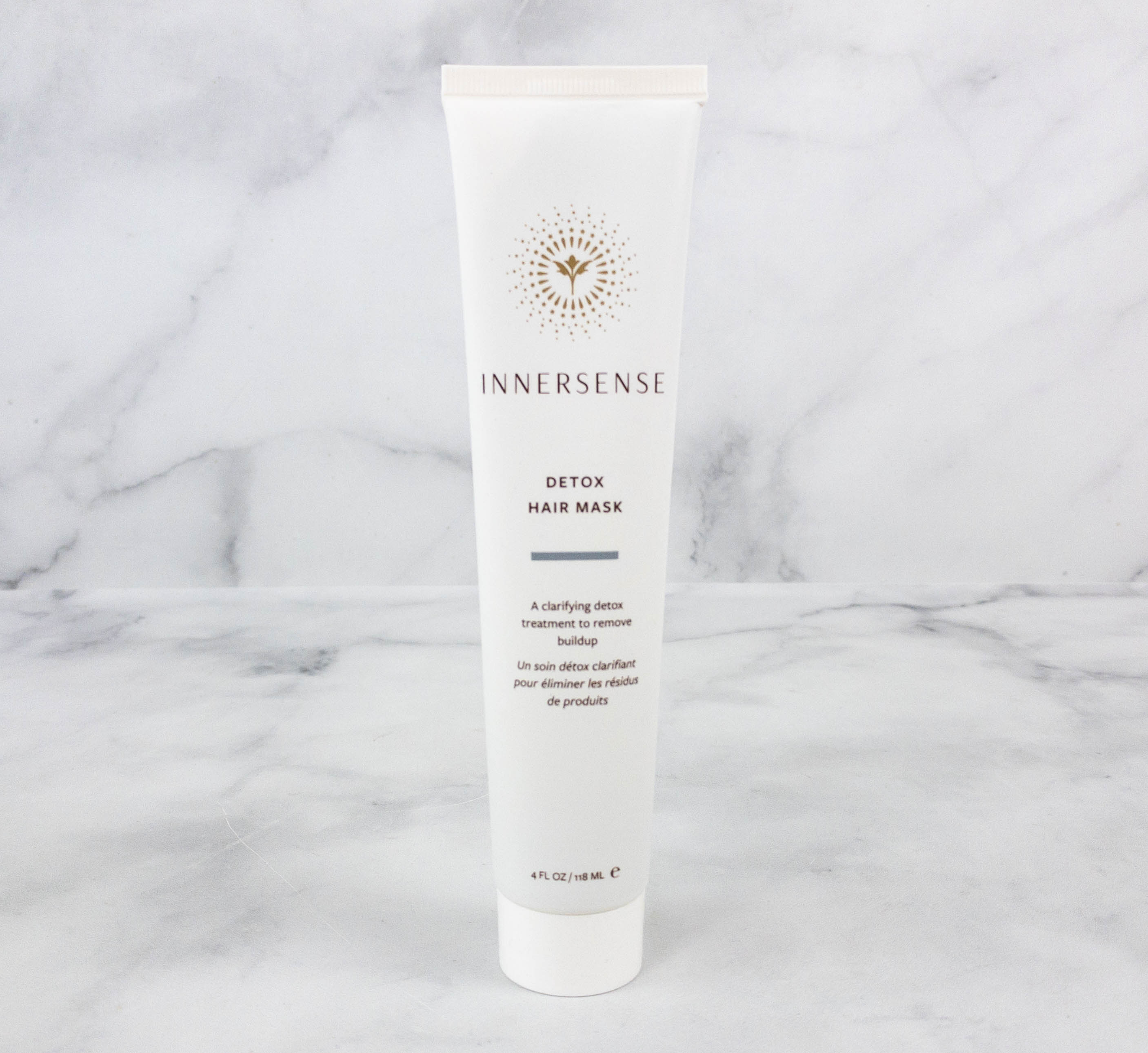 Innersense Organic Beauty Detox Hair Mask ($30) Formulated with charcoal and kaolin clay, this mask absorbs excess sebum, dust, dirt, and oil from the hair. It also smells good, with notes of sage and vanilla. This is a great first item to pull from the box – longtime subscribers will be familiar with it, and it's a different item than what we've received before from this brand!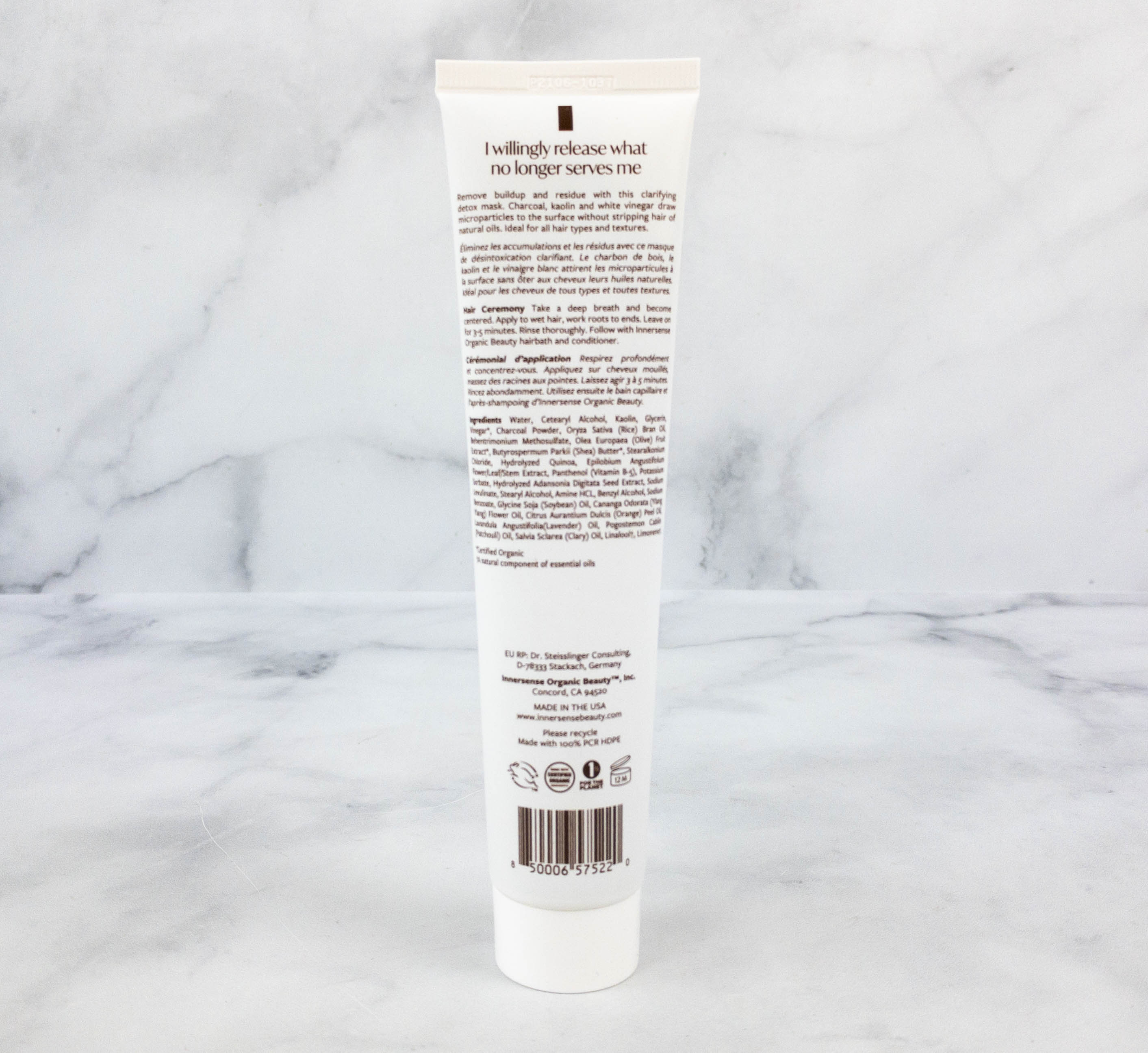 Another key ingredient is organic white vinegar which helps keep hair shiny and balances pH levels. This mask is ideally applied to wet hair, from roots to ends. Leave it on for 3-5 minutes before rinsing. It helped reduce frizz and it didn't weigh down my hair either!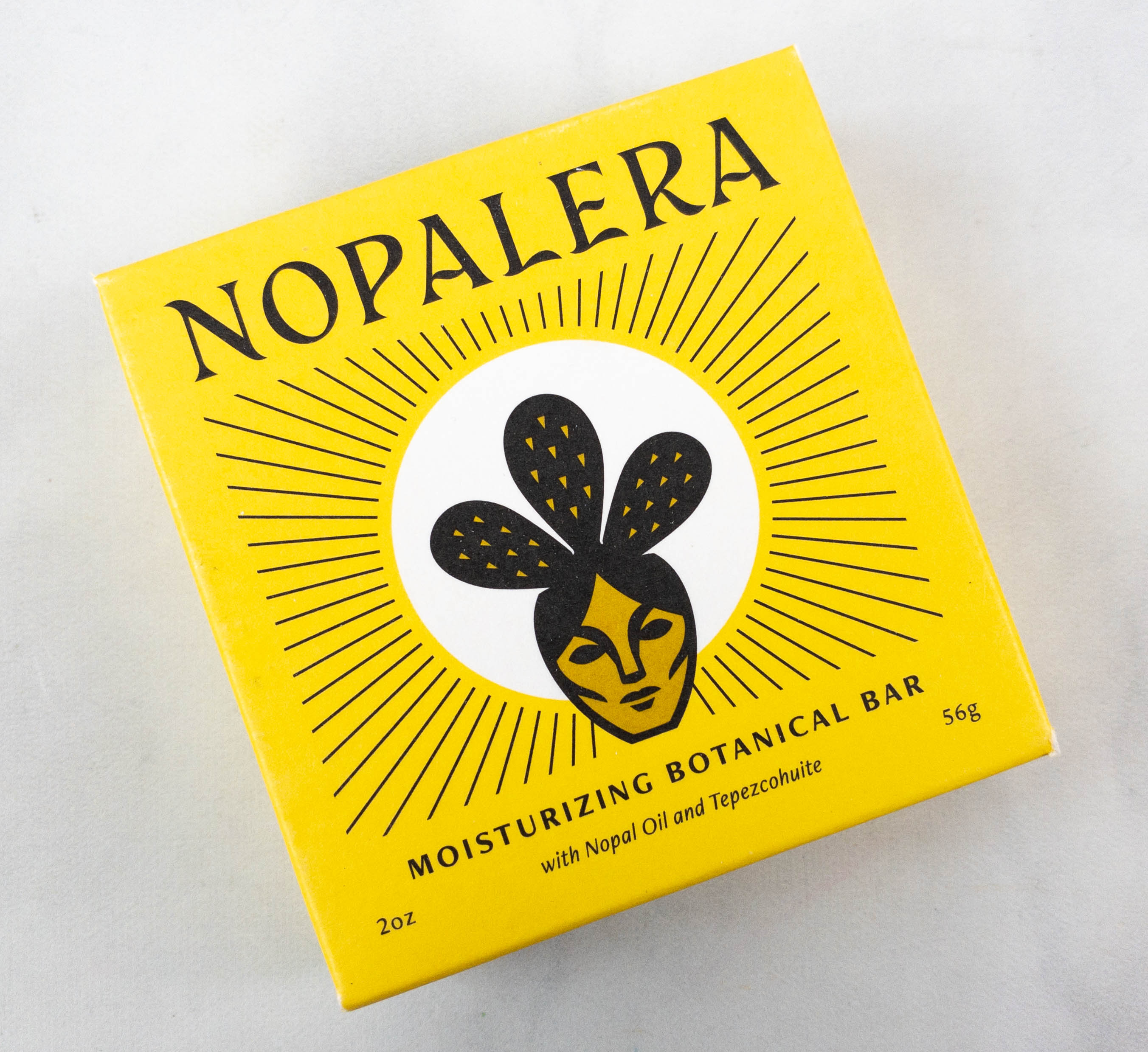 Nopalera Moisturizing Botanical Bar ($30) An alternative to lotions in bottles, here's a moisturizing botanical bar that comes in a reusable tin packaging.
This product melts instantly when you apply it to your skin. If your skin is damp, it can act as a light lotion. If you use it on dry skin, it becomes oil.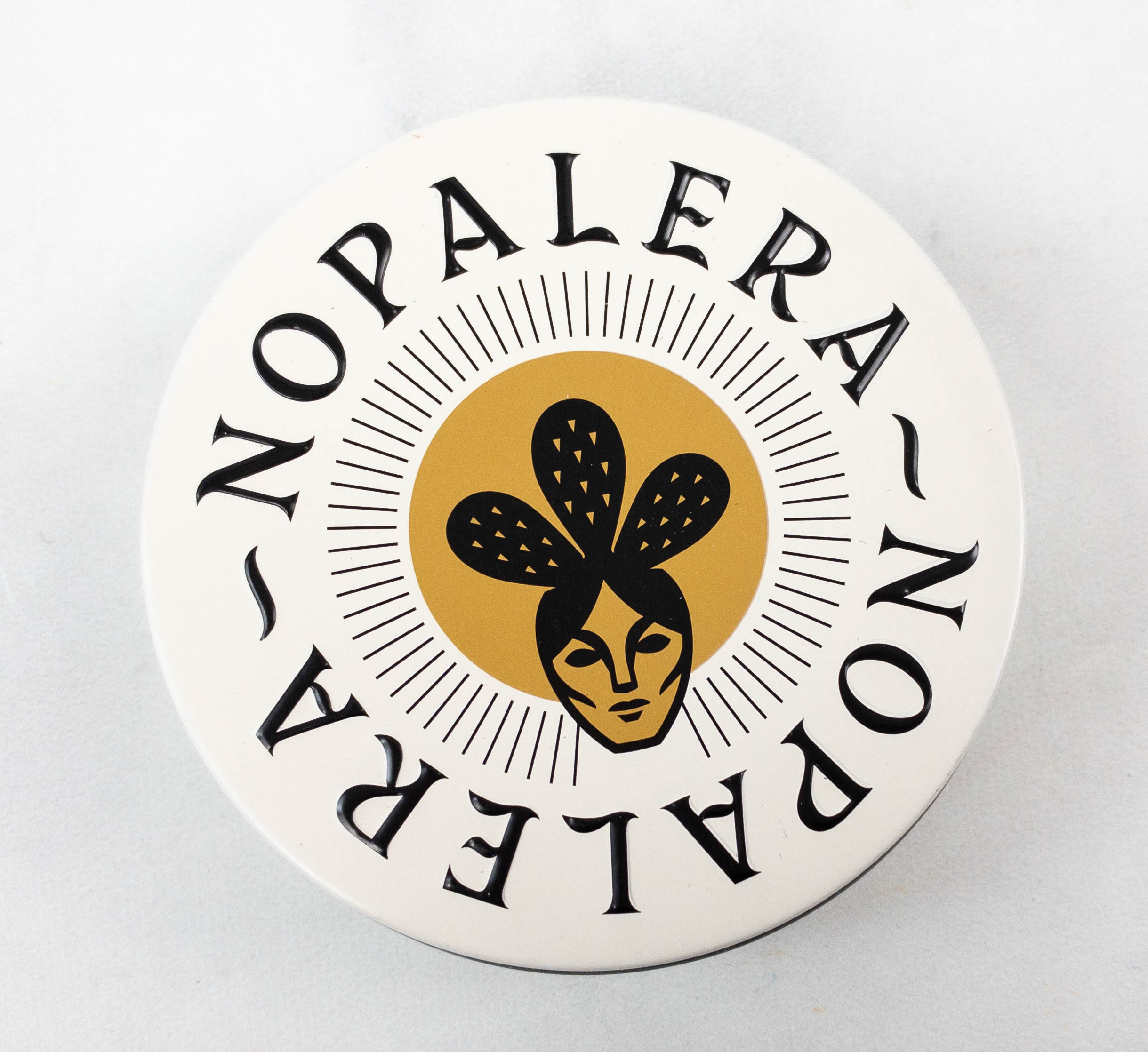 Here's a look at the compact tin container.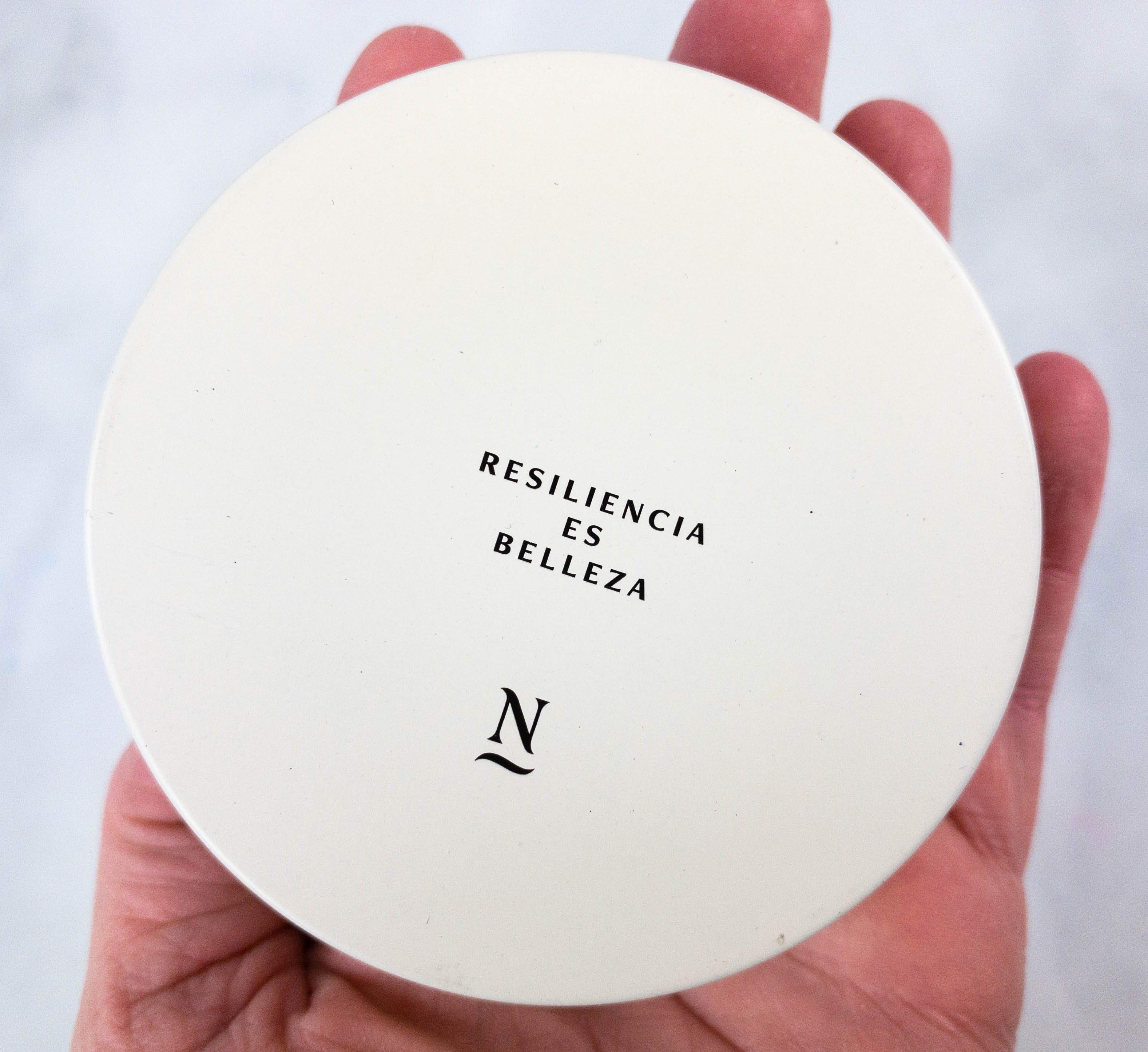 This is great for anyone with a low waste lifestyle or anyone who simply wants to keep their skin smooth and supple – or needs a good travel lotion!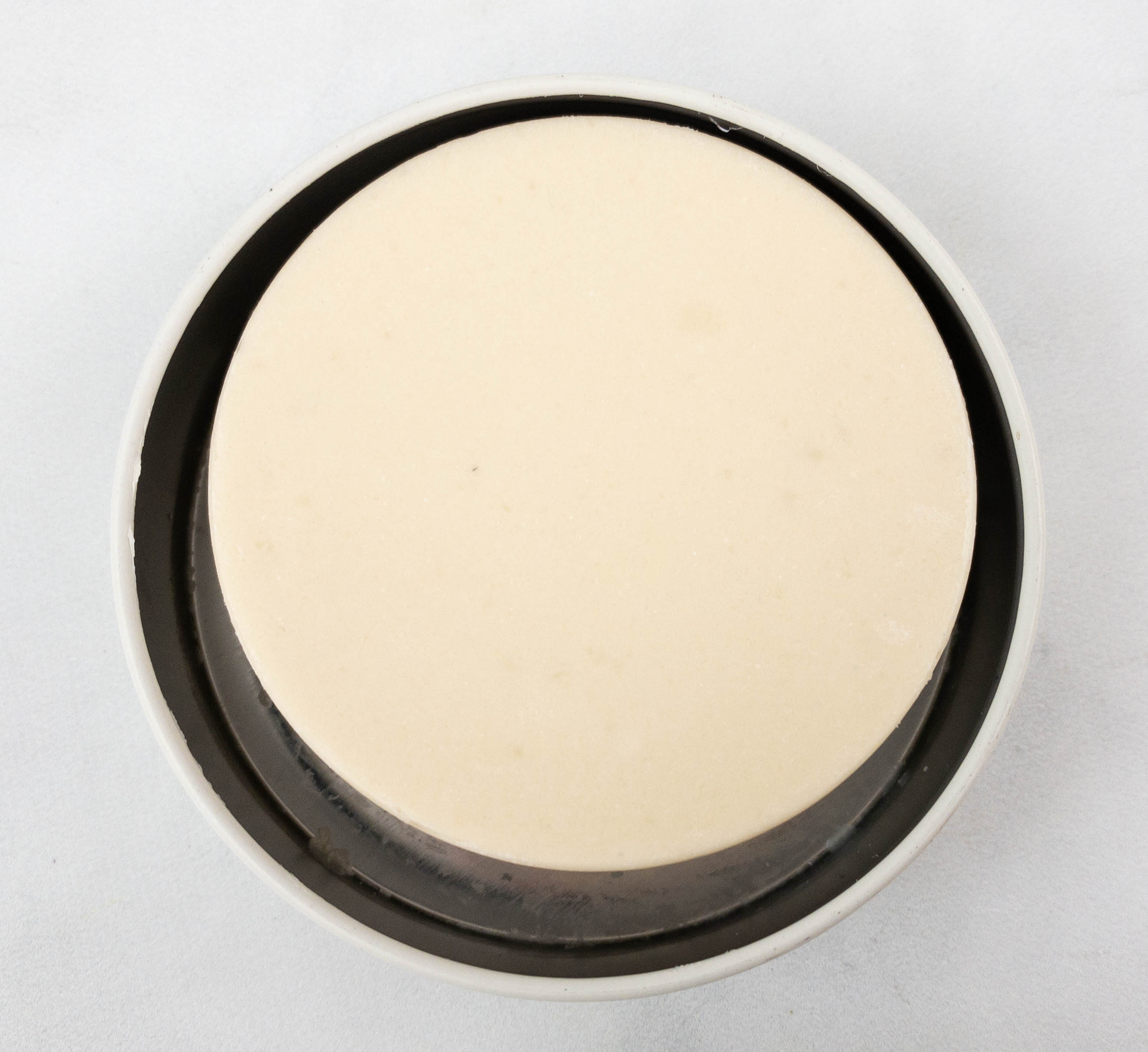 This bar is made with jojoba oil and shea butter, which provides the skin with nourishment and hydrating minus the heavy feeling. It's not strongly scented, which is perfect for those who don't like moisturizers with an overpowering smell. It smells like cocoa! The formula is vegan and cruelty-free as well.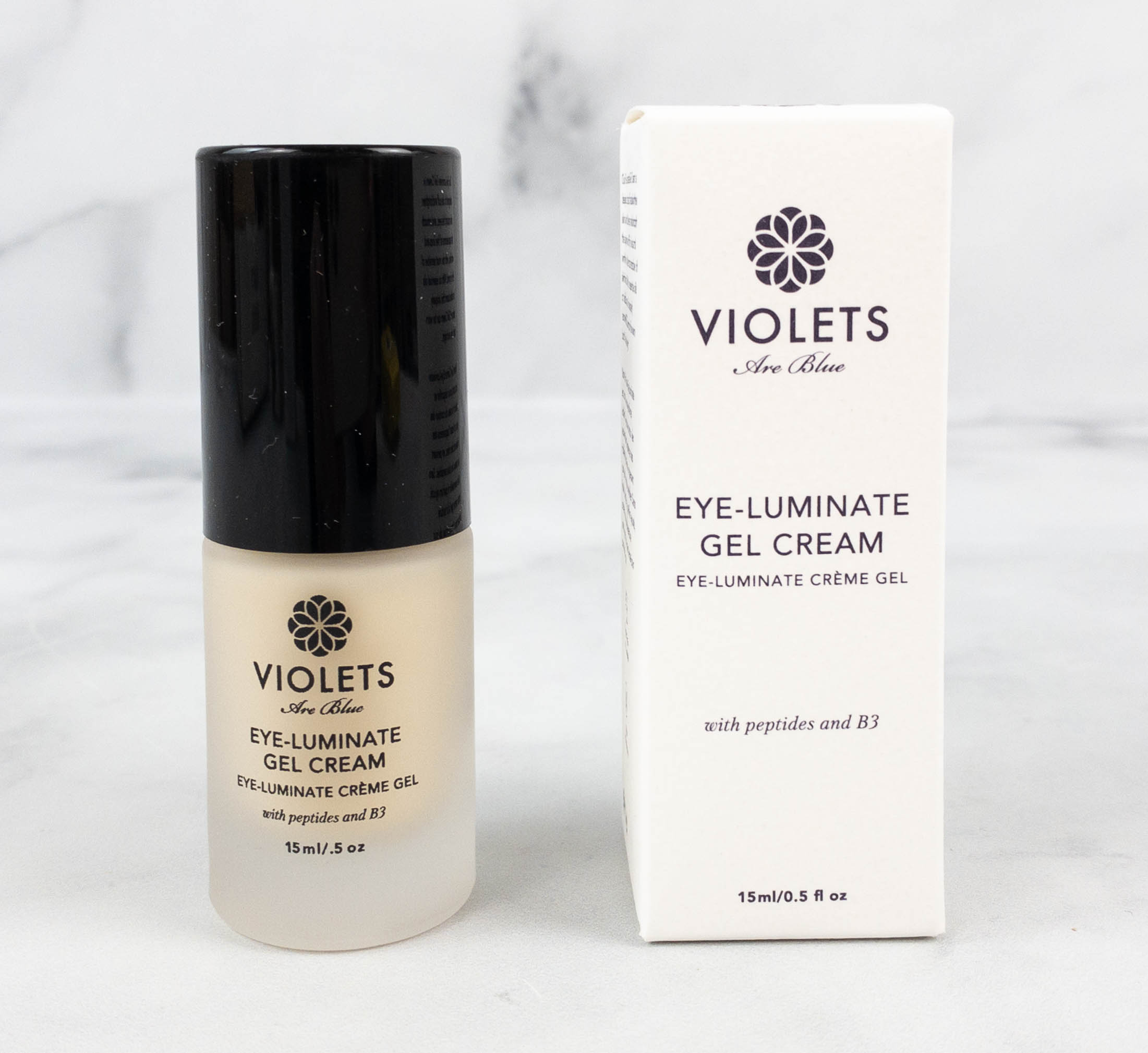 Violets Are Blue Eye-Luminate Gel Cream ($68) This illuminating gel cream is formulated to help improve dull and tired-looking under eye area. It contains peptides to boost collagen production, vitamin b3 which has brightening properties, and green coffee extract which help reduce the appearance of dark circles.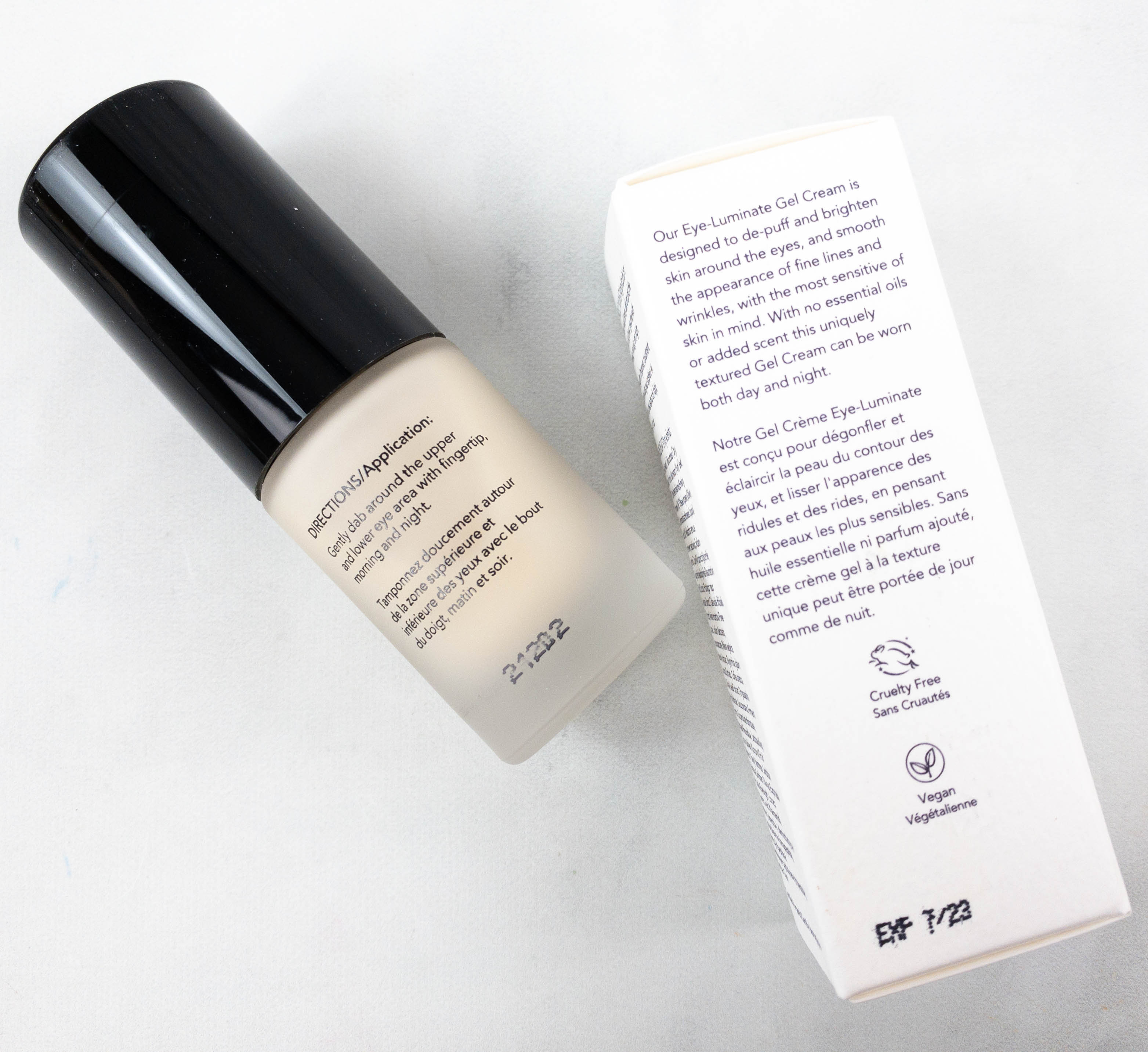 Another important ingredient is plum oil, which reduces puffiness and irritation. This product has a gel-like texture that applies smoothly on the skin. It also gets absorbed by my skin fast, without any residue.
I like that it came in a pump bottle because it's less messy and it also makes it easy for me to control how much product I get.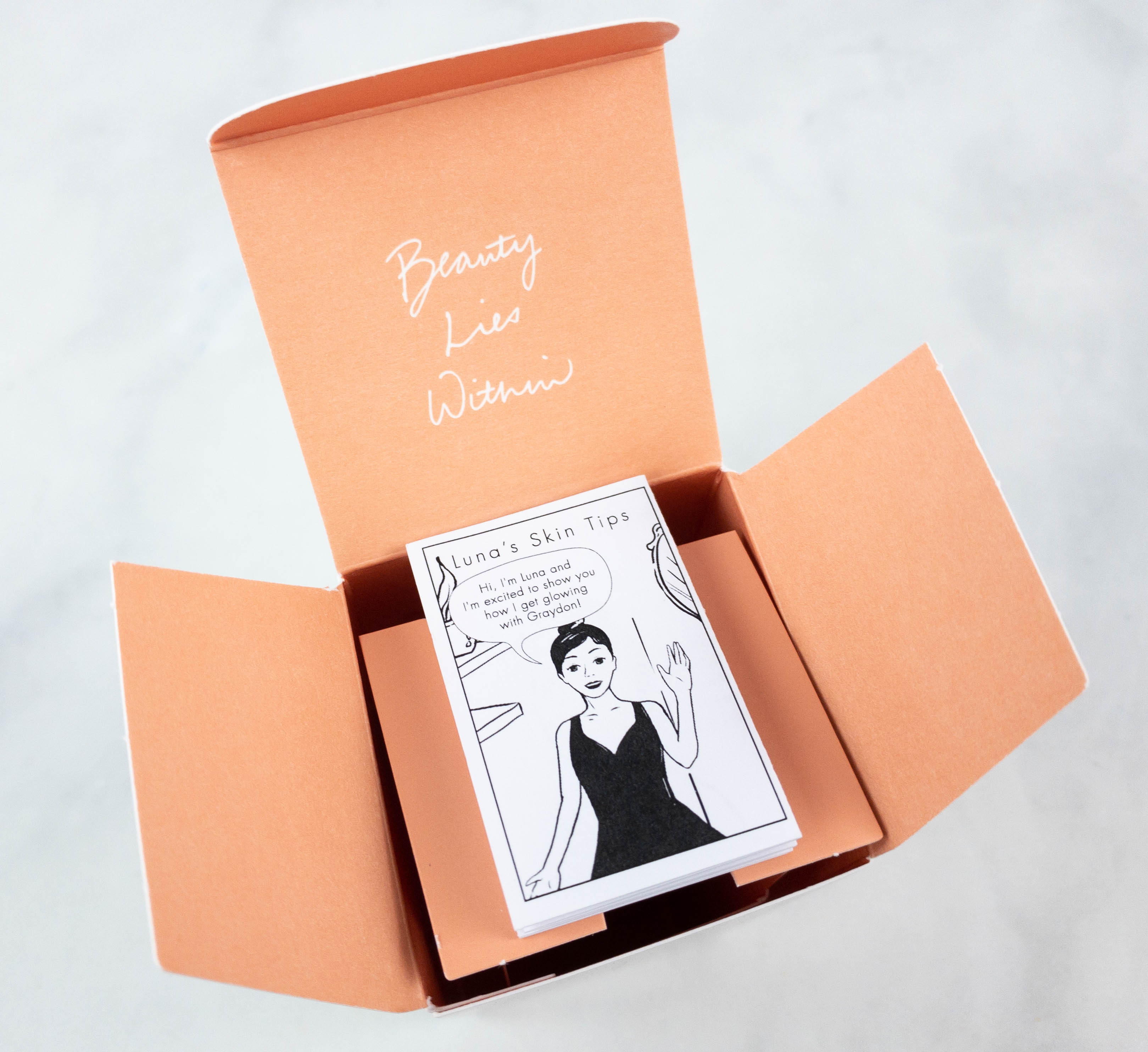 The next item came in its own box packaging with a mini booklet entitled Luna's Skin Tips.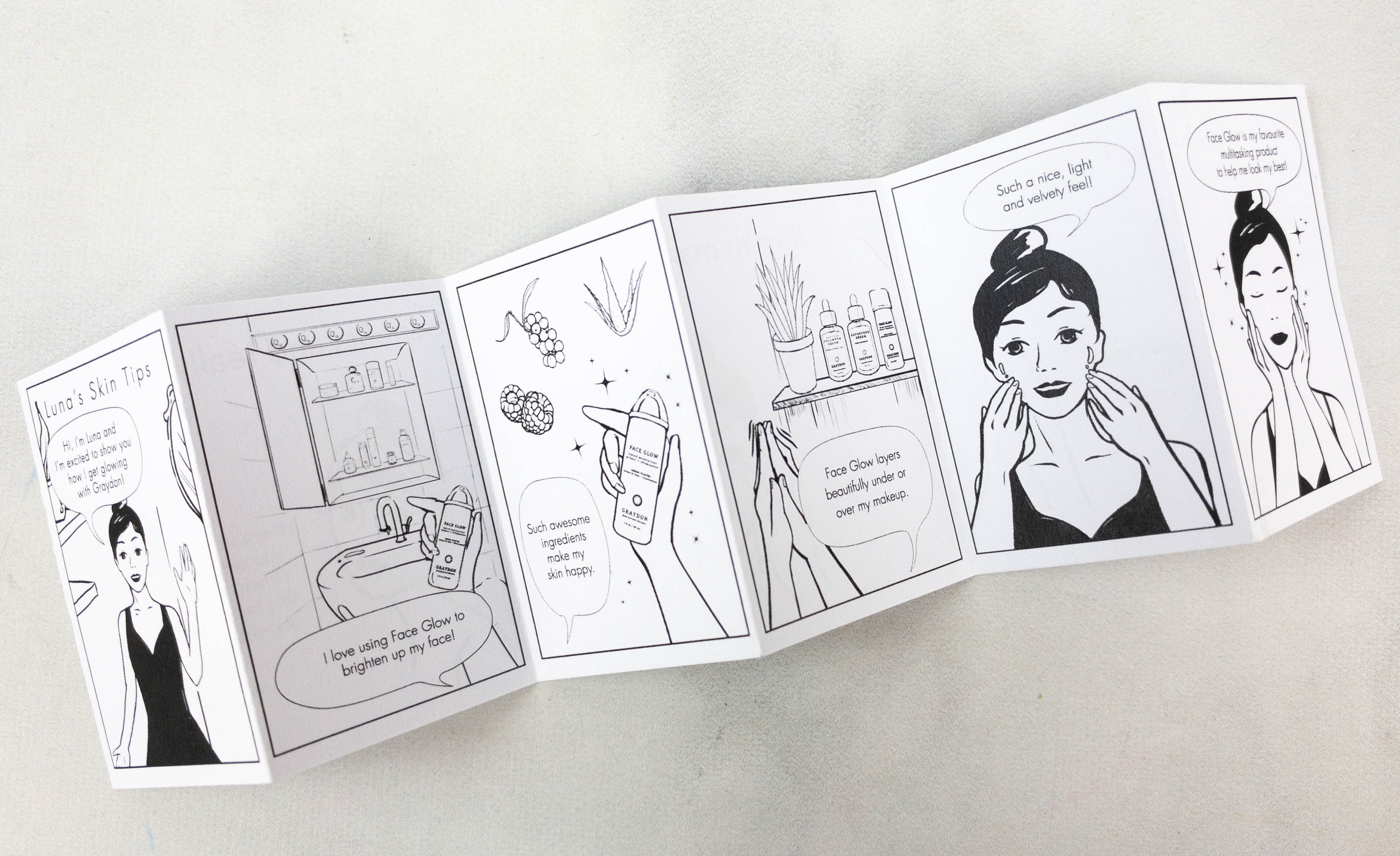 It's so cute the booklet looks like a comic strip!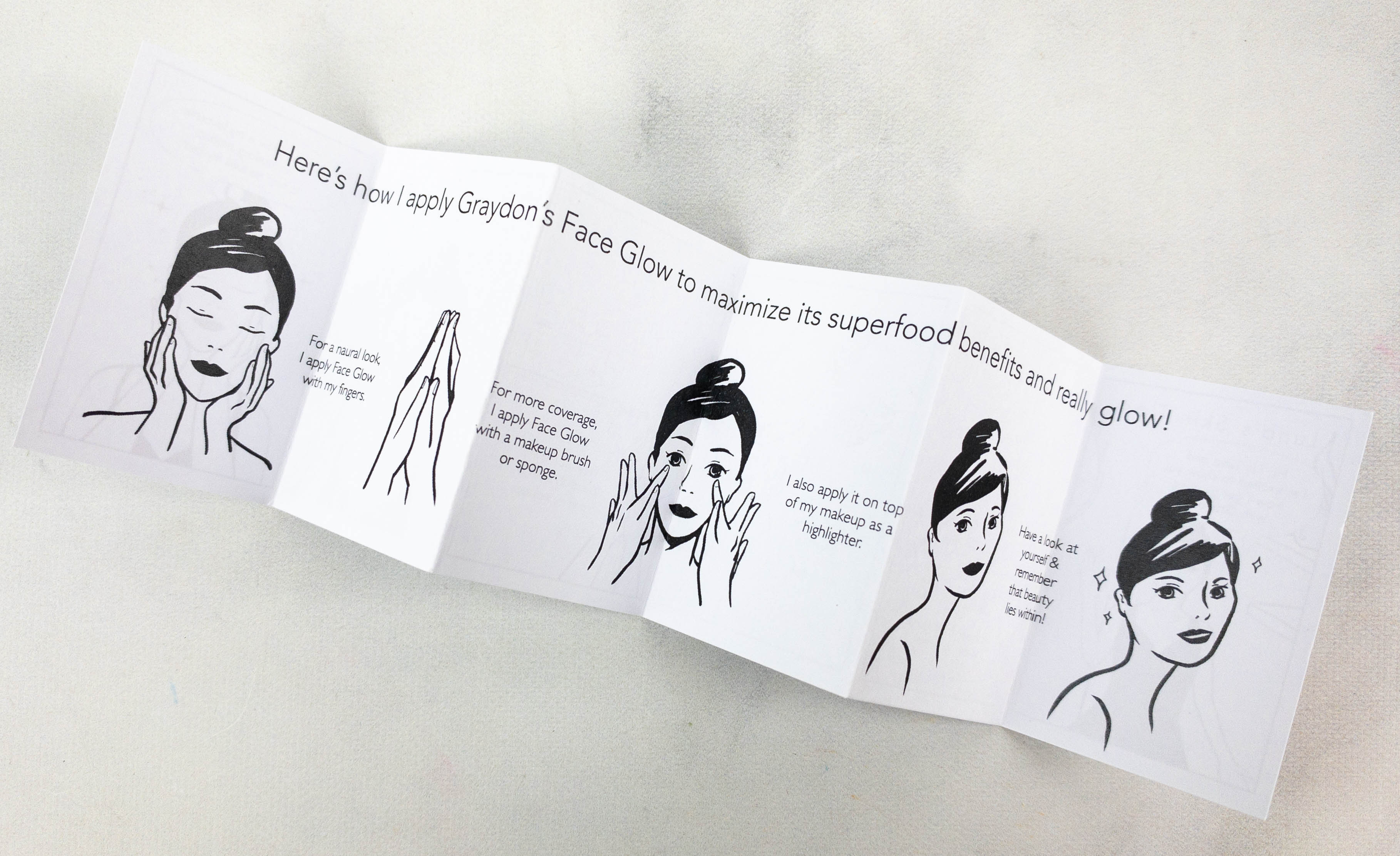 On the other side are instructions on how you can apply the product!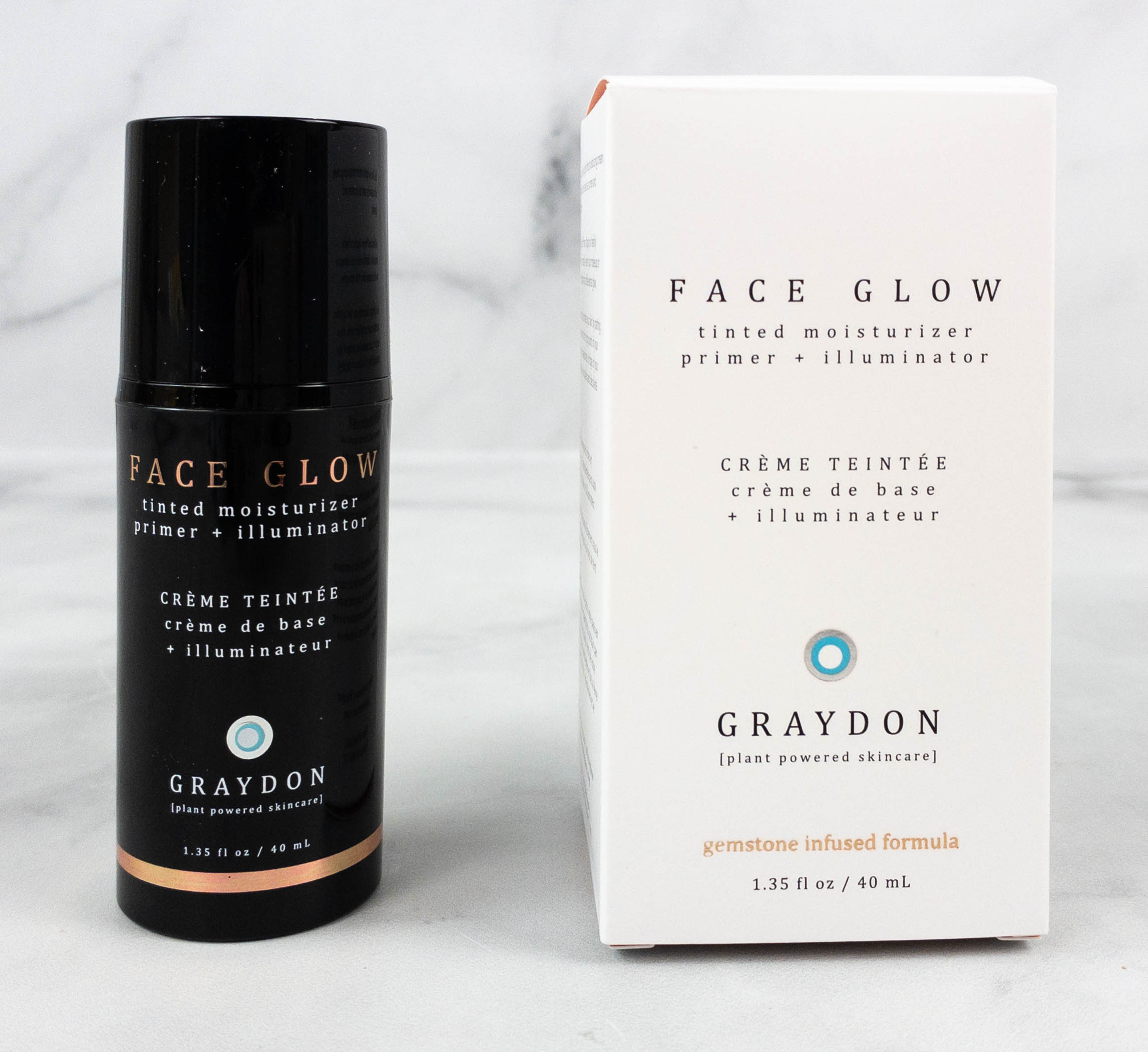 Graydon Skincare Face Glow ($46) It's a tinted primer, moisturizer, and illuminator in one product, which helps achieve a dewy and radiant complexion. This is great to use especially if you're going for a no-makeup makeup look.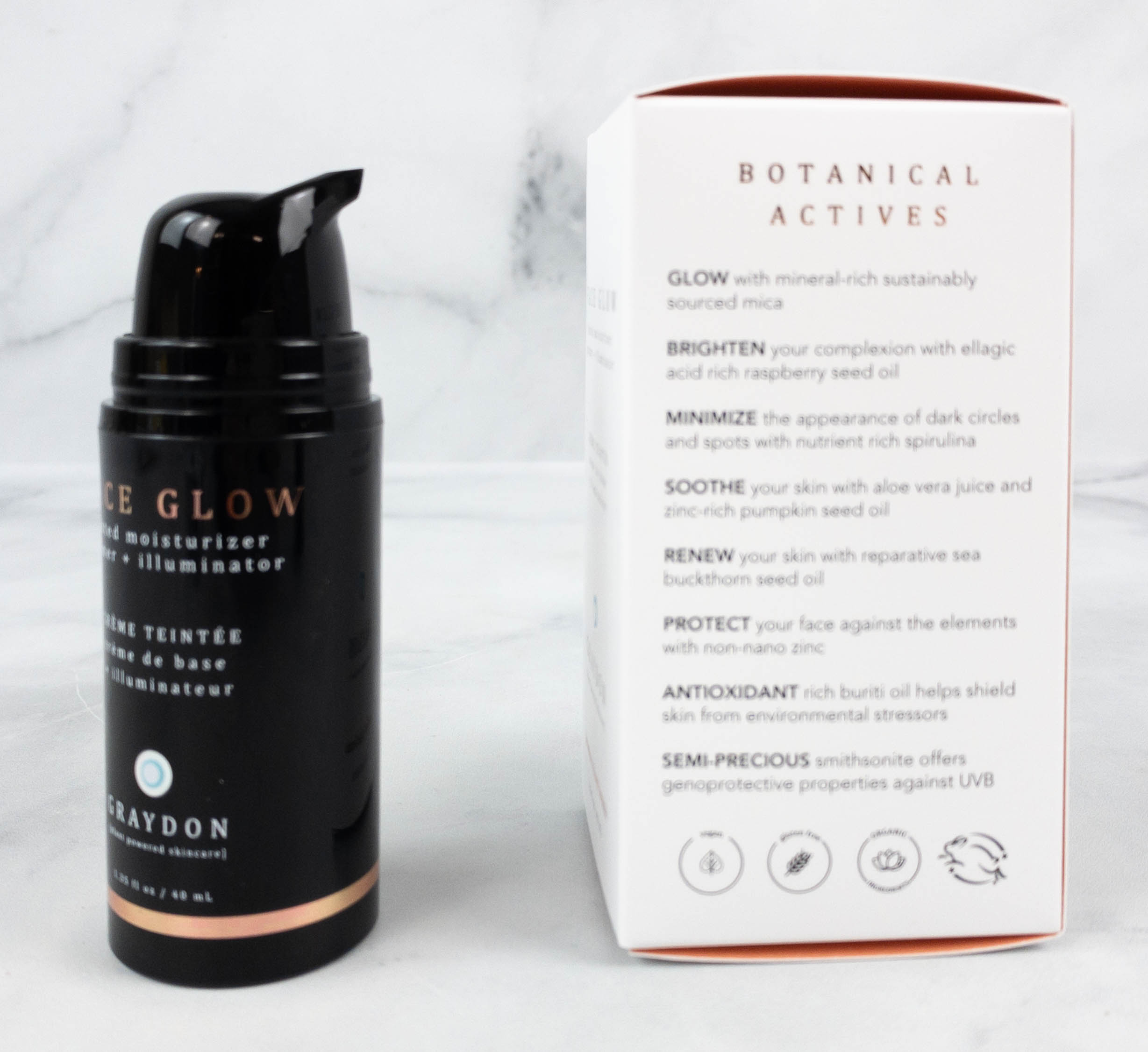 It also came in a pump bottle that's easy and convenient to use.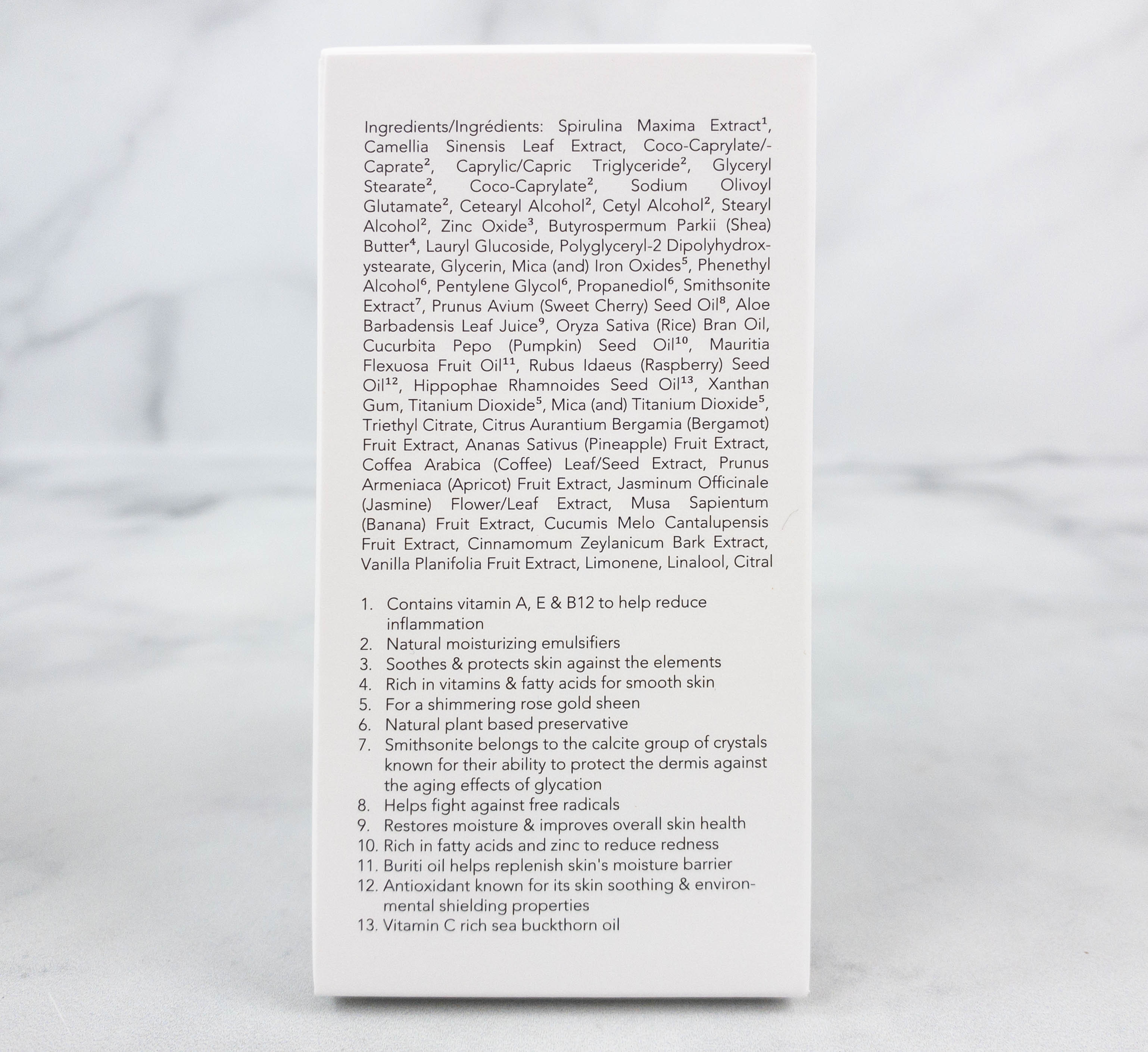 Ingredients include nutrient-rich spirulina, brightening raspberry seed oil, and soothing pumpkin seed oil. It also contains non-nano zinc oxide to protect the skin against harmful UV rays.
The formula is rich and thick but I love how lightweight it is when applied.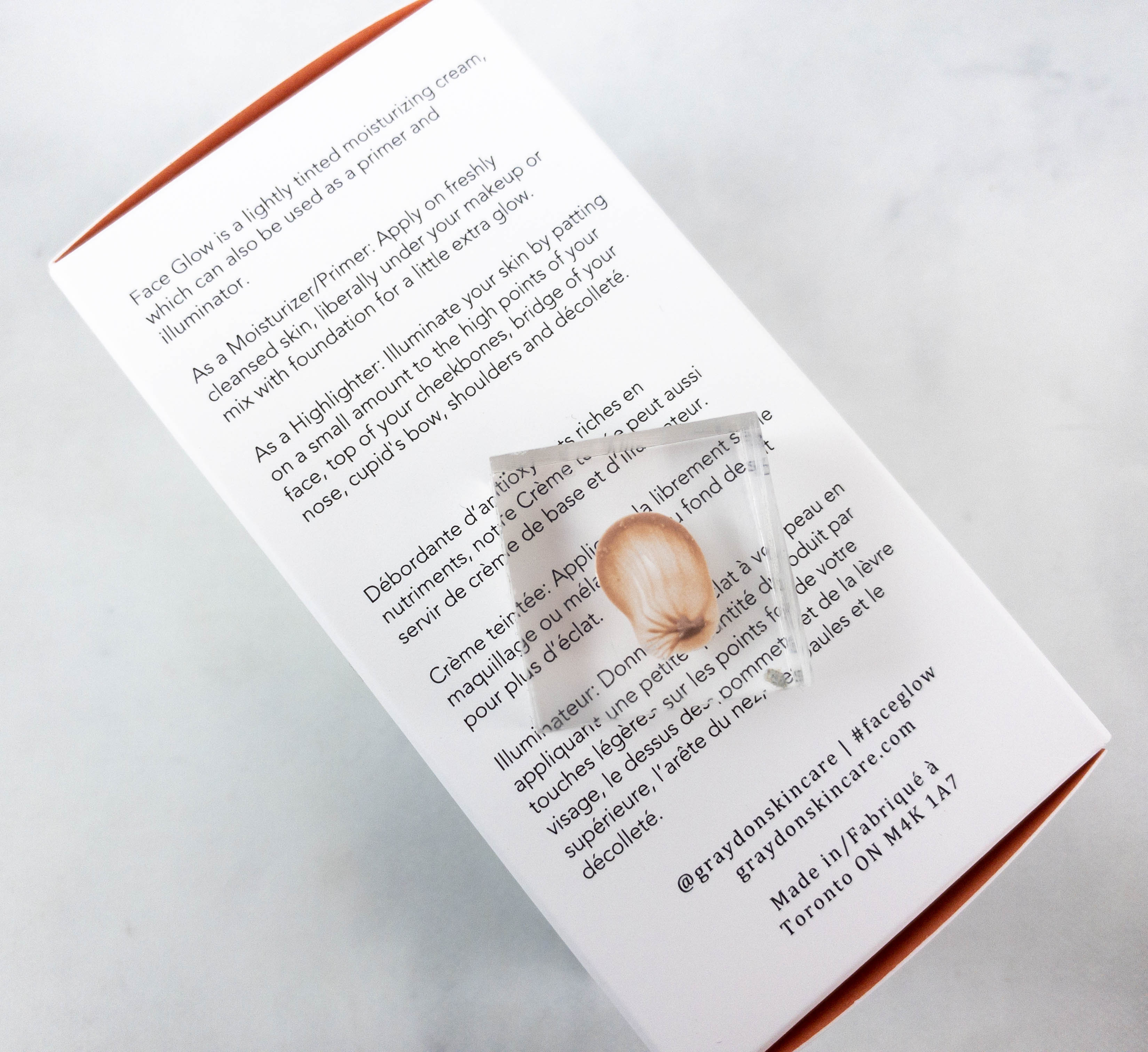 To use as a tinted primer, just apply a liberal amount on clean skin. It can also be mixed with your preferred foundation for a glowing effect. It can be used as a highlighter or illuminator as well, just get a small amount and apply it to the high points of your face.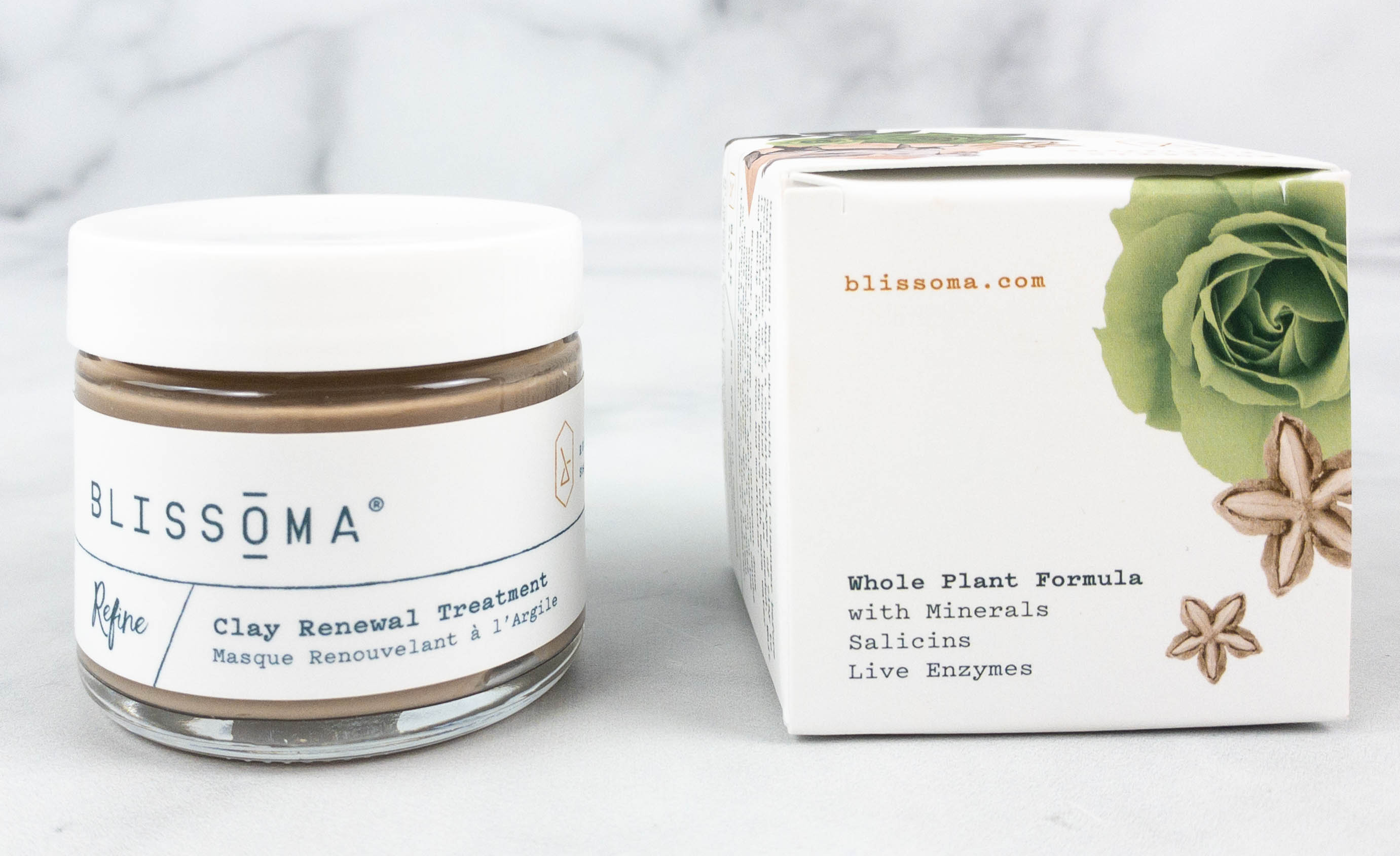 Blissoma Refine Clay Renewal Treatment ($40) Lastly, here's a clay mask that detoxifies the skin and provides deep pore cleansing. It uses rhassoul clay as its base, which was mined from lava clay beds in Morocco. It's known to be rich in magnesium, calcium, potassium, silica, and sodium. Other ingredients are willowbark and organic celery juice, plus herb extracts!
To use, apply on cleansed face, wait for 15 minutes, then rinse using warm water. It's ideally used once a week for smoother and clearer skin. It has a gentle, creamy formula which doesn't irritate my skin. It also leaves my skin feeling clean and smooth!
This month's box is a little different from the usual curations, as they're celebrating Beauty Heroes' 7th anniversary! They featured different healthy beauty brands, as well as a good variety of items including hair care, skin care, and body care. The eye gel cream is a pretty promising product, but my favorite would have to be the tinted primer + moisturizer + illuminator. It's an easy-to-use multipurpose product that keeps my skin glowing, whether on days I put on makeup or on days when I want to go for a natural look. The overall retail value is $214, which is way more than the monthly price of the box! It's really a great deal and a great way to celebrate Beauty Heroes' 7th year!
What do you think of this month's Beauty Heroes box?