Amazon has a great deal on Music Unlimited and Audible!  Normally, Amazon Music Unlimited is $7.99 per month or $79 per year for Prime members, or $9.99 for Prime Members, while Audible Premium Plus is $14.95 per month.
Through 9/30, get 3 months Amazon Audible Premium Plus + Music Unlimited FREE! There's no coupon code to get the deal, just use this link to sign up! Valid to new subscribers only.
Get 3 Months FREE at Amazon Music Unlimited and Audible Premium Plus!
TIP: mark your calendar for a few days short of 3 months from today to remind you to evaluate your subscription before it renews!
After 3 months, you'll be charged $9.99 per month for Amazon Music Unlimited, and $14.95 per month for Audible Premium Plus until you cancel. P.S. You must cancel the subscriptions separately!
Amazon Music Unlimited offers tens of millions of songs and thousands of expert-programmed playlists and stations, including the hottest new releases from today's most popular artists.
This is Amazon's new streaming plan, which offers more choices than their regular included with Prime plan, including new releases. They also have a special plan for your Echo and a family plan!
Music is available on-demand and ad-free, with unlimited plays. New albums and songs are typically added to the Amazon Music Unlimited catalog on the day they're released in the Digital Music Store.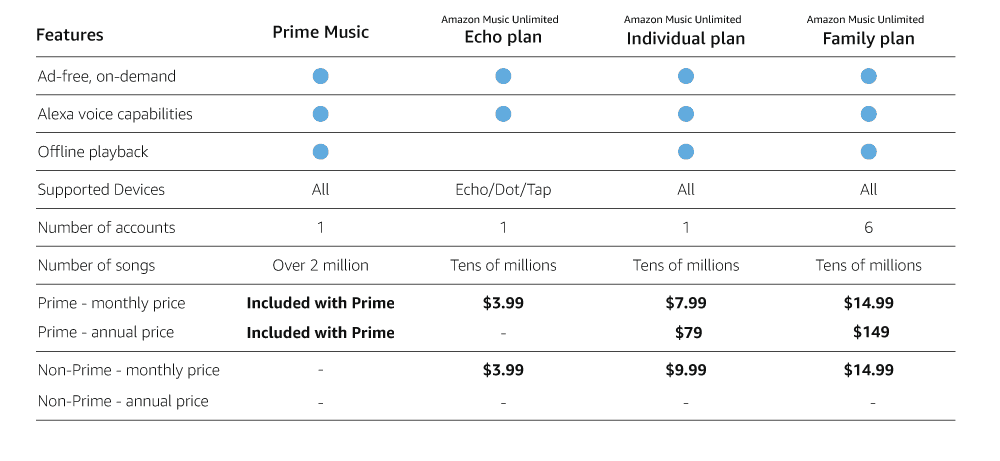 If you're curious about the differences in the subscriptions, Amazon has a handy dandy comparison chart!

While there isn't a unified catalog of what's currently available with Music Unlimited, you can search Amazon for a song or album and it will let you know if you can play it.
What's different with Audible Premium Plus?
1 credit a month, good for any audiobook regardless of price.

The Plus Catalog. Enjoy thousands of audiobooks, podcasts, guided wellness programs, Audible Originals, and more – no credits needed.

Your own library to build. Keep your audiobooks forever, even if you cancel.

Exclusive member savings. Get 30% off any additional audiobooks.

Easy exchanges. Don't love the book? Swap it for free anytime. Seriously.
How much does Audible cost? Plans start at $7.95 per month after free trial. No commitments, cancel anytime.
Audible Plus $7.95/month: listen all you want to thousands of included titles in the Plus Catalog.
Audible Premium Plus $14.95/month: includes the Plus Catalog + 1 credit per month for any premium selection title.
Audible Premium Plus Annual $149.50/year: includes the Plus Catalog + 12 credits a year for any premium selection titles.
Amazon Prime members are invited to start an Audible Premium Plus trial with 2 credits (1 credit = 1 title) that can be used on any titles from our premium selection . A standard Premium Plus trial includes 1 credit. After trial, all members receive 1 credit per month.
Offer available until September 30, 2021 at 11:59 p.m. PT. Valid for US customers only. Offer available by invitation only to new subscribers of Amazon Music Unlimited and Audible. You will receive a 3-month Amazon Music Unlimited free trial and a 3-month Audible Premium Plus free trial. After your 3-month free trials, you will be charged the then current full price (currently $9.99 per month – or $7.99 for Prime Members – plus any taxes for your Amazon Music Unlimited subscription and $14.95 per month plus any taxes for your Audible Premium Plus subscription) with your designated credit card or another available card on file. Your subscriptions continue until cancelled. Cancel anytime by visiting Your Amazon Music Settings and Your Audible Settings. Your subscriptions must be cancelled separately. Canceling one subscription will not automatically cancel the other. This offer cannot be combined with any other offer. Digital content and services may only be available to customers located in the U.S. and are subject to the terms and conditions of Amazon.com Services LLC and Audible, Inc. Offer limited to one per customer and account, is non-transferable, and may not be resold. Amazon and Audible reserve the right to modify or cancel the offer at any time. If you violate any of these terms, the offer will be invalid.