The 2021 Wüfers Christmas Dog Cookie Countdown Calendar is available now and includes 24 delicious dog cookies. This calendar is $59.95 + FREE shipping!
Treat yourself and your pup to the most beautiful advent calendar for dogs you've ever seen this holiday season, filled with your dog's favorite delicious cookies. This boutique box with magnetic closure and copper foil is custom-illustrated and beautiful enough to leave out as part of your holiday décor.

Behind each window is a delicious bone-shaped cookie in one of three colors, making the countdown to Christmas Eve full of happy moments of anticipation and fun for you and your dog. On December 24, the last window holds a larger paw cookie to celebrate the arrival of the big day! Perfect for your own family or a great gift, you'll love this advent calendar for dogs so much that you might be a little sad when Christmas Day arrives and the countdown is over.

Like all of our Cookie Boxes, the Wüfers Advent Cookie Calendar contains treats made with human-grade, locally sourced ingredients in our own North American bakery.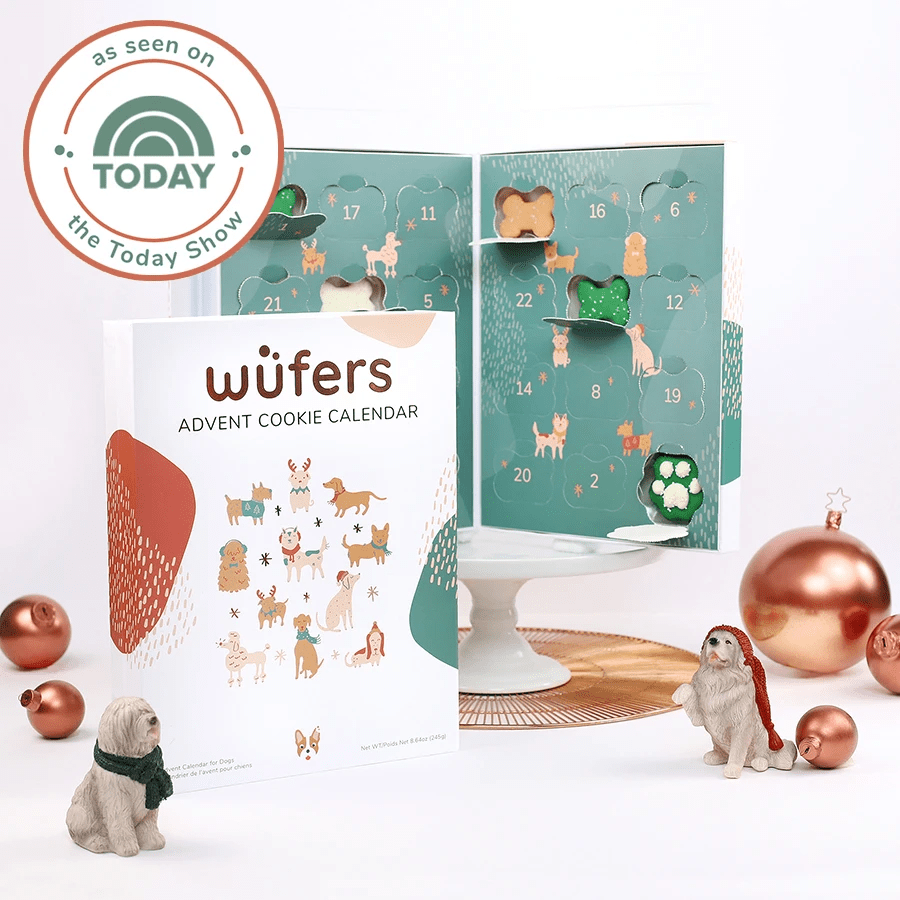 This calendar includes:
Includes 23 mini bone cookies and 1 paw cookie
Made in North America with locally sourced, human-grade ingredients
Handmade and hand-designed by a talented team of dog lovers
Individually wrapped to preserve freshness, with a 15-month shelf life
FREE delivery
100% Happiness Guarantee
Packed with care, to ensure treats arrive in perfect condition
Box weight: 1.76lbs/0.8kg
Please note: Your handmade cookies may differ slightly from the photos seen here, but they'll fit the theme, taste the same, and probably look even cuter.
Looking for even more advent calendars? Check out all our posts on Advent Calendars, find more on Amazon, or see our entire list of Advent Calendars!