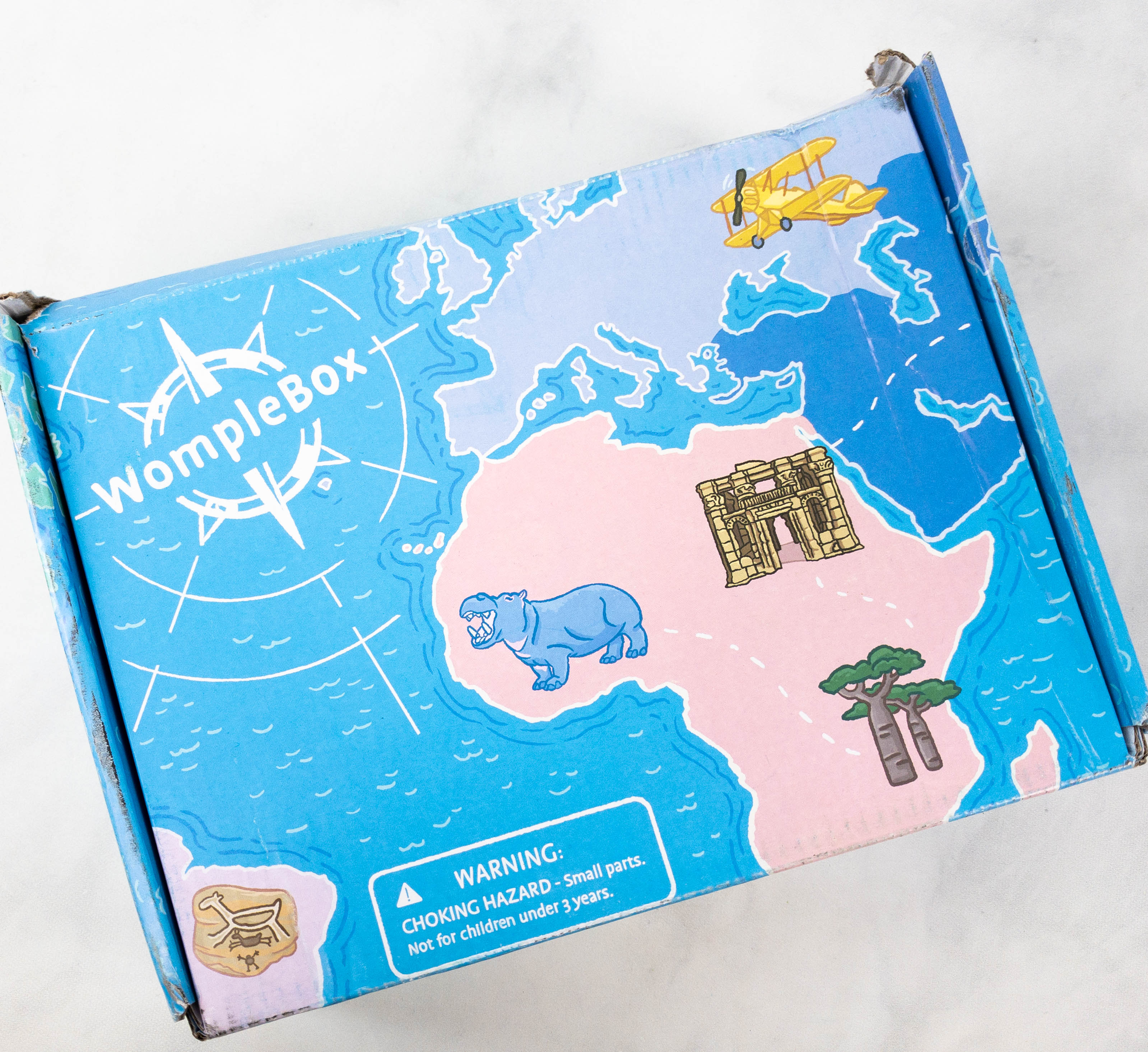 WompleBox by Womple Studios is a monthly activity subscription box for kids that highlights different countries and cultures through innovative storytelling and creative STEAM activities. Suitable for kids ages 6 to 11, a new destination is featured in every box! It includes an illustrated, early-reader chapter book featuring pen-pal Womple, 2 hands-on STEAM projects, a fold-out map & country guide, a Pen Pal Bundle with destination postcard and stationery, and a memorable, custom-designed souvenir. A month-to-month subscription plan is $29.99! There are also discounts for longer subscription plans. On a 3-month pre-paid plan, it's $28.99 per box and for a 6-month pre-paid plan, it's $26.99 per box. The best value is an annual pre-paid plan, which brings down the monthly cost of the box to $24.99. Shipping is free in the US. Womple Studios also has a dinosaur-themed box coming up, the DinoBox intended for explorers ages 3-5!
DEAL: Get $5 off any subscription Use coupon code HELLOWOMPLE.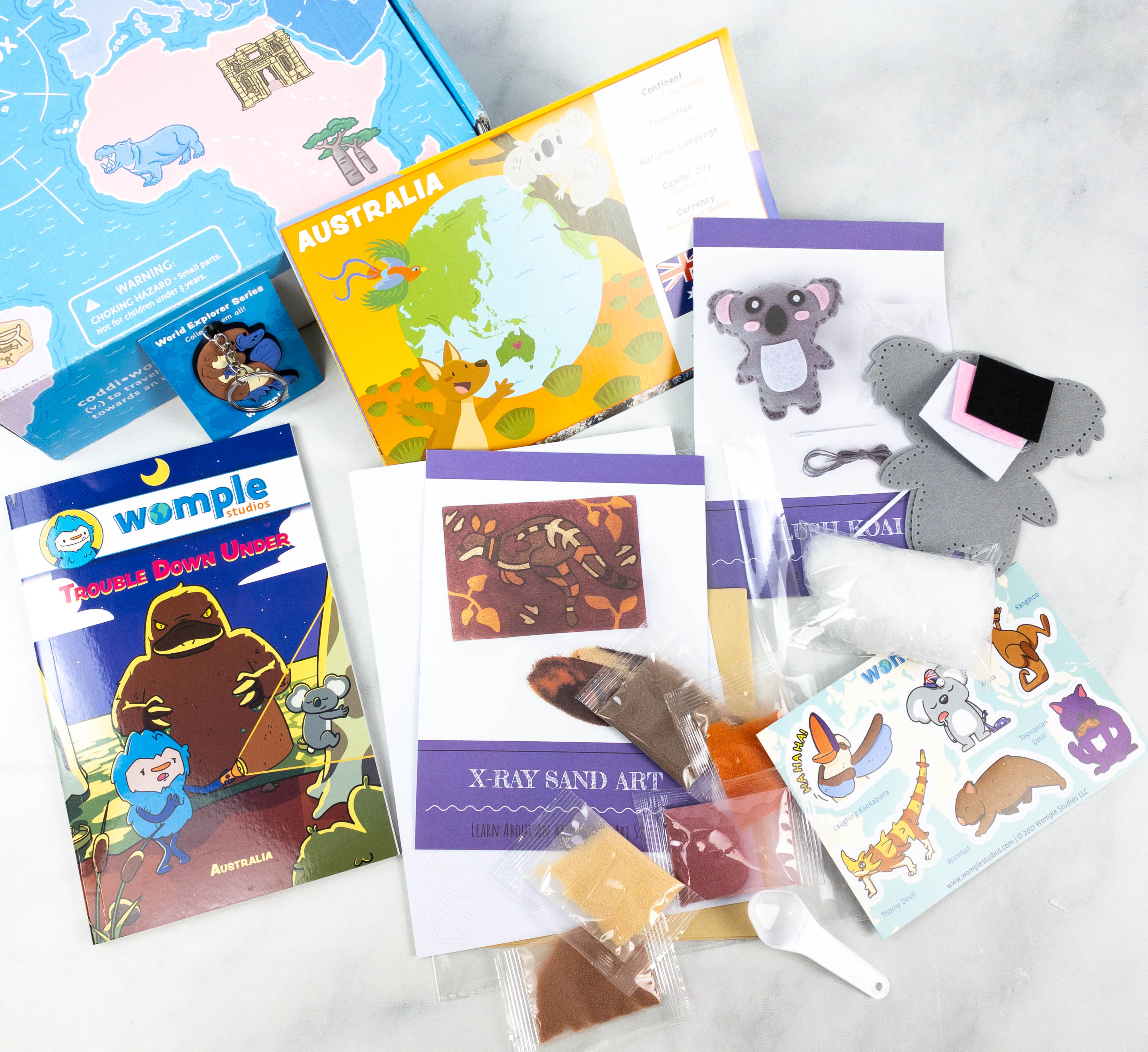 Everything in the box!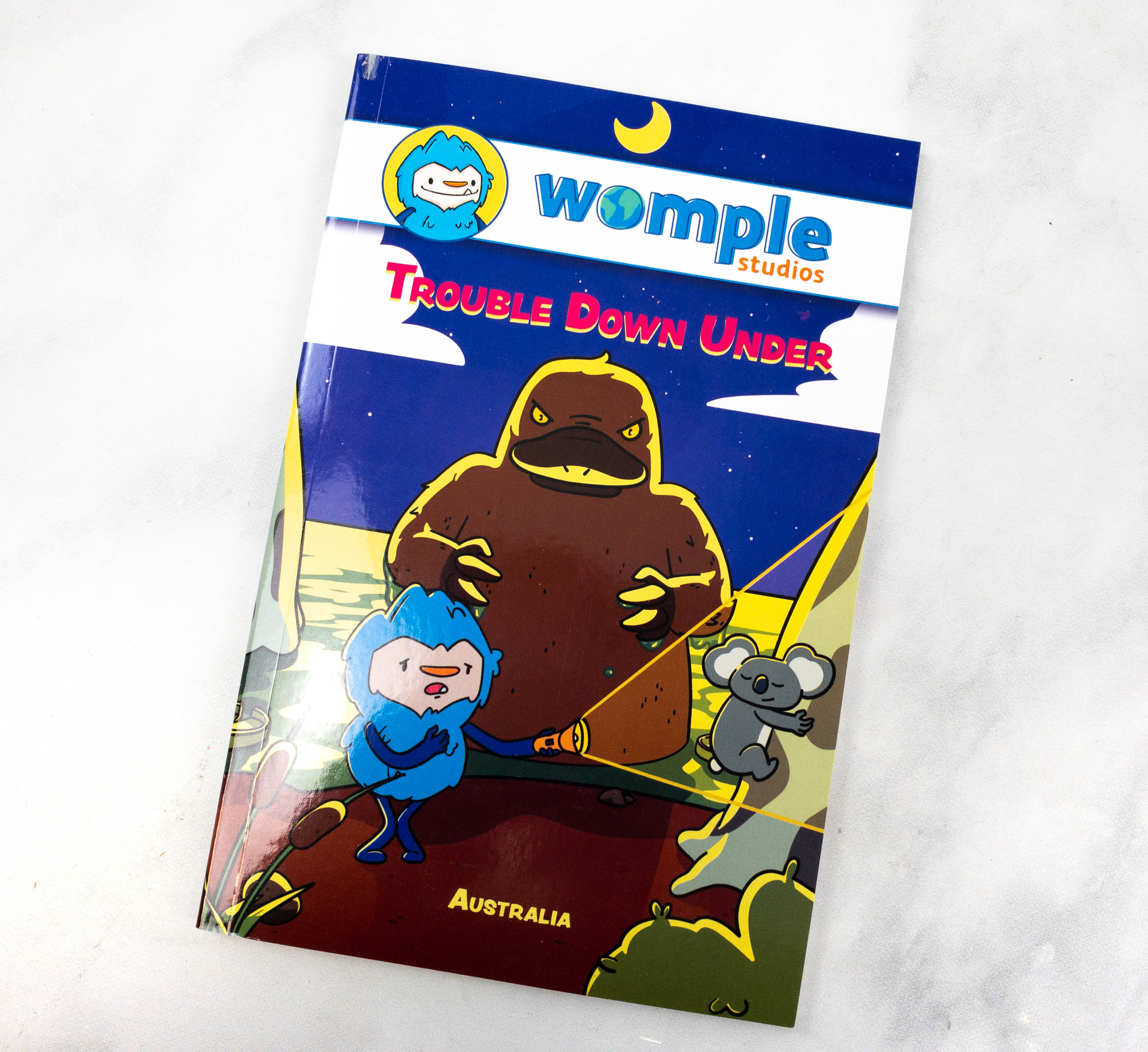 Australia is the featured country for the month!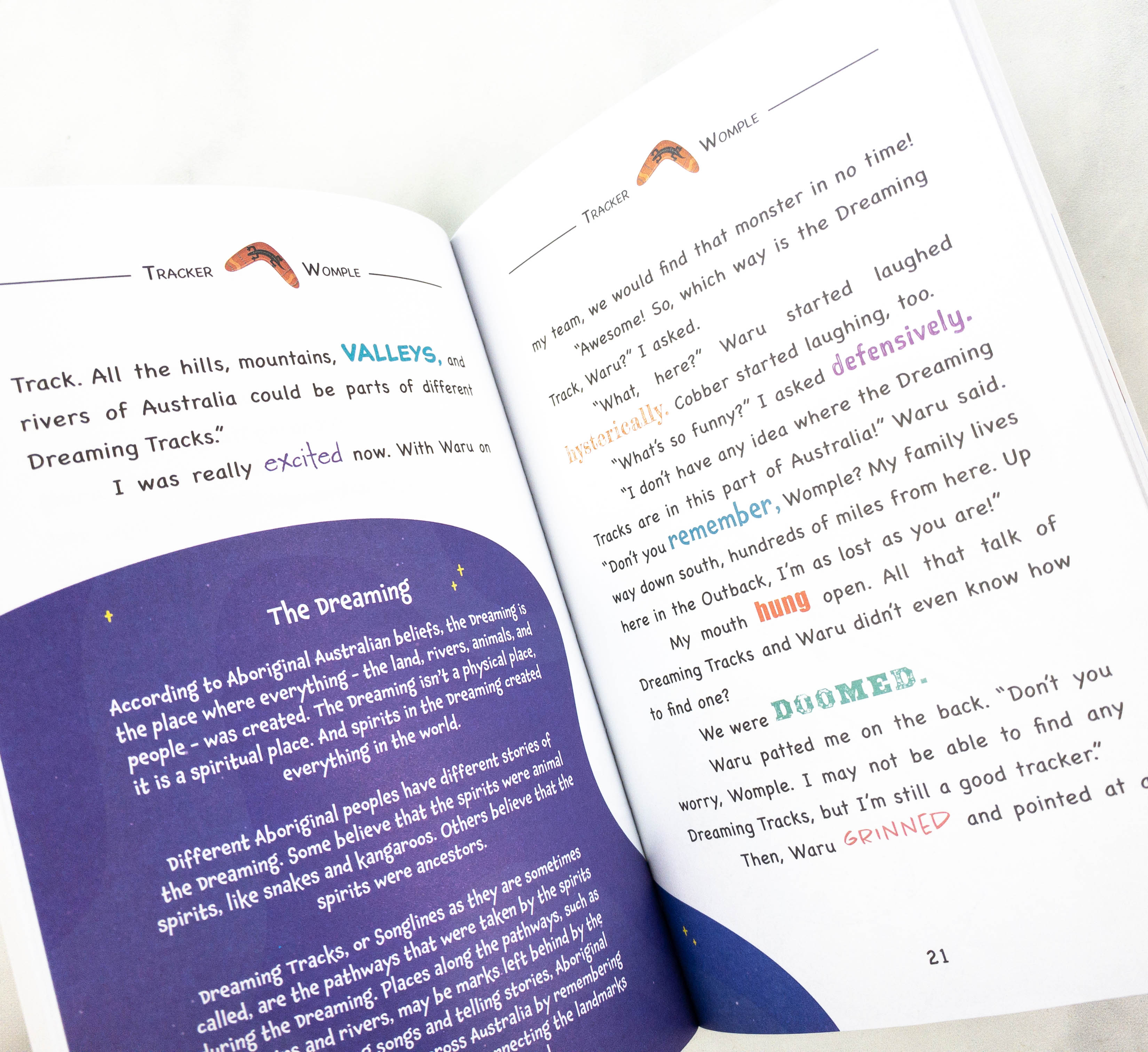 This part of the booklet is about dreaming. According to Aboriginal Australian beliefs, dreaming is a spiritual place where everything was created.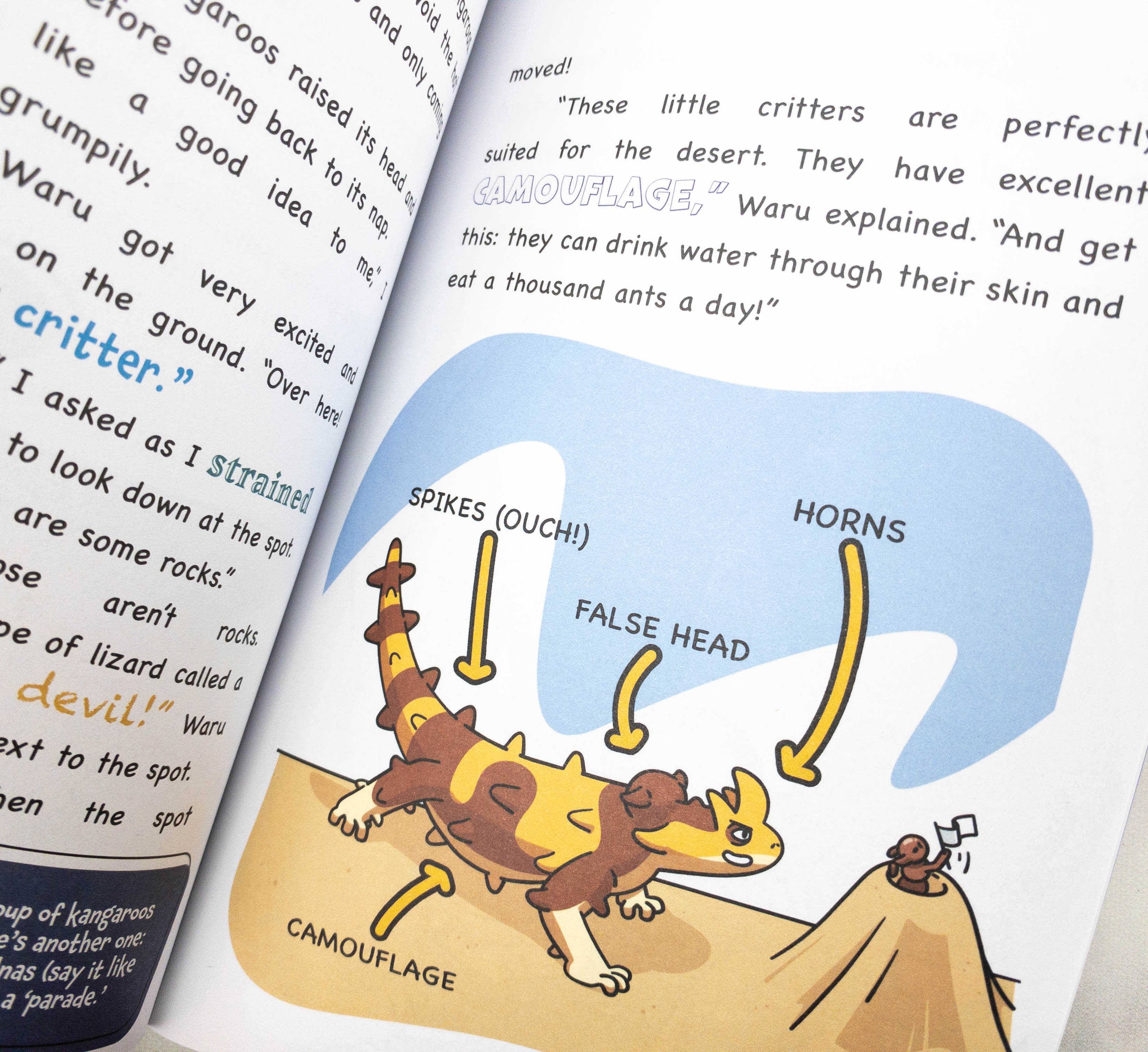 It also features some animals found in the country like the kangaroo, thorny devil, and more!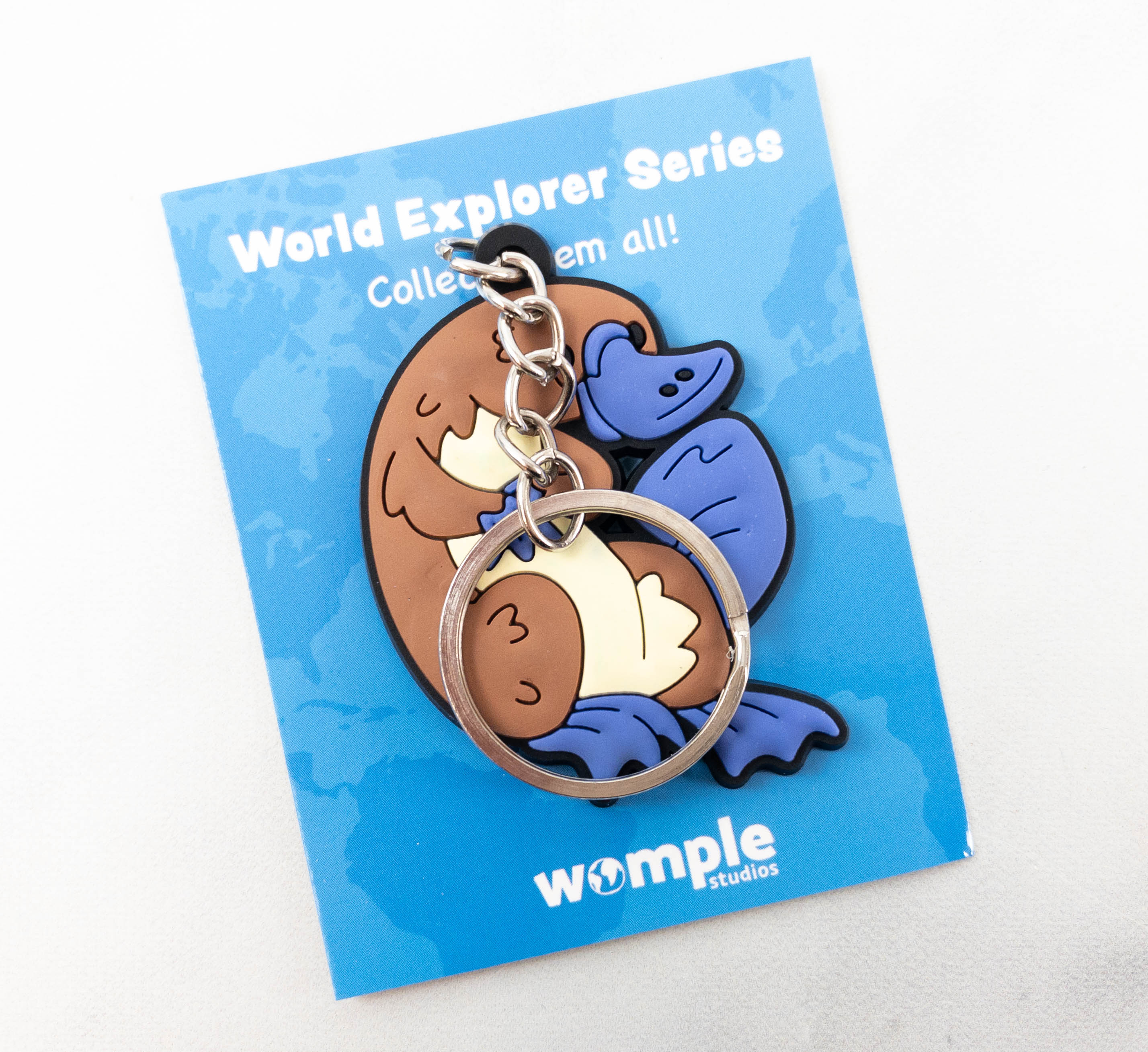 Keychain. Every WompleBox includes a collectible keychain for kids. This month's keychain features a platypus!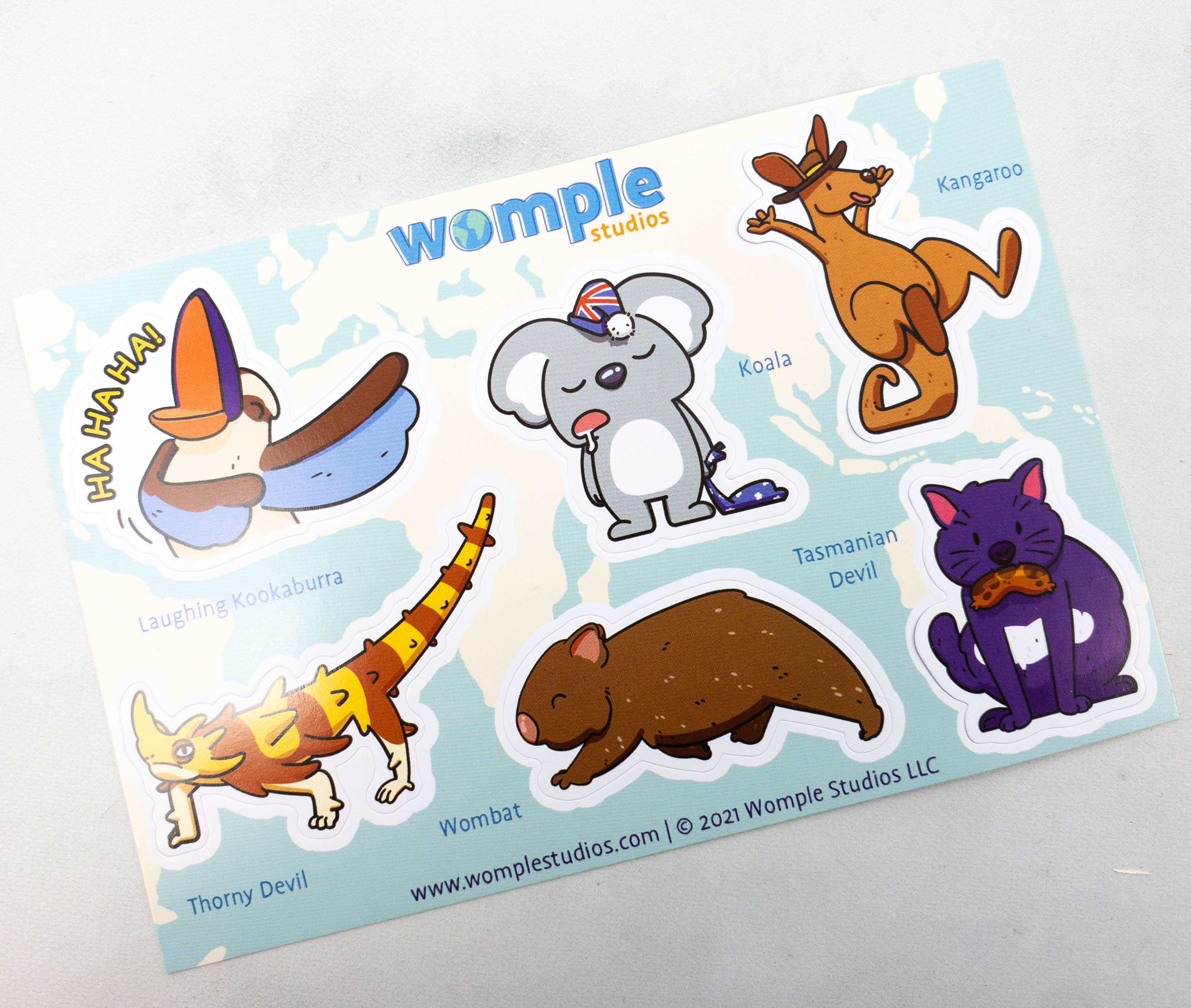 Stickers. This sticker sheet includes images of animals that can be found in Australia, including wombat, Tasmanian devil, thorny devil, laughing kookaburra, koala, and kangaroo! These are meant for matching to the map provided in the box. My son drew a picture of the Australian continent and stuck them on – he even drew the Great Barrier Reef and the Sydney Opera house. SO adorable.
This card lists more information about Australia, including the continent where it belongs, its population, the national language, the capital city, and currency.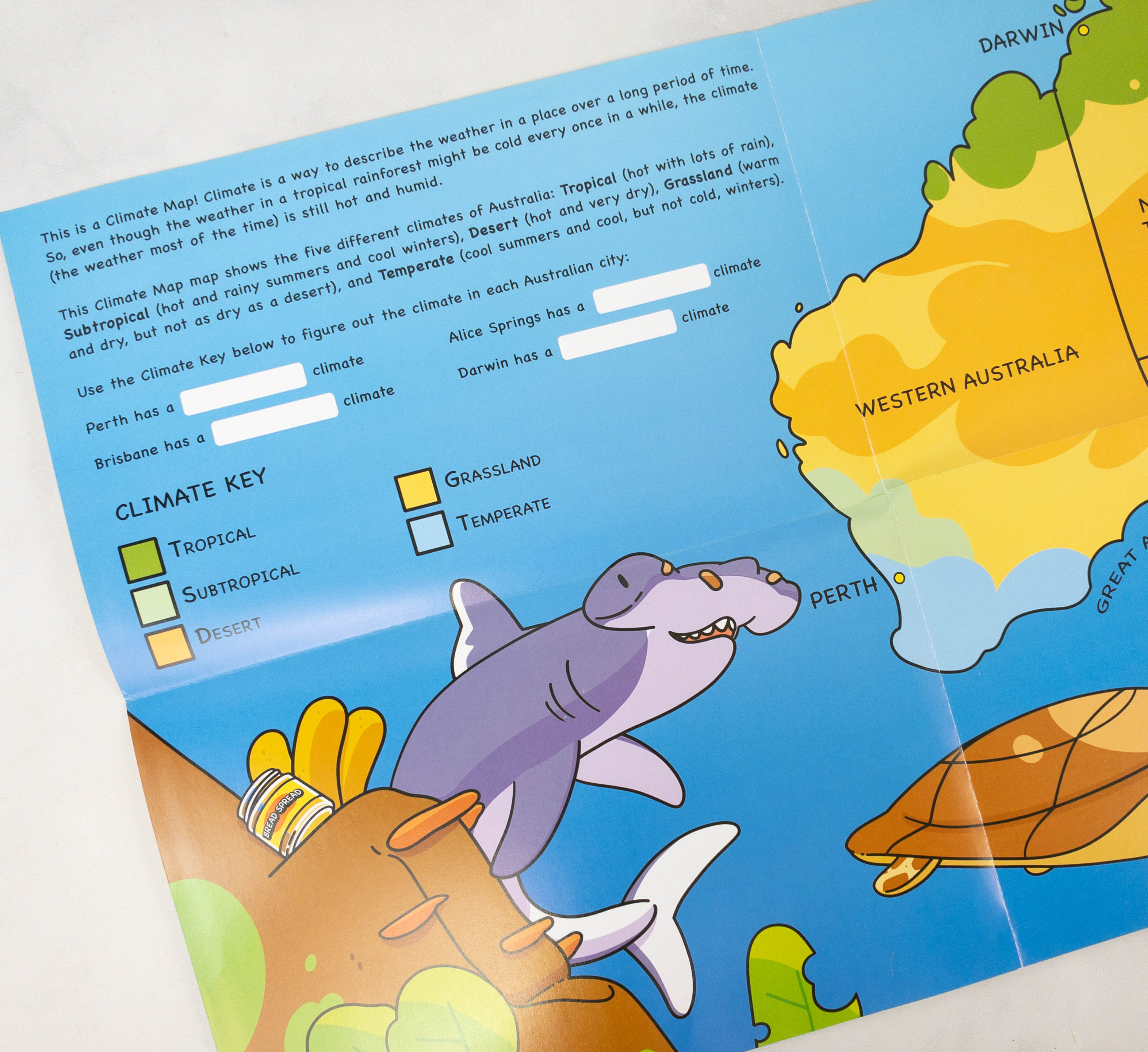 This month's map is called a climate map. It describes the weather in a place over a long period of time.
It also includes a trivia about the Great Barrier Reef!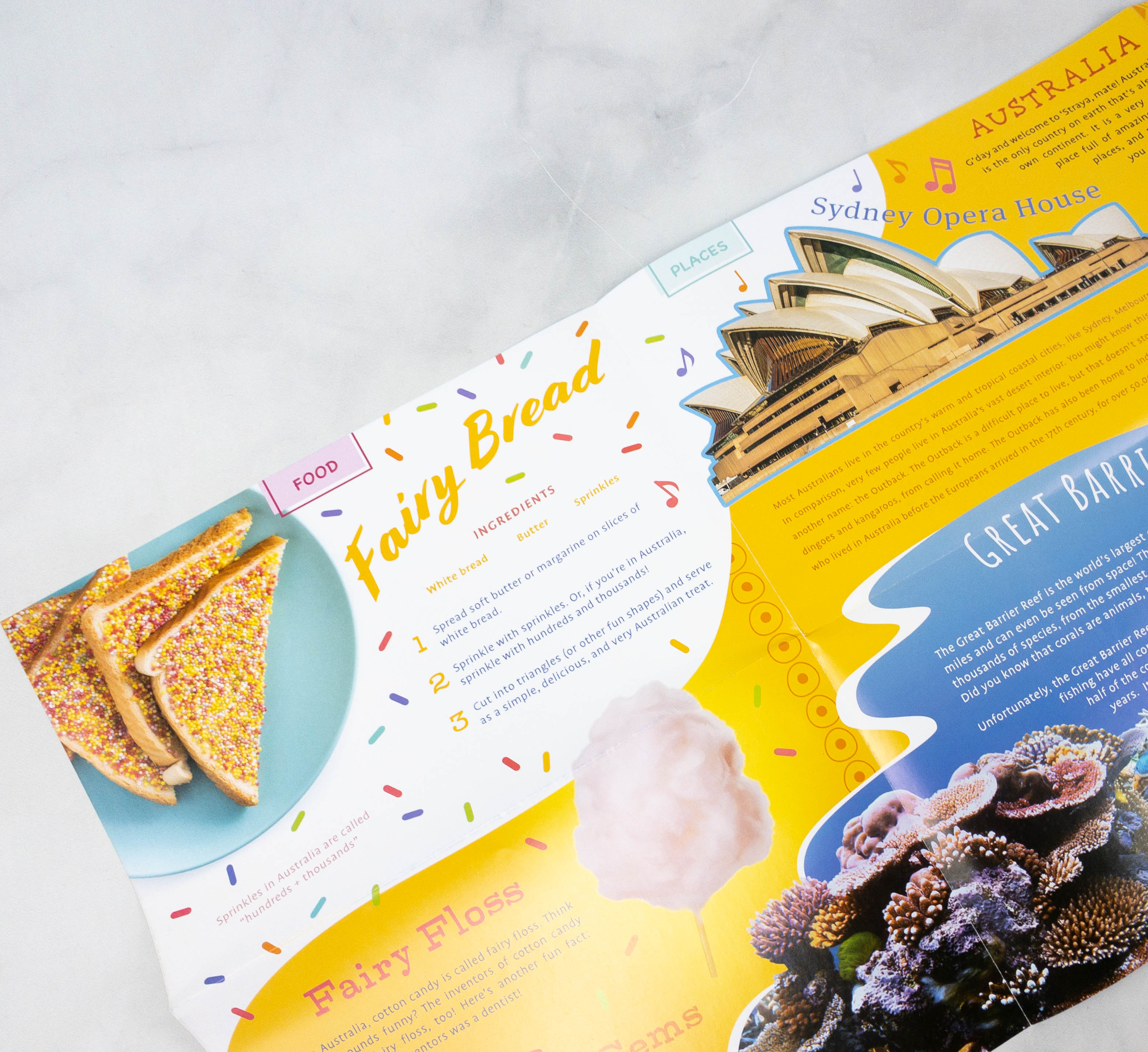 Next up is a recipe for Fairy Bread and Fairy Floss!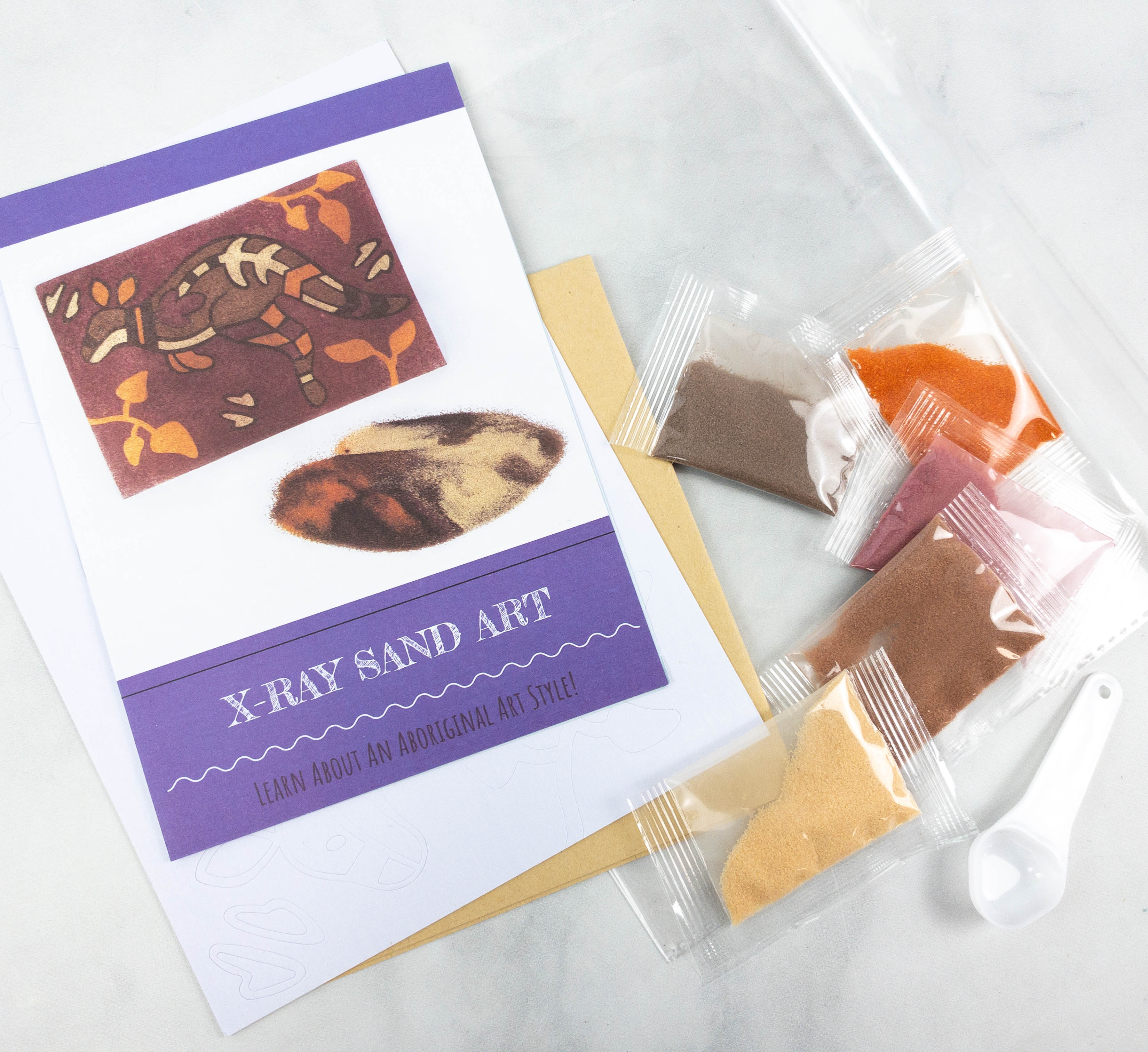 X-Ray Sand Art. The first project is X-Ray Sand Art. It's an Aboriginal art style that's popular in Australia!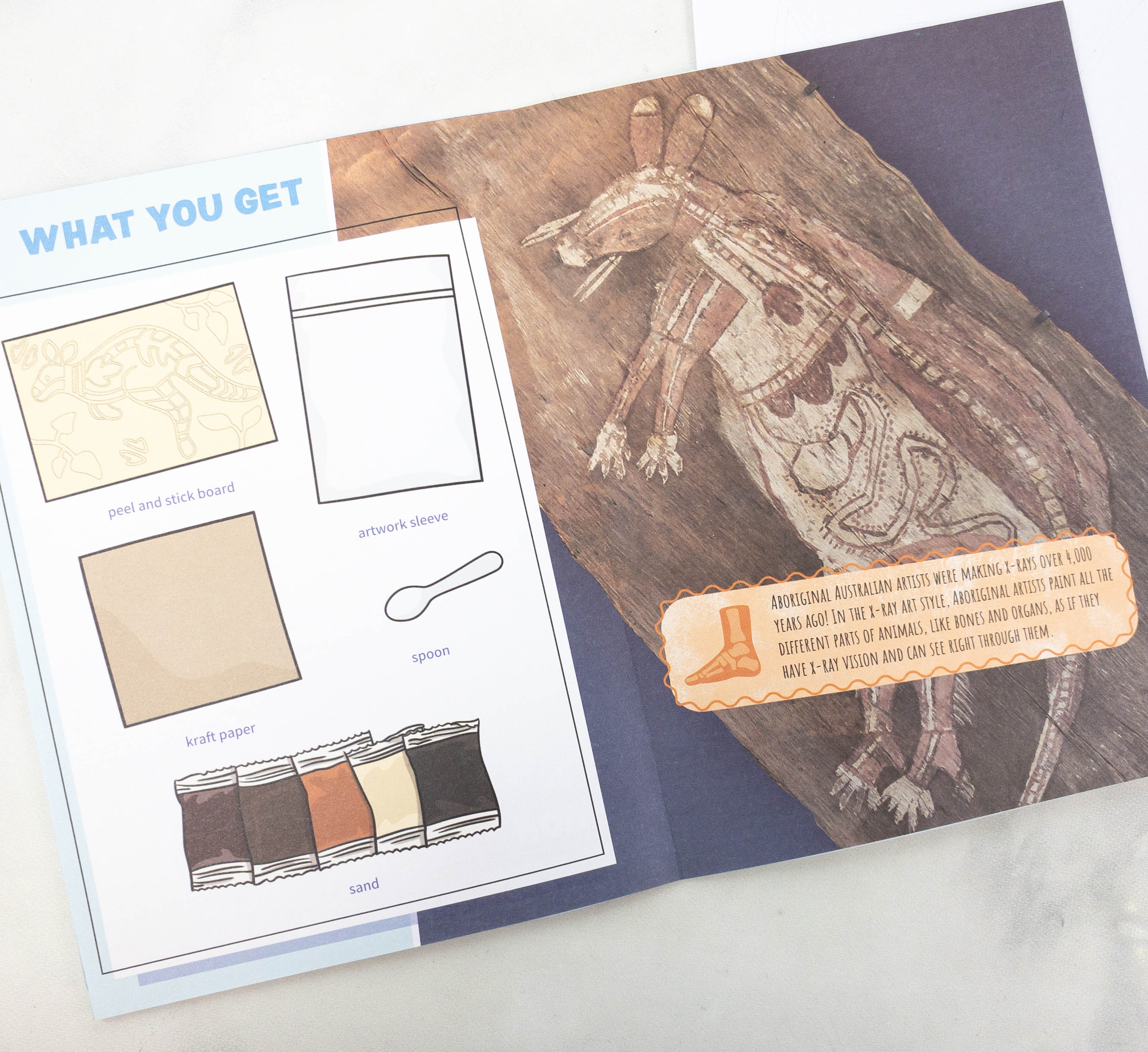 This sheet lists all the materials for the X-Ray Sand Art project. It includes peel and stick board, artwork sleeve, kraft paper, spoon, and sand.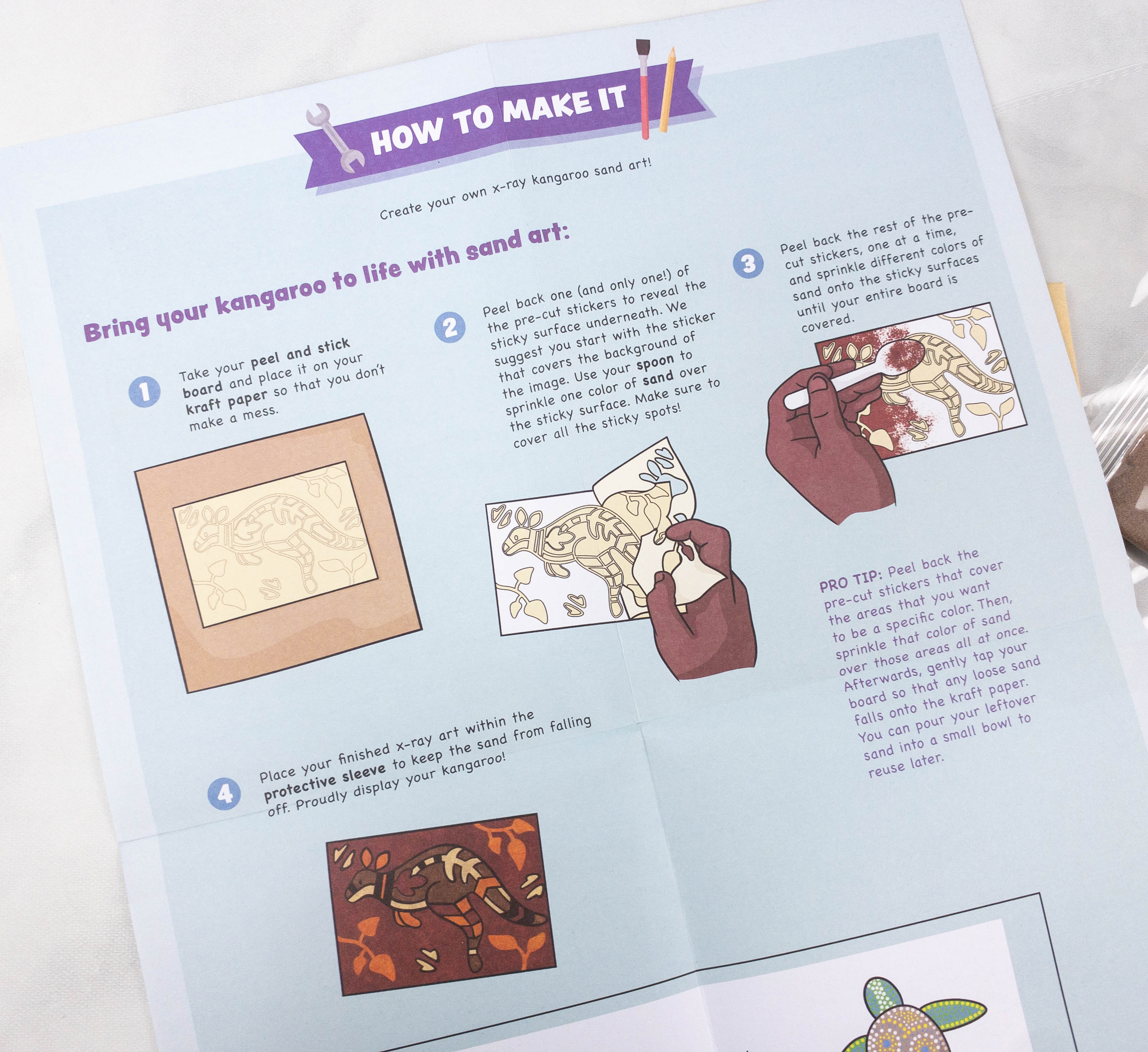 There are also easy to follow instructions, accompanied by illustrations.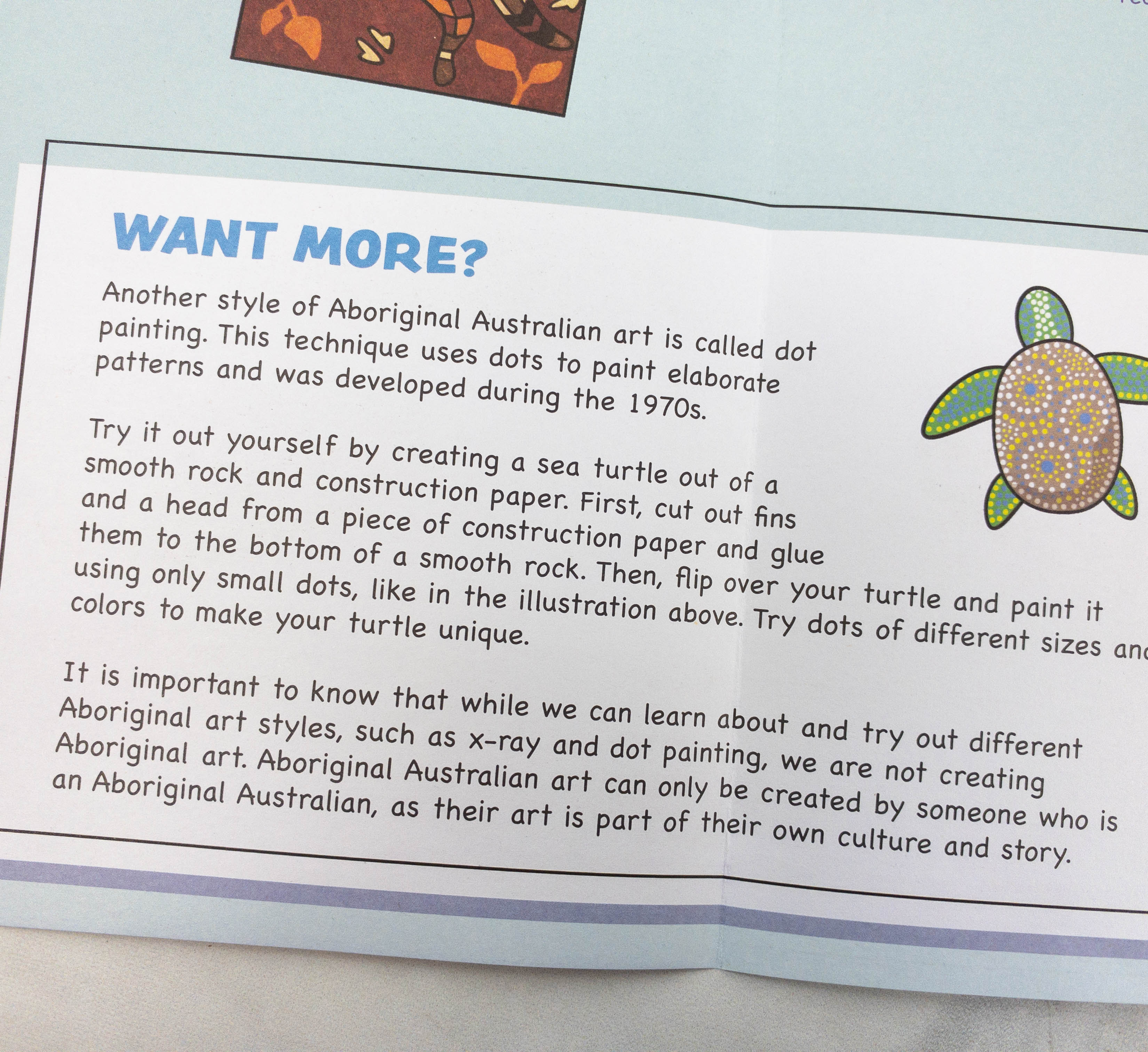 Here's another style of Aboriginal Australian art known as dot painting. This style uses dots to create elaborate patterns. It was developed during the 1970s.
Aboriginal Australian arts, from rock paintings to x-ray art, are some of the oldest artistic traditions in the world. Aboriginal artists have been practicing these same art styles for thousands and even tens of thousands of years!
The first step is to get the peel and stick board and then place it on the kraft paper. Next, peel back the pre-cut stickers to reveal the sticky surface underneath and then use a spoon to sprinkle one color of the sand. The last step would be to peel back the rest of the stickers and sprinkle different colors of the sand onto the sticky parts until everything is covered.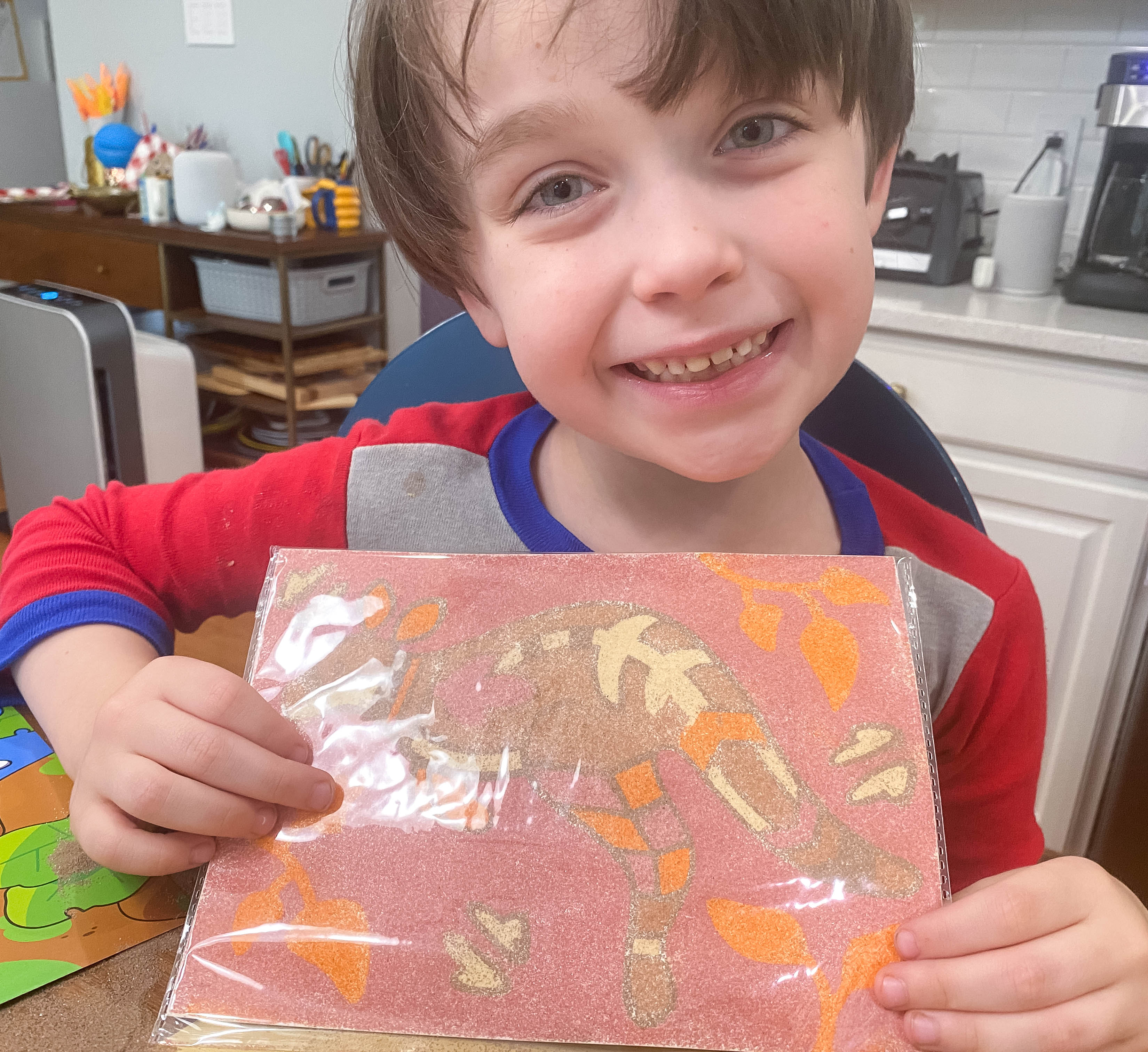 Here's my son's finished sand art! This was a perfect craft for my almost 7 year old!
Plush Koala. The next project for the kids is about making their very own fuzzy cobber!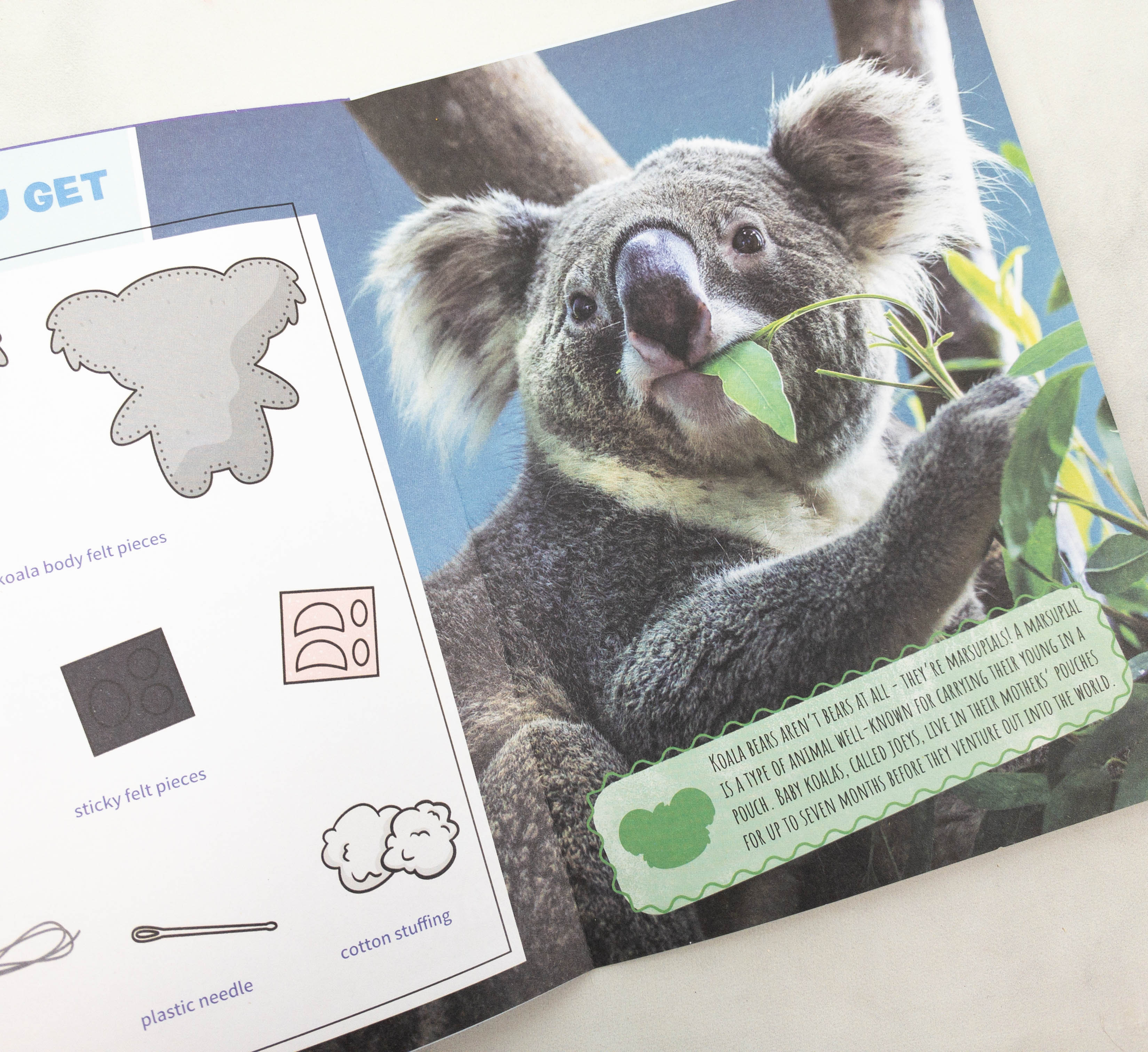 As always, it lists all the materials included in the kit. It also contains information about koalas who are often mistaken as bears.
Koala bears aren't bears at all – they're marsupials! A marsupial is a type of  animal well-known for carrying their young in a pouch. Baby koalas, called joeys, live in their mothers' pouches for up to seven months before the venture out into the world.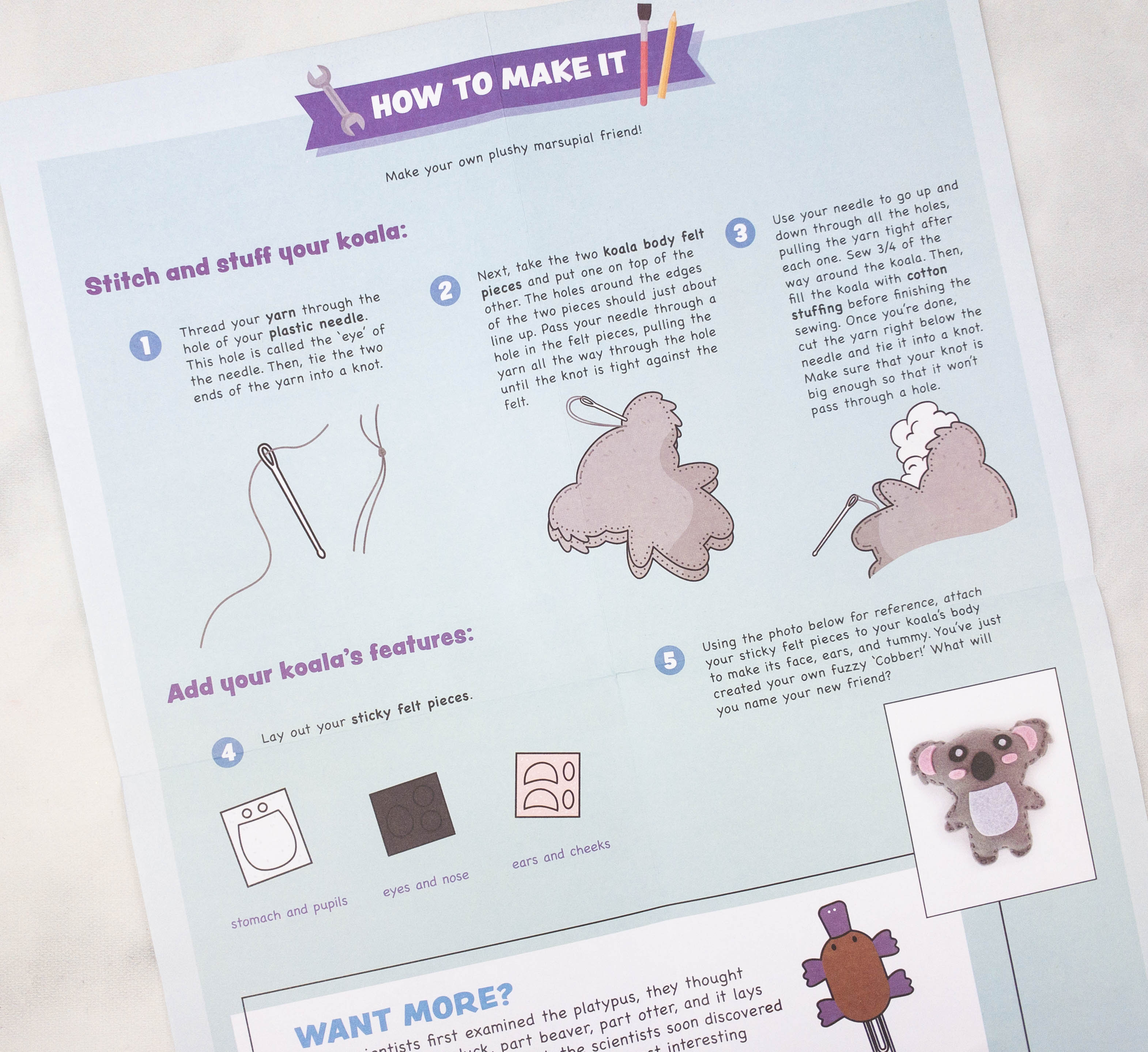 Creating the plush was challenging but I appreciate that the needle provided by the kit is made from plastic, making it safe for kids.
First, my son threaded the yarn through the hole of the plastic needle. Then, tie the two ends of the yarn into a knot.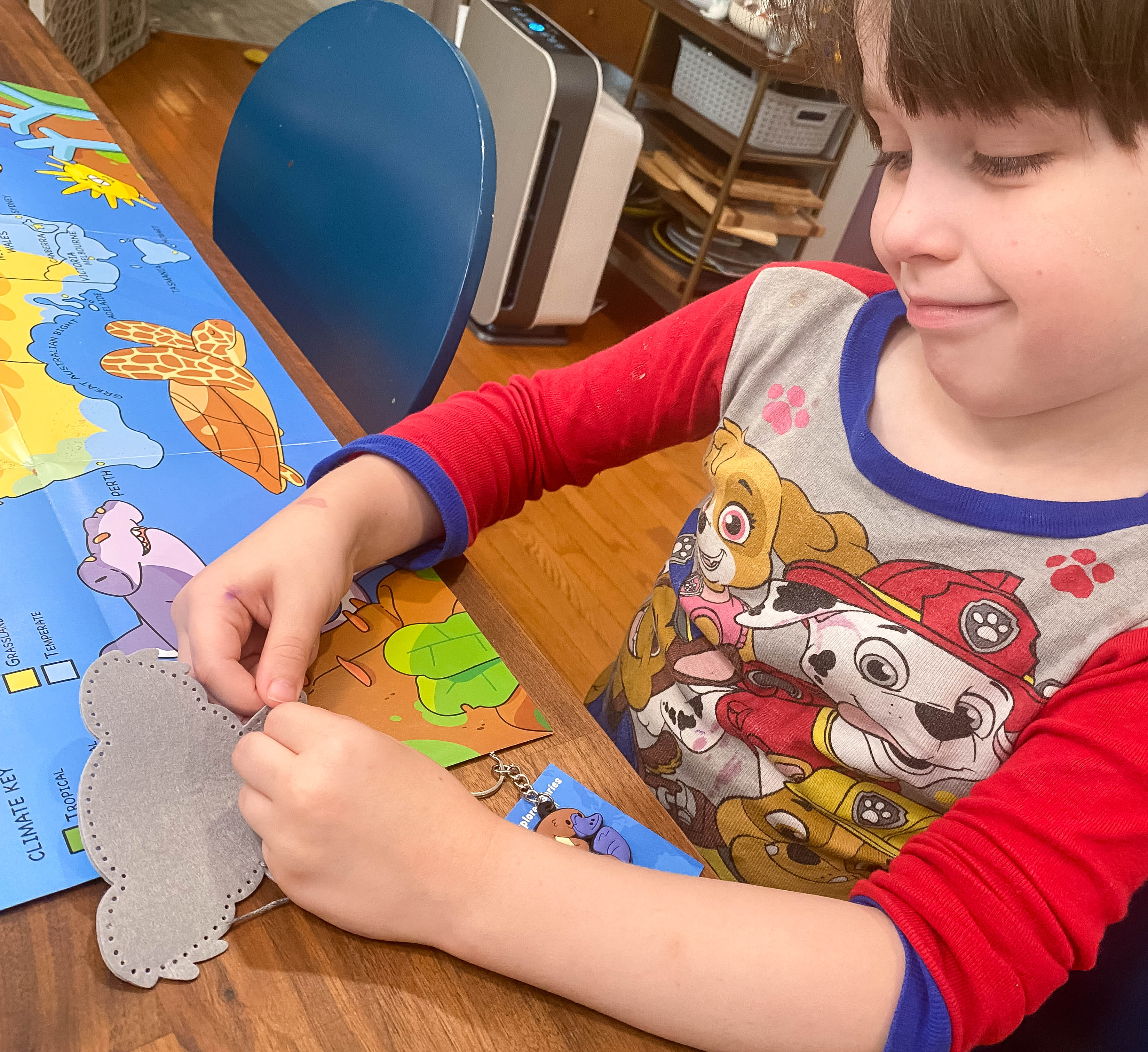 The next step is to put the two koala body felt pieces and sew them! I helped set up, but didn't need to do much help after that.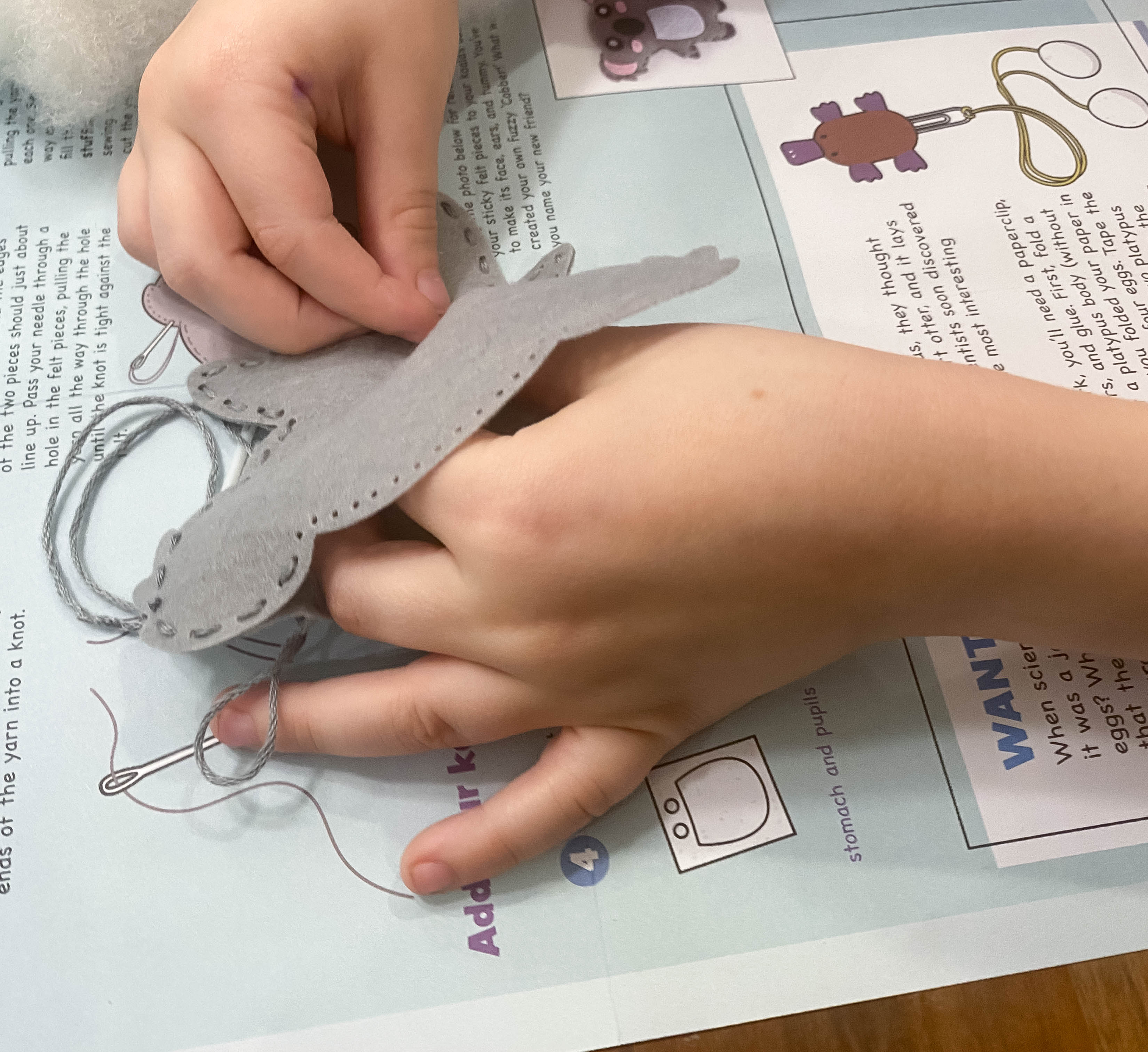 There are holes on the edges so it's easier for the kids to sew them.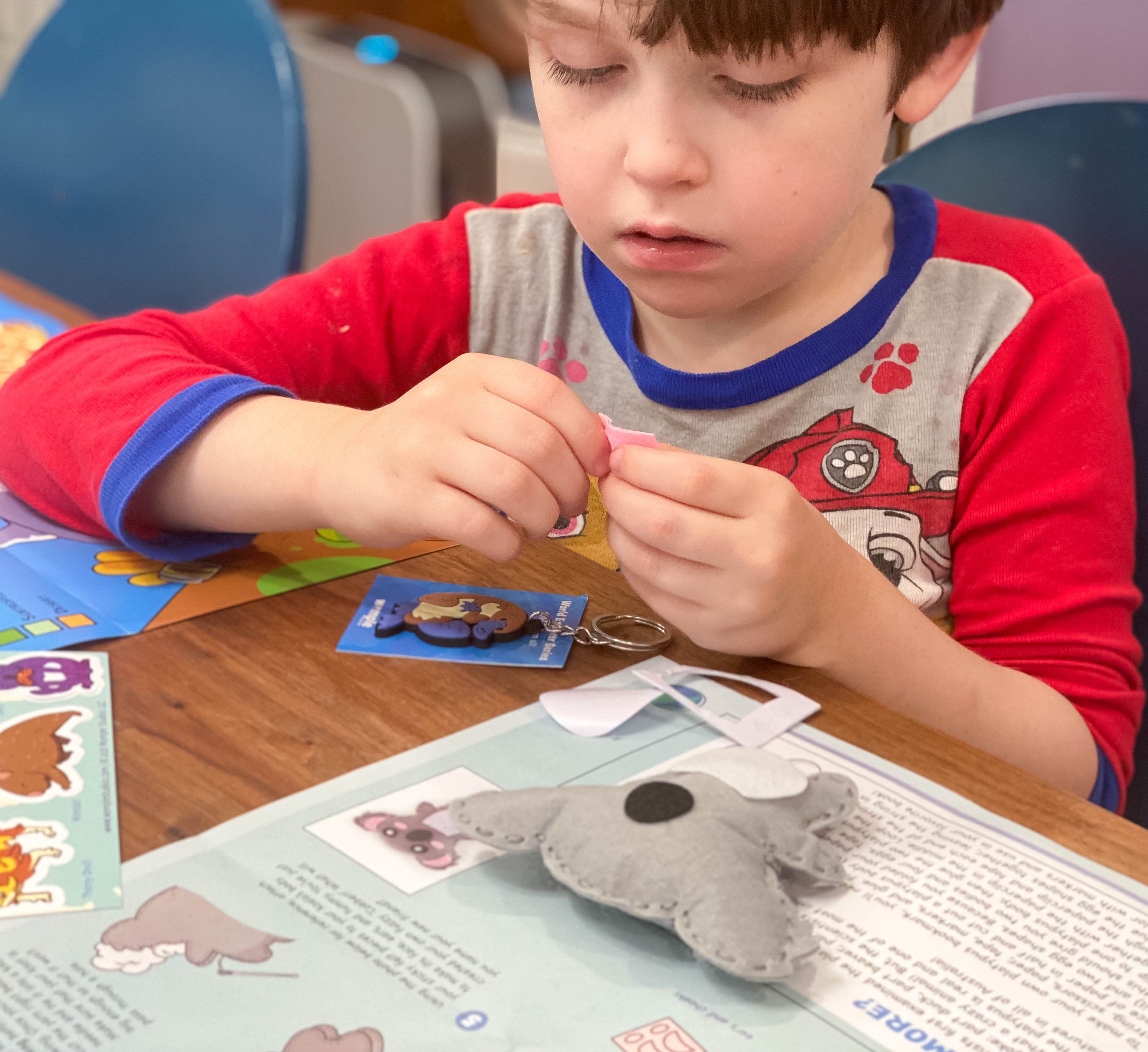 When you're done with 3/4 of the koala, put the cotton stuffing before finishing sewing and then stick on all the features.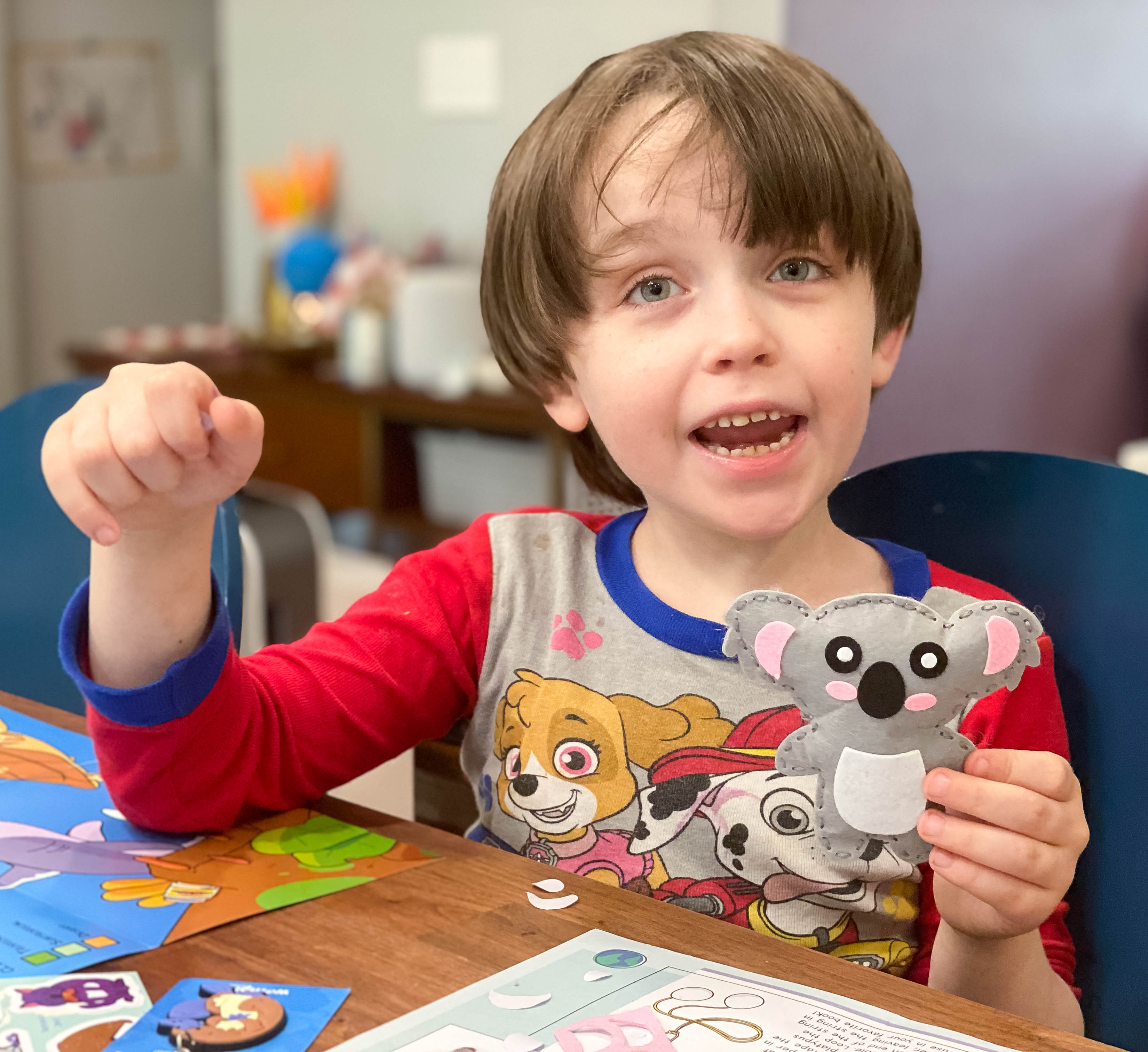 Of course, he also added the sticky felt pieces to form the face of the koala.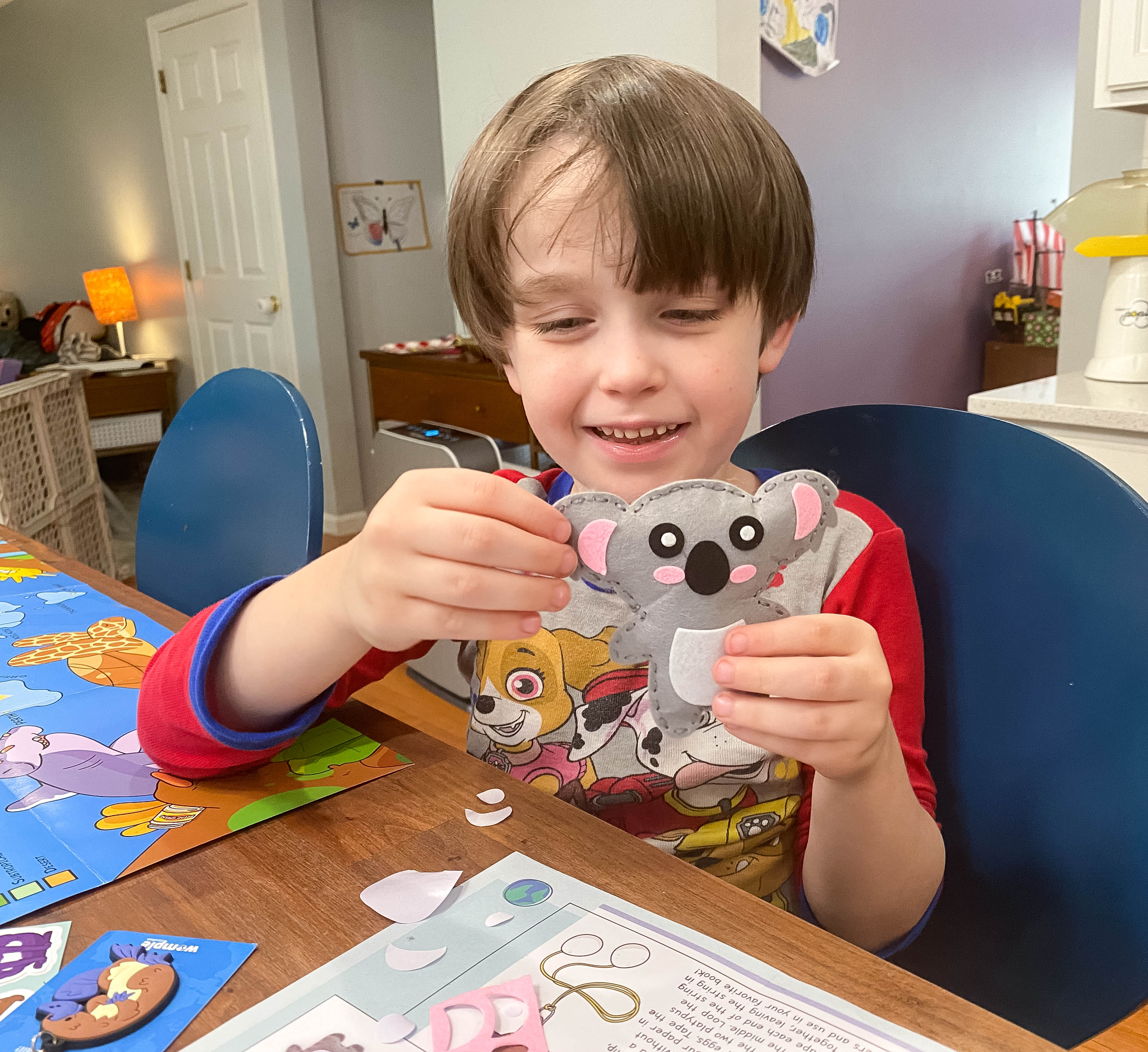 Here's the finished project! My son loves it!
WompleMail never fails in sending fun projects for kids! Every box features a different country, and this month, it's all about Australia. The first project introduced my son to Aboriginal art styles from the country and the other project is about making a cute koala plushie. He learned so much about Australia through the booklet as well, including facts about culture, people, history, and even food. This is really a great activity subscription box for kids! There are at least 2 activities to keep kids busy and the reading materials are always high-quality. The activities were super age appropriate, and really easy to pull off. After we finished the crafts, he read the entire book, and had such a great time. This was a really nice box!
What do you think of this box?