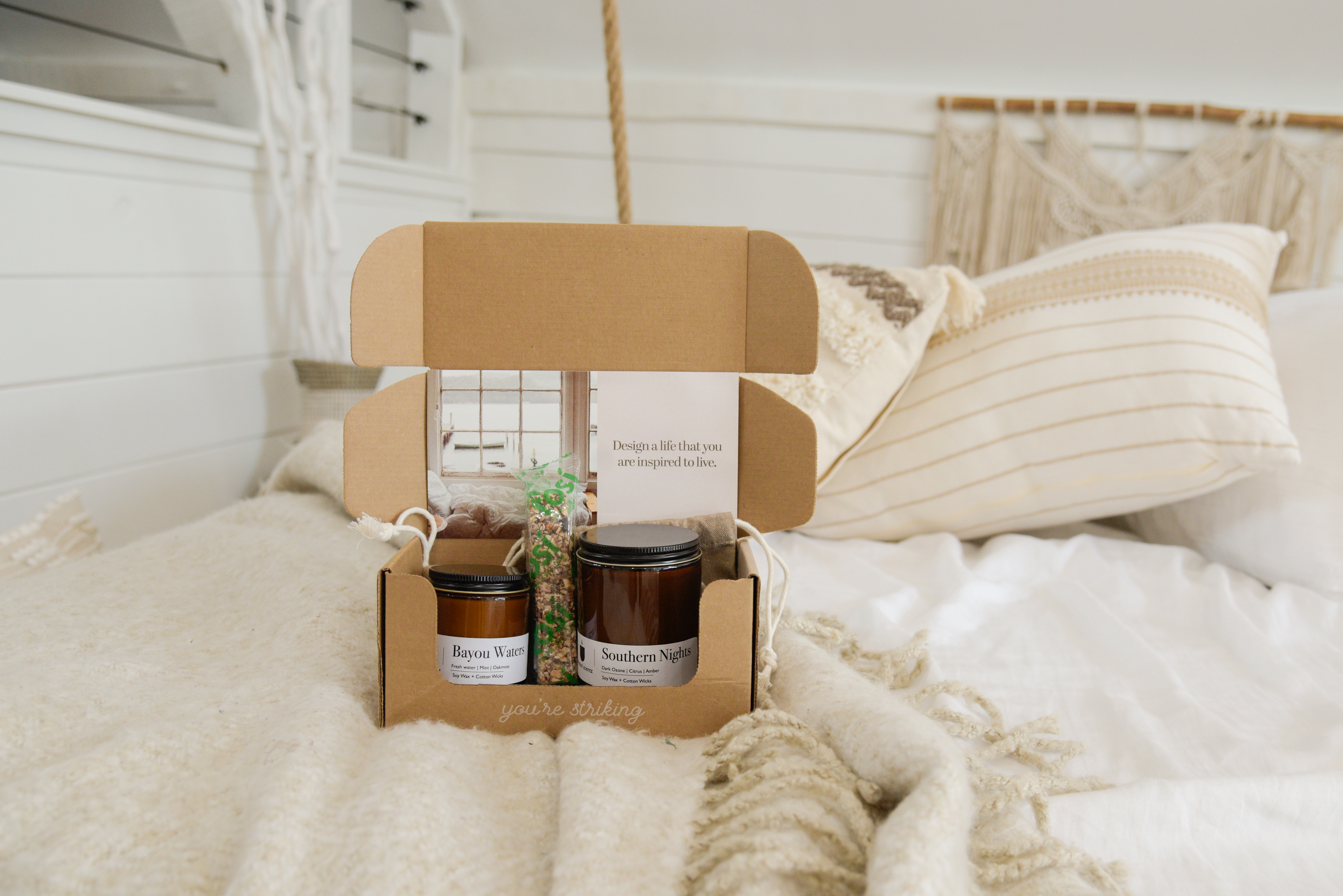 We have the spoilers for the September 2021 Vellabox candle subscription box! Vellabox has 3 subscriptions – you can choose from The Lucerna Box ($10) which includes a 4 oz candle monthly, The Ignis Box ($20) with an 8 oz candle monthly, and The Vivere Box ($30) with an 8oz + a 4 oz candle monthly. Each level receives the bonus lifestyle gift, and the biggest box includes free shipping. Check our Vellabox reviews to find out more about this subscription!
Hope your summer is winding down well — as much as I'll miss summer, I'm excited to share all the fantastic fall scents we have coming!
DEAL: Get $5 off any purchase when you use this link and the coupon code HELLOSUB5 at checkout.
The September Vellabox includes:
Elevated Scentz Bayou Waters (vivere subscribers only) freshwater, mint and oakmoss (enjoy life on the bayou- taking time to relax and being serene)
Elevated Scentz Southern Nights mellow ozone, golden amber and deep musk (picture the moonlight peaking through the forest trees on a warm southern night)
Bonus gift from Tosi Cashew Coconut SuperBites: satisfy those cravings with a clean, crunchy goodness. Break down your bar into your breakfast yogurt, as an ice cream topping or on top fruit.
This month's Lucerna Box features a 4-oz Bayou Waters and Southern Nights candles. The Ignis Box also features Southern Nights candle in the 8-oz size. Both boxes include the bonus lifestyle gift.
More about the Vellabox candle partner this month, Elevated Scentz:
Elevated Scentz, a female-owned, black-owned business, was founded on personal creativity and the powerful properties of scents themselves. Megan, a professional makeup artist & candle artisan, enjoyed enhancing the experience for her clients with a calming aroma–which grew into developing her own signature line of candles.
Vellabox curates a seasonal selection of all-natural candles and sends them to your door every month. They work with different brands, but choose only the candles that are non-toxic, lead-free and hand-poured. No beeswax in order to stay as vegan as possible. Most of what you'll find in the box are soy, coconut, and vegetable based waxes. A surprise gift is also included in every package.
Here's how it works:
PICK THE PERFECT BOX Choose from 3 different sizes – starting at $10 per month
RECEIVE CANDLES MONTHLY Your first box ships immediately & following boxes ship on the 5th
SET THE MOOD Experience new scents perfectly curated to the season
Here's what you'll get:
Delight your nose Expertly curated scents that pass the smell test
Love your space The perfect ambiance for cozy living year round
Breathe easy Clean burning candles, made from natural ingredients
Discover new brands The finest American artisans featured each month