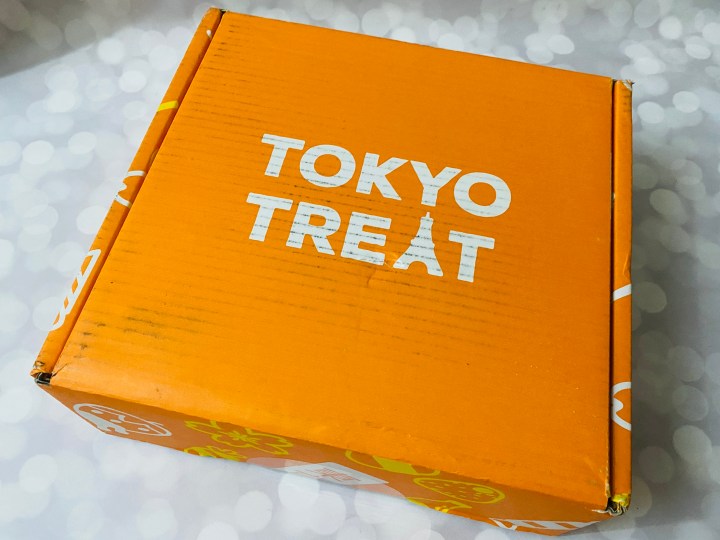 Tokyo Treat is a monthly Japanese snack and candy subscription box that is shipped directly from Japan. Tokyo Treat's Japanese snack and candy subscription box is a reader fave and made the list in our 2021 readers' choice picks of best snack and candy subscription boxes!
There are two box sizes — Classic ($25) and Premium ($35). Shipping is $12.50 to the US, and is about the same for other countries.
The Classic box includes 12 items altogether — 4 popular snacks, 4 share packs (new), 2 dagashi snacks, 1 DIY candy kit, and 1 kinosei (quirky) snack.
The Premium box includes 17 items — 5 popular snacks, 1 party pack (new), 4 share packs (new), 3 dagashi snacks, 1 anime snack (new), 1 DIY candy kit, 1 kinosei snack, 1 drink.
This is a review of the Premium box.
DEAL: For a limited time only, use the coupon code PIKAPIKA to get a FREE Pikachu Sweet Surprise Bonus!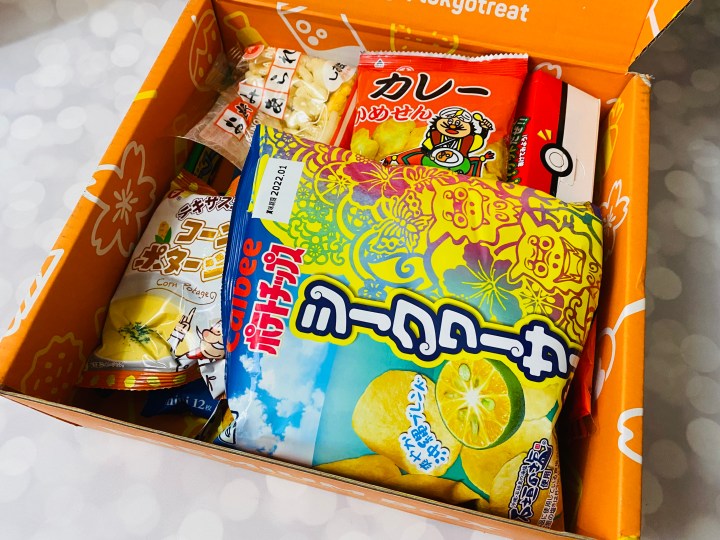 The box is jampacked, as always!
This month's box theme is OKINAWA SNACK-OUT!
This month we're heading to Okinawa, famous for its beautiful beaches!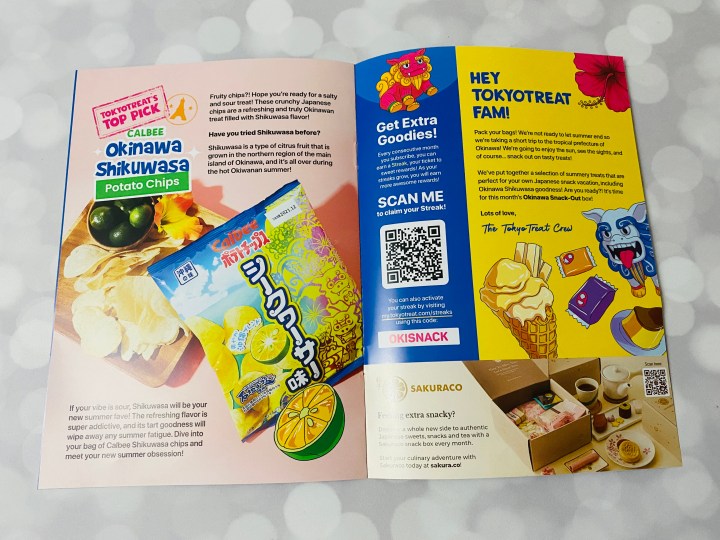 They provided a QR code that subscribers can use to claim their streak and get sweet rewards! Subscribers earn a streak with every consecutive month that they subscribe.
The booklet also has a list of all the items in this month's box!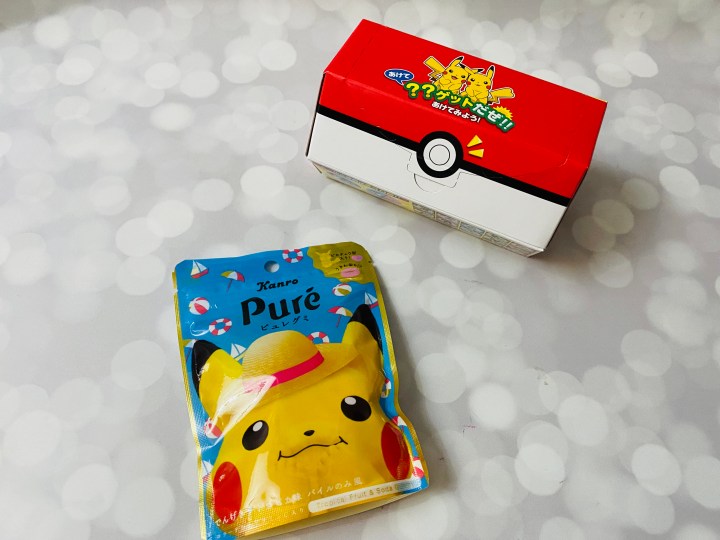 The first thing I noticed were brightly packaged Pokémon treats! (I am saving these for my nephew who loves Pikachu!)
Pikachu Butter Biscuits. These adorable puffed biscuits have a buttery, sugary flavour that is so addicting. I've had these before and the box also includes a Pokémon sticker!
Pikachu Gummies. Tropical fruit flavoured gummies in the shape of Pikachu and friends!
Okonomi Arare. Japanese crackers with a salty flavour! These had a distinct seafood scent to them so I was a little nervous to try them, but they mostly just had a salty flavour with a hint of fishiness.
Curry Turtle Crackers. Wow, these curry crackers were delicious! They had a stronger curry flavour so they really pack more of a punch! They are also super crunchy!
Ramen Shop Snack. When I was in school we would eat ramen out of the bag with the seasoning shaken around the bag to mix it. This snack does all the mixing for you, and instead it's crunchy ramen with a strong savoury flavour!
Mochi Taro Snacks. I've tried another variation of these snacks which had a very strong salt and soy flavour, whereas this version is much more mild and nutty. There are a few peanuts sprinkled in too!
Corn Potage Snacks. Yummy corn flavoured corn snacks. Japan really loves the corn potage flavour for their snacks and it was a bit weird at first, but now I love them too!
Chhezack. This was one big long cheese puff, which was delicious!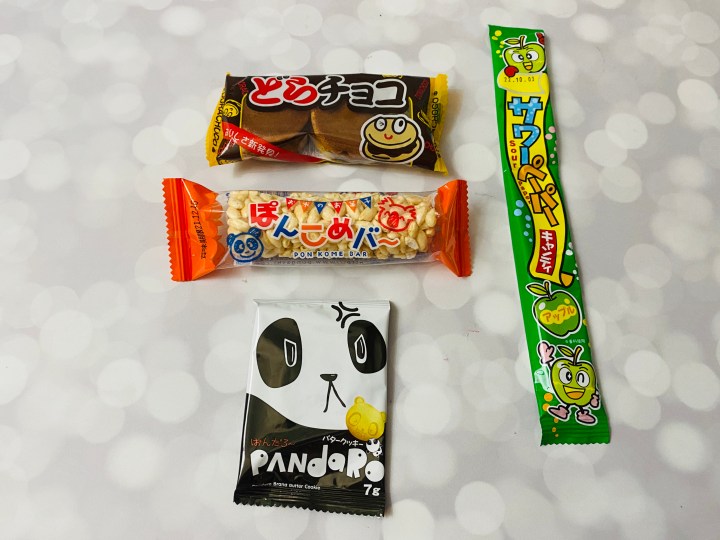 Mini Choco Dorayaki. Dorayaki pancakes usually have red bean paste inside but this yummy version had chocolate! I was surprised how moist and fluffy these were, like they were freshly baked, even though they came all the way from Japan!
Ponkome Rice Bar. While this bar looks like our sweet Rice Krispies treats here, this version is much drier and has a mild savoury flavour.
Pandaro Butter Cookie. This was a delicious cookie with a buttery shortbread flavour.
Sour Apple Candy. A long, skinny strip of sour apple flavoured candy. This was soft and easy to eat!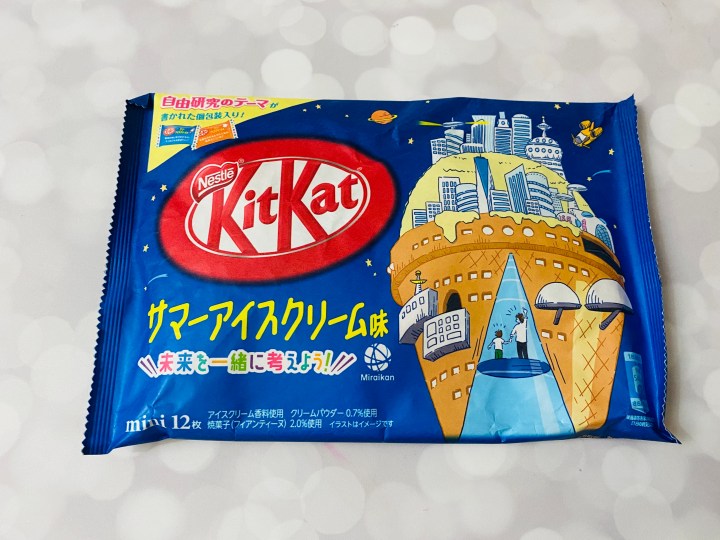 Ice Cream Kit Kats. Tokyo Treat sent a whole bag of 12 mini Kit Kats in a limited edition Ice Cream flavour! They taste just like cookies and cream ice cream!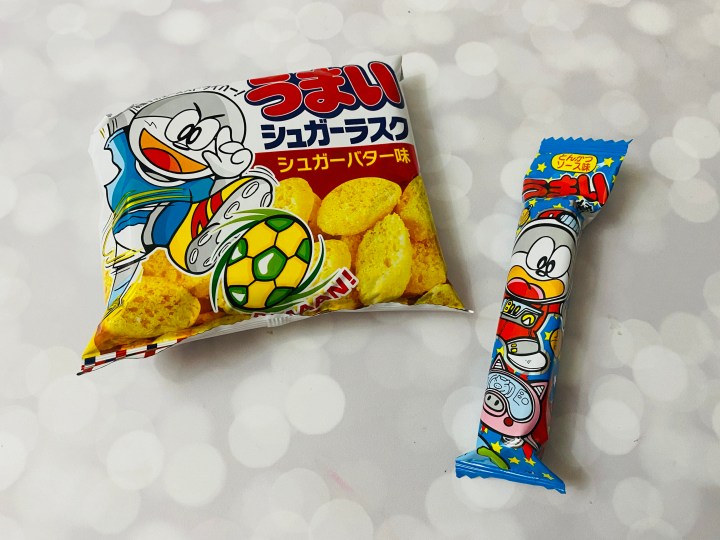 Umaibo Sugar Rusk. I love Umaibo but I've never tried these mini snacks! Sugar rusk flavour is a sugary, buttery flavour that is just so addicting!
Tonkatsu Umaibo. We also got a normal umaibo in the delicious tonkatsu sauce flavour! If you've ever had tonkatsu before, this tastes like the savoury sauce that goes on top!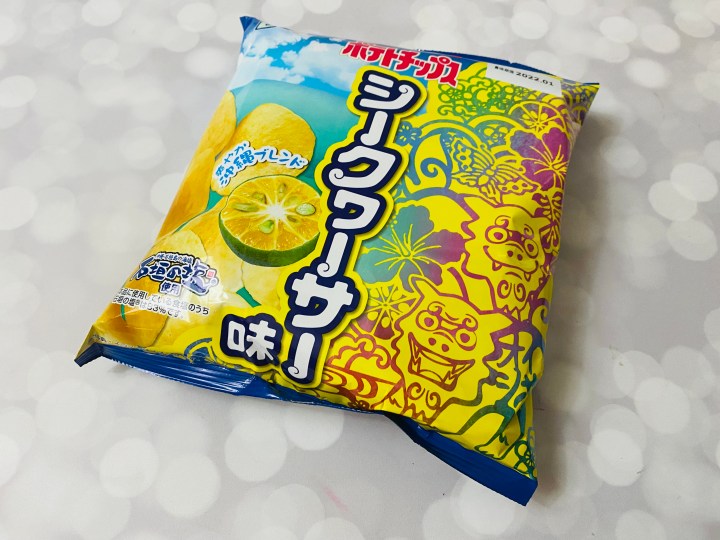 Shikuwasa Potato Chips. Shikuwasa, also known as Okinawan Lime, is a kind of citrus fruit. These potato chips have a shikuwasa flavour that is light and flavourful. It's really delicious but it's strange having chips with such a sweet flavour!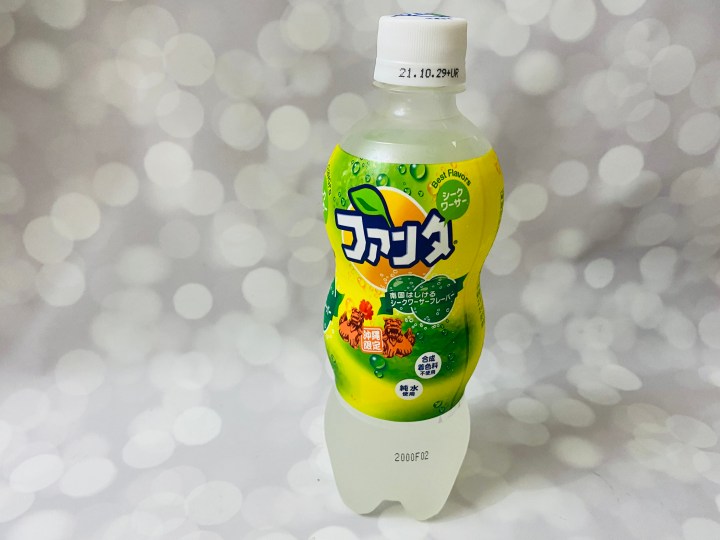 Fanta Shikuwasa Soda. Fanta has done a special limited edition version for summer with the same delicious citrus flavour. I found this to be so refreshing!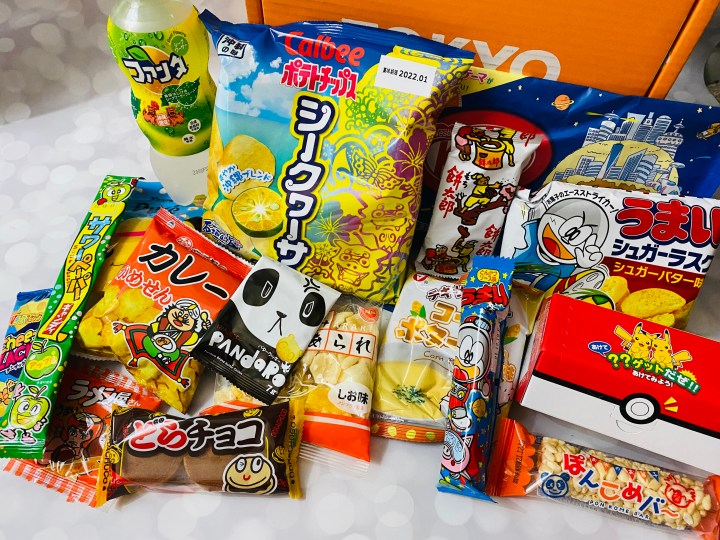 The September box is full of delicious summery treats that invoke feelings of going to a festival in Japan and eating delicious treats like dorayaki, tonkatsu, and more! I loved everything they sent me, especially the Shikuwasa goodies and the new sugar Umaibo snacks! This box is a must-have for anyone that loves Japan, and the addition of a drink and Kit Kats in every Premium box makes it essential!
What did you think of this month's Tokyo Treat?