Spiffy Socks is a monthly subscription that sends snazzy socks made with bamboo fiber. They offer subscriptions for both men (sizes 6-12.5) and women (sizes 5-10) and subscriptions are $11 per month and even lower for longer terms. It automatically renews, but you can cancel anytime. Shipping is free to the U.S.
The most comfortable, hygienic, stylish, and sustainable pair of socks you'll ever wear. Learn the advantages of wearing socks made of bamboo fiber and why it compares to no other.
Super Light and Comfortable – Twice as soft as cotton!
Natural Antibacterial Fighting Qualities – Wicks away moisture and combats odor naturally
Thermo-regulating Abilities – Warms comfortably on the cold days but stays cool when it's hot
Shock and Wrinkle Protection – Spiffy Socks are naturally durable and never require any type of ironing
Note: Order by the 20th to get the current month's box!
DEAL: Get 10% off for the life of your subscription! Use coupon code HELLOSUBSCRIPTION.
Spiffy's sock subscription made the list in our 2021 readers' choice best sock subscription list!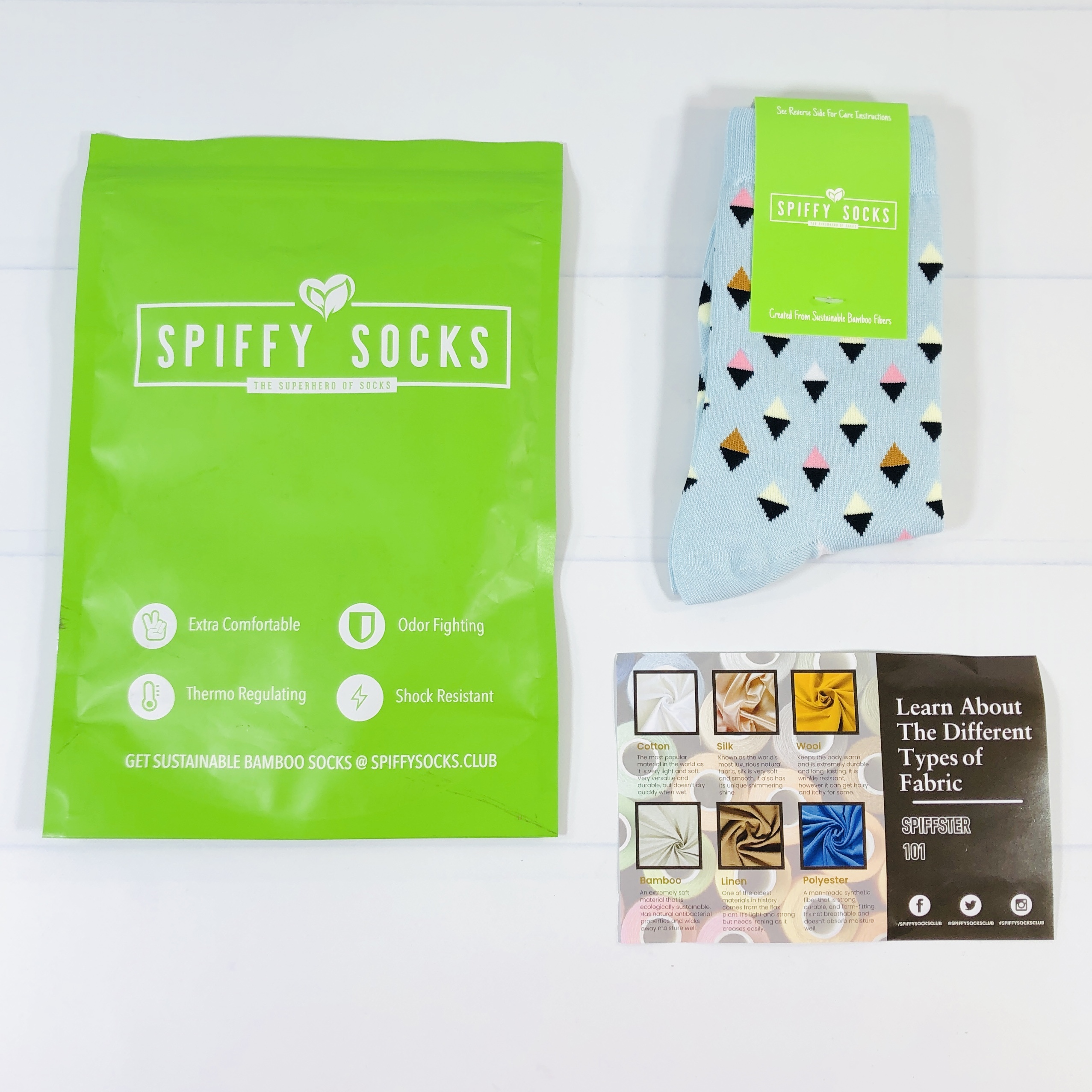 Everything in my July 2021 Spiffy Socks box for women!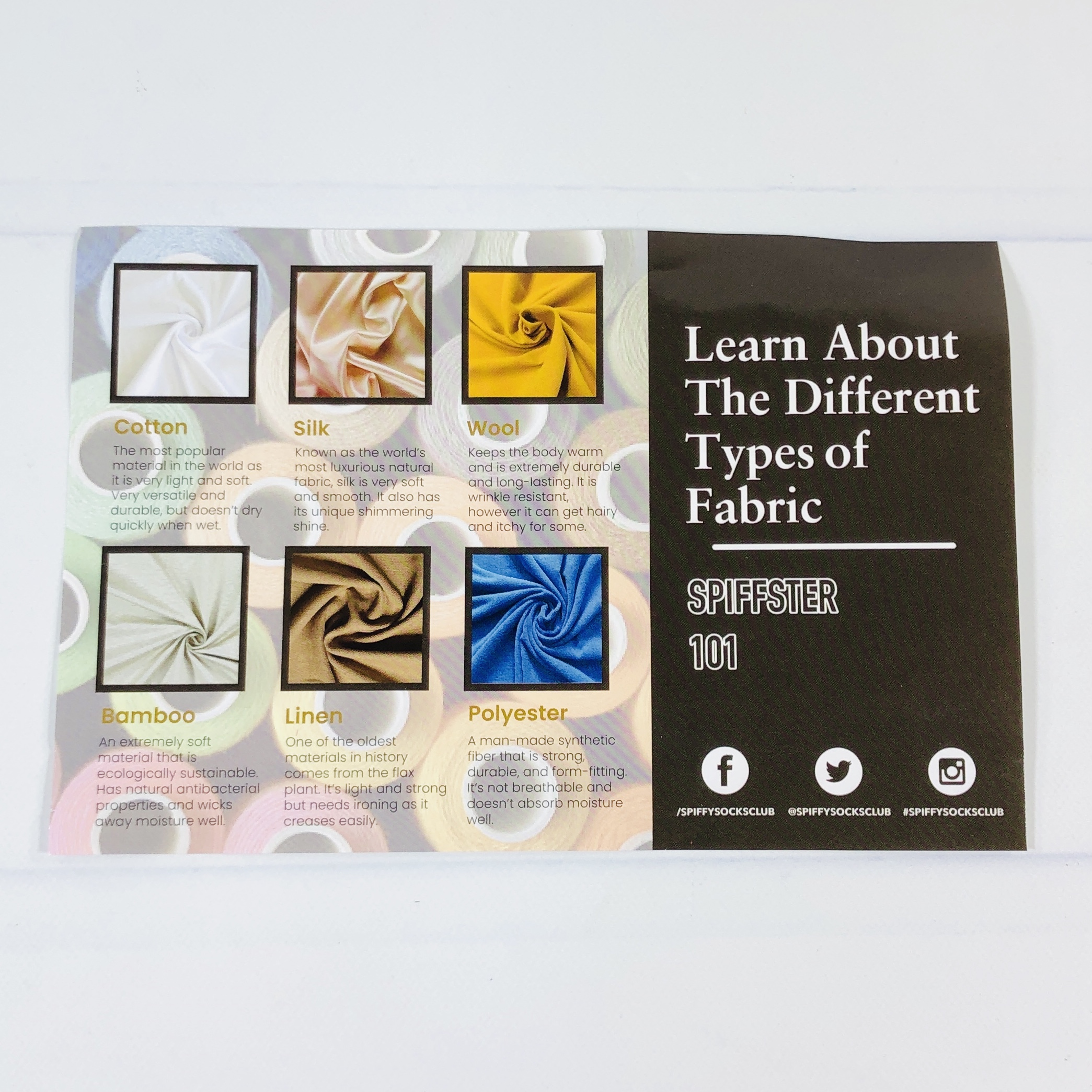 I received an insert that describes different types of fabrics.
Pastel Accents Socks ($20) Spiffy Socks generally has the sock of the month up on their website following its release, but at a higher cost ($20 vs the $11 subscription cost).
These socks are made of 75% bamboo fiber and 25% microfiber. Bamboo undergoes a chemical process that turns it into rayon fabric. I just read about this in Good Housekeeping Magazine!
The socks have a baby blue background all over, including the heels, toes, and cuffs.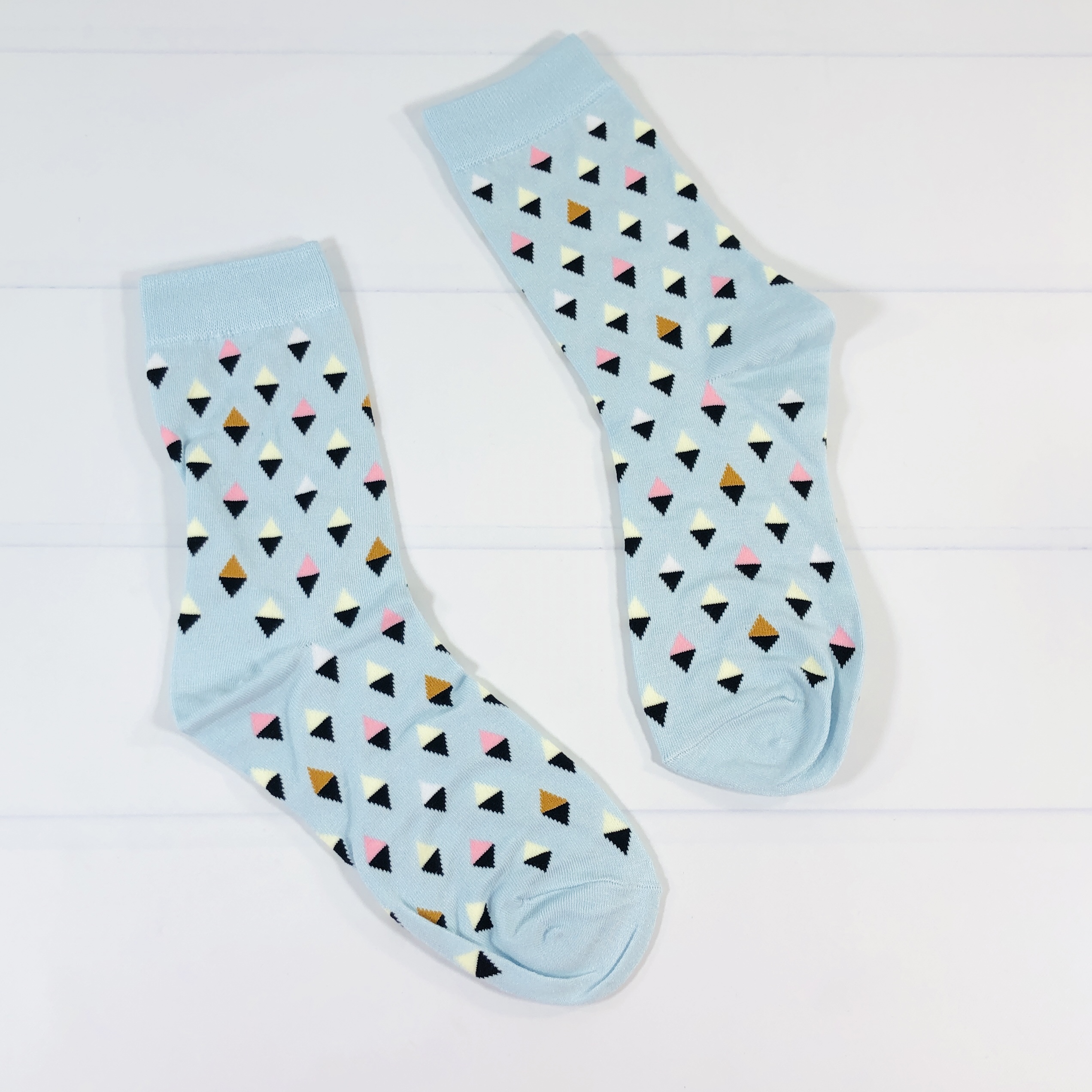 They have diamond shapes all over with a black triangle on the bottom and either a brown, pink, white, or yellow triangle on top. Am I the only one seeing ice cream cones here?
Spiffy Socks sent an adorable pattern for July and I love the background color too. I think Spiffy Socks are super comfortable and always look for them when I need a pair of socks for the day. The patterns are fun and sometimes a bit quirky but not over the top. They are comfortable on my legs without cutting off my circulation. They are long lasting and I have no problems throwing them in the warm water wash and dryer. I can't wait to get my next pair!
Have you tried Spiffy Socks? Let me know what you thought by leaving a comment!