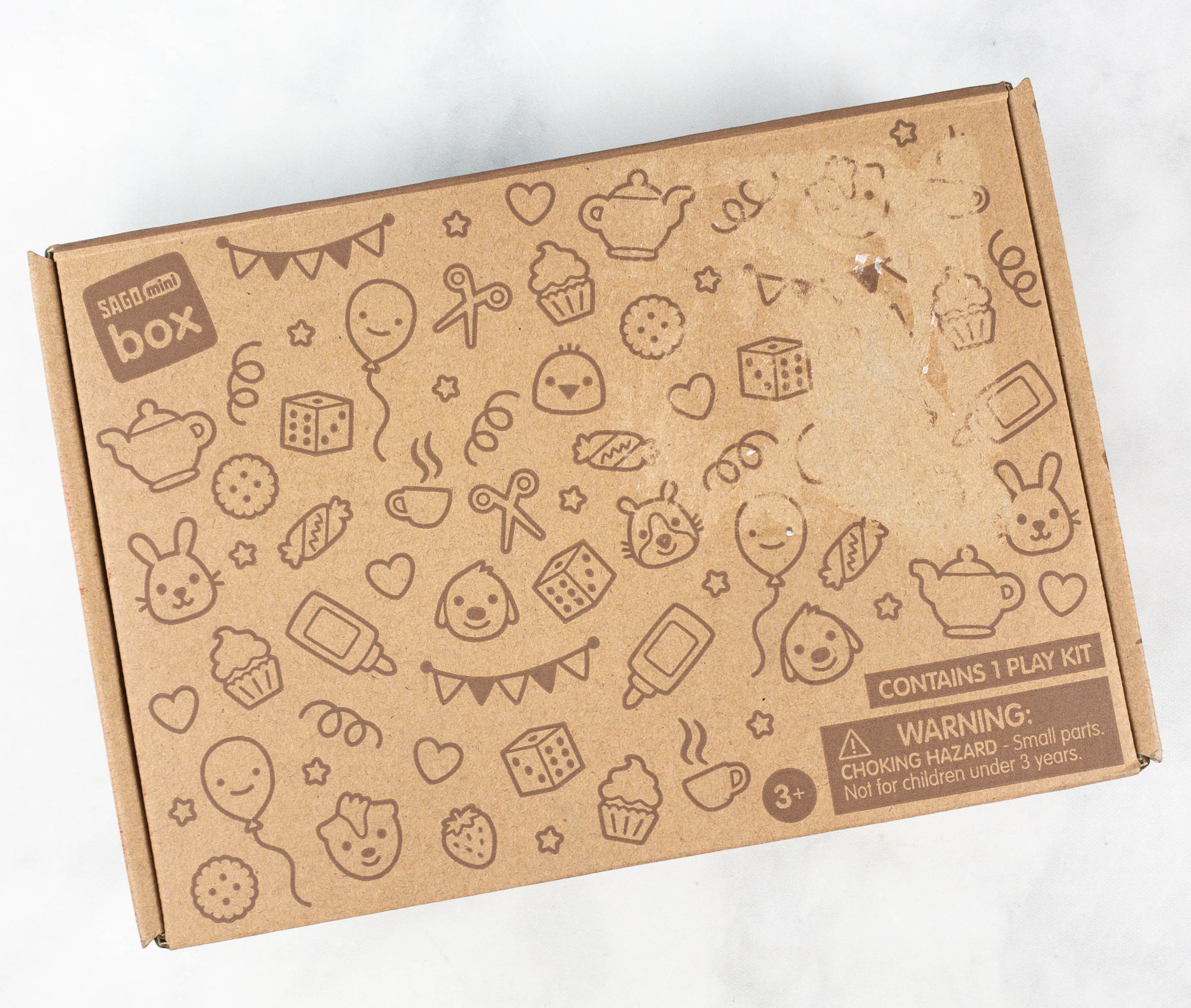 Sago Mini Box is a monthly make-and-play subscription for preschoolers that brings quality and creative play. Each monthly box is $19 plus shipping, and if you decide to have an annual subscription, you can save up to $48 annually. You'll get a box filled with make-and-play activities and surprises designed to teach modern skills to preschoolers and a Sago mini collectible figurine of one of the characters from the box, and a special letter for the kids.
DEAL: Get your first box for just $10! Use this link and coupon code SMBOX10.
Sago Mini's fun subscription for preschoolers and little kids made the list in our 2021 readers' choice best subscription boxes for kids list!
All the items were packed in a brown box with cute drawings all over.
A card welcomes us to this month's box. The box this month is all about FRIENDS!
Aside from the main box, there are also envelopes that separate the materials.
The box itself is also needed for some of the activities this month!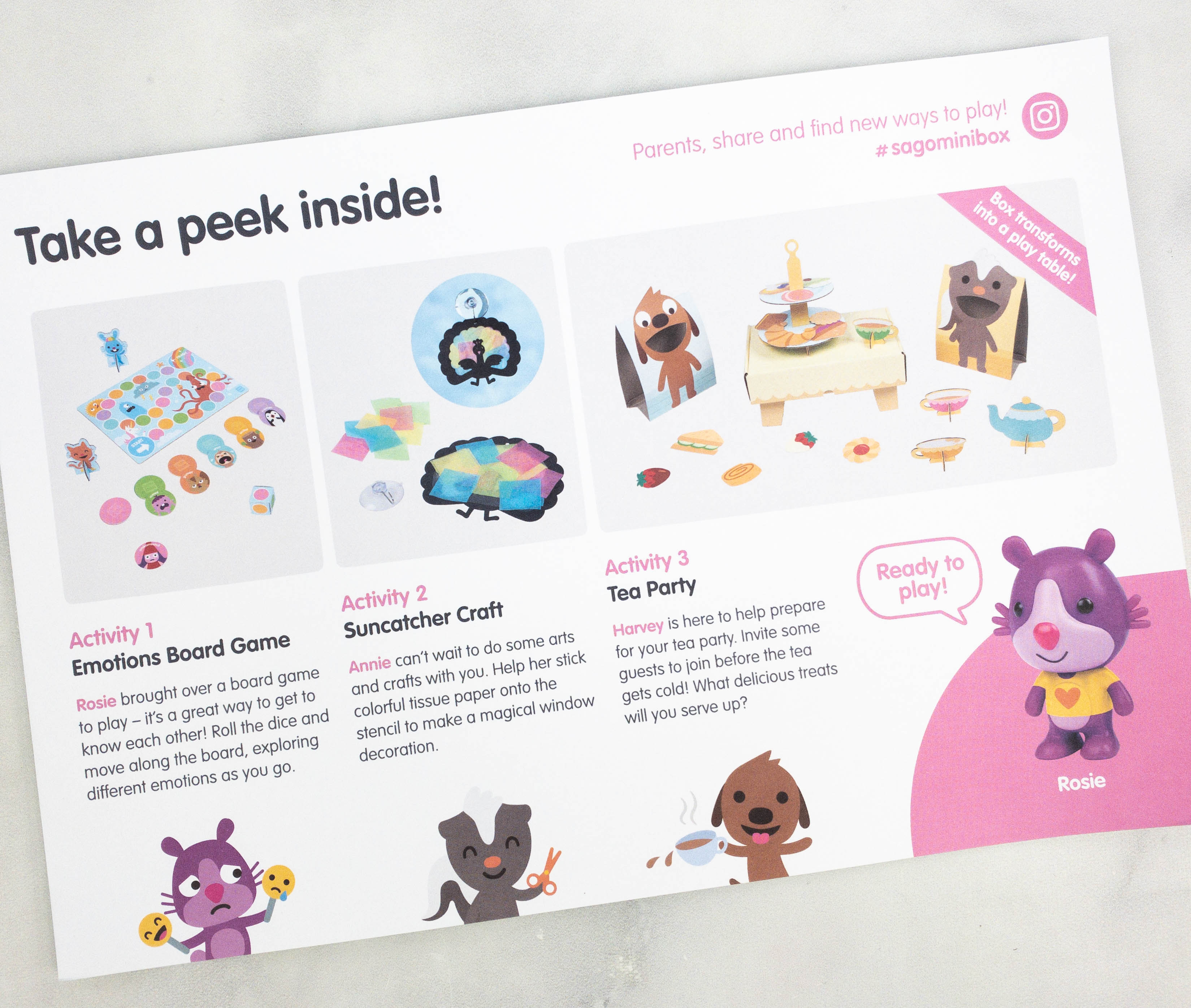 This card discusses all the activities in this month's box and lists the contents as well!
The box includes 3 different activities!
Rosie. Every box includes a fun, collectible figurine. This month, it's Rosie!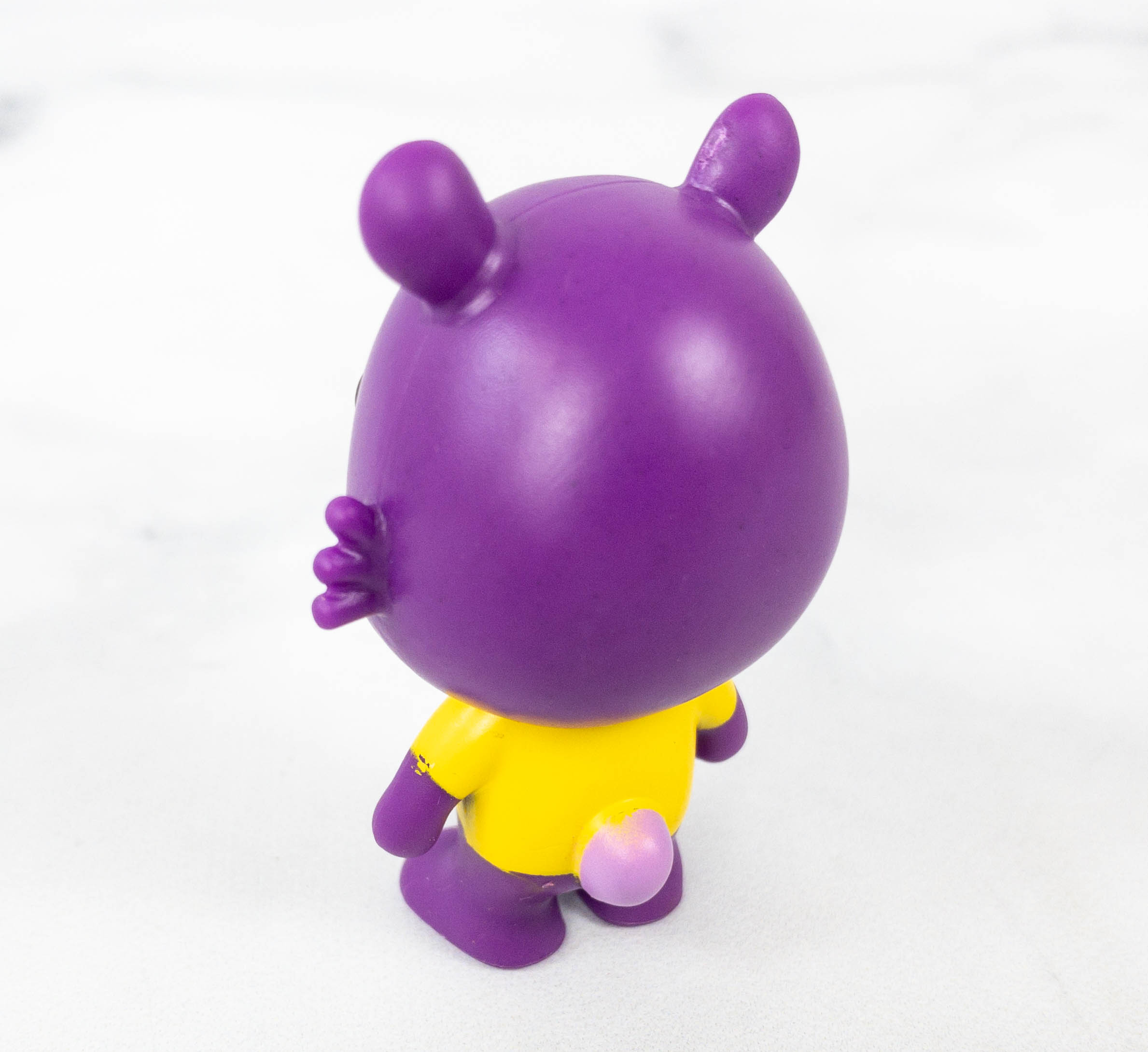 The  skunk figure wears a nice yellow t-shirt.
Activity #1: Emotions Board Game. The first envelope came from Rosie, addressed to her board game buddy! The envelope looks cute with all those emoticons, plus some stars, hearts, and trophies.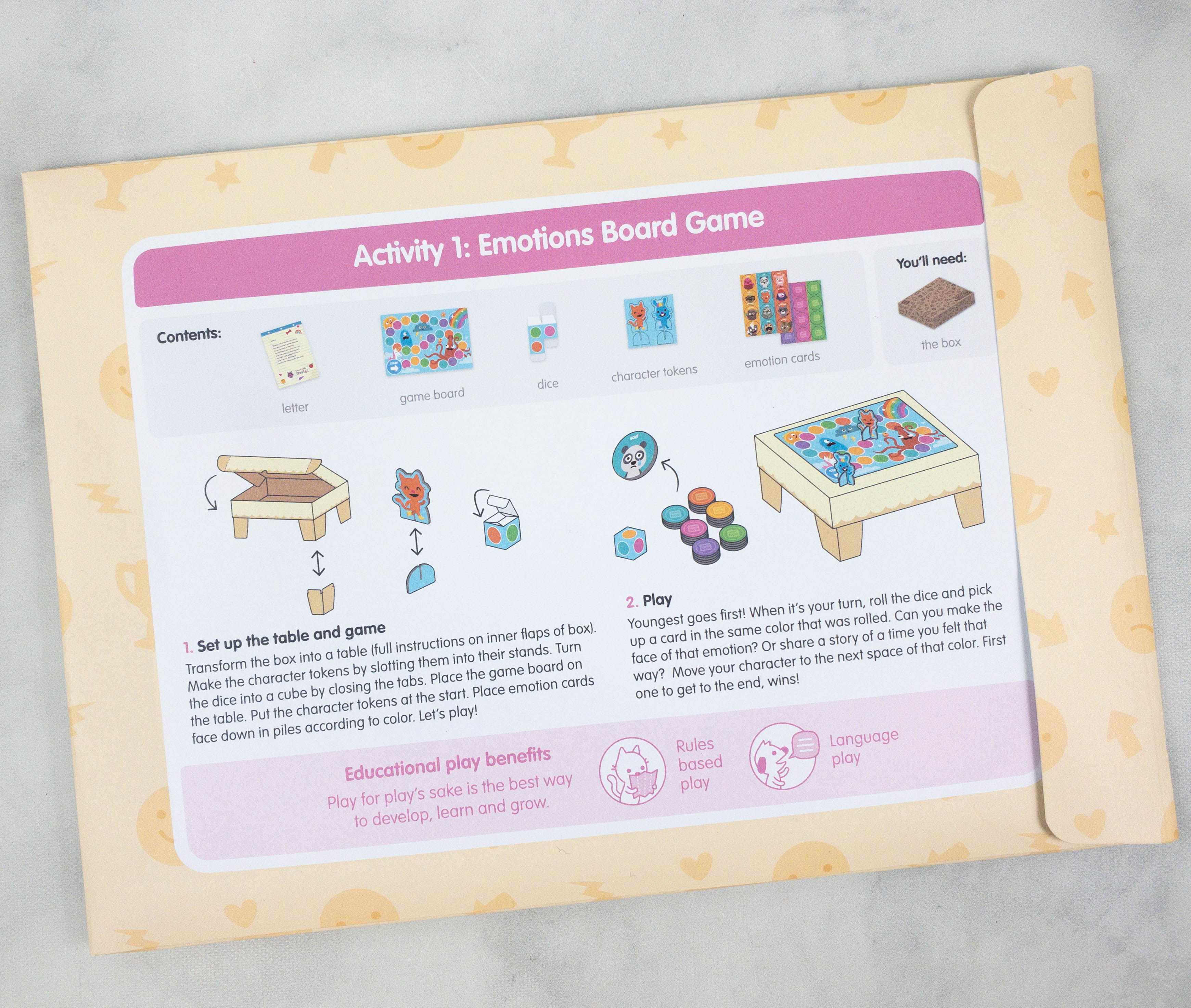 The back of the envelope lists the instructions. In this activity, the kids will create and play a board game!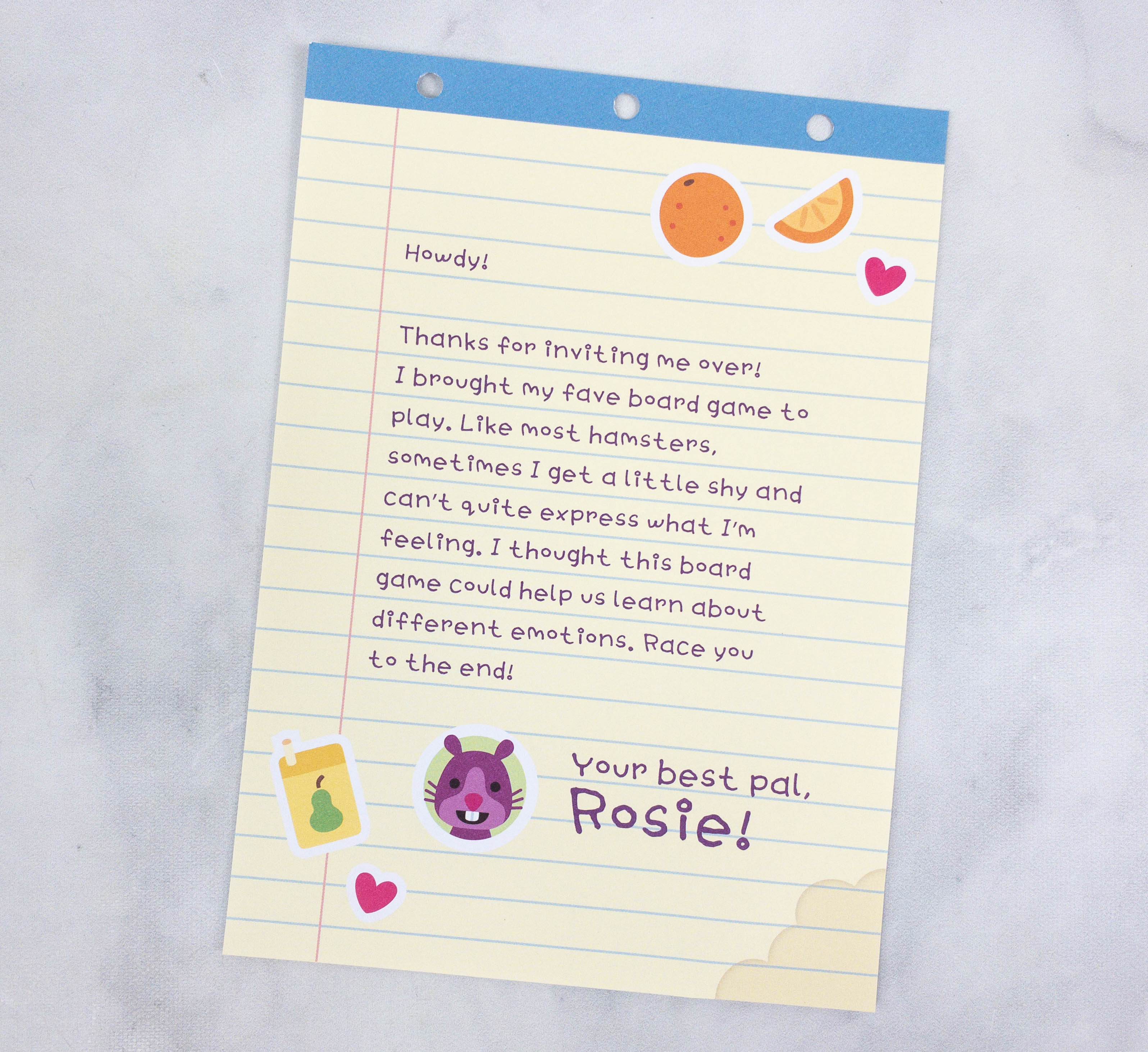 Inside is a letter from Rosie! Either we read these to my youngest or the older kids do.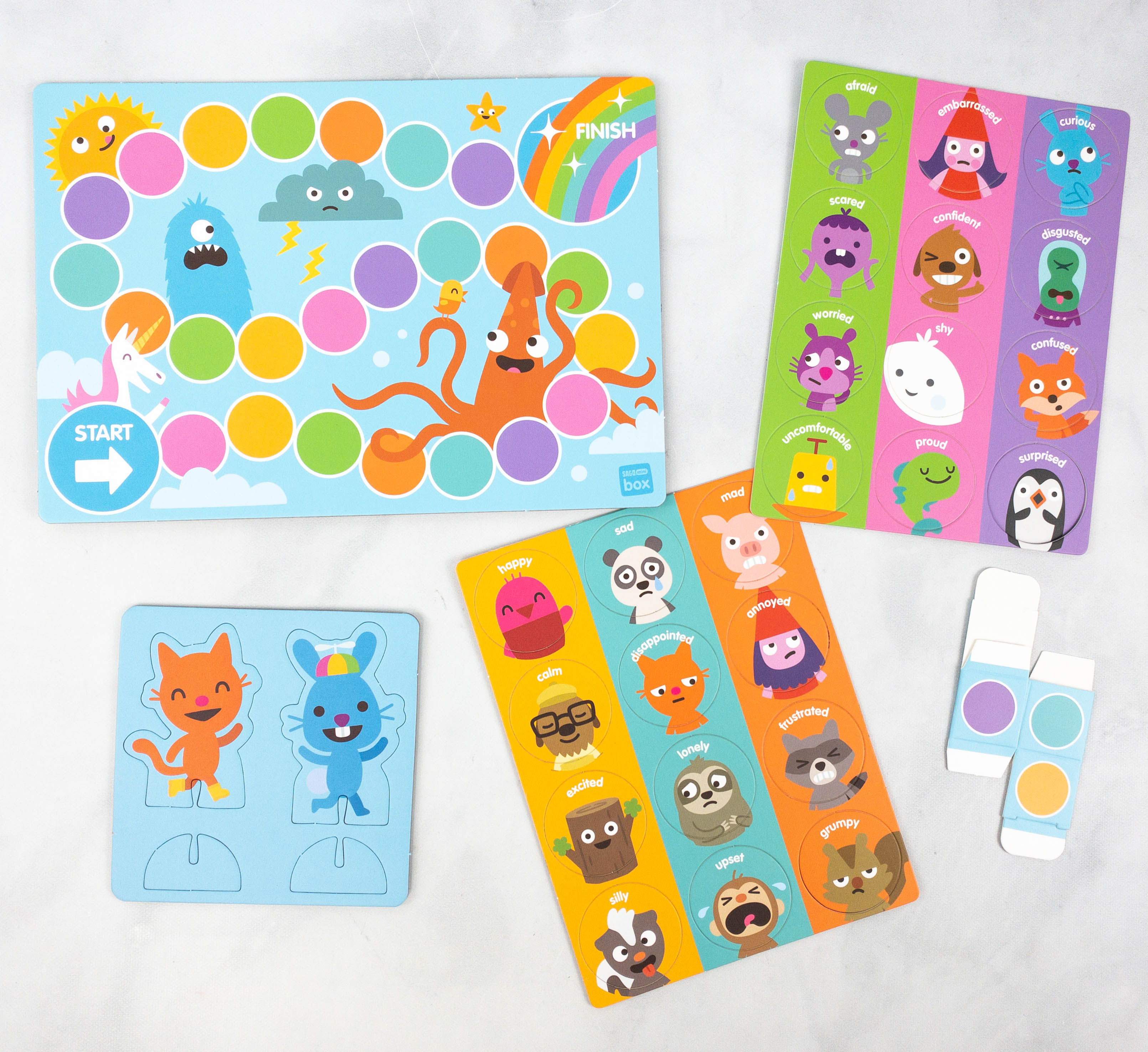 The kit includes a colorful game board, dice, character tokens, and emotion cards.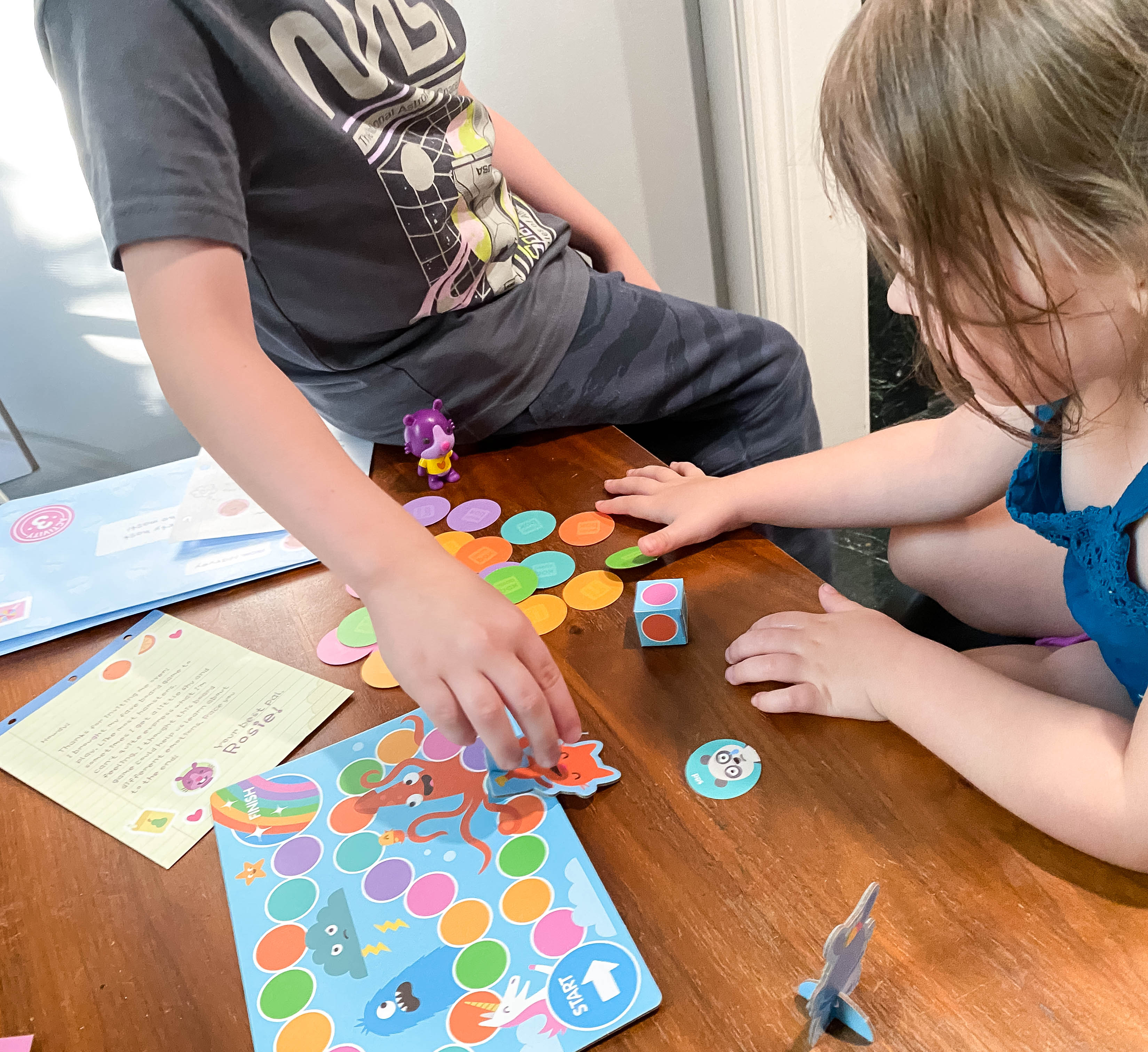 All the materials were easy to detach from the cardboard. Assembling them was also quick and easy.
To play, just roll the dice to get a color and then pick up a card in the same color. Then, copy the emotion shown on the card and move your character to the next space of that color. The first one who gets to the end of the board game wins! This is a fun way to learn about different kinds of emotions and familiarizes kids with rule based play. The only downside is that my 3 year old was terrified by the "disgusted" image! We had a nice time (all of the kids!) talking about emotions with every disc.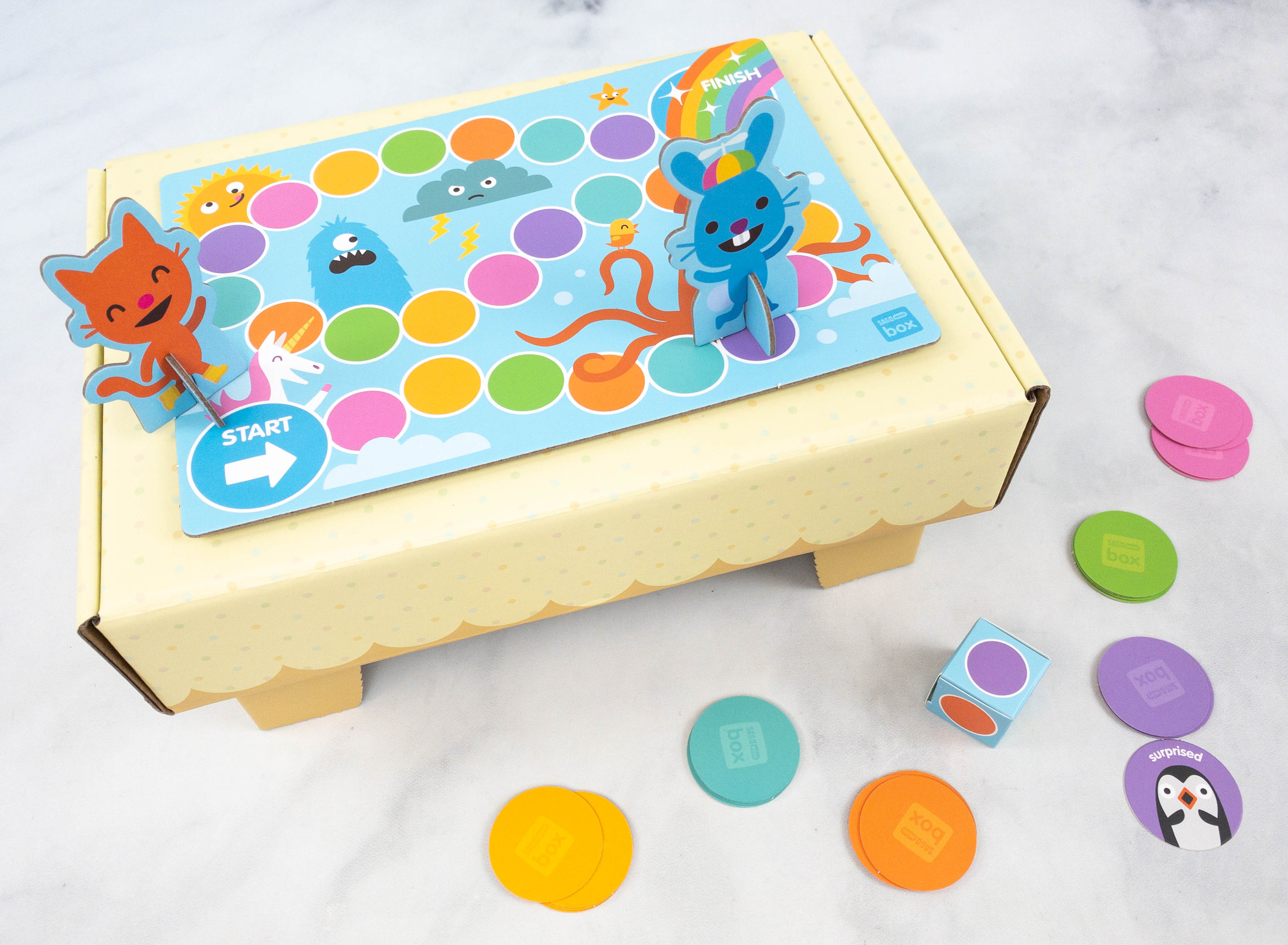 You can also transform the box into a mini table for this exciting board game!
Activity #2: Suncatcher Craft. The next envelope is in pink! It came from Annie and it's addressed to a cool, crafty kid.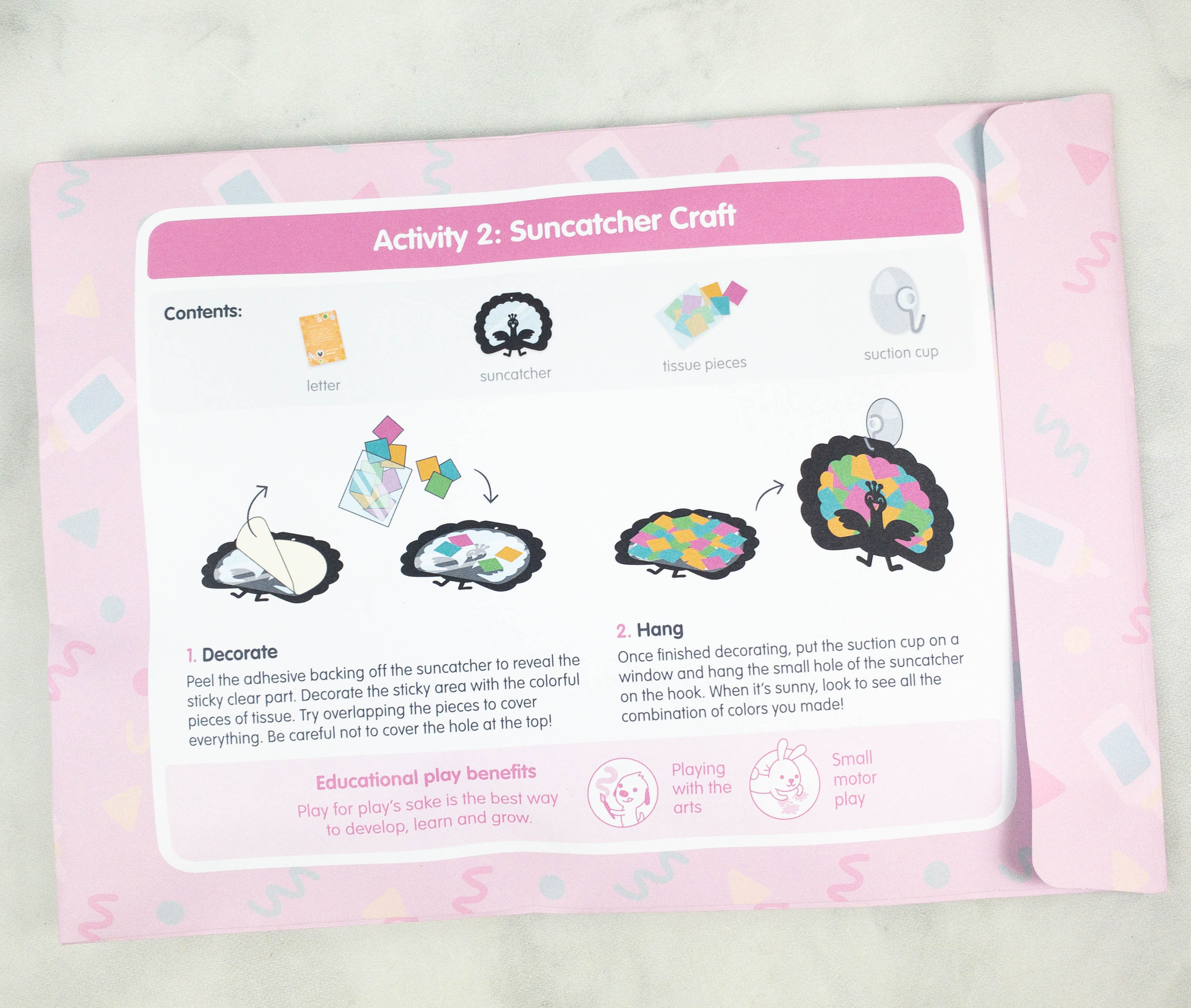 It also came with easy to follow instructions and a list of all the materials inside the envelope.
Here's a letter from Annie and she needs help in making a suncatcher for her window.
The materials for this activity include a suncatcher cutout, colored tissue pieces, and a suction cup.
My daughter removed the adhesive backing to reveal the clear part. Then, she started to design the suncatcher using the colorful tissue pieces. This is a fun activity that encourages kids to be creative. It's also a good way to develop small motor skills.
Here's how my daughter's suncatcher turned out. It's pretty! I put the suction cup on the window and my daughter hung the small hole on the hook. When it's sunny, it will make such a nice effect in the room!
Activity #3: Tea Party. For the last activity, here's a blue envelope featuring cupcake prints. It's from Harvey!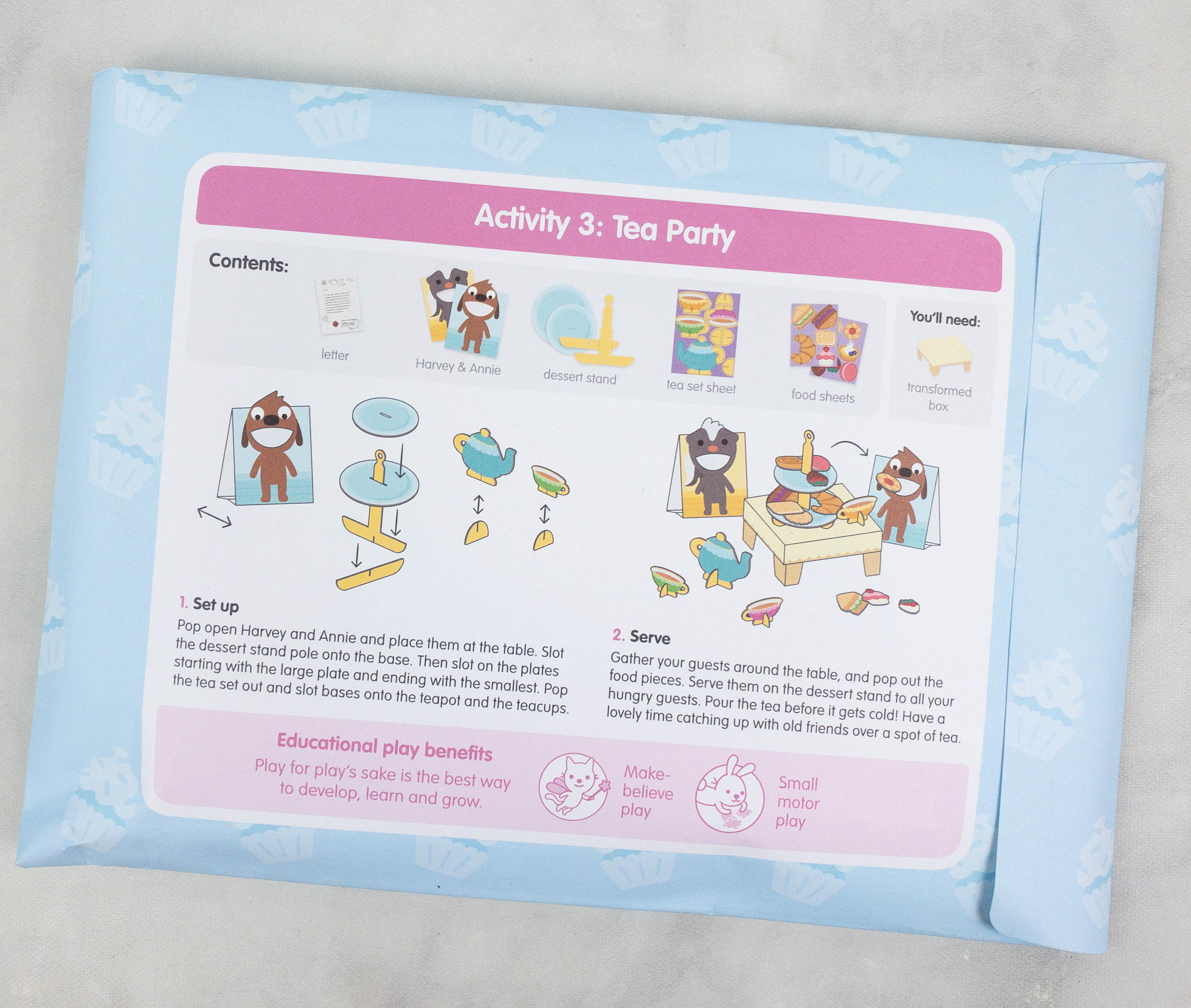 Like the other envelopes, it provides easy to follow instructions so everything will go smoothly. This is a fun pretend play activity about having a tea party!
Harvey also sent a letter for the kids.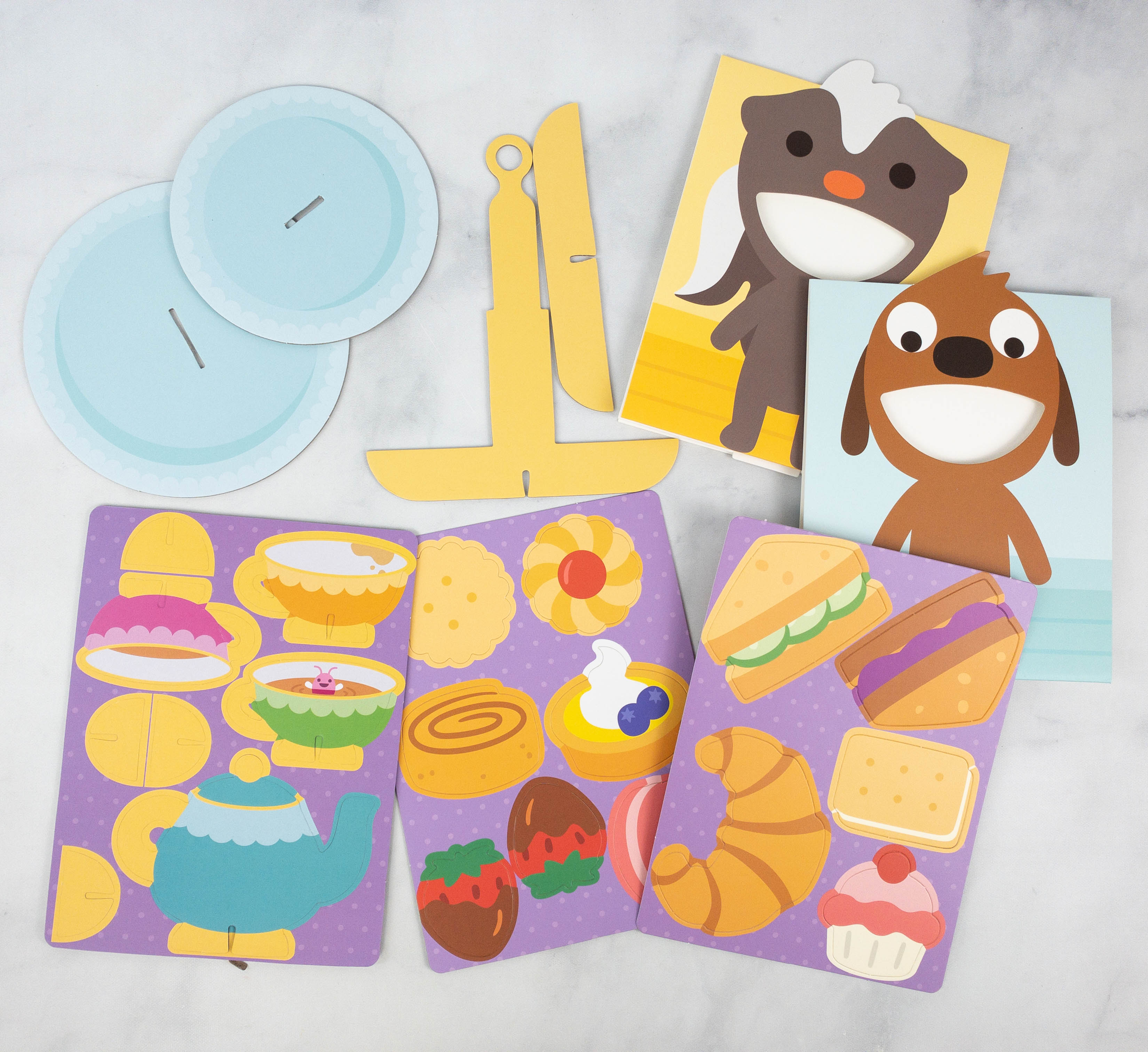 The materials they provided for this activity are character cutouts, dessert stand, tea set sheet, and food sheet.
My kids used the "table" they previously assembled as well. Then, my son helped my daughter arrange the food cutouts on the dessert stand.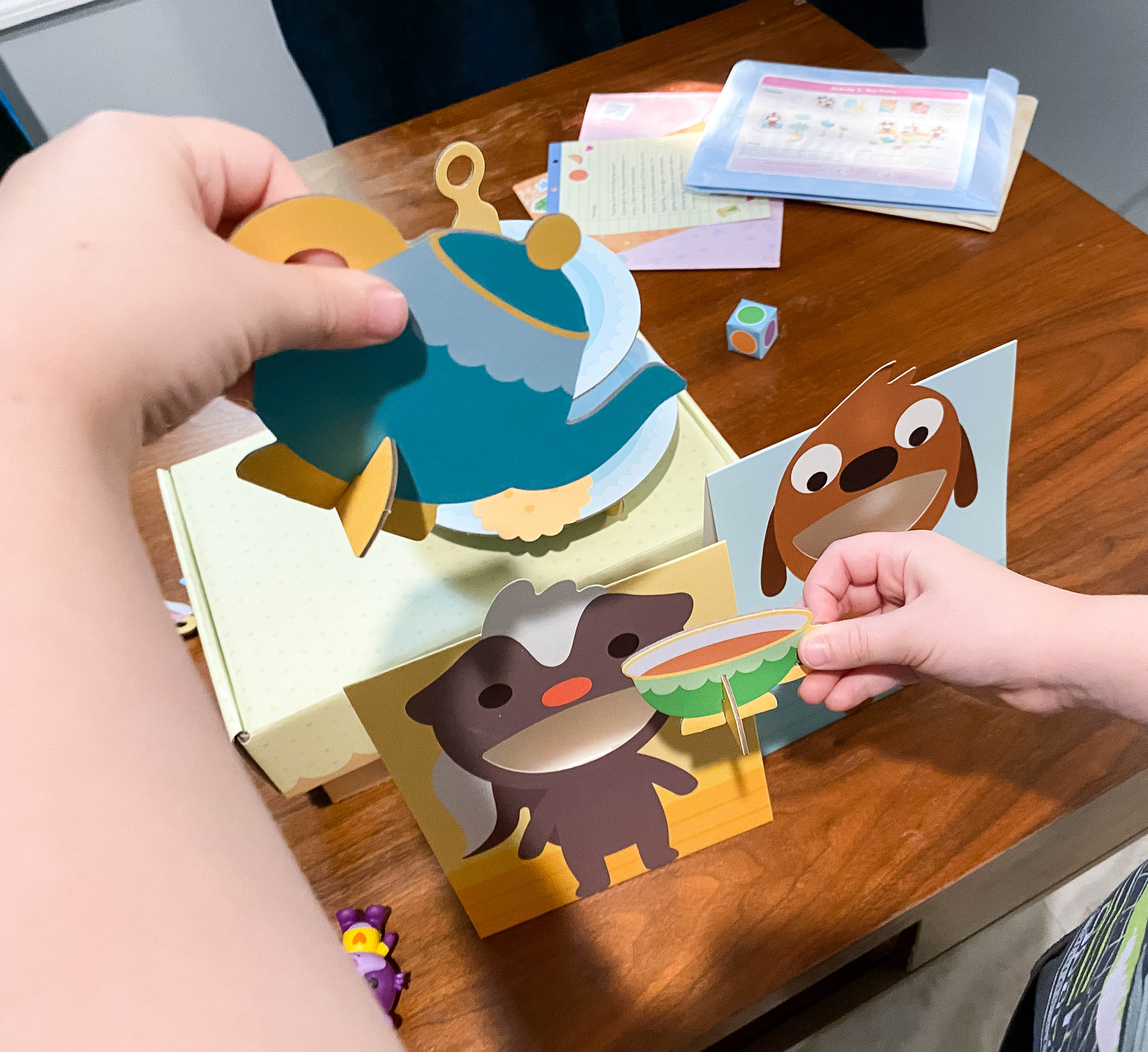 Harvey and Annie also joined in on the fun!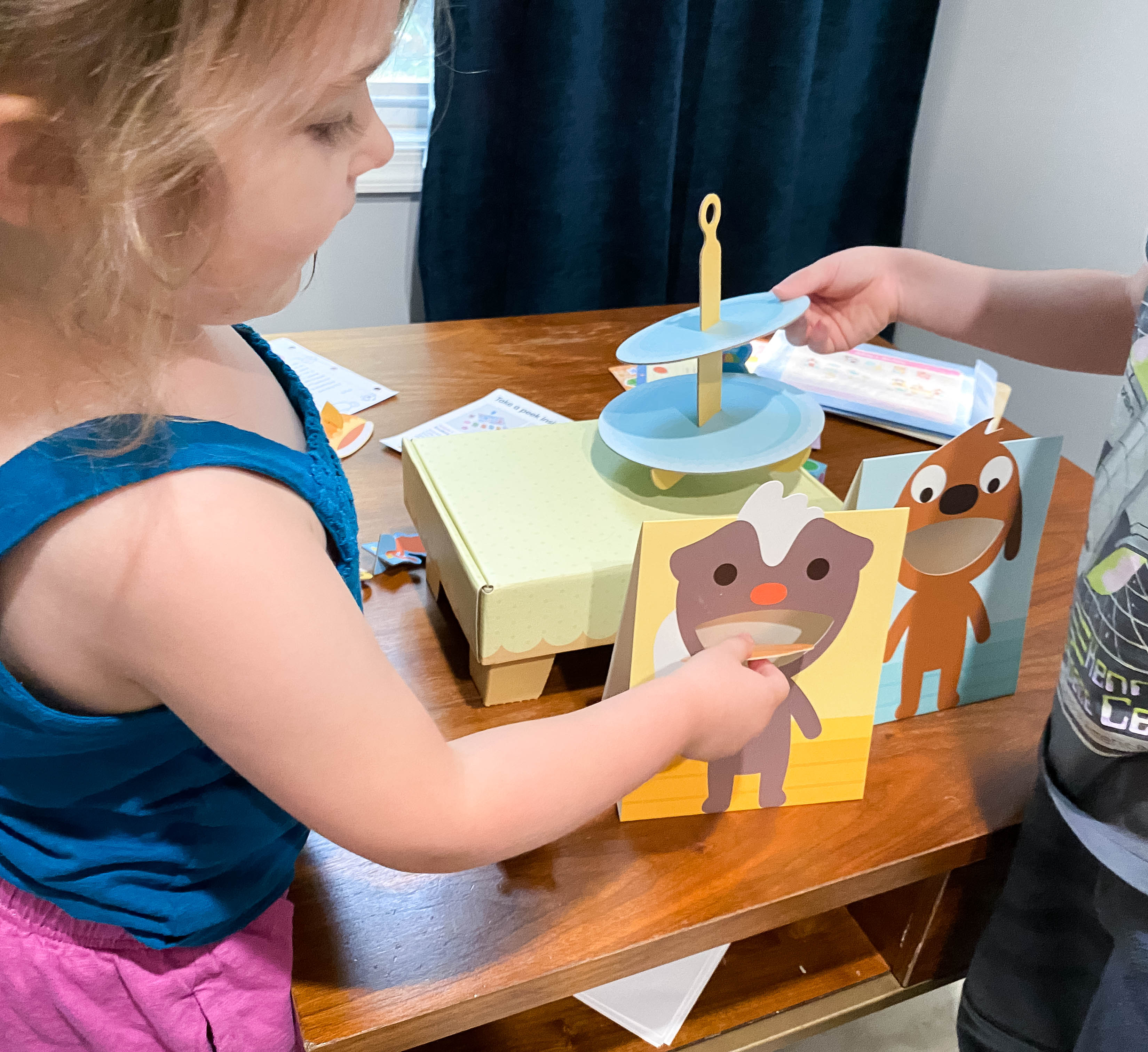 Of course, the guests have to enjoy the tea and the snacks so my daughter gave them some! This has been played with over and over.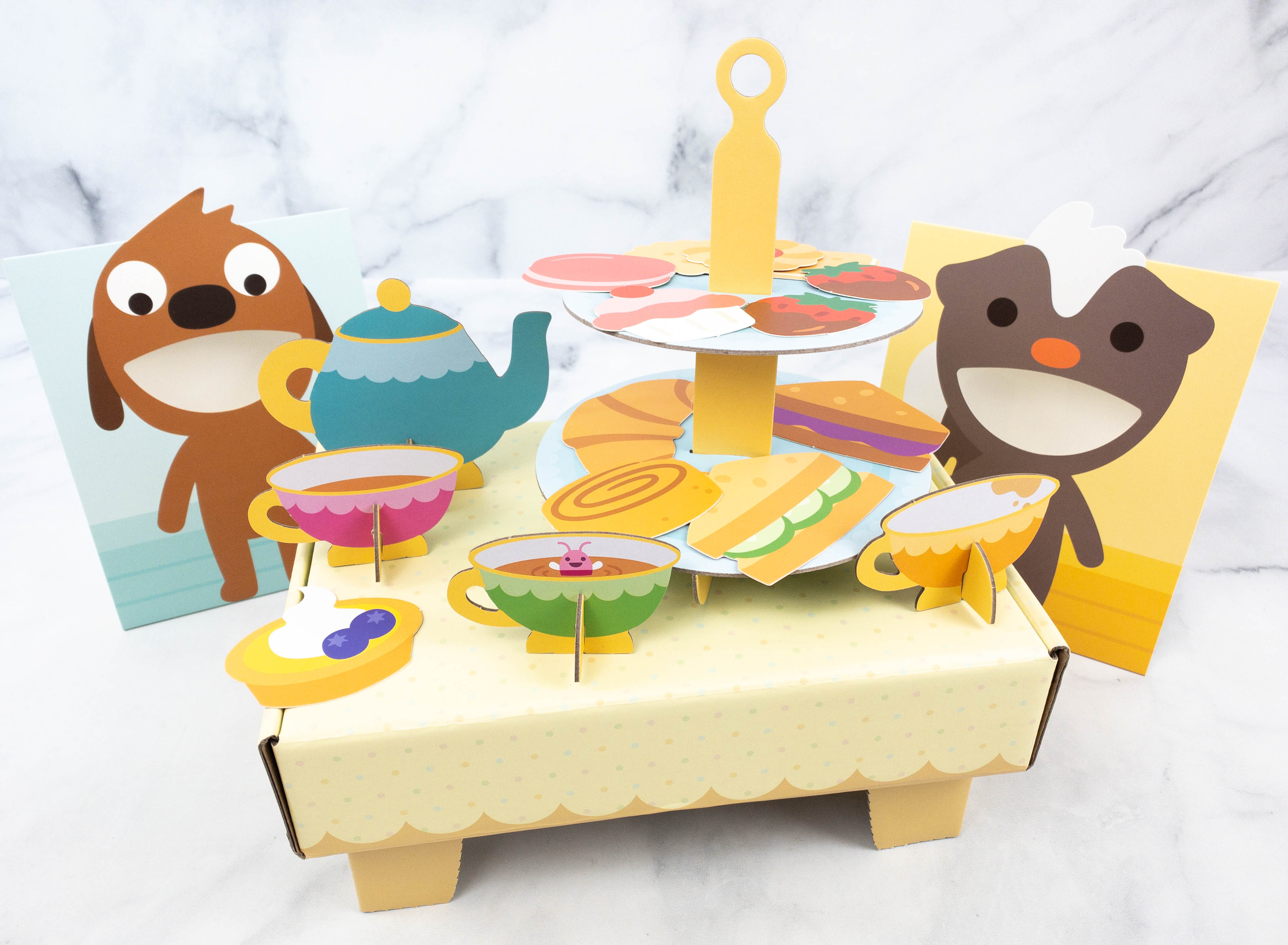 Aside from encouraging make-believe play, this activity is also perfect as small motor play.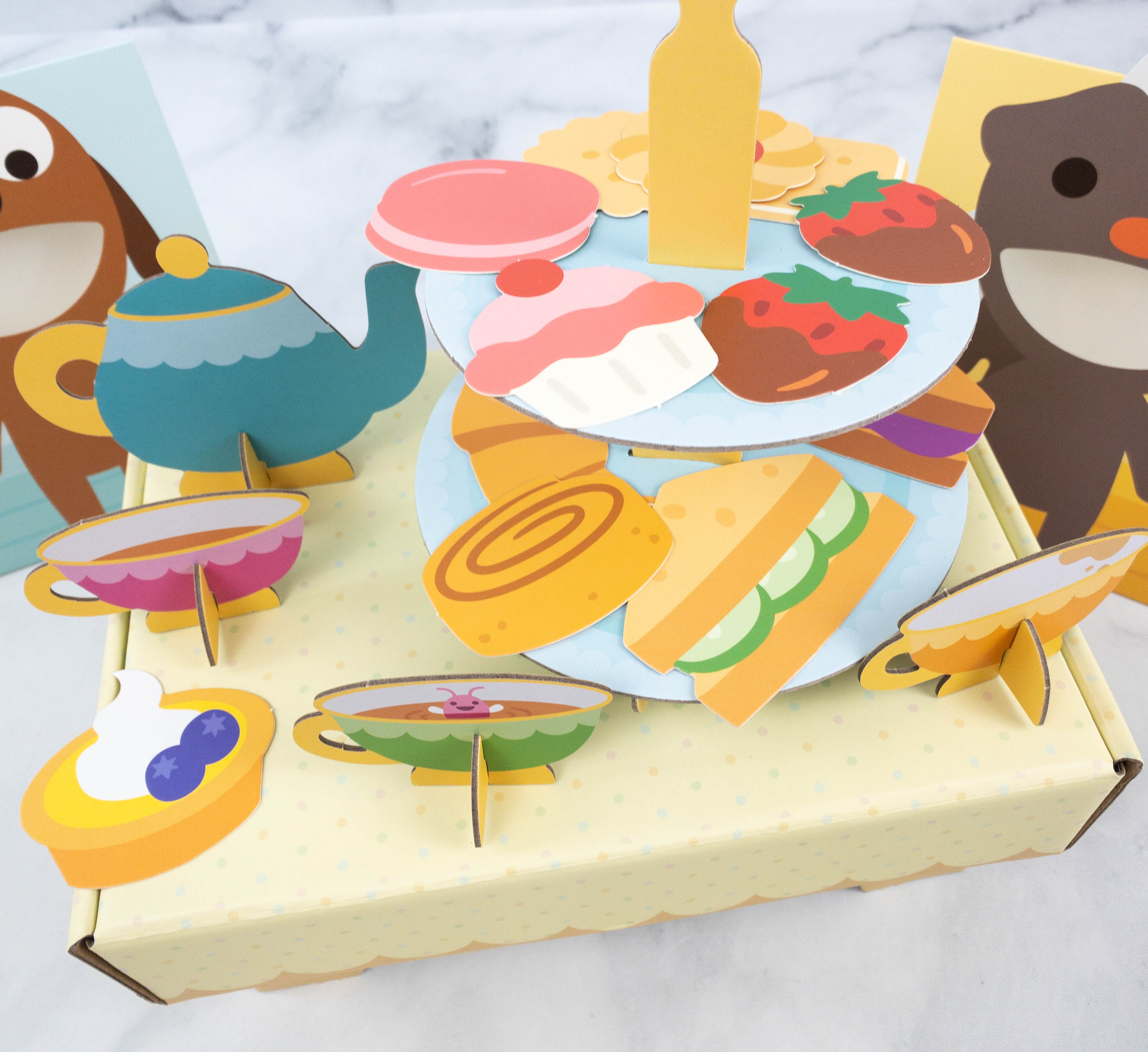 What's great about this tea party set is that they are sturdy enough to be used more than once!
Here's a final look at this month's activities!
It was another set of fun make-and-play activities from Sago Mini Box! Materials are already provided in each box and they are even packed separately in envelopes so you can easily grab them and start. This month's activities include a board game, making a suncatcher, and make-believe tea party! My kids had so much fun, especially with playing the board game. They were able to set the board by themselves, without adult supervision. They also loved the part where the players need to copy the emotion shown on the card. The box itself was also useful as it served as a table for the board game and tea party. This is indeed an ideal subscription for preschool aged children and it even helps develop different skills, from small motor skills to creativity and more!
What do you think of Sago Mini Box?