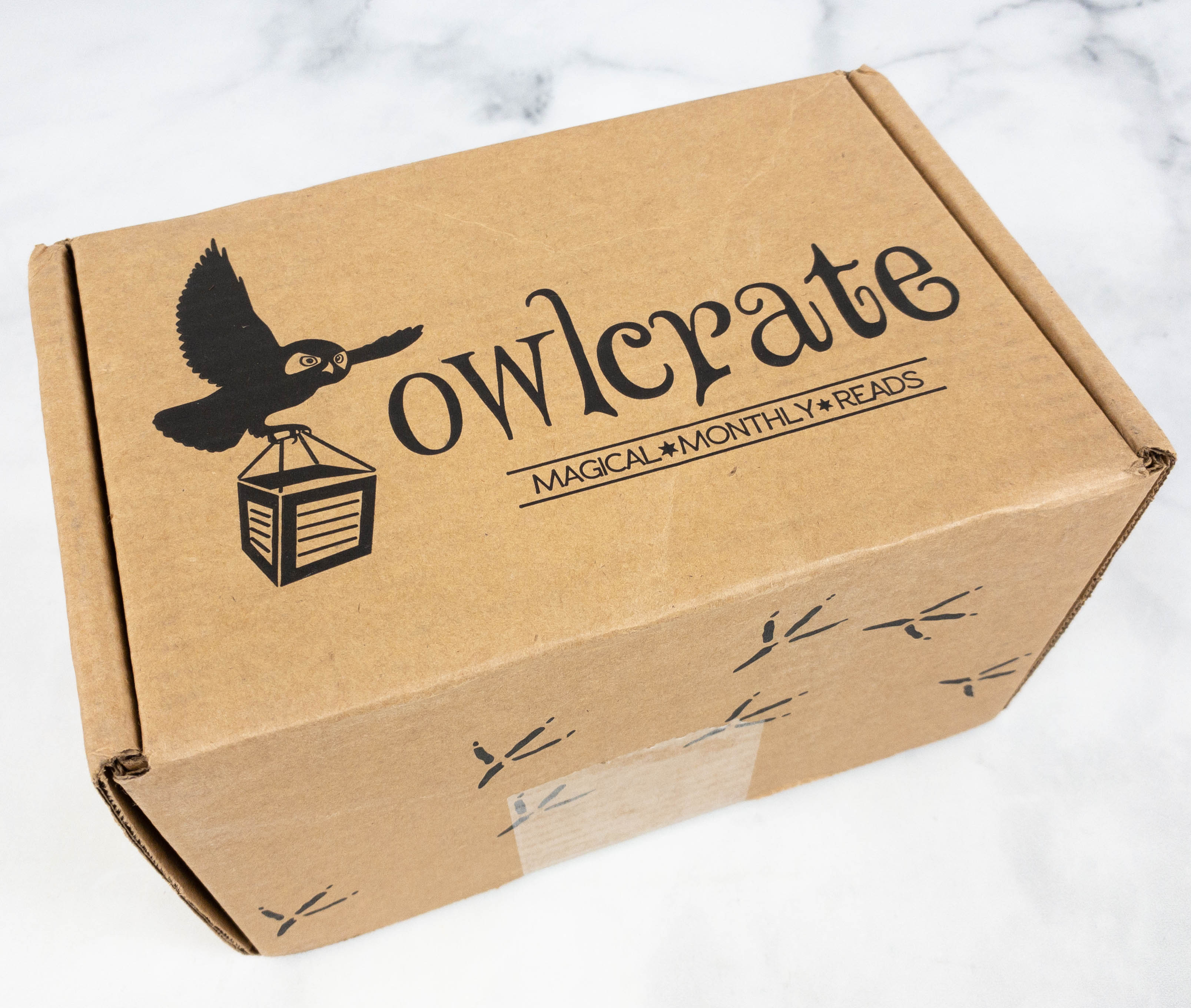 OwlCrate is a monthly subscription of YA books and bookish items. Each OwlCrate contains one new Young Adult novel, as well as 3-5 other bookish items all matched to the monthly theme. OwlCrate always sends the best items to go along with their theme with the hottest new books. OwlCrate's YA book subscription made the list in our 2021 readers' choice of the best subscriptions for teens!
DEAL: Use coupon code HELLO15 to save 15% on your first subscription!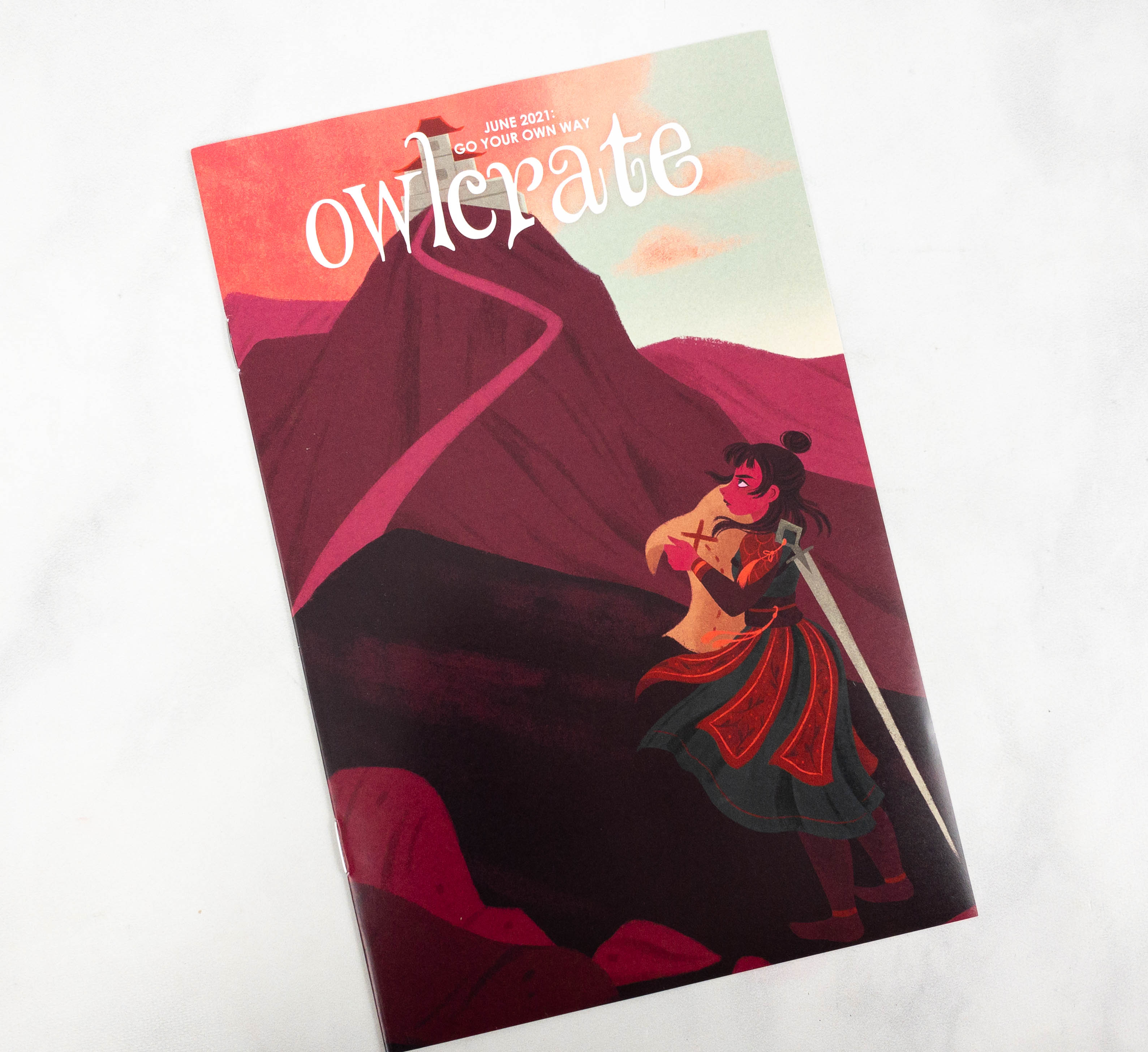 June's theme is GO YOUR OWN WAY!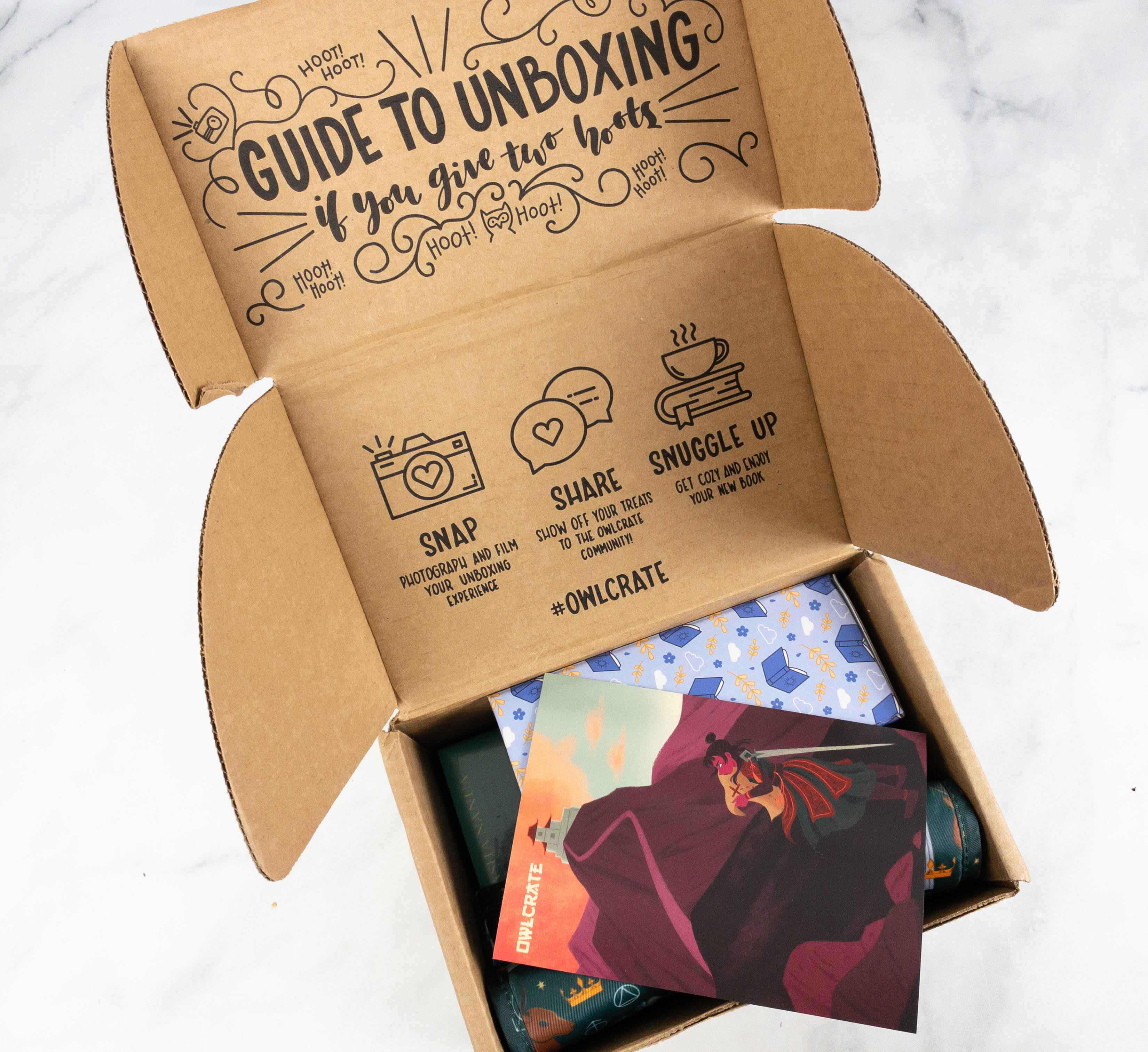 The items were neatly tucked inside the box.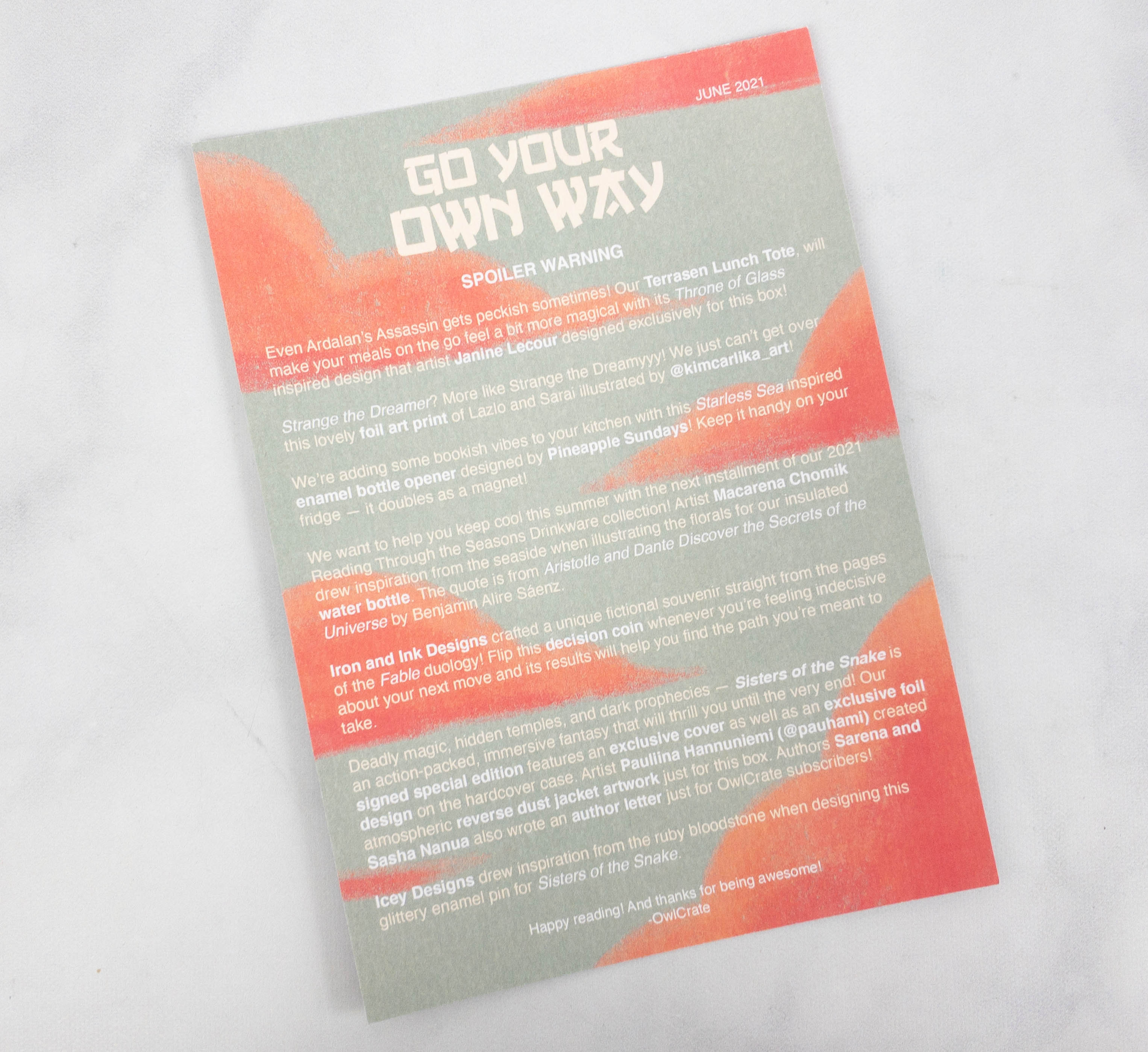 The flip side of the info card contains some spoiler warnings.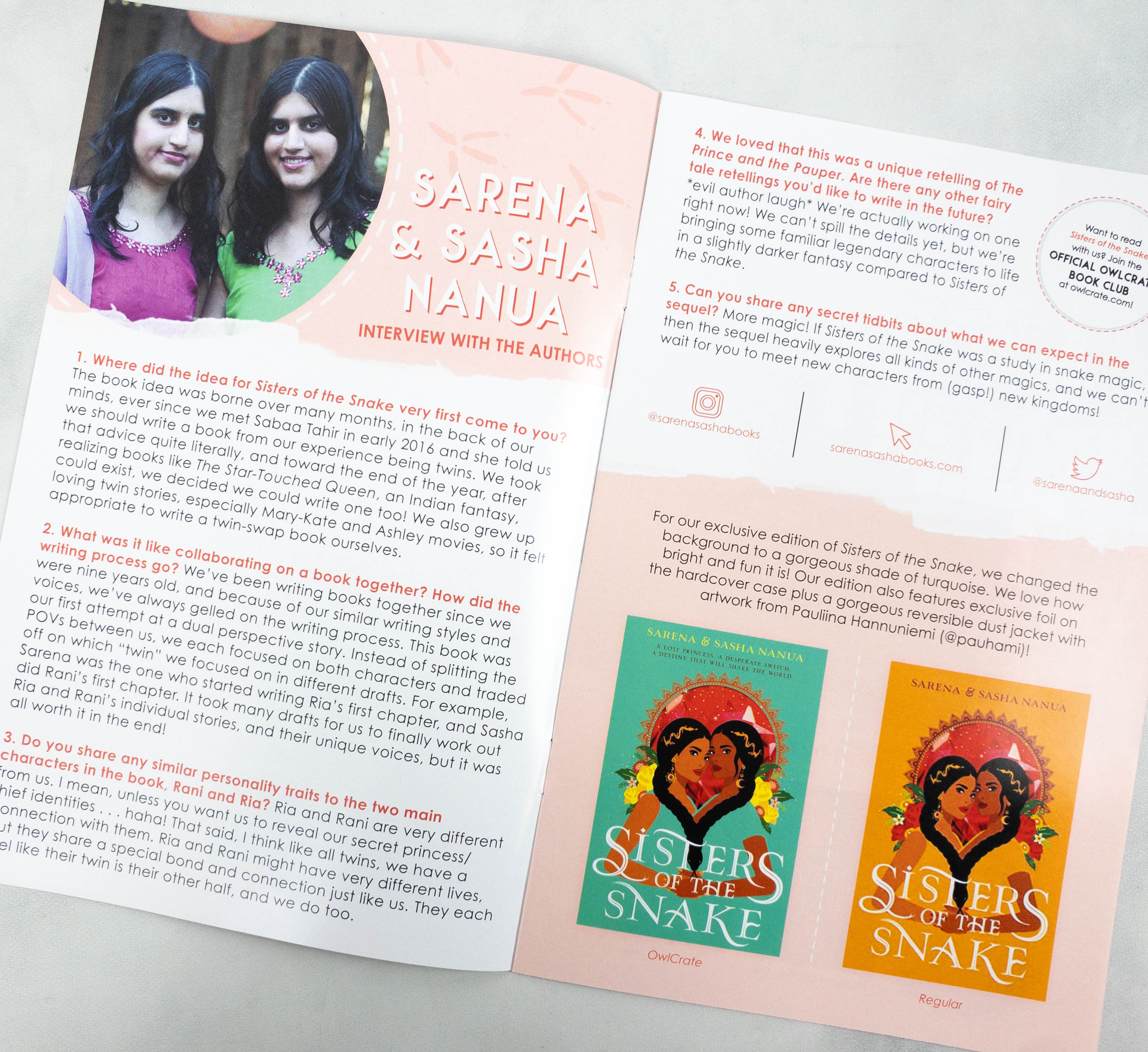 Owlcrate altered the original color palette of the featured book's cover and the result is beautiful. From a golden yellow background, it's now in mint green. A comparison is provided in the booklet. It also includes an author interview. This month's featured author are sisters Sarena and Sasha Nanua. Knowing what inspired the author (or authors in this case!) to pen a story can help us understand the book better.
The mini-magazine also included some fun activities, while the other page is another interview with a vendor, Janine Lecour. There are even book suggestions for those who liked the featured book this month, and it includes Crown of Feathers by Nicki Pau Preto, Hunted by the Sky by Tanaz Bhathena, and Fire with Fire by Destiny Soria.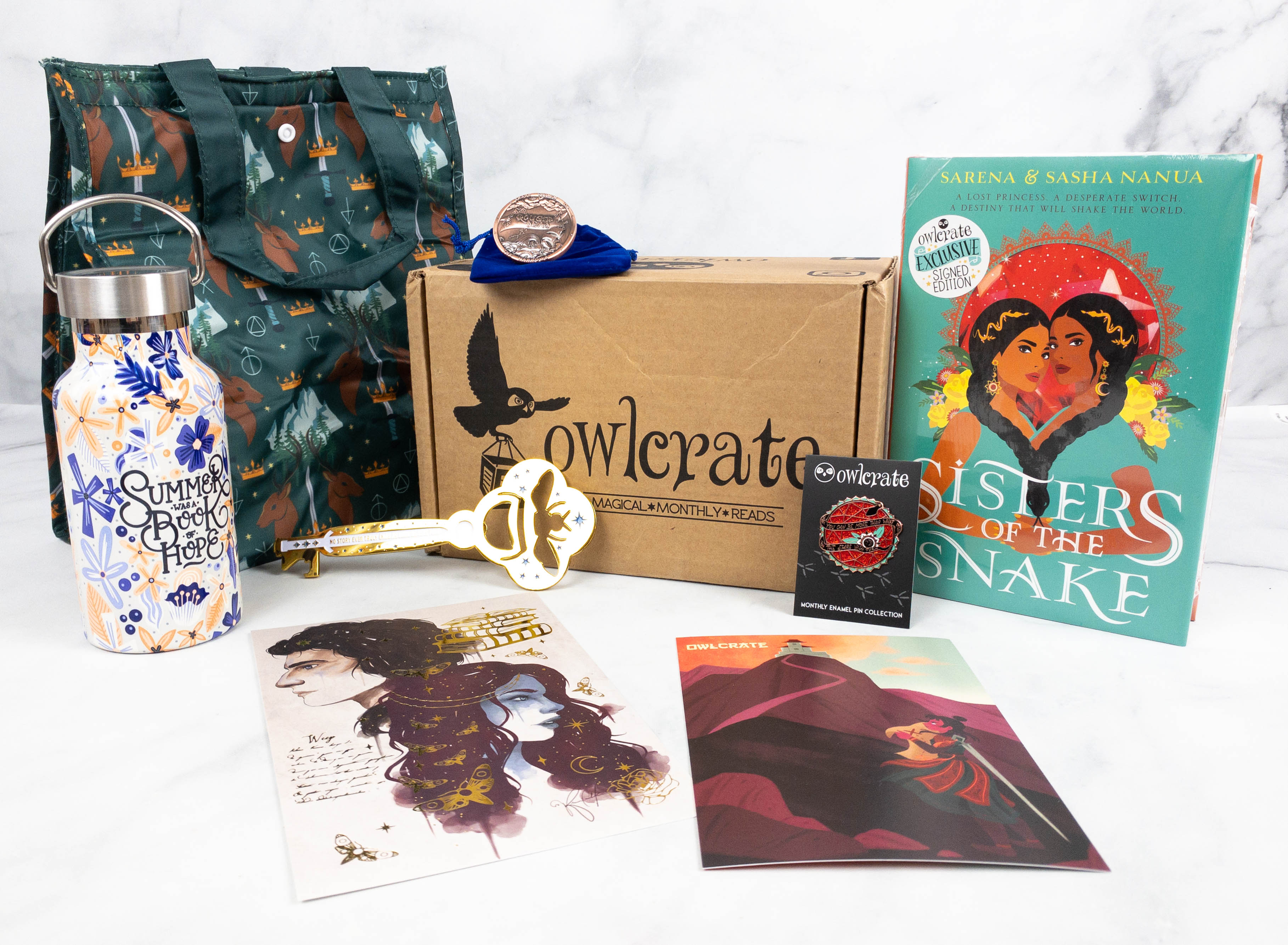 Everything in our June 2021 OwlCrate!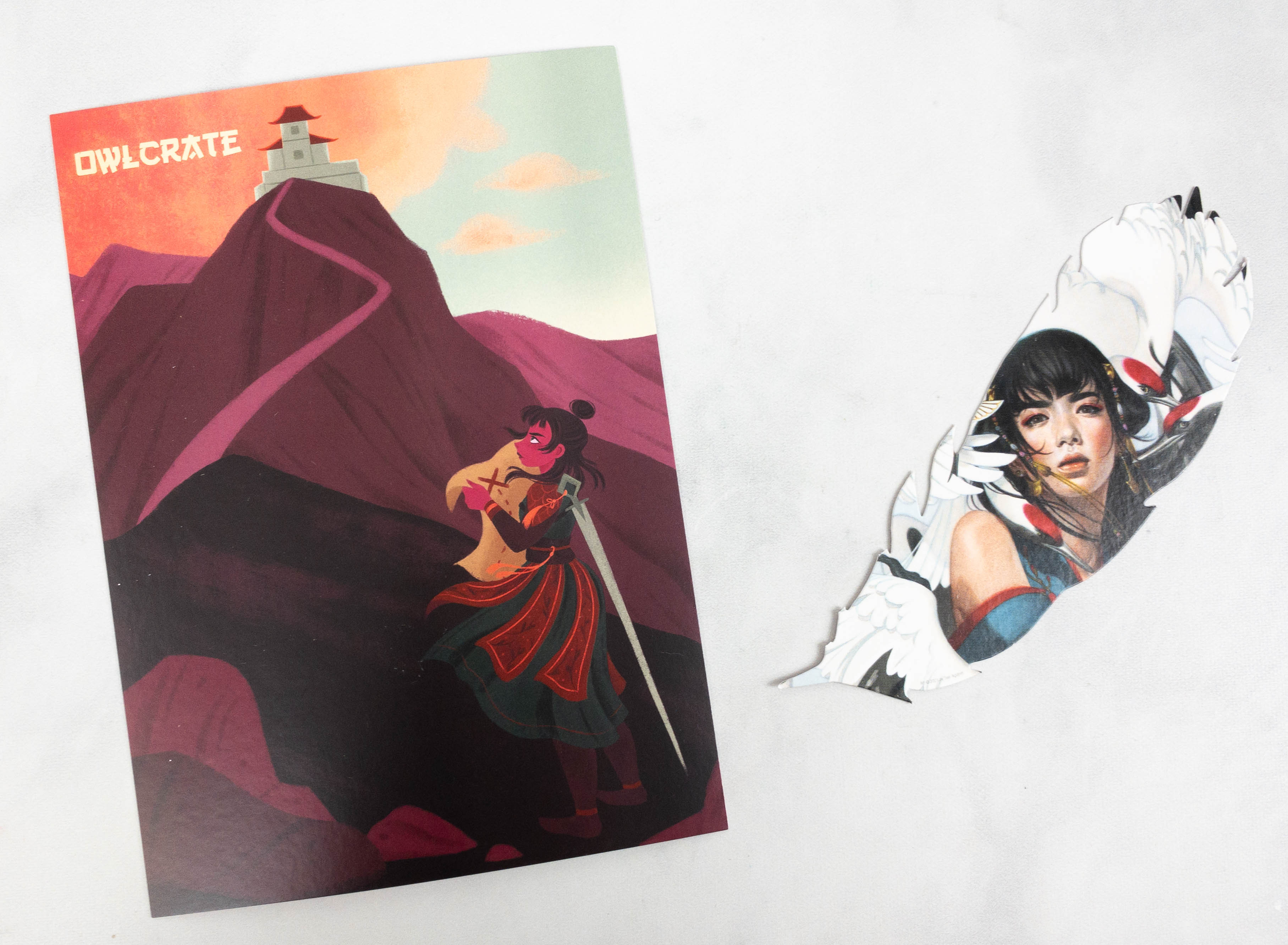 OwlCrate always has the best info card prints. They also included a bookmark this month.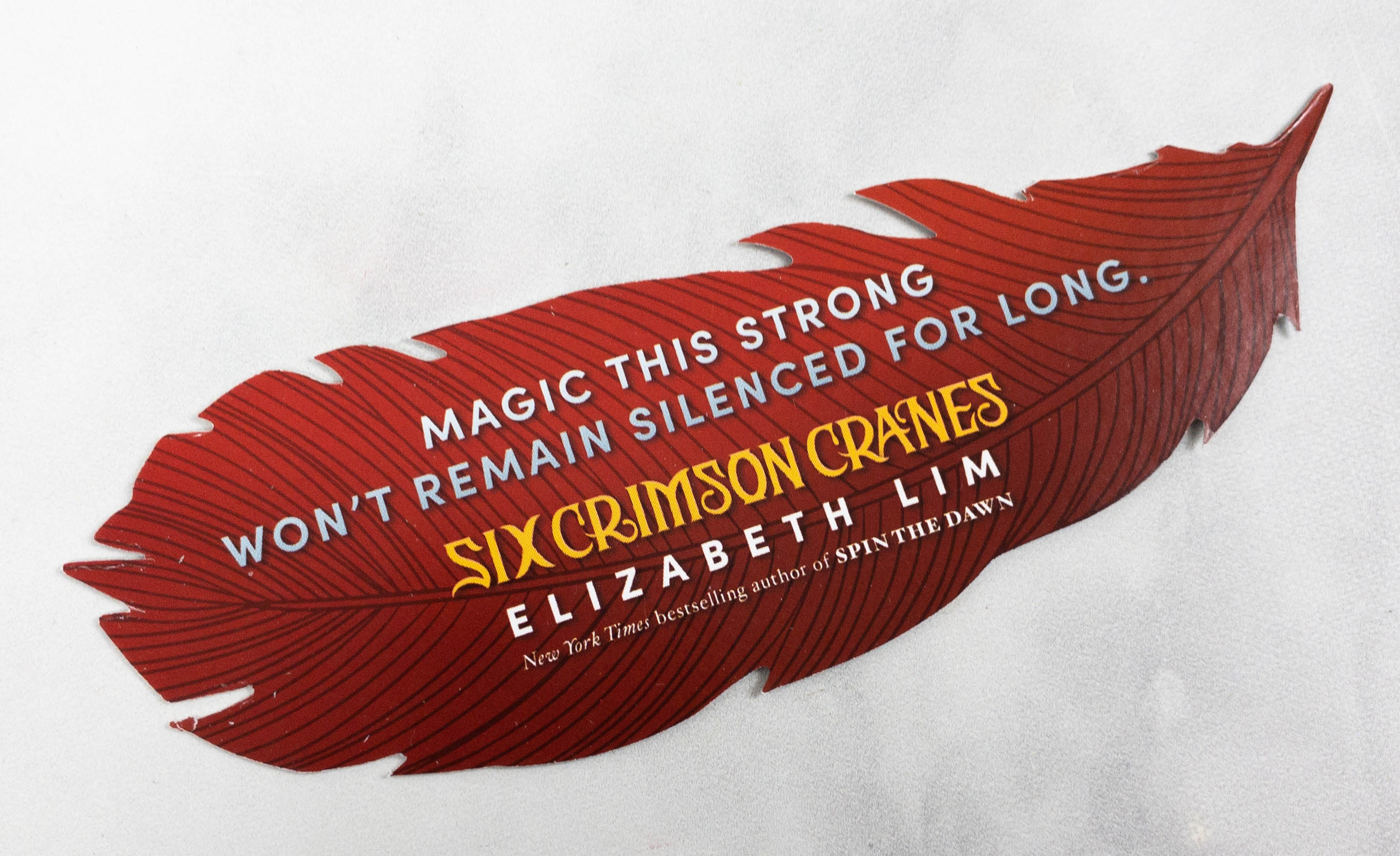 The bookmark is shaped like a feather! It features Six Crimson Cranes by Elizabeth Lim.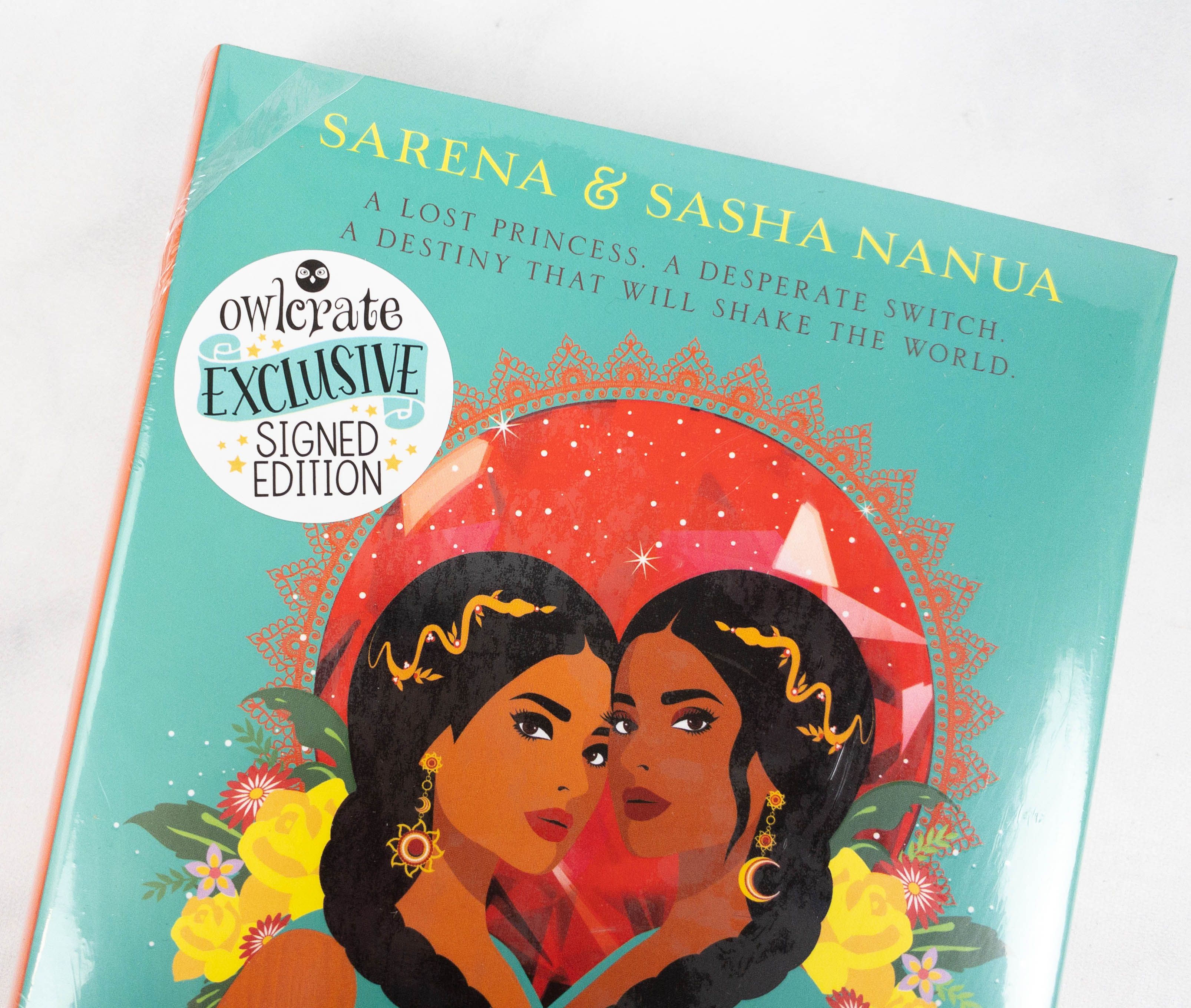 This sticker indicates that the book is an OwlCrate Exclusive signed edition.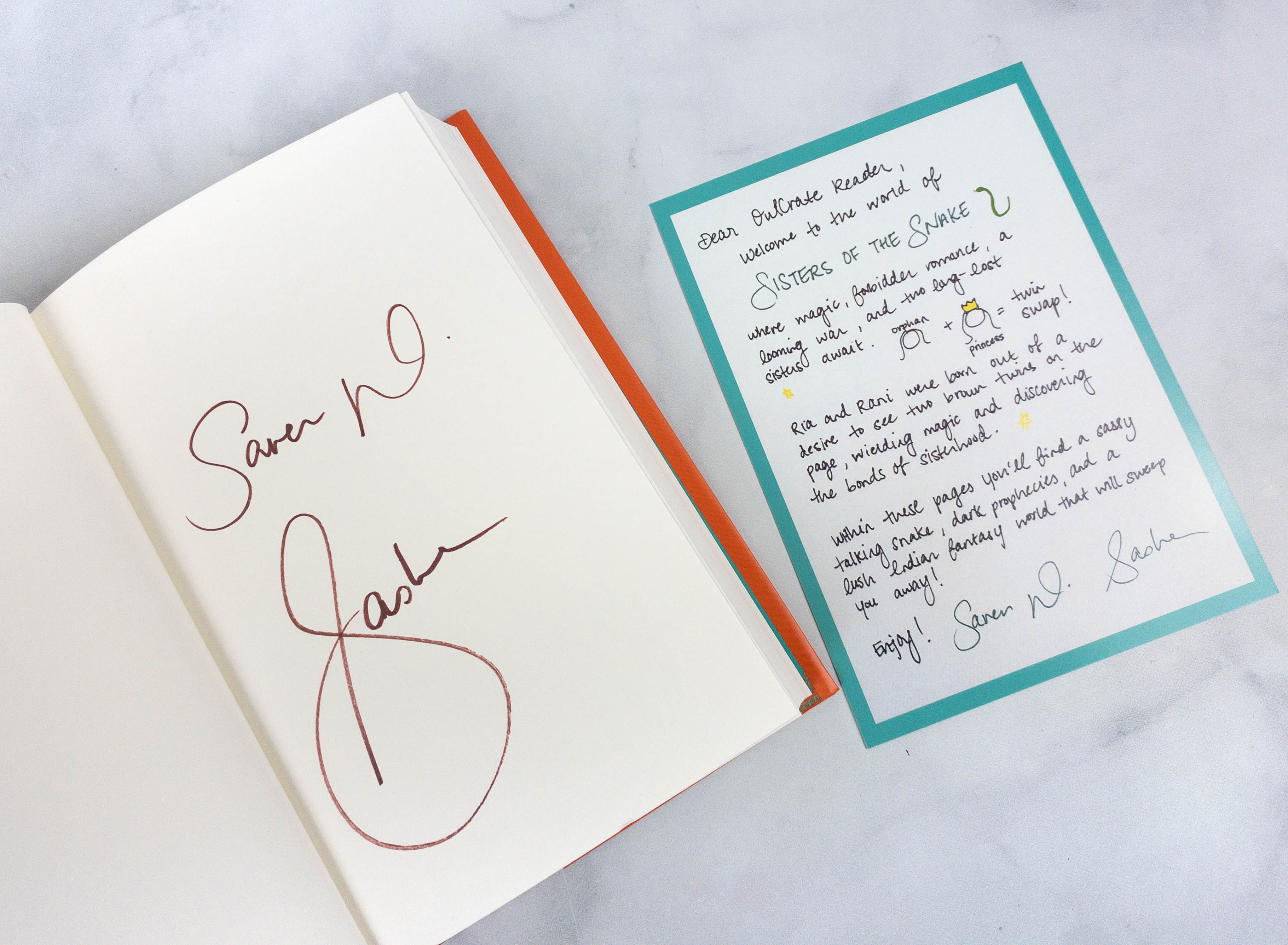 Here's a letter from the authors, Sarena and Sasha.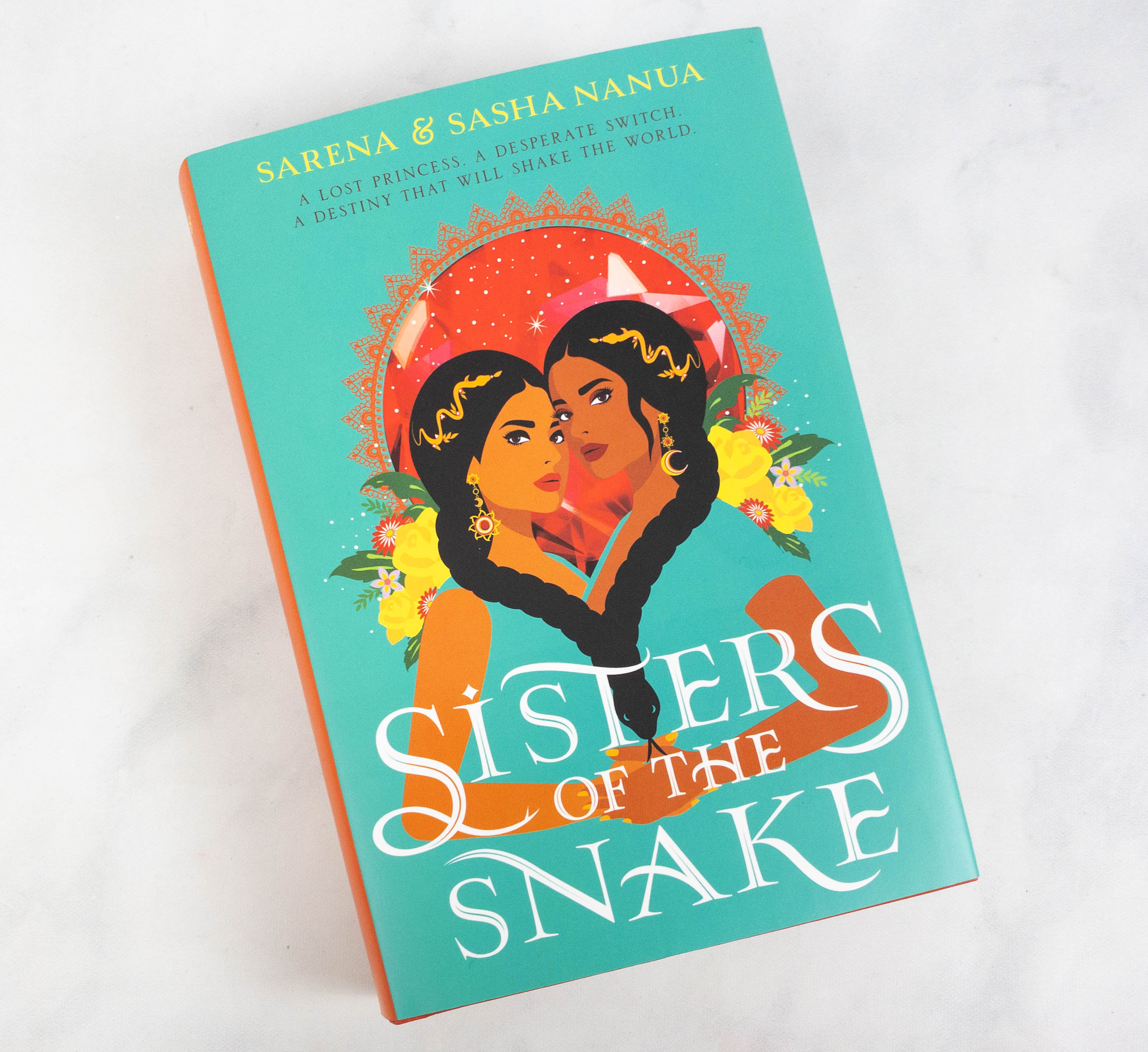 Sisters of the Snake by Sarena & Sasha Nanua ($15.99)
A lost princess. A mysterious puppet master. And a race against time—before all is lost.

Princess Rani longs for a chance to escape her gilded cage and prove herself. Ria is a street urchin, stealing just to keep herself alive.

When these two lives collide, everything turns on its head: because Ria and Rani, orphan and royal, are unmistakably identical.

A deal is struck to switch places—but danger lurks in both worlds, and to save their home, thief and princess must work together. Or watch it all fall into ruin.

Deadly magic, hidden temples, and dark prophecies: Sisters of the Snake is an action-packed, immersive fantasy that will thrill fans of The Wrath & the Dawn and The Tiger at Midnight.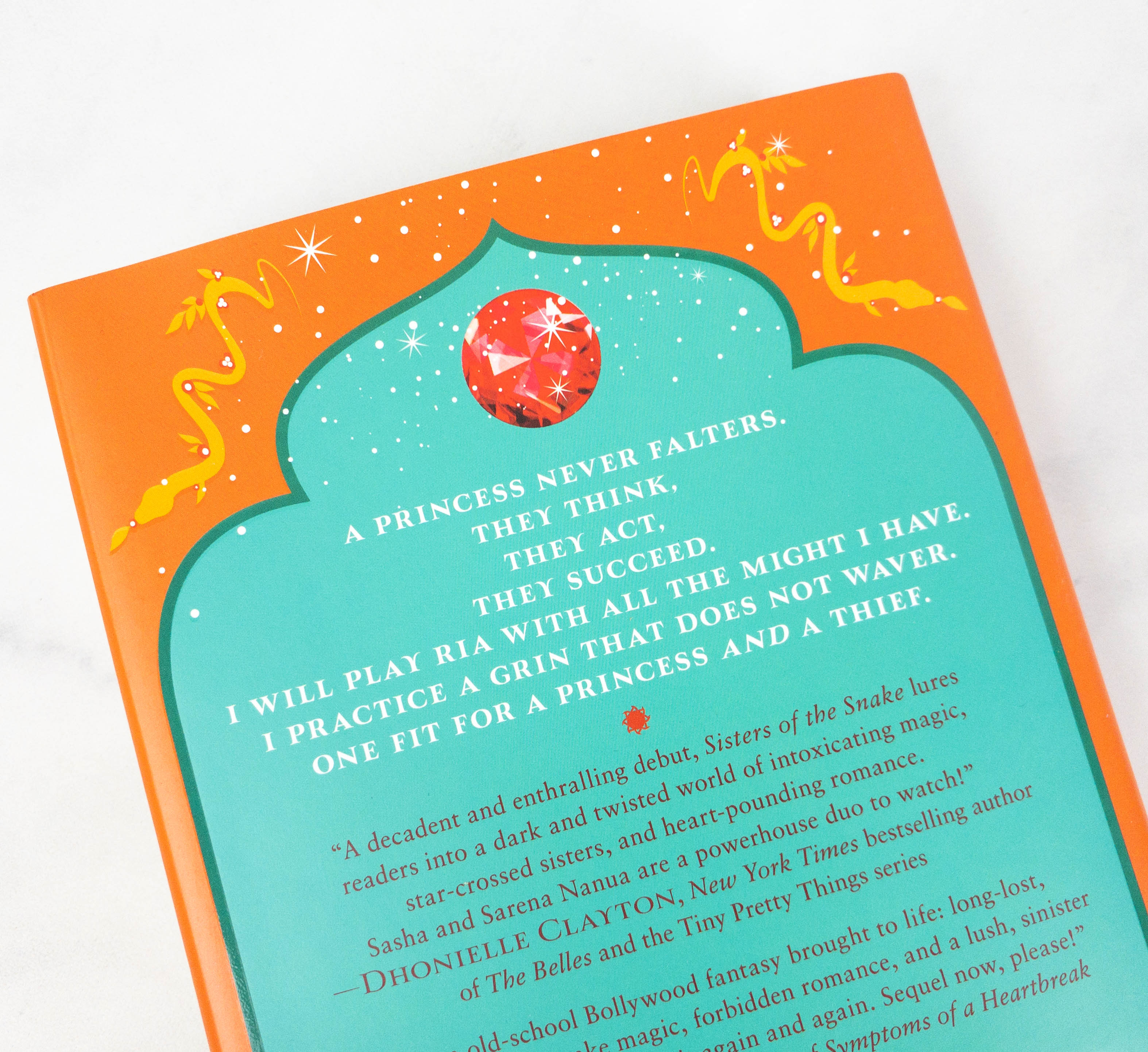 This book is a fun read! It's the retelling of The Princess and The Pauper, but the authors still had a unique way of delivering the story, which is nice. The dual POV also makes it engaging.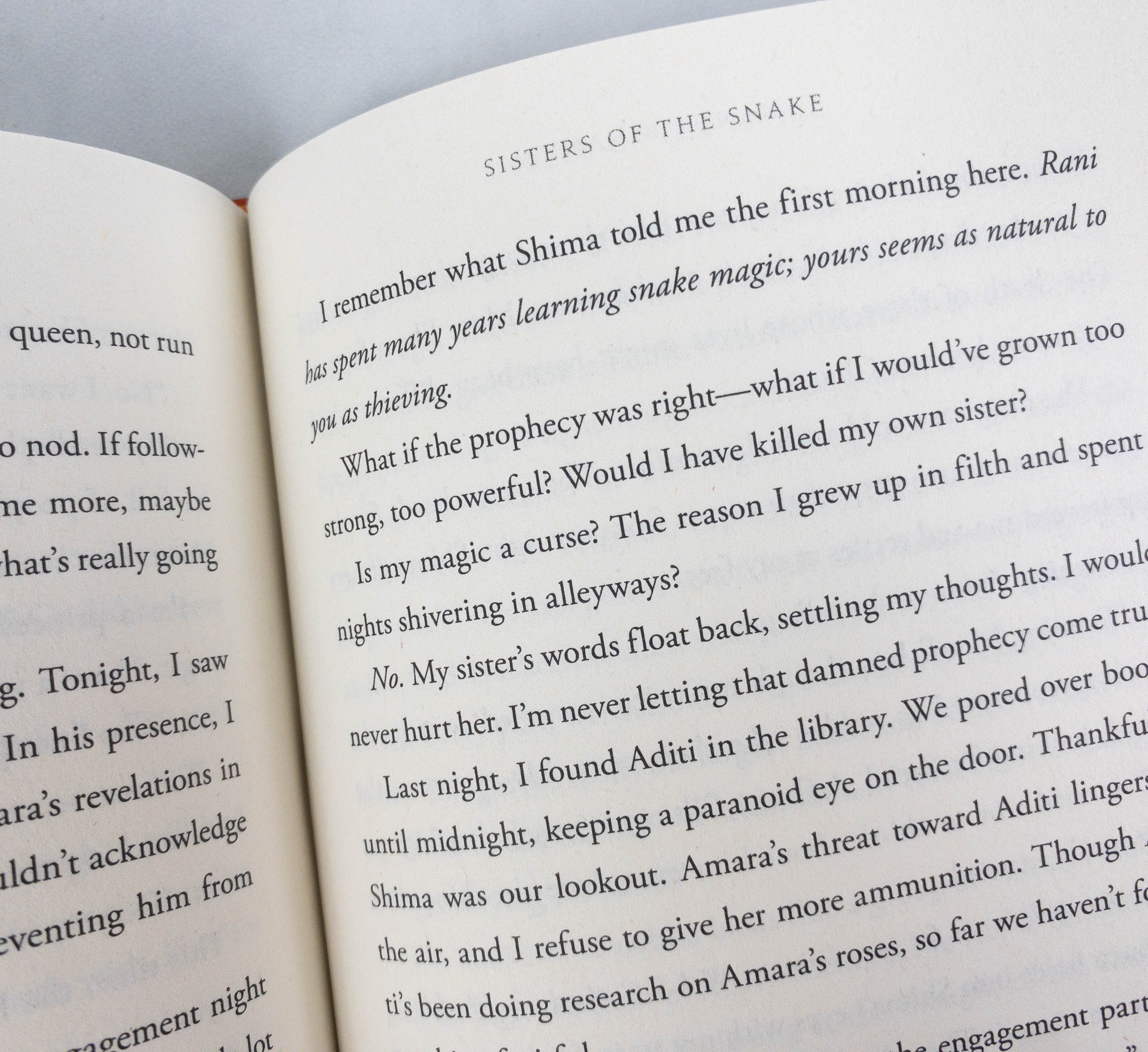 It explores the Indian culture, from the setting to the food and more. The fantasy element also adds excitement to the whole plot. Plus, it's fast-paced so there's never a dull moment!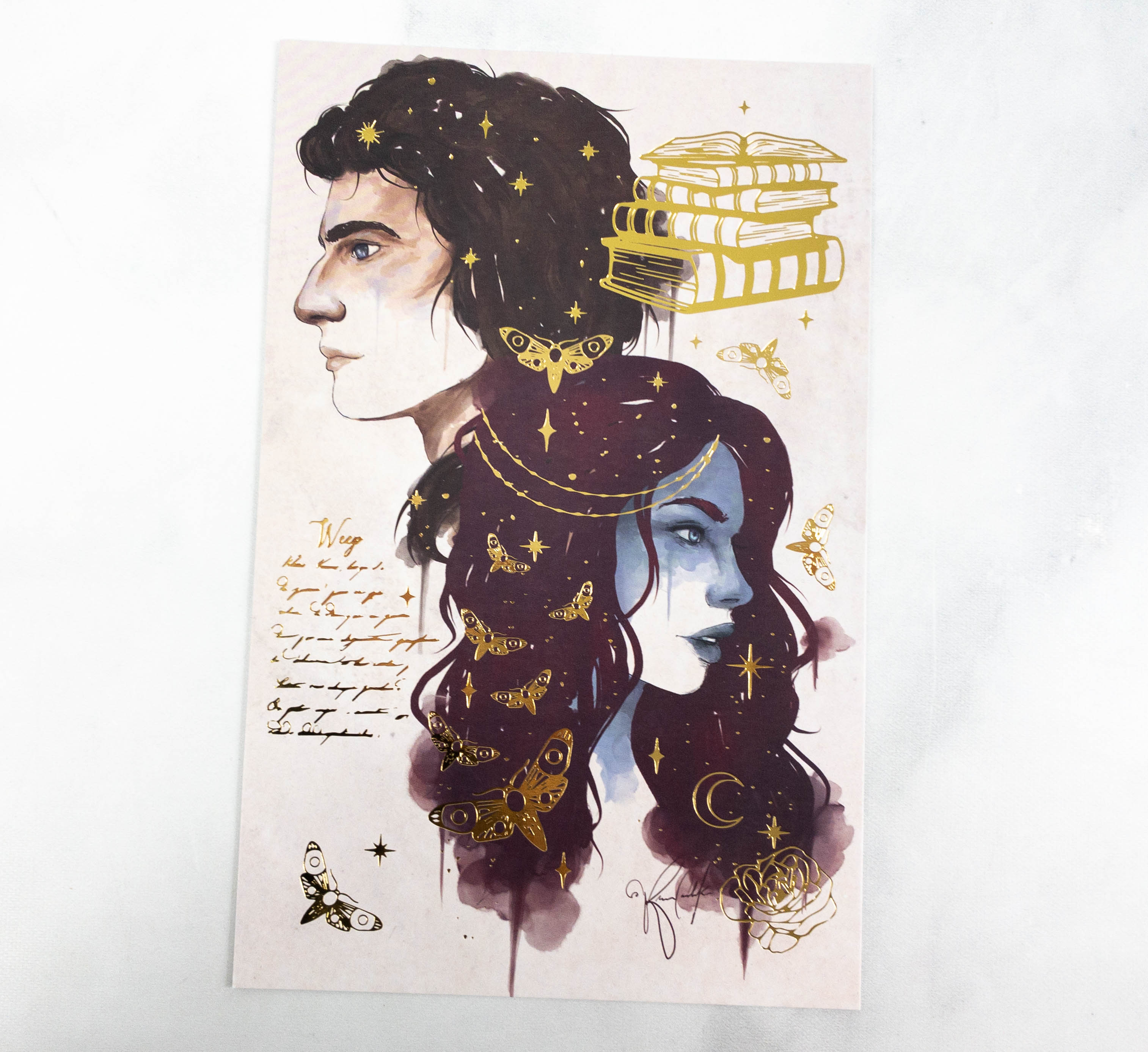 Foil Art Print. Here's a foil art print that you can frame and display. The gold foil details sparkles in the light, making the simple print look more special!
Enamel Pin. Owl Crate, in collaboration once again with Icey Designs, produced this enamel pin. This pin is pretty and it also features a quote from the book:
You can be more than what the stars wish for.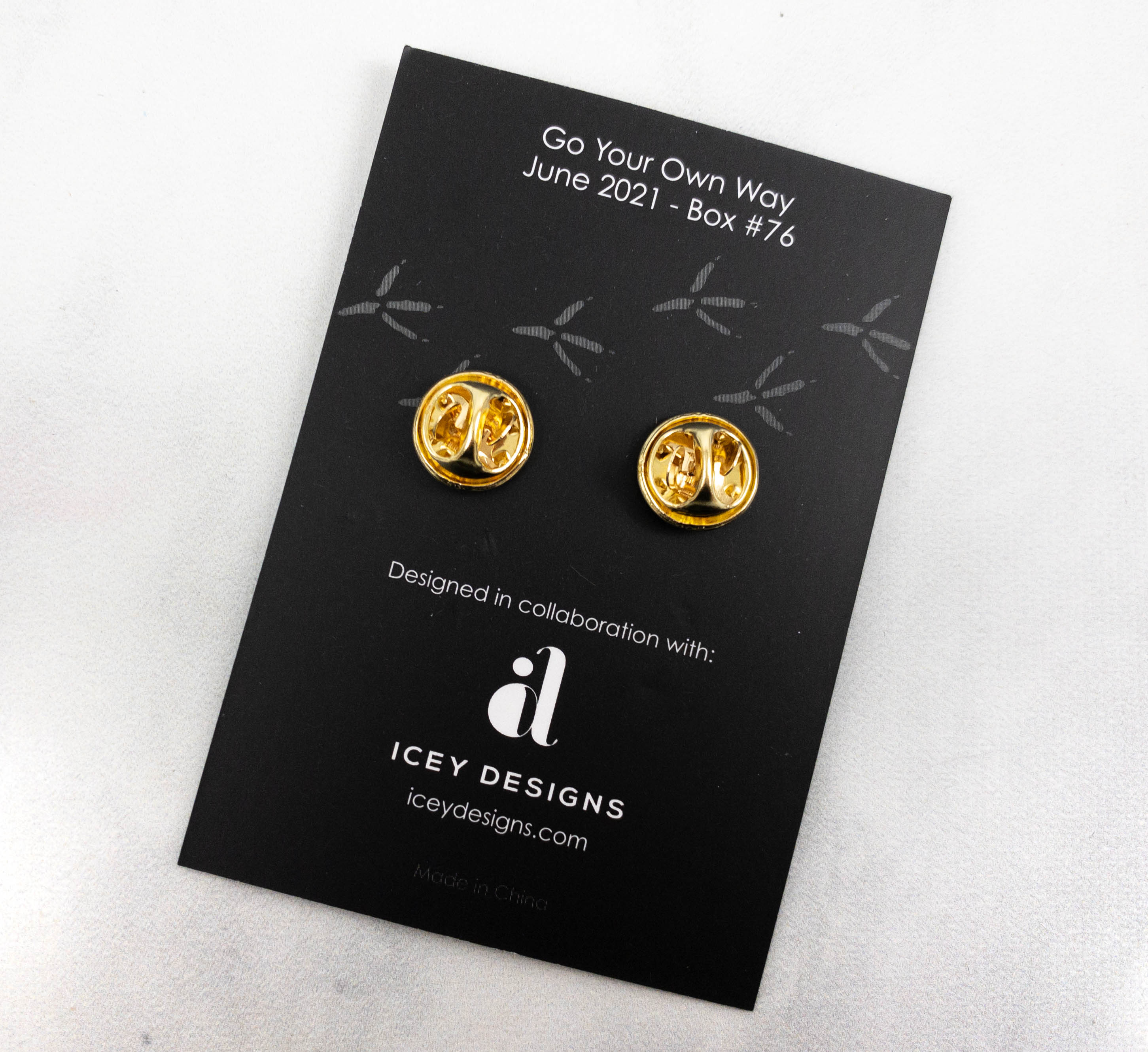 It has 2 posts to secure the item when attached to your bag, jacket, or pin banner.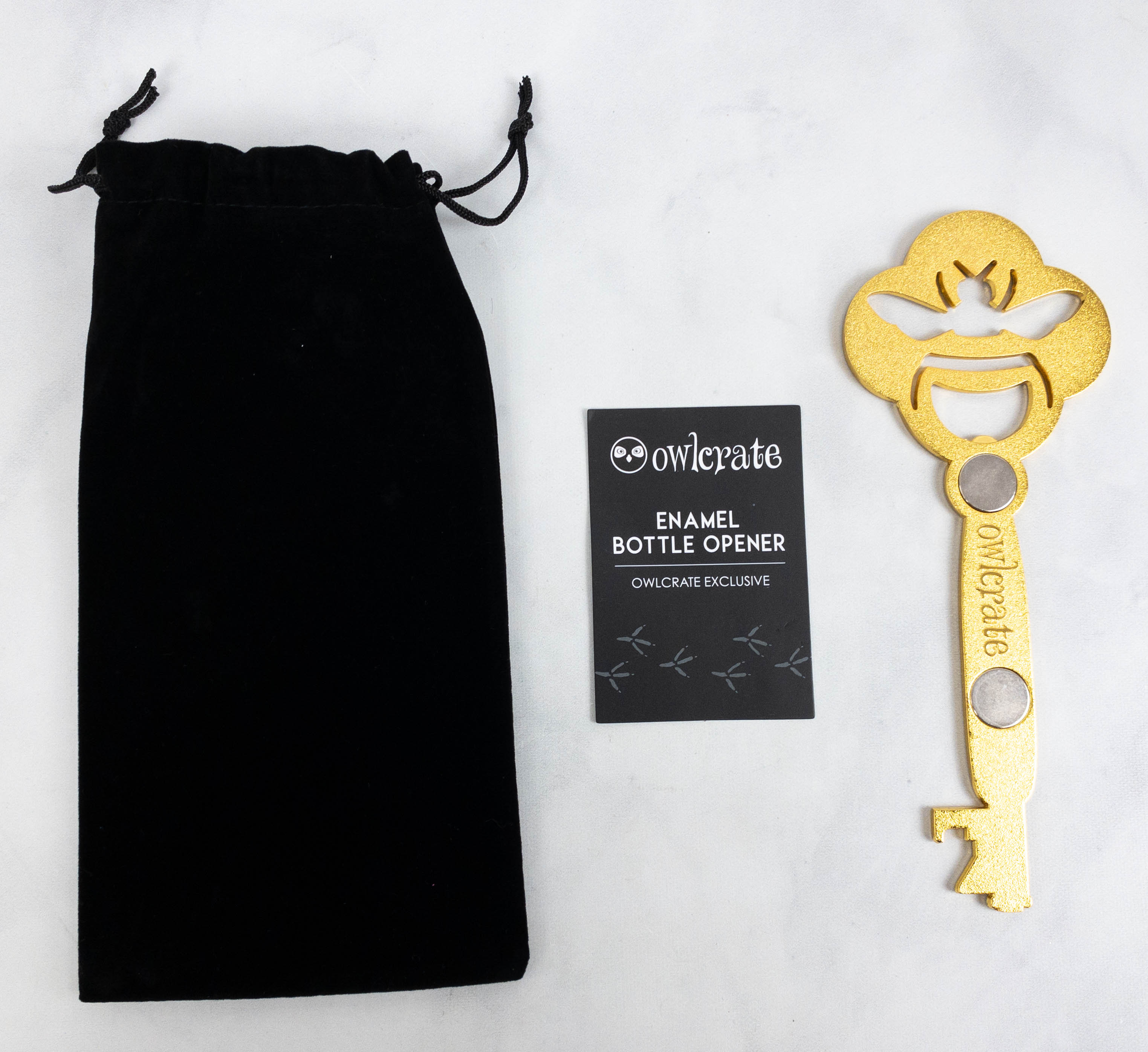 Enamel Bottle Opener. I also received this bottle opener and it came in its own black velvet drawstring pouch.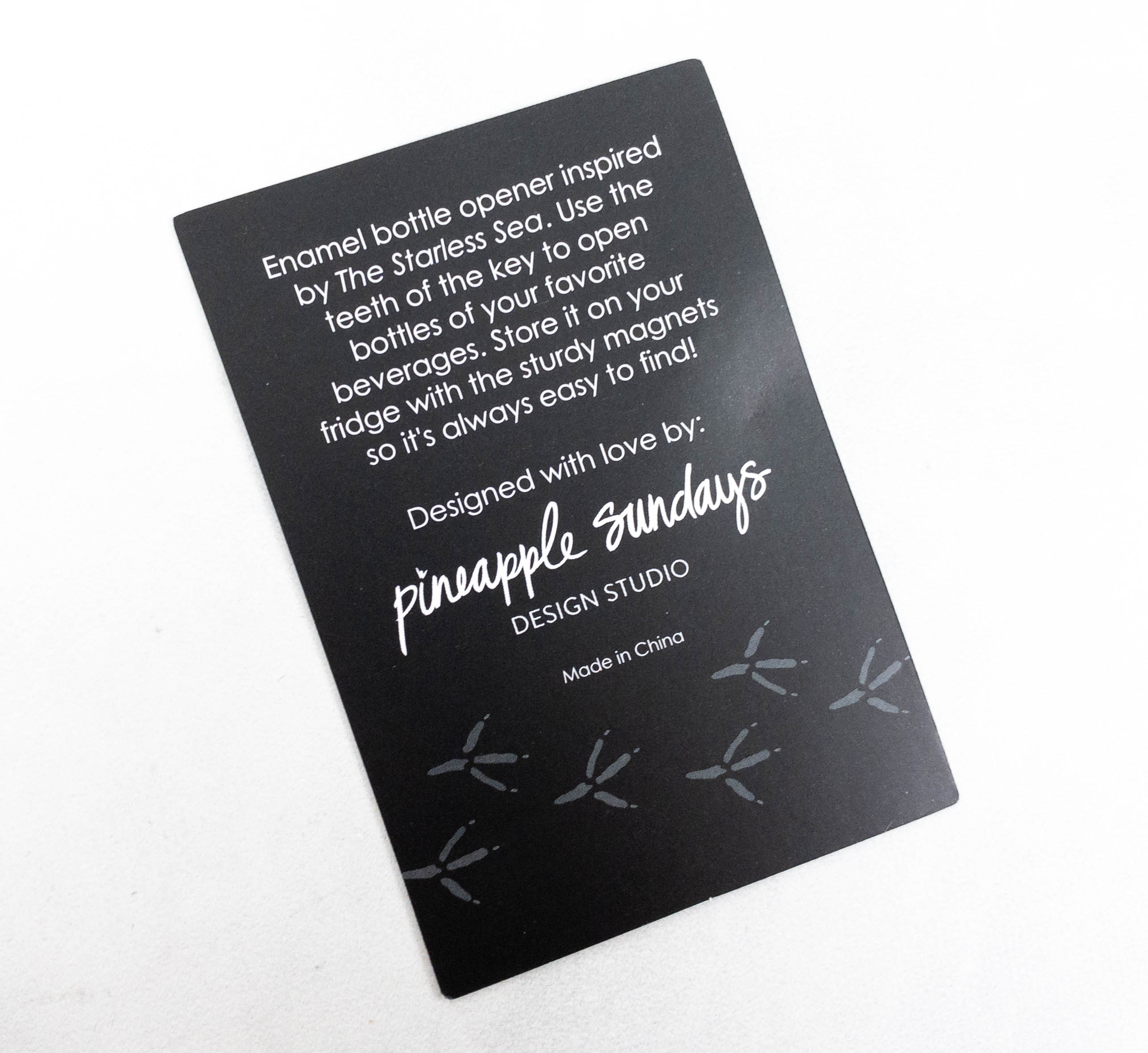 The card says it is designed with love by Pineapple Sundays Design Studio.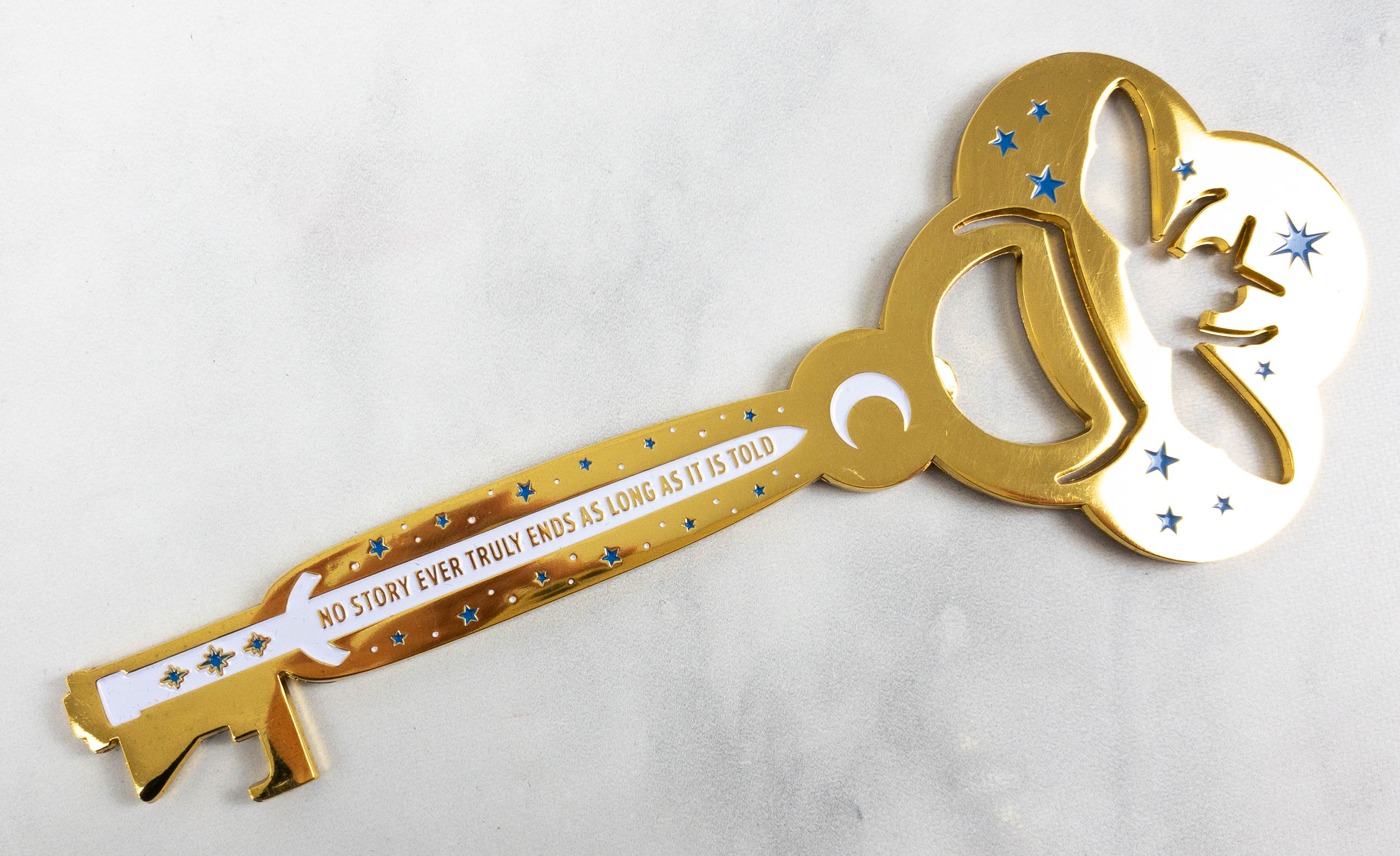 Inspired by the book The Starless Sea by Erin Morgenstern, this key features stars all over it along with a moon and a sword engraving. There's also an inscription that says…
No story ever truly ends as long as it is told
I love the opener, it's gorgeous, and I have to admit, I love it a million times more than the book. Sorry not sorry, that book was my biggest reading disappointment in the past several years. (Night Circus still near the top.)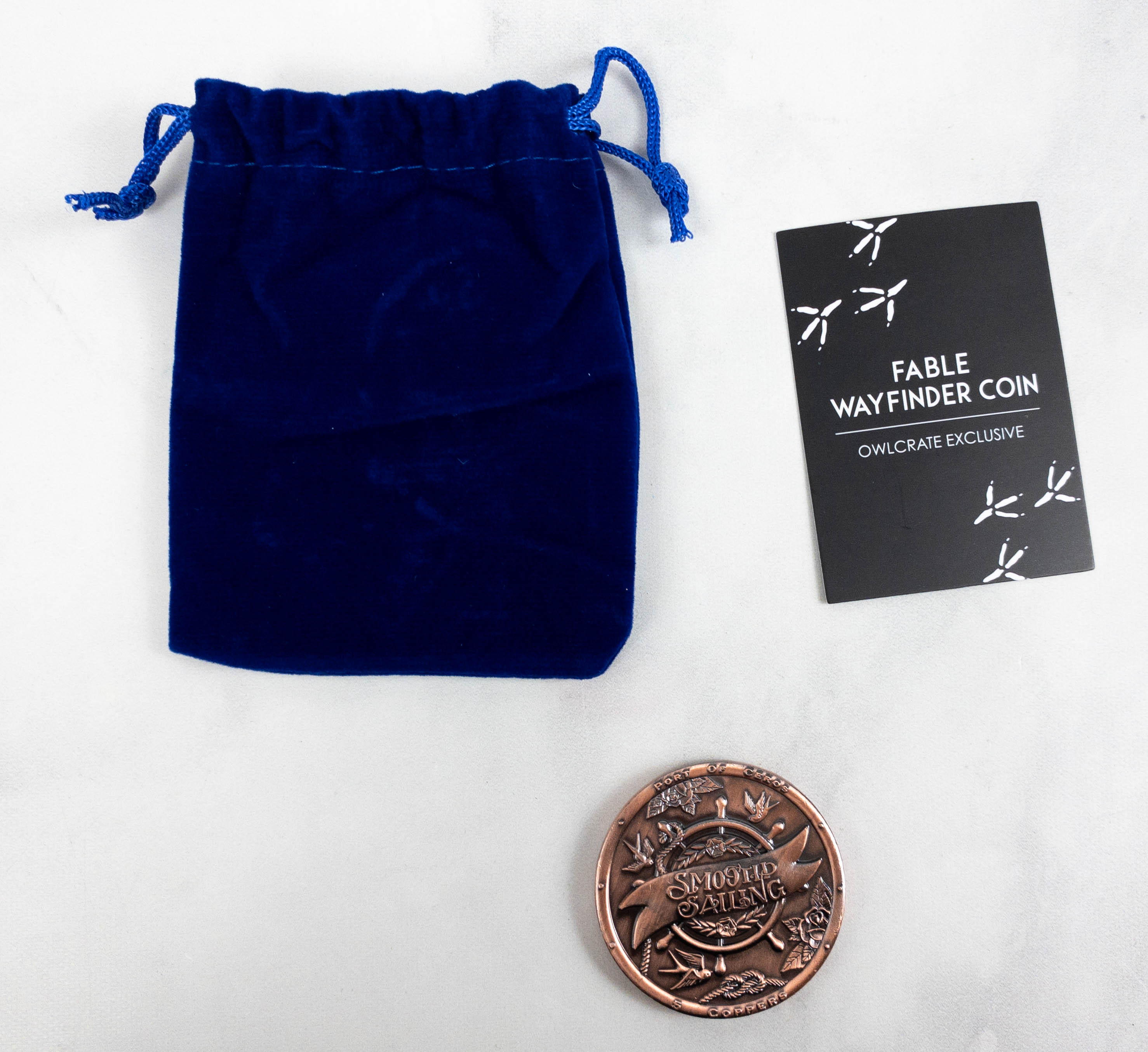 Ink & Iron Designs Fable Wayfinder Coin. Here's another item that came in a velvet drawstring pouch. This time, it's a coin and according to the card, it's an OwlCrate exclusive!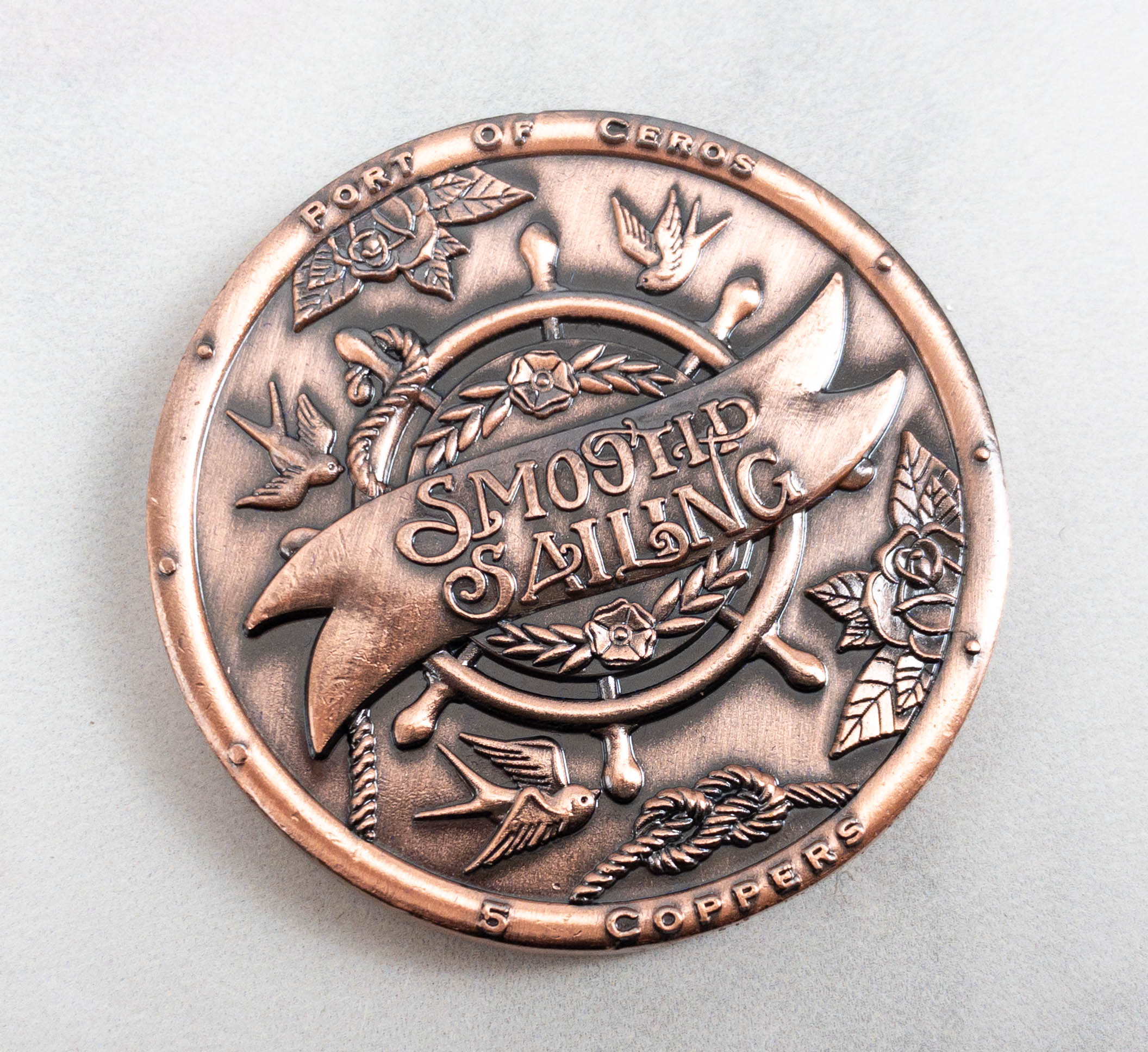 It's a coin equivalent to 5 coppers from Adrienne Young's Fable. The details on this piece are very good! It has flowers and birds on the side but on the middle is a ship's steering wheel along with the words "Smooth Sailing" embossed on it.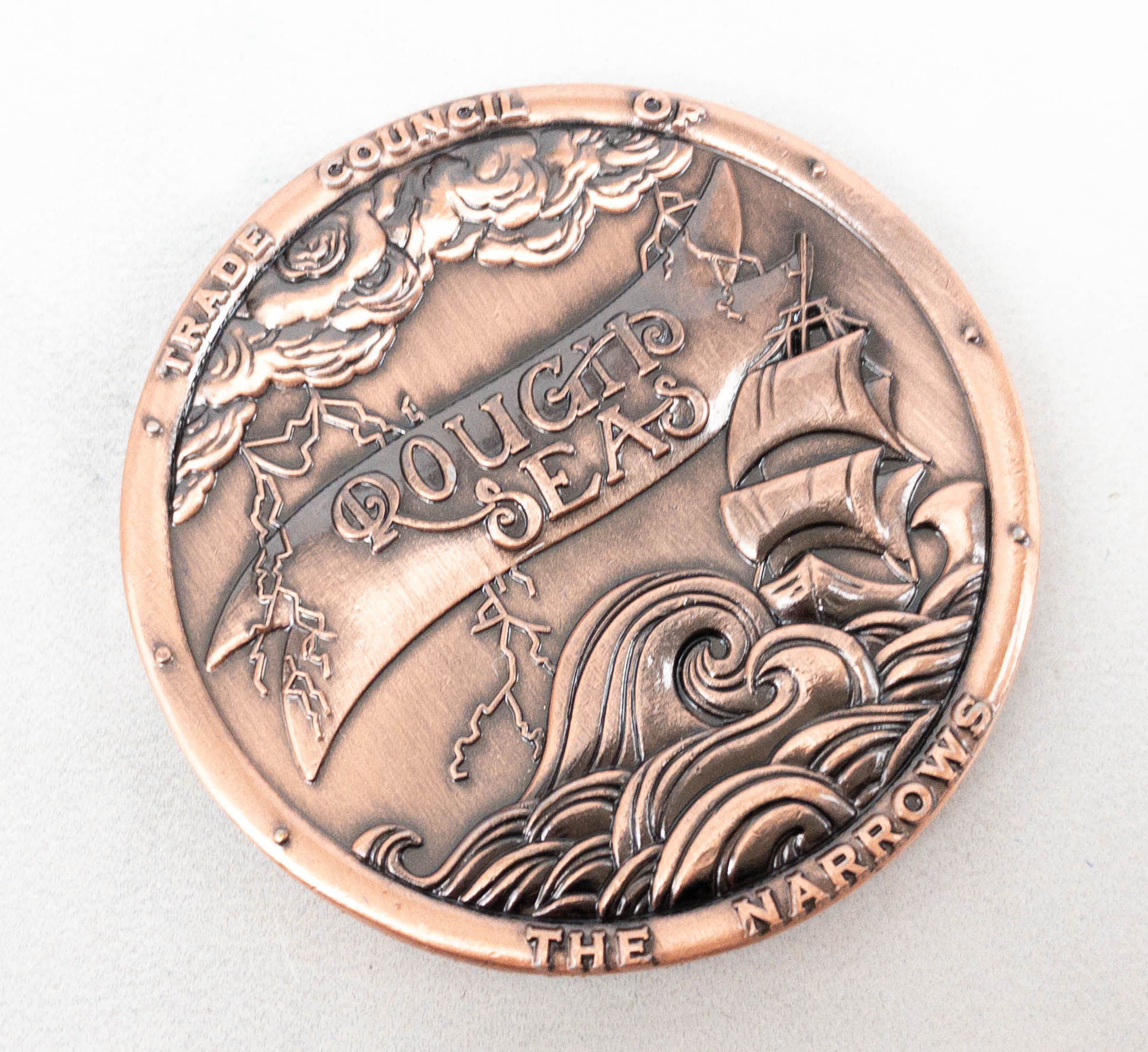 At the back is an opposite scenario as the scene features what looks like a thunderstorm in the ocean with a ship sailing through huge waves. It also says "Rough Seas" in the middle.
Water Bottle. The bottle came in its own box.  This is actually the back, which is less pretty, but also showed the info 🙂 It's a part of the special limited edition drinkware set celebrating the seasons designed by artist Macarena Chomik.
This is one of the prettiest water bottles I've received from this box. It has a floral design and a quote from Benjamin Alire Saenz, "Summer was a book of hope". The lid comes with a handle. Also, this bottle is insulated so it will keep my drinks colder (or hotter) for a longer time.
Terrasen Lunch Tote. Lastly, here's a cute tote bag where you can pack your lunch! I like the mystical print with the sword and arrows along an animal that looks like a deer. It also features the woods and a view of the icy mountains.
The inside has an insulated liner to help keep your food fresh.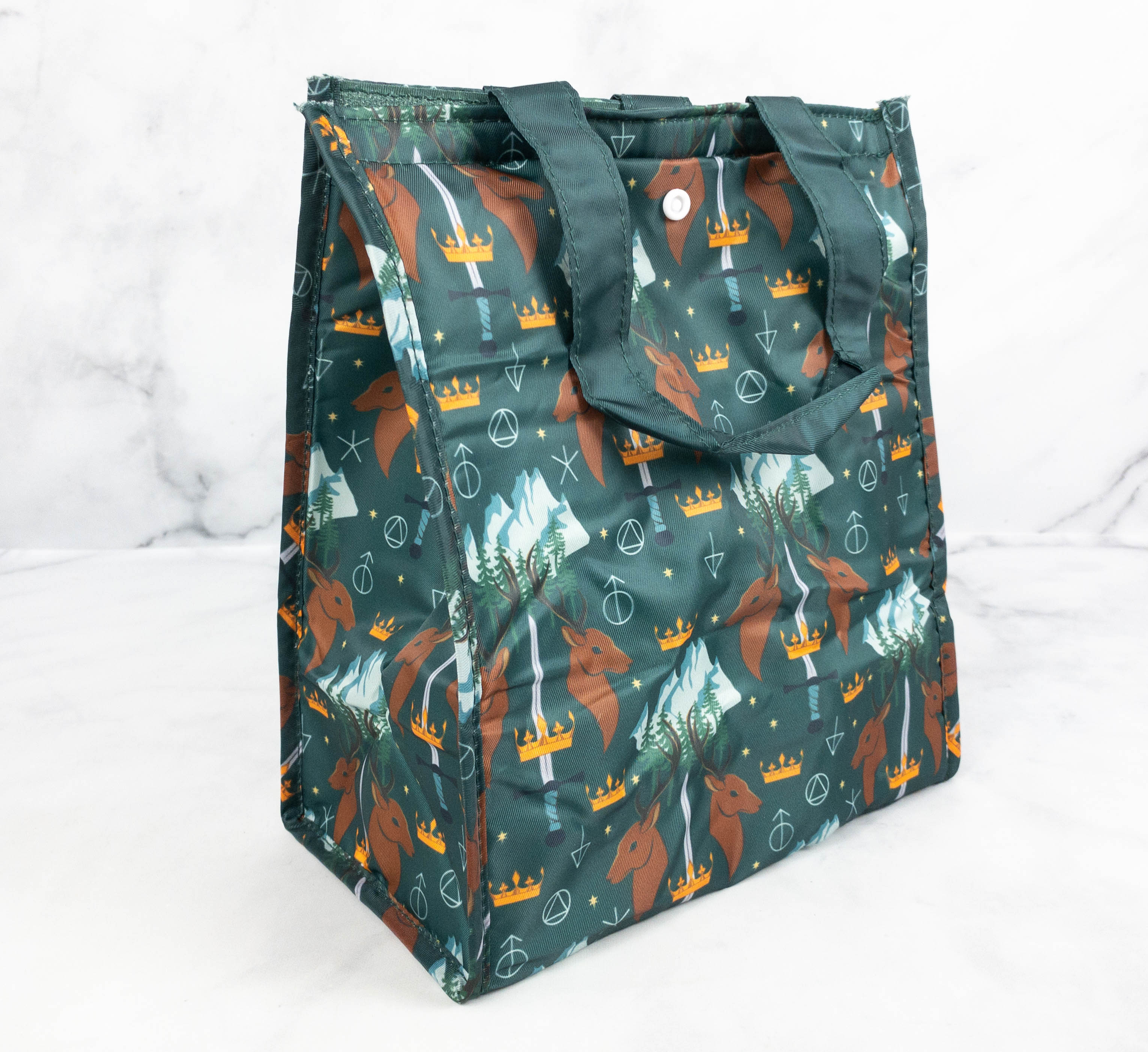 It's quite big so you can put your lunch, drinks, and even some snacks. This is a GREAT bag!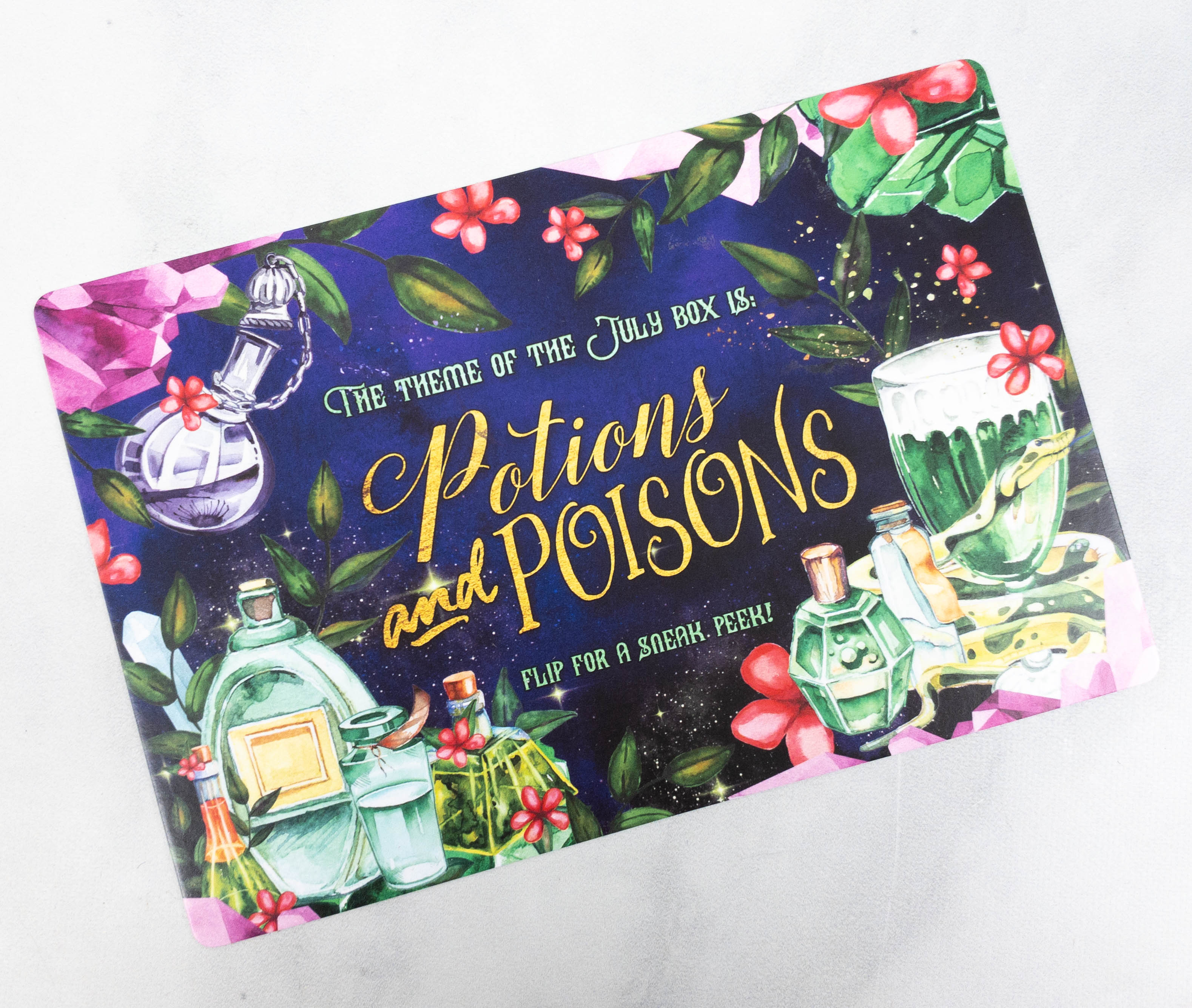 Here's a sneak peek for next month's box!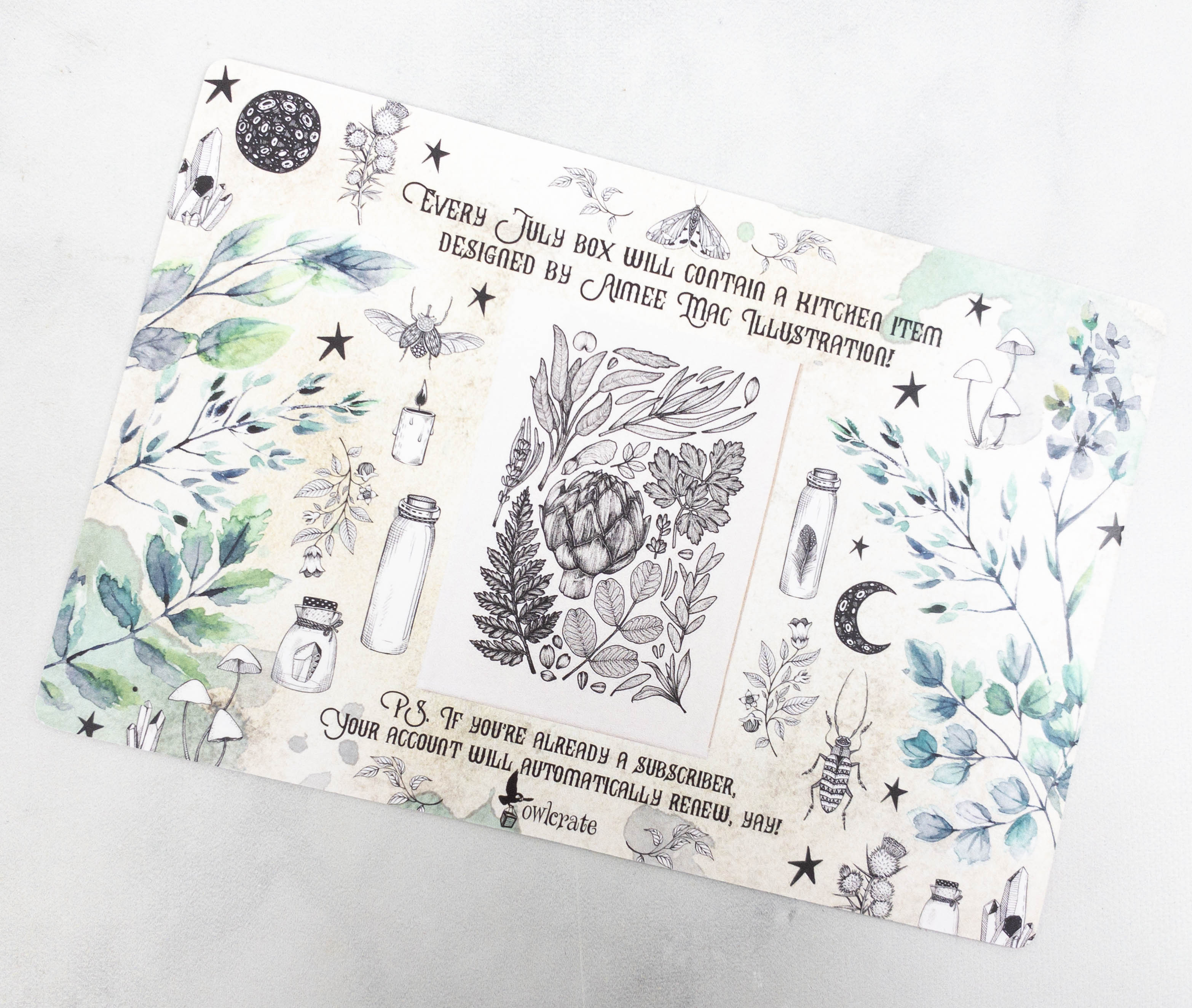 According to the card, the next box will contain a kitchen item designed by Aimee Mac Illustration!
This month's OwlCrate book pick is a fantasy YA and it was magical! I love the fast-paced story and the authors managed to give it a unique twist.The bookish items are also fun. My favorite is the lunch bag but the pin and coin are also great collectible items. If you're looking for new books to read, this subscription is good for you! Aside from getting a new title each month, you will also get fun items with literary references!
What did you think of this month's Owl Crate theme? Are you excited for next month's theme?