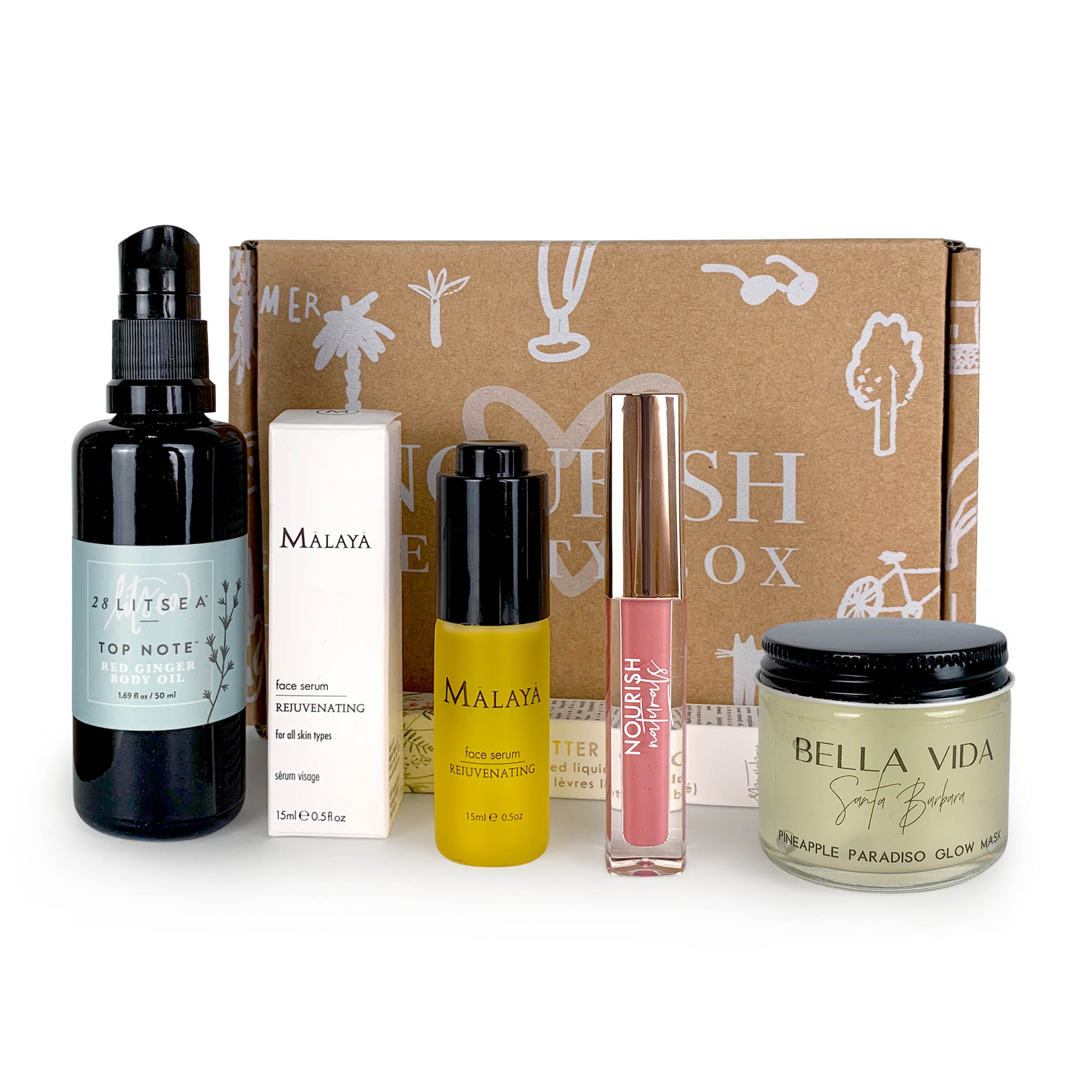 We have full spoilers for the September 2021 Nourish Beauty Box – a monthly, cruelty-free, ingredient-conscious beauty subscription box. This box is now available to order!
A change in the season typically means the way our skin behaves changes as well. This month's selection helps us transition from Summer to Fall, with products that continue to seal in hydration, a glow mask to help reduce pigmentation from the sun and rich botanical formulations that rejuvenate and heal.
DEAL: Get 15% off your first box! Use coupon code HELLOBOXES15.
This month's box:
Nourish Naturals – Butter Pop in "Rose Glace" (0.07 fl. oz. ; $16)
Malaya Organics – Rejuvenating Face Serum (0.5 fl. oz. ; $65)
Bella Vida Santa Barbara – Pineapple Paradiso Glow Mask (1.7 fl. oz. ; $59.99)
28 Litsea – Red Ginger Body Oil (1.7 fl. oz. ; $22)
Box Value : $162.99
In detail:
Nourish Naturals' Butter Pop in "Rose Glace" is a tinted liquid balm made with Jojoba Oil as well as Shea & Cocoa Butters to help heal and soothe chapped, dry lips.
Malaya Organics' Rejuvenating Face Serum is an extraordinary blend of 26 active botanical ingredients in a lightweight, deeply hydrating, vitamin-rich formula to replenish skin's moisture levels and restore elasticity.
Bella Vida Santa Barbara's Pineapple Paradiso Glow Mask gently exfoliates, reduces oil, fights acne and hydrates your skin with Pineapple & Papaya enzymes and Jojoba Seed Oil.
28 Litsea's Red Ginger Body Oil is a blend of nourishing oils of Meadowfoam, Baobab and Squalane to quickly moisturize and rejuvenate the skin.
What do you think of this month's Nourish Beauty Box spoilers?