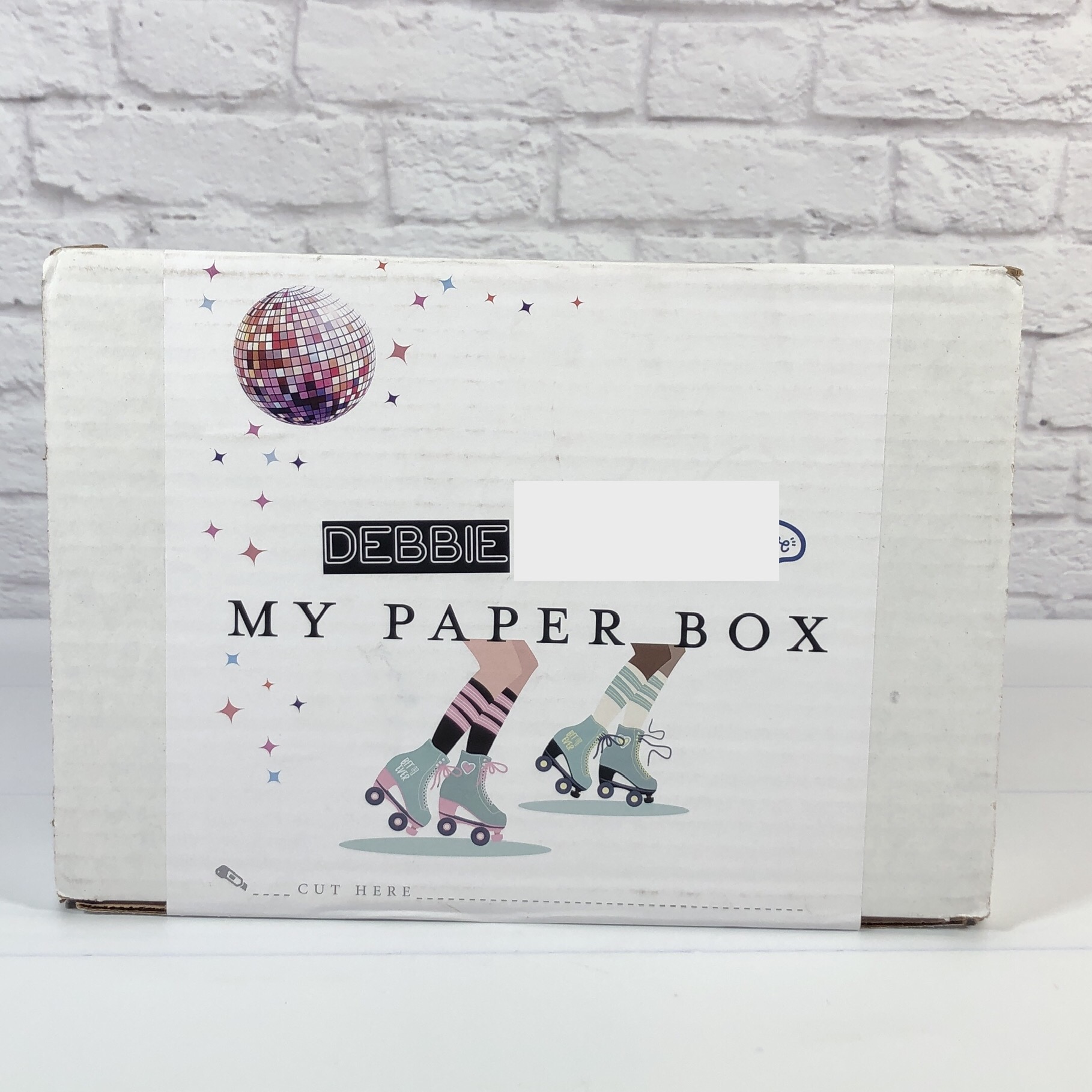 My Paper Box is a monthly personalized subscription box filled with personalized stationery! Imagine my surprise when I saw this cute, cheery box in the mail and it had my name on it! Each box will be curated to a theme and you can choose from two different levels and price points. The Mini Subscription is a collection of 3 personalized notepads and is $10 a month; The Grand Subscription comes with a Personalized Paper Box and a selection of items such as personalized notepads, cards, planners, and more and is $28 a month. Each month there will be a new theme and you receive the order for the Grand Subscription the month before so you will have everything ready to go when the calendar changes.
Make your notes a little more special with Personalized Stationery! One of a kind Stationery Subscription that puts YOU at the center of everything we do. Every box includes freshly designed, themed stationery products inscribed with your name. My Paper Box makes an excellent gift for stationery lovers. All guaranteed to bring a smile to your face.
DEAL: Get $5 off your first box. Use the coupon code 5OFFMYBOX.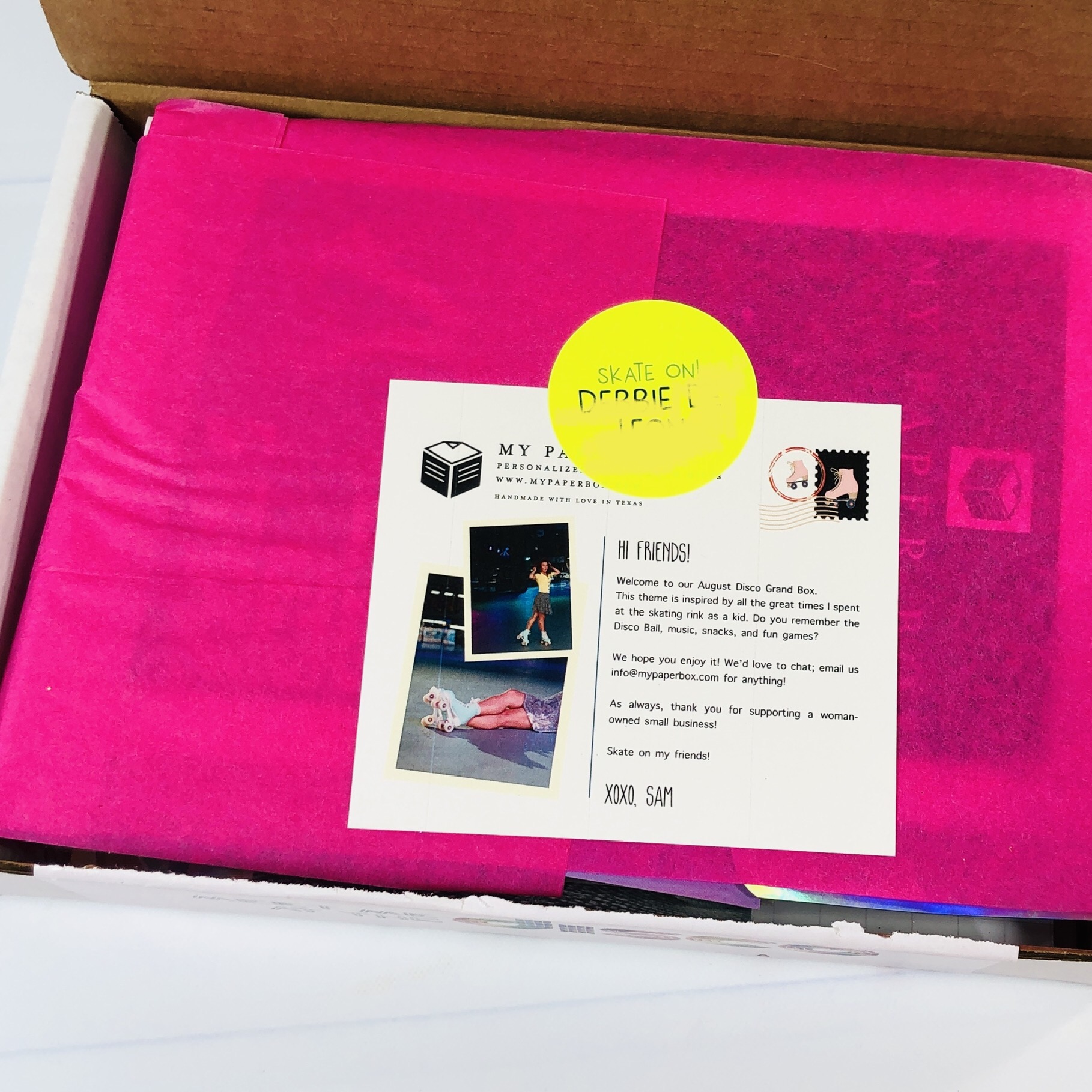 The presentation was pretty, with the items wrapped in tissue paper that was sealed with a sticker. The colors this month look bright! I am reviewing the Grand Subscription Box. There was a card on top that tells me we are going to the Disco this month!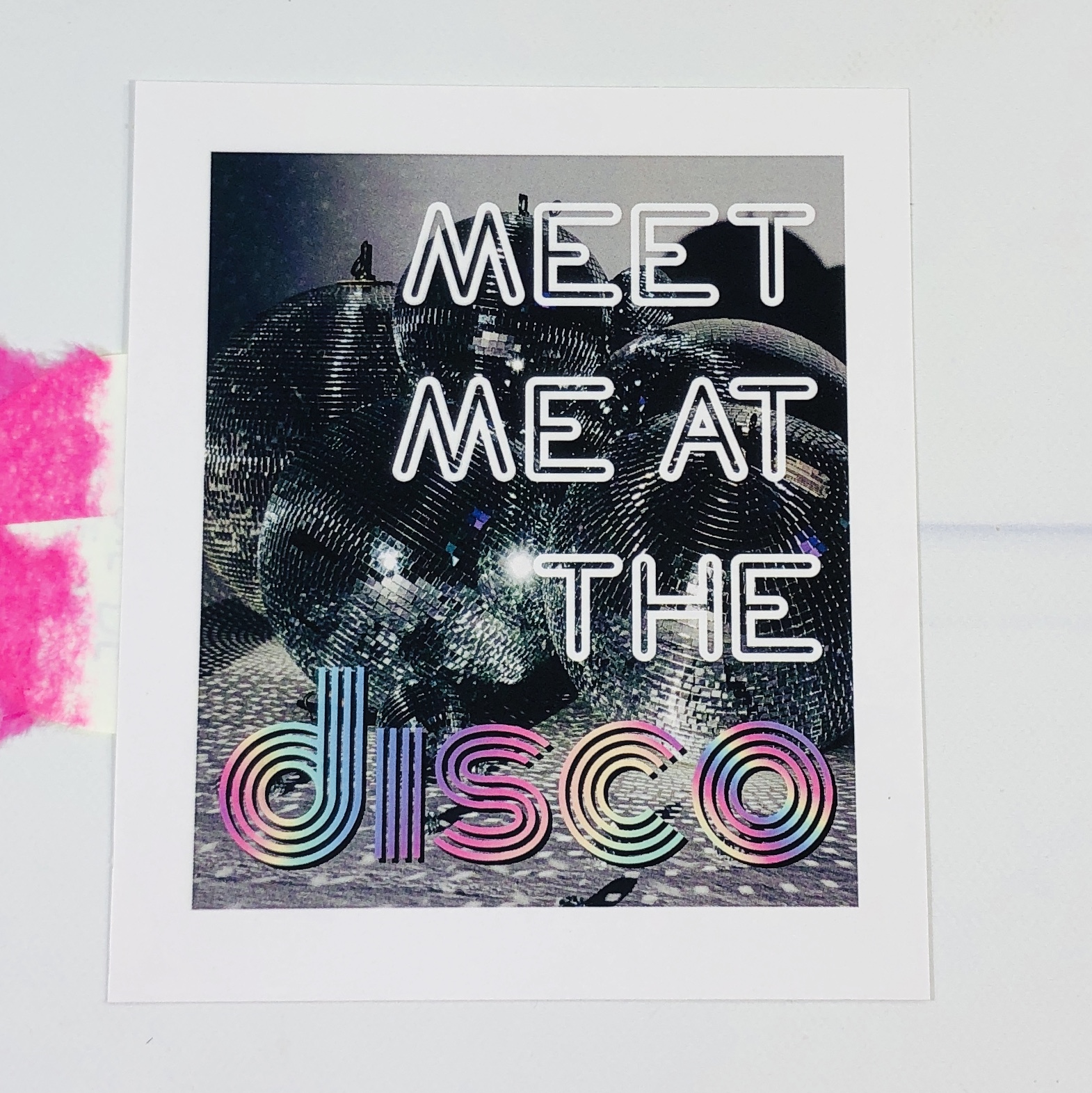 The back of the card is a large sticker!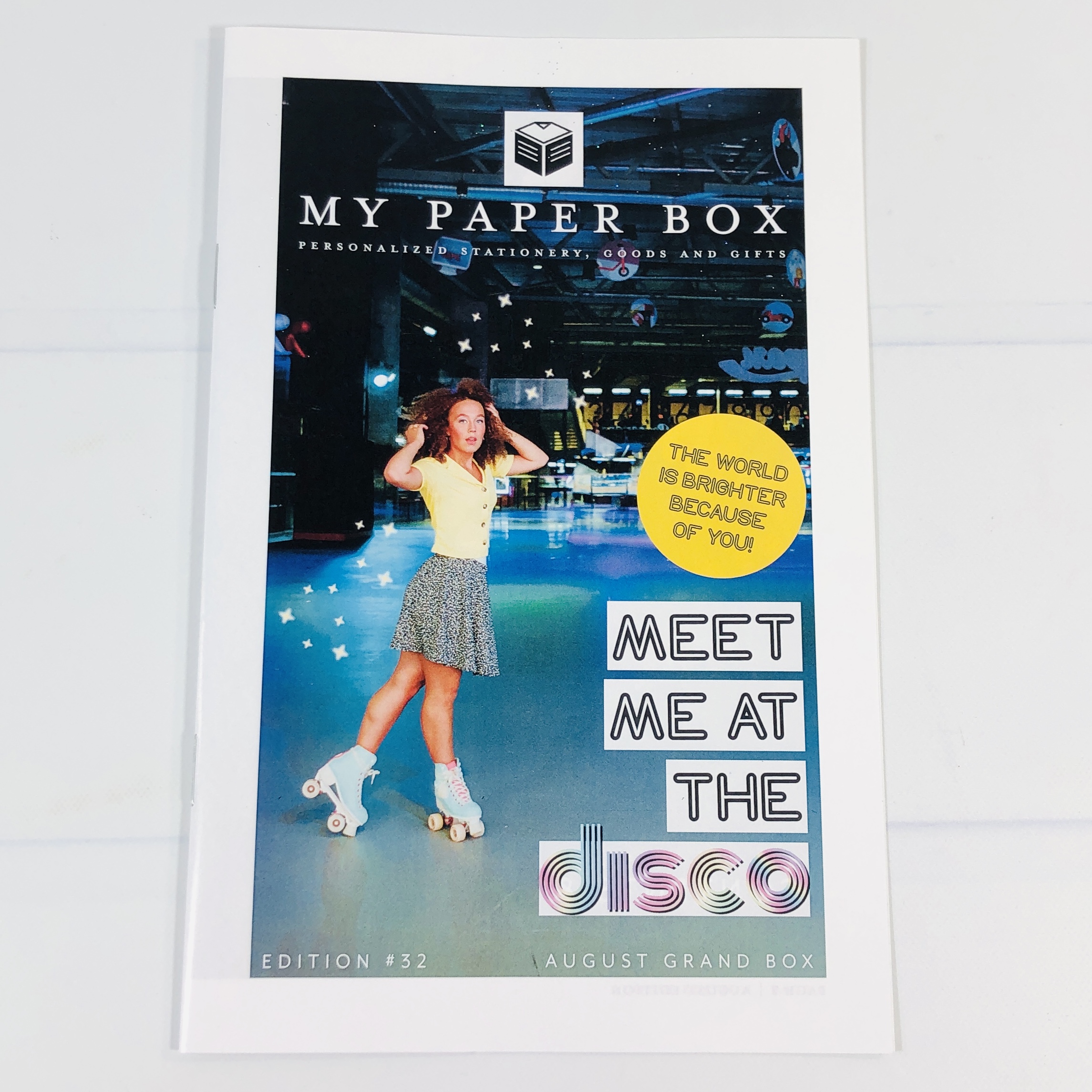 The booklet is very informative and has lots of unusual holidays inside.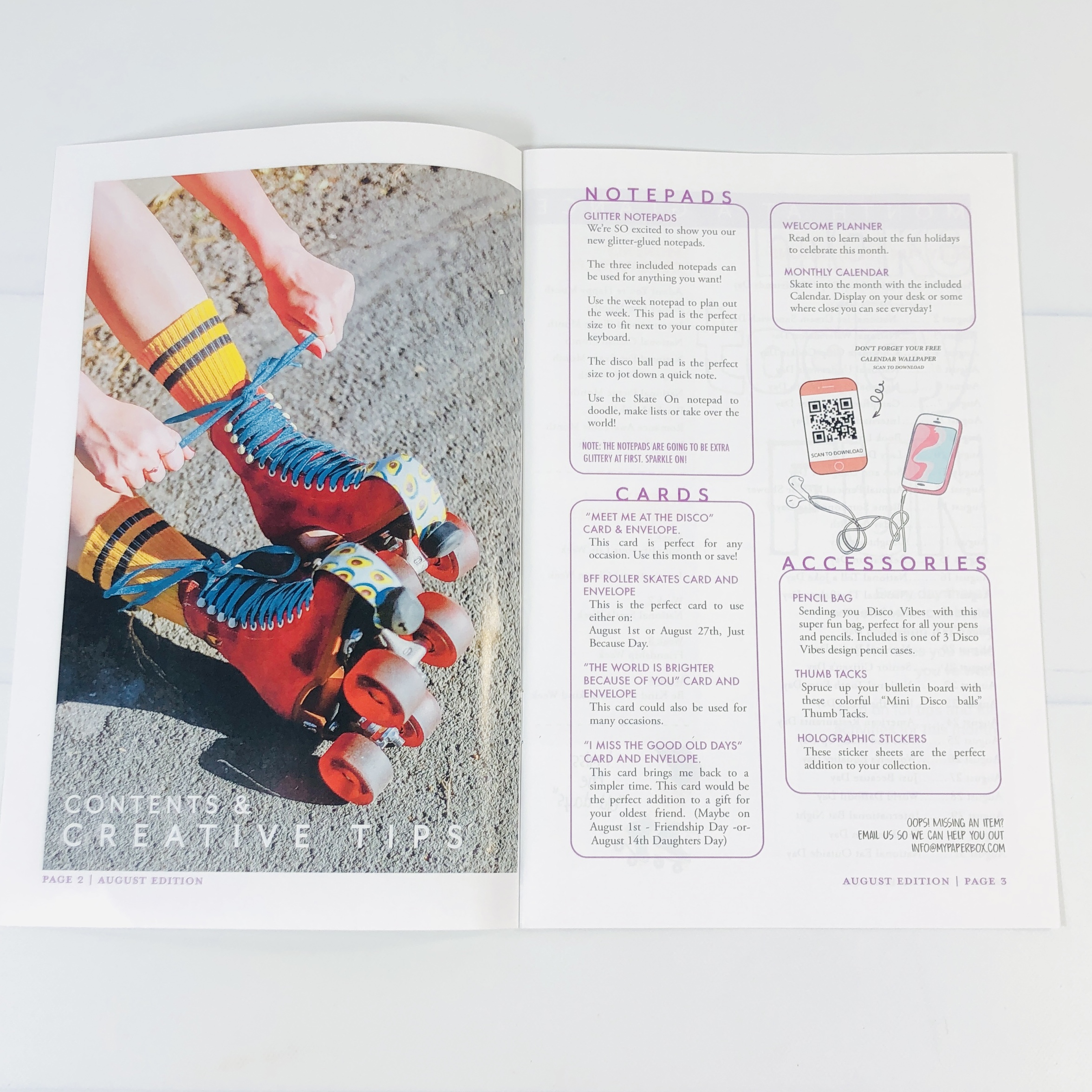 The inside described what I received in my box.
There are tons of holidays I didn't even know existed.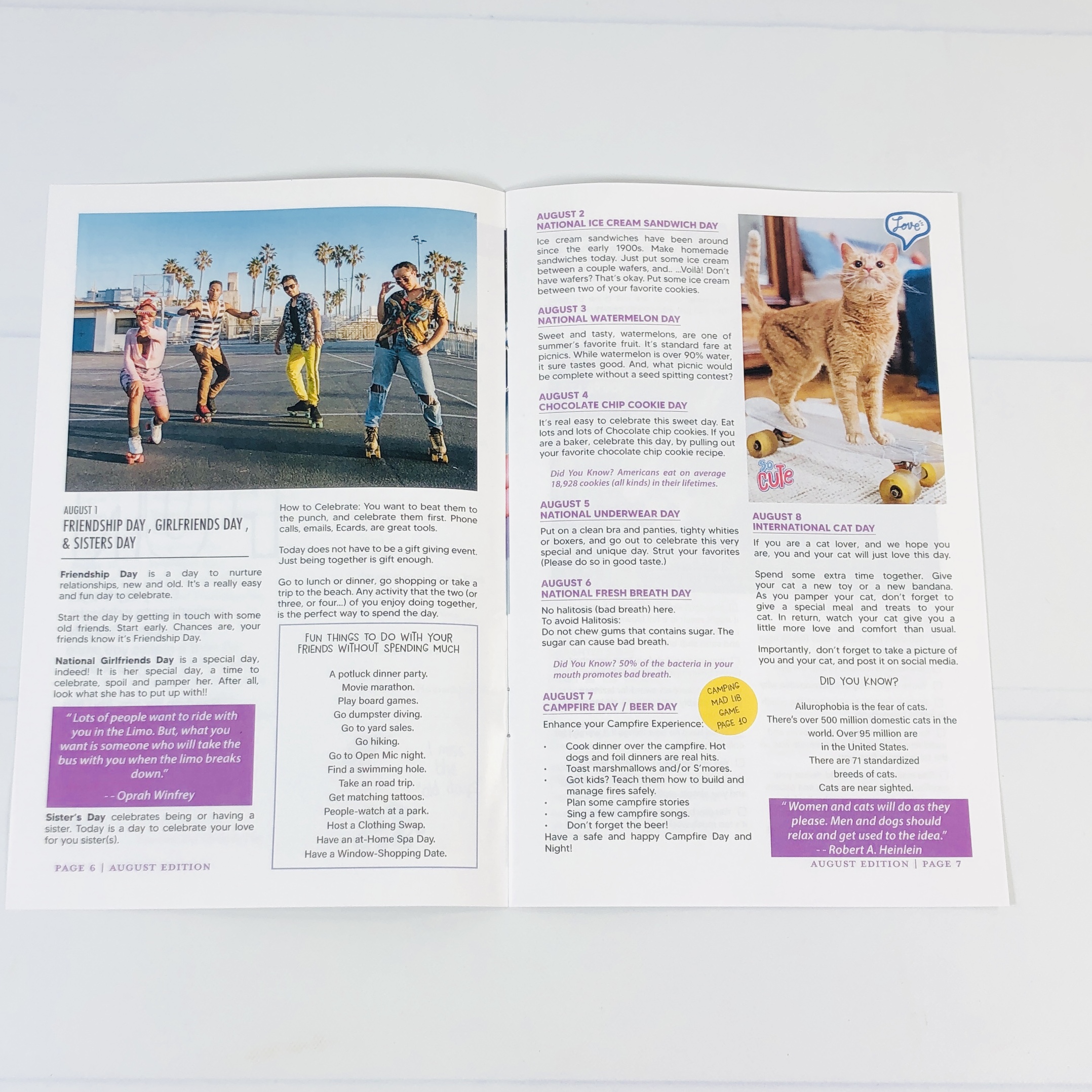 There were also ideas on how to celebrate those dates too! In fact, there are 15 pages in all.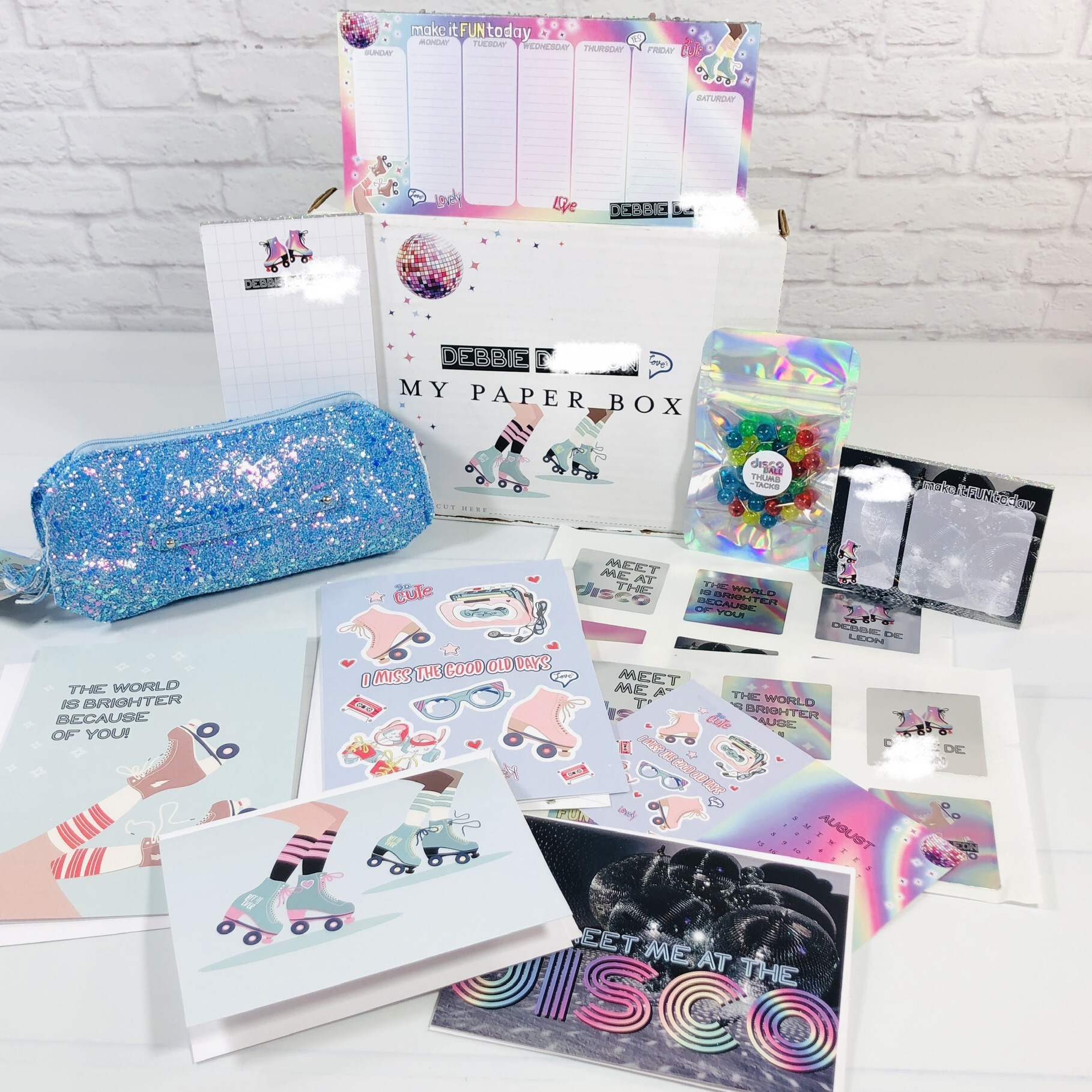 Everything in my box!
Calendar Each month we receive a calendar that can be displayed on a desk top. The very first box will come with a calendar holder but some of the boxes will come with one that also fits the theme.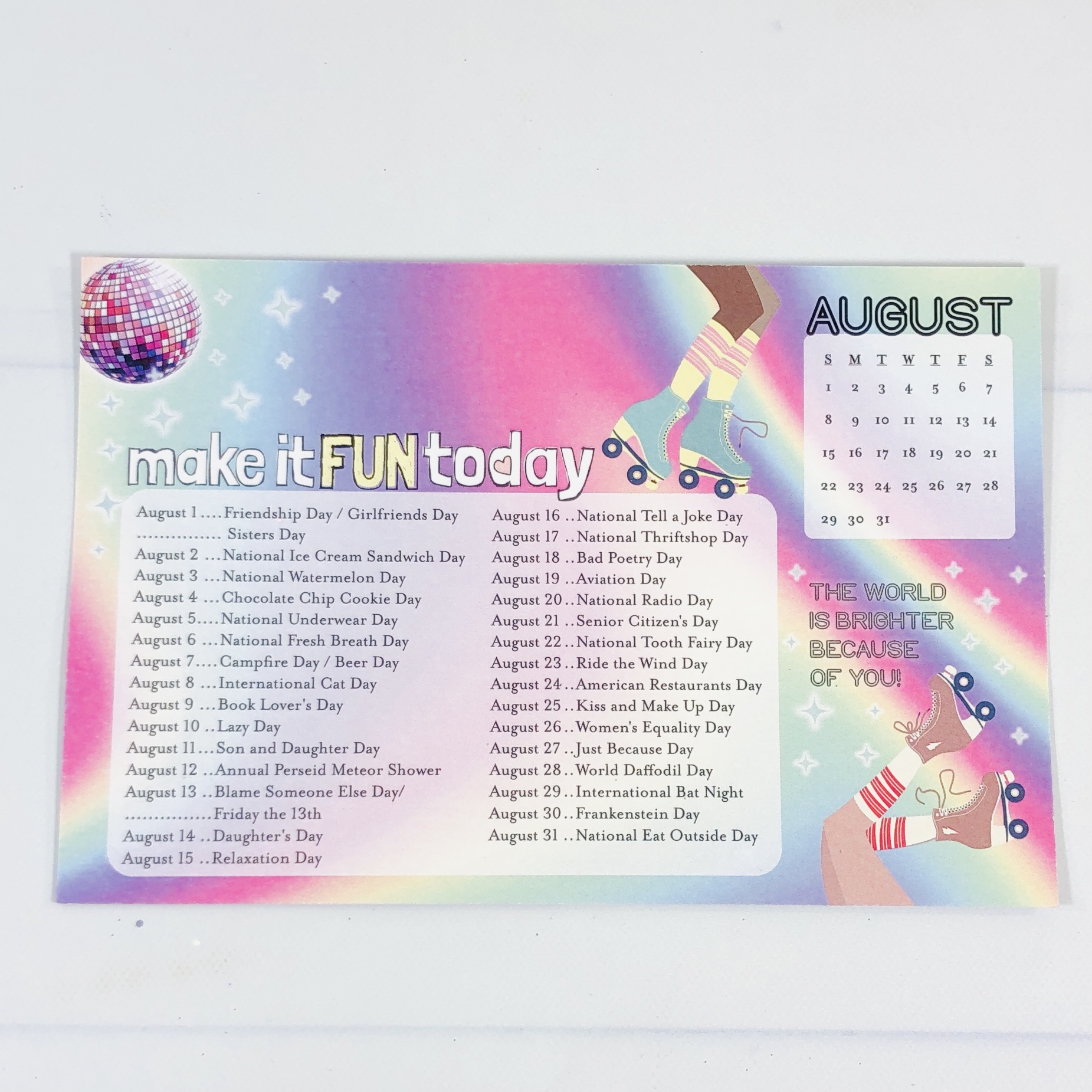 The back has a quick glance at all of those holidays. My daughter was born the day after Daughter's Day. Don't tell my husband, but his birthday is on Senior Citizen's Day!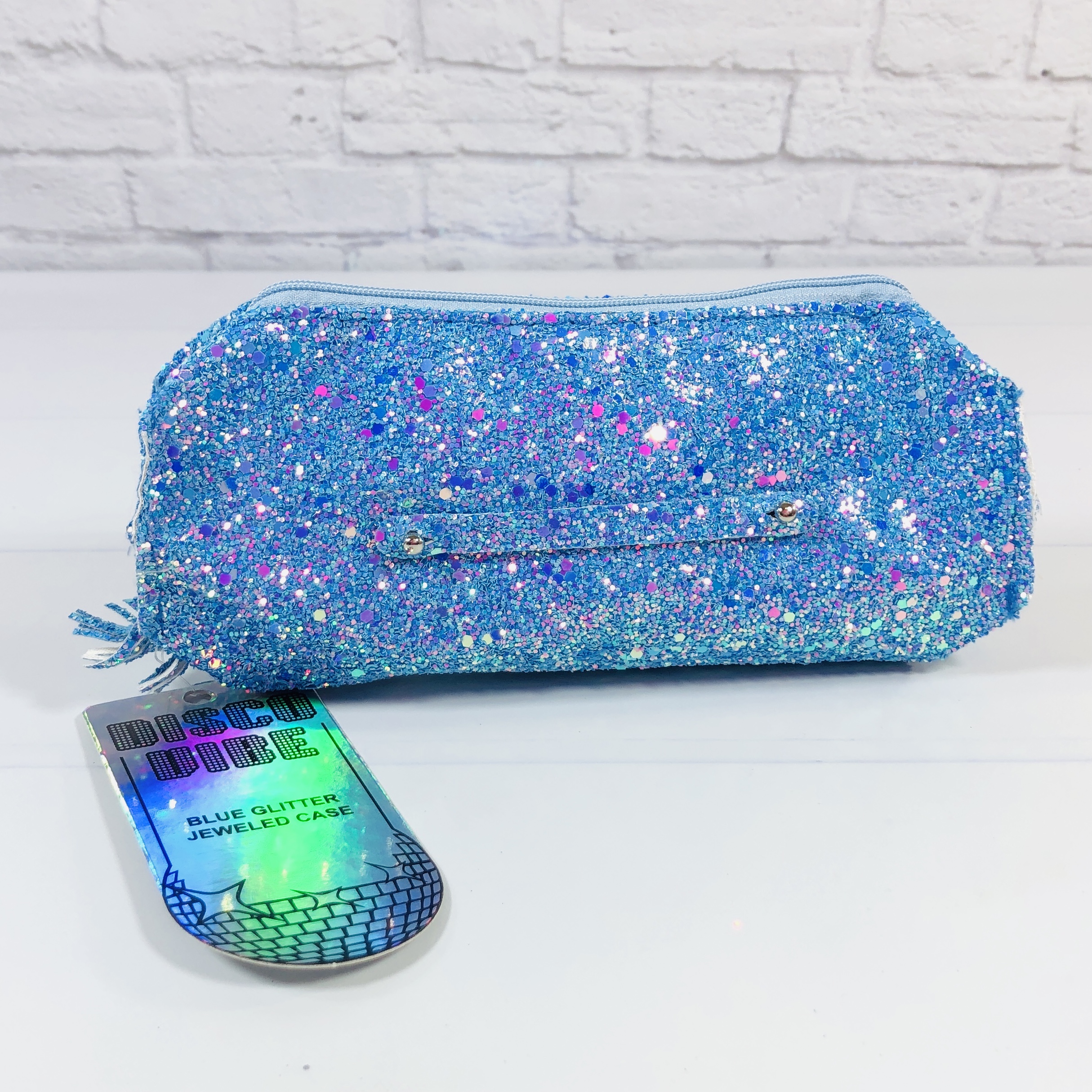 American Jewel Disco Vibe Blue Glitter Jeweled Case According to the info booklet, subscribers received one of three different pencil cases and I love this blue shade with all of those pretty holographic scales that change color depending on the light. The zipper pull has a tassel.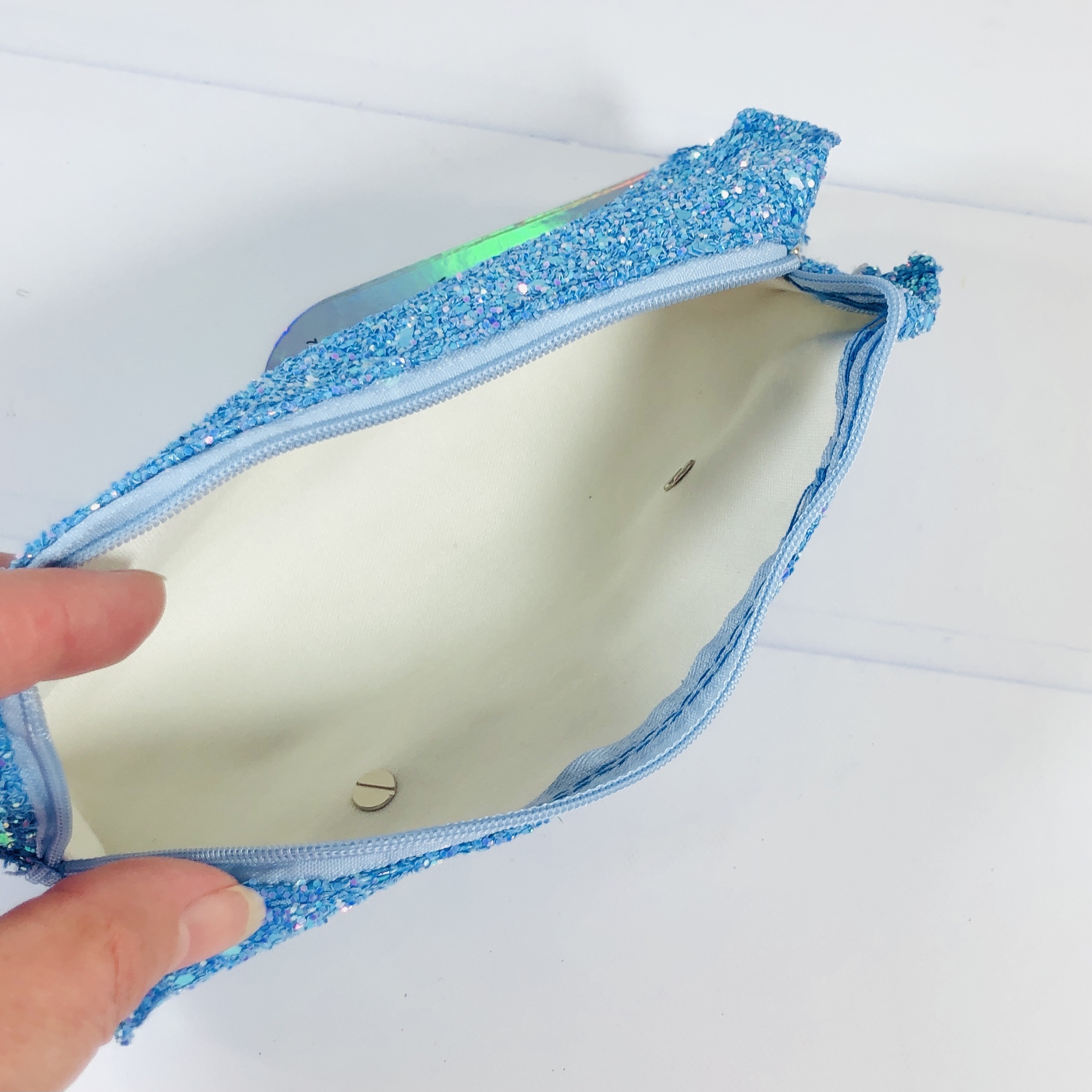 Here's the inside. I'm sure it would hold glasses or maybe some other little goodies.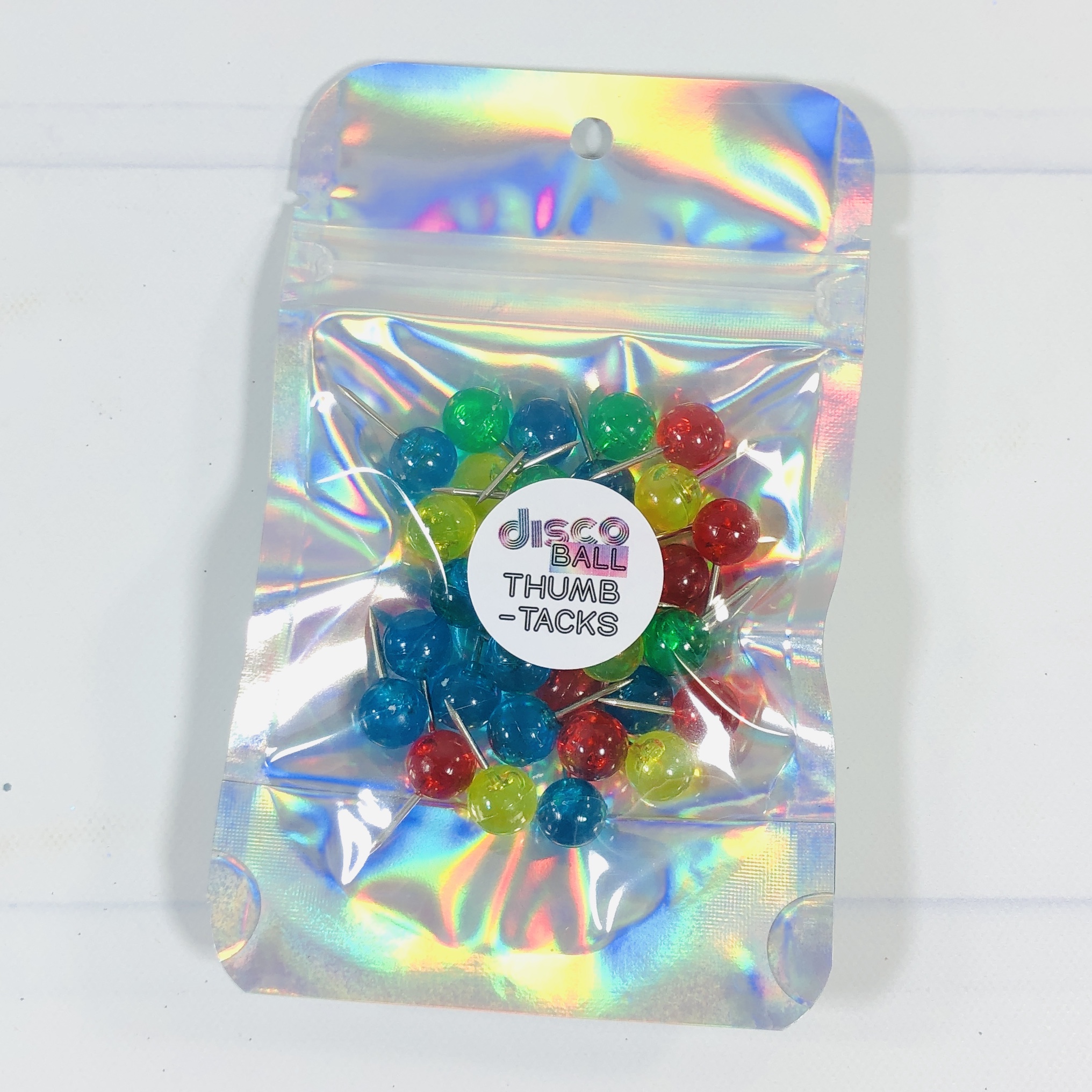 Disco Ball Thumbtacks Do you call these thumbtacks or push pins? I feel like it's another version of po-tay-to or po-tah-to, either one works.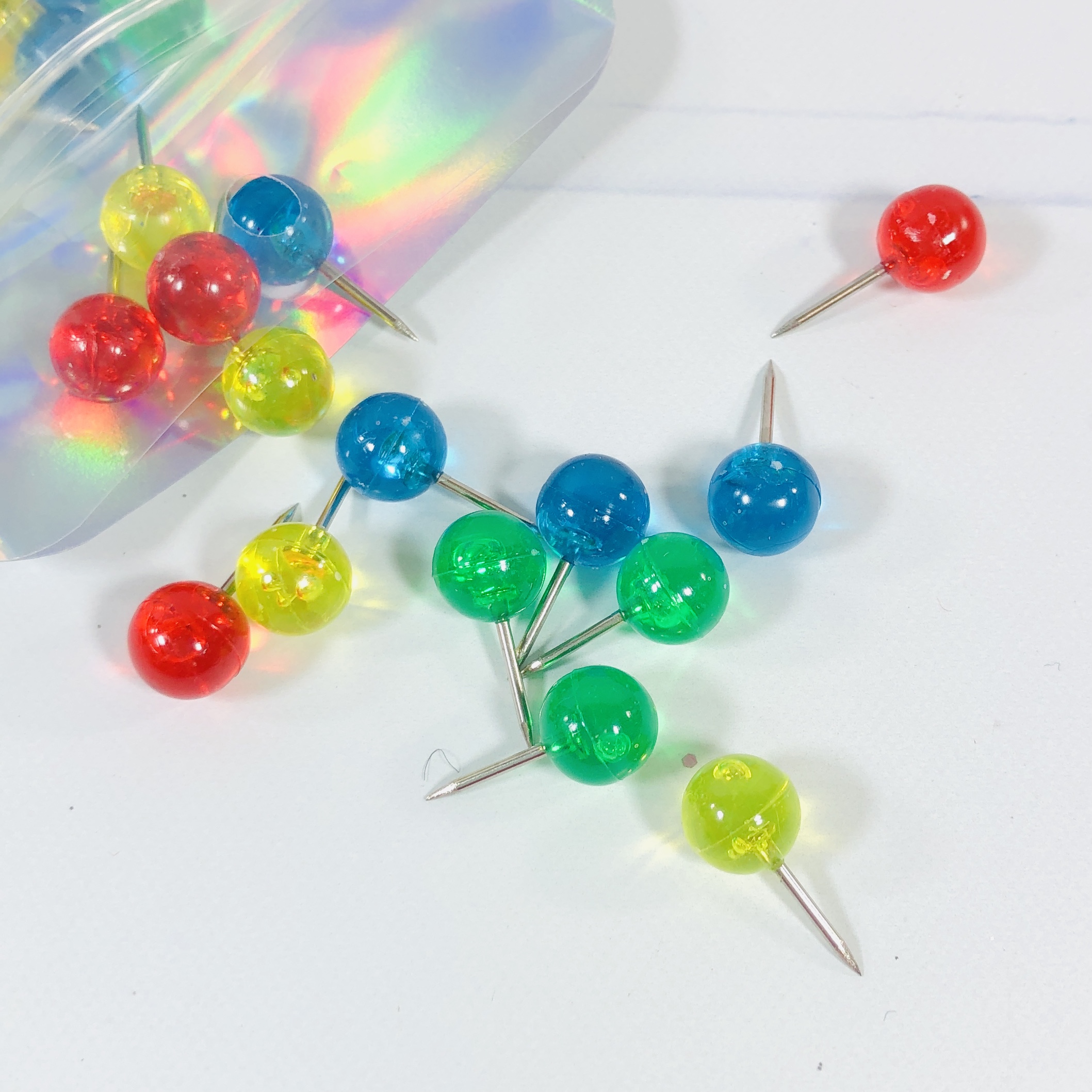 They are helpful for hanging stuff up on a corkboard or similar item.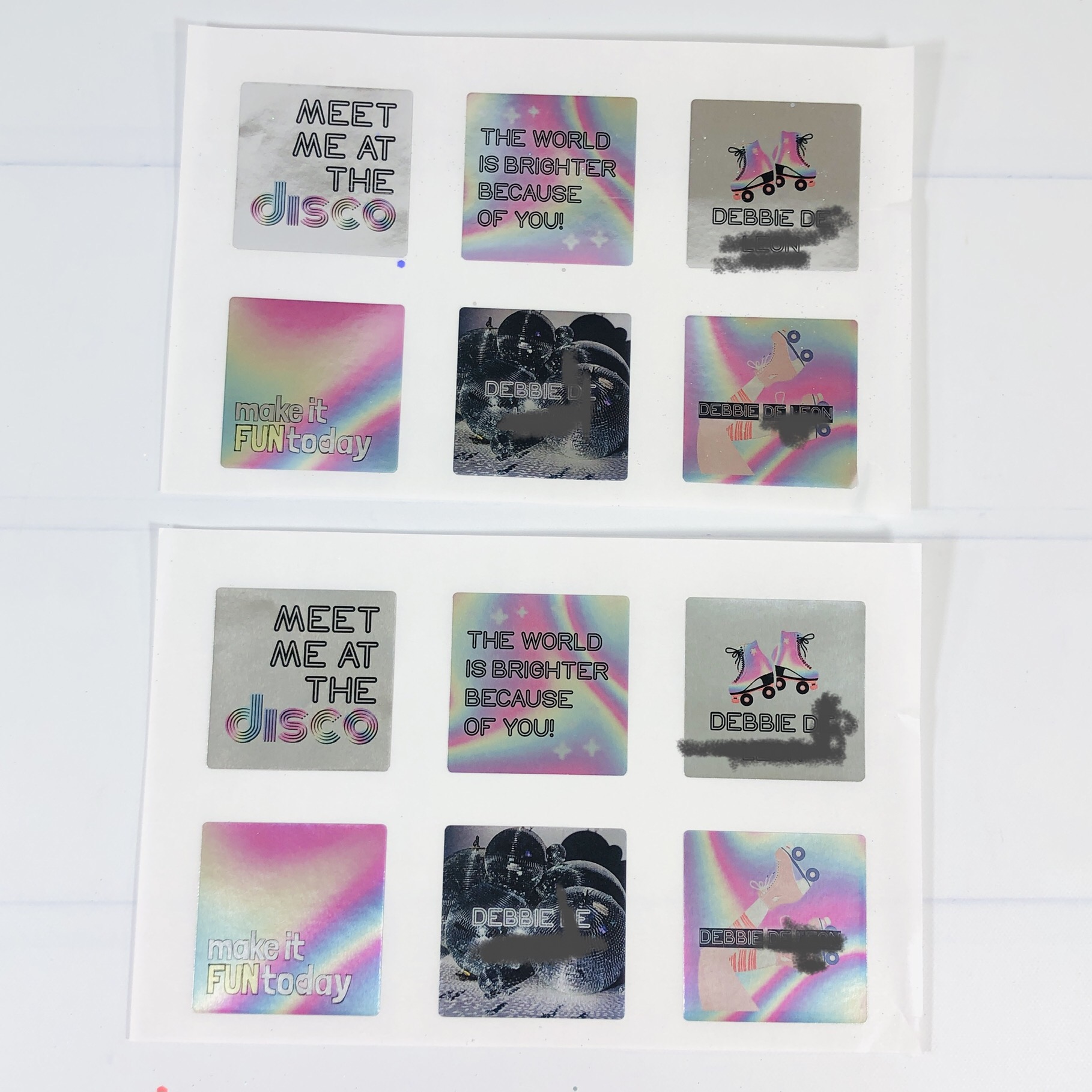 Holographic Stickers A sheet of personalized holographic stickers will liven up my planner for the month. There were two sheets with six stickers each.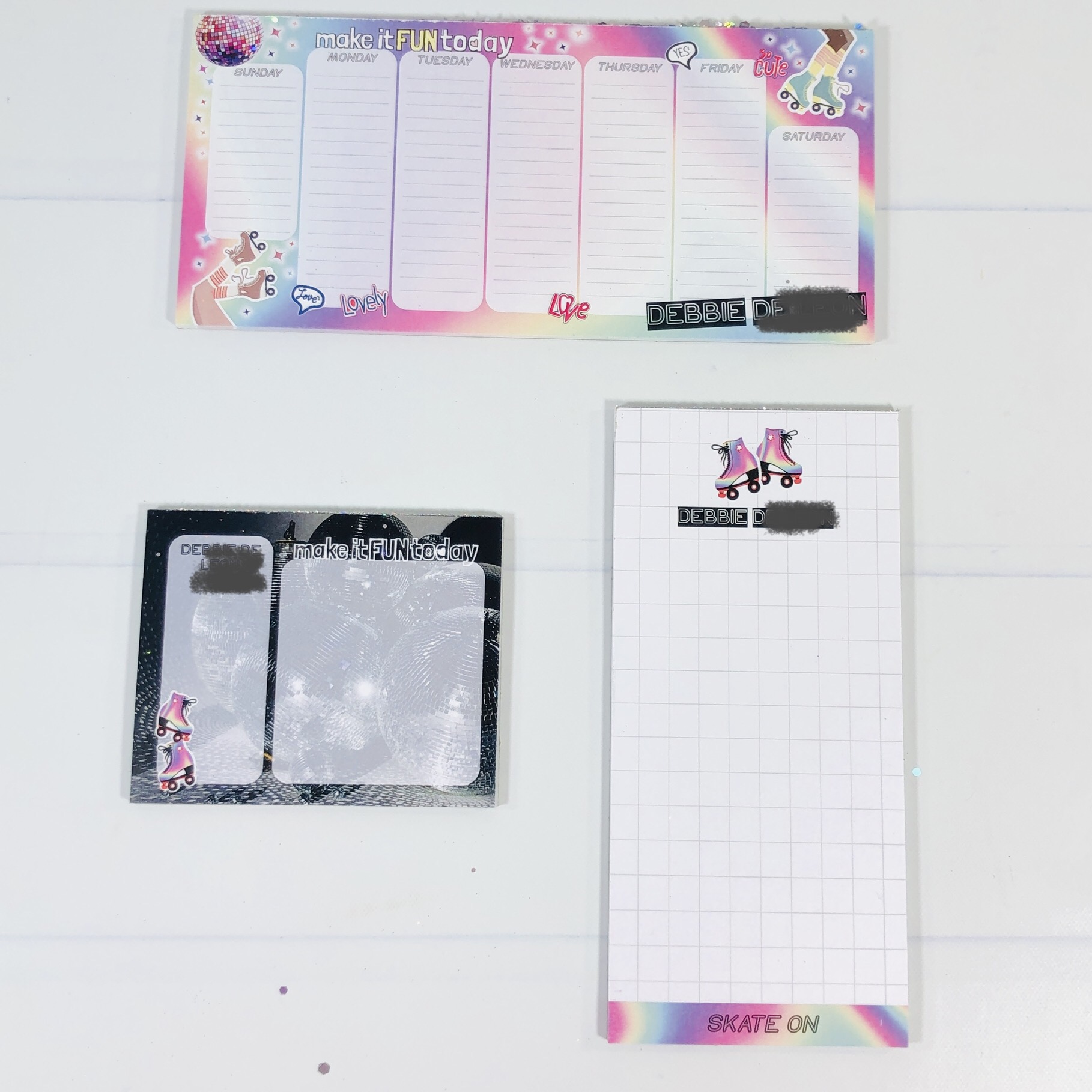 Notepads The notepads in this subscription are always adorable and have unique touches. I received three different kinds. The top pad measures 8″ x 3.75″ and has space to write a to-do list for every day of the week. The pad on the left is 3.25″ x 4″ and the pad on the right is 7″ x 3″. I lost count but I think they have 30 pages each.
One pad was glued together with chunky glitter while the other two have fine glitter. I have never encountered any notepad like these and I am loving it!
BFF Roller Skates Card is 4.5″ x 5.5″ and comes with a white envelope. The inside says "Thank you for always skating by my side" and has my name underneath.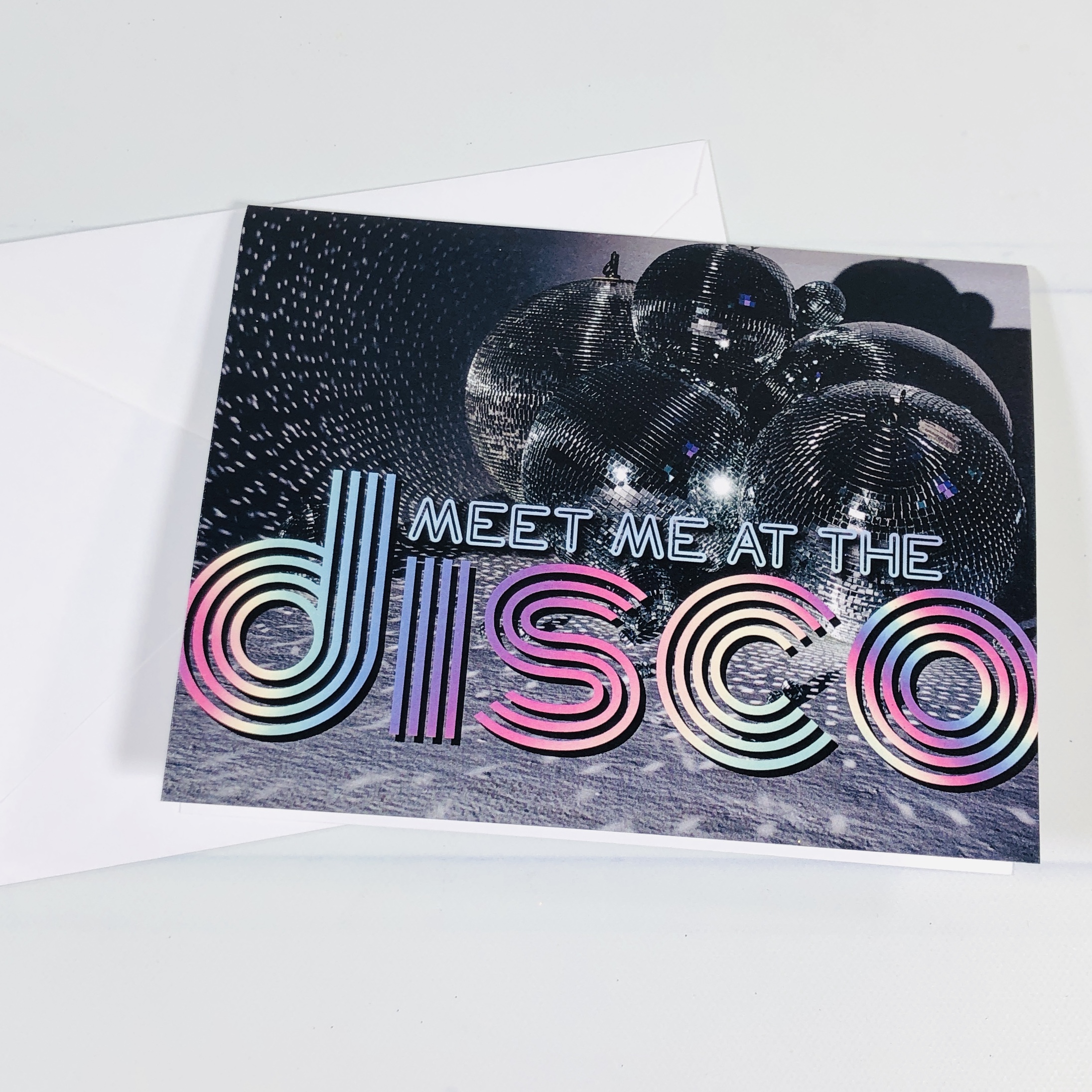 Meet Me At The Disco Card is 4.5″ x 5.5″ and comes with a white envelope. The inside says "I hope this card makes your day brighter. Skate on, my friend!" and has my name underneath.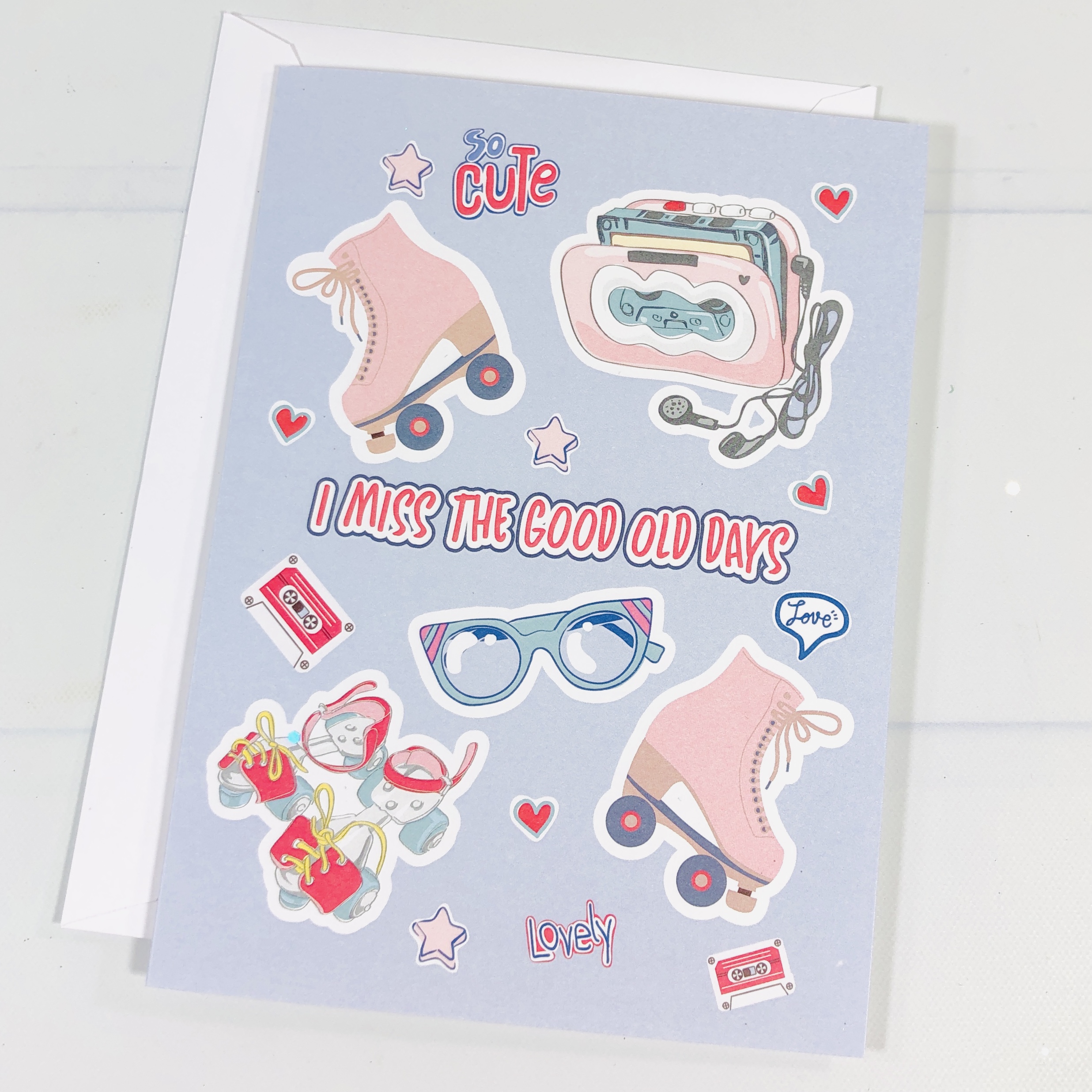 I Miss The Good Old Days Card is 5″ x 7″ and comes with a white envelope. It is blank on the inside.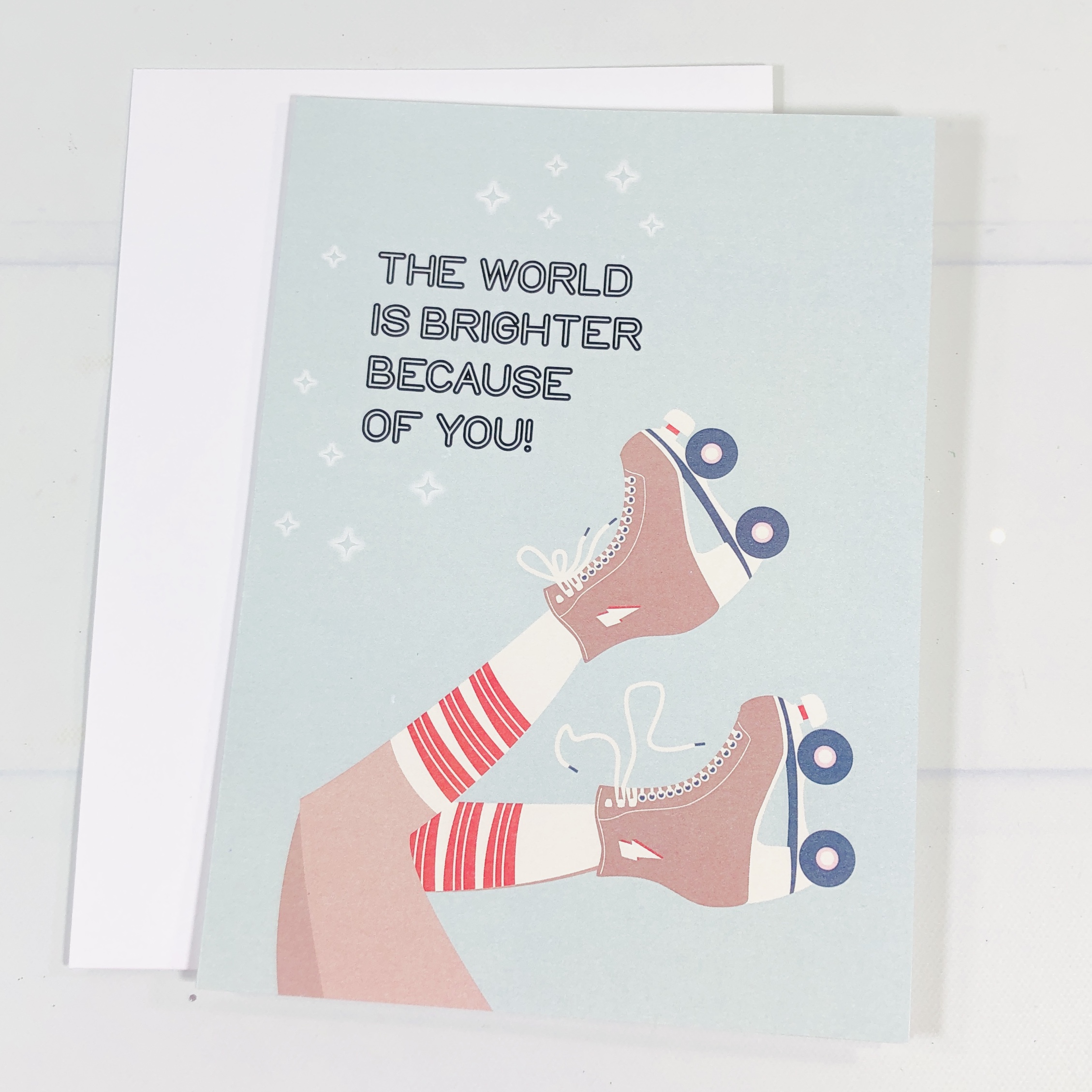 The World Is Brighter Because Of You Card is 5″ x 7″ and comes with a white envelope. It is blank on the inside.
My Paper Box always has such cute stationery items and adorable themes. As someone who was child when disco was big (and who spent a LOT of time at the roller rink!) I have to say this month's box seemed curated just for me! I am especially thrilled with the glitter glued notepads, and yes they are a little messy but as a former preschool teacher that is not big deal to me. I just think of them as super small mirrored disco balls! The cards are sure to brighten up someone's day and the pencil pouch makes me smile whenever I see it. So much thought goes into this box and as always I'm excited to see what's coming in next month, but how can they top this?
What do you think of this month's box?