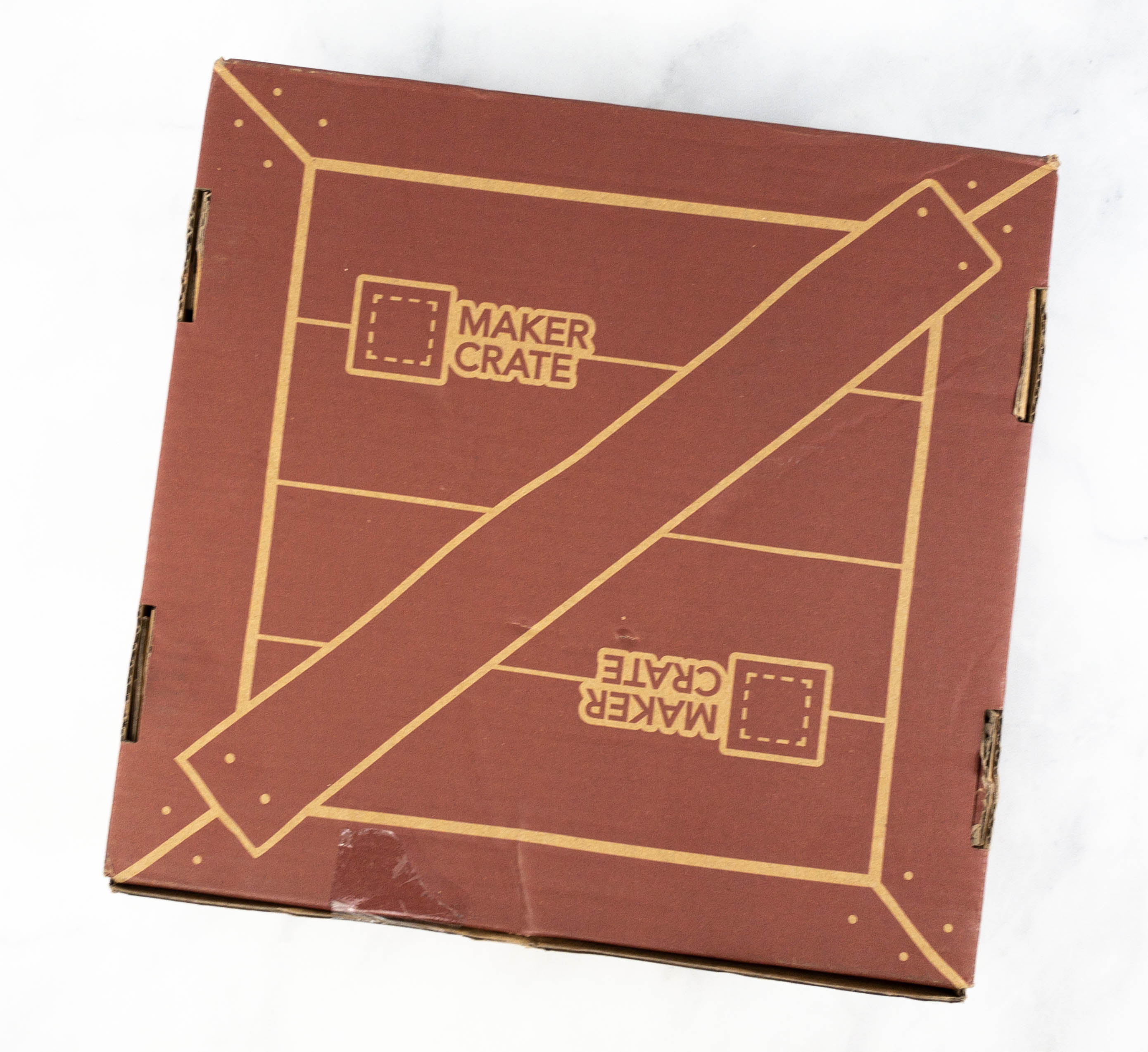 Maker Crate is a monthly craft box from KiwiCo, which provides makers and crafters ages 14 to 104 with projects that introduce new craft techniques and design tools. Each box will include materials and tools for the project plus a booklet that shares the real-world applications and the history behind each art form or design. They also promise that the end product for each project is always fun and functional. Some of the skills you can learn through this subscription may include paper marbling, metal sculpture, dip-dye painting, macrame, loom knitting, hand lettering, embroidery, and more. The subscription is $24.95 a month, with free shipping in the US. KiwiCo's Maker Crate was voted as the best craft & DIY box for 2021 and the best subscription box for teens.
DEAL: Save 30% on your first month! No coupon code needed, just use this link to subscribe! (also valid on the other KiwiCo family subscriptions Kiwi Crate, Koala Crate, Panda Crate, Atlas Crate, Doodle Crate, Tinker Crate, and Eureka Crate).
This month's project is Needle-Felted Electronics Case!
Learn needle-felting techniques to decorate a custom case and carry your device in style!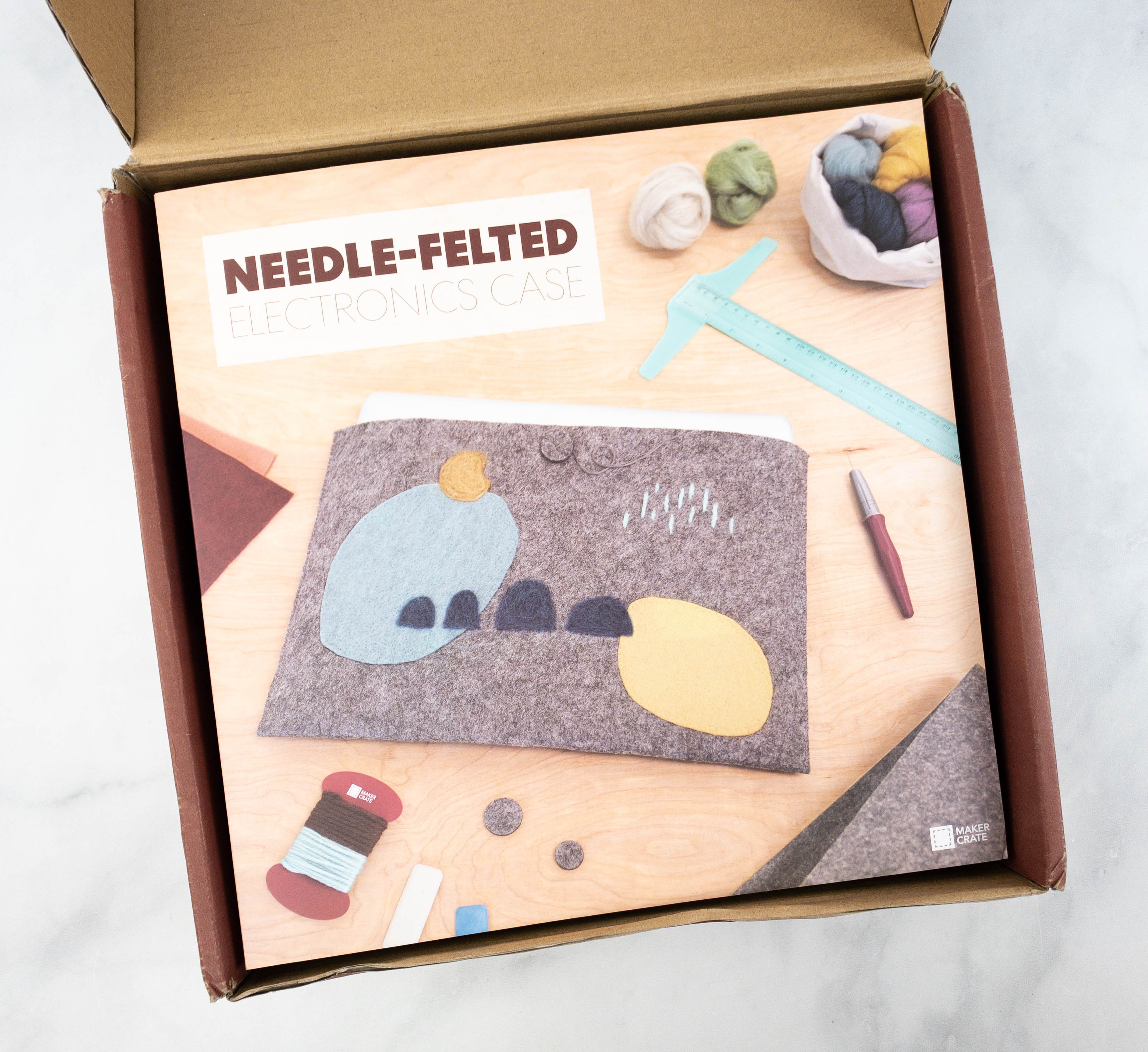 On top of the materials is a card featuring this month's project!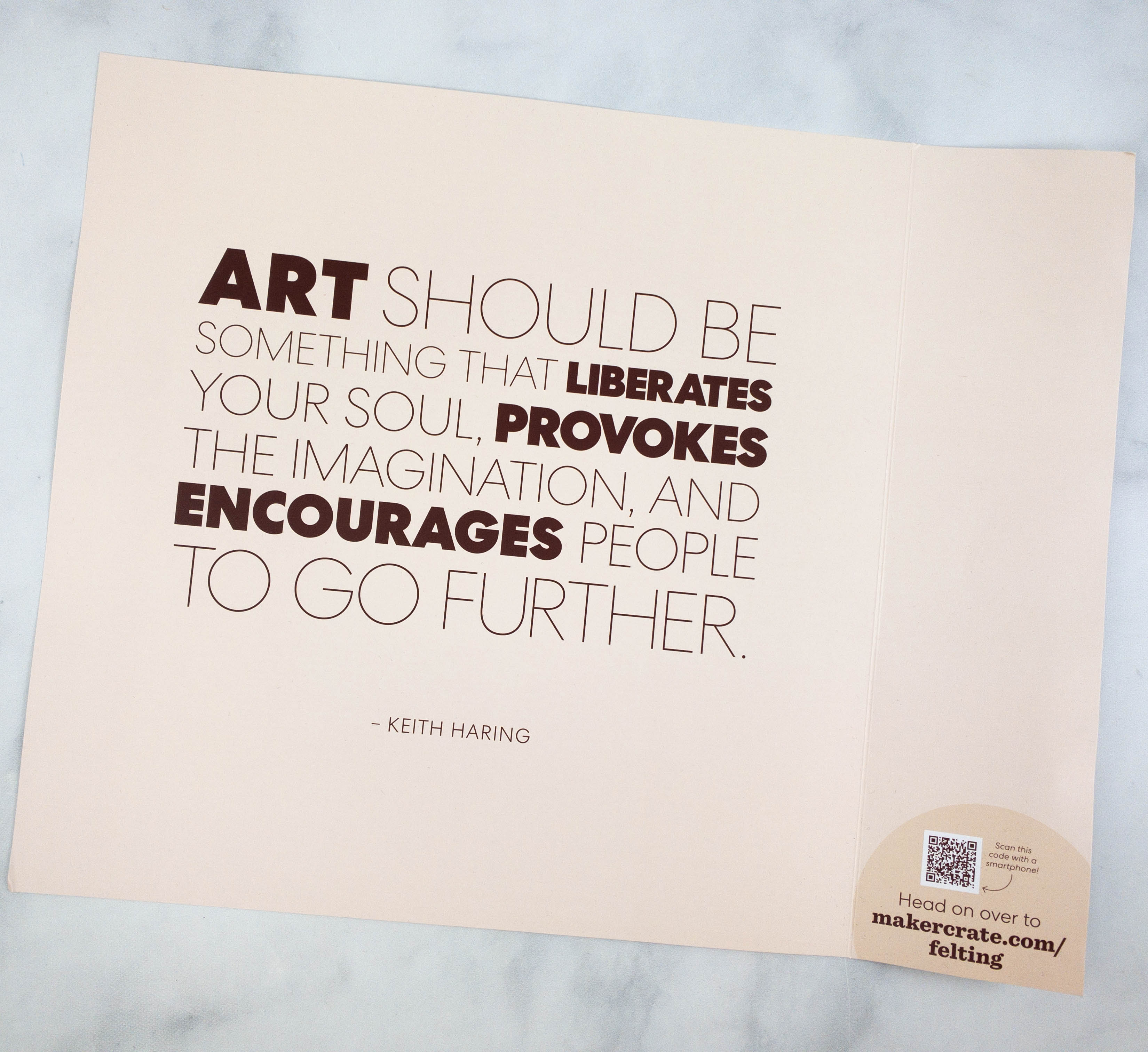 Art should be something that liberates your soul, provokes the imagination, and encourages people to go further.

– Keith Haring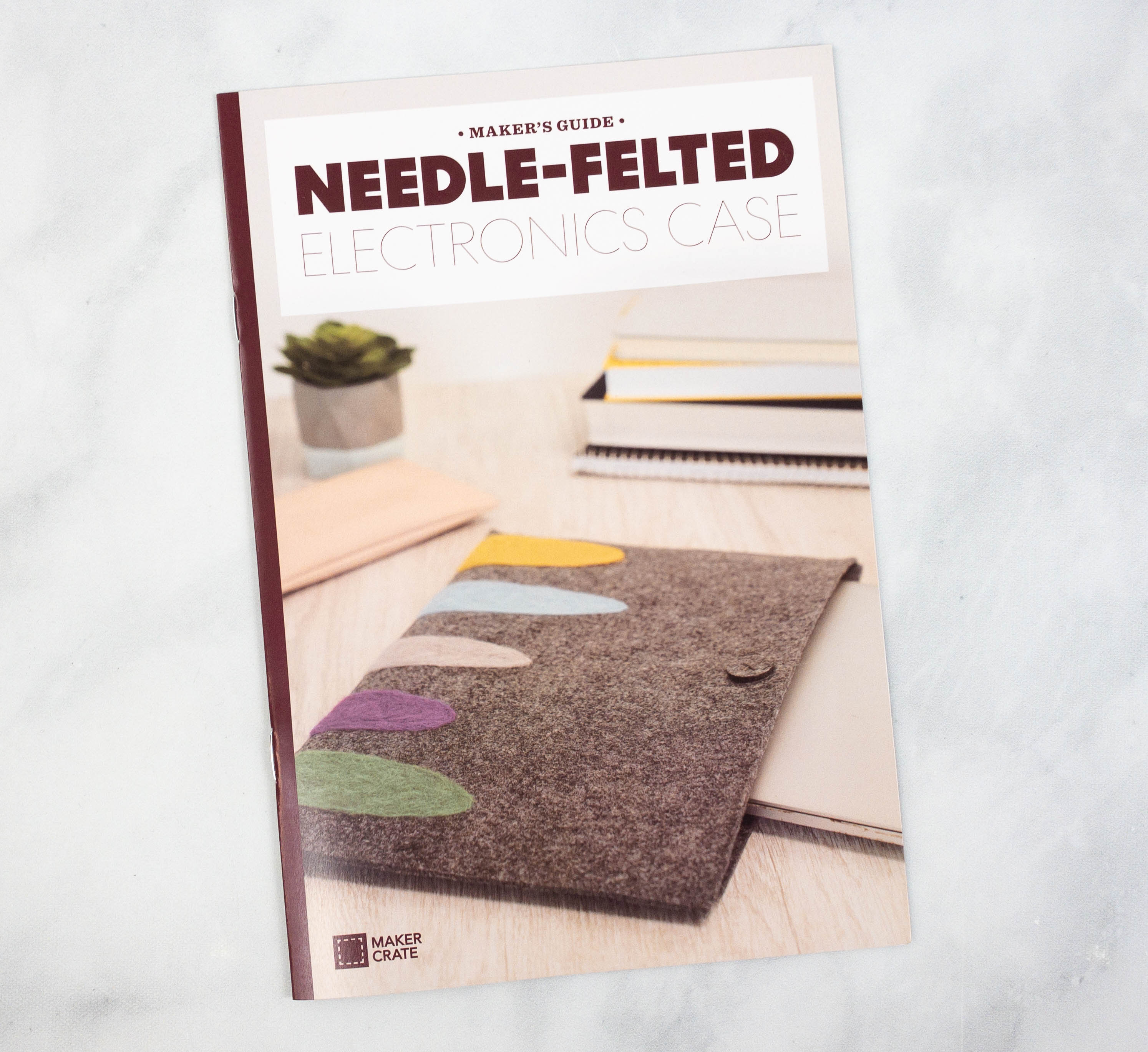 Like the other crates from KiwiCo, Maker Crate includes a booklet.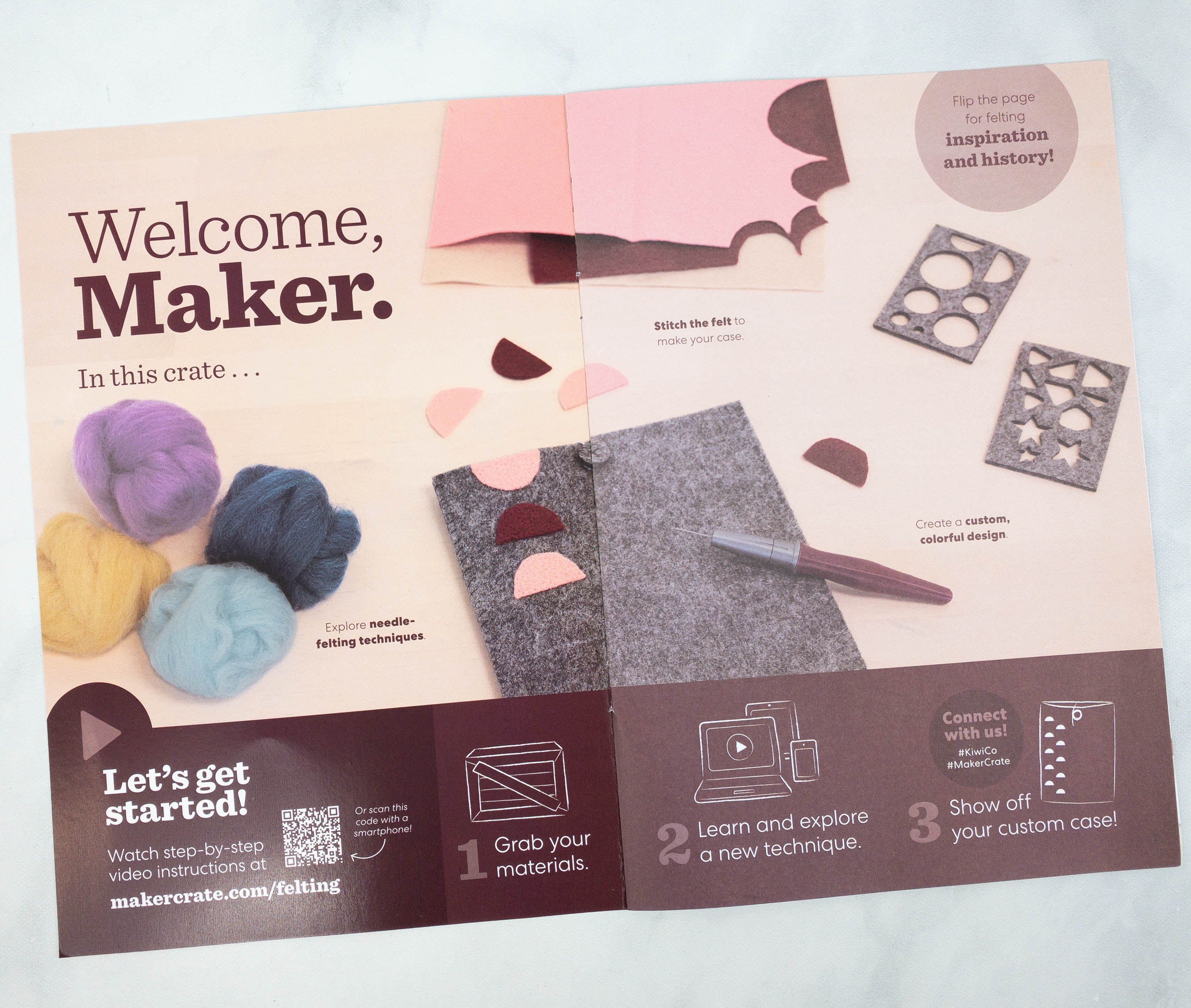 The booklet has an overview of this month's project. There's also a step-by-step video instruction for the project, available on their website!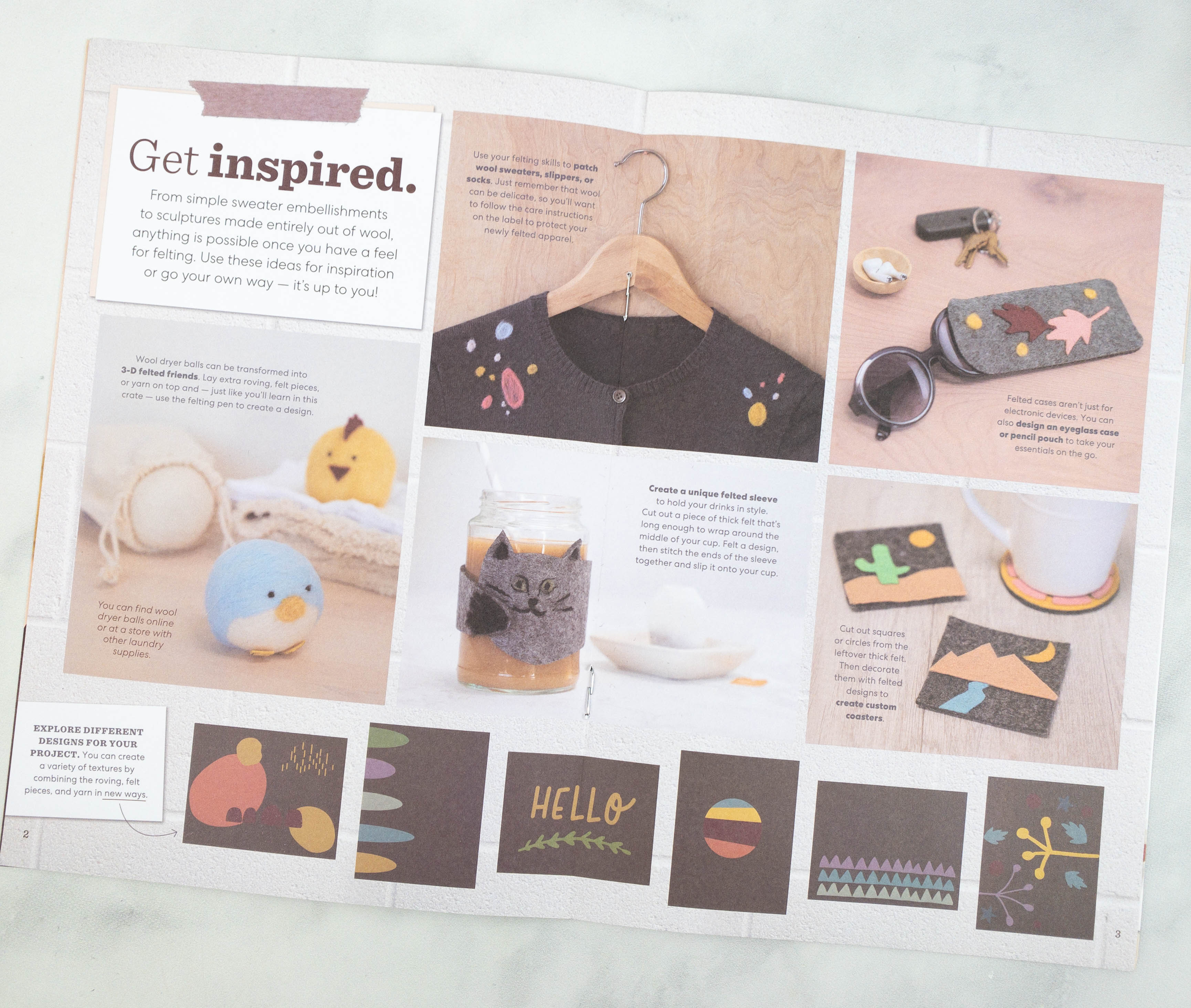 Featured on this part of the booklet are some photos that can be used as inspiration in creating the project.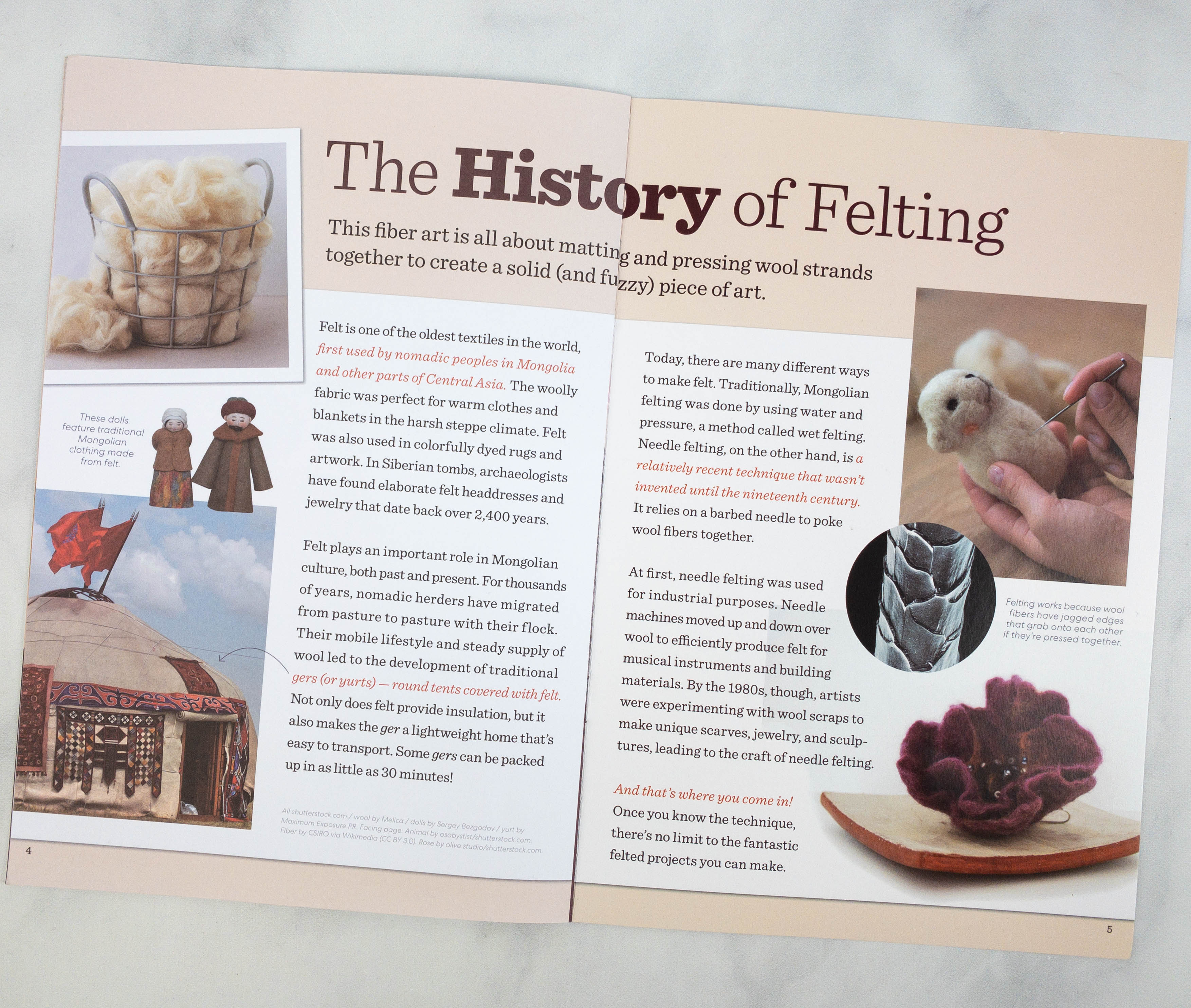 It also discussed the history of felting. Apparently, felt was first used by nomadic peoples from Mongolia and other parts of central Asia.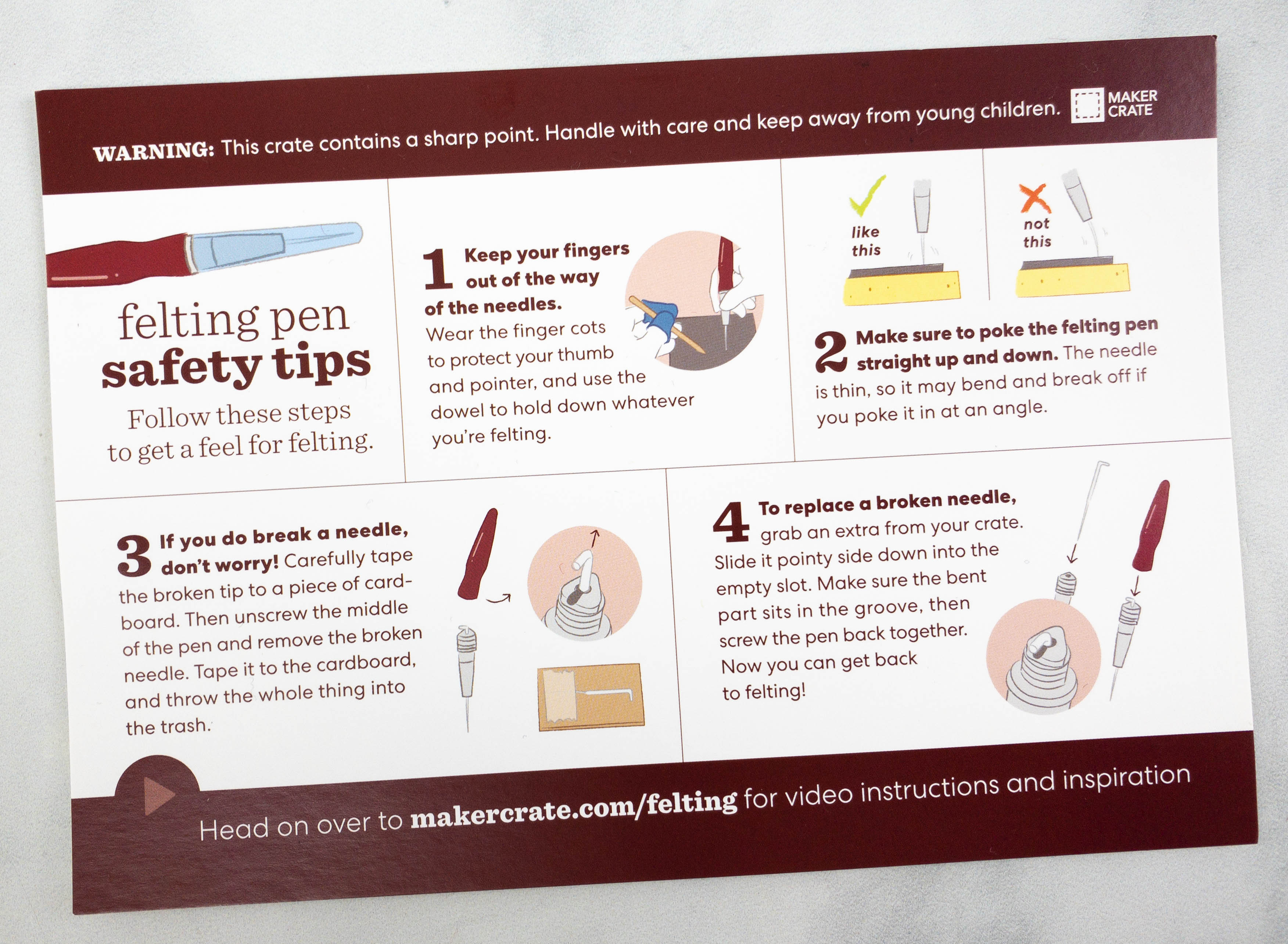 Another card features safety tips when using a felting pen tool, including keeping your finger away from the needle and poking the felting pen straight up and down. They even showed how to replace a broken needle.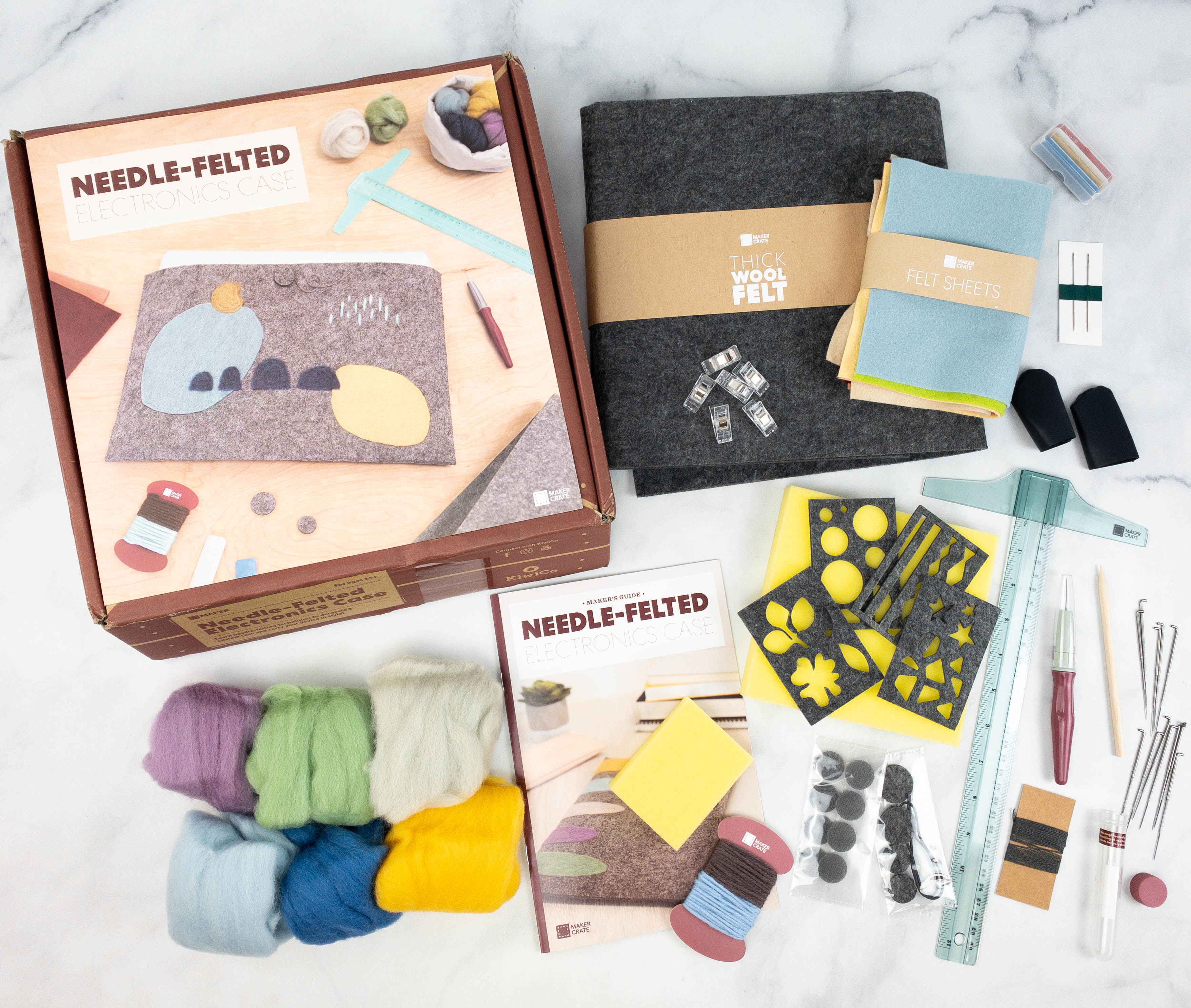 Everything inside the box!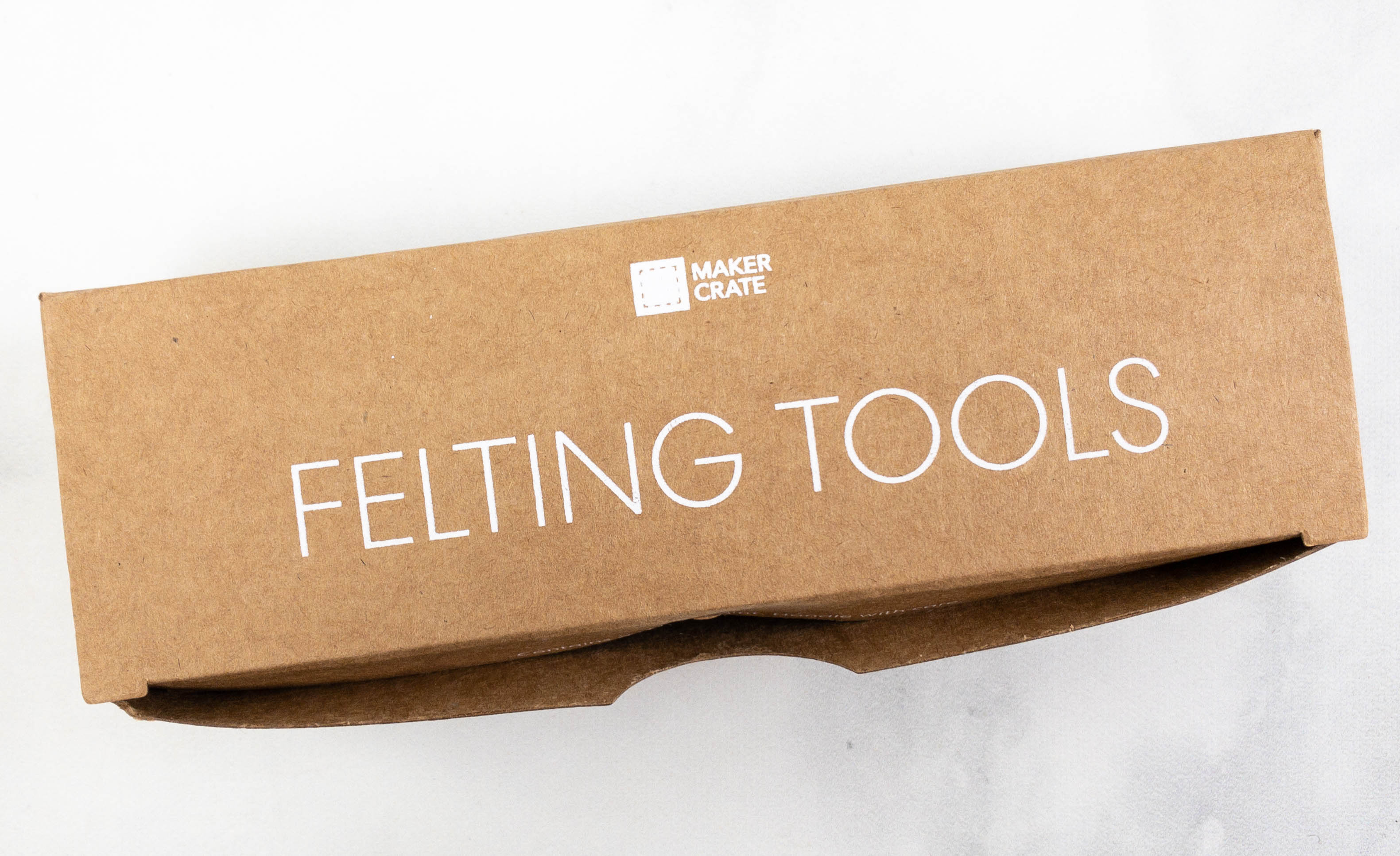 The materials were packed in a labeled brown box.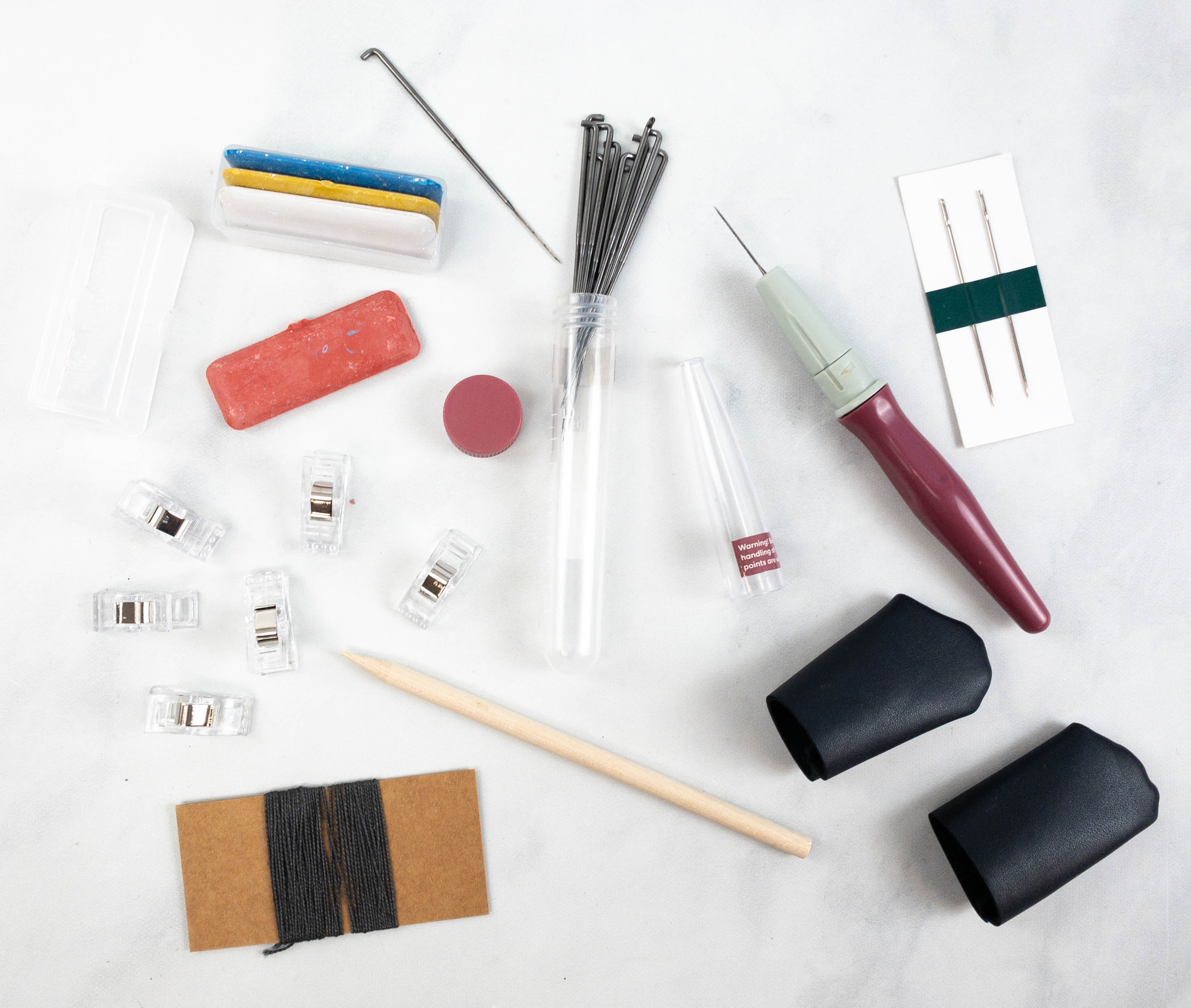 Maker Crate Main Project: Needle-Felted Electronics Case. The materials they sent for this project are clips, felting pen, felting needles, thread, dowel, sewing needles, and finger cots.
There are also stencils for the designs, felt circles, hook-and loop-fasteners to secure the case. The provided yarns are in red and blue.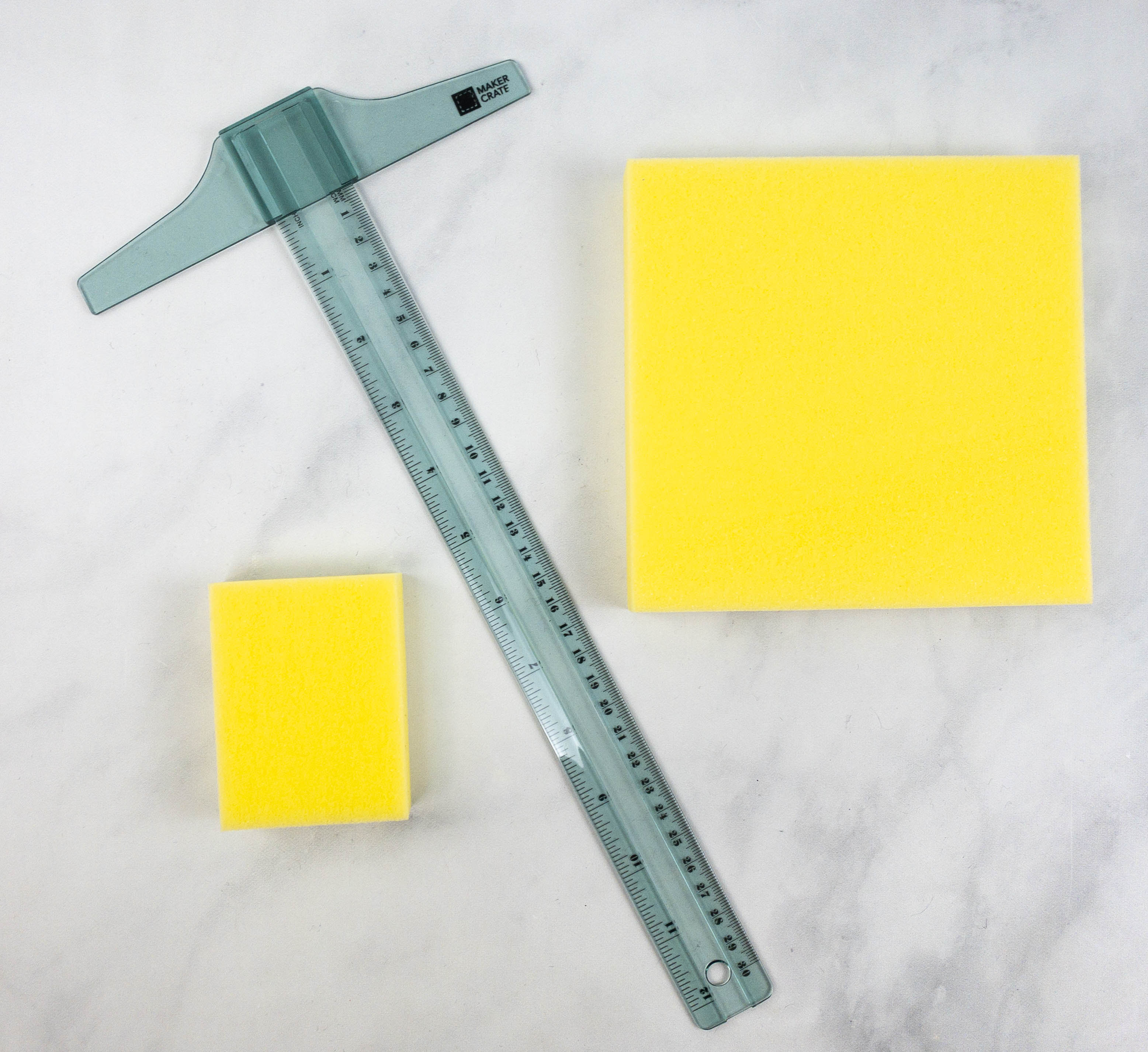 Here's the provided T-square and 2 foams that will serve as the cushion when you're designing your case.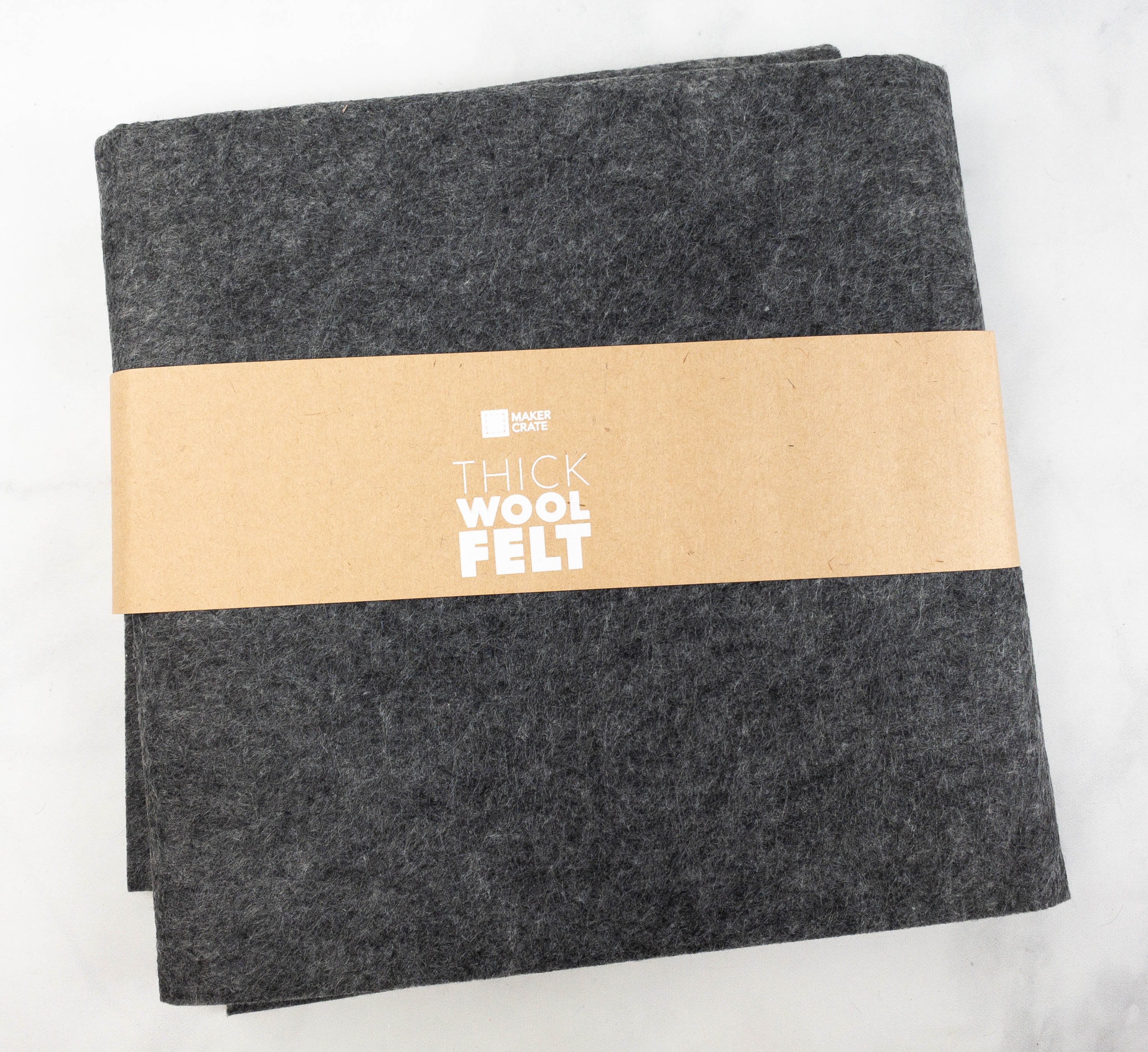 Next up is the thick wood felt. It was cradled by a brown paper packaging.
Also included in the crate are felt sheets and they came in different colors!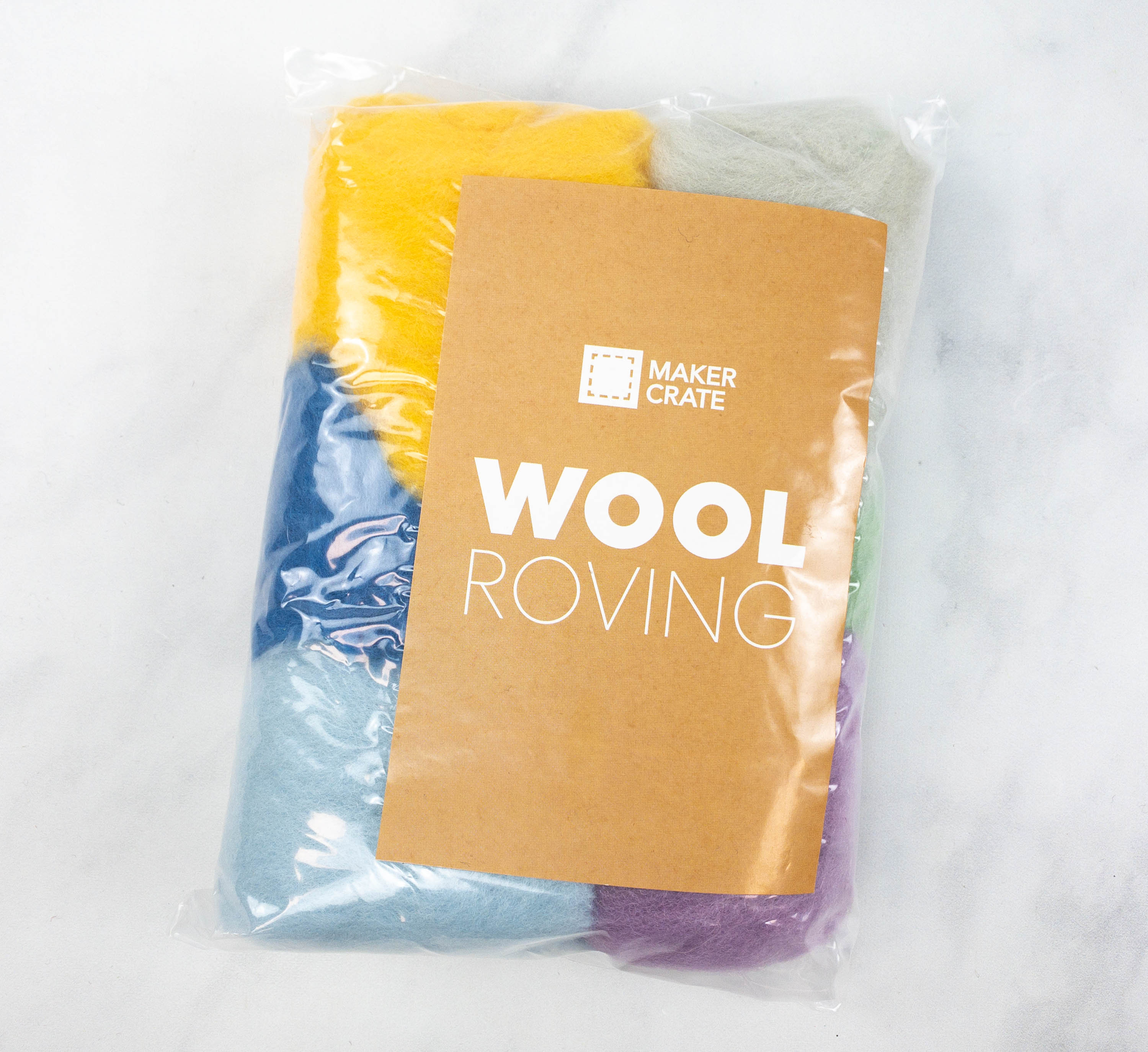 The wool roving was packed in plastic.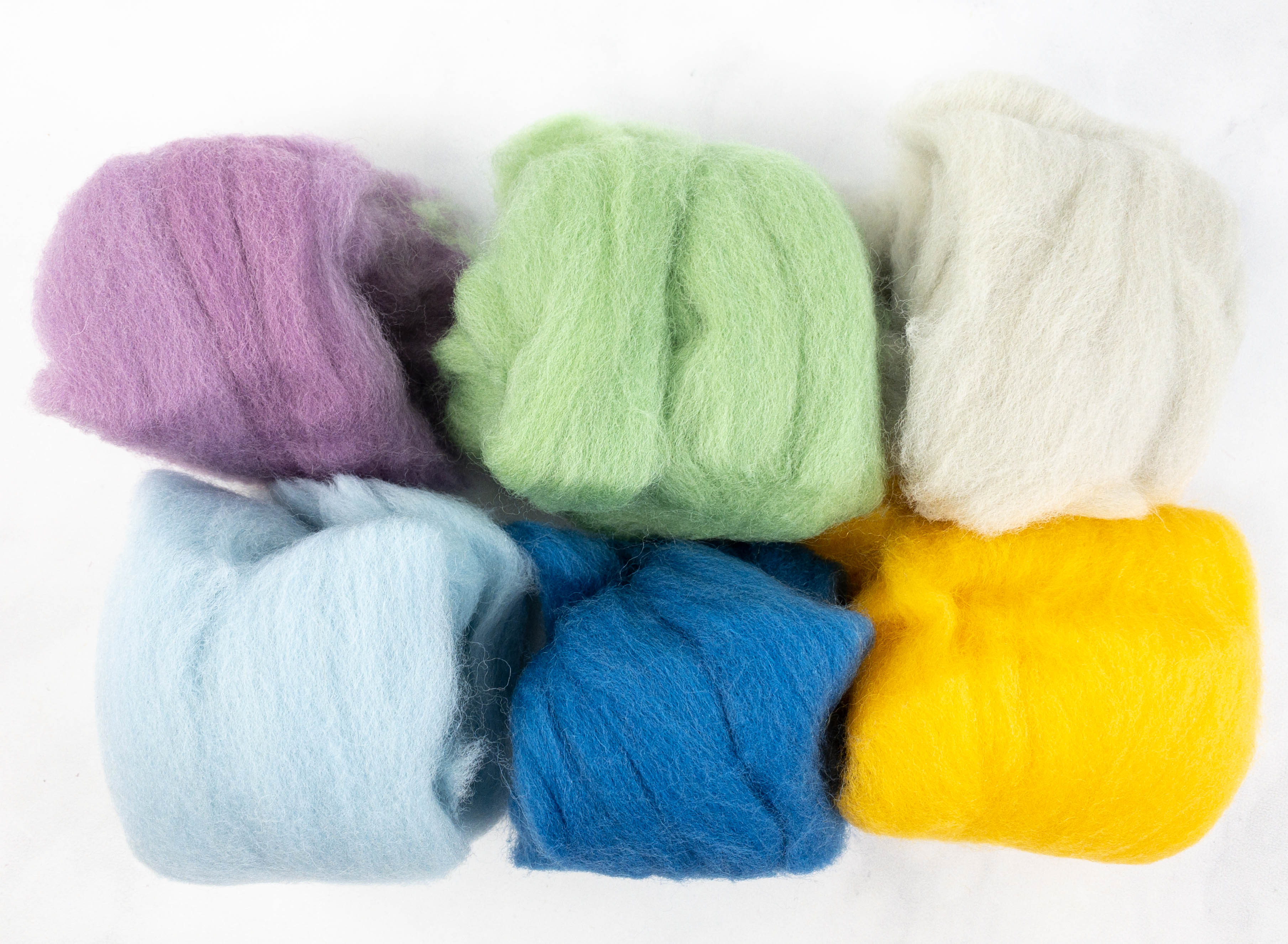 The wools come in purple, light green, white, light blue, dark blue, and yellow.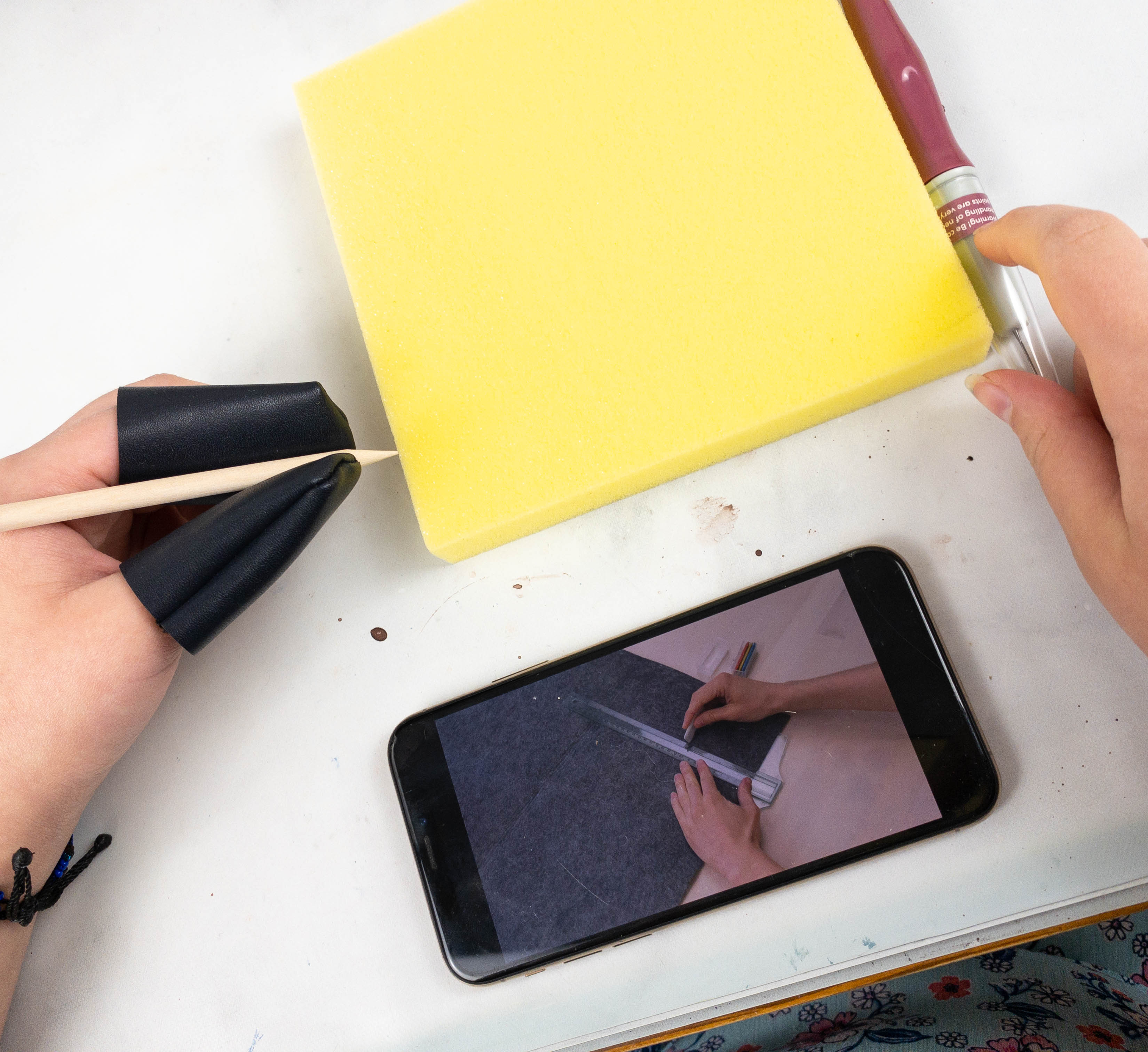 Before proceeding with the project, we used the QR code to watch the quick tutorial about needle felting.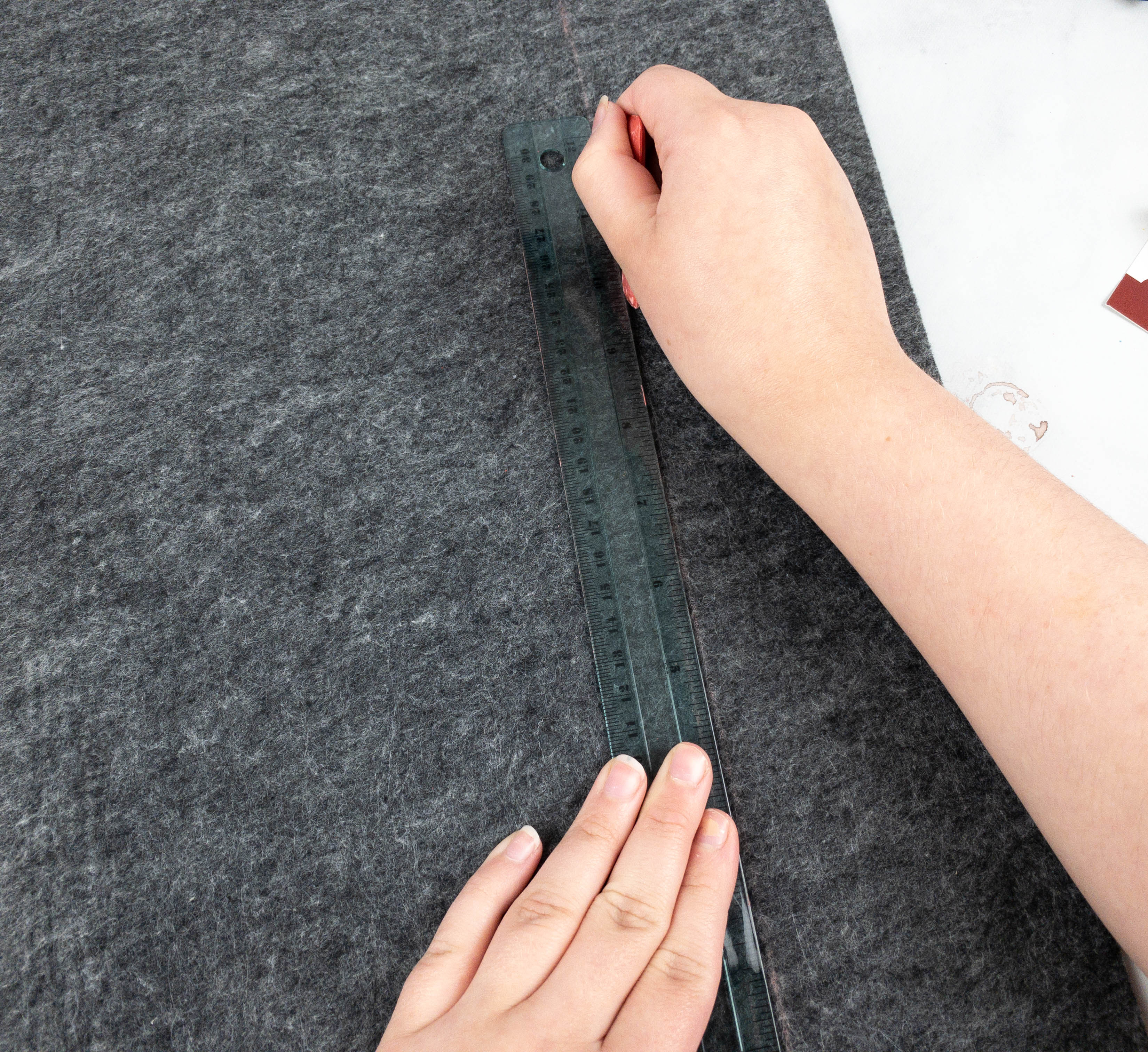 The first step is to use the T-square to measure the needed thick wool felt to create the case, mark it, and then cut. You decide whether you want to make a case for your smartphone, tablet, e-book reader, or other gadgets.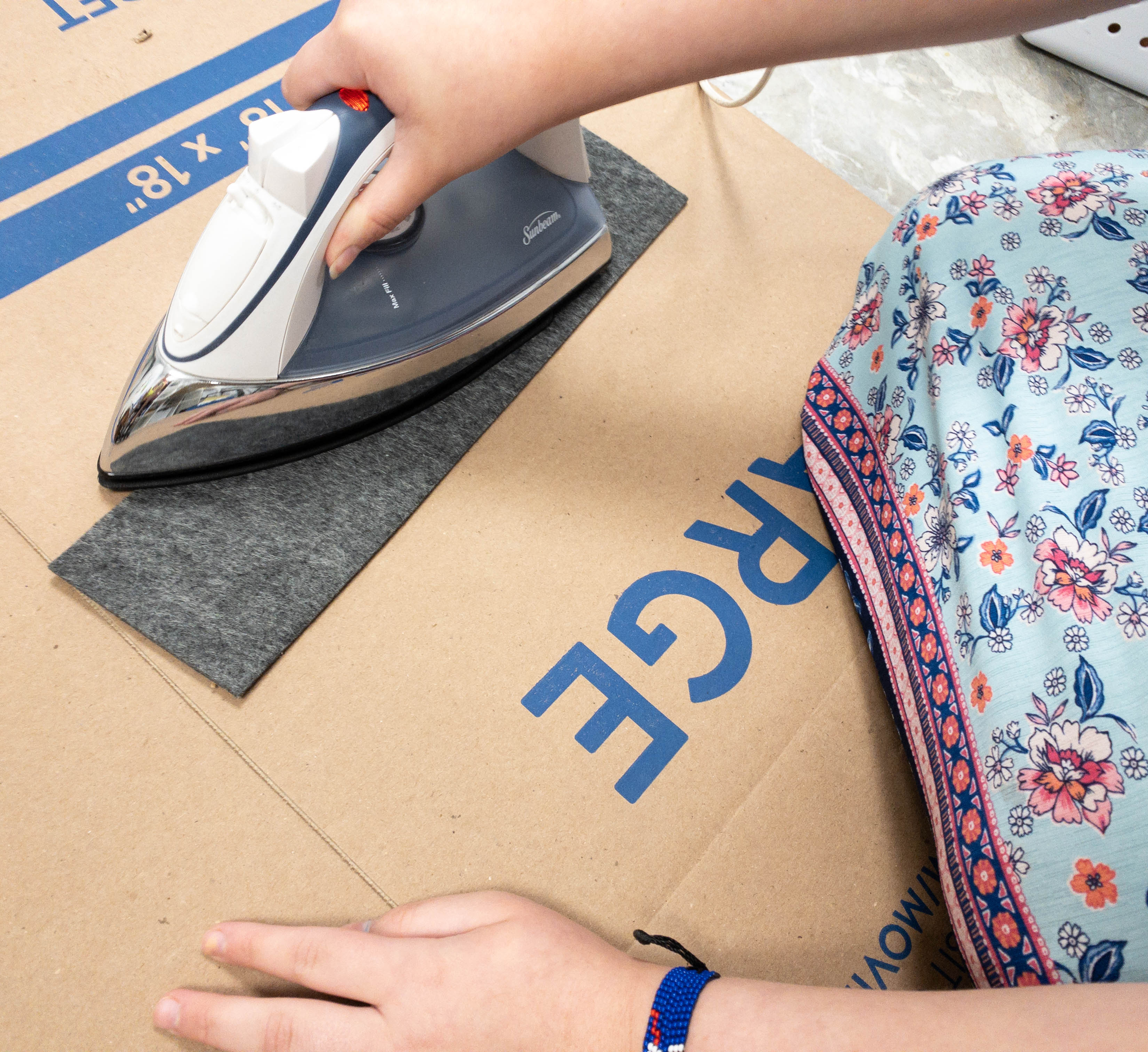 This one is a case for a smartphone! After cutting the thick wool, flatten and remove the creases using an iron. This should be easy for adults and older teens but younger teens who are not yet familiar with ironing would need adult supervision.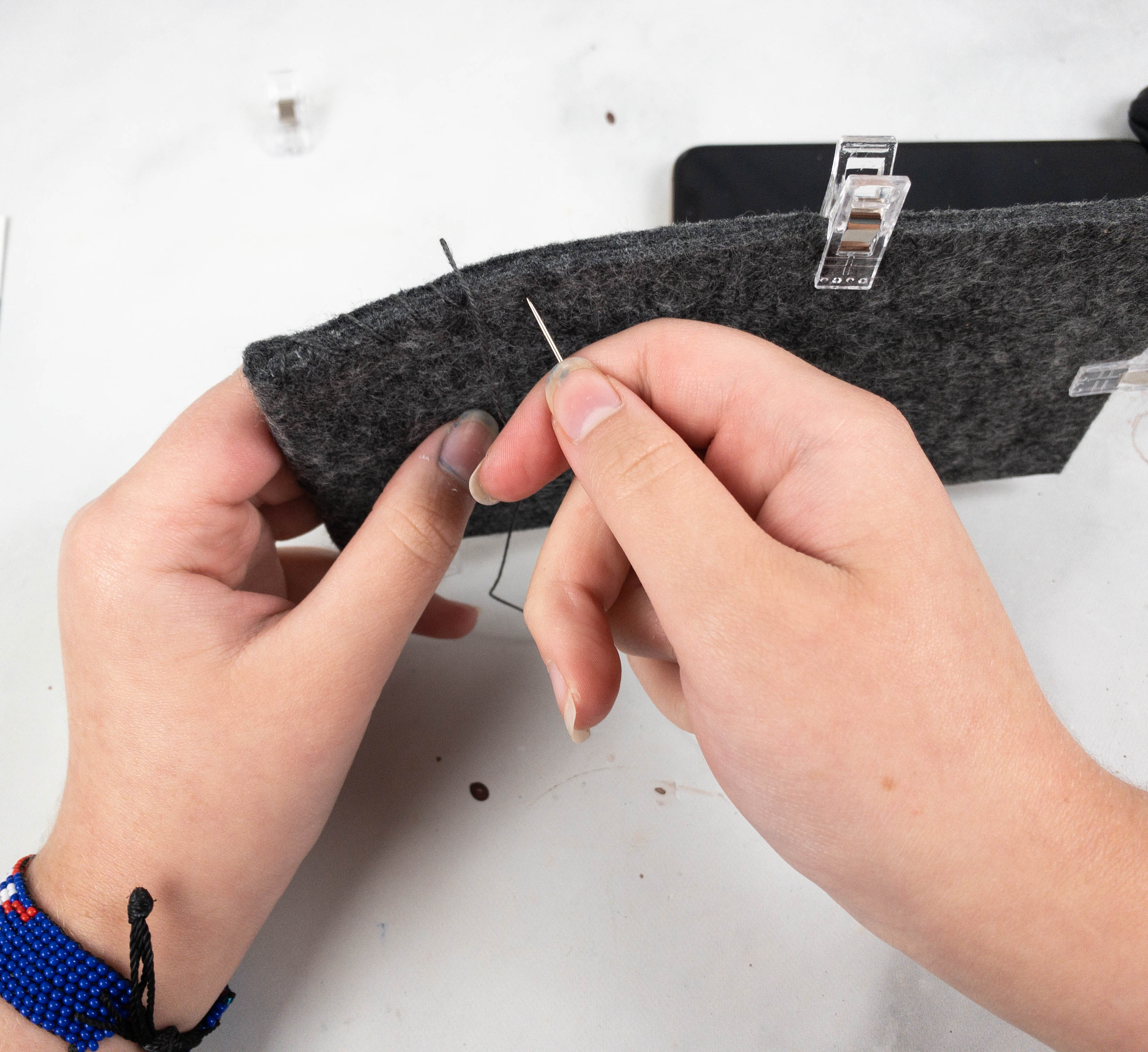 Now, it's time to sew the edges of the case!
Use the provided clips to hold the two pieces of thick wool together, so you can sew them with ease.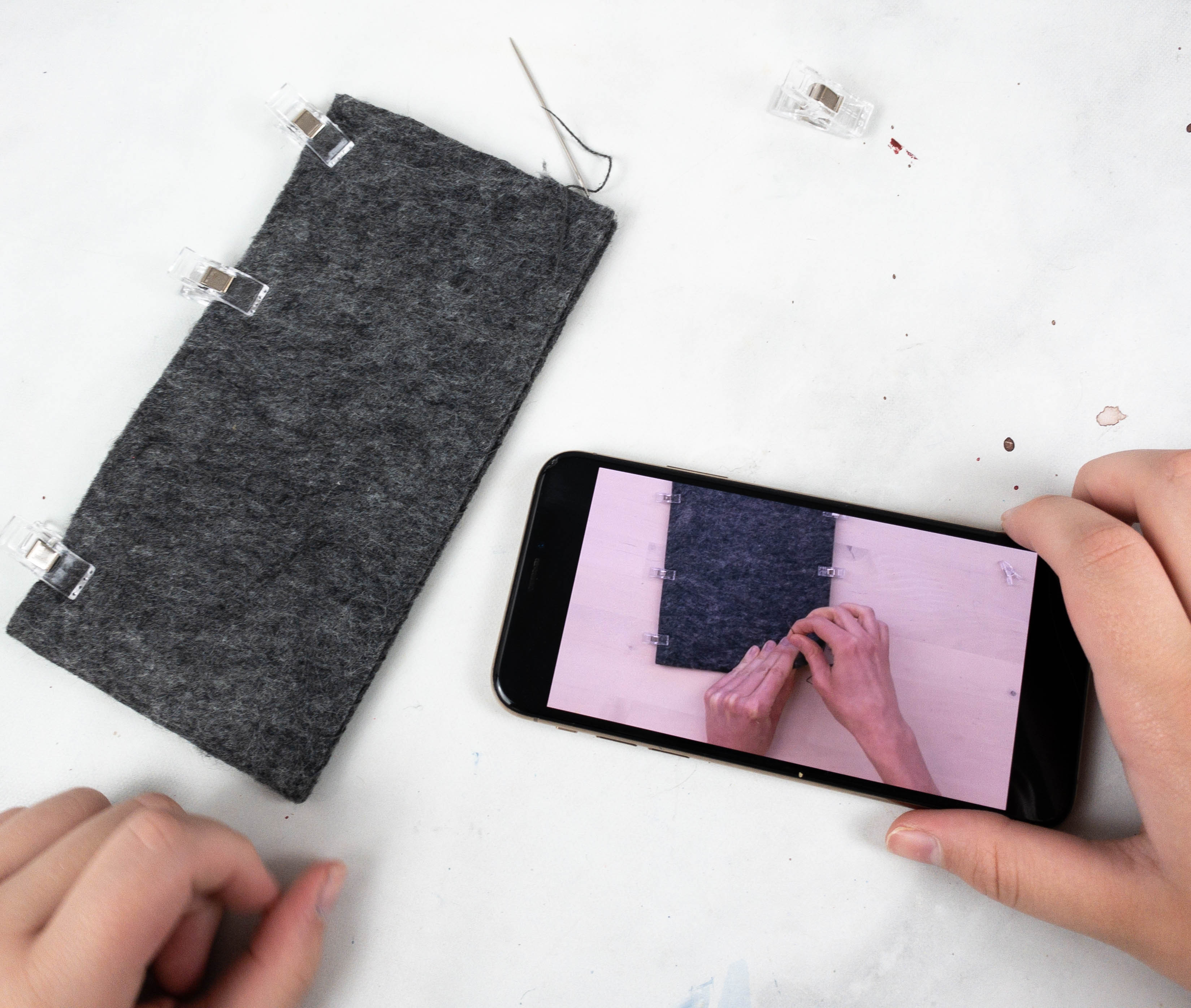 This is a great way to refresh one's sewing skills. In case you're having trouble, you can always pause and go back to the tutorial video.
Make sure to secure the stitches properly, especially on the ends, so they won't easily break apart once you use the case.
Now, it's time to personalize this phone case using the colorful felt sheets and the wool roving.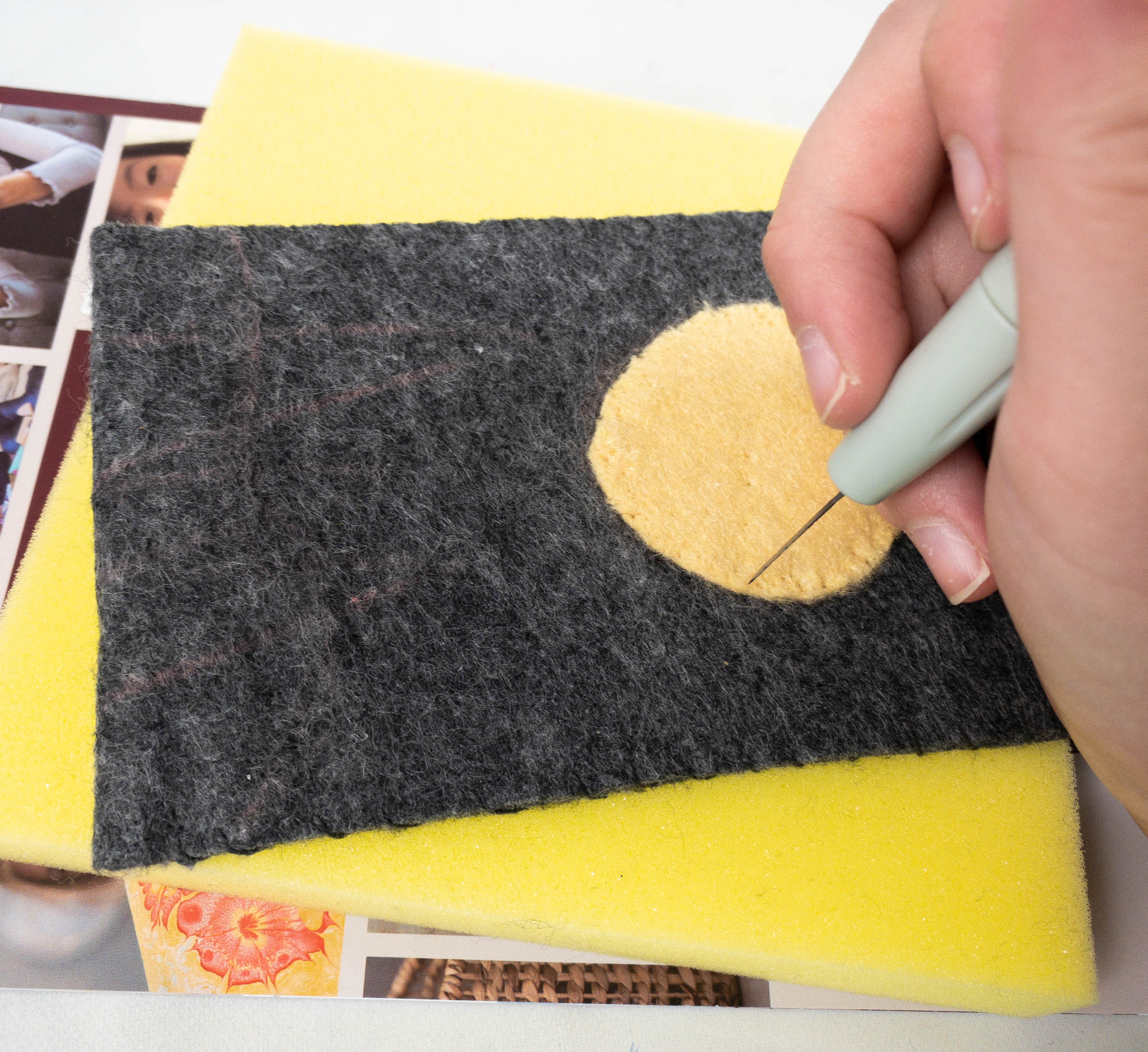 Cut any shape you want from the felt sheet, put it where you want it and then get the felting pen and start to poke on the shape. You can wear the provided finger cots while needle felting.
Poke it until the shape seamlessly combines with the thick wool.
You can also use the wool roving to add more colors and shapes.
The great thing about this is that you can be as creative as you want with your felt case designs!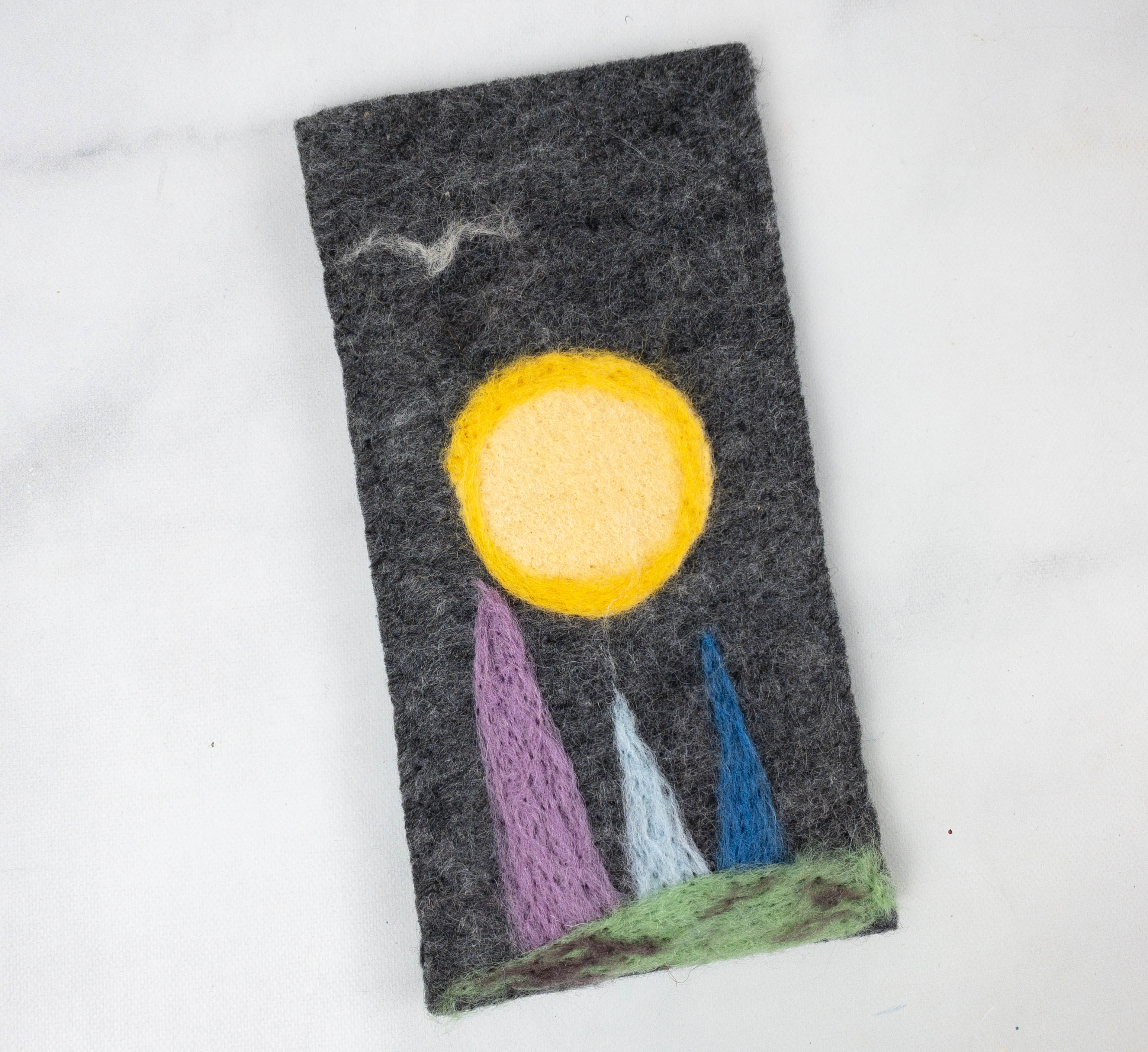 Here's the finished product! It's a nature themed design featuring a big moon over trees.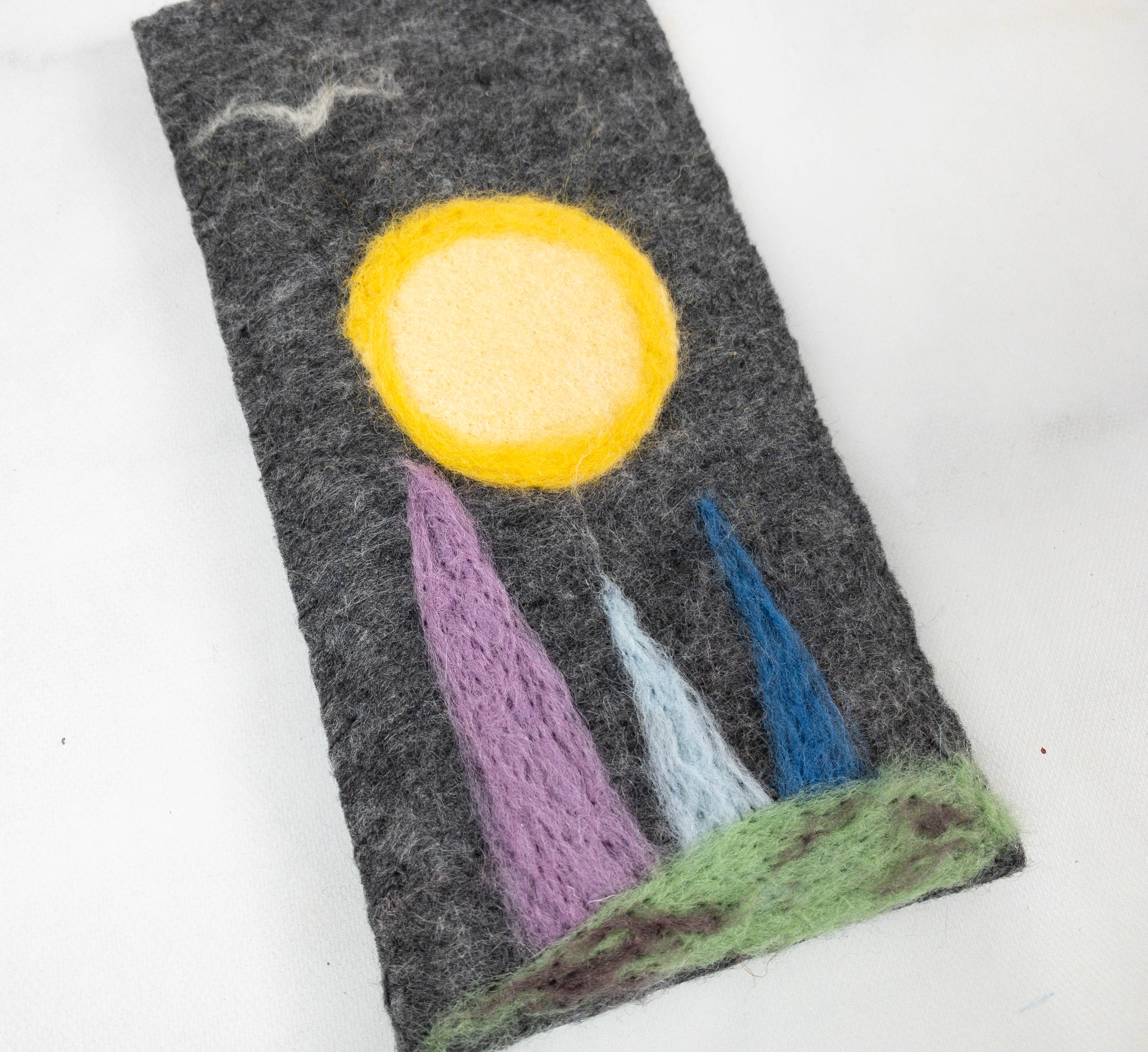 The design looks gorgeous! The wool roving added a unique and realistic effect.
The last step is to put the hook-and loop-fastener to secure the gadget inside.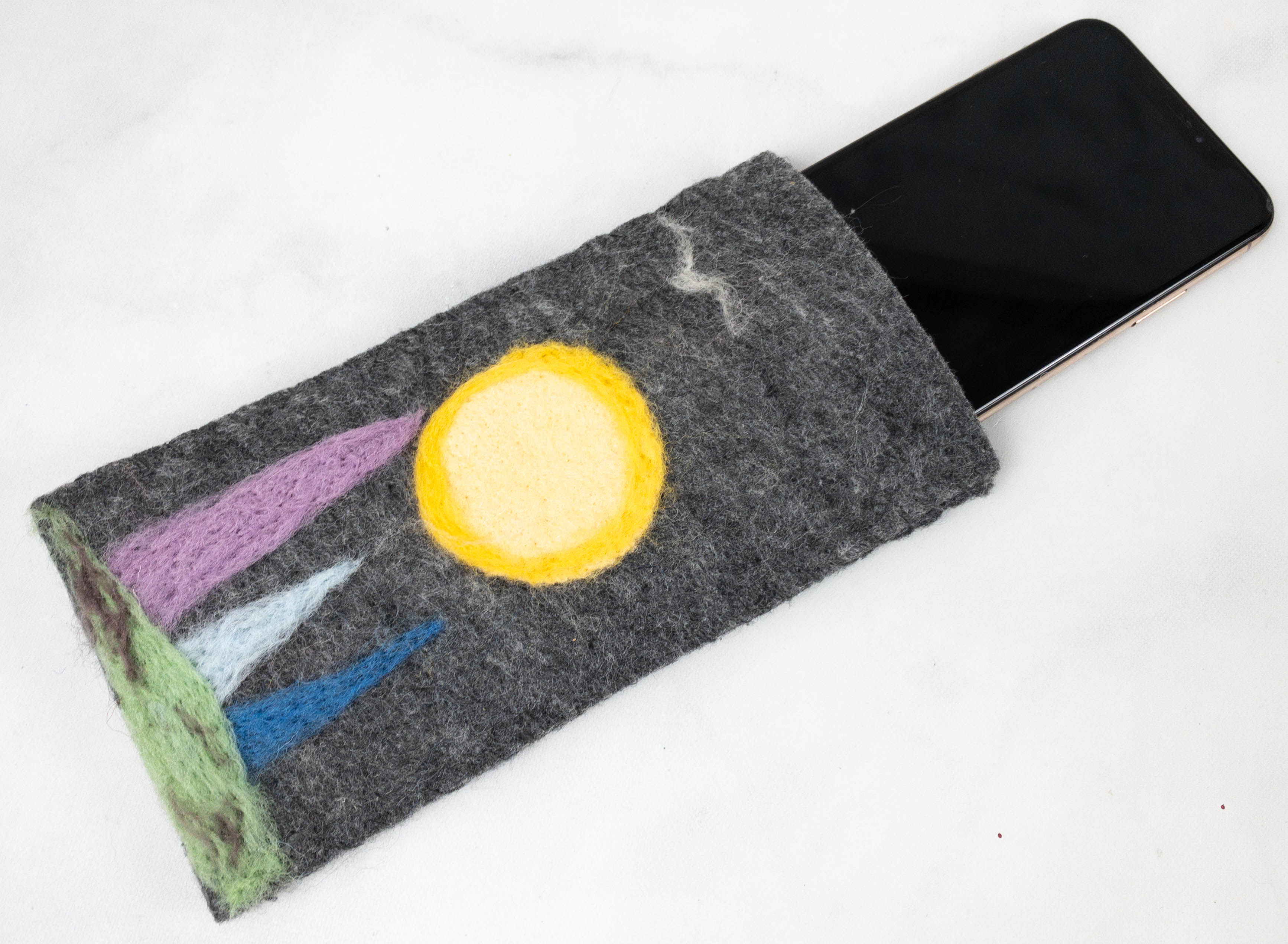 Here's a final look at the gadget case. It fits a smartphone perfectly!
Maker Crate projects for teens and adults are always fun and exciting to make! This month, they provided materials for making a needle felted electronic case. Of course, they also included a booklet filled with inspiration for the project and an easy-to-follow video tutorial via QR code. My daughter (she's 12) made a phone case and it turned out pretty. This is a great way to unleash creativity since you can choose what design you want for your case. You can use the colored felt sheets, the wool roving, or both! The stencils are a great help for beginners, but even without them, it's easy to create beautiful needle felt designs! It's also nice that the crate included lots of materials so we can create different cases for the whole family! Overall, I love this crafting subscription box because it helps keep us productive and creative. It also makes a great bonding opportunity, if you want to do the project with family members!
What do you think of this Maker Crate project?