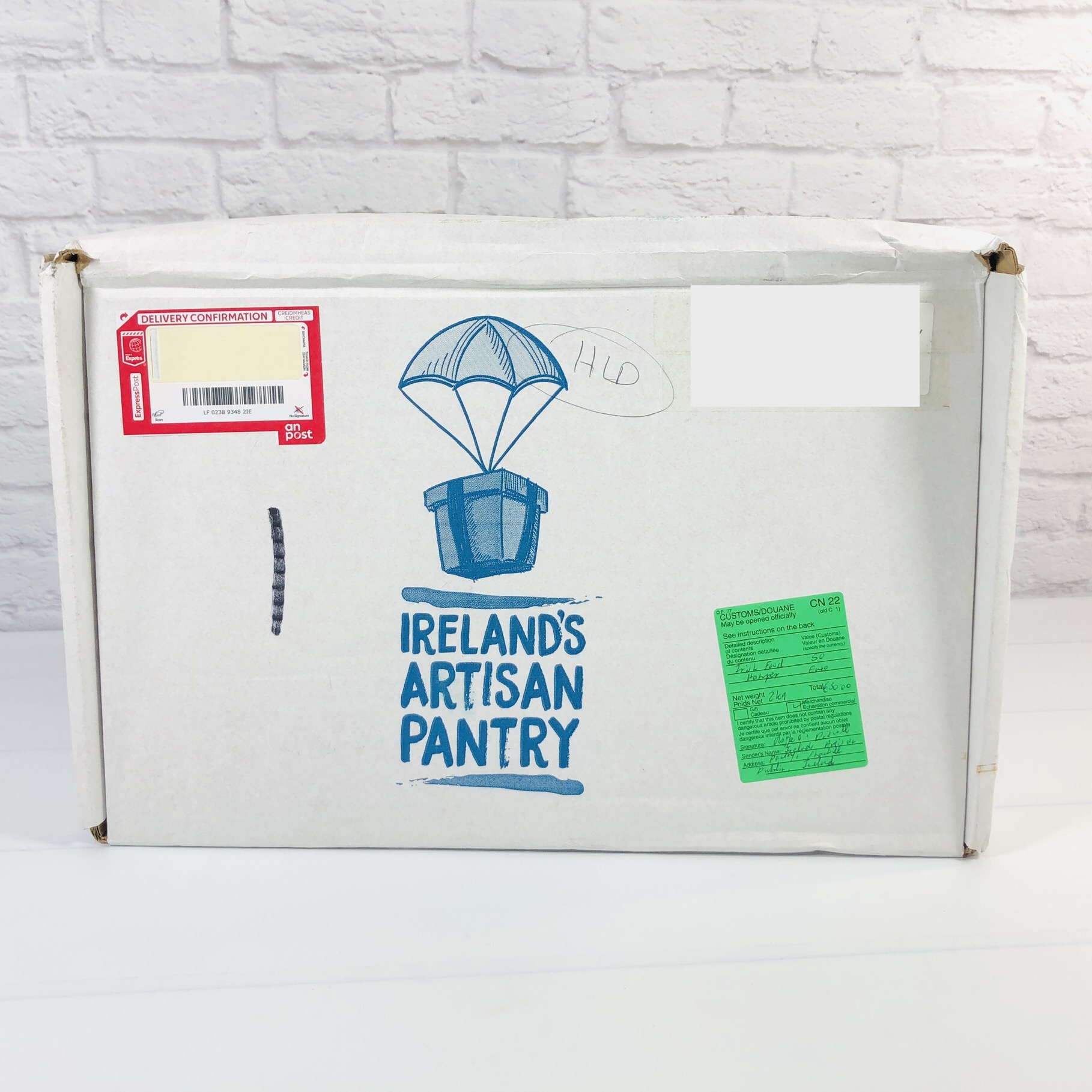 Ireland's Artisan Pantry is a monthly food subscription box offering authentic foods made by small-batch makers across the island of Ireland. Subscribers will receive at least 6 full-sized products including chocolate, crackers, biscuits, relishes, and jams from a different Irish region along with an informational leaflet that describes how to use them, the makers, and the region of Ireland they are from. The box is €49.99 a month (around $59 USD) and shipping is extra. The price drops a bit with longer subscription terms.
This is my very first box from Ireland's Artisan Pantry and it shipped directly from the Emerald Isle!
My items were cushioned with shredded paper.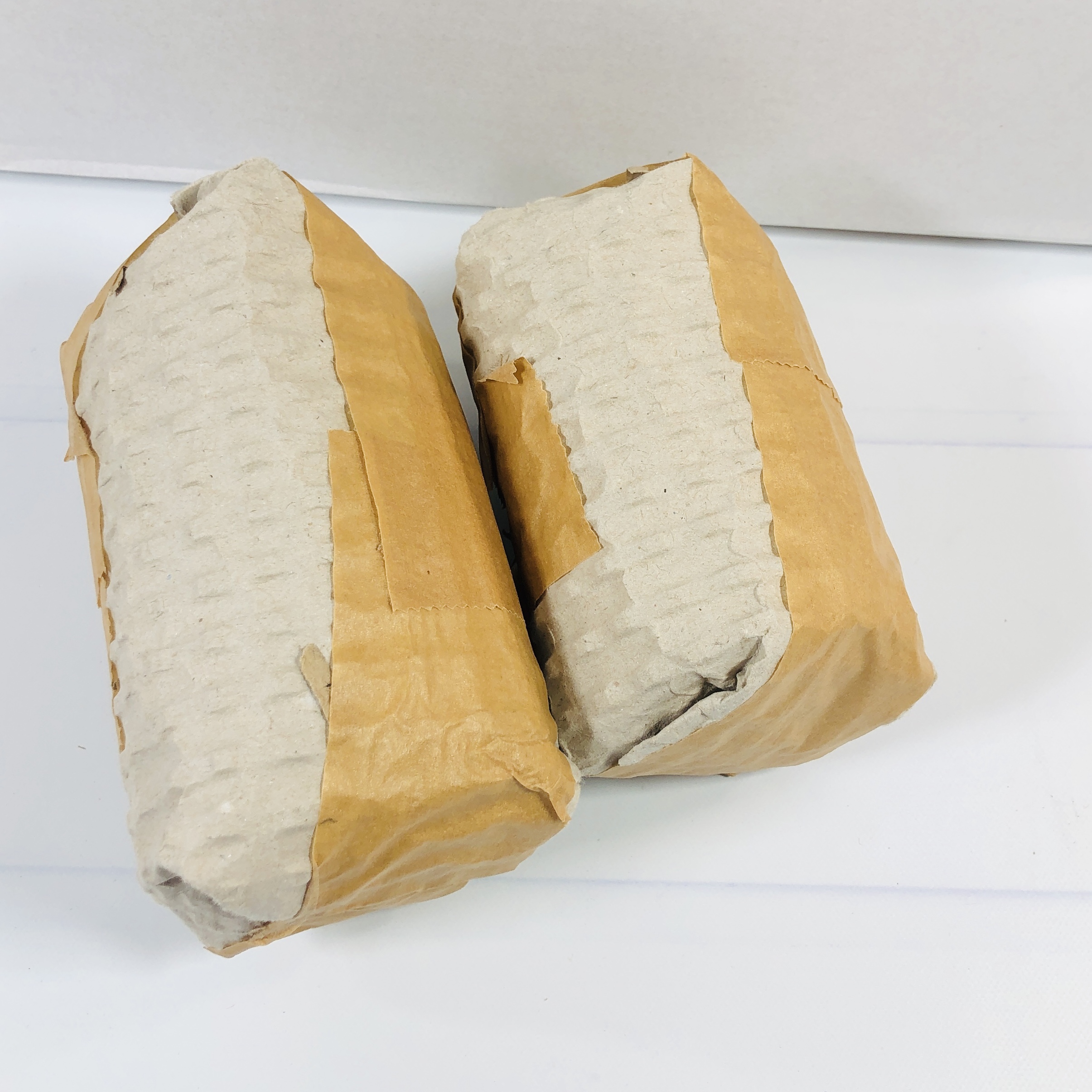 Two glass jars had additional cushioning.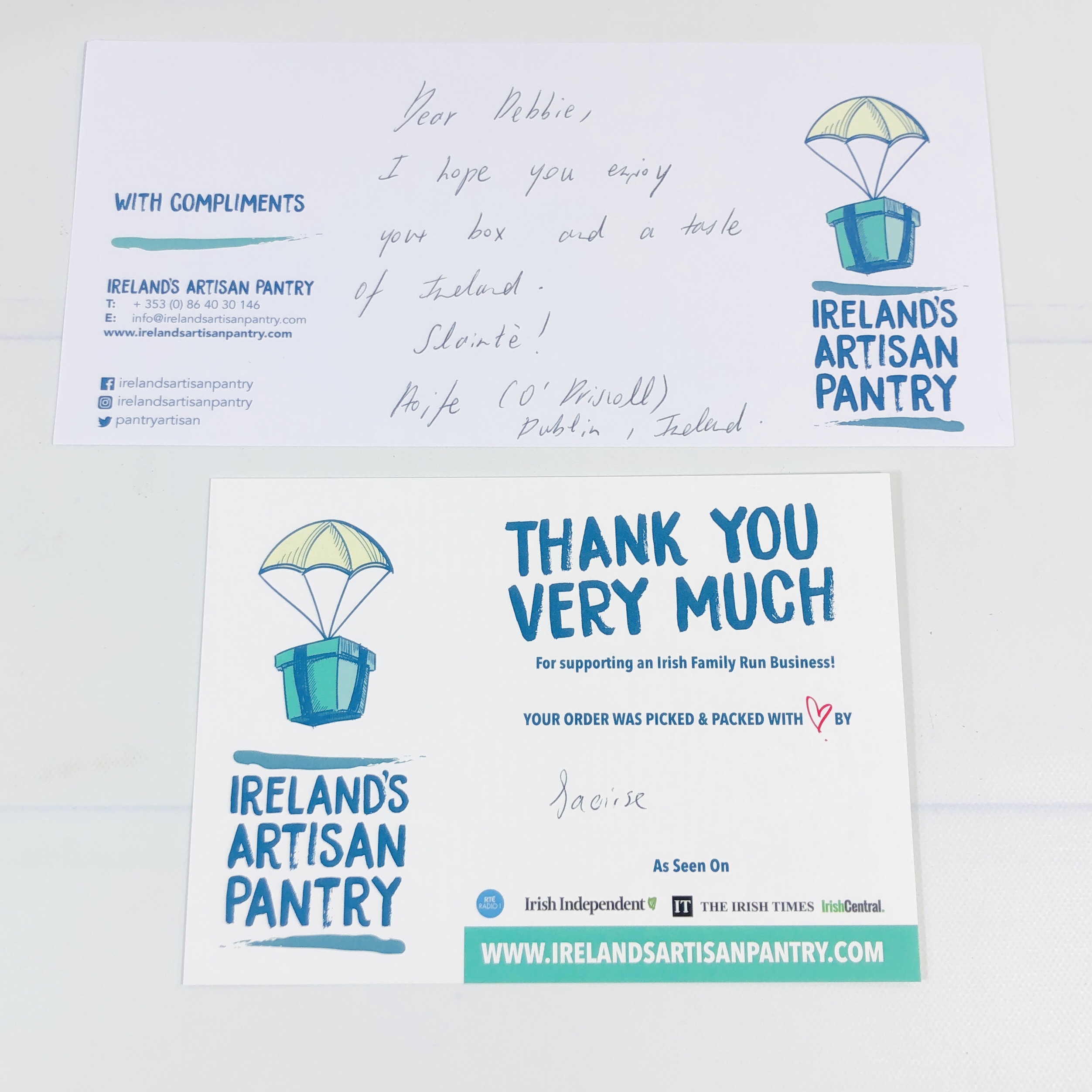 There were a couple of inserts, including a handwritten note!
Here's the back of the bottom card shown in the previous picture.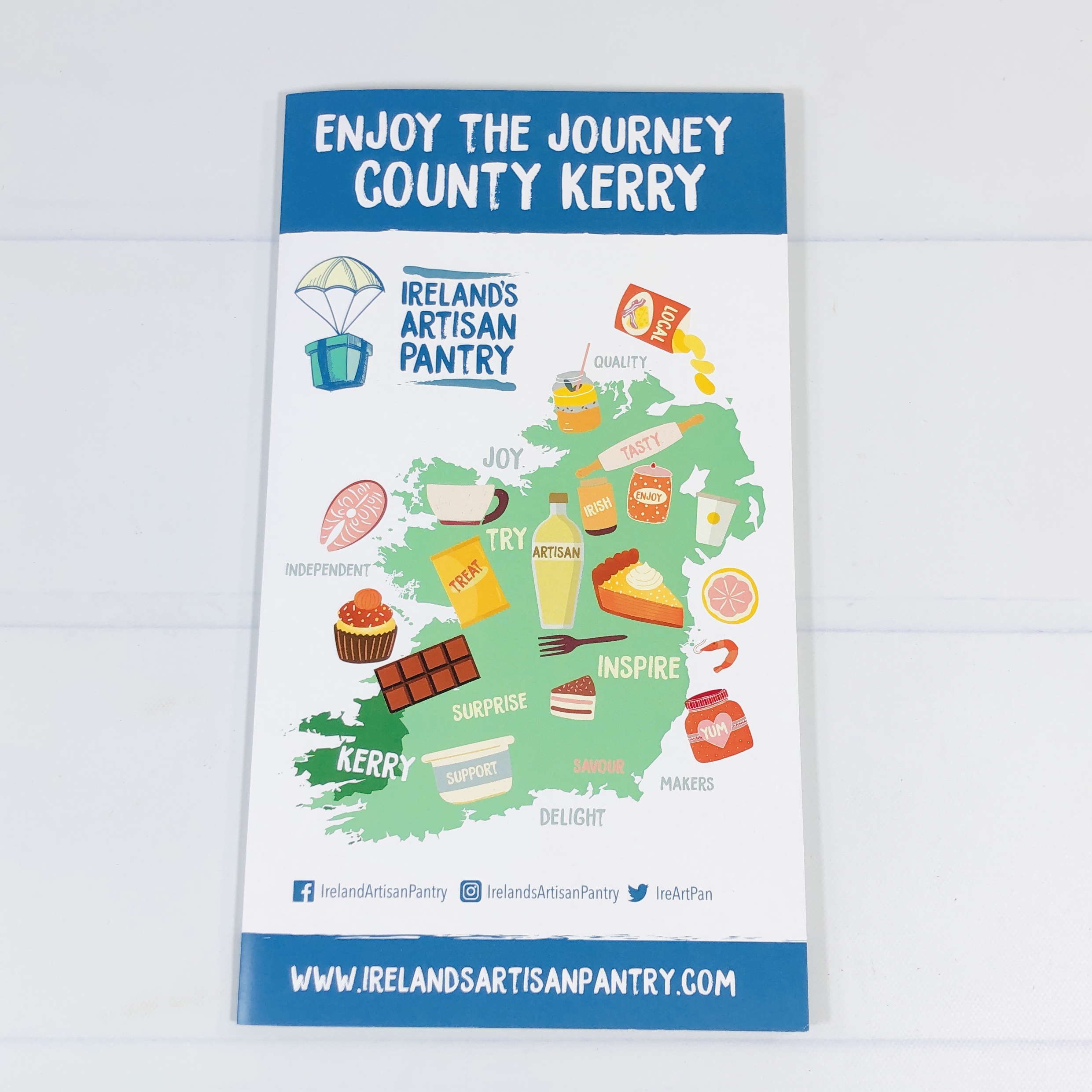 The theme for the June box was County Kerry and there was a pamphlet with more info inside.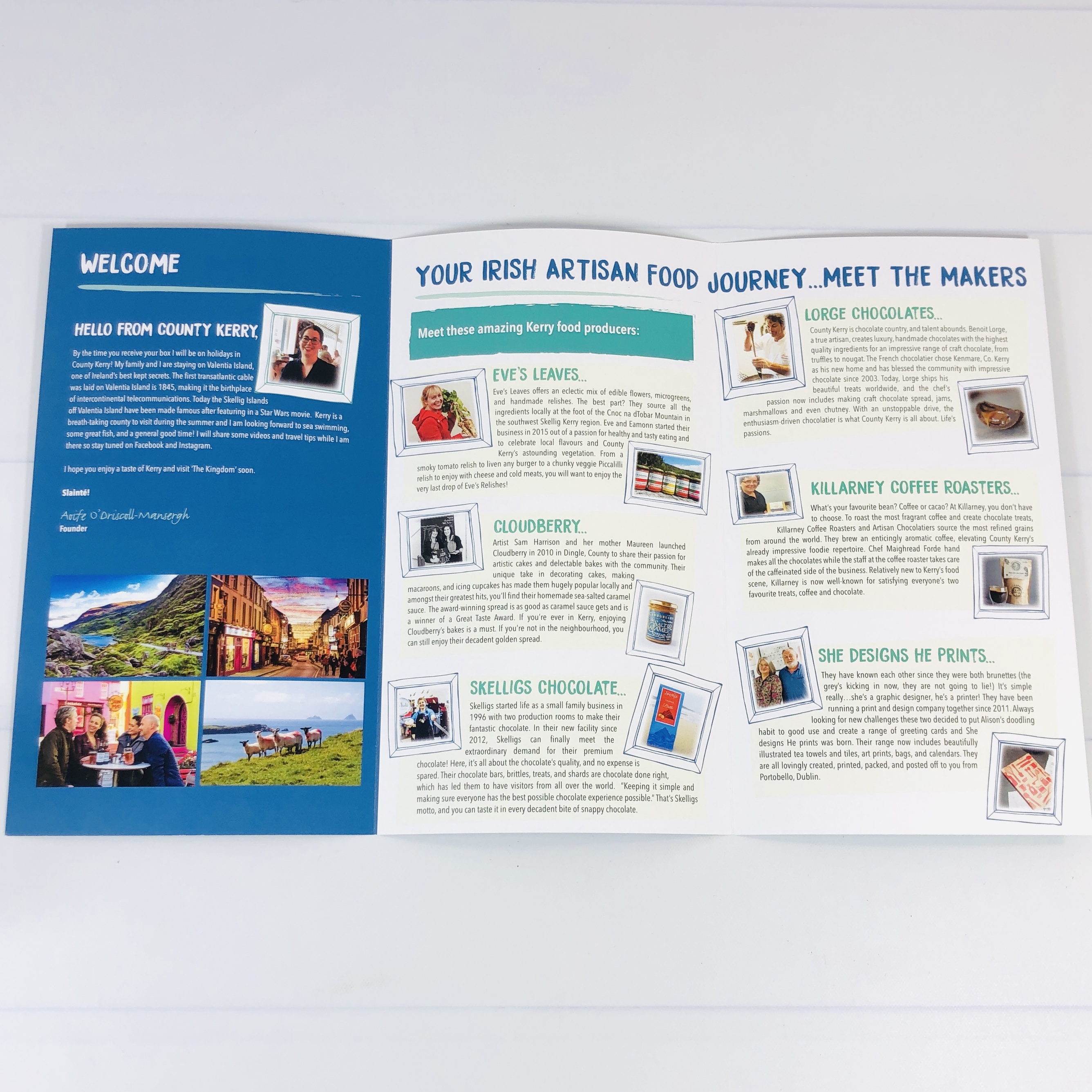 Each of this shipment's artisans were shown along with some background info.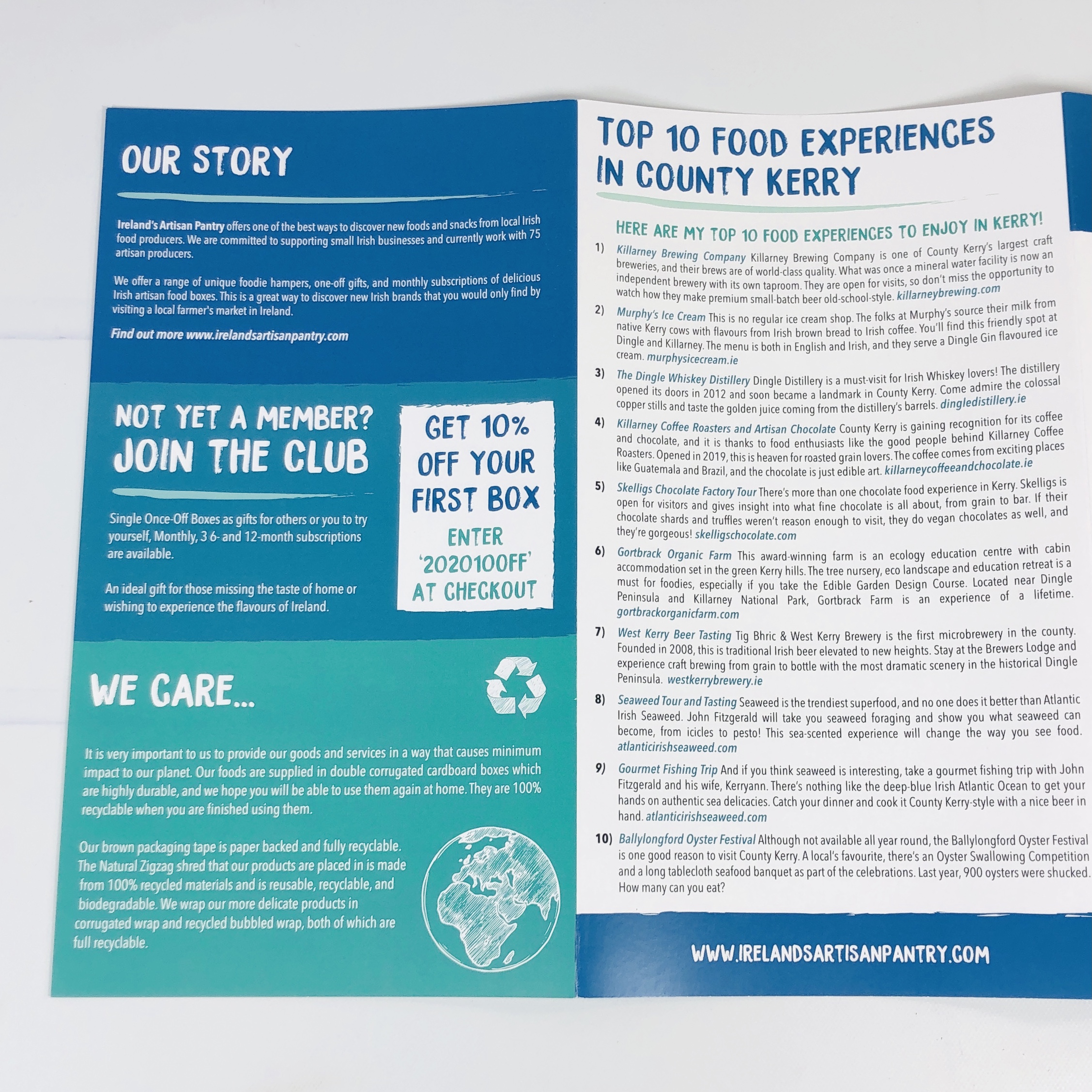 There's more info about the company and how they are doing their best to reduce the environmental impact of their box. There's also some ideas on where to eat if you happen to find yourself in the local area (I wish!).
Everything in my box!
Killarney Coffee Roasters Brazil Single Origins (€6.90, around $8.10 USD) I must come clean here, I am not a coffee drinker (except maybe the occasional frappe or macchiato but my waistline disagrees). I will be passing this along to someone who needs this in their life.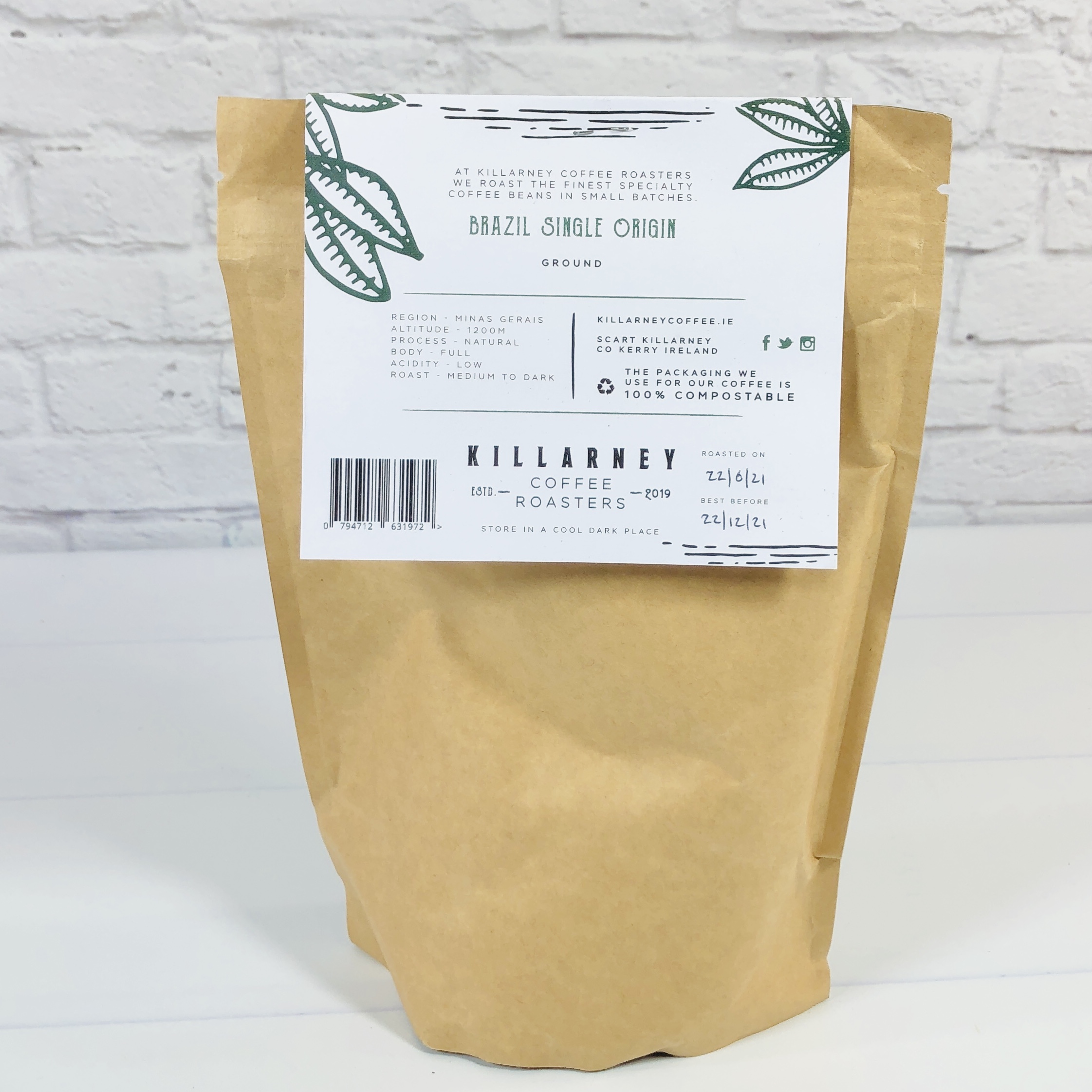 It's made of single origin beans from Brazil and it is already ground up. This was roasted on June 22nd of this year and should be good until just before Christmas.
She Designs He Prints The Cooks Secret Journal ($17.23) I thought this little cook's journal was cute, and I may start filling it in for my youngest, who is leaving for college, so that next year when she lives in an apartment off campus, she will have some recipes from home to get her started. It measures 8.25″ x 5.75″.
Inside there are 80 pages just like this. You can check the top box to indicate the kind of recipe it is, then there's space for ingredients, directions, and tips.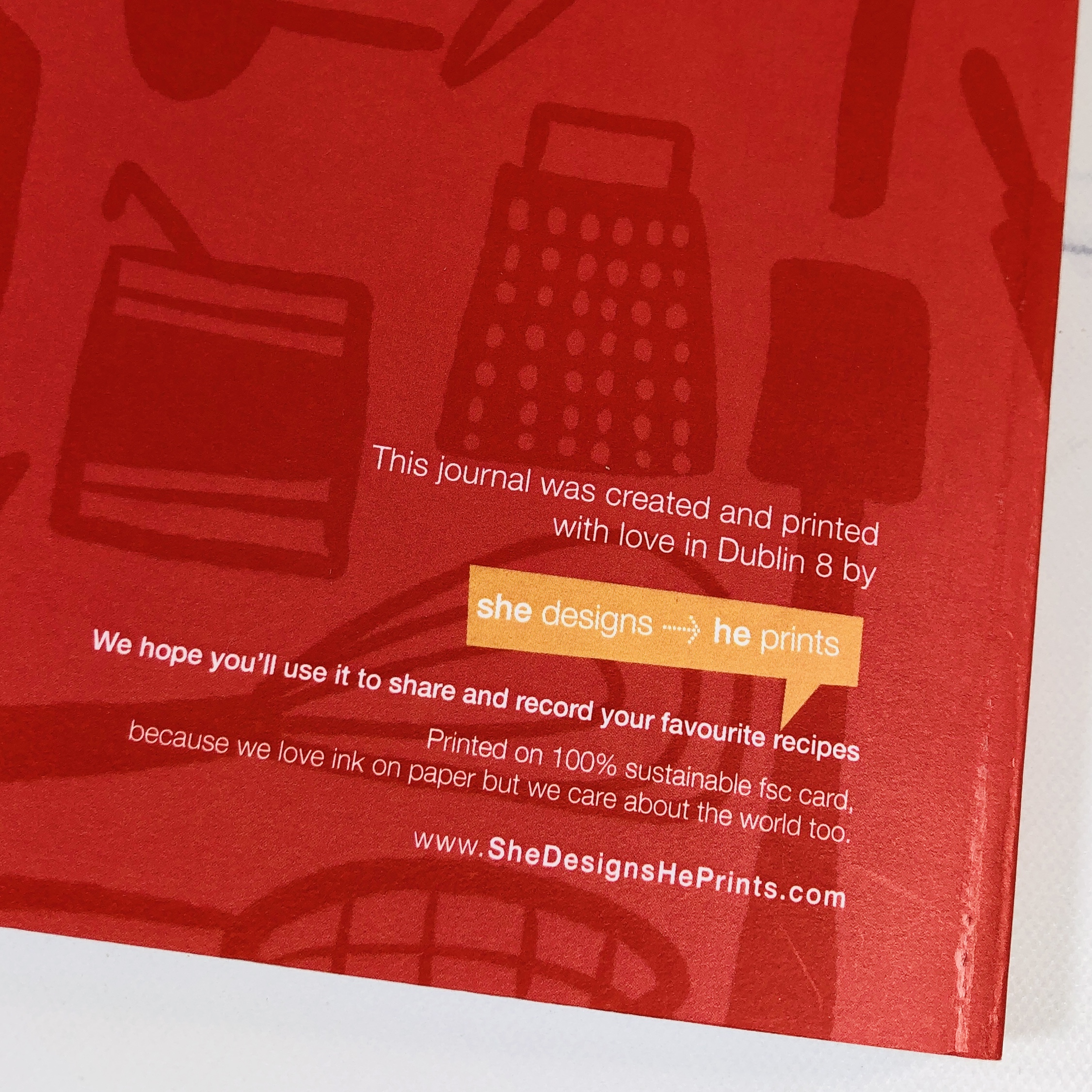 Here's the back with some printing details.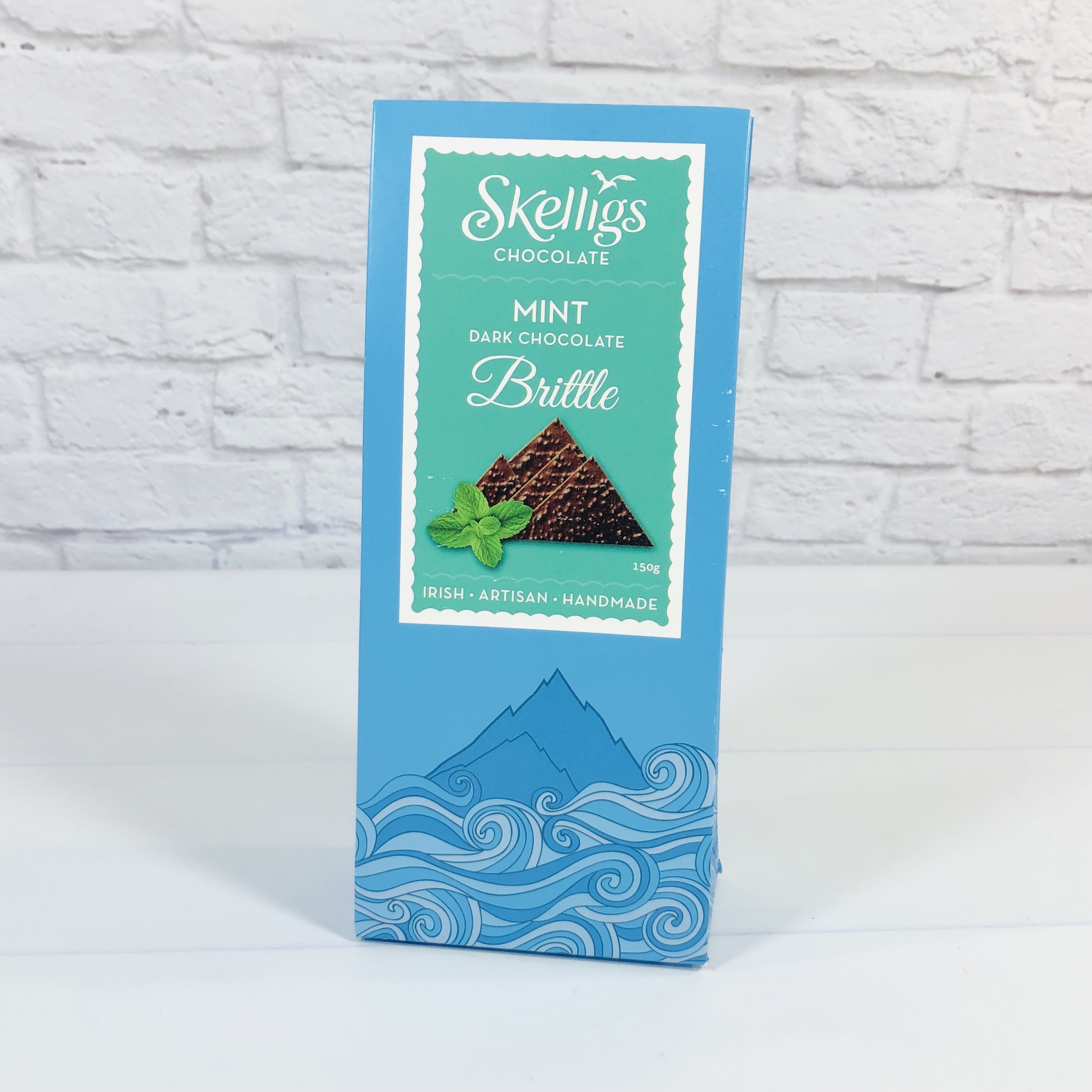 Skelligs Chocolate Brittle Mint Dark Chocolate (About $7.13 USD) Yum, chocolate and mint, I love chocolate and mint!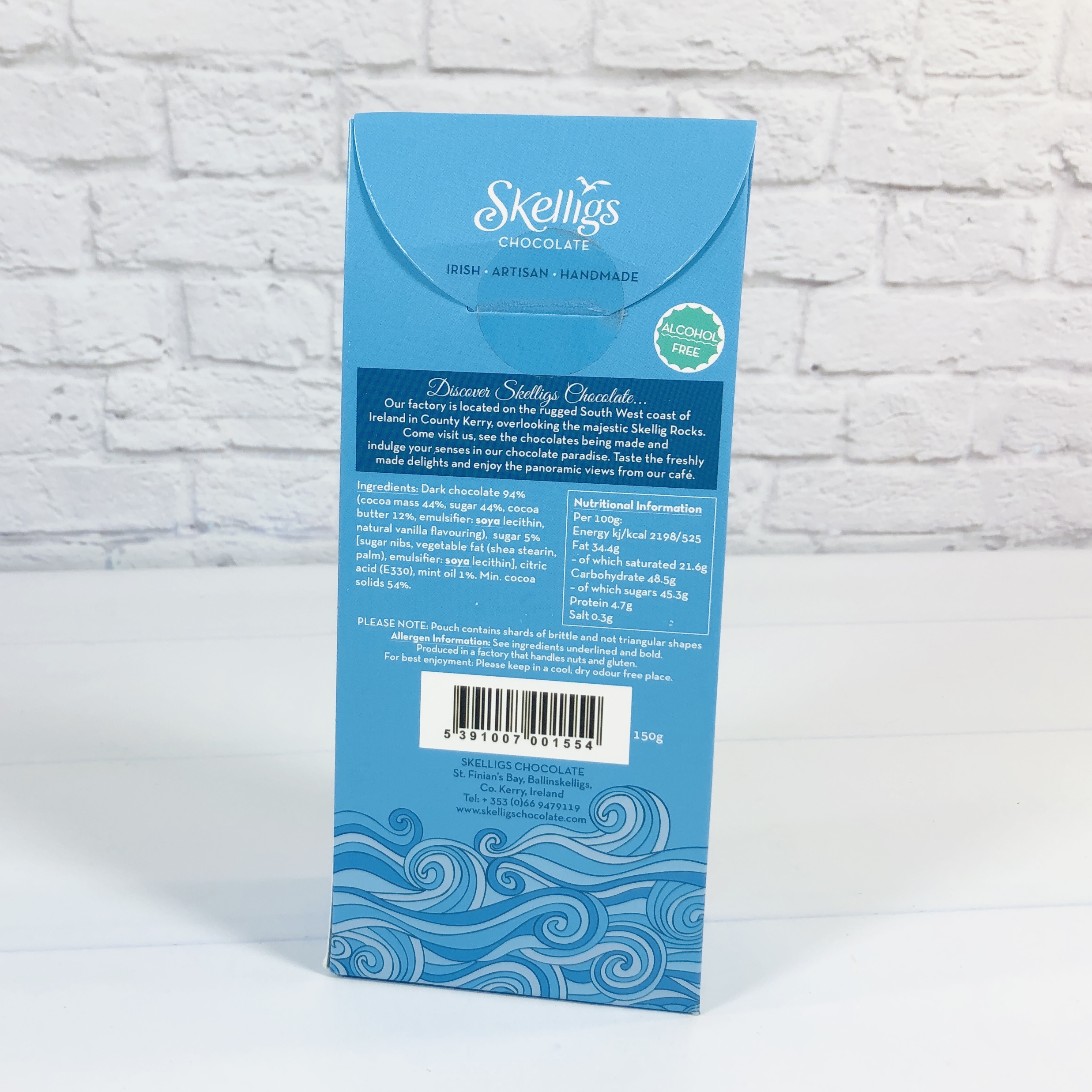 This handmade chocolate comes in "shards" (not in triangular shapes) and it is mainly dark chocolate flavored with peppermint oil and with crunchy (but not teeth pulling) sugary bits inside that give it an interesting texture.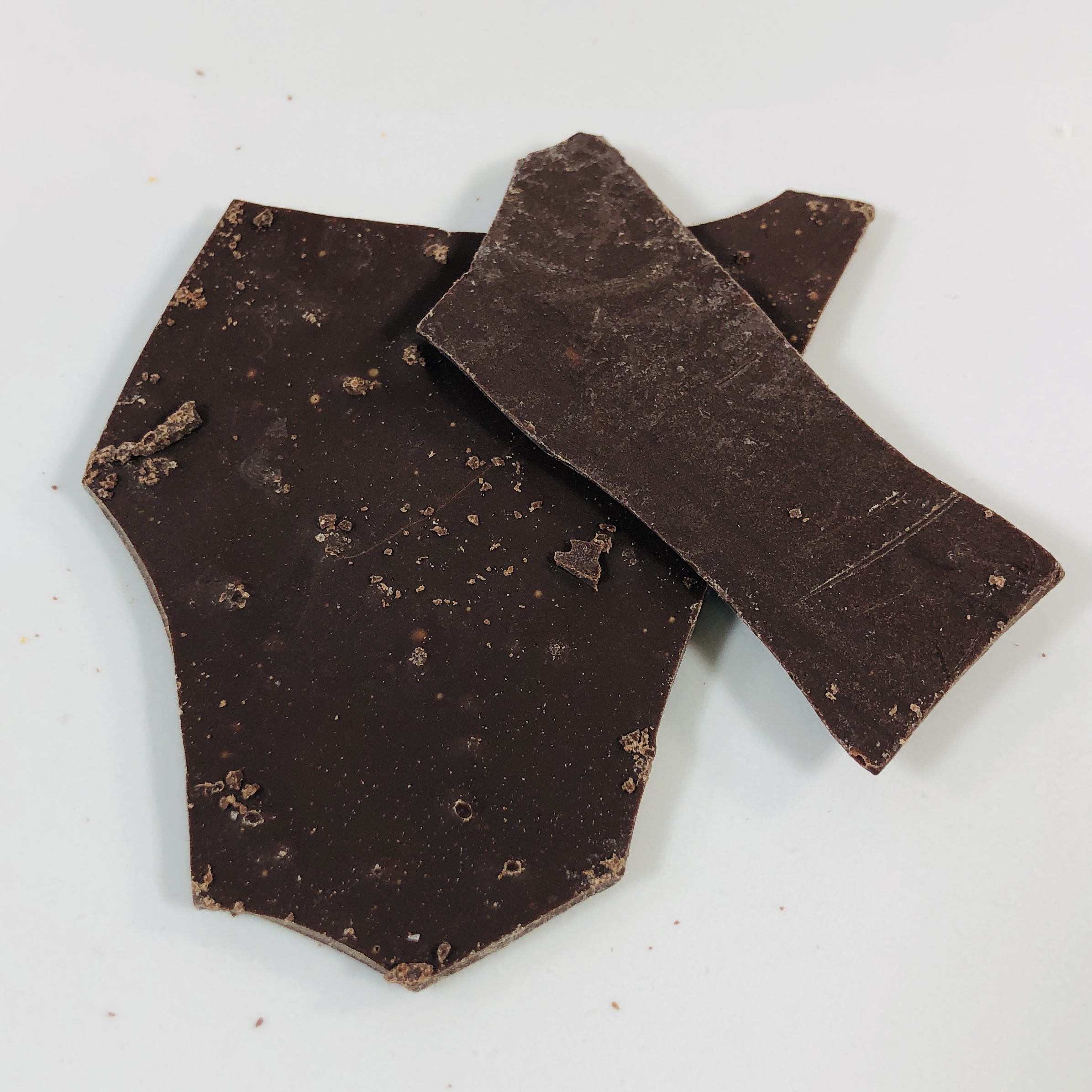 I can't believe this didn't melt in my mailbox but nope, it's in perfect condition! It's a wonderful treat when you want something sweet but not heavy after dinner.
Lorge Chocolatier Rum & Caramel I received two chocolate items in this box and thank goodness, they actually arrived in excellent shape, not an easy thing to do in Texas in the summertime.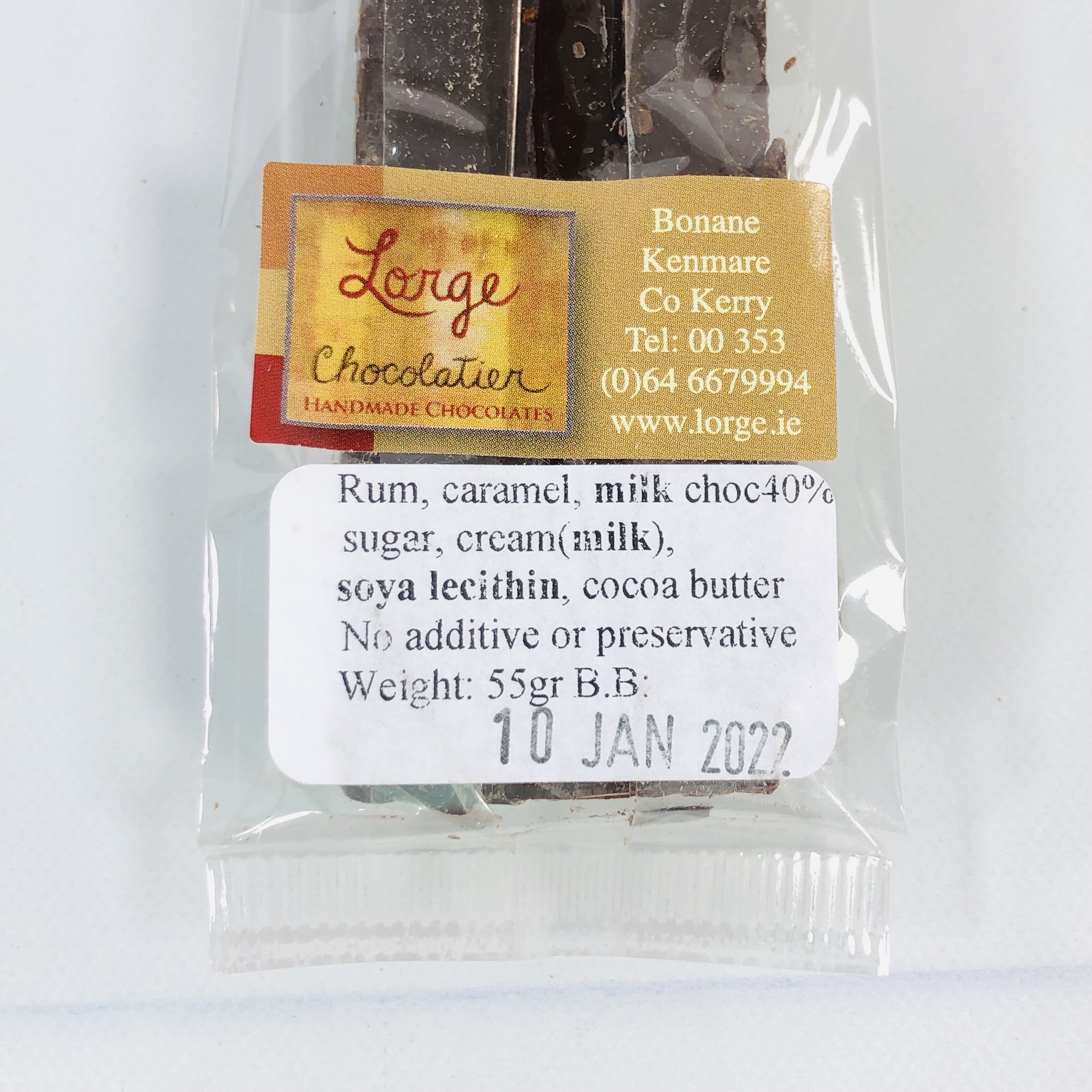 In the US we list the ingredients in order depending on how much is used and if Ireland does the same then I am in trouble, because rum is listed first! Other than that, this list is short and sweet and I like that. I can pronounce all the ingredients, even lecithin!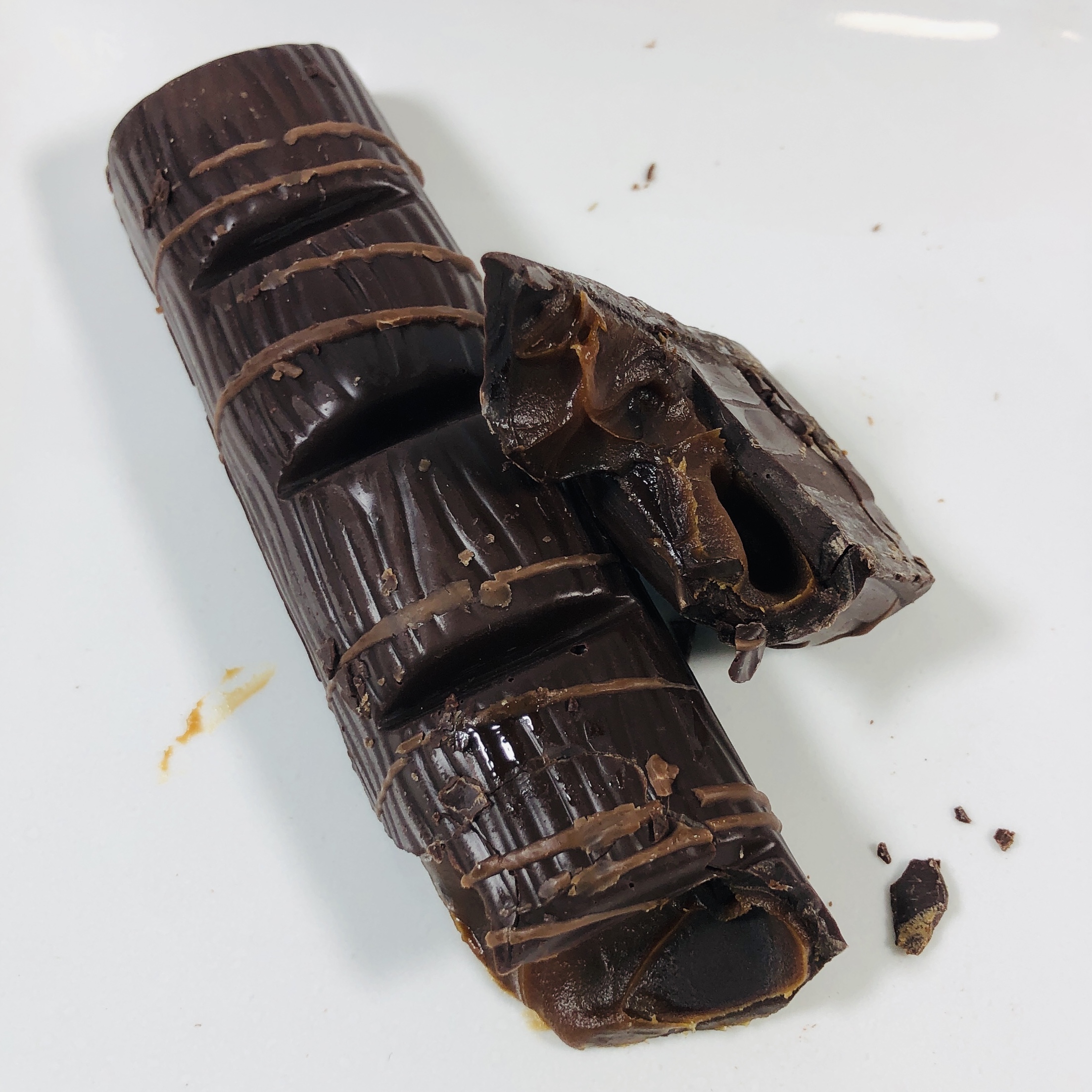 I hope I'm not slurring my words but this stuff is out of this world delicious! The chocolate on the outside is dark (it says milk but tastes like dark to me) and not overly sweet and the inside has caramel, but that caramel is more like fudge and it has rum in it and that rum is so good and I barely ever drink but I need vats of this in my life. Plus is it supposed to look like a barrel because rum comes in barrels and now I need to go watch Pirates of the Caribbean however many there are now because pirates drink rum and yo ho yo ho a pirates life for me oh yeah that's why I don't drink very often.
Eve's Leaves Smokey Tomato Relish I don't think I've tasted anything quite like this before. The suggested use is as a burger topping but I bet it would be good on a sandwich or poured over a bar of cream cheese for a cracker spread.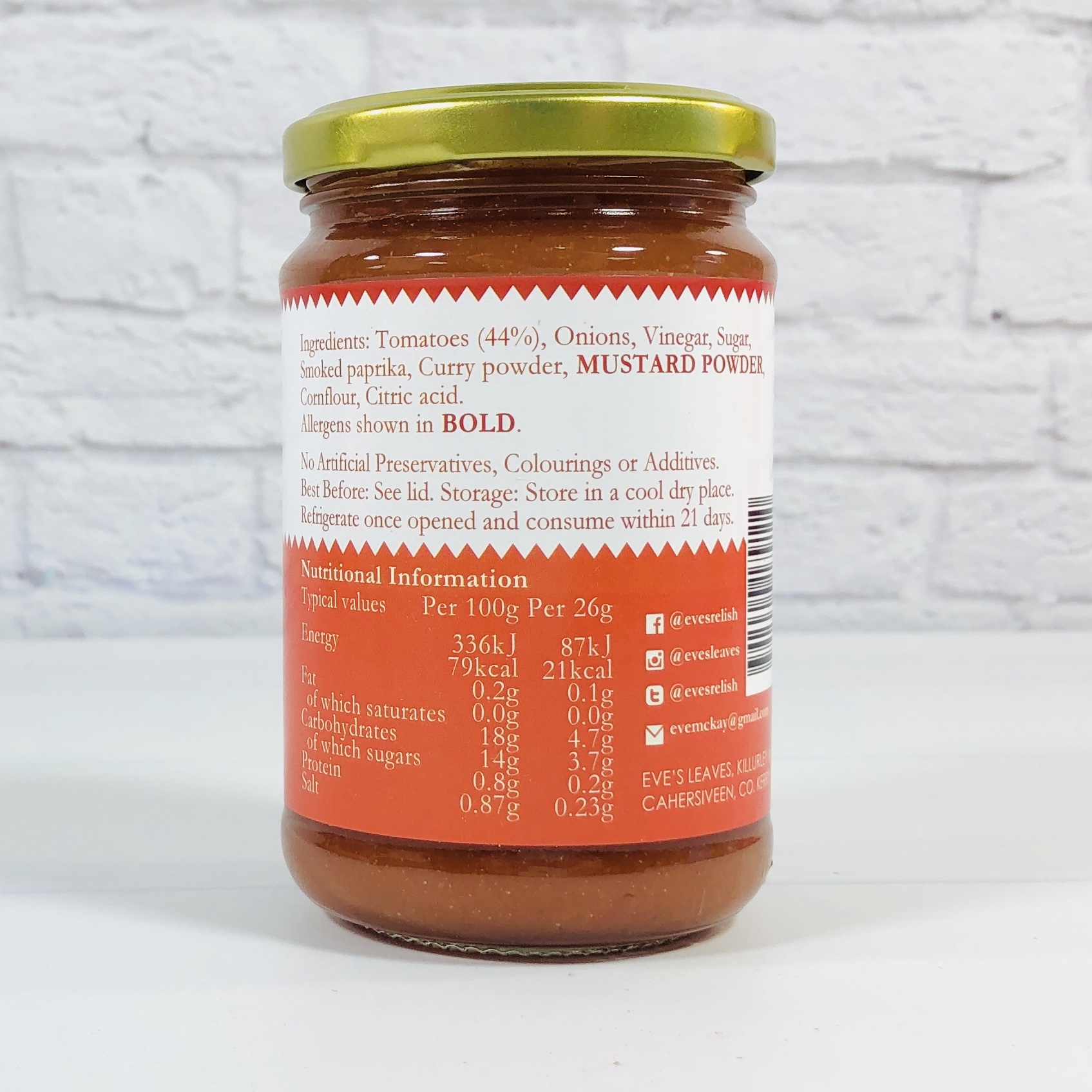 It's made with tomatoes and onions and has a bit of chunkiness to it. Sugar and vinegar make it both sweet and tangy and while I don't think it tastes like curry I can taste the smoked paprika.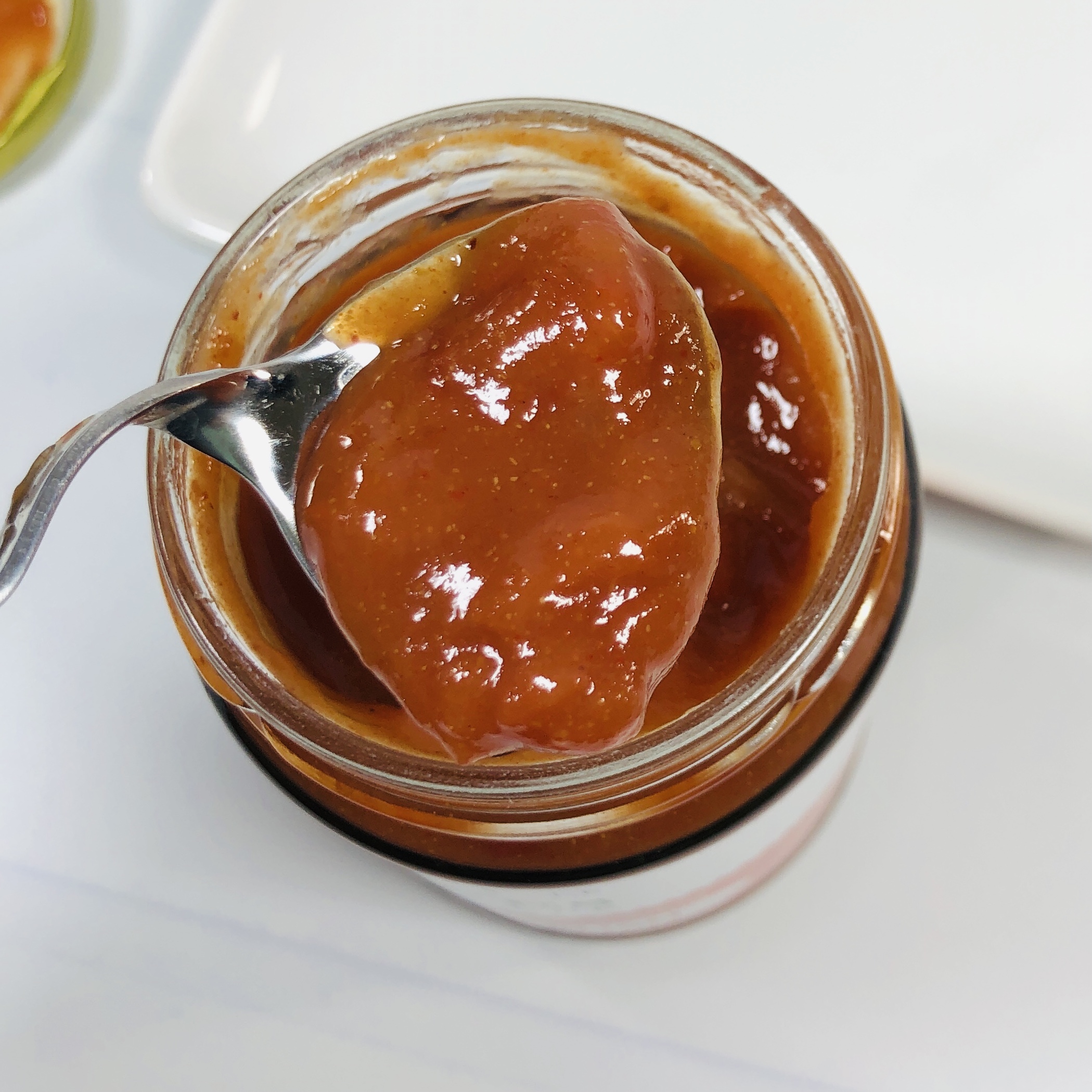 See the little chunks? The thing that came to my mind when I tried this was that it reminded me of a combo of salsa and barbeque sauce! Hmm, I think this would be amazing on grilled chicken!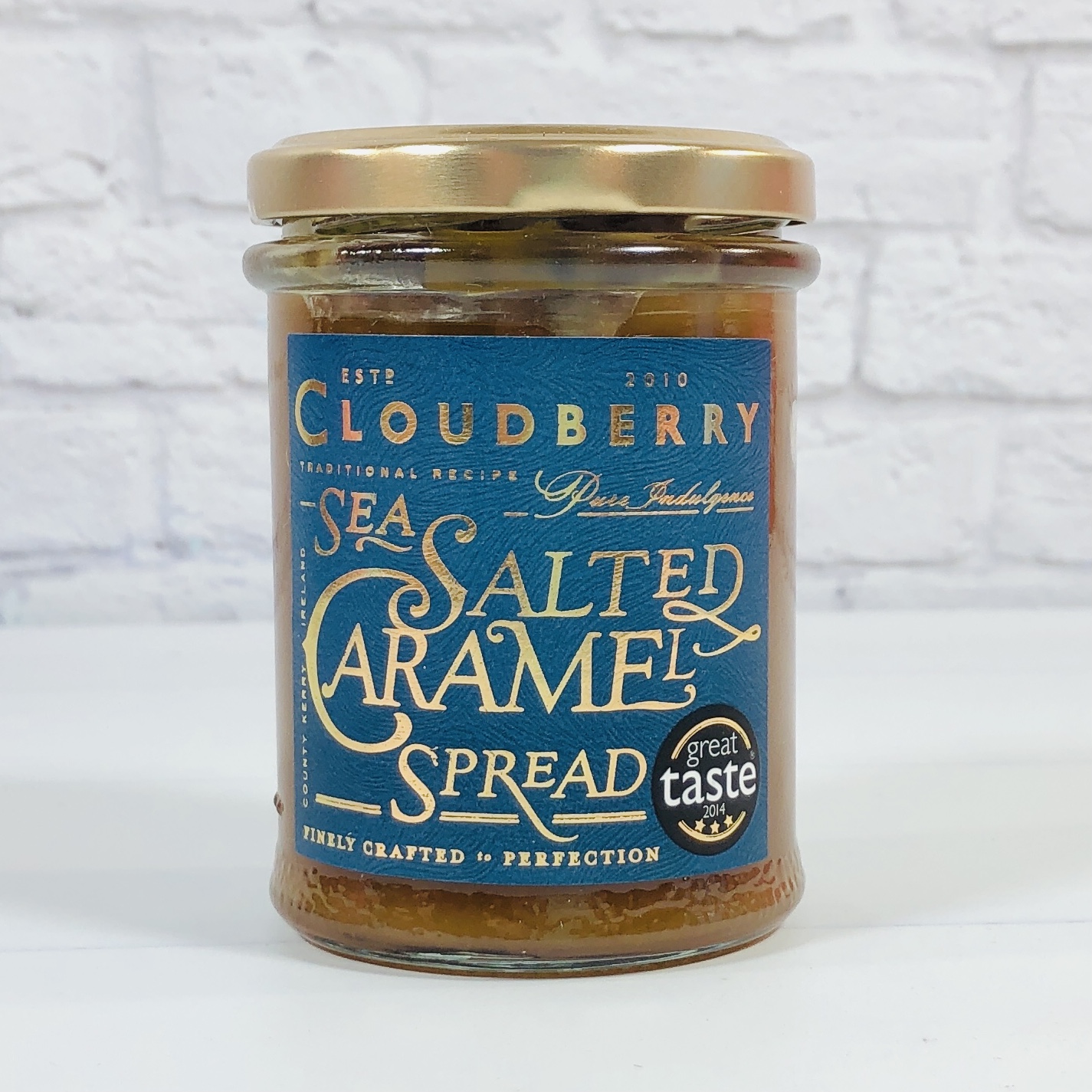 Cloudberry Sea Salted Caramel Spread (About $9.41 USD) Oh my goodness gracious, the foods in this box are so amazing, like this caramel! It can be used on ice cream, in a macaron cookie, on Bananas Foster, or just eat it directly off the spoon.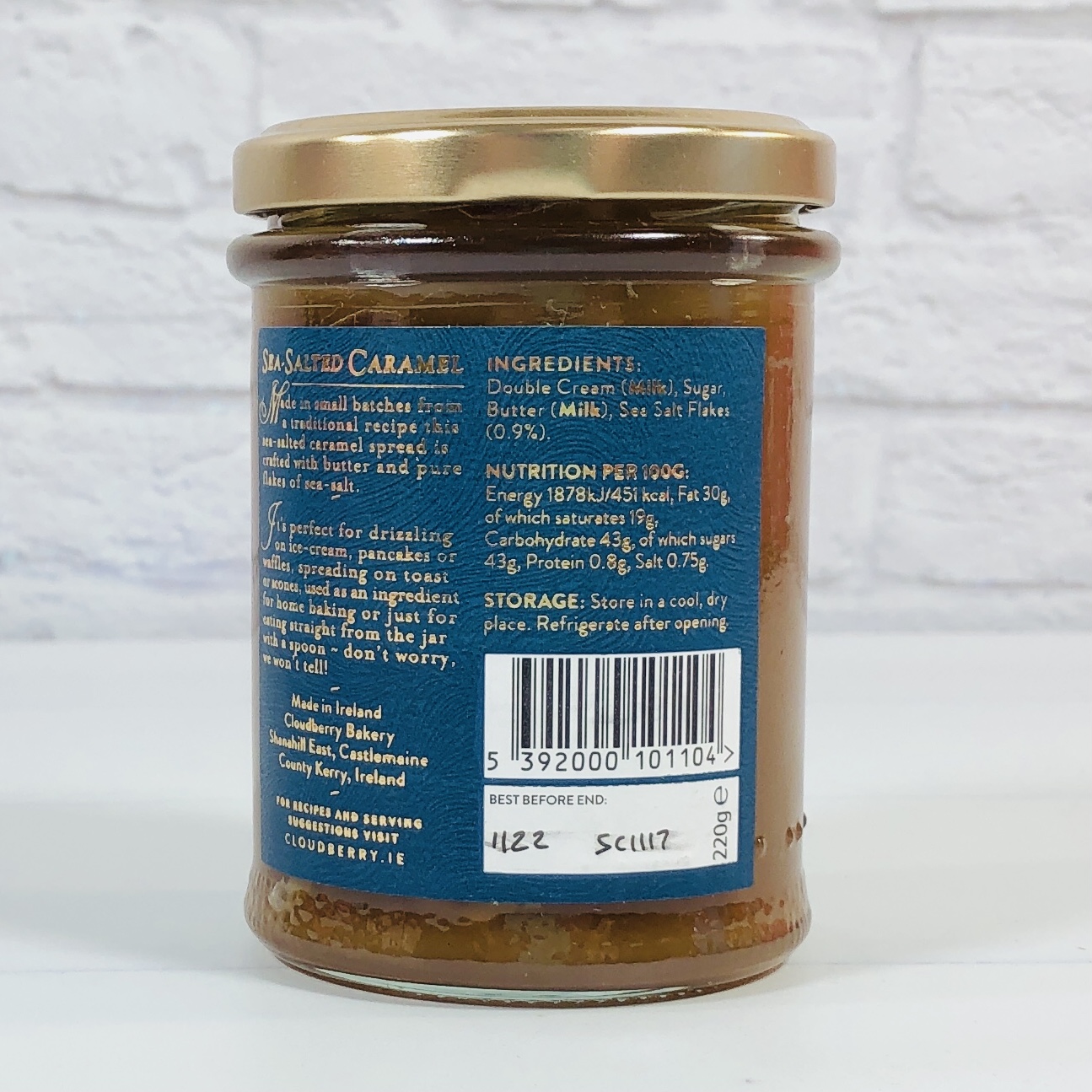 Cream, sugar, butter, sea salt. Any questions?
You know how caramel sauce in the U.S. is usually runny and sticky, kind of like pancake syrup or honey but thicker? This is smooth and creamy, like lemon curd but caramel. The flavor is phenomenal and I think it would be great on ice cream but also it's perfect right off of the spoon.
I had a blast tasting my way through the foods of County Kerry thanks to my box from Ireland's Artisan Pantry! Everything was so tasty and although I've had plenty of chocolate, caramel, and sauces before, these were all unique and excellent in flavor and substance. I was also happy to see that not one item was only a single serving, these had several servings each, and that includes the rum and caramel chocolate bar, because there was no way I could eat it all at once, it was so rich! The caramel was also rich, while the peppermint chocolate pieces were refreshing in the way only mint can be. The coffee will be appreciated by my husband or daughter, although I did open it up and it sure smelled good. The tomato relish was unlike anything I've ever tried and can't wait to put it on my next burger. The recipe booklet is also a lovely touch and when my daughter texts me from university and tells me she misses my (fill in the food item here), I will make sure to write it down in the book and gift it to her when she starts to cook for herself.
What do you think of this box?
Visit Ireland's Artisan Pantry to subscribe or find out more!