We have some spoilers for the September 2021 Ipsy Glam Bag Plus!
What are you ready to get back to this month? Whether it's school, work, bare skin, or full-on smoky eyes, we're here to help you ease into the swing of things with beauty products you can take wherever you're headed. From a bomb eyeliner for your first day back at school or a new serum for those at-home spa days you've been loving lately, there's a fave here you'll be wishing for in your September Glam Bag Plus.
First, the Bag Reveal: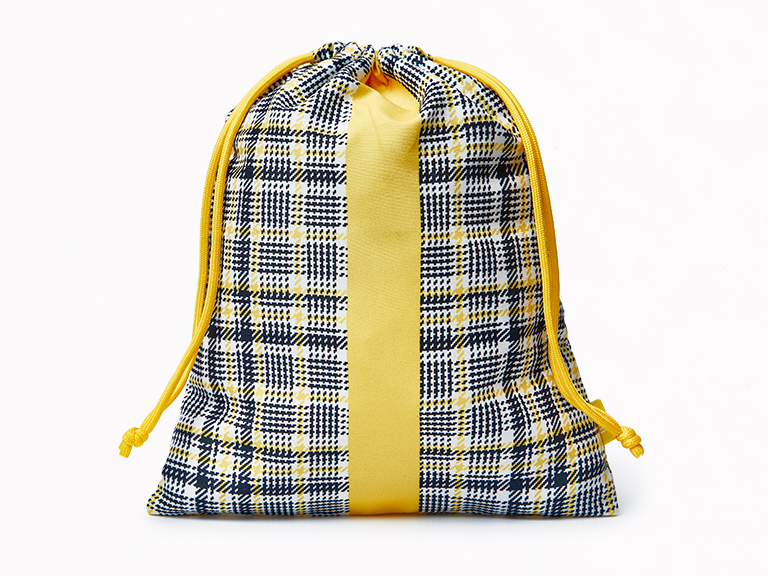 September's Glam Bag Plus is function meets fashion. "This bag is so roomy that it can fit everything that you'll need for a full day of work (or school). I love to put my notebook and pens inside this pouch to work, so I won't forget my important notes and creative ideas for meetings," says Wong.
The design itself features a classic black and white plaid with bright pops of yellow within the print and nylon drawstring cords, making it an incredibly versatile accessory. Place the pouch in a farmer's market tote or translucent bag to conceal clutter and make a colorful statement.
Ipsters signed up to receive a Glam Bag Plus this September 2021 might receive:
DRAGUN BEAUTY DragunGlass Matte Liquid Lip in Nikita
Hellooo, DRAGUN BEAUTY! Creator Nikita Dragun's beauty brand is making its way into Glam Bag Plus this month, and it's already making a statement. This pinky mauve matte liquid lip was designed to be more hydrating than the liquid lipsticks you're probably used to, so make sure you give it time to set. Once it's on, you'll be rocking high-impact color all day long (yes, including through meals!).
 GIRLACTIK Glow On The Go in Jet Setter
Going somewhere this month? Take this baby with you. Without the potential mess of loose powder highlight, this luminizing wand instantly brightens your features with just a swipe—no brushes needed. Apply the shimmery champagne shade on whichever features you want to pop, and consider adding some contour for the ultimate sculpted look.
Il Makiage Color Boss Squad- Multi-Dimensional Eye Color Quad In Make Moves
 This eyeshadow quad from IL MAKIAGE includes shades Clapback, Mood, Entourage, and Hold Up, a range of creamy transition colors and rich smoky hues that remind us just how much we love a good dramatic eye look. The hybrid formula of each glides like a cream, blends like a liquid, and finishes like a powder.
LAURA GELLER Baked Balance-n-Brighten Color Correcting Foundation
Kiss your fears of summer heat goodbye. This warm-weather-friendly foundation can withstand high temps and humidity without melting off your face, all while providing weightless coverage that lasts for hours. Hand-finished in Italy, this gorgeous foundation contains multicolored liquid pigments that are baked for 24 hours on terracotta tiles, making for a texture that applies like a powder but boasts the moisturizing benefits of a cream.
MURAD Clarifying Oil-Free Water Gel
Sometimes getting clearer skin isn't about blasting your complexion with harsh products. Many times, hydration is all that's needed to help balance your skin's situation. Enter: MURAD Clarifying Oil-Free Water Gel. It's formulated with sustained-release hyaluronic acid for long-lasting hydration, salicylic acid to help refine and exfoliate your complexion, and Korean red pine extract to help balance your skin's microbiome. This is how you hydrate your way to clearer skin.
SWEET CHEF Turmeric + Vitamin C Booster Eye Cream
Are you sleeping on the benefits of turmeric? Well, we're here to wake you up—and so's this brightening eye cream. Formulated with a blend of turmeric, vitamin C, ginger, niacinamide, and probiotics, this cream works to help brighten the appearance of dark circles and nourish the skin around your eyes for a more wide-awake look. You can thank star ingredient turmeric for helping to brighten and improve your complexion with its antioxidant properties.
UOMA Afro.Dis.Iac Liquid Eyeliner
We're always on the hunt for a new fave eyeliner, and this felt-tip liner from UOMA might just be it. Swipe it on for a precise, intensely carbon-black color that stays put (yes, even through the occasional sneeze fest—thanks, allergies) and doesn't require multiple layers for maximum pigment. Still working on your liner skills? Then you need to try these hacks!
UPCIRCLE BEAUTY Coffee Face Scrub in Citrus Blend
Another winner from the vegan skincare game, and we are here. For. It. This natural exfoliator gently buffs away dead skin cells with coffee grounds, cleanses and purifies with ultra-refreshing eucalyptus oil, and soothes with shea butter. It's ideal for normal to dehydrated skin types looking for a clearer complexion and glowing skin.
NABLA Shine Theory Lip Gloss in Renaissance
Wherever your summer is taking you, this lip gloss is a perfect match. With its transparent base and champagne rosé sparkles, this NABLA gloss has a mirror-like finish that amps up any look with a luminous effect. Add in its super thin and comfy formula, and you have your new go-to gloss.
111SKIN Hyaluronic Acid Aqua Booster
By now you know all about the benefits of hyaluronic acid (HA) and might even have a few favorite HA serums, but let us tell you why this one is special. Formulated with low-molecular-weight HA that can penetrate deep into your skin, this booster also contains extra moisturizing ingredients to target the upper layers of your complexion and give you a well-balanced hit of hydration.
What do you think of the Ipsy Glam Bag Plus spoilers this month? Ipsy Glam Bag Plus is a monthly beauty subscription that's $25 per month! See our monthly Ipsy Glam Bag reviews to know more about this upgraded beauty subscription with full-size items (5 per month)!