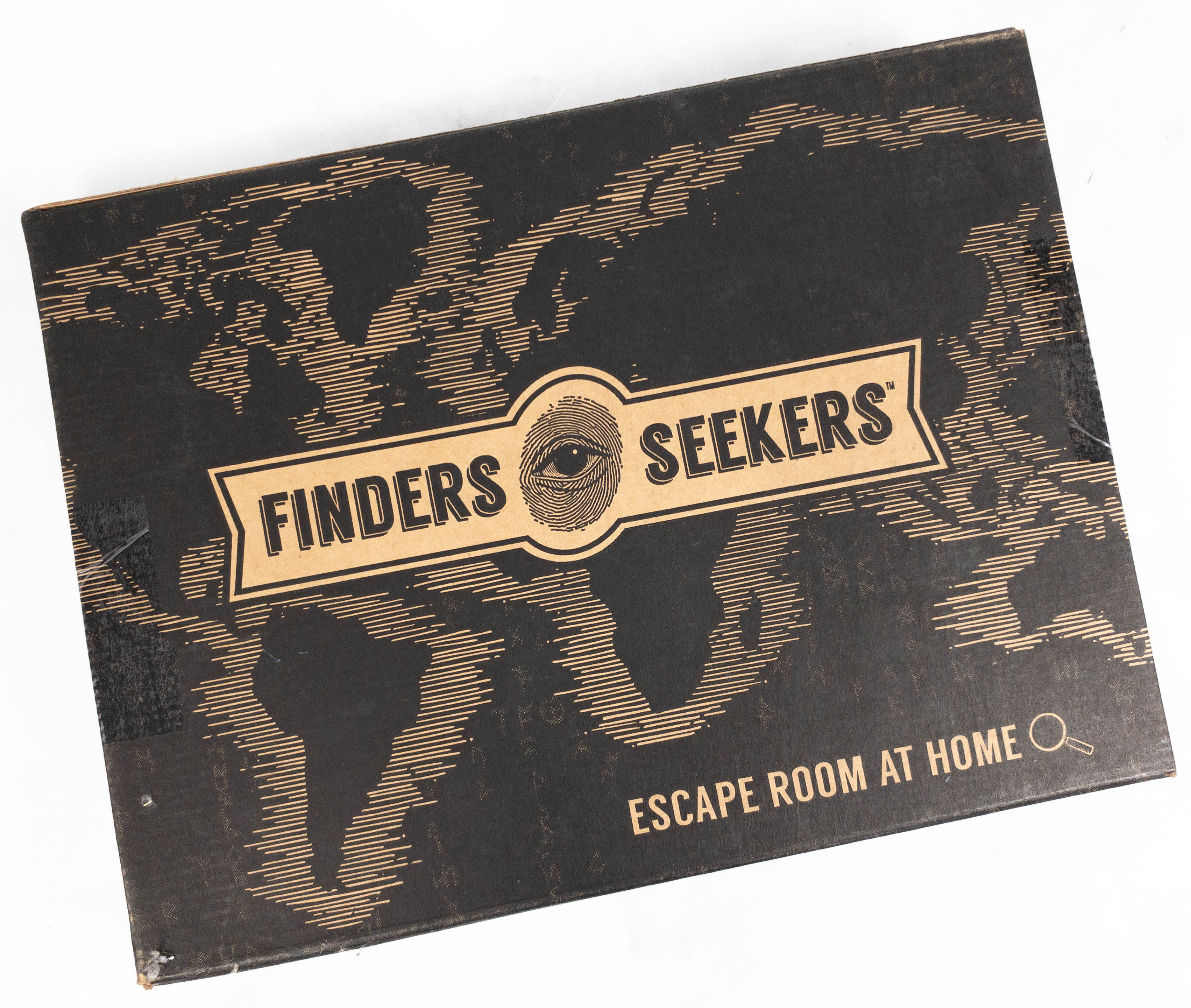 Finders Seekers is a monthly puzzle subscription box for anyone who loves puzzles, escape rooms, Sherlock Holmes, mysteries, or anything requiring a little brainpower. Finders Seekers features a new destination each month, so in addition to the puzzle/escape room experience, you get a mini travel experience, too, exploring a new city and its culture every month.
Finders Seekers' escape room subscription box made the list in our 2021 readers' choice picks of best pop culture subscription boxes!
DEAL: Save $5 on your first box! Use this link and coupon code BRAINQUEST.
FYI – there are SPOILERS in this post!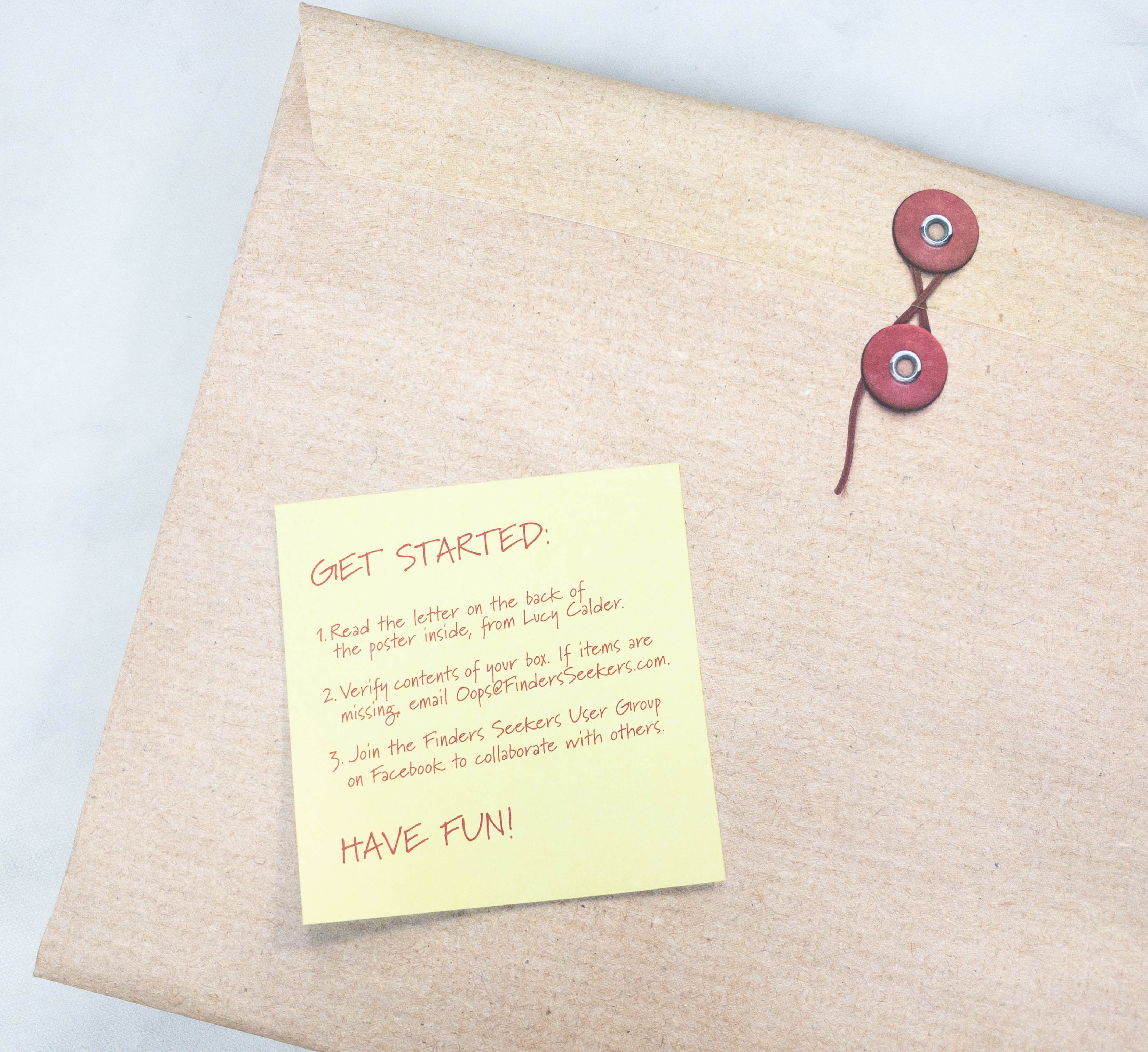 Everything is packed in a string-tie envelope.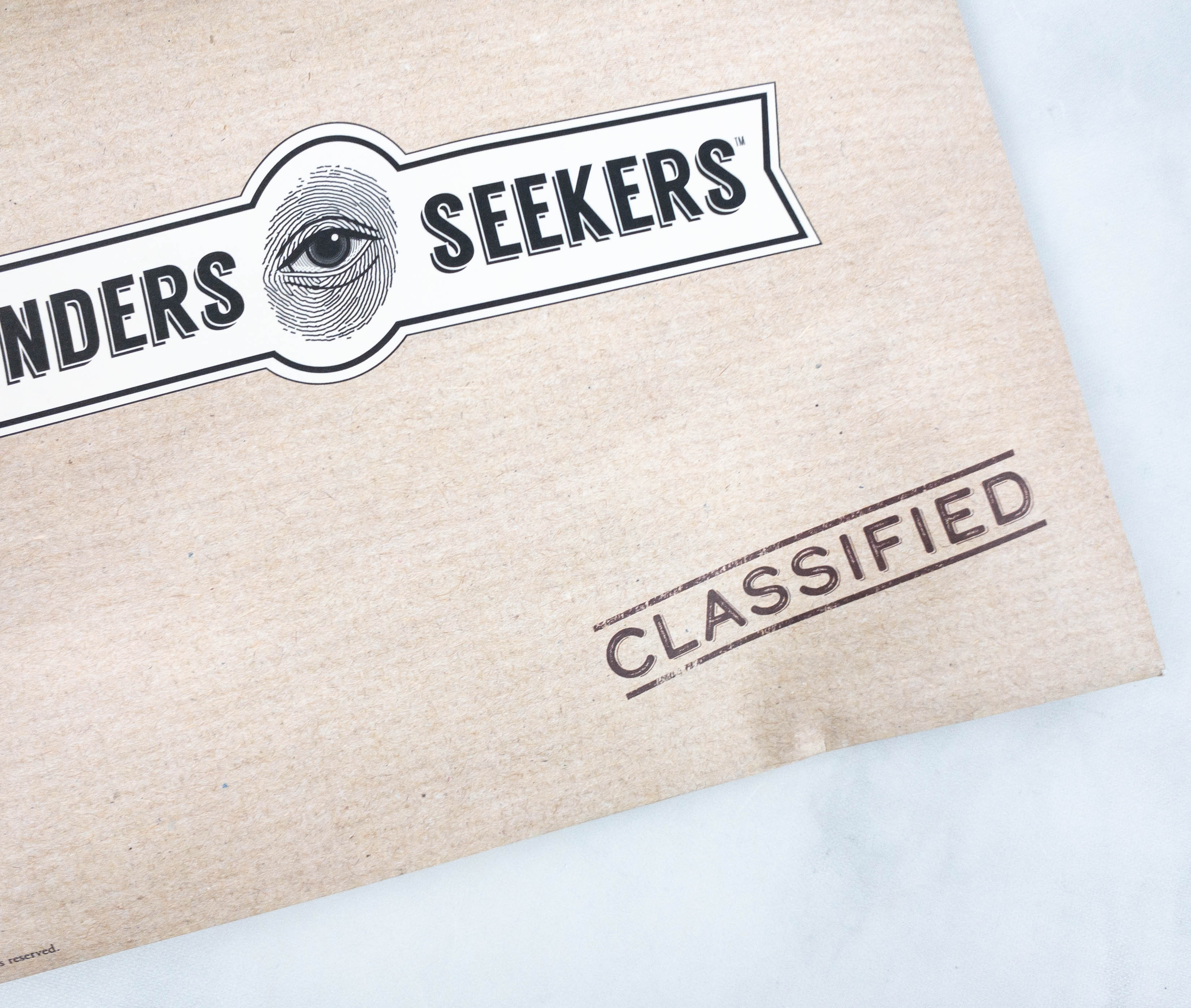 As a subscriber (limited numbers can join each month), you are invited to join the Society of Seekers, a group of like-minded puzzle friends who use their heads and a little bit of internet-search know-how to explore a city and solve a mystery each month. This month's destination is NORMANDIE, FRANCE!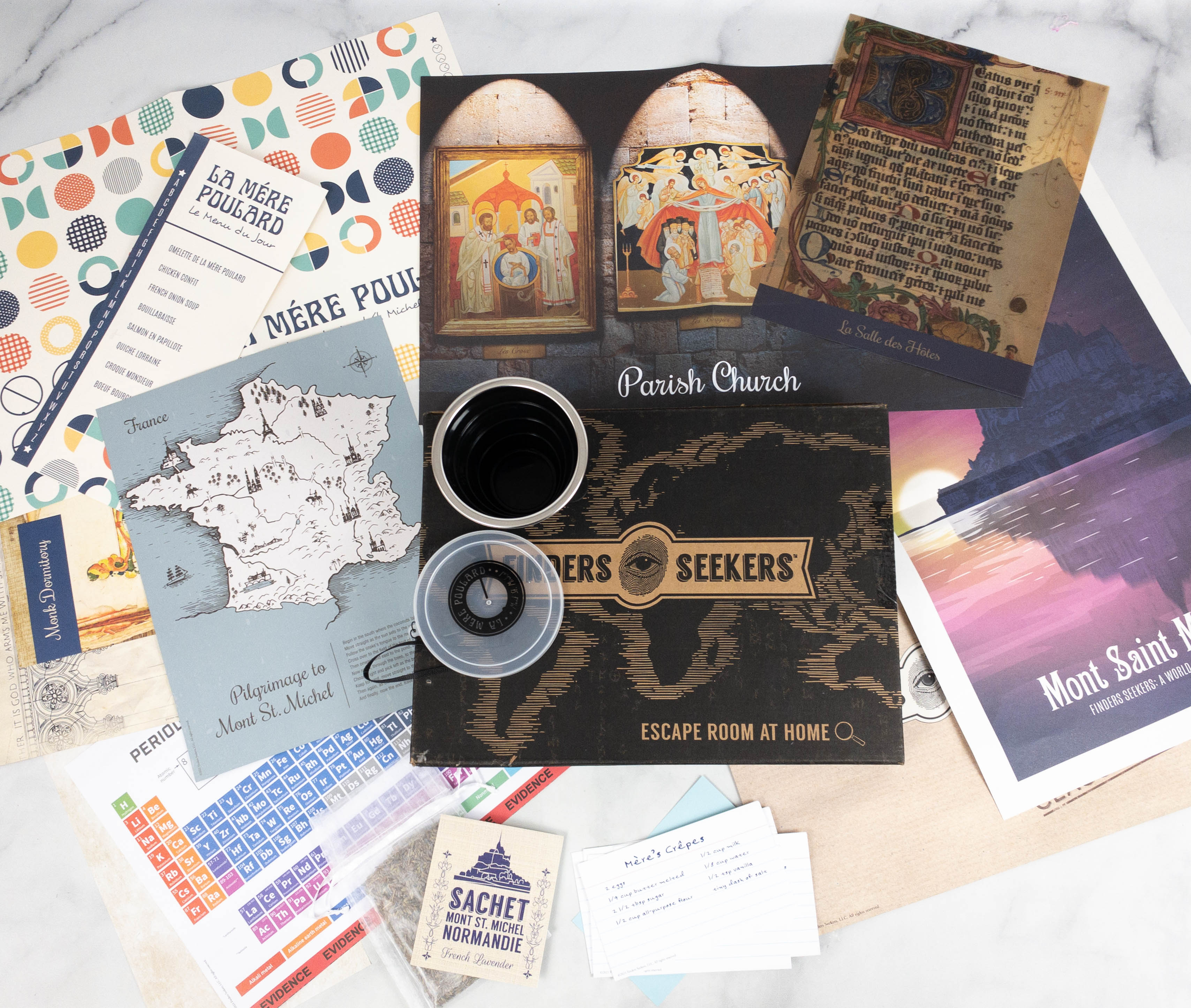 Everything in the box!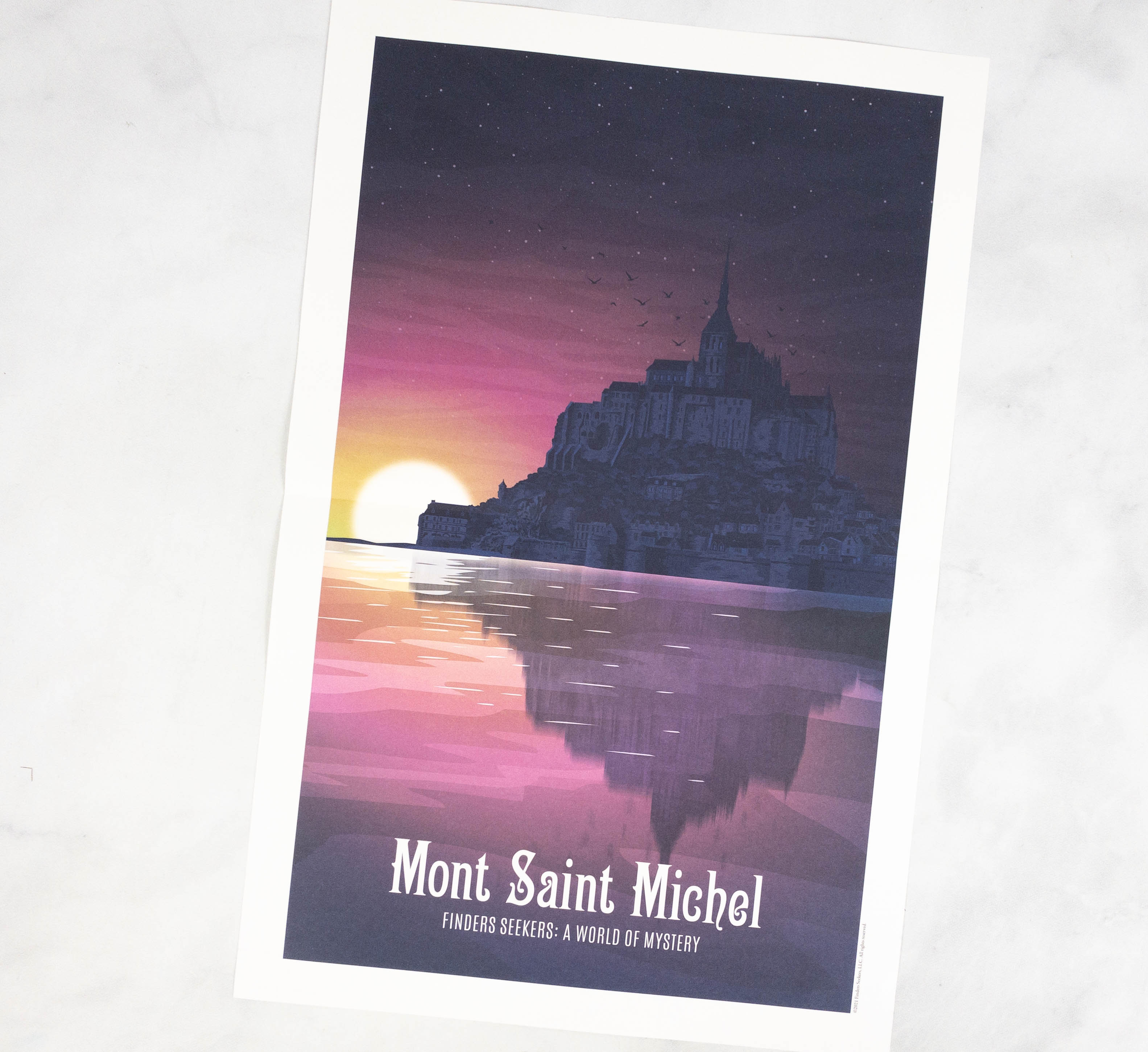 As always, each box includes an information booklet. This month, it features Mont Saint Michel. Subscribers can order travel posters featured on Finders Seekers' monthly boxes and display them at home.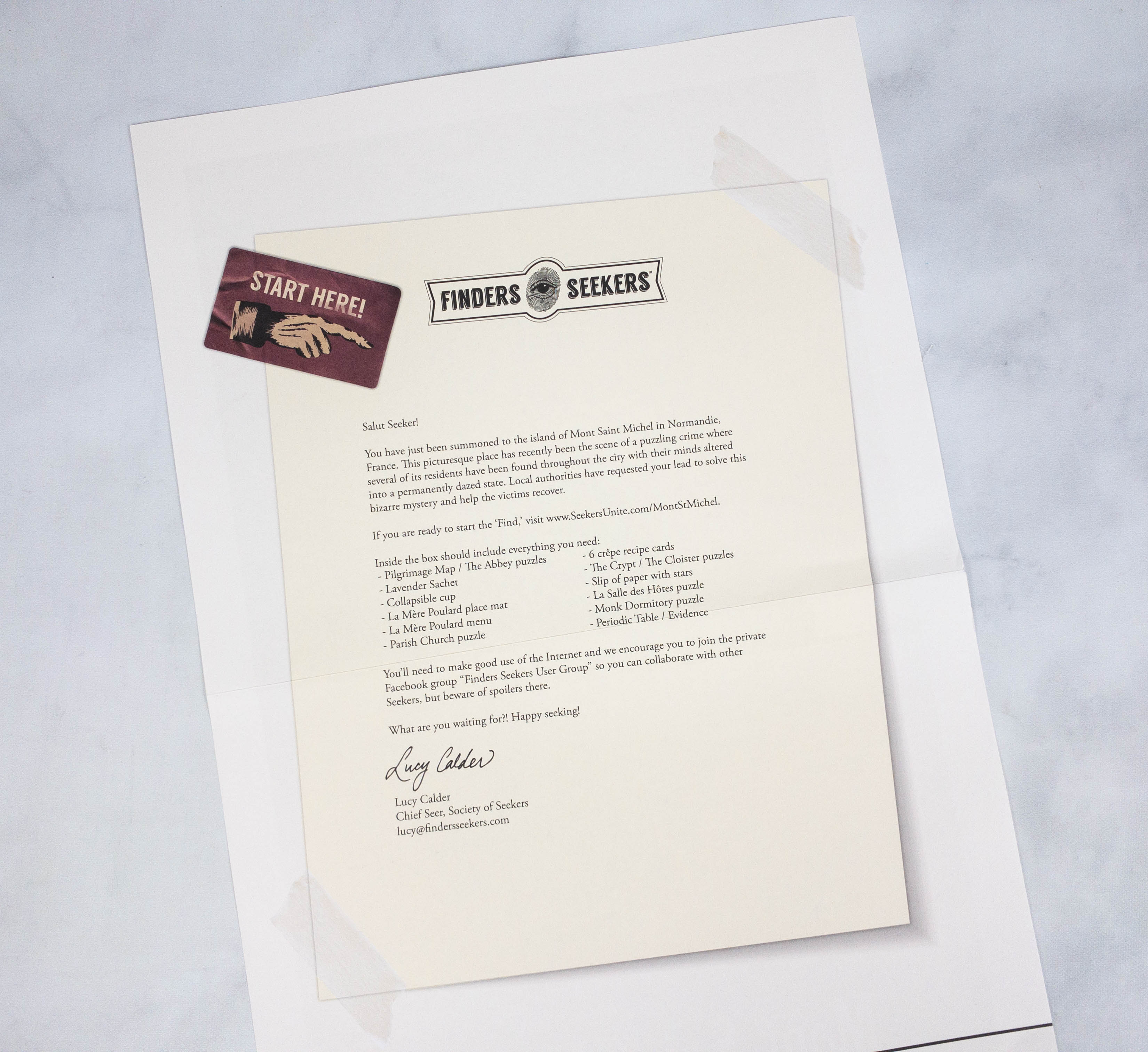 Included in the envelope is a welcome letter and checklist of every item that should be inside the package, plus all the clues needed to solve the mystery. This month, we need to help the residences of Mont Saint Michel's recover from a bizarre mystery that resulted in their permanently dazed state.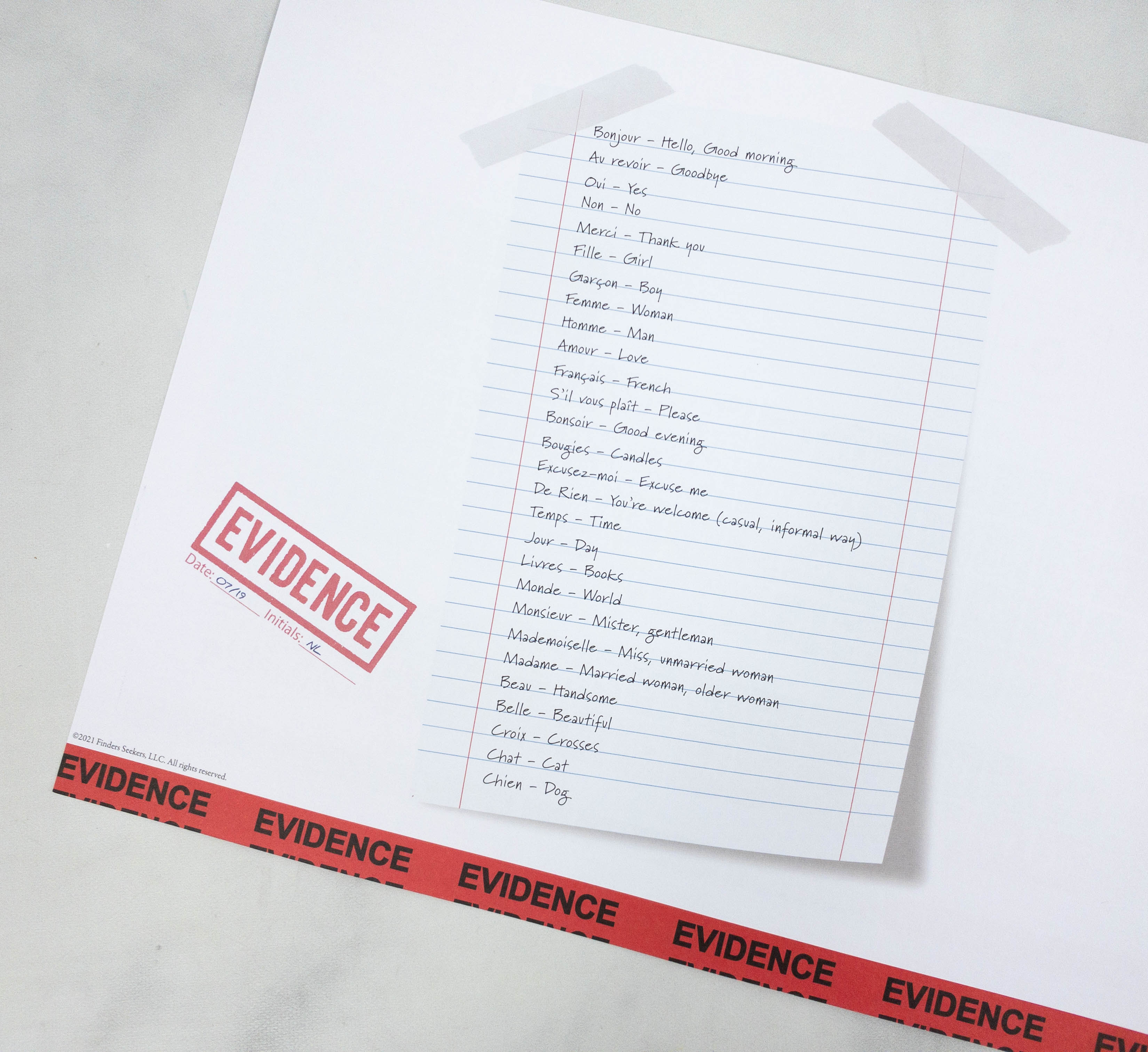 All the evidences are secured in a white envelope. It contains some basic French words and translations for each.
Pilgrimage Map. Inside is a map of the France. Below it is a brief pilgrimage guide to Month St. Michel.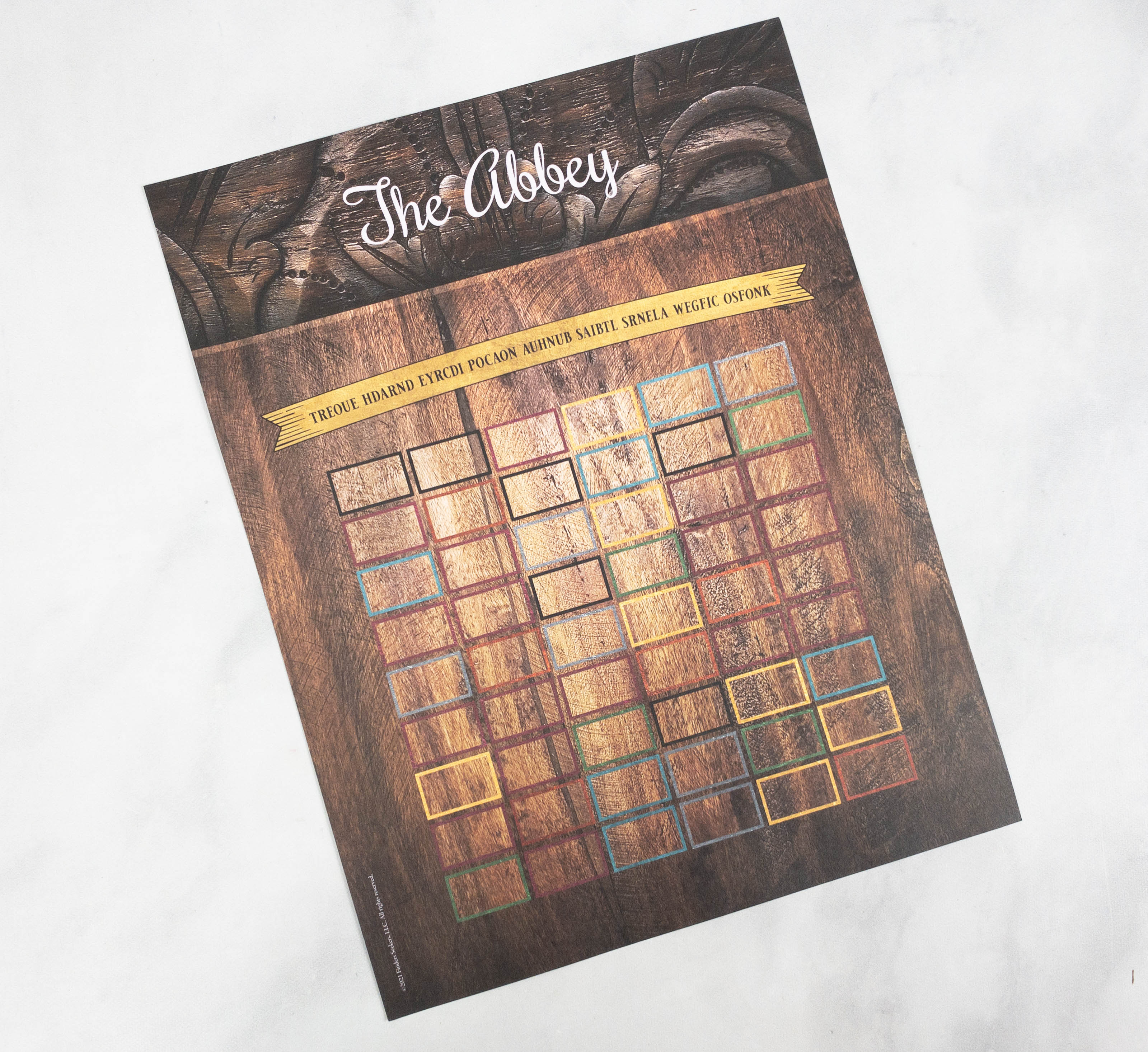 The Abbey Puzzles. The first puzzle contains a variety of boxes with different lining colors. They may look similar to each other but a code is hidden on some of the boxes that reveals a key to solve the problem.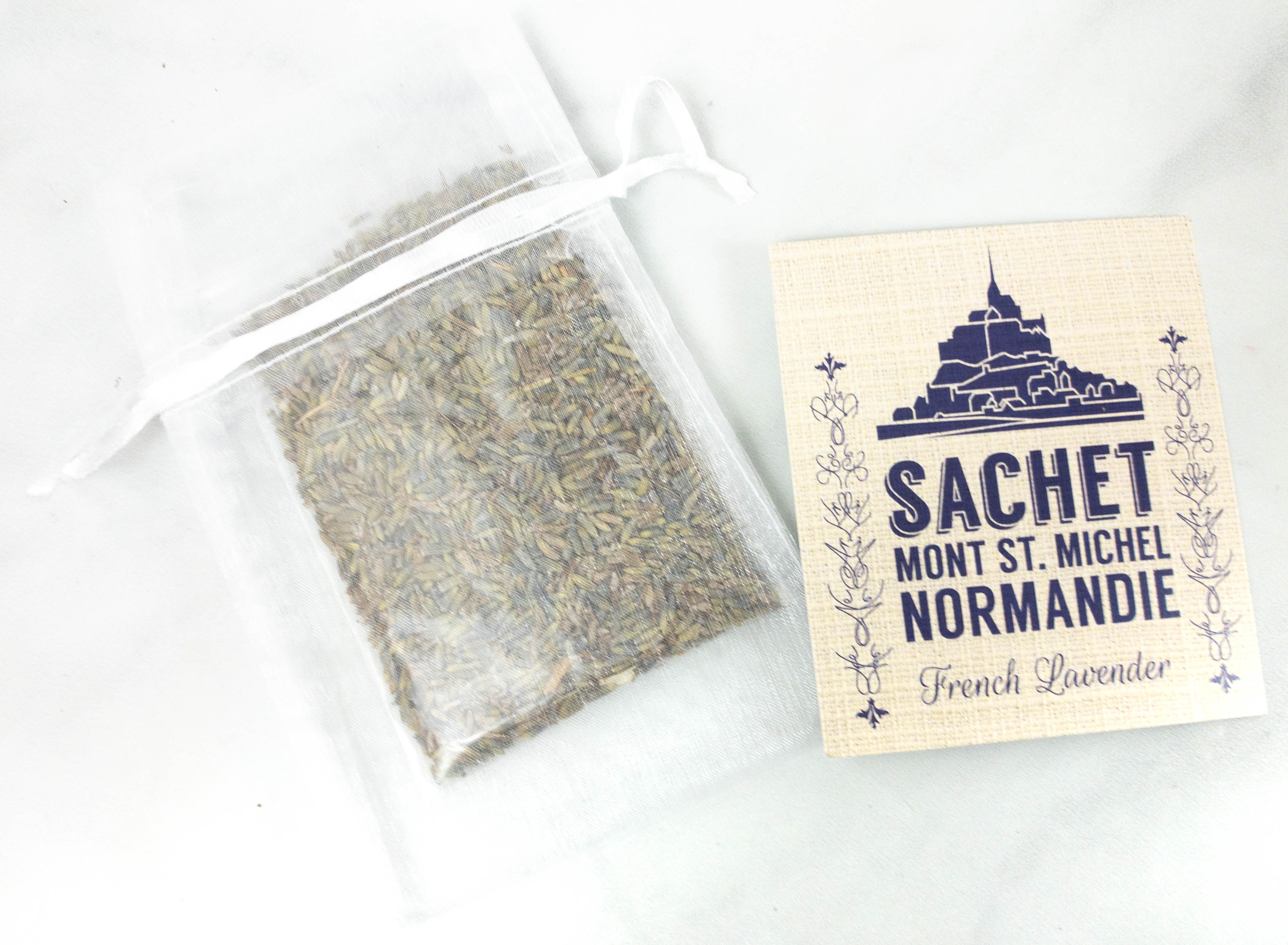 Lavender Sachet. This part of the mystery required the help of the Periodic Table that also came in the box. It was a bit hard to find the hidden letters at first, but it turned out to be one of the easiest puzzles!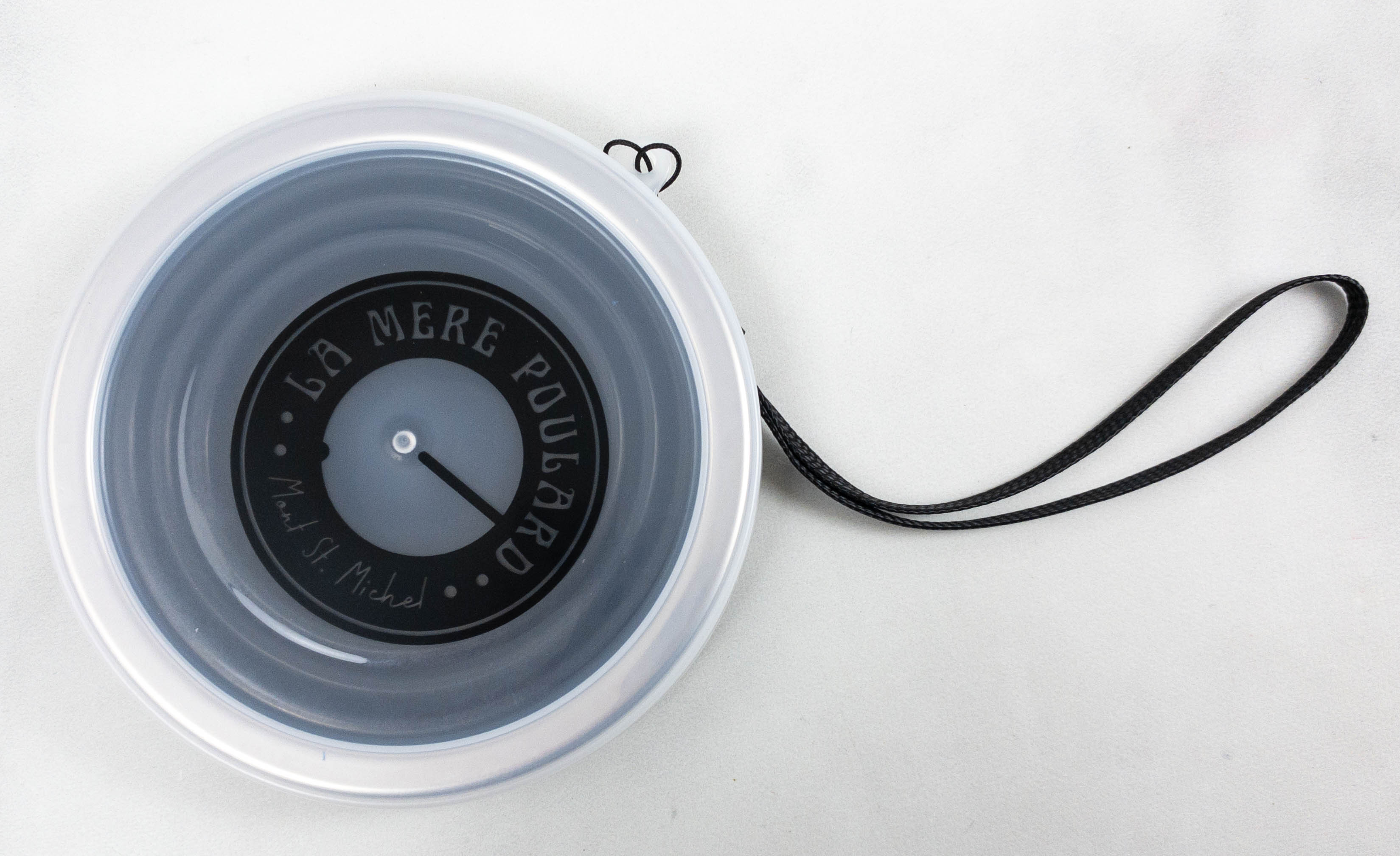 Collapsible Cup. Another featured item in this month's box is a collectible cup from Mont St. Michel. Using its transparent cover, I was able to solve the La Mére Poulard puzzle by navigating it on top of the place mat.
The collapsible cup came with a cover and lace for easier and secured carrying.
La Mére Poulard Place Mat. There are lots of round designs all over the place mat. I tried placing the transparent cover on each circle and was able to unlock the hidden mystery.
La Mére Poulard Menu. It also includes a menu from La Mére Poulard. A list of all the dishes offered by the restaurant can be found on it.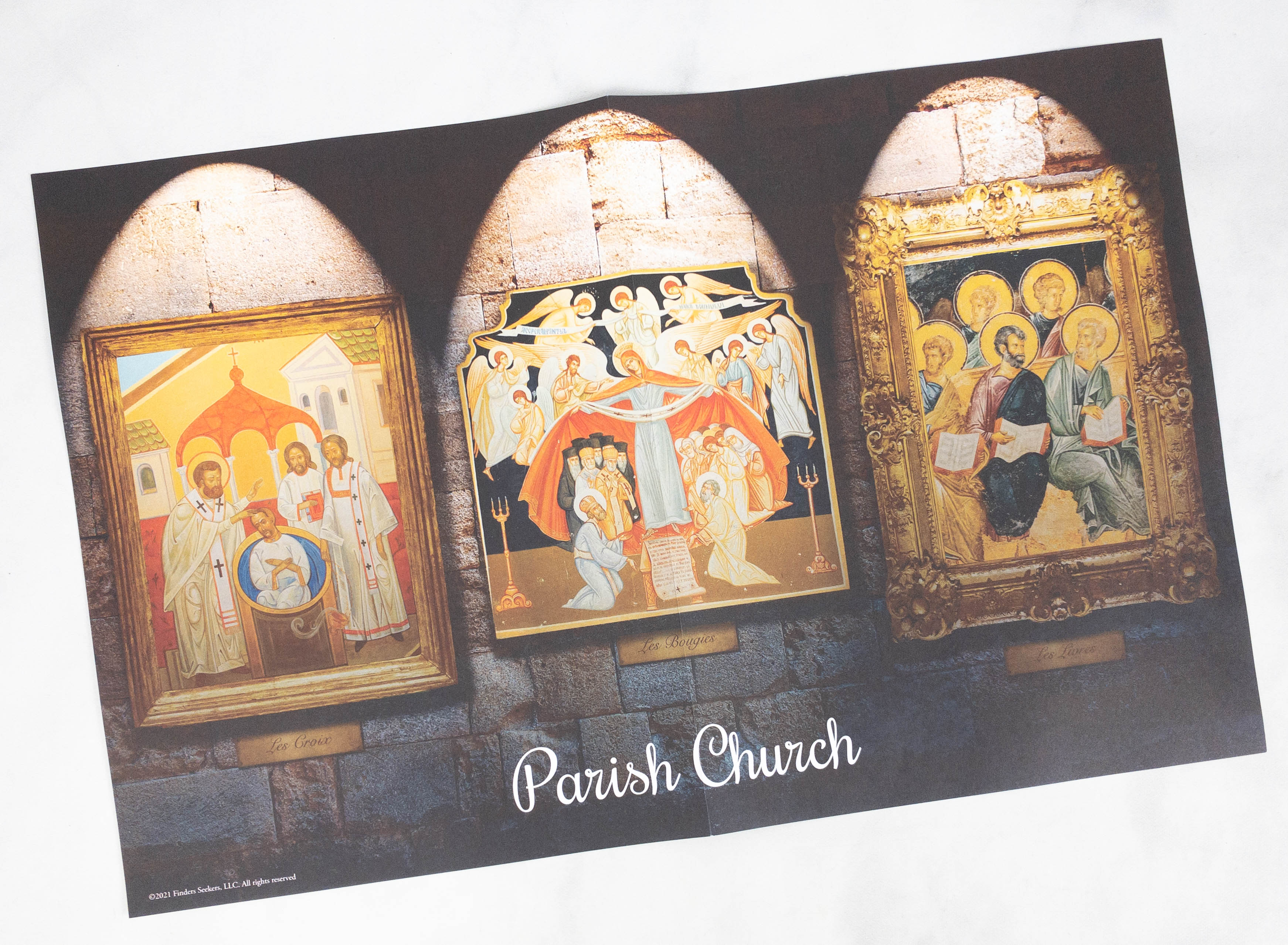 Parish Church Puzzle. This puzzle featured 3 paintings from the parish church. These amazing art works holds the key in solving another mind boggling problem.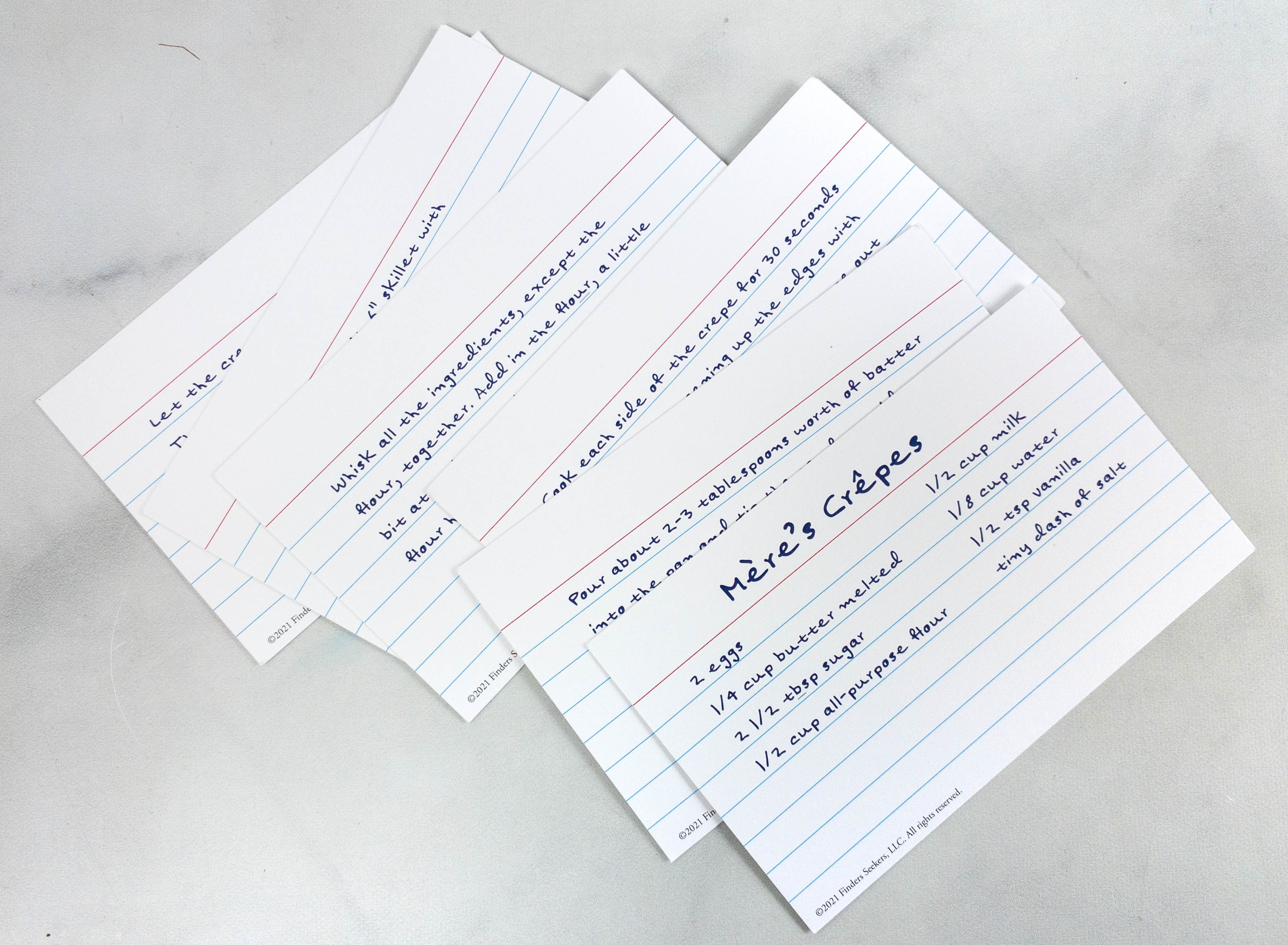 6 Crêpe Recipe Cards. Here are 6 delicious crepe recipes. Hidden in between the ingredients and instructions is a key that allowed us to proceed with the next puzzle!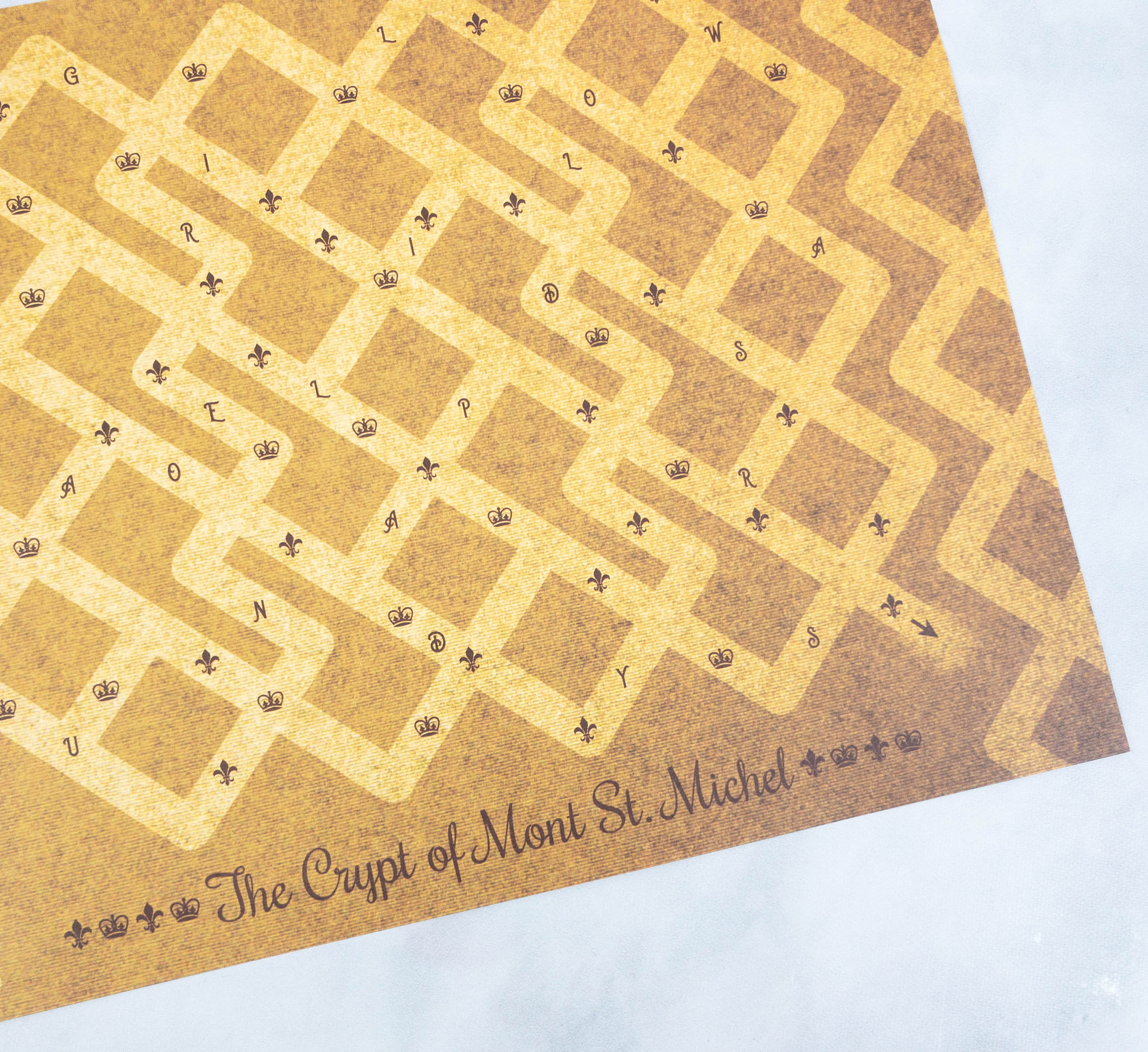 The Crypt. A few trial an error using the clues provided gave us the correct path to uncover the answer and finish the mystery from Mont St. Michel's crypt.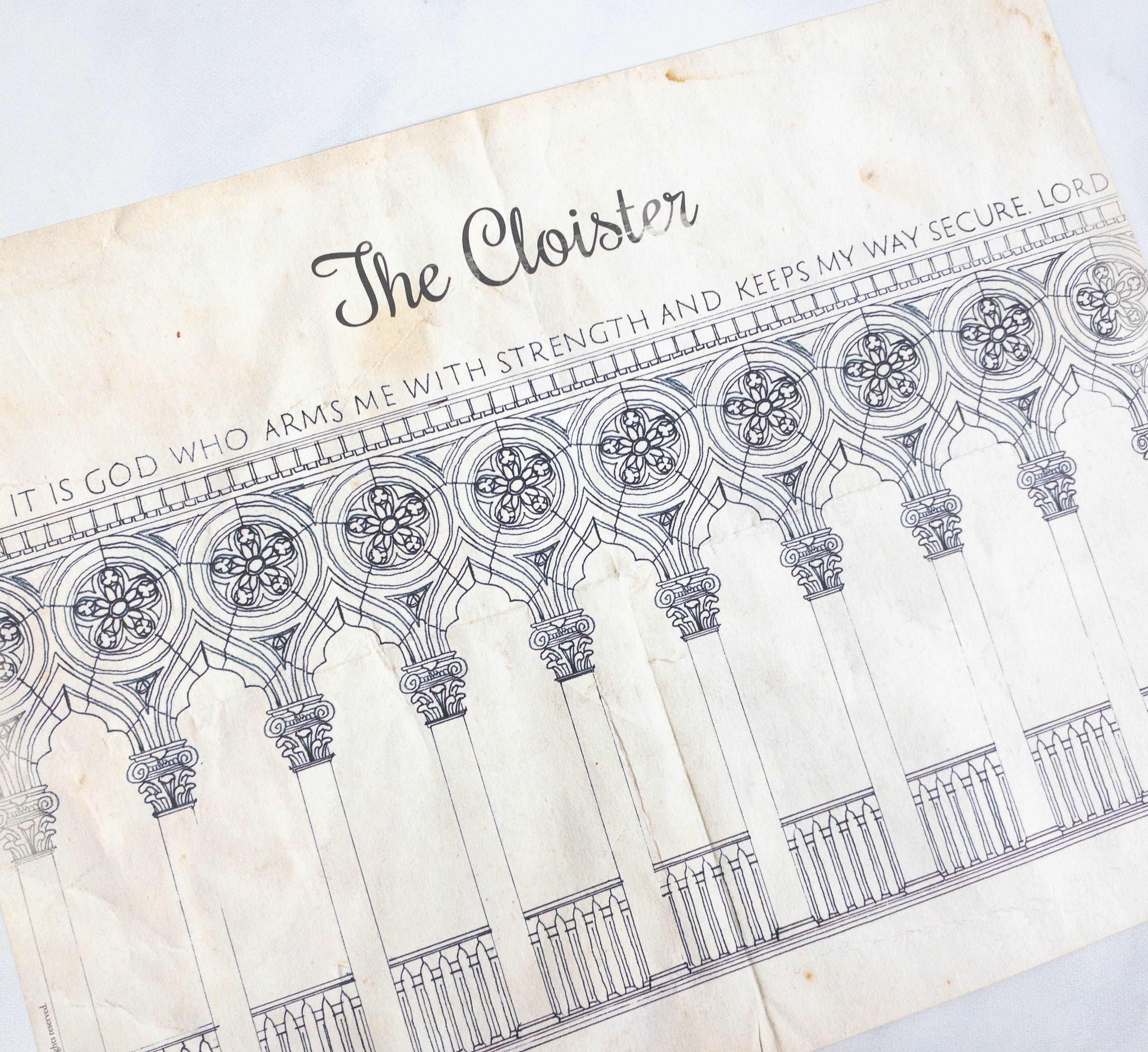 The Cloister Puzzles.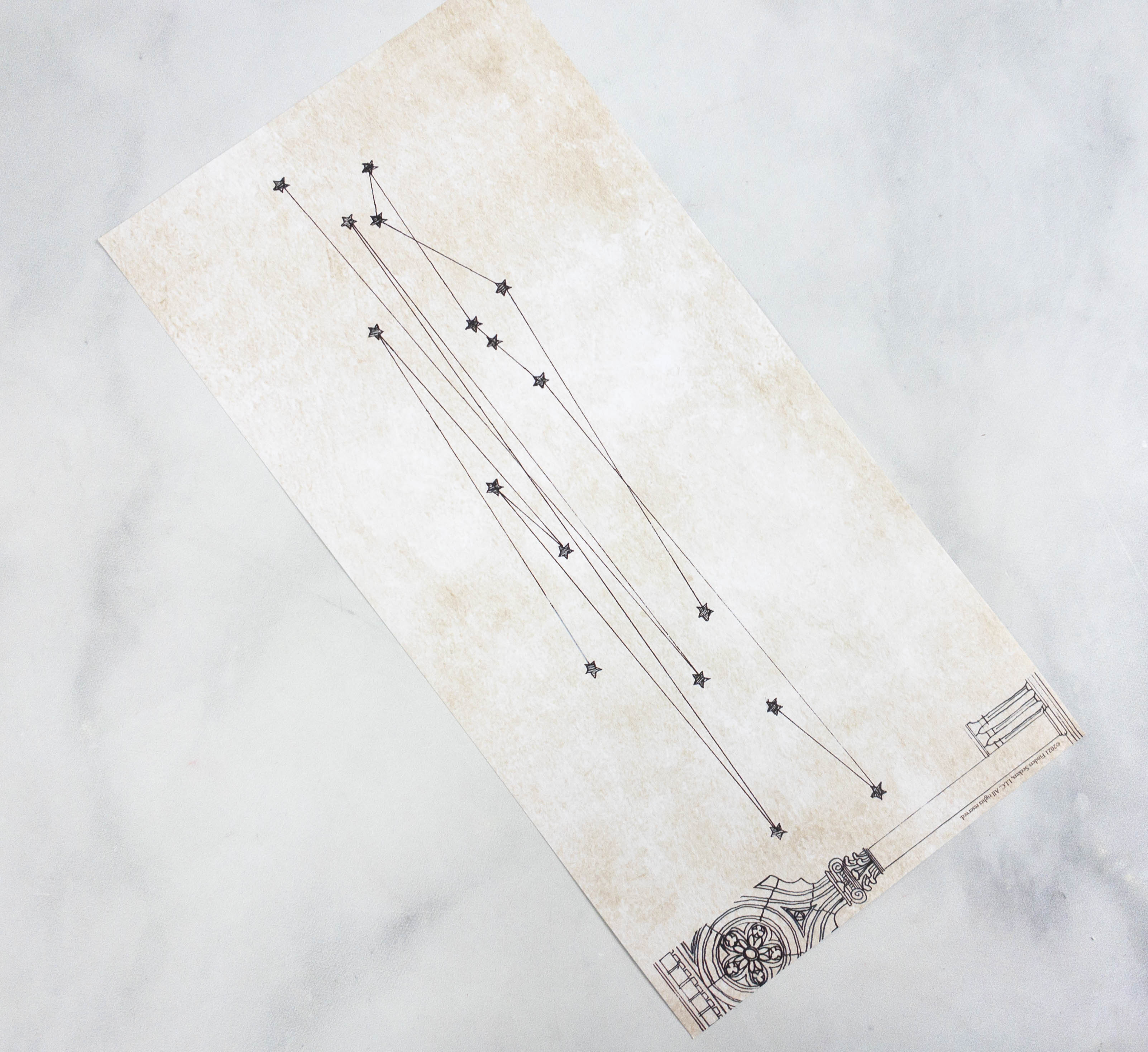 Slip of Paper with Stars. A sheet with stars connected by lines is also provided.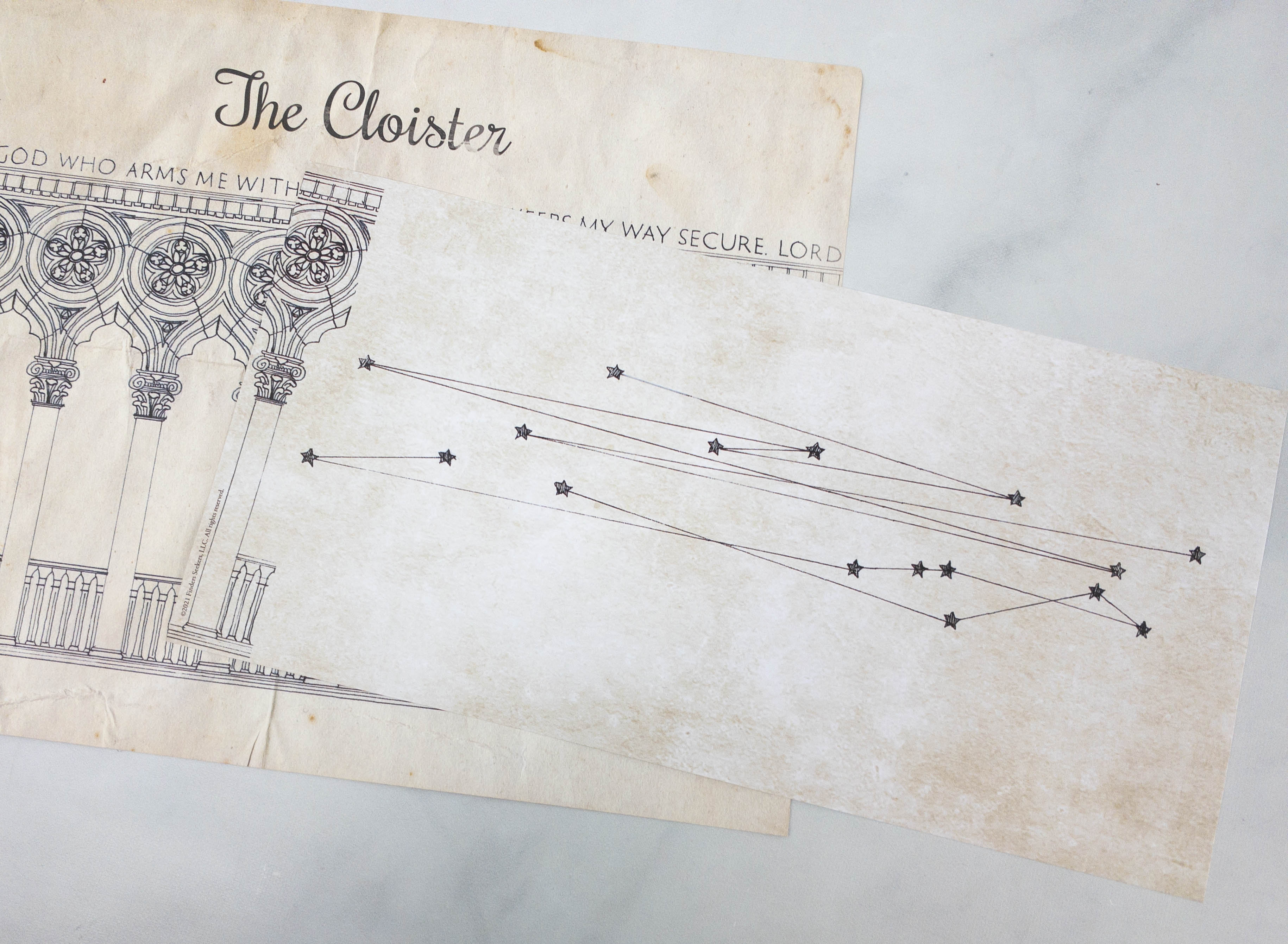 Puzzles are more fun and challenging specially with the use of 2 materials. Some words were needed to be decoded by carefully aligning the details from the Slip of Paper with Stars on this evidence.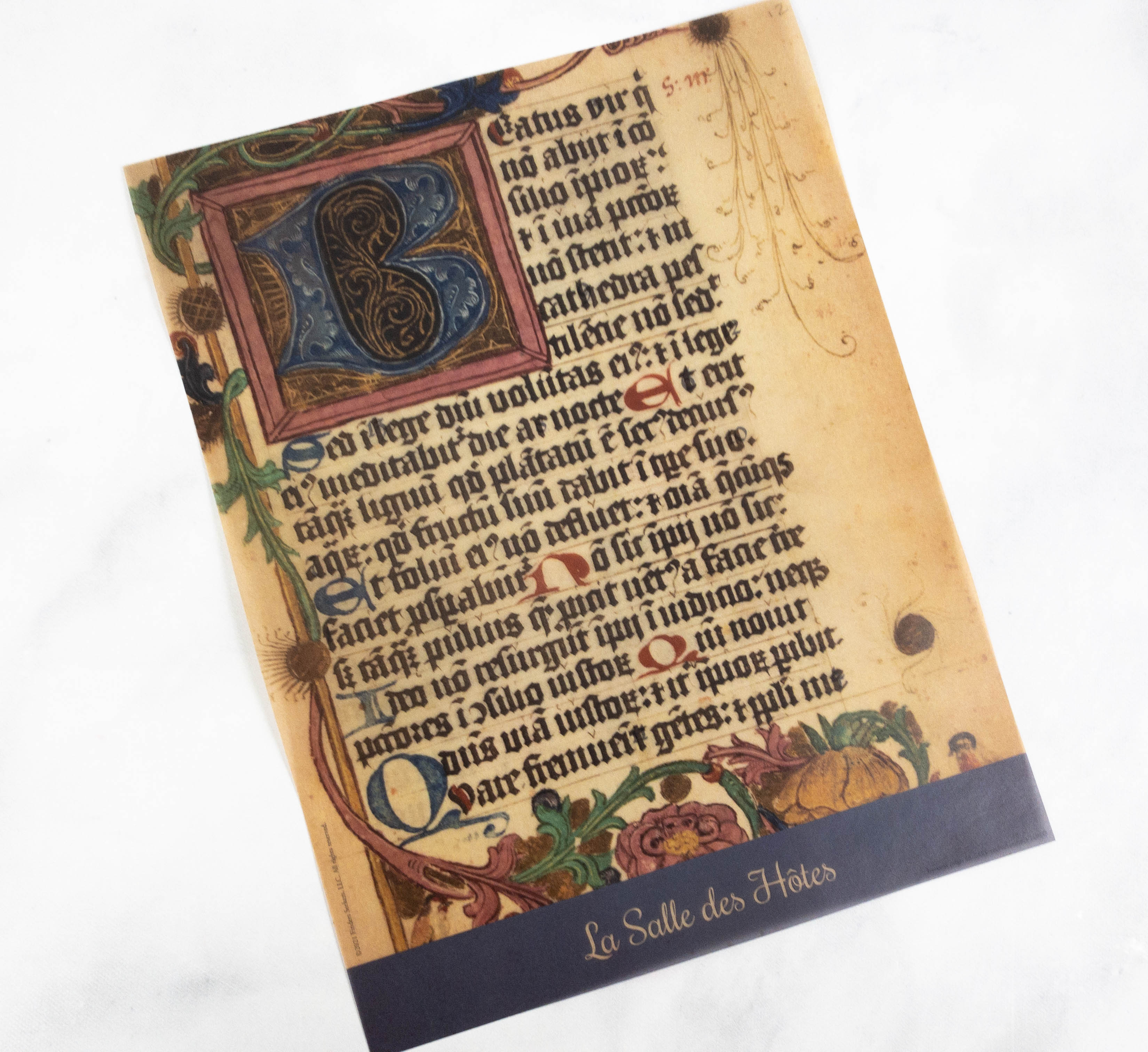 La Salle des Hôtes Puzzle. At first, I really didn't know how to encrypt the message on this card. After carefully inspecting the material, it turned out to be more manageable puzzle to solve.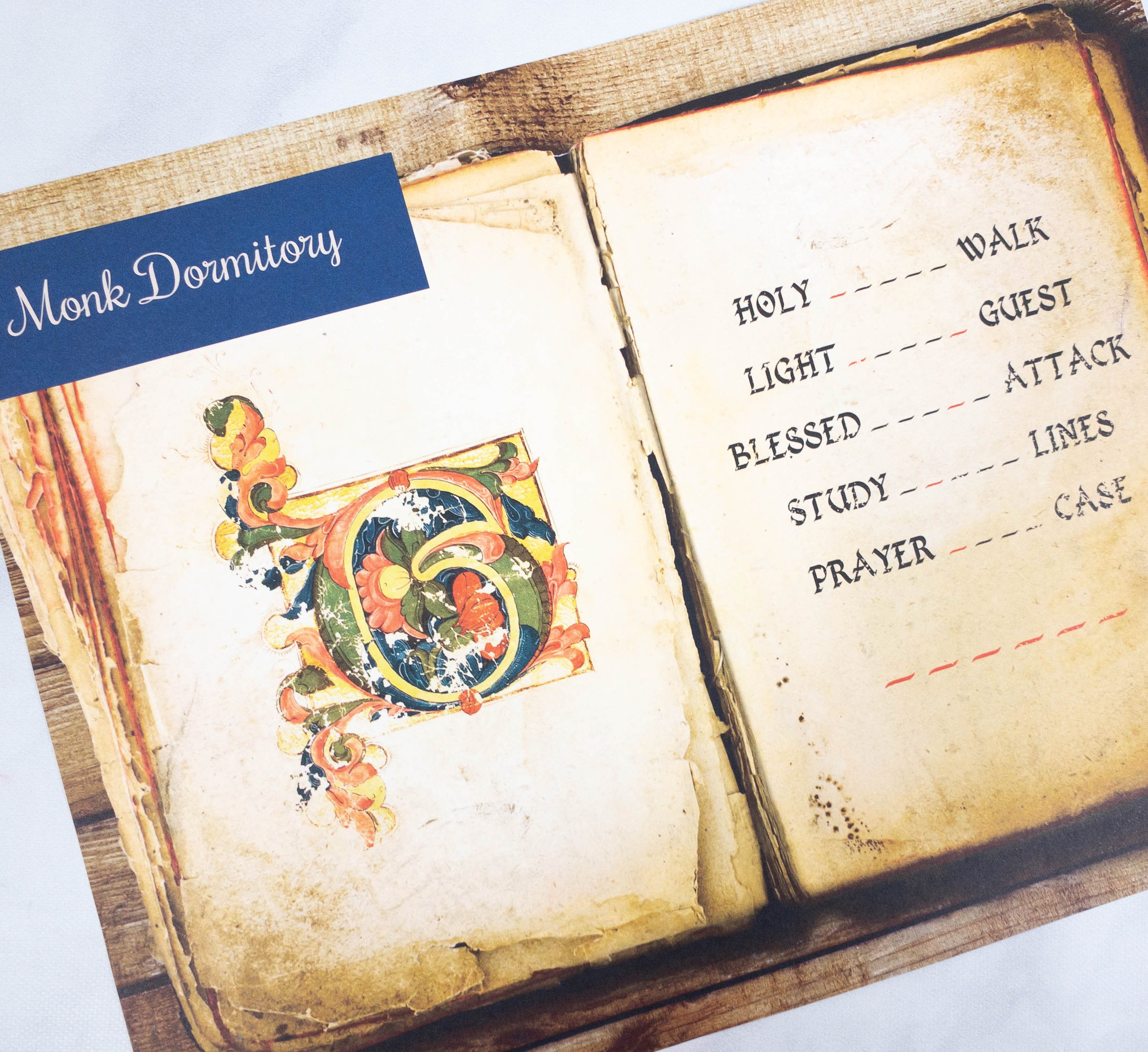 Monk Dormitory Puzzle. I also enjoyed doing the Monk Dormitory puzzle. It may look simple with the provided word clues, but it was really challenging and exciting at the same time.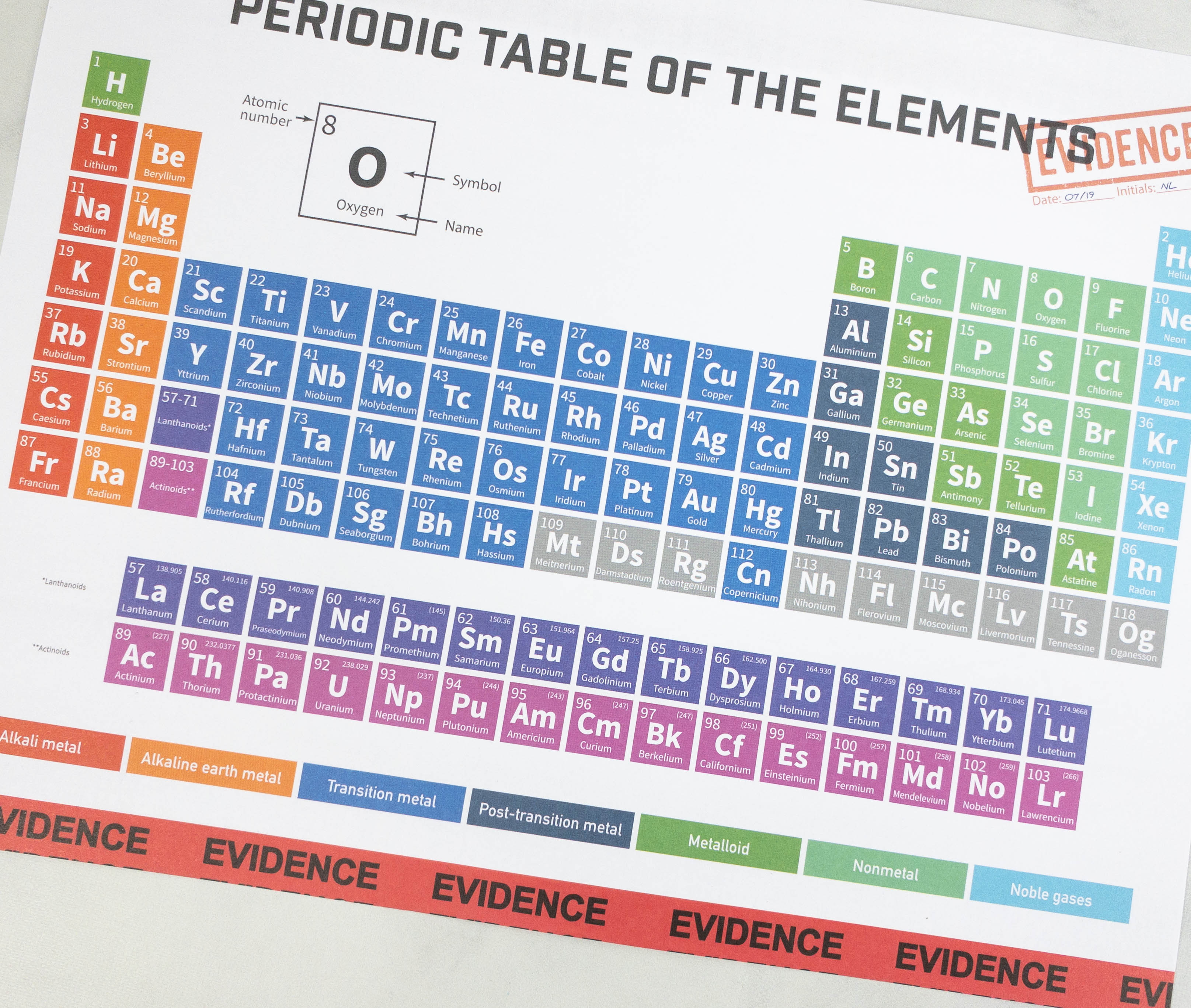 Periodic Table/Evidence. This handy Periodic Table was a great help in solving the lavender puzzle. Just like a usual periodic table, it contains element names, symbols, atomic masses and other properties.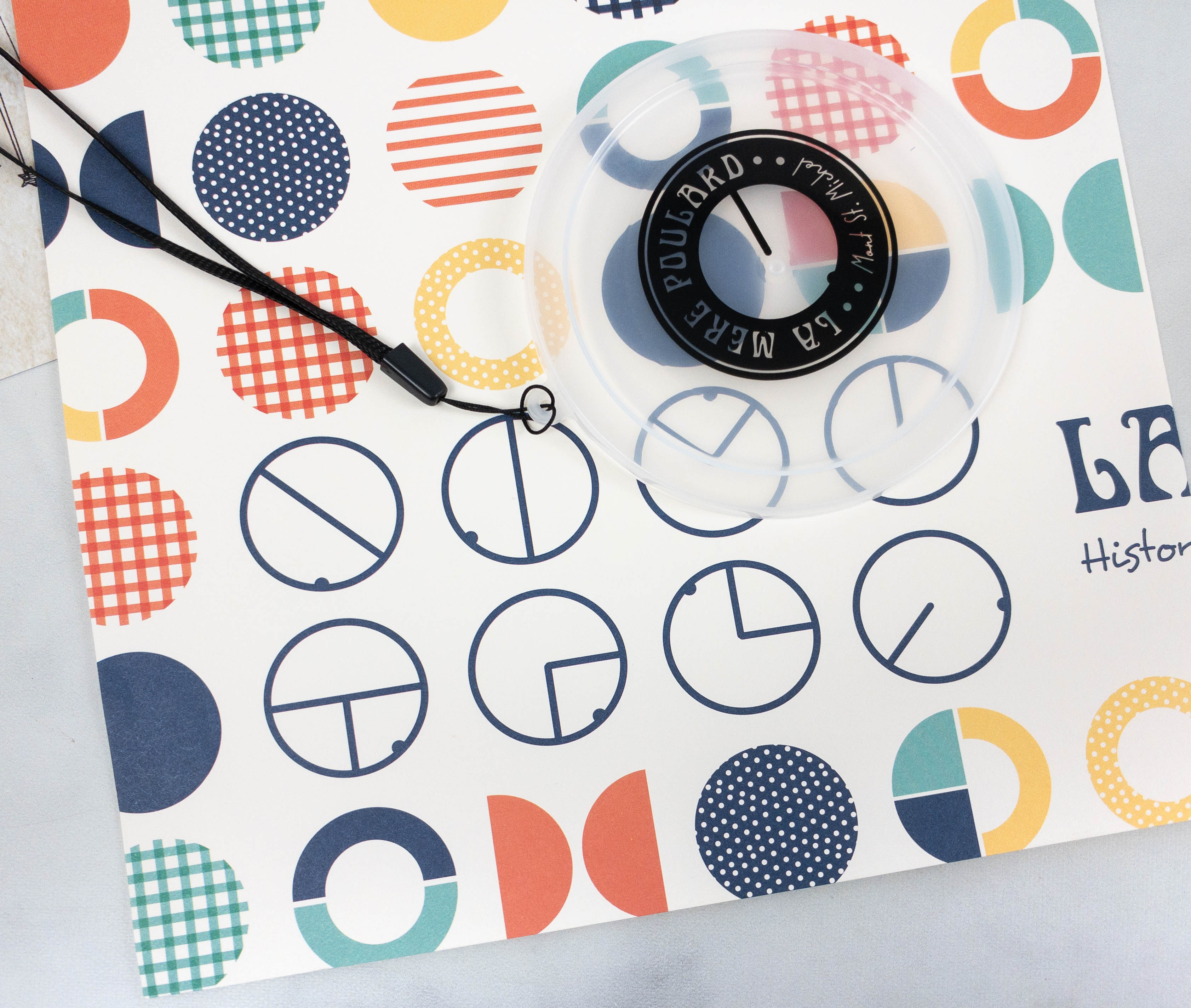 A clue to the La Mére Poulard puzzle: navigate the transparent cover from the collapsible cup on top of the place mat.
It was an amazing tour to the beautiful place of Normandie, France. This month, Finders Seekers brought me to another location and it taught me a lot about their rich culture and history. The puzzles were challenging and it's nice that all the evidence and materials were helpful and informative. The mystery for this month is not as easy as the other previous boxes but the reward gained is truly satisfying! If you love solving mysteries and visiting other places, this subscription is definitely perfect for you! It's also a great activity box that you can do with your family and friends!
Did you solve the mystery? How long did it take you? Let us know in the comments below!