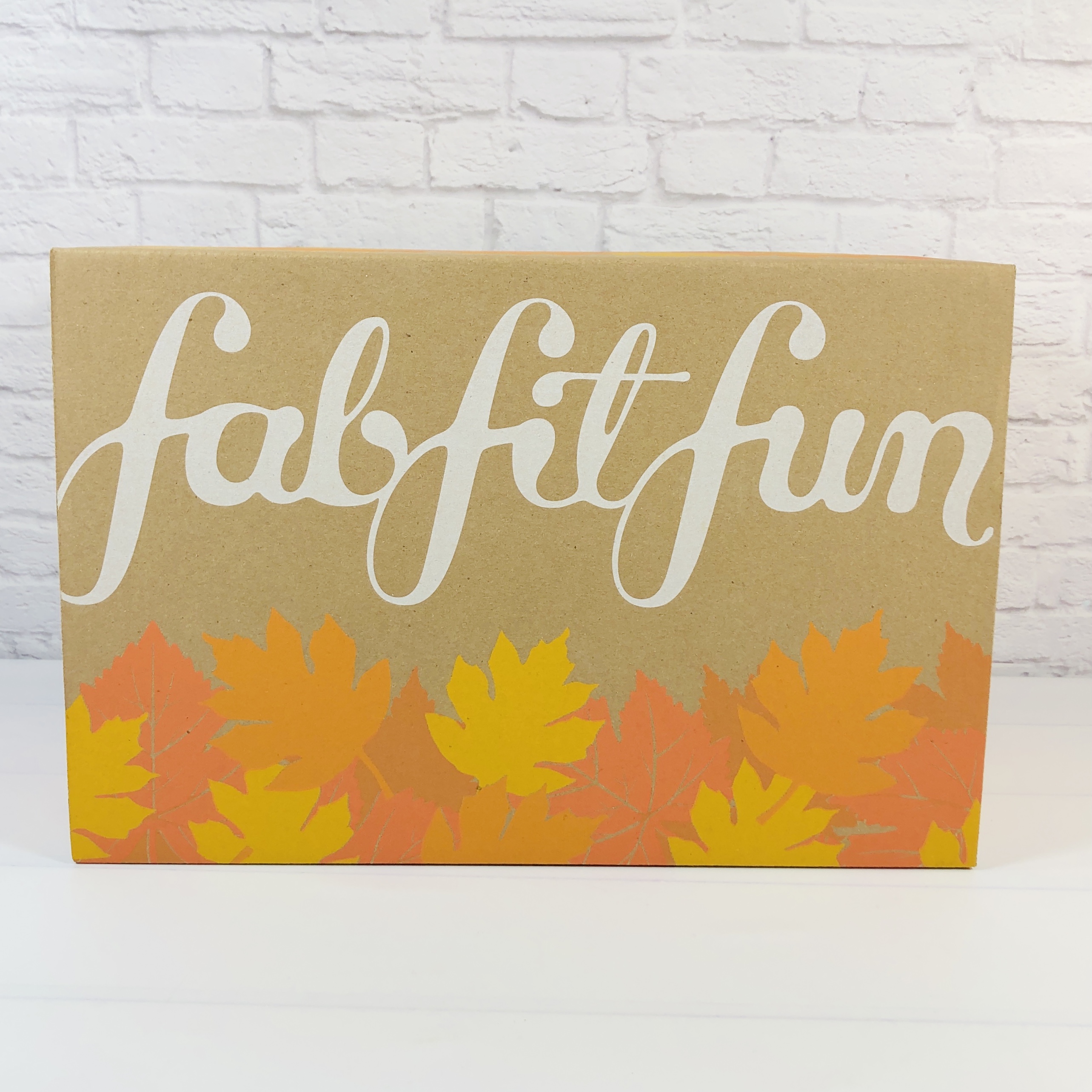 FabFitFun Box is a quarterly women's subscription box that delivers full size, premium products from the beauty, fashion, and fitness categories for $49.95 per quarter. You get to choose from a variety of items to customize your box, too!
This box is still available! Check out the full spoilers and all the variations for the Fall 2021 FabFitFun Box here.
DEAL: Use this link and coupon code FAB10 to get your first box for $10 off!!
LIMITED TIME: Get a Free mystery bundle with your FabFitFun Fall Box when you sign up as a new Annual member – while supplies last! Use code GETMINE! 
This box is packed full of goodies, as it is every season. All items came in their original packaging. The box had colorful autumn leaves all over the outside and more leaves on the inside. My cats are ecstatic!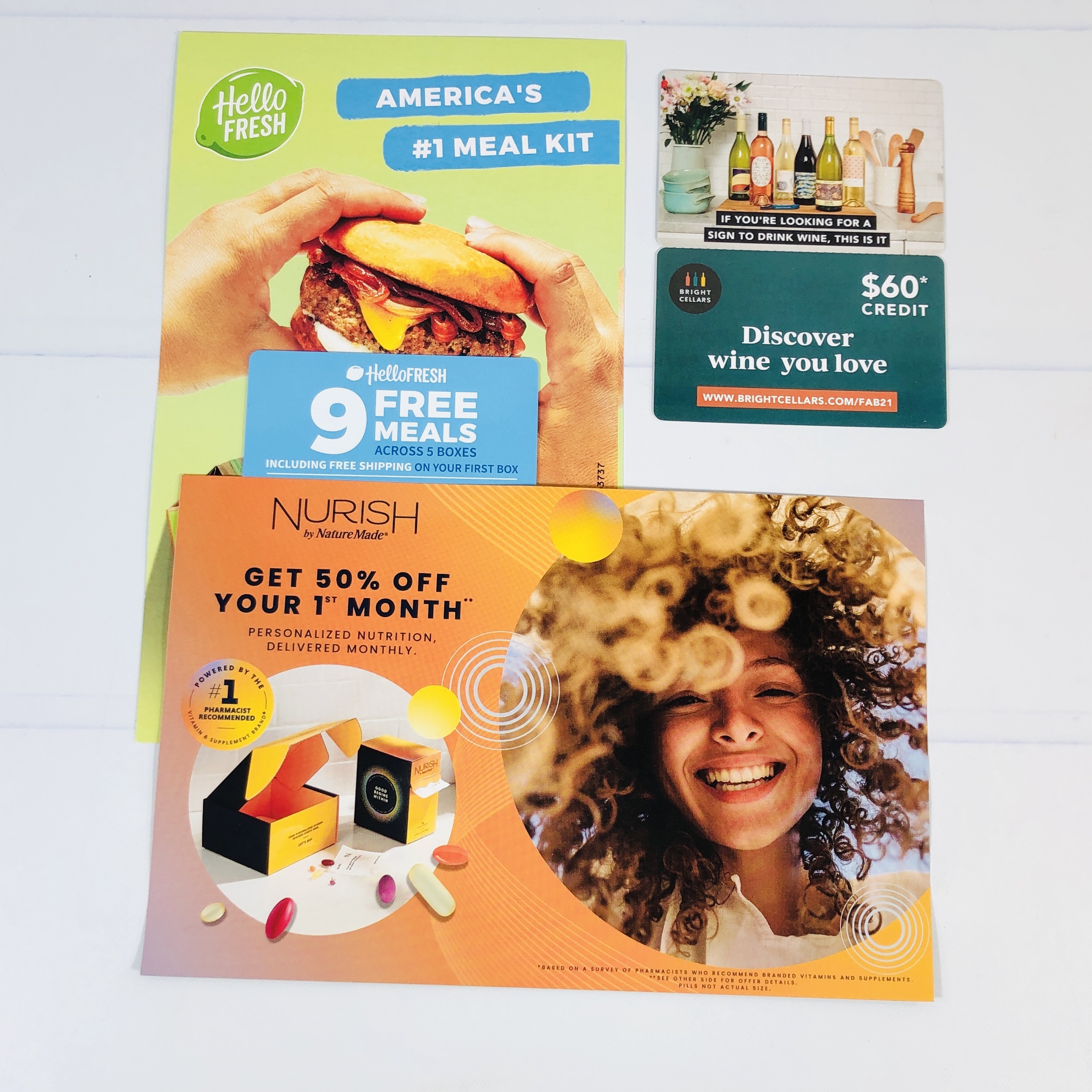 The box also includes discount cards! They are from Nurish and Hello Fresh plus a code to be redeemed at Bright Cellars! I usually receive an informative magazine but didn't see one this time around. This sometimes happens with review boxes from FFF.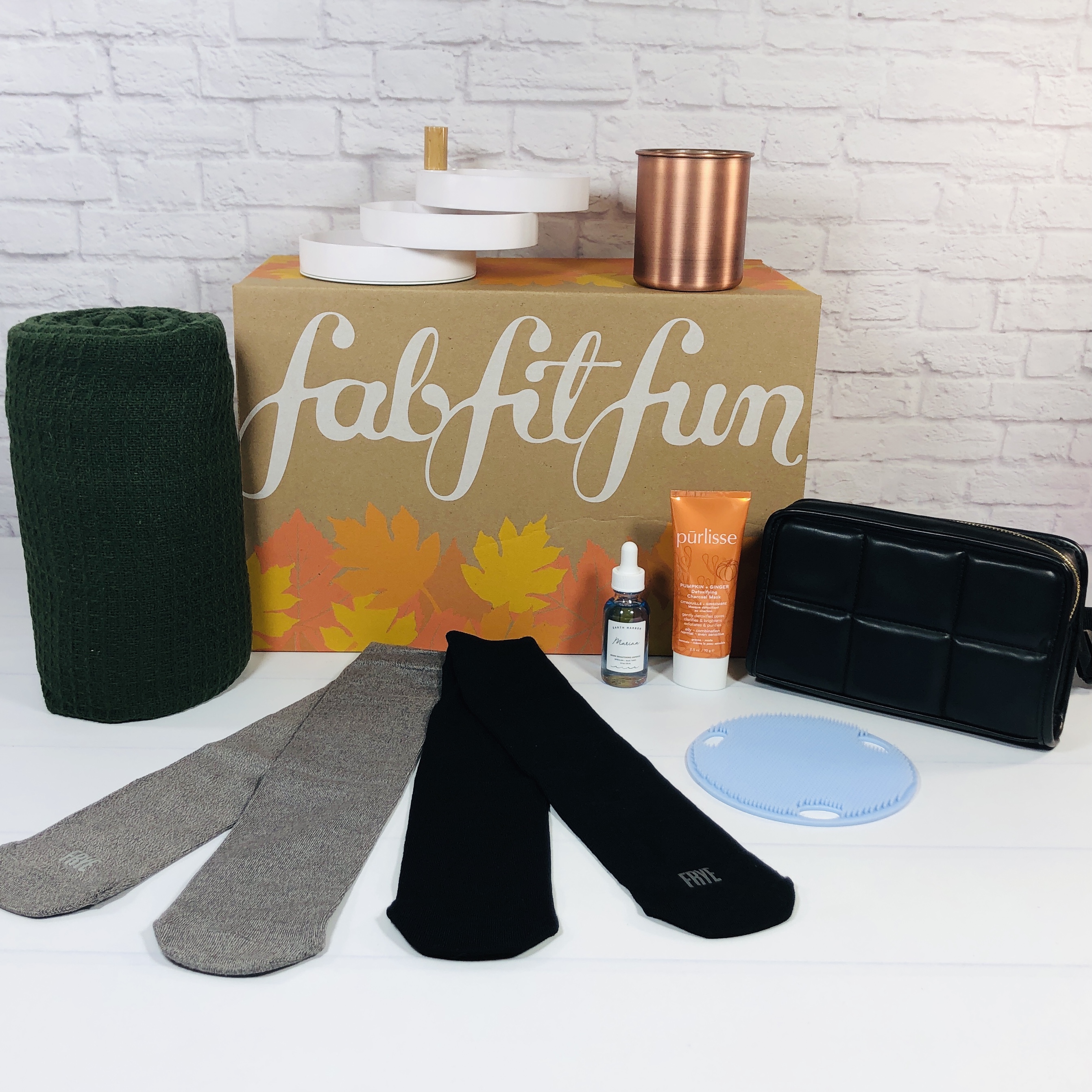 Everything in my FabFitFun VIP Box for Fall 2021! There are lots of item variations that are detailed below.
Customization 1
Subscribers will get to choose among the following:
I received the Arhaus Waffle Knit Throw Blanket!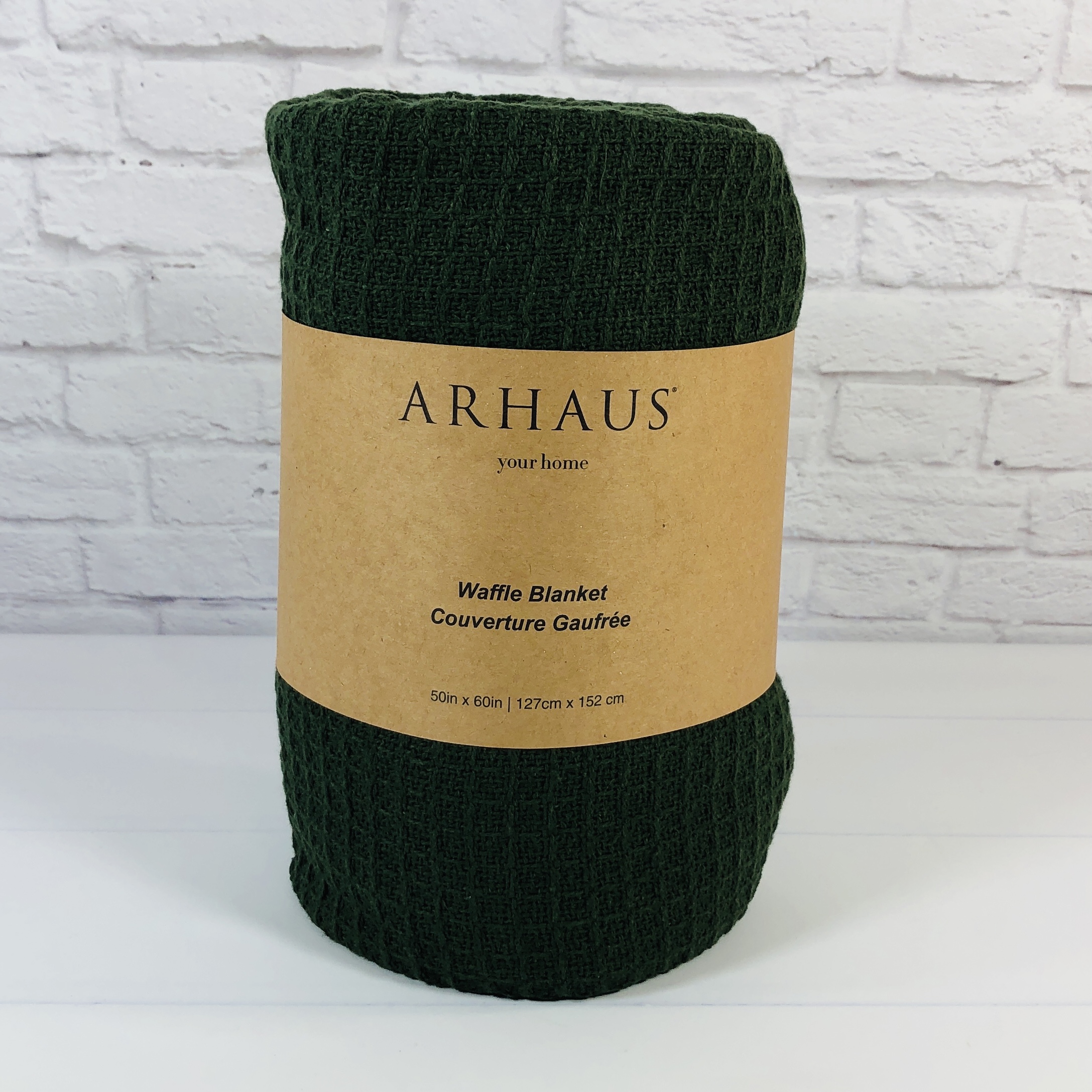 Arhaus Waffle Knit Throw Blanket ($60) I love to cozy up with a blanket on my lap (along with one of my cats) and a book plus a cup of tea. This color reminds me of an evergreen tree and it looks like it will be easy to wash, important because my cats shed.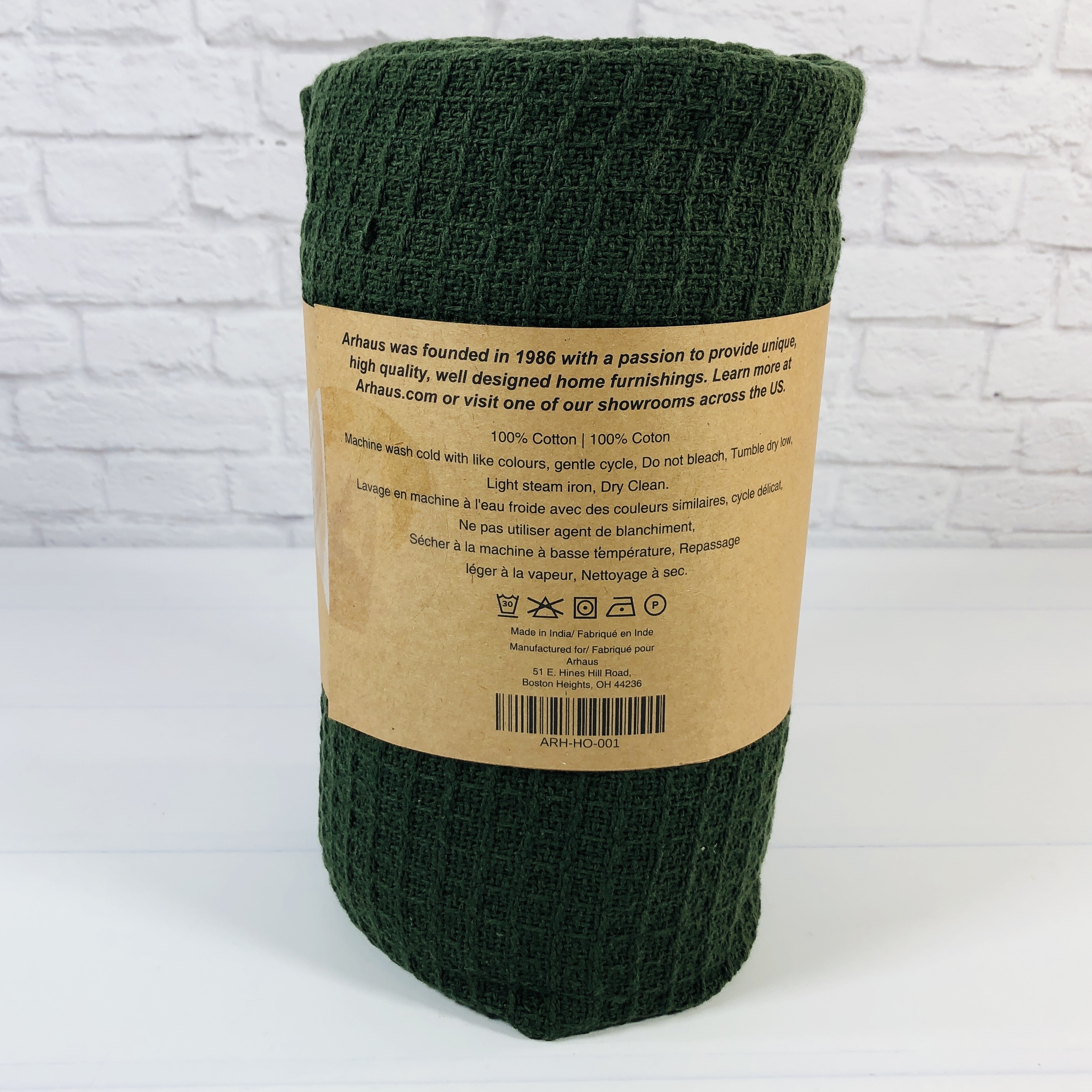 The 100% cotton waffle weave blanket was made in India and it can be thrown in the washer and dryer. Do you have an Arhaus in your city? We do, and it sure is pretty inside, although it's been years since I've been. This blanket measures 50″ x 60″.
Customization 2
Subscribers will get to choose among the following:

I received Arhaus Copper Candle – Evergreen!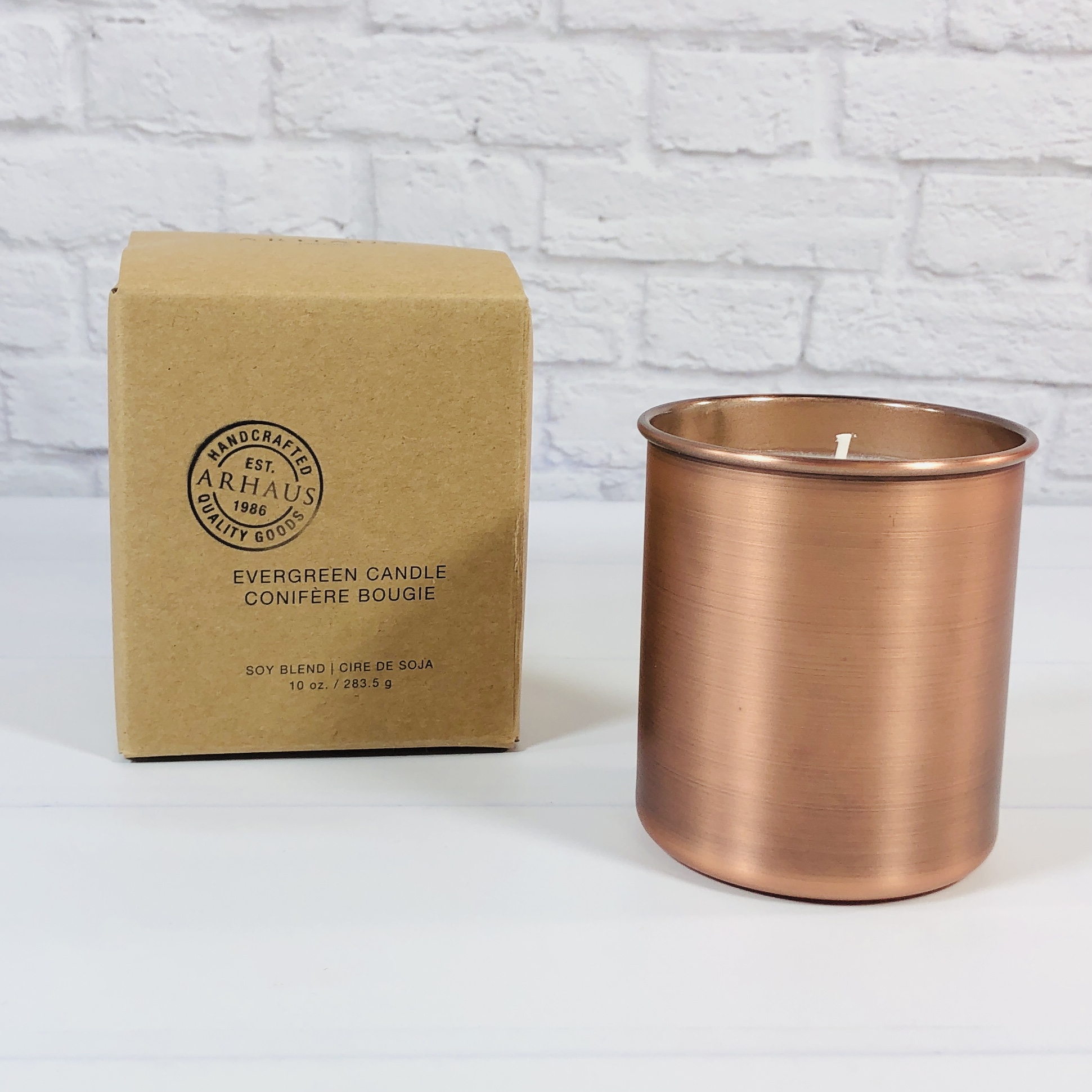 Arhaus Copper Candle – Evergreen ($40) To accompany that forest green blanket, I received a candle that actually smells like a forest! I have a collection of copper candles on my fireplace mantle so this will fit in with my ever expanding assortment.
Make sure to heed those candle burning warnings. The candle is made of soy wax with a cotton wick and should burn for about 50 hours.
Customization 3
Subscribers will get to choose among the following:
I scored the Amanda Uprichard Belt Bag!
Amanda Uprichard Belt Bag – Standard or Plus ($60) I thought this might make a nice gift for my daughter, an upgrade from her usual fanny pack (I think it was Victoria's Secret who made them popular again?). This can also be used as a cross-body bag if wearing it around your waist seems too touristy. The front has huge quilted blocks.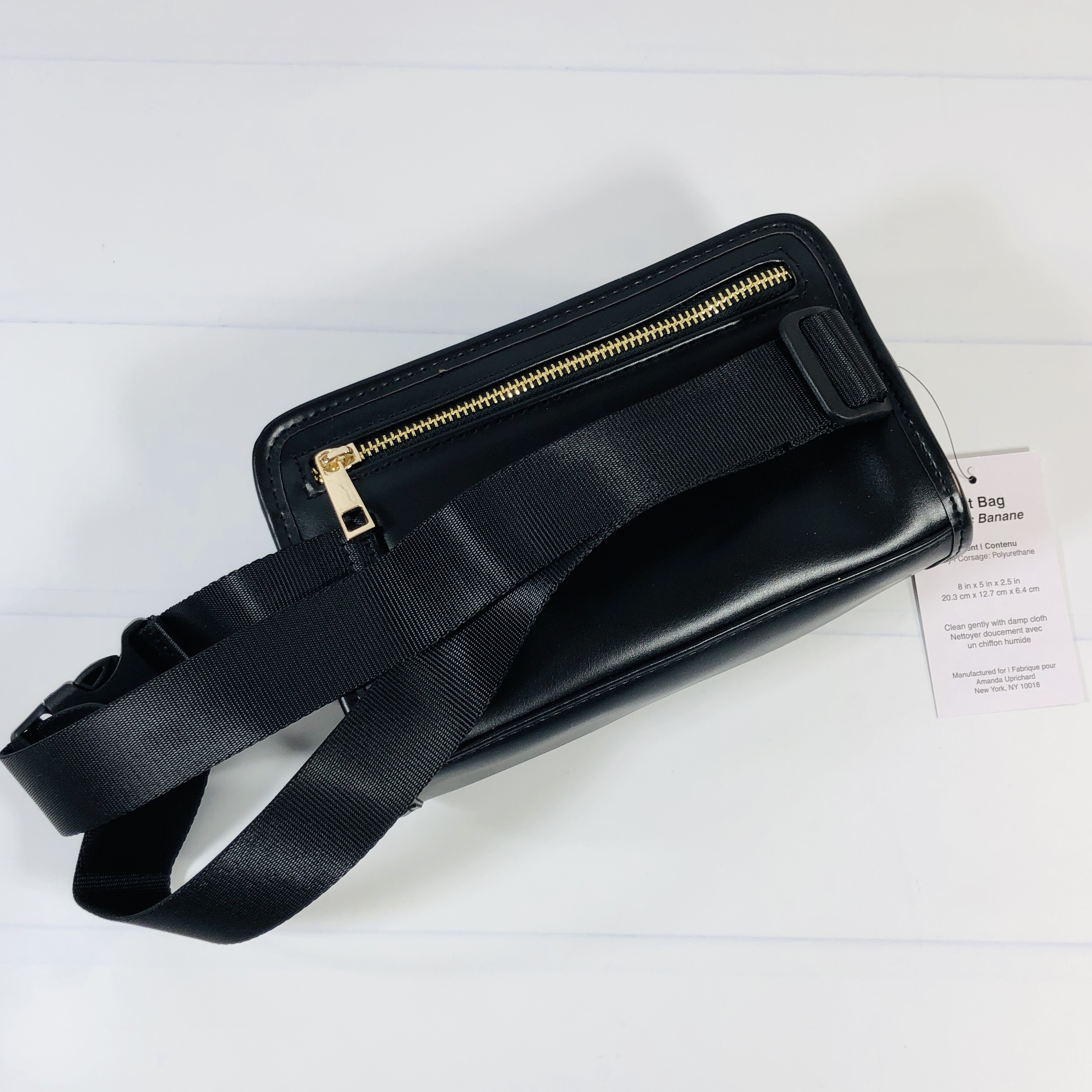 The back has an adjustable strap as well as a zipper.  I received the plus or standard size, the tag doesn't say. It says that this measures 8″ x 5″ x 2.5″. I measured the strap from one end of the clasp to the other with the belt extended as far as it will go and it is about 42″.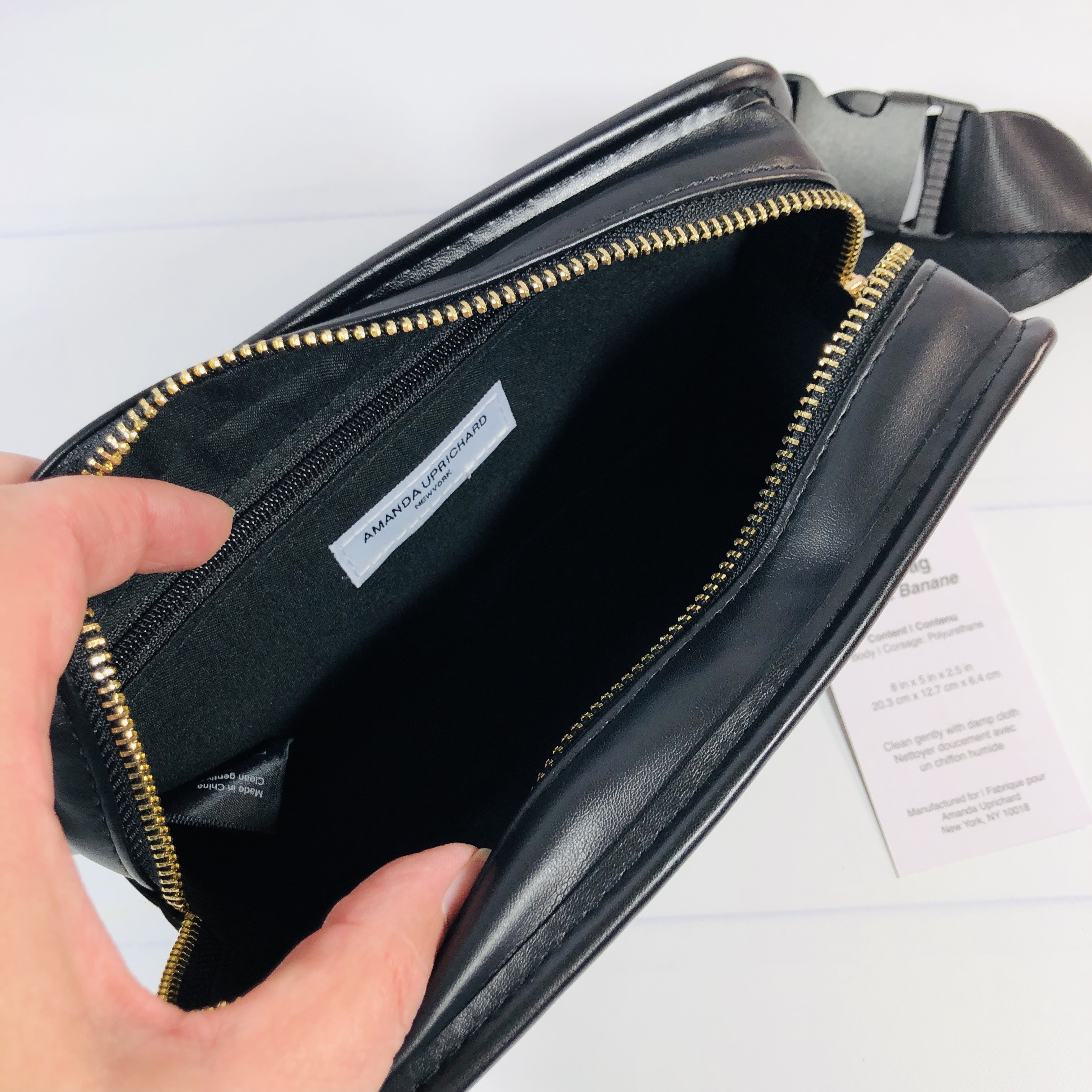 The inside has another zippered pocket and the outside of the bag is easy to keep clean, just wipe it down.
Customization 4
Subscribers will get to choose among the following: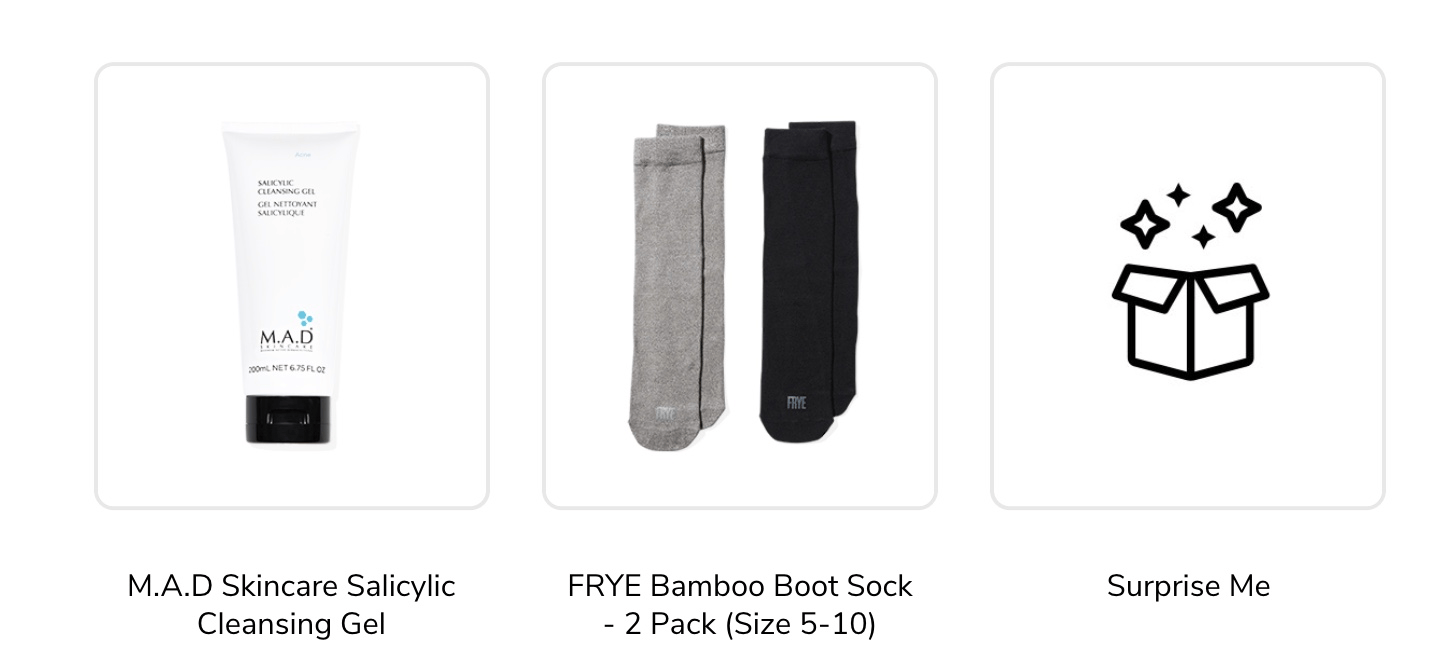 I got the FRYE Bamboo Boot Sock – 2 pack!
FRYE Bamboo Boot Sock – 2 pack ($24) Here is another item I thought would make a great gift — a pair of socks for wearing with boots!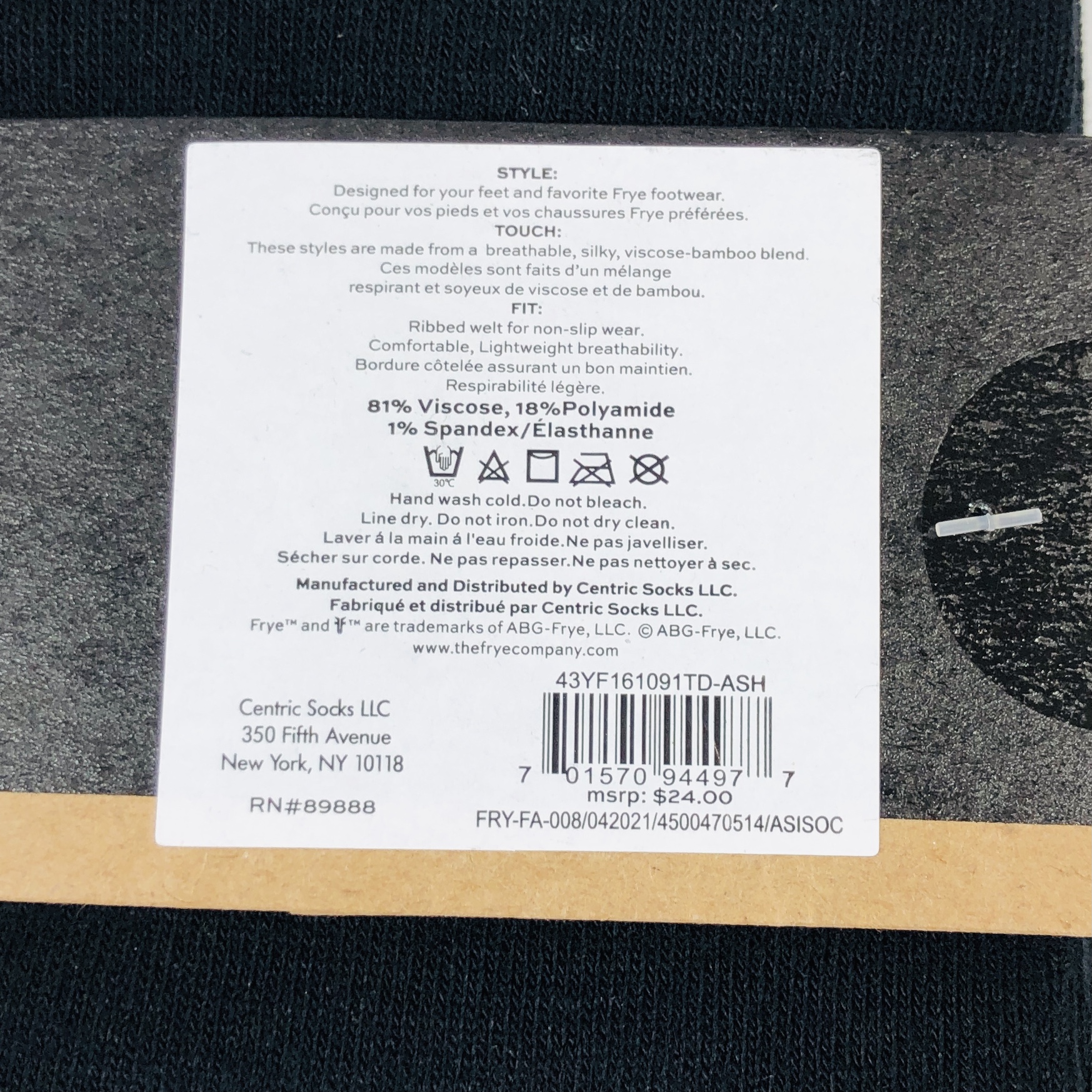 The socks fit shoe sizes 5-10 and are made with a blend of viscose, polyamide, and spandex.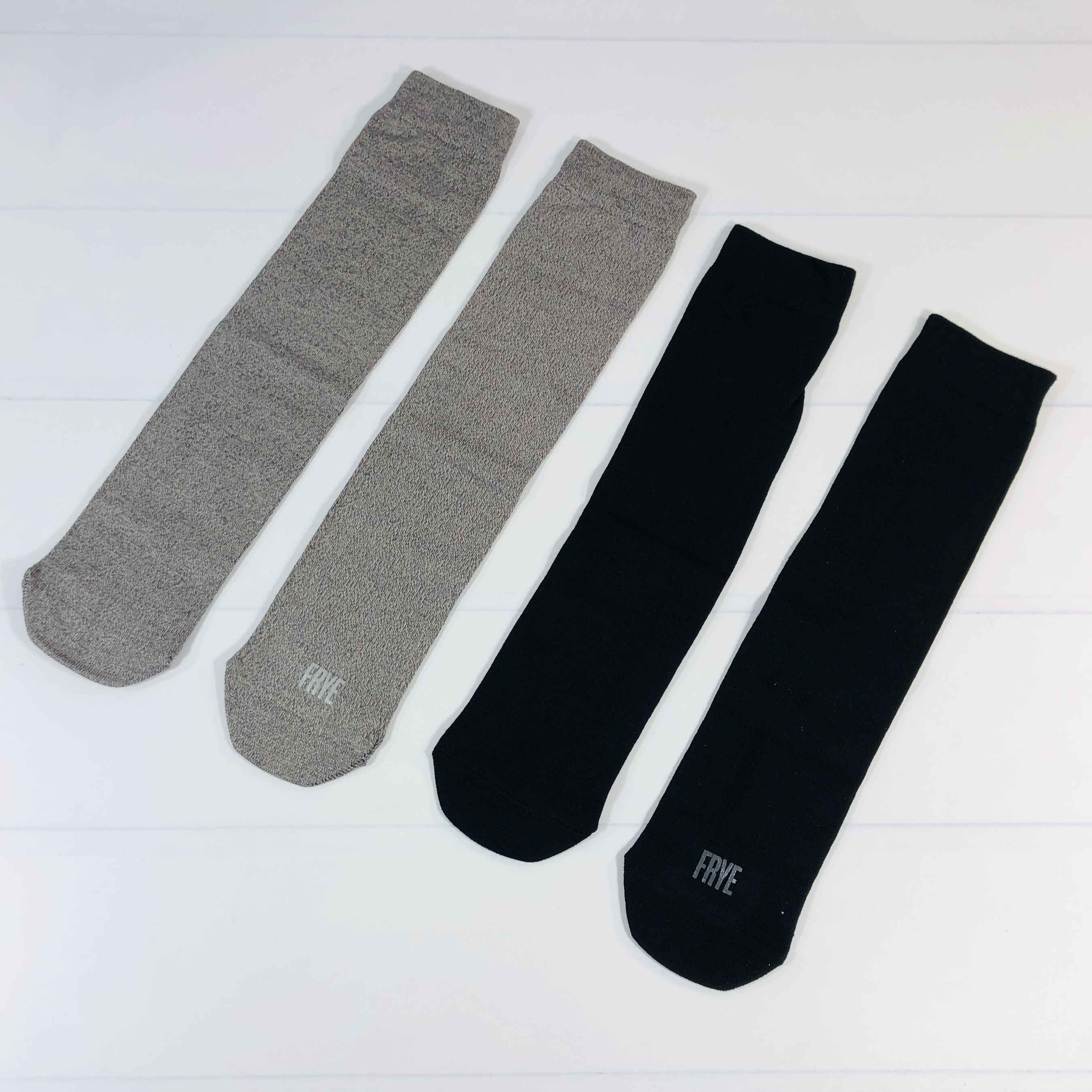 These feel super soft and they should stay up all day long thanks to the cuff at the top.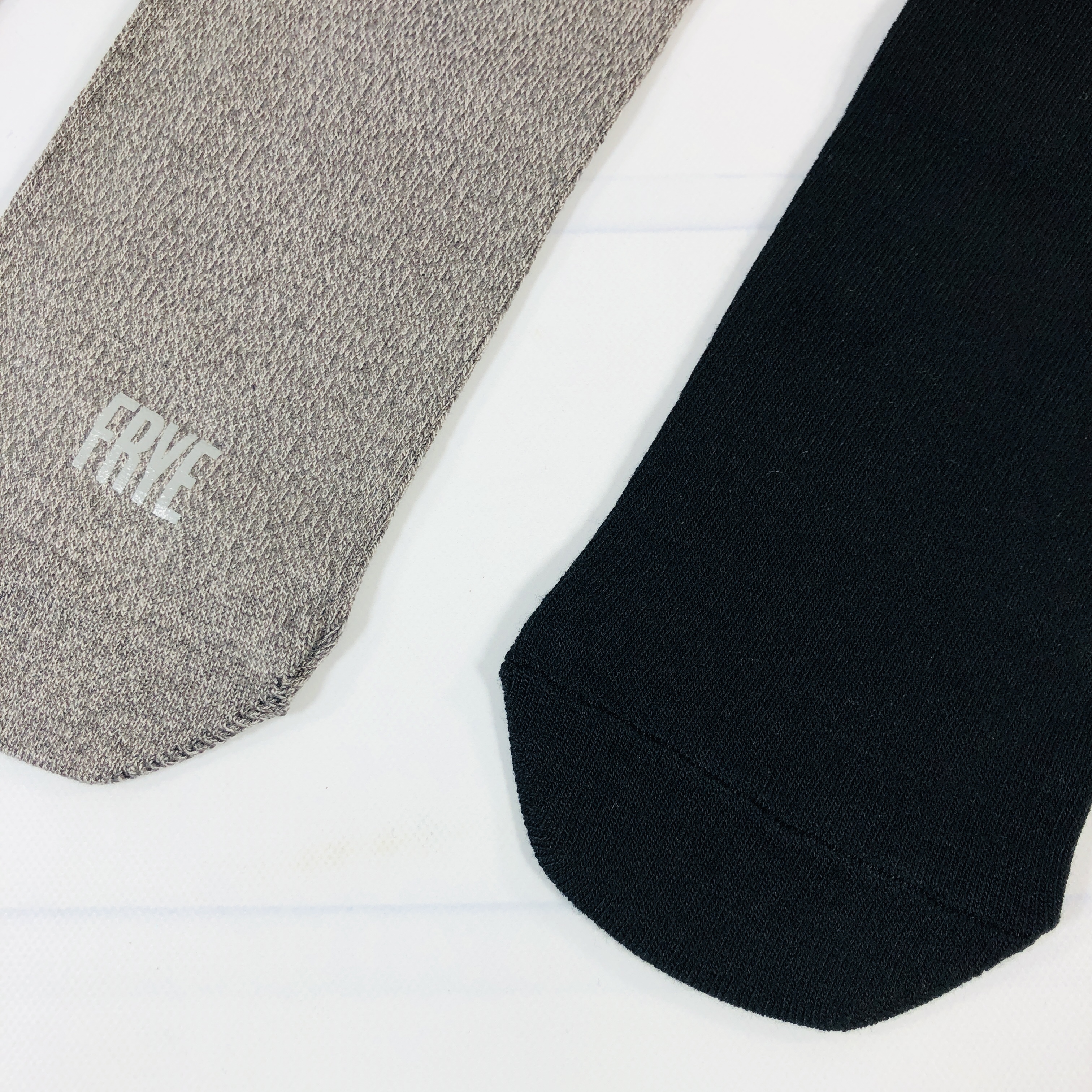 Here's a close up of the colors. One pair is heather grey and the other is black. They are meant to peek out of the tops of boots!
Customization 5
Annual Subscribers will get to choose among these items (and FFF will pick for everyone else):
It's the Purlisse Pumpkin + Ginger Mud Mask!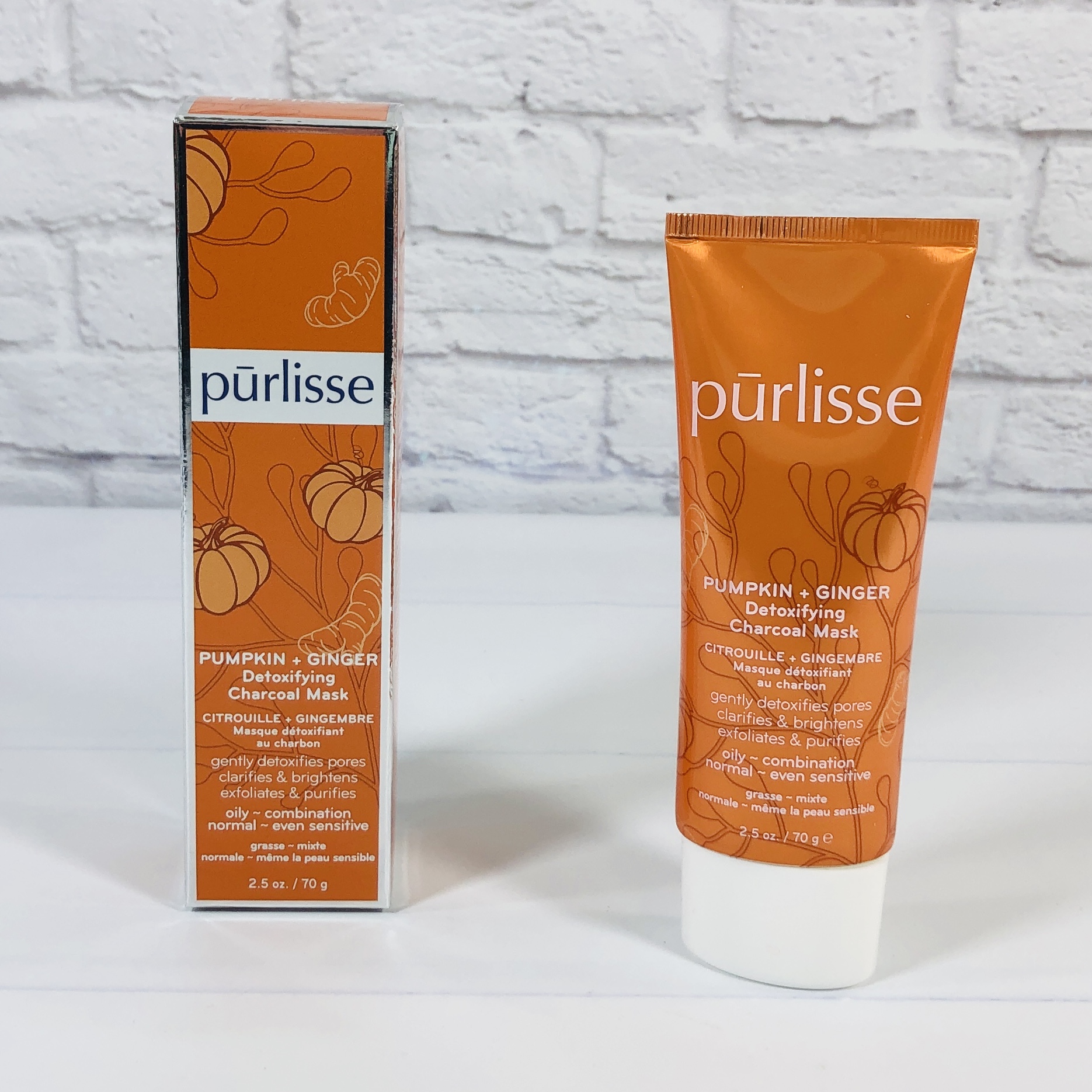 Purlisse Pumpkin + Ginger Mud Mask ($48) When I think of fall I can't help but think of pumpkin spice EVERYTHING! Here it's in mask form to help brighten the skin while clearing out the pores.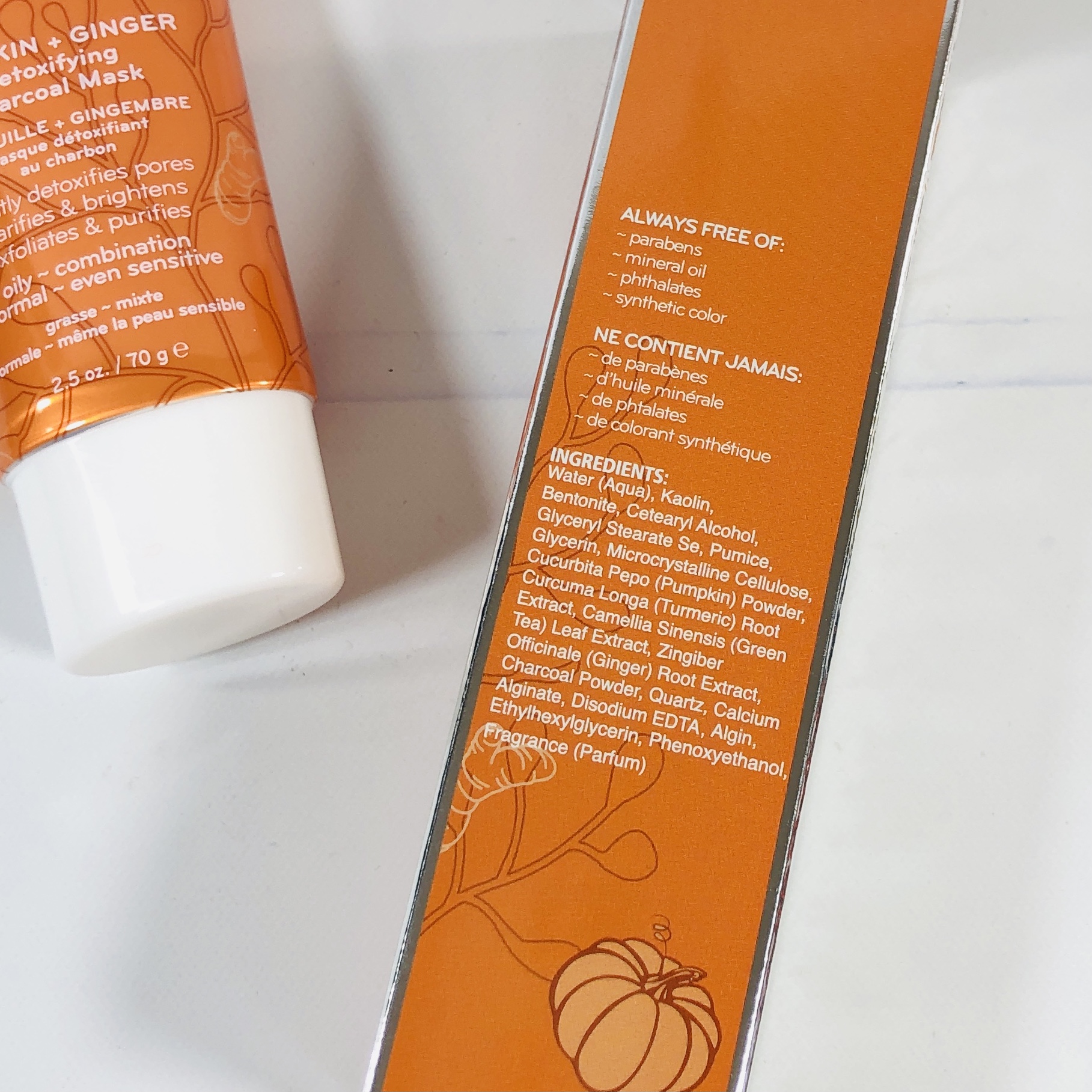 Some of the ingredients include kaolin and bentonite clays, pumice, pumpkin, turmeric, green tea, ginger, charcoal, and quartz. I would prefer that it not have added fragrance but at least that's the last ingredient on the list. It is a thick, white paste and it has some really good exfoliation action so choose you pressure wisely. Apply to a clean, damp face (they also suggest the neck and chest) and let set for 10-15 minutes. I got into the shower afterwards and then splashed my face with water before rubbing gently and then finally rinsing it all off. Autumn can't come fast enough for me but with this mask I have a taste of what's to come!
Customization 6
Annual Subscribers will get to choose a 1-, 2-, or 3-item bundle (and FFF will pick for everyone else):


[bundles as shown above – retail prices for individual products in the bundles below!]
I got #9 Kayo Body Scrubber, Earth Harbor Marina Brightening Ampoule & The 2Bandits Tiered Catchall Tray – Value of $83
The 2Bandits Tiered Catchall Tray ($30) My biggest problem with this catchall tray is deciding where to put it. In my bedroom to hold rings and things? In my office to corral paper clips and gemstones? In my kitchen to hold candies and candle matches? I don't know!
There are three trays in all and you can fill them up and then close them into a tower or leave them open for easy access.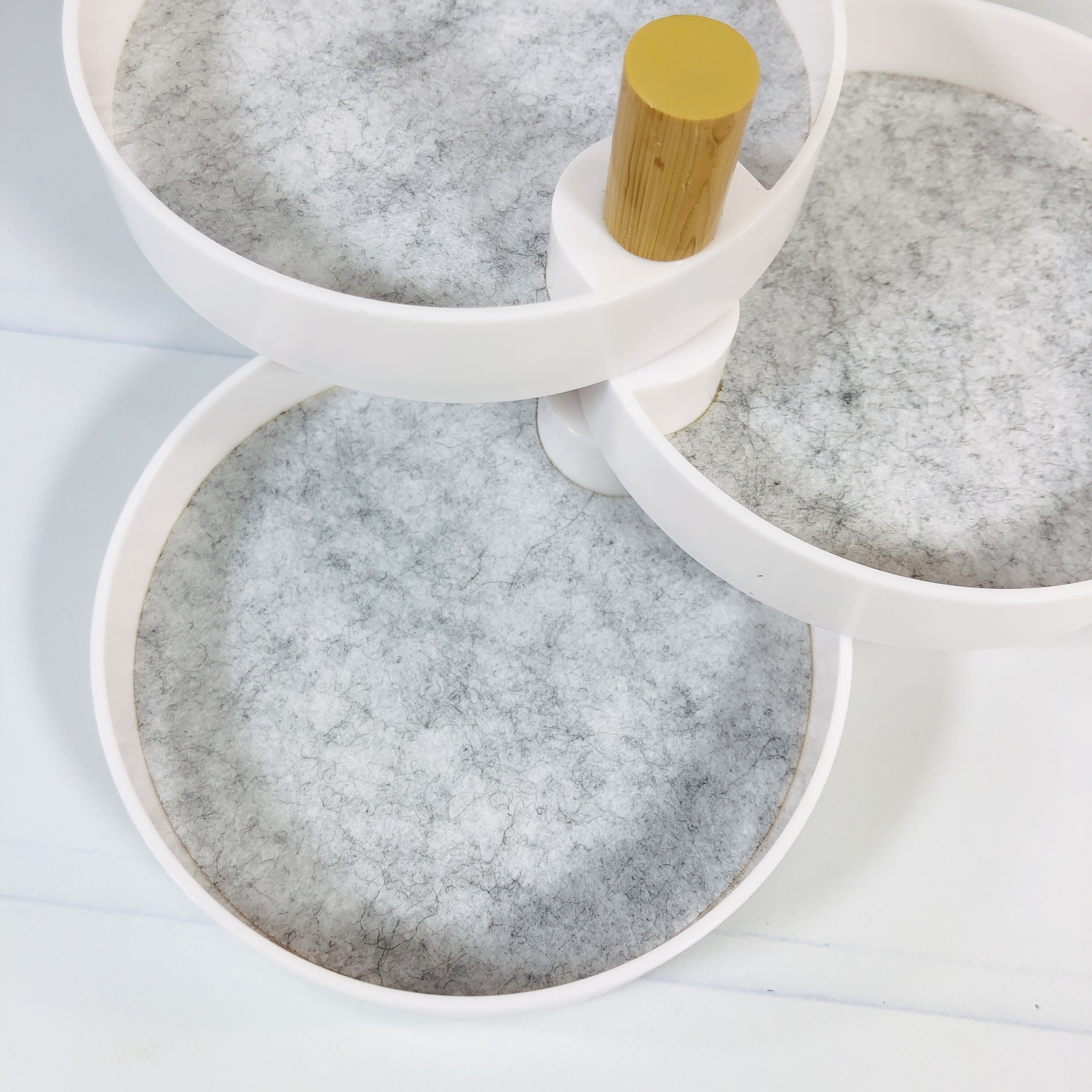 They are lined with felt for a safe landing zone (which wasn't shown on the brand's website for some reason). I went to their Instagram page to see if they had any pictures of it in use and they didn't, but I did notice that they have a slight obsession with Cher, Dolly Parton, and Brad Pitt (circa Thelma and Louise timeframe). Also, this company mainly sells jewelry so I guess into the bedroom it goes.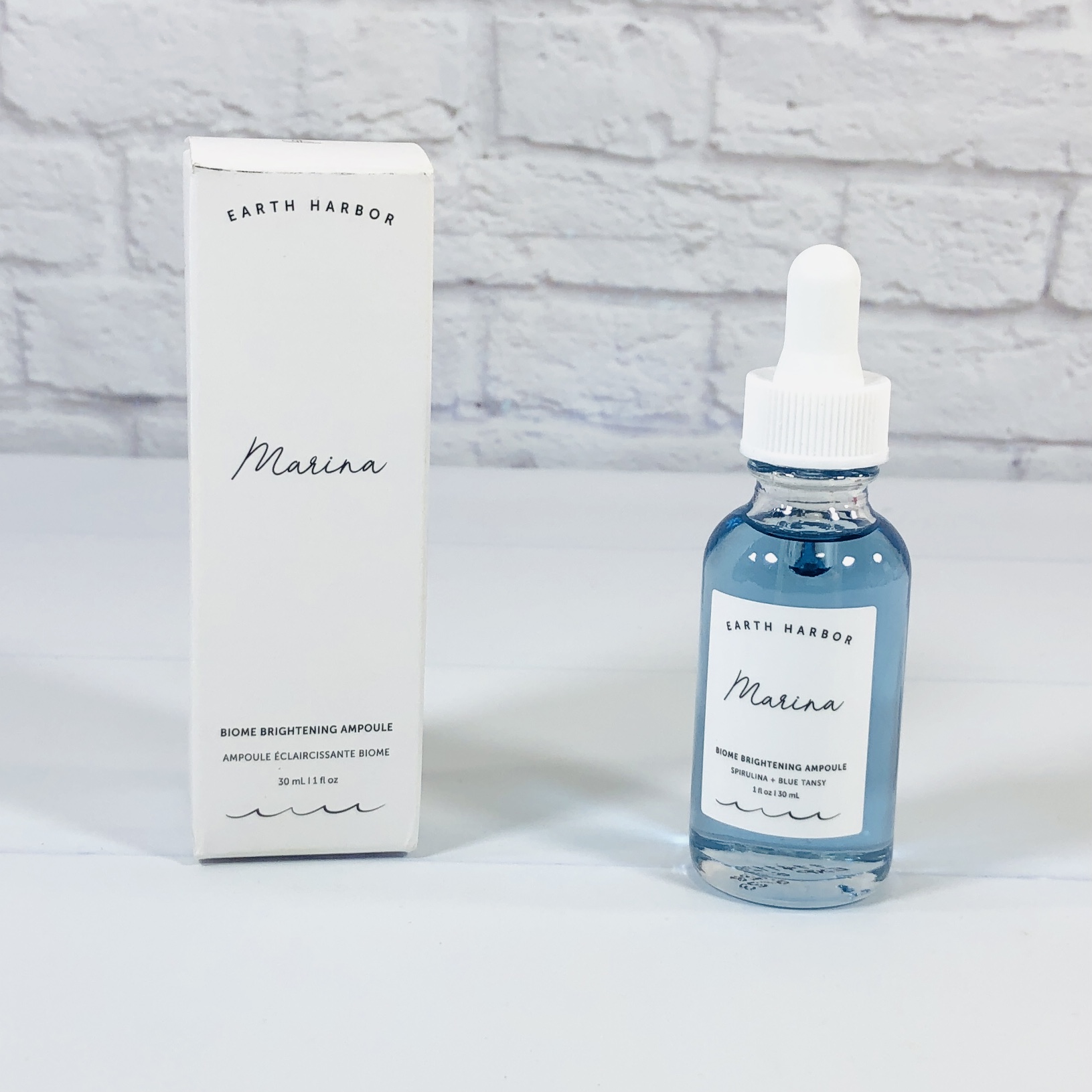 Earth Harbor Marina Brightening Ampoule ($38) Earth Harbor has some of the prettiest packaging and their serums and oils are either pretty colors or in some cases it's the bottles themselves that are colored.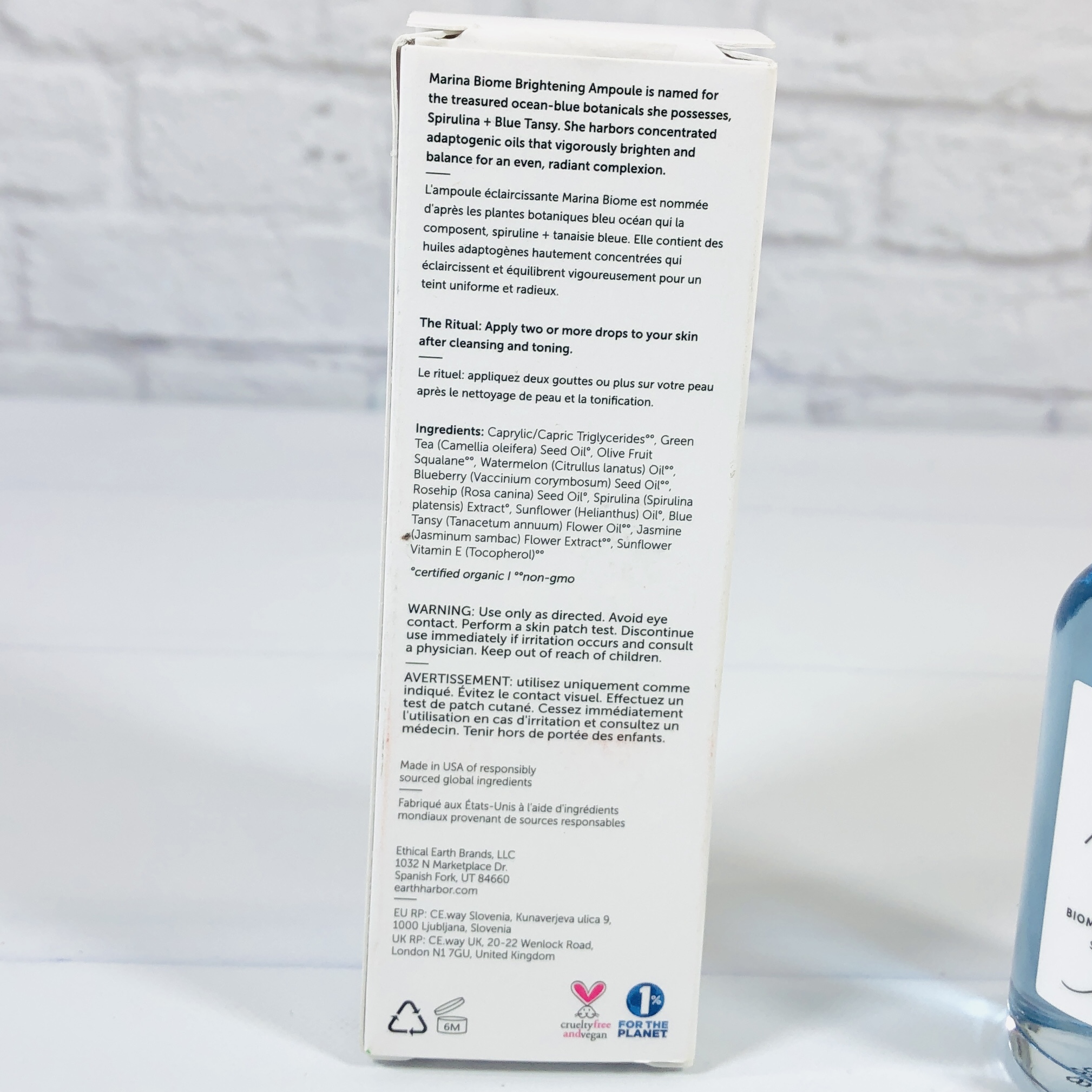 Some of the ingredients in here are spirulina and blue tansy, which turns the actual product blue. There are lots of plant extracts including watermelon, blueberry, and rosehip seed oils. It is supposed to help brighten skin and either reduce or prevent discoloration and just act like a dose of vitamins for the skin.
Apply two drops to skin morning and night and follow with moisturizer if needed. You can also mix it into a moisturizer before applying to skip a step. I found it to be enough for my dry skin, I didn't need a separate product. It has a distinctive scent thanks to the blue tansy but also a hint of the jasmine and overall it smells lovely.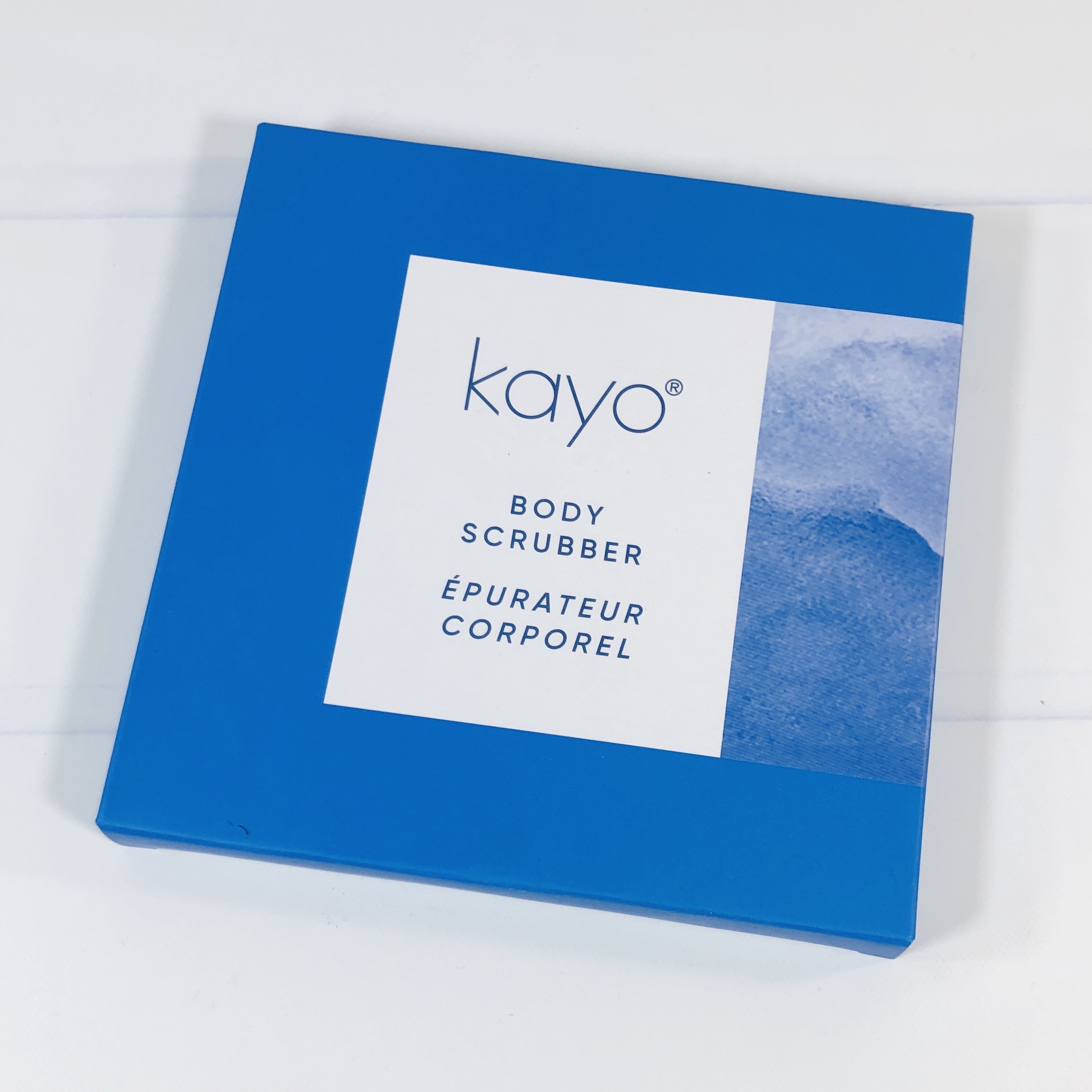 Kayo Body Scrubber ($15) I couldn't find this product on the Kayo website but their Instagram account had a pic and they said it is an exclusive item in collaboration with FabFitFun and that limited quantities may be available.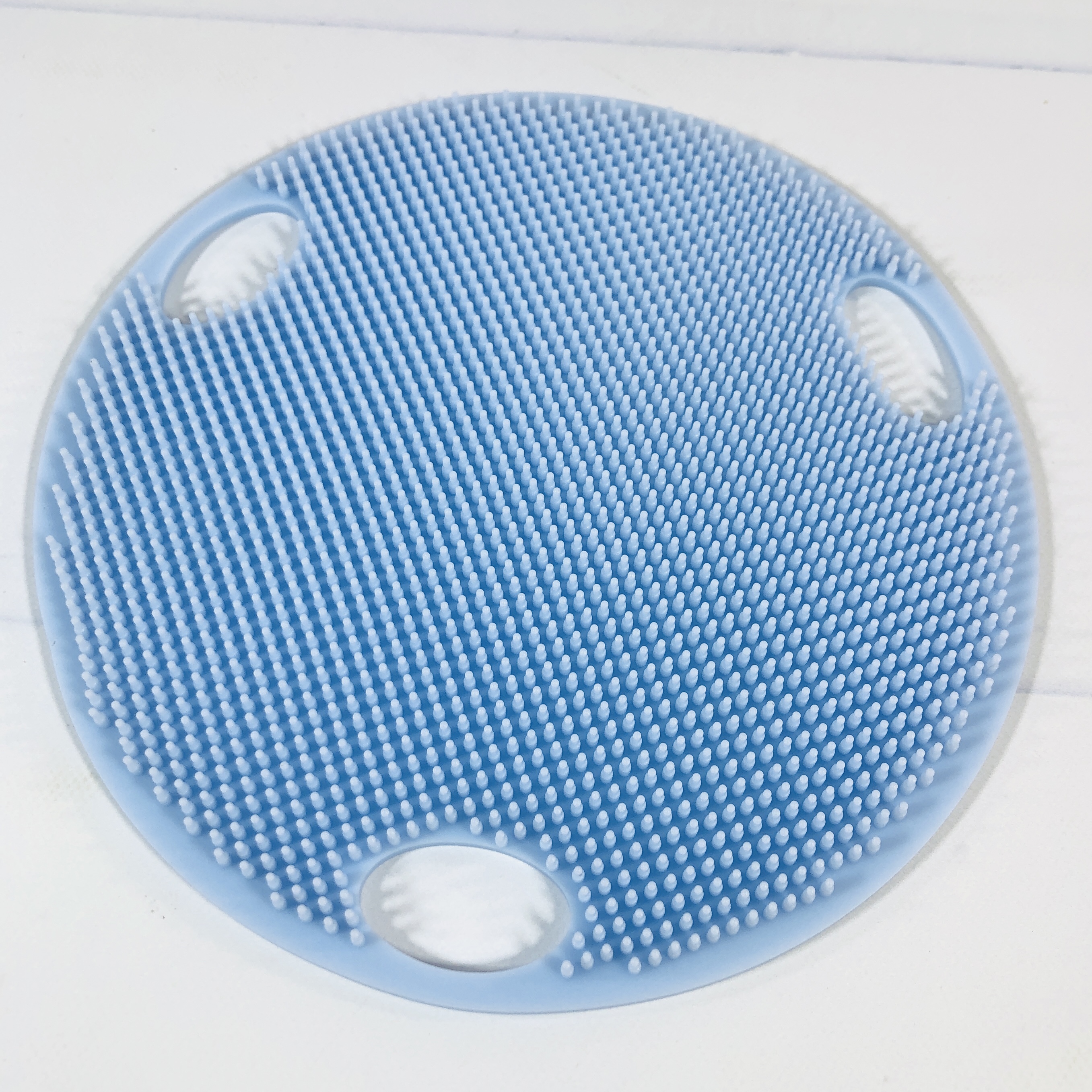 It is made of some material that feels like it might be rubbery but that I am sure is plastic or nylon or something. Silicone? Maybe that's it, but it isn't noted on the box.
Apply body wash to the middle and then use in the shower or tub. It is soft, it didn't feel like it was taking off a layer of skin or anything like that. I didn't get as much of a lather as the model on Instagram but then maybe it has something to do with my shower gel. It is easy to rinse and supposedly you can slap the back of the scrubber to the shower wall or door and it will stick, and for now mine is doing exactly that! I am seriously considering trying it out on my cats to see if it can help with that whole shedding issue.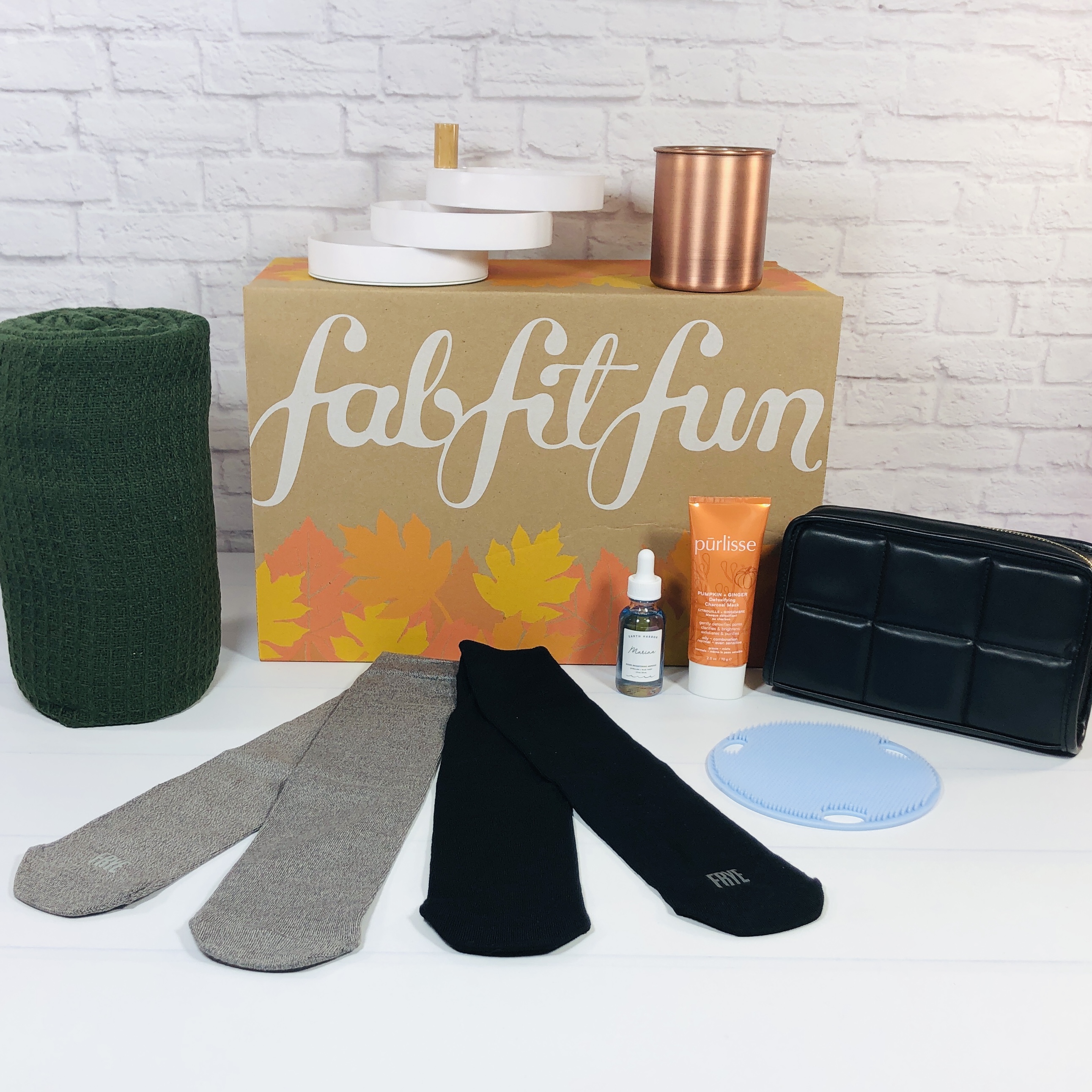 I don't know if I say this every time or not, but this is my favorite FabFitFun Box so far! I think my assortment says "cozy" thanks to those socks, that blanket, and the candle (I am all about hygge). The body scrubber is perfect for a daily exfoliation because it isn't harsh on my skin. Speaking of skin, the clay mask and blue ampoule will help so much as the seasons change and I try to help my parched face recover from a beach trip and pool visits. The catchall is simple and helpful while the fanny pack/crossbody bag will make the perfect gift for my daughter. The value for my box assortment is around $315!!!
What do you think of the FabFitFun Fall Box?