Compassionate Living Membership is a gemstone jewelry and inspirational subscription box by Gogh Jewelry Design. This is a subscription box for everyone who wants to live happy – even during a pandemic. Each month you will receive a personalized gemstone bracelet, necklace, a healing crystal, two meditation cards and your astrology forecast for the month. This box is $39 a month with free shipping.
DEAL: Get 20% off on your first month! Use coupon code HELLO20.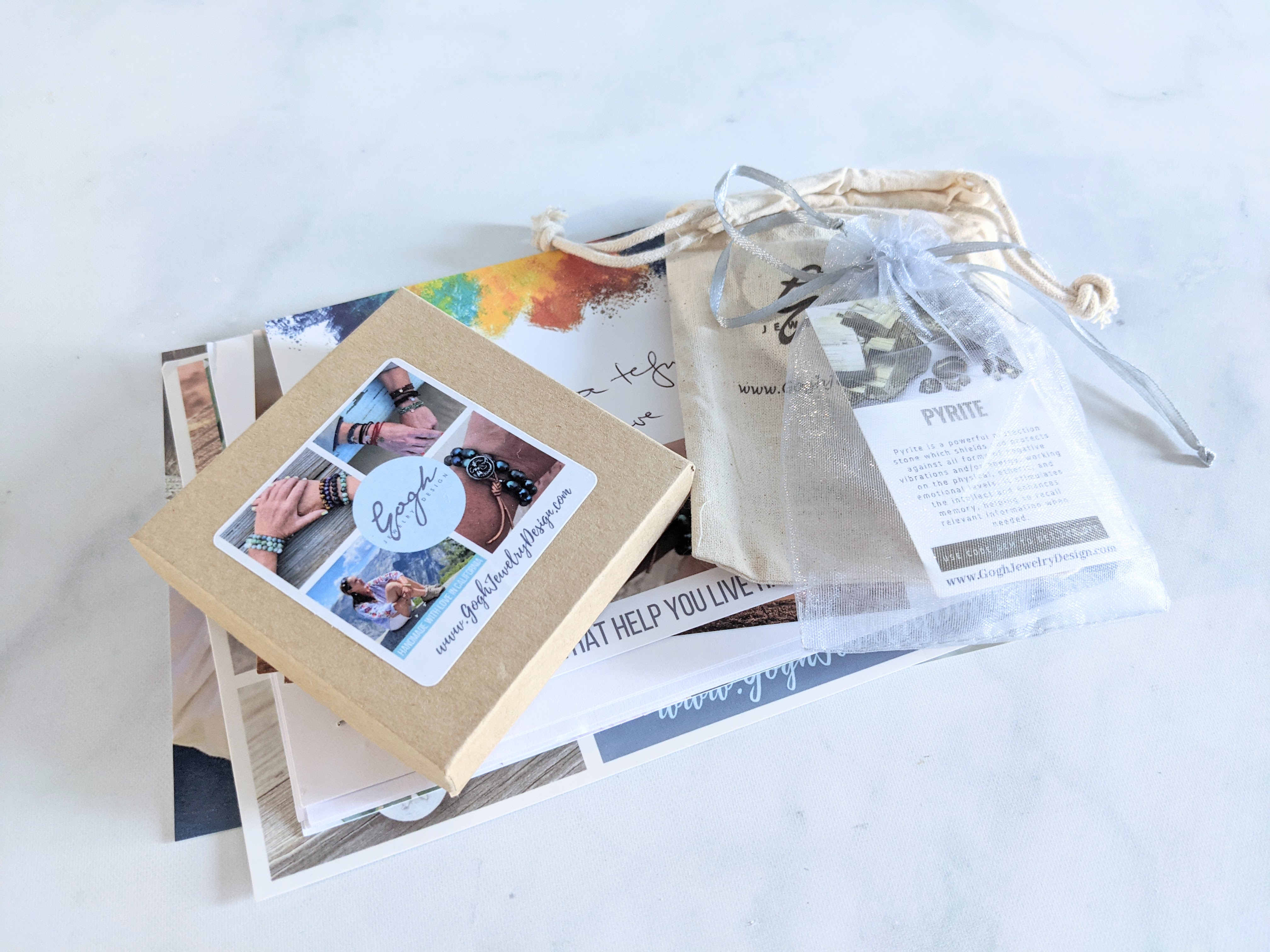 Everything was nicely wrapped in the thick mailer. When you subscribe, you'll fill out a short survey with your wrist size, your necklace length preference and your zodiac sign.
I received a handwritten note from the designer, Szilvia Gogh.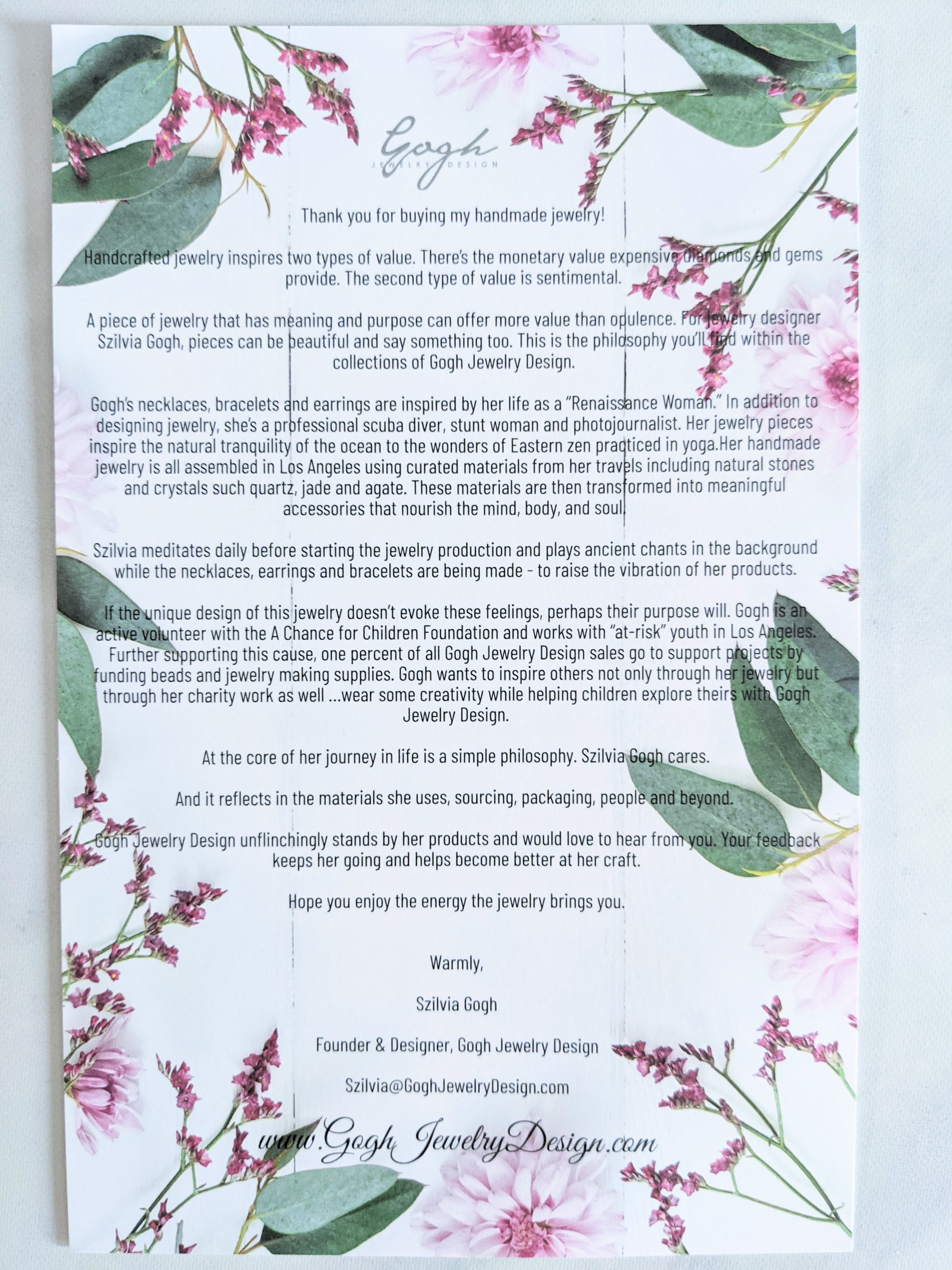 Gogh Jewelry are all designed and handcrafted by Szilvia Gogh with a lot of intentions behind every creations. Also, 1% of all Gogh Jewelry Design sales go to support projects by funding beads and jewelry making supplies.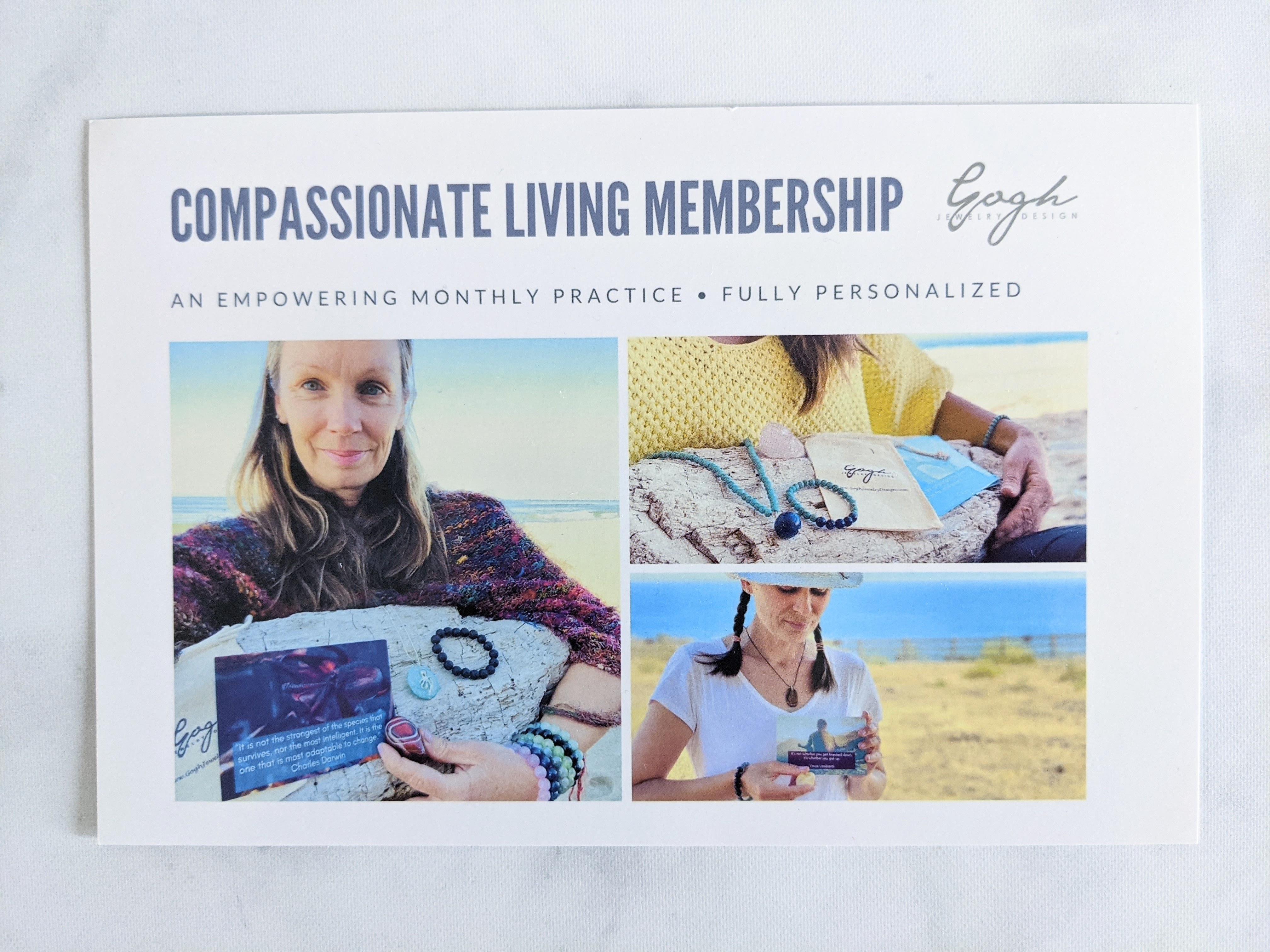 The Compassionate Living Membership is a result of Szilvia desire to spread positivity and aid conscious living.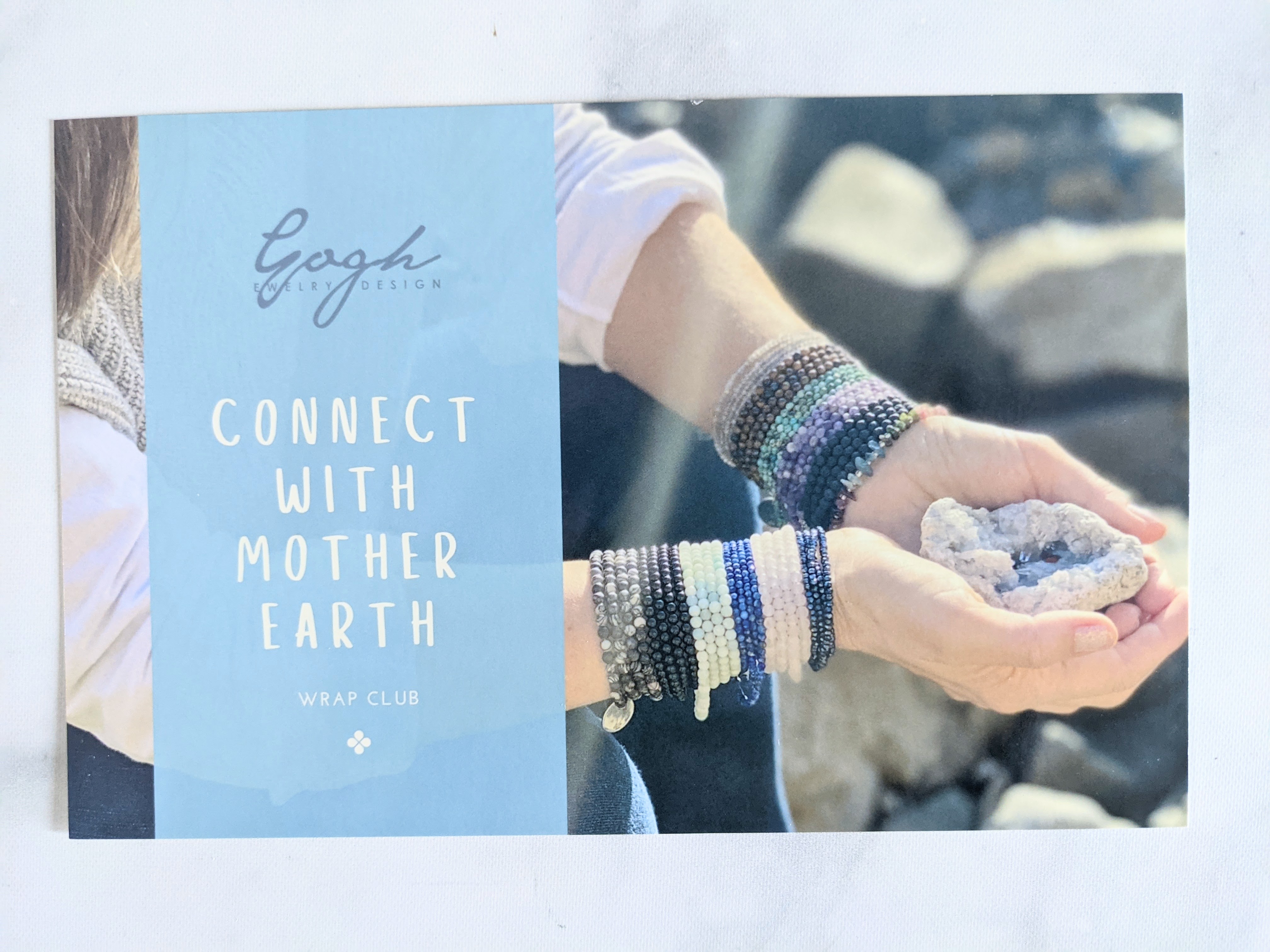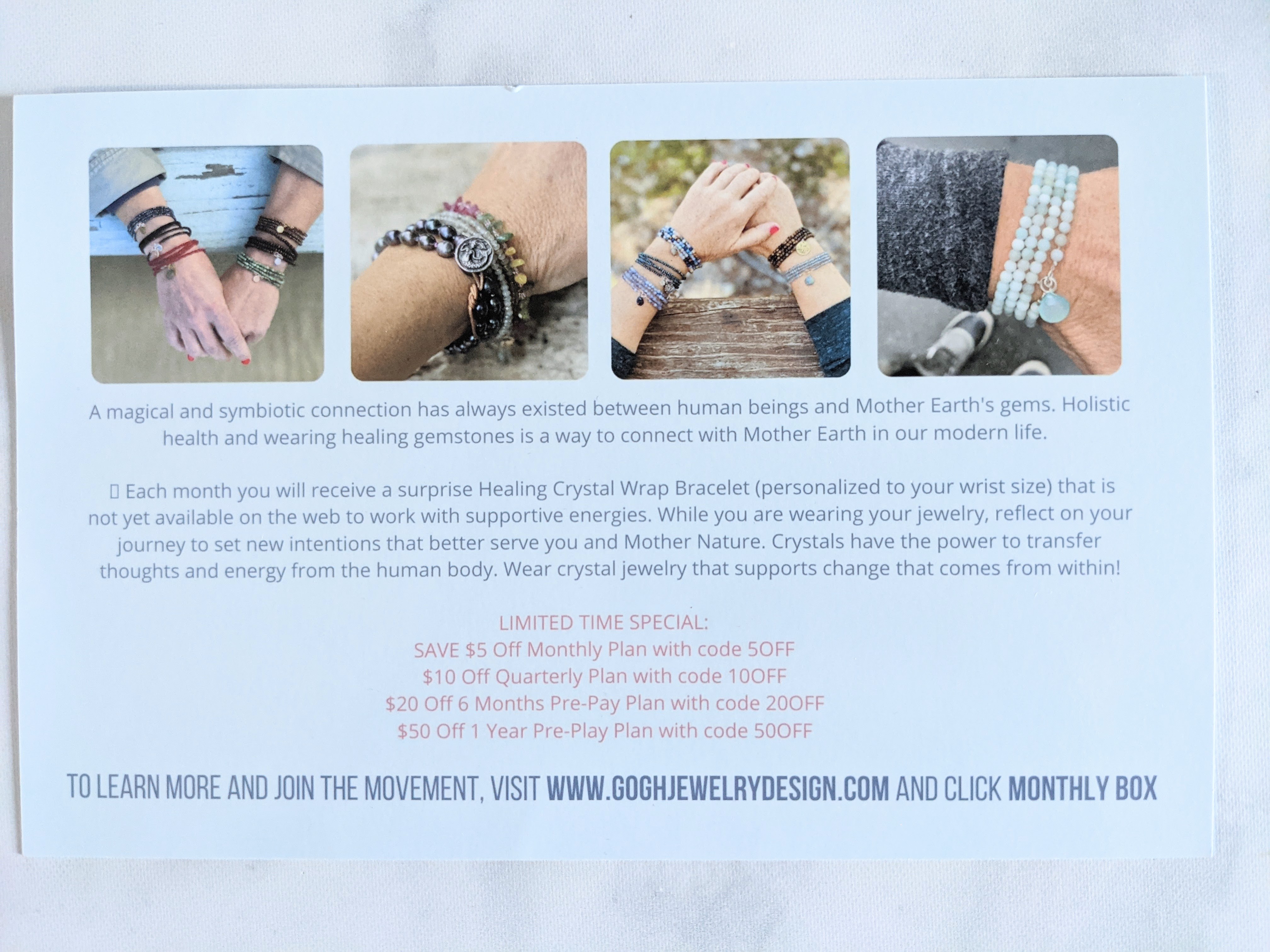 Gogh Jewelry Design also has a Mother Earth Wrap Club, a Healing Crystal Wrap Bracelet Subscription Box.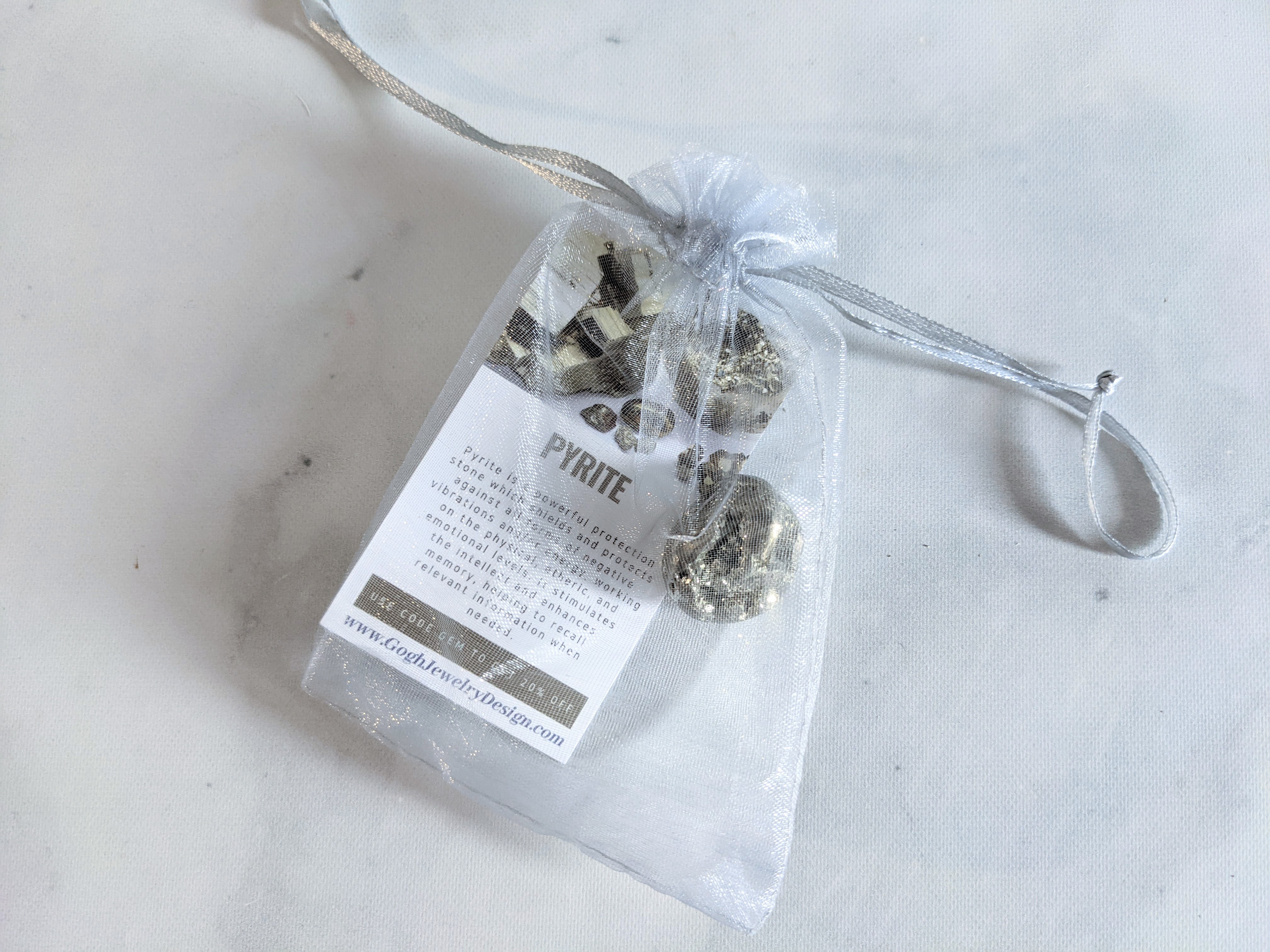 This month's healing stone is the Pyrite.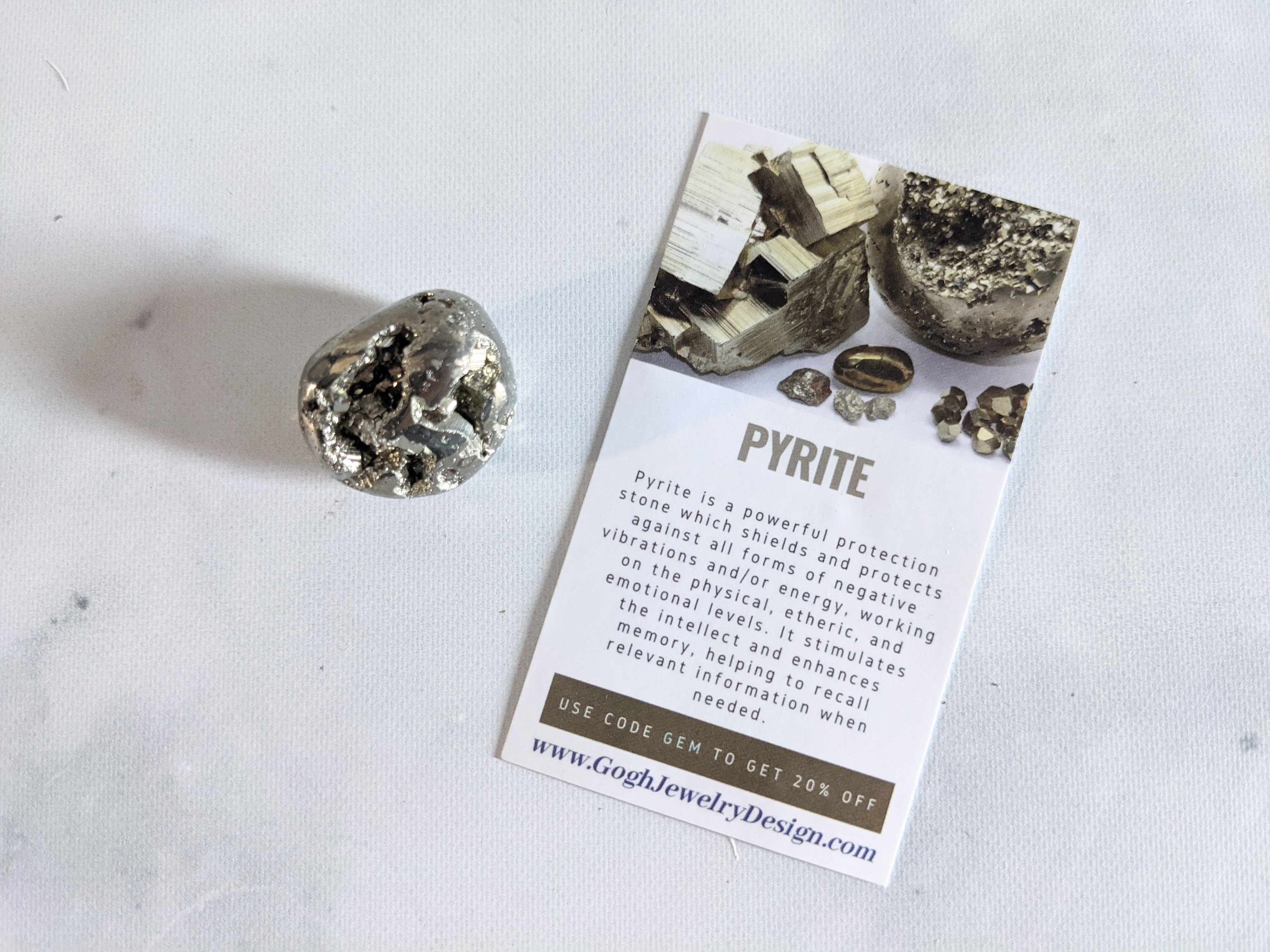 Pyrite is a strong protective stone, associated with the Third Chakra (Solar Plexus), the energetic center of the body.
This is a nice tumbled stone, with enough roughness to still be able to see some of the crystals.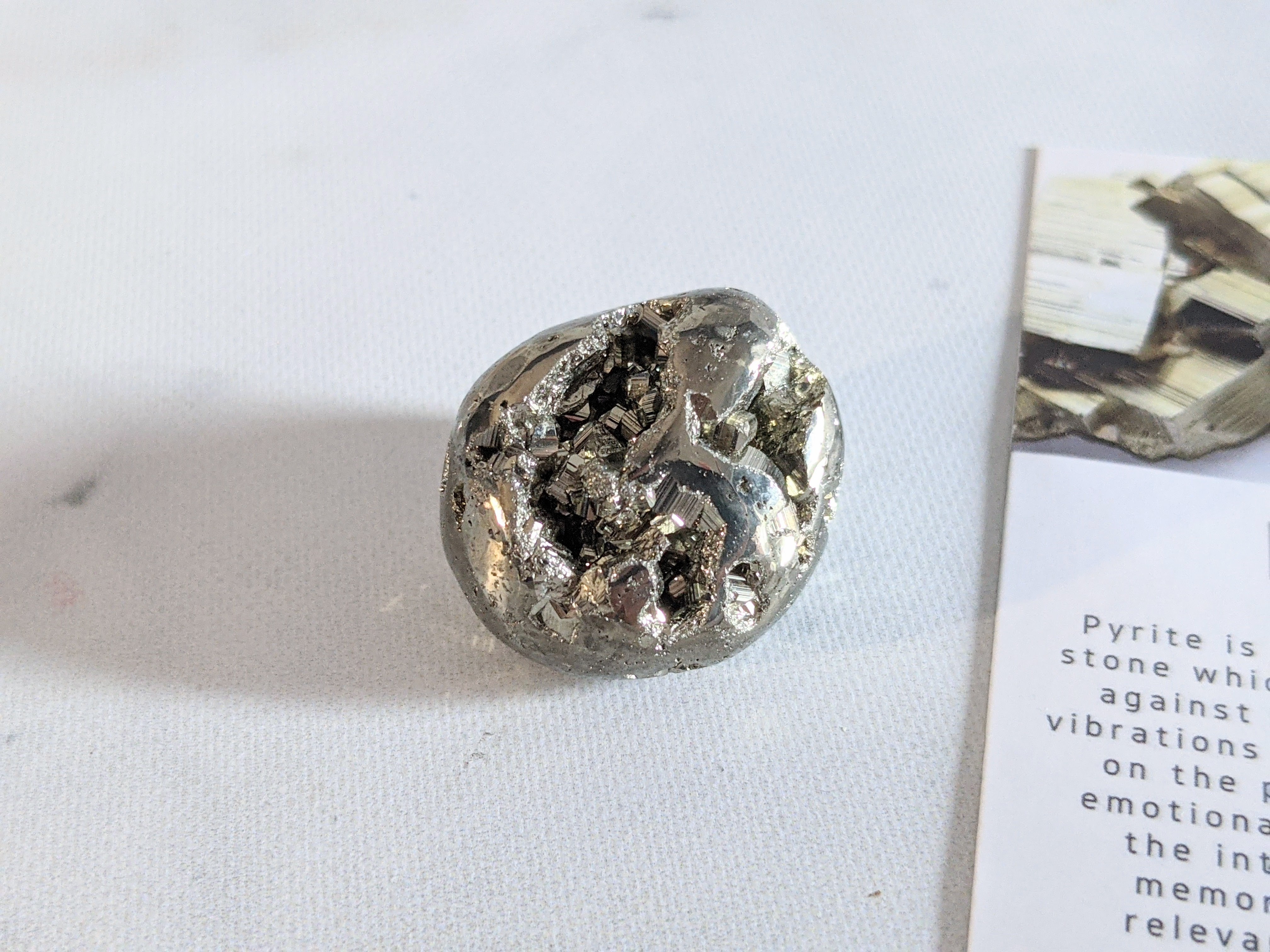 It's a great size to carry in a pocket or in the purse when you need to protect yourself from negative energy, or when you need a little "fire" in your life.
The bracelet is made with 8mm turquoise beads and 10mm grey jasper beads. Turquoise is a purification stone, perfectly paired with the jasper that protects against negativity.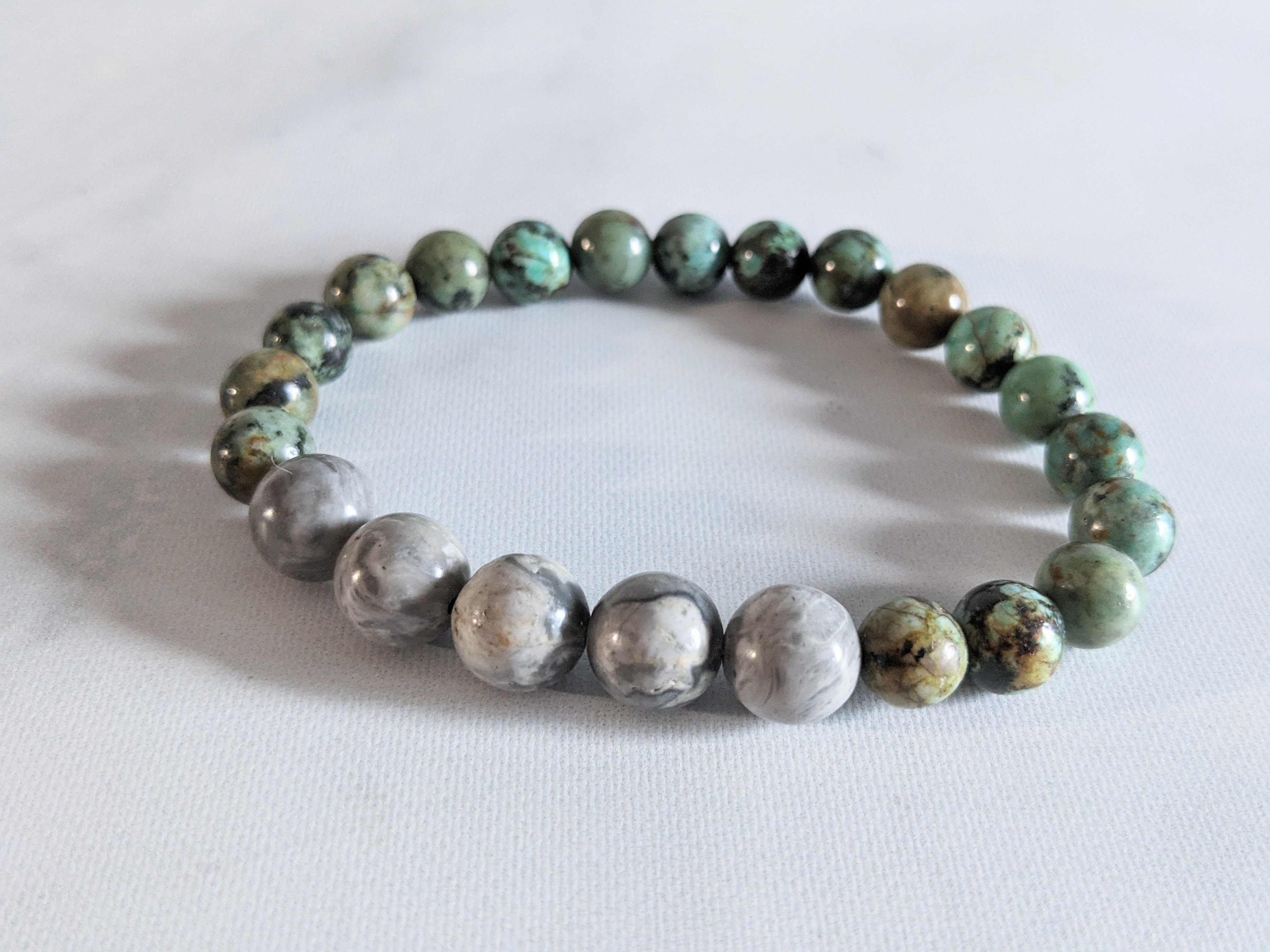 This is a lovely summer design, with grounding colors that remind me of stone and grass. It's a nice feel good bracelet.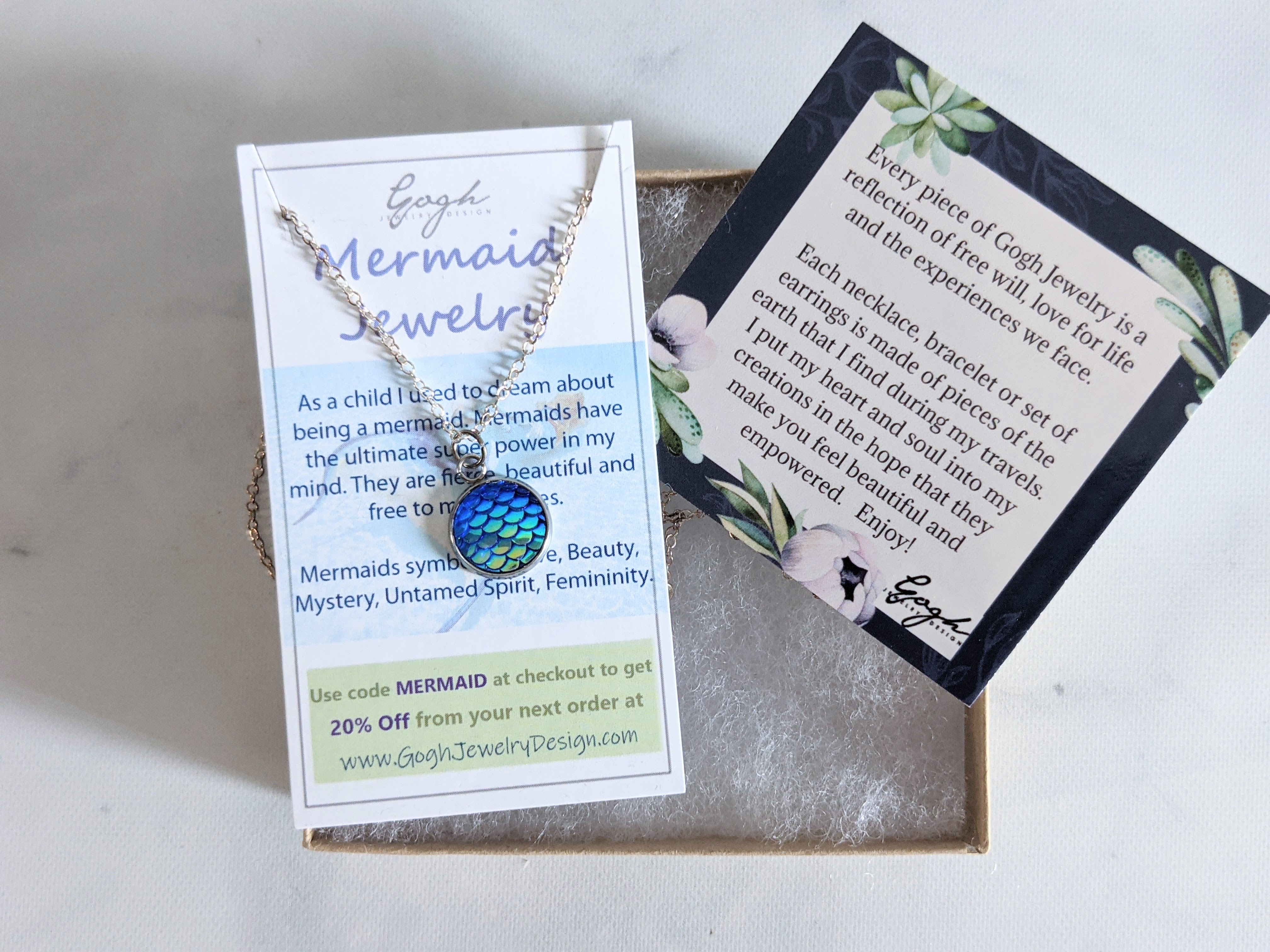 This month's necklace is a mermaid jewelry. It represents beauty, , love, mystery, femininity. To me, I picture clear turquoise sea, on a deserted island with long white sandy beaches. It also brings a bit of mystery, and it's lovely for any summer outfits!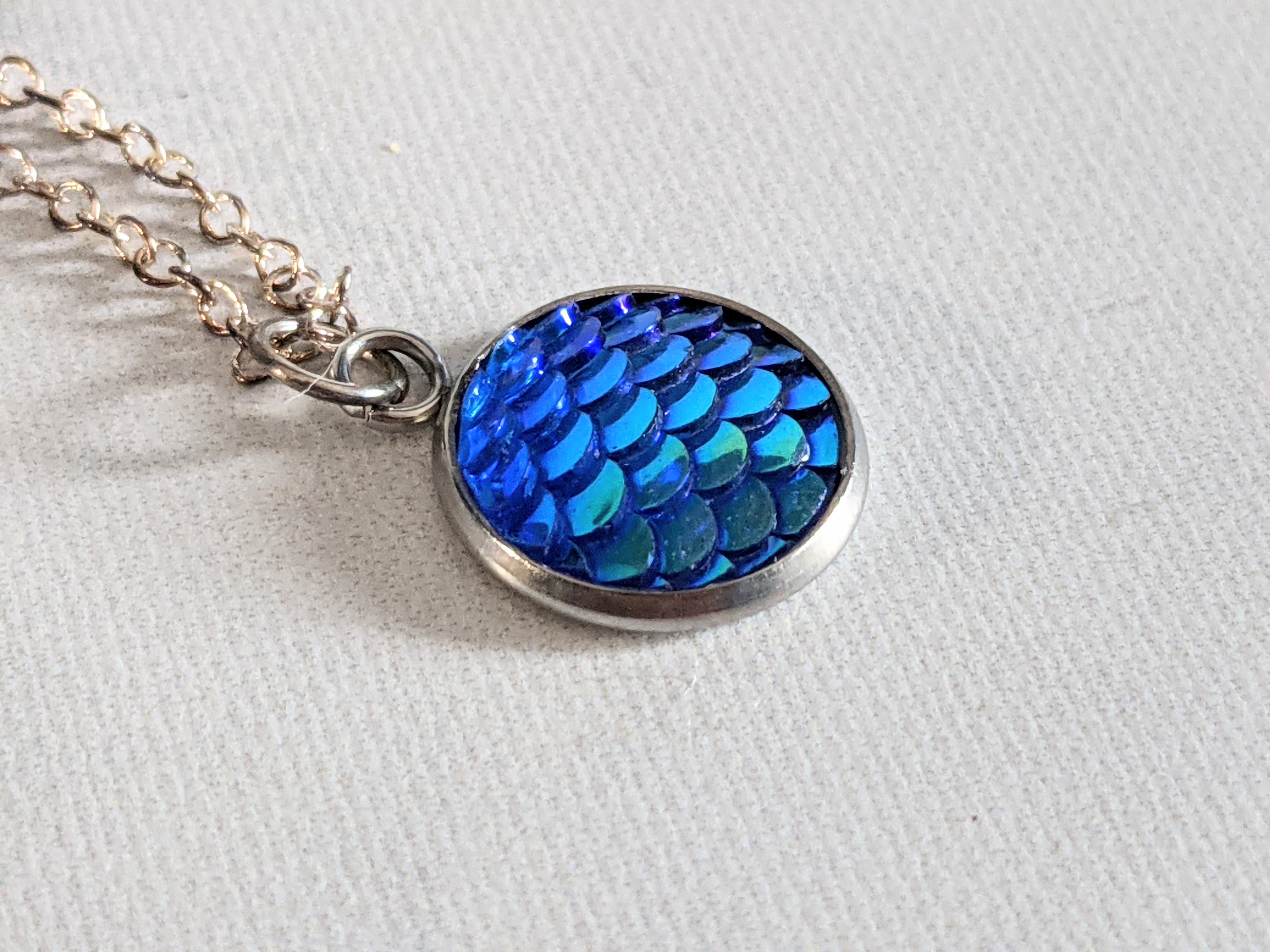 The pendant has tiny little blue-green scales that you can touch as it hasn't been filled up with resin or any other material. I really like touching it, it fulfill the sense of touch in a nice way.
Every month, you'll receive two affirmation cards, one to keep and one to give away. They can be used to empower beliefs and set your mind on compassionate living. This month it features a quote by Eleanor Roosevelt : "The future belongs to those who believe in the beauty of their dreams." Such a powerful reminder to keep working for our dreams and that the future is ours to create.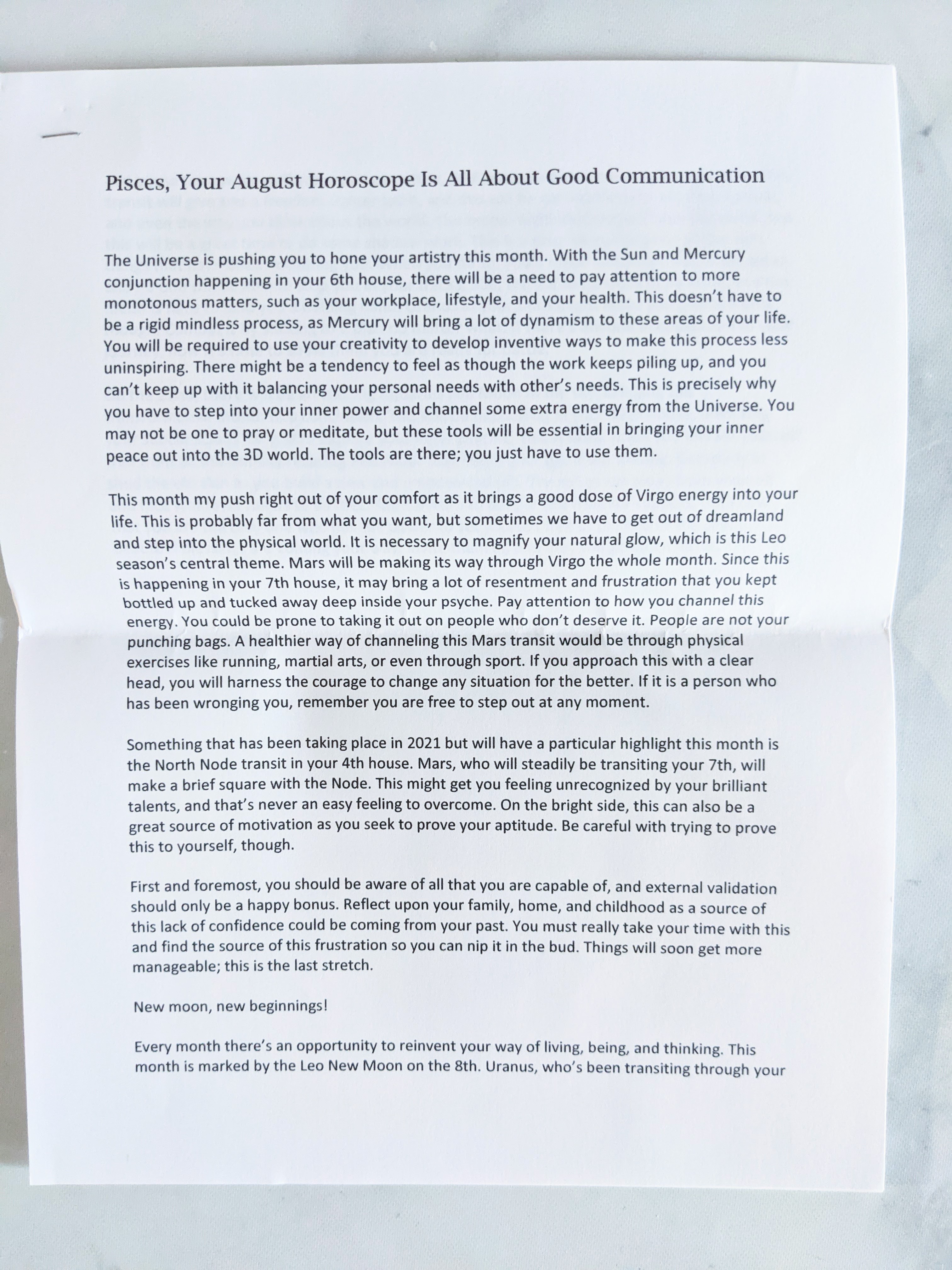 The last item is the August Horoscope Forecast for your sign. Mine (for Pisces) is a two pages long forecast, and I can see how it could relate to what's on my plate for the month!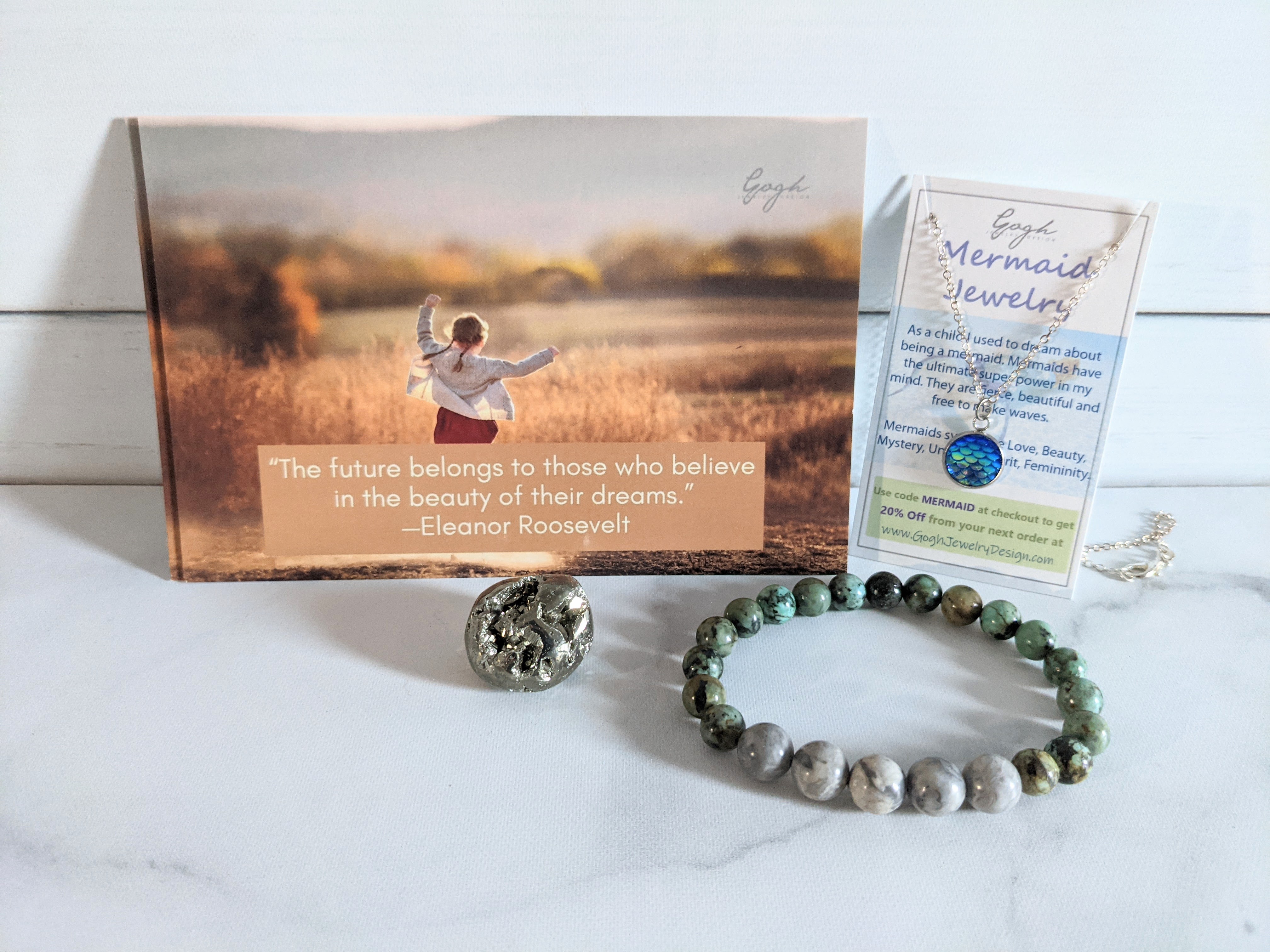 The Compassionate Living membership by Gogh Jewelry Design is a lovely inspirational subscription box full of peace and joy. I love the addition of cards for each stone used in the bracelet and for the stone. Both the bracelet and the pendant are beautiful and easy to wear with intentions. I like the affirmation cards to set our intentions for the month and having a second card that you can share with someone adds something fun to the experience of this box. Overall a fun box for those who like their gemstone jewelry with intentions.
What do you think about this box? Let us know in the comments!
Visit The Compassionate Living membership by Gogh Jewelry Design to subscribe or find out more!