BookCase.Club is a monthly book subscription box offering different genres: Children's, Young Adult, Mystery/Thriller, Sci-Fi/Fantasy, Paranormal Romance, and Romance. Each box contains 2 hand-picked books, except for the Children's box which includes 3 books. It costs $9.99 per month, making it one of the most inexpensive book subscriptions out there.
This is the Thrill Seeker Case, which includes Mystery/Thriller books.
DEAL: Save 50% on your first month! Use coupon code HELLOSUB501M. OR Get 10% off your entire order! Use coupon code HELLOSUB10.
The books were wrapped with tissue paper and they all arrived in great condition!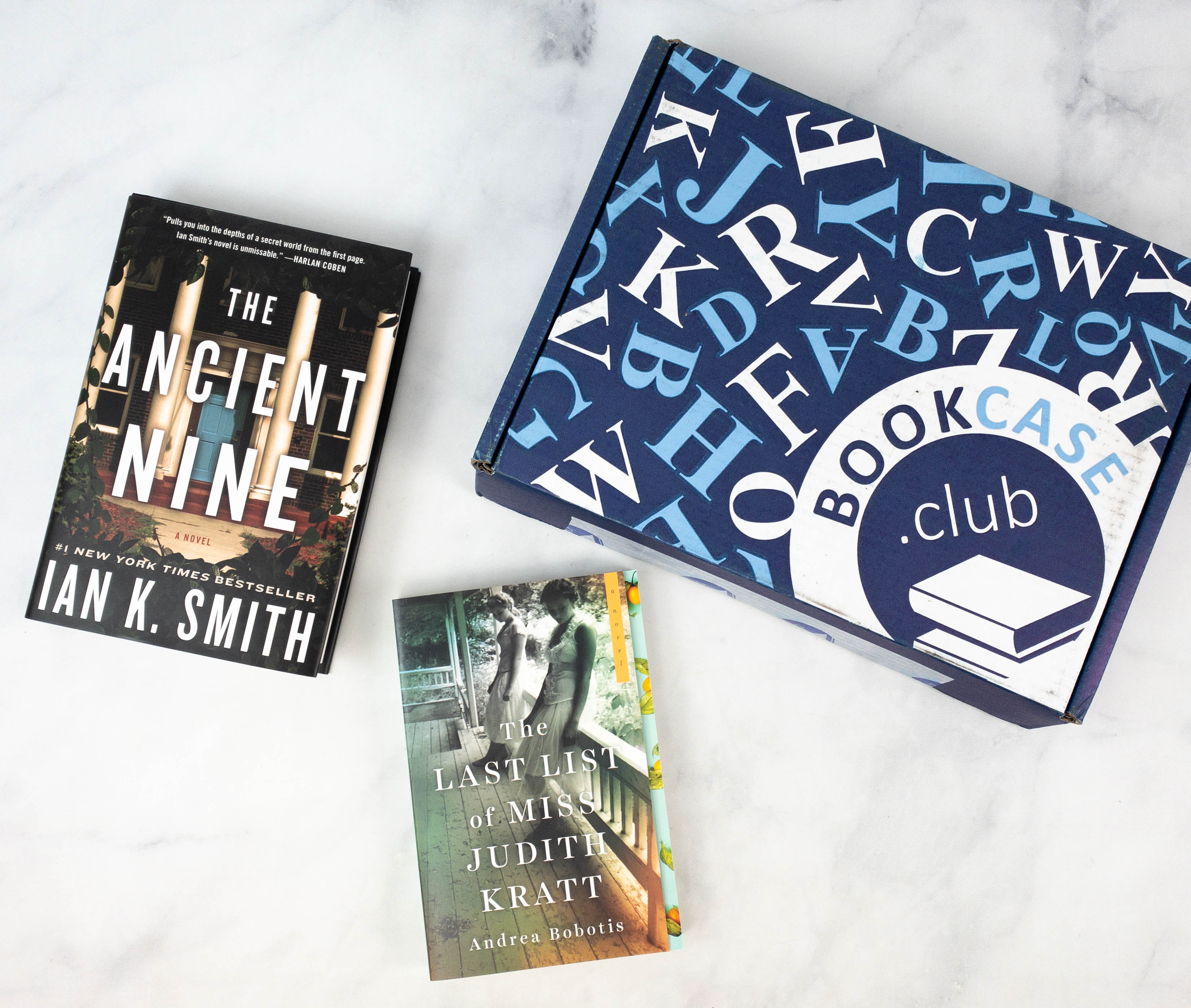 Everything in my box!
The Last List of Miss Judith Kratt  by Andrea Bobotis ($11.76)
Some bury their secrets close to home. Others scatter them to the wind and hope they land somewhere far away.

Judith Kratt inherited all the Kratt family had to offer–the pie safe, the copper clock, the murder no one talks about. She knows it's high time to make an inventory of her household and its valuables, but she finds that cataloging the family belongings–as well as their misfortunes–won't contain her family's secrets, not when her wayward sister suddenly returns, determined to expose skeletons the Kratts had hoped to take to their graves.

Interweaving the present with chilling flashbacks from one fateful evening in 1929, Judith pieces together the influence of her family on their small South Carolina cotton town, learning that the devastating effects of dark family secrets can last a lifetime and beyond.
This book is a great choice for fans of historical mysteries!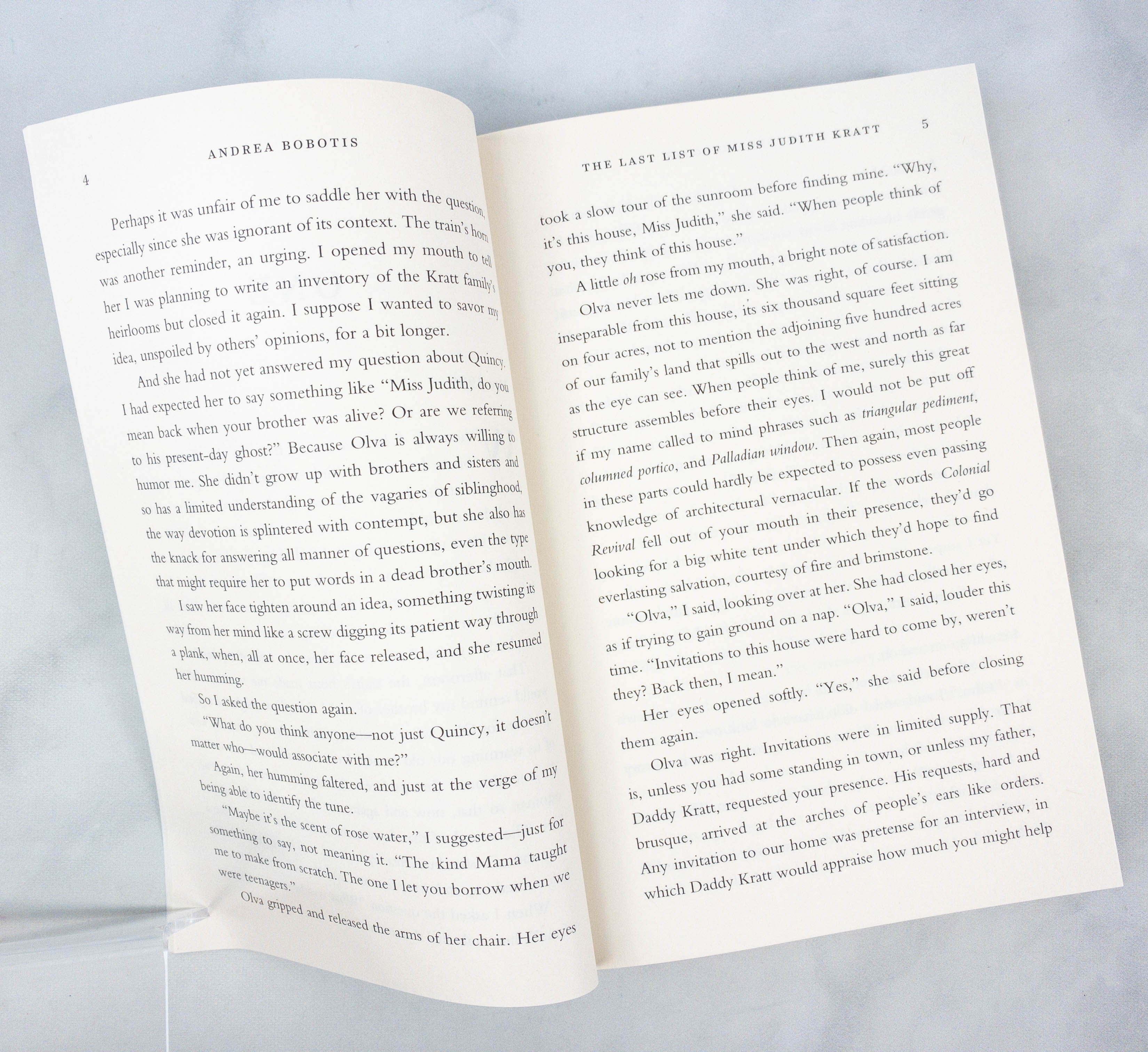 The story is about Judith Kratt inheriting all her family's treasures and misfortunes. As Judith went through the family's possessions, she discovers her family's hidden secrets. These revelations made her realize that these things are there to hunt their family for the rest of their lives. It's written from Judith's point of view and it actually covers 2 time periods: when she was 15 in 1929 and when she was 75 in 1989. With the author's descriptive writing style, this was definitely a page-turner!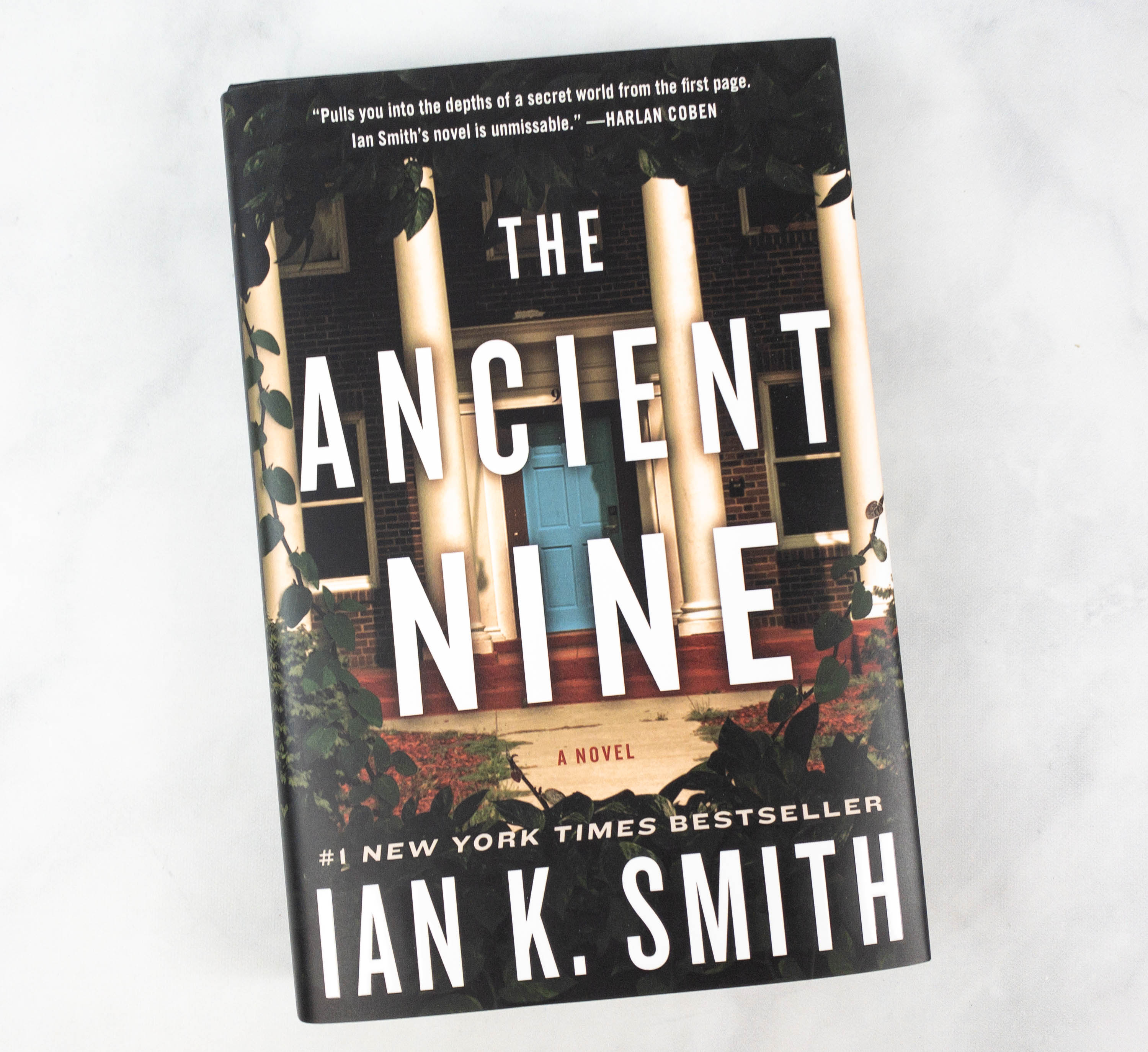 The Ancient Nine by Ian K. Smith ($12.40)
This program includes an introduction read by the author.

Spencer Collins thinks his life at Harvard will be all about basketball and pre-med, hard workouts and grinding work in class. The friends he's made when he hits the storied, ivy-clad campus from a very different life in urban Chicago are a happy bonus. But Spencer is about to be introduced to the most mysterious inner sanctum of the inner sanctum: To his surprise, he's in the running to be "punched" for one of Harvard's elite final clubs.

The Delphic Club is known as "The Gas" for its crest of three gas-lit flames, and as Spencer is considered for membership, he's plunged not only into the secret world of male privilege that The Gas represents, but also into a century-old club mystery. Because at the heart of the Delphic, secured deep inside its guarded mansion club, is another secret society: a shadowy group of powerful men known as The Ancient Nine.

Who are The Ancient Nine? And why is Spencer – along with his best friend, Dalton Winthrop – summoned to the deathbed of Dalton's uncle just as Spencer is being punched for the club? What does the lore about a missing page from one of Harvard's most historic books mean? And how does it connect to religion, murder, and to the King James Bible, if not to King James himself?
The second book in the box is also a historical mystery!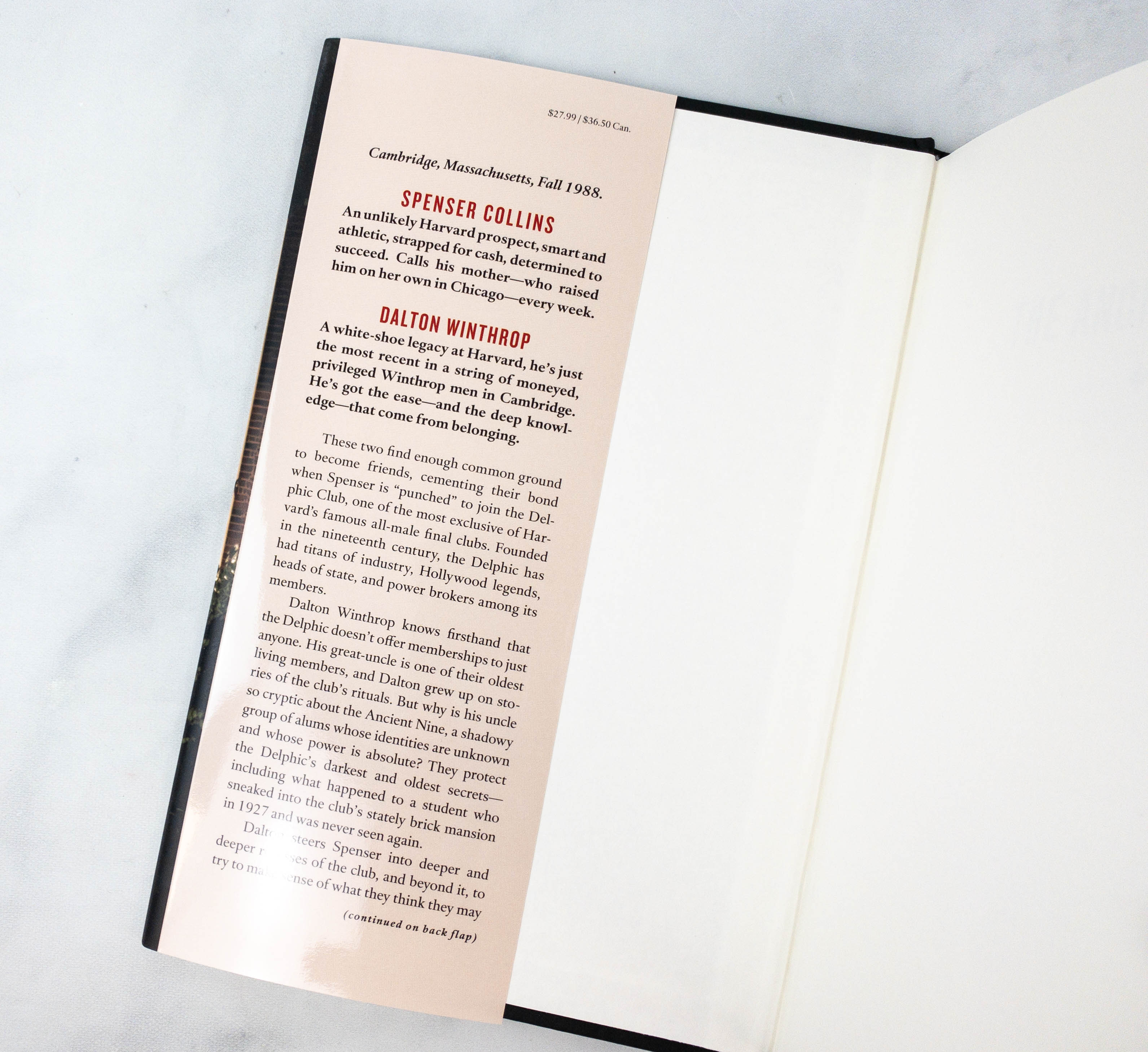 The story is set in 1988 at Cambridge, Massachusetts, specifically at Harvard. The main character Spencer Collins, along with his bestfriend, Dalton Winthrop tries to find out the story behind a missing page from one of Harvard's most historic books and how it's connected to religion, murder, and to the King James Bible.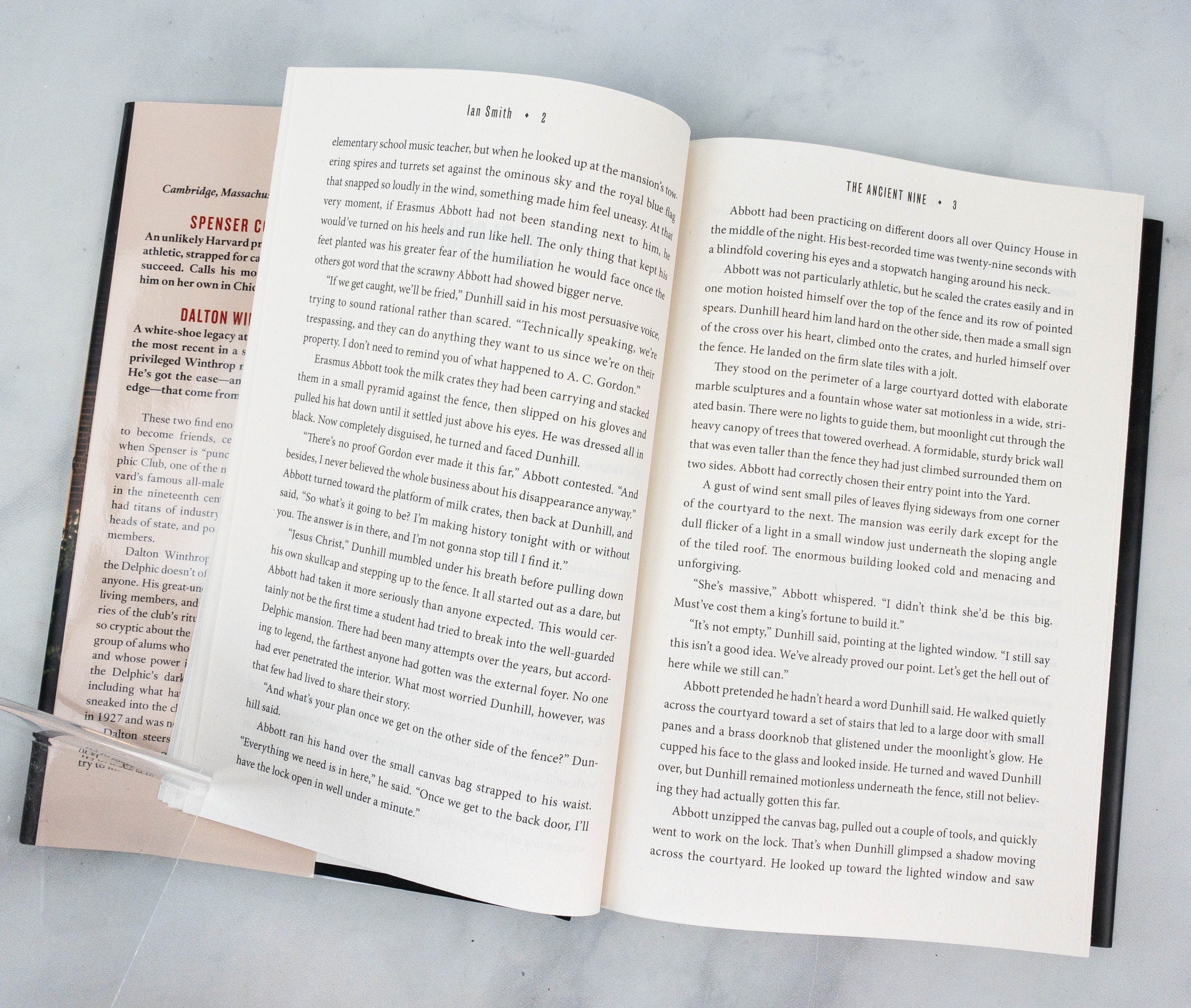 It was so easy to get caught up in this book because of the author's well detailed storytelling style. If you love reading about secret societies, this might be something up your alley.
This month's Thrill Seeker Case titles definitely lived up to my expectations! The first book is about a family's dark secrets and the second book involves a mystery protected by a group of powerful men. Both books were gripping! I also liked the respective storytelling styles of the authors. So far, I'm really satisfied with the books from this subscription. If you want to get titles from your favorite genre, BookCase Club is for you. In case you change your mind about your preferred genre, you can switch it to another one for your next box!
What did you think of this month's choices? Have you tried any of the BookCase.Club subscriptions?