beTWEEN the Bookends is a monthly book and lifestyle box for tweens. There are 5 subscriptions available – the Tween Box for kids age 9-13 ($44.99) that includes 2-3 books plus 6-8 age-appropriate beauty and lifestyle items, the Mini Box ($29.99) that includes 1 book and 3-4 beauty and lifestyle items, the Early Readers Box for kids age 6-8 ($44.99) that comes with 2-3 books plus 6-8 age-appropriate beauty and lifestyle items, the Read to Me Box that comes with 2-3 picture + activity books plus 6-8 lifestyle items, the Just the Books Box ($19.99), and the Just the Stuff Box ($29.99). Shipping is FREE to the US, and $15 to Canada. This subscription box is curated by Jillian, who came up with the idea of a book subscription for tweens when she was 12. She created the box in hopes to keep girls reading for fun!
DEAL: Get 15% off on your first month on any subscription plans! Use coupon code HELLO15.
There are 2 age levels for this box – tween, and early reader. This is the tween version!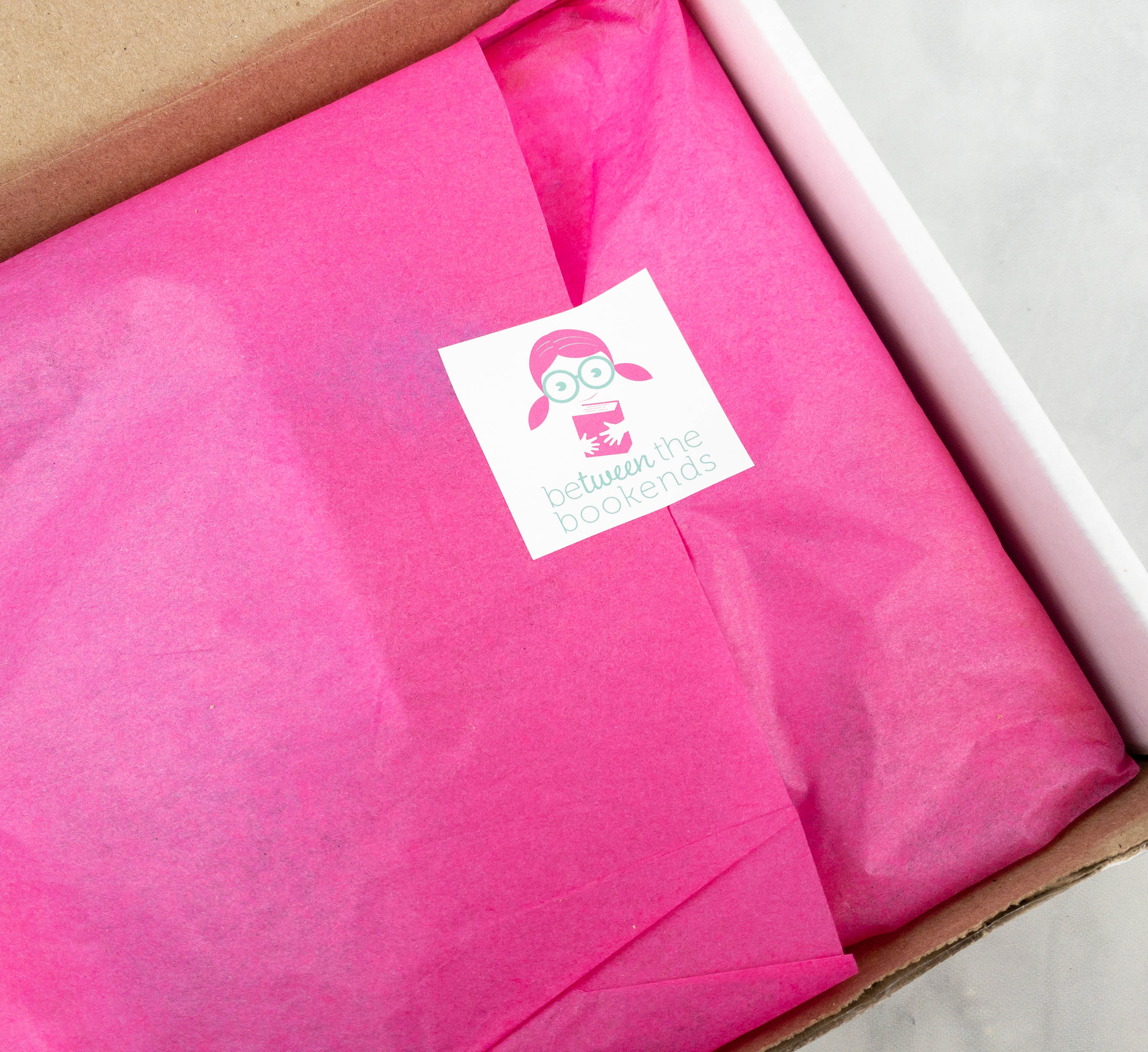 The items were packed in a simple white box. They were also wrapped in pink tissue paper, sealed with a Between the Bookends sticker.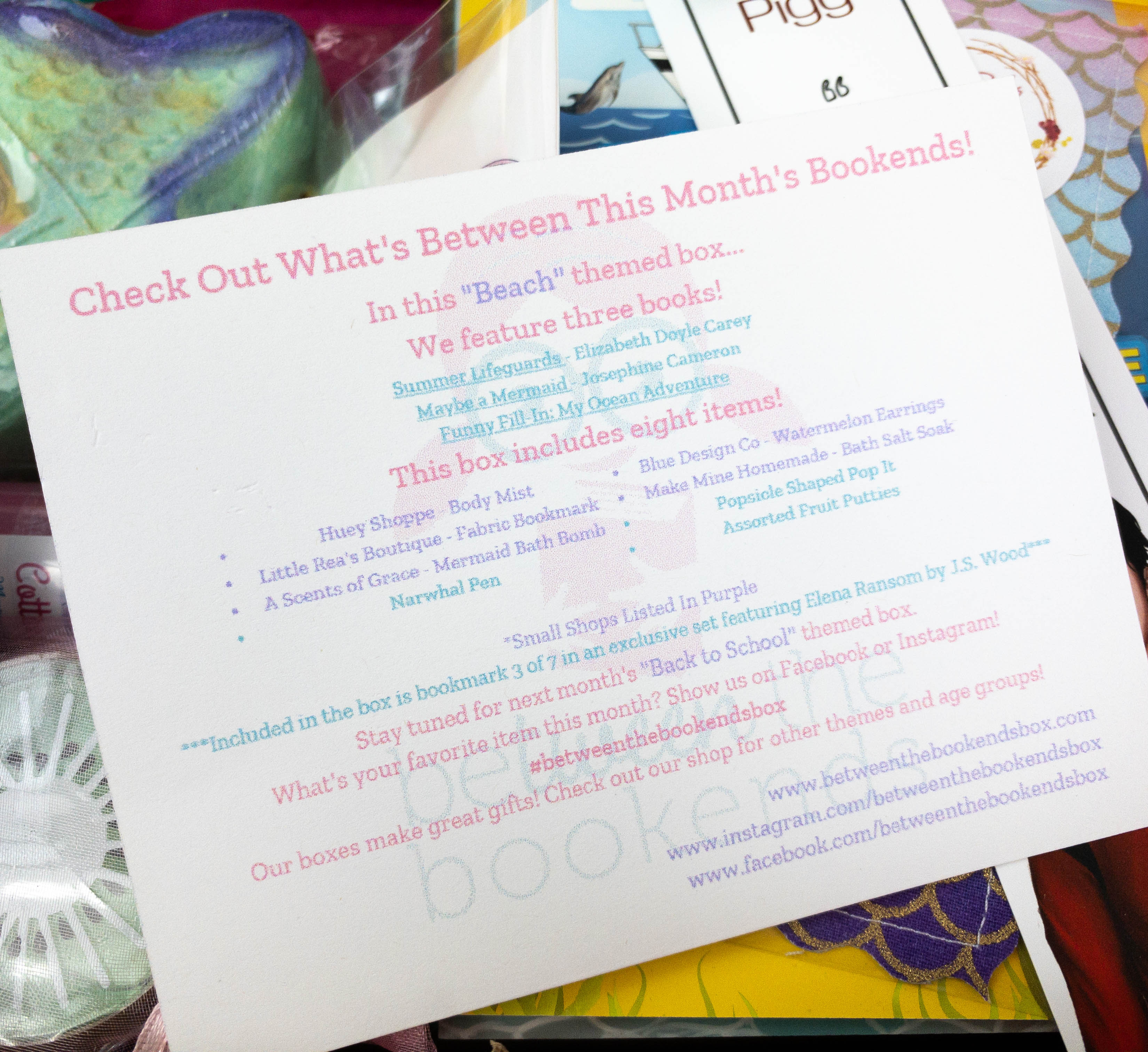 There's a lot of cute items inside! There's also a card that tells us about what's inside the box.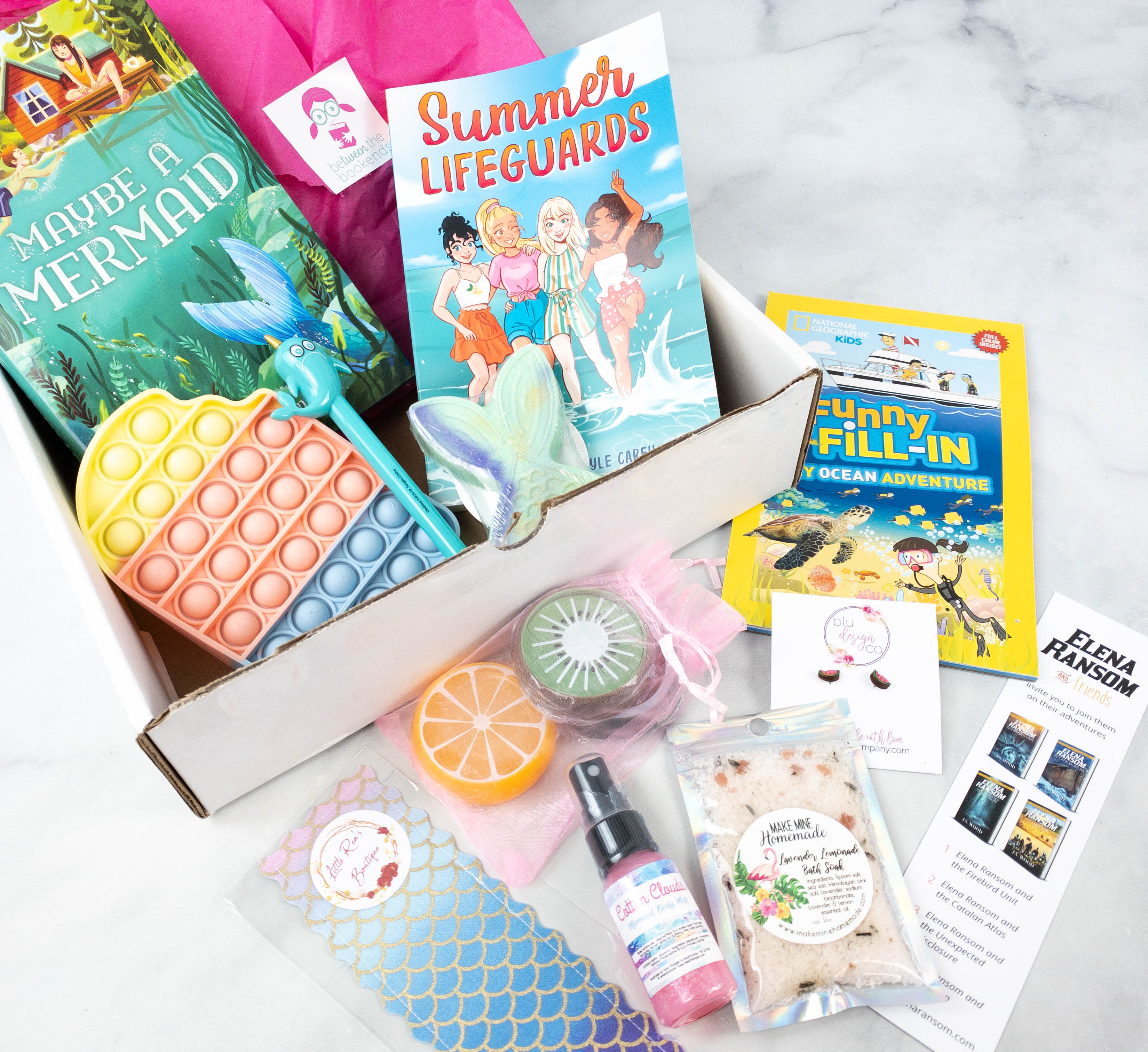 Everything in my box!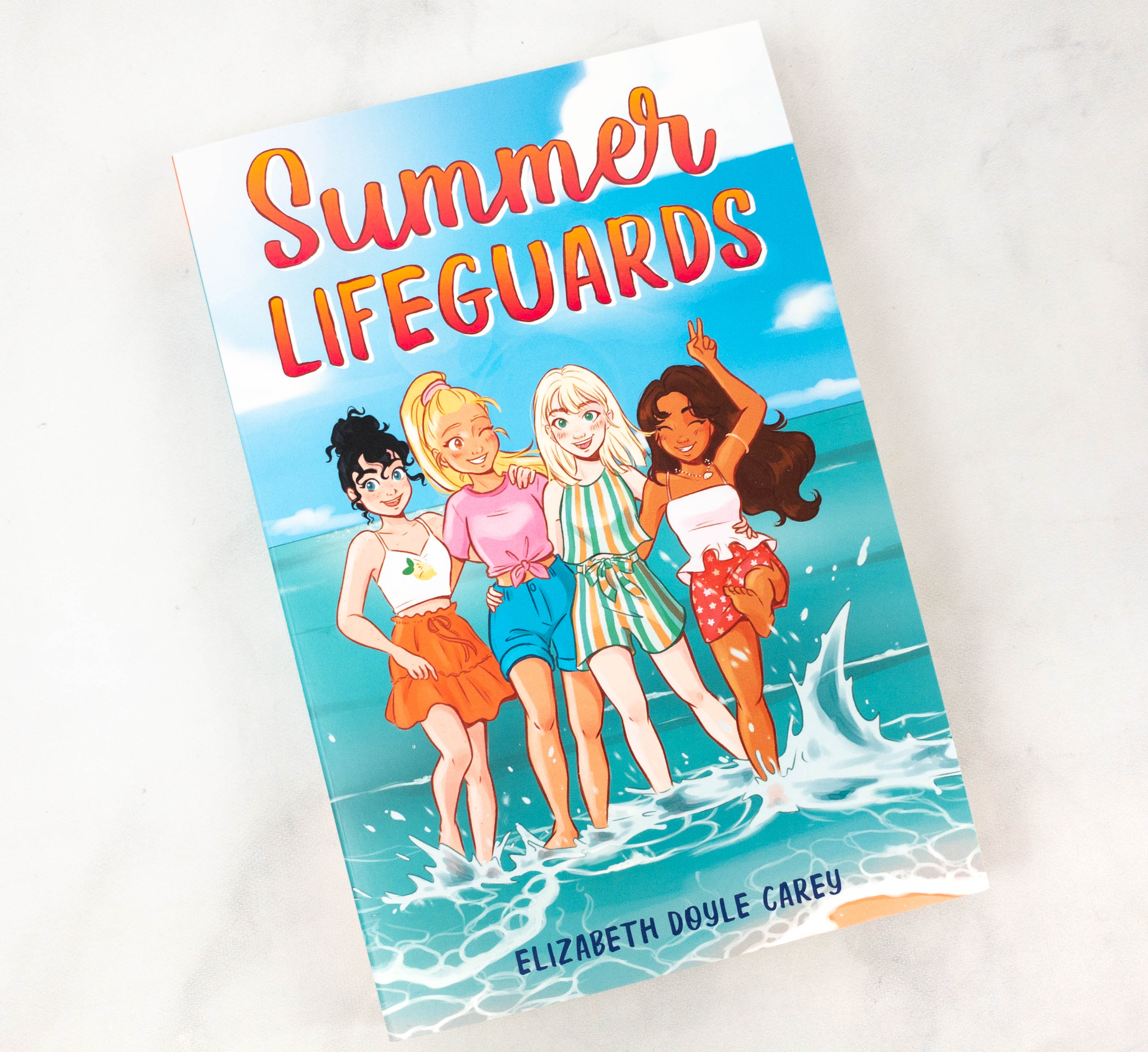 Summer Lifeguards by Elizabeth Doyle Carey ($7.99)
The Babysitter's Club meets Sunny Side Up—in the first of the Summer Lifeguards series, four best friends make a splash in a summer full of wholesome beach adventures!

It's been a busy summer on Cape Cod for four best friends, Jenna, Selena, Piper, and Ziggy. They can't wait to become summer lifeguards like the teens they see patrolling the beaches. But will the girls be able to provide the lifeguards the help they need when a hurricane threatens to strike?

As the storm approaches Cape Cod, the friends face several challenges. Jenna was going to compete in the regional swim meet, but will it still take place? Selena tries a self-beauty treatment with unflattering results. Ziggy's mom will not take the hurricane seriously and refuses to evacuate. And Pippa finds herself with an unexpected visitor.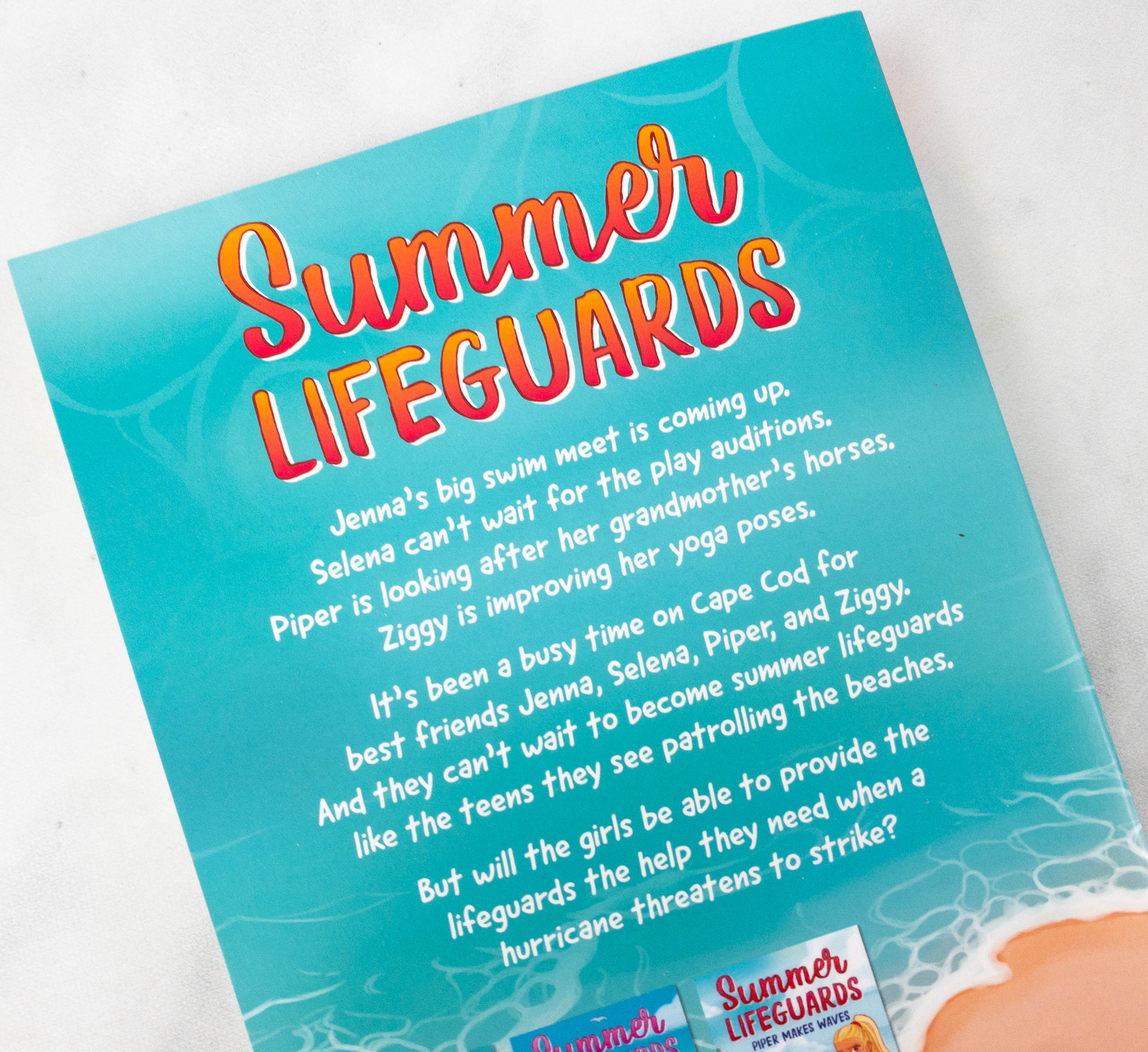 This middle grade book is a part of a series. It's a great summer read as it features swimming and the beach!
The story revolves around an adorable girl who loves to swim. She also helps her family get through tough situations. It's a very light-hearted story and it also has diverse characters!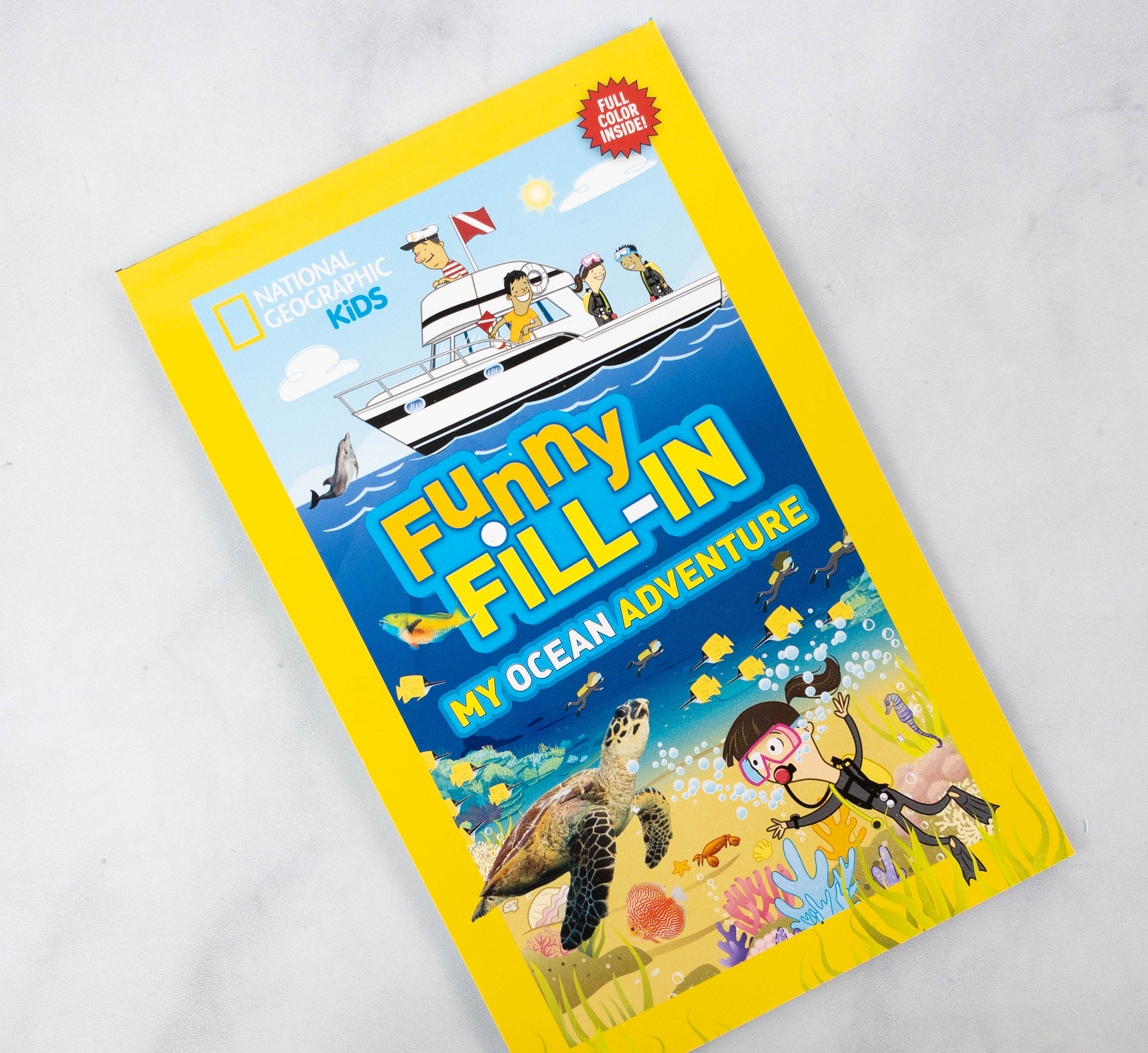 Funny Fill-In My Ocean Adventure by Kay Boatner ($4.99)
You've just discovered a submarine that will take you to underwater places around the world! What happens next is up to YOU! Filled with excitement and hilarity, this compositional challenge lets you tell your very own story starring…YOU! Combining National Geographic Kids' photography and illustrations in colorful laugh-out-loud pages, this engaging, entertaining, and educational book introduces you to animals and people from all over the high seas, and invites you to enter a new world imaginatively by combining your story with theirs.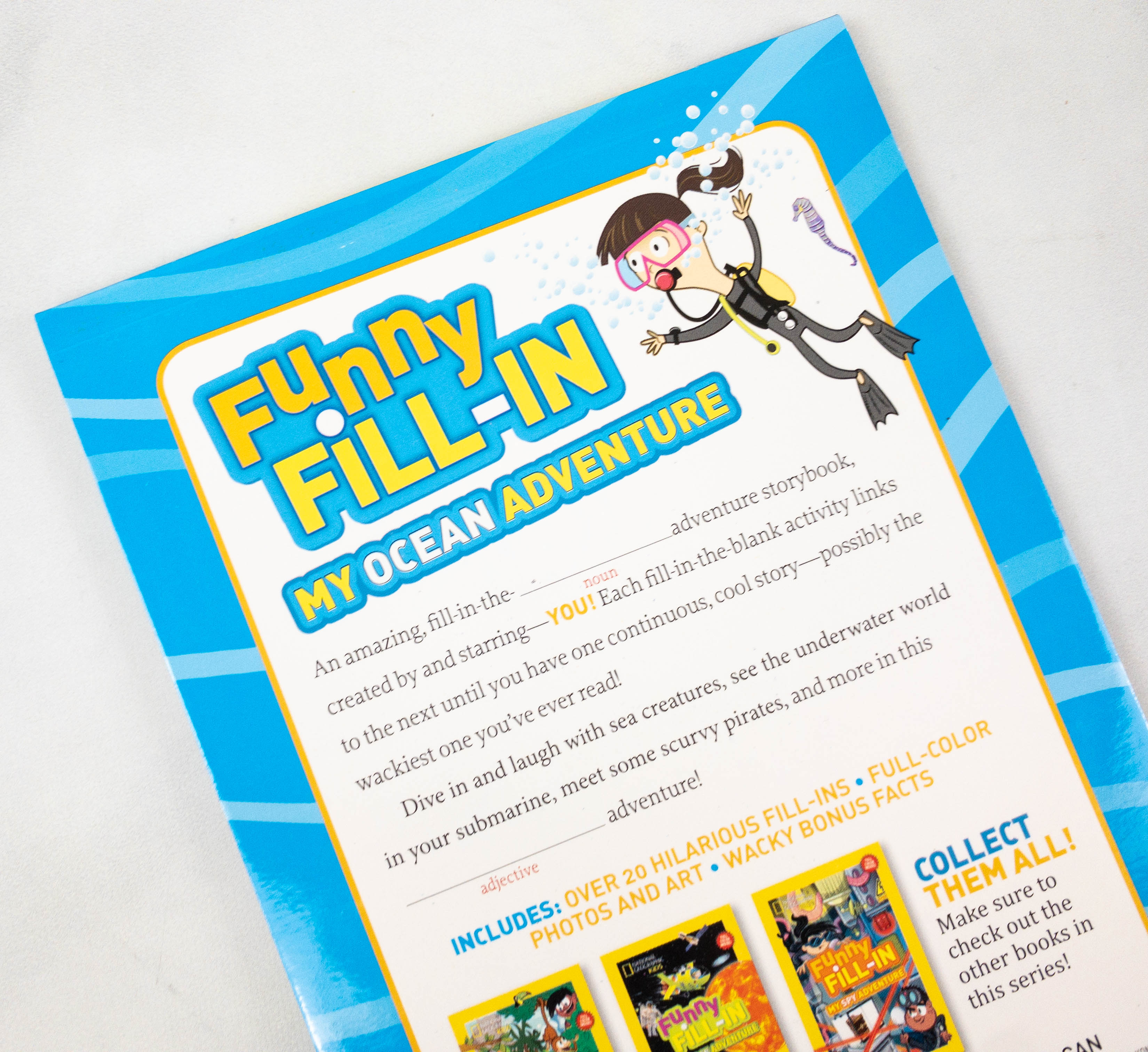 This is a unique and interactive book!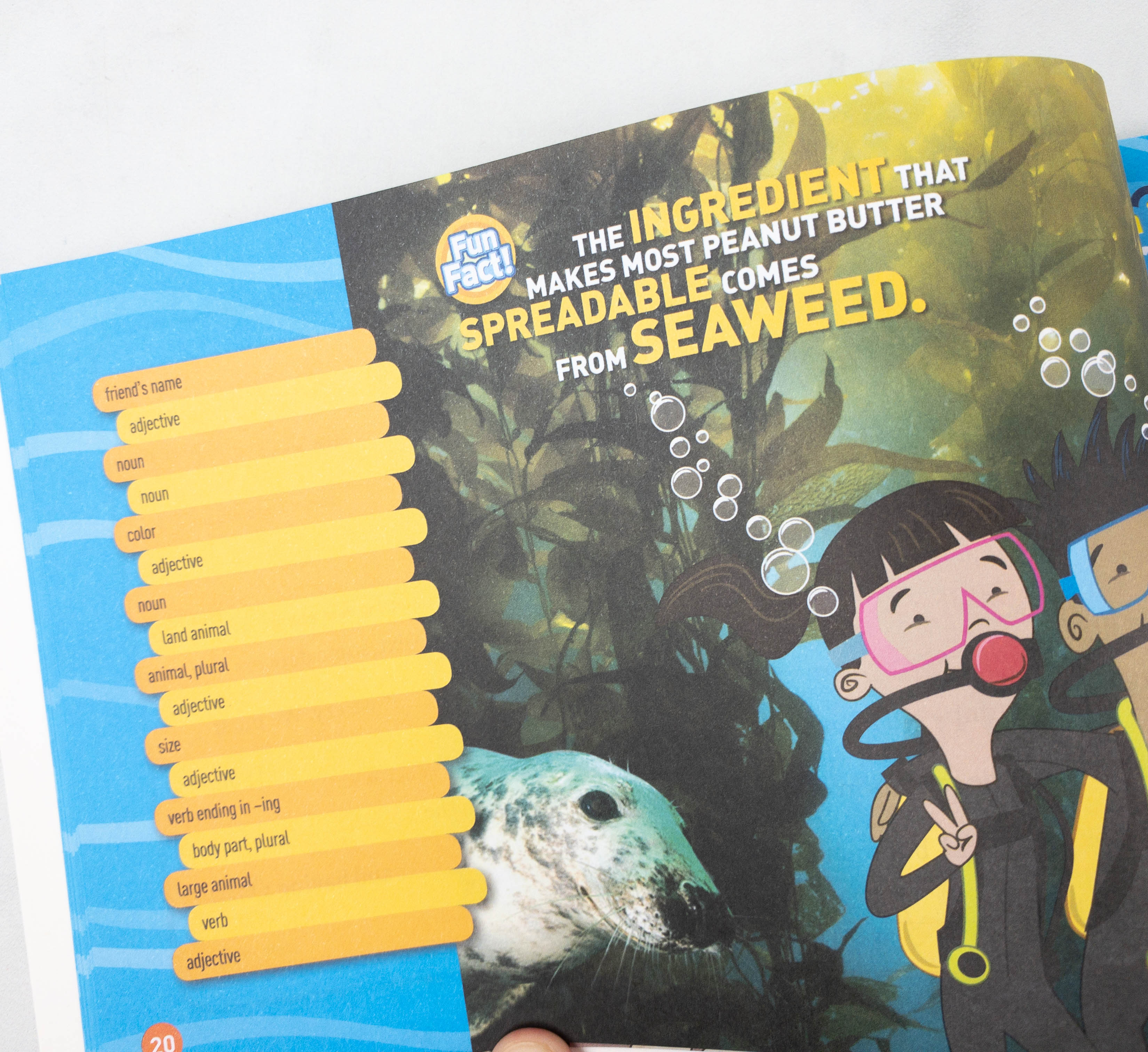 With this, kids can create their own sentences and practice their vocabulary skills.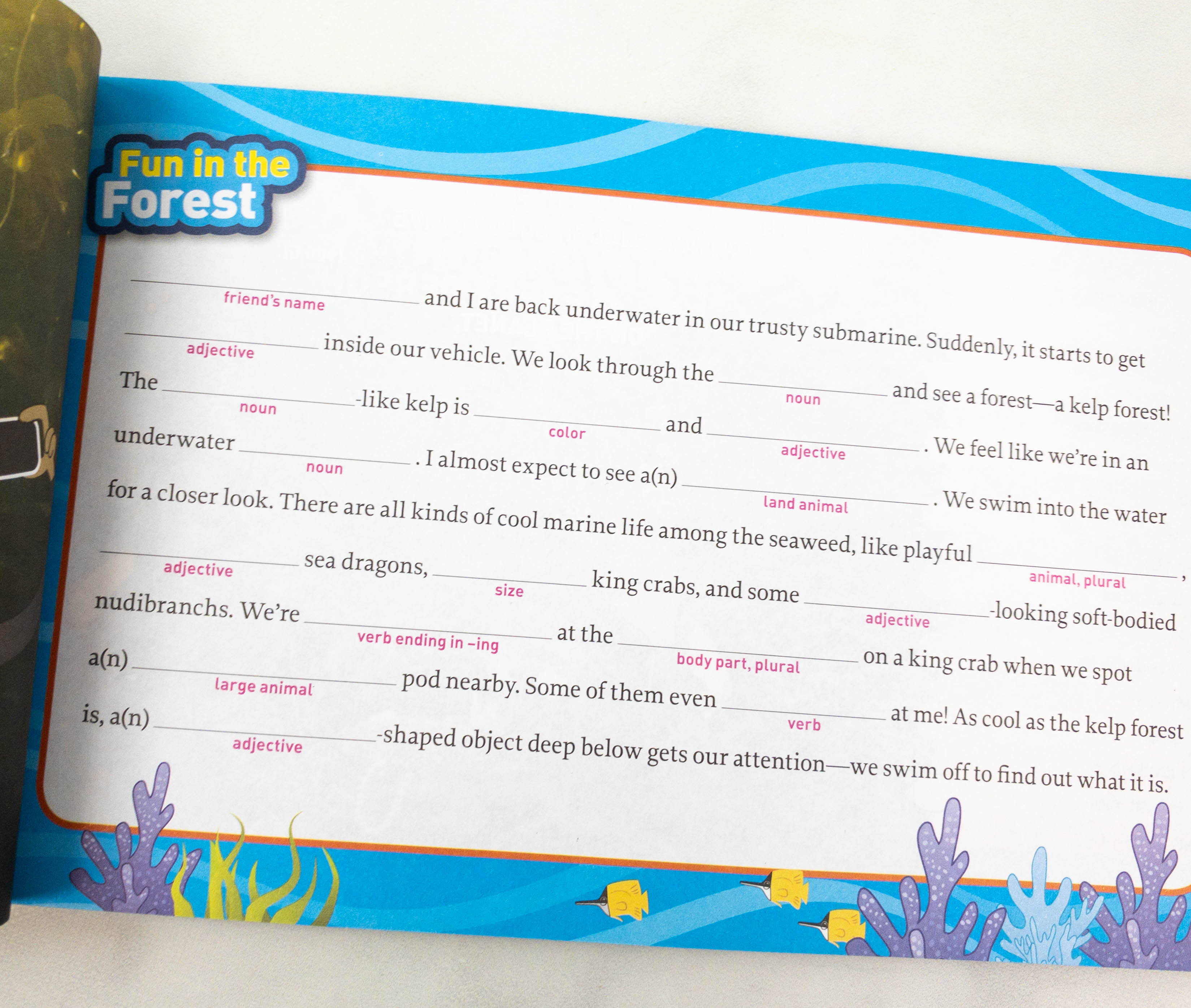 There are hints under the blanks to help kids come up with appropriate words. My kids love that they can make their own story by filling in the blanks!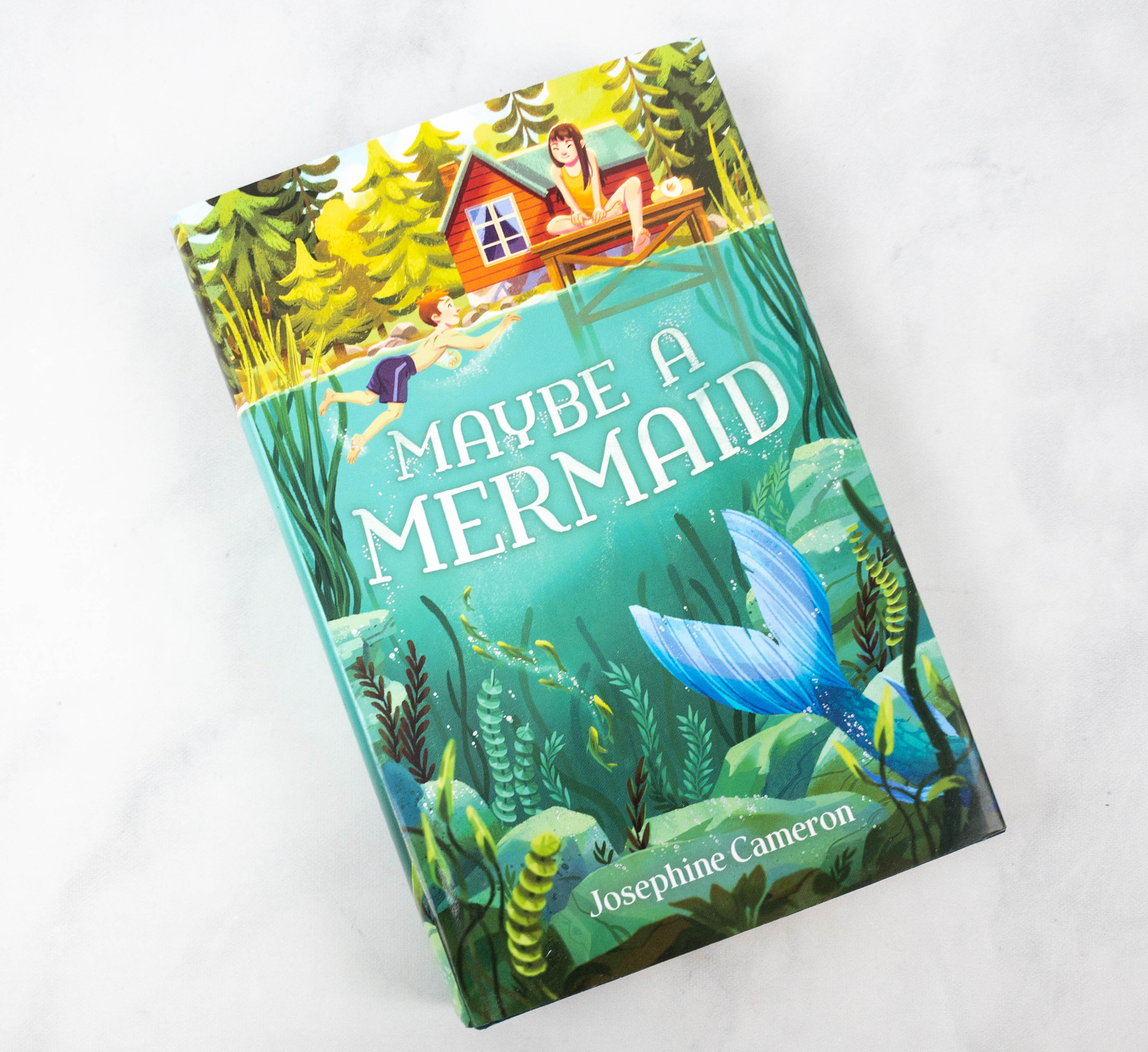 Maybe A Mermaid by Josephine Cameron ($10.05)
A young girl searches for her True Blue Friend in this pitch-perfect middle-grade debut full of mystery, new friends, and maybe a mermaid.

Eleven-year-old Anthoni Gillis is not the kind of kid who believes in fairies, unicorns, or even the word "maybe." She's more of a comic-books girl. So when her mom brings her to Thunder Lake for a summer at the Showboat Resort, she doesn't believe the local rumors about the Boulay Mermaid.

Anthoni has bigger fish to fry. She's always wanted a True Blue Friend. But it's been hard to find one, since for the past five years she's been bouncing from town to town, helping her mother sell Beauty & the Bee cosmetic products to keep them both afloat. This summer will be different, though. Anthoni has a plan―a foolproof checklist for making lifelong friends! There won't be any maybes this time.

But as she grows entangled in local gossip, and her mother stretches the truth, Anthoni must decide if she'll "stick to the plan," like always, or dive into a summer full of extraordinary possibilities.

Josephine Cameron's energetic and heartfelt debut raises timeless questions about truth, lies, and the hope that grows between them.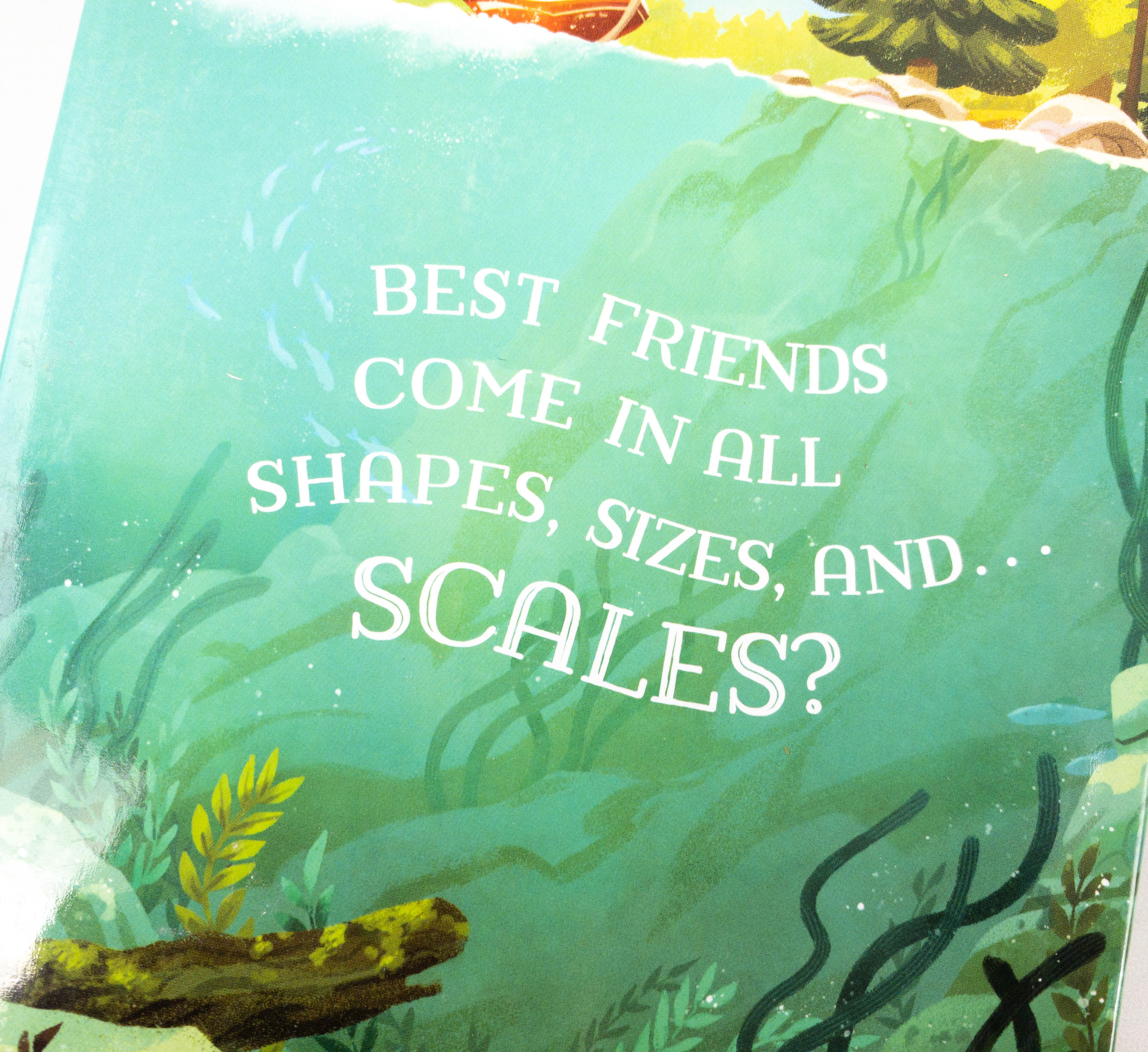 Here's another great summer read and it involves mermaids!
This story is fun, yet it still has that air of mystery to it. The fact that it has mermaids in made it an instant hit with my kids.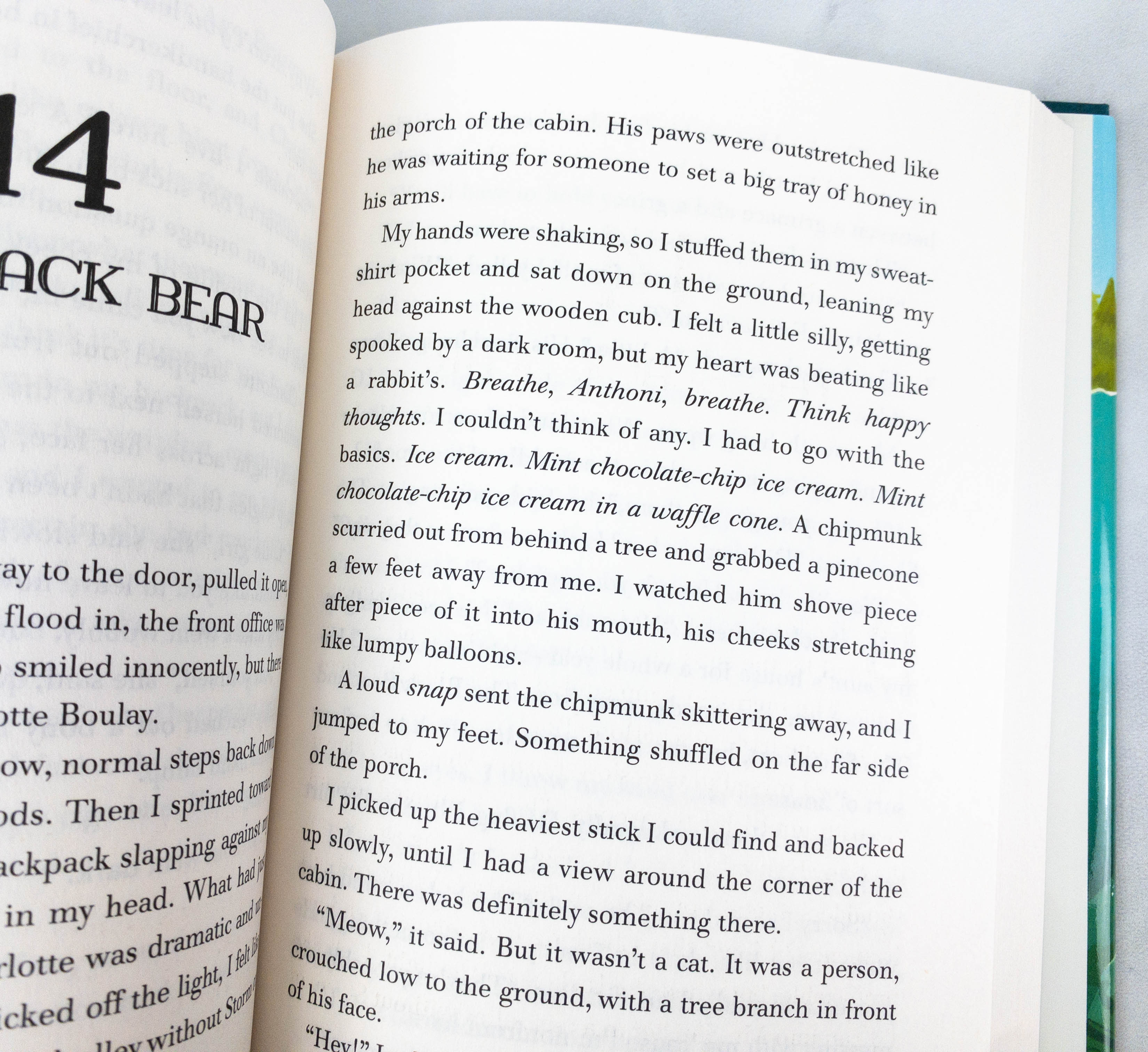 This book tells a great story about friendship and also a lesson on how we should never take anything for granted!
Little Rea's Boutique Fabric Bookmark. Since the box includes a book with mermaids, it's just apt to receive mermaid themed items like this cute fabric bookmark!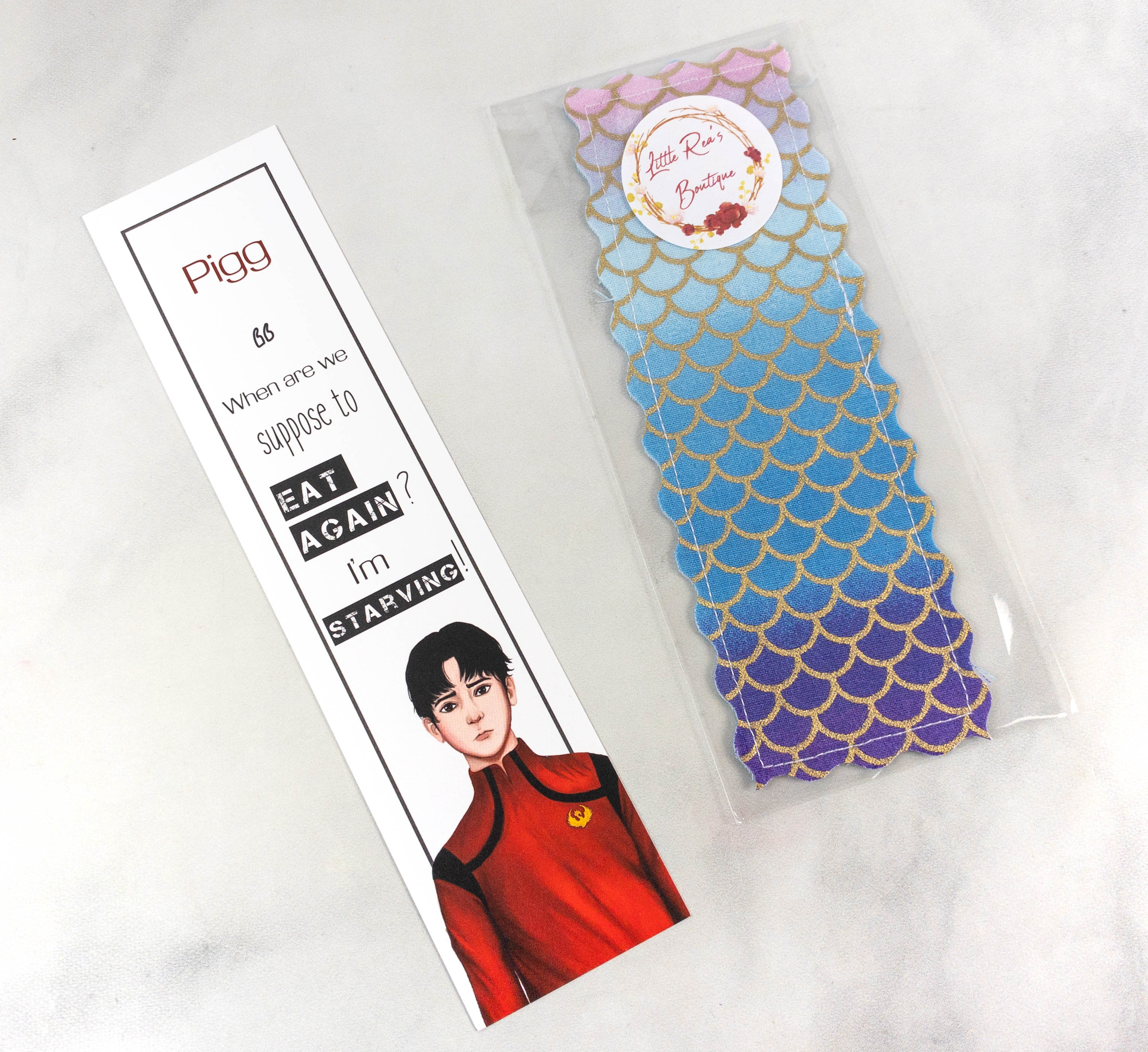 The fabric bookmark came in its own plastic packaging to protect it during shipping. It features a gradient base color and golden scales. There's also another bookmark included in the box, made with thick paper.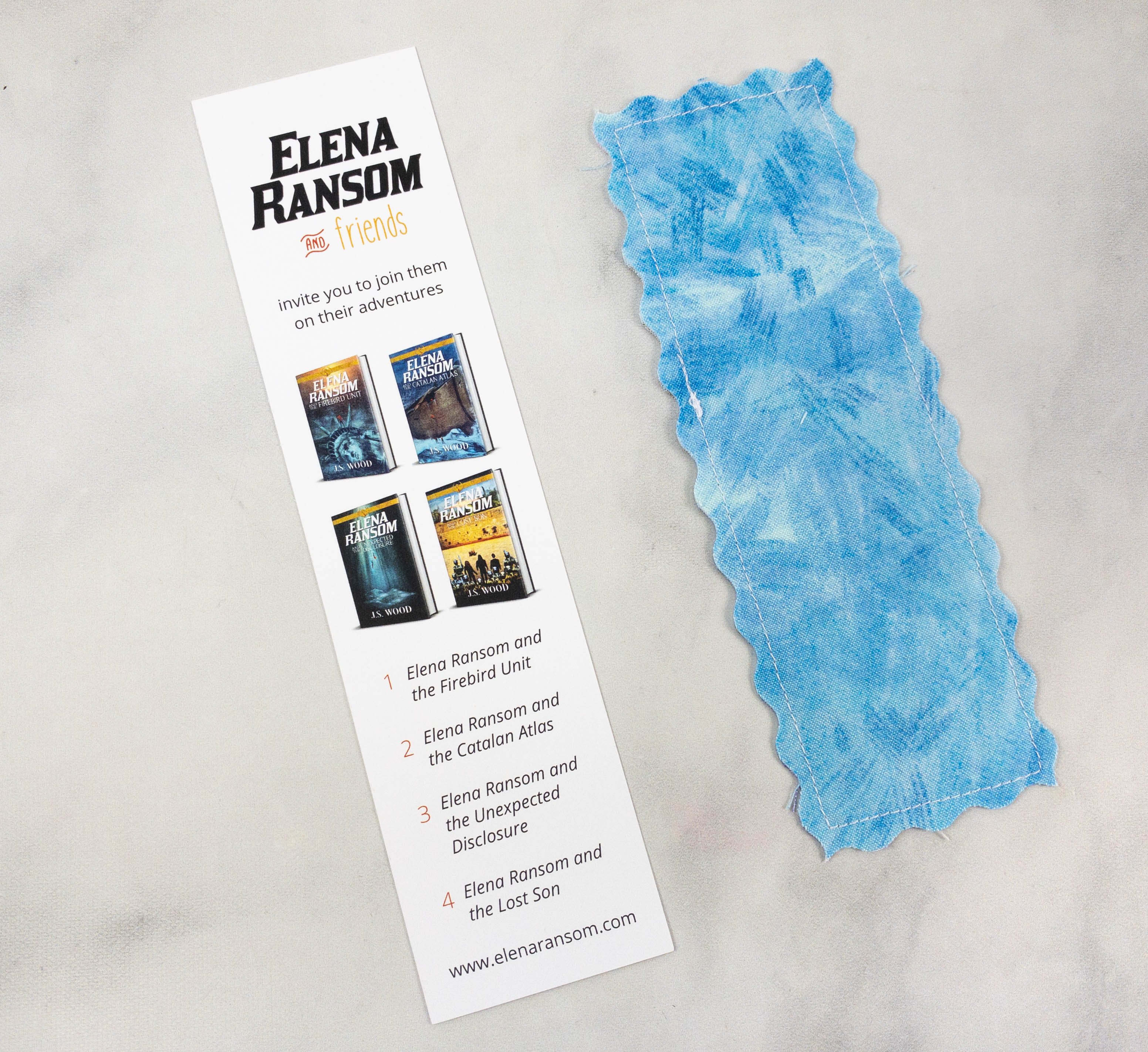 The paper bookmark features other books from the Elena Ransom and Friends series. The flipside of the fabric bookmark also has a pretty print that reminds me of the ocean!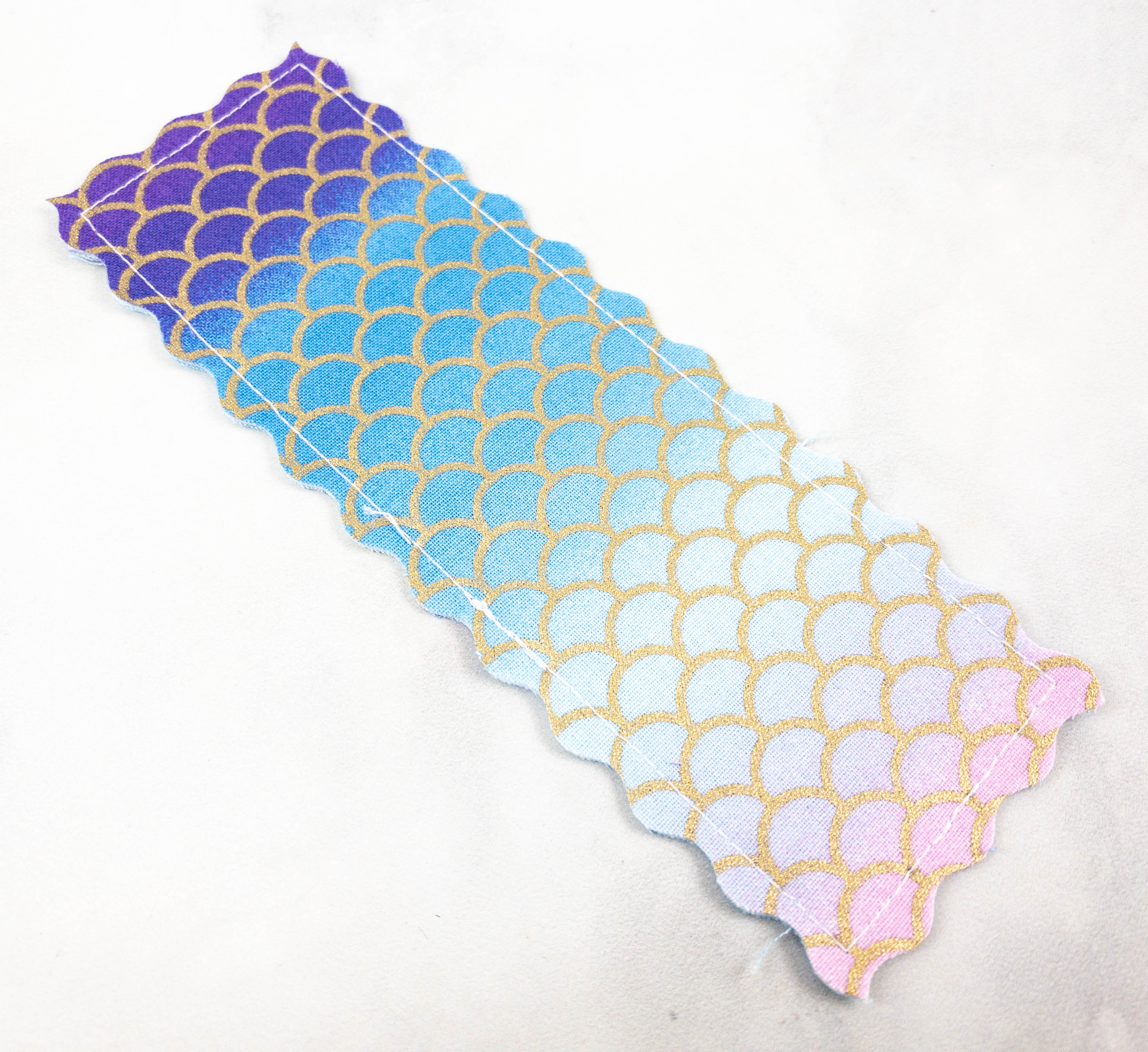 Here's a closer look at the fabric bookmark. It's not too thick so it doesn't look bulky when you put it in a book!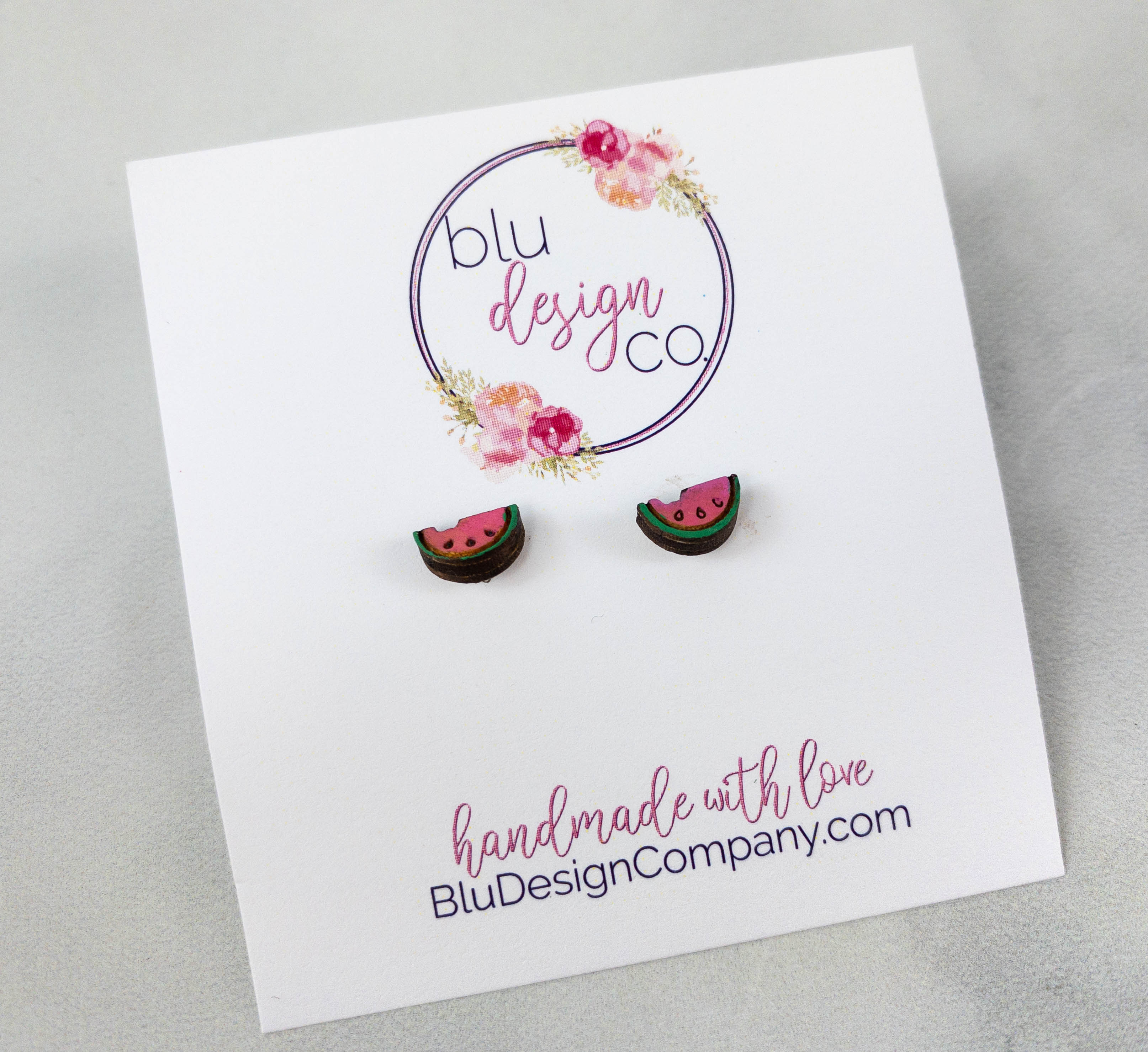 Blue Design Co. Watermelon Earrings. It's a cute pair of handmade earrings, shaped like watermelon wedges! They are cute and they are great to wear on any casual day. The earrings are lightweight as well.
Popsicle Shaped Pop It. Pop It is a sensory toy that can help kids focus or calm down. The box includes one and it's shaped like a popsicle, with cute pastel colors!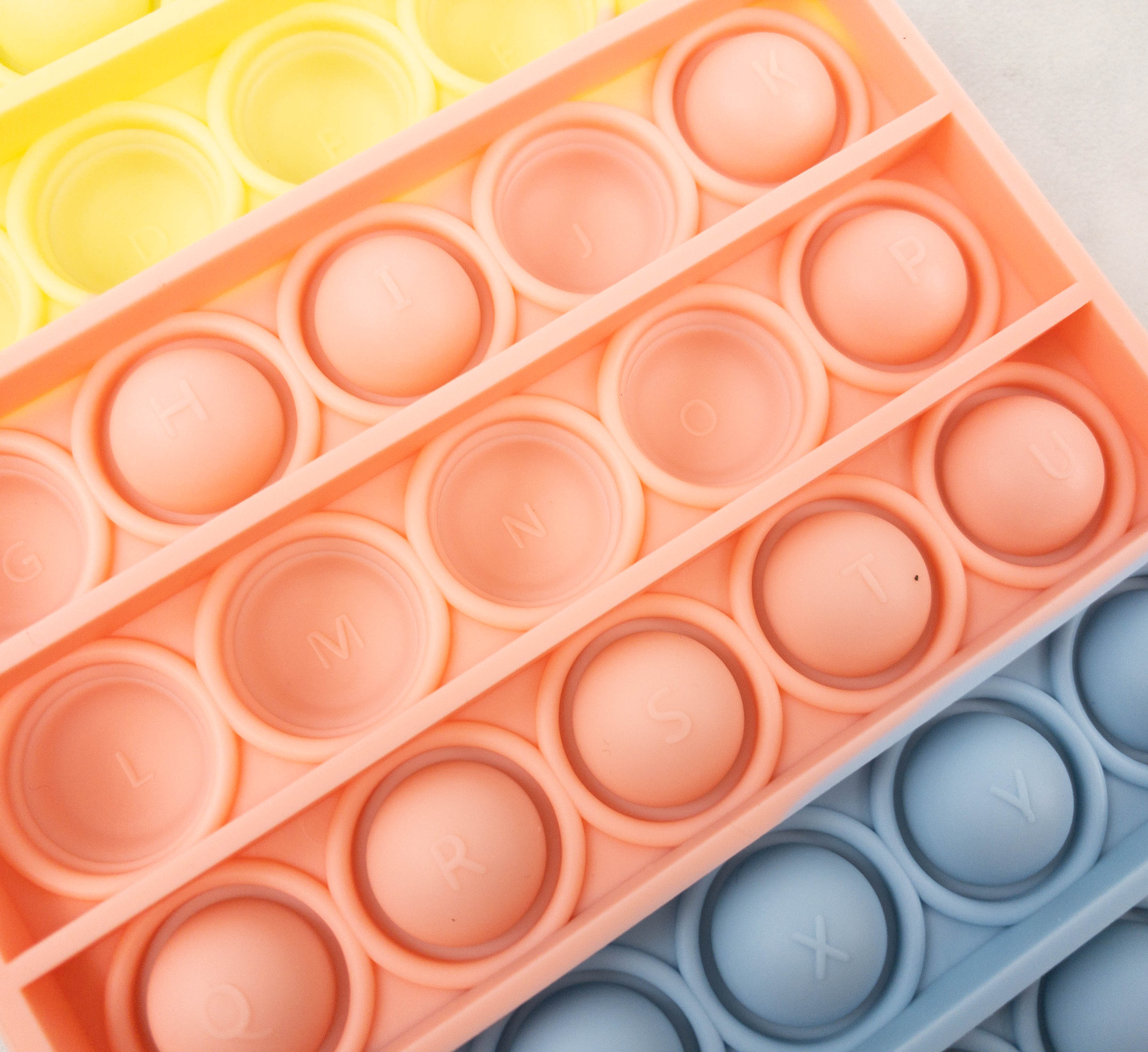 The popping sound it produces is reminiscent of a "ploop". This one also features letters and numbers on each bubble! Oh gosh, this was so much fun for everyone!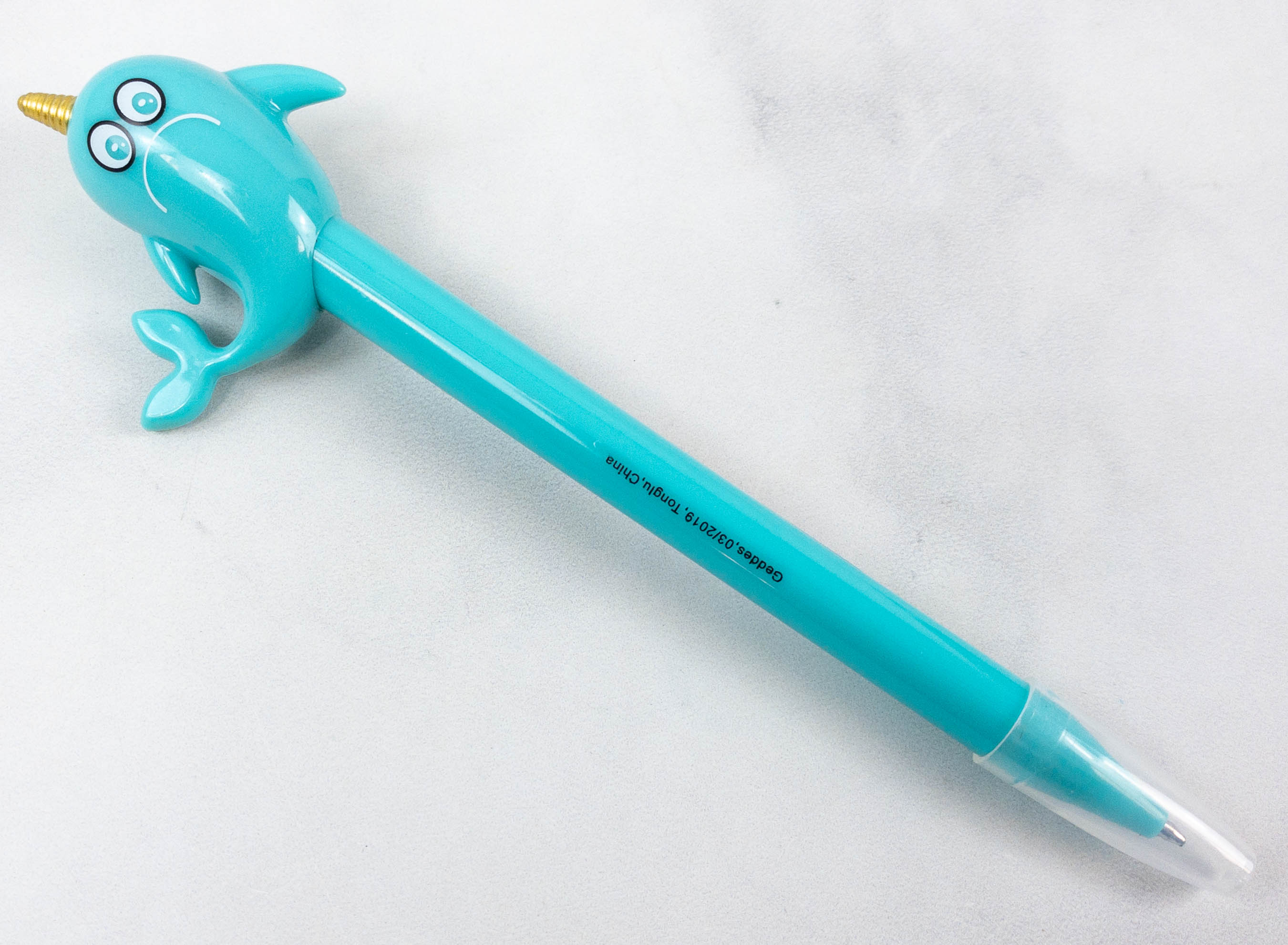 Narwhal Pen. Here's a kawaii pen that my daughter can use for journaling or taking notes! On top of the blue pen is a Narwhal with a sad face.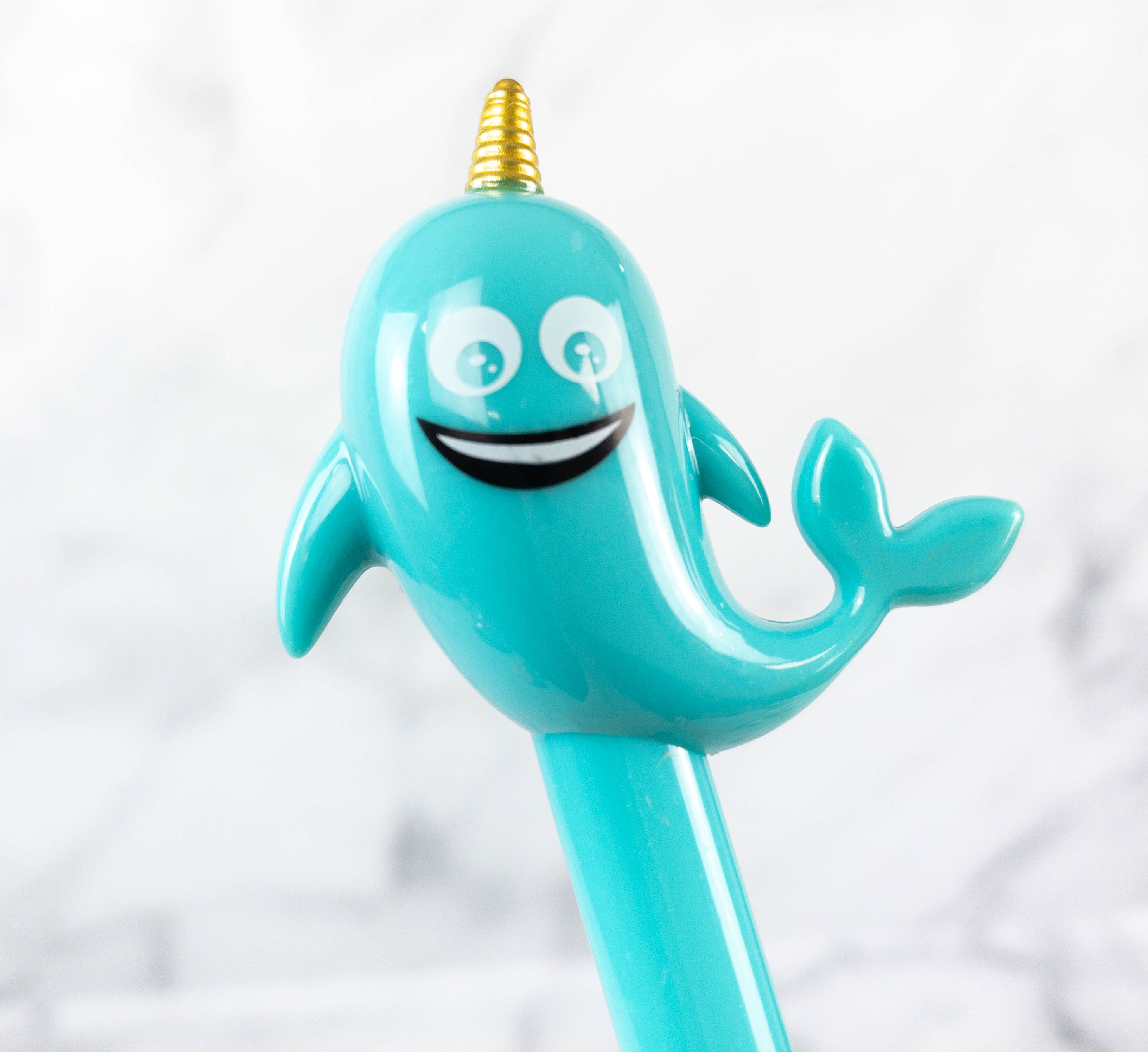 When you flip the Narwhal, it will reveal a happy face!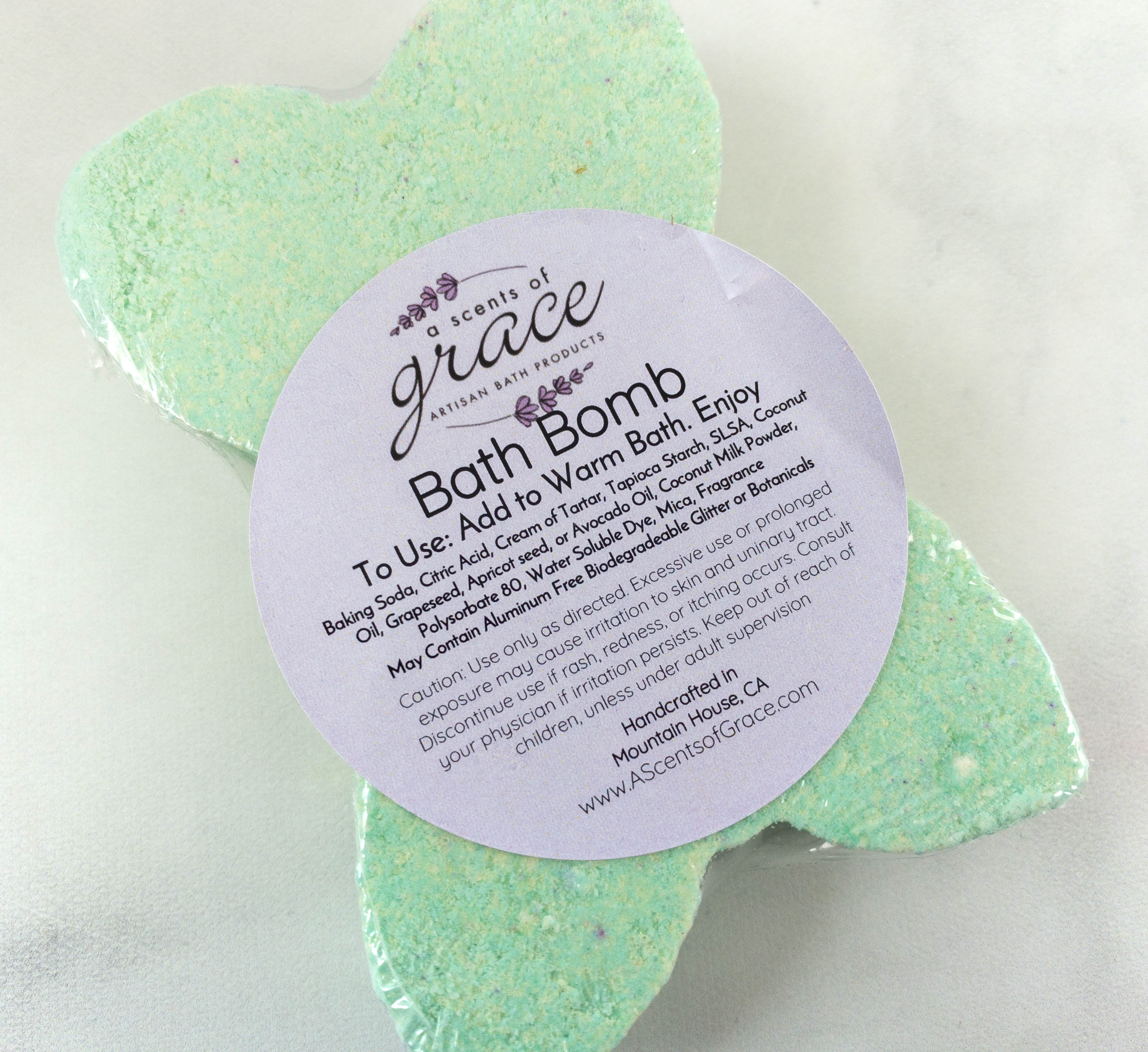 A Scents of Grace Mermaid Bath Bomb. Here's another mermaid themed item, a bath bomb! It fizzes nicely when you put it in a warm bath and it also helps moisturize the skin.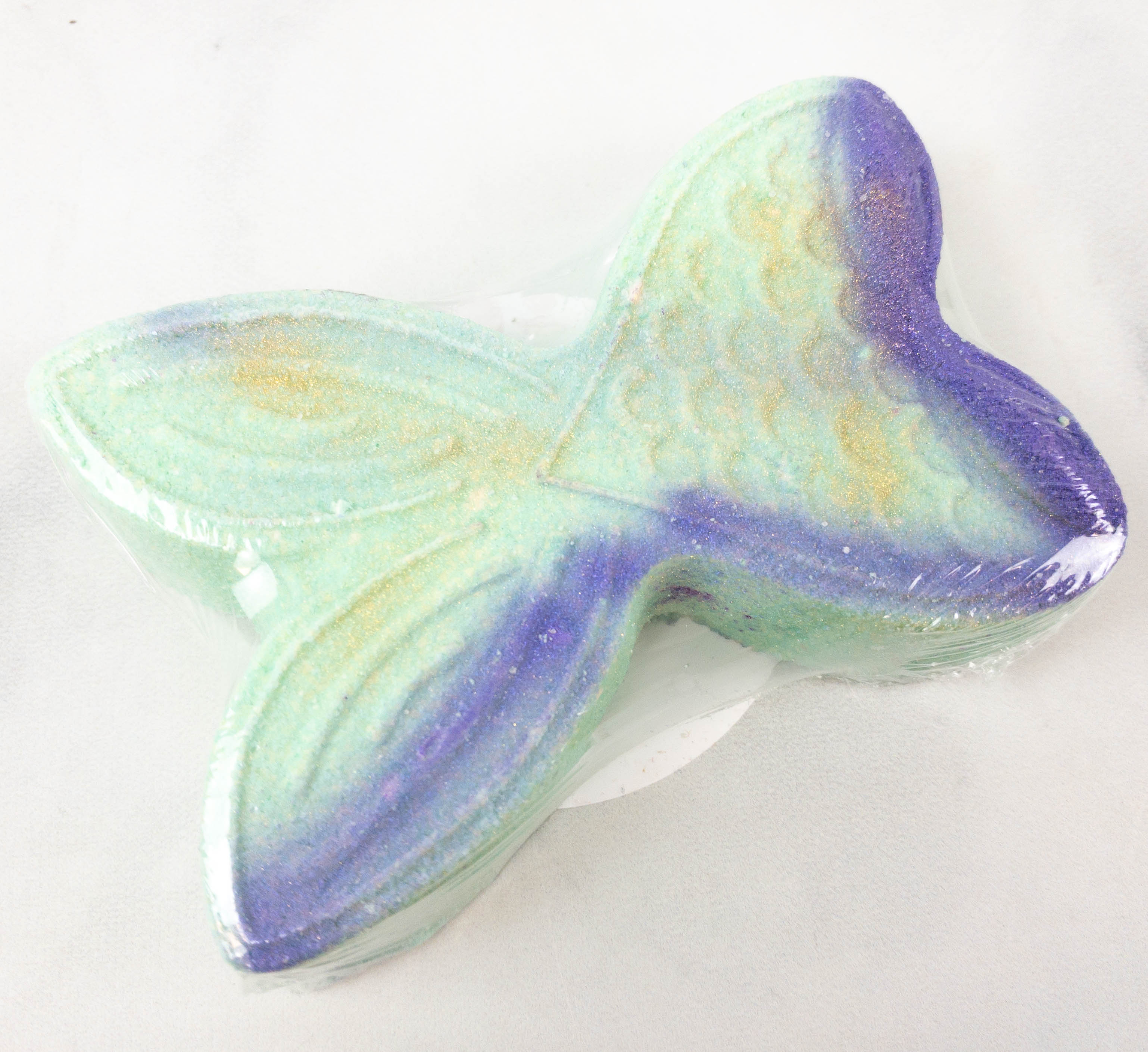 Shaped like a mermaid tail, it comes in mint green with some splashes of purple.  There are even specks of gold dust on it. My daughter likes using bath bombs and this is on her list of favorites!
Make Mine Homemade Bath Salt Soak. The next bath product in the box is a pack of bath salts! This is perfect for winding down because it contains Epsom salt that helps relax tired muscles. The bath salts are also infused with calming lavender and lemon essential oil.
Huey Shoppe Body Mist. This mermaid inspired body mist contains tiny specs of glitters that makes the skin look glowing! It doesn't clump on the skin and it's not sticky at all. It also doesn't stain clothing, just make sure that you don't spray it directly on your clothes!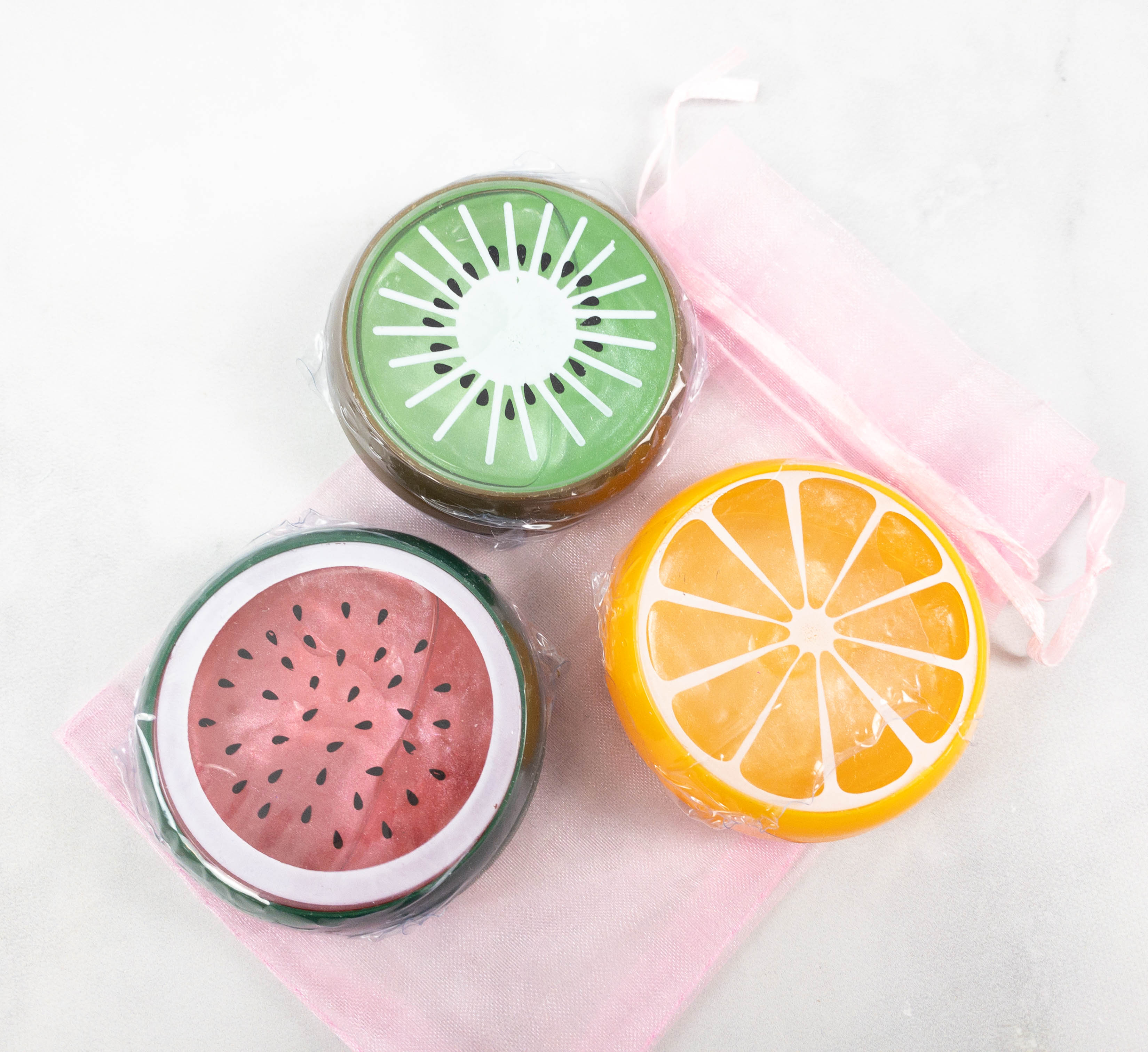 Assorted Fruit Putties. Lastly, here are some fruit putties! The box includes 3 colors: red for watermelon, green for kiwi, and yellow for orange!
These are fun and relaxing to play with. They are like a thicker version of a slime. You can even mold them or cut into different shapes!
BeTWEEN the Bookends is a great subscription for tweens who love to read. This month, my daughter received 2 middle grade books plus a fill-in-the-blanks book. The fun part is that the box also includes cute lifestyle gifts, which are related to the box theme (and it smells so yummy, too!). My daughter liked the beach-themed goodies, from the fidget toy to the bath items. Her favorite is the mermaid tail bath bomb and I couldn't blame her because it's not just cute, it also makes a warm bath smell really good! She also liked the fabric bookmark, which she used right away while reading her new books. So far, everything they've sent in this box is age-appropriate. This curation would make a nice gift as well!
What do you think of the beTWEEN the Bookends box?