We have the fourth spoiler for the Alltrue Fall 2021 Box!
From clean beauty standouts to sustainable swaps, the Fall Box has a little of everything: sustainable, ethical, full-size products worth up to $250+, one beautifully illustrated box, all for only $49.95.
DEAL: Save 20% ($10.99) on your first box when you use this link and coupon code FA21!
If you sign up for an Annual Membership, you will be able to customize your box and save an additional $20 on your membership for the year!
FYI – You can add on additional items – but note that each order is subject to individual shipping, so we suggest waiting until all the products are revealed (8/29). Seasonal subscribers can add on in the Add-Ons Market.
CHOICE 4: Annual subscribers may choose between one of the following items – seasonal subscribers will get one. Additional items $11.
Headbands of Hope Set of 2 Knotted Headbands
A playful, vintage-inspired accessory featuring a mini-floral print. With a recycled polyester blend fabric, these headbands bring a note of sweet, retro rock-n-roll to any look. The padding behind the ears helps reduce that headband headache. A $35 value.
EACH Jewels Layering Necklace Set
Back to basics. These dainty necklaces are made for layering, designed with an adjustable length to pair with your favorite pieces including your wear-everywhere classic pendant. Delicate and minimalist, wear both together as a set or mix and match with the rest of your jewelry box. Made with 14kt. gold-plated steel, this duo is hypoallergenic and free of nickel. Reuse the pouch packaging as a travel jewelry case or a minimalist card carrier. A $42 value.
Aloette Winkable Lift & Lengthen Vegan Mascara
Lift, lengthen, love. Whether you favor that bare-faced look or love to experiment with the bright and bold, a good mascara is a must-have in any make-up bag, and this Aloette mascara is one of our favorites. We took one of their most-loved mascaras and tweaked it juuuust a little for Alltrue, making the formula fully vegan. A blend of nourishing Argan Oil, rice, and orange peel waxes works like your classic conditioner but for your eyelashes, moisturizing and strengthening each lash without any clumping. A $26 value.
CHOICE 3: Annual subscribers may choose between one of the following items – seasonal subscribers will get one. Additional items $7.
The Bemakai Manta Hair Towel Wrap 
This hair towel is made with 40% bamboo and 60% recycled polyester, with a button made from coconut. Wear around the house as you get ready — the sleek design makes it much easier to wear than your shower towel, and its extra absorbent material gives you quicker drying hair, less breakage, and a smooth finish. A $22 value.
The Mintbiology Seaweed Collagen Gold Eye Masks 
Hit reset with a little luxe pampering from Mintbiology. These Gold Eye Masks rejuvenate and soothe, reducing the appearance of under-eye bags. For best results, refrigerate these eye masks before using and apply for at least 20 minutes. Reformulated especially for Alltrue, we swapped seaweed collagen in to replace the animal molecule counterpart. Not only does this make the product fully vegan, research indicates that seaweed collagen benefits are greater than those of the animal molecule counterpart. Effective, luxurious, and cruelty free. A $35 value.
CHOICE 2: Annual subscribers may choose between one of the following items – seasonal subscribers will get one. Additional items $24.
Small:Hours Set of 5 Stackable Pantry Containers
Pretty pantry goals and a sustainable swap? Sign us up. These stackable pantry containers will help you get all those rogue packaged goods in order, keeping food fresh and shelves organized. They're also perfect for bulk shopping. Just bring an empty container with you and fill it with your grains, oats, snacks, or flour — no additional plastic packaging required.
A new name in the sustainability game, Small Hours seeks to empower individuals to change their consumption habits so we can begin to right the environmental wrongs we've committed. Their first goal? Eliminate single-use products from our kitchens, bathrooms, purses, cars, and, ultimately, our vocabulary entirely. A $50 value
Henny + Lev Vegan Leather 2-in-1 Everyday Tote
Let's be honest — it's never just your phone, keys, and wallet. As life on the go returns, we're reminded just how much we need every day. The versatile Henny + Lev Vegan Leather 2-in-1 Everyday Tote has you covered. Roomy enough to carry all of the essentials, including a 13" inch laptop, this bag has pockets to keep things organized and a removable strap so you can wear it as both a crossbody and a classic tote. A $130 value
15″ H x 15″ L X 7″ D
Handle length 11.5"
Tease Smart Heated Mug
Keep that coffee or tea comfortingly warm, even when you're stuck in back-to-back (to-back) Zoom meetings. To use the Tease Smart Heated Mug, plug in the mug warmer and rest it on a level surface, then set your ceramic mug in the center of the base. The heating base will automatically turn on when you set the mug down, and shut off when you pick it up. The mug's lid helps keep the heat in and also doubles as a tea bag holder once you've steeped your drink to perfection. A $65 value
LSTN Wanderlust Portable Speaker
Bring your own personal soundtrack to any outing with the LSTN Bluetooth speaker. Proceeds from the speaker in your box will help fund LSTN and Starkey Hearing Foundation's mission to give hearing aids globally. Since 2012, for every LSTN product purchased, a portion of proceeds are donated to restoring the hearing of someone in need. To date, LSTN has helped restore the hearing of over 35,000 people. A $99.99 value
Charge for 1-2 hours
Works for 2-3 hours without a charge
Compatible with all Bluetooth devices
4 1/2″ x 3 3/4″ x 1 ¾"
Battery capacity 400 mah
Compatible with all bluetooth enabled devices
Earth Harbor Seas the Day Luxury Skincare Bundle
Add a little salon-level self-pampering goodness to your everyday skincare routine with this luxury product bundle. This set of products works together as part of a three step process: remove, purify, and hydrate.
Start with the SUNSHINE DEW Antioxidant Cleansing Oil. This gentle elixir removes grime, makeup, and the stress of each day with no tugging, scrubbing, or rough rubbing required. Gently shake the bottle, and apply a few drops to your face, then splash with tepid water and watch your makeup melt away. Next up, we have the purifying GLOW JUICE Refining Enzyme Mask. Made with vitamin c-rich red seaweed and fruit enzymes filled with AHAs, this mask resurfaces, cools, and firms skin. Apply to clean skin and let sit for 3 minutes. Last but certainly not least is the TIDAL ROSE Crystal Hydration Toner. Shake the toner to activate, then spritz your face for a final burst of hydration. It works great as a setting spray, too. An $80 value
CHOICE 1: Annual subscribers may choose between one of the following items – seasonal subscribers will get one. Additional items $11.
Kitchen Innovations Silicone & Beechwood Measuring Spoon Set
A teaspoon of that messy/delicious kitchen happiness? We've got you covered. These measuring spoons by Kitchen Innovations have been a past favorite from our seasonal add-on market, so we decided to bring them into the box. Made with silicone (and one with beechwood for visual interest), this set is flexible, odorless, and contains no fillers or byproducts. It's a safer, non-stick alternative to your classic plastic goods. Reinforced with a steel core for durability, the silicone measuring spoons are heat resistant to 482°F. A $15 value.
Molly's Suds Natural Wool Dryer Balls (Set of 3)
Do away with disposable dryer sheets. These wool dryer balls do everything dryer sheets can and then some, keeping fabrics soft, unwrinkled, and static-free. They also reduce dry time (aka lower energy costs and consumption) by up to 30%. Leave your balls in the dryer until the next load or store them with your detergent or hamper in the mesh laundry bag. A $14 value.
Grown Alchemist Hydra Repair Day Cream
For healthy, hydrated, happy skin, this dreamy day cream from Grown Alchemist will do the trick. A medley of all-natural ingredients gives this cream its super powers. The camellia and rosehip oil leave skin visibly dewy while aloe vera revitalizes and softens. Triglycerides from jojoba oil help your skin find its natural balance while the sugarcane noticeably soothes and repairs sun damage. Finally, the mayblossom helps your skin find its sebum sweet spot, balancing naturally occurring oils. A $49 value.
And the designer for the Fall box – Hola Lou (photo is not of artist):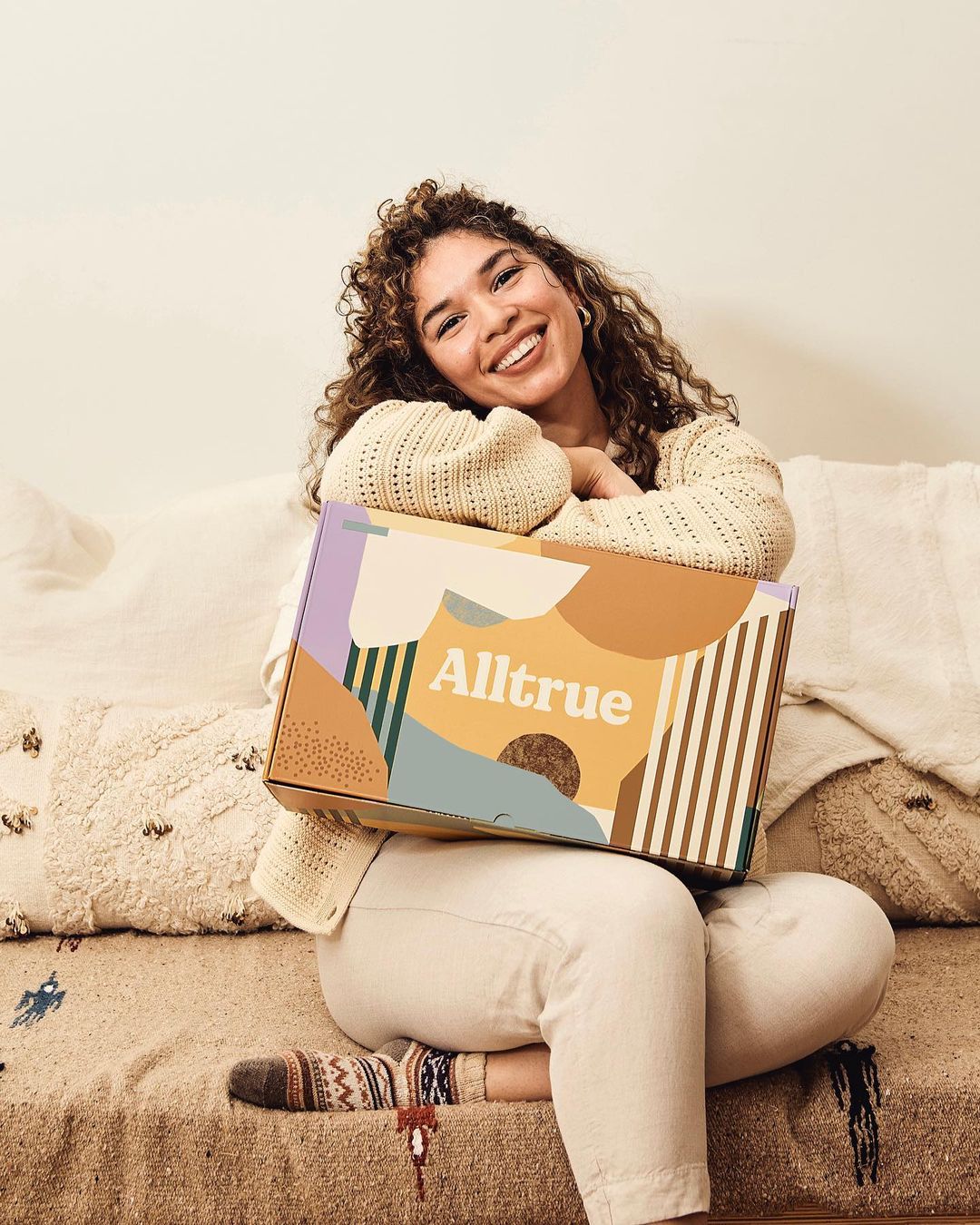 Fall is full of good things. There are the welcome wafts of cooler air and fire-hued leaves, of course, but there's also something else: a fresh start feeling that's at once subtle and powerful. As we slough off summer's hazy, languid energy and step into the first days of autumn, we regain the energy to imagine, build, change, and grow. It's the perfect moment to assess our habits, set our intentions, and begin to create meaningful change in our lives and in the world.
Using an abstract approach to image-making inspired by minimalism and modernism, Mexico-based fall artist Hola Lou at once captured and wove together this shifted focus with the changing landscape, textures, and textiles of autumn. Look closely, and you'll see burnt hues, bold rain storms, a full sun emerging from behind heavy clouds, and the wooly feel of cold-weather coats and scarves.

From the outer artwork to the stories and items inside, the Fall Box, like each Alltrue Box, was curated to inspire tangible action — small, personal changes and choices that make a real difference — and remind us of the broader strokes of change occurring outside ourselves.
Currently Alltrue offers a "membership that matters" with a quarterly subscription box curated with full-size socially conscious products for women. In each box, you'll receive 5-8 seasonal lifestyle products that are focused on ethical and sustainable production, donate a percentage of profits to charity, or aim to inspire and empower others. They also offer "seasonal markets, inspiration for intentional living, and a community that cares." You can upgrade your subscription box to include Alltrue's editorial print magazine All Good Things for $7.95/quarter. You can also upgrade to a carbon-neutral shipping option for $1/quarter.