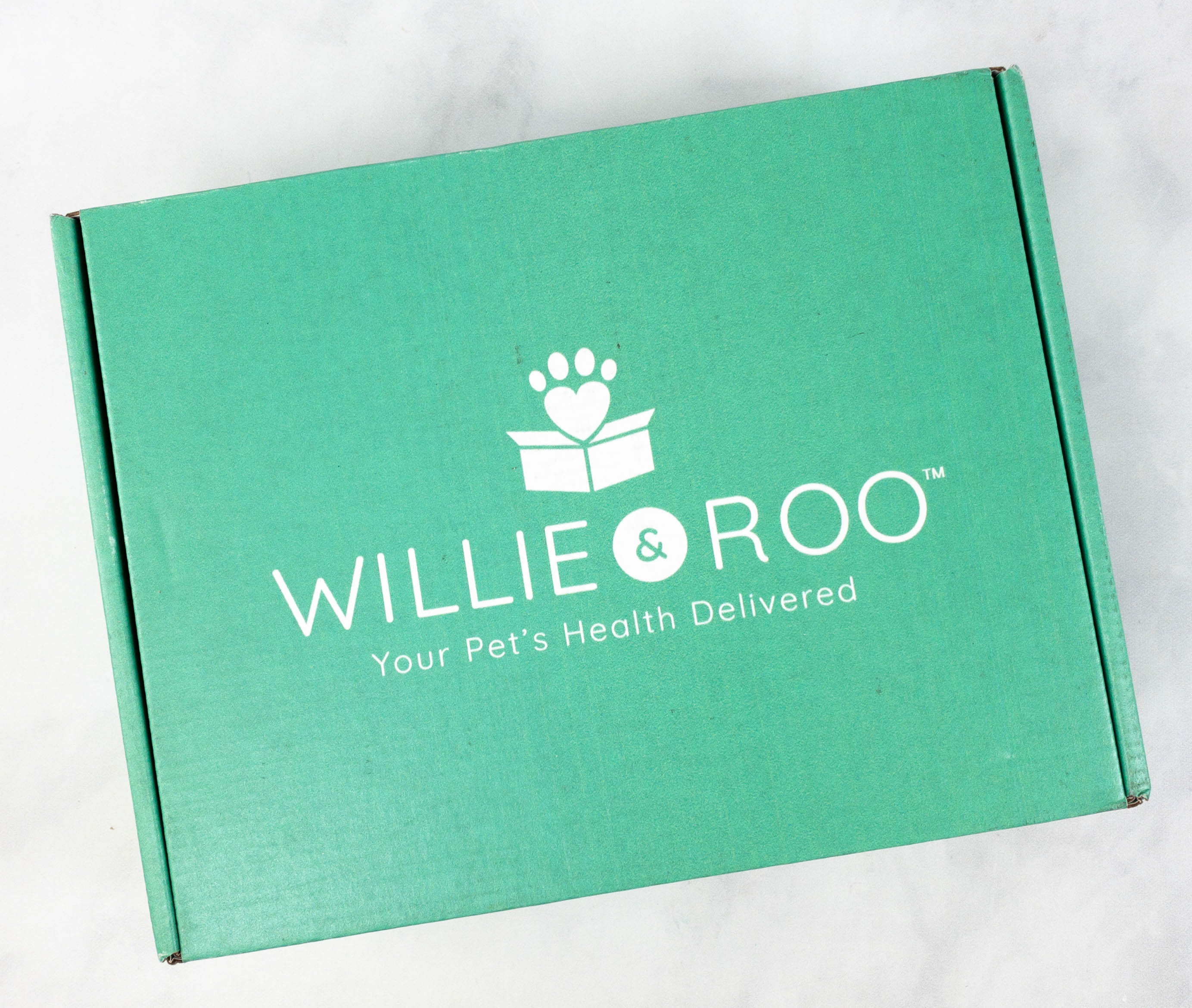 Willie & Roo is a pet wellness subscription that delivers personalized boxes for dogs or cats. Subscribers will be able to choose boxes based on their pet's size, as well as from three different subscription levels: Pampered, Healthy, or Happy.
Happy – wholesome all-natural treats, enriching toy or wellness product, healthy chew, personal web page for your pup (starts at $33.95 monthly)
Healthy – Everything in Happy plus a custom selected health supplement for your pet (starts at $42.95 monthly)
Pampered – Everything in Healthy plus a surprise pet PAWrent gift (starts at 49.95 monthly)
DEAL: Get 20% off your first 6 months on any dog or cat subscription! Use coupon code HELLOSUB20.
Willie & Roo's dog subscription box made the list in our 2021 readers' choice list of best subscriptions for dogs!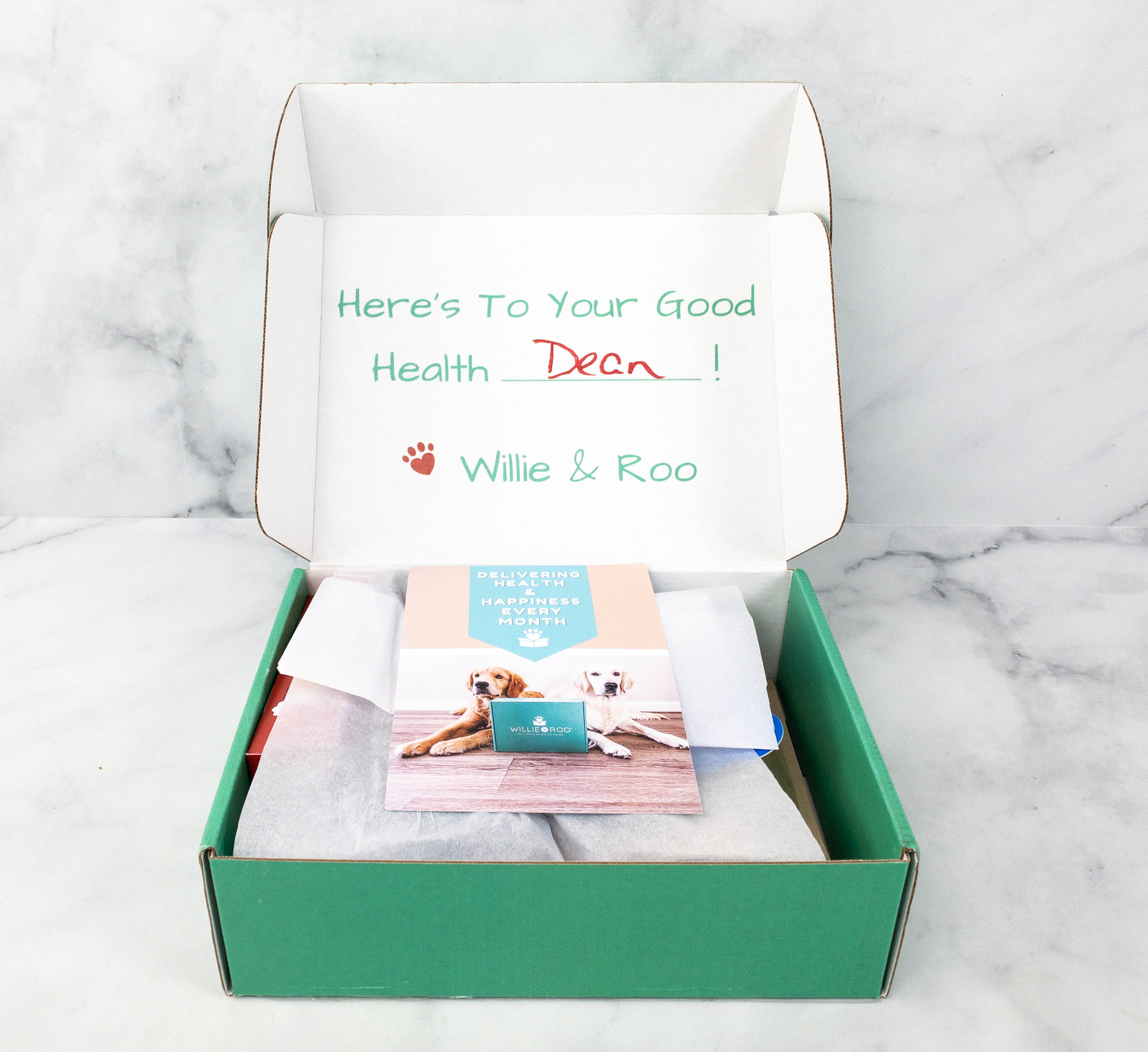 The interior of the box cover features a customized message for Dean!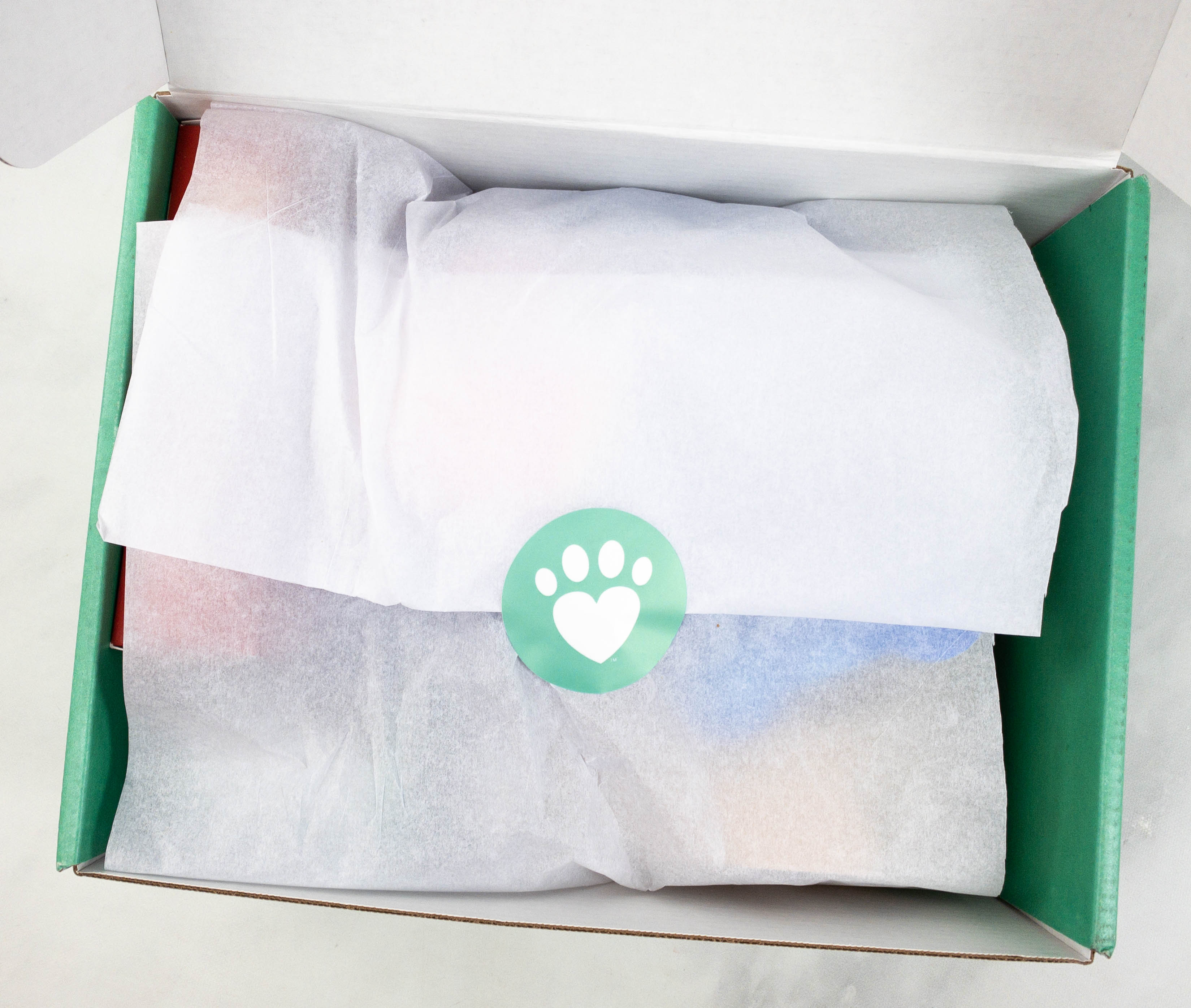 The items were packed with a white wrapping paper, sealed with Willie & Roo sticker.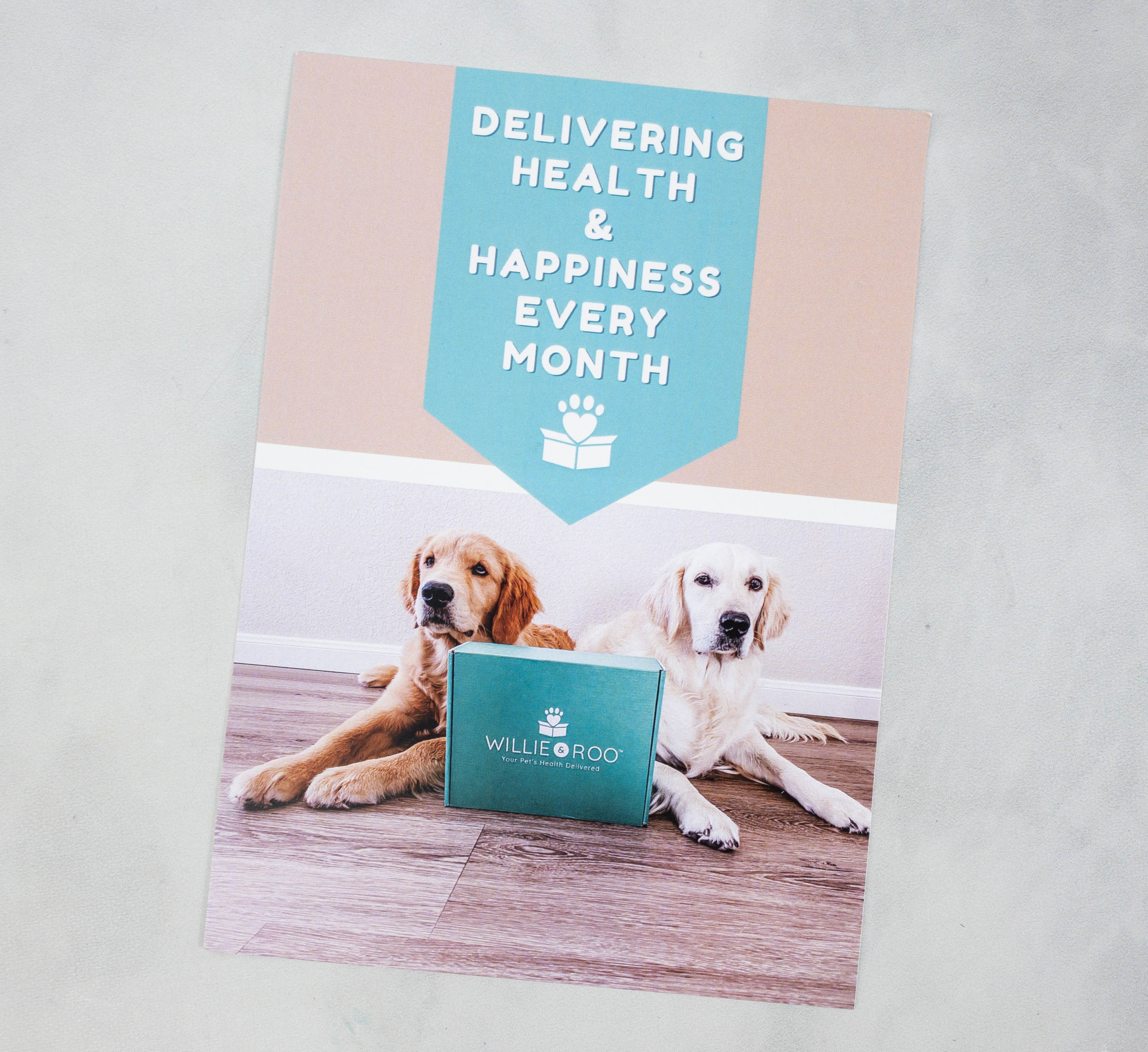 Included in this month's box is a cute card from Willie & Roo!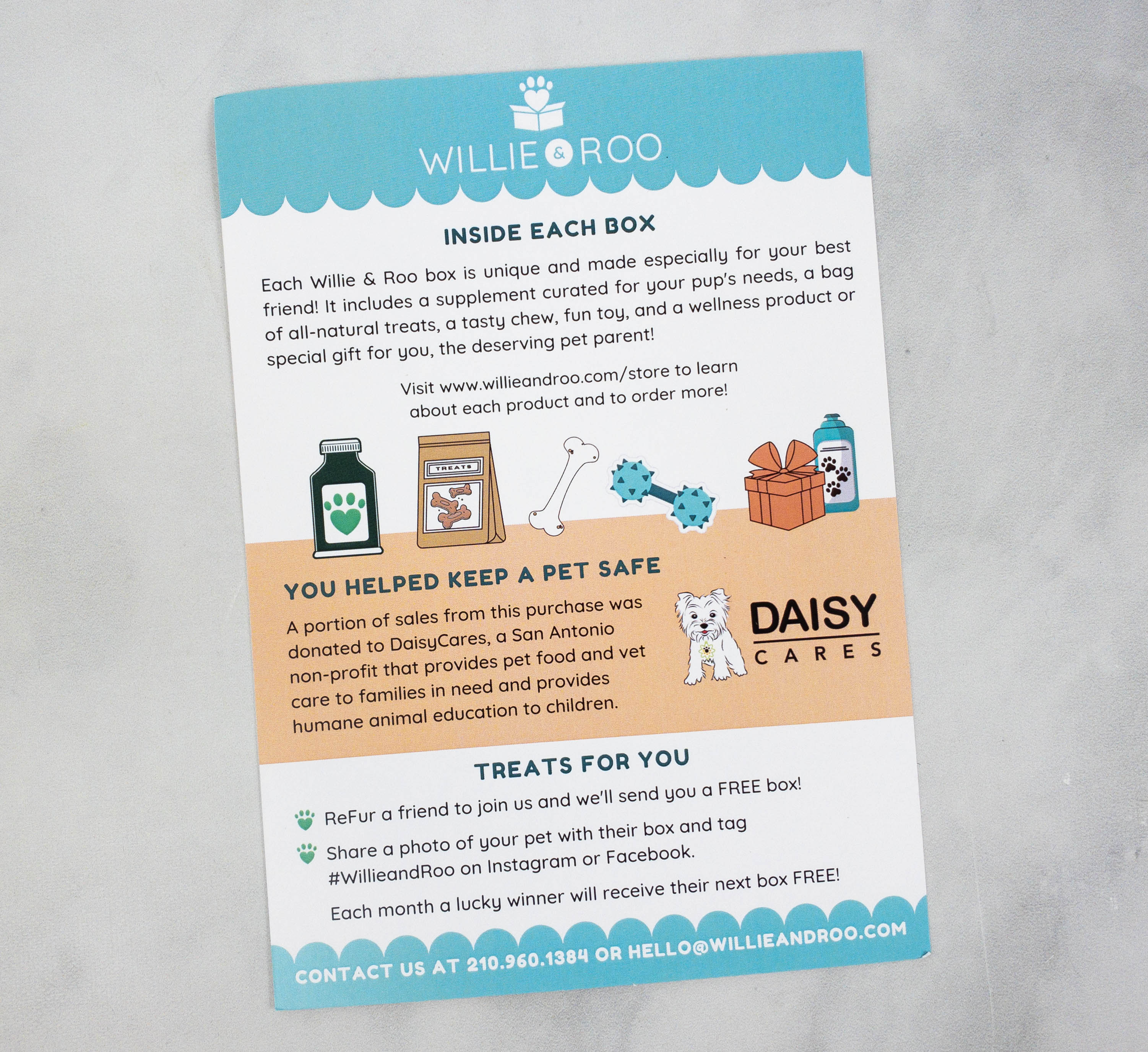 This subscription gives back to the community! They've partnered with Daisy Cares, and a percentage of all proceeds help support the organization's efforts.
Daisy Cares is a 501(c)(3) non-profit corporation created to provide pet food & medical care to needy pets, as well as reduce animal abuse through public education and awareness.
Everything in my box!
Portable Dog Food Bowl. This food bowl is perfect to bring during outdoor walks with dogs, or even when traveling.
The bowl is collapsible, so it's really convenient to bring anywhere. It's also equipped with a carabiner to make carrying more convenient.
Hug Smart Dura Guard Dog Toy. It's a fun dog toy made from durable and pet-friendly materials, which can withstand long hours of play time.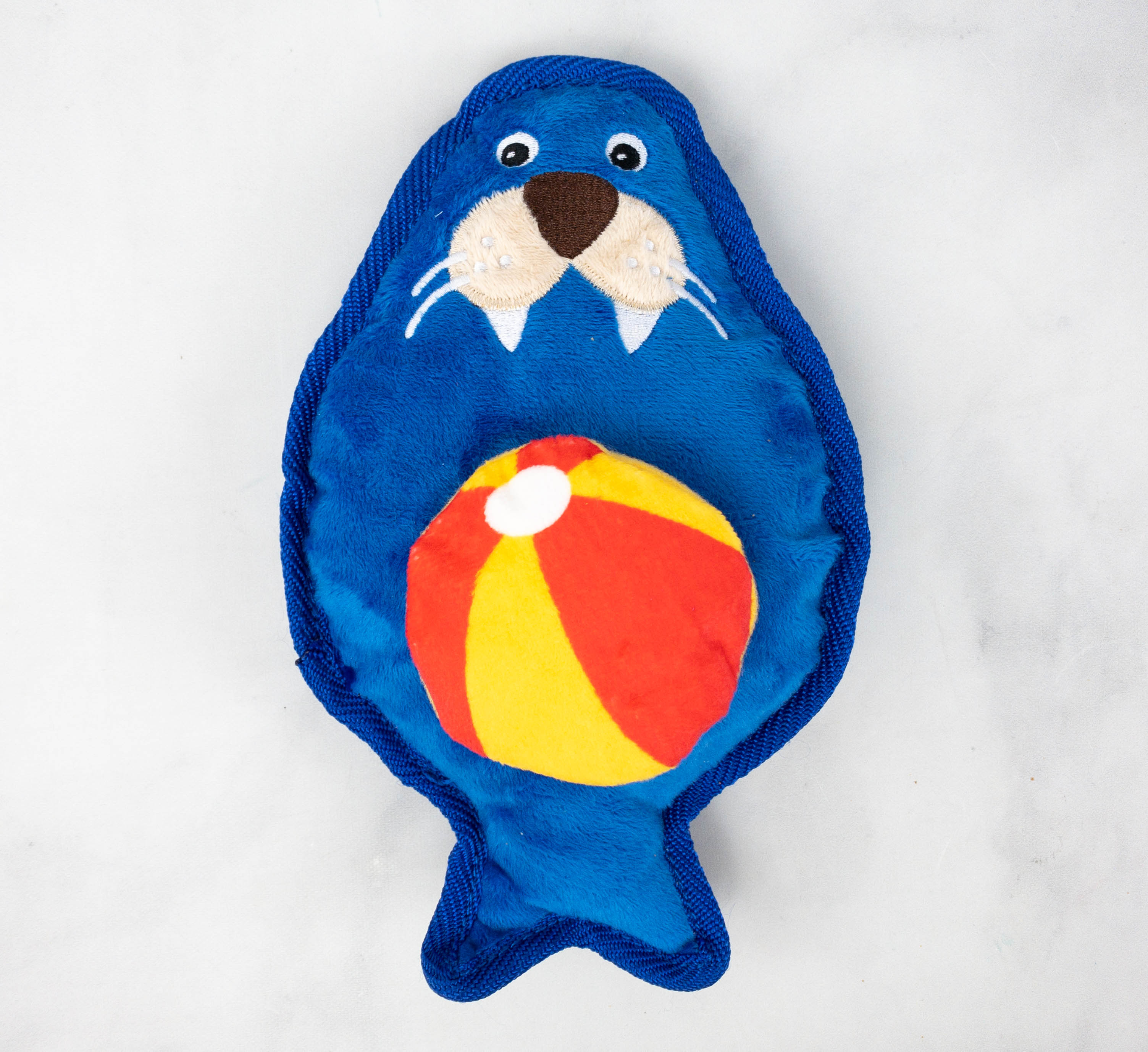 This 2-part toy features a ball that can be attached to and detached from the seal's body using Velcro.
The detachable ball provides a fun challenge for dogs. The seal also features a full body crinkle!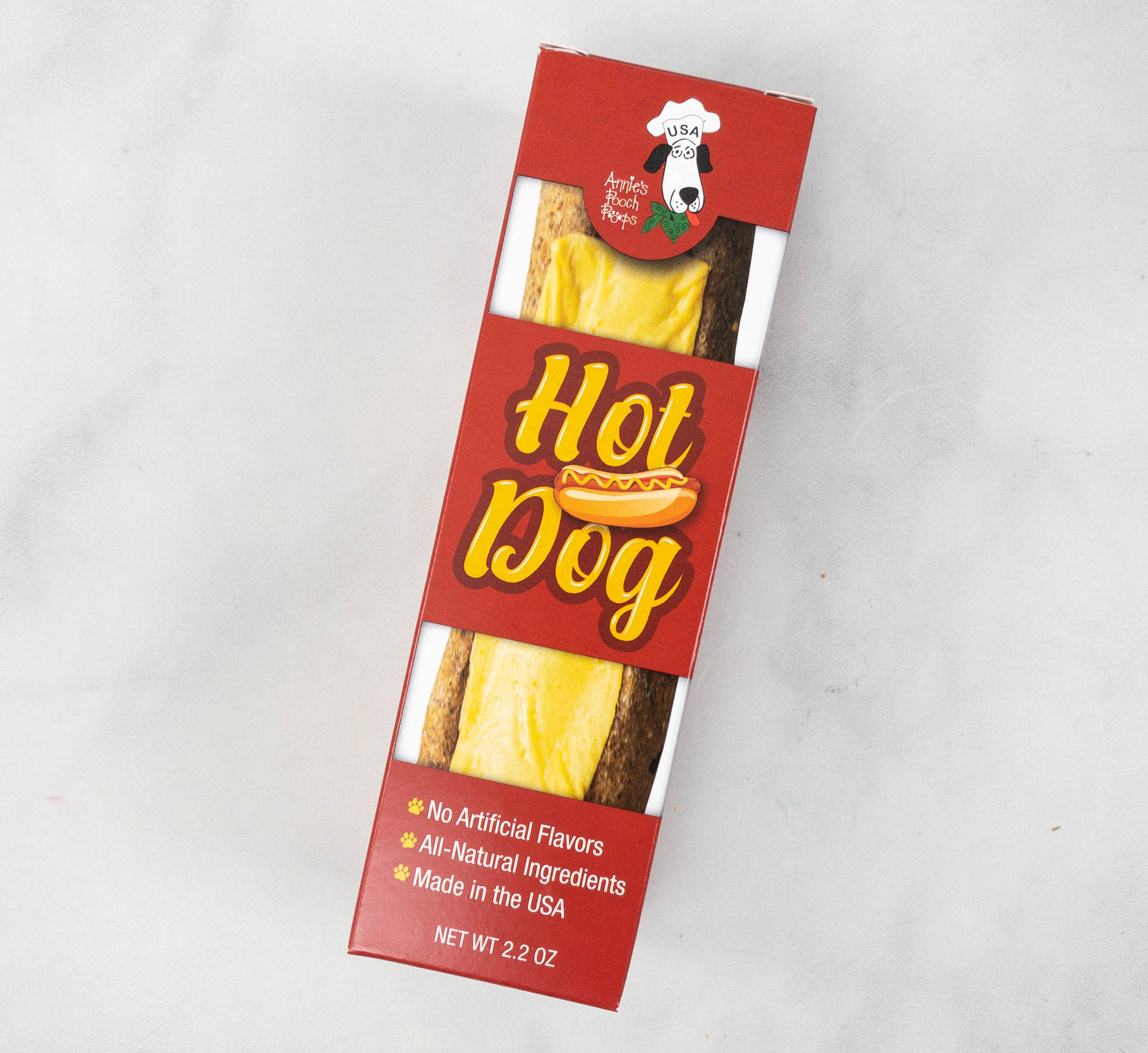 Annie's Pooch Pops Hot Dog ($2.50) This hotdog inspired treat is a delicious liver biscuit with cheese on top. According to the packaging, it's made with all-natural ingredients and it doesn't contain artificial flavors.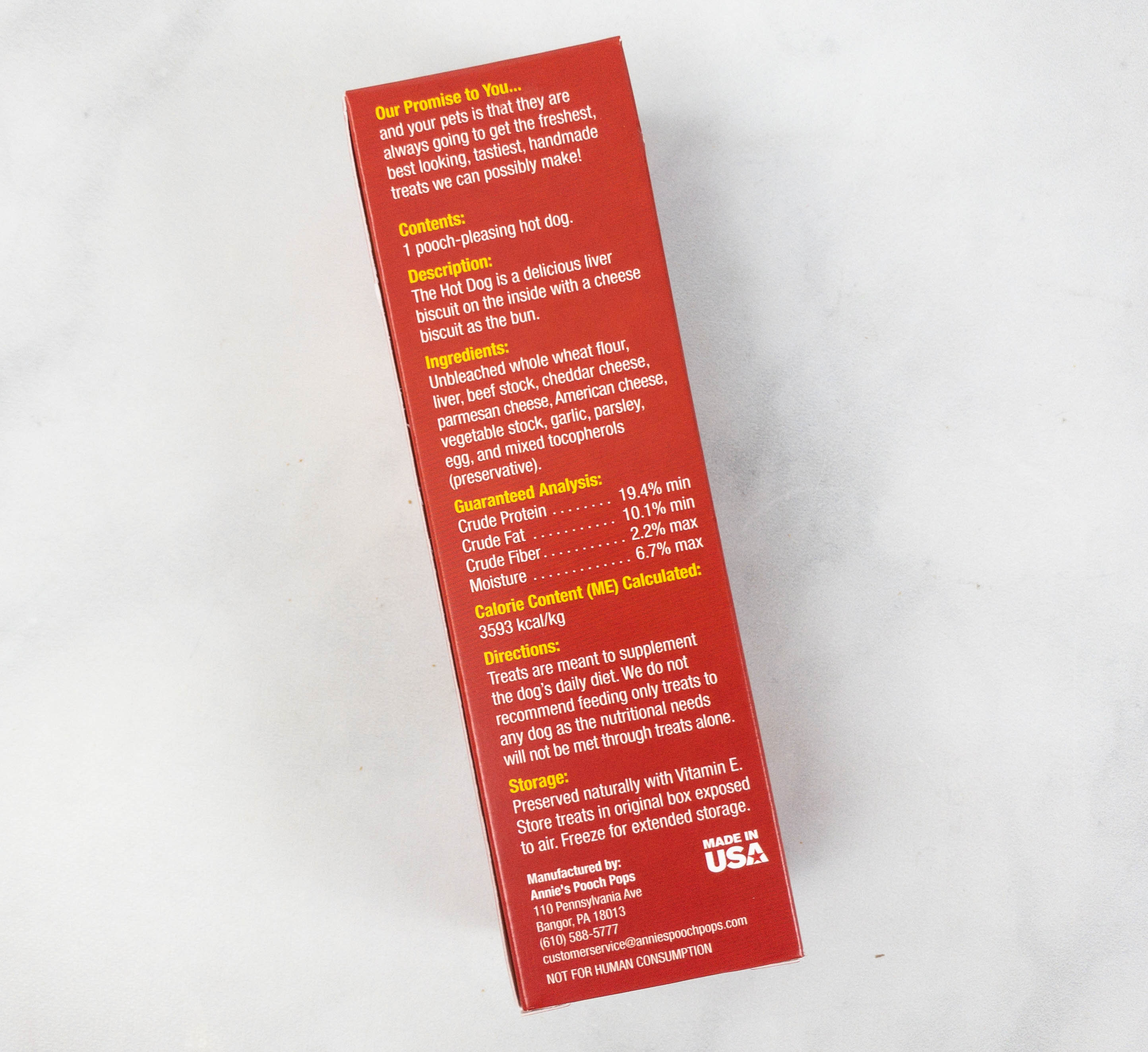 The box discussed how to properly store the treats as well as a list of all its natural ingredients that include unbleached whole wheat flour, liver, beef stock, cheddar cheese, parmesan cheese, and American cheese.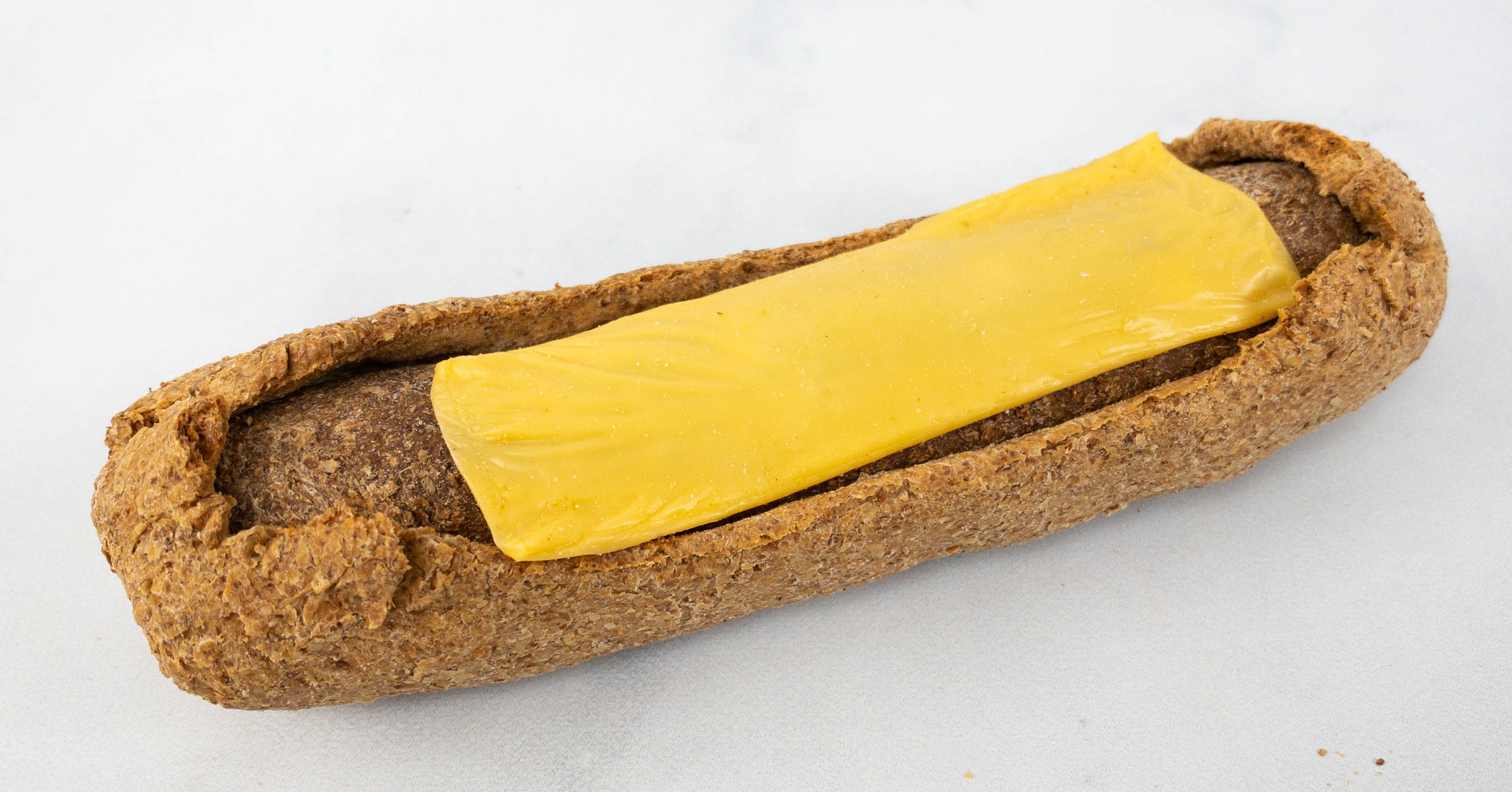 This is a HUGE treat! Dean really enjoyed it. It was so crunchy!
Peanut Butter Banana Dog Training Treats. It's a bag of treats made with peanut butter and banana. Sounds like a yummy combination!
Ingredients include brown rice flour, peanut butter, banana, water, egg, and honey. It's also free from preservatives.
These bite-sized treats are also great as training aid or reward. Mr. Dean stood on his back legs for these (and then sat nicely like a good boy!).
Vitality Supplement ($18.95) Every box includes supplements for dogs! For Dean, it's the Vitality Preventative Health Supplement which is packed with ashwagandha and ginseng to boost his defenses and to help maintain an excellent health condition.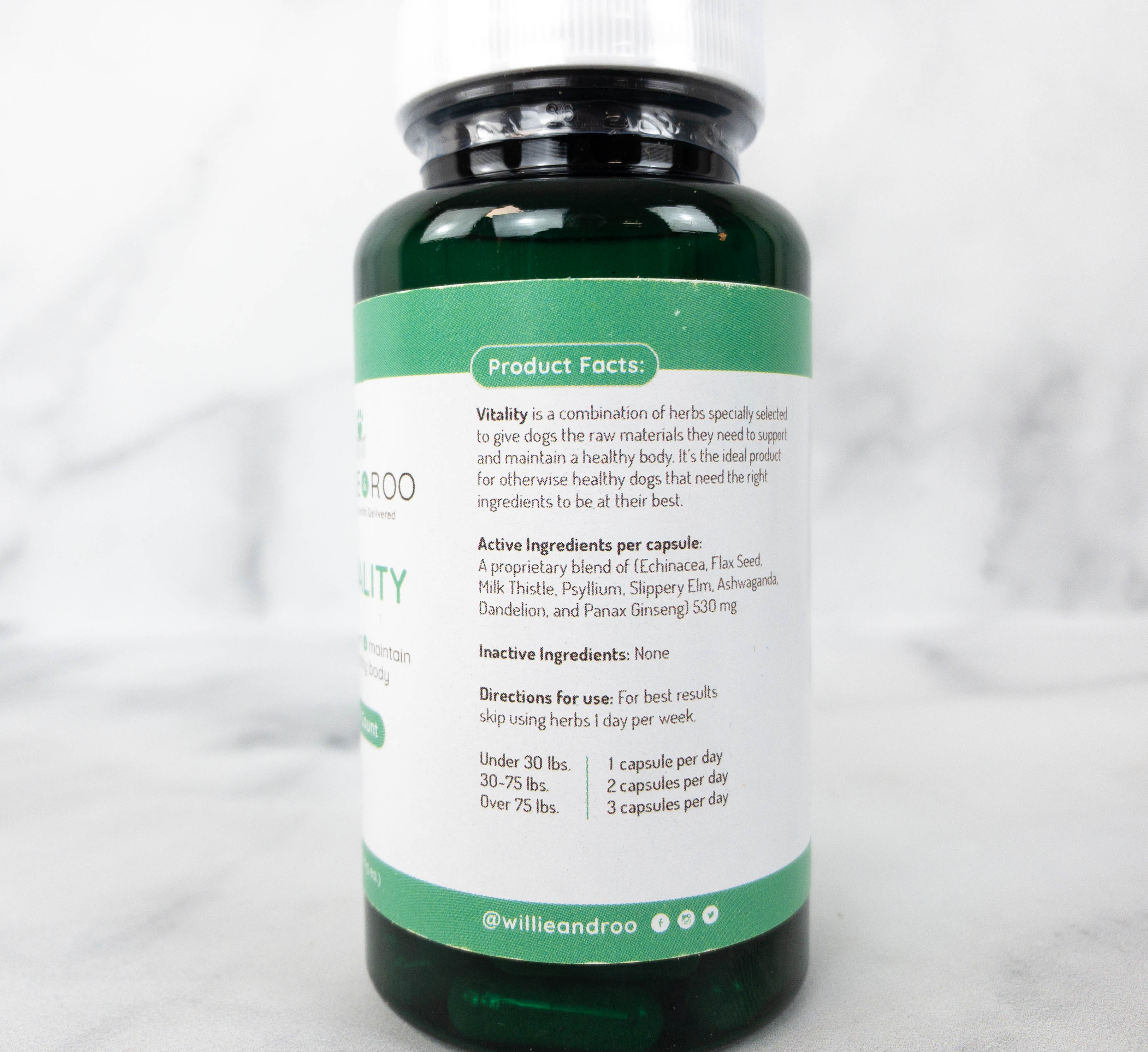 The back of the bottle lists various information about the product. It contains instructions for use and serving suggestion and a list of other active ingredients like echinacea, flaxseed, milk thistle, psyllium, slippery elm, and dandelion.
Each bottle contains 30 supplement capsules. For best results, your dog's weight must be considered to determine the recommended serving per day.
Willie & Roo offers supplements, along with healthy treats and fun toys in every box. Dean loves everything in this month's box, especially the featured toy. He enjoys biting on it and also removing the ball attached to the toy's body. So far, it's still in great condition despite Dean's constant biting and dragging. Meanwhile, my favorite item in the box is the portable dog food bowl. It's portable, so I can easily feed Dean on-the-go. Overall, it was another well-curated box and everything made Dean really happy and satisfied. This is a nice subscription to try if you want to focus on your pet's health and wellness!
What do you think of the Willie & Roo box?