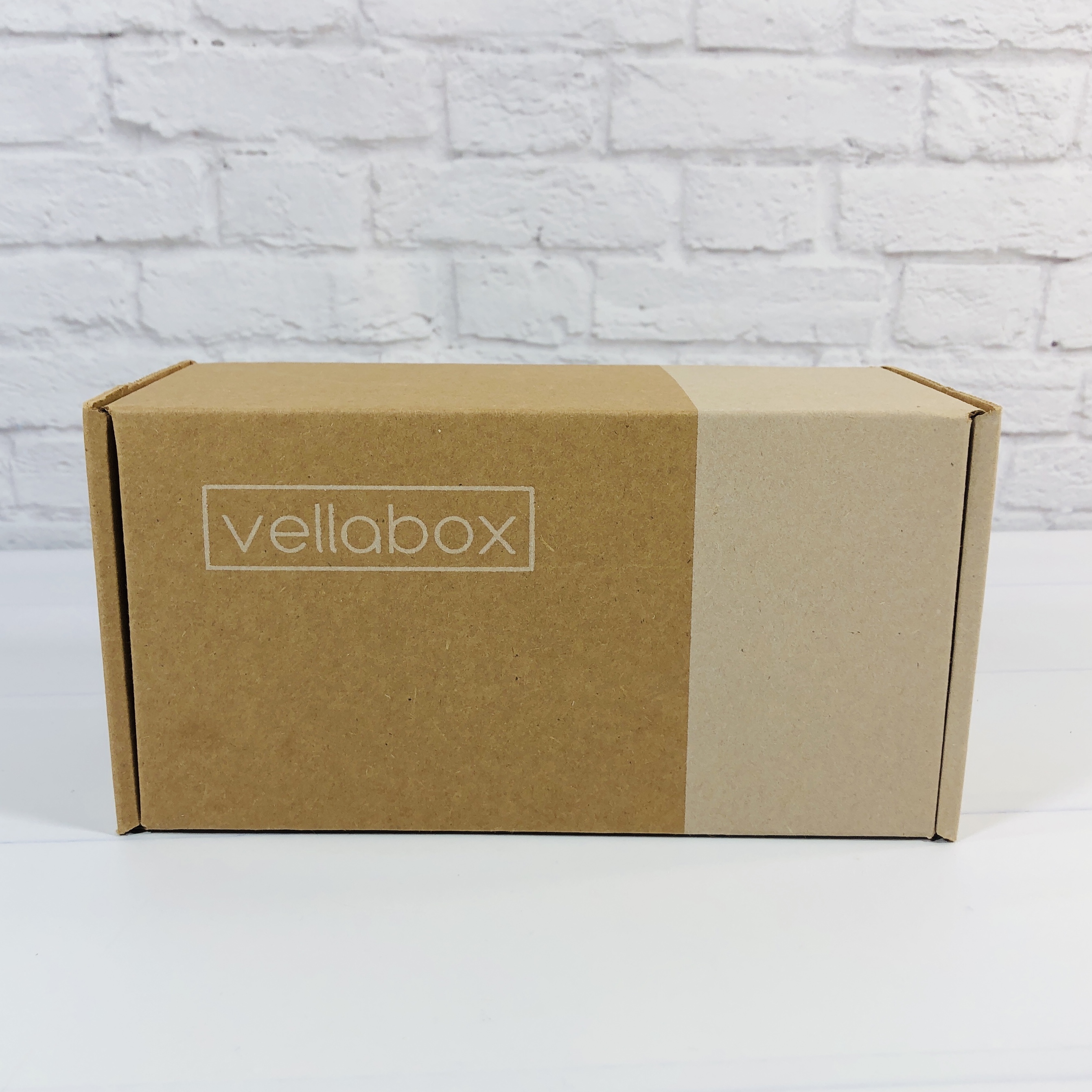 Vellabox is a monthly natural candle subscription box. The candles are always in seasonally inspired scents and are created by the finest American artisans. Each box features a different candle brand. The candles are from small businesses and are made of all-natural wax, cotton braided wicks, and premium fragrance oils. Vellabox also includes a surprise lifestyle gift in every box.
Our Vellabox Candle Curator handpicks the candles and guarantees that they are always all-natural, seasonally relevant and bound to bring warmth and joy to any space. The surprise gift in your box each month is chosen carefully to align with our team's health-centric values.
The Vellabox candle subscription box made the list in our 2021 readers' choice picks of best home and decor subscription boxes and as a favorite affordable subscription!
DEAL: Save 50% on your first box! Use coupon code HELLOSUB50.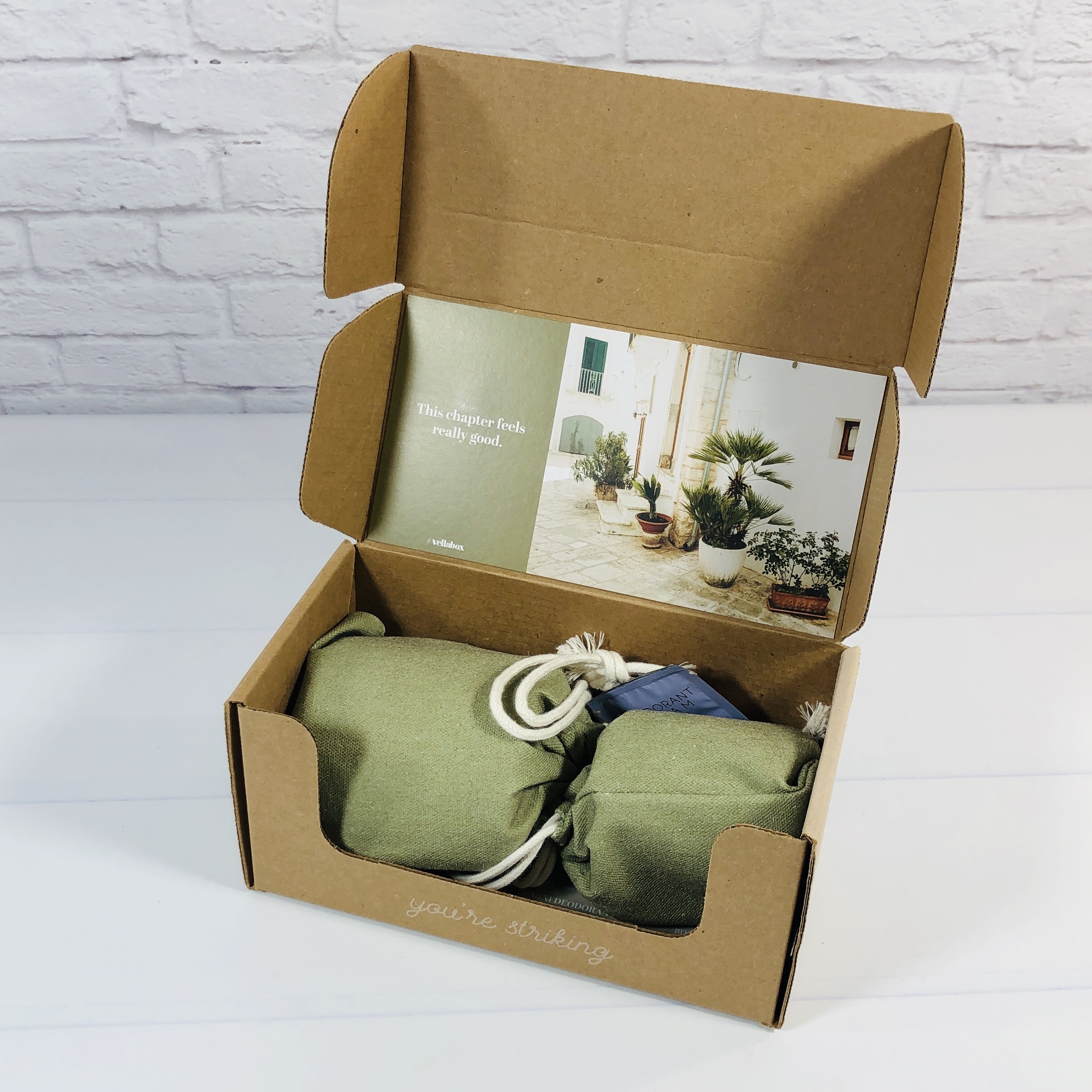 The first thing you need to do is decide which level you prefer. You can choose from The Lucerna Box ($10) which includes a 4 oz candle monthly, The Ignis Box ($20) with an 8 oz candle monthly, and The Vivere Box ($30) with an 8oz + a 4 oz candle monthly. Each level receives the bonus lifestyle gift. Shipping is $3 per month for Lucerna and Ignis to the US, and free for Vivere. Vellabox now ships to Canada for $8 per box. I am reviewing The Vivere Box.
The candles were in reusable drawstring canvas bags. The bags can hold items like jewelry or other trinkets.
There was a card with info on the featured candle brand, Luna + Candle Co.
All of our products are designed from the ground up with our customer's needs as our main focus. Luna Candles are handcrafted, soy based candles that will burn beautifully for 70-80 hours. Crafted to work effectively and with elegance and top scents. We are passionate about our products and hope you will be as well!
The back of the card listed the scent notes and description for the featured candles.
Here's everything in the box!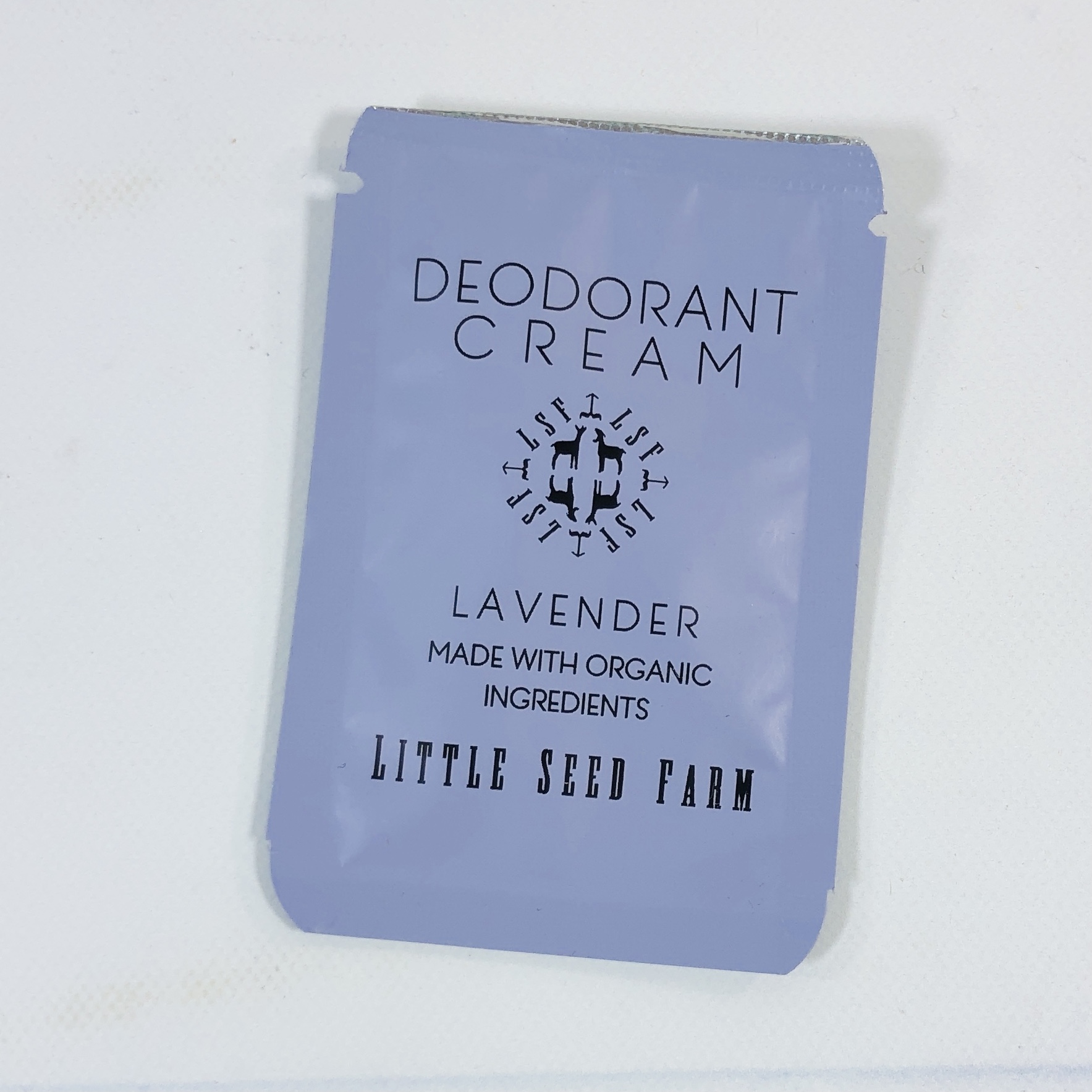 Little Seed Farm Deodorant Cream The natural bonus item this month is a sample of deodorant cream! Keep in mind that this is a deodorant and not an anti-perspirant, so it won't stop the armpits from sweating, but may make them smell better than using nothing at all. Take a pea sized amount and spread it all over the underarm area and that's it!
It's made with beeswax, arrowroot powder, essential oils, and more but doesn't contain aluminum or baking soda. I will set this aside until later in the year when it's cooler because I have no plans to skip antiperspirant while living in Central Texas in the summertime. You do you.
Luna + Rae Candle Co Seagrass + Citrus Soy Wax Candle ($20) has fragrance notes of sea salt, seagrass, oakmoss, eucalyptus, sage, and citrus. It is made of 100% soy wax and the fragrance is phthalate-free. This candle size is supposed to burn for up to 50 hours.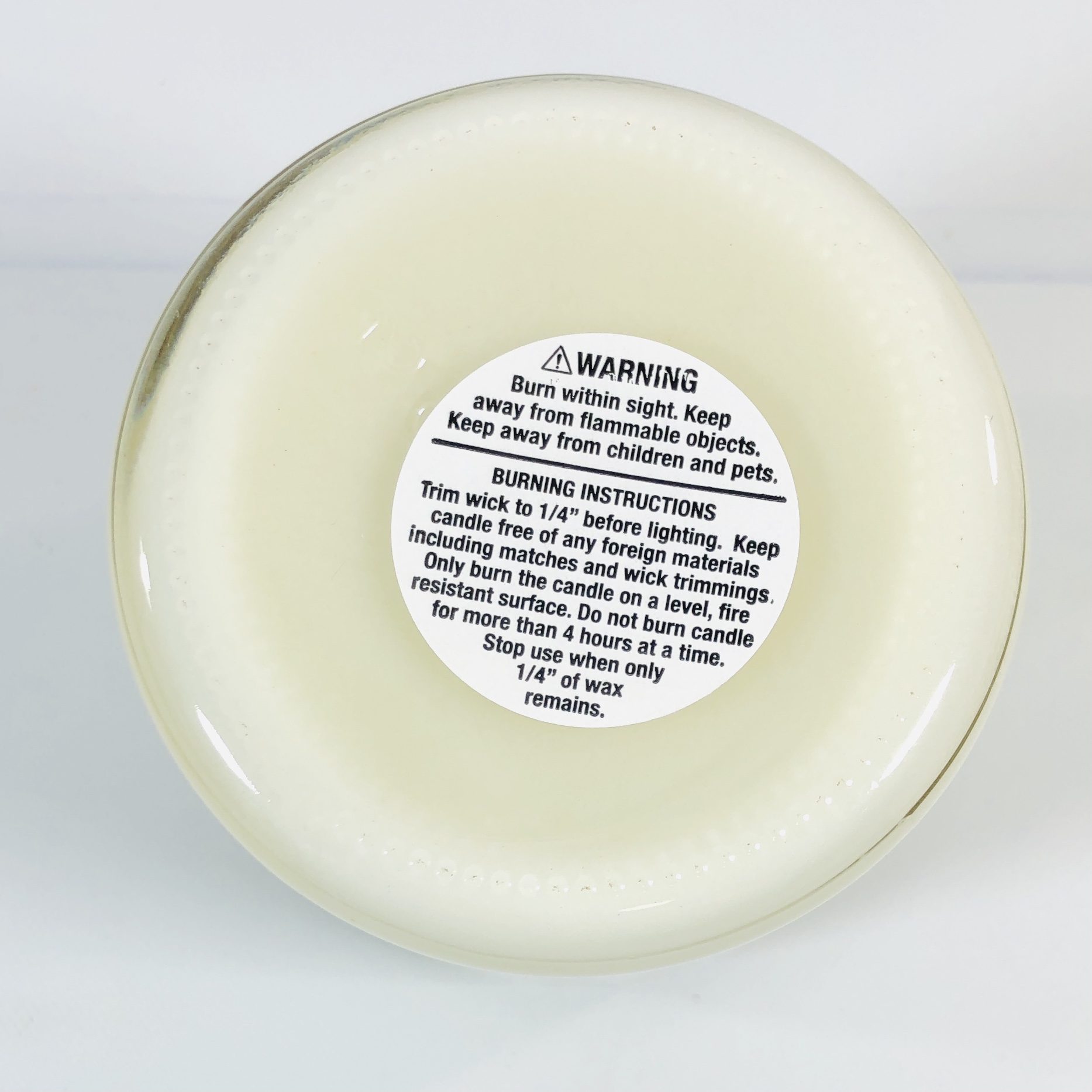 Be careful when burning!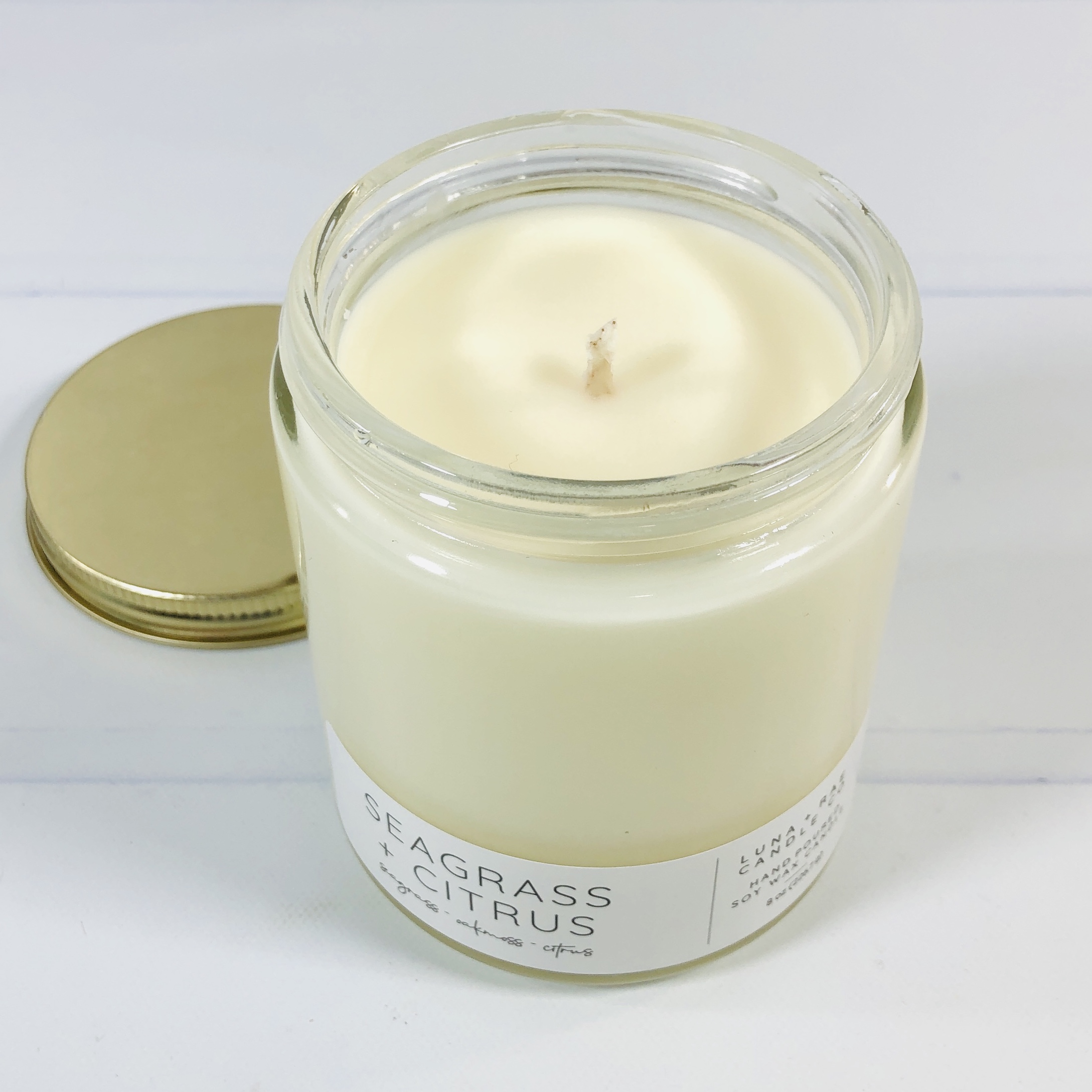 I didn't pick up much scent from this candle while it was burning. While cold it smells green and clean, like walking into a home after it's been cleaned and also maybe someone used Irish Spring while they were taking a shower nearby.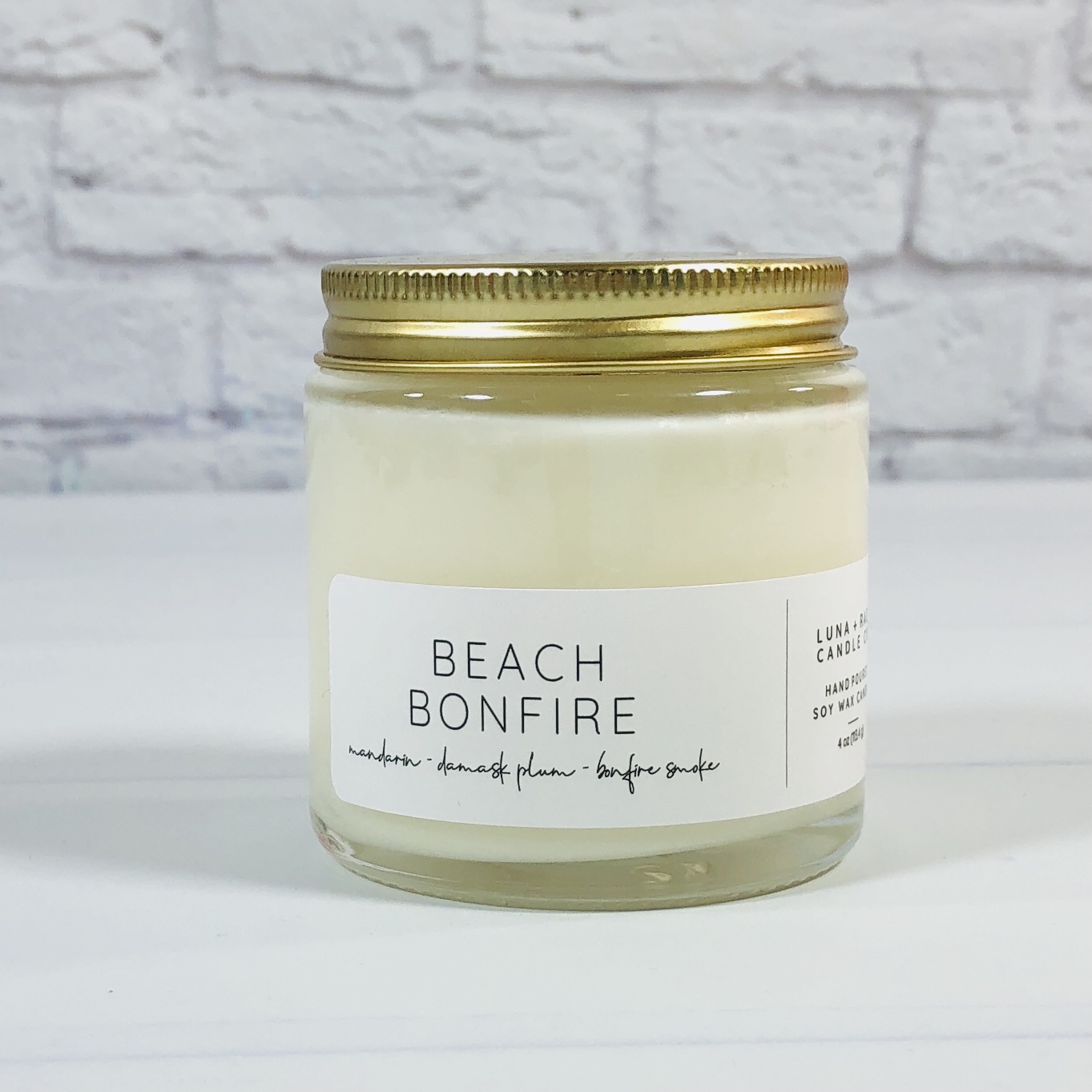 Luna + Rae Co Beach Bonfire Soy Wax Candle ($10?) I didn't see any 4 ounce candles available from this brand so I priced it at half the original. The scent notes include toasted marshmallow, bonfire smoke, and plum but I think it smells like making s'mores at a campfire. It's all I want in a candle.
I felt like this candle gave off more scent than the larger candle, but it still didn't cover a large area. I actually prefer Vellabox candles for that very reason — they don't make me nauseous or bother my sinuses.
Vellabox sends candles that look good in a variety of decorating styles — they usually have simple labels, the wax is off-white in color, and the scents are noticeable but not in your face. They send seasonal scents and this month we received a green and clean candle scent and one that reminds me of camping. Both scents were pleasant and I enjoyed burning them while watching tv in the evenings. The bonus item is something I will use, but not while the temps in my area are 100+. The value for the box is roughly what you would pay for the candles outright, although most of them aren't available in the smaller size and if you are getting the two candles a month plan, shipping is already included.
What do you think of this box?