We have August 2021 spoilers for Stickii's sticker subscription clubs! Join by 5PM Pacific on the 7th!
Hey STICKII fam!

How has half the year gone by? We're here to add some treats to this summer with August's spoilers! Get your game on with Cute's "Level Up", get inspiration for writing that letter or novel with Vintage's "From My Desk" and get ready to relax with Pop's "Sleepy Skies"!

We love that so many of you are excited for our advents that will be launching in the fall – we don't have more news on them at the moment but will share some exciting things next month!! As always, thank you so much for your love and support, it means everything!

STICKII TEAM
Hello friends! Our Cute theme for August is "Level Up!" 🎮👾🕹️ Grab those pink controllers and cat-ear headphones and get ready to kick some butt!

🎧 Who said you can't be cottagecore AND a gamer girl? @qiarateor 's nature cuties are ready to set a new high score.

🕹️ Get a little old school with @pommopress ' tamagachis, discmans, and joy sticks! Remember those game cartridges you had to blow on? Nostalgia for days.

👾Pastel! Happy! Gaming! @lanubedeideas delivers a colorful and adorable sugar-high gaming aesthetic that we're already obsessed with.

🎮Level up! @pusheen is back again, relaxing with her favorite games and trying hard to get those purrfect scores. There's nothing better than gaming with your fuzzy friends!

💻Lastly, this pudgy, pink cutie from @munespice who loves their snacks and games and more snacks and more games. Absolutely living the best life.
It's time for another spoiler reveal! Say hello to "From My Desk," our Vintage pack for August! Pull up a chair, pick up your favorite pen, and let's get to it!

✒️ Letters and scrolls and quill pens, oh my! Allow @cosmicspectrum to provide you with everything you need to make your vintage desk come to life.

📜 It may look like a print of a wild-haired girl studying old books at her old desk, but it's actually an envelope! It's perfect for stashing away a sticker sheet or two and also courtesy of @cosmicspectrum

✉️ No need to deal with the mess of a wax seal on your letters when you have @heart.art25 's sticker seals, featuring plants and wildlife.

🦋 If you're more the art nouveau type, this sheet of books and plants and other goodies from @arctic.selkie is absolutely for you.

🪔 How fun are these little desk friends from @rachelbostickillustration ?! Wouldn't you love to have a little helper just living on your desk?

✍️ Lastly, an antique writing set from our personal collection, available only at STICKII

🎁 …and lots more surprises, for pack subscribers' eyes only!
"Sleepy Skies" is our Pop theme for August! We love sleep, we love the sky, we love love love this pack!

🌃 The plant-filled, nighttime world of @eurekartstudio is peaceful and evocative; the perfect place to start dreaming.

⭐ Wish on a star with @theaesthetics.studio 's cozy sleeptime designs, perfect for remembering to take a little "me time" before bed.

🚀 Blast off to dreamland with sleepy cats and rocket ships from @lea_binda! Look closely and you'll see this sheet has a little extra twinkle twinkle.

🌠 What's more adorable than sleeping animals? Nothing, and @z.harriet knows this. These star-speckled cuties are ready to cuddle.

🌙 Peek into the cozy land of @little_paper_witch, filled with little houses, big moons, and sea-ship constellations for a glimpse at a place that lingers somewhere between reality and a dream.

☁️ Lastly, one of our famous exclusive paper clips! A sleepy cloud, naturally.

🎁 …and lots more surprises, for pack subscribers' eyes only!
Stickii Club is $10 per month, and has 3 subscription themes you can choose from – Cute, Pop, and Vintage!
Check our Stickii Club reviews to find out more!
About Stickii Club: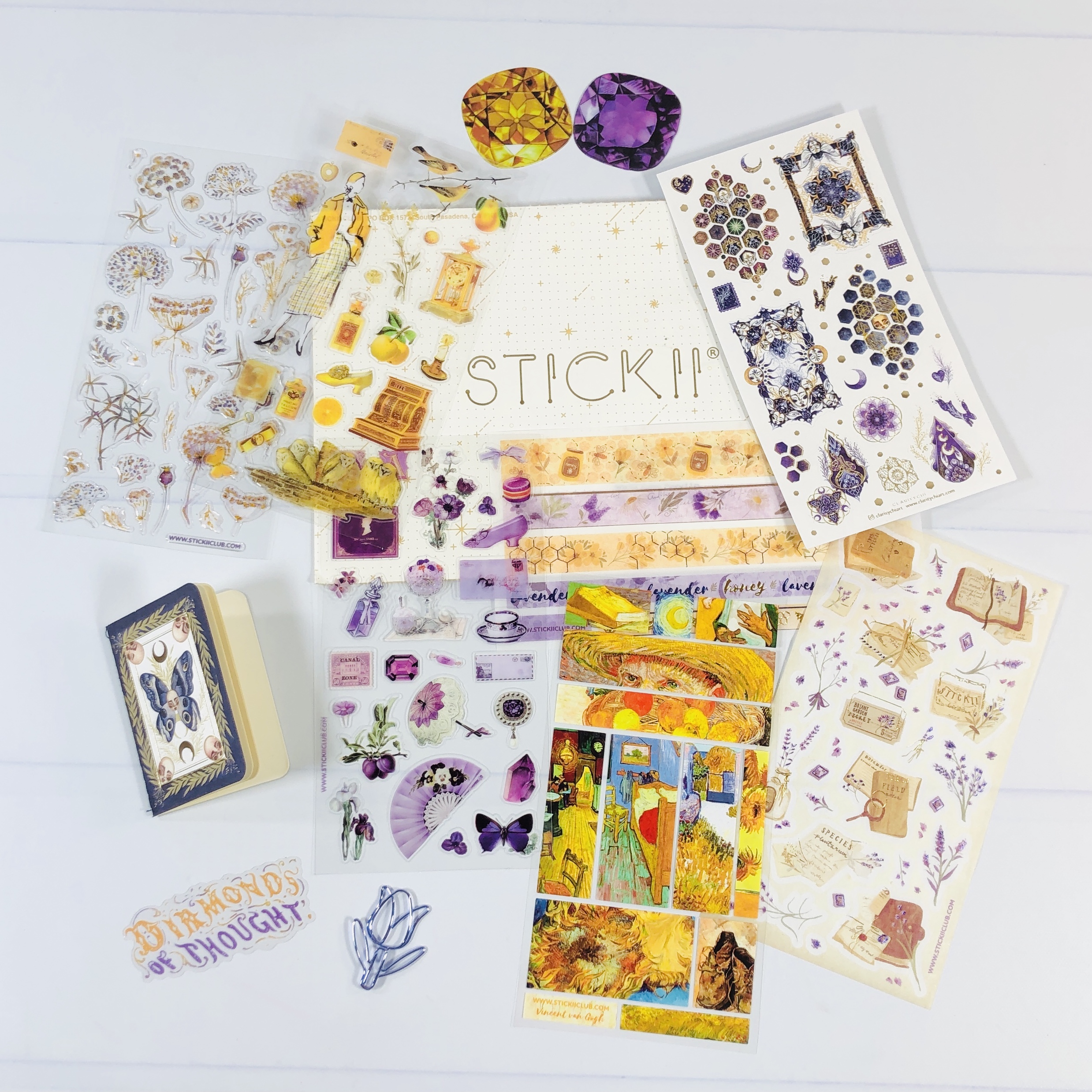 At STICKII, we're all about creating beautiful stickers for you to love that are more like miniature works of art. We have different subscription options so you can choose your packs based on which theme you like and get a cohesive set of stickers and stationery that is perfect for decorating your journals, cards, planners and anything else!