We have the box selections for the July 2021 SprezzaBox, a men's lifestyle subscription that sends stylish men's accessories and other curated goods for modern men!
DEAL: Save $9 on your first box with coupon code BOX20.
Here are this month's choices:
Taco Tuesday
Lucky Pheasant Tortilla Warmer
Lucky Pheasant Taco Sides Bowl
Benkai Taco Holder
Sprezzabox Seasoning Shaker
Esquire: Slate
Original Penguin Tie
Sprezza Tie Clip
Sprezza Pocket Square
Brickell Cream & Moisturizer
Unsimply Stitched Socks
Nomad
2Go Brand Doppkit
Yu-Be Moisturizer
Weekend Casual Luggage Tag
I.M. Man Fish Hook Bracelet
Kiko Leather Passport Holder
The Captain
Spier & Mackay Tie
Z Skin Sunblock
Weekend Casual Socks
Weekend Casual Cufflinks
Grand Frank Pocket Square
Good Vibrations
Sprezza Tie
Sprezza Cufflinks
Paul Evans Socks
Weekend Casual Tie Clip
Sprezza Pocket Squares
The Dude
Shades Club Sunglasses
Lovely Lapels Lapel Pin
Bennkai Face Mask
Brickell Day Serum
Oars & Alps Soap Bar
SprezzaBox is a monthly men's accessories subscription box. Each box includes 5-6 high-quality accessories or grooming items, all for $28 per month. They offer a Pick Your Own Box feature, which allows customers to customize their monthly subscription! Once you place your order, they will send you instructions on how to pick your box. There are 5-6 box options monthly and there's still an option to have their stylists pick for you, in case you'd need help in choosing your box.
See all our SprezzaBox reviews to find out more!
About Sprezzabox: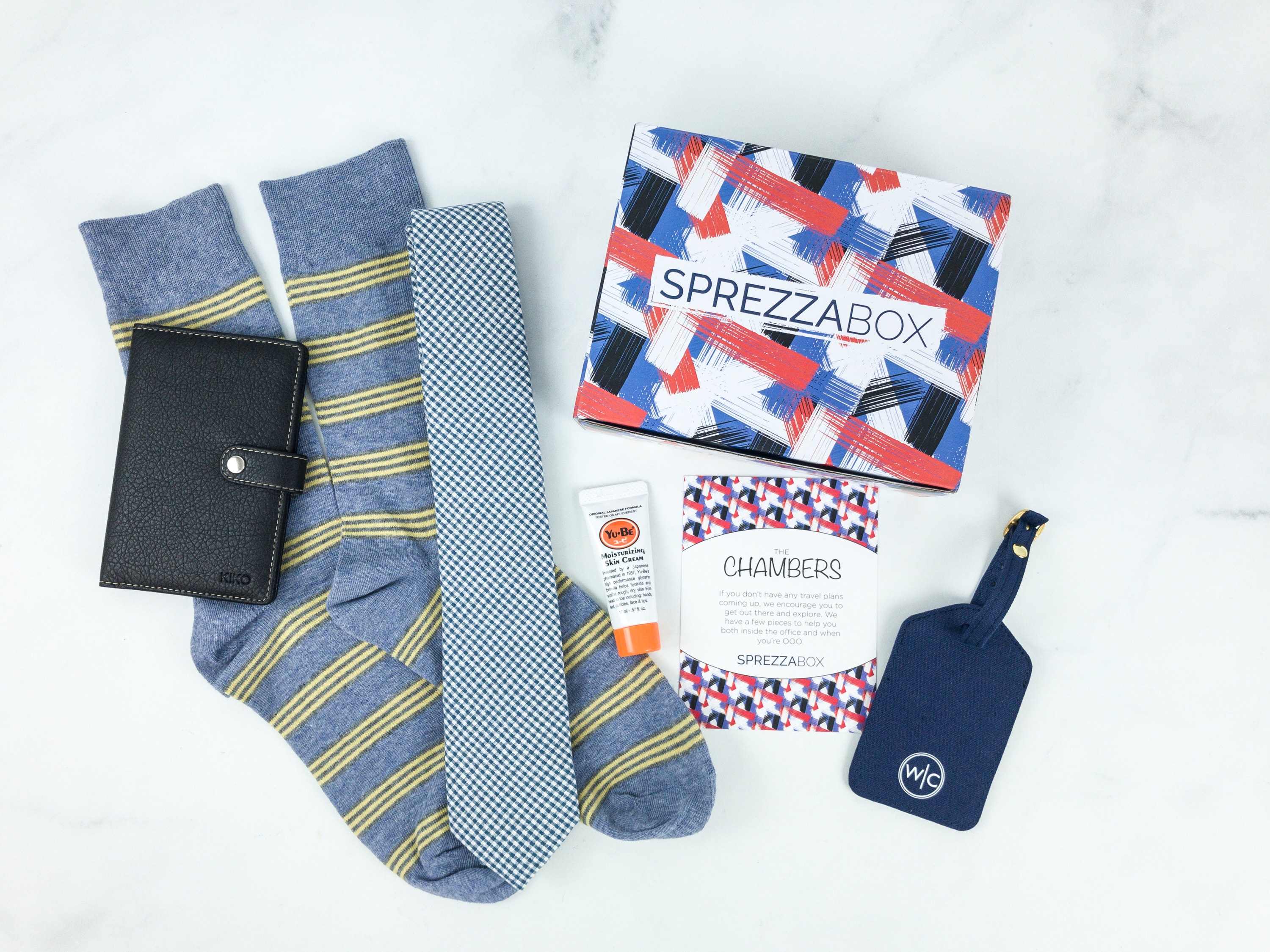 Every month, you'll get to choose from several different fashion, lifestyle and grooming packages curated by our team. Everything is yours to keep and will have an average retail value of $100!
Are you getting SprezzaBox?