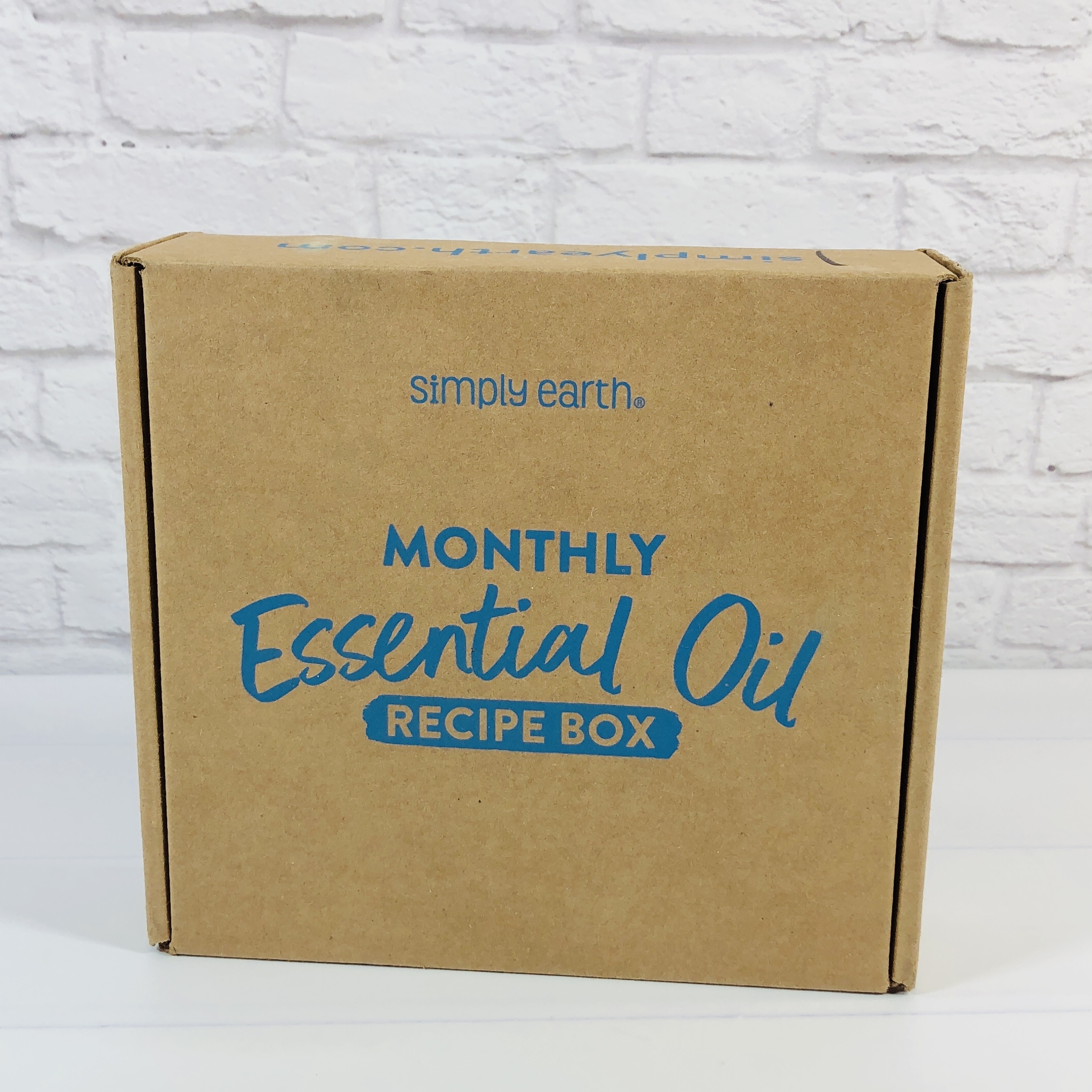 Simply Earth is a monthly subscription that sends high-quality essential oils along with recipes and ingredients to make natural beauty and home products! Each box comes with 4 essential oils, containers, extra ingredients to make the recipes, and 5 – 7 recipes on recipe cards. When you sign up (and every 6 months thereafter) you will receive a free Bonus Box full of extra containers and ingredients needed for the recipes, such as carrier oils and containers. Simply Earth is $39 a month. They feel strongly about giving back and donate 13% of all profits to help end human trafficking.
Every month is designed around a new theme with ingredients, containers, and extras you need to make 6 natural recipes (this includes 4 full-sized bottles of essential oils!) … delivered right to your doorstep.

We loved making our own natural products and knowing what was in them, so we created. With the essential oil recipe box, you get everything you need to make your home natural; easy and fun recipes to follow, honest prices, and products that work. It puts you in charge and you can enjoy time together making natural recipes with friends and family.
DEALS: Receive a FREE Big Bonus Box with your first box. Deal applies automatically, just VISIT AND SUBSCRIBE. Plus, get a $40 gift card you can use for your next box or future purchases!
Simply Earth's essential oil subscription made the list in our 2021 readers' choice best green & eco-friendly subscription list!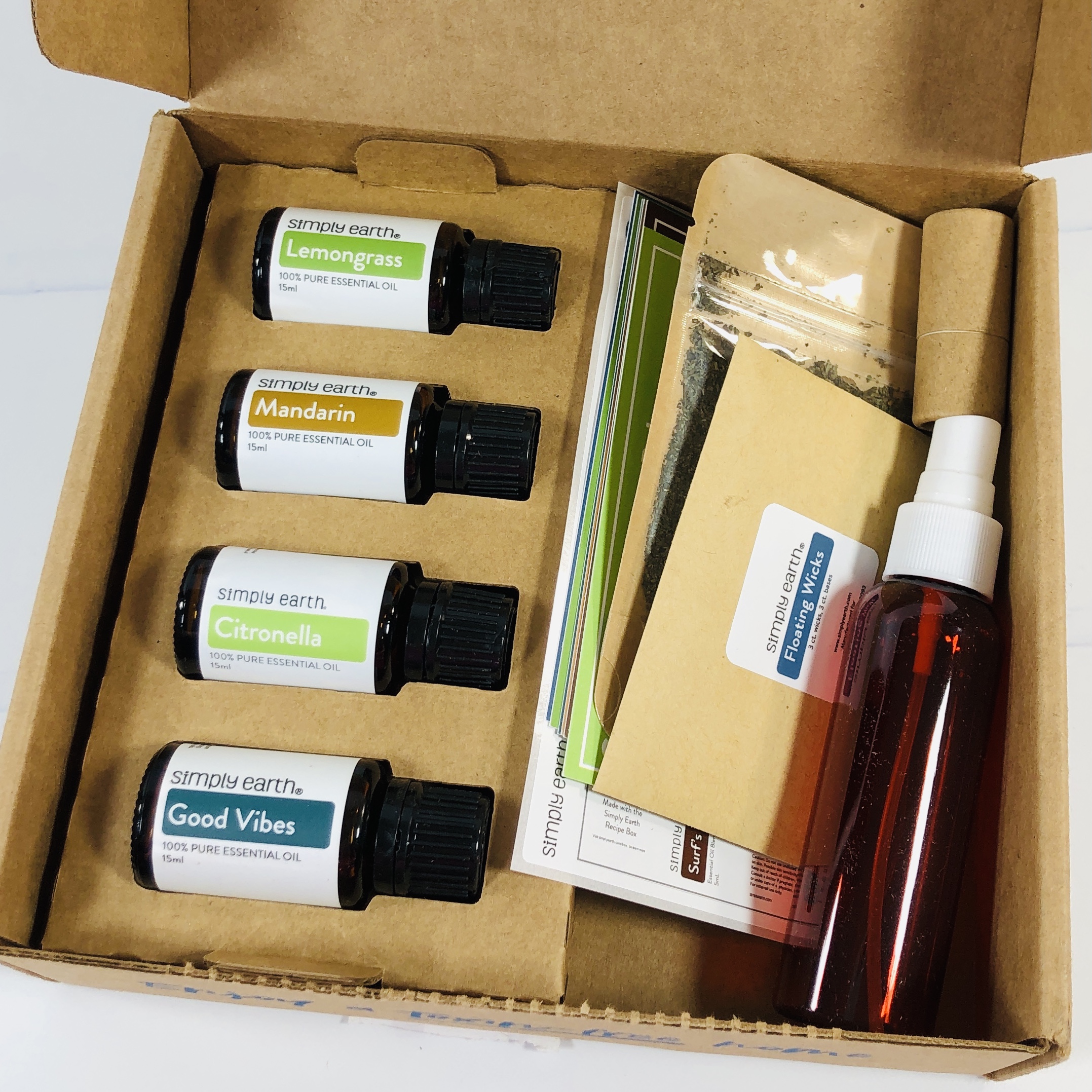 The bottles were on one side, the extra supplies on the other, and the cards were placed on top.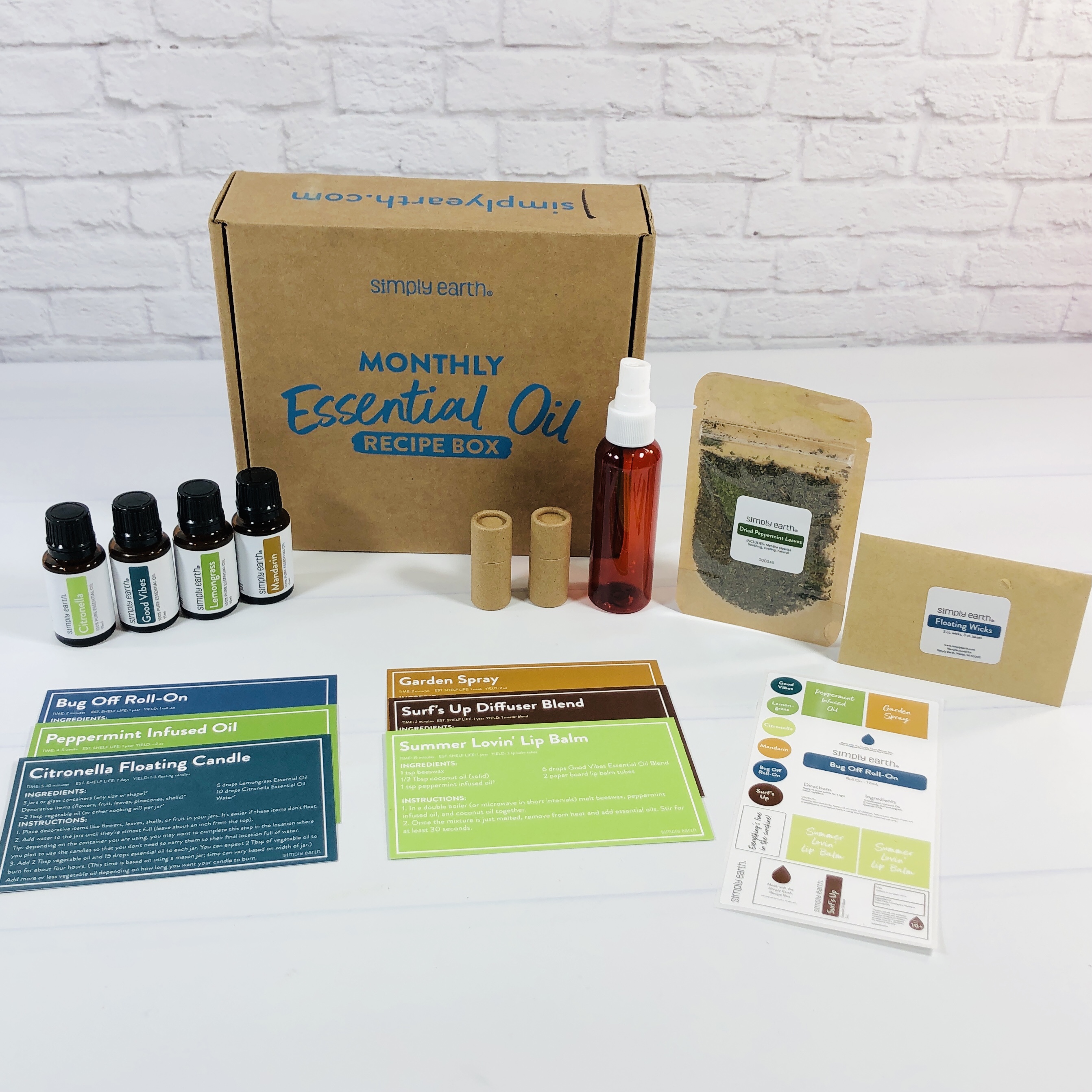 Everything in my box! Subscribers also receive free access to the online Essential Oil Hero Course to learn even more about how to use the products.
There were 6 recipe cards included. Four of the cards had additional info on the back, while two had a continuation of the recipe.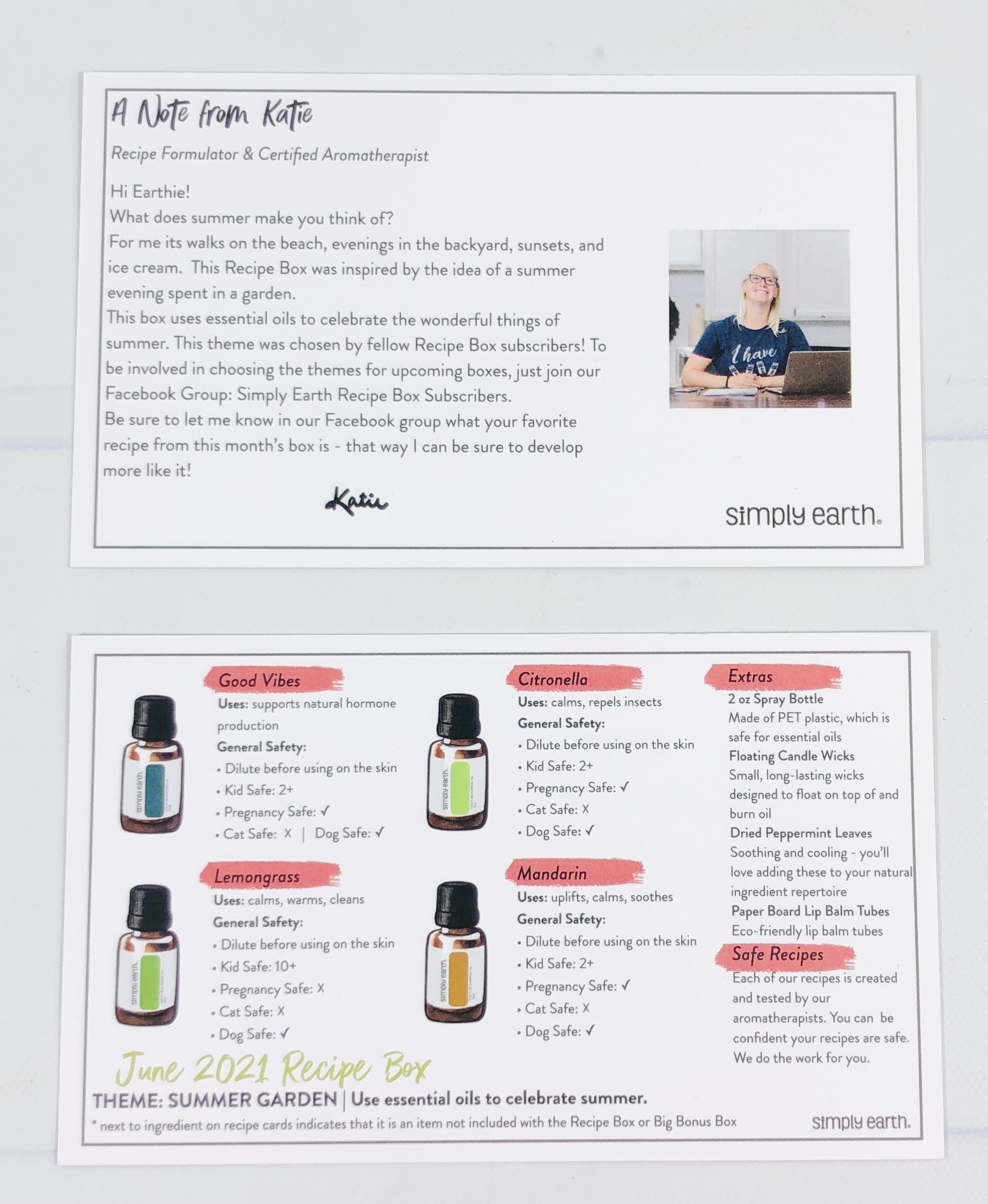 On top you can see a note from Katie, the lead aromatherapist. I like the idea behind this month's collection! On bottom you can see the oils included as well as a list of the additional stuff in the box.
The next two cards tell us that Simply Earth donates a portion of proceeds to fight human trafficking. We also get a glimpse of next month's oils.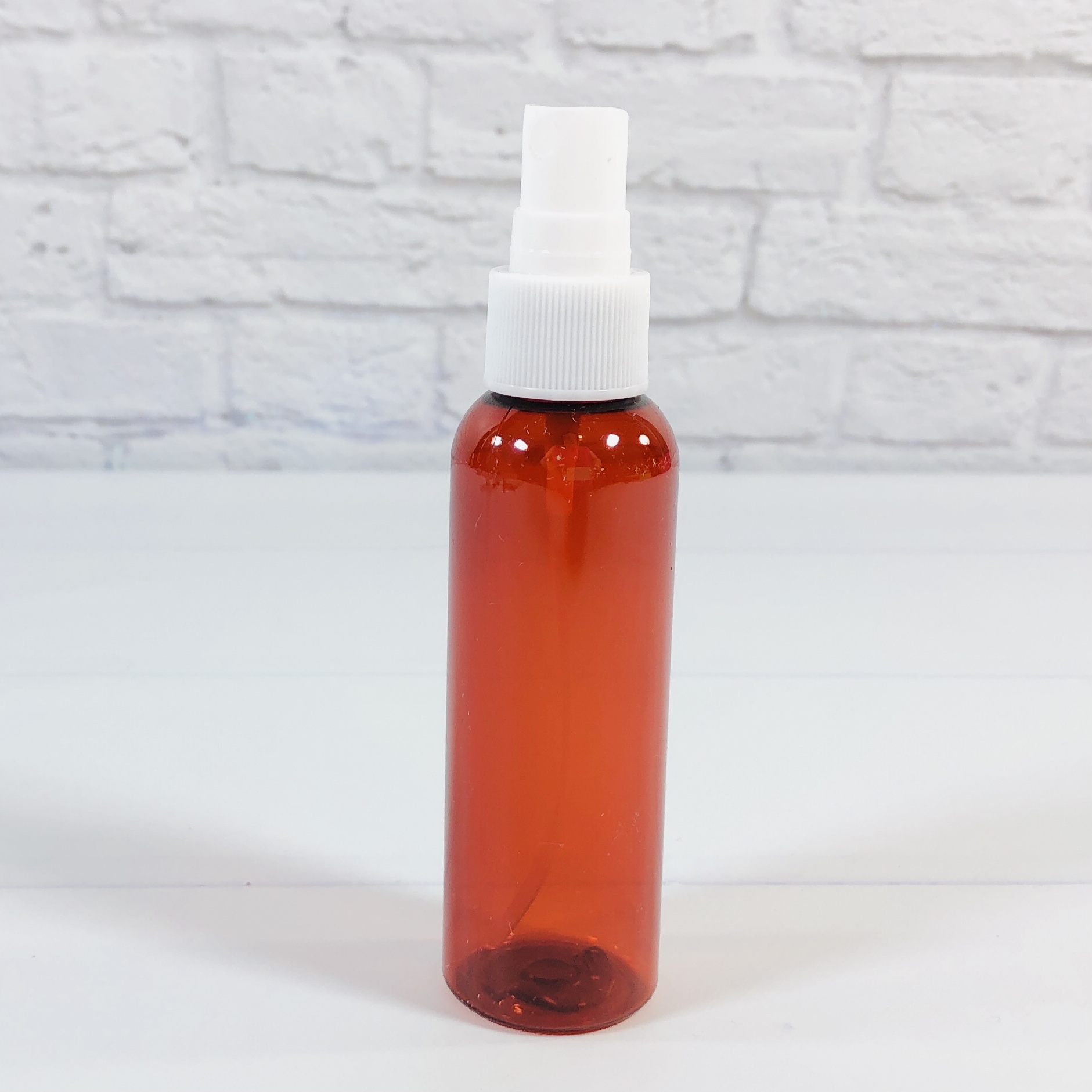 Two Ounce Spray Bottle, Amber ($2.99) A plastic spray bottle was included so we can make our own Garden Spray to keep bugs off of plants.
Floating Wicks There are three wicks included for making Citronella Floating Candles. The wicks are supposed to float on top of oil so the oil will be burned, which in turn should keep bugs away. They need to be assembled first so stick the wick in the hole and let about 1/3 of the wick stick out of the top, and the shiny part is the part you want on top, the cork side should be facing down.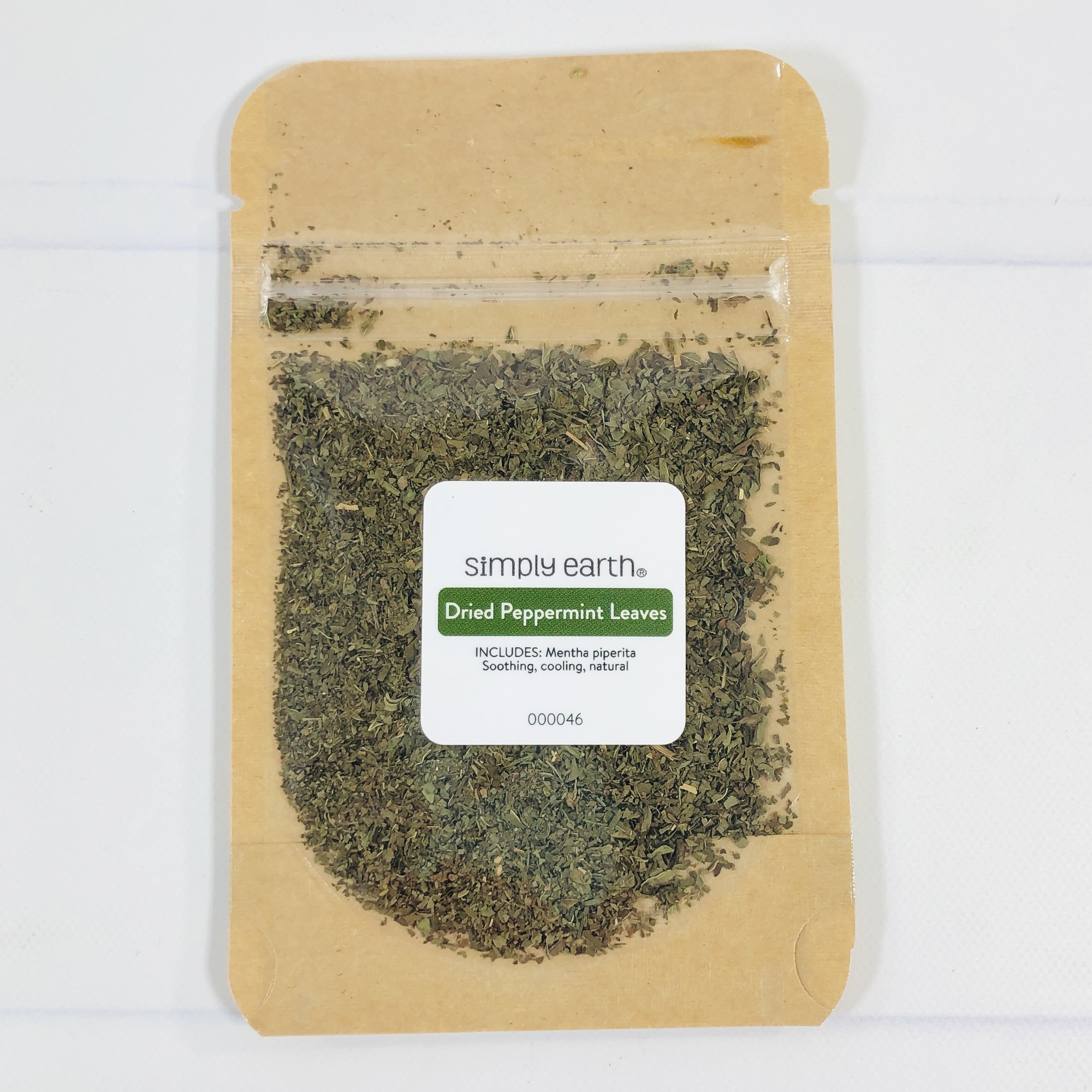 Dried Peppermint Leaves A couple of the recipes call for infusing peppermint leaves in oil, which means the oil will smell like peppermint after about 5 weeks. Two of the recipes call for this oil.
Paper Board Lip Balm Tubes ($1.99) are mini cardboard tubes that will be used for making lip balms!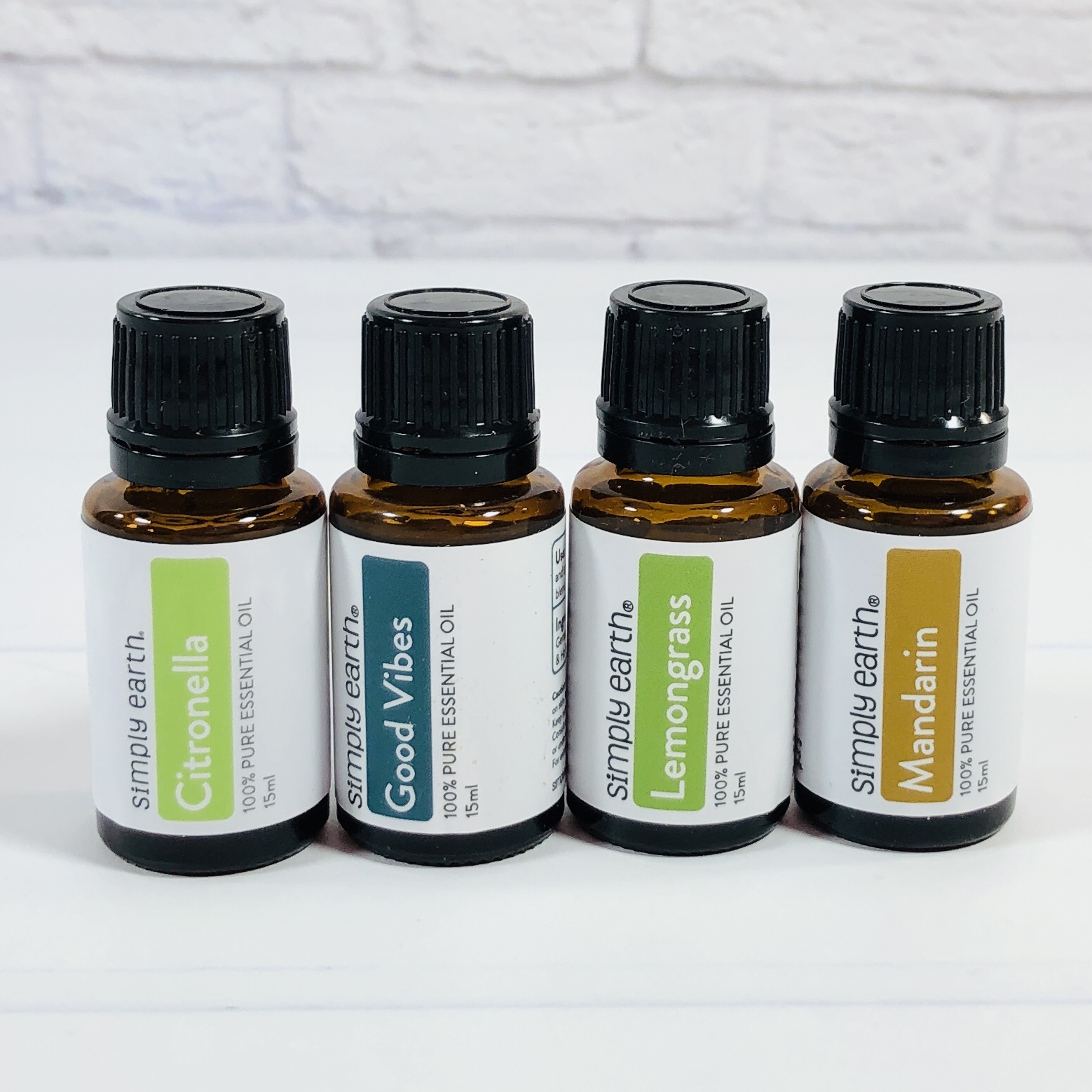 Here are the four oils for this month. I received 3 single oils and one blend. You can make changes in your account so that if you already have an oil on hand, like lemongrass, you can switch it out for something else.
We also received a sticker sheet to be used with all of this month's projects.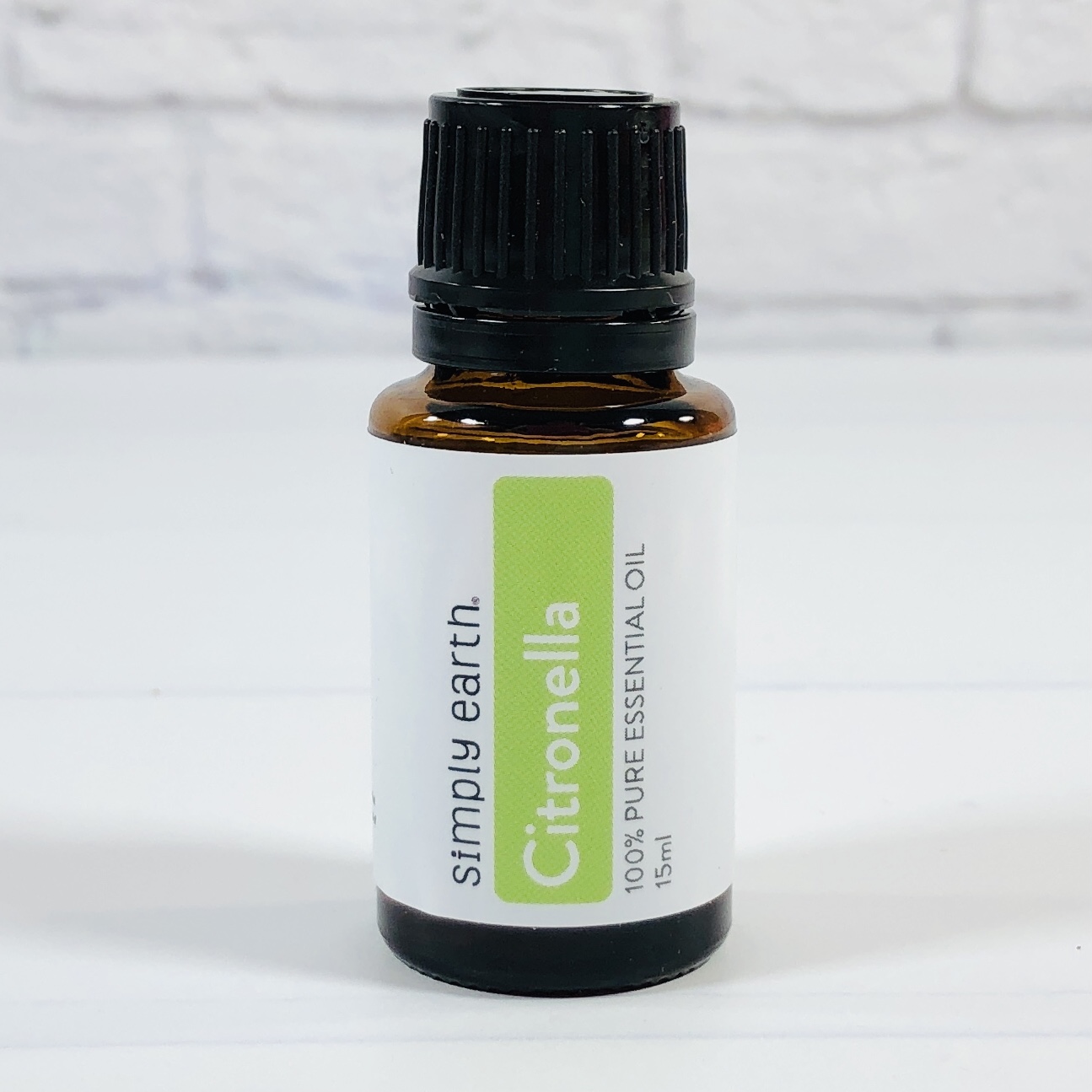 Simply Earth Citronella Essential Oil ($11.99) Citronella is a classic summer essential oil, as it's supposed to keep mosquitos away.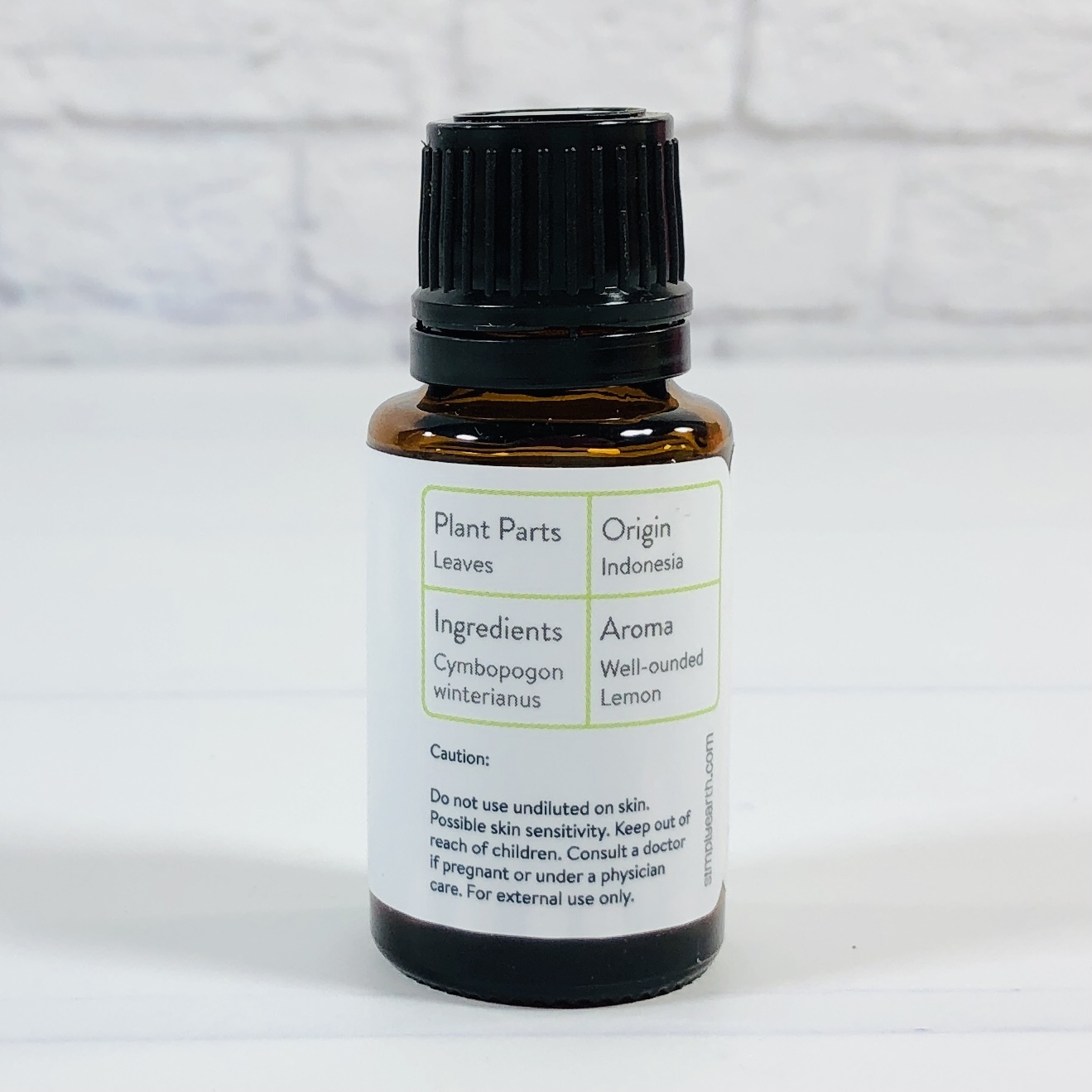 Each bottle lists the country of origin and plant part used. Citronella has a very distinct scent and while it smells somewhat citrusy, I don't think you would get it confused with lemon in a blind scent test.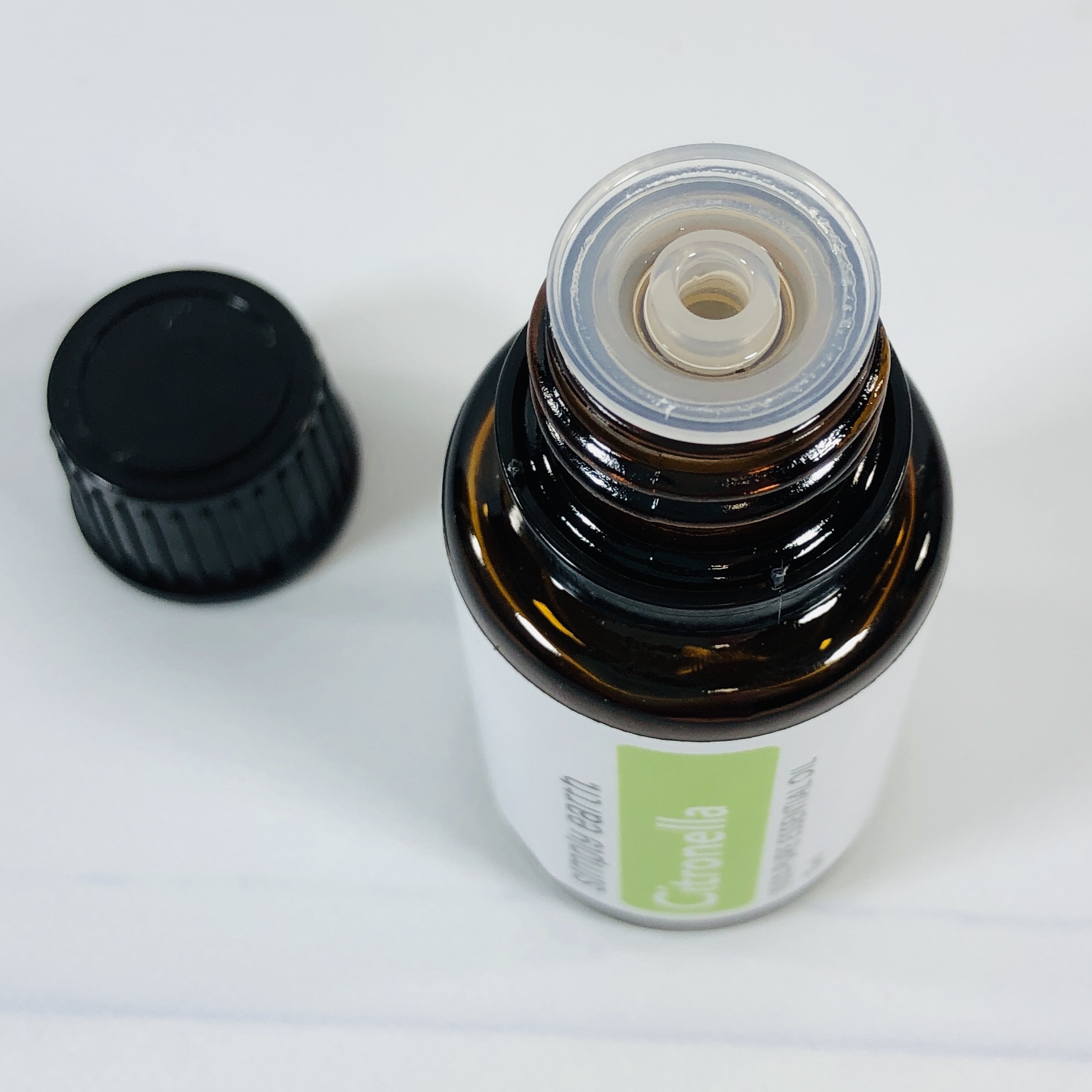 Each bottle comes with a special dropper that helps the oils come out drop by drop.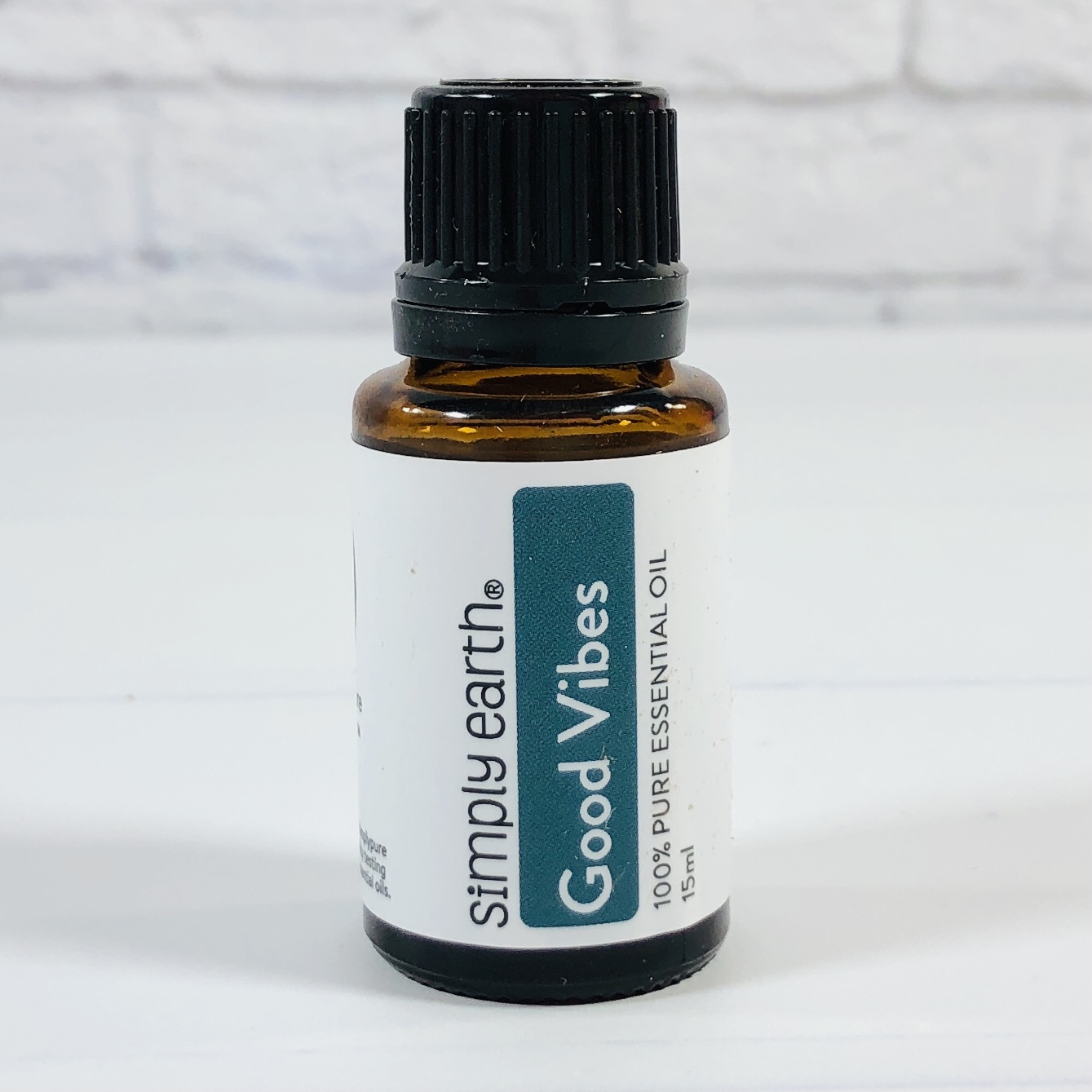 Simply Earth Good Vibes Essential Oil ($19.99) Good Vibes is the blend for the month and while it sounds like something the Beach Boys would sing about, it's also supposed to help with hormonal imbalances such as mood swings and hot flashes.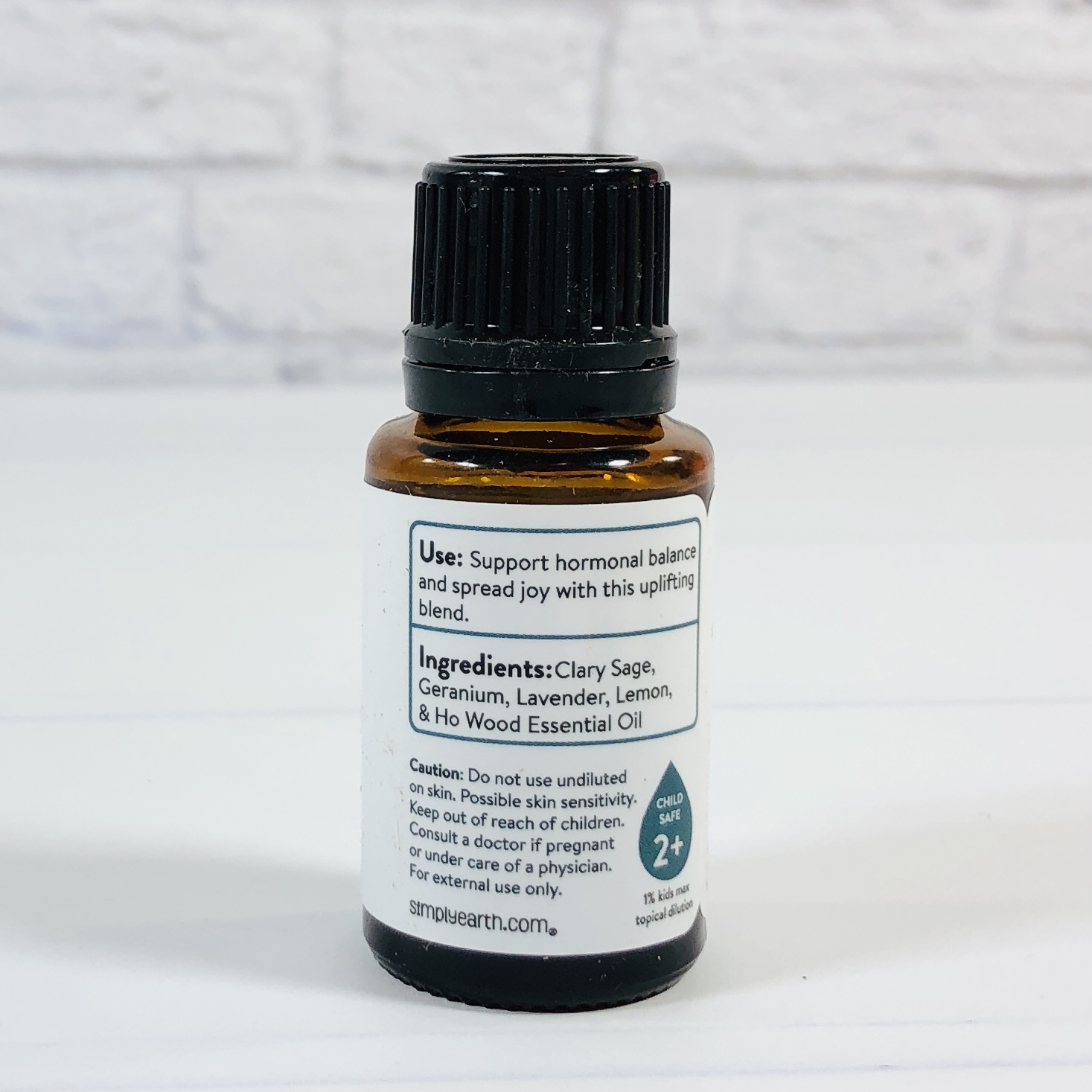 Good Vibes is a blend of clary sage, geranium, lavender, lemon, and ho wood. It smells somewhat medicinal to my nose, or like a cleaning product.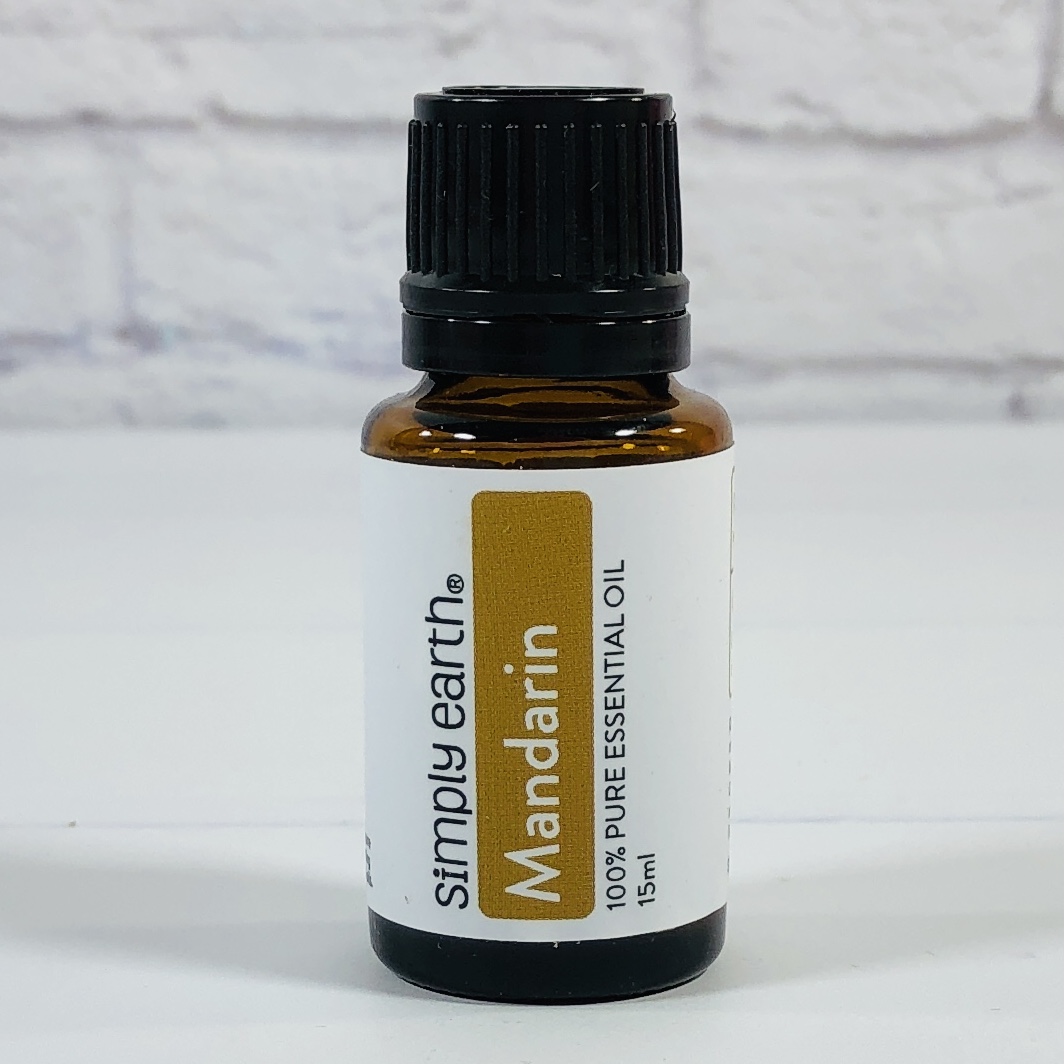 Simply Earth Mandarin Essential Oil ($13.99) Mandarin comes from a type of citrus similar to a tangerine. The scent reminds me of oranges, but sharper, greener.
This comes from Citrus deliciosa, while some mandarin essential oils come from Citrus reticulata. I did a search, perhaps it's a smaller fruit?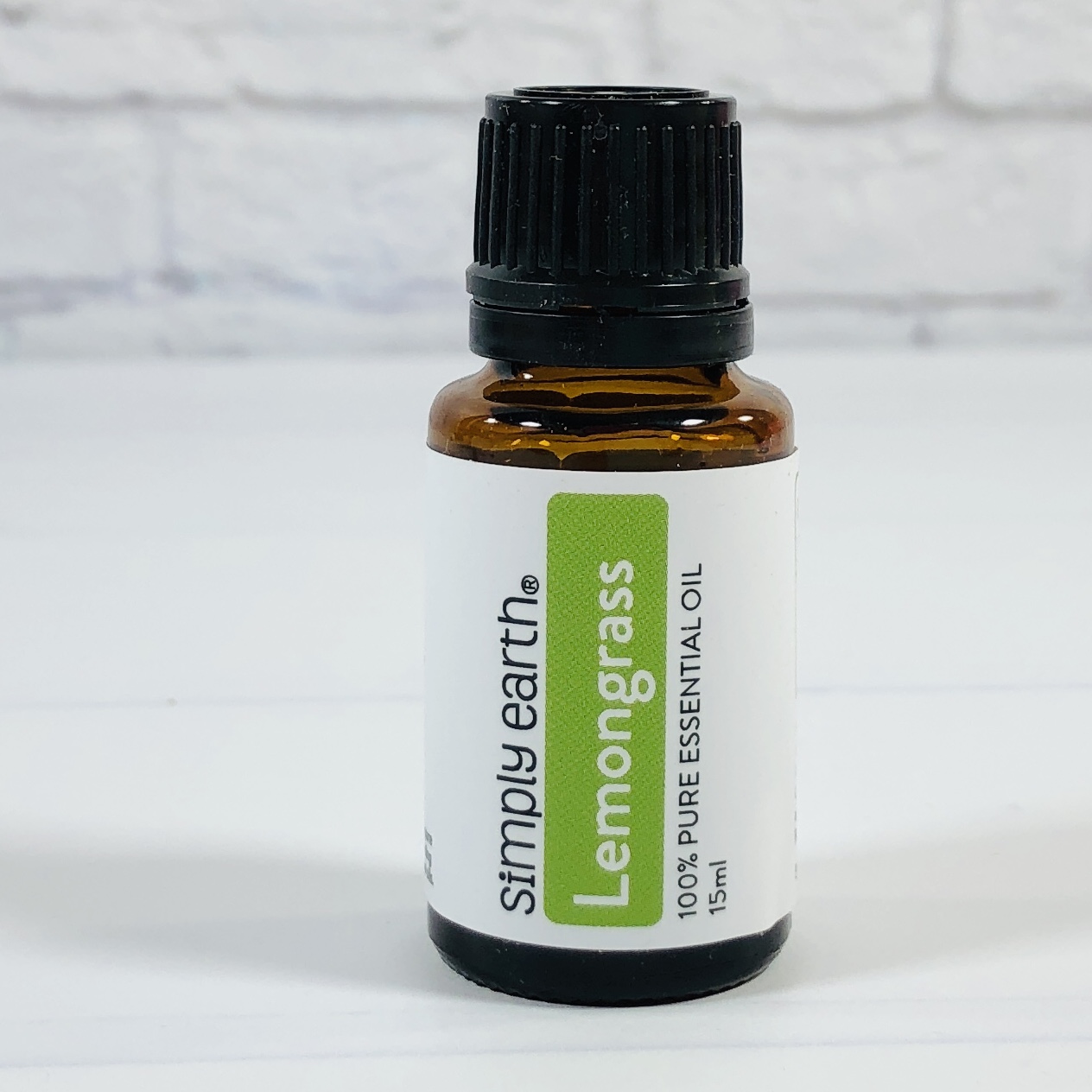 Simply Earth Lemongrass Essential Oil ($8.99) Lemongrass is another scent that smells similar to lemon, but not really. Sometimes I try lemon flavored teas and I just know that the "natural" flavor is lemongrass and not lemon. The nose knows.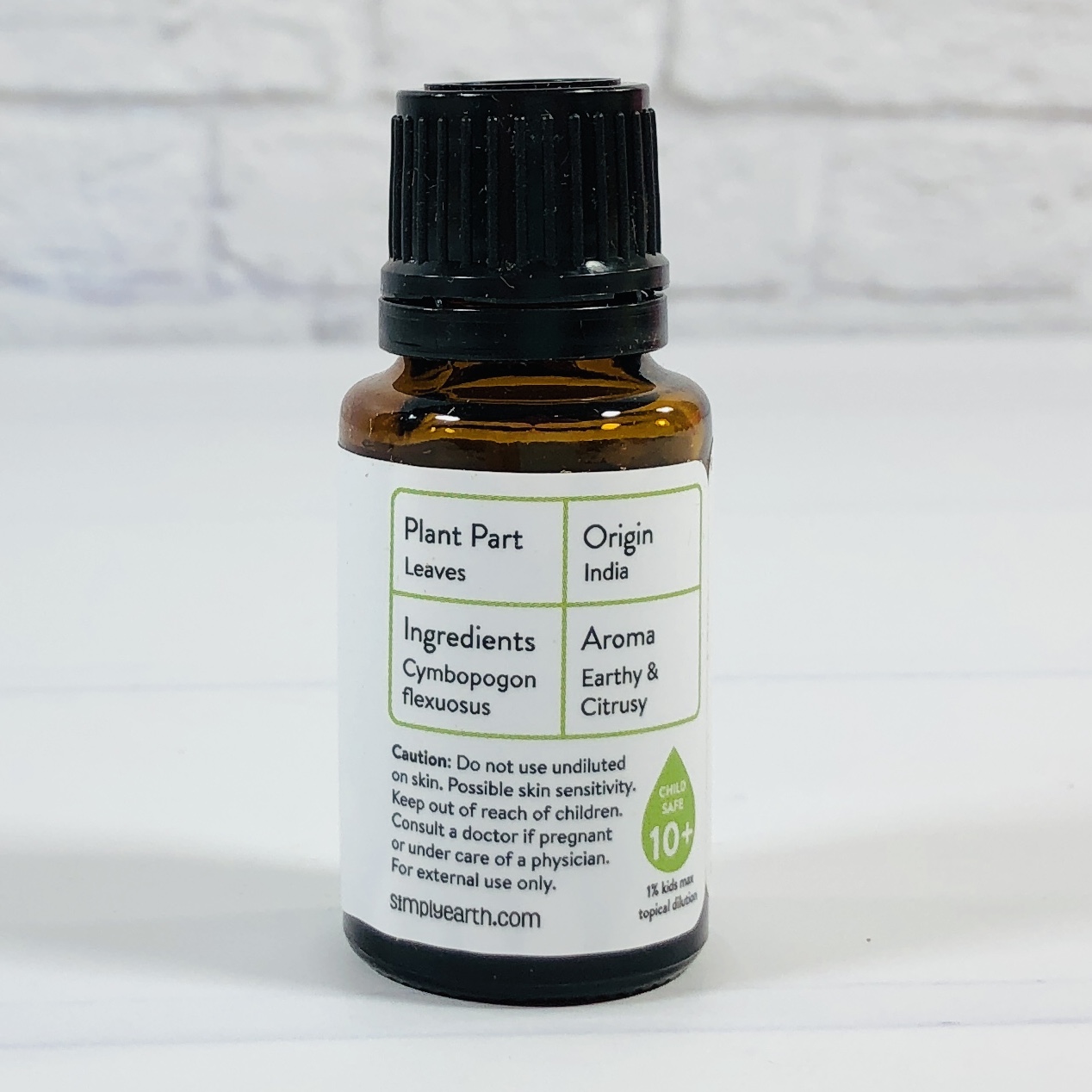 The scent description is earthy and citrusy and I would like to add that it kind of smells like furniture polish.
Here's a few of the recipes that I made with the essential oils and recipe cards from the June Simply Earth box!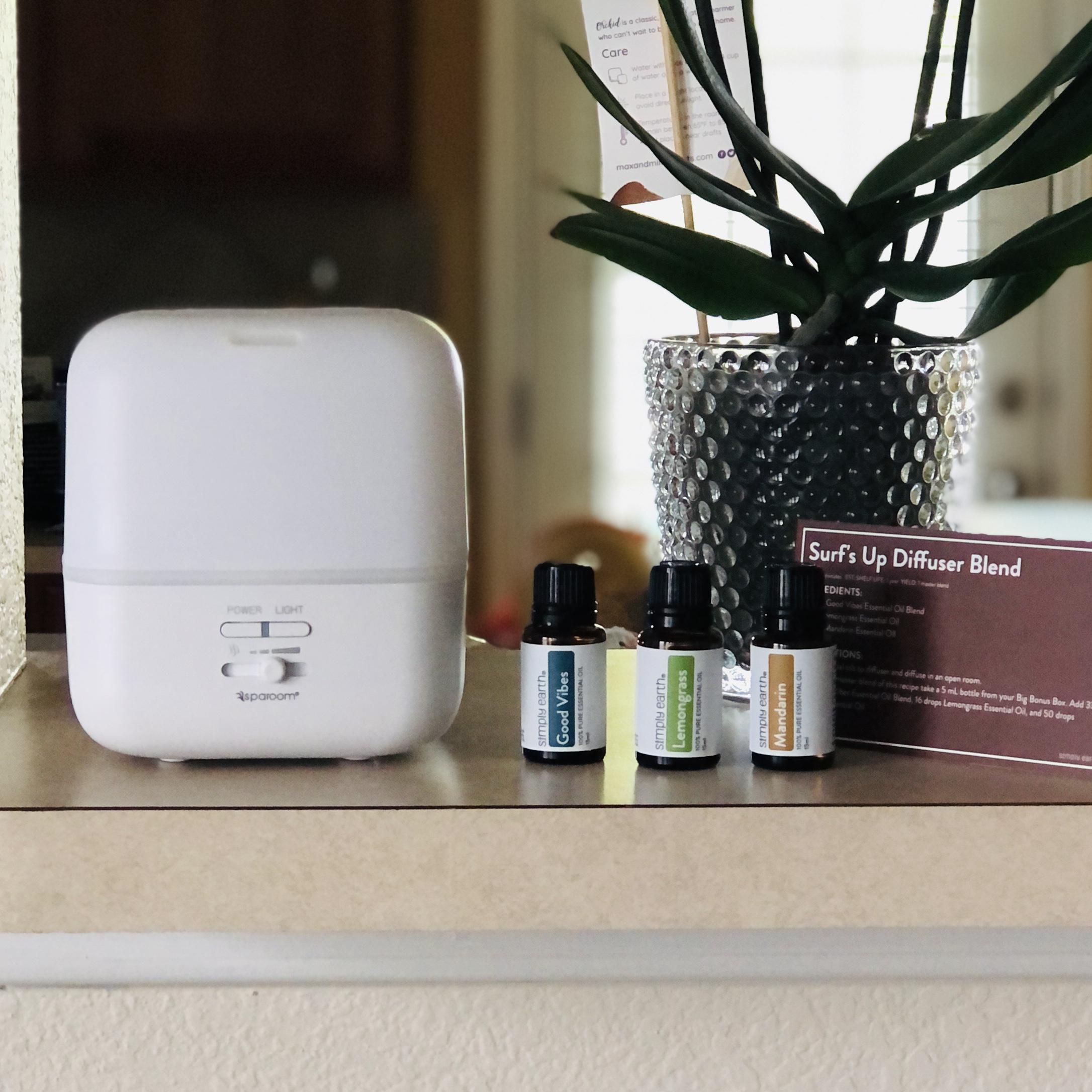 I always start with the diffuser blend because it's super easy. Just drop the required number of drops in the diffuser, add water, and push the on button. I don't know what it is about lemongrass but when it's in a blend, it's almost always the only thing I pick up, and that was the case here. I will try it again when it runs out, but I will leave the lemongrass out.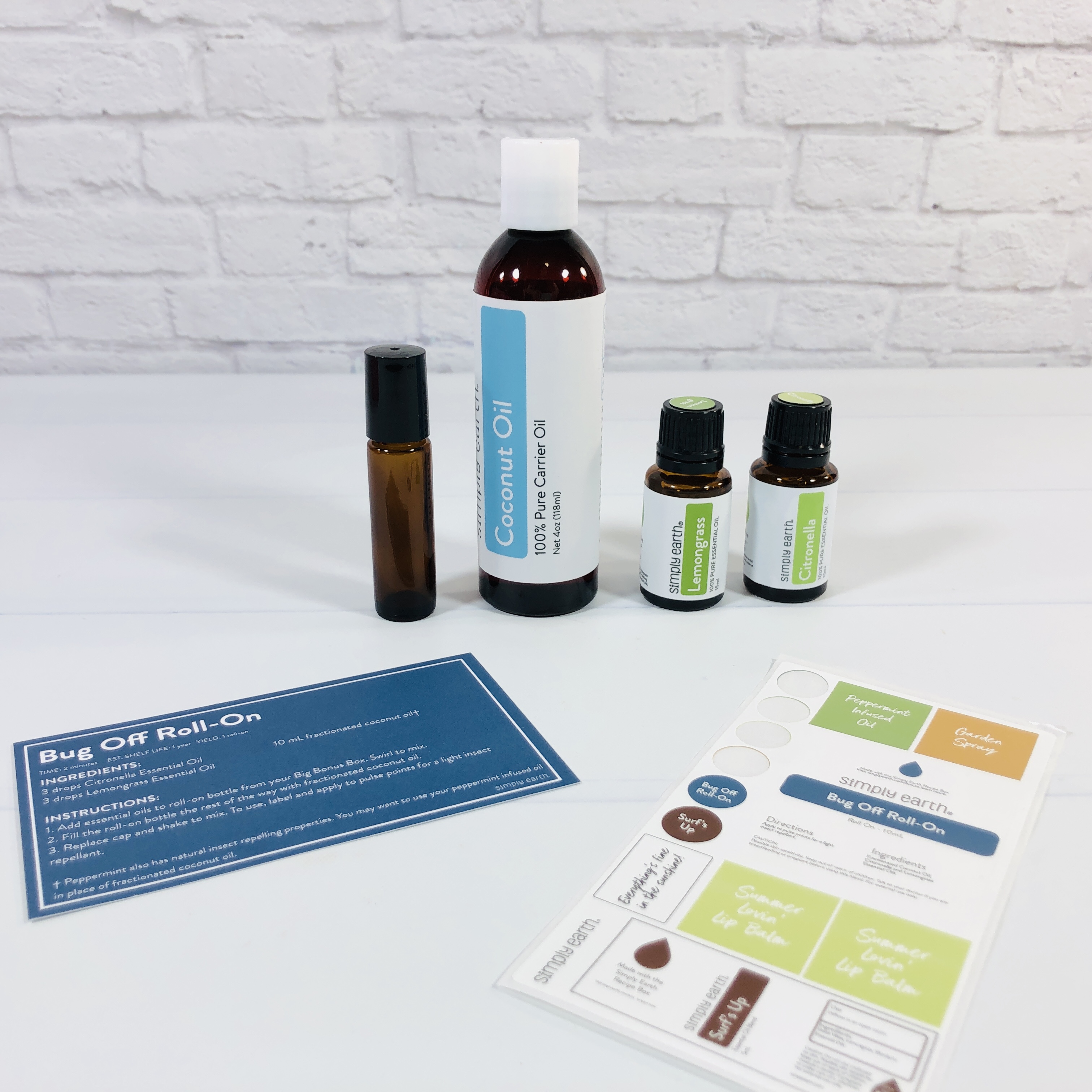 Next I made the Bug Off Roll-On. I grabbed two of this month's essential oils and got the coconut oil and rollerball bottle from my Big Bonus Box stash.
I dropped the essential oils into the bottle and gave them a swirl to mix.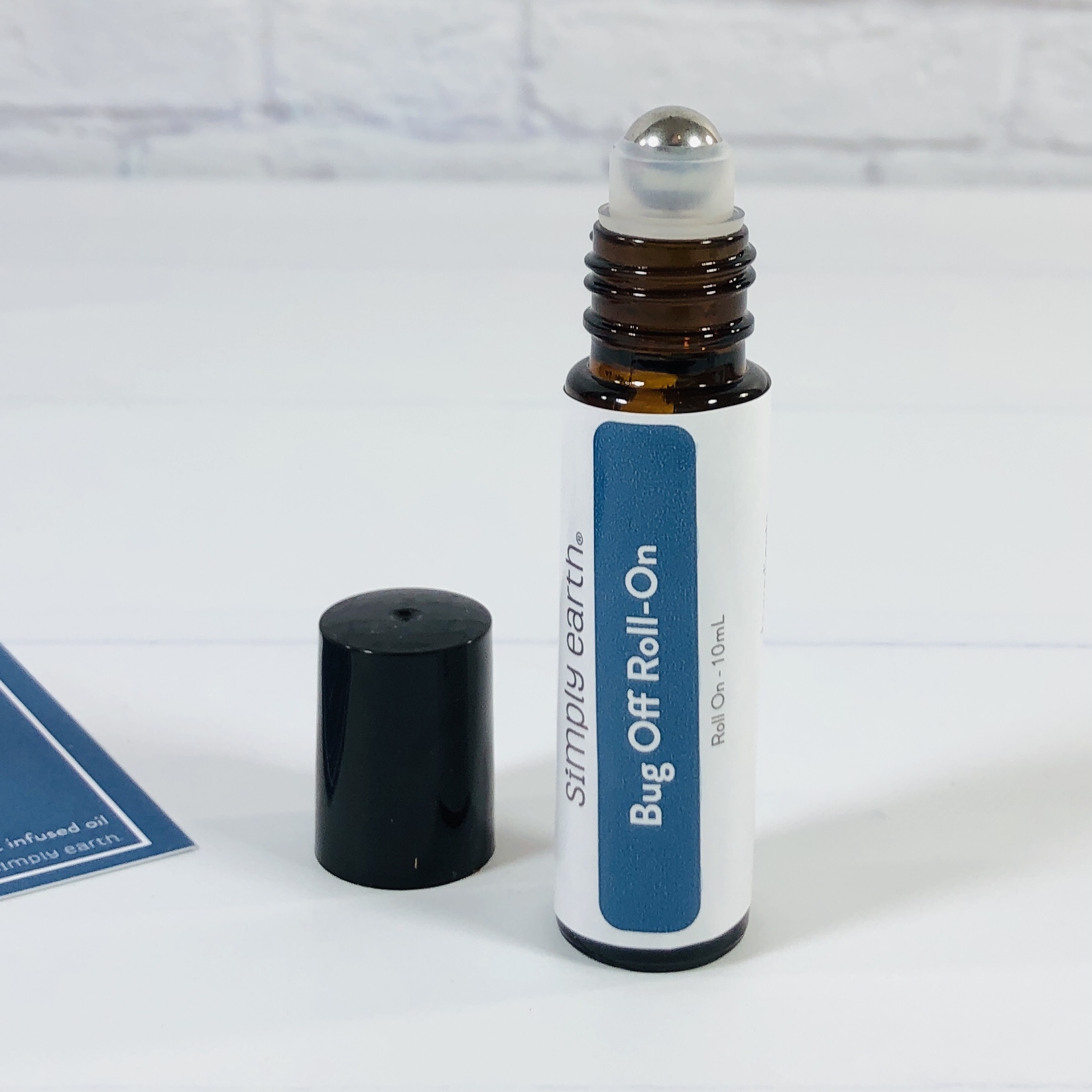 I topped with coconut oil and made sure the rollerball was placed securely on top of the bottle. I shook it all up and applied the tag and there ya go, I now have something to fight off those pesky mosquitos. Here in Texas they are the official state bird (ha ha, just kidding, but no really).
I still have a couple of recipes to prepare but I need to let the oil and peppermint mix steep for a while longer and while I get the idea behind the garden spray, it isn't something I will use so I will use the bottle for something else, like another bug off product. I am happy to have these new oils to add to my diffuser recipes (I have tons pinned online). I think Simply Earth makes it easy to learn about essential oils and how to properly use them in the home and on the body. I think the recipe cards are easy to follow and I appreciate that there is a video demonstration available online. I always look forward to my box and sometimes I just open the bottles and sniff them for a bit because they smell so good!
What do you think of the Simply Earth box?