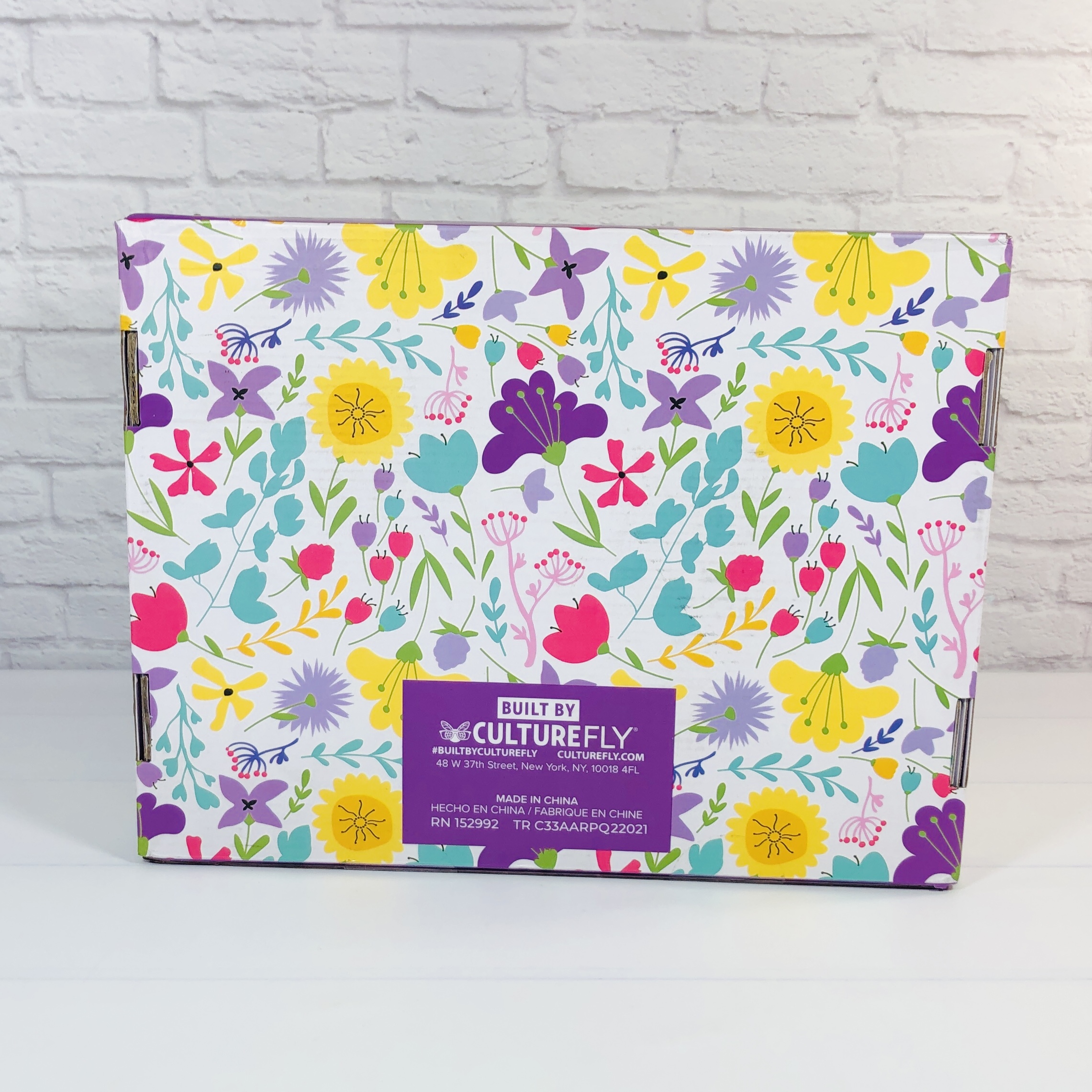 Relax & Radiate Crate is a quarterly collection of thoughtfully curated products chosen by The Girlfriend, an AARP-sponsored website especially for Gen X women over 40, and CultureFly. Each box will contain 7-12 unique and custom-designed home, beauty, and wellness items with a value of over $200. The items support mind, body, and soul.
The Relax & Radiate Crate is a quarterly subscription box filled with a collection of unique and custom-designed products selected to bring you comfort while nourishing your mind, body, and soul. Each seasonal box includes 7 to 12 items hand-picked by members of The Girlfriend team and community, averaging $200 or more in retail value. Each box also includes a copy of an all-new Girlfriend Mini-Magazine produced exclusively for Relax & Radiate Crate subscribers.

Relax & Radiate Crate subscribers also get access to an exclusive online community where you can connect with others, access special giveaways and offers, and provide input on upcoming crates.
You can share a video of your unboxing and get the chance to win a free crate! The summer crate is sold out, so make sure to sign up to be notified when the fall box goes on sale.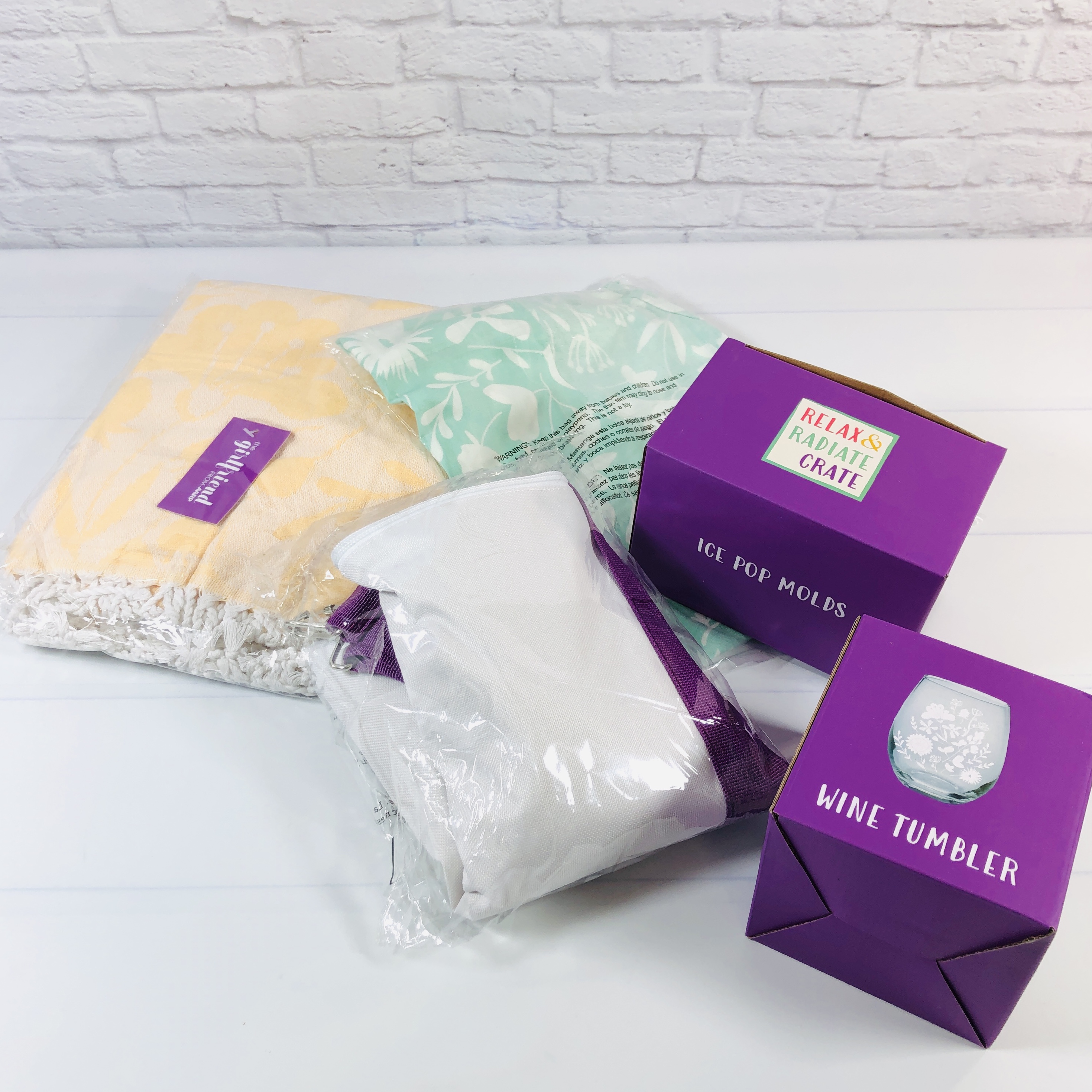 Some items came in their own boxes or were wrapped in plastic for protection.
Each box comes with a mini magazine.
An introduction was on the first page and included a list of the items in the box.
I love to see book suggestions, maybe I can add them to my TBR list!
These recipes can be put to use with one of the items in this season's box!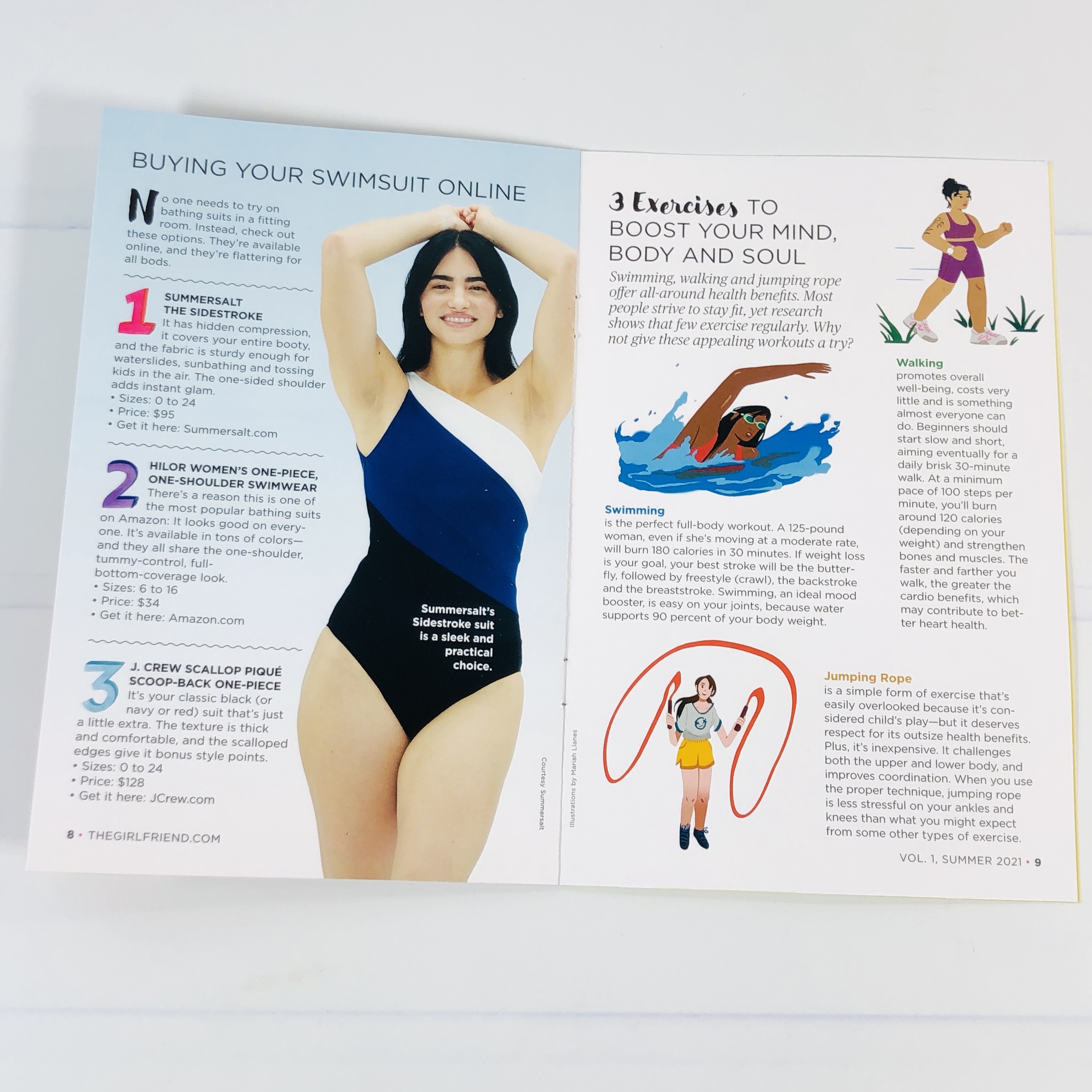 Looking for a swimsuit? Here's some online suggestions. There's also three exercises to try for health benefits.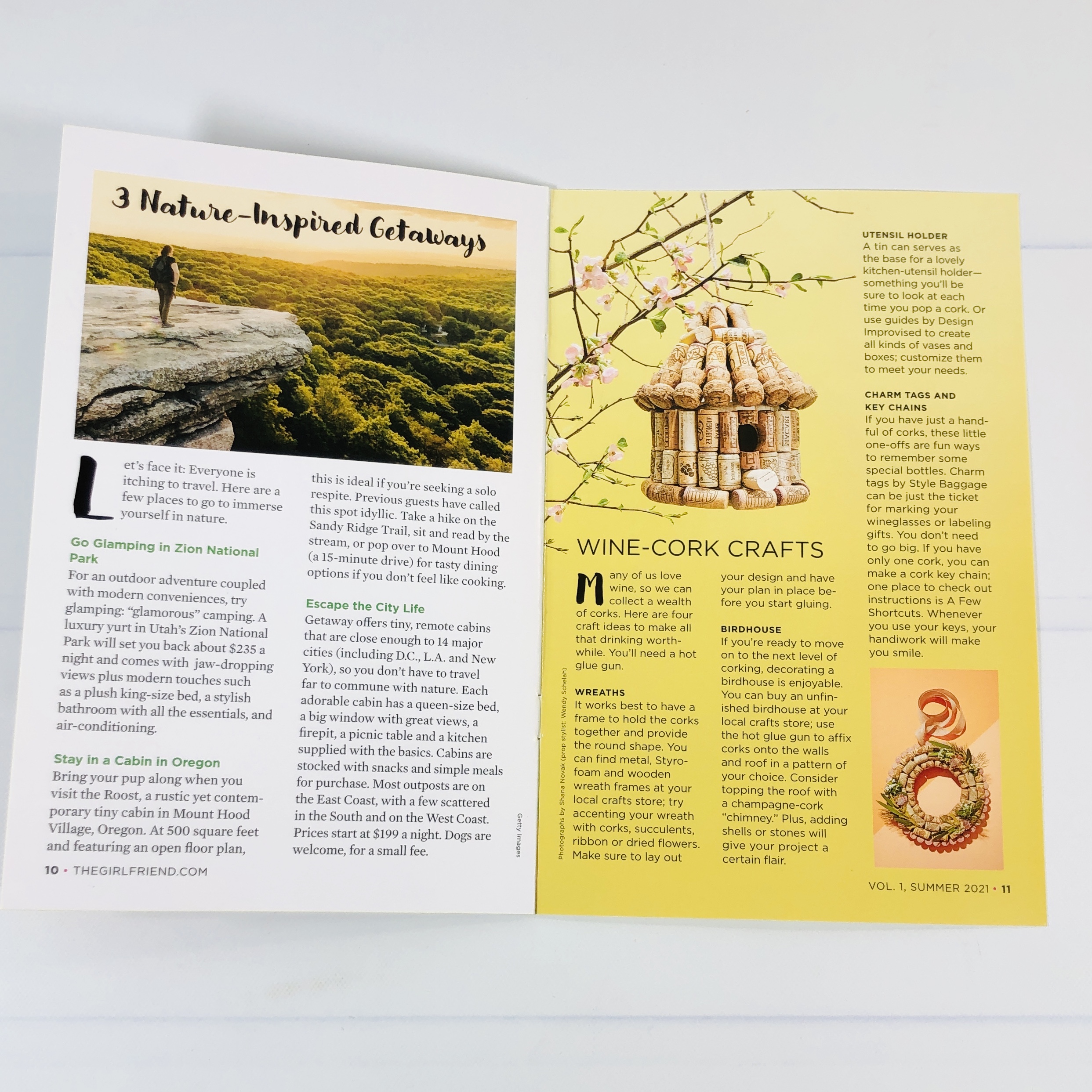 Some nature-inspired destinations and a craft using wine corks was next.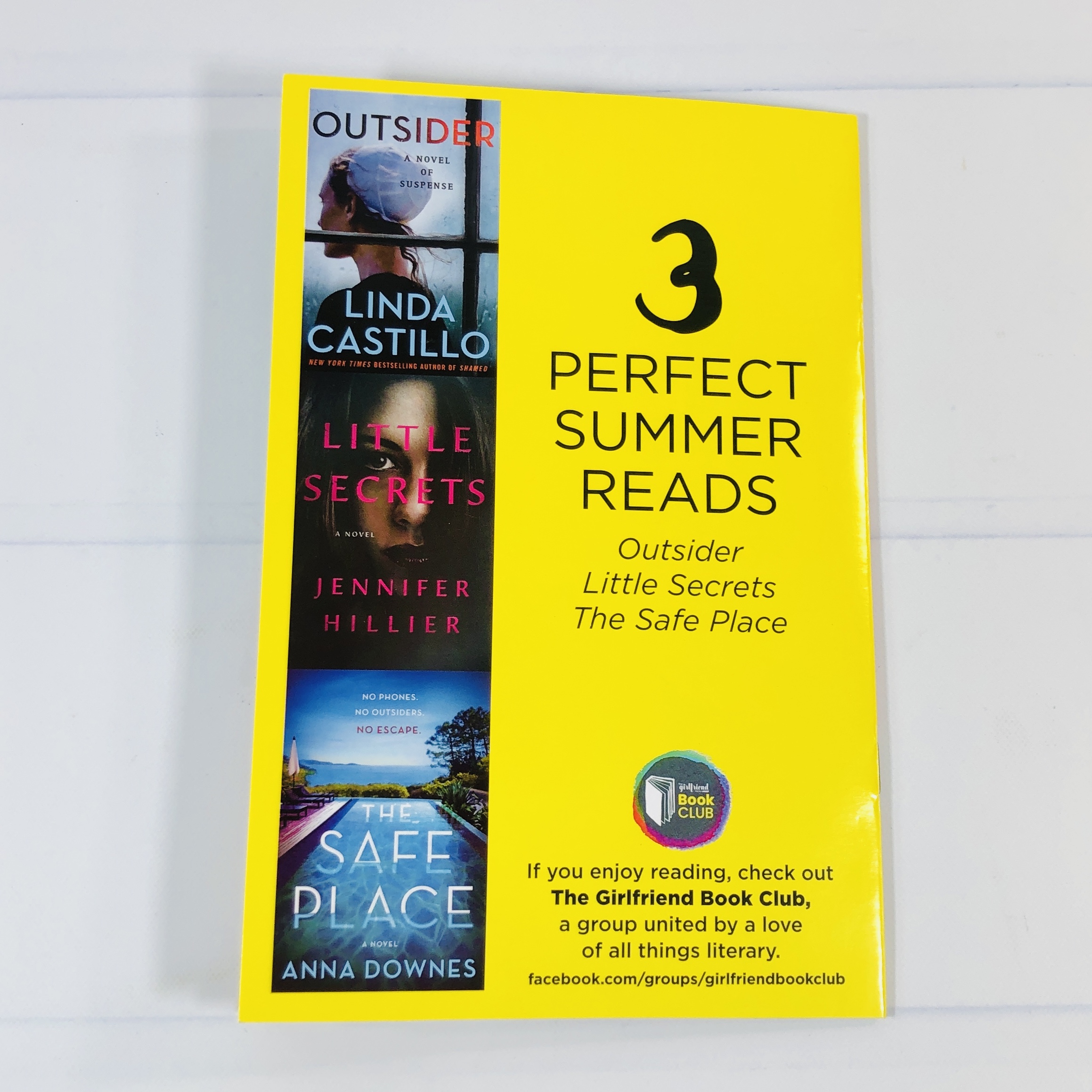 Subscribers received one of these three books in their box. Which one did you get?
Everything in my box!
Skinn DermAppeal Thermo-Enzymatic Microdermabrasion Treatment ($27.89) The card included with this product has a 30% code to use at the brand's website in case you want to get more scrub or want to try something else. It's an exfoliating scrub that feels a bit like rubbing baking soda all over — makes sense as that's the fifth ingredient! Peppermint essential oil, olive oil, and zinc oxide are some of the other things you'll find in here too. They suggest using it twice a week but I think once is all I can take. I love the scent, which is a blend of mint and menthol, so it not only scrubs my pores but also opens my sinuses!
Elta MD Skincare Facial Sunscreen ($36.50) I wear sunscreen 365 days a year and was excited to try this brand because it is fragrance-free and uses minerals as SPF rather than chemicals. This sits on skin and reflects the sun's rays, while the chemical types absorb the rays. It's a matter of preference and I prefer minerals since I have sensitive skin and my skin has less reactions with that type.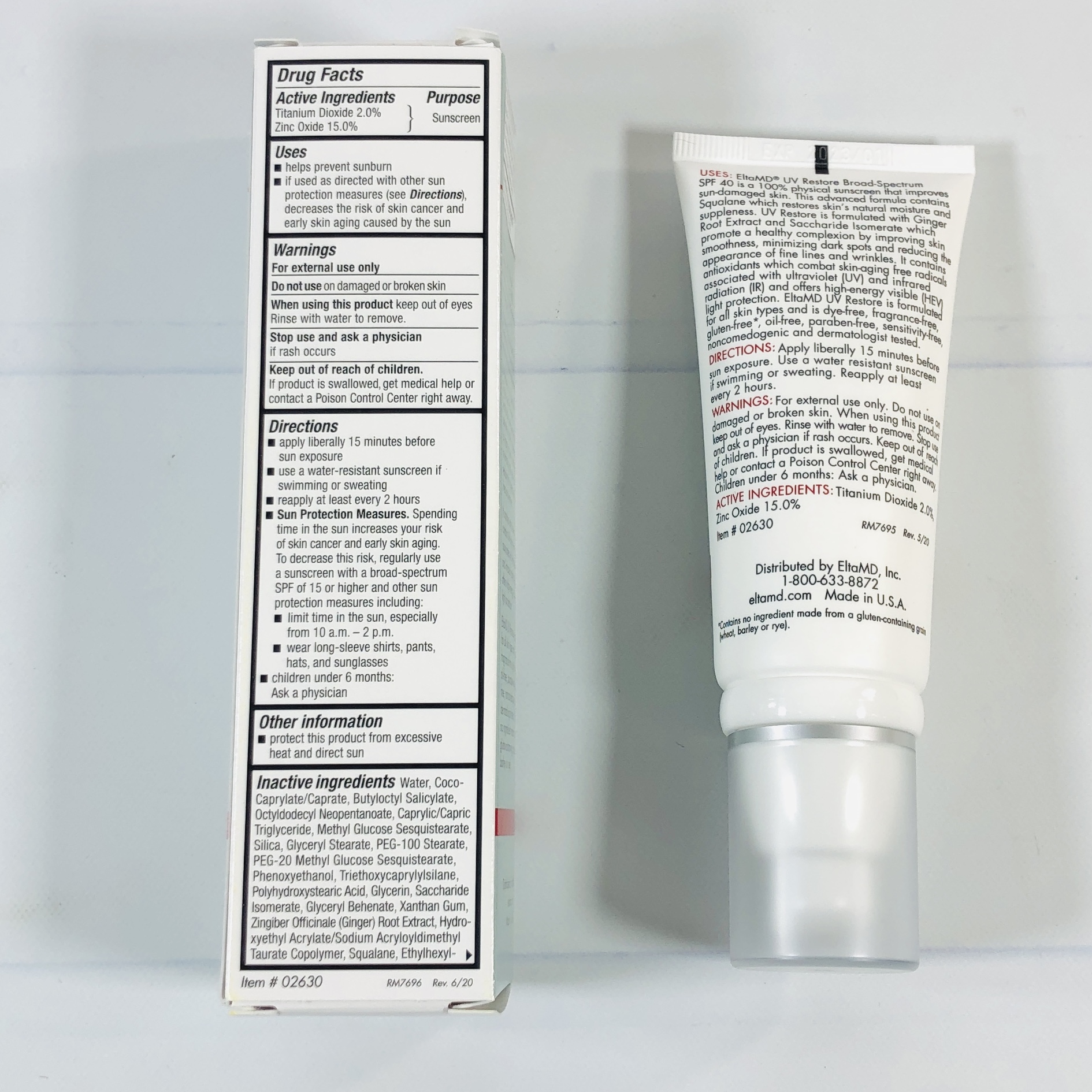 Titanium dioxide and zinc oxide are the active ingredients but there's also some other things in here that are supposed to help heal damaged skin, like squalane, ginger root, and antioxidants in the form of vitamins C and E. I applied it to my face and it was kind of freaky at first, my skin was blue, purple, pink, white, and then finally it looked ok. I'm pretty pale to start but those who have darker skin may not have much luck with this sunscreen, although there is a tinted version available. My skin had a sheen to it afterwards and still looked pale, even after I applied my makeup.
The Safe Place by Anna Downes ($26.99 list price, now $15.39) Thrillers are my preferred reading genre lately so I was thrilled (ha!) to get something I can pack in my suitcase to read during vacation.
Superbly tense and oozing with atmosphere, Anna Downes's debut, The Safe Place, is the perfect summer suspense, with the modern gothic feel of Ruth Ware and the morally complex family dynamics of Lisa Jewell.

Welcome to paradise…will you ever be able to leave?

Emily is a mess.

Emily Proudman just lost her acting agent, her job, and her apartment in one miserable day.

Emily is desperate.

Scott Denny, a successful and charismatic CEO, has a problem that neither his business acumen nor vast wealth can fix. Until he meets Emily.

Emily is perfect.

Scott offers Emily a summer job as a housekeeper on his remote, beautiful French estate. Enchanted by his lovely wife Nina, and his eccentric young daughter, Aurelia, Emily falls headlong into this oasis of wine-soaked days by the pool. But soon Emily realizes that Scott and Nina are hiding dangerous secrets, and if she doesn't play along, the consequences could be deadly.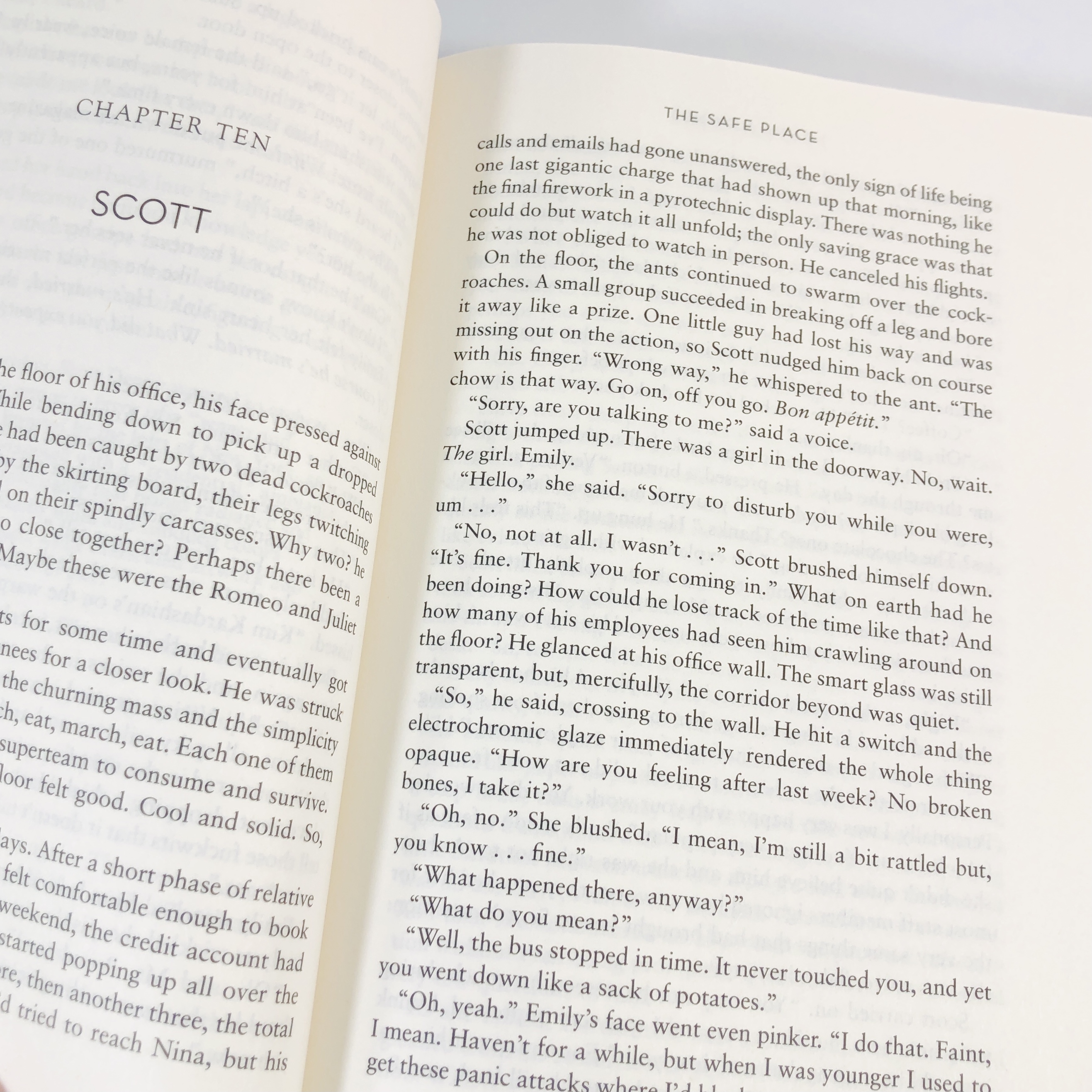 Here's a random sample of the writing style.
Conversation Starters Card Set Most of the items found in Relax & Radiate are made especially for the box and are therefore exclusive. They also cause everything to be wonderfully coordinated.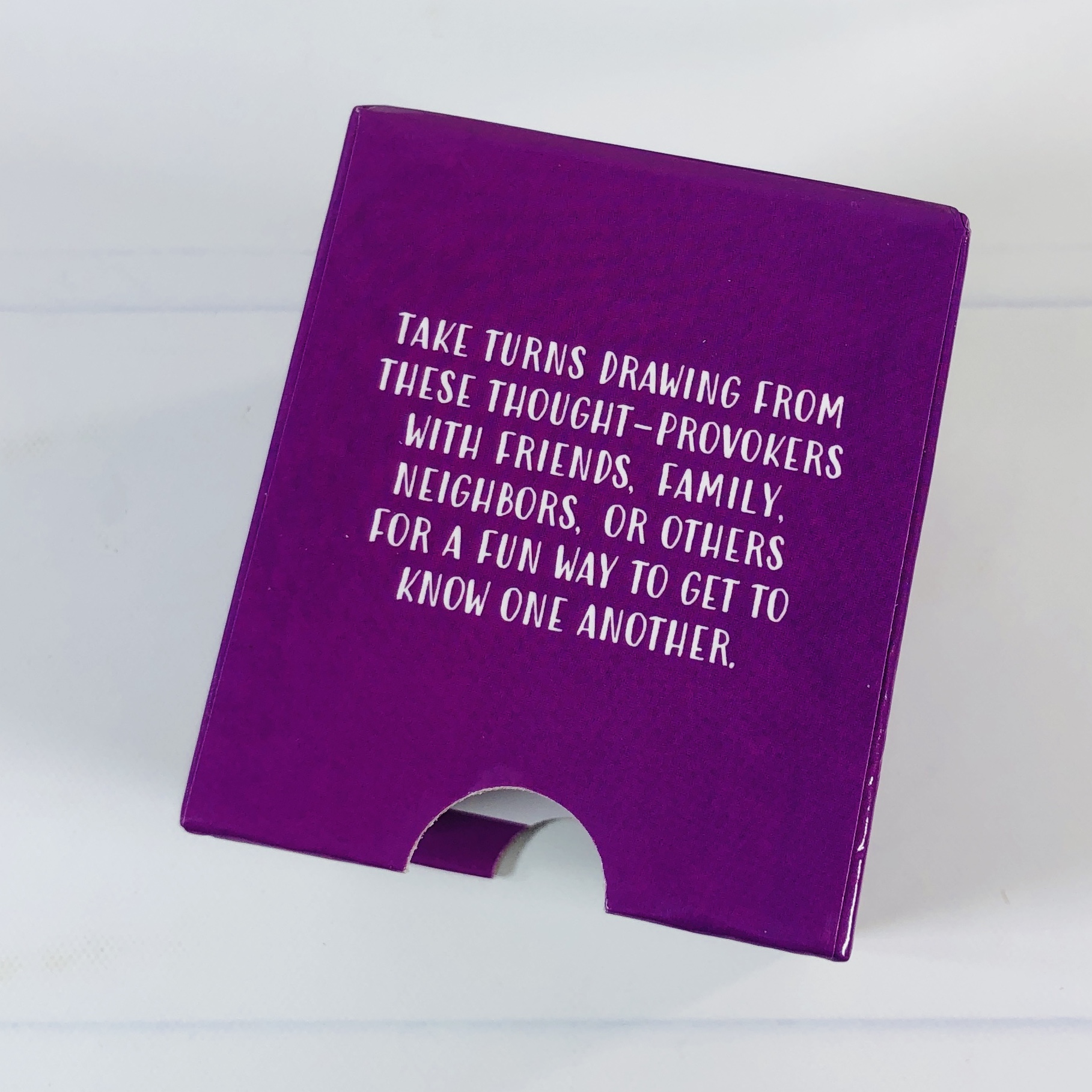 Here is an icebreaker set of cards to get people to talk about themselves.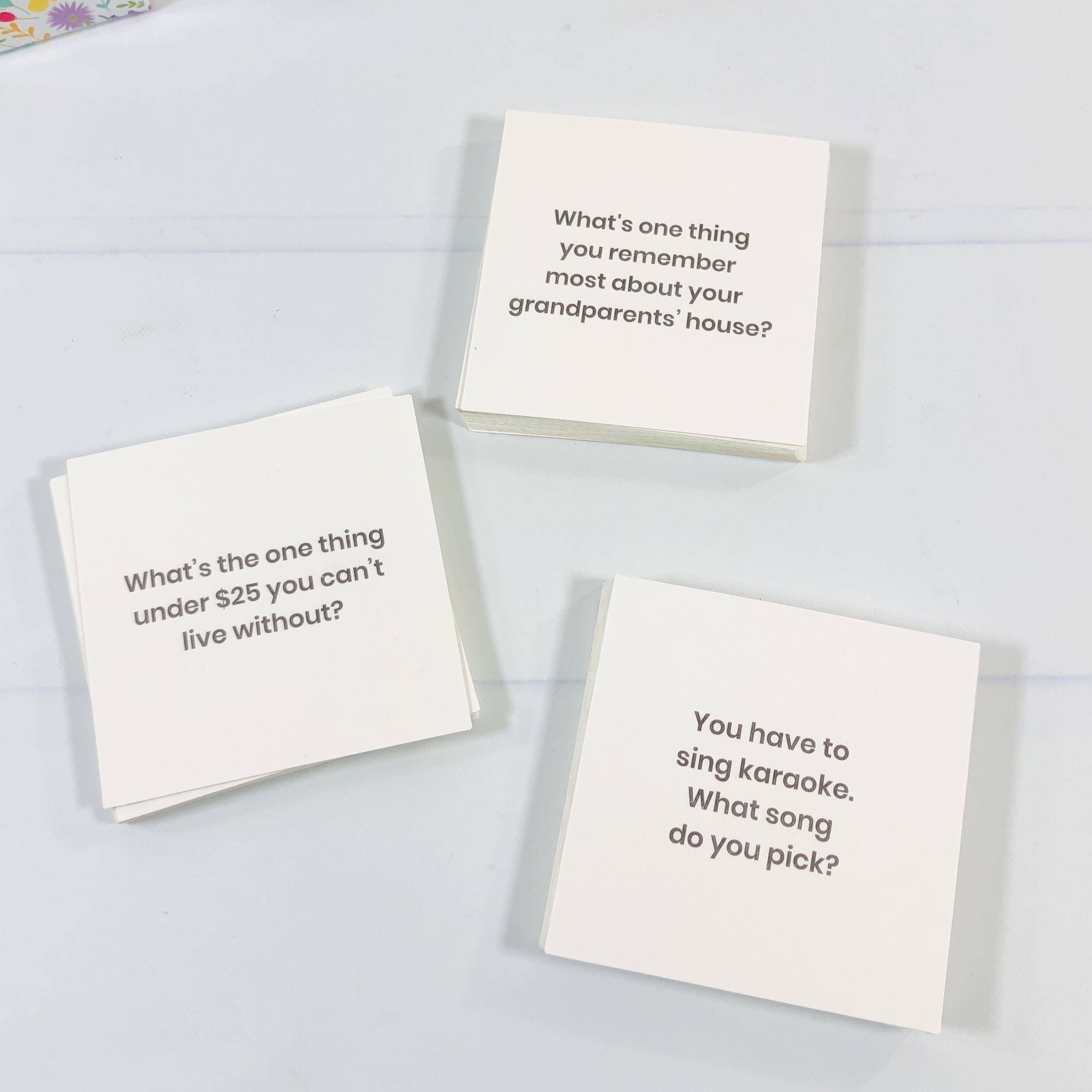 Here's a few sample cards (there's 100 cards total). Come on y'all, tell me in the comments your answers to one of these questions! I'll go first: I would probably sing Hungry Like the Wolf in karaoke.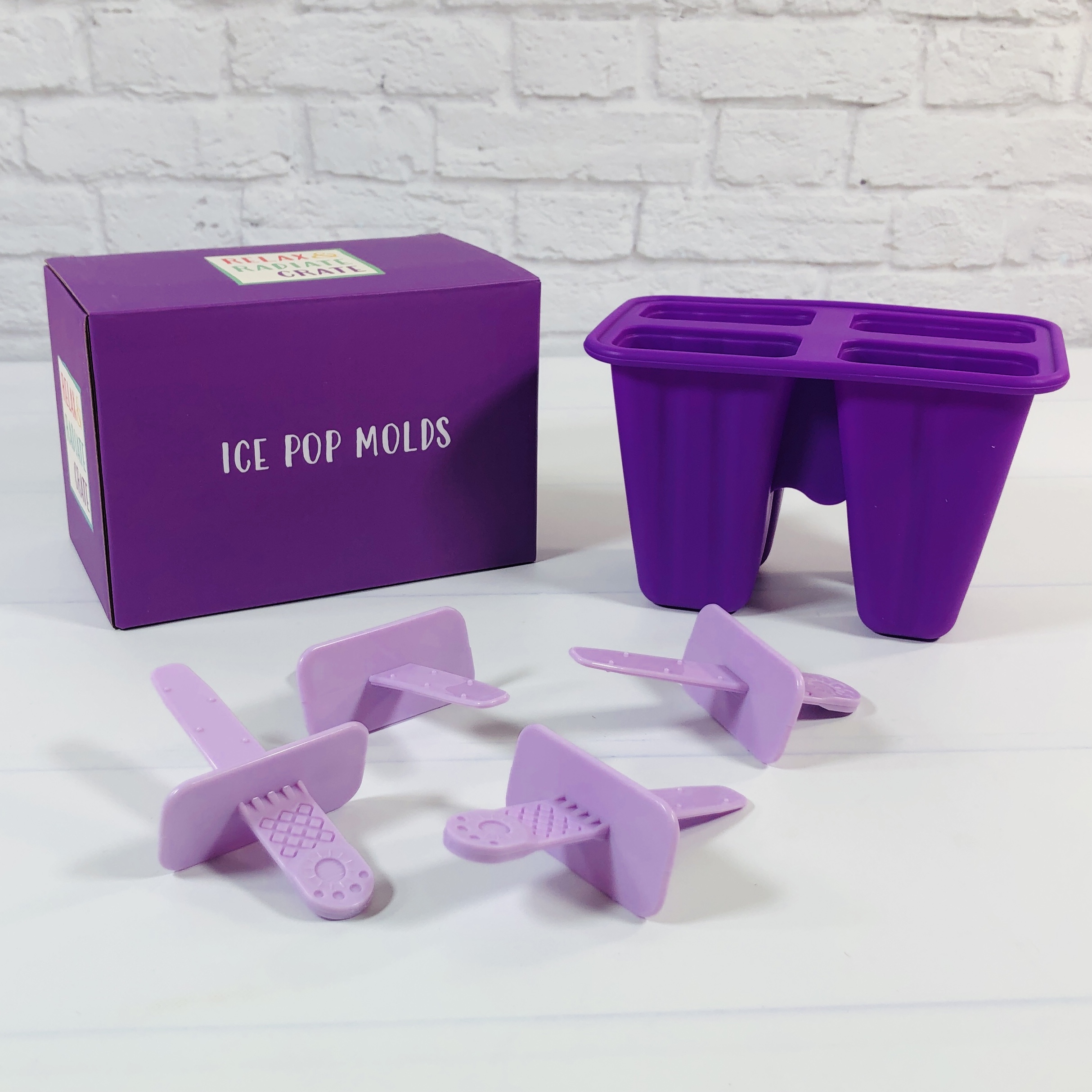 Ice Pop Molds Remember those recipes in the mini magazine shown above? Here's the molds!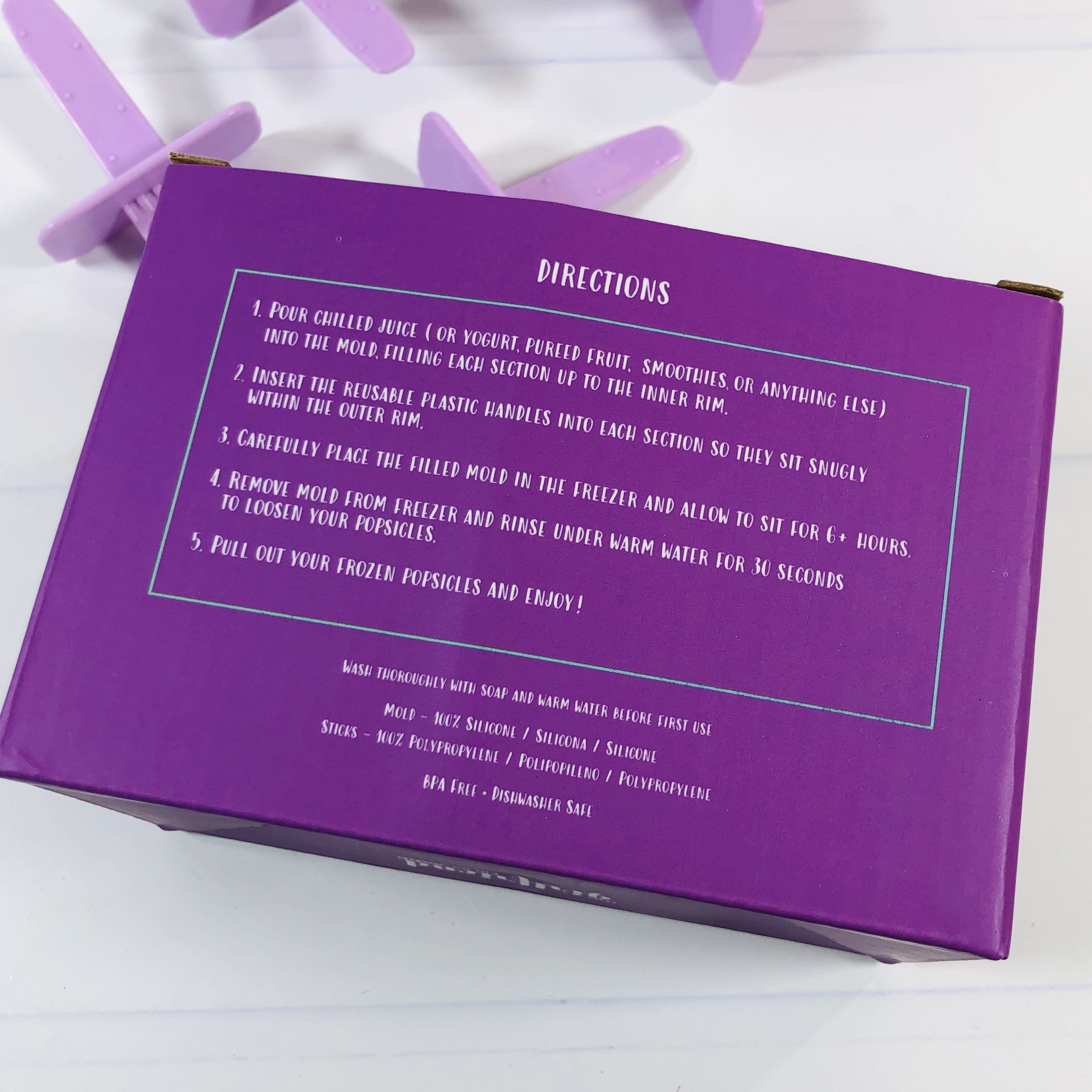 There are four molds and they are made of silicone. The back of the box had instructions.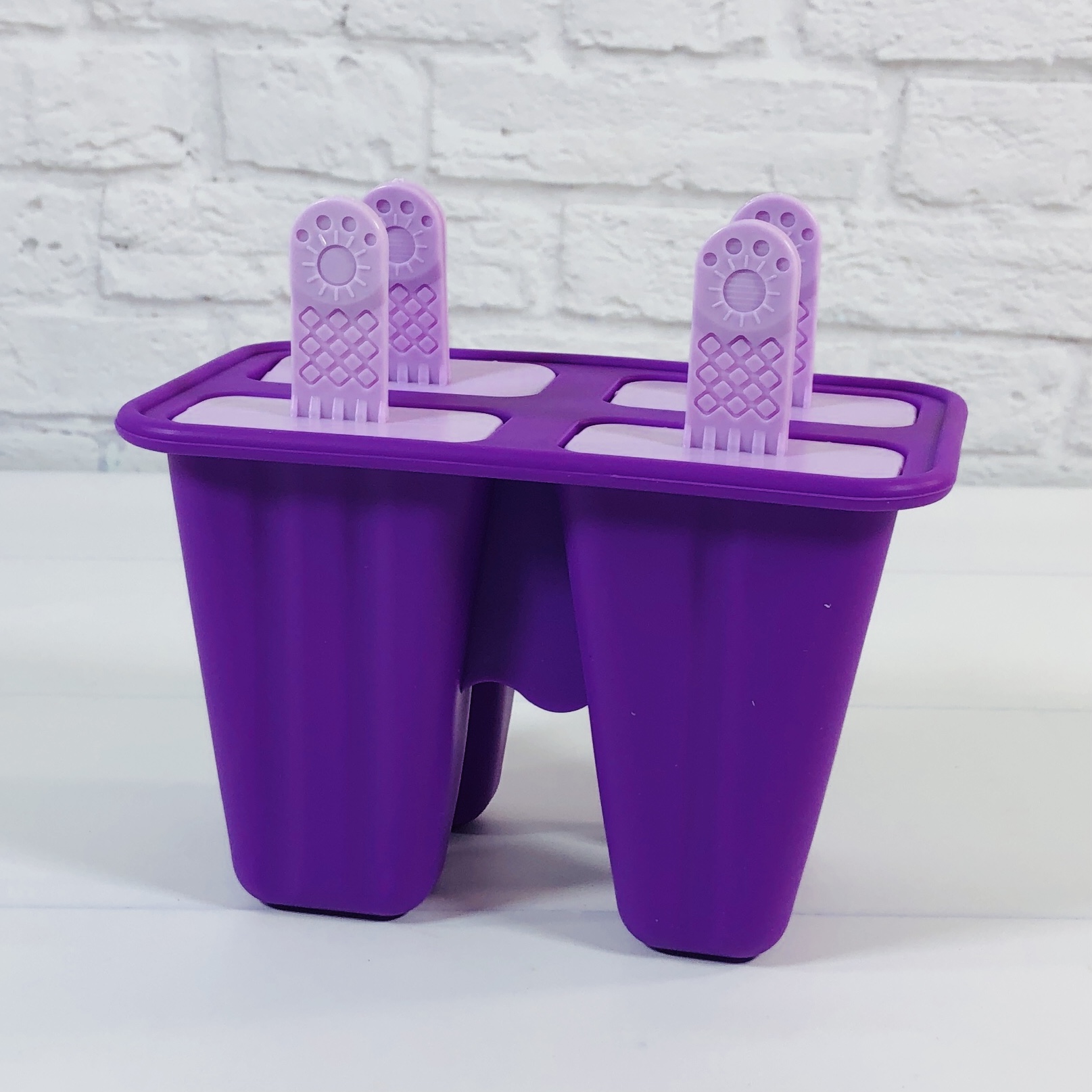 My daughter was super thrilled when she saw these molds and I can't wait to see what combos she comes up with!
Wine Tumbler Each seasonal box has included a collectible wine tumbler. The motif on the outside of the glass can be found on a lot of the items in this box.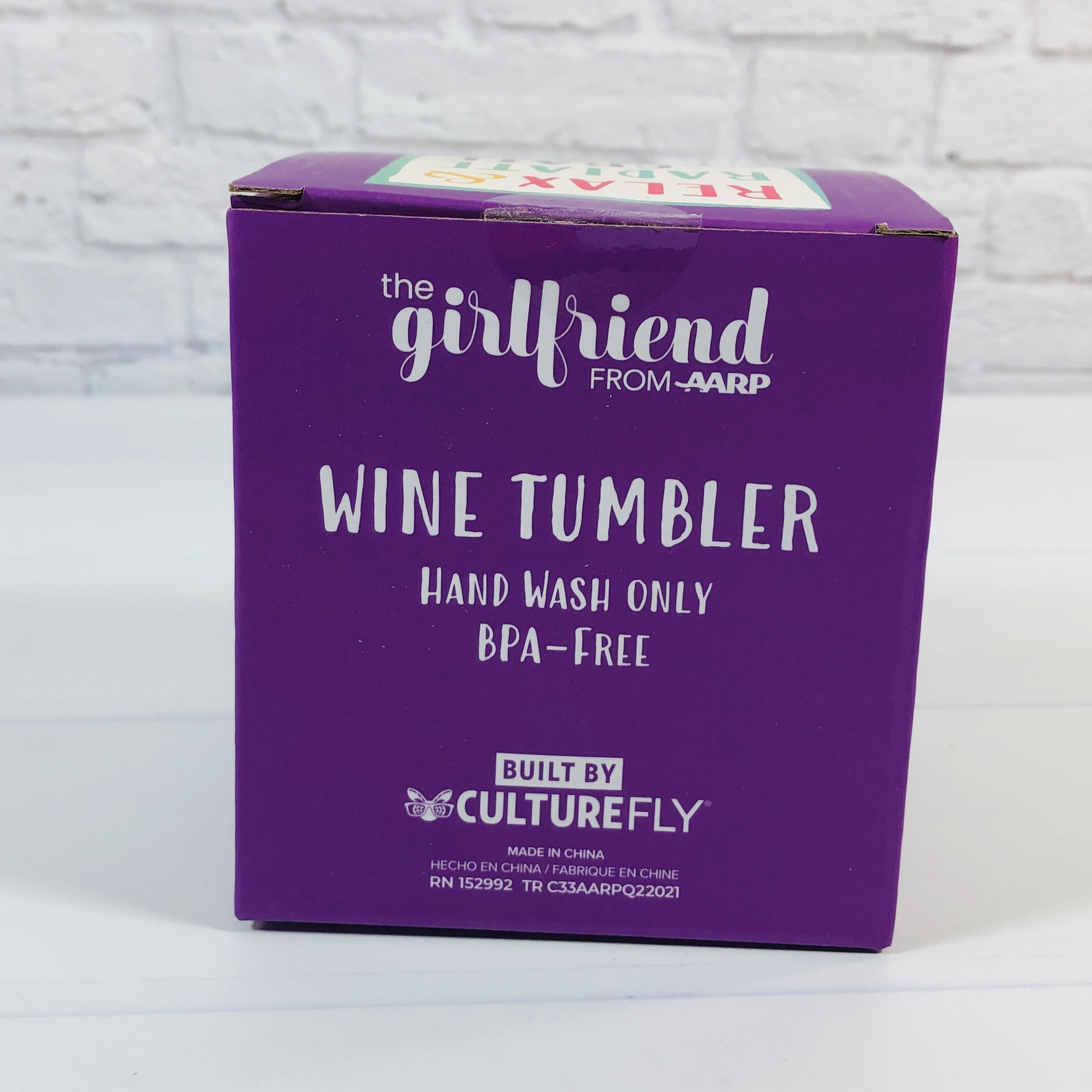 The tumbler is made of BPA-free plastic (acrylic?) and you can drink wine on your back porch and not worry about the glass breaking if you drop it. Well, it might possibly break but at least you won't have glass everywhere.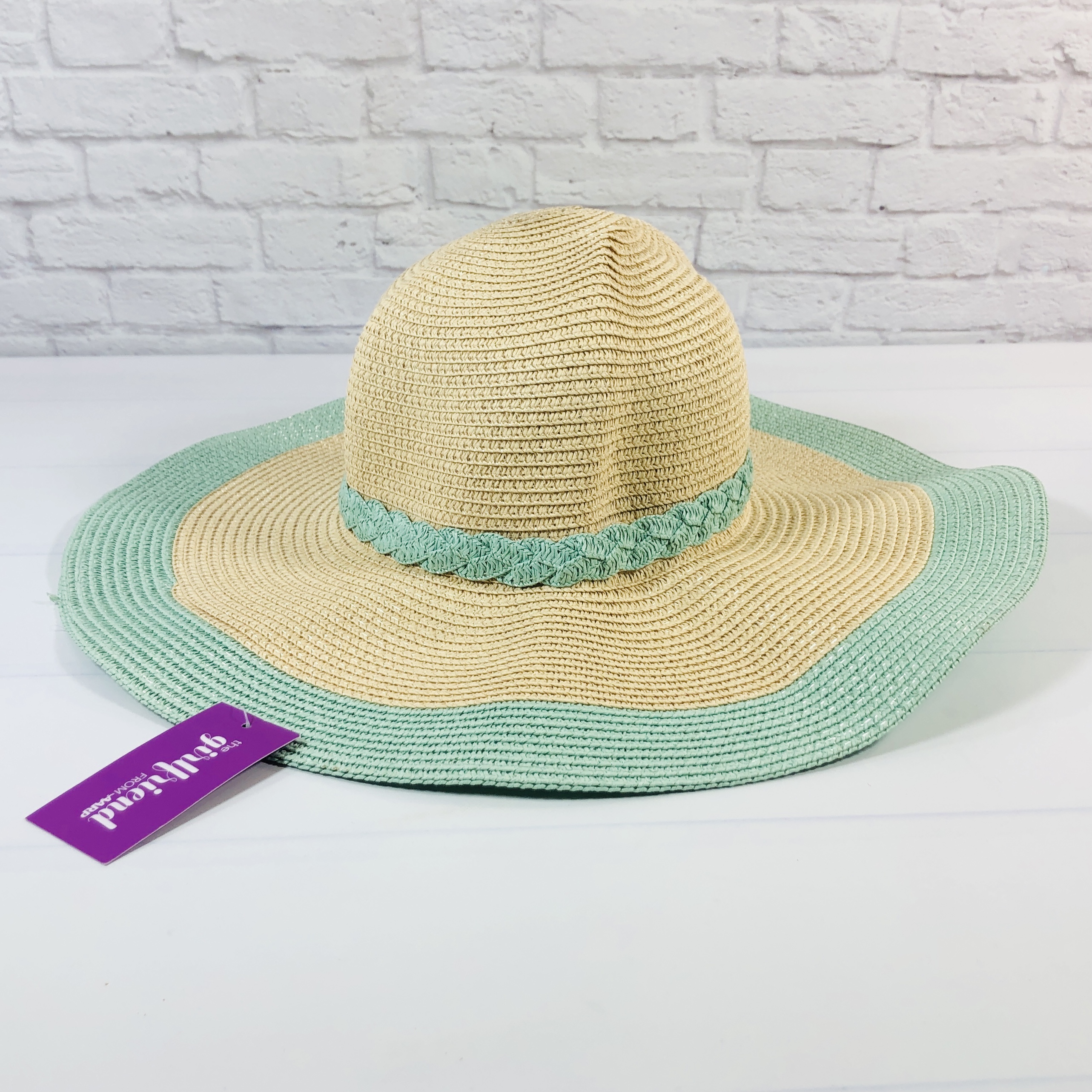 Sun Hat How cute is this sun hat? It has a band that can be unsnapped and twisted around to secure the hat when it is sort of flattened to go into a beach bag or luggage (yep, it's going on vacation with me!).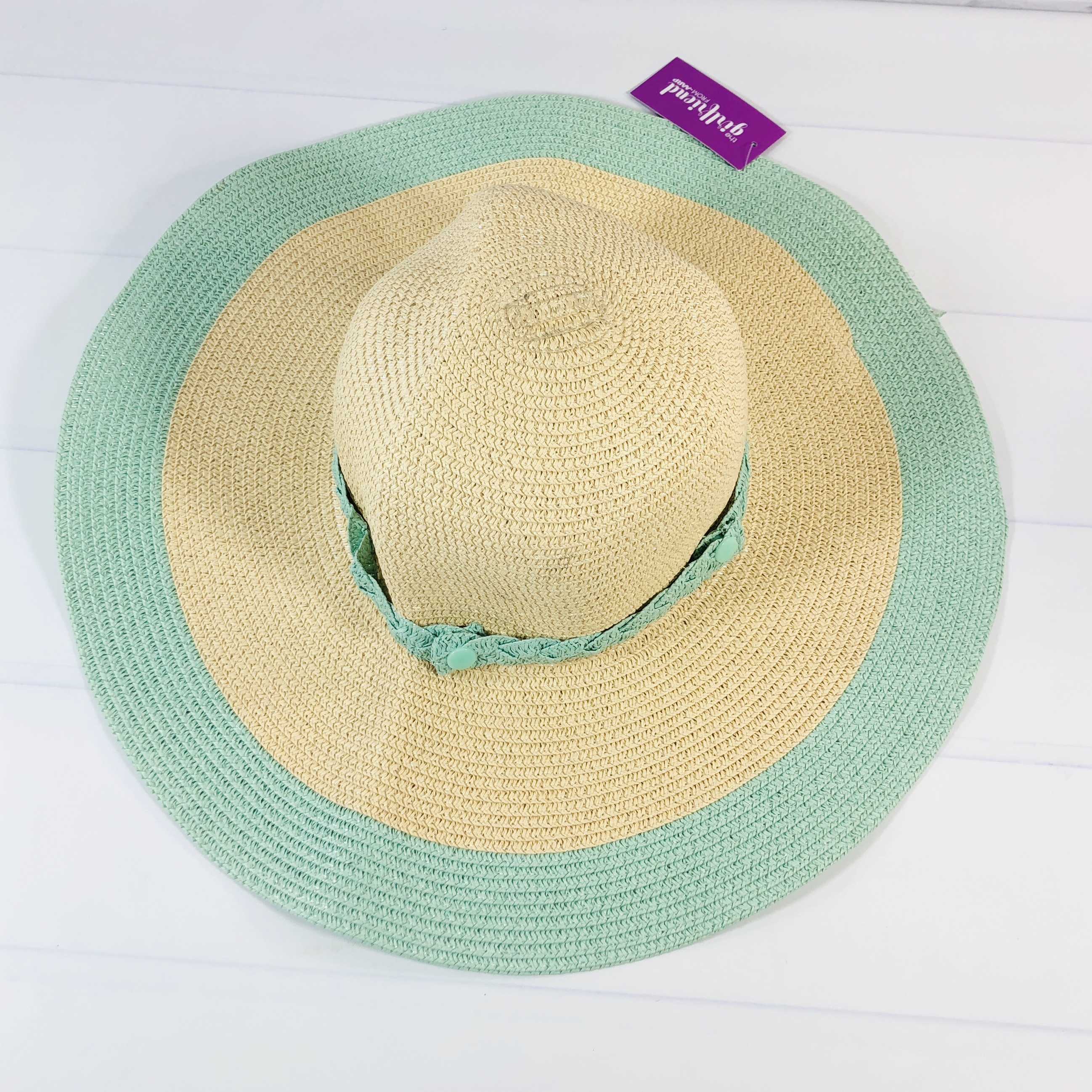 It's made of 80% paper and 20% polypropylene and provides lots of protection from the sun.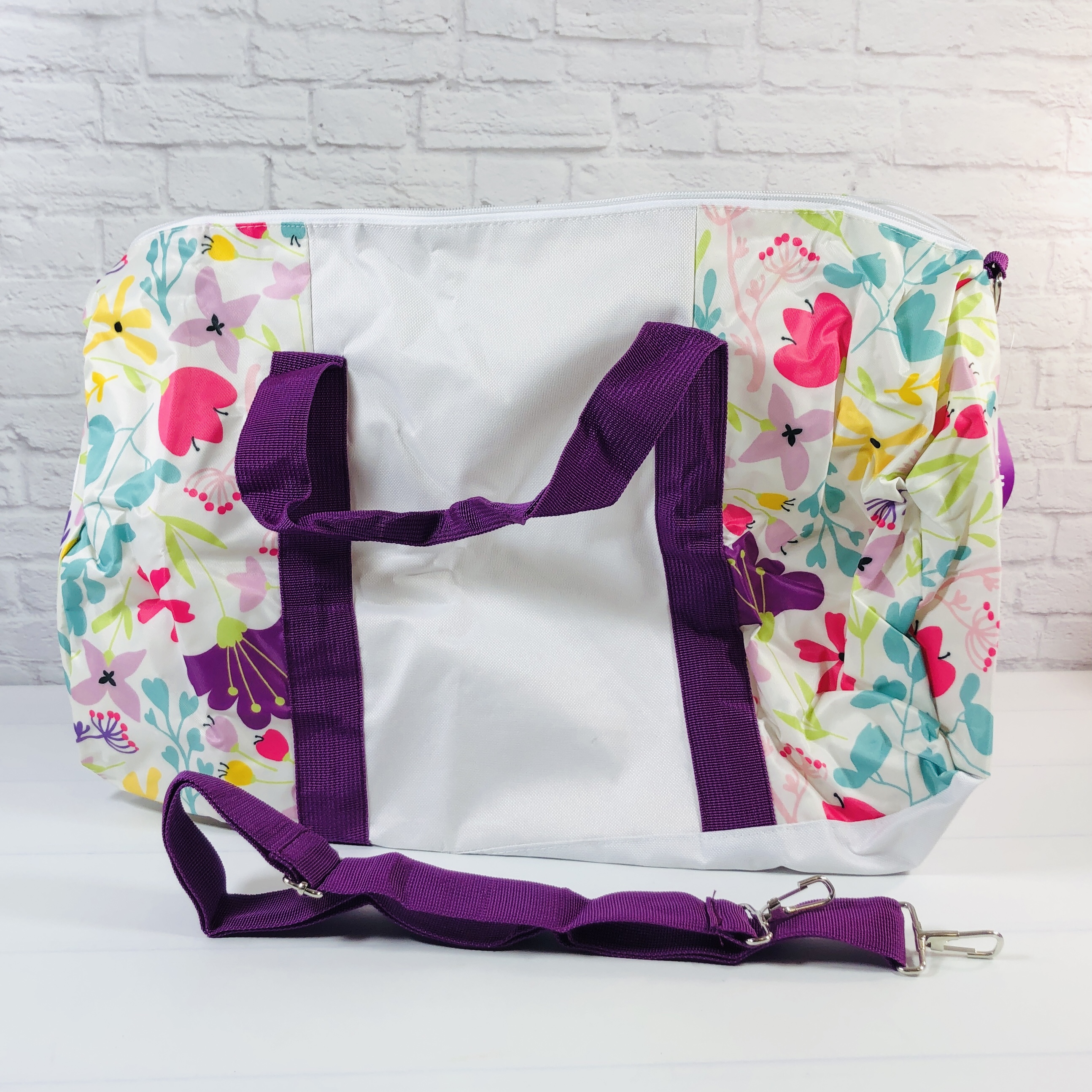 Weekender Bag Can these items get any cuter? I don't think so! This bag has handles and a removable shoulder strap.
One of the sides unzips and you can place a wet bathing suit inside!
Here you can see that bathing suit bag from the inside and it keeps everything else from getting wet.
The strap is adjustable or it can be carried by the handles.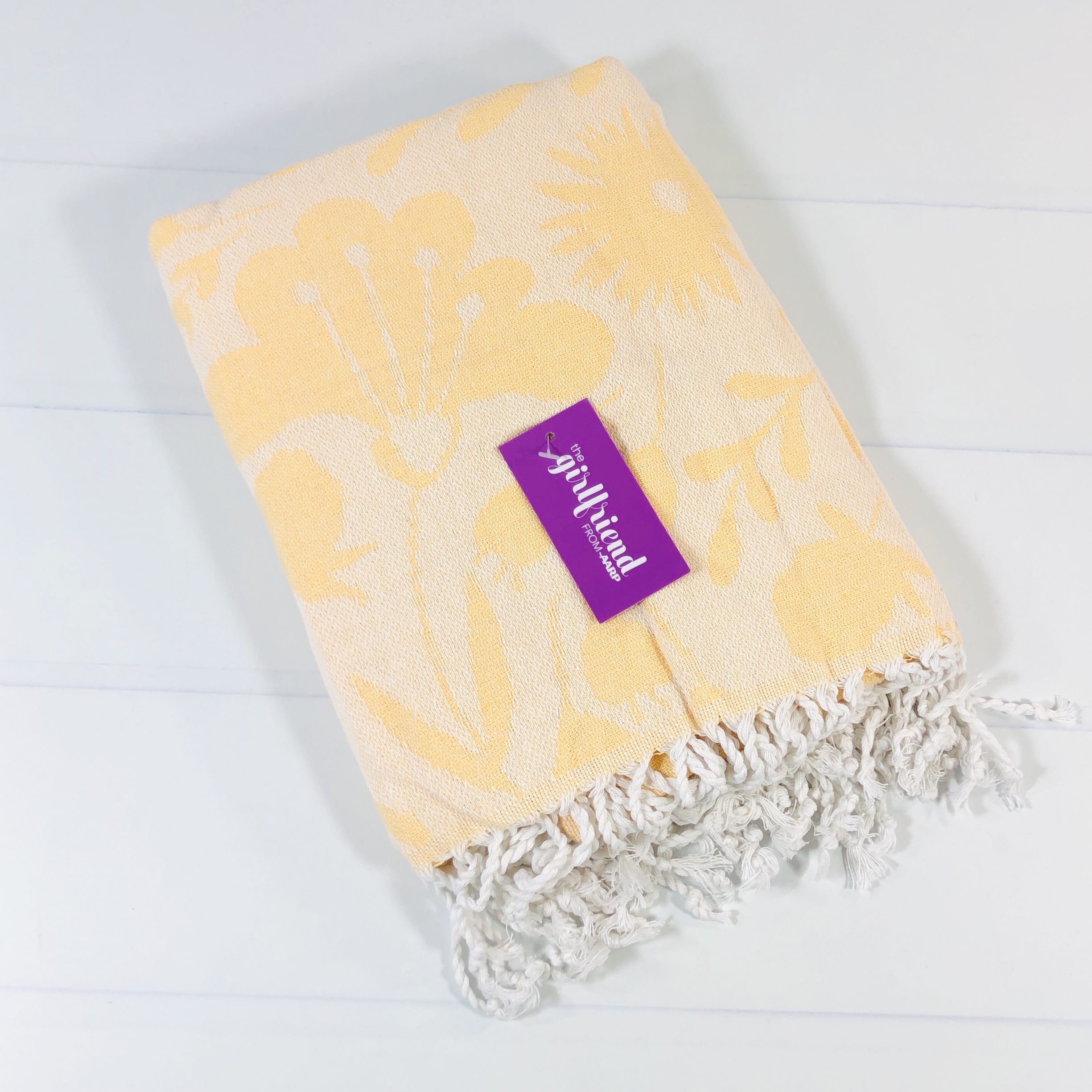 Woven Towel I need a lightweight towel on vacation so this will also go into my luggage.
There's fringe along the edges and the towel is made of 100% cotton. Before washing my towel measured 70″ x 40″ and I would expect there to be some shrinkage.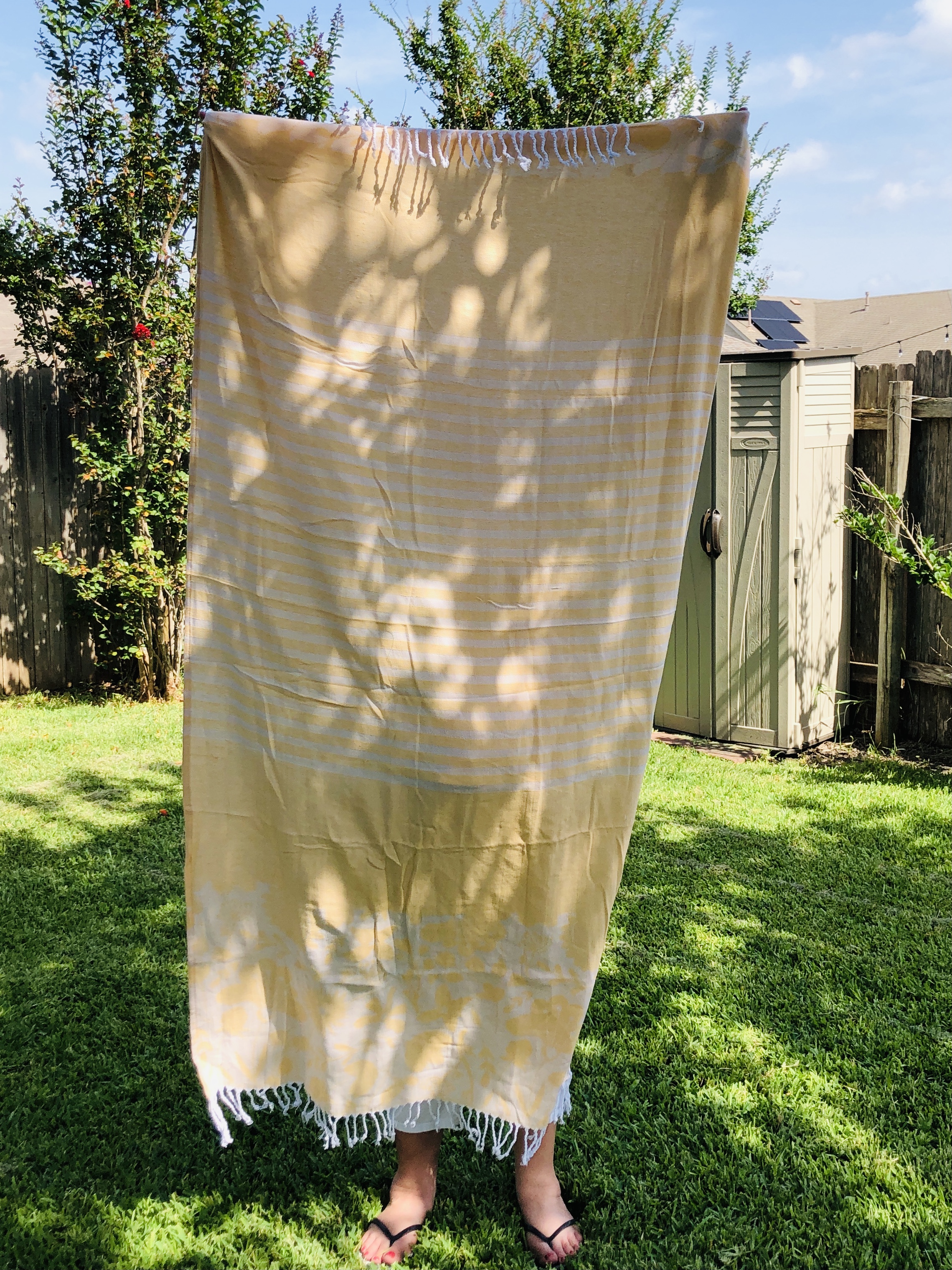 Here I am holding it above my head!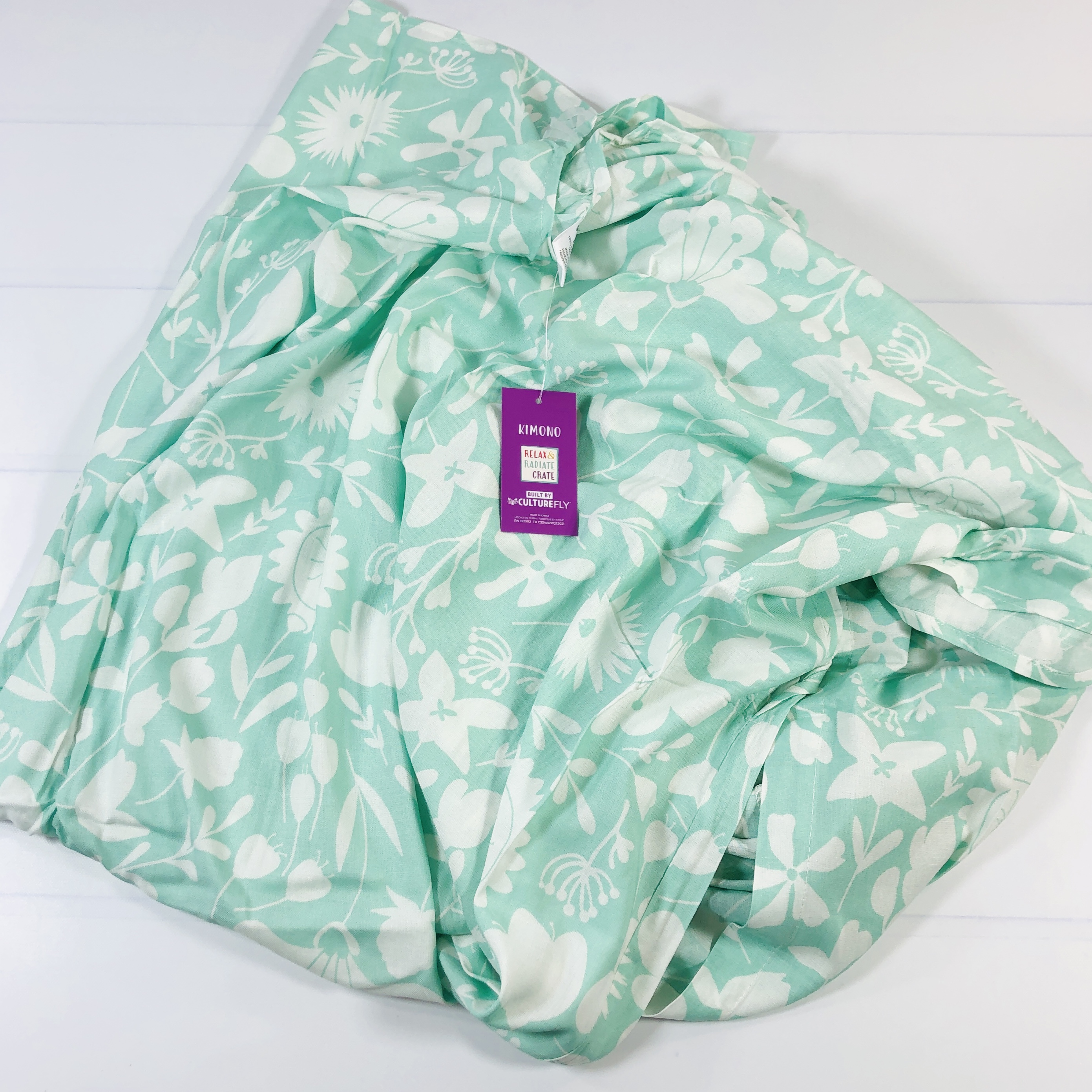 Kimono Swimsuit Coverup Next we have a coverup that could probably be worn with white jeans too.
It's made of rayon and I received size L-XXL (I would guess that there was probably a size XS-M sent to some subscribers).
It's really large but then I guess coverups usually are, otherwise it would be a top.
Here's the back!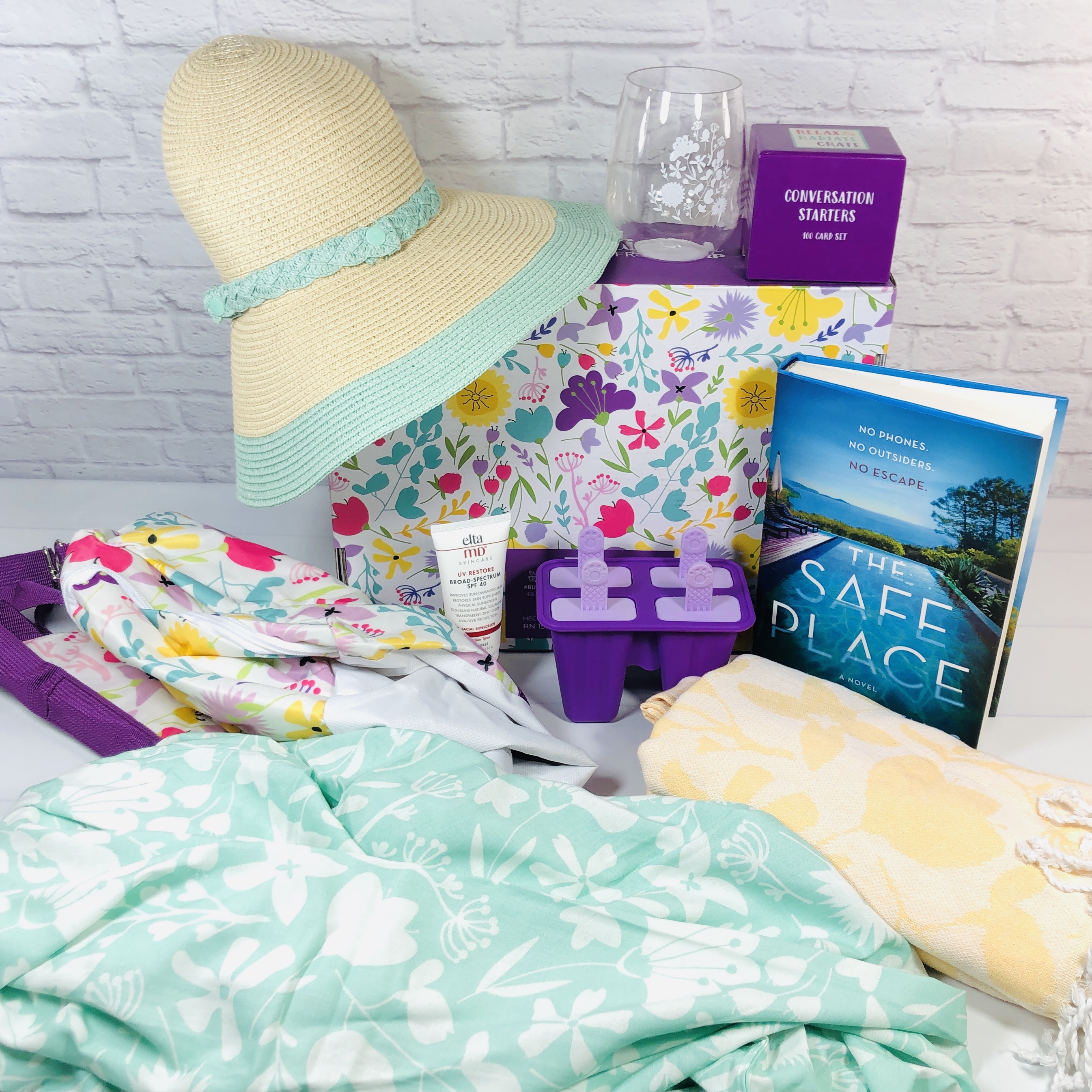 I was super excited about my Summer 2021 Relax & Radiate Crate, I think it was my favorite one so far! The pieces this season worked well for me and I even loved the colors — mint is a favorite shade of mine and it was in both the hat and coverup. The bag had a bolder color palette and print and I am loving that too. The yellow towel is similar to another one I already own so I feel like I have an (almost) matching pair. The sunscreen will get used, as will the scrub, and my daughter is excited to use the popsicle molds. I can't wait to dive into the book too!
What do you think of the Relax & Radiate Crate Summer 2021 review?