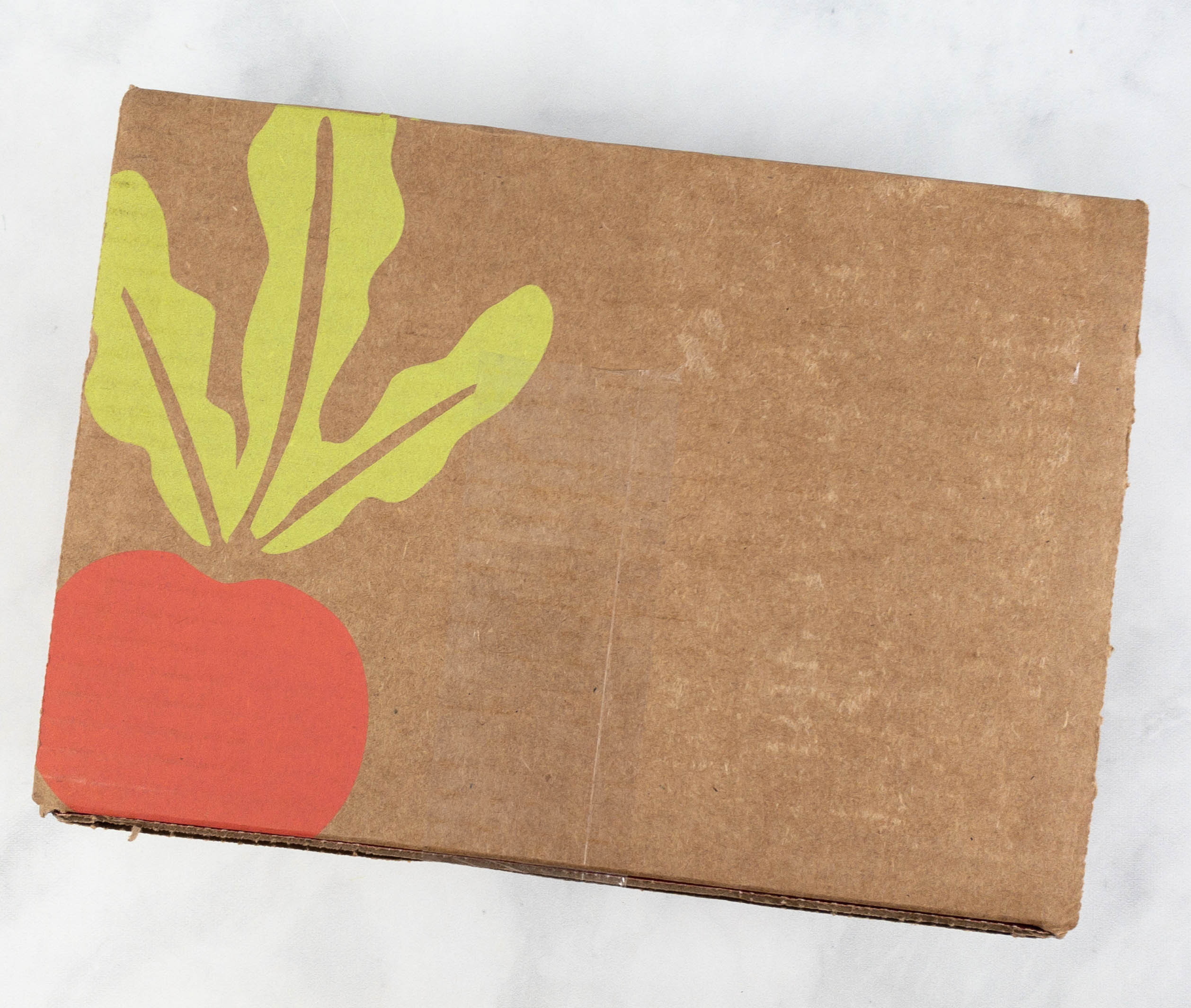 Raddish is a monthly kids' activity box centering around food and cooking! Designed for kids 4 to 14+, each themed box will include 3 illustrated recipe guides, 3 culinary skill cards, a creative kitchen project, kid-friendly tools and collectibles such as Table Talk cards, a culinary tool, and an iron-on Raddish patch. Themes range from Seasonal Spotlights to Global Cuisine and Creative Cookery to Holiday Celebrations. Although the ingredients are not included, they email you a shopping list for each month's recipes before your kit is shipped. Raddish made the list in our 2020 and 2021 readers' choice picks of best subscription boxes for kids!
DEALS:
Get $15 off when you sign up for a 6 month subscription! Just use this link and use the coupon code ATHOME at checkout.
Get $20 off when you sign up for a 12 month subscription! Just use this link and use the coupon code CHEF20 at checkout.
PLUS Get a FREE apron with your first box when you sign up for a 6+ month subscription!
This kids cooking club offers a monthly membership for $24/month, a 6-month membership for an upfront payment of $132 ($22/month), and a 12-month membership for an upfront payment of $240 ($20/month). For those who are getting the 6 and 12-month memberships, expect a free apron in your box.
All the items were neatly packed in the box.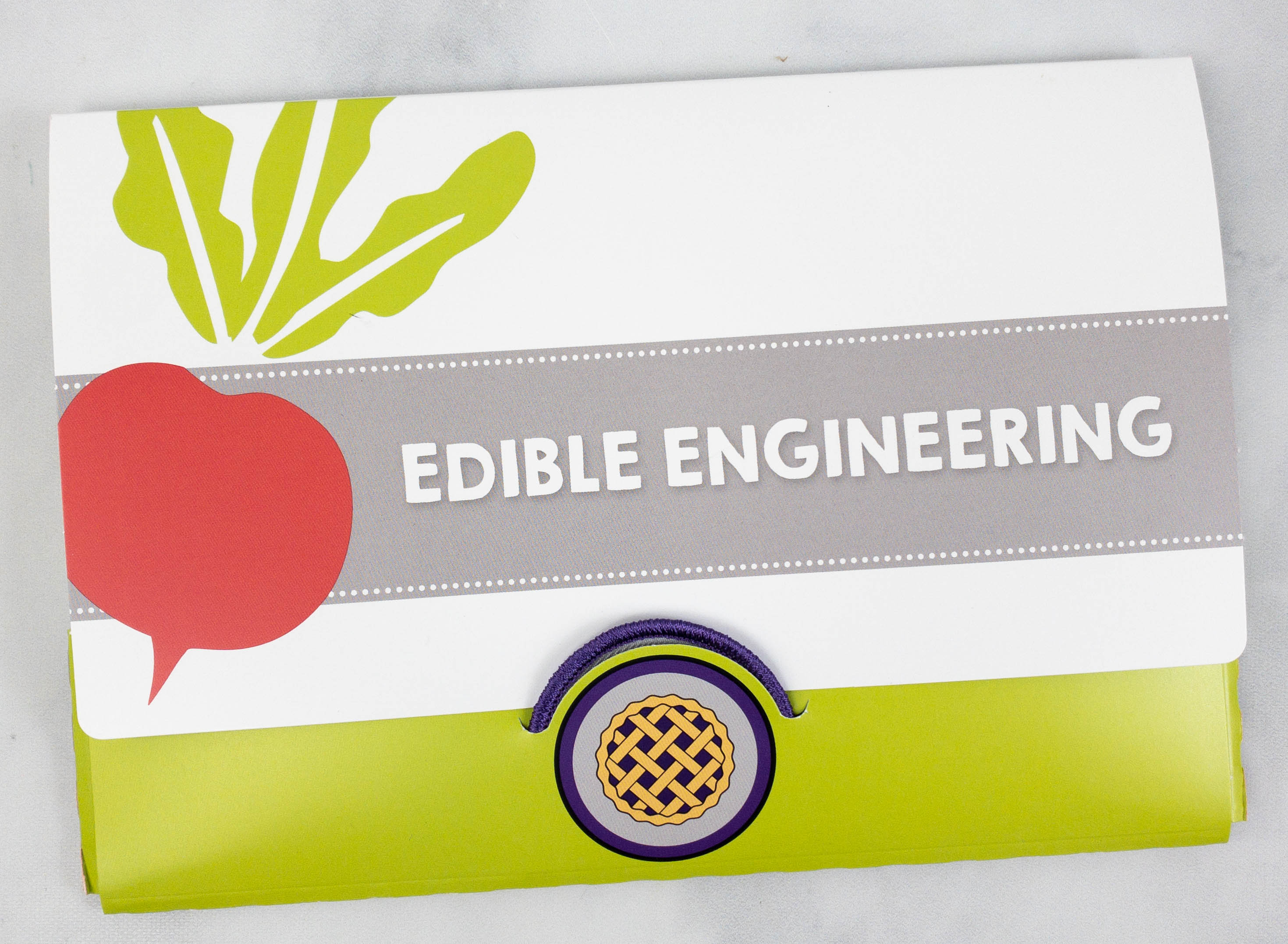 This month's theme is EDIBLE ENGINEERING! Inside the envelope are small cards containing some culinary skill lessons and guides with fun and exciting activities.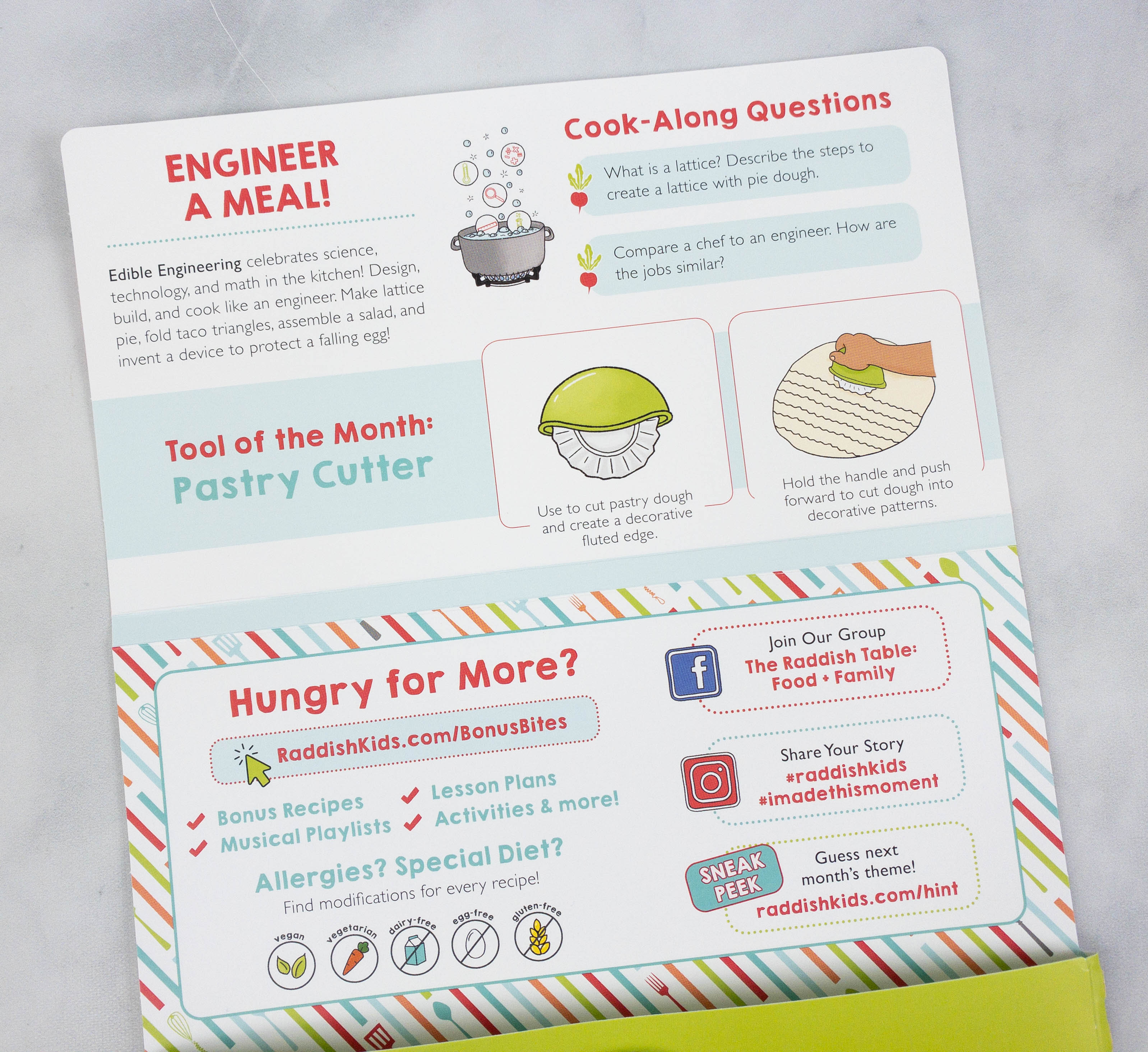 They also have bonus content on their website, called Bonus Bites, which includes a Spotify playlist that the kids can listen to while cooking, dietary modifications for the recipes in the box, and even lesson plans to accompany the kit.
This card contains all the information you need to know about this month's box.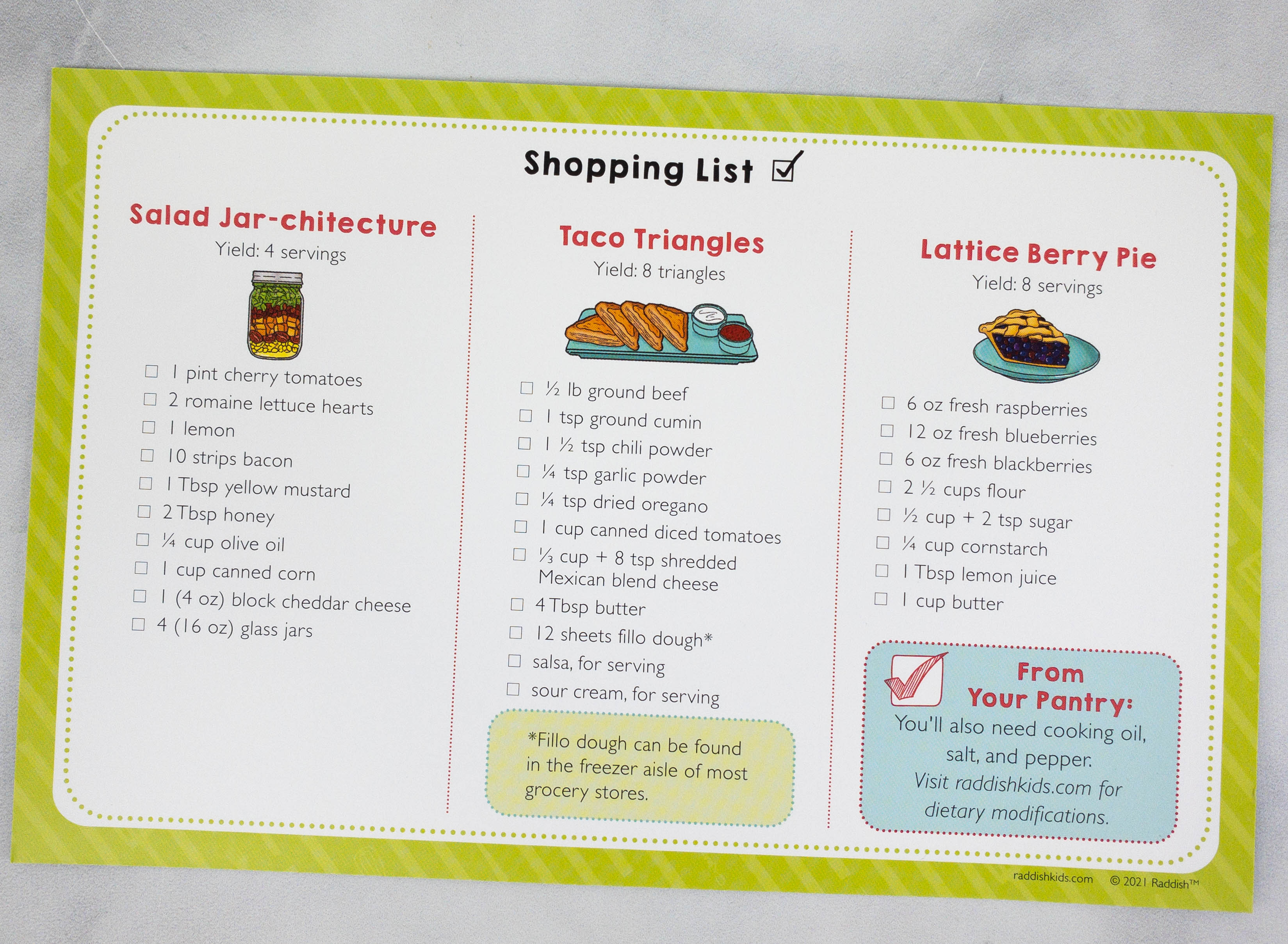 The back of the card provides a complete grocery list for all the featured recipes this month. The recipes are Salad Jar-chitecture, Taco Triangles, and Lattice Berry Pie.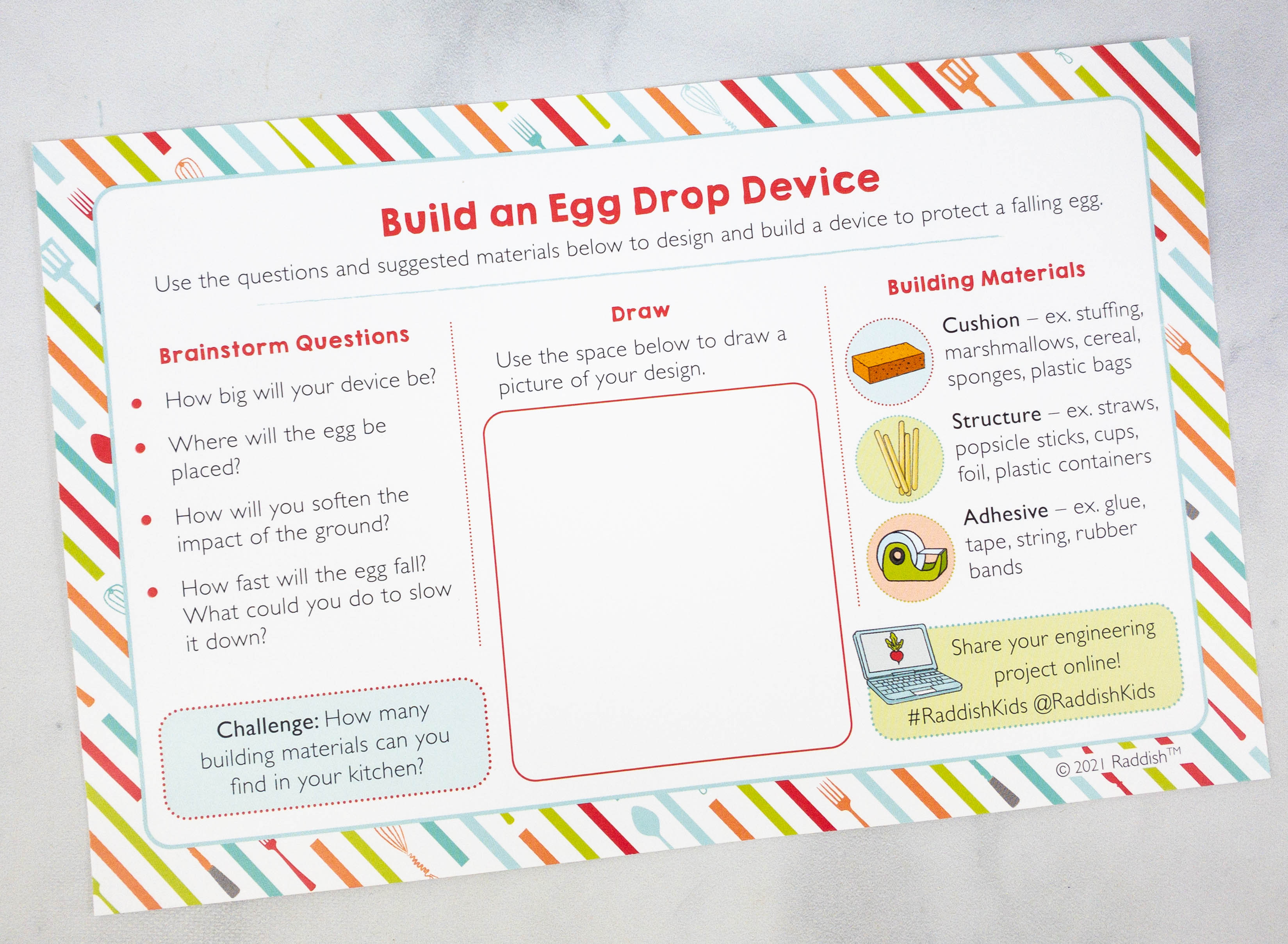 There's also a card that features instructions on how to build an egg drop device!
Meanwhile, this card has more information about the egg drop challenge!
There's also a word-building activity!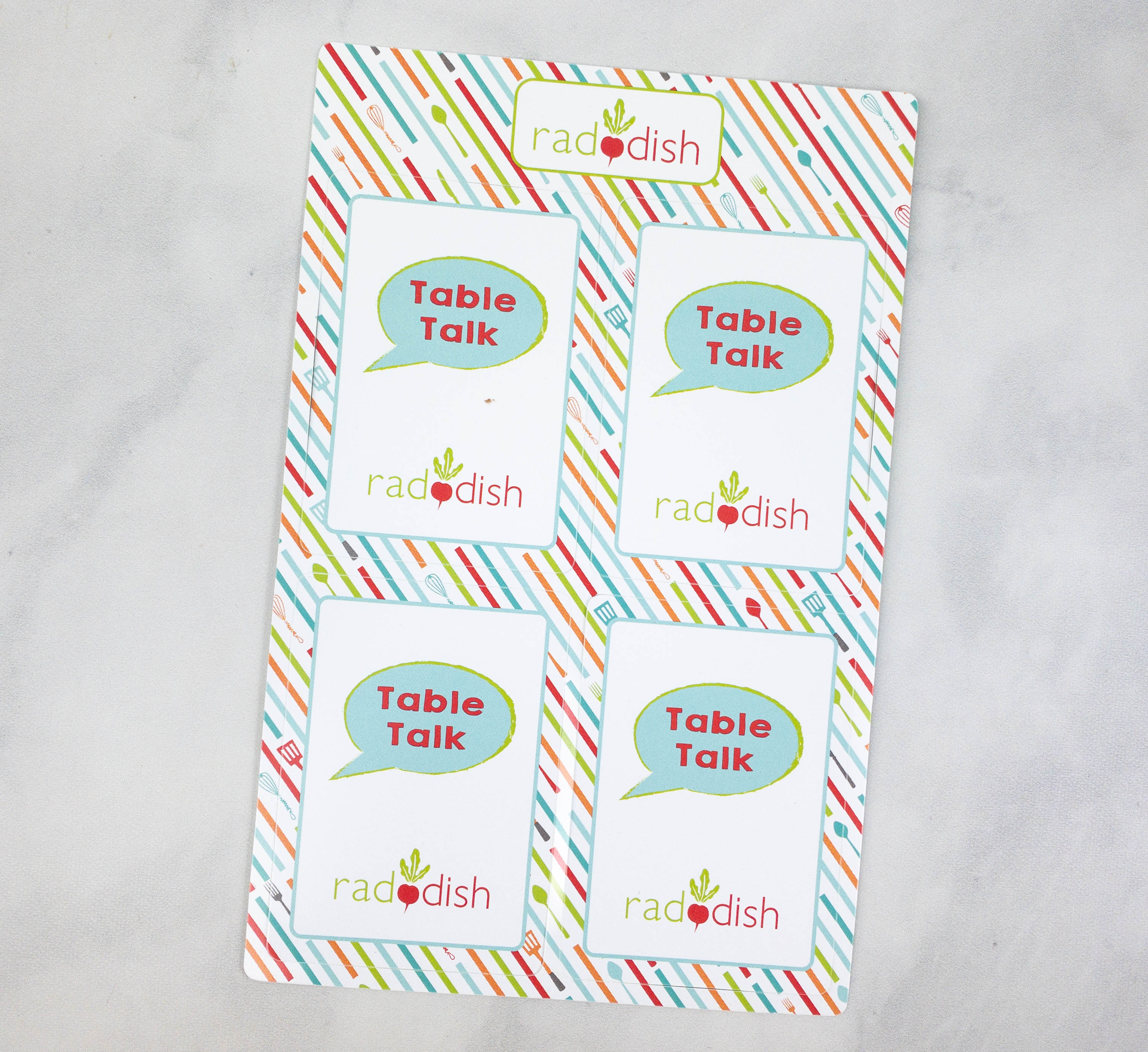 Each box also includes exclusive Table Talk conversation starter cards.
The cards contain questions for a great table talk conversation. They come in a sheet and you can easily tear them down.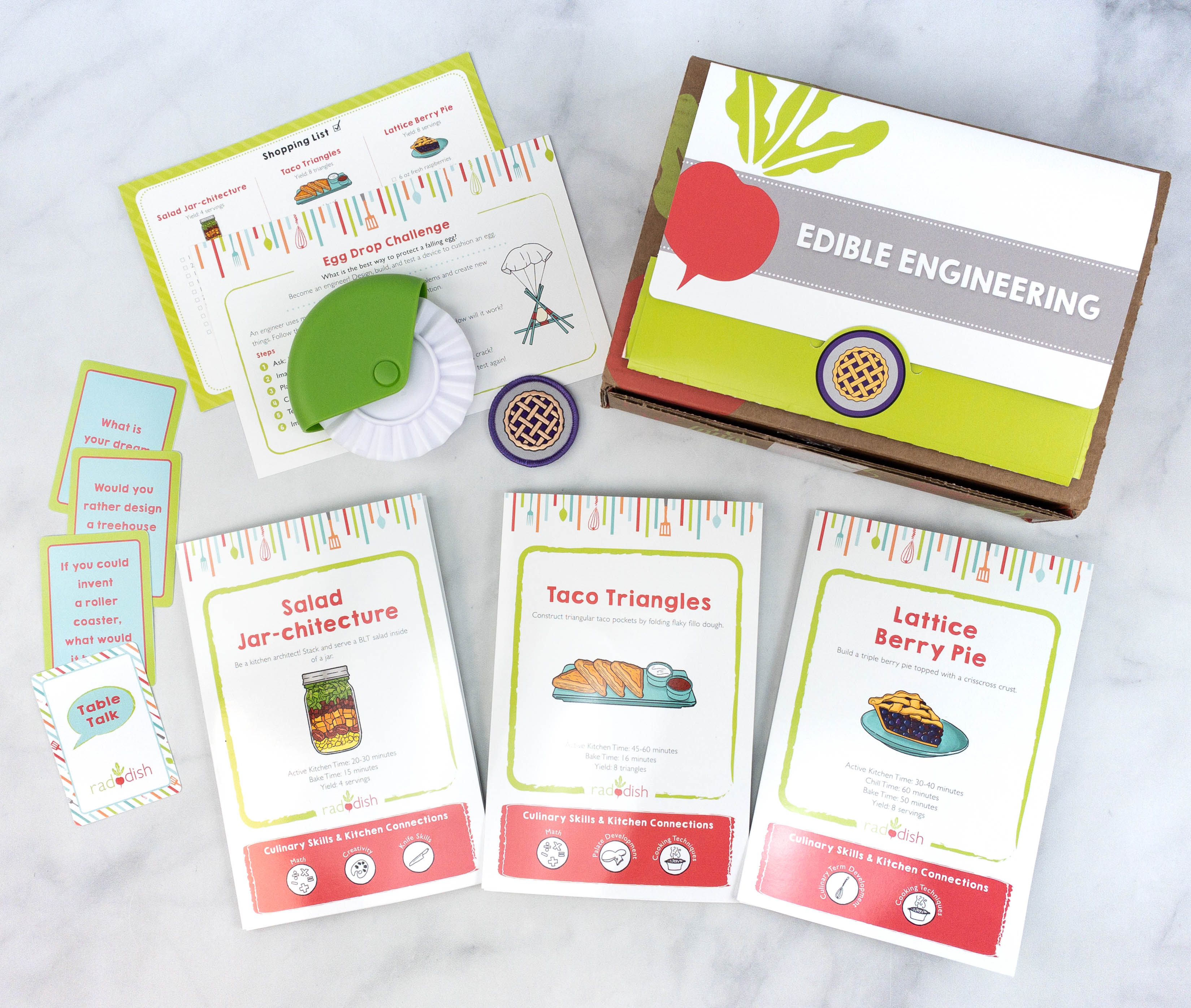 Everything in our June 2021 box!
The patch represents this month's theme! It features a Lattice Berry Pie on a purple background.
This month's featured tool is a plastic dough cutter with zigzag edges.
Here are this month's recipe guides!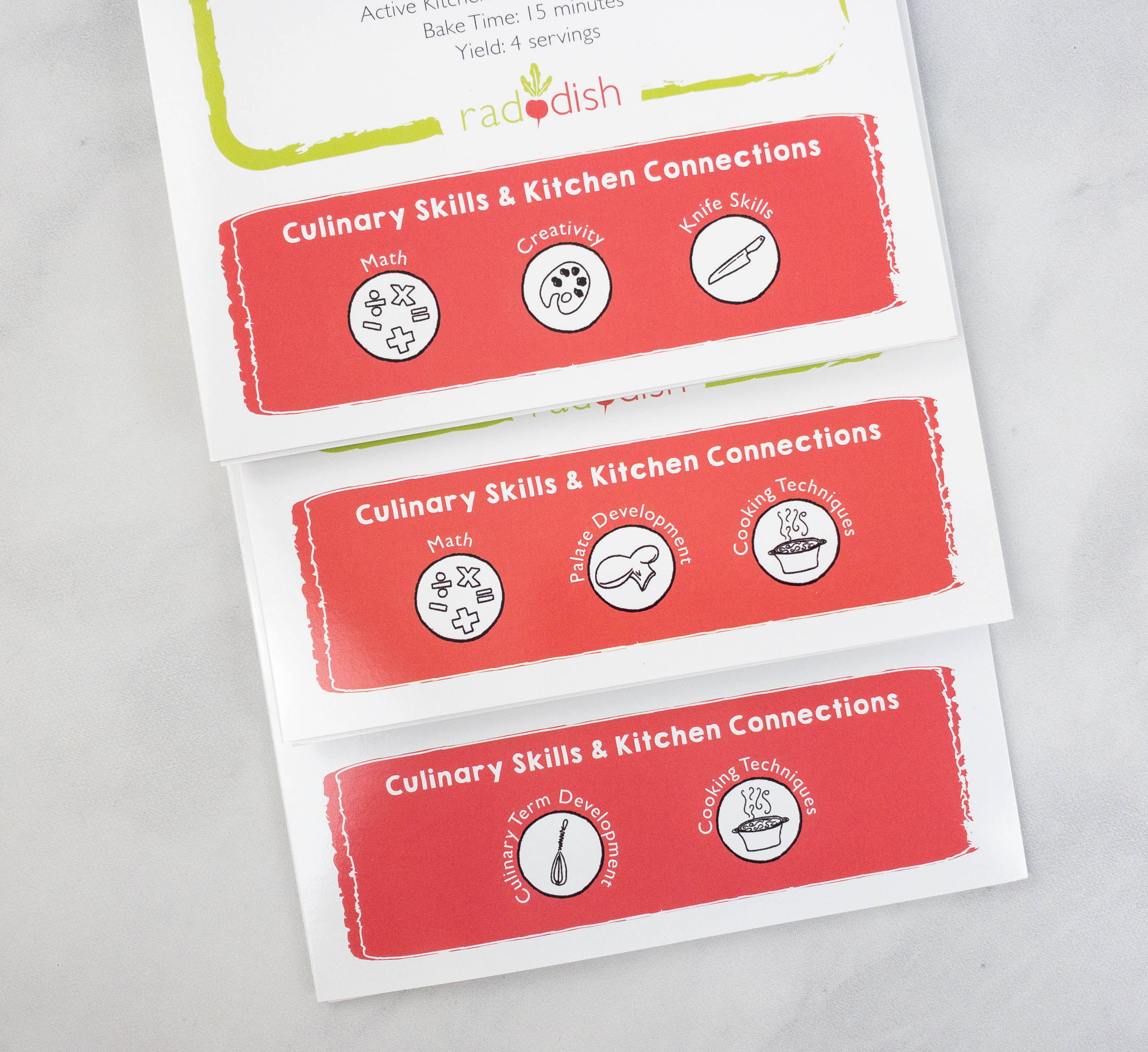 Each recipe has corresponding culinary skills and kitchen connections.
Salad Jar-chitecture. The first recipe is a stack and serve salad in a jar called Salad Jar-chitecture!
Active Kitchen Time: 20-30 minutes

Bake Time: 15 minutes

Yield: 4 servings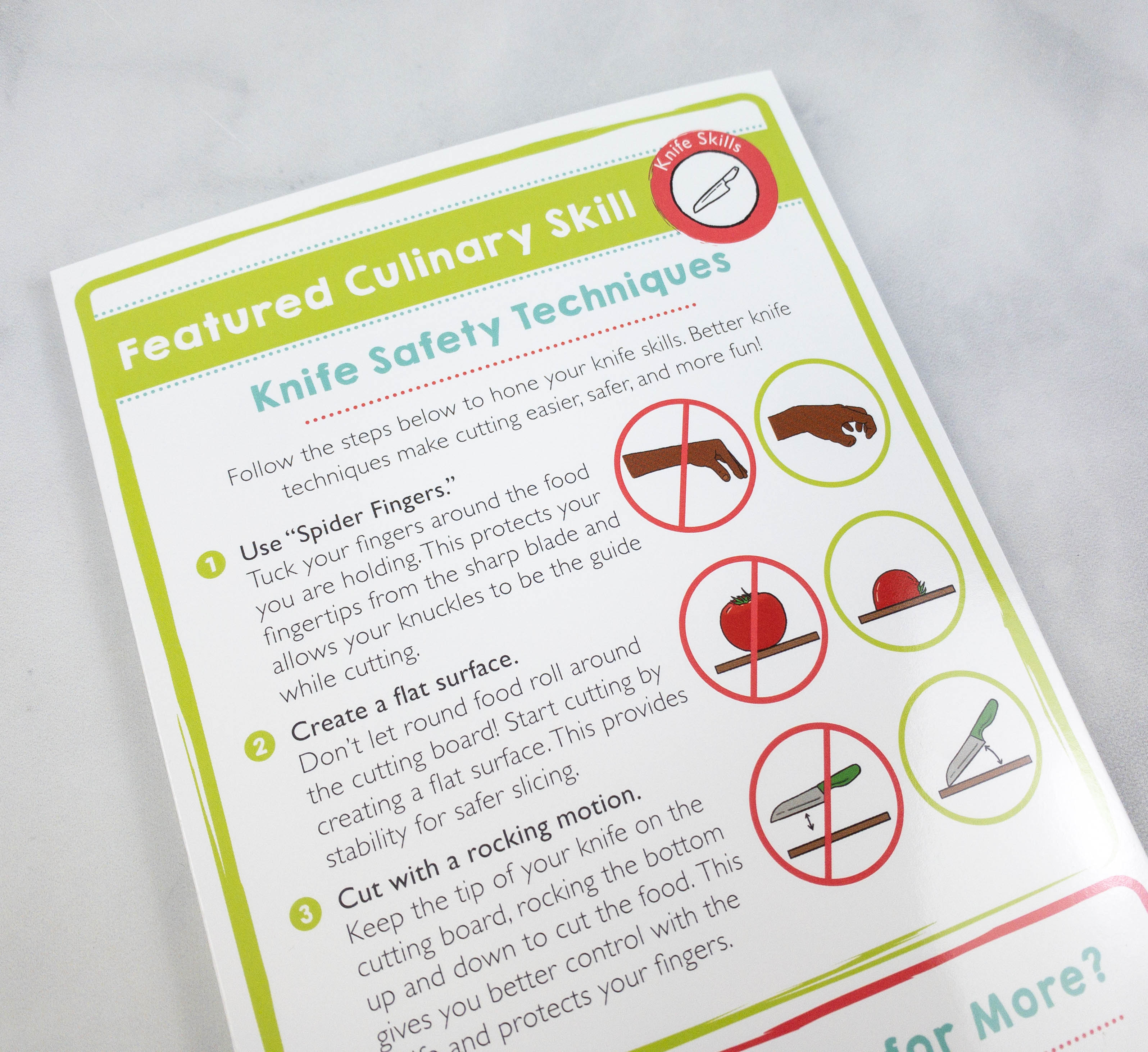 In this recipe, kids get to learn more about proper knife handling. The guide also provided some safety techniques, including using "spider fingers," creating a flat surface, and cutting with a rocking motion.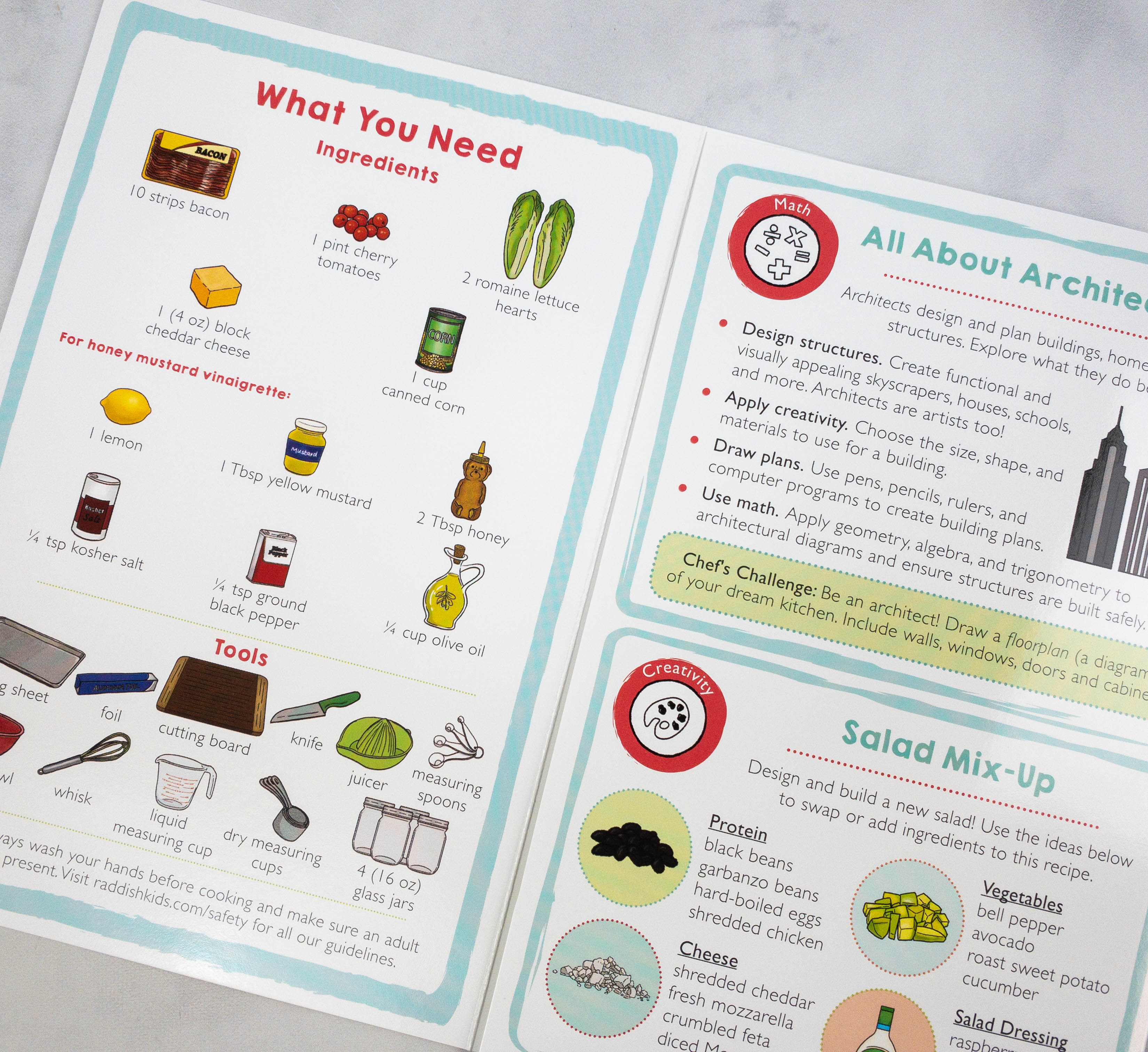 Inside the booklet, they listed all the ingredients and the tools needed for the recipe. They also included some facts about architecture!
The ingredients include bacon, cherry tomatoes, Romaine lettuce hearts, cheddar cheese, canned corn, lemon, yellow mustard, honey, kosher salt, ground black pepper, and olive oil.
Each step in the recipe is accompanied by an illustration to make it easier for kids to follow. This recipe involves baking as well, which needs adult supervision.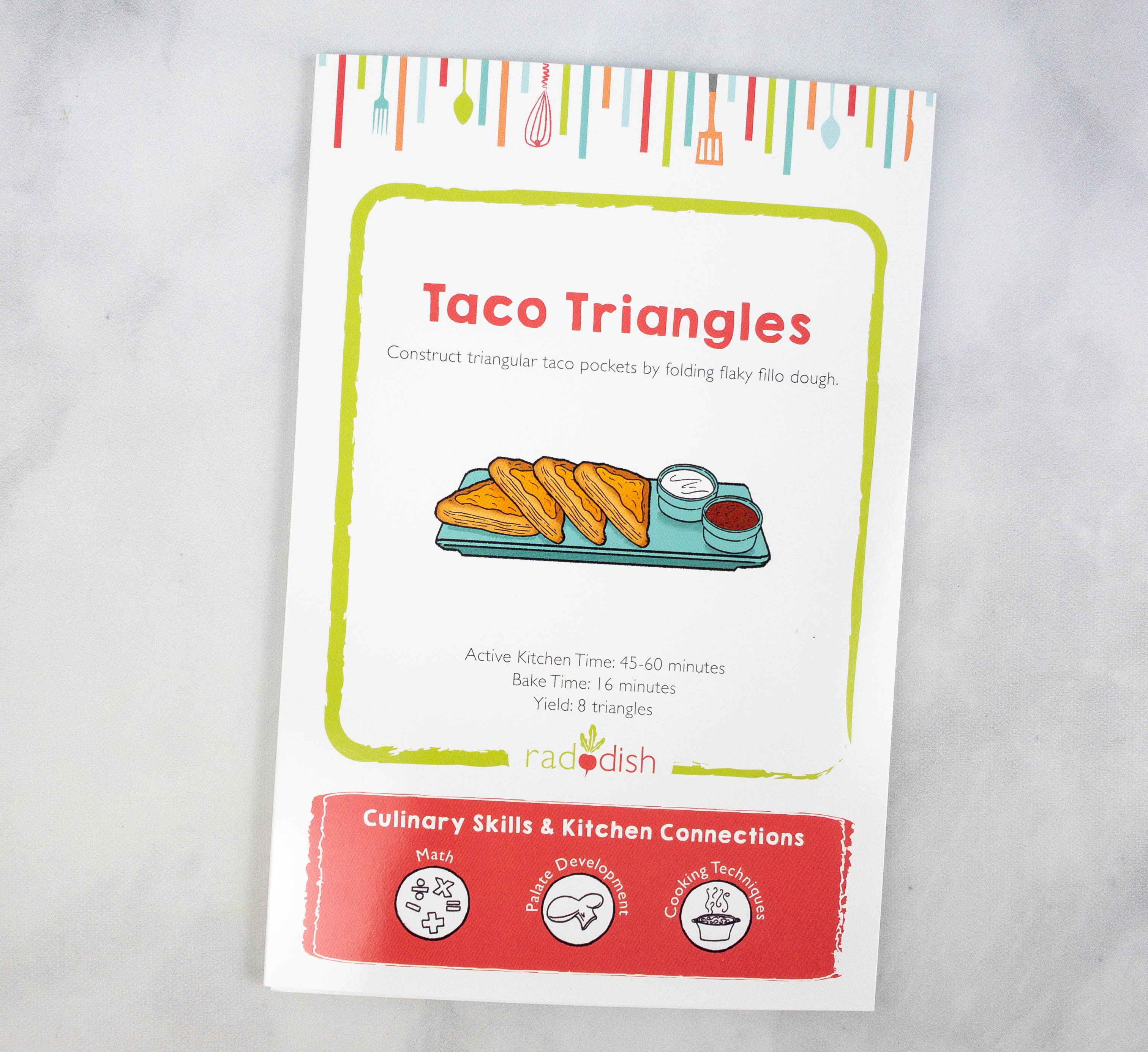 Taco Triangles. The next dish is a delicious snack! They're taco pockets made with fillo dough.
Active Kitchen Time: 45-60 minutes

Bake Time: 16 minutes

Yield: 8 triangles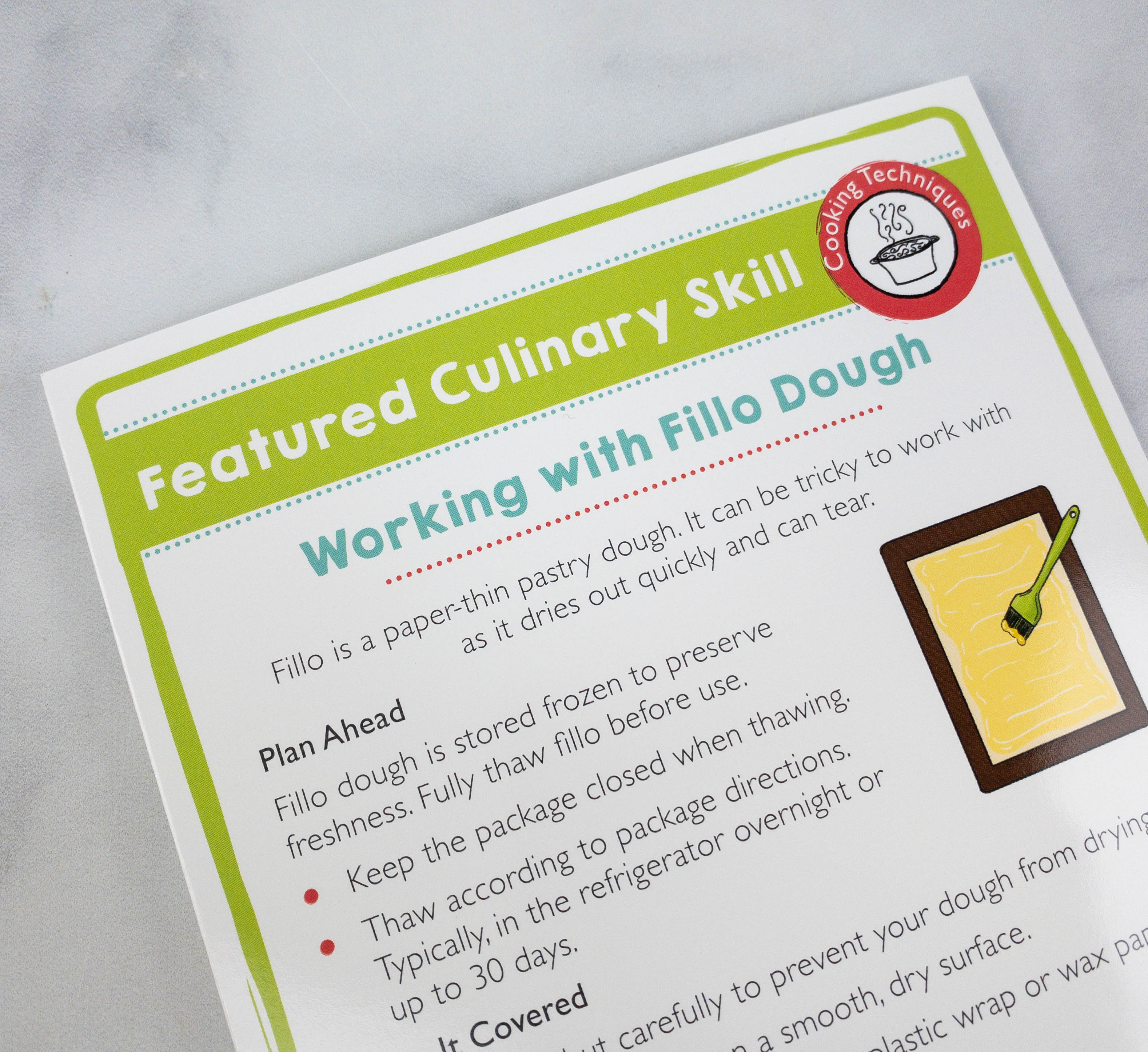 Here, kids get to experience working with fillo dough. The guide included tips to make things easier! For those who are not familiar, fillo is a thin dough usually stored frozen to keep it fresh.
Aside from the ingredient list, they included a fun activity in the guide. There's also an extra recipe for salsa to go with the taco triangles.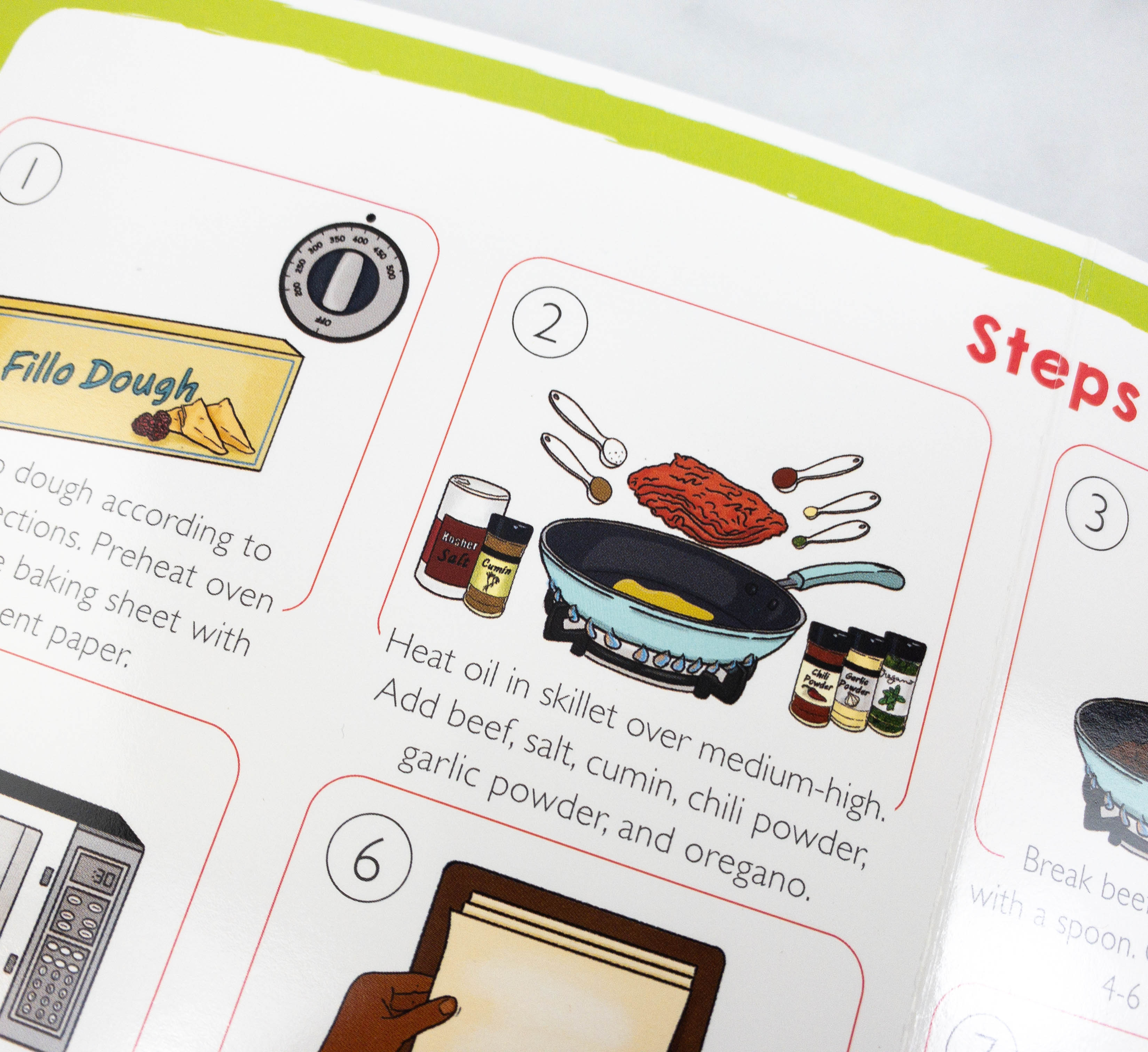 Like the first recipe, this also has a step-by-step instruction guide that kids can easily follow.
My kids started by pre-heating the oven, as suggested by the guide. Then, with adult supervision, they mixed the beef, salt, cumin, chili powder, garlic powder, and oregano in a skillet over medium heat until it is fully cooked.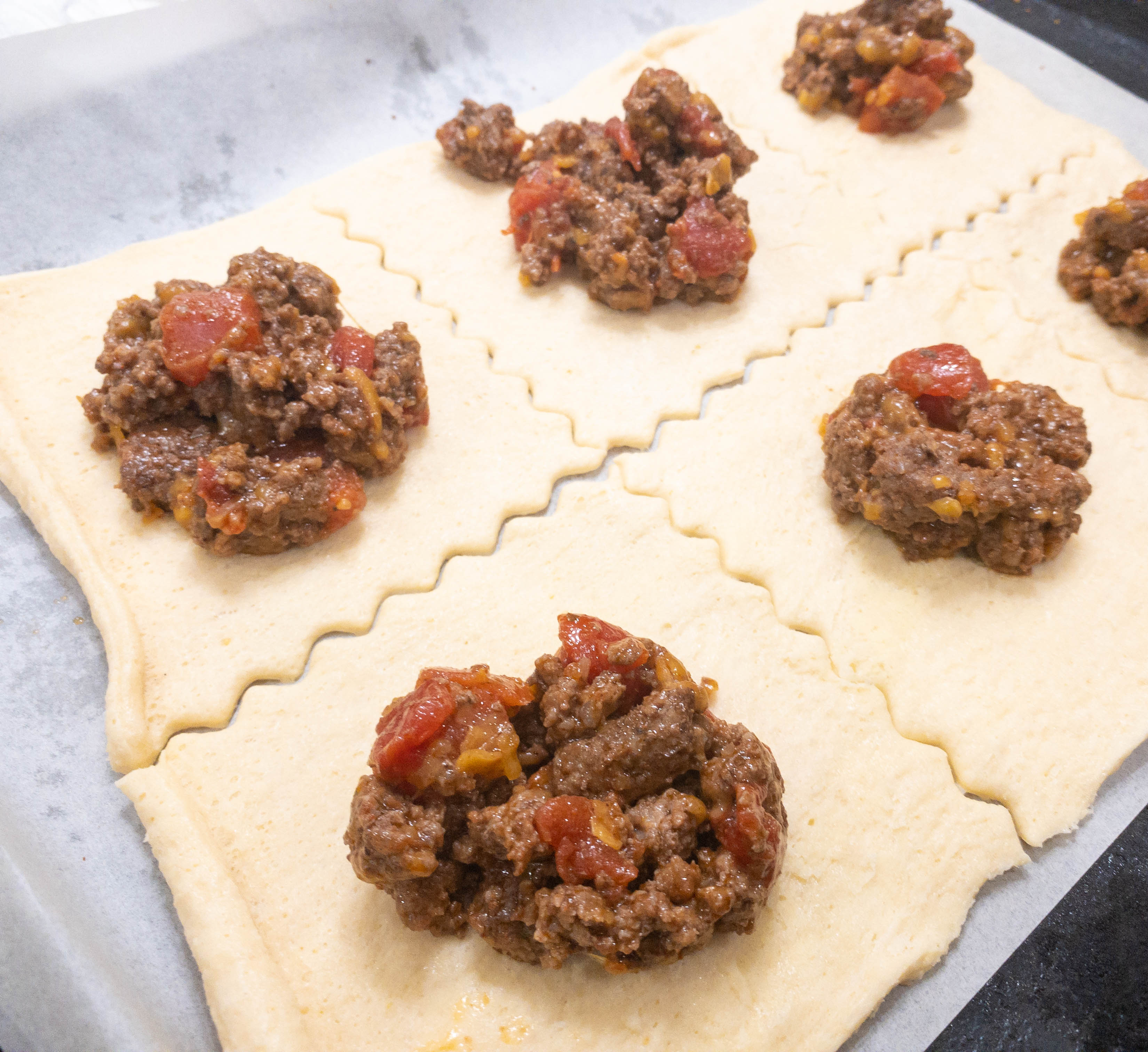 After cooking the beef, my kids cut the dough using the dough cutter included in the box and added a spoonful of the filling on the middle of each square. They learned how to handle the dough carefully. We substituted Pillsbury sheets for the phyllo dough.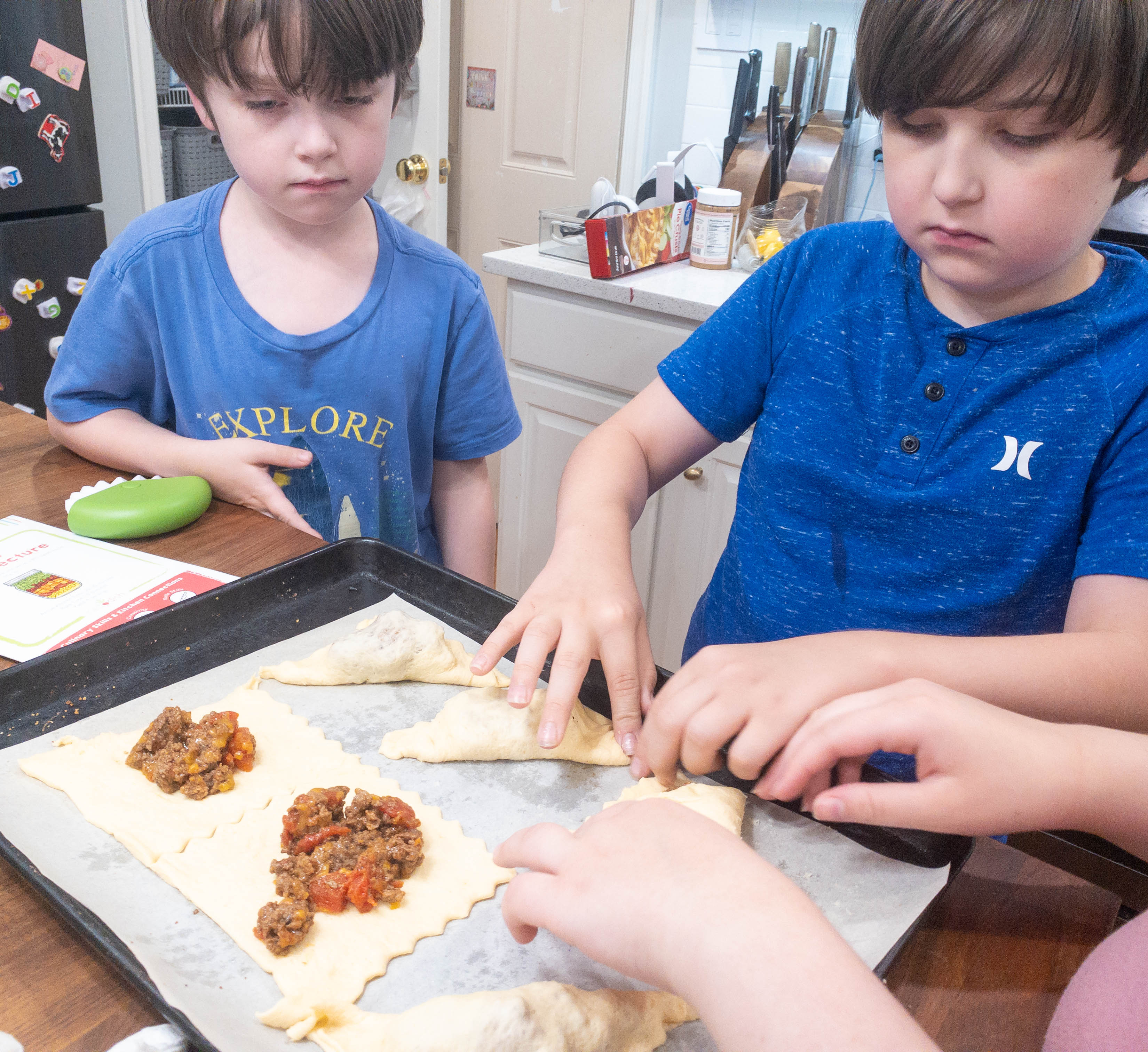 Fold the dough to form triangular pockets is also easy peasy for them! Once everything is nice and folded, they popped the tacos in the oven for 16 minutes.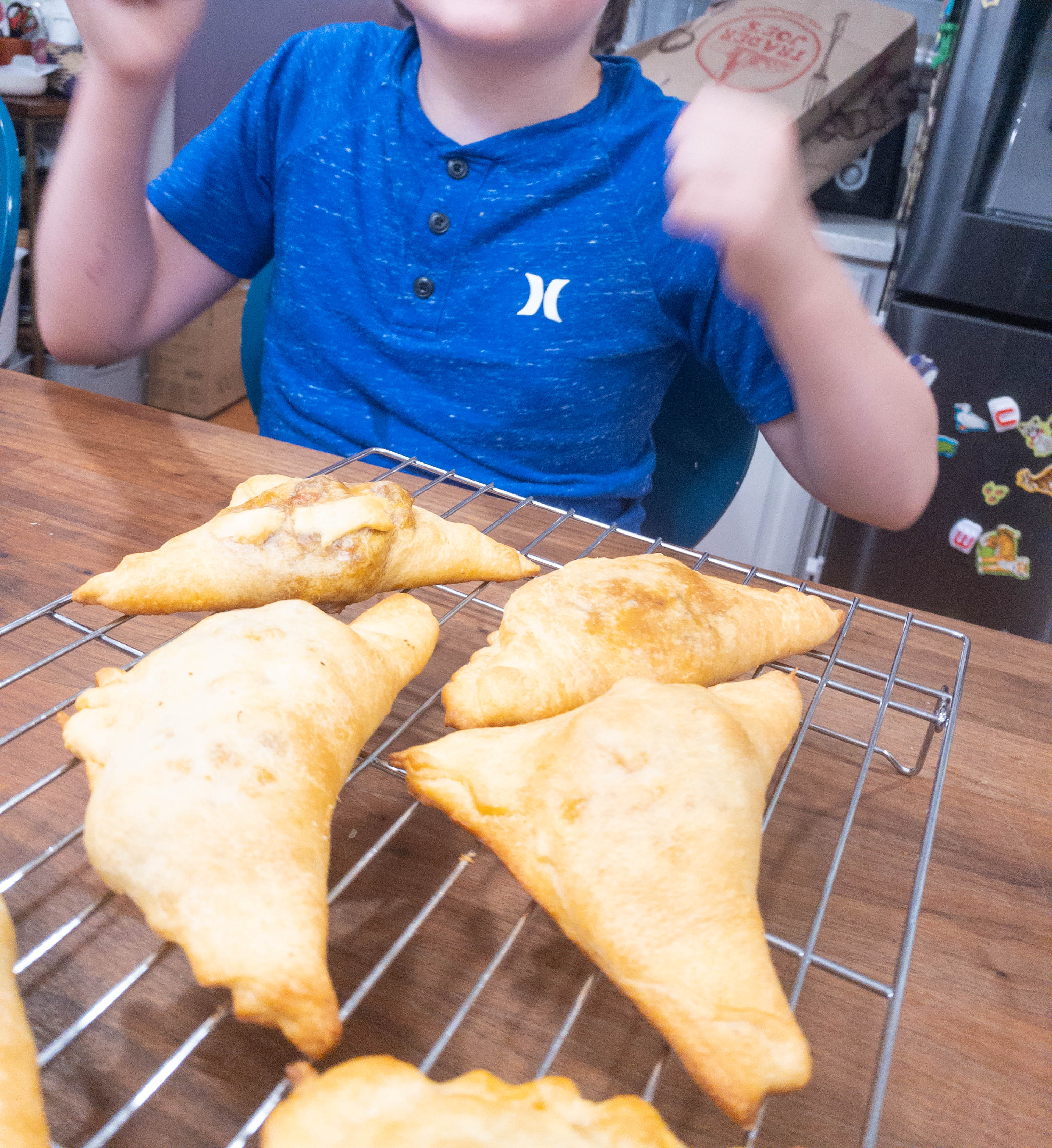 After baking, my kids placed them on a rack to cool down before transferring them into a plate. They're already familiar with this process because they learned it from past boxes that involved baking!
Here's what the finished product looks like! It's super yummy!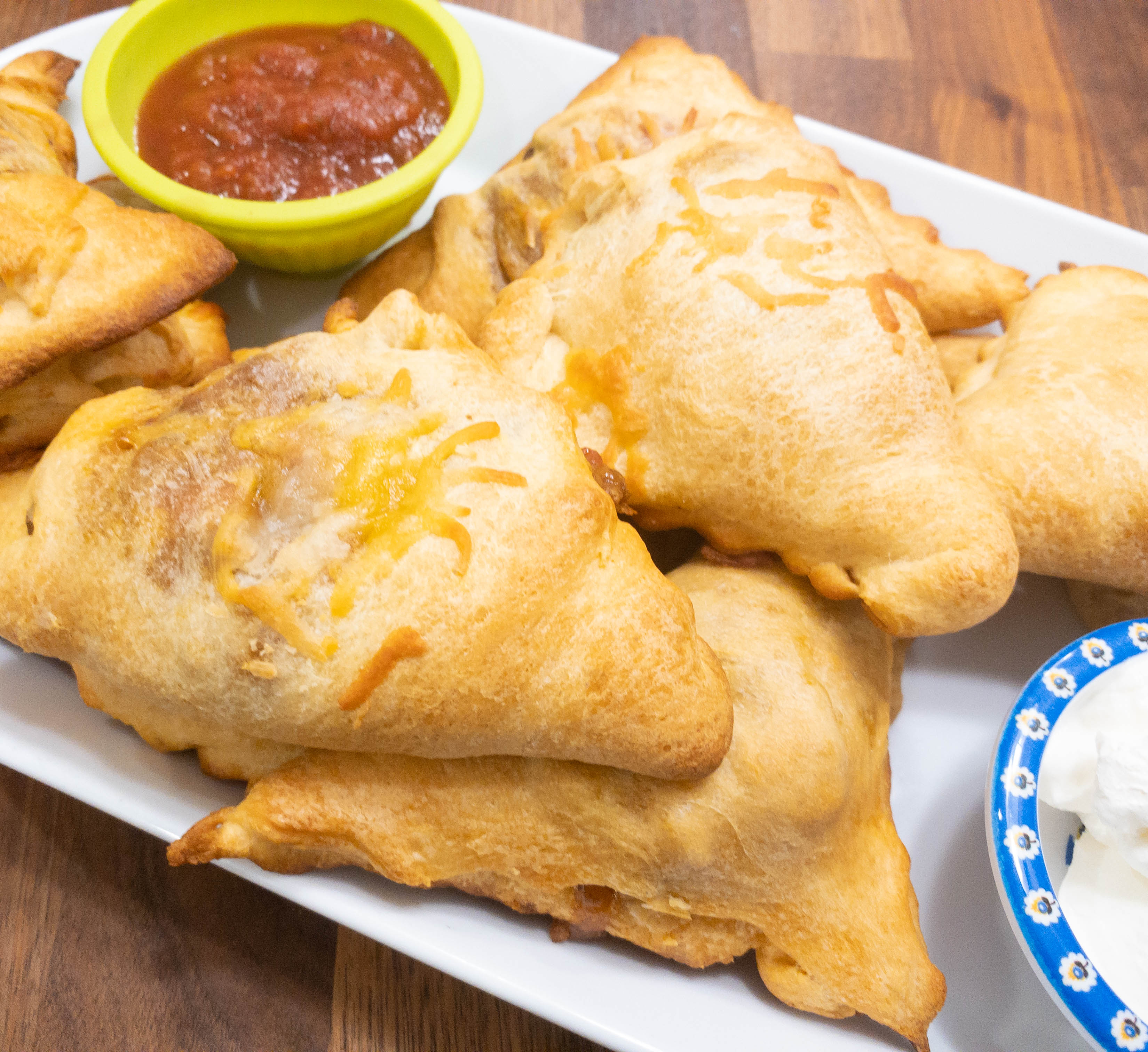 You can choose if you want to dip your taco triangle in salsa or in sour cream. You can also make the cheese pimiento dip from a couple of boxes ago and I'm sure it will go well with these!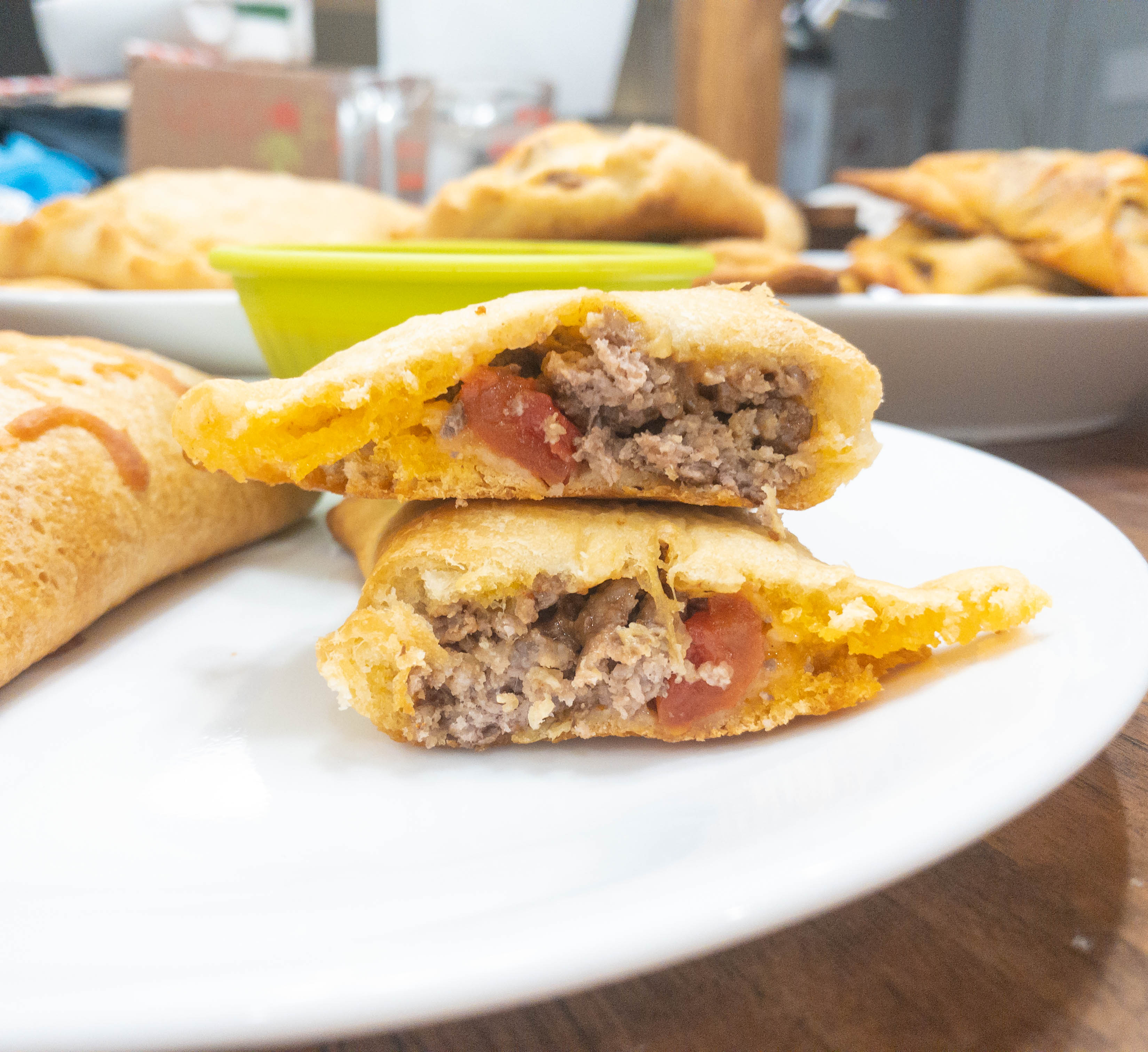 The beef flavor is nice and it's seasoned very well. Even without salsa, it tastes amazing on its own.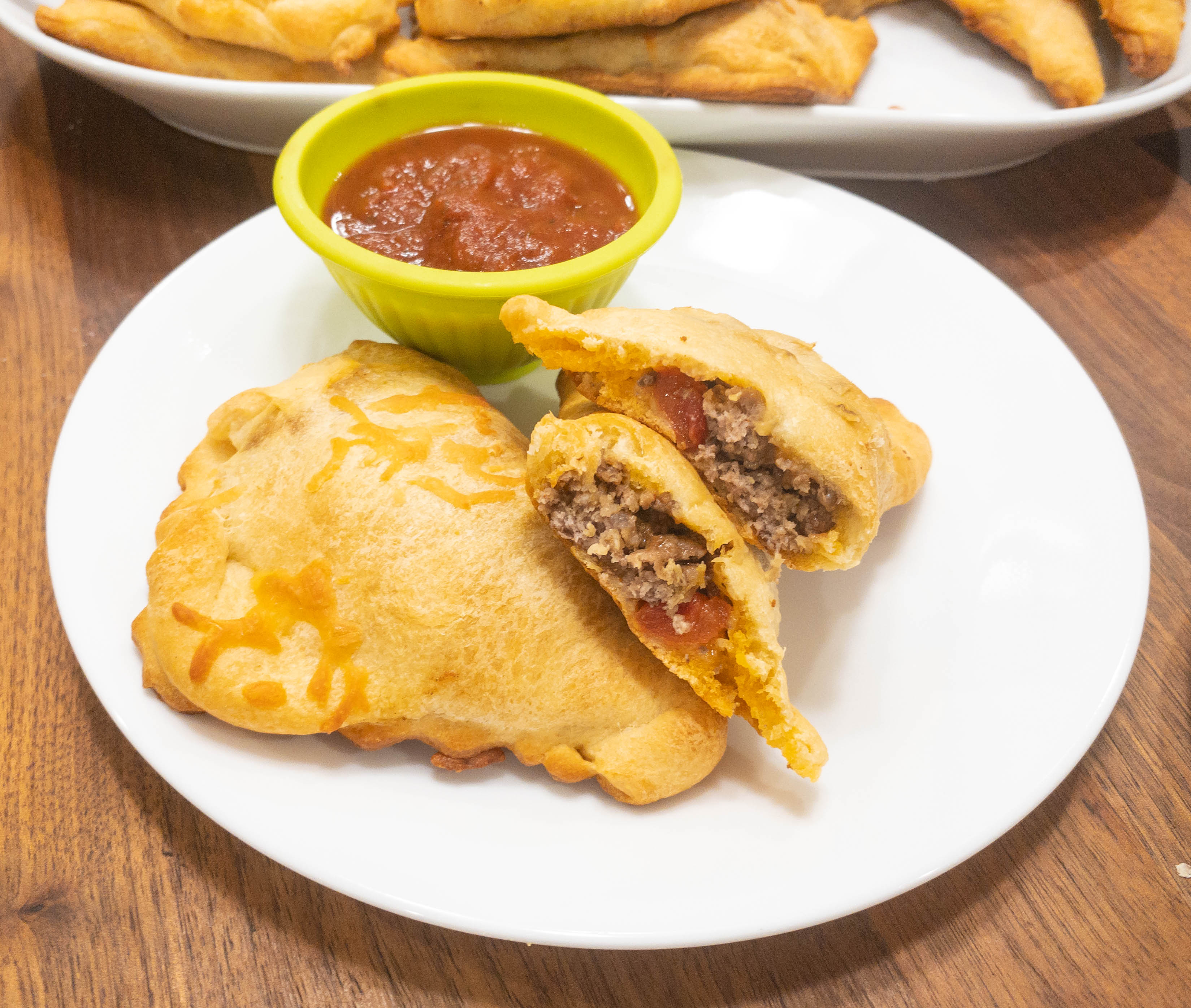 The fillo dough adds a nice crunchy texture in every bite!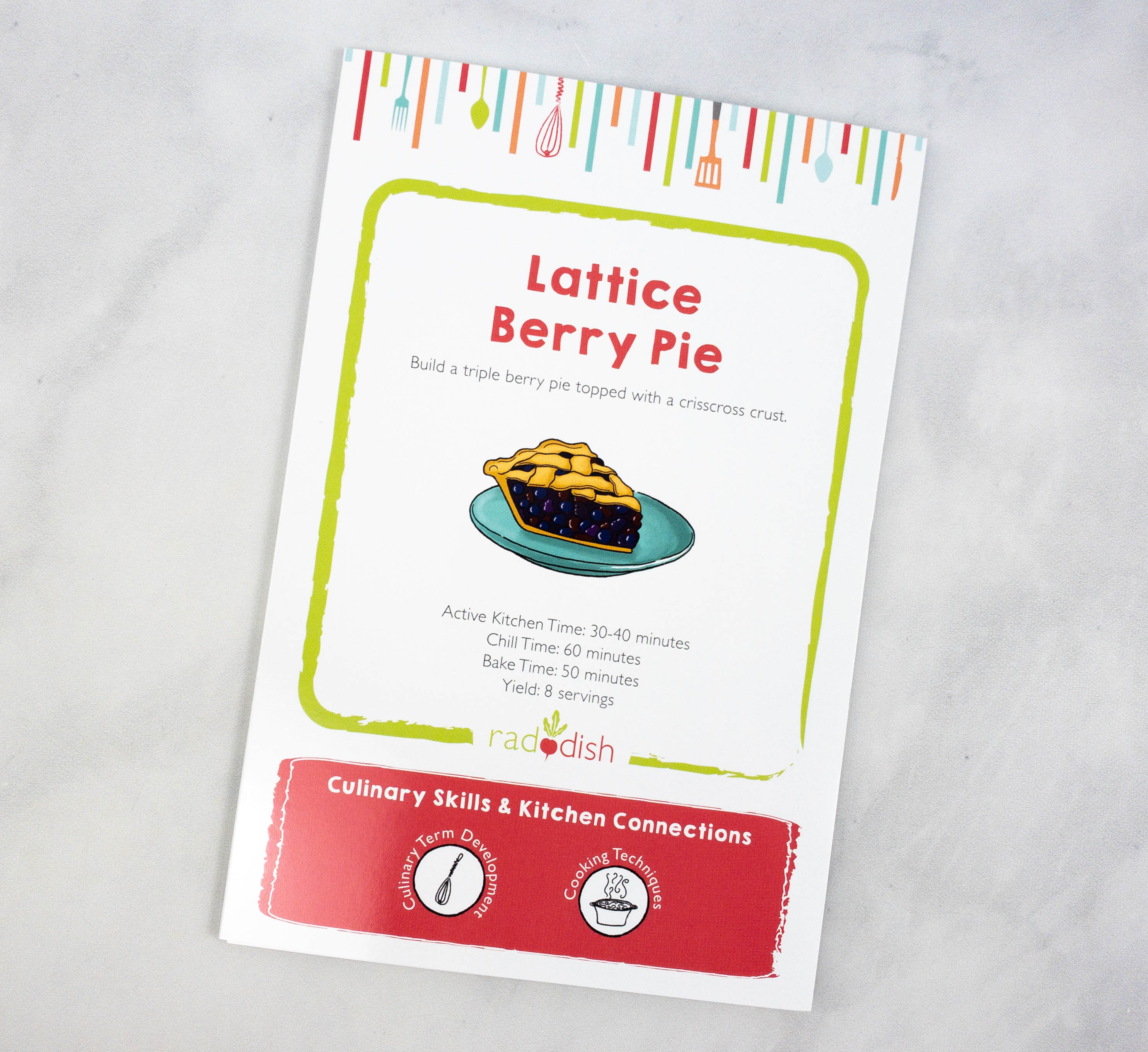 Lattice Berry Pie. For dessert, here's a recipe for triple berry pie with a crisscross crust on top!
Active Kitchen Time: 30-40 minutes

Chill Time: 60 minutes

Bake Time: 50 minutes

Yield: 8 servings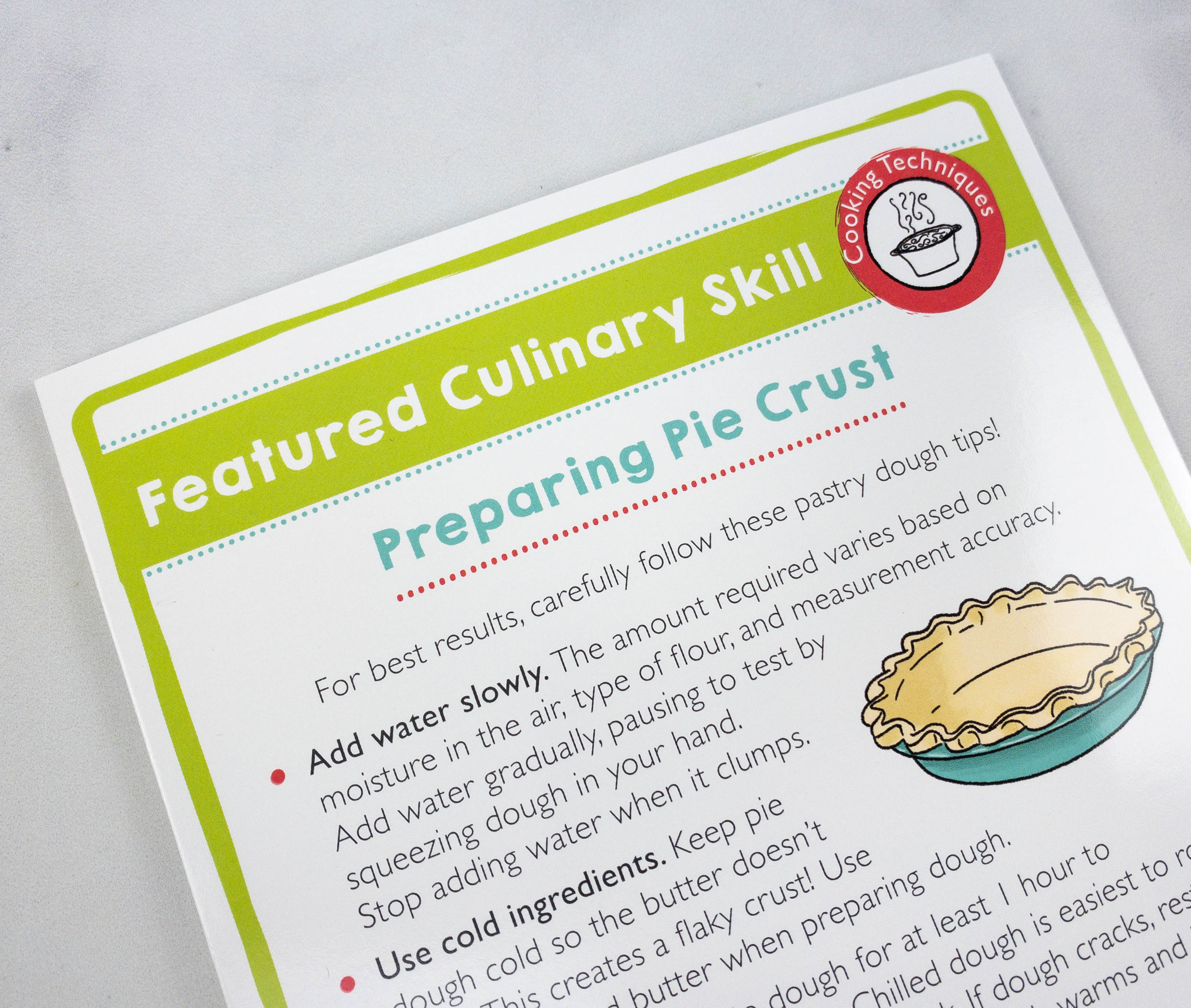 In this recipe, the featured culinary skill is about preparing a pie crust. They added tips to make sure kids will be able to get that flaky crust, including adding water slowly and using cold ingredients.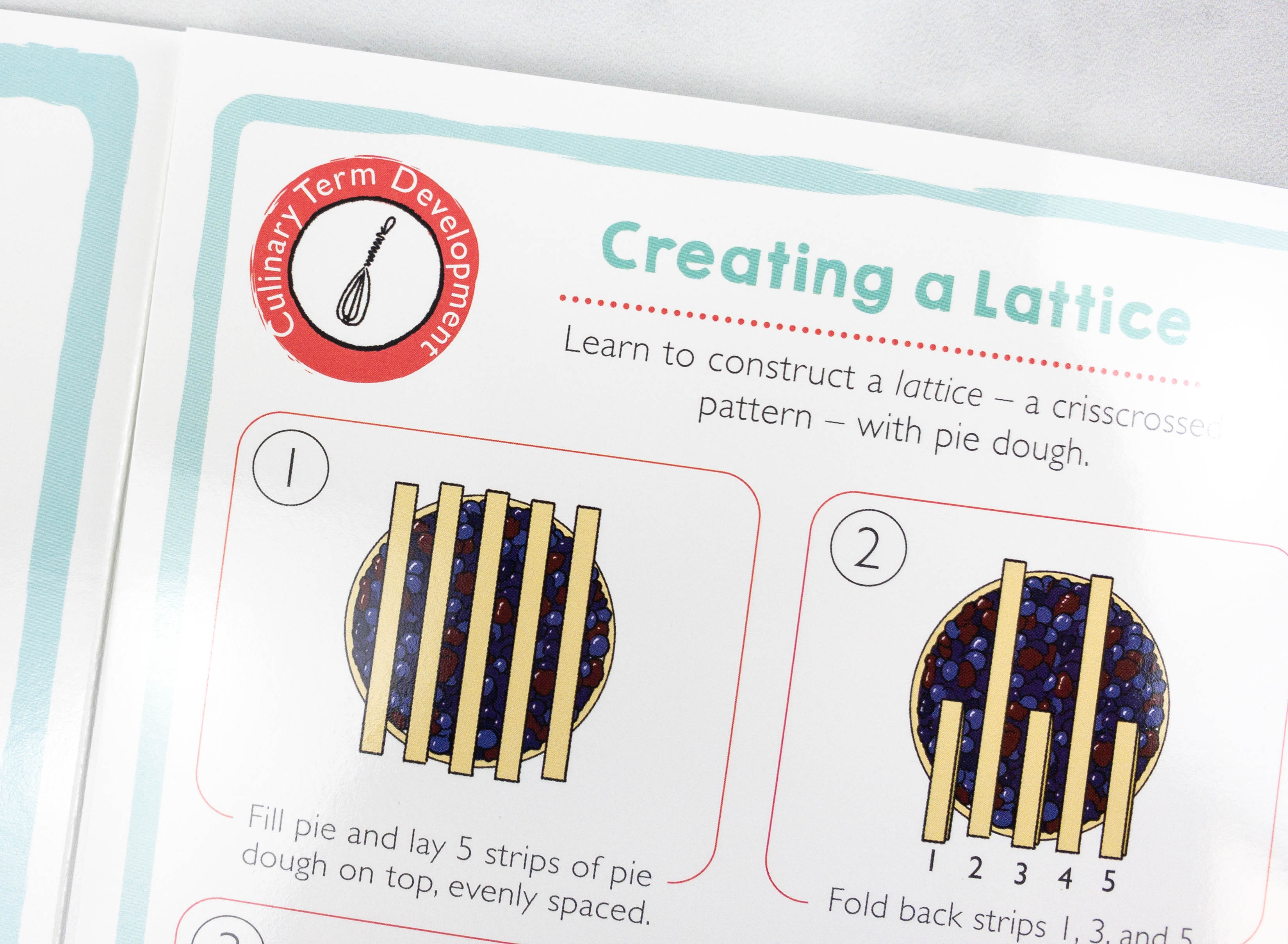 Aside from making a crust, kids will also learn how to make a lattice! The instructions on the booklet were easy to understand, so everything went smoothly for my kids.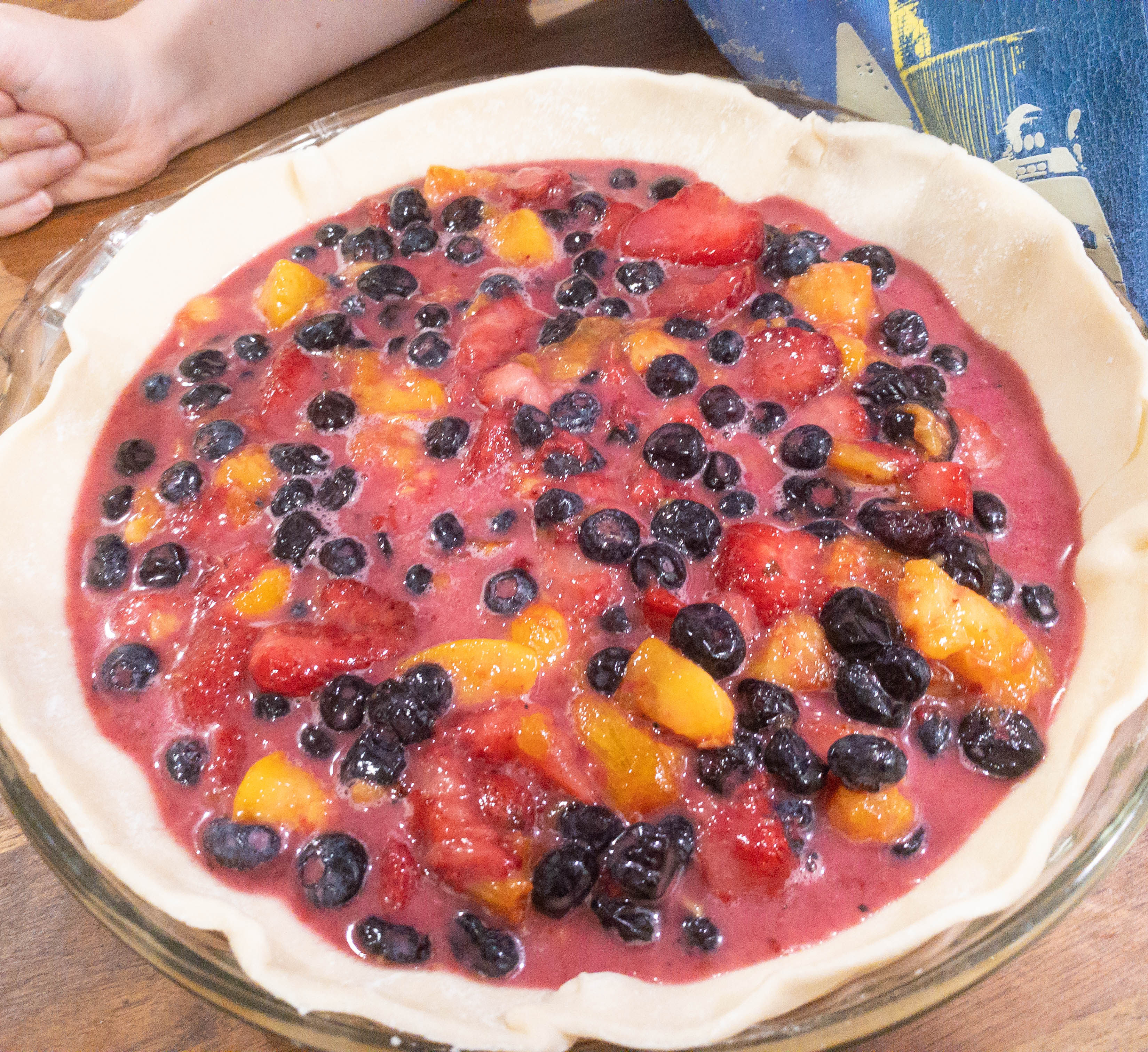 After making the pie crust, my son filled it in with a yummy combination of berries and some peaches.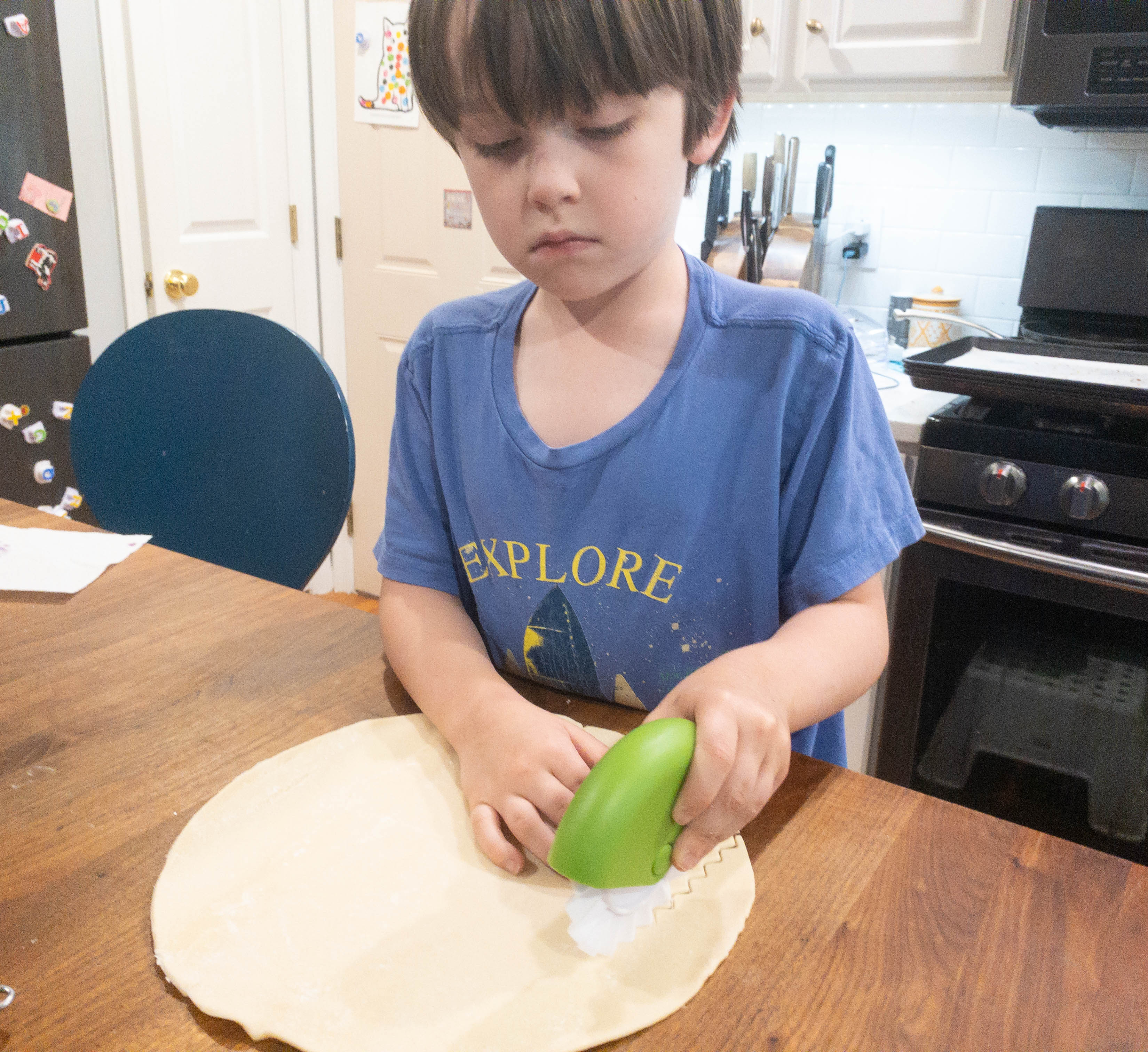 Now, using the dough cutter included in the box, he cut out some strips for the lattice design.
This is a great way to practice fine motor skills!
Once you have the strips ready, it's time to create the lattice design!
My kids worked together in making the pattern! This may take time and it could get messy, so it also teaches kids about focus and patience.
Here's a photo of my sons looking very happy after finishing the lattice design on the pie. Now, we're ready to bake it for 50 minutes in the oven.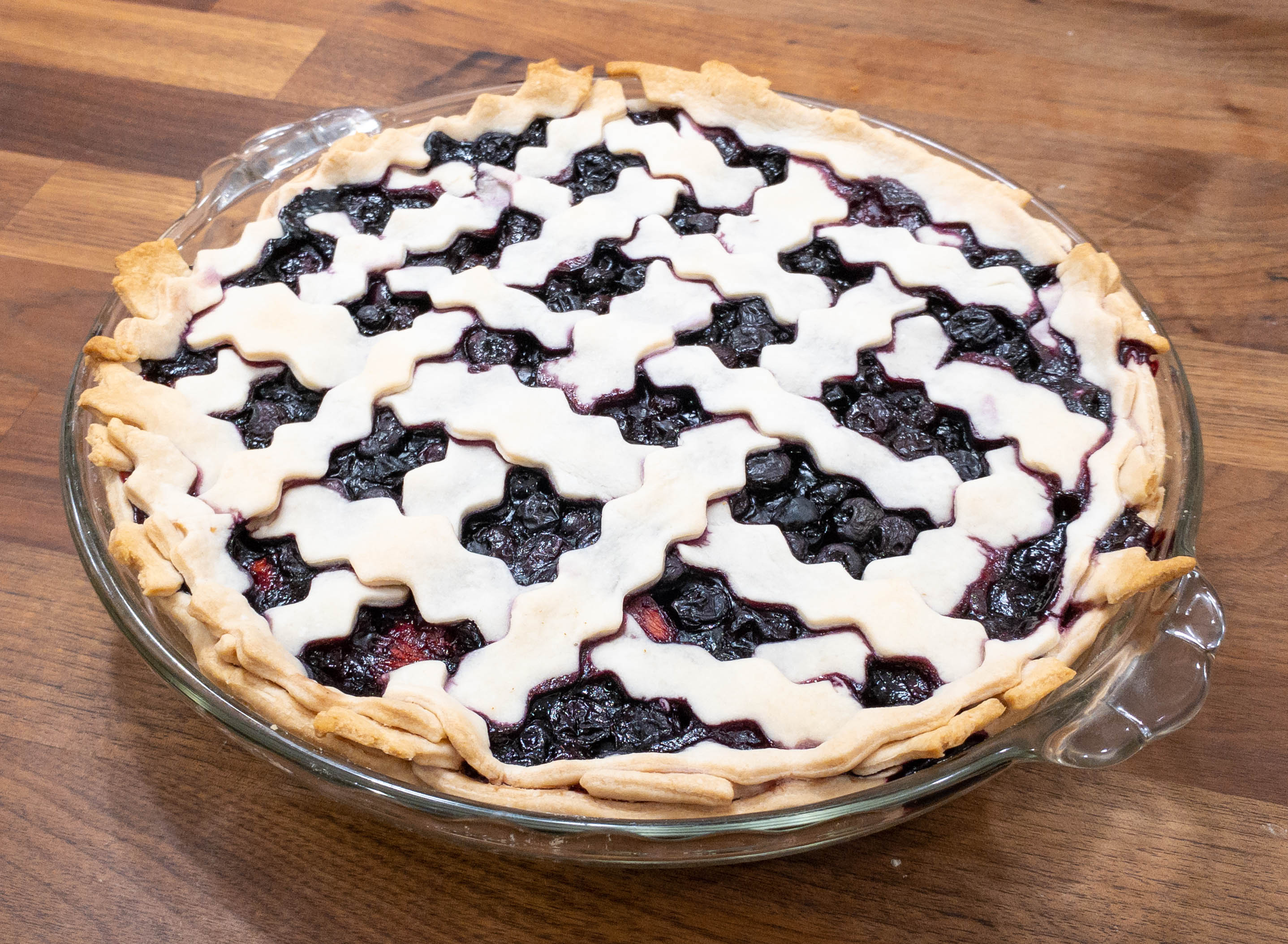 This is the finished product. Look at lattice on top! It's perfect!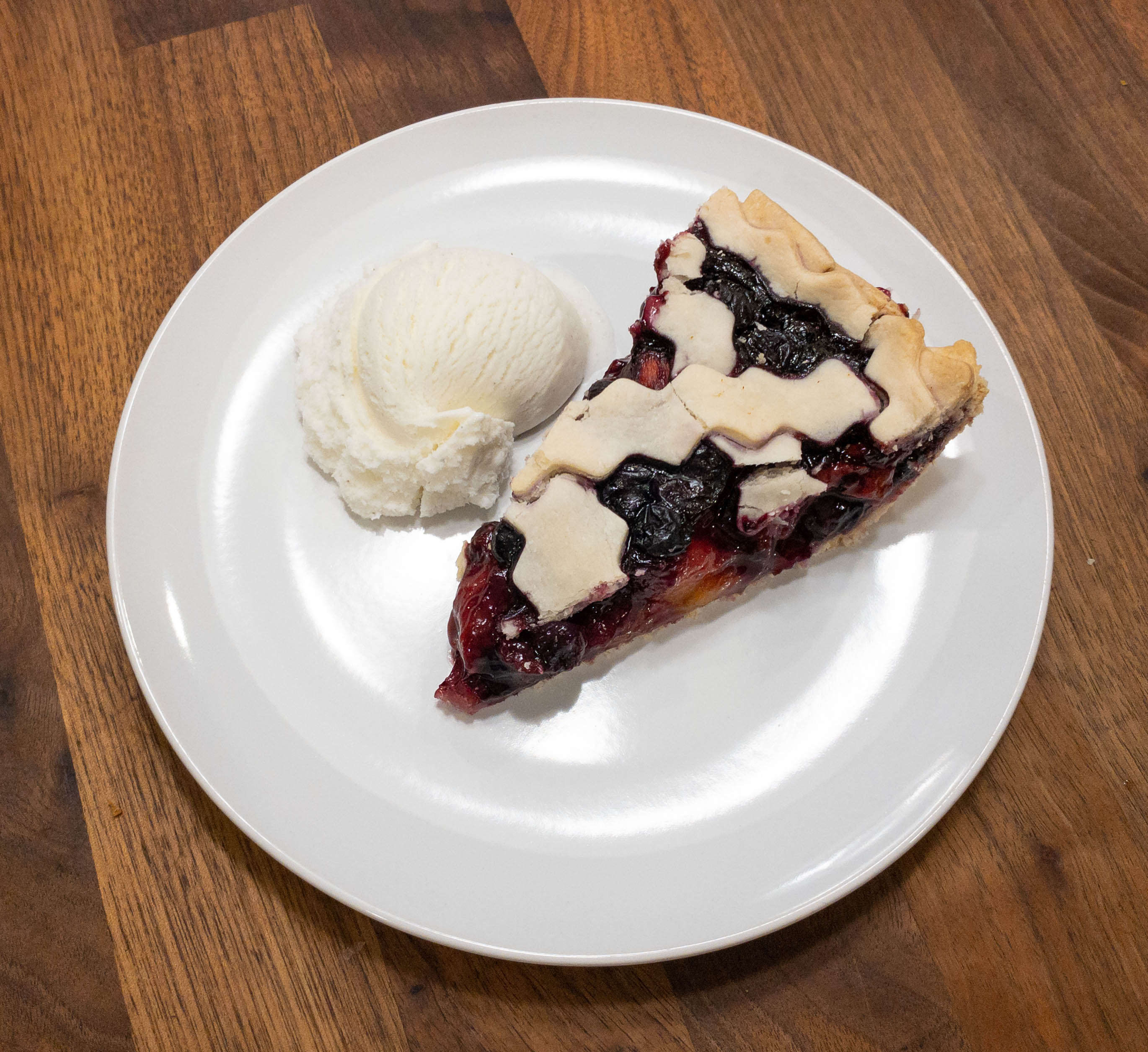 We served each slice with a scoop of vanilla ice cream while it's still warm.
This is so good. The crust is really flaky and the berries melt in my mouth with each bite. It's a great combination of flavors and textures!
The recipes from Raddish Kids this month all turned out to be delicious! My kids were happy about the Edible Engineering theme and they had fun while making each recipe. They were also able to learn about design and architecture through preparing the snacks. The easy-to-follow instructions were a great help. The ingredients are not included in the box, but it's easy to shop for them because of the provided lists, which come via email first, so it's easy for me to prep for our monthly box. Our favorite recipe this months is the lattice berry pie. It was so good especially with that scoop of ice cream. Overall, this subscription is a great way of helping kids get familiar with how the kitchen works and also with improving their culinary skills!
What do you think of this month's Raddish Kids box?