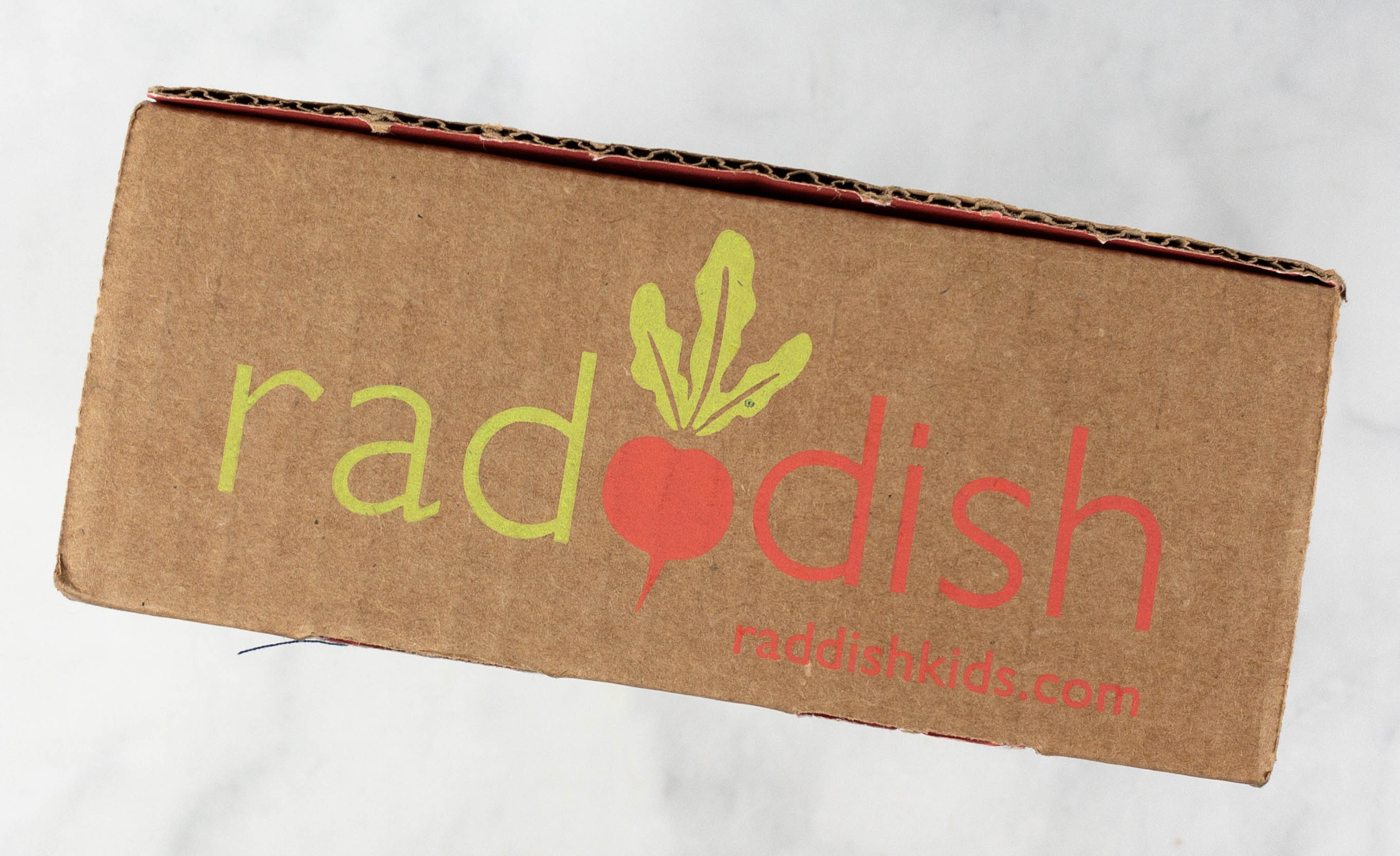 Raddish is a monthly kids' activity box centering around food and cooking! Designed for kids 4 to 14+, each themed box will include 3 illustrated recipe guides, 3 culinary skill cards, a creative kitchen project, kid-friendly tools and collectibles such as Table Talk cards, a culinary tool, and an iron-on Raddish patch. Themes range from Seasonal Spotlights to Global Cuisine and Creative Cookery to Holiday Celebrations. Although the ingredients are not included, they email you a shopping list for each month's recipes before your kit is shipped. Raddish made the list in our 2020 and 2021 readers' choice picks of best subscription boxes for kids!
DEALS:
Get $15 off when you sign up for a 6 month subscription! Just use this link and use the coupon code ATHOME at checkout.
Get $20 off when you sign up for a 12 month subscription! Just use this link and use the coupon code CHEF20 at checkout.
PLUS Get a FREE apron with your first box when you sign up for a 6+ month subscription!
This kids cooking club offers a monthly membership for $24/month, a 6-month membership for an upfront payment of $132 ($22/month), and a 12-month membership for an upfront payment of $240 ($20/month). For those who are getting the 6 and 12-month memberships, expect a free apron in your box.

All the items were neatly packed in the box.

This month's theme is TROPICAL PARADISE! Inside the envelope are small cards containing some culinary skill lessons and guides with fun and exciting activities.
They also have bonus content on their website, called Bonus Bites, which includes a Spotify playlist that the kids can listen to while cooking, dietary modifications for the recipes in the box, and even lesson plans to accompany the kit.

The back of the envelope has a seek and find game that my kids enjoyed!

There's another card that features instructions on how to map the tropics, as well as a card that lists some tropical islands!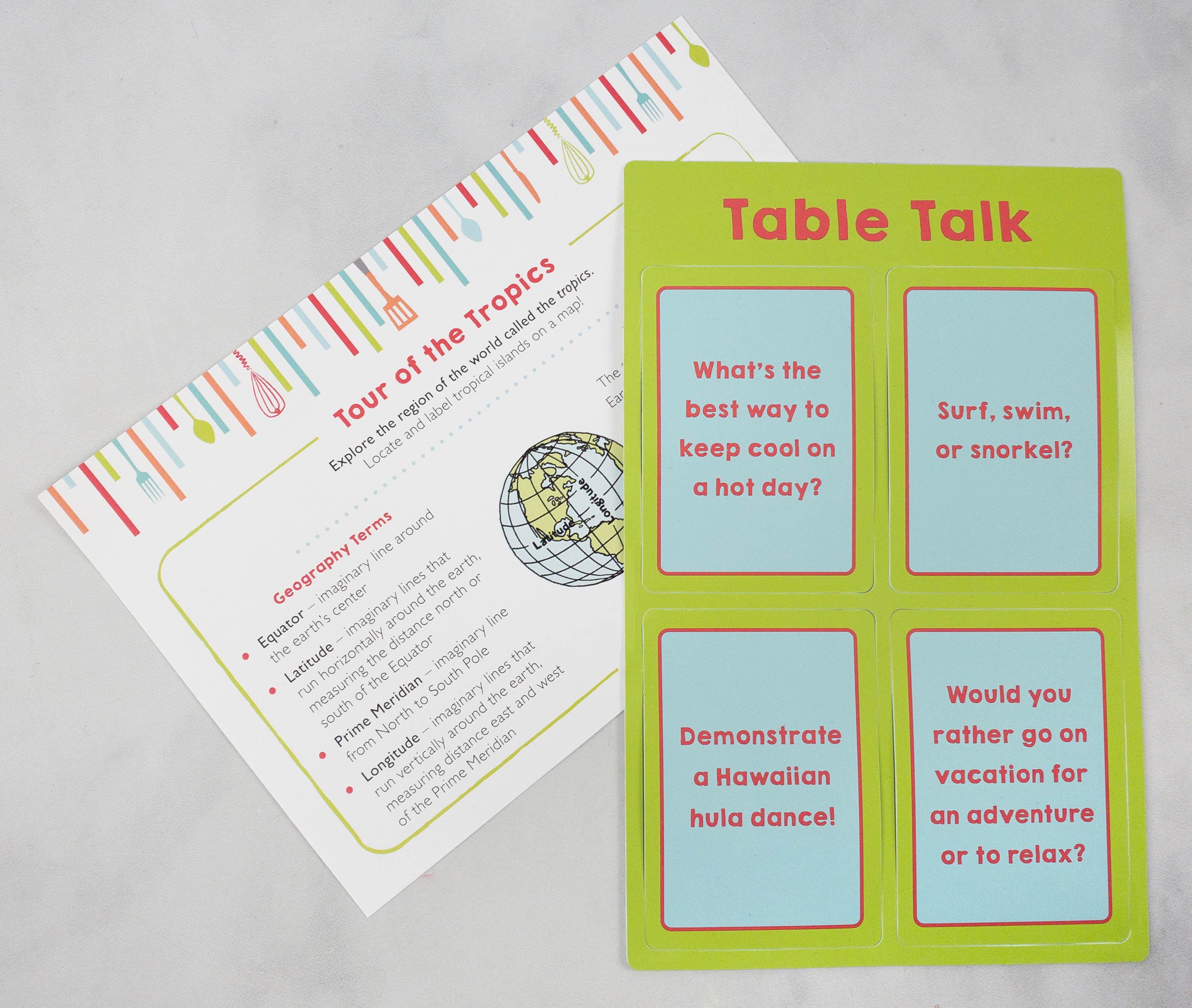 Each box also includes exclusive Table Talk conversation starter cards. The cards contain questions for a great table talk conversation. They come in a sheet and you can easily tear them down.
Everything in our July 2021 box!
The patch represents this month's theme! It features a coconut tree on a blue background. We can't wait to add it to our apron!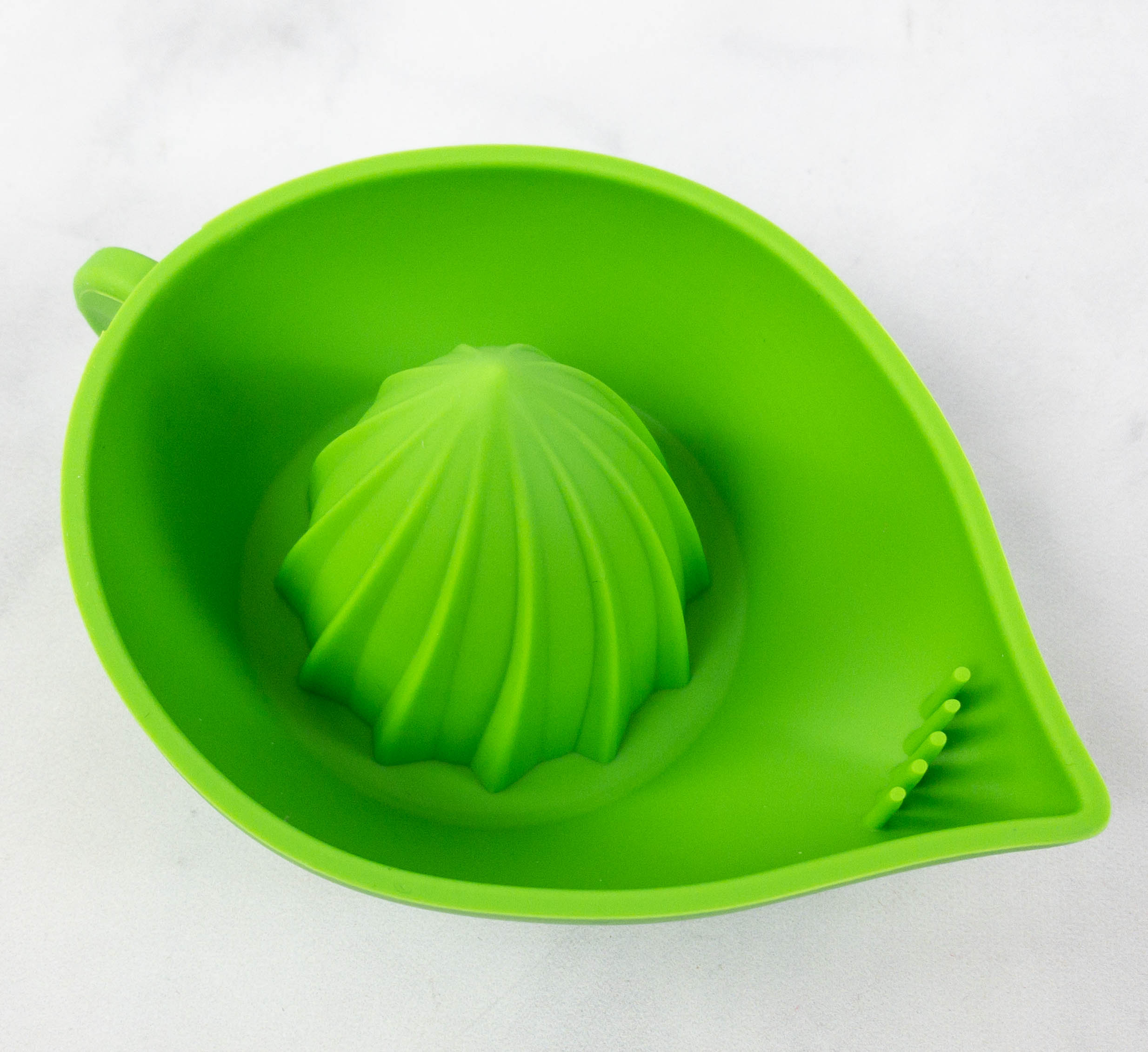 This month's featured tool is a juicer!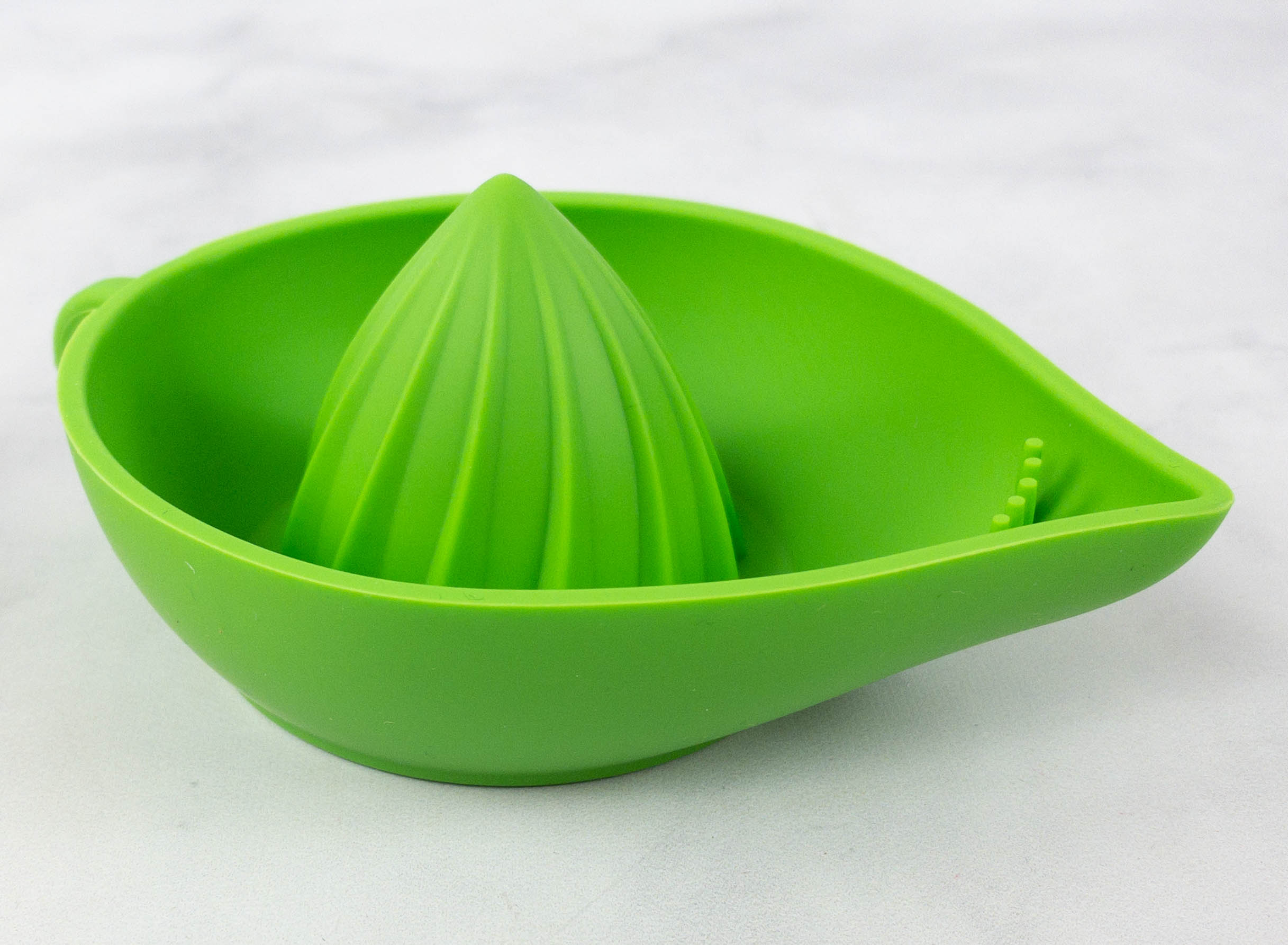 This is used to extract the juices of fruits. It has a spout ready on one side and it even has its own filter so you can take away the seeds and big chunks of pulp when you transfer the juice into a different container. It's silicone and bendy, but works GREAT!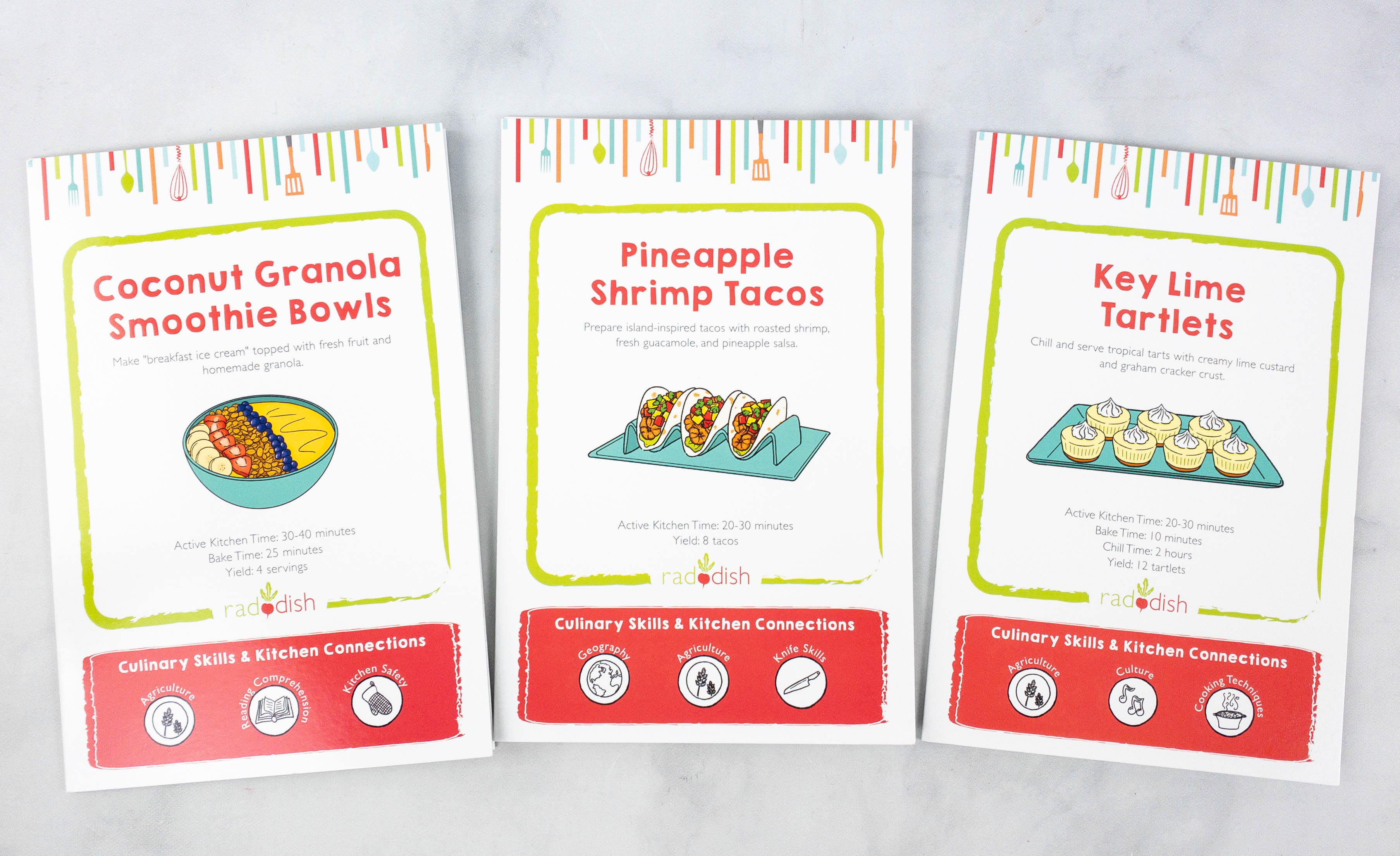 Here are this month's recipe guides!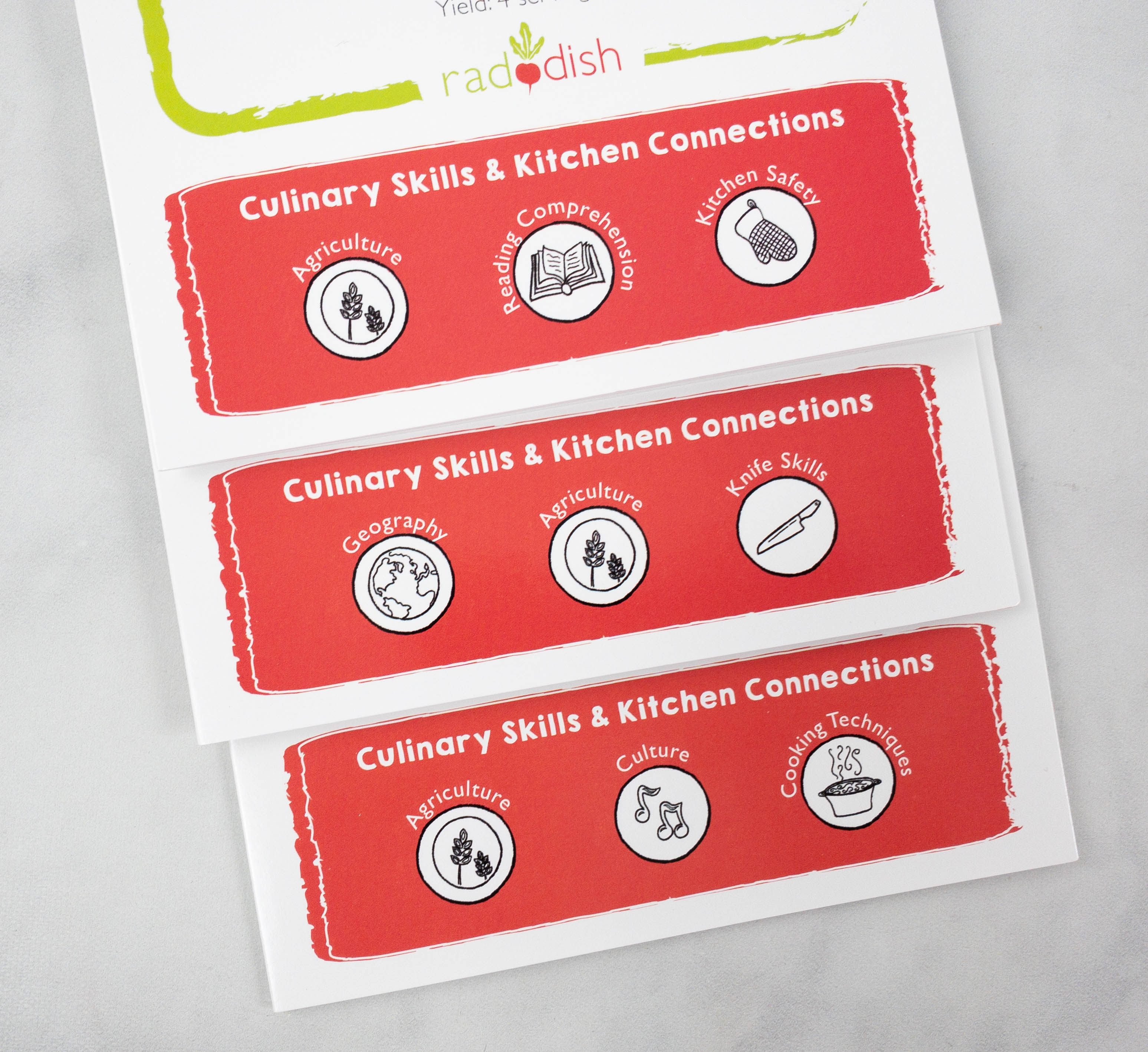 Each recipe has corresponding culinary skills and kitchen connections.
The instructions are easy enough for kids to understand and to follow.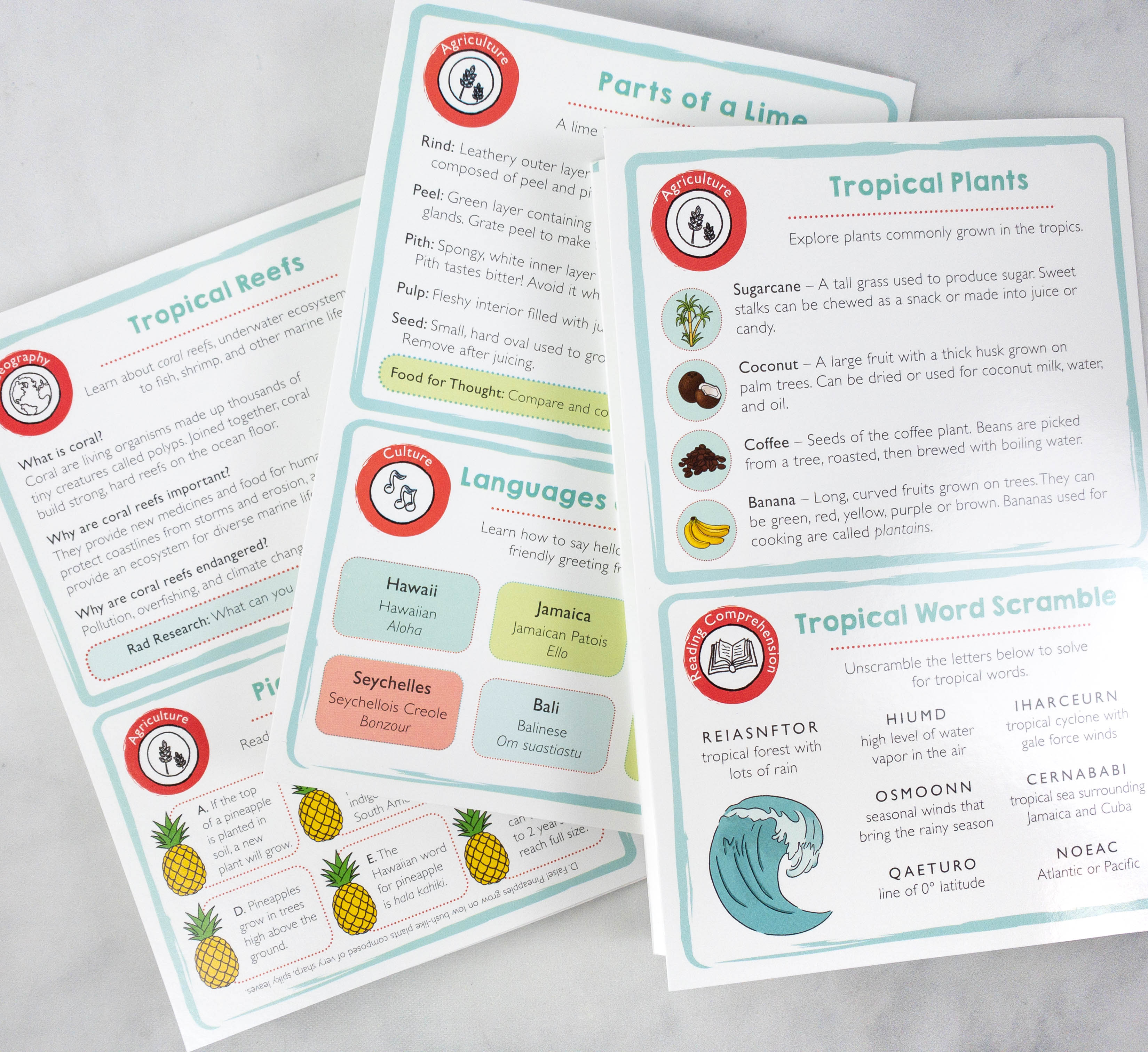 Aside from the recipes, the guides also included fun facts about tropical reefs, tropical plants, and more.
Coconut Granola Smoothie Bowls. The first tropical recipe is for coconut granola smoothie bowls. It is topped with fresh fruit and homemade granola!
Active Kitchen Time: 30-40 minutes

Bake Time: 25 minutes

Yield: 4 servings
Inside the guide is a list of the ingredients along with the tools needed. They included illustrations along with the instructions.
The ingredients for this recipe include oats, sweetened shredded coconut, sliced almonds, vegetable oil, ground cinnamon, maple syrup, kosher salt, bananas, strawberries, blueberries, diced mangoes, diced pineapples, frozen bananas, canned coconut milk, and orange juice.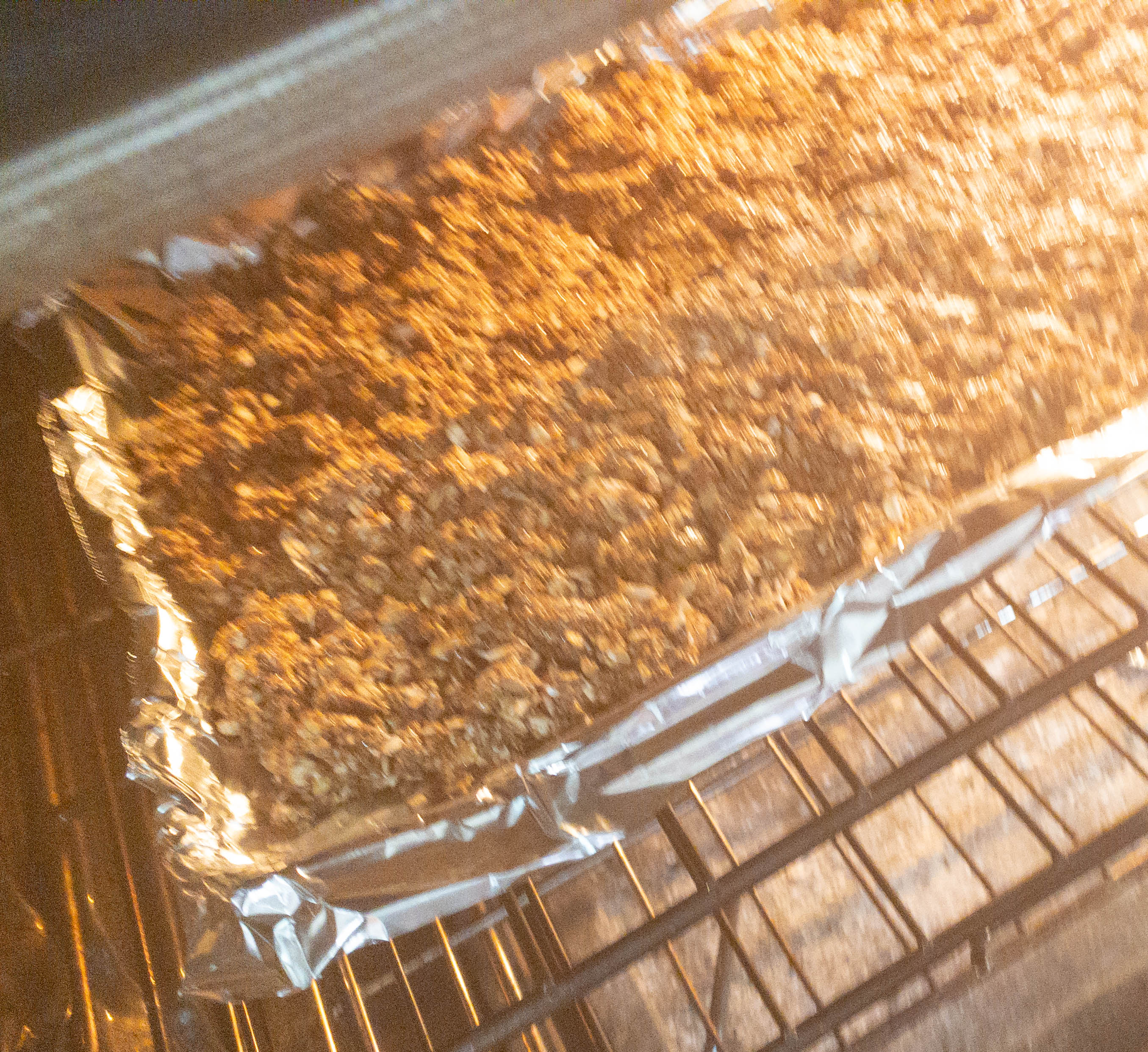 My kids started by preparing the granola and baking it for around 25-30 mins. This part requires adult supervision, although my kids are already familiar in using the oven because of previous recipes.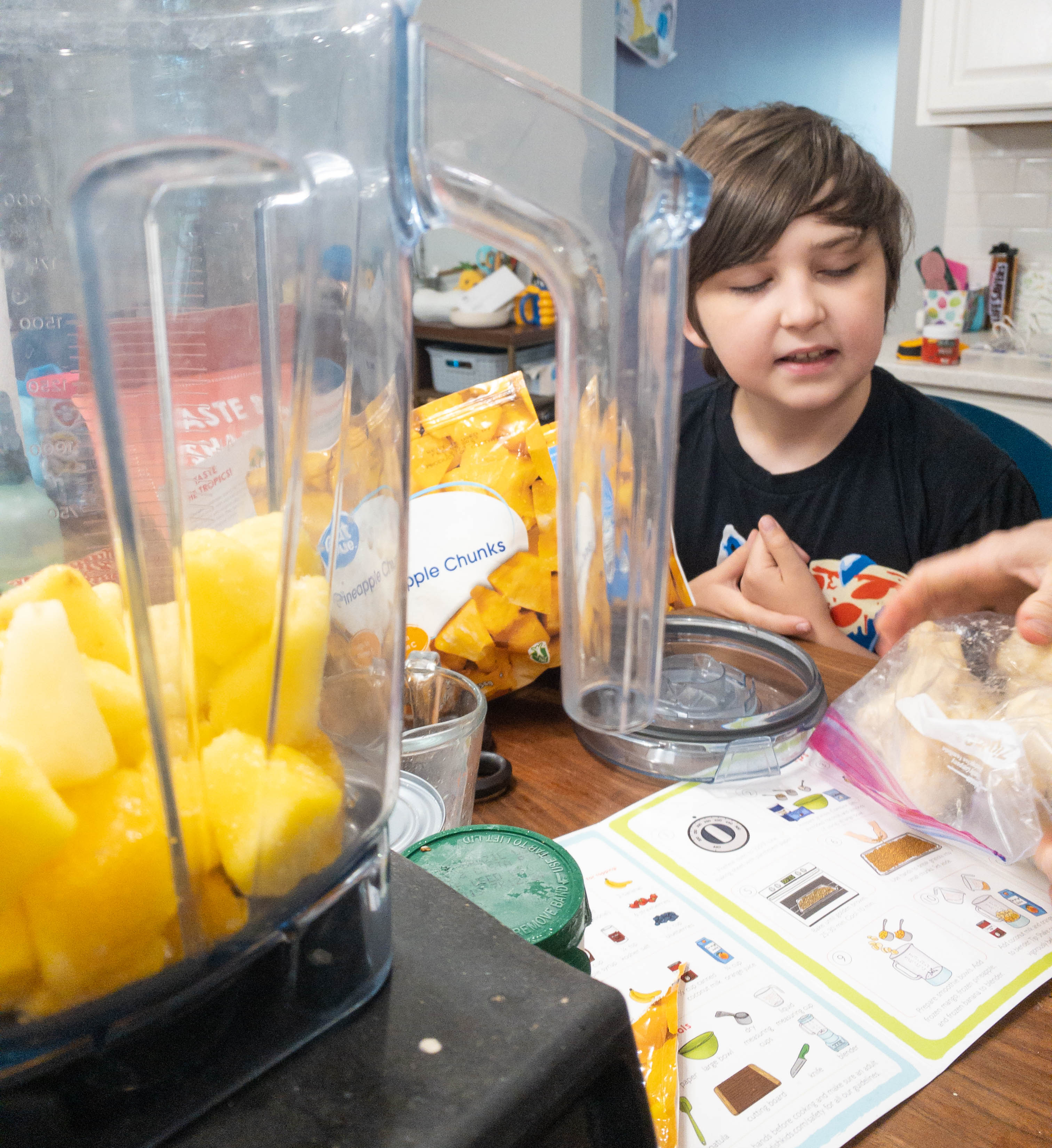 The next step is to prepare the smoothie using a blender. Before proceeding, my son read the guide which includes tips for blender safety. He learned that he shouldn't put his fingers inside the canister and that it's a must to secure the lid tightly before starting the blender.
Once he was ready, he added the frozen diced mangoes, frozen pineapples, frozen bananas, along with the coconut milk and orange juice into the blender and blended everything until it's nice and smooth!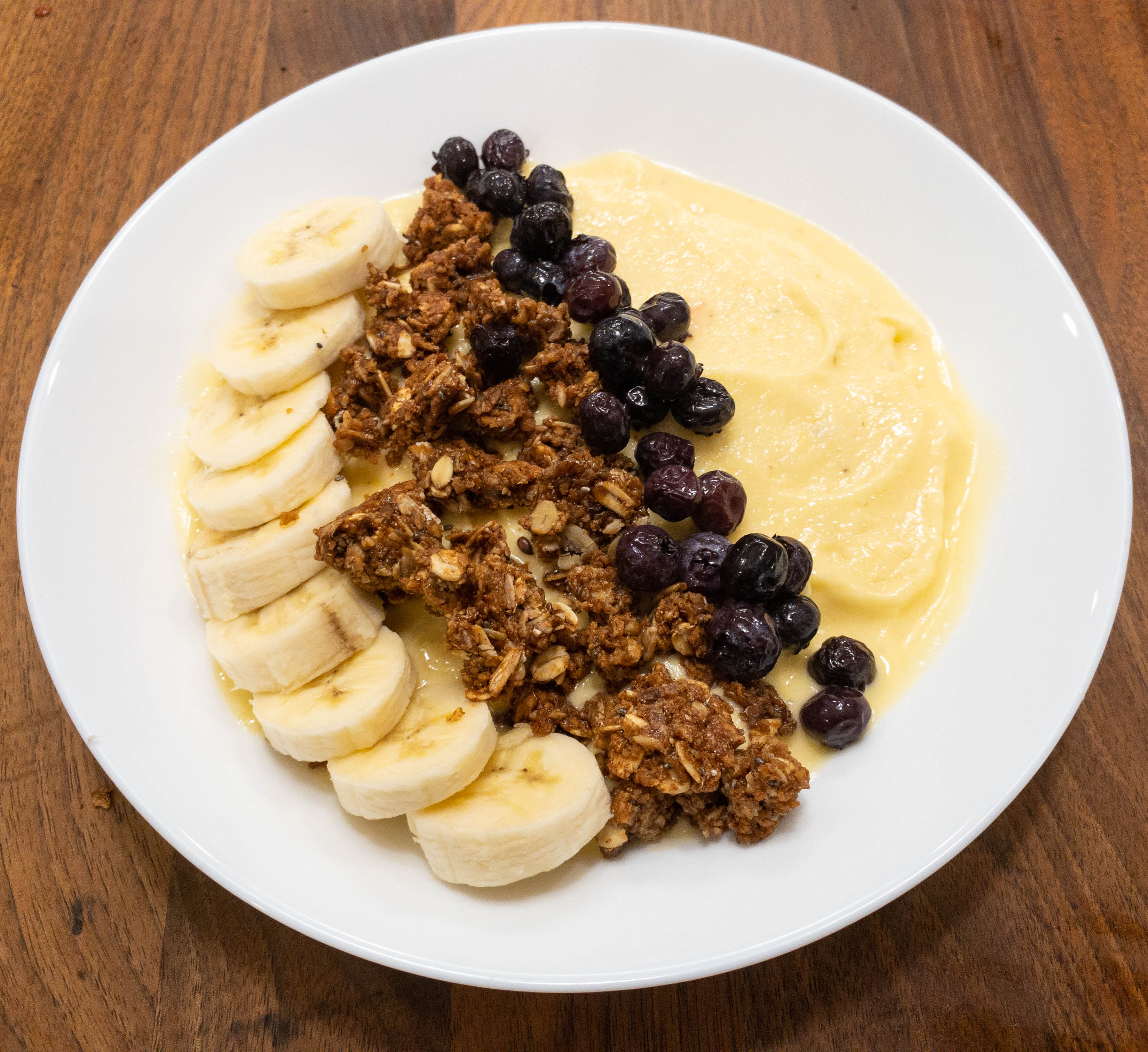 We also transferred everything in a bowl and placed all the toppings including the granola and some fruits.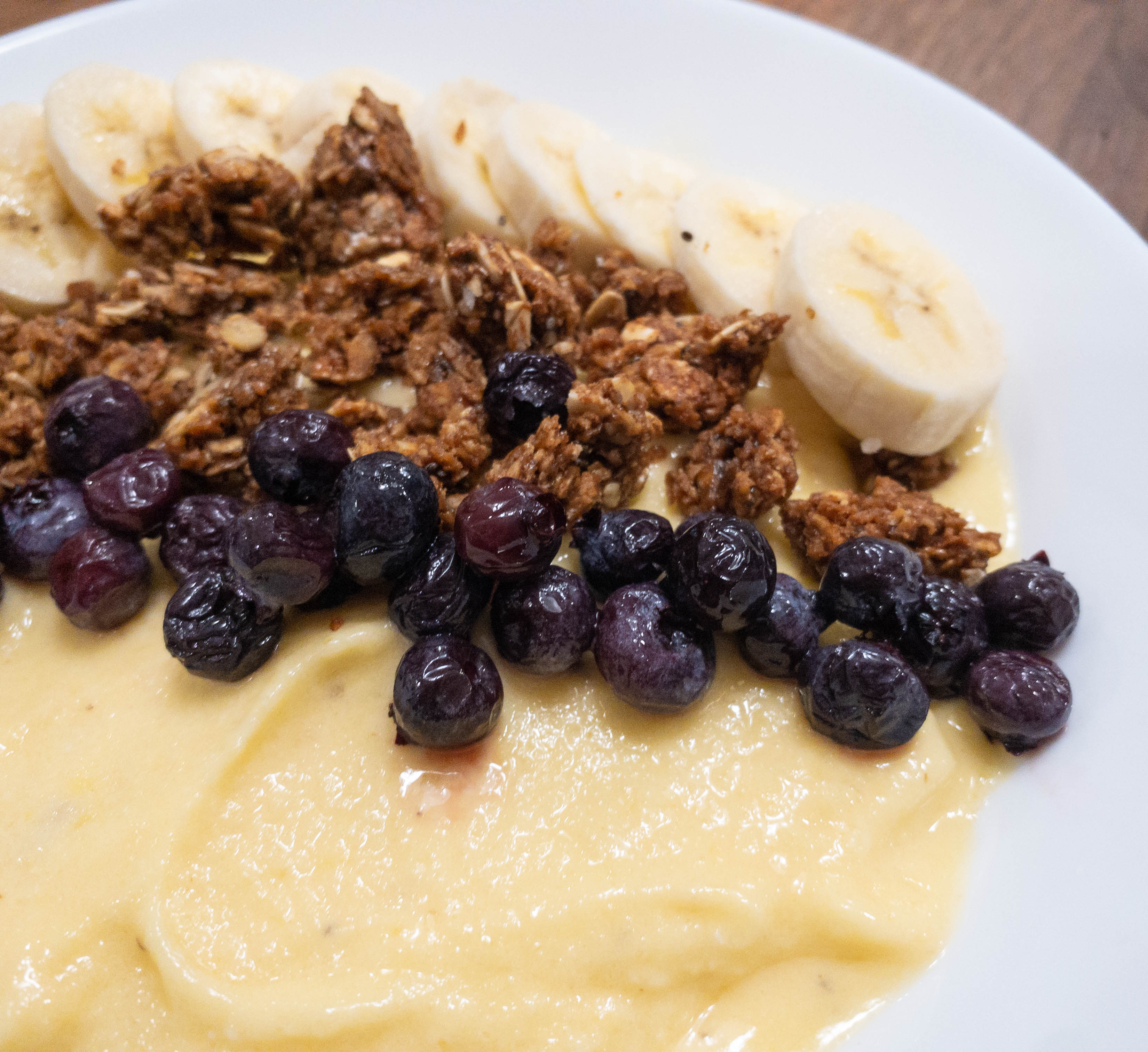 Here's what the finished product looks like! Yum!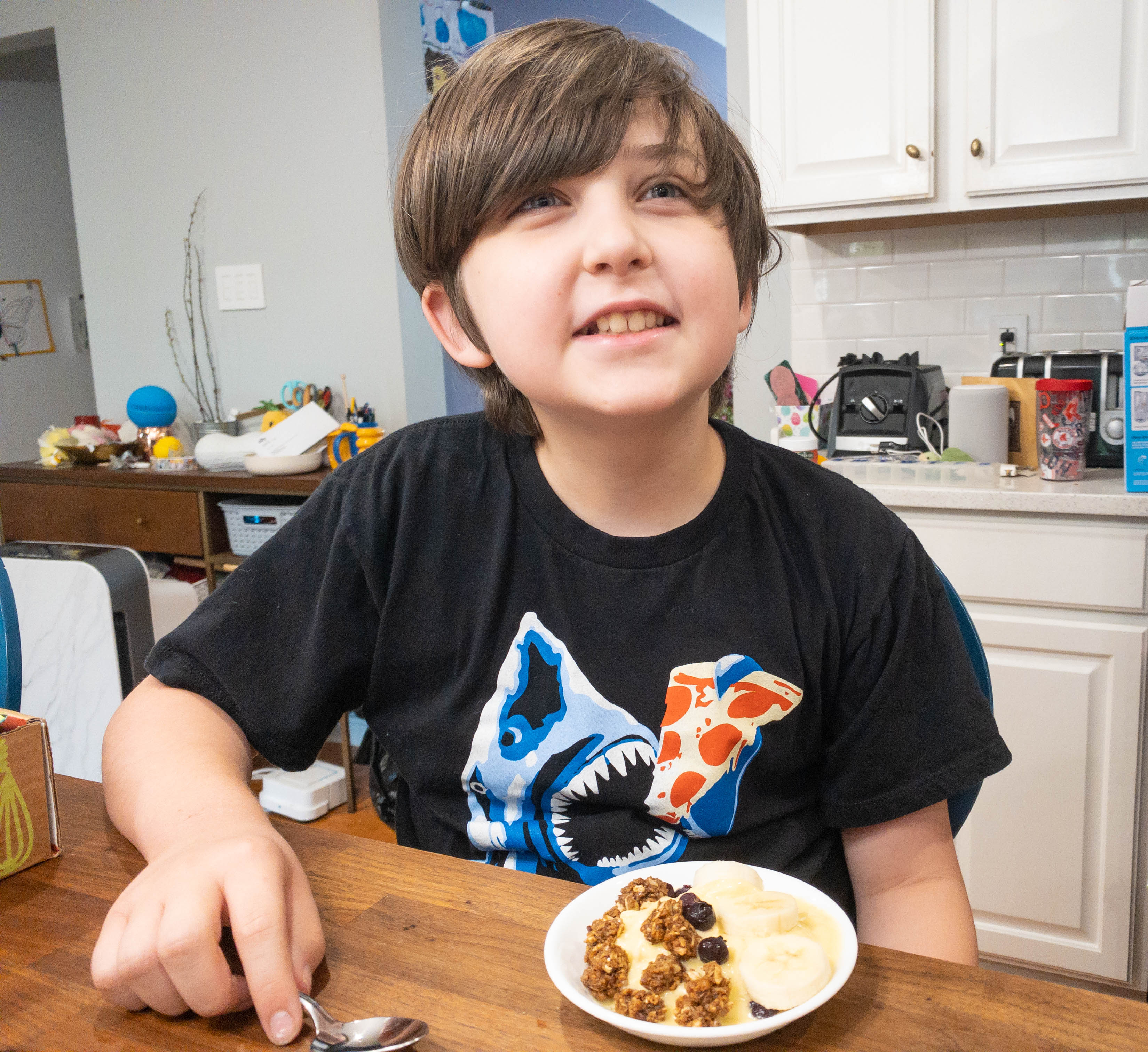 My son loves this healthy and easy recipe! The granola adds just the right amount of crunch and texture, creating a good balance with the smooth and sweet components.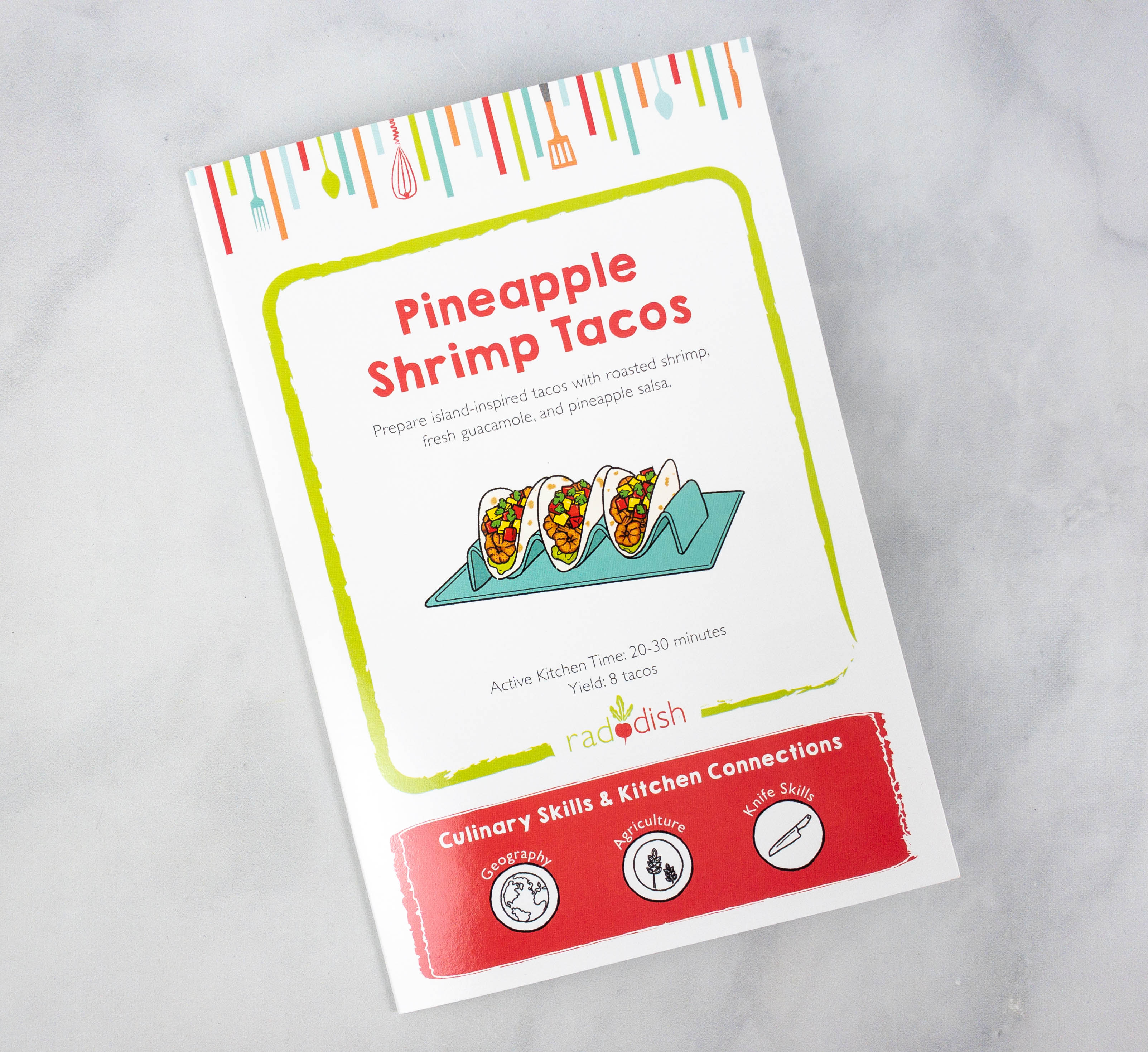 Pineapple Shrimp Tacos. The next recipe uses shrimp, along with fresh guacamole and pineapple salsa. This is tropical twist to the ever popular tacos!
Active Kitchen Time: 20-30 minutes

Yield: 8 tacos
The culinary skill kids will learn from this recipe is cutting an avocado! It involves a knife, so adult supervision is needed.
As always, there's a list of the ingredients as well as the necessary tools. For the salsa, you'll need pineapple chunks, red bell pepper, cilantro, lime juice, and kosher salt. Next up is the guacamole, which needs avocado, lime juice, and kosher salt. As for the tacos, the ingredients needed are shrimp, olive oil, chili powder, paprika, ground cumin, garlic powder, kosher salt, and small flour tortillas.
We didn't have a chance to make this one before the review, but we're excited to try it.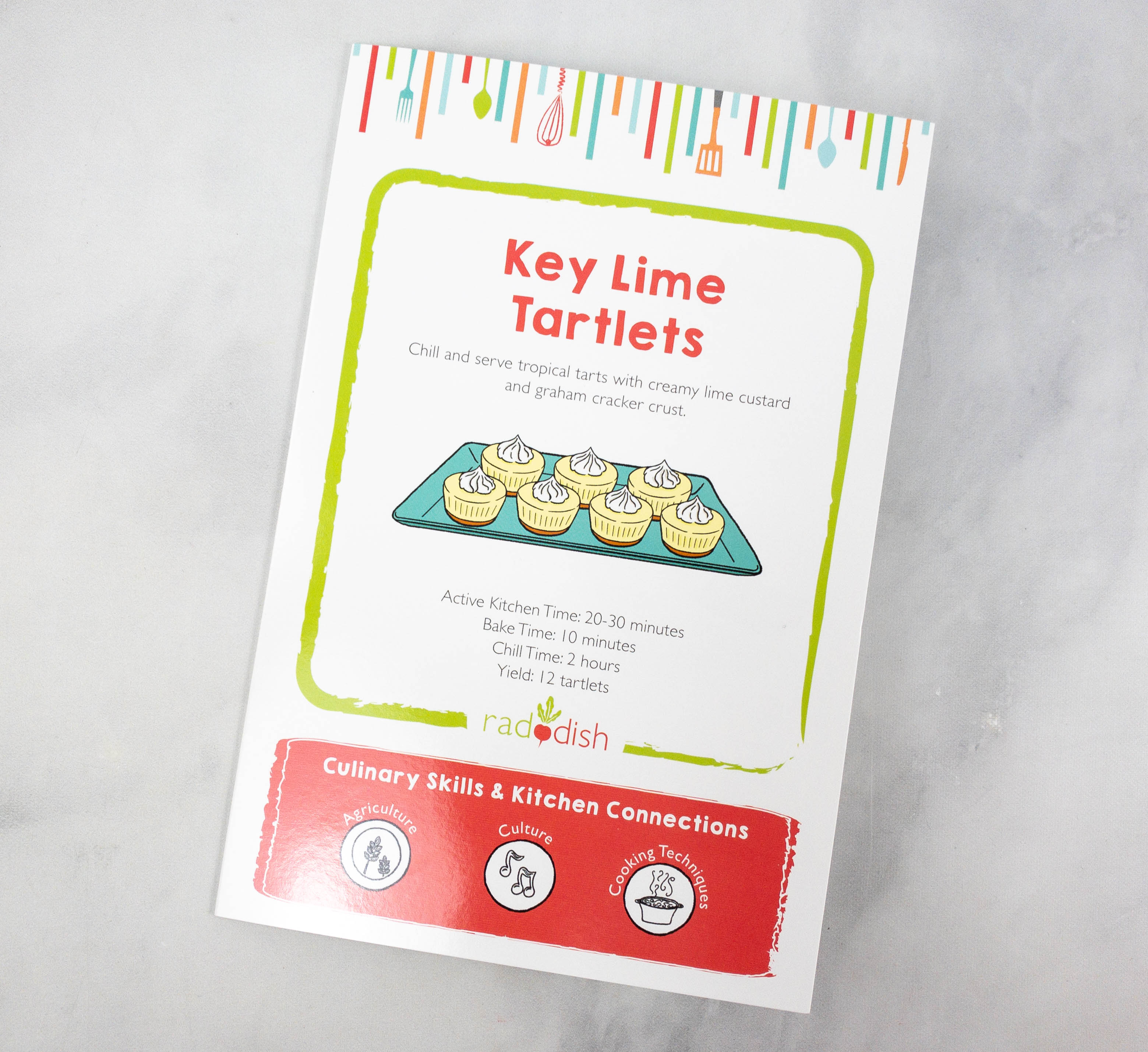 Key Lime Tartlets. For dessert, we made tropical tarts featuring lime custard on top of a graham crust.
Active Kitchen Time: 20-30 minutes

Baking Time: 10 minutes

Chill Time: 2 hours

Yield: 12 tartlets
The ingredients are graham cracker sheets, butter, sugar, eggs, limes, sweetened condensed milk, and some whipped cream for serving.
My kids used the featured tool for this recipe!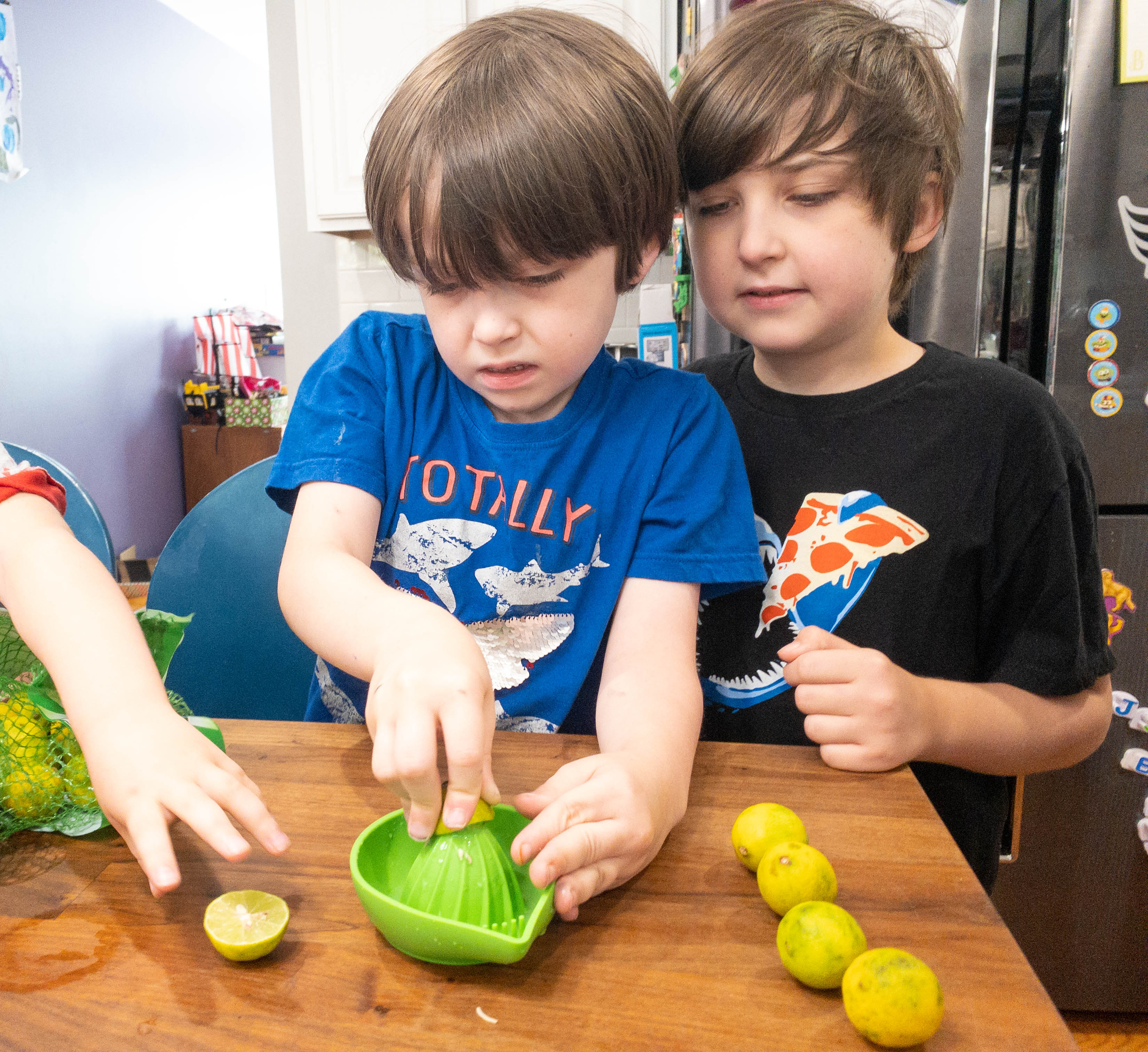 They took turns in juicing the limes! This might look like a simple activity but it actually helps them develop control and strength of the hand. The recipe said 4 regular limes but I bought key limes anyways. I recommend regular limes. We juiced forever!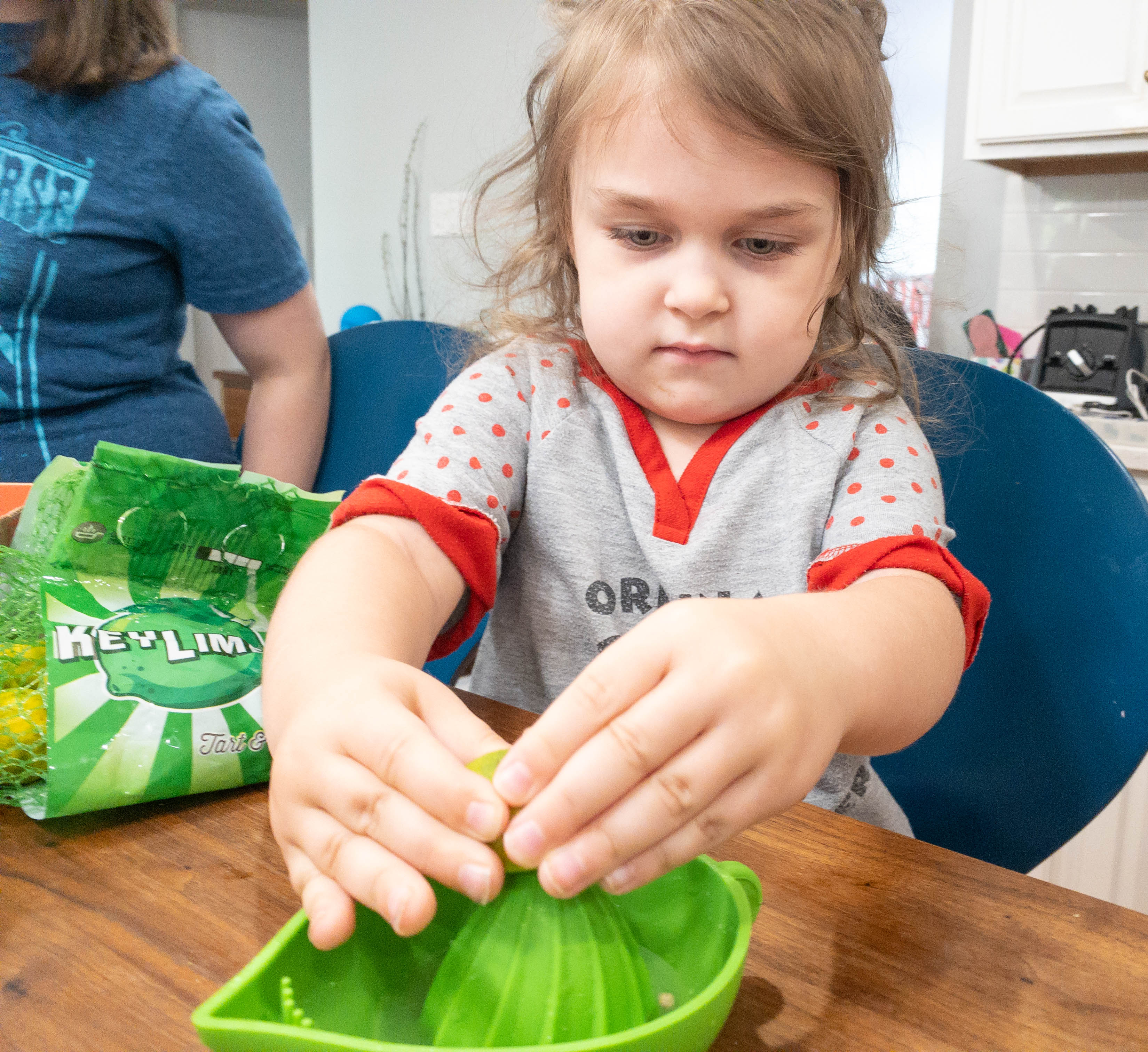 My youngest also tried juicing and she was really focused! She was a champ and unbelievably, did most of it. She also wiggled her butt with each twist.
After juicing, my son started crushing the graham crackers. Yes, he's using a mallet. Whatever it takes to get them in the kitchen!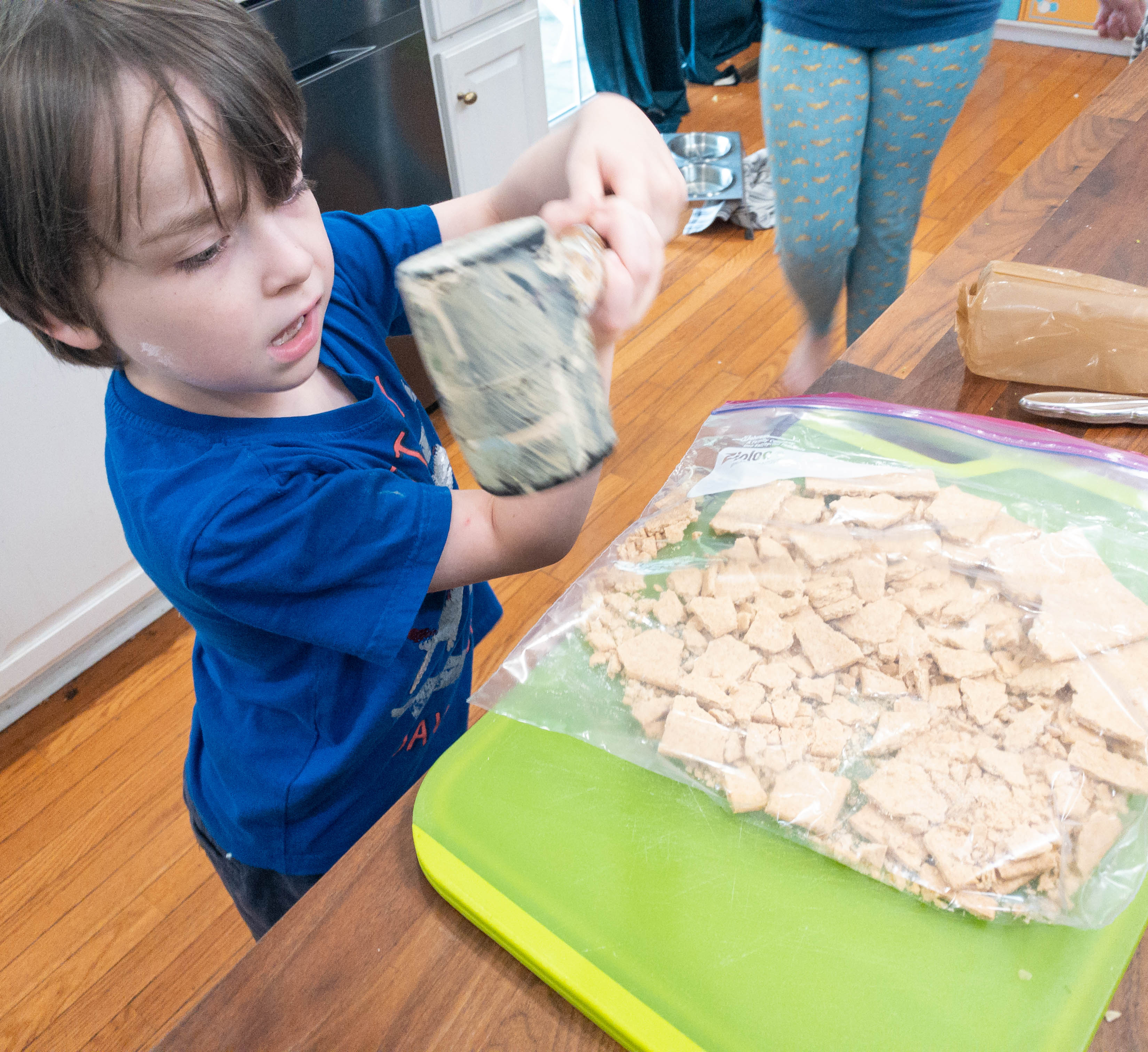 You could use an ordinary rolling pin, but the mallet made it more fun!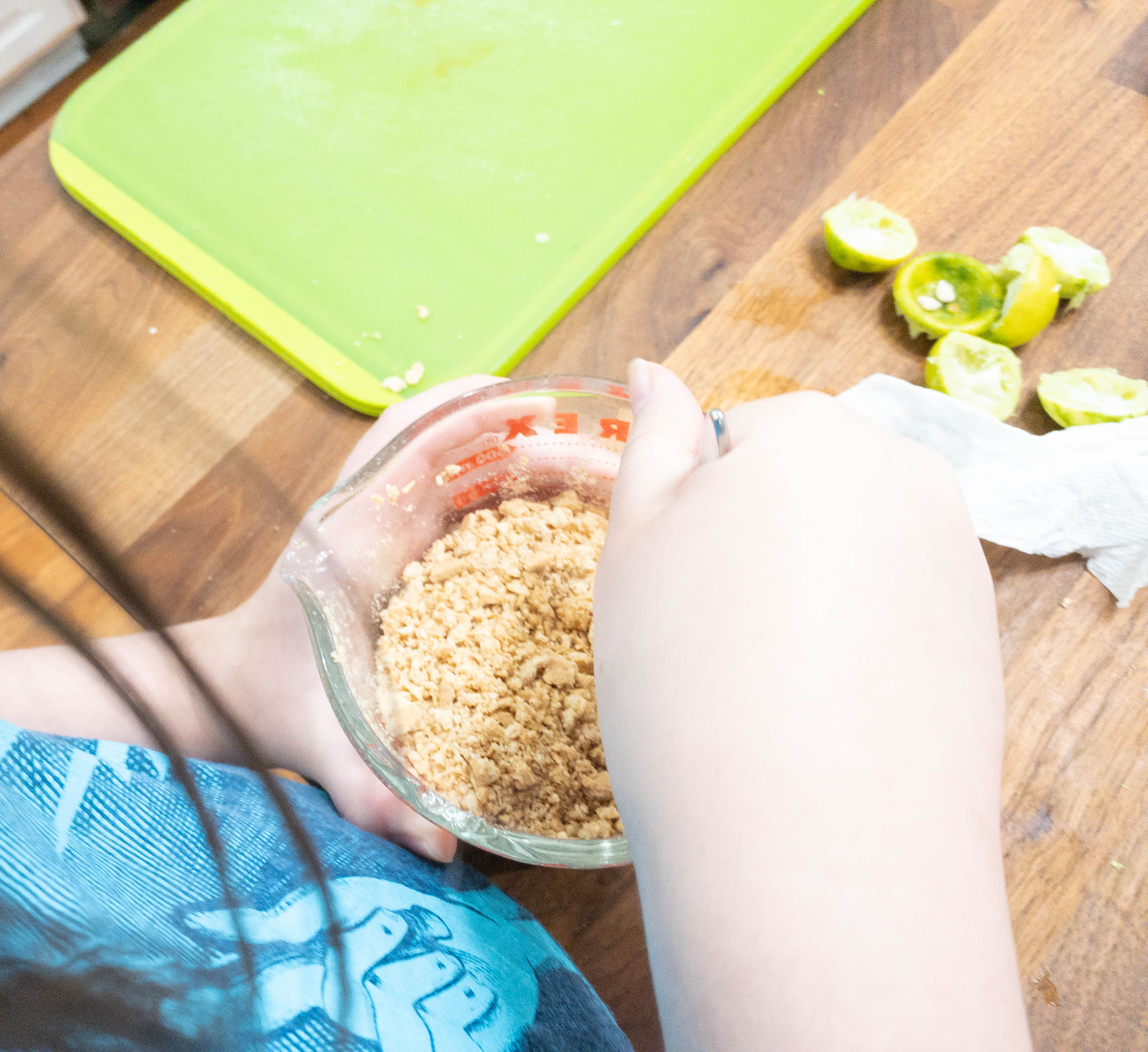 My daughter put the crushed graham crackers into a container and mixed them with some sugar and melted butter. This will be the base for the tartlets!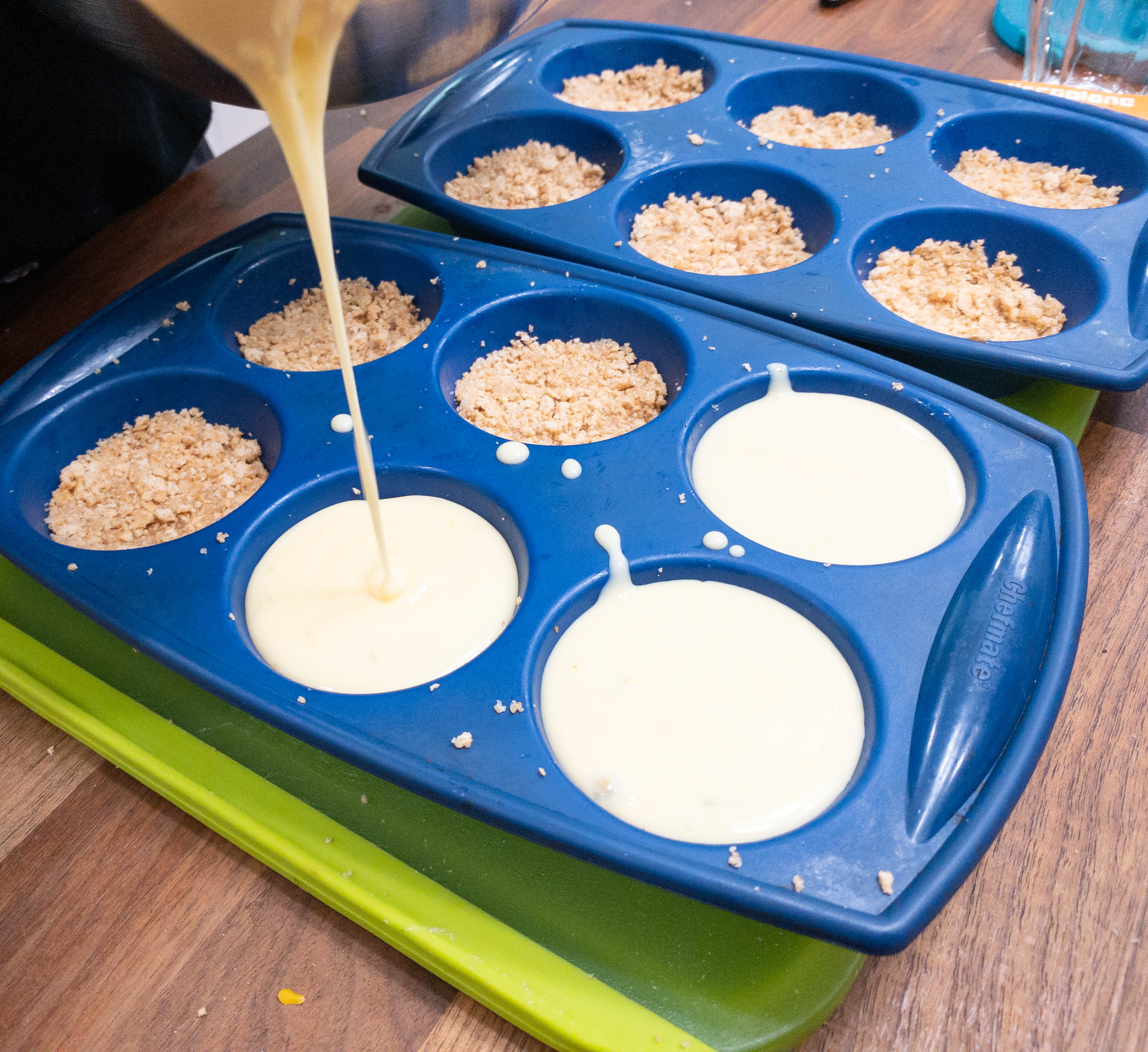 The next step is to put about 1-2 tablespoons of the graham cracker mixture into each hole in the muffin pan and press firmly until it covers the whole base nicely and makes a firm crust. After that, just mix the rest of the ingredients to make the batter and place some on top of the crust. The recipe called for liners but we usually adapt as we go. In my real life kitchen I swear by these silicone muffin pans, which I have used for over 12 years!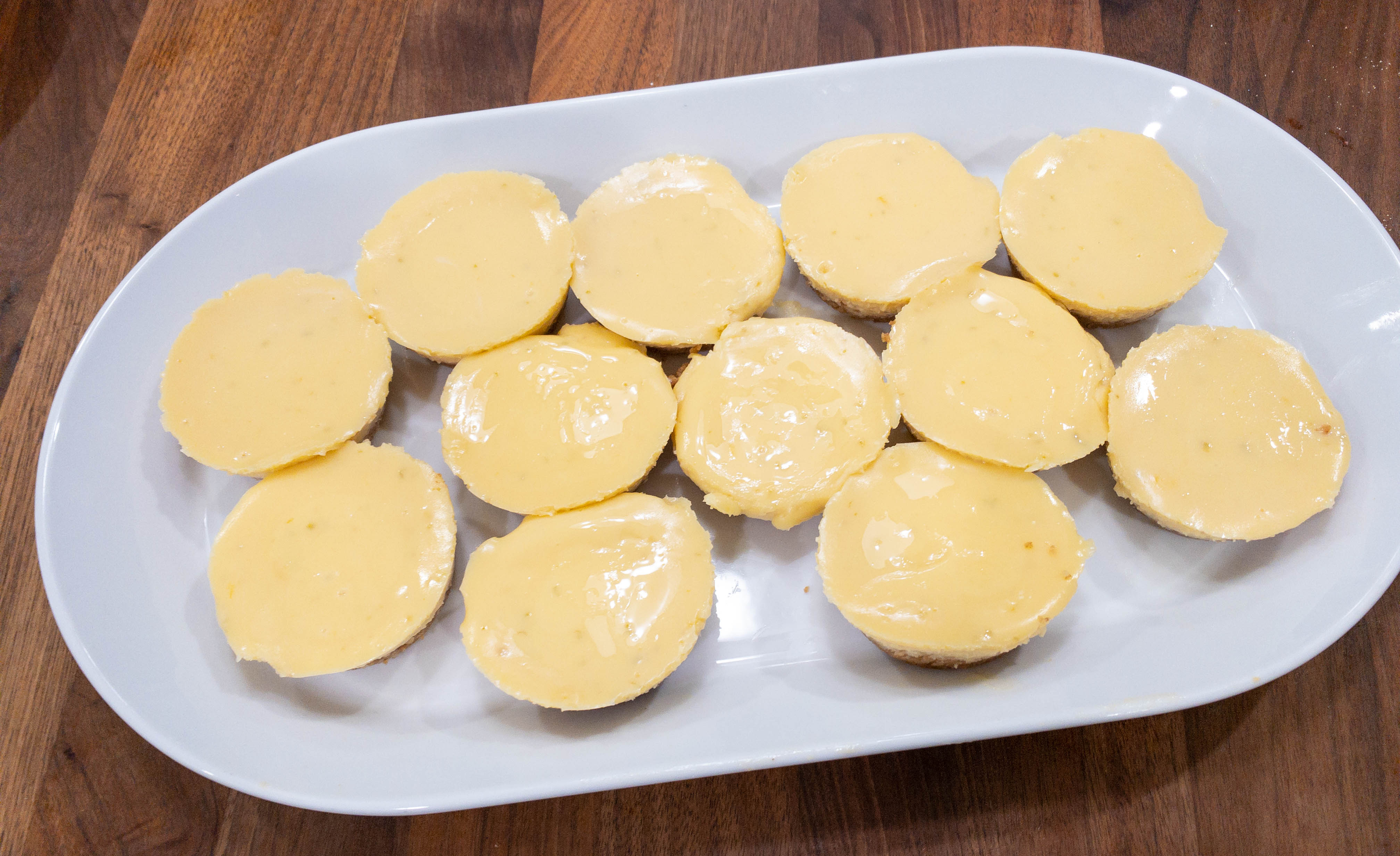 We popped the muffin pan into the oven and let the tartlets bake for about 10 minutes.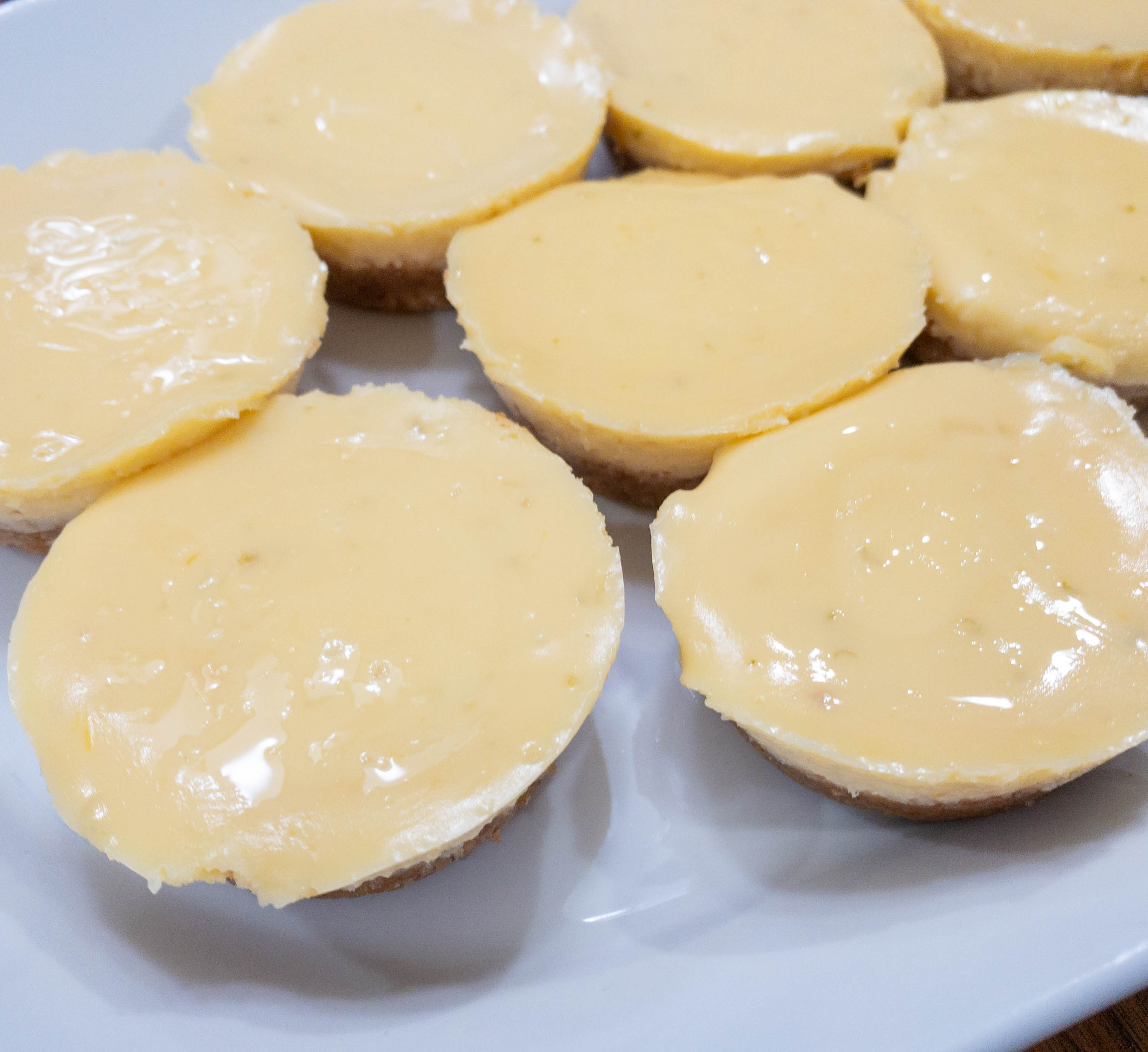 Here's the finished product! You can put a dollop of whipped cream on top to make it extra yummy.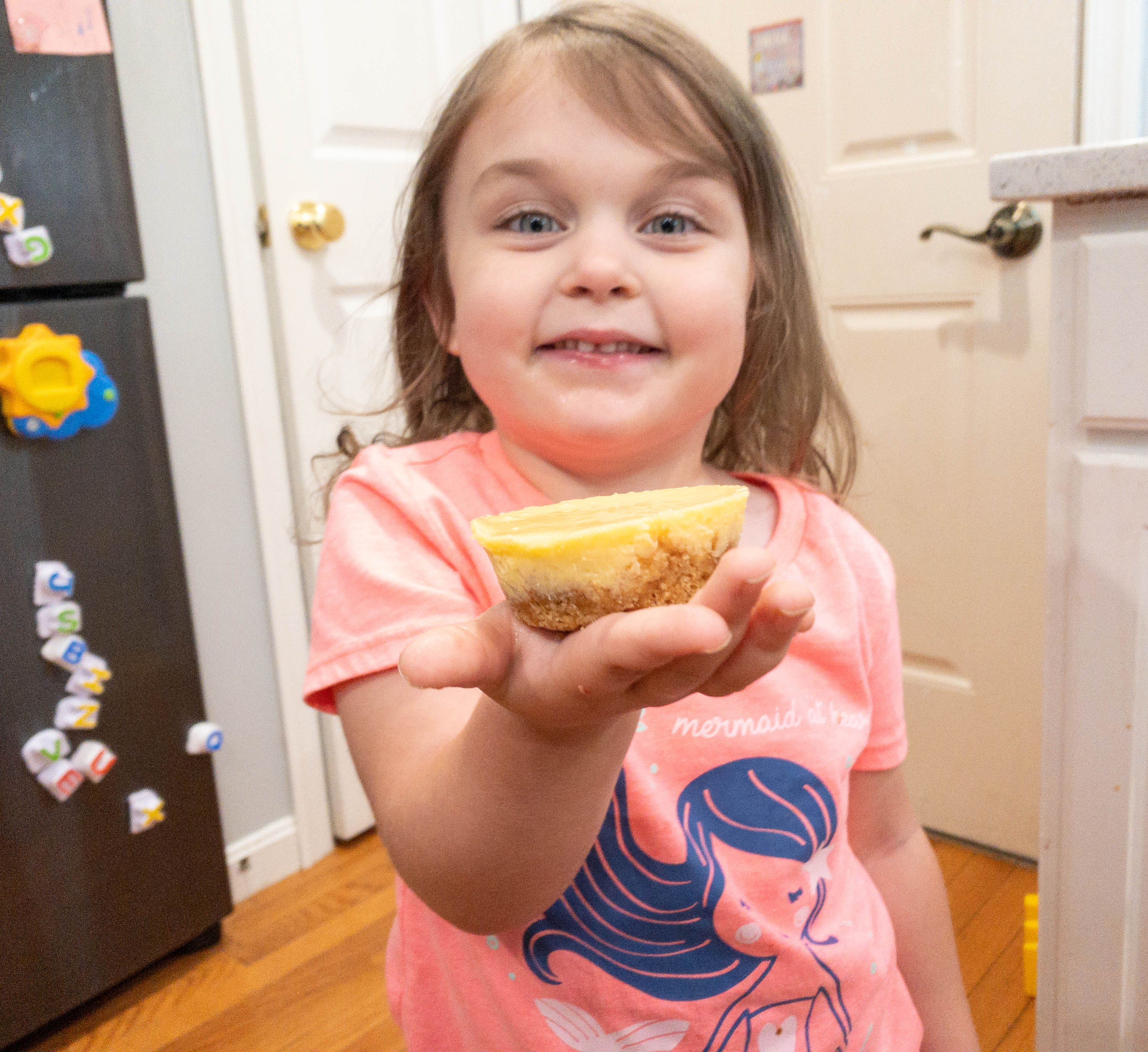 My daughter loved the tartlets!
It's a nice balance of tart and sweet, making a great dessert after a filling meal!
Raddish Kids box never fails to send fun and easy recipes for kids! This month, the recipes are all tropical themed. There's a recipe for a smoothie bowl, tacos with shrimp and tropical fruits, and a mini version of key lime pie. My kids' favorite is none other than the key lime tartlets! They loved making it, starting from juicing the lime to preparing the crust to baking the tartlets in the oven. They even learned how to properly juice the limes, and they want to do it again! As always, things went smoothly for us because the included instructions are easy to follow. The extra activities and trivia on the recipe guides also add fun to the whole experience, and the playlist, too. Raddish Kids is definitely a great activity subscription for families. It's a good way to encourage kids to learn new things and bond with family members!
What do you think of this month's Raddish Kids box?