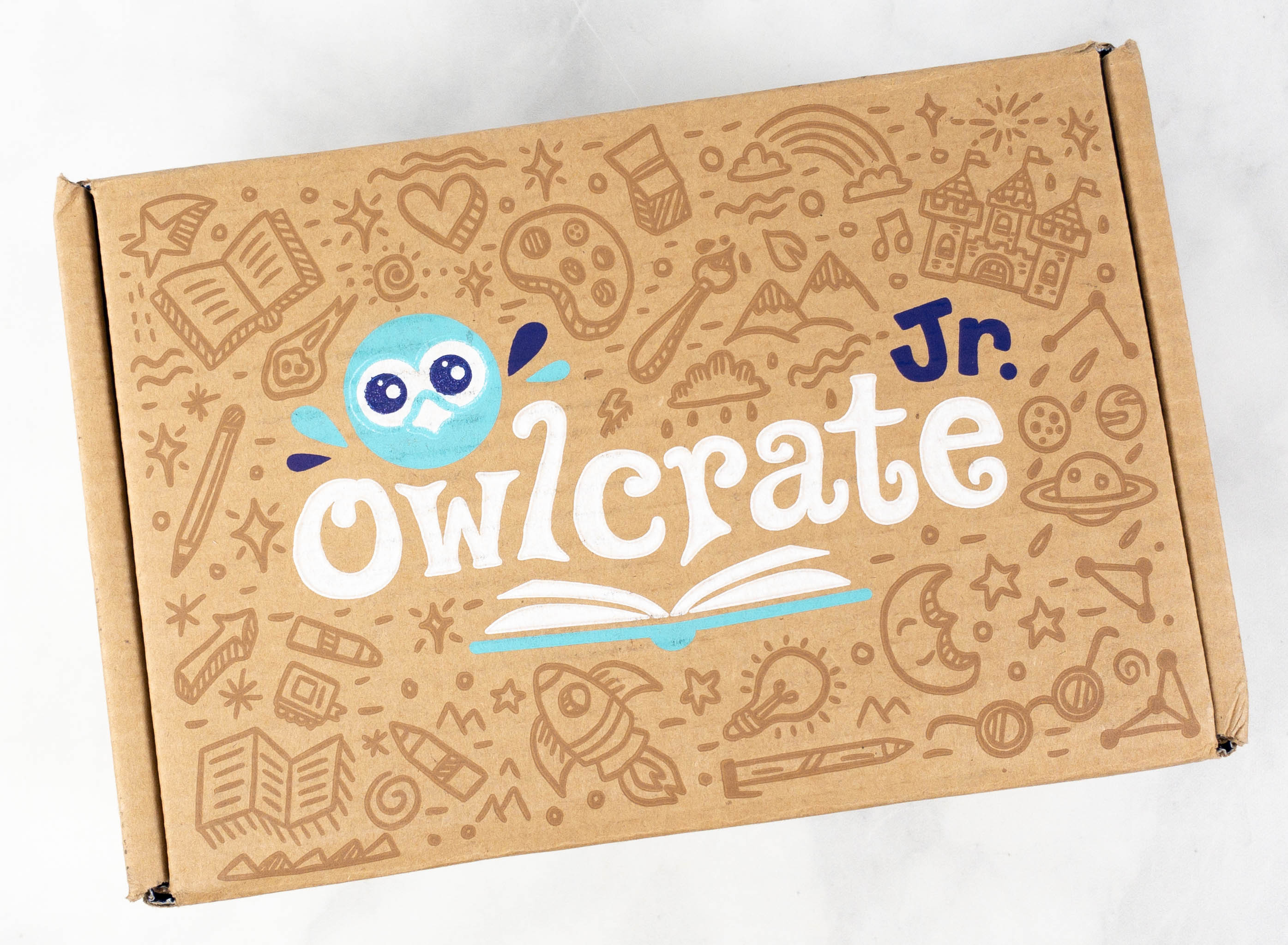 OwlCrate Jr. is a monthly book subscription box for young readers ages 8-12. Each box includes a brand new hardcover novel, an exclusive letter and signed bookplate from the author, fun and unique items based on a theme, a collectible monthly sticker and magazine, and a second book (or game/activity). It's from OwlCrate, a super popular YA (young adult) fiction subscription. They currently offer a Monthly Jr Plan ($29.99 per month), a 3-Month Jr Plan ($86.97 per 3-month period), and a 6-Month Jr Plan ($167.94 per 6-month). Shipping within the US is $8.99 per box. International shipping rates vary.
Owl Crate's middle grade readers box made our readers' choice list of best book boxes for kids!
DEAL: Save 15% on your first 1, 3, or 6-month subscription or gift with the promo code HELLO15 at checkout.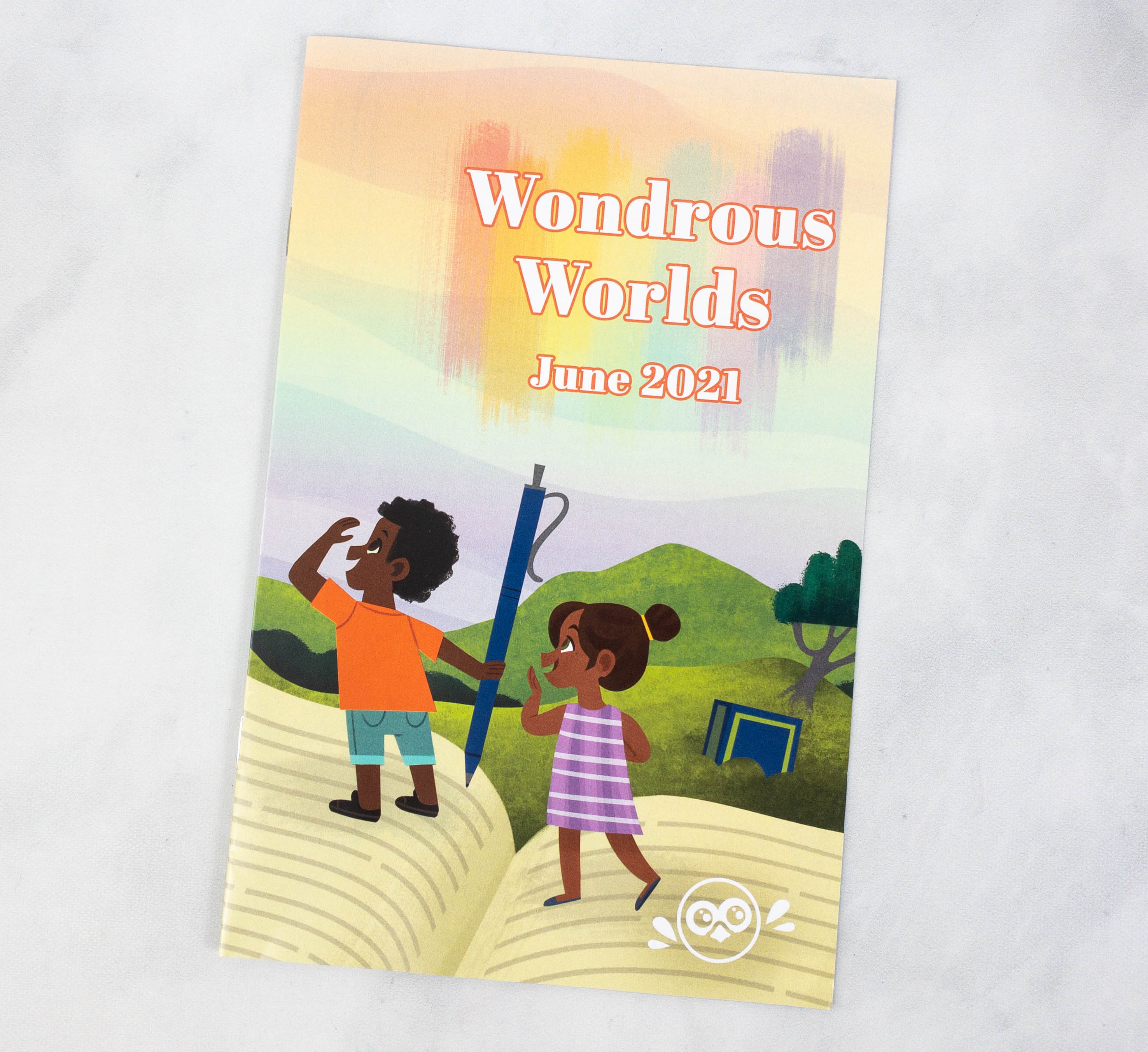 The theme for the June 2021 OwlCrate Jr. box is WONDROUS WORLDS!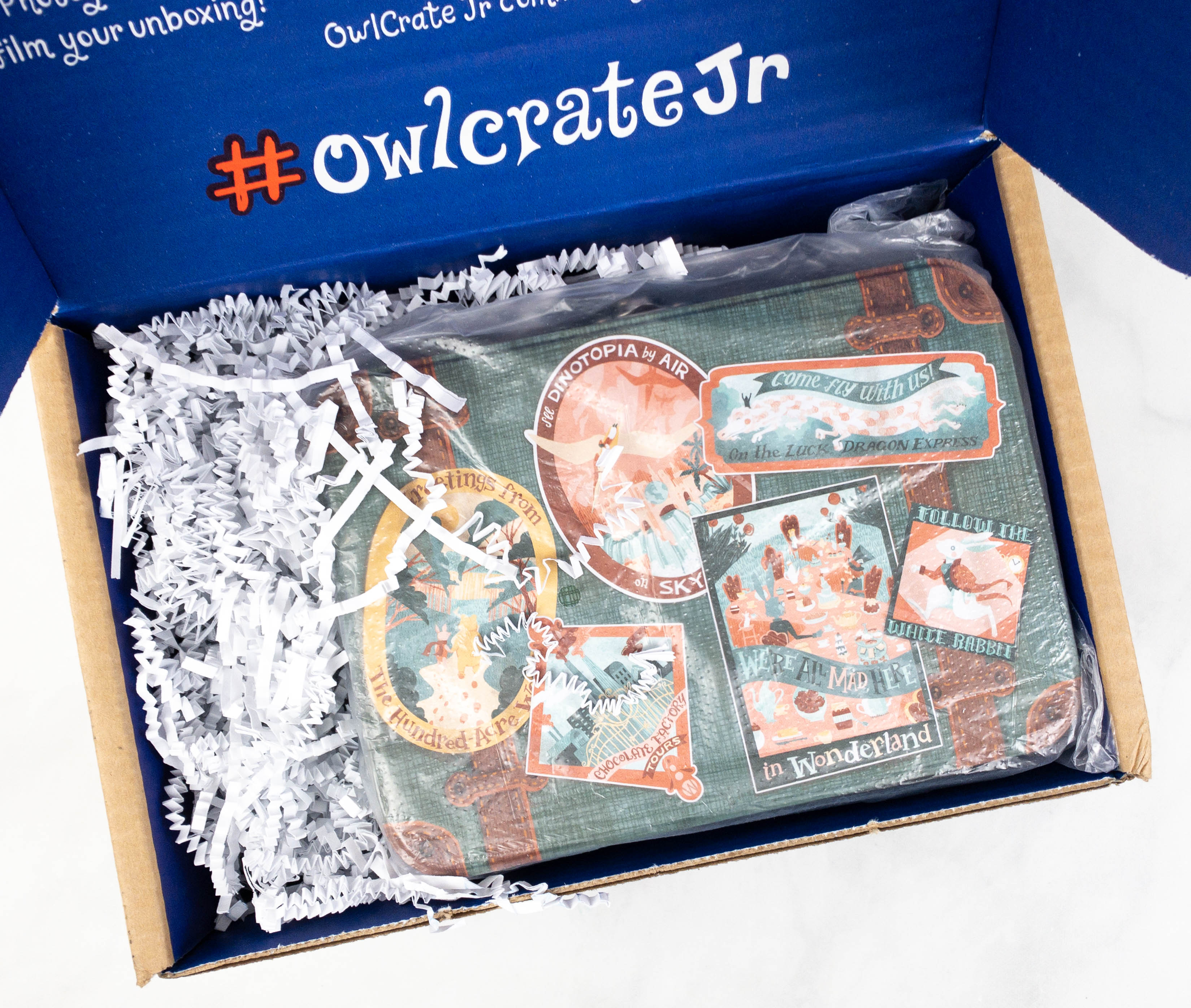 The items were packed with white squiggles.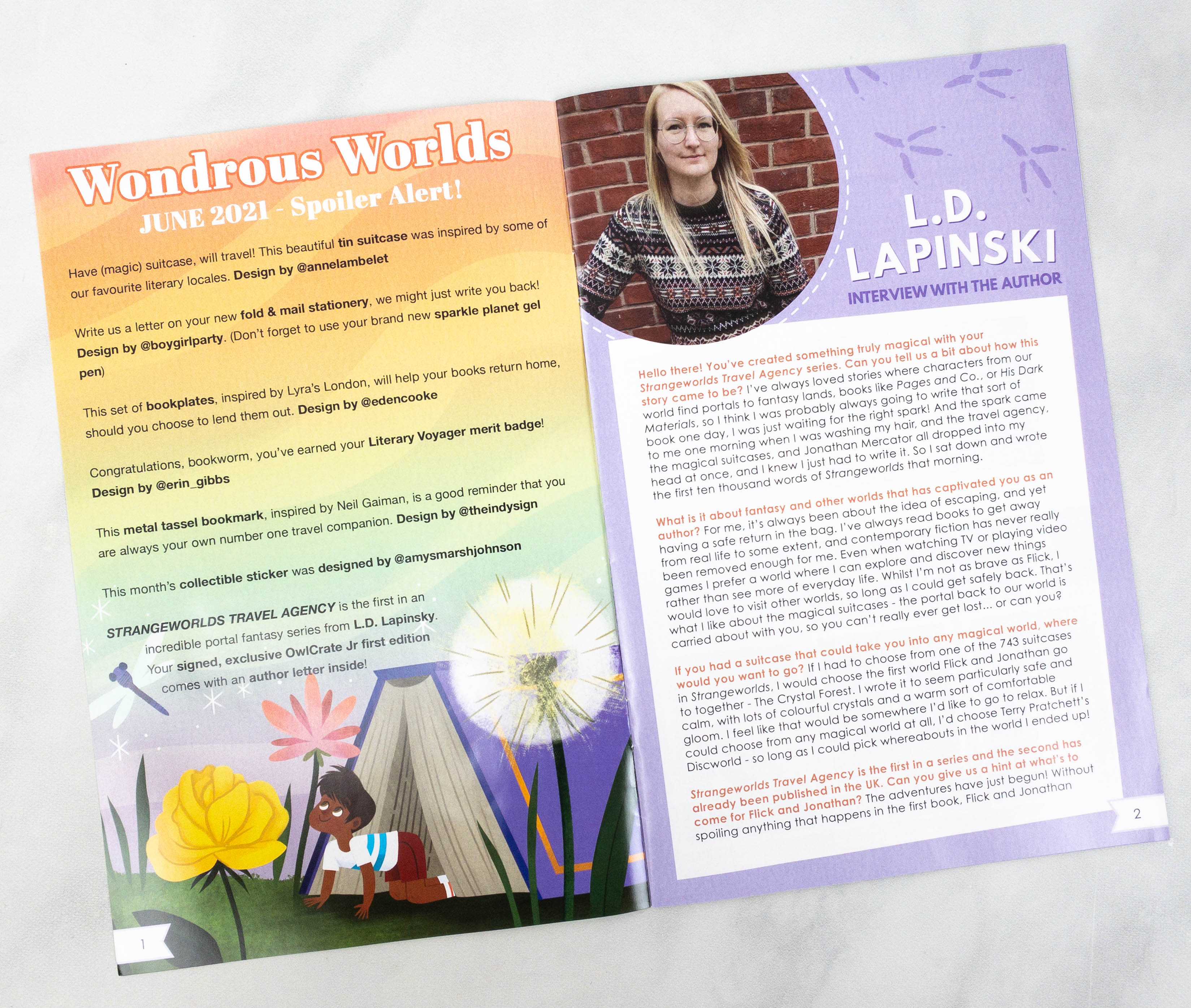 Inside, there's a list of all the items in the box, as well as an interview with this month's featured author L.D. Lapinsky.
Knowing what inspired the author to pen a story can help children understand the book better.
They also suggested some titles for further reading, especially if you love this month's book: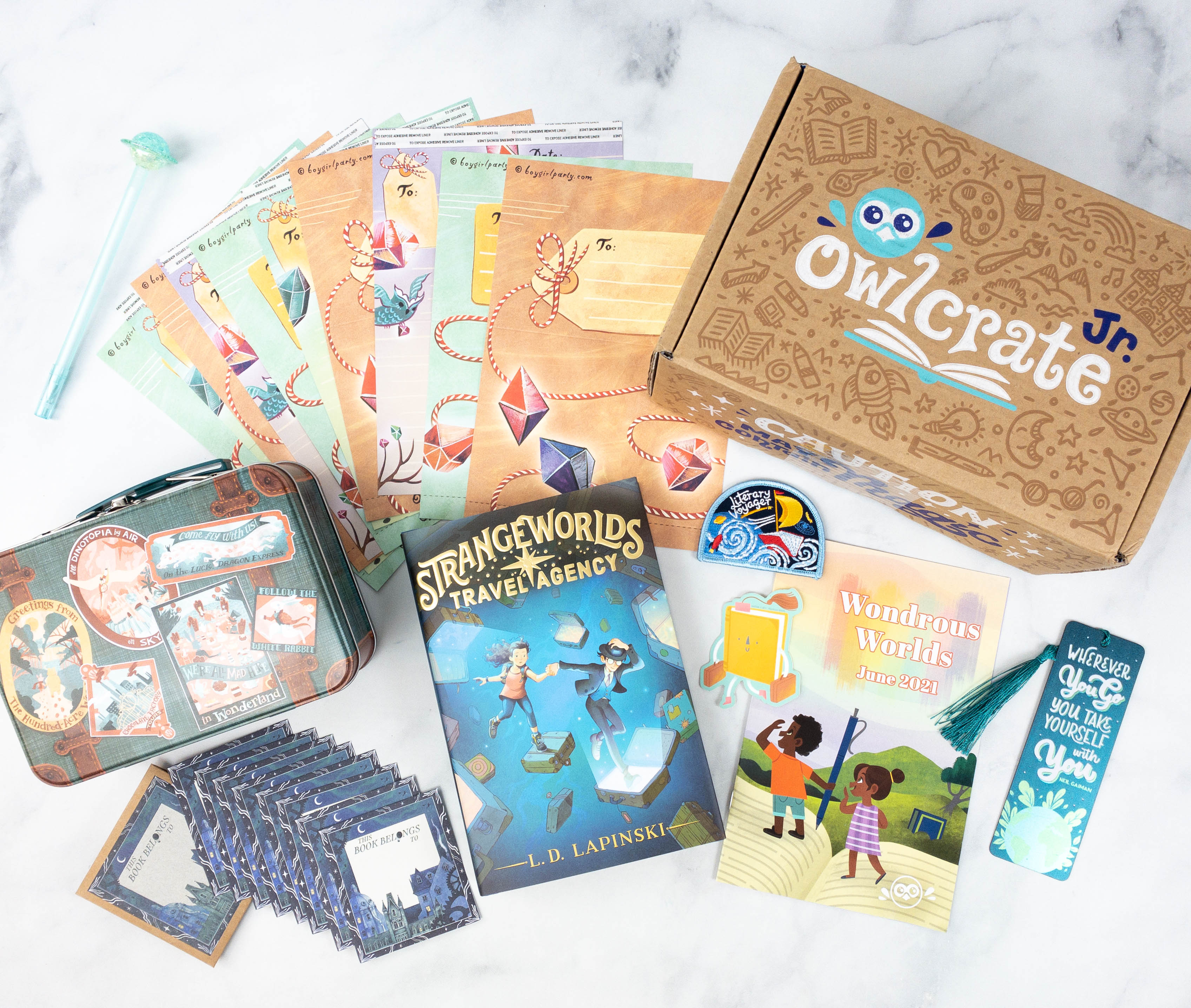 Everything in the June 2021 OwlCrate Jr. box!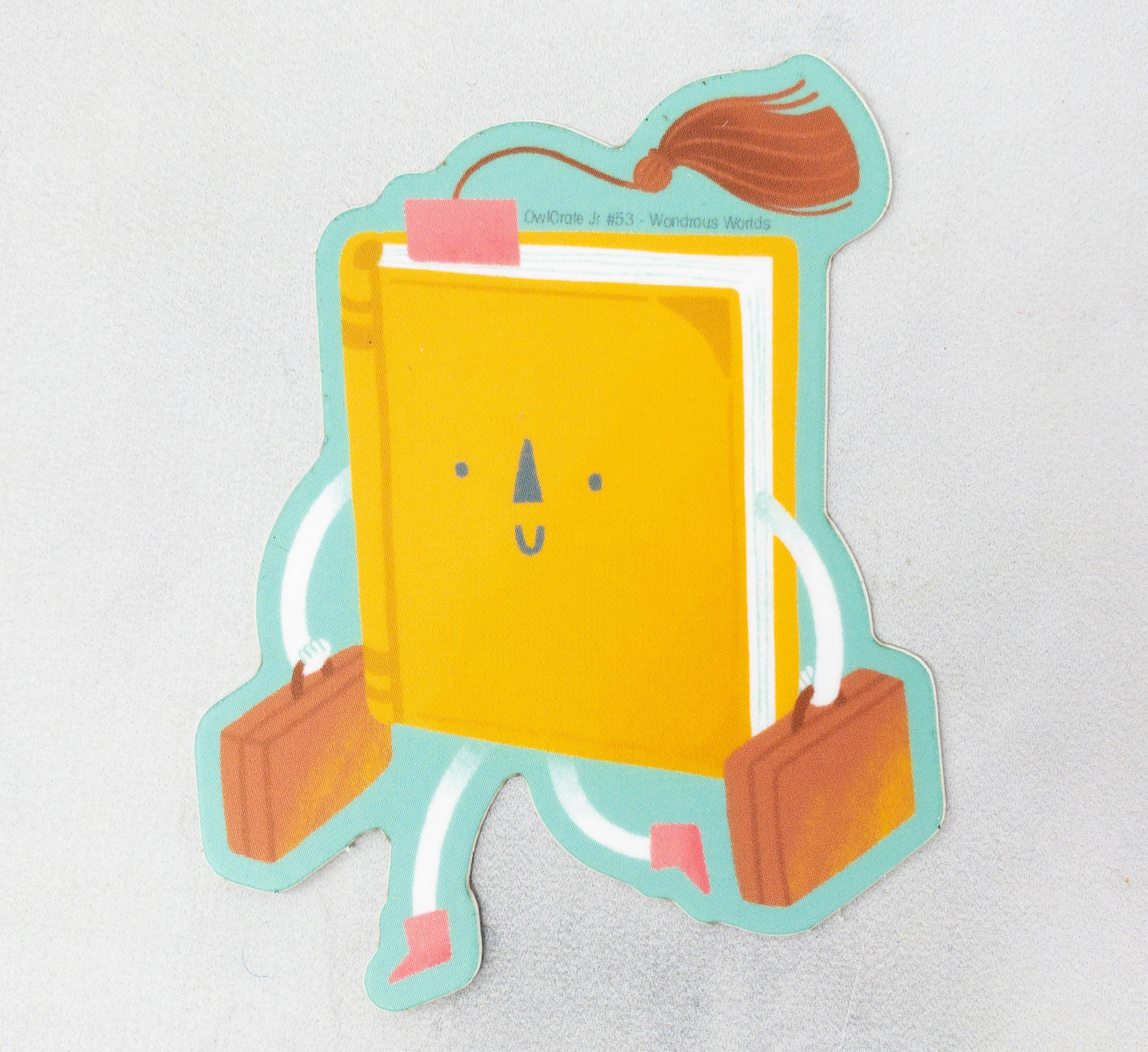 Collectible Sticker. This month's box includes a cute sticker! It features a book holding some bags, looking like it's about to go to an adventure somewhere.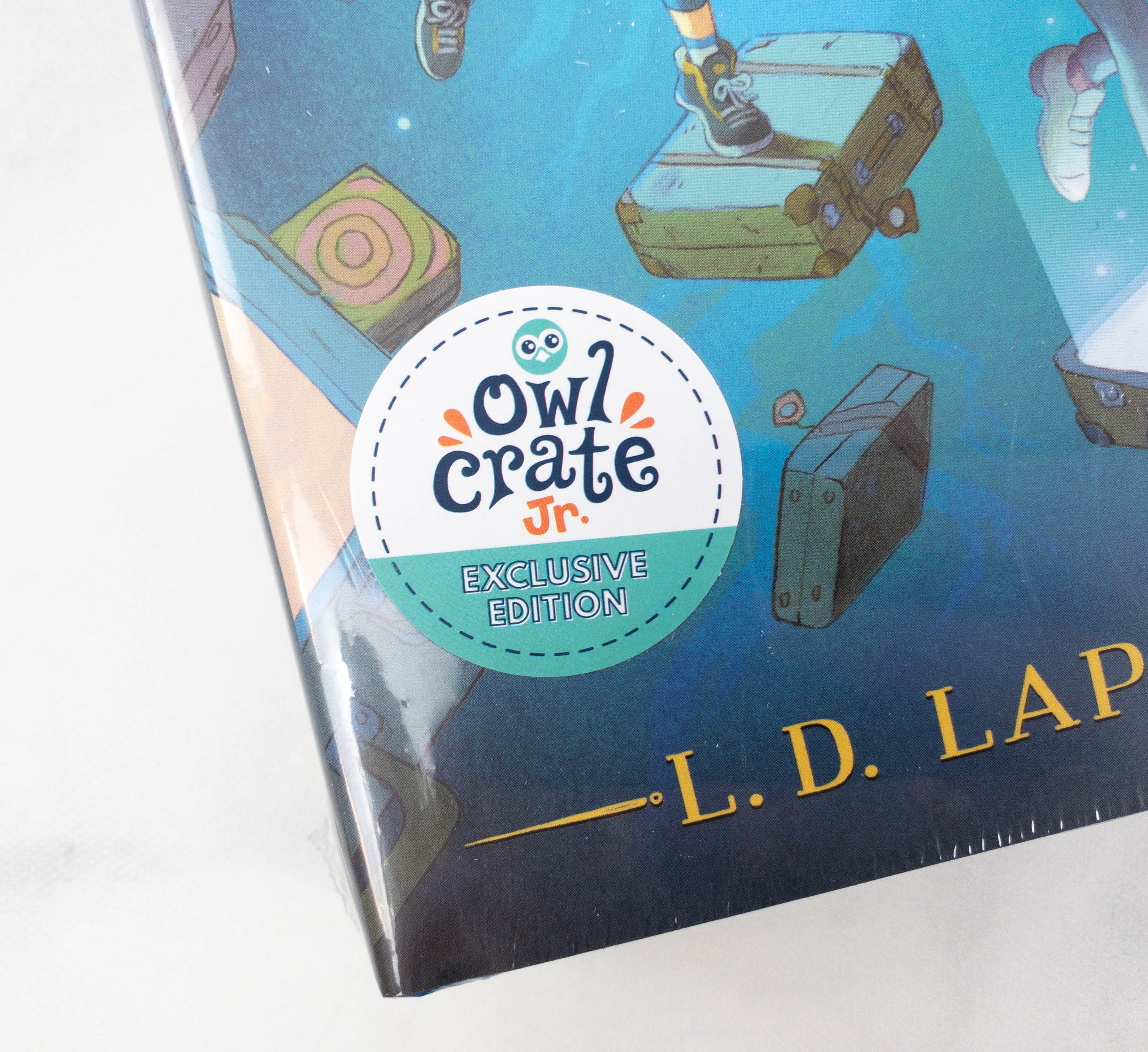 The featured book has a sticker indicating that it's an Owl Crate Jr. exclusive edition.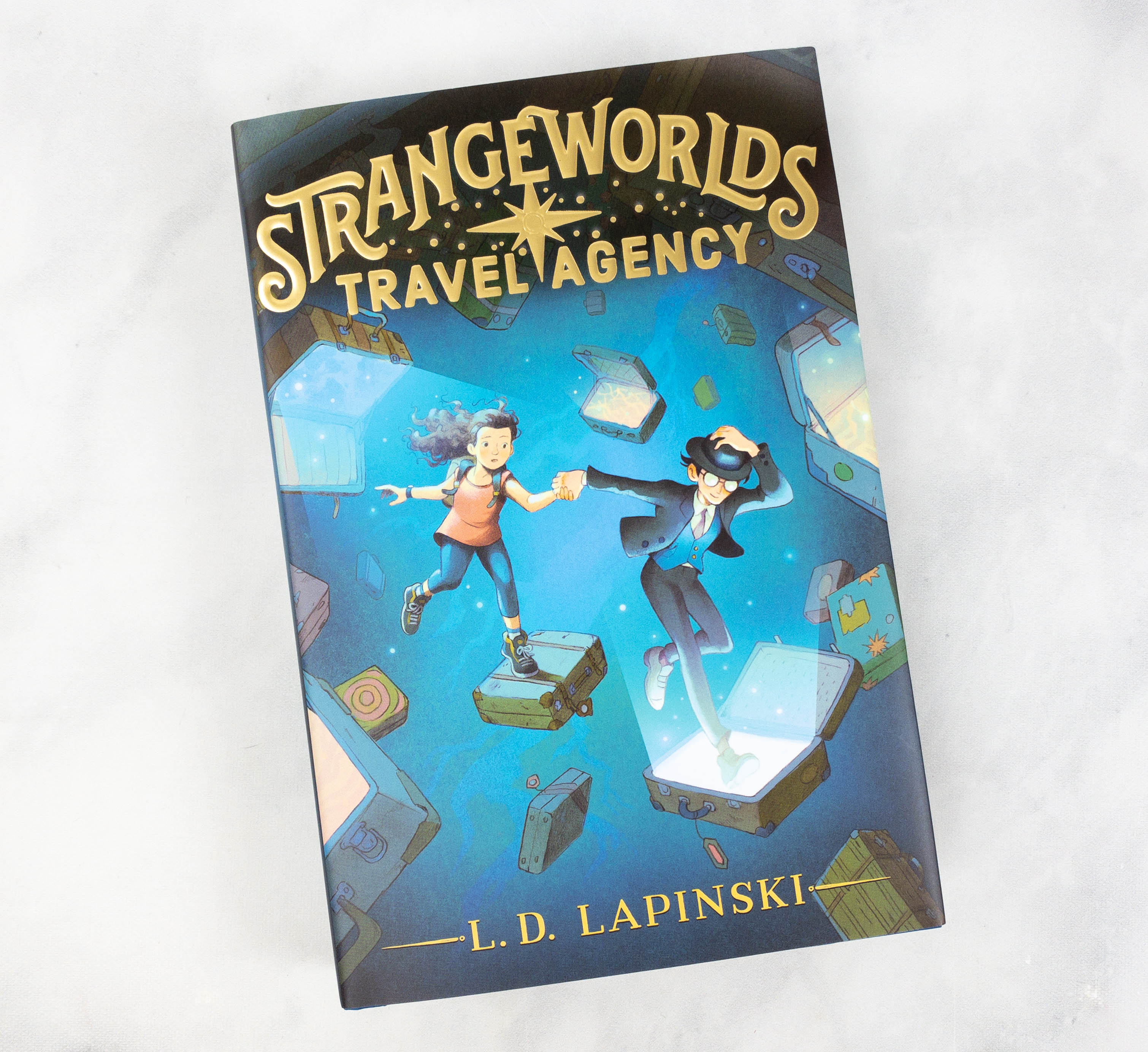 Strange Worlds Travel Agency by L.D. Lapinski ($15.99)
Perfect for fans of The Train to Impossible Places and Nevermoor, this imaginative middle grade fantasy follows a young girl who uses a travel agency's magical suitcases to travel to different worlds.

When twelve-year-old Flick Hudson accidentally ends up in the Strangeworlds Travel Agency, she uncovers a fantastic secret: there are hundreds of other worlds just steps away from hers. All you have to do to visit them is just jump into the right suitcase. Then Flick gets the invitation of a lifetime: join Strangeworlds' magical travel society and explore other worlds.

But, unbeknownst to Flick, the world at the very center of it all, a city called Five Lights, is in danger. Buildings and even streets are mysteriously disappearing. Once Flick realizes what's happening she must race against time, travelling through unchartered worlds, seeking a way to fix Five Lights before it collapses into nothingness—and takes her world with it.
This middle grade book is a fun adventure with elements of fantasy and magical realism!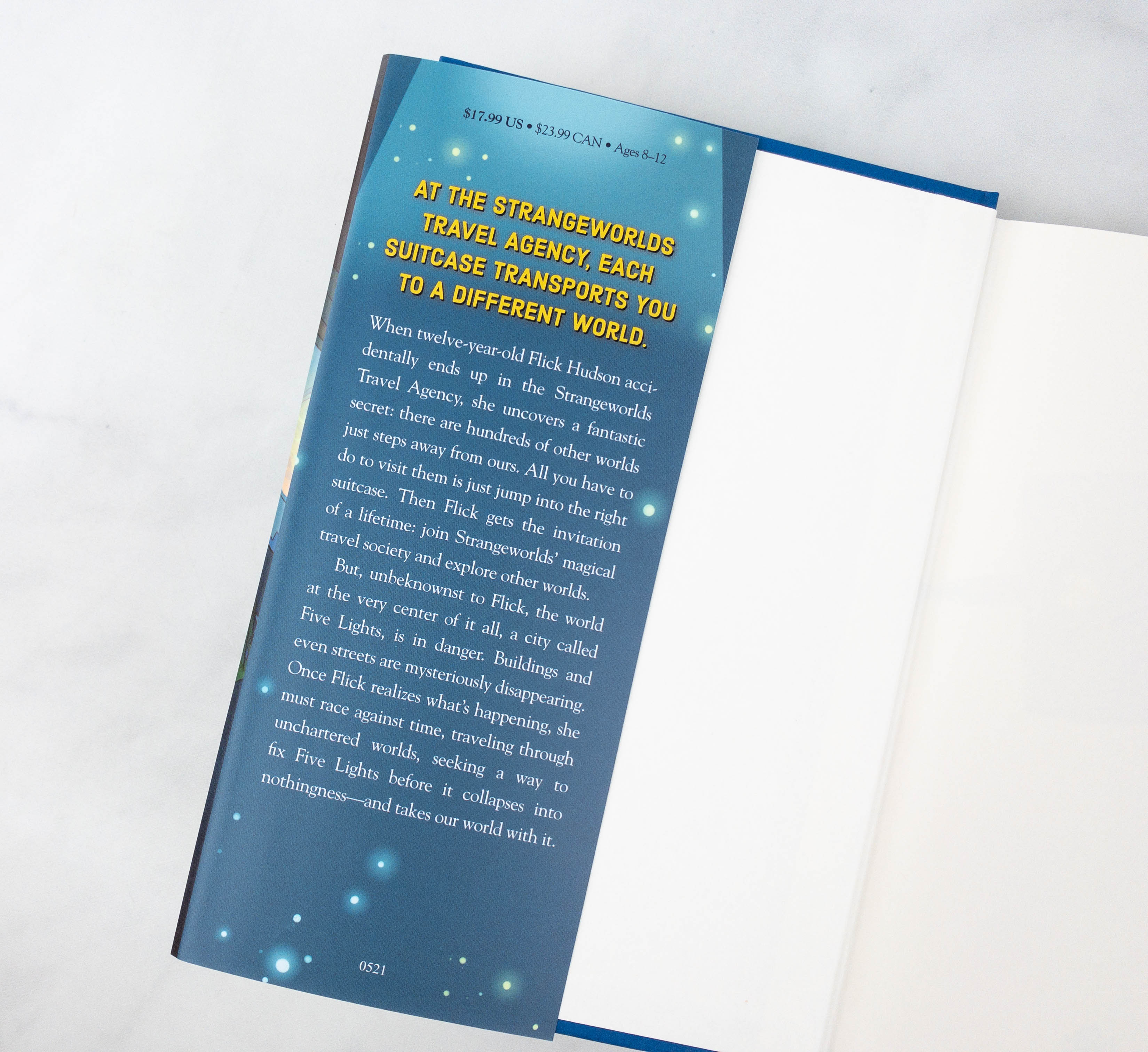 The synopsis can be found at the inner flap of the book.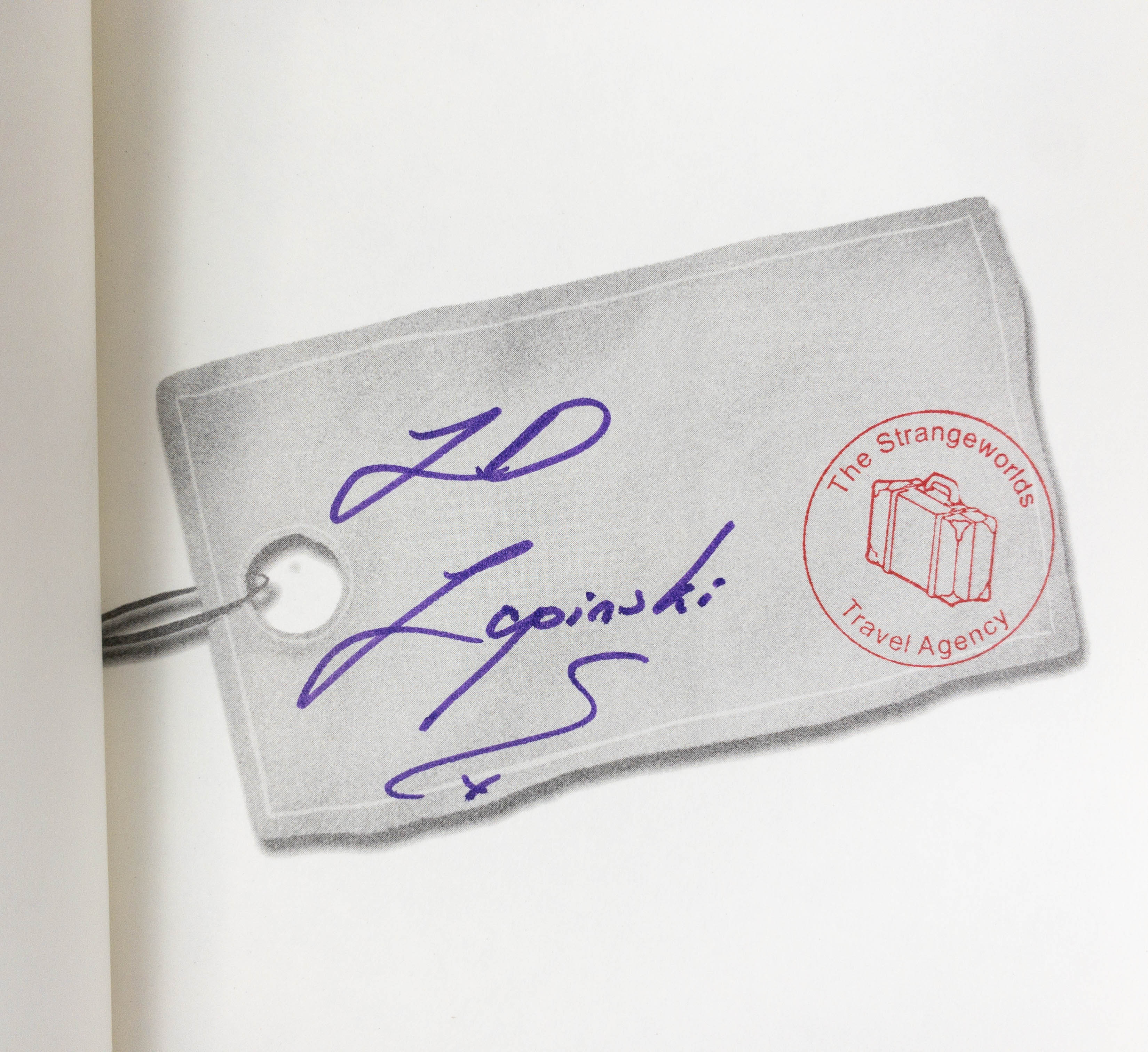 This is a signed copy!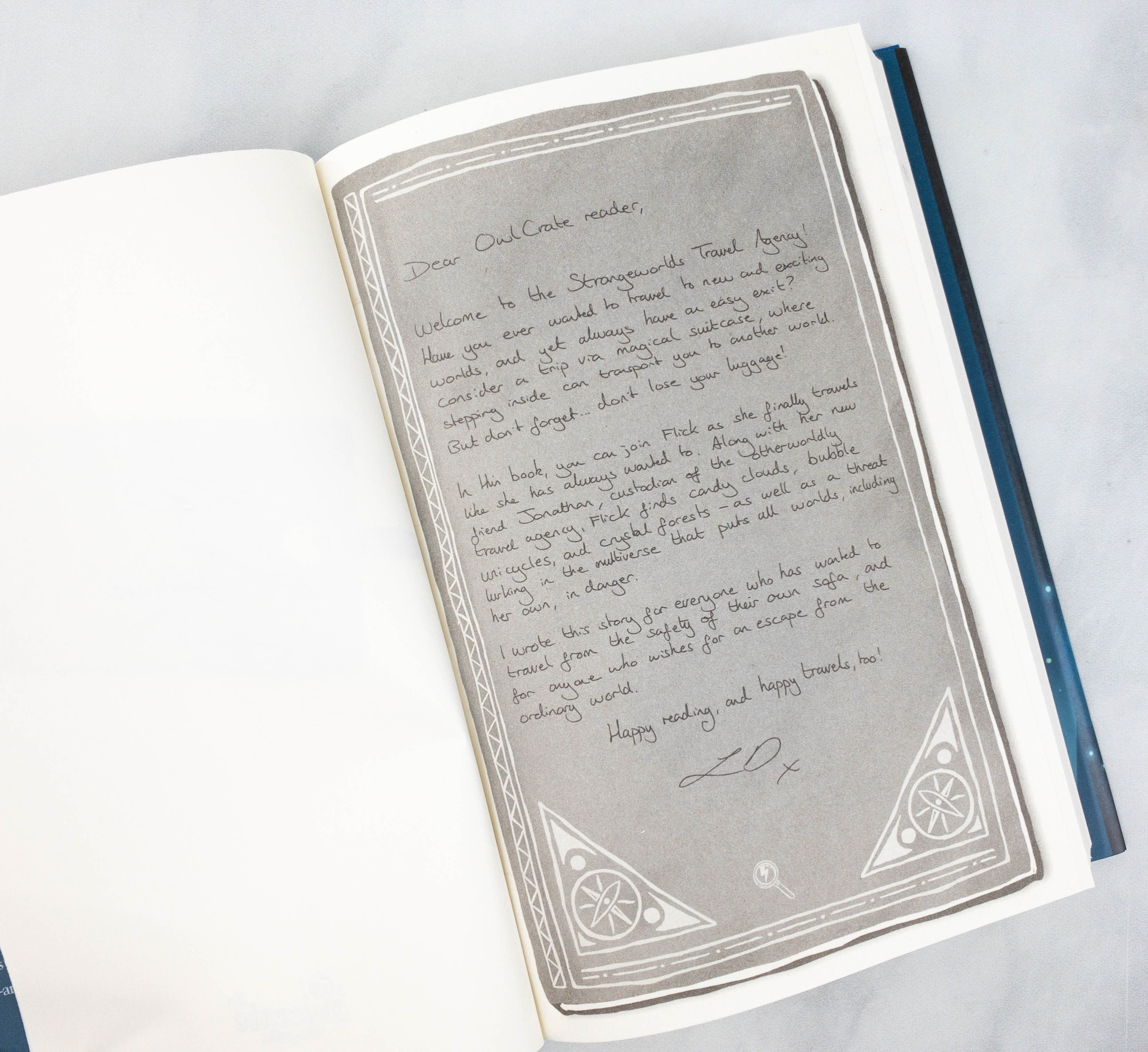 There's also a letter for Owl Crate readers from the author, right inside the book!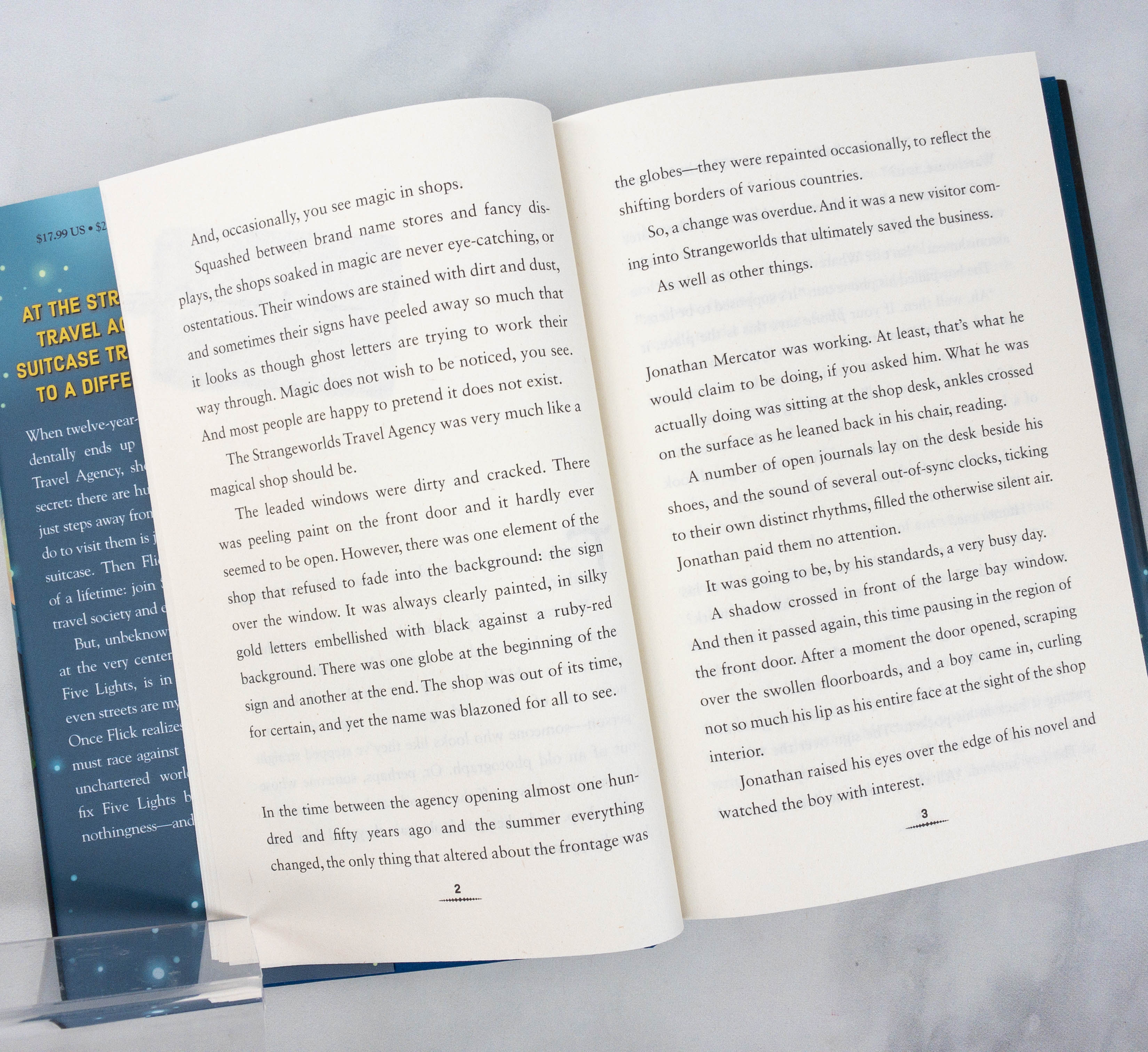 My kids really liked the idea of being able to just jump into a suitcase and be someplace else. The story is filled with friendship and magic so I can really see why my kids enjoy this book.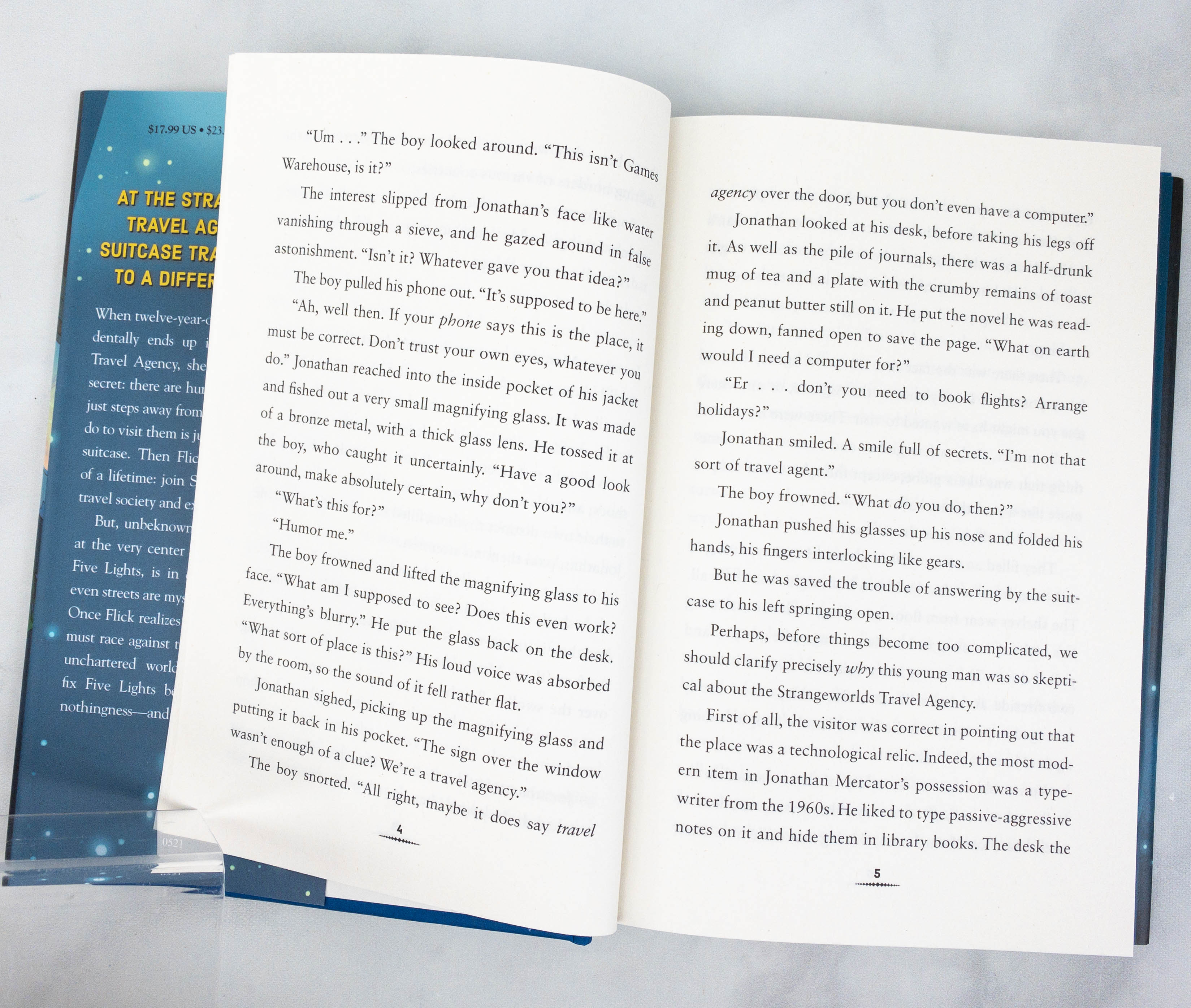 The story really plays with the reader's imagination. There are also a lot of twists and turns in it, which just made the whole book worthwhile.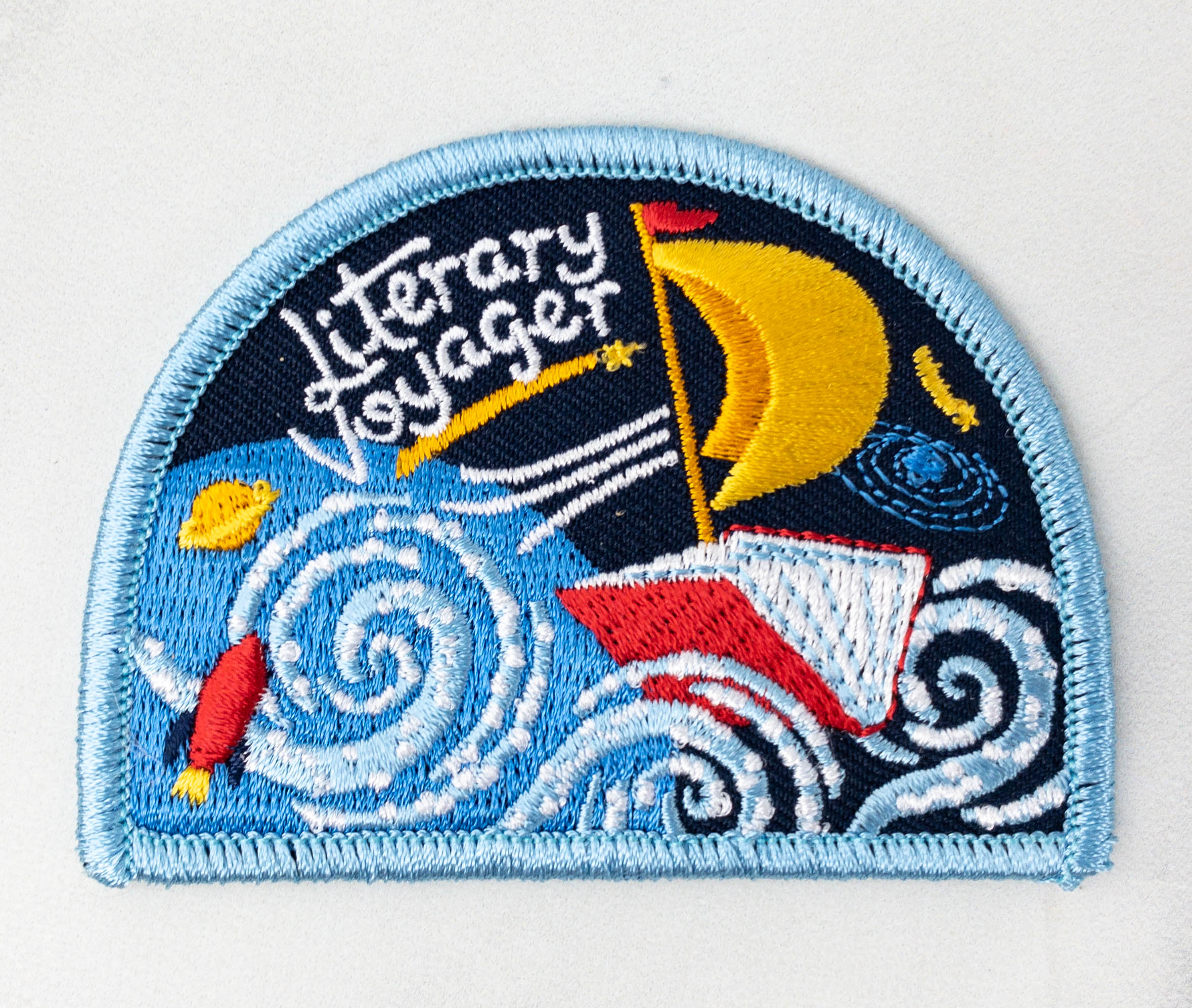 Literary Voyager Merit Badge. This patch with embroidered details look really pretty! The text says "Literary Voyager" and it also features a book and a rocket. It's a nice reminder that with reading, the only limit is your imagination. This can be attached to a bag or even a jacket!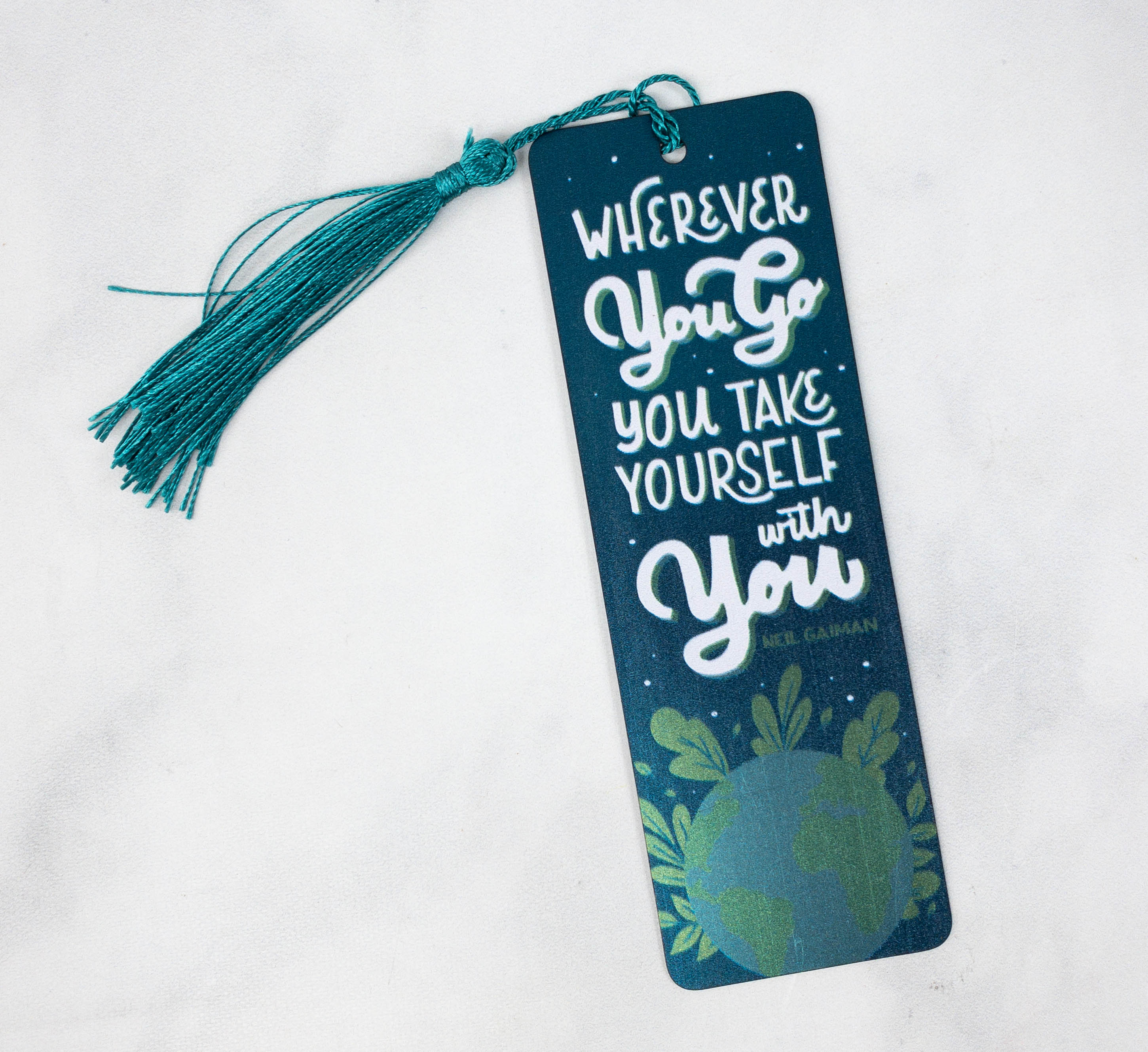 Metal Tassel Bookmark. They also included a bookmark and this one is a thin strip of metal which is great because it comes with a bit more weight compared to the usual card stock. It also came with a cute tassel! The design features an illustration of the Earth with a quote from Neil Gaiman on top.
Wherever you go, you take yourself with you. – Neil Gaiman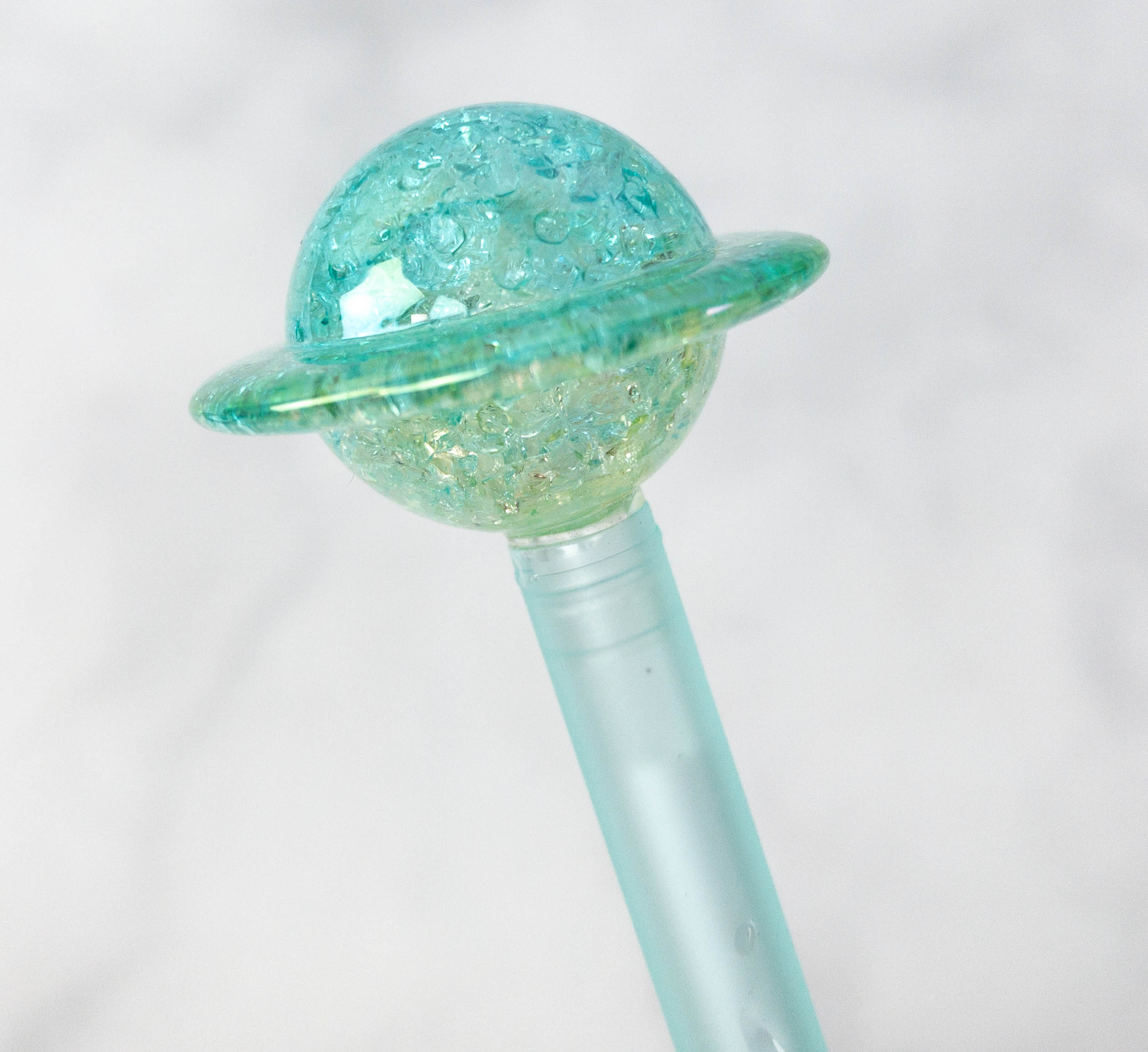 Sparkle Planet Gel Pen. Still in line with the theme, here's a gel pen with a planet design on its end. It has a crystal like design which is really cute!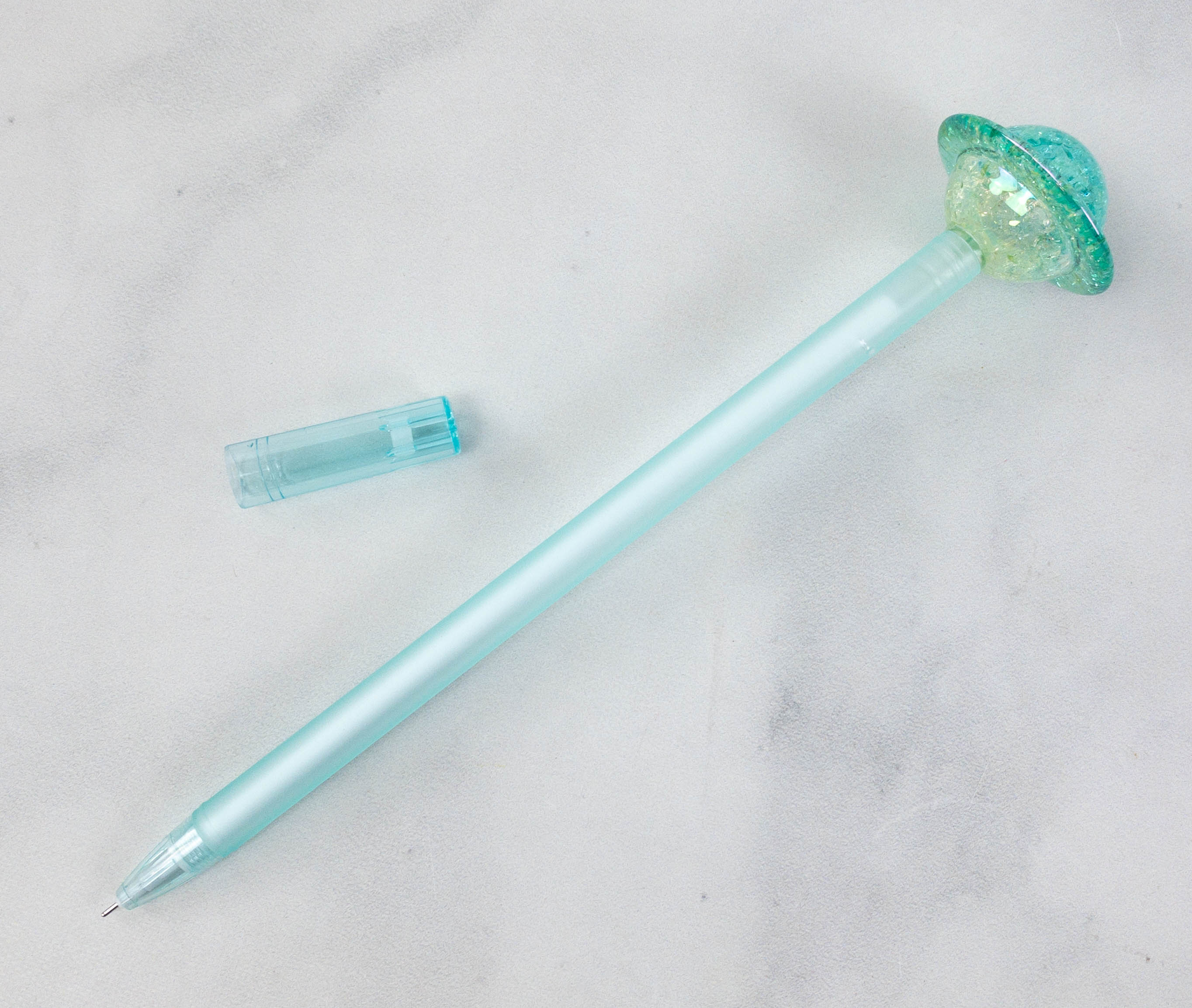 The pen came with a cap to protect the tip. It writes well and my daughter likes it!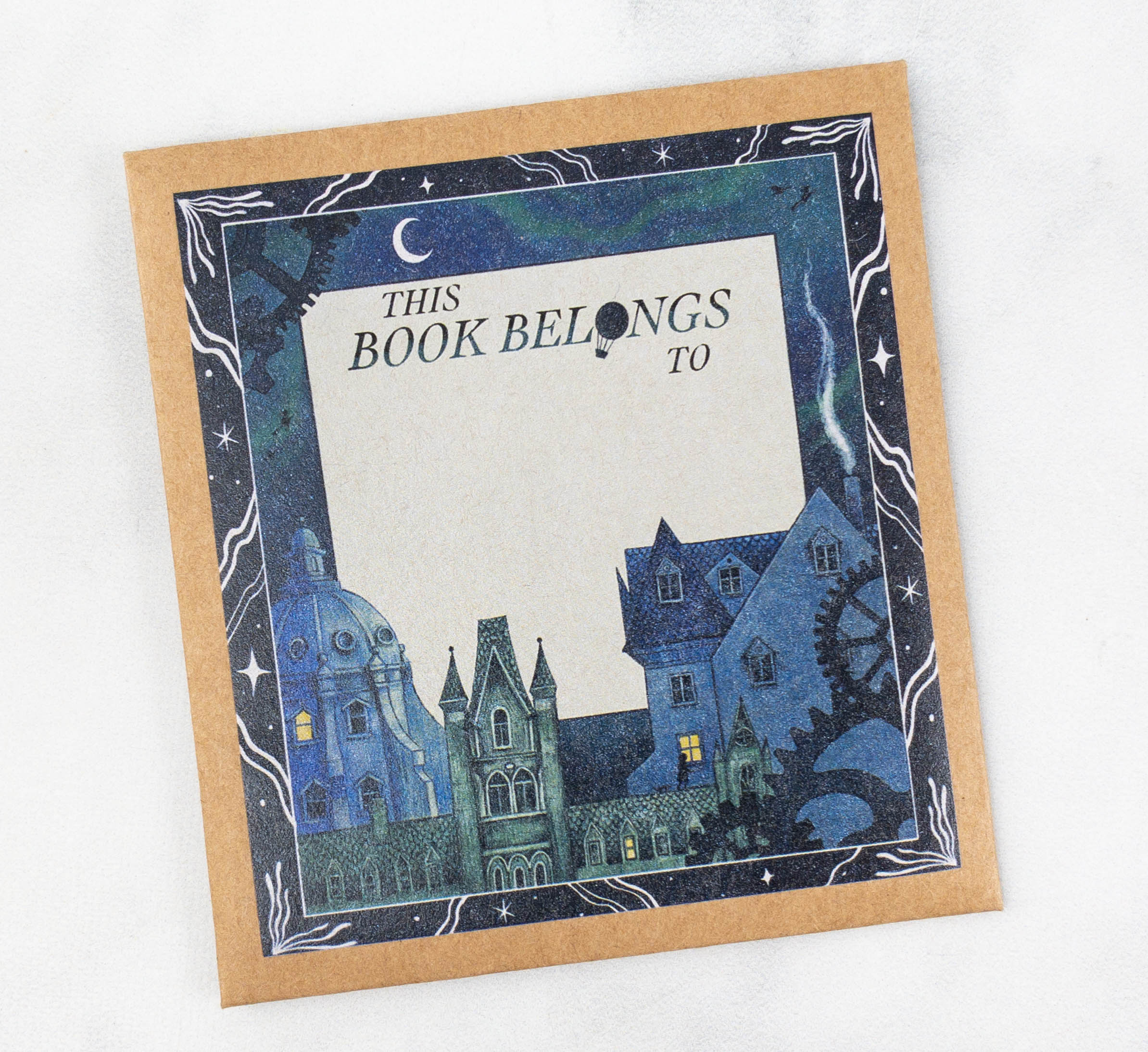 Bookplates. We also received some bookplates! This is a nice way to label the books without sticking anything on the cover or writing on the book itself.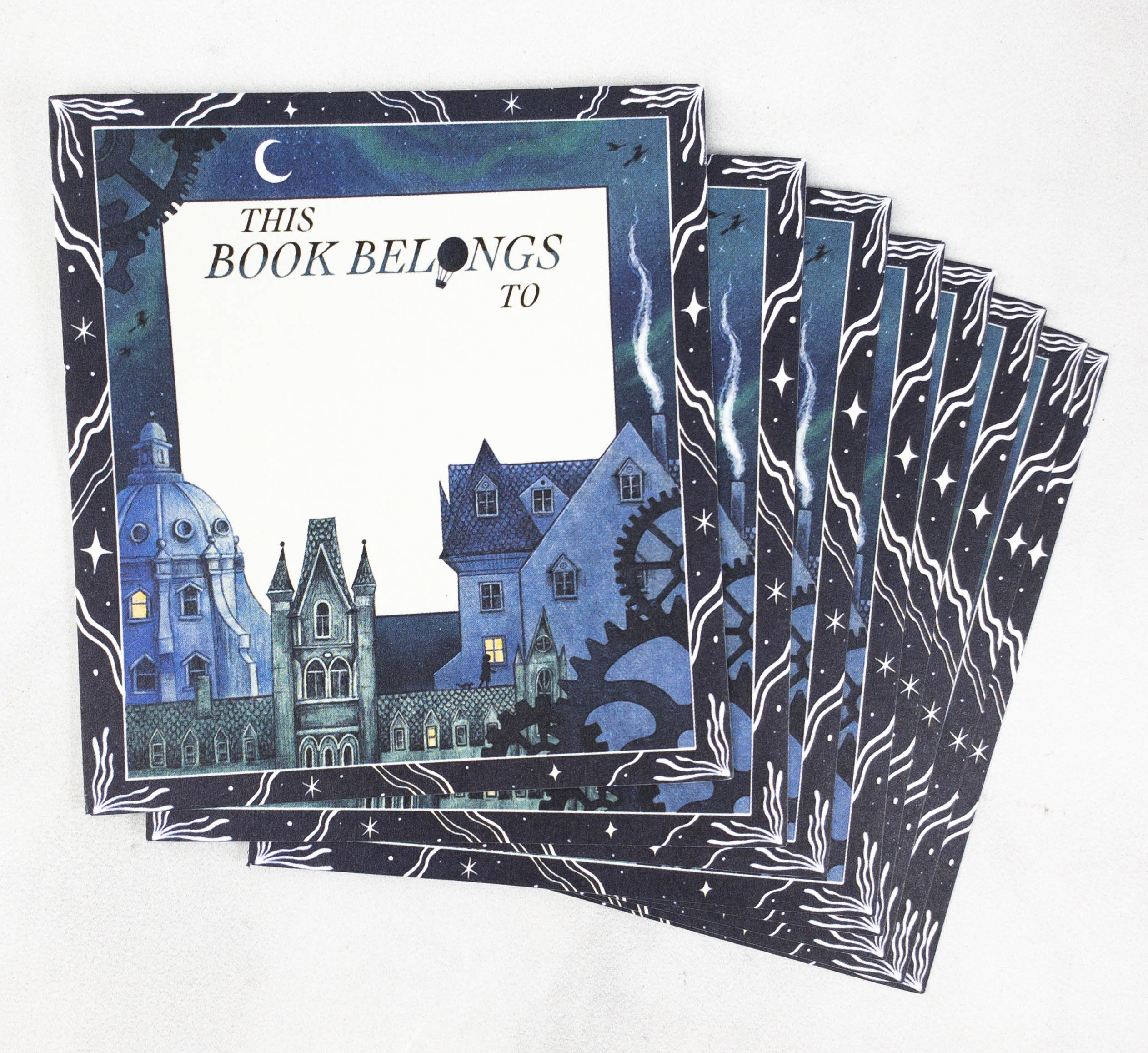 The design looks a bit mysterious, as it features a night time view of some old castles. This is perfect for our little neighborhood booklending operation!
Boygirl Party Fold & Mail Stationery. It's a set of foil and mail stationery, which means you don't have to use a separate envelope when mailing it. Once you're done writing your message, you can simply fold the piece of paper on the guide and it will fold up to look like an envelope!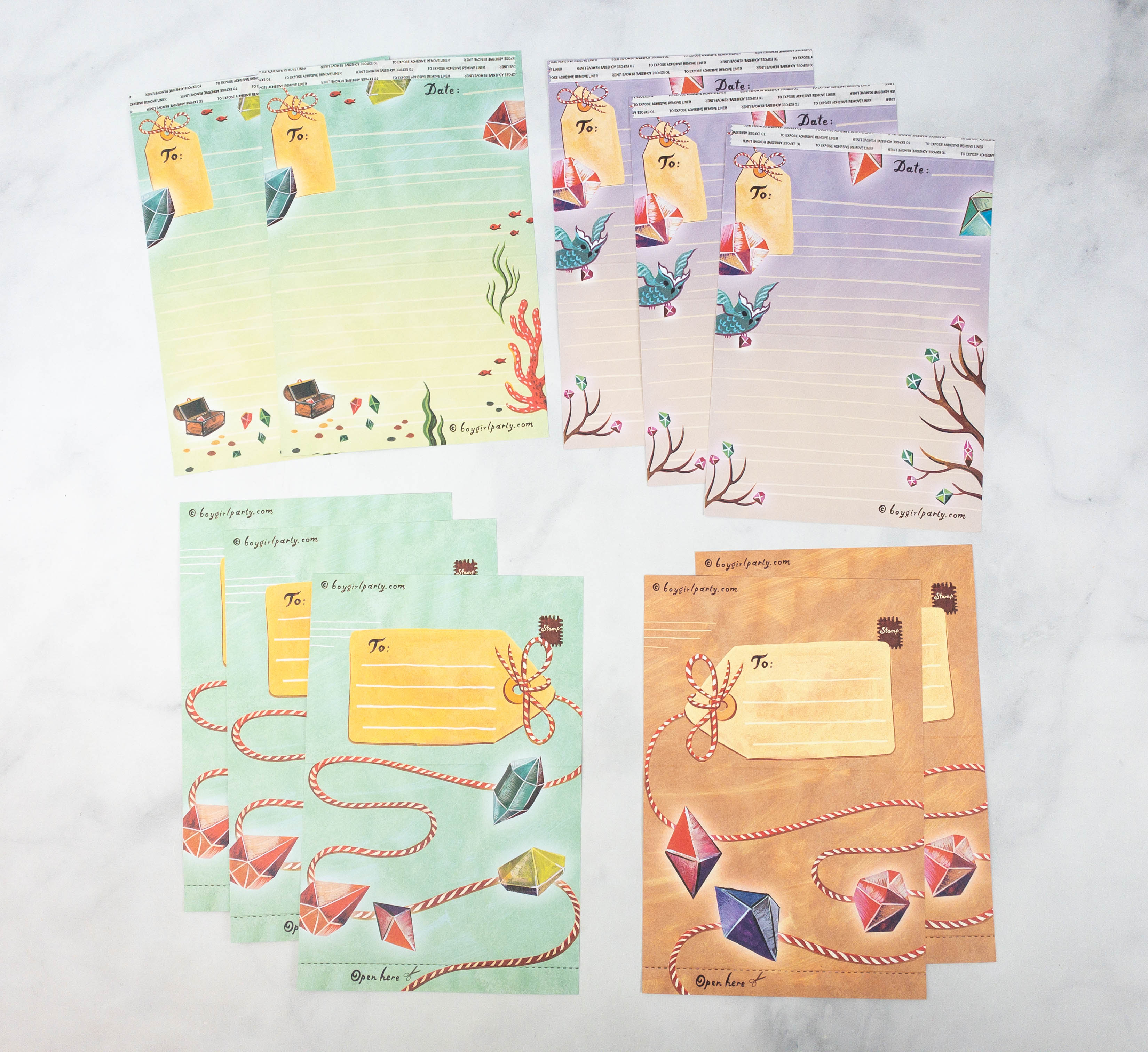 There are four designs in each pack. My daughter's favorite is the one with an under-the-sea theme!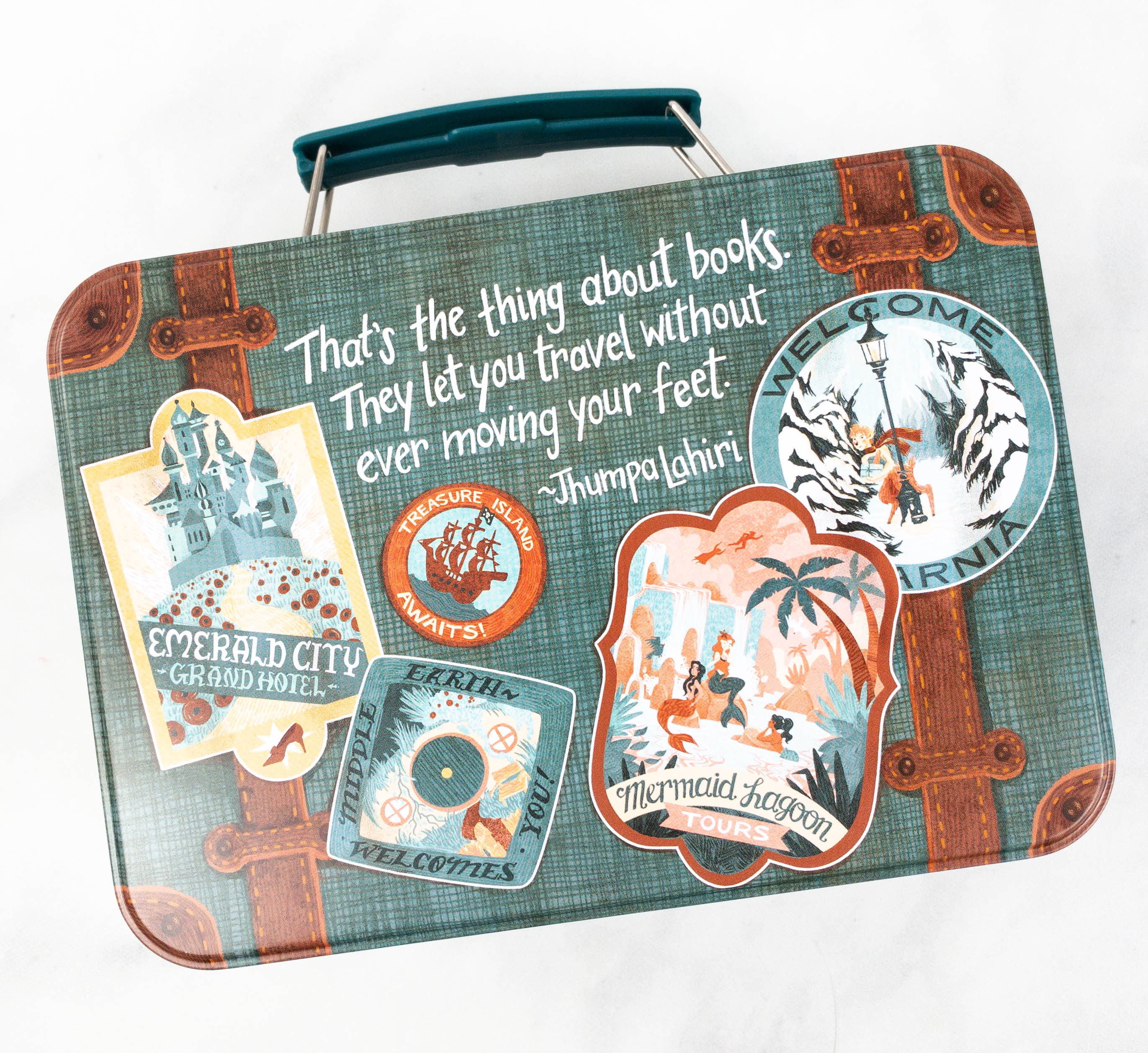 Tin Suitcase. Whether for packing snacks or storing stationery items, this suitcase is just perfect!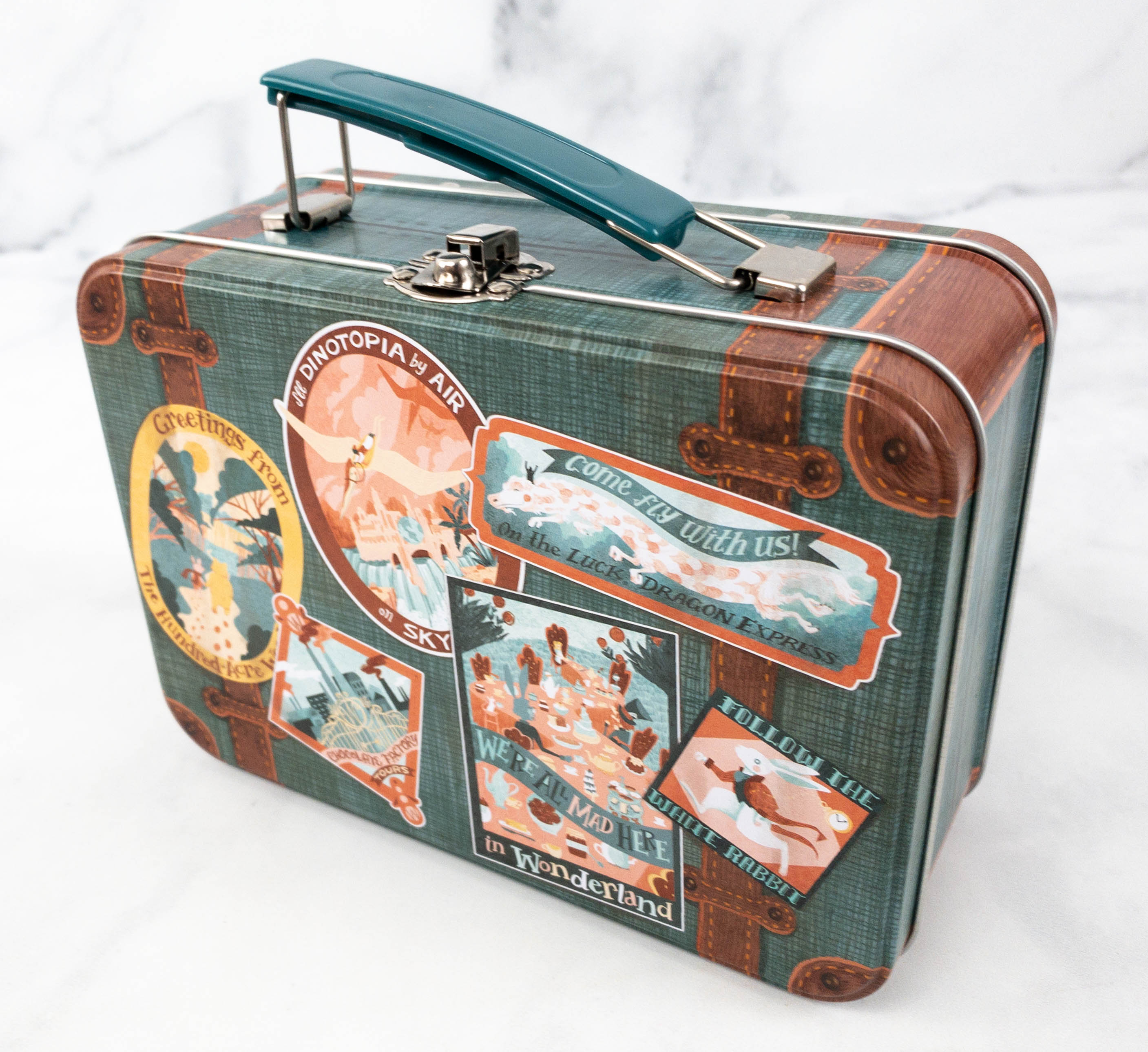 The design looks like it's a travelling bag, complete with bumper stickers on it from different adventures! We're using it as decor in our "adventure room" (the playroom). It's perfecto.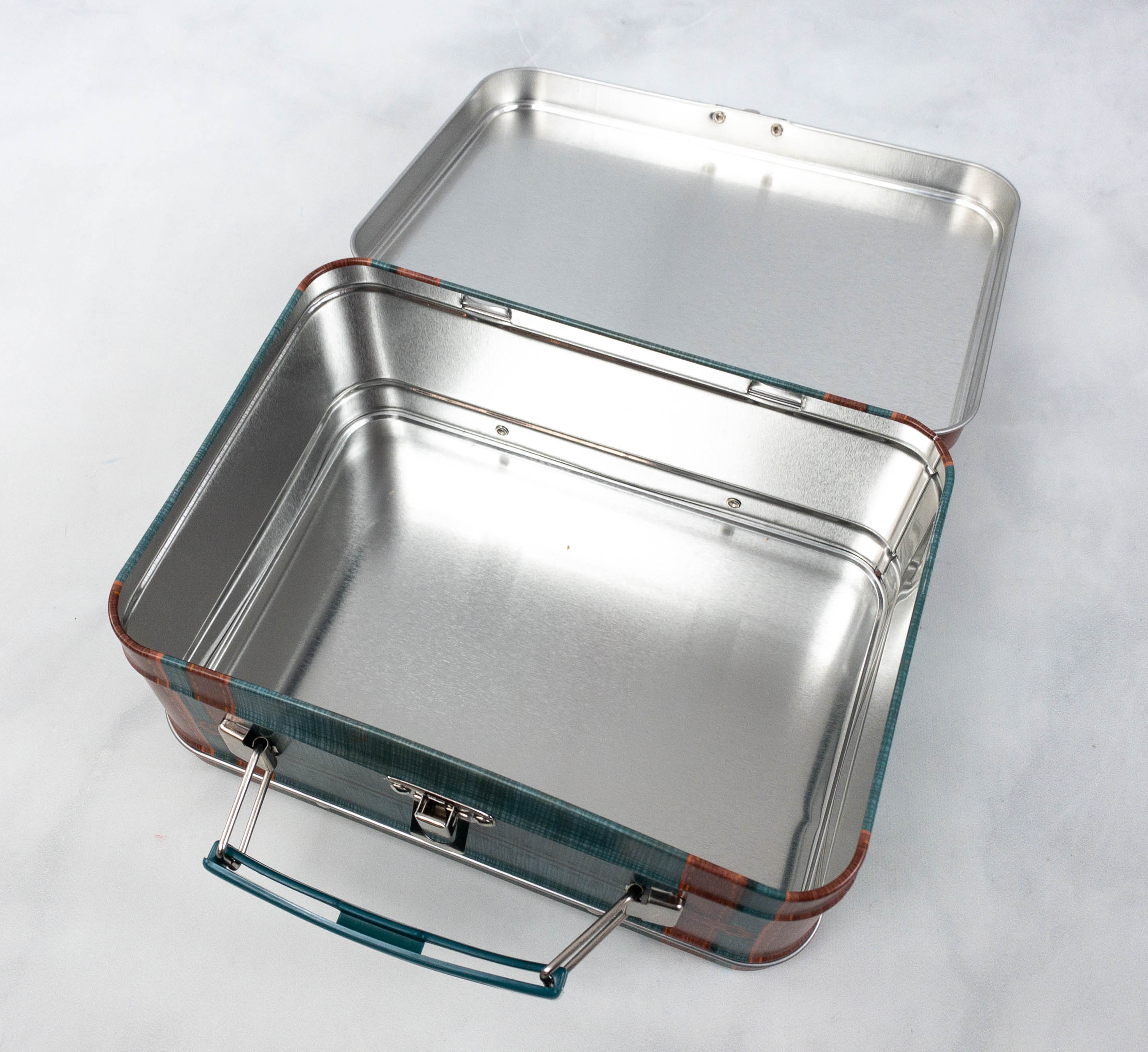 Here's what it looks like on the inside. It's pretty spacious!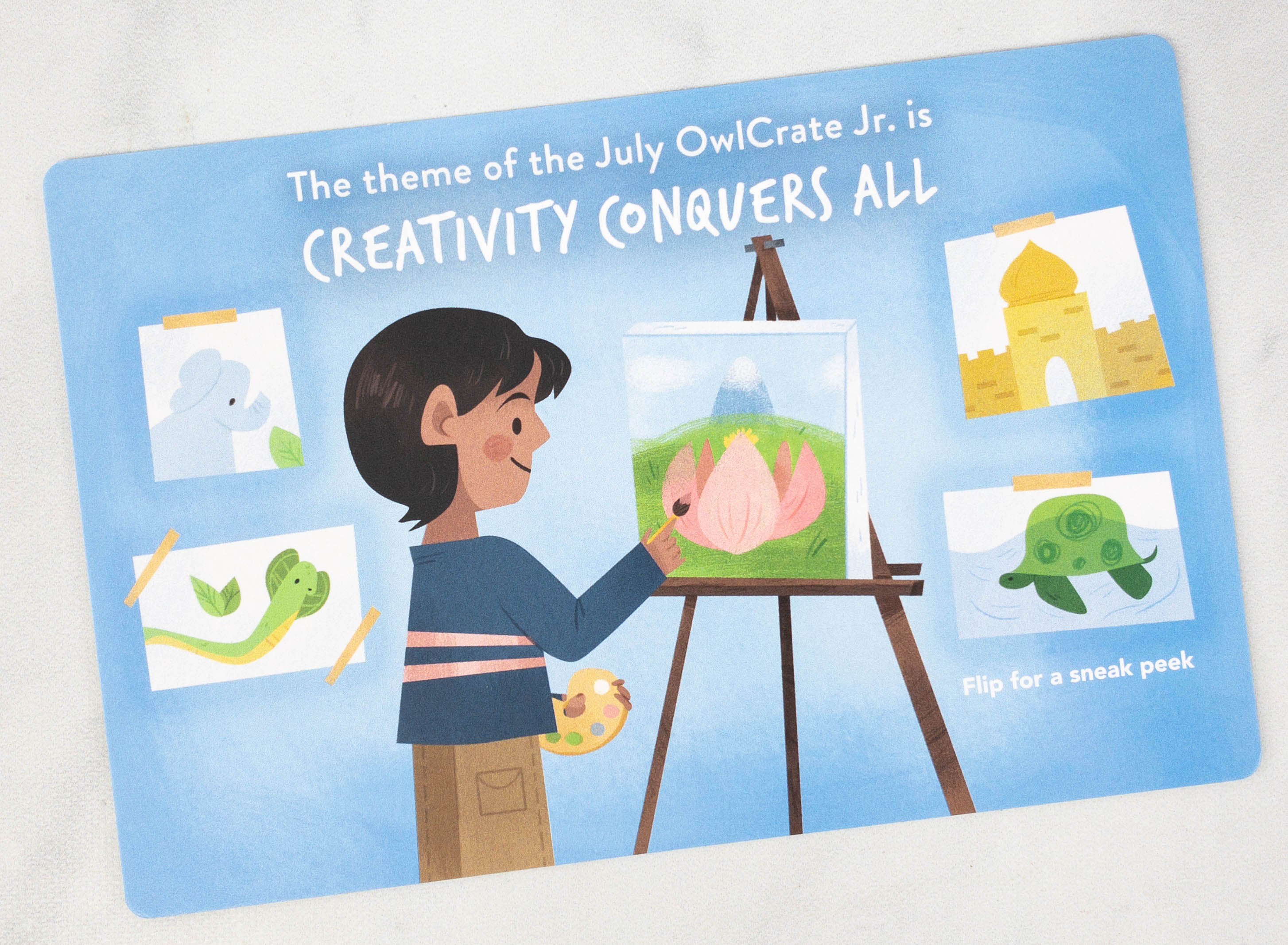 Lastly, here's a card that gives us a clue about next month's theme!
It looks like the July book is a fantasy-adventure book!
This month's Wondrous Worlds themed box from OwlCrate Jr. is a good one! The book took my kids to a magical adventure and they loved it. The bookish items included in the box are also great, especially that nostalgic tin lunch box. There's even a cool metal bookmark, and an adorable stationery set that kids can use to write messages to their friends. Owl Crate Jr. is such a fun subscription for young bookworms. It's a good way to encourage them to read and the bookish goodies are pretty useful as well!
What did you think of the OwlCrate Jr. box this month?
Visit OwlCrate Jr. to subscribe or find out more!