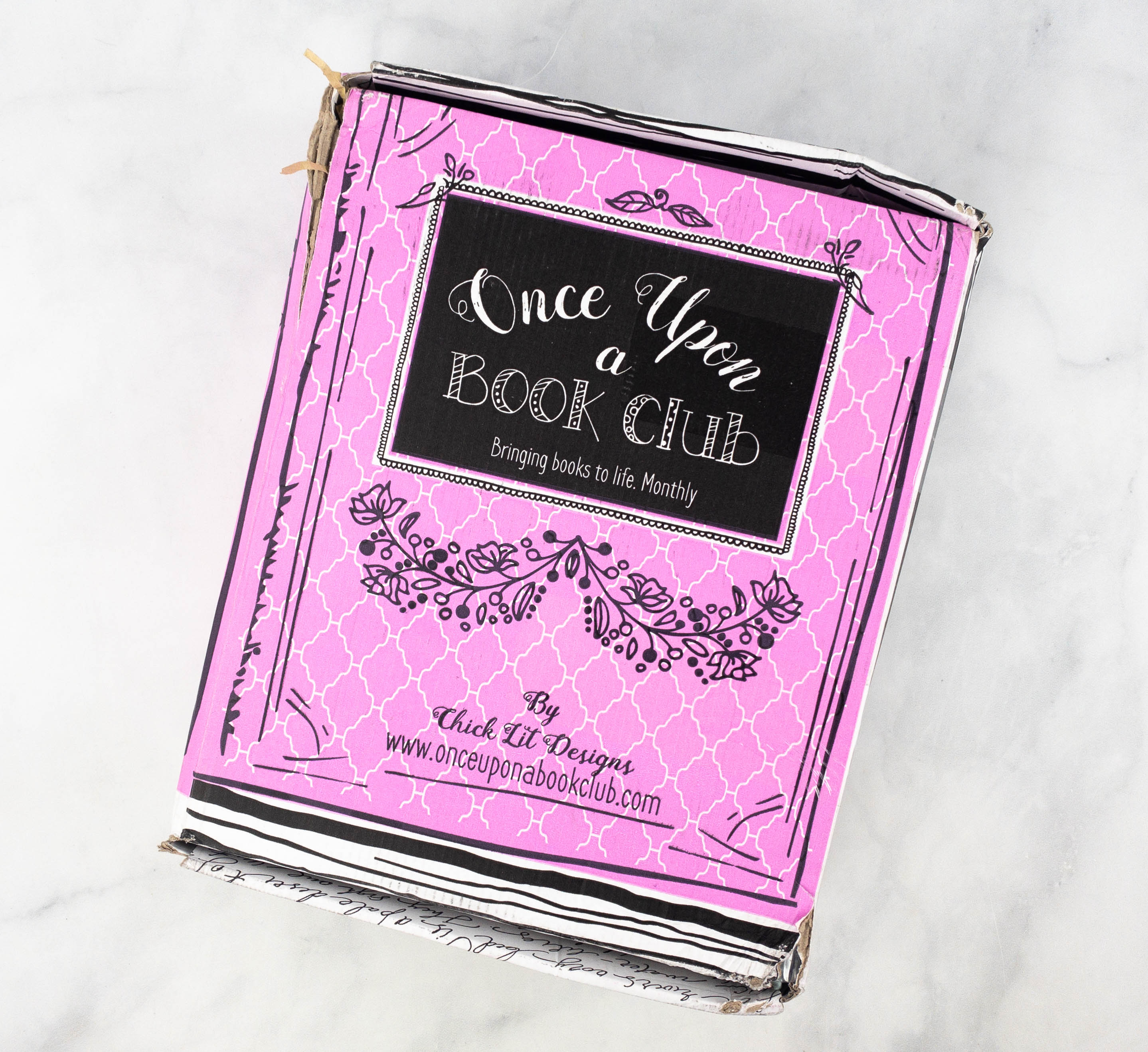 Once Upon a Book Club is a subscription that offers a unique reading experience. For $49.99 each month, you'll receive a book to read, a 5″ x 7″ quote print, along with 2-4 corresponding gifts to match a quote/item mentioned in the book. Readers are advised to open the gifts as they finish the corresponding page to make them feel as if the book is coming to life! This subscription is a top choice in our readers' picks for best book subscription box of the year!
You can choose between Once Upon a Book Club's Young Adult edition and Adult edition. This is the review of the Adult Fiction box.
DEAL: Enjoy 10% off your first box. Use coupon code HELLO10.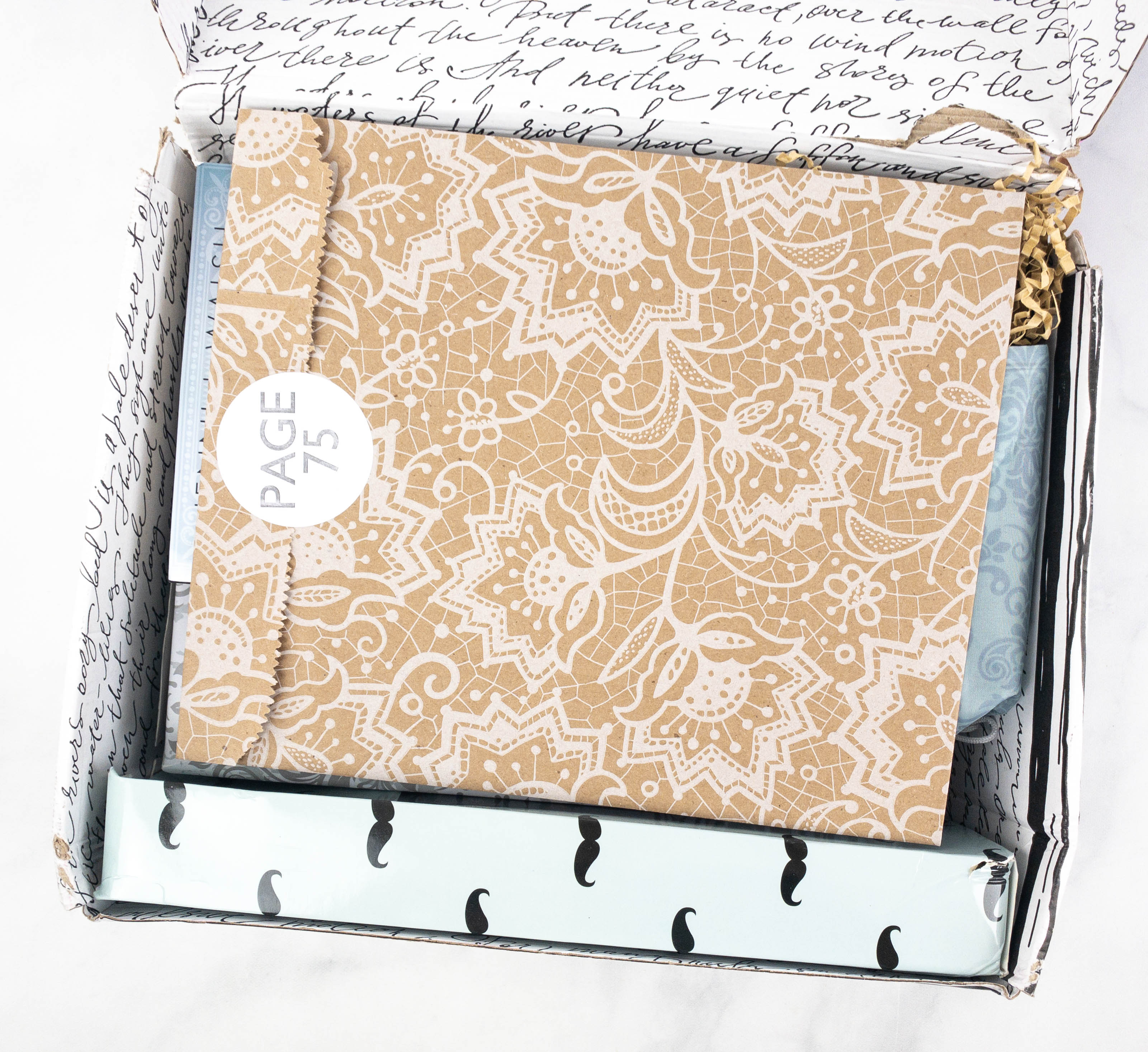 The gifts were individually wrapped. They were also packed with squiggles.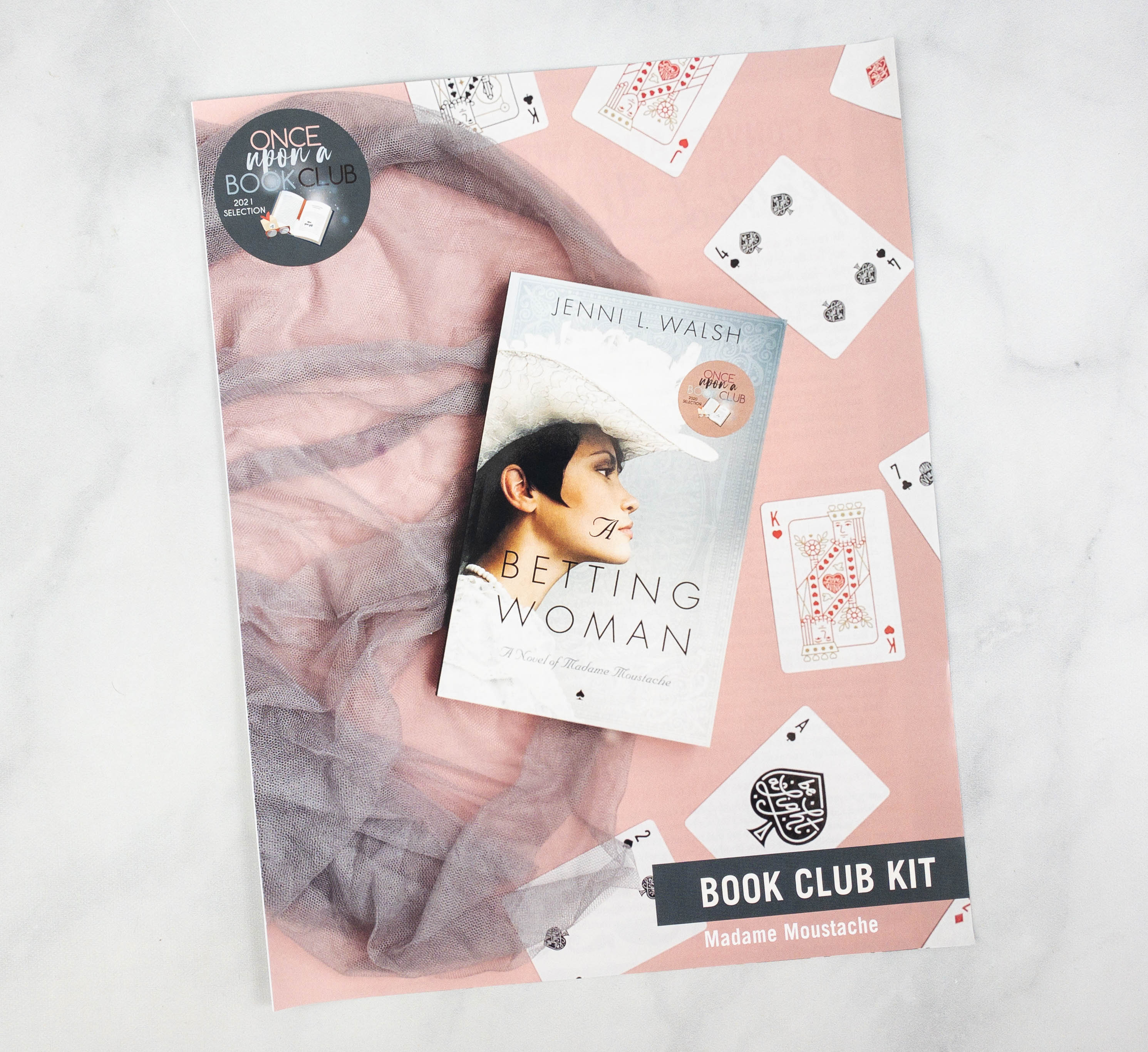 The box also includes a Book Club Kit guide!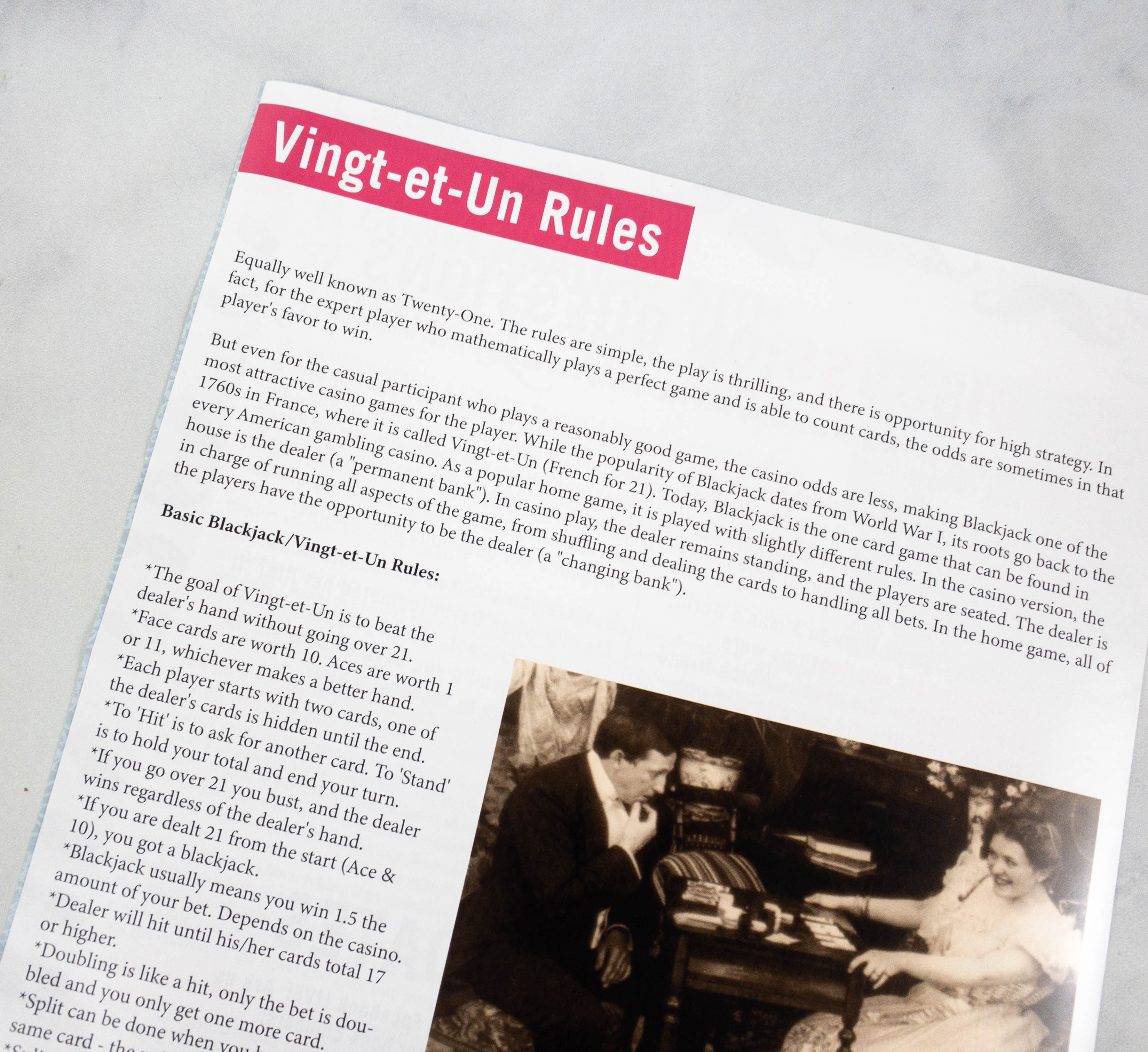 Inside, there are rules on how to play Blackjack.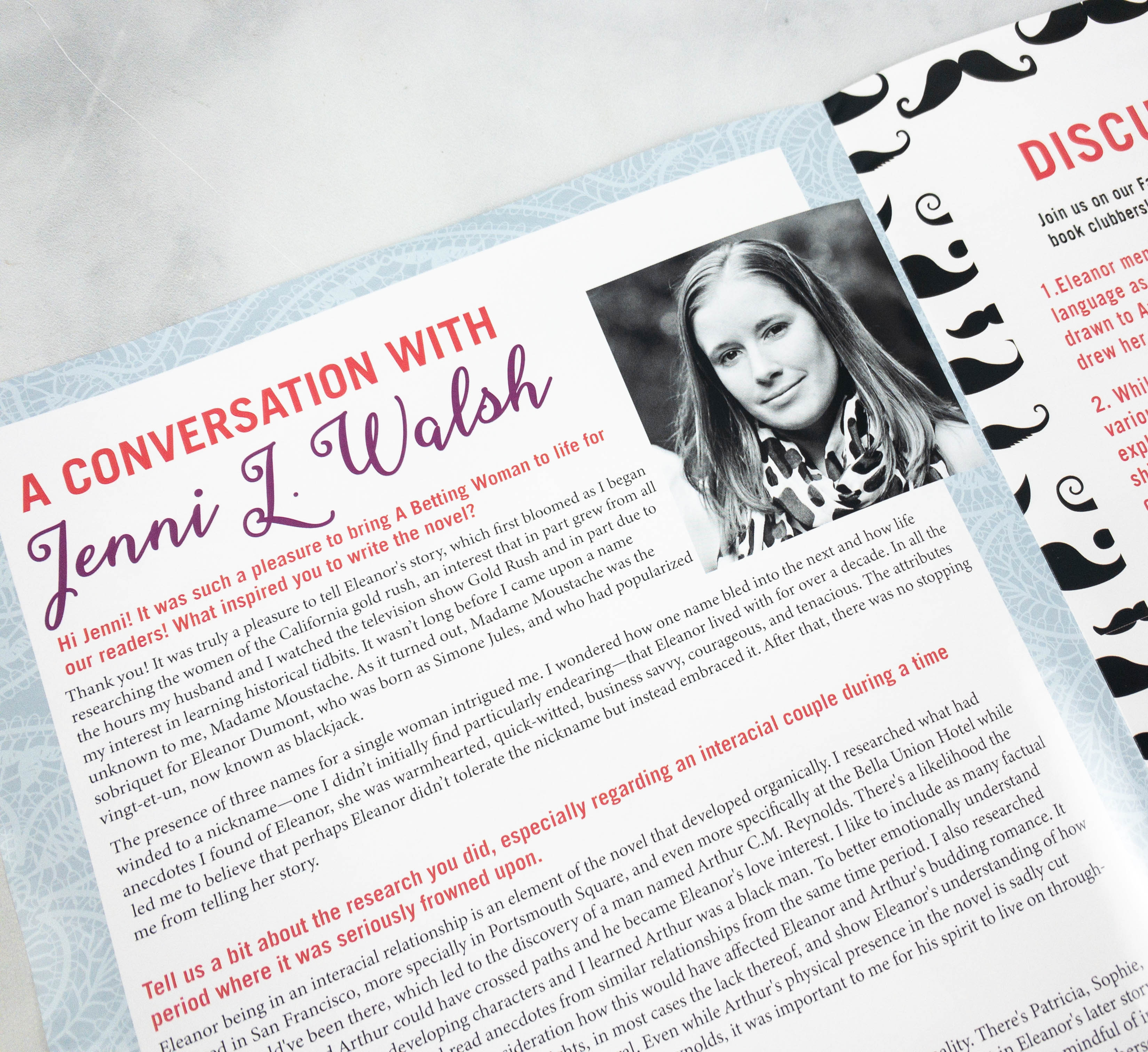 Inside, there's a Q and A featuring the author, Jenni L. Walsh.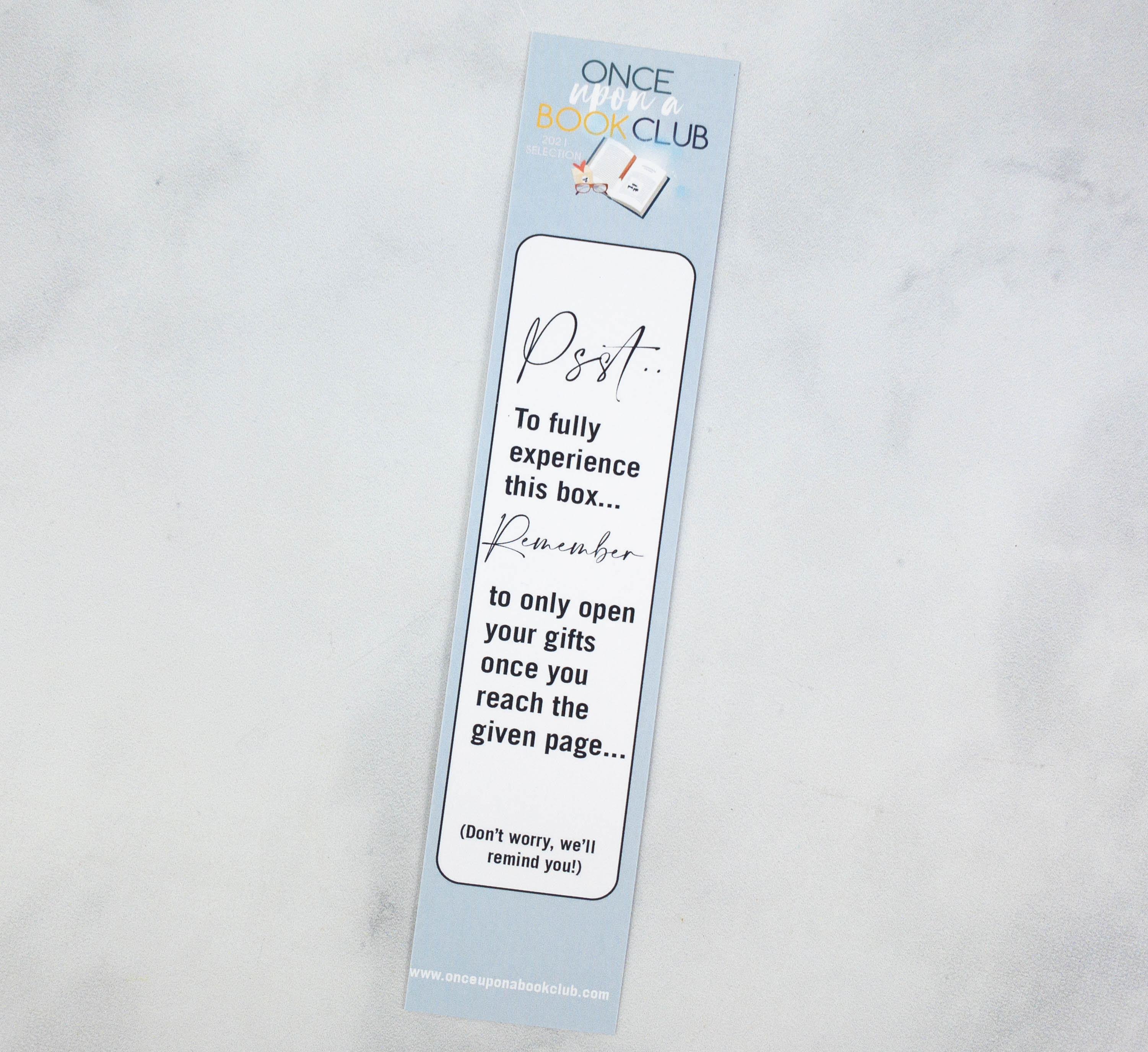 As always, the bookmark reminds to only open the gifts once you're on the given page.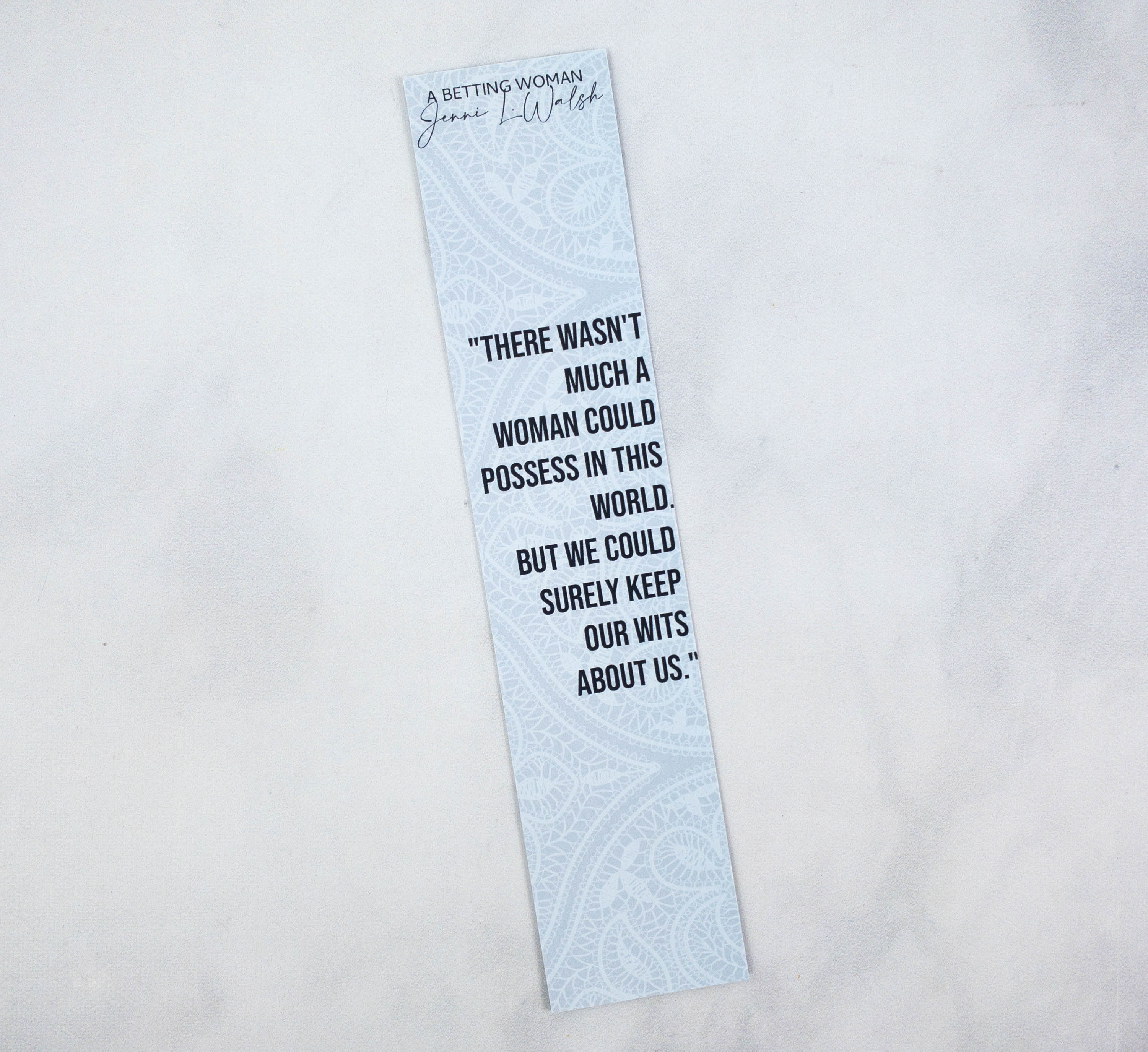 There's a quote at the back.
There wasn't much a woman could possess in this world. But we could surely keep our wits about us.
Here's a card with a signature of the author!
There's also another card with a quote from the book.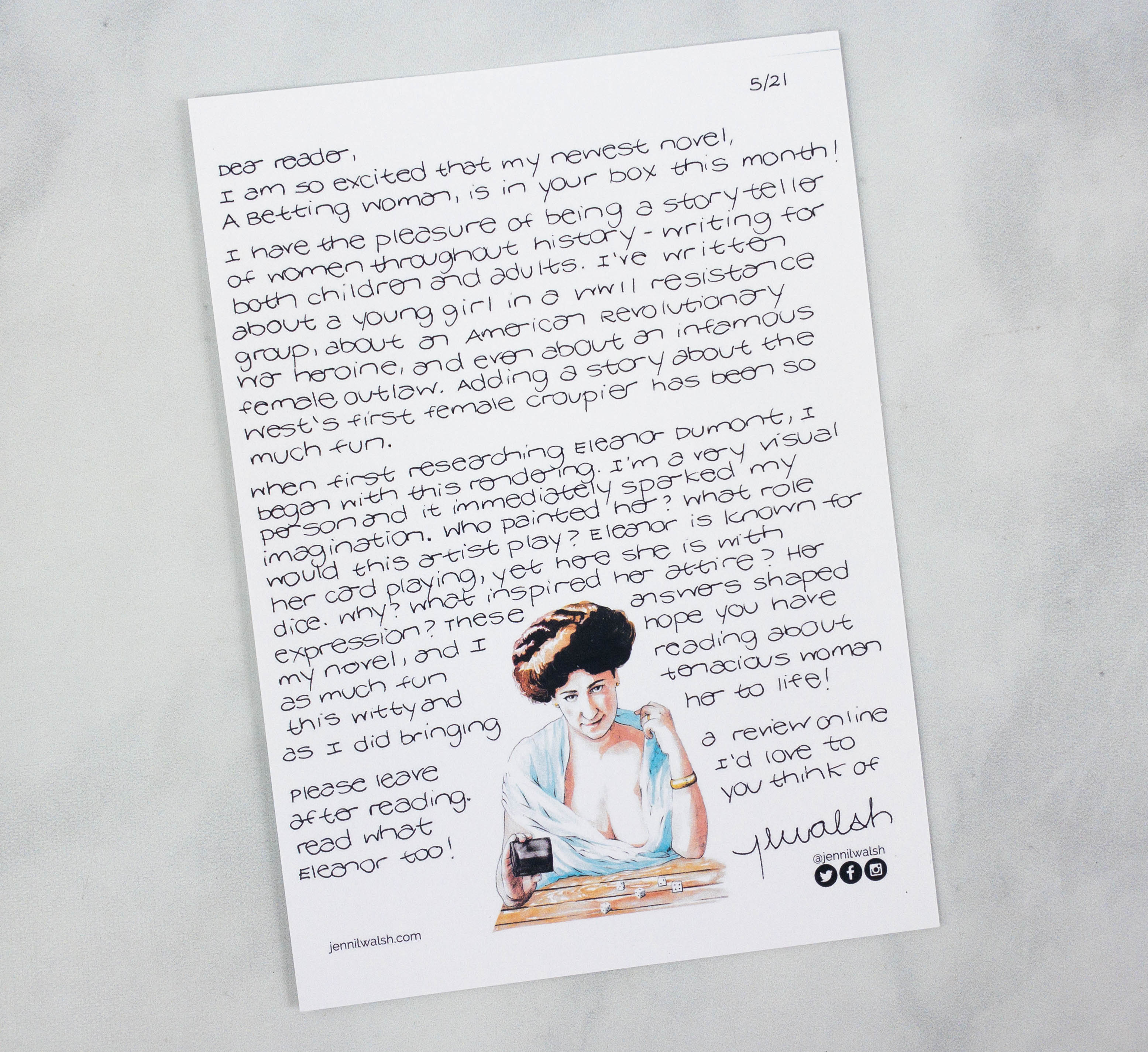 At the back, there's a message from the author for the readers.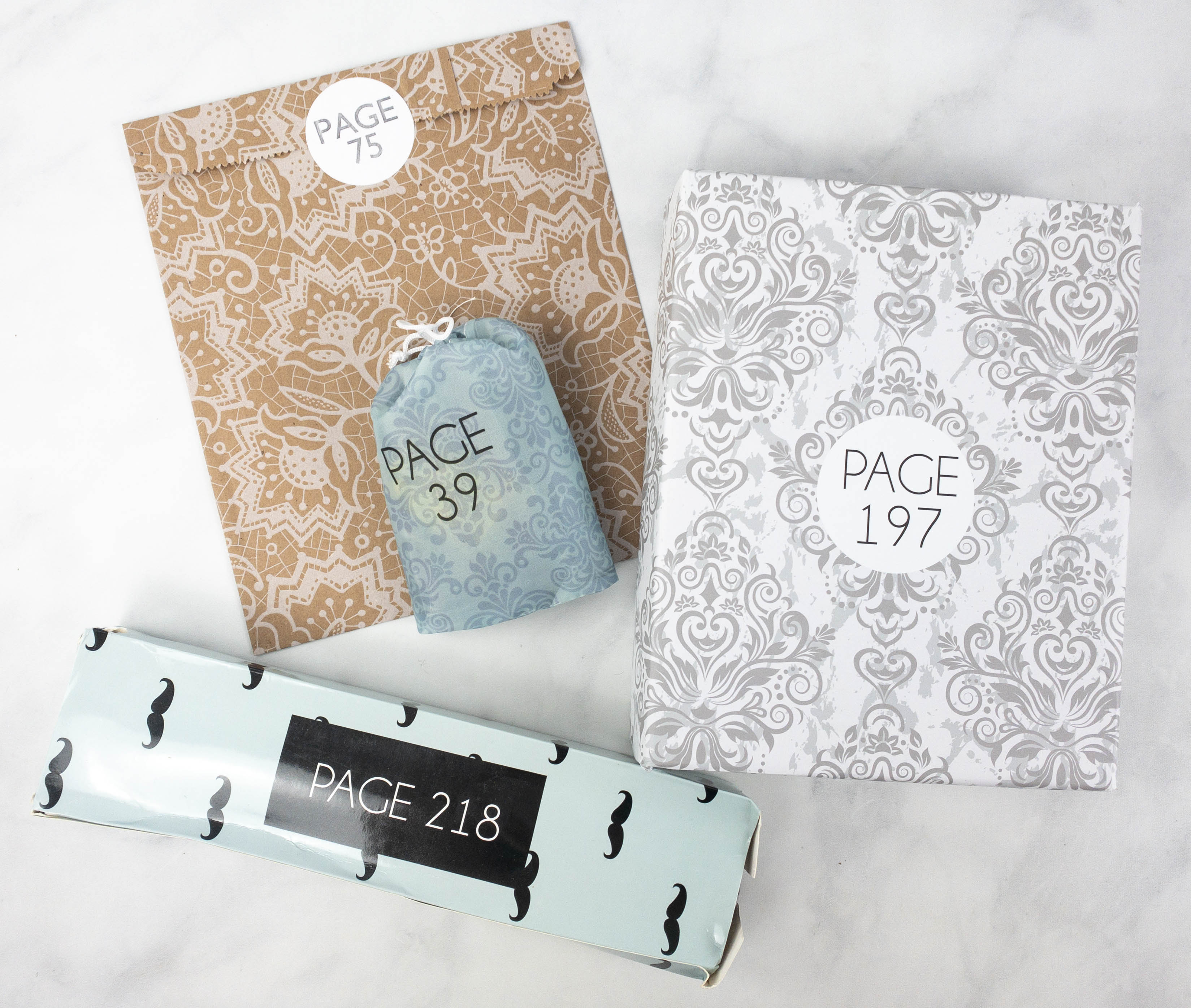 I'm excited to open the gifts!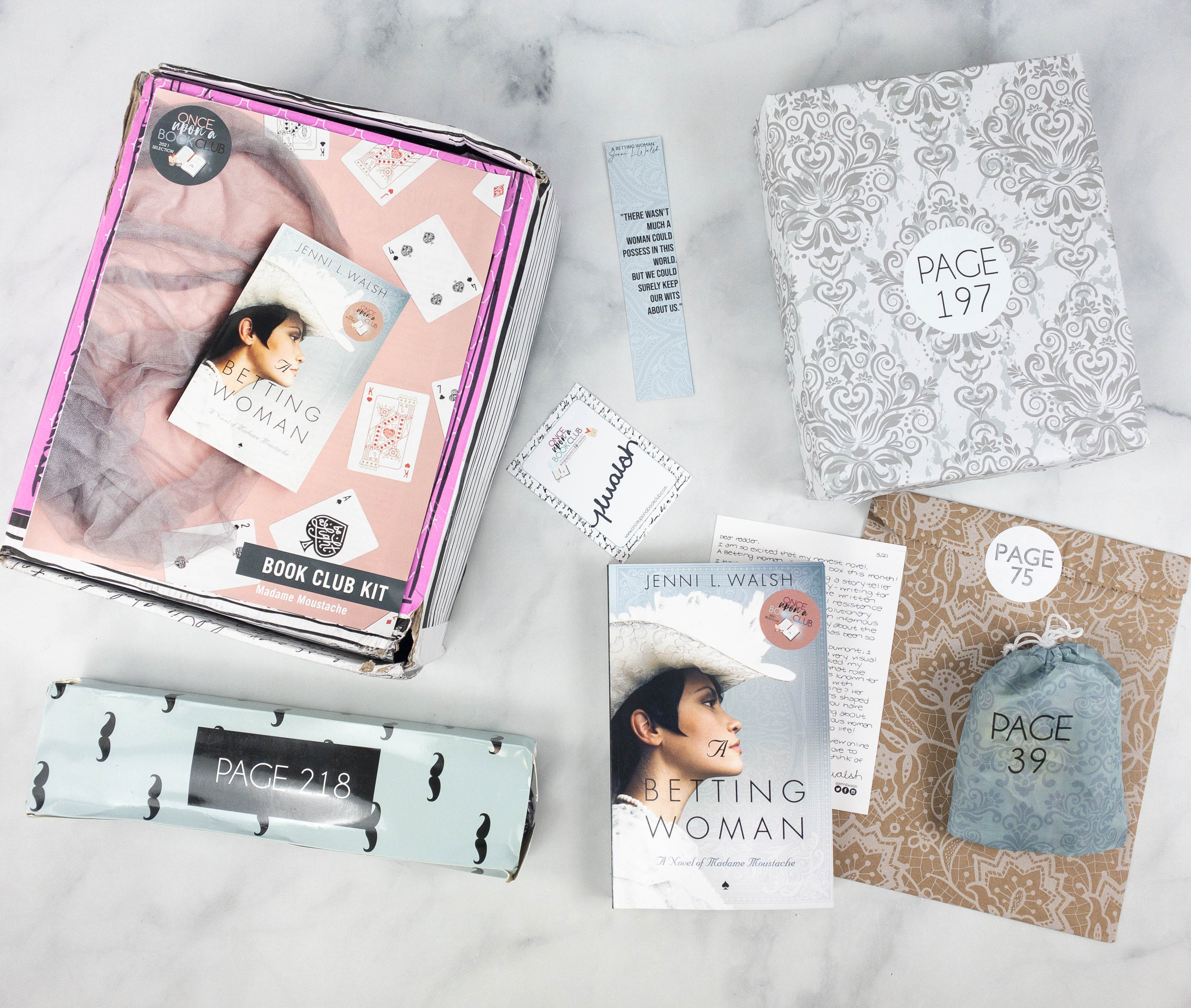 Everything in my box!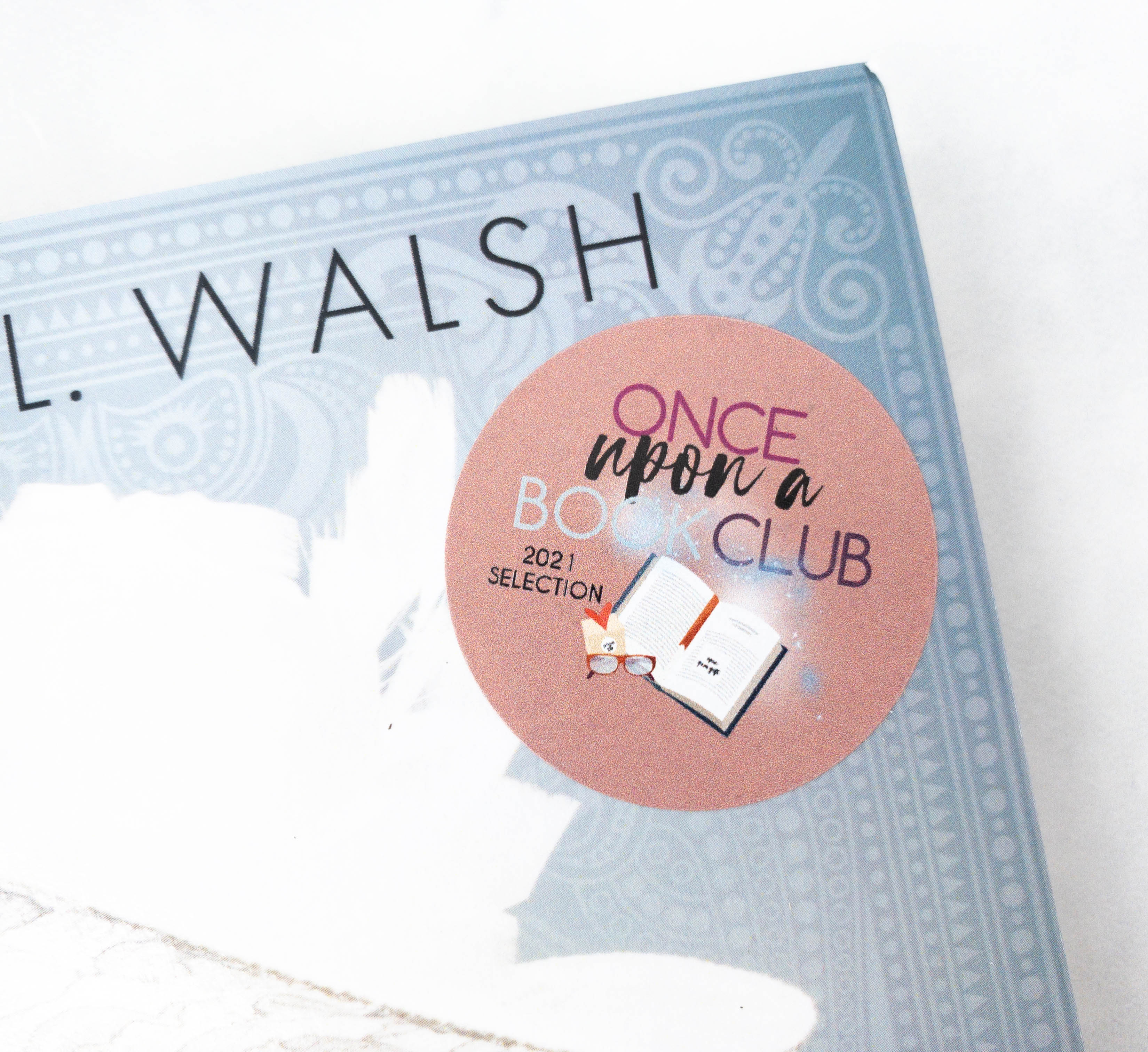 The book also has a Once Upon A Book Club 2021 Selection pink sticker! You can see it at the upper right side of the book.
A Betting Woman: A Novel of Madame Moustache by Jenni L. Walsh ($15.95)
Born Simone Jules, reinvented as Eleanor Dumont, and largely remembered as Madame Moustache, A BETTING WOMAN is a historical novel inspired by the tumultuous life, times, and loves of America's first professional croupier of modern-day blackjack, bringing to life an intrepid and entrepreneurial real-life woman who lived on her own terms.

When her whole family dies in a fire, young Simone Jules flees her grief and travels west to reinvent herself in burgeoning San Francisco. Down to her last dollar and facing some unsavory options, Simone quick-wits her way to a gambling table where she begins to deal vingt-et-un – modern-day blackjack. Word travels fast among of this French-speaking, card-playing novelty, and she begins to build a new life for herself.

MOLLY'S GAME for lovers of the American West. Fans of Thelma Adams, Therese Anne Fowler, and Marie Benedict will root for the quick-witted, charming, and self-sufficient Eleanor as she paves her way in a man's world and into the pages of history.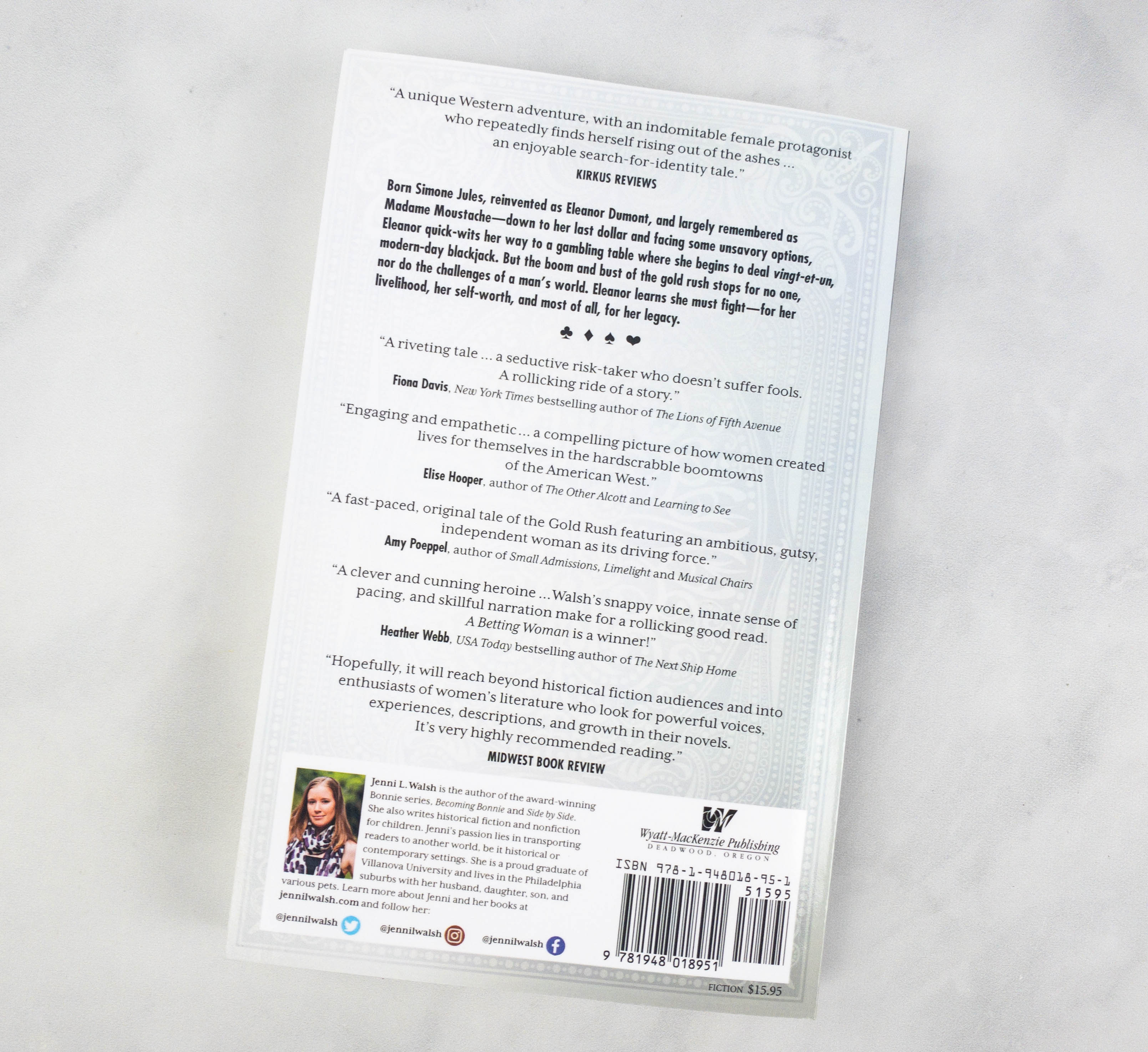 At the back book cover it has several reviews from other authors!
The story follows the life of Madam Moustache, aka Simon Jules who was later reinvented as Eleanor Dumont. It's a fictional take on history as this explores the story of how vingt-et-un was popularized.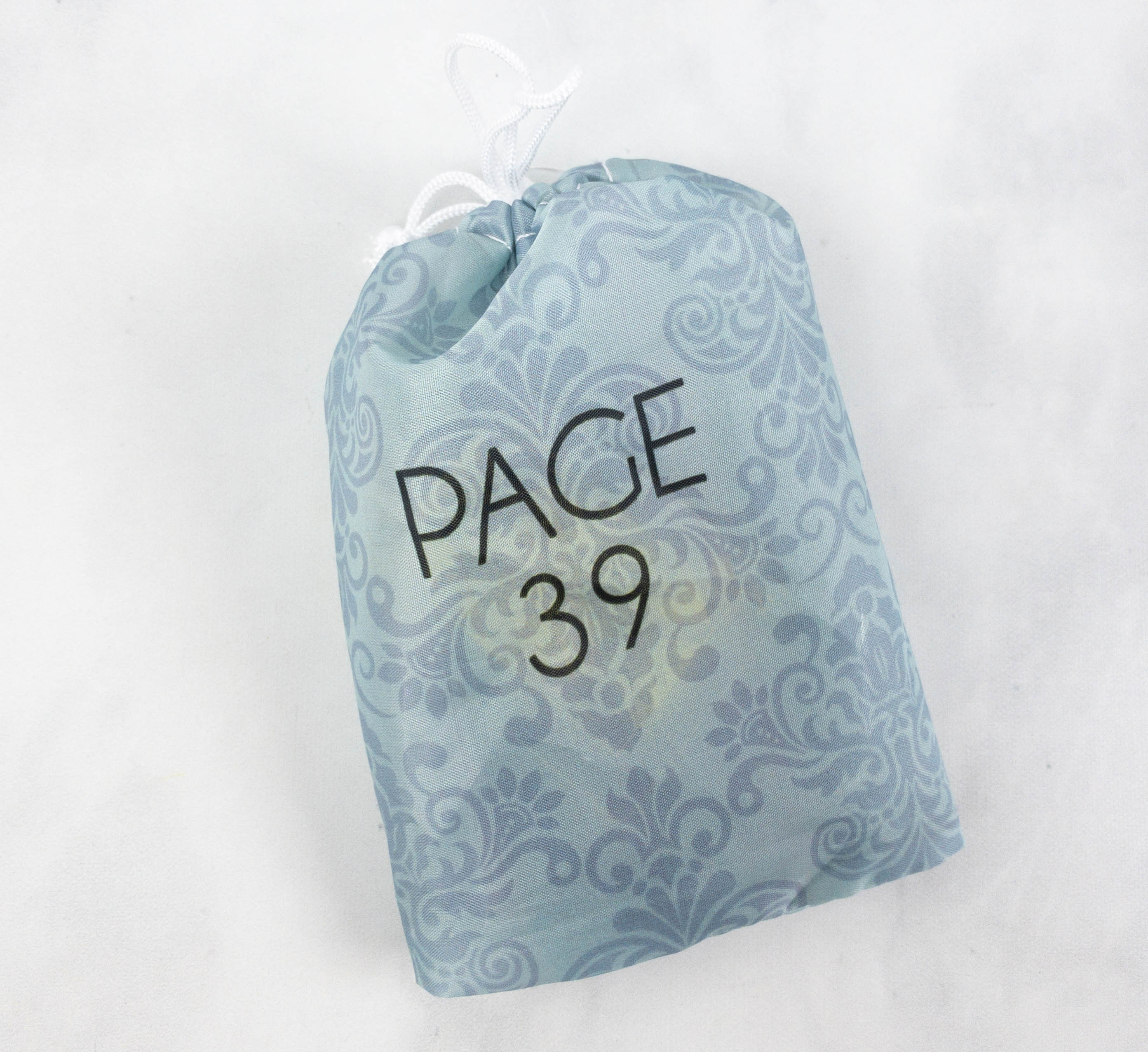 The first gift can be opened upon reaching Page 39.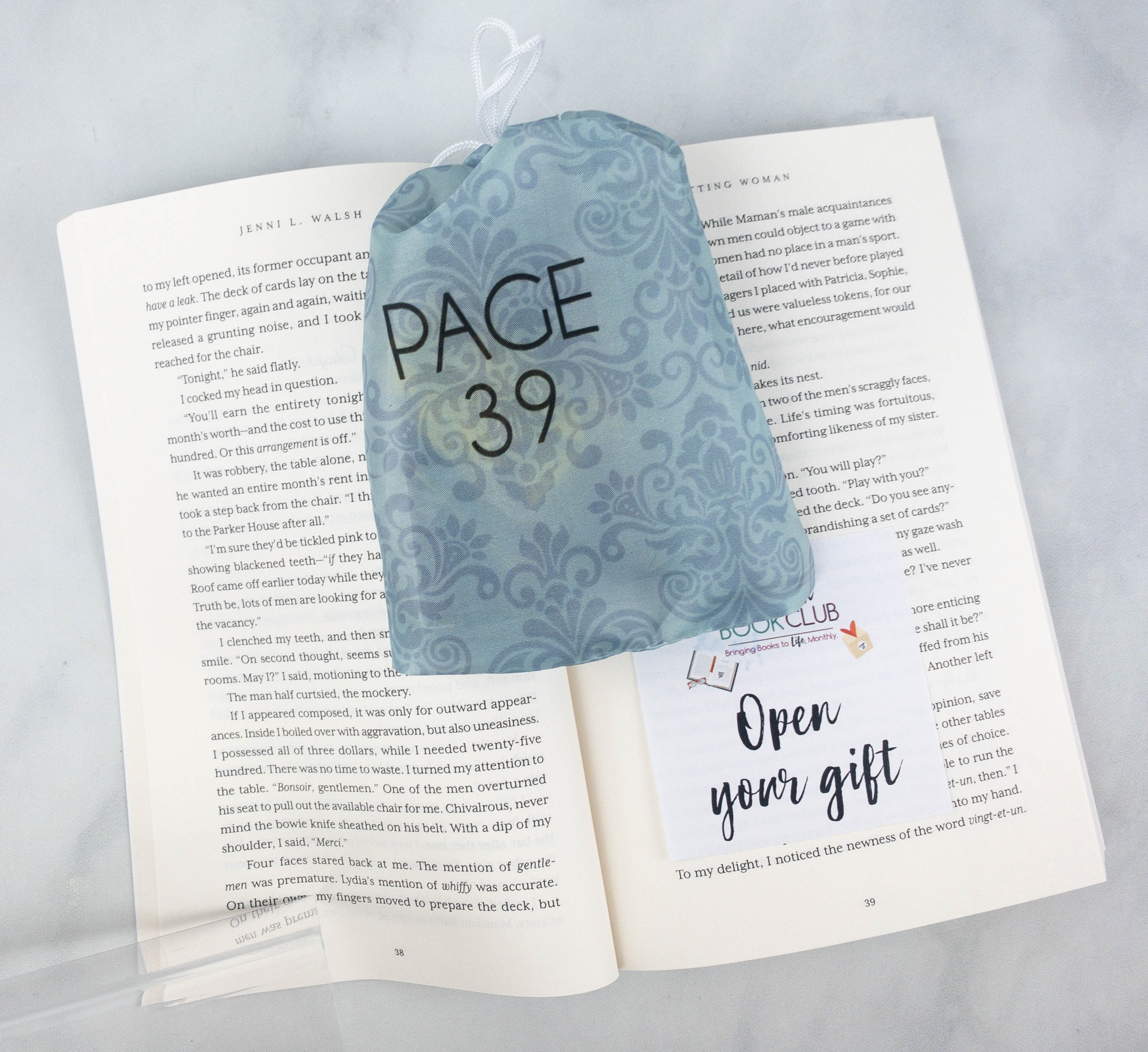 It came in this blue drawstring pouch with a victorian pattern.
Deck of Cards. Inside is a deck of cards which you would think is okay but whatI like about it is that it's unique. It came in the color black and the print is somewhat neon, reminding me of those X-ray films.
The next gift can be opened upon reaching Page 75!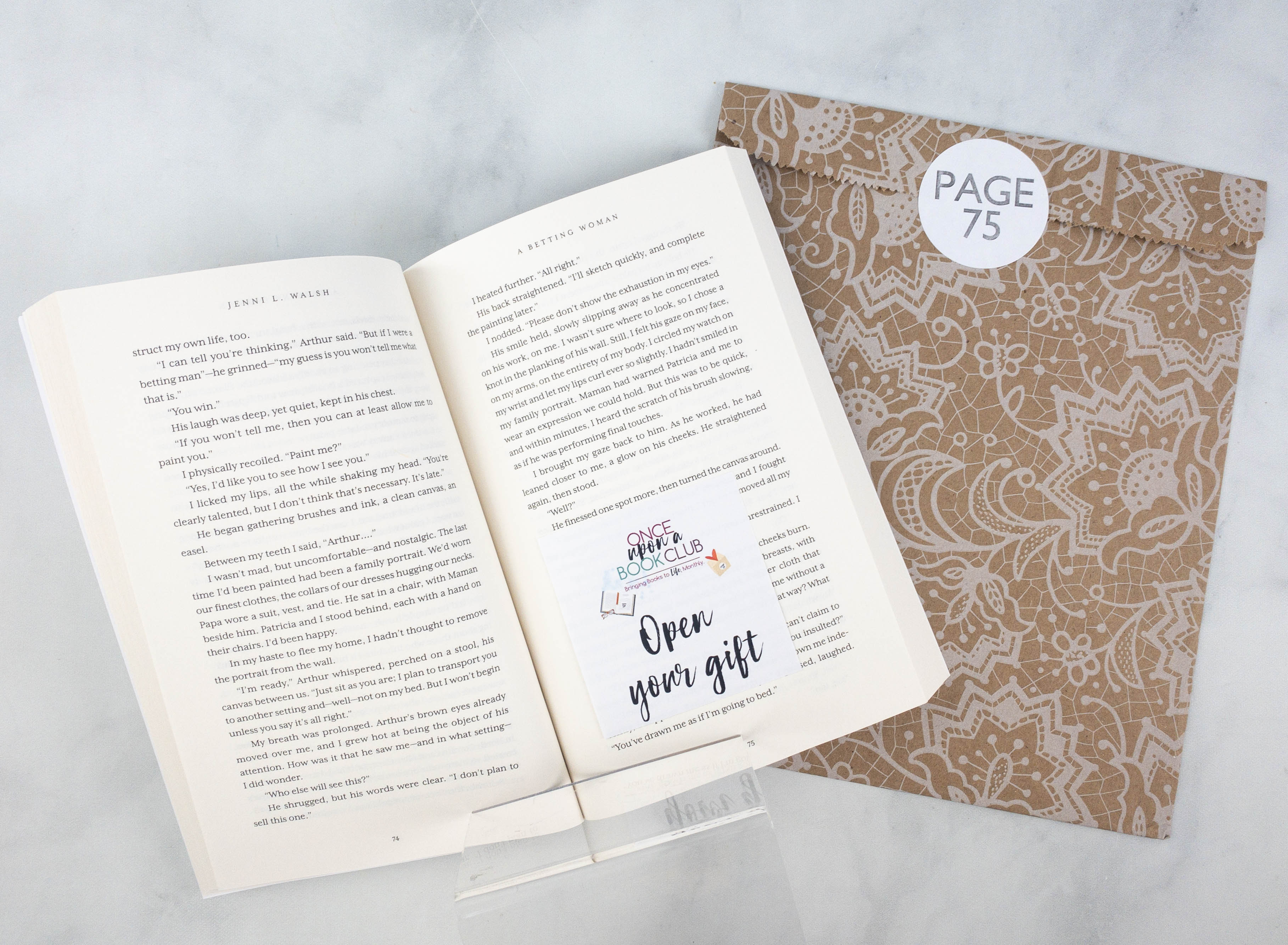 The package came in a brown envelope with an intricate design.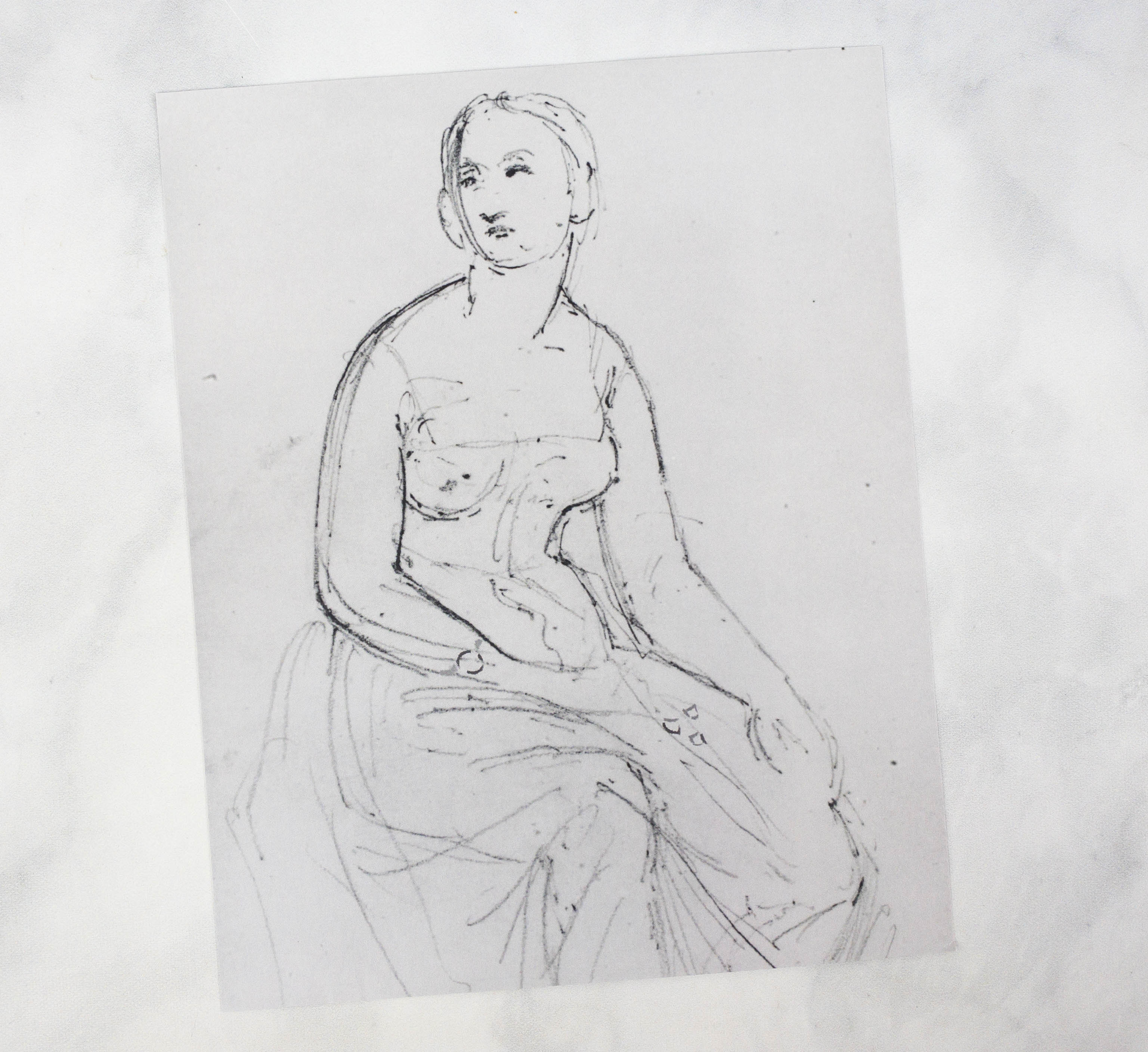 Canvas. Just like the scene in the book, this canvass has a sketch of a woman. Arthur wanted to paint Eleanor and he did because he wanted to show her how he sees her.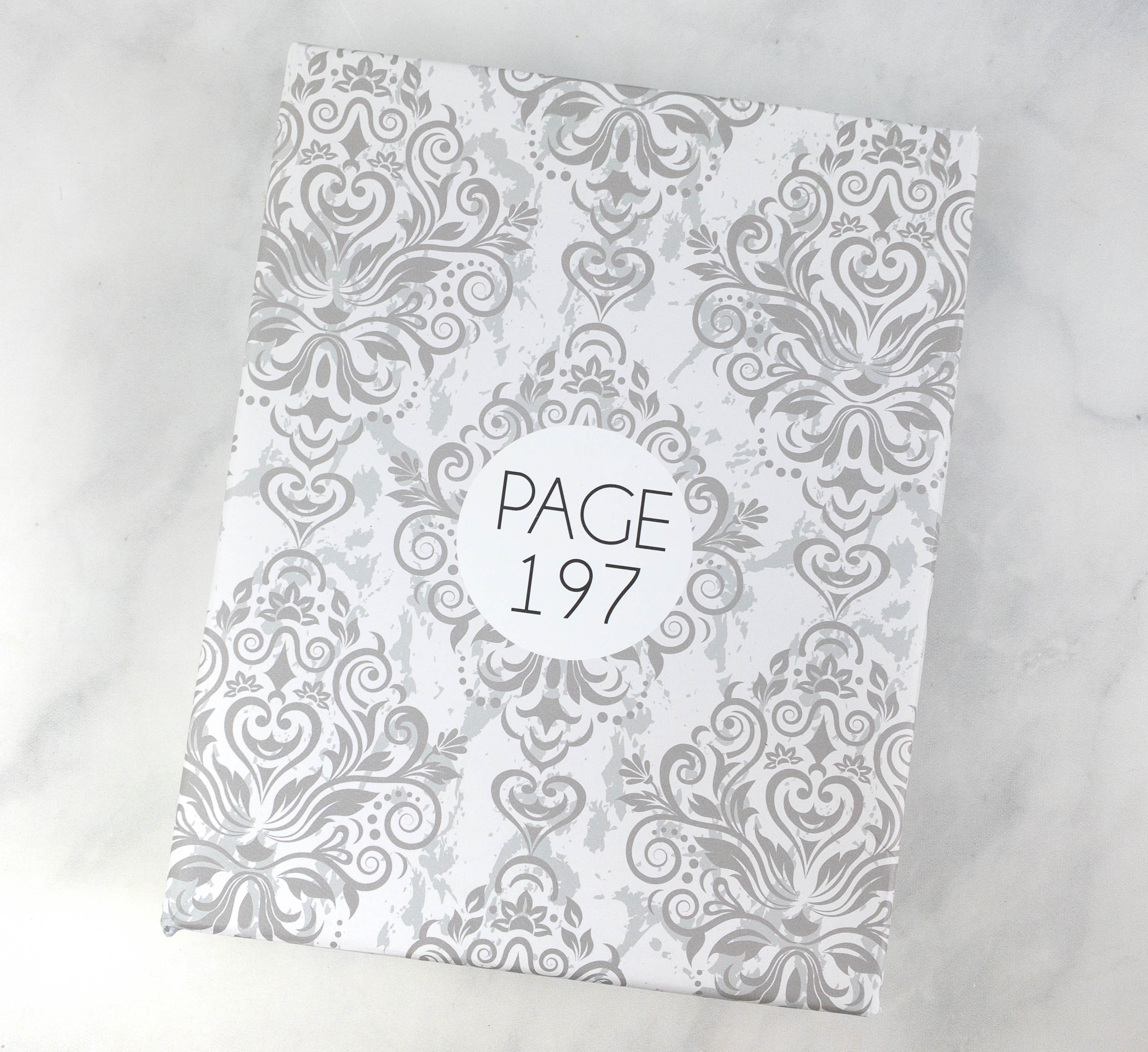 Another gift can be opened once I reached Page 197!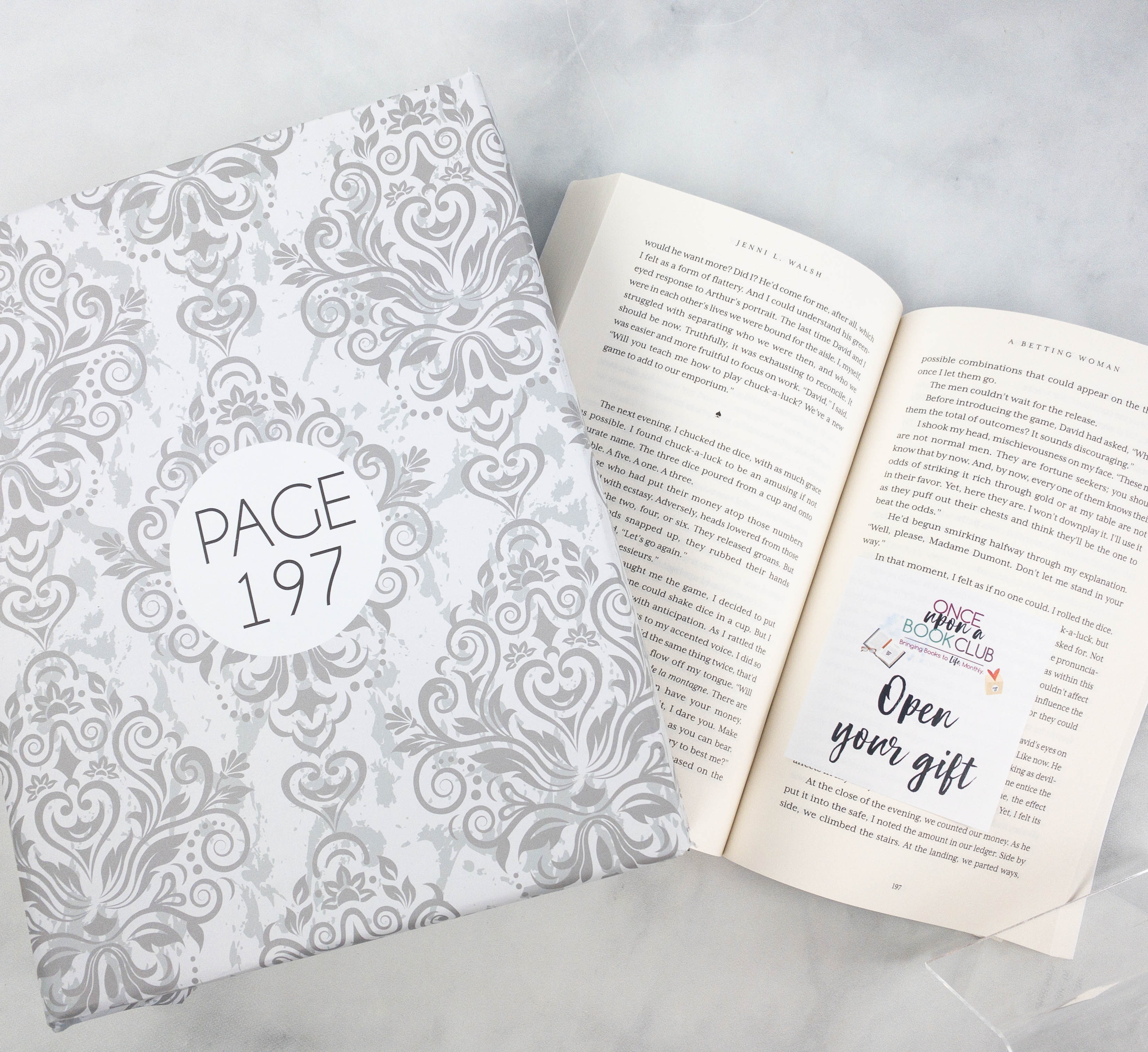 This is a bigger one and like the previous gifts, it has an intricate victorian pattern in the packaging.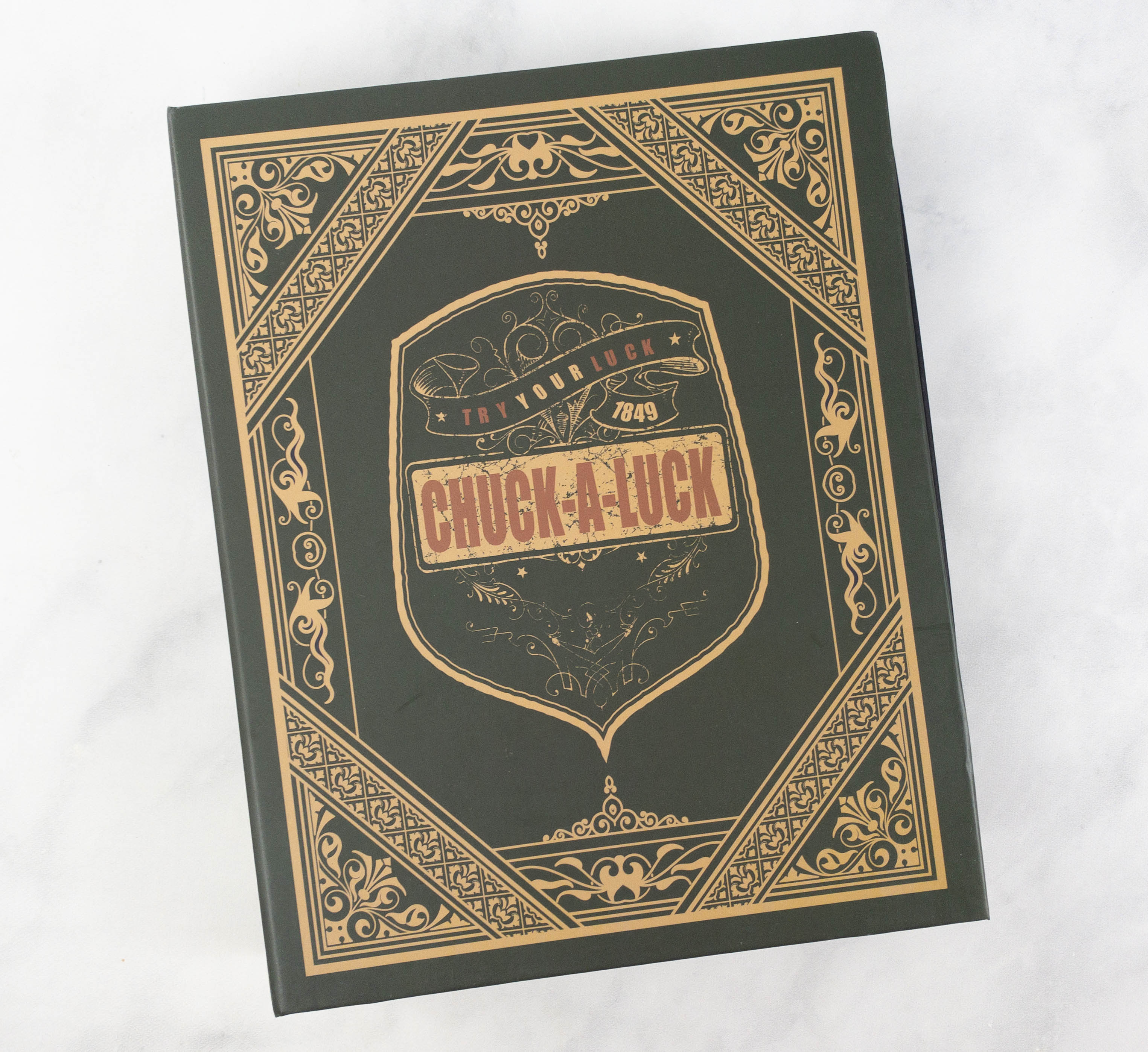 Chuck-A-Luck.  Inside is a box that says "Try your luck 1849 Chuck-A-Luck"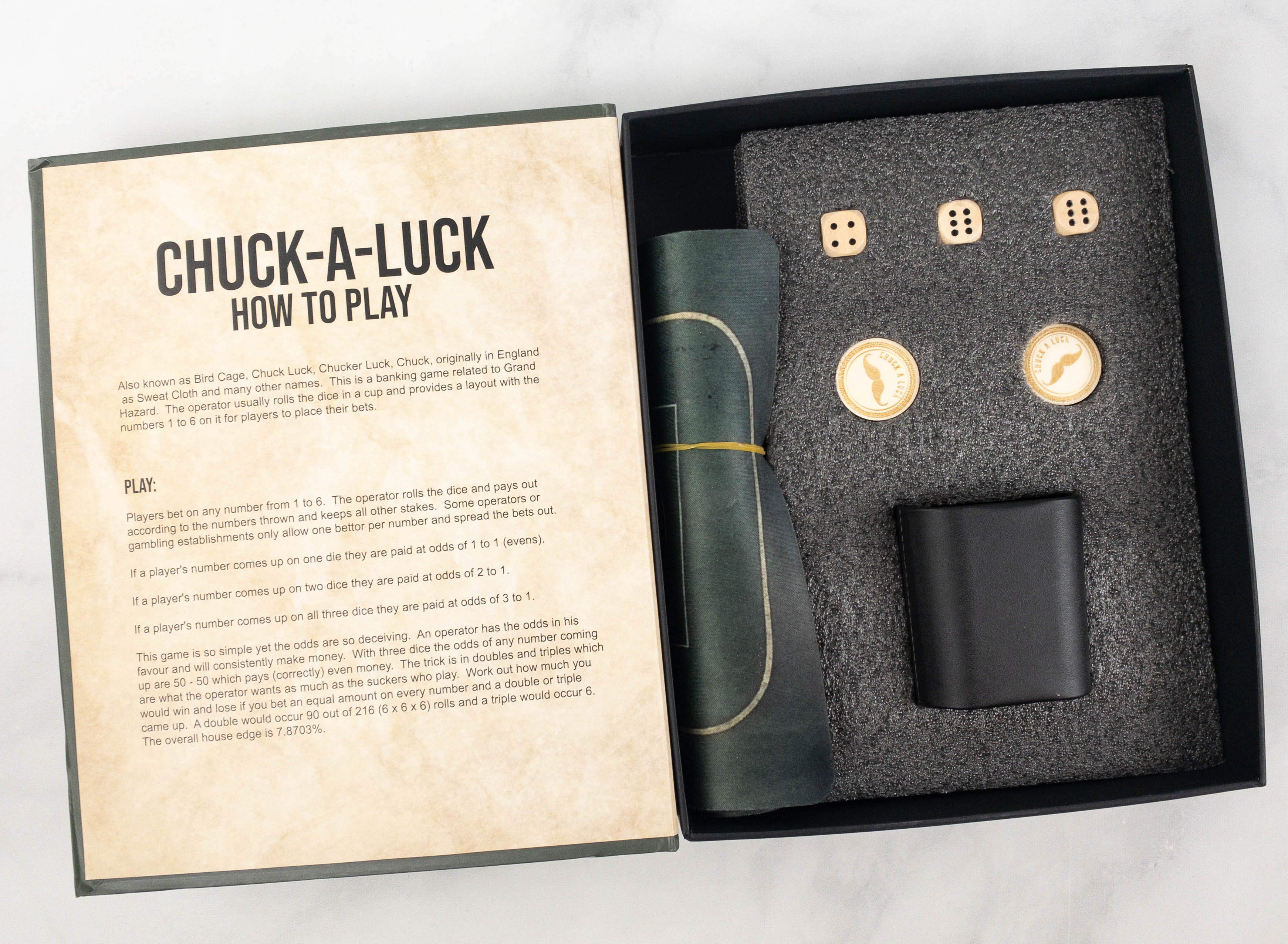 Upon opening the box, you will see all the items you need to play the game along with instructions on how to play on the back of the cover.
The game box included a green gaming mat that has numbers from 1 – 6, 3 dice, some gaming chips, and  a black cup. This looks like an exciting game to play on a night in with some friends!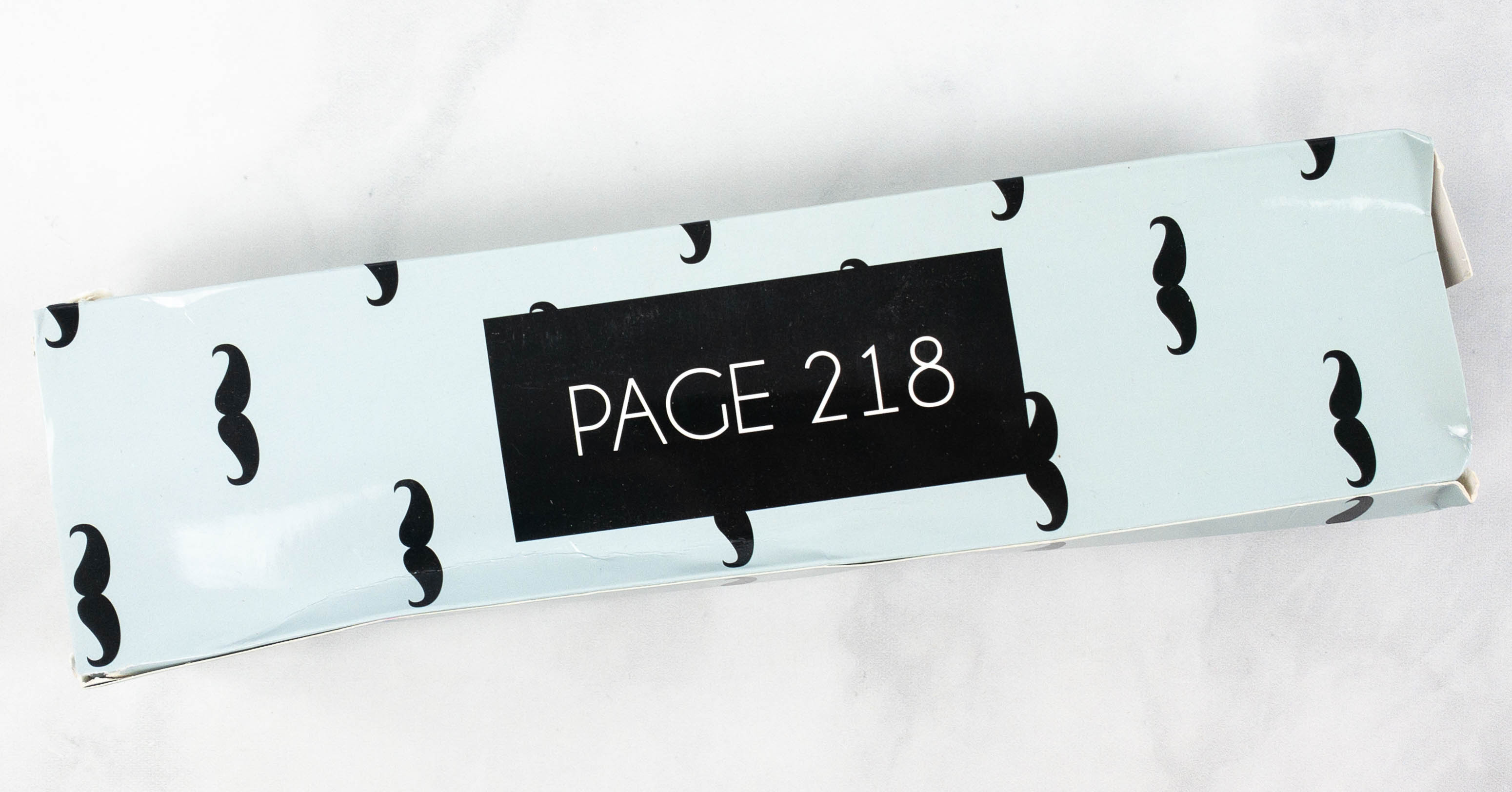 Finally, we get to reveal the last gift upon reaching Page 218!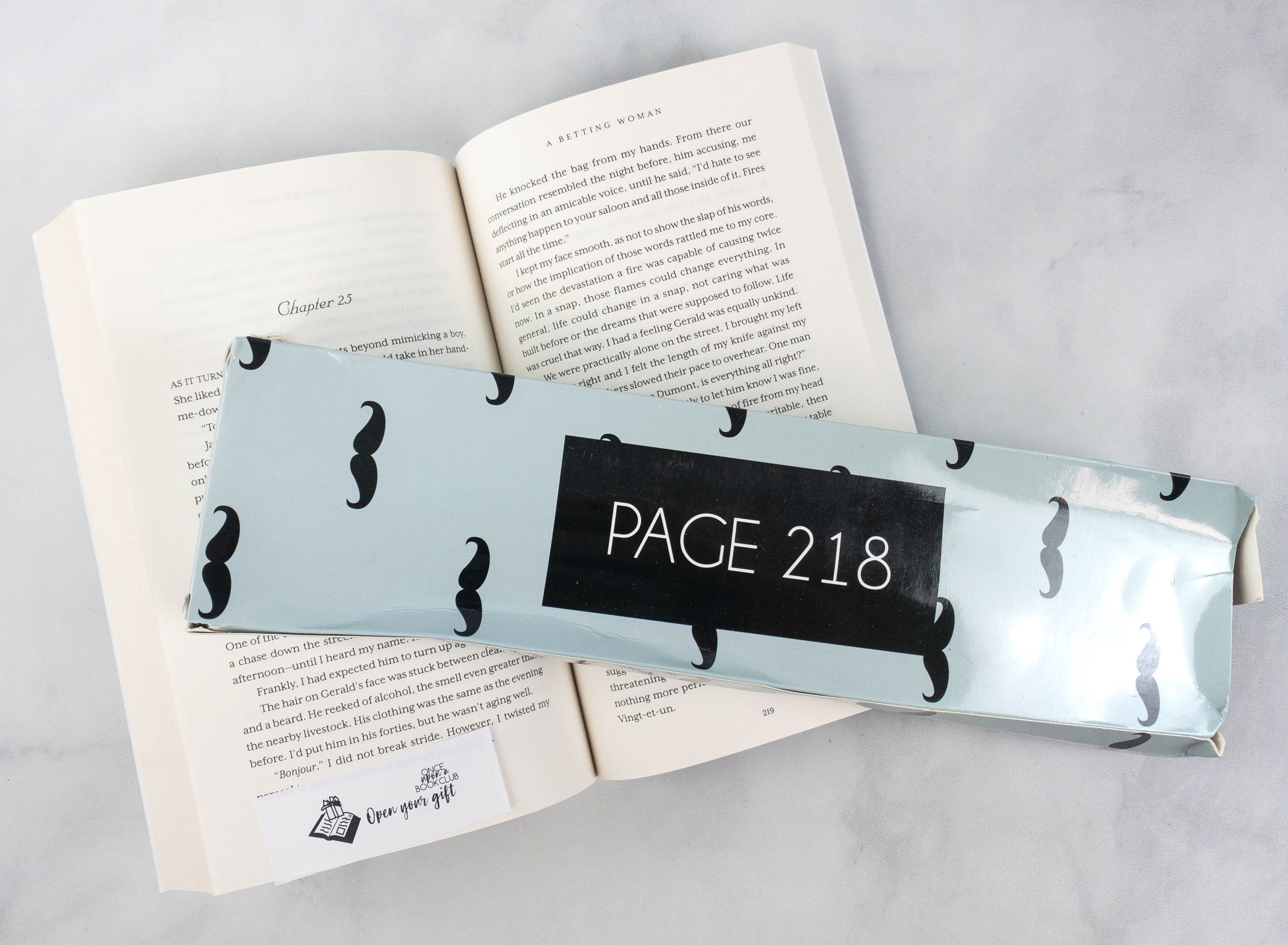 This gift has moustache designs all over the wrapping paper which I think is cute!
Umbrella. There's a cane-type umbrella inside!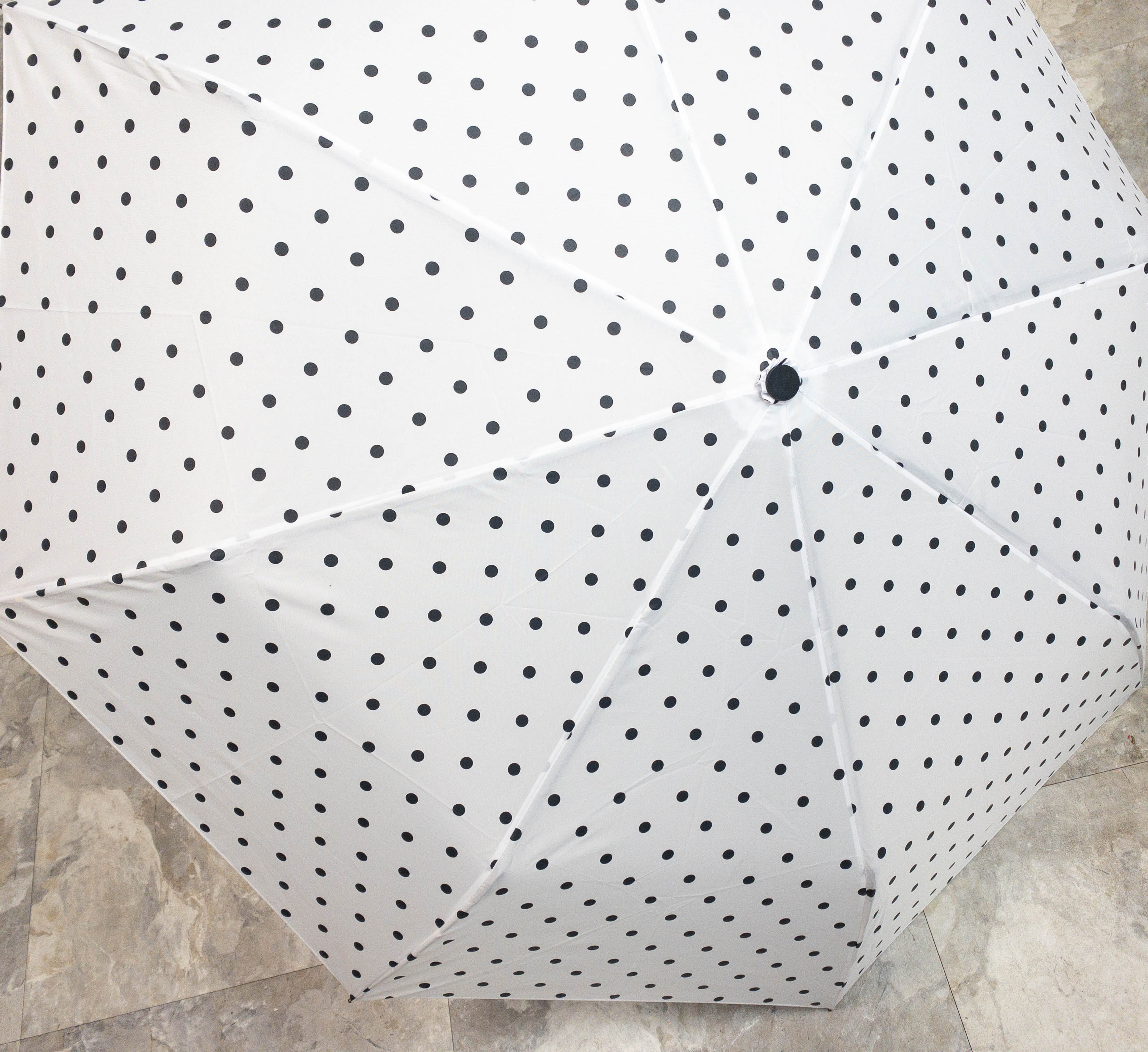 It features black polka dots against a white base which I think is really cute. I like this because it's an item that  I can definitely put into good use around the house whenever it's raining and we need to run some errands.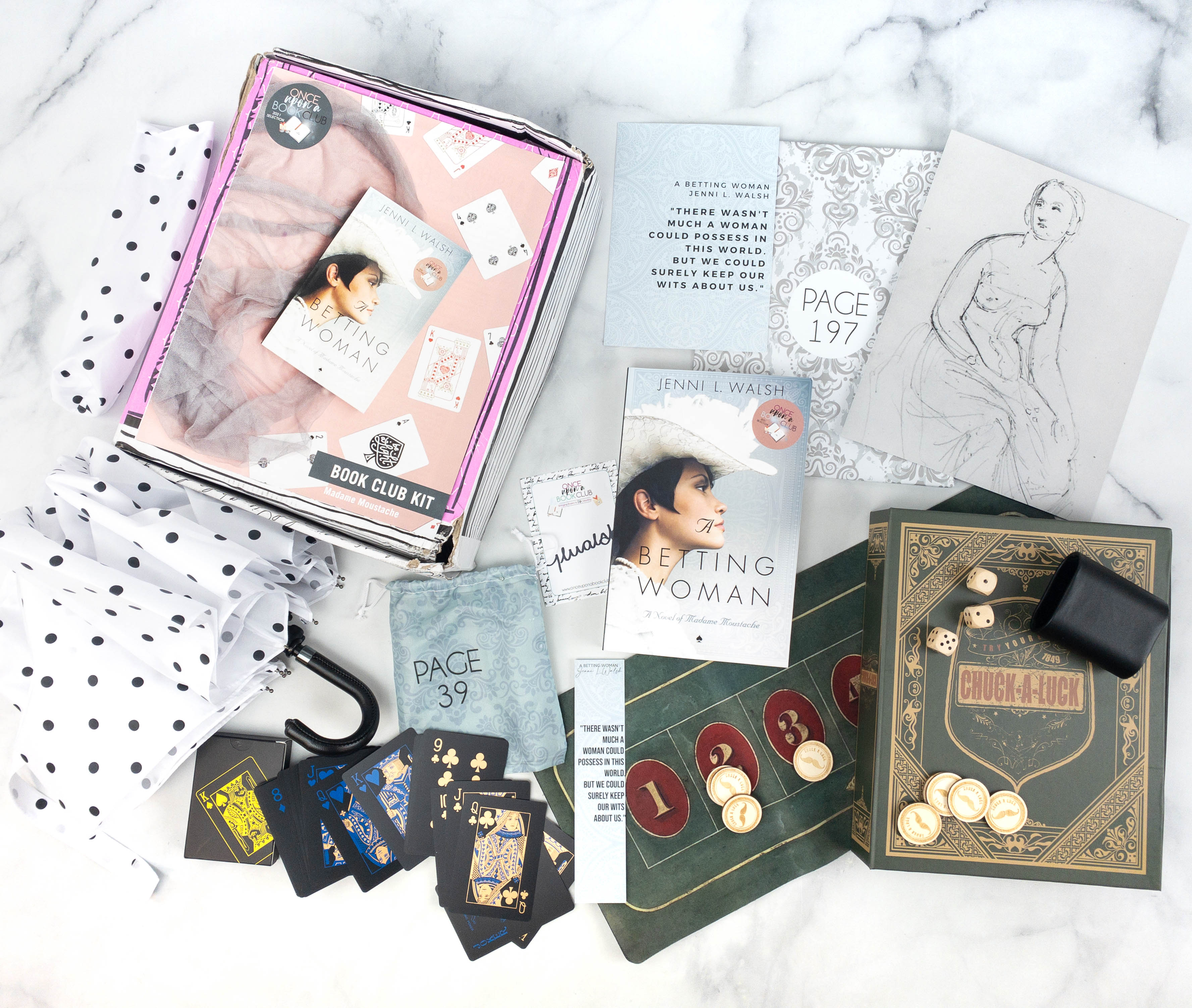 These are all the surprise gifts that I received!
Once Upon A Book Club sends such well-thought-out boxes for book lovers like me! This month's book pick is a historical fiction, with elements of mystery and fantasy that I really enjoyed. The box took the reading experience up a notch by providing book-related items that I can open on certain pages. My favorite item is surely the umbrella, because it is the most useful and functional out of everything but the rest were still good and they made reading the book an even better experience! For those who want a unique reading experience, this book subscription is definitely a must-try!
What do you think of this month's Once Upon a Book Club?