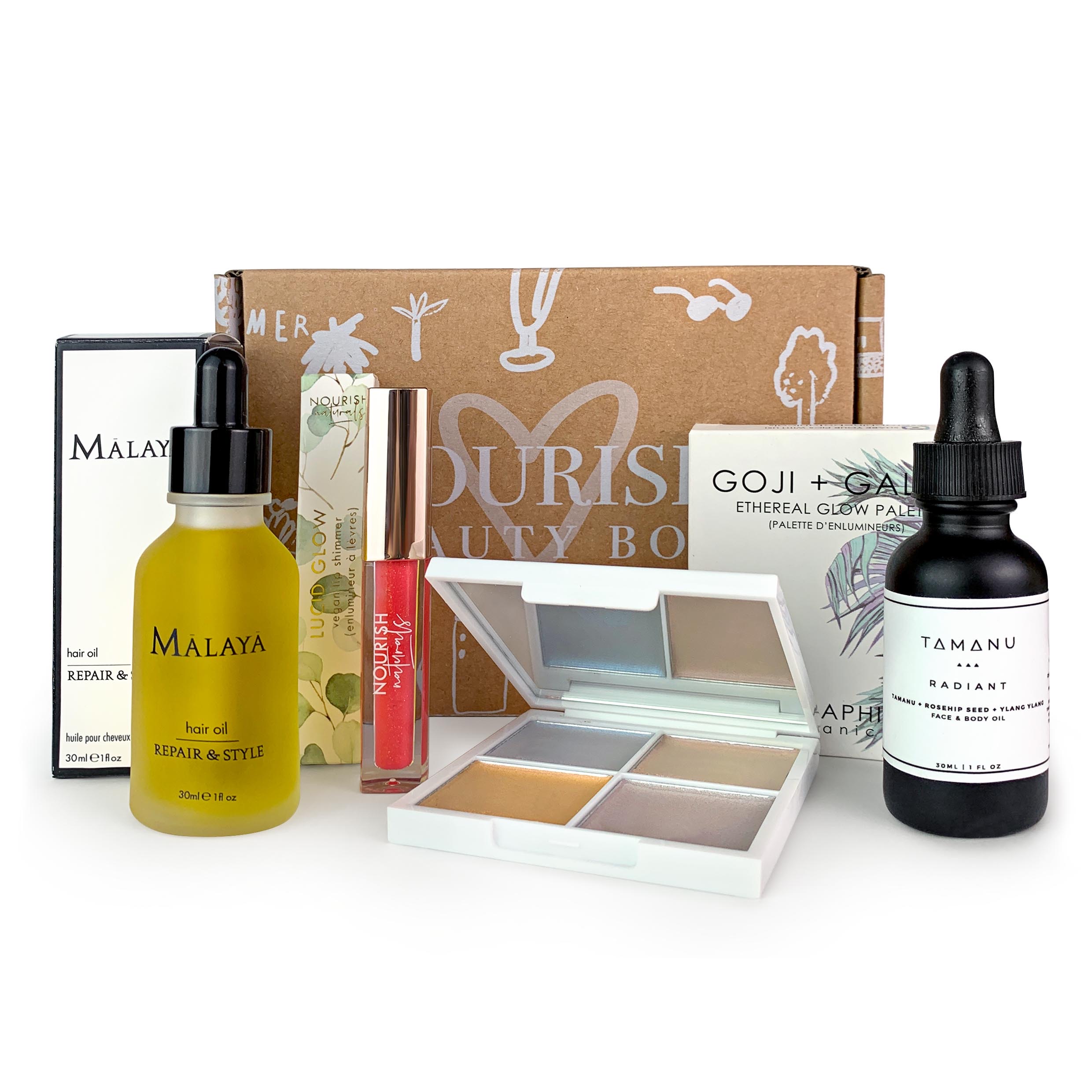 We have full spoilers for the August 2021 Nourish Beauty Box – a monthly, cruelty-free, ingredient-conscious beauty subscription box. This box is now available to order!
We celebrate high summer with a curation of extraordinary, skin-centric products that enable you to create a natural-looking faux glow even without any sun exposure, as well as ingredients that impart hydration without the heaviness.
DEAL: Get 15% off your first box! Use coupon code HELLOBOXES15.
This month's box:
Nourish Naturals – Lucid Glow in "Ripe Cherry" (0.07 fl. oz. – $16)
Seraphine Botanicals – Goji + Galaxy Palette (14 g – $55)
Tamanu Oil Lab – Tamanu Radiant (1 fl. oz. – $38) OR Tamanu Pure (1 fl. oz. – $35)
Malaya Organics – Hair Oil (1 fl. oz. ; $48)
Box Value: $154
In detail:
Nourish Naturals' Lucid Glow in "Ripe Cherry" is a luminizing lip treatment made with pearlescent micro shimmers in a nourishing vegan base of Sunflower, Apricot, Avocado and skin-loving Jojoba oils to impart a healthy, gently tinted gleam to lips.
Seraphine Botanicals' Goji + Galaxy is a prismatic palette formulated in a blendable, vegan cream base that gives you the ultimate customizable radiance.
Malaya Organics' Hair Oil is a unique hair treatment that brings luster back to dry or damaged hair, restores moisture to a dry scalp, prevents flaking, and doubles as a styling product to reduce split ends and combat frizz.
You will receive either one of the below:
Tamanu Oil Lab's Tamanu Radiant is a fast-absorbing oil blend made with Tamanu, Rosehip & Ylang-Ylang oils for a soft, glowing complexion.
OR
Tamanu Oil Lab's Tamanu Pure contains a high-quality, cold-pressed, certified organic Tamanu oil that is known for its extremely healing, rejuvenating, and moisturizing properties.
What do you think of this month's Nourish Beauty Box spoilers?