nmnl (nomakenolife) is a monthly beauty subscription box by the brains behind Tokyo Treat and Yume Twins. Each box has 8-9 Japanese and Korean beauty items, which may include skincare, makeup, hair care, bath & body items, and beauty tools. The subscription is $35 per month, but it can go lower if you subscribe to a longer subscription plan. It's $33.5 per month on a 3-month prepaid plan, $32 per month on a 6-month prepaid plan, and $31.5 on a 12-month prepaid plan.
Nomakenolife's subscription box made the list in our 2021 readers' choice picks of best makeup subscription boxes!
DEAL: For a limited time only, use the coupon code KITTY to get FREE Kitty Glam Bonus!
Monthly plan: FREE Pure Smile Cat Sheet Mask
3 month plan: FREE Disney Aristocats Marie Lip Tint
6 month plan: FREE Nyarming Cat Paw Brush
12 month plan: FREE Hello Kitty x Integrate Palette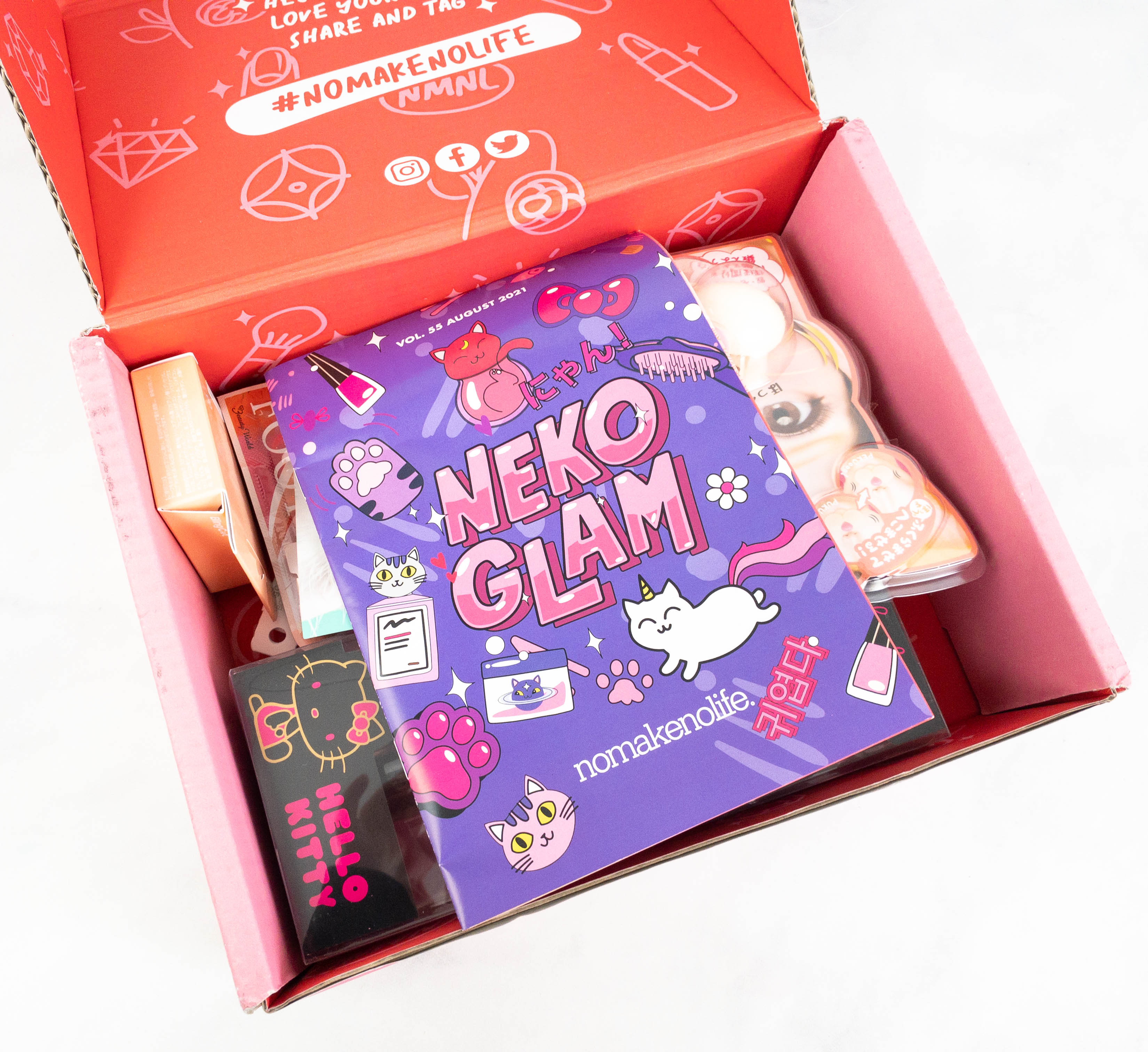 There were no fillers inside but everything arrived in great condition.
There's a mini-magazine included in the box. This month's theme is Neko Glam!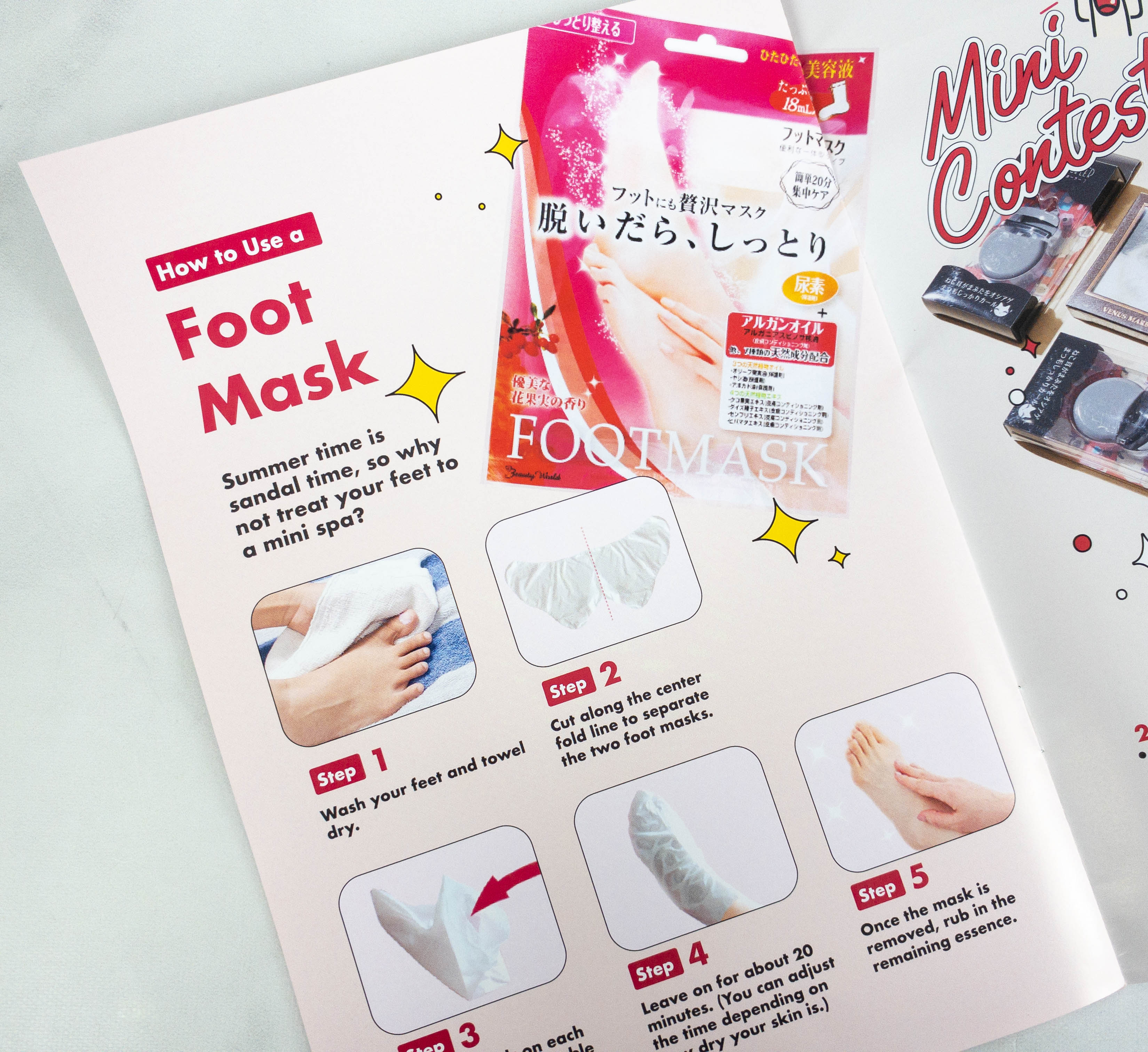 Here's a feature on how to properly use a foot mask!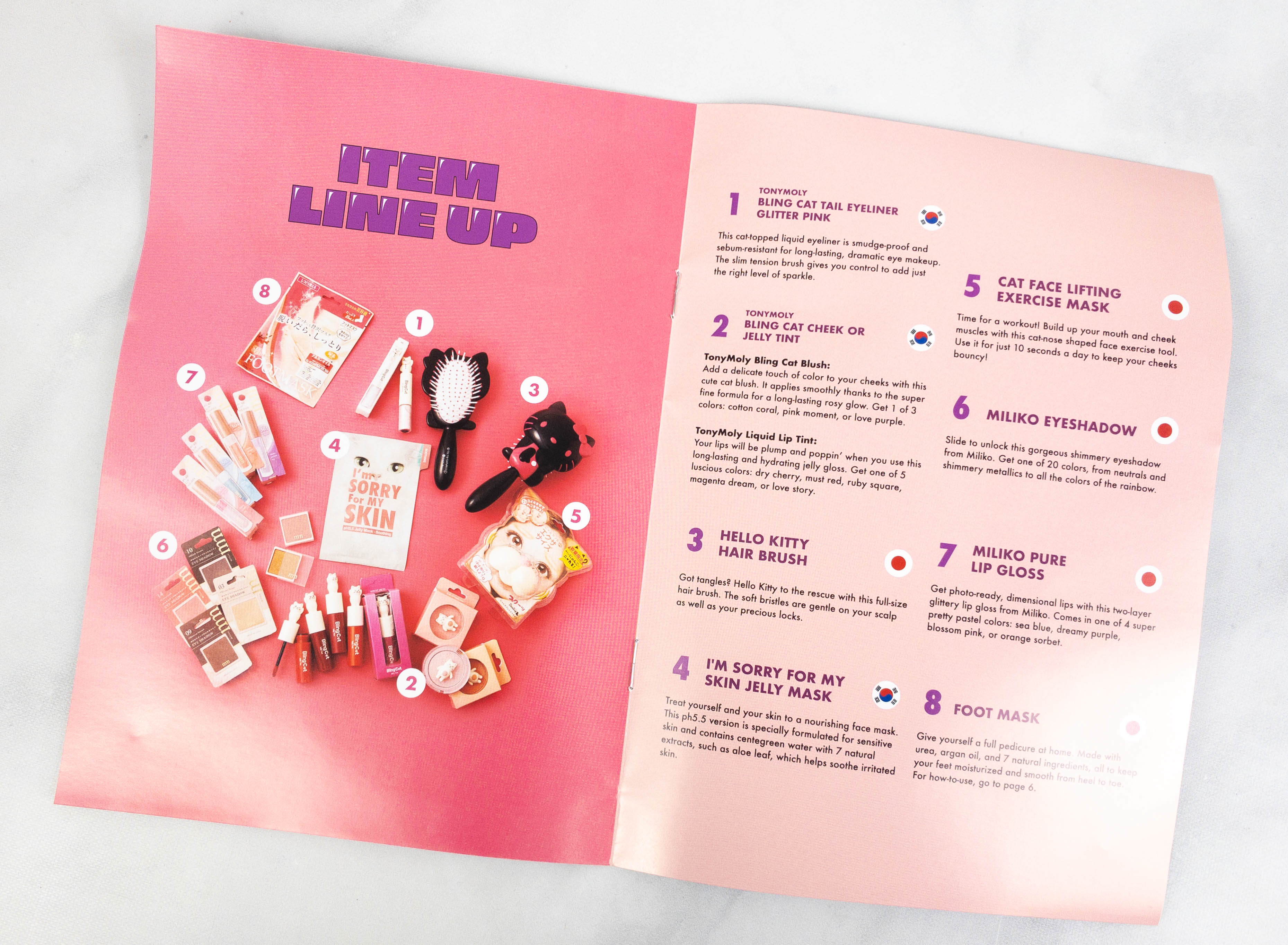 There's a list of items inside the box. They also included a group photo!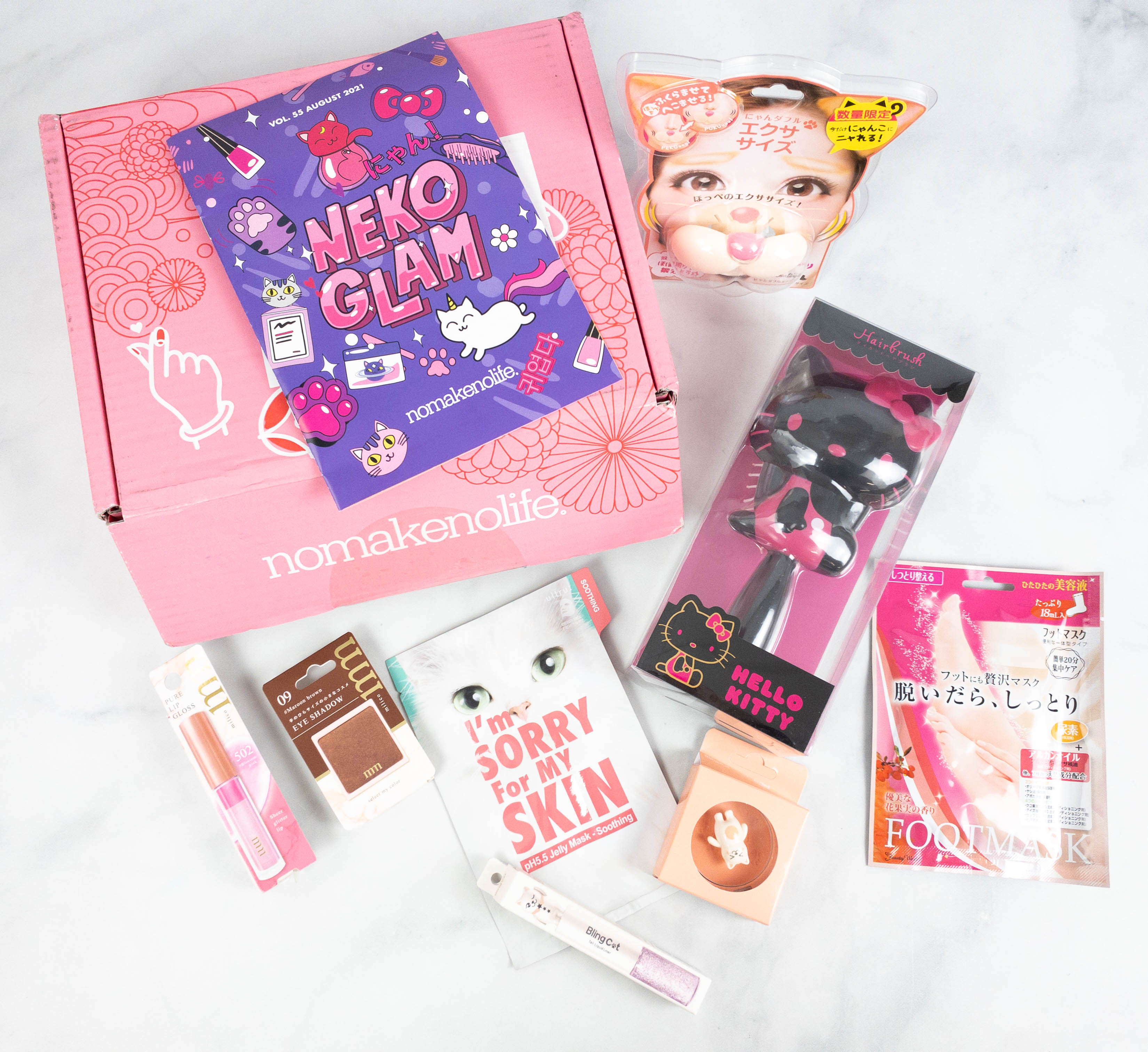 Everything in my box!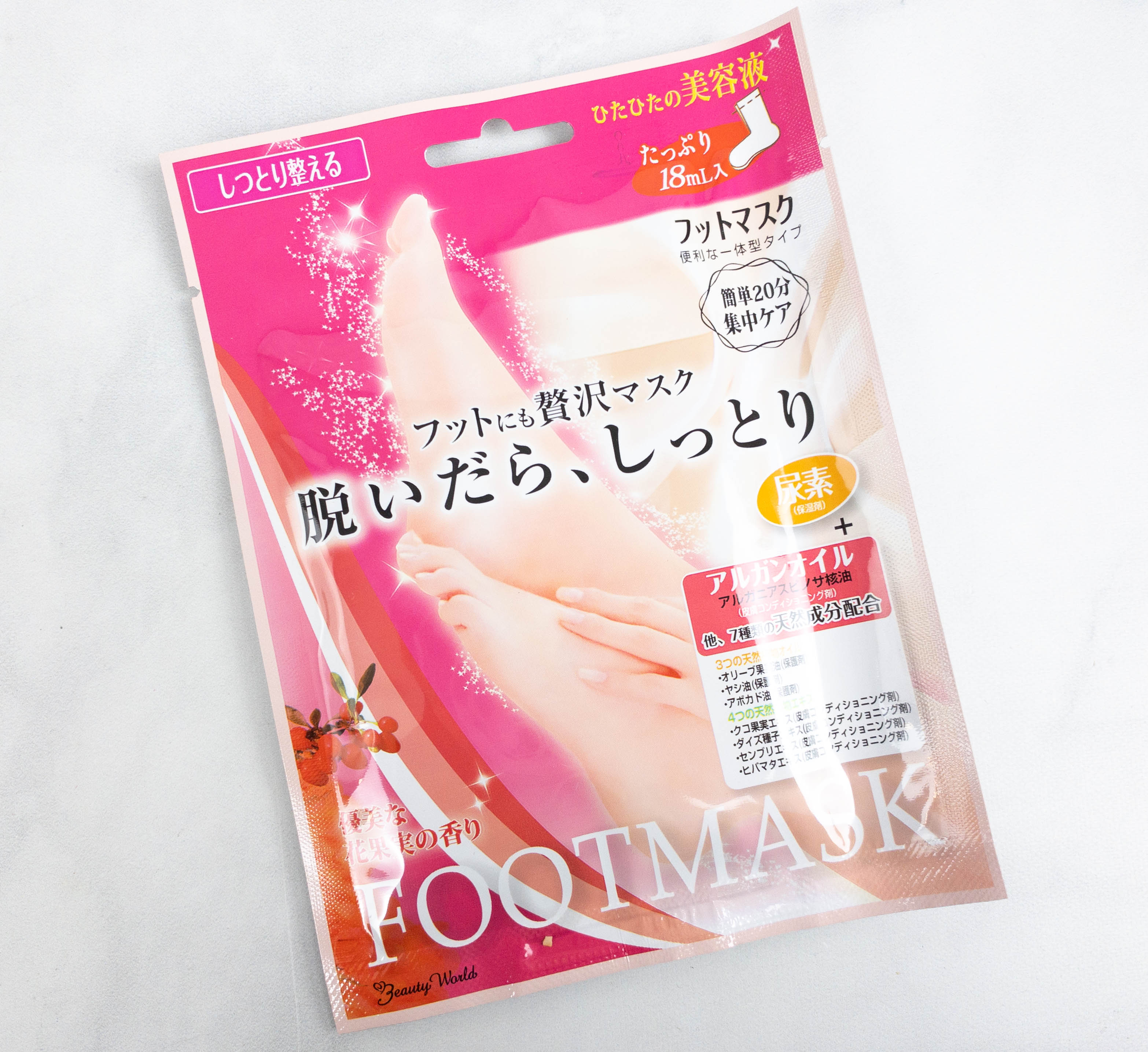 Foot Mask. This mask is specially designed for the feet, to make them look soft and smooth. It's easy to use and convenient to bring even when traveling.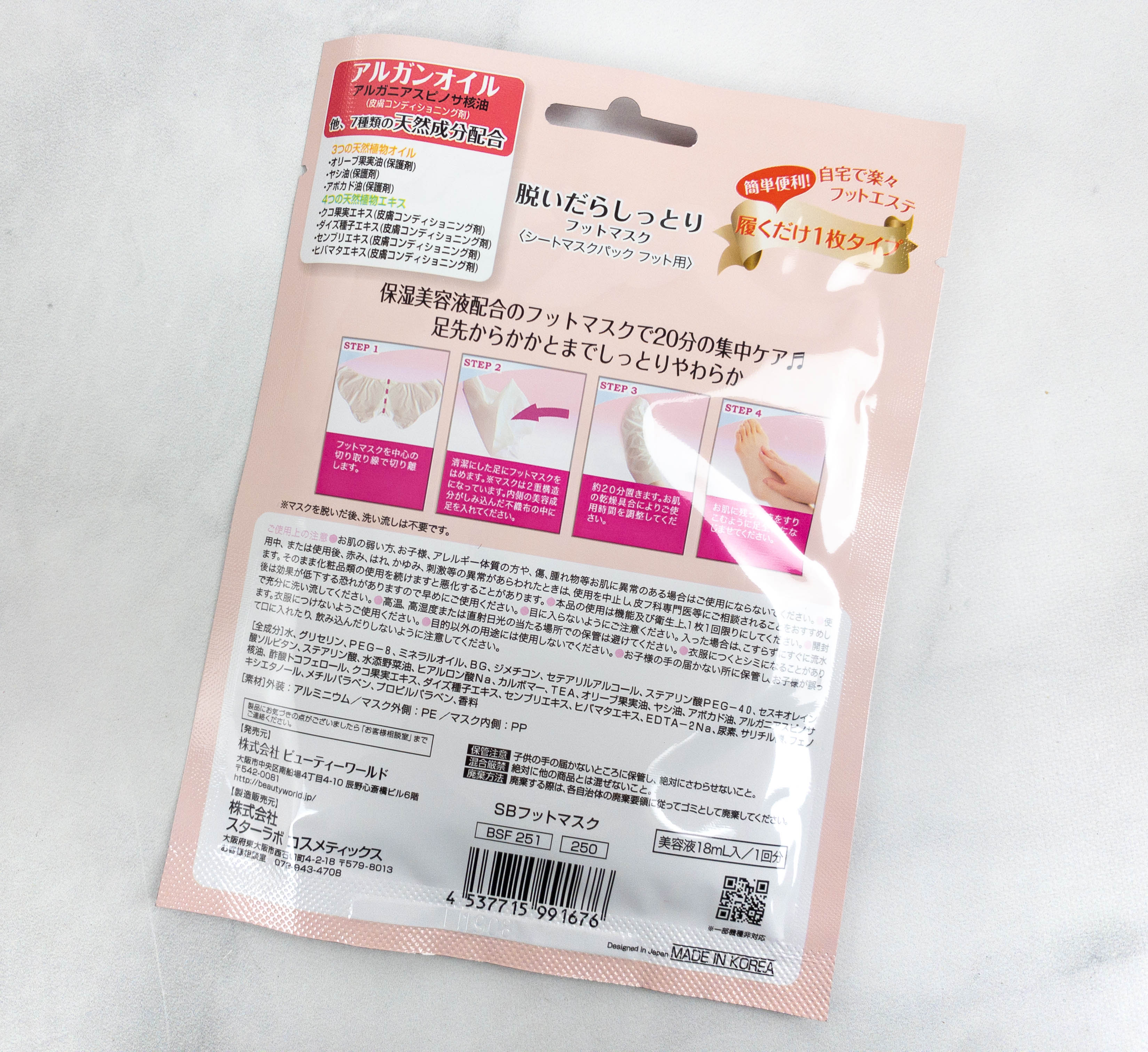 Just soak your feet in the mask for a few minutes, remove it, and rub the remaining essence on your feet. It helps to gently exfoliate the feet and get rid of dead and dry skin cells while also providing nourishment.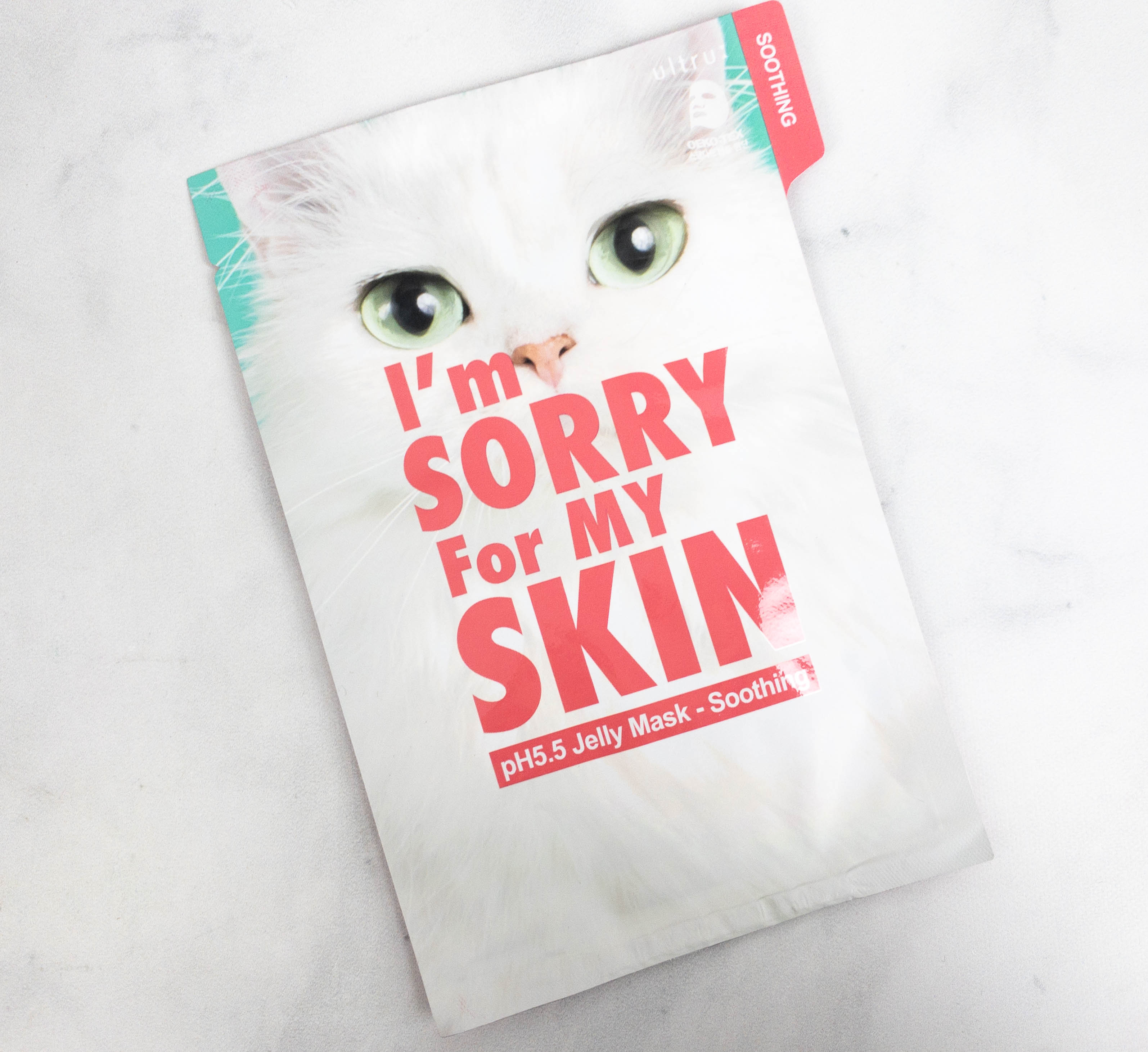 I'm Sorry for My Skin Jelly Mask. They also included this jelly face mask with a balanced pH of 5.5 to keep the skin healthy!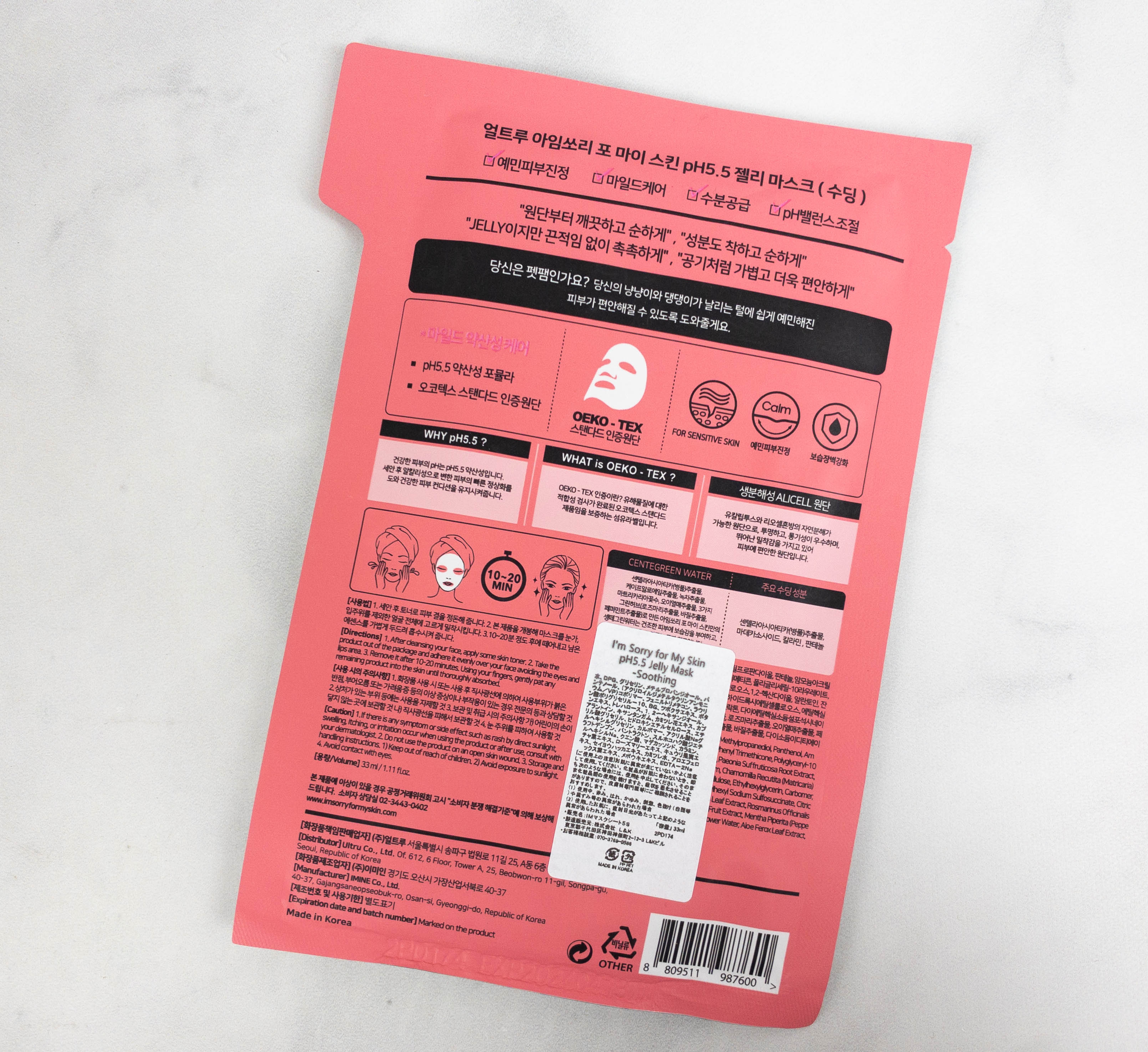 It hydrates and nourishes the skin, leaving it soft and smooth. Just like other masks, it's quick to use. Just put it on for 15-20 minutes and then pat the remaining essence after. I like how my face looks and feels more vibrant after use!
Miliko Eyeshadow. Here's a mini eyeshadow pan! It came with its own box and the packaging looks really cute.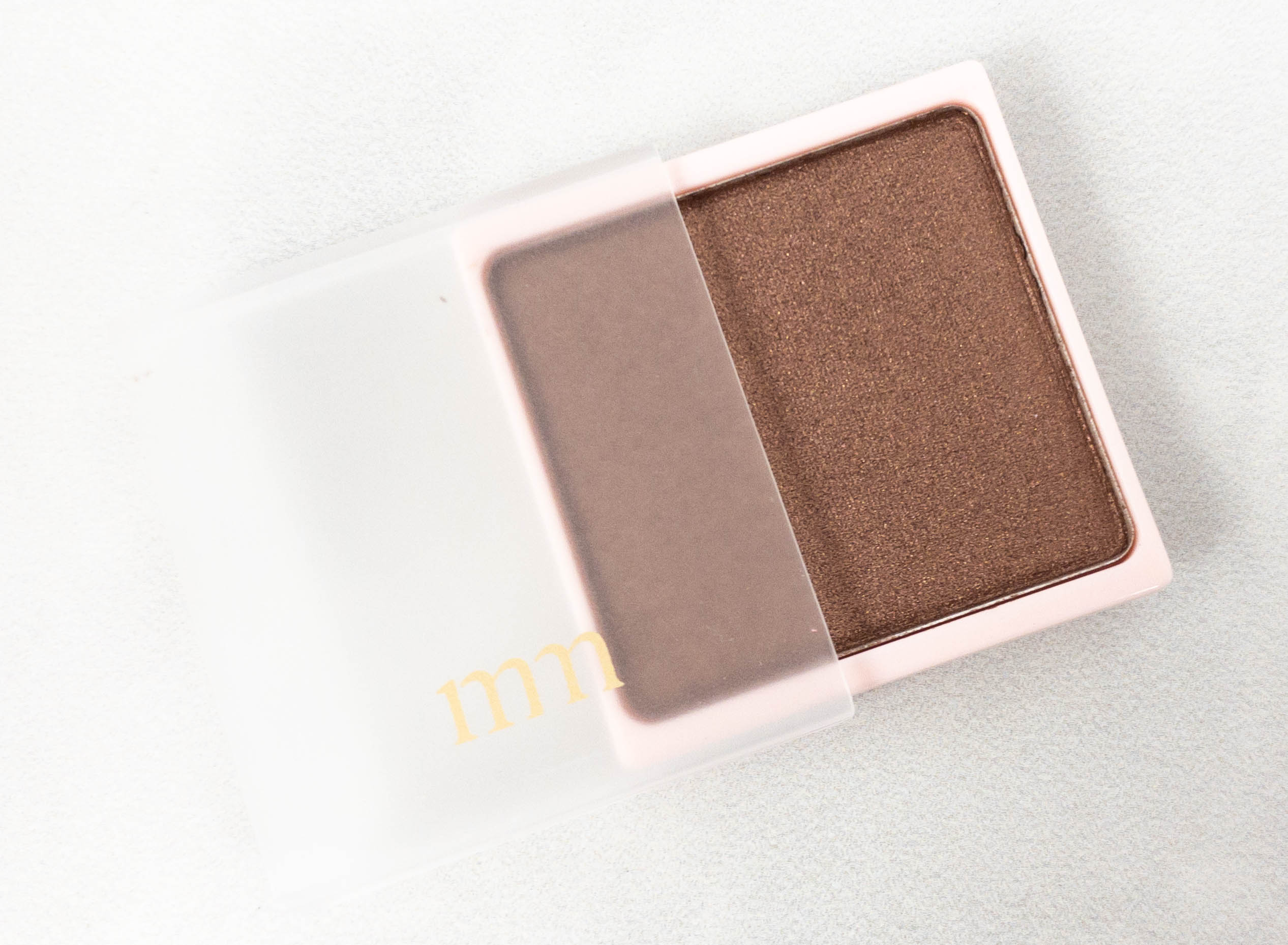 The lid slides to reveal the brown eyeshadow that's great for everyday use. It's not as pigmented as I'd like it to be but it is buildable so you may need to add a few layers if you really want to get that full color.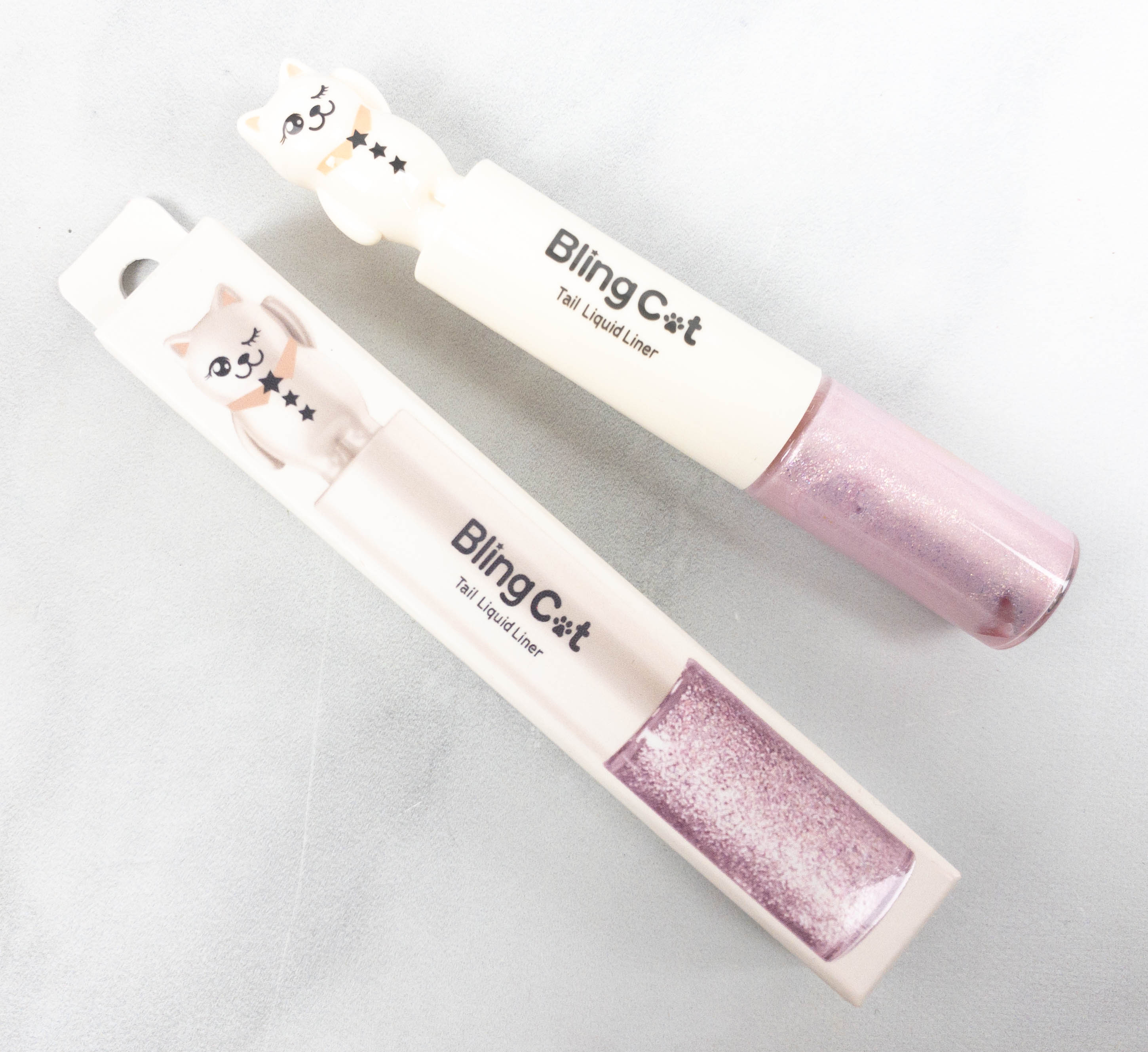 Tony Moly Bling Cat Tail Eyeliner Glitter Pink. This one is a cute glittery eyeliner! The packaging itself is adorable, with that winking cat at the top saying hi.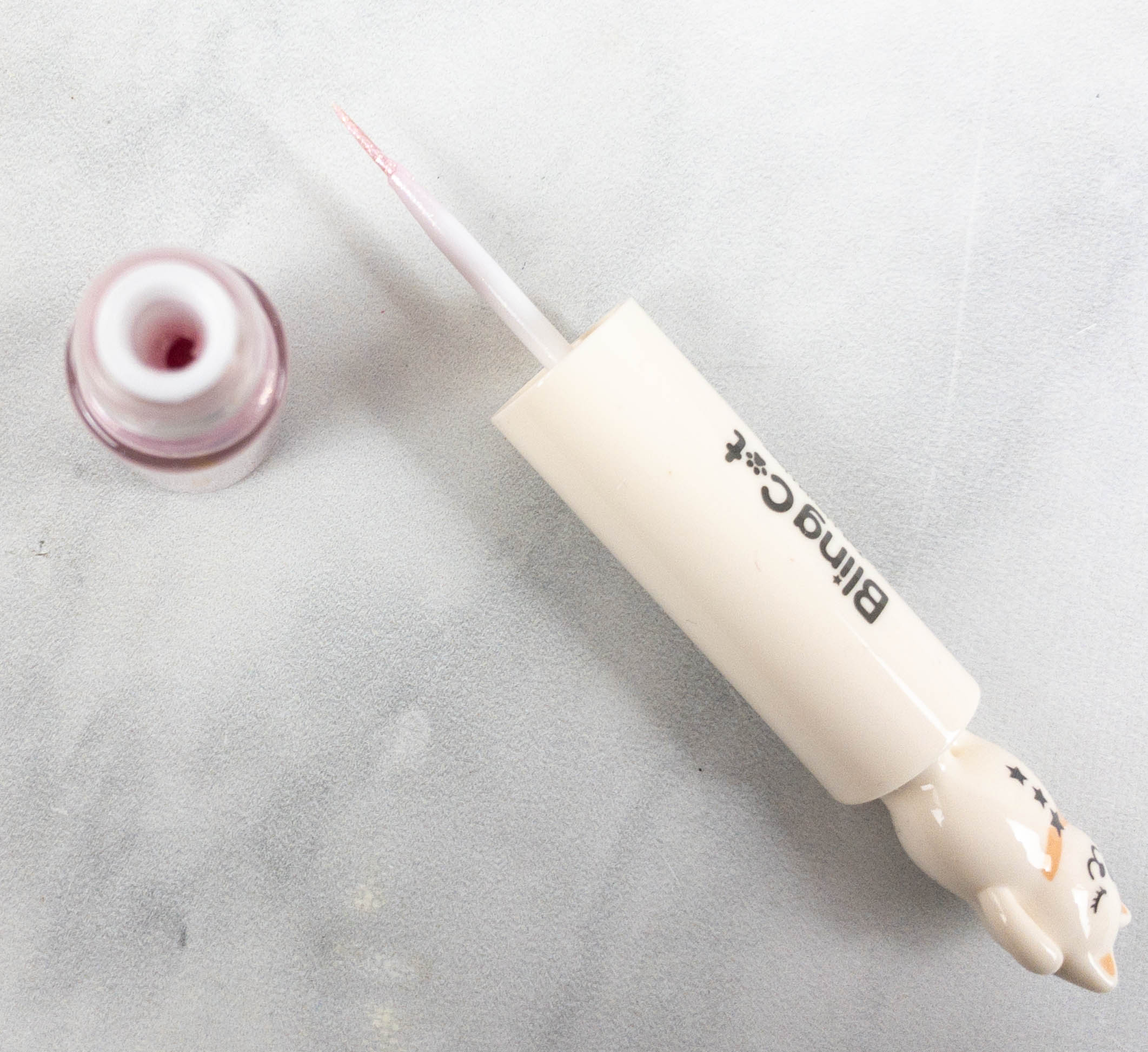 I like this because it's very pigmented. It glides on smoothly and dries on quite fast. The glitters stay in place when it dries so it really brightens up eyes when used!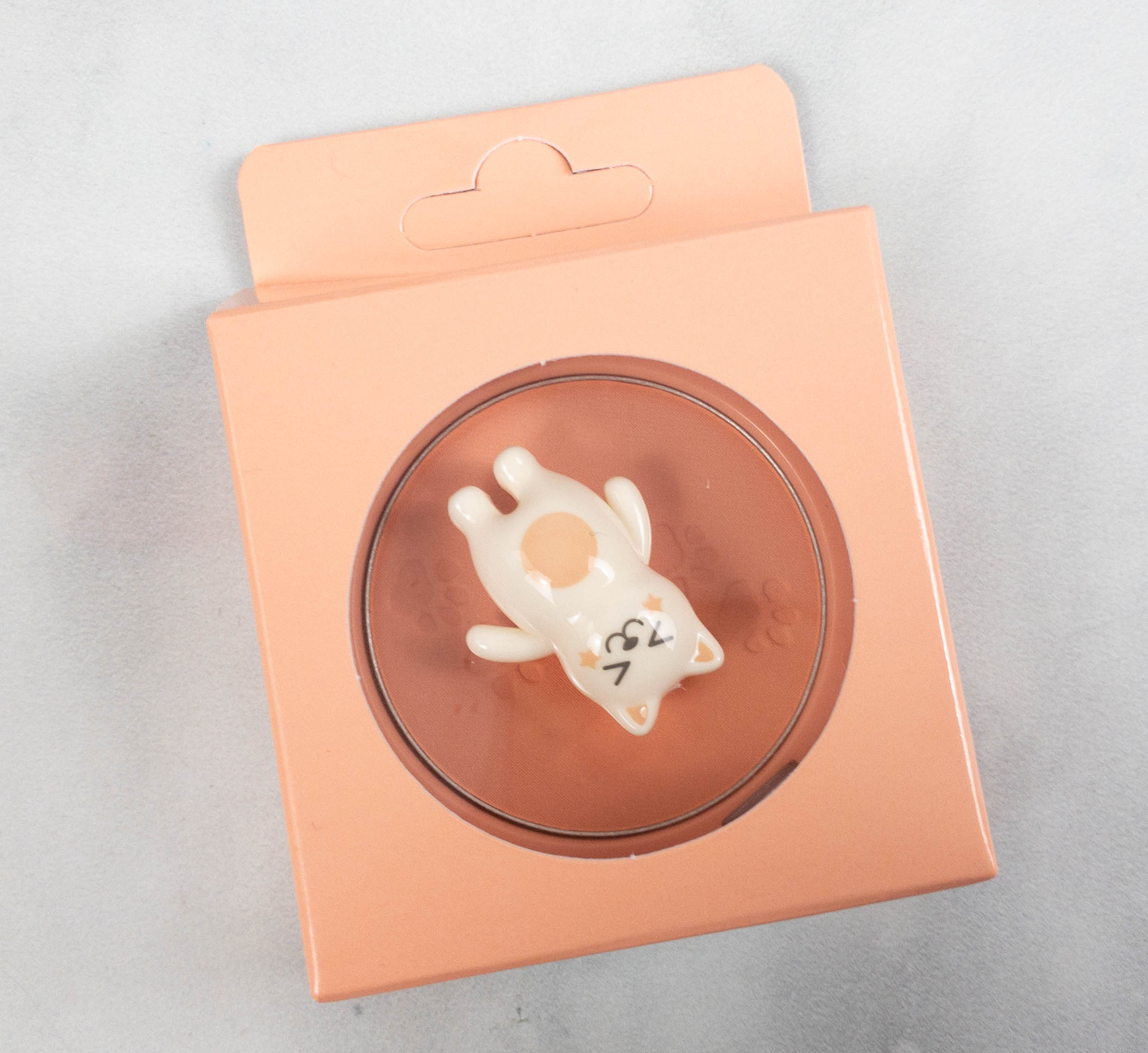 Tony Moly Bling Cat Blush. Subscribers will receive either a blush or a tint! I received a blush.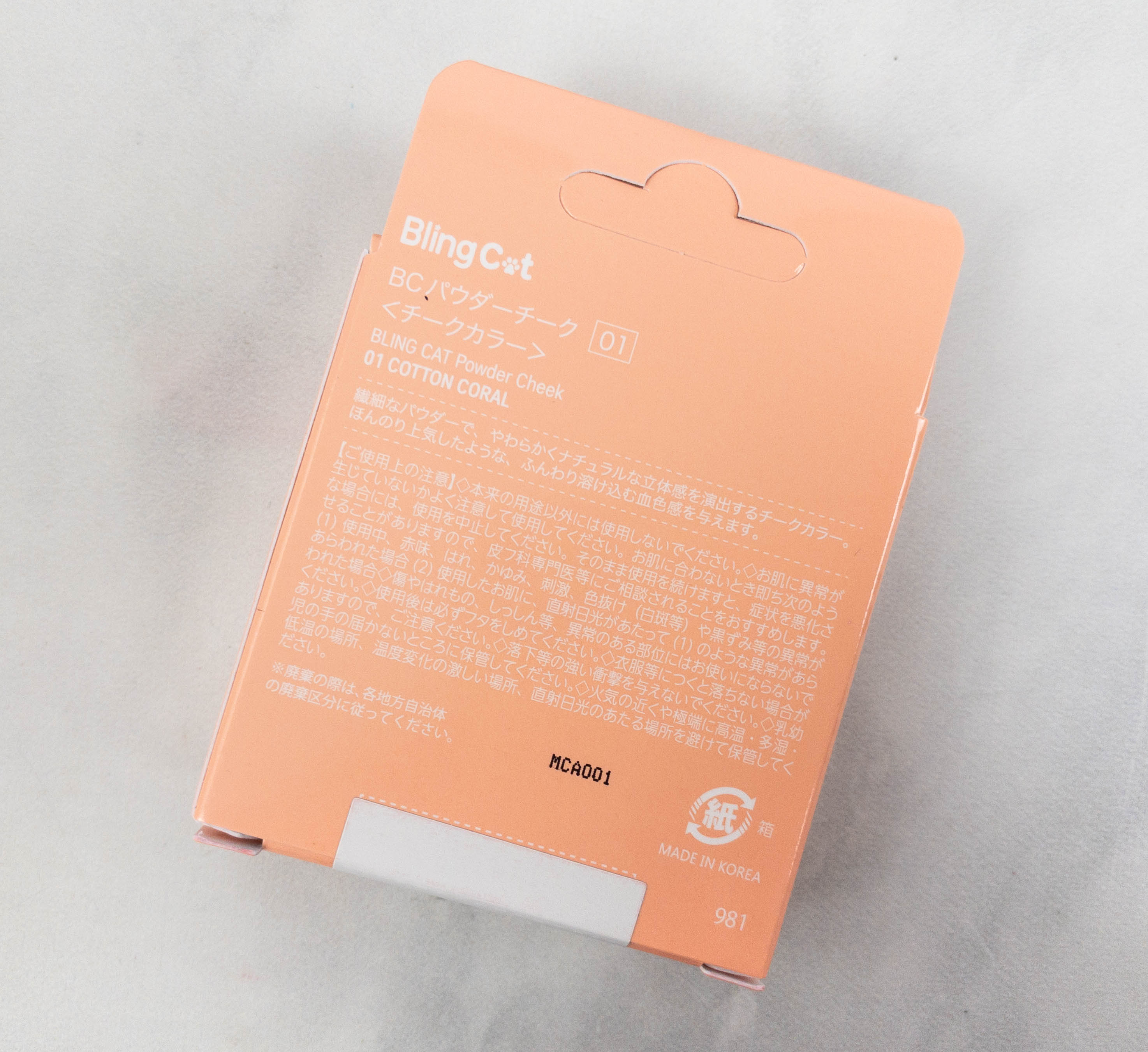 I received it in Cotton Coral!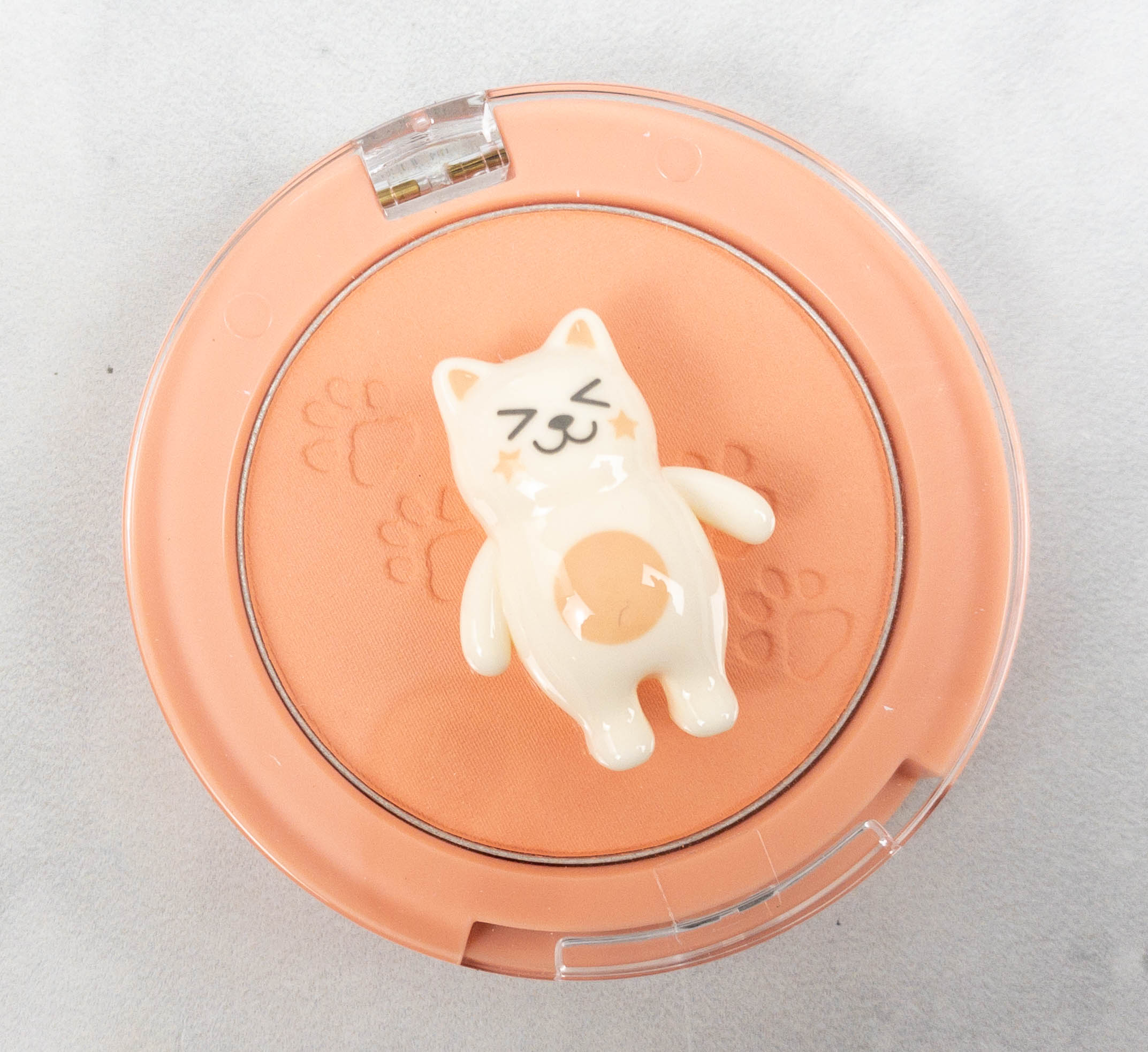 The compact container features a cute, happy cat! The cover is clear, so you can easily see the shade of the blush inside. There are even cute paw prints on the blush itself.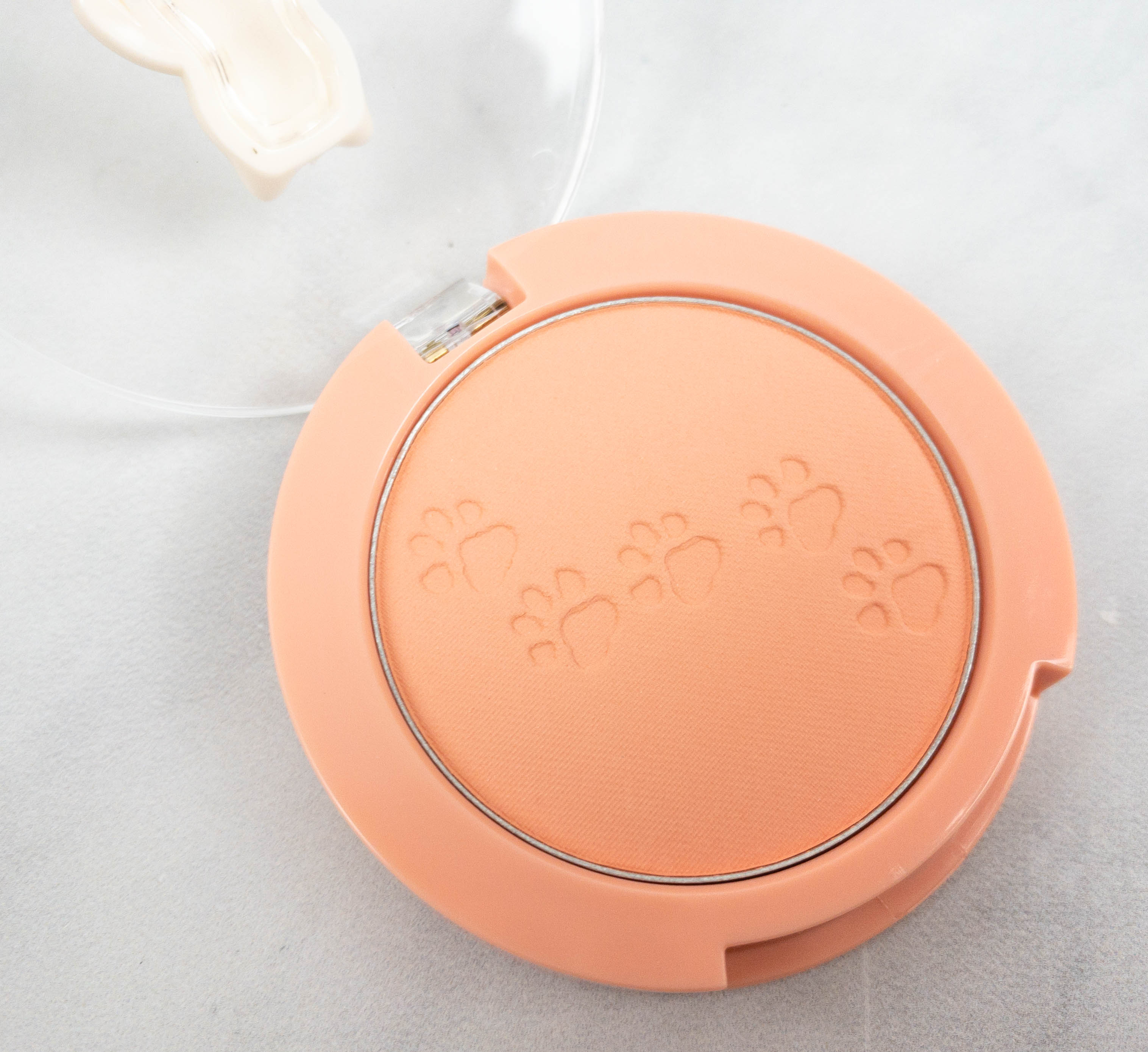 This coral shade is perfect for subtle day-time makeup looks. It applies smoothly and it provides a nice flush on my cheeks.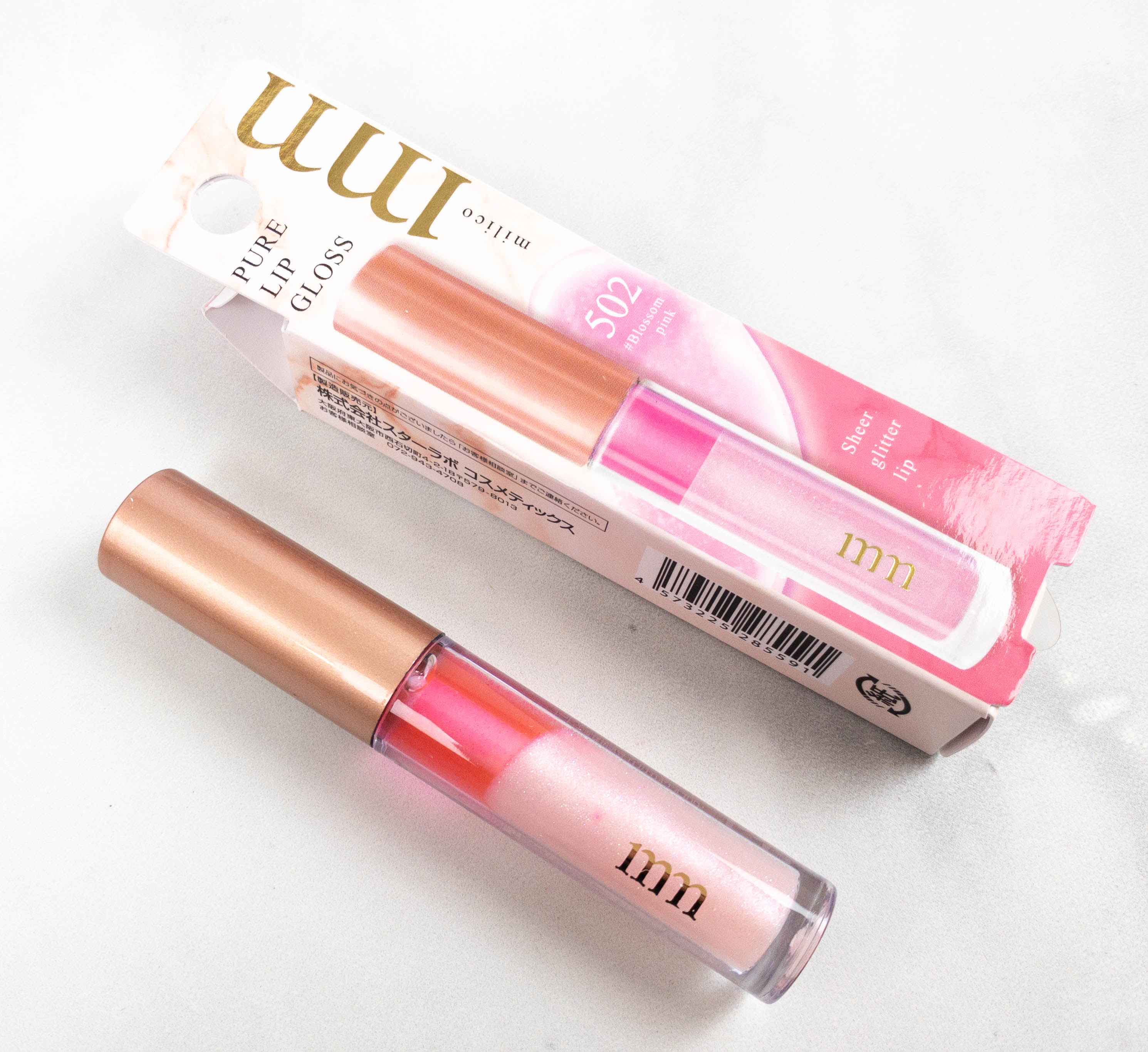 Miliko Pure Lip Gloss. The next item is a lip gloss! It provides a nice sheen on my lips without feeling overly sticky and it also has sheer tint to it. The glitter are small so they're not too much to look at and they make my lips look smooth, plump, and healthy! I really thought this had arrived separated but according to the photo on the package, this is how the item is. It's a bit odd. Ultimately the result was basically the same as a homogenous formula.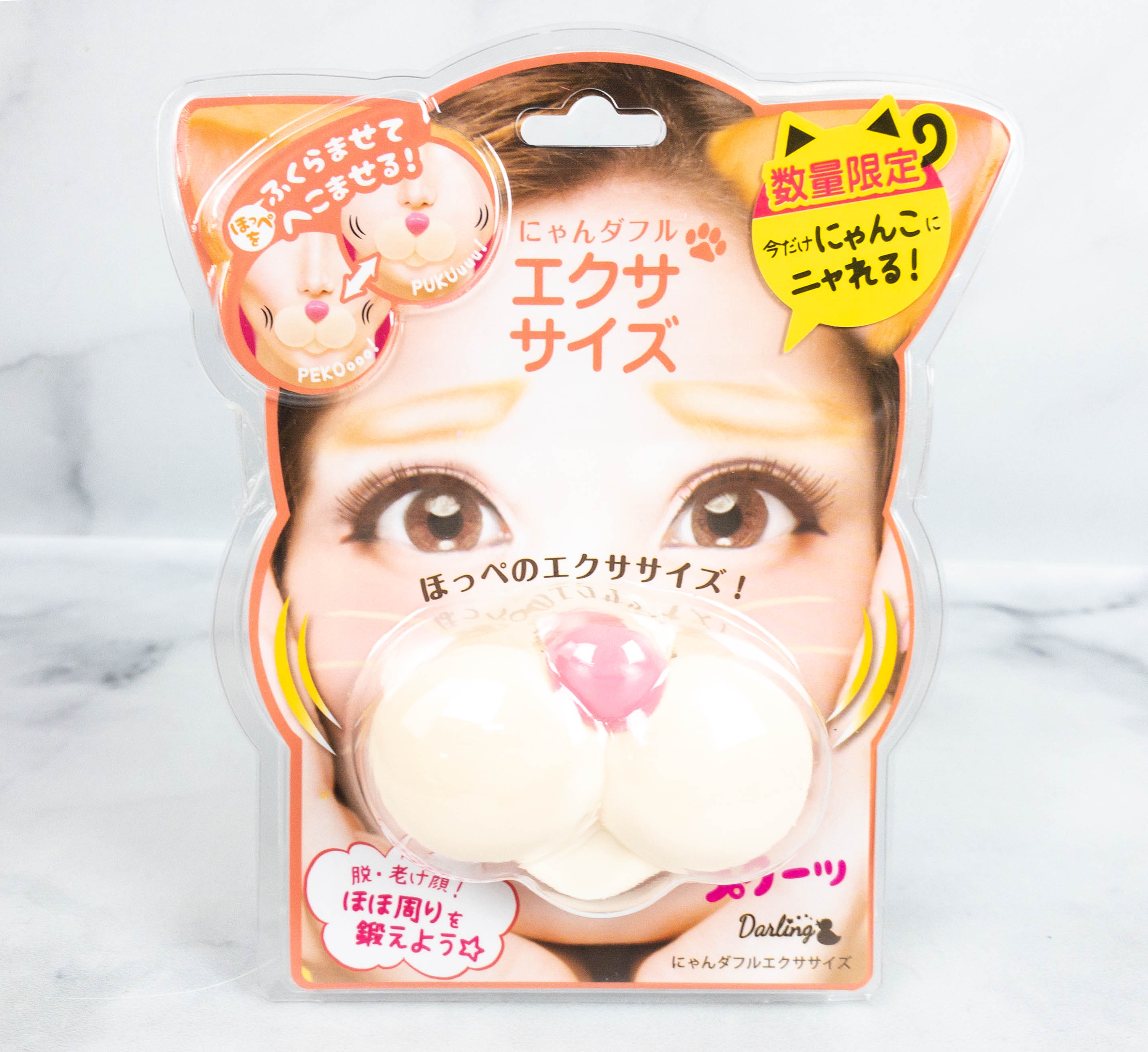 Cat Face Lifting Exercise Mask. Here's another unique item from this box! It's a face lifting exercise tool, which is believed to help prevent signs of aging. Japan loves gadgets for working facial muscles and this is one of them!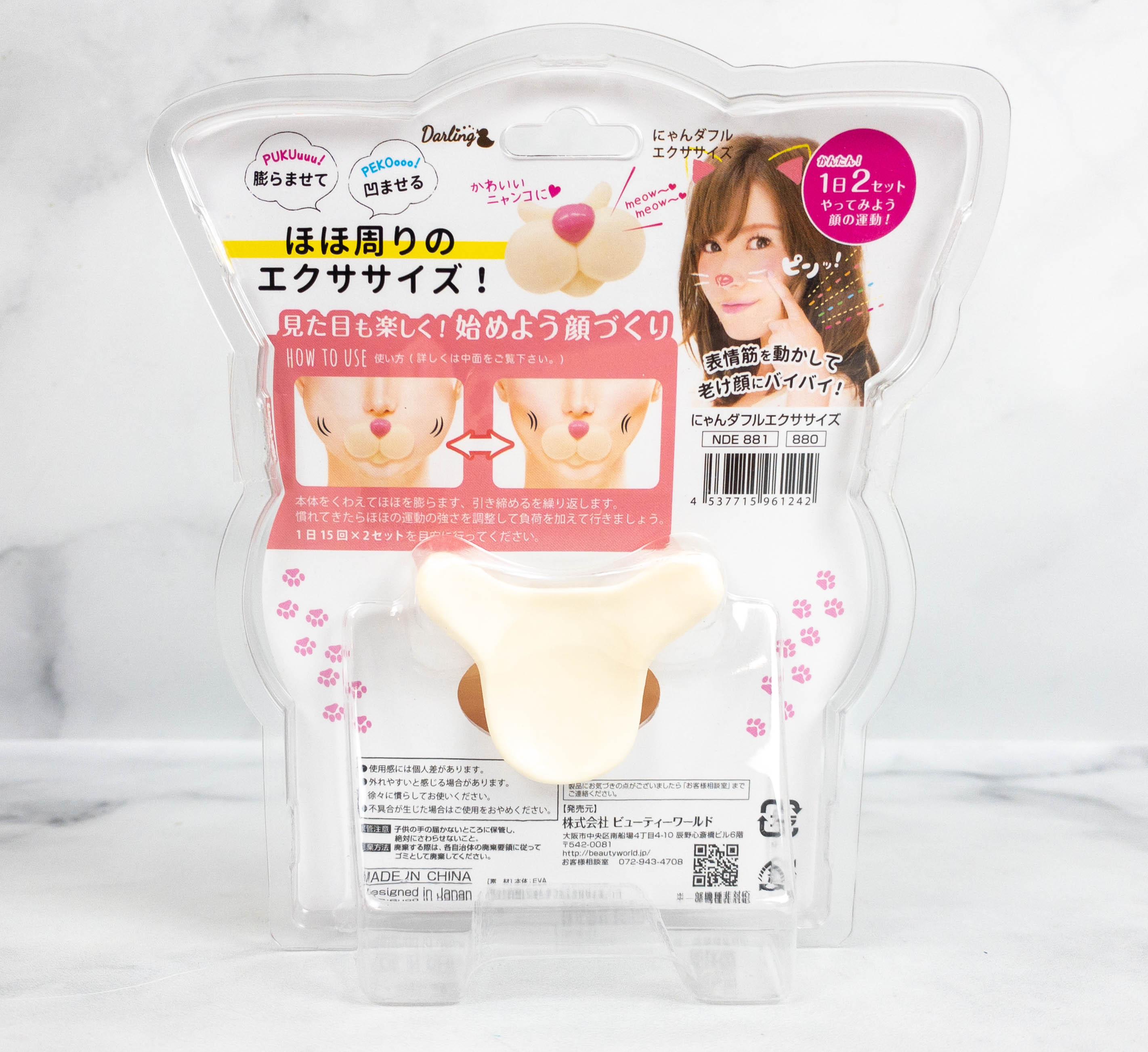 The packaging includes instructions with photos on how to use the tool. You just have to keep it in your mouth and bite the inner section. The tool resembles a cat's nose and mouth, so it looks a bit weird but it's said to help in training the facial muscles to lift and prevent the skin from sagging.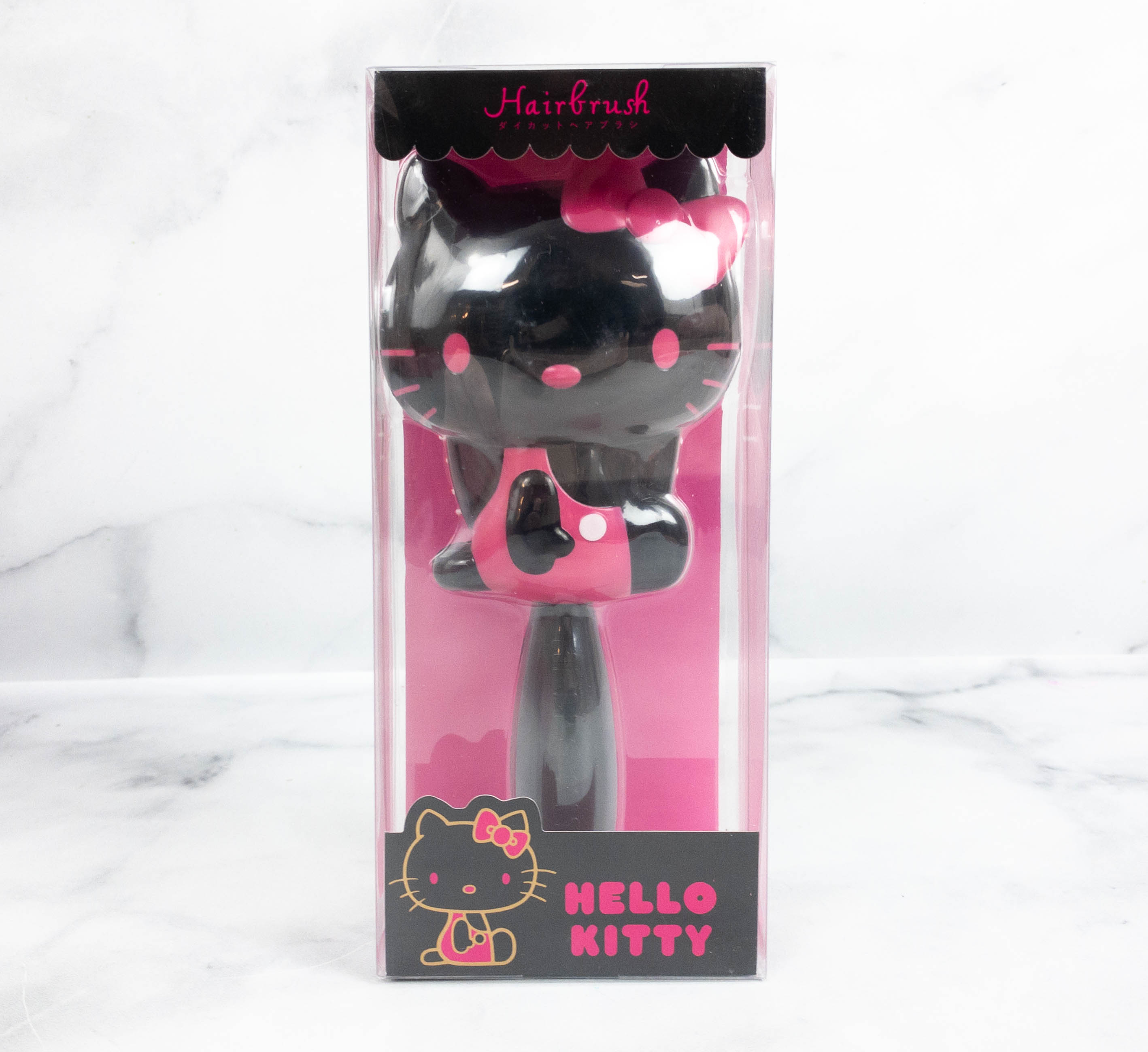 Hello Kitty Hair Brush. Lastly, here's a Hello Kitty brush! It came in a window box packaging.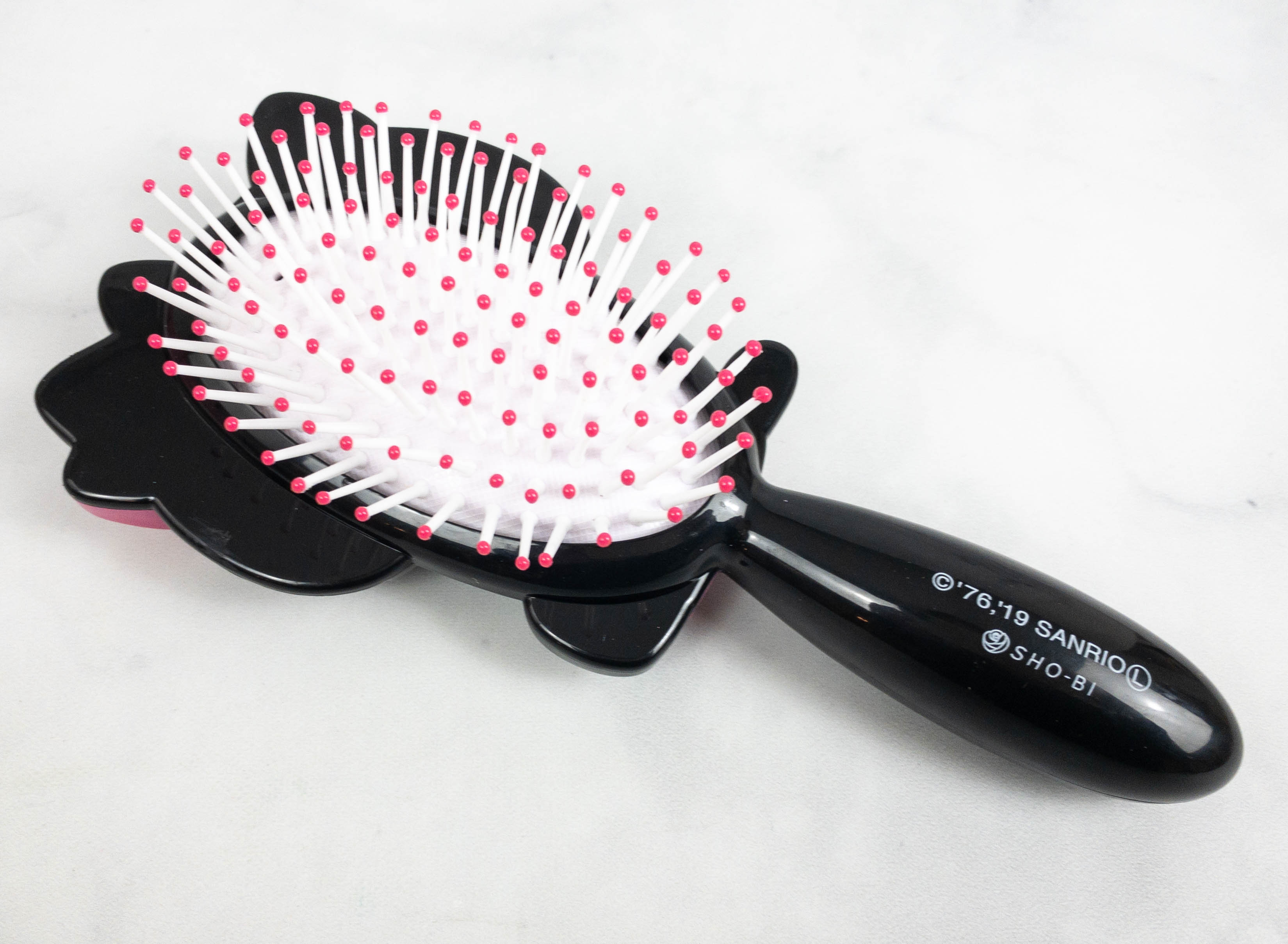 The bristles are nice and soft. They feel really good on the scalp and they also help with hair detangling!
The handle is easy to grip so I have no problems when using it. And, it's super cute!
This month's nmnl curation includes makeup items like a coral blush, sheer lip gloss, and glittery eye liner, plus tools like a unique face lifting exercise mask and hair brush. I also received two kinds of masks, one for the face and one especially made for the feet. If I have to choose a favorite, it would be the blush! It's great for day makeup and it also has a nice formula that doesn't make my skin too dry. The color also makes my skin look radiant and the little cat container is darling! All in all, I'm happy with everything in the box. If you want to discover trendy beauty products from Japan and Korea, this subscription would be a good choice!
What did you think about this month's nomakenolife?