My Paper Box is a monthly personalized subscription box filled with personalized stationery! Imagine my surprise when I saw this cute, cheery box in the mail and it had my name on it! Each box will be curated to a theme and you can choose from two different levels and price points. The Mini Subscription is a collection of 3 personalized notepads and is $10 a month; The Grand Subscription comes with a Personalized Paper Box and a selection of items such as personalized notepads, cards, planners, and more and is $28 a month. Each month there will be a new theme and you receive the order for the Grand Subscription the month before so you will have everything ready to go when the calendar changes.
Make your notes a little more special with Personalized Stationery! One of a kind Stationery Subscription that puts YOU at the center of everything we do. Every box includes freshly designed, themed stationery products inscribed with your name. My Paper Box makes an excellent gift for stationery lovers. All guaranteed to bring a smile to your face.
DEAL: Get $5 off your first box. Use the coupon code 5OFFMYBOX.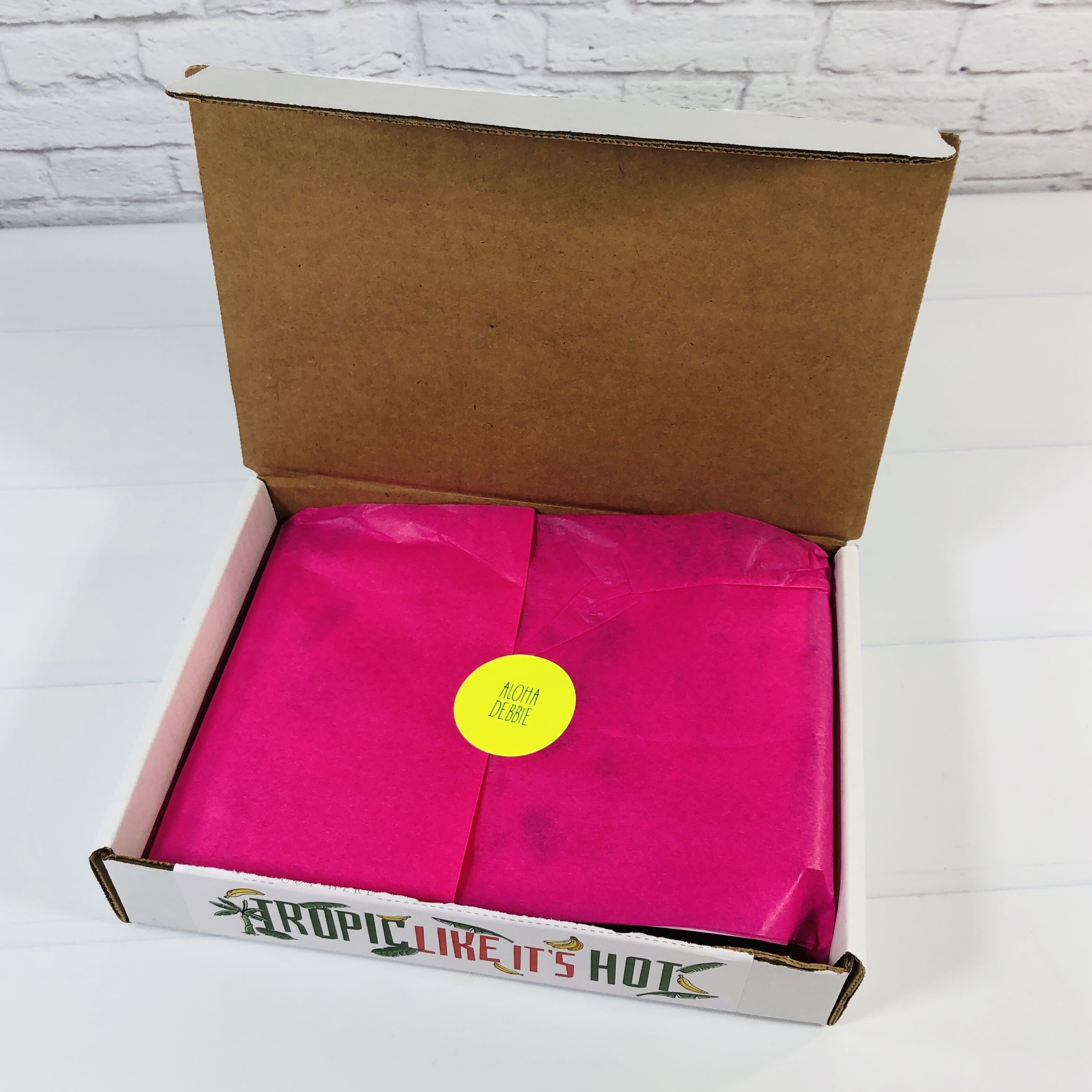 I am reviewing the Grand Subscription Box!
The presentation was pretty, with the items wrapped in tissue paper that was sealed with a sticker. The colors this month look bright and tropical!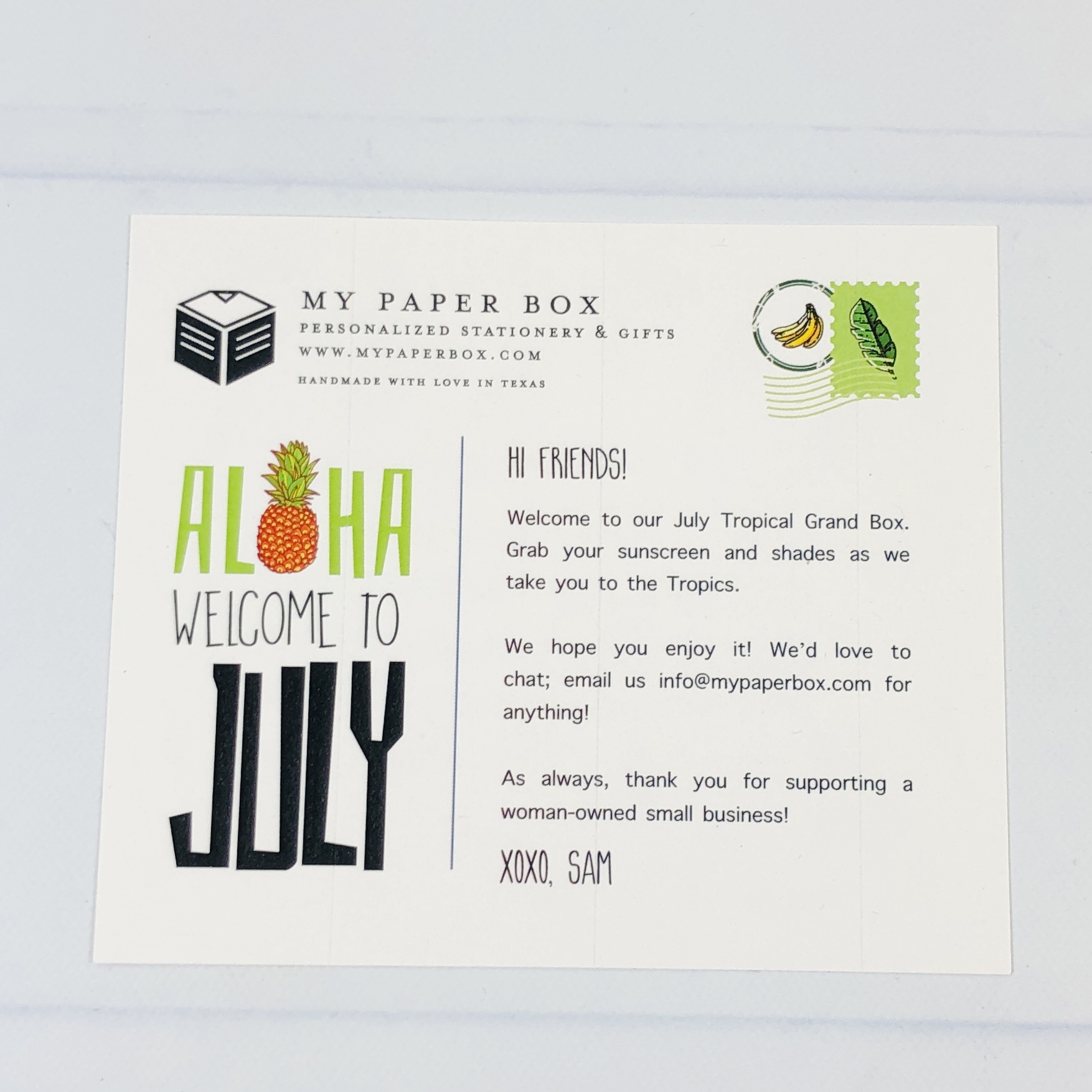 I received a card welcoming me to the July box. This month we're taking a trip to the tropics! This card used to be taped to the inside of the box lid but I preferred having it on top on the items in my box.
The back of the card is a large sticker!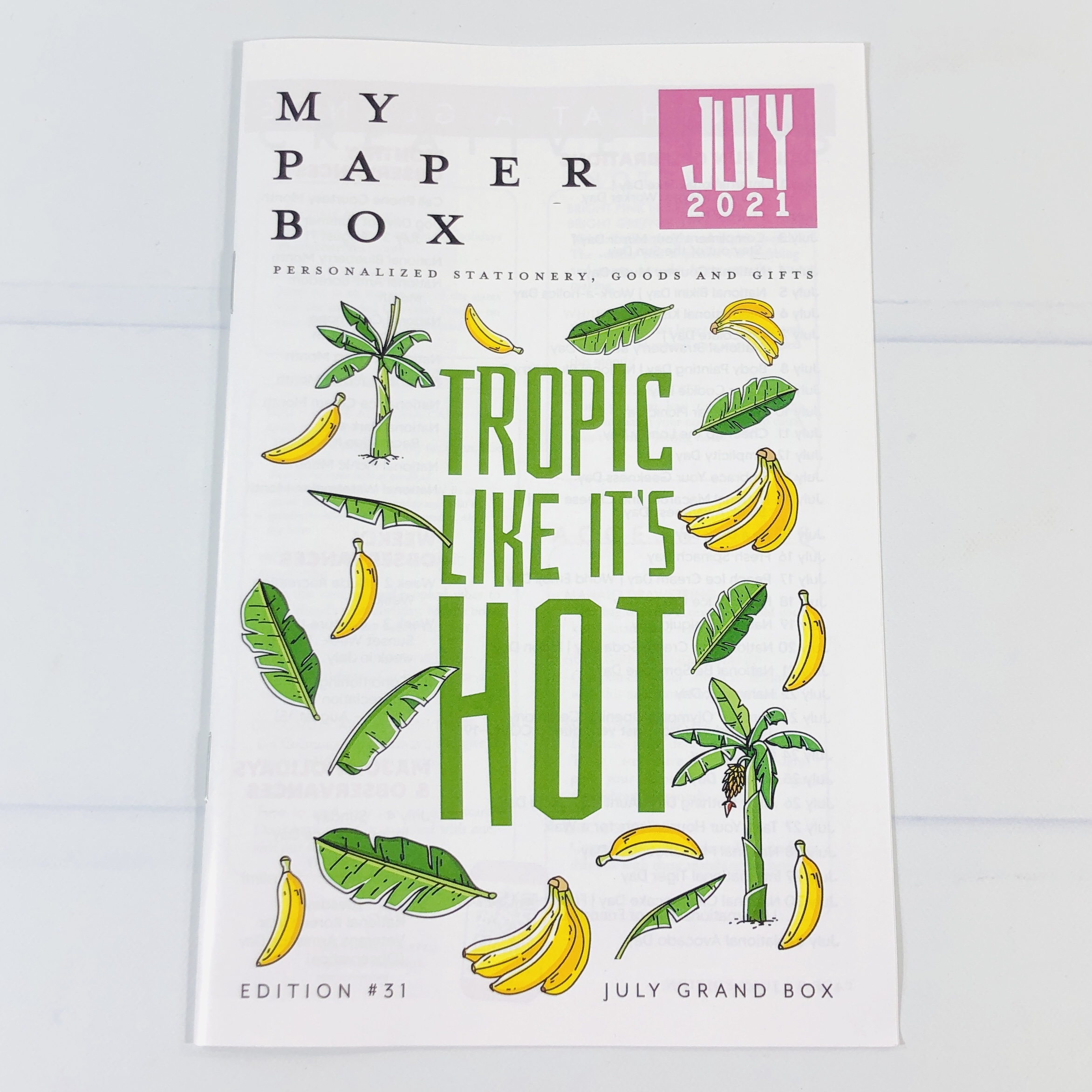 I also received a booklet for July.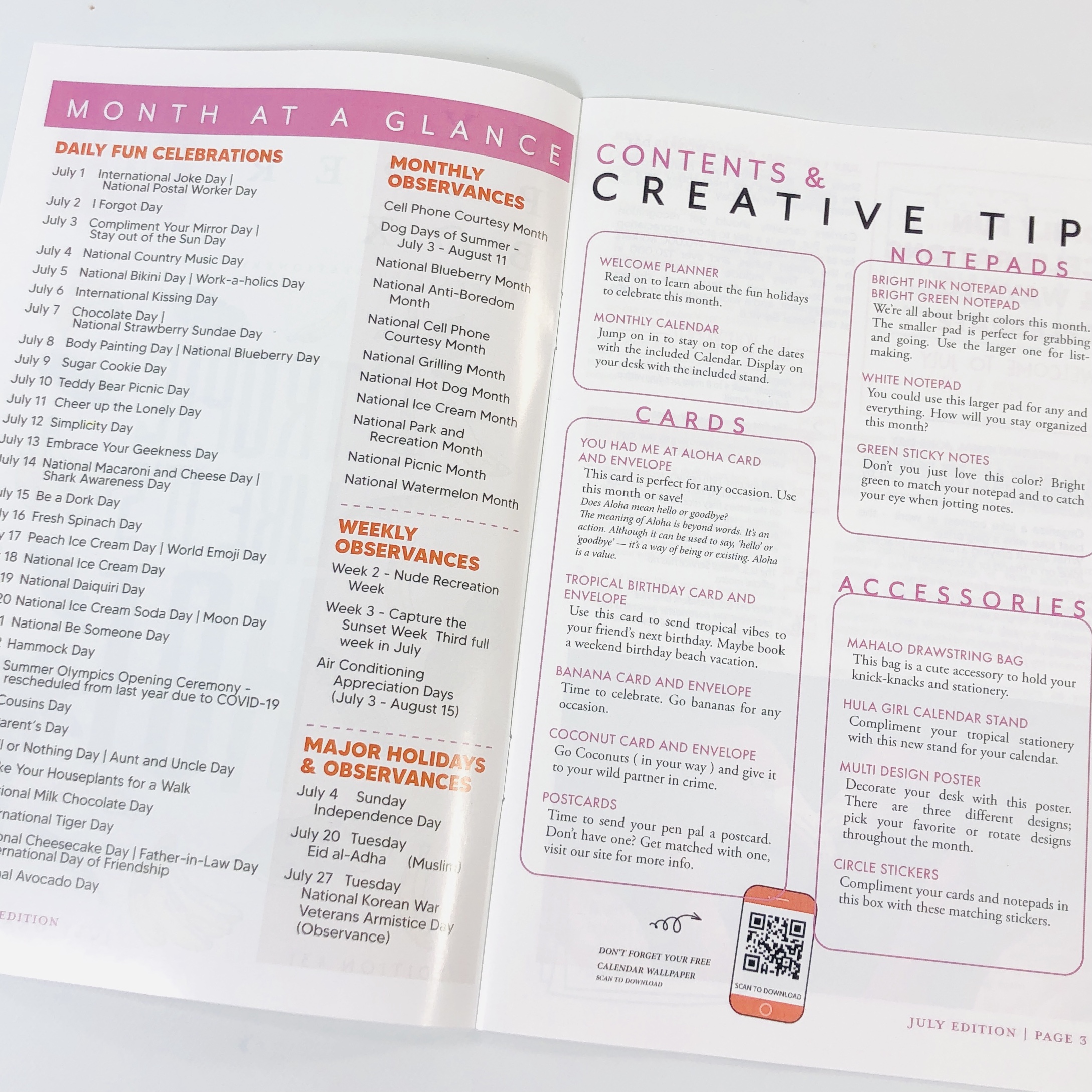 The inside described what I received in my box and also had a cool guide to all of the celebrations, big and small, coming up in July.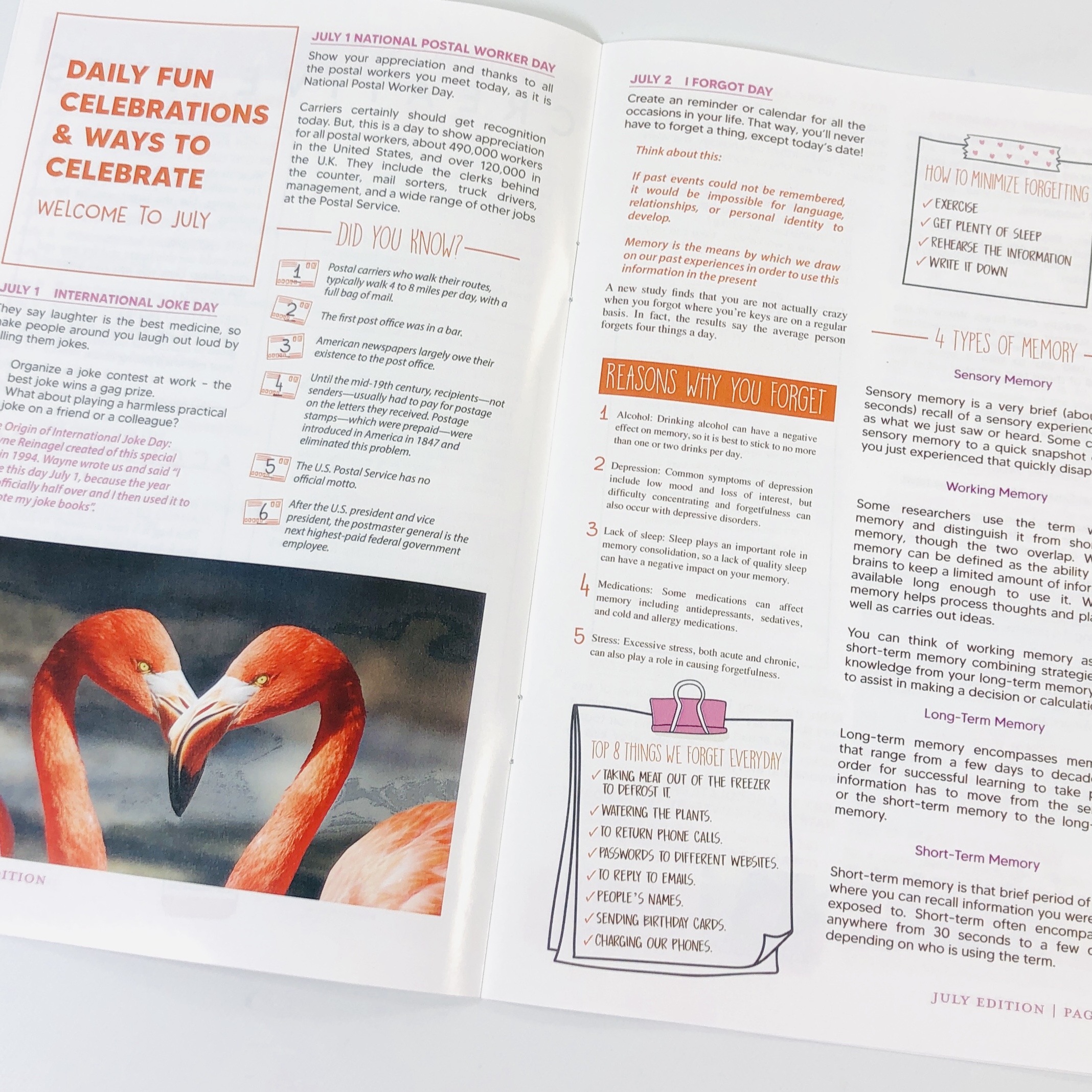 There were some suggestions on how to celebrate all of those holidays.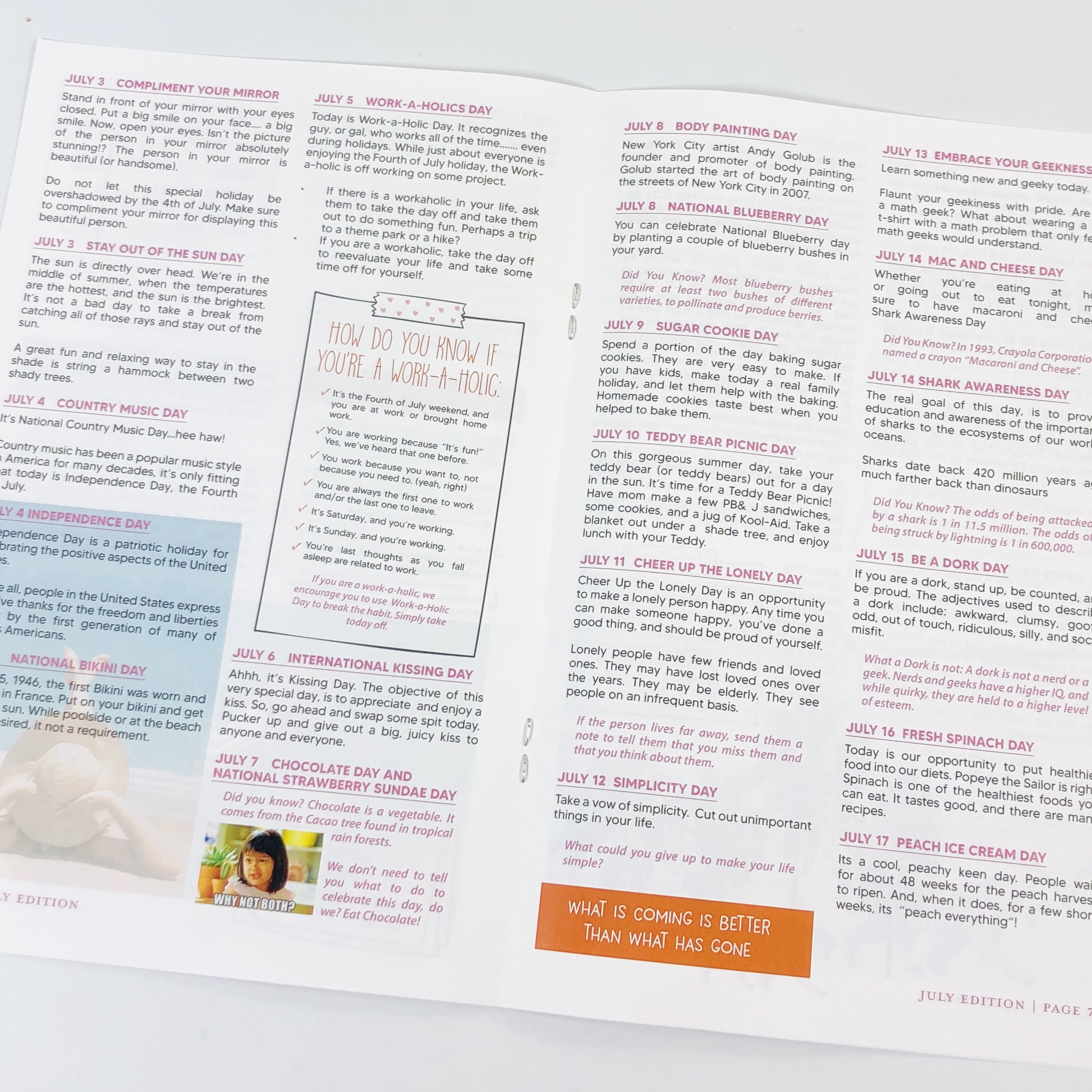 July 12th is Simplicity Day. I think I will read a good old fashioned paperback that day.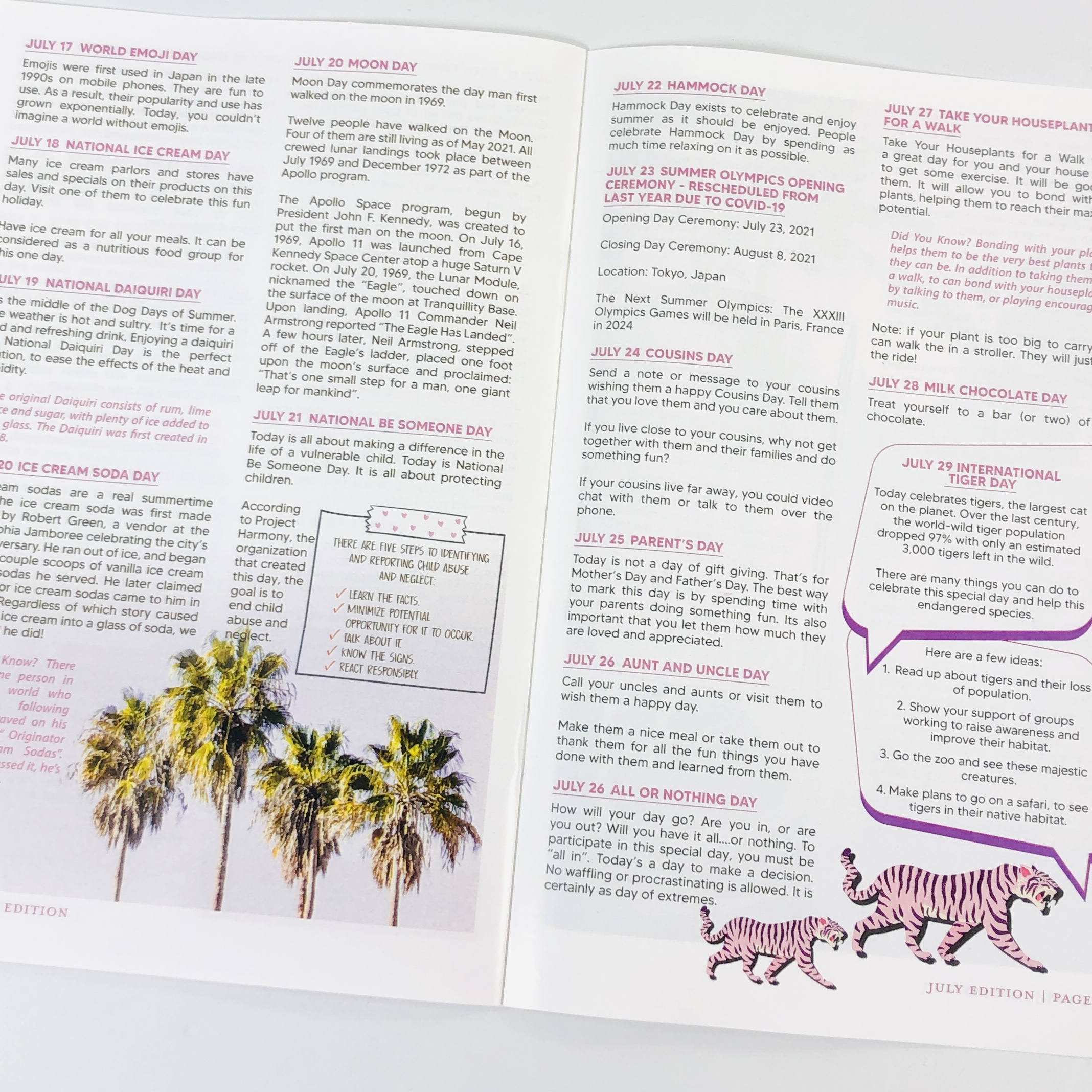 Hmm, All or Nothing Day could get kind of tricky!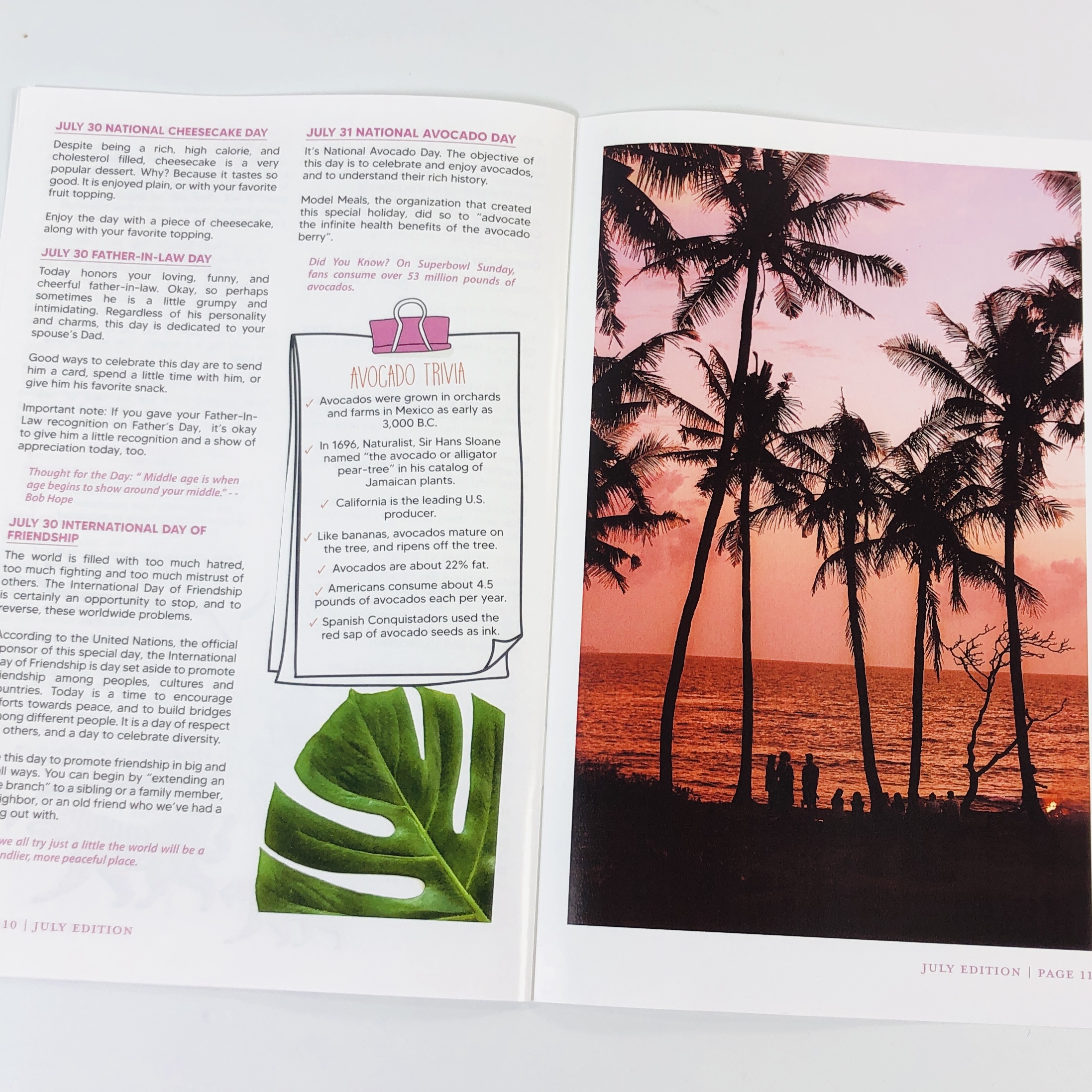 National Avocado Day in July 31st, who knew?
The back had some info on how to contact My Paper Box if needed.
Everything in my box!
Hula Girl Calendar Stand The stand this month is cute and certainly fits the theme. It has an acrylic base that has water inside and the little hula dancer and palm tree island move around when you shake it. There's a clip for holding a card or picture at the top.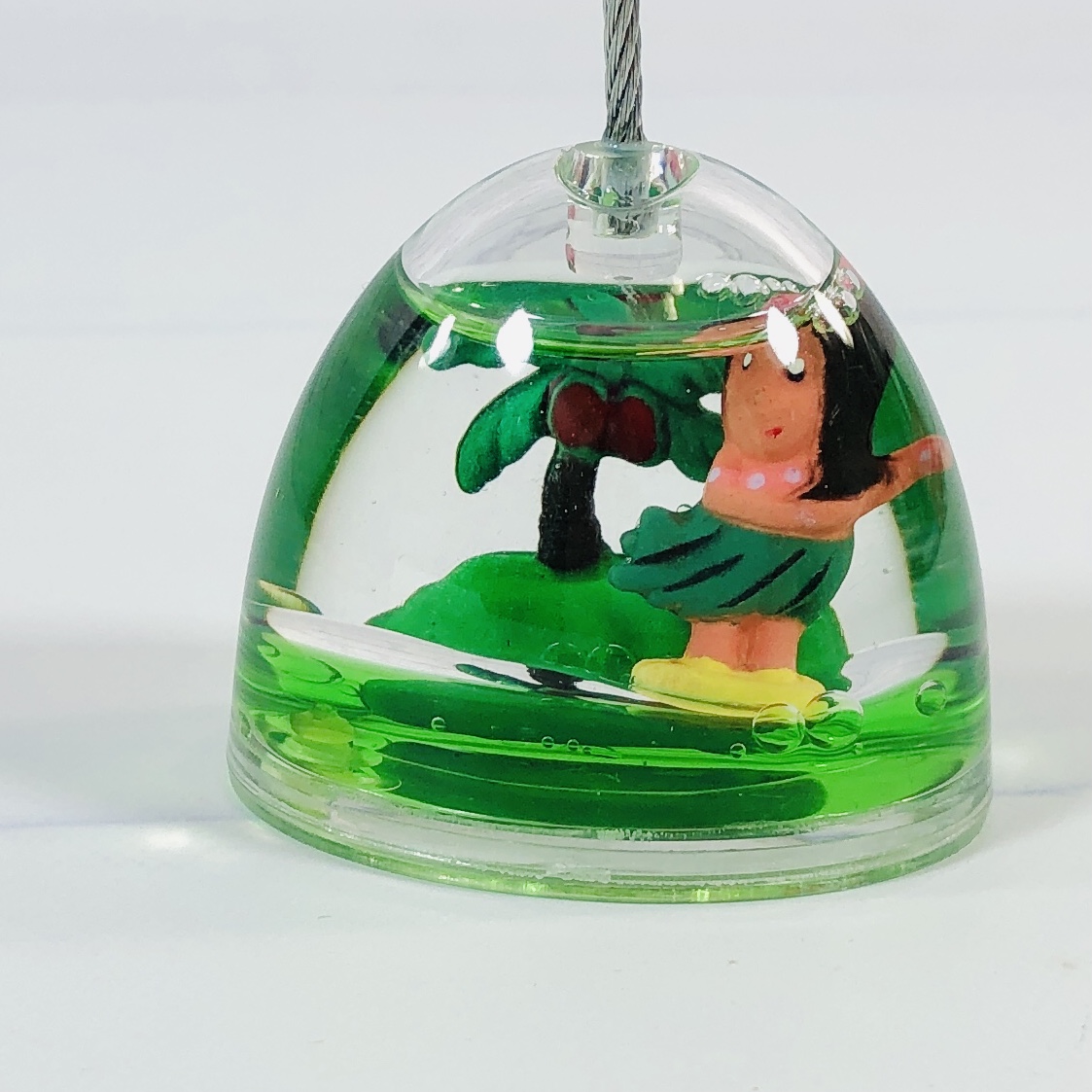 Here's a closer look at the dancer.
A Monthly Calendar Card listed some of those holidays that were shown earlier in the booklet. I like the font that was used for "July", it reminds me of SpongeBob.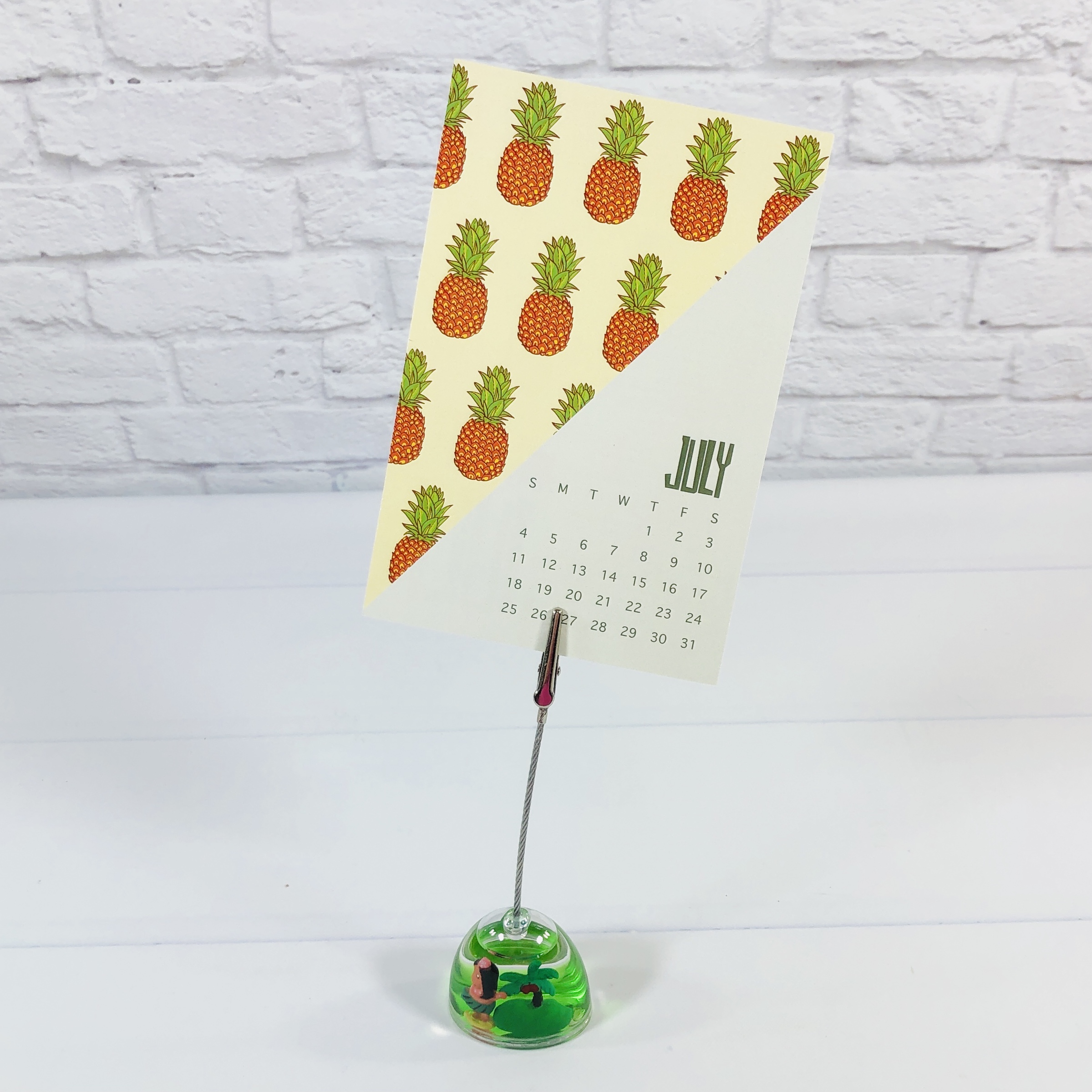 The back of the card has the actual calendar and you can see it in the hula girl stand. The card is off kilter and I think it's a combo of the weight of the card and the silver part in the middle — it's not straight and I can't seem to bend it to the middle but it still works fine. SpongeBob and Patrick wouldn't mind but don't tell Squidward!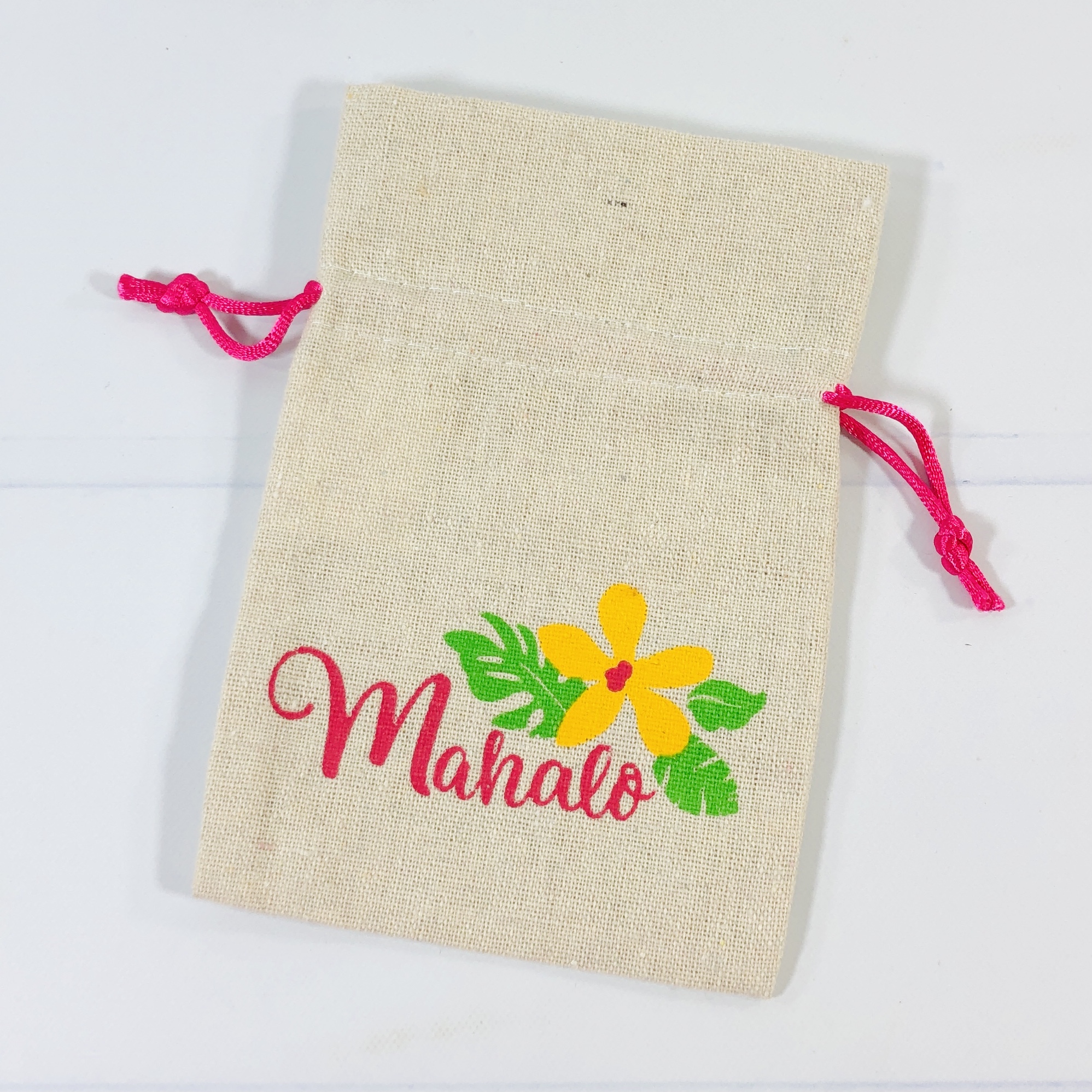 Mahalo Drawstring Bag (Buy 12 for $8.38) This 4″ x 6″ bag is a cute way to pass along a sweet treat to a friend or use it to store jewelry in an overnight bag.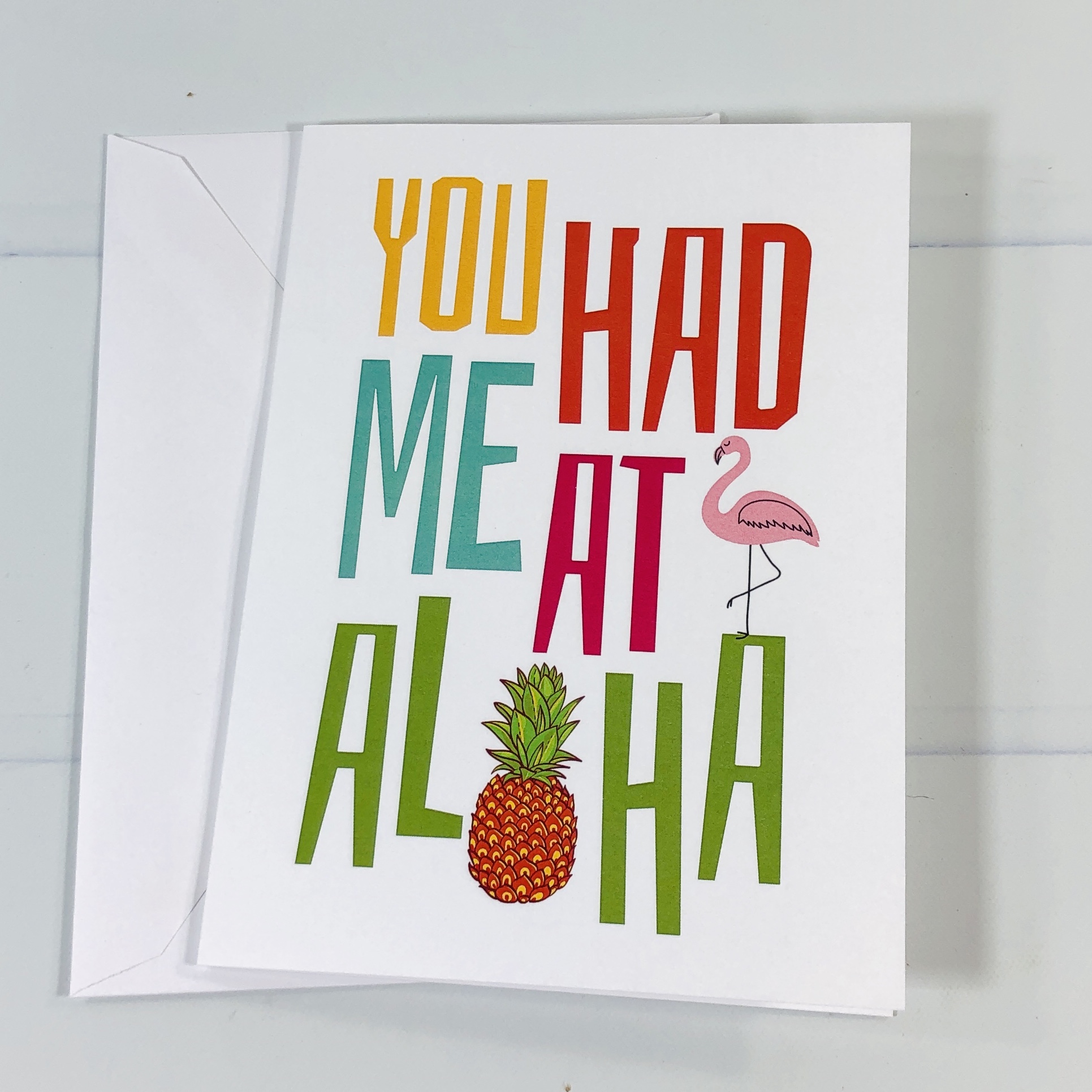 You Had Me At Aloha Card came with a white envelope and the inside has a pineapple and says ALOHA! LOVE, and there's space to write my name.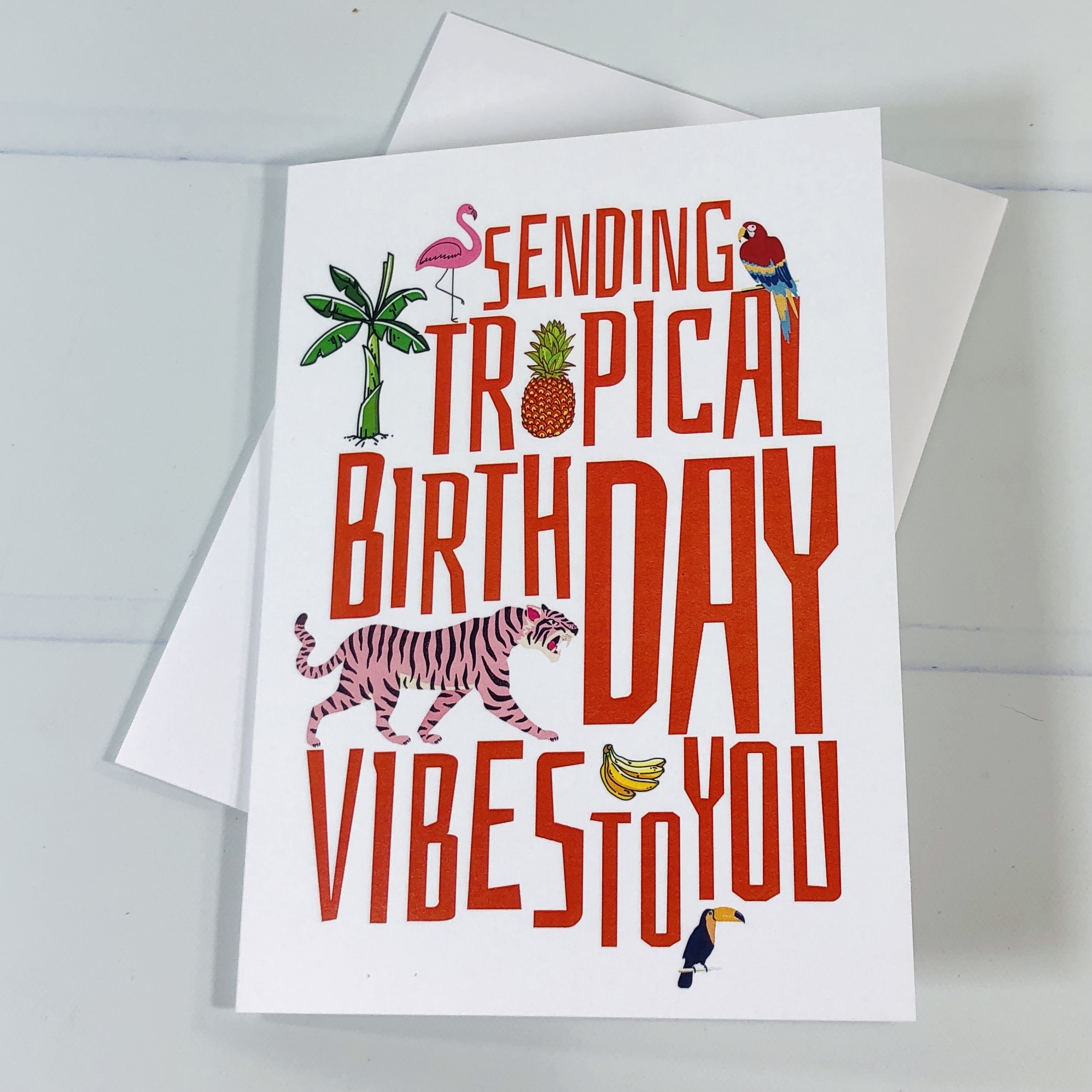 Tropical Birthday Card is perfect for someone who has a summer birthday or who likes animals. Comes with a white envelope and the inside has a hibiscus flower and says HAPPY BIRTHDAY! LOVE, DEBBIE.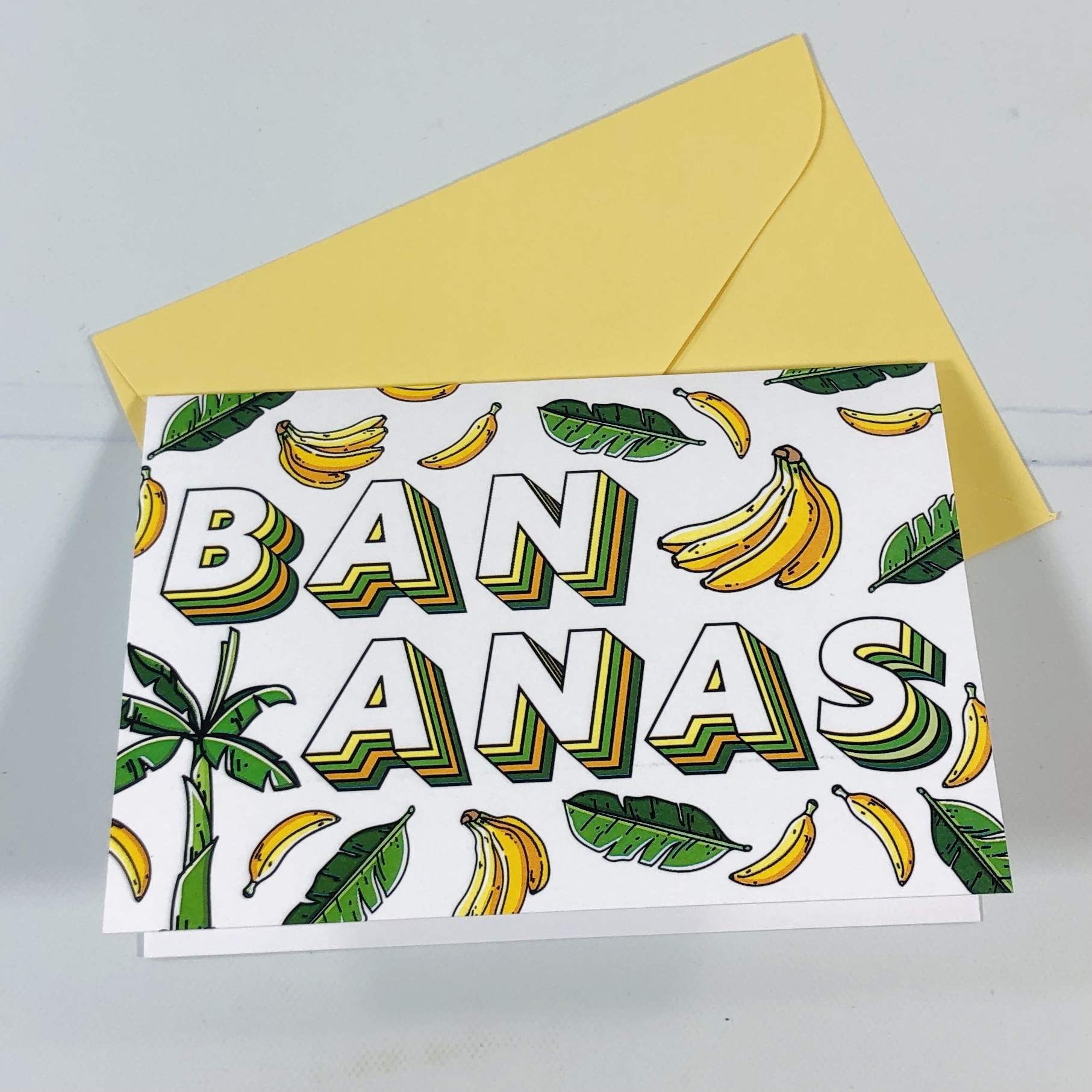 Bananas Card is so colorful! It comes with an envelope and the inside of the card says TIME TO CELEBRATE. LET'S GO BANANAS. FROM, DEBBIE.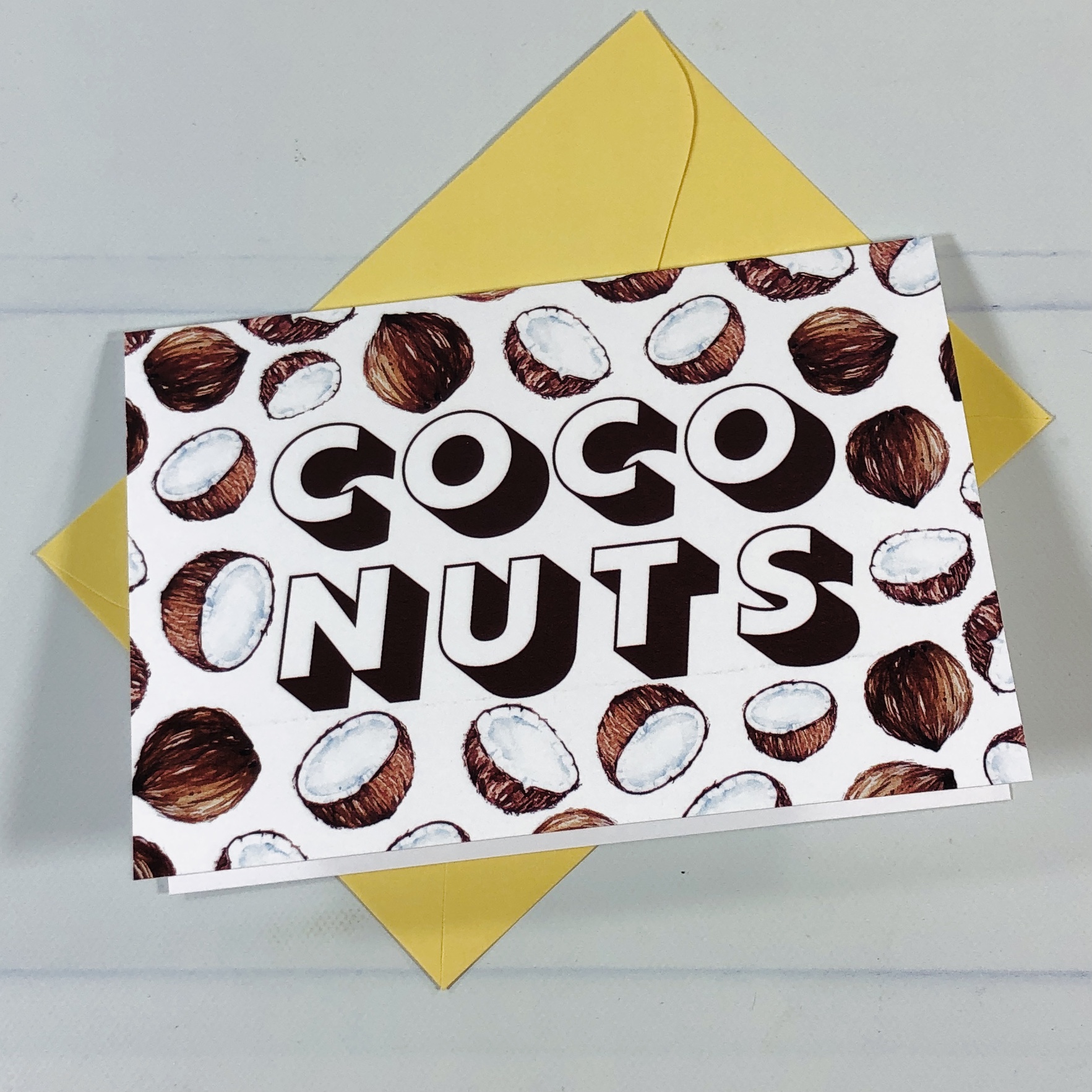 Coconuts Card also comes with an envelope. The inside says IT'S YOUR TIME, GO COCONUTS! FROM, DEBBIE.
Postcards A set of four 4″ x 6″ postcards is perfect for sending a short greeting to a friend and I think the tropical illustrations are adorable.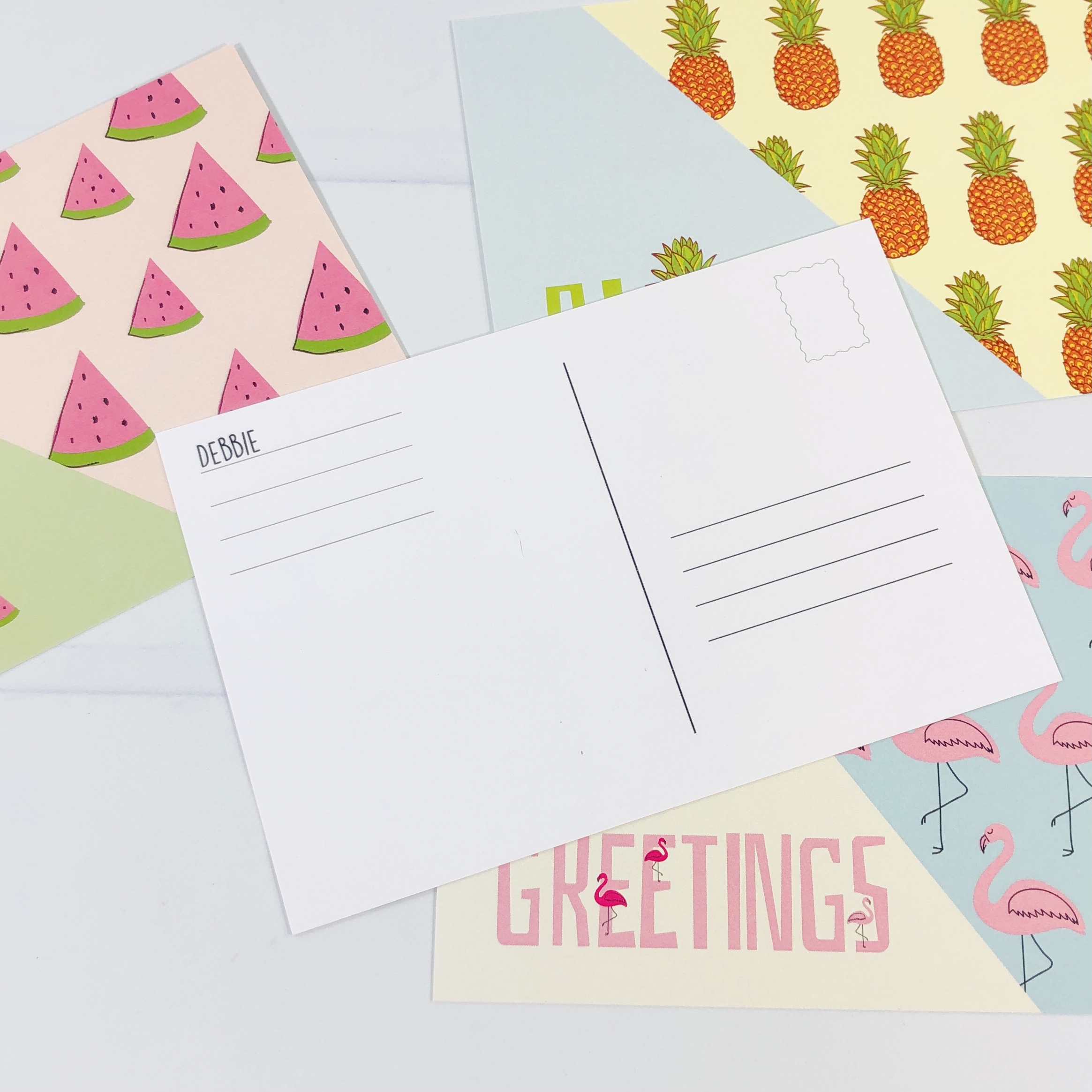 The back has my first name and space for writing and also for the address of my recipient. The booklet suggest sending these to a pen pal and they have info on their website about getting matched with someone if you don't have one already!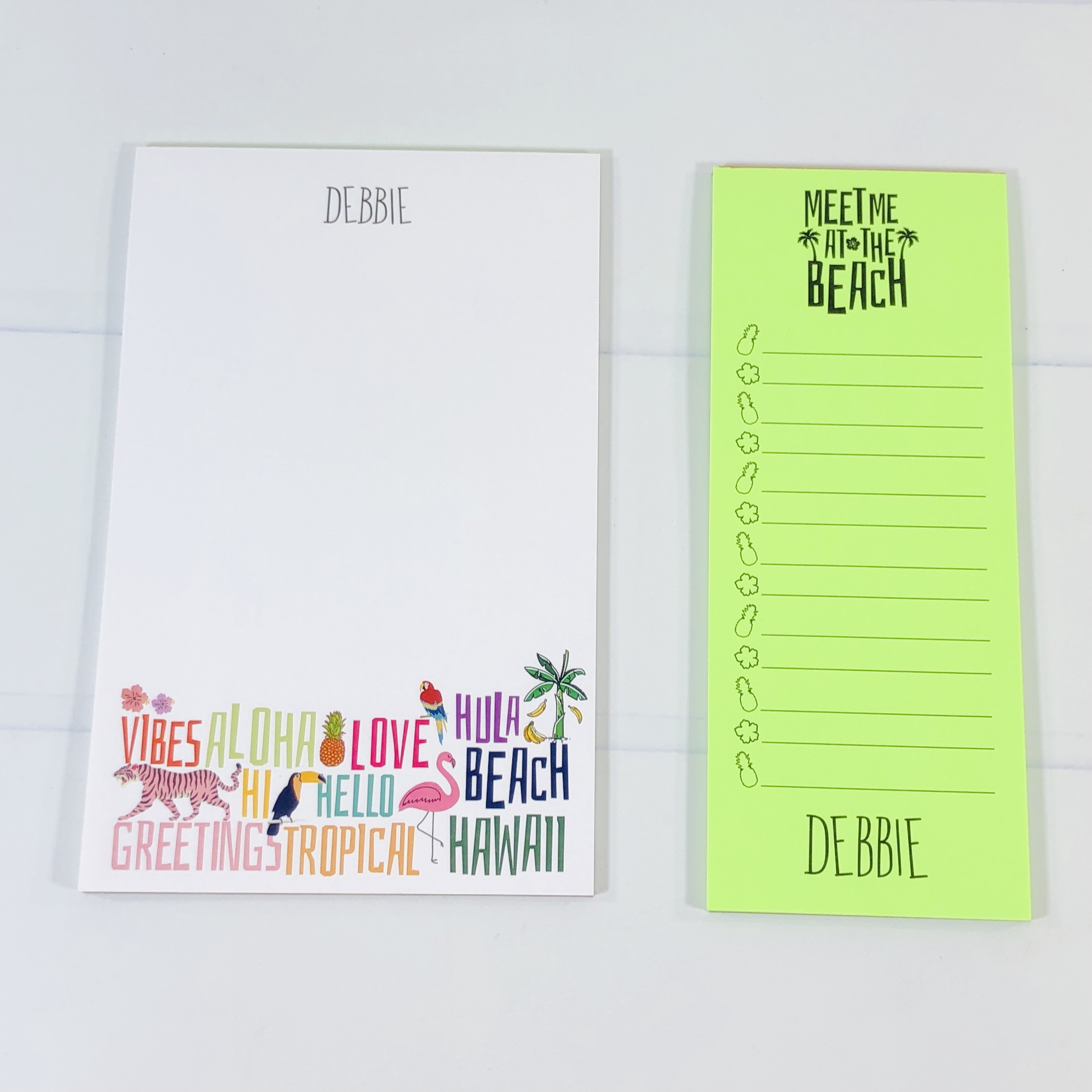 Notepads I think this subscription has the best notepads and I have them all over my house now! The white pad is 8″ x 5″ and has 25 pages. The green pad is 8″ x 3.25″ and I'm going to guess it has the same amount of pages. Don't forget to check out the glue that binds the pages together — one is green and the other red! I like that the hibiscus and pineapples on the green pad can be checked off as I complete a listed task.
This notepad is pink and measures about 3″ x 5″. Can you see the words that are lightly printed in the background? It says "good times, beach vibes, and tan lines". Super cute!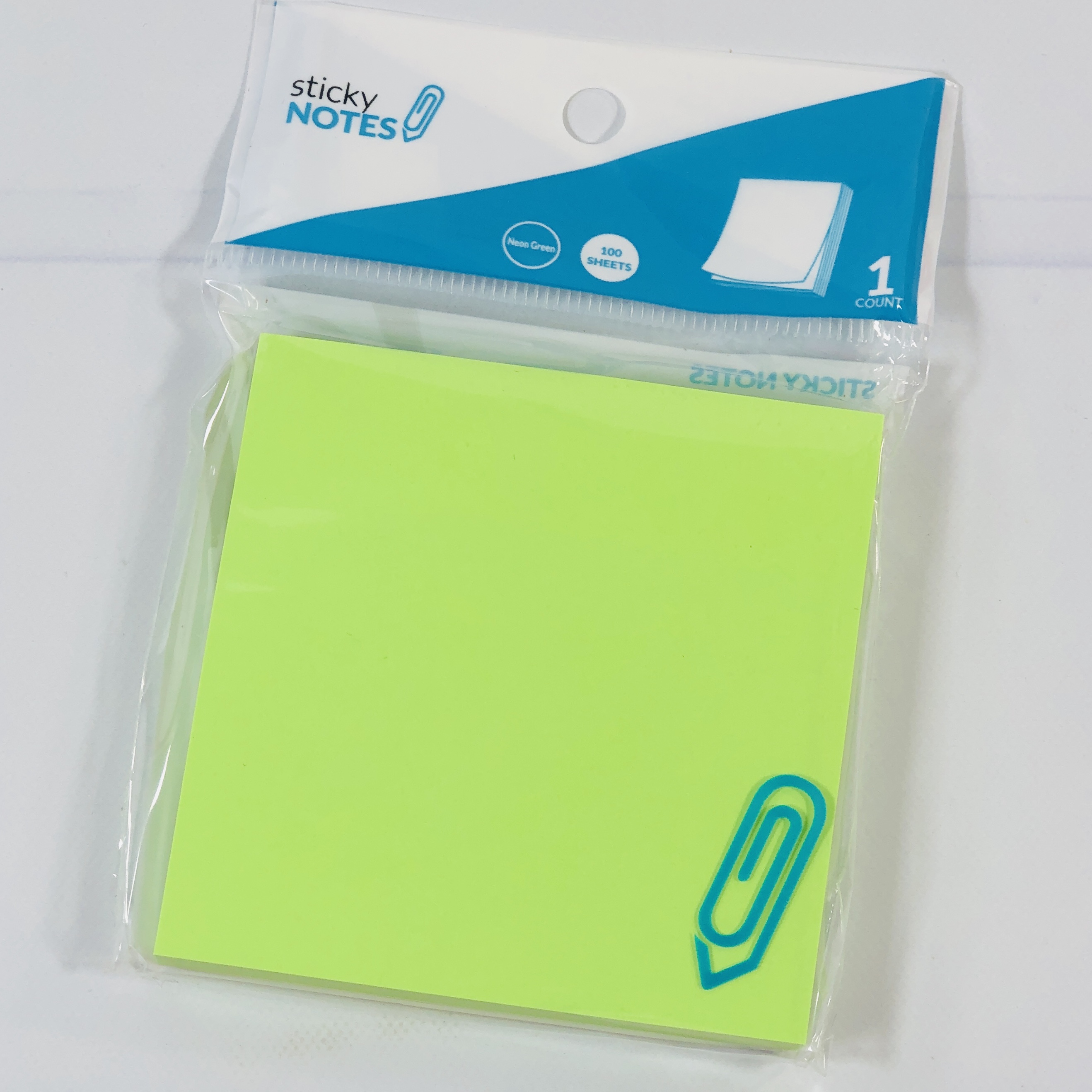 Sticky Notes I received 100 neon green sticky notes to help brighten up my notes around the house. These notes seem just as sticky as that other brand and are perfect for leaving reminders for co-workers or family members.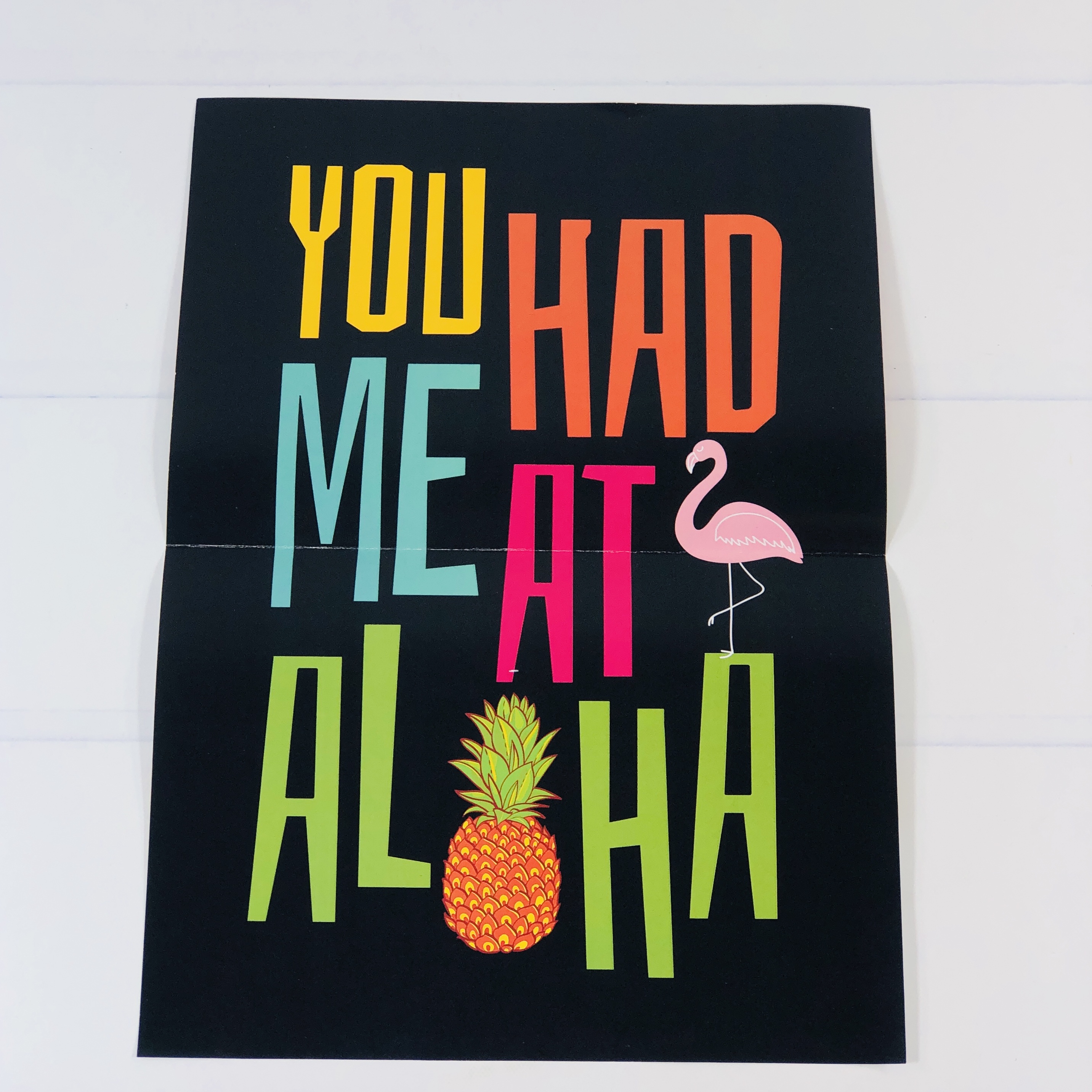 Multi Design Poster Add a pop of bright color to a room, office, or fridge with this reversible poster! It measures 8.5″ x 12″ and this print takes up all of one side. When you fold it you will see the following two pictures.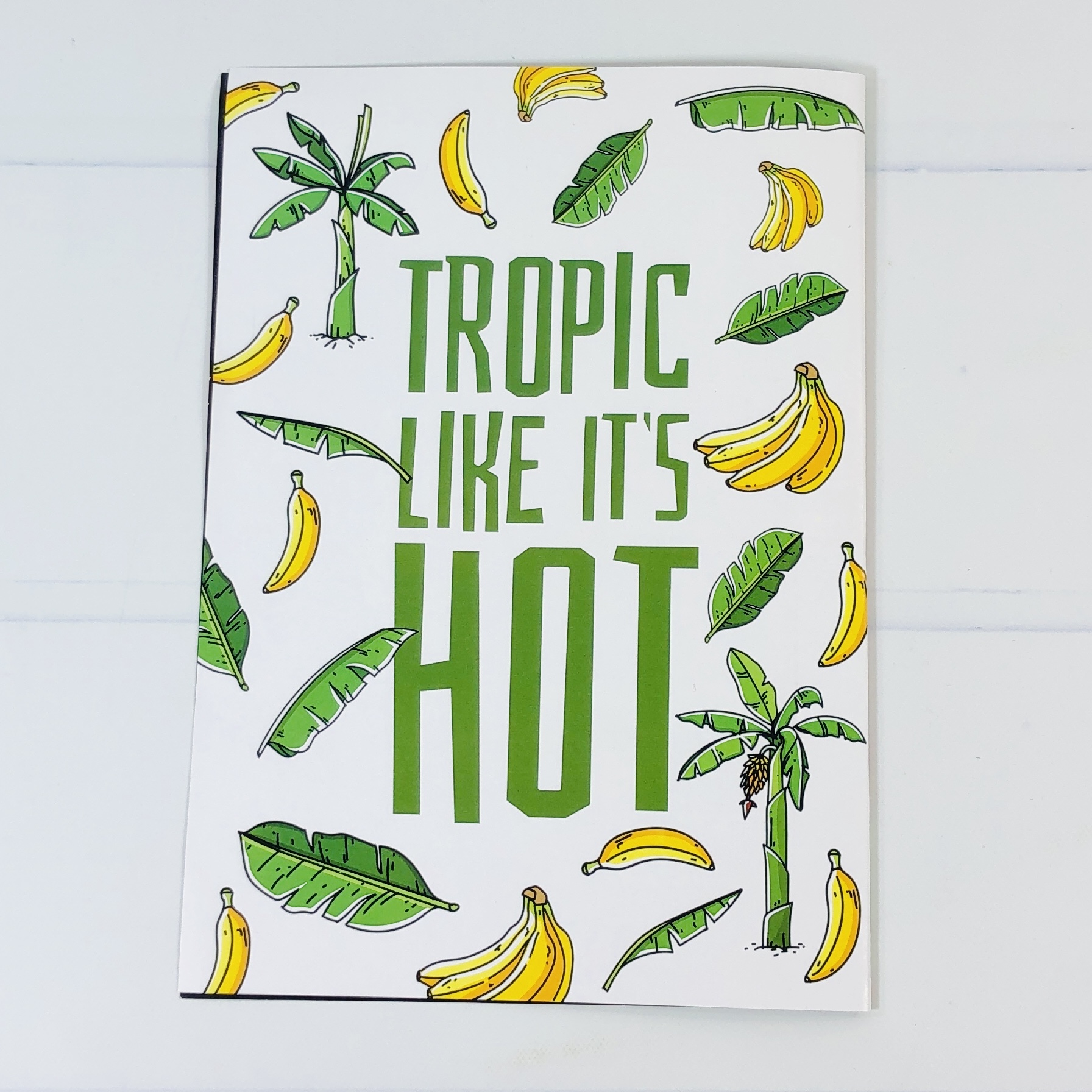 This side has bananas and their leaves.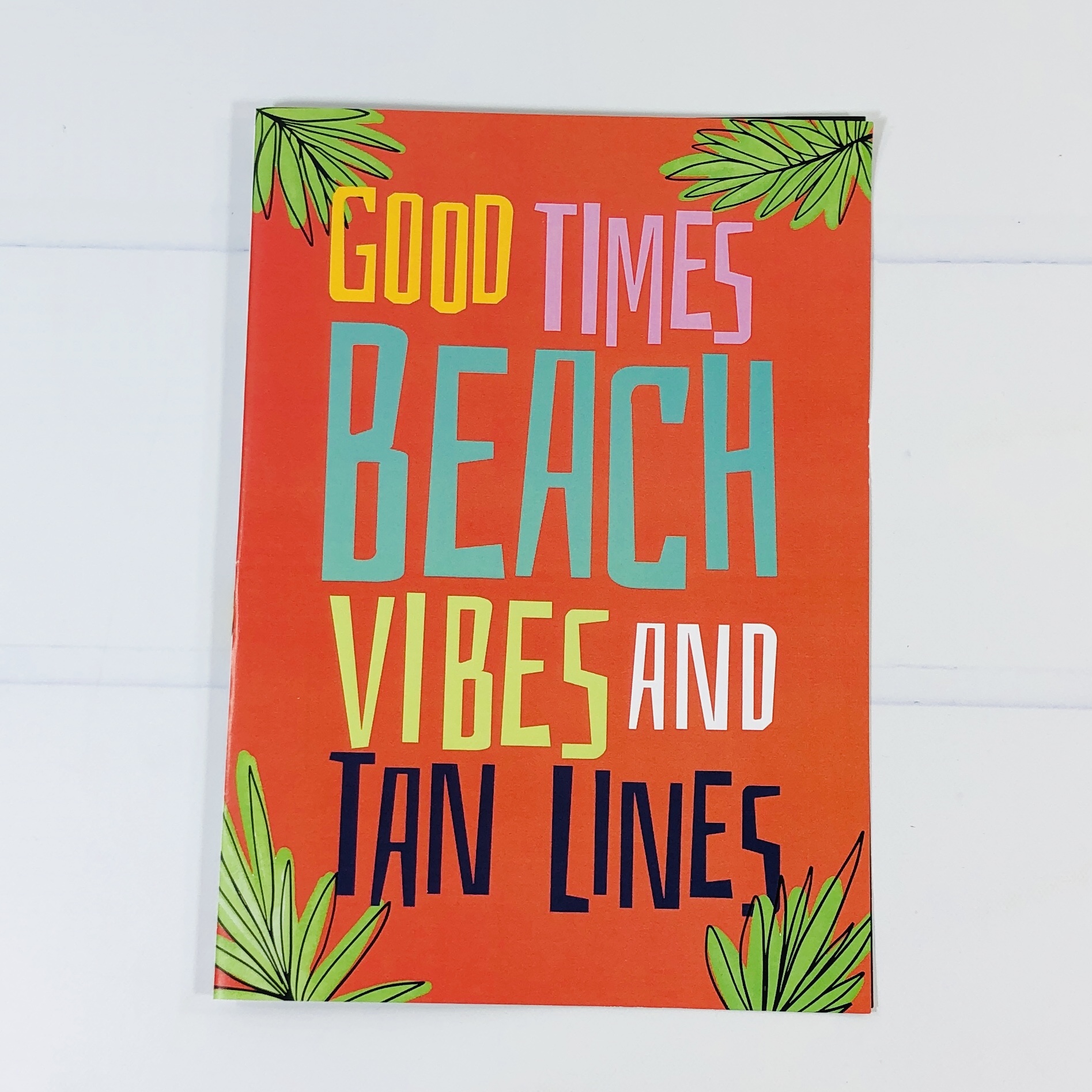 This side has the same saying as my pink notepad.
Circle Stickers I received two sheets of circle stickers, a total of 12 stickers in all. The stickers are about 2″ across and one sheet had my name on all of them!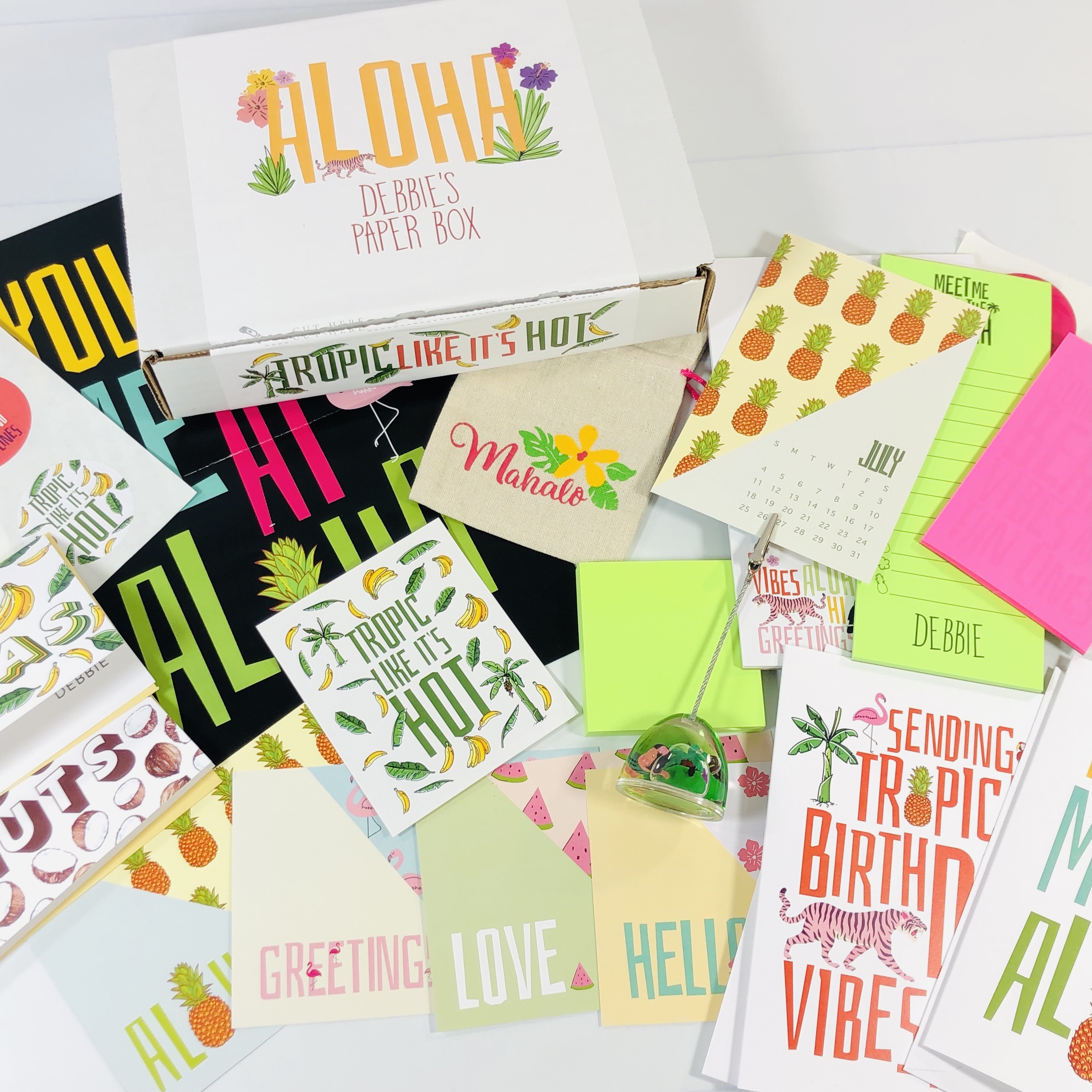 My Paper Box is definitely one of the cutest boxes I receive each month and I look forward to receiving it and its useful items each month in the mail! My very favorite items each month are the personalized notepads, I love using them to jot reminders and notes, plus lists. The calendar and stand dresses up my desk and is easy to see at a glance. The cards and stationery keep me connected to others and this month's poster was adorable. All of the paper products are of excellent quality and the cards are printed on sturdy paper, these aren't flimsy. Finally, the booklet and all of its unique holidays gives me a reason to celebrate the little things all month long.
What do you think of this month's box?