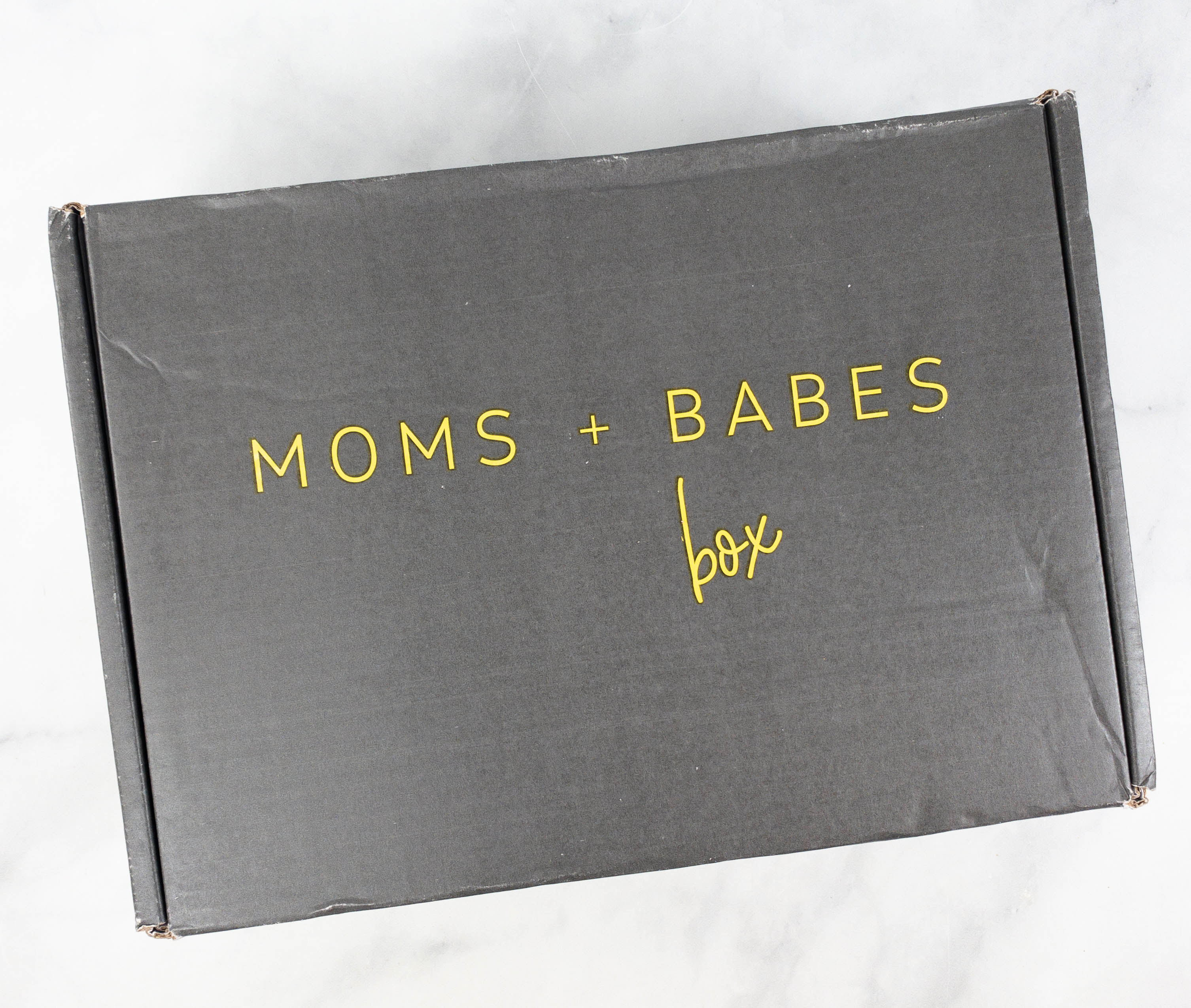 Moms + Babes is a quarterly curated collection of at least 6 full-size, premium products. You and your baby or toddler will get full-size products to open together and enjoy plus products curated for moms only. Each box is promised to have a retail value of $150+.
DEAL: Get 50% off your first box! Use the coupon code HALFOFF at checkout.
The items were cushioned with white squiggles!
There is a note from the subscription owners, Jana and Sarah.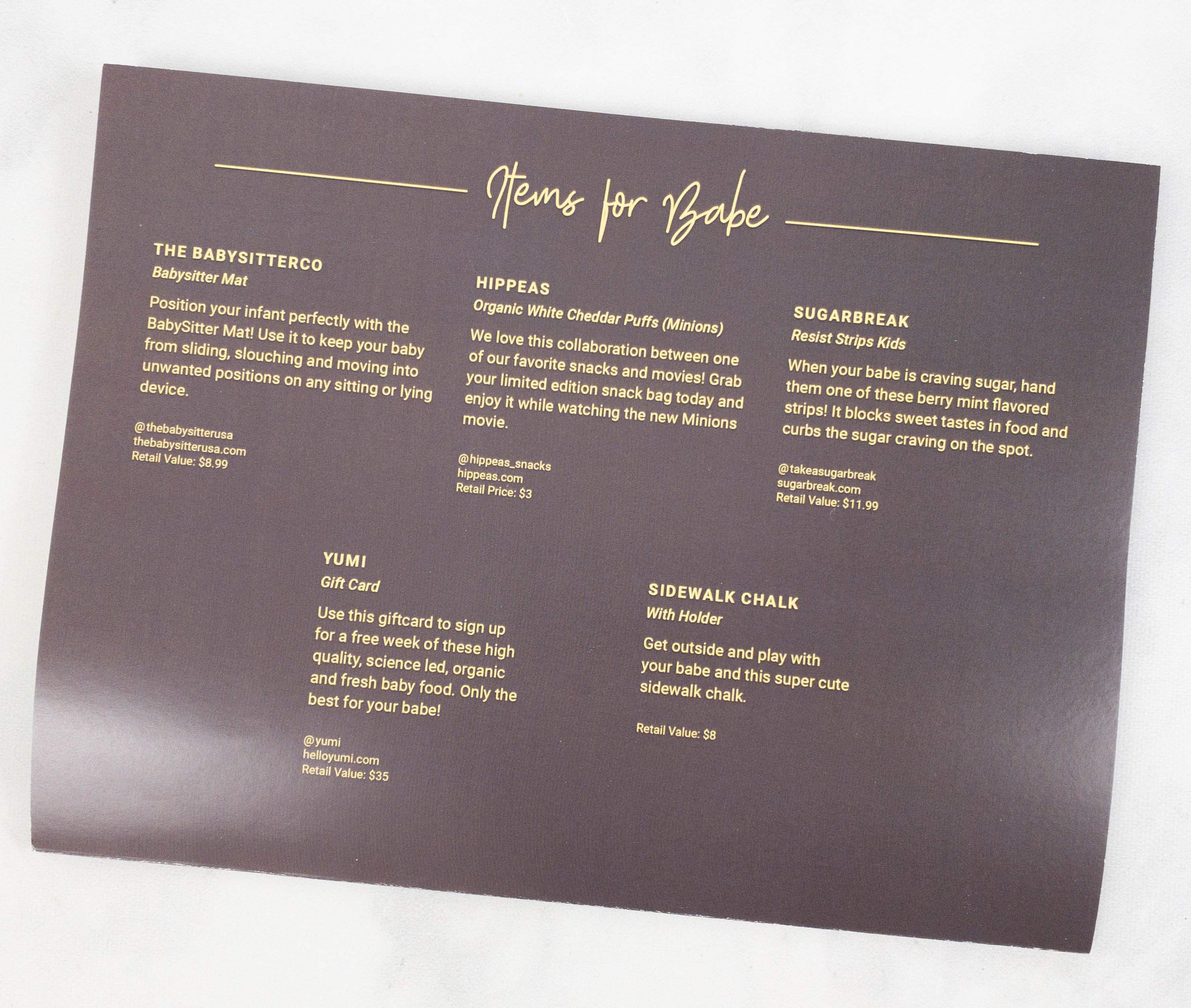 Here's a list of all the items inside the box!
It also tells us which ones are for moms and which are for the baby.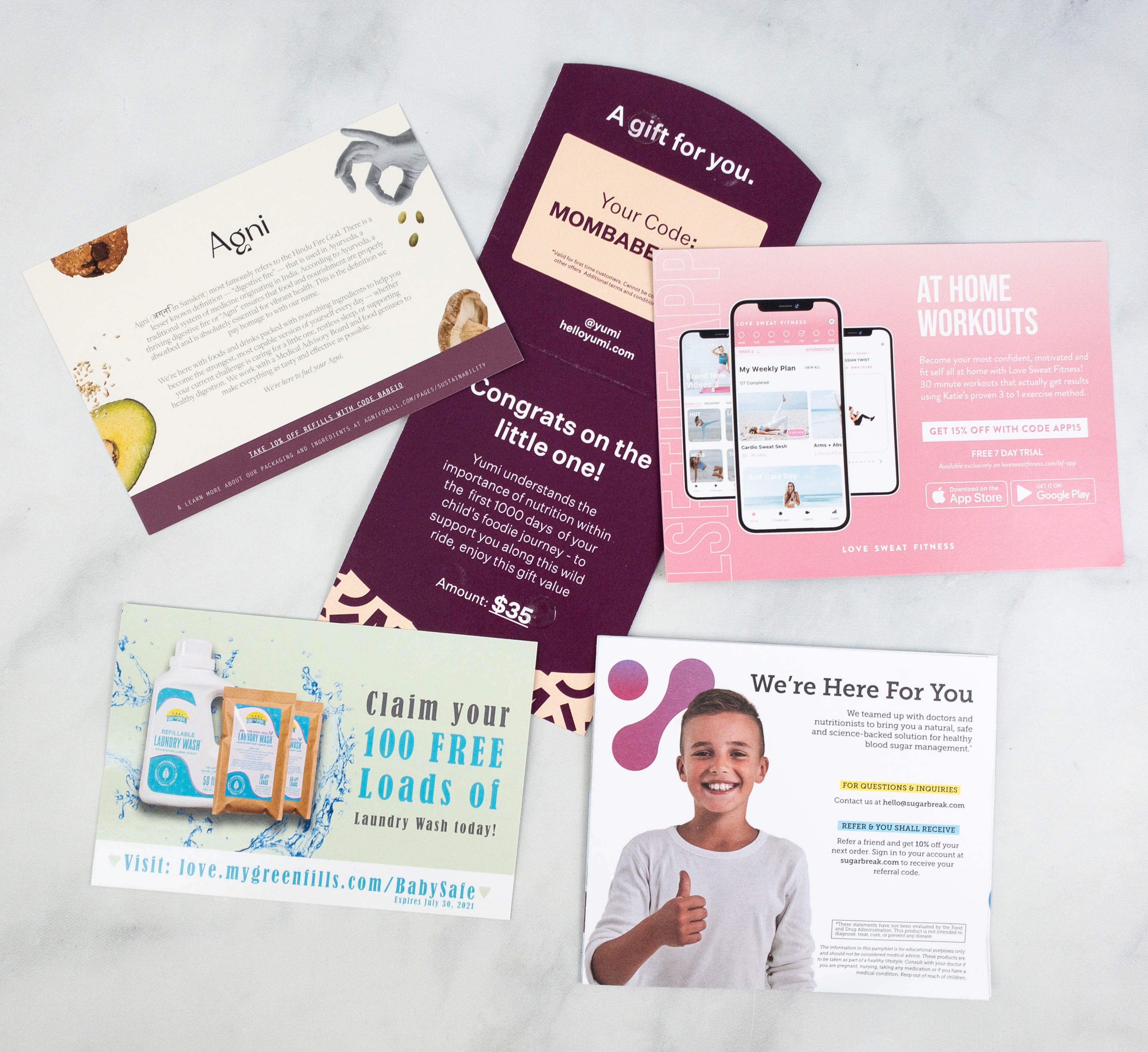 Also included in the box are promotional cards from Agni, Yumi, Love Sweat Fitness, MyGreenFills, and Sugar Break.
Everything in my box!
Hippeas Organic White Cheddar Puffs ($0.83) This pack contains light and crispy chickpea puffs that are naturally rich in protein and fiber. It's also flavored with vegan white cheddar, which is really tasty. The snack is even gluten-free and non-GMO, making it a good alternative to regular chips.
The Baby Sitter Mat ($8.99) It's a baby sitter mat, which can be placed on chairs or swings to help avoid sliding or slouching.
It's easy to clean because it's made with a rubber material. You just have to wipe it or wash with water then leave to dry!
Love Sweat Fitness Booty Bands ($13.99) Here's another item for moms, a set of booty bands that help in working your glute muscles out! You can also use this for other parts of the body like arms, legs, etc. These are made from high quality latex rubber so they don't get worn out easily.
My Green Fills Laundry Machine Cleaner ($18 – Full size) This cleaner is specifically made for washing machines. It helps remove bacteria and gunk build-up, so the machine and your clothes stay fresh and smelling clean!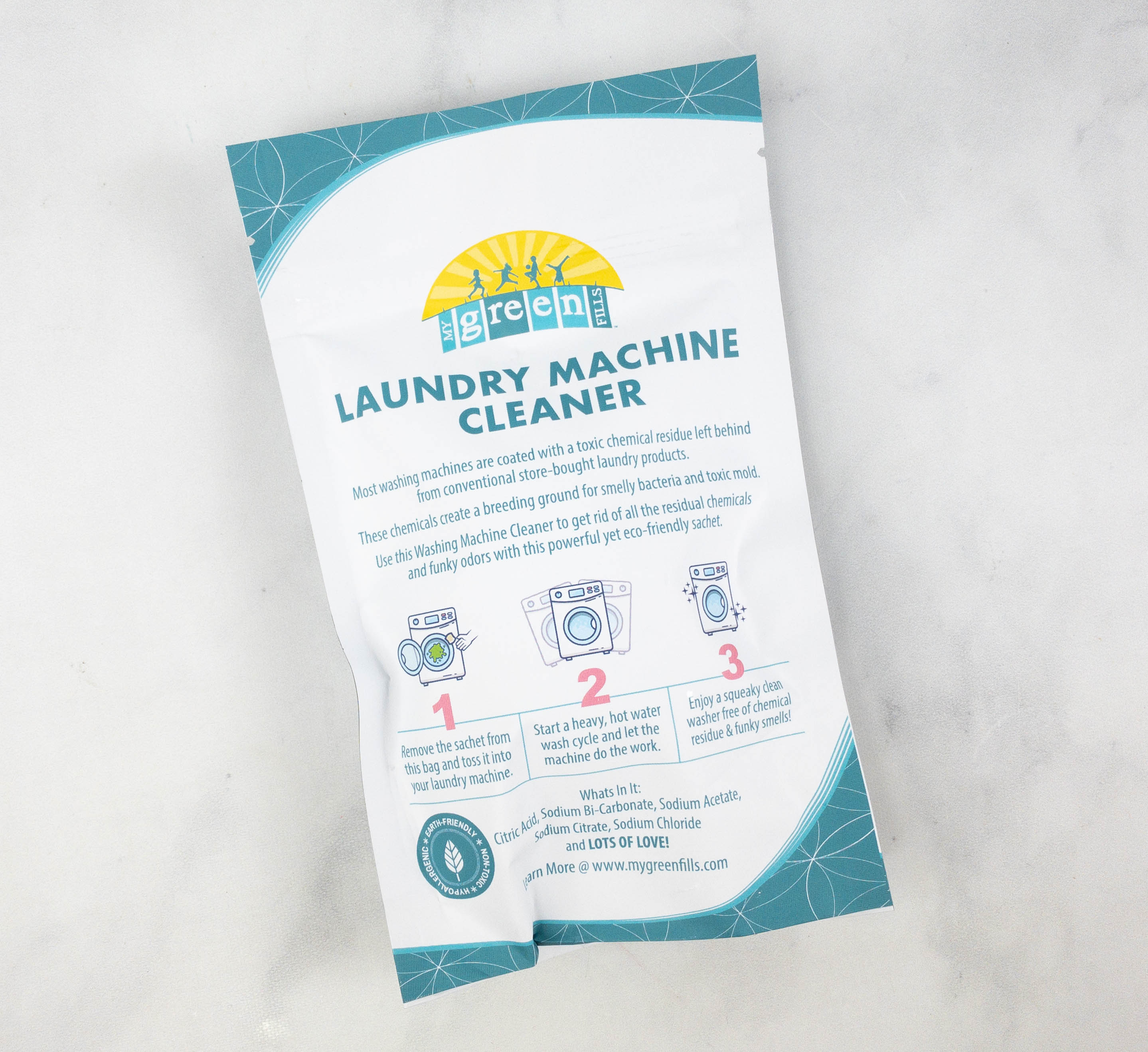 It's safe because it's made with organic ingredients. It's also quite easy to use! With this, you get to maintain the quality of each load of laundry that you need to wash because it cleanses away the toxic chemical residues left by the laundry products you use.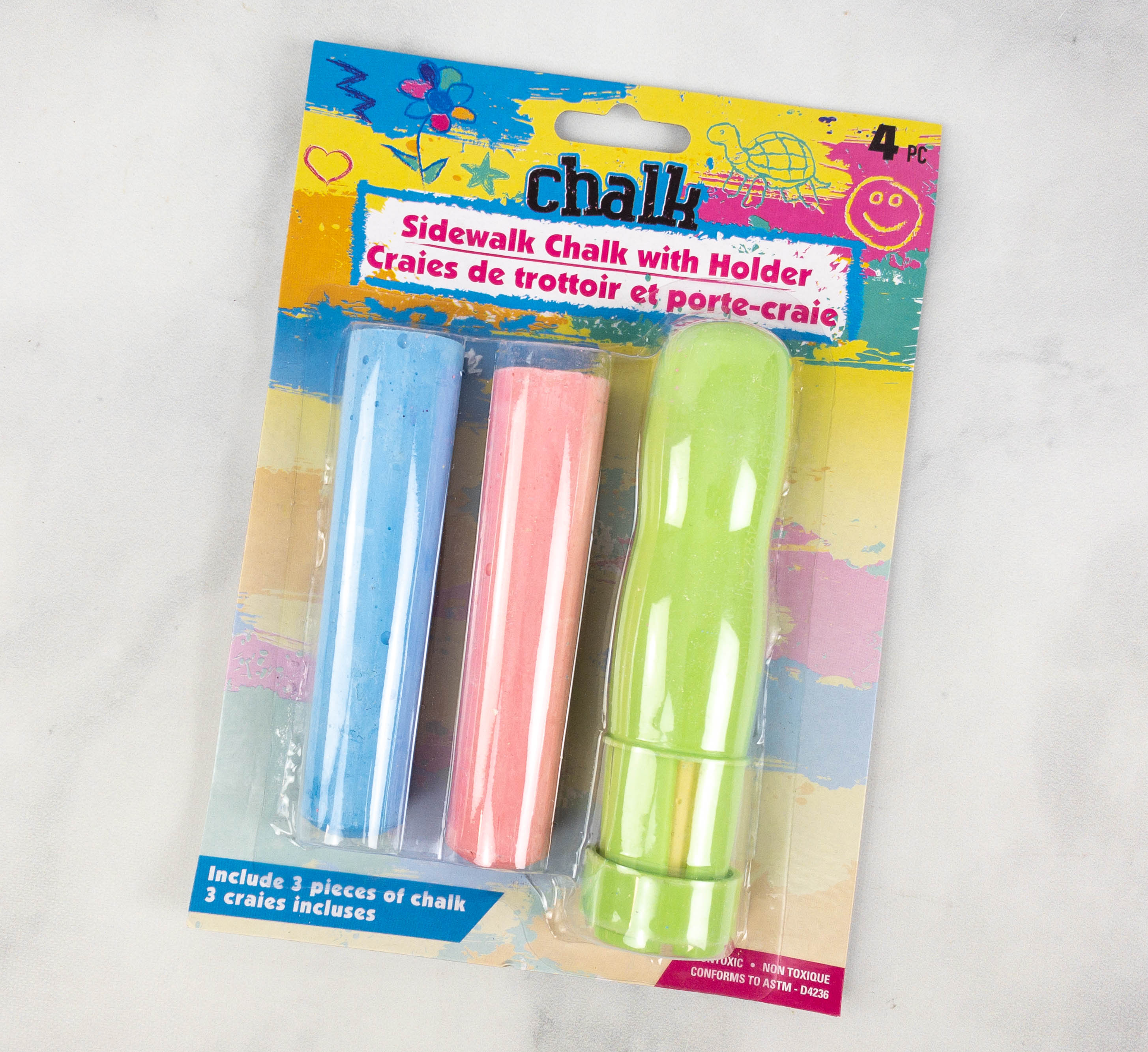 Sidewalk Chalk with Holder ($6) We also received this chalk holder that came with 3 pieces of colored chalk. This is a nice way to get kids to play with chalk while also protecting their fingers and keeping them clean. The holder also enables you to maximize the use of the chalk stick as you can finish it up until the end using the holder!
Sugarbreak Resist Strips for Kids ($11.99) These dissolvable strips come in berry mint flavor and they help curb sugar cravings. It promises to block the sweet taste in foods for an hour!
Sugarbreak Resist Strips ($11.99)  They also sent one for adults and it came in a minty flavor. These strips are made with Gymnema Sylvestre, an herb that temporarily blocks the taste of sugar being signaled to your brain.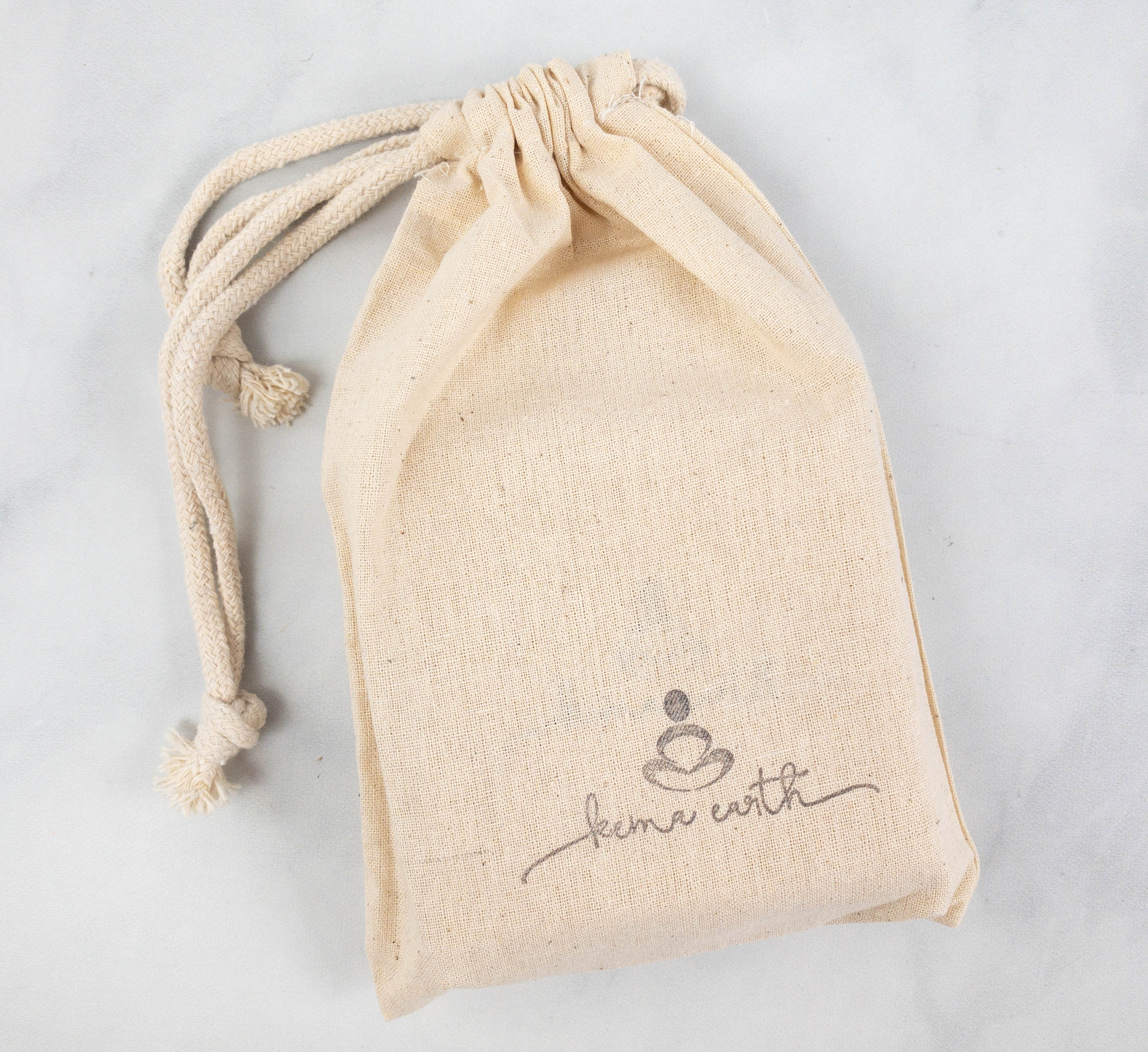 Kema Earth Inner Peace Bracelet ($42) The bracelet came in a drawstring pouch to keep it safe.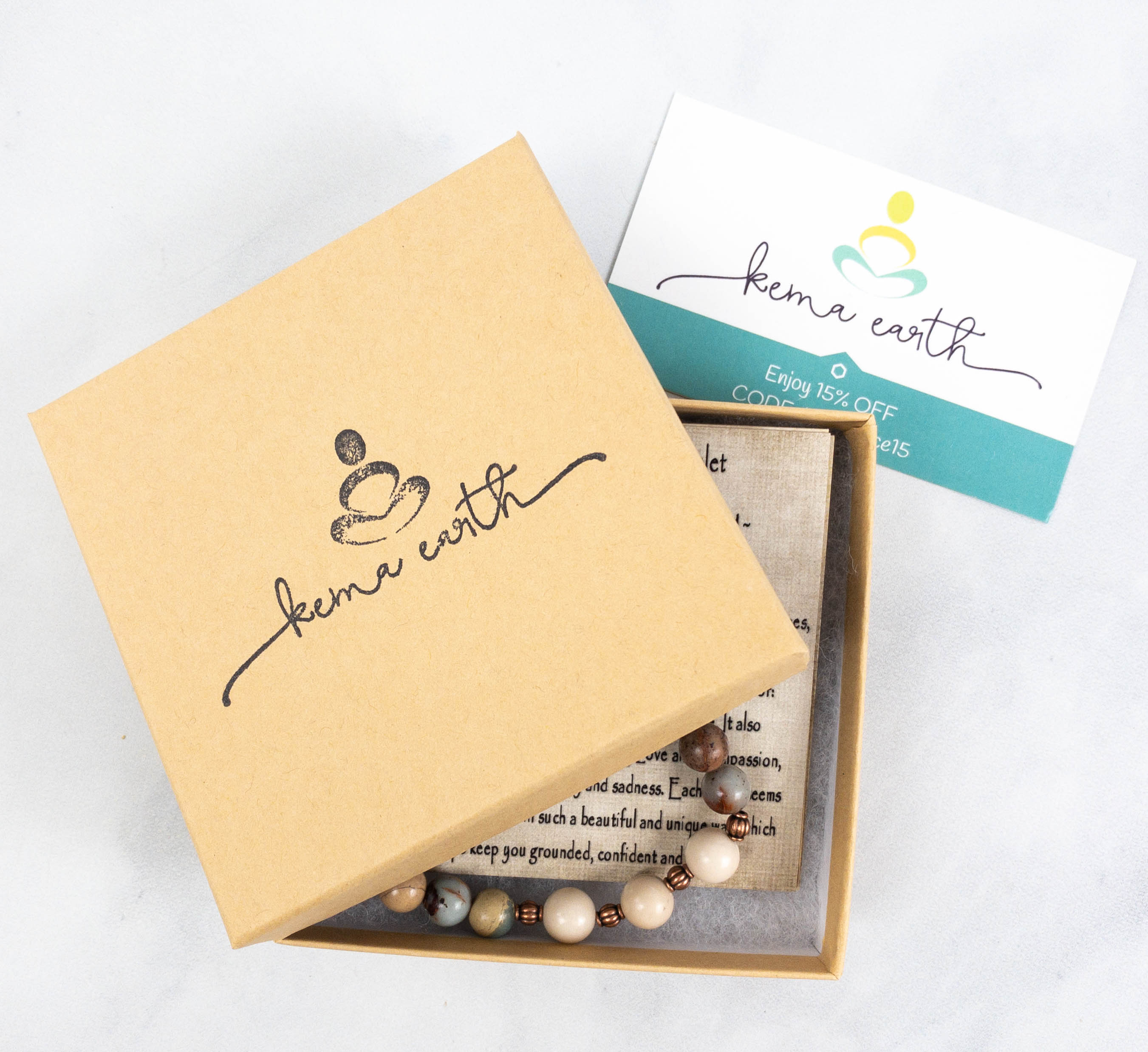 Inside is a brown box along with a 15% off promo card.
The cards tell us more about the product, where it was made, what kind of materials were used, and how to energize it. There's also a care instruction card.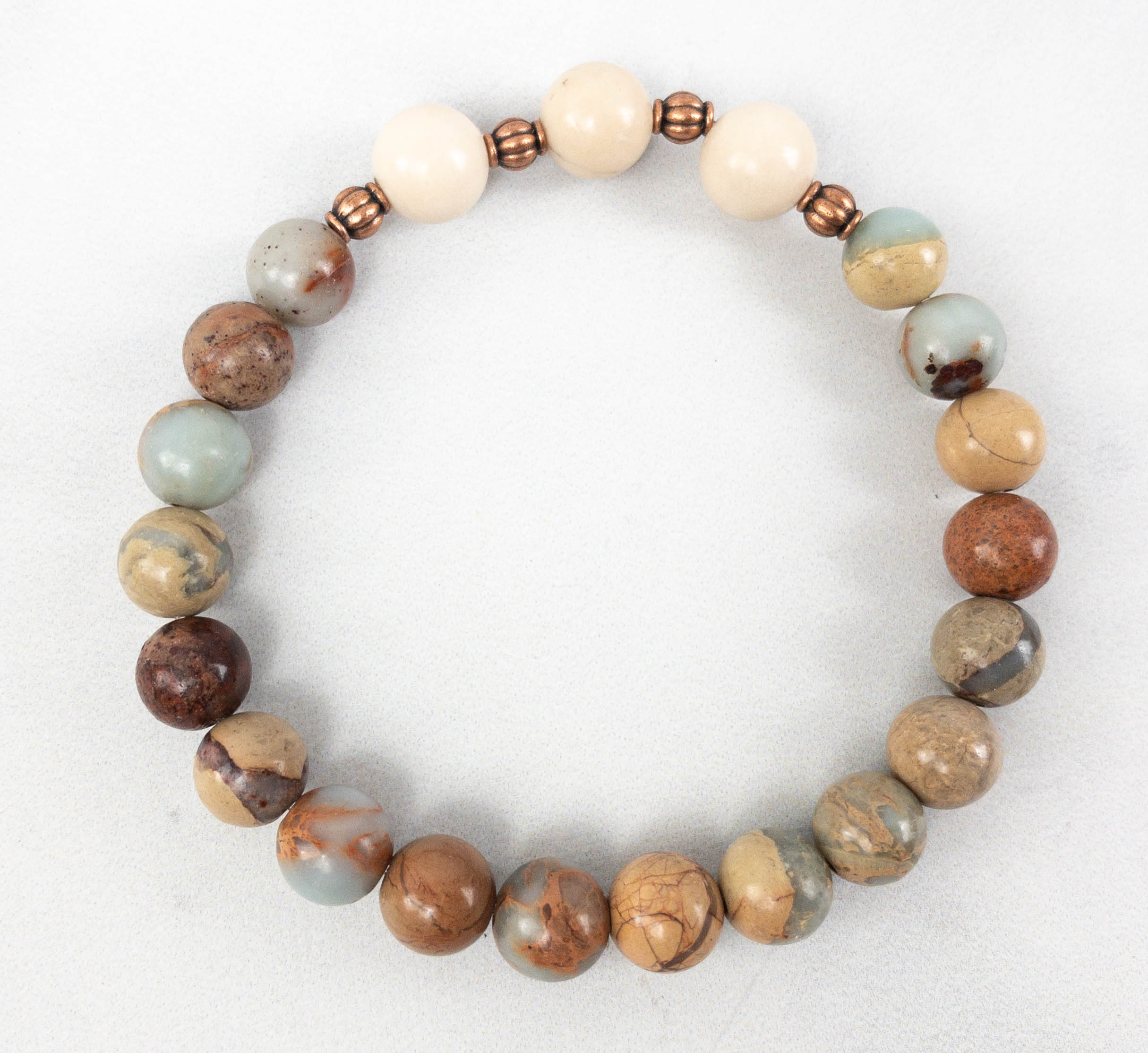 This is what the bracelet looks like. It's simple yet it has that lovely vintage feel to it because of the colors used. It's also easy to pair with any outfit!
Hello Water Fiber Infused Flavored Water ($2.33) For moms, here's a bottle of flavored water with refreshing notes of citrus from the lemon and lime.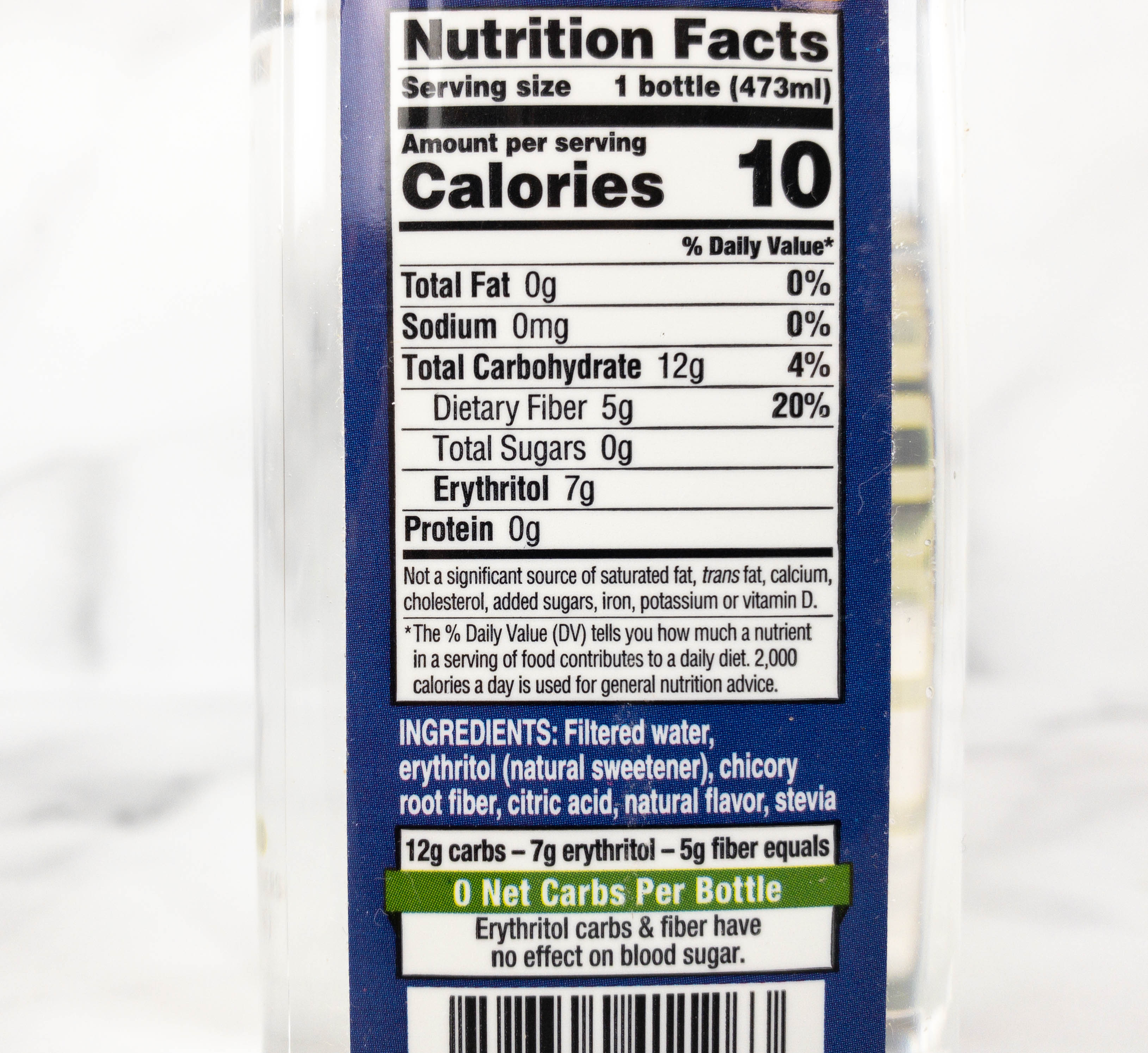 I like drinking lemon infused water because it aids in digestion and also helps with immunity so this flavored bottled water with lemon and lime is definitely a great alternative!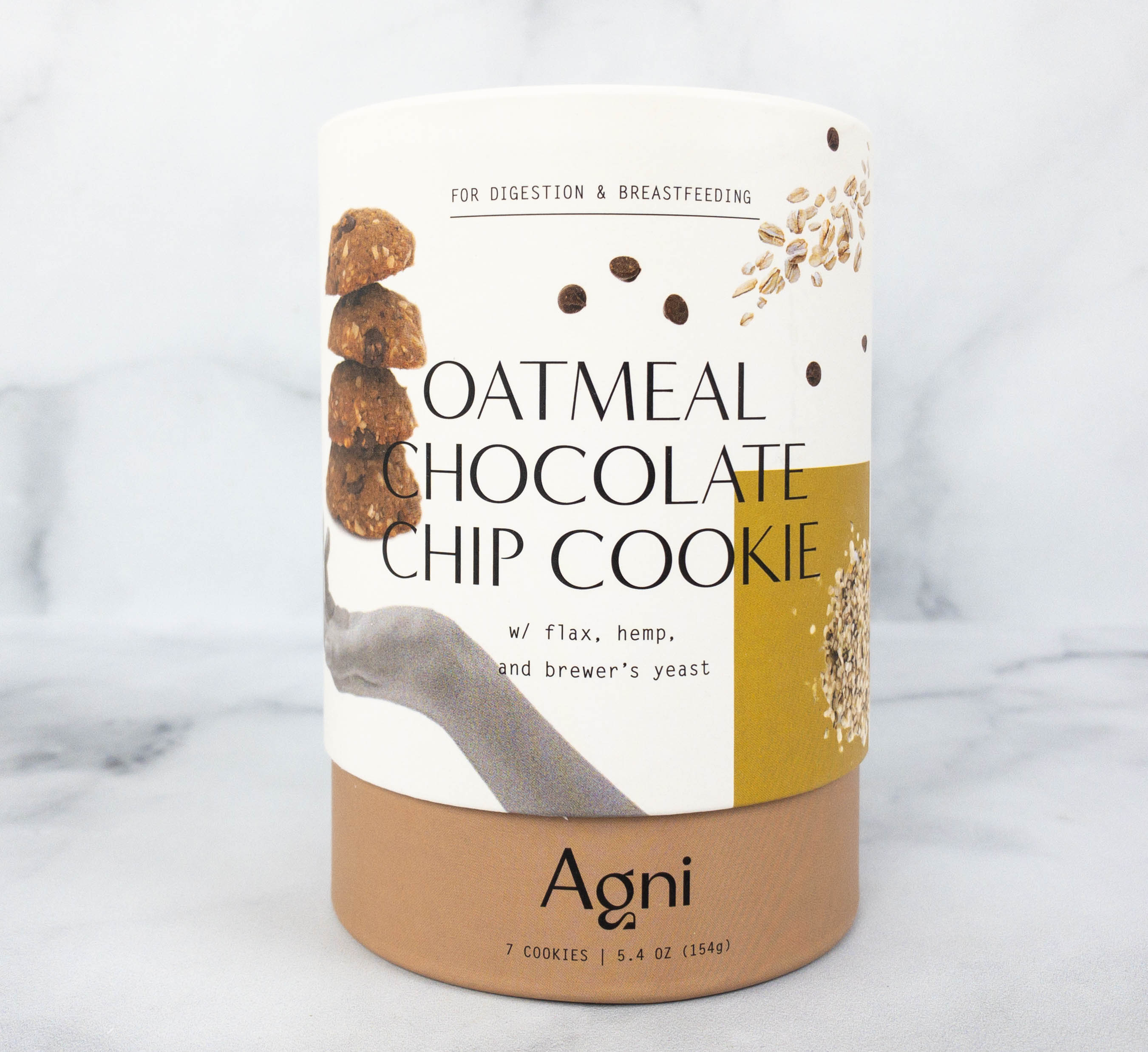 Agni Oatmeal Chocolate Chip for Lactation Support ($18) Here are some lactation cookies from Agni! These contain galactagogues, which are great for nursing moms since it supports breastmilk production.
According to the packaging, having a cookie per day also helps support digestive health!
The cookies are crumbly, but they have a nice texture when you chew on them because of the oatmeal. The chocolatey flavor is also good!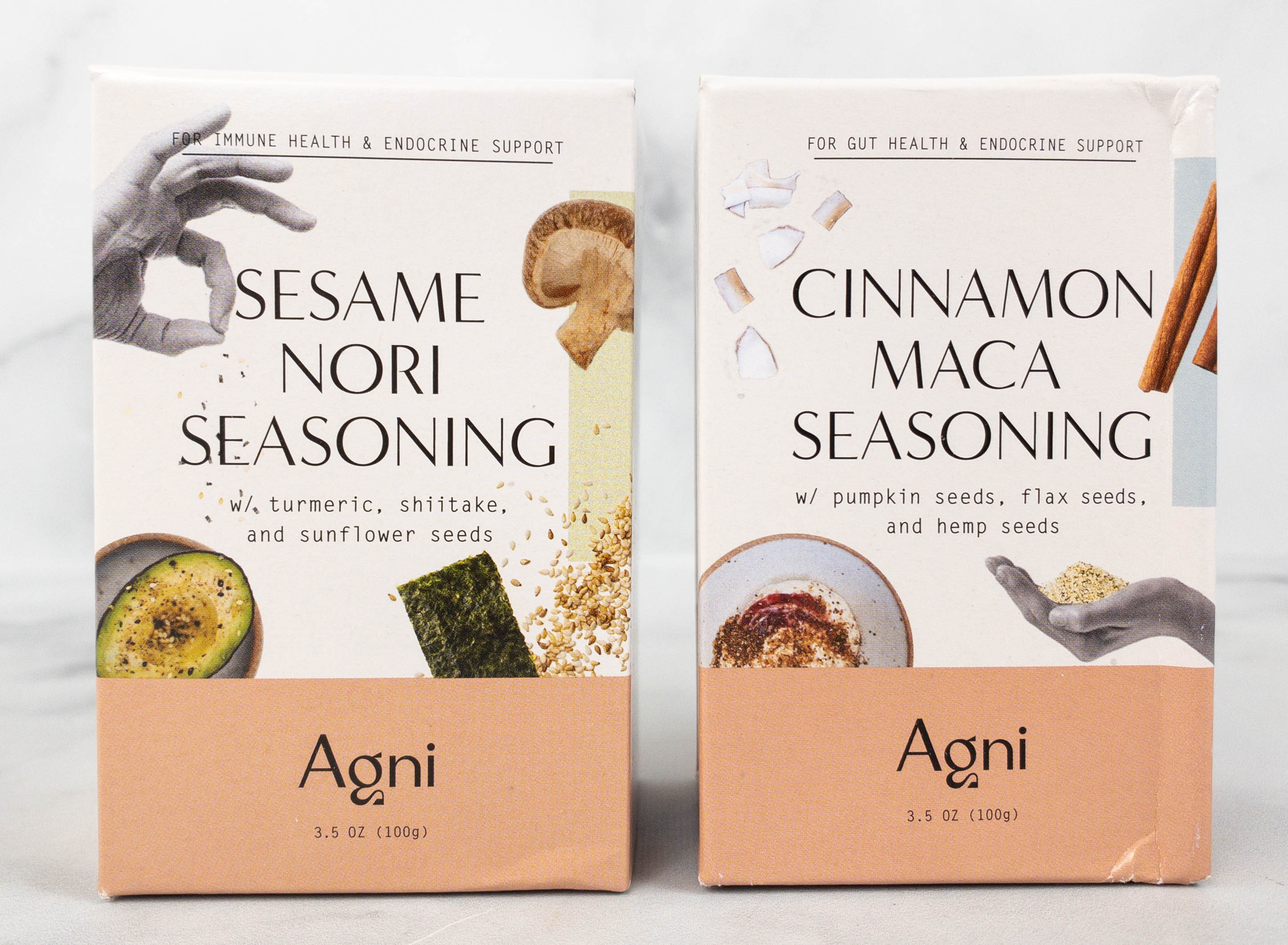 Agni Sesame Nori Seasoning ($16) I also received some seasonings from Agni. This nori seasoning is packed with vitamin B6, C, E, K, iron, fiber, iodine, magnesium, selenium, and zinc. I like using this for rice toppings because it adds a bit for flavor to plain rice. It also goes well on top of eggs, avocados, and even toasts!
Agni Cinnamon Maca Seasoning ($16) There's also a cinnamon maca seasoning which is packed with antioxidants, lignans, zinc, and omega 3. This one is great for oatmeal, yogurt, smoothies, and toasts.
These spices are different from the regular seasonings because these promote additional health benefits. The nori seasoning promises to help improve periods, sleep, and postpartum health, while the maca seasoning is good for gut health and hormone balance.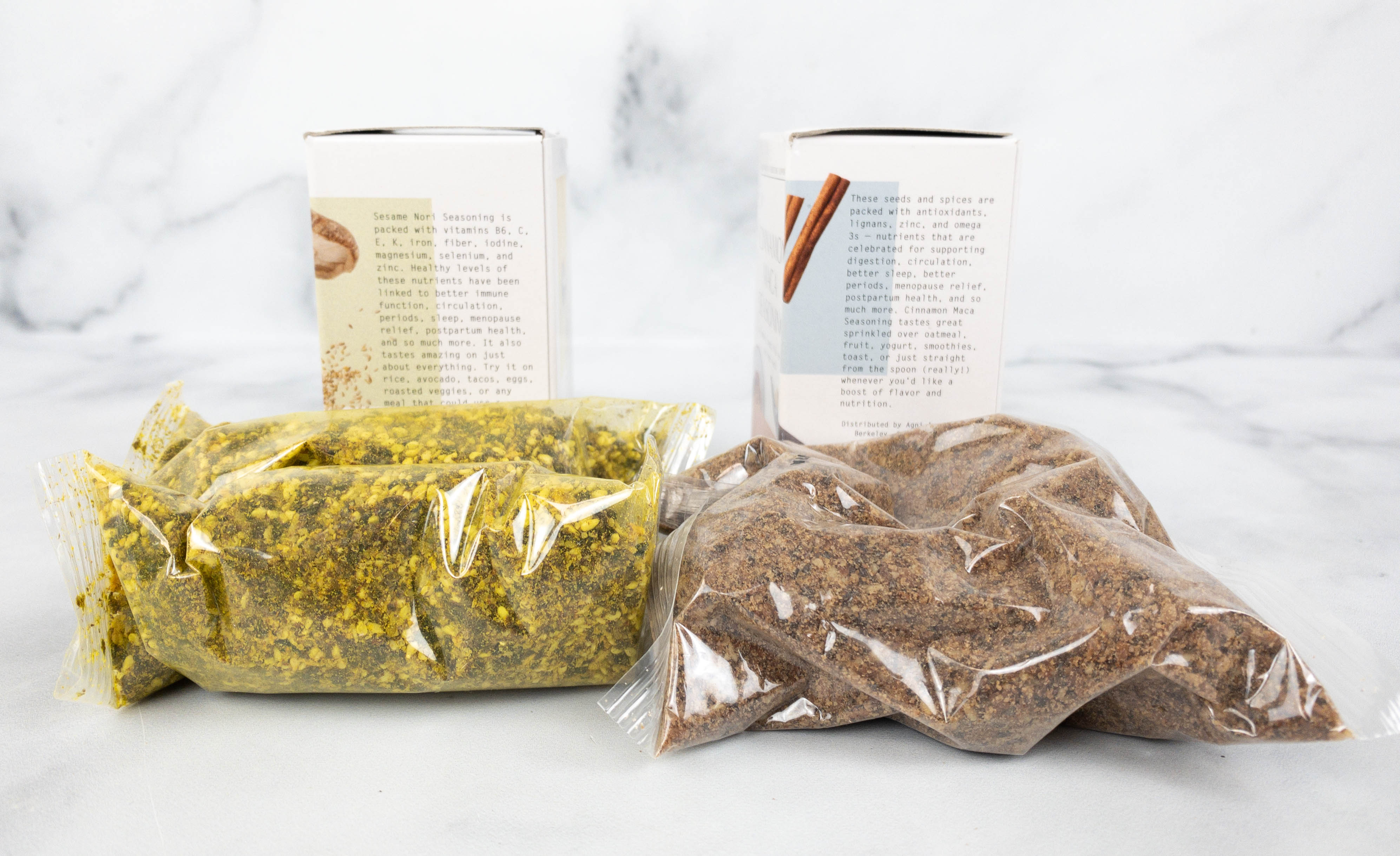 Each product is sealed in plastic packaging to ensure freshness.
Want to see more about Agni? Check out our review of the Agni Monthly Mama Box!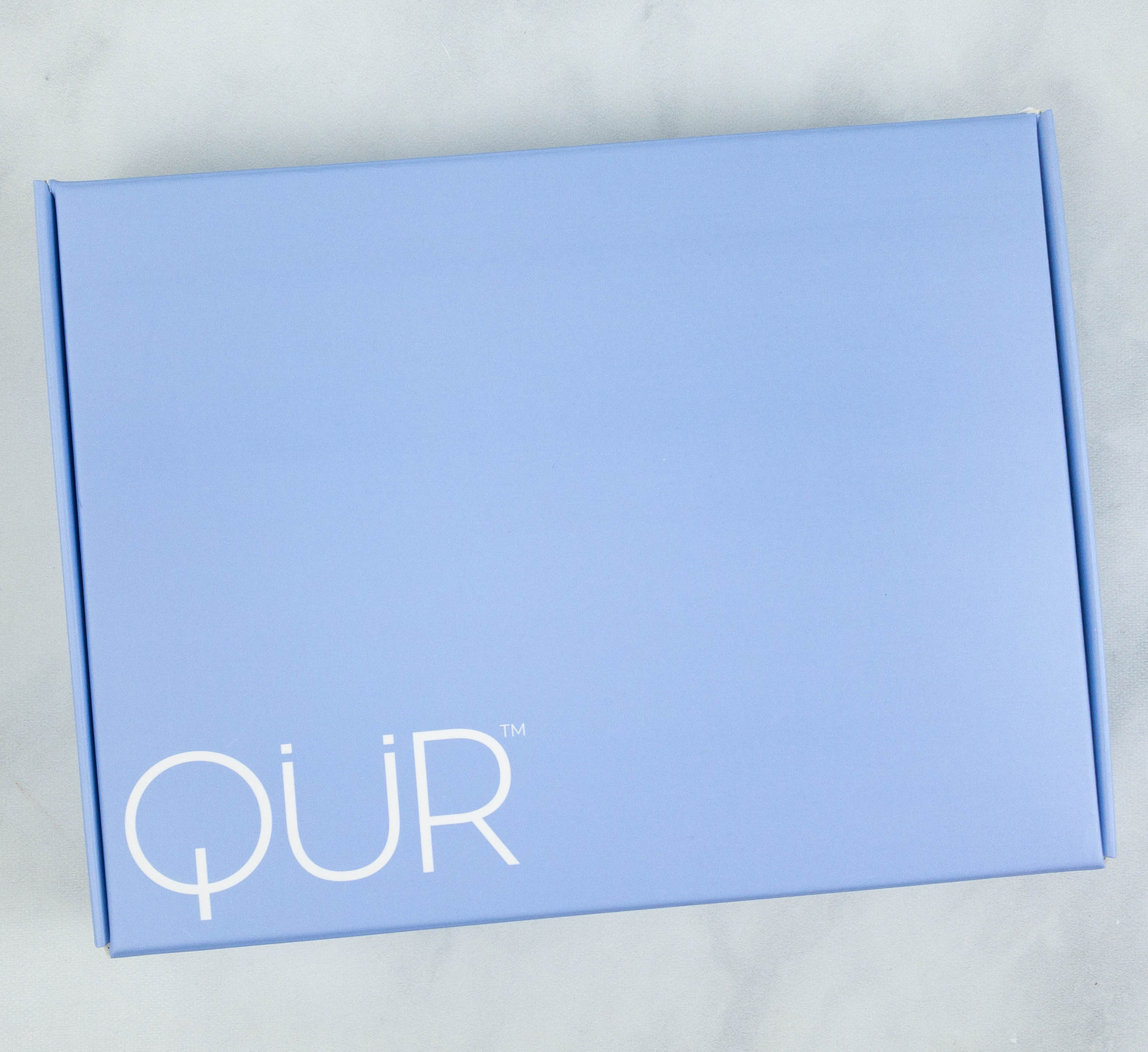 QUR 360 Lip Balms ($15) The lip balm set came in its own box packaging.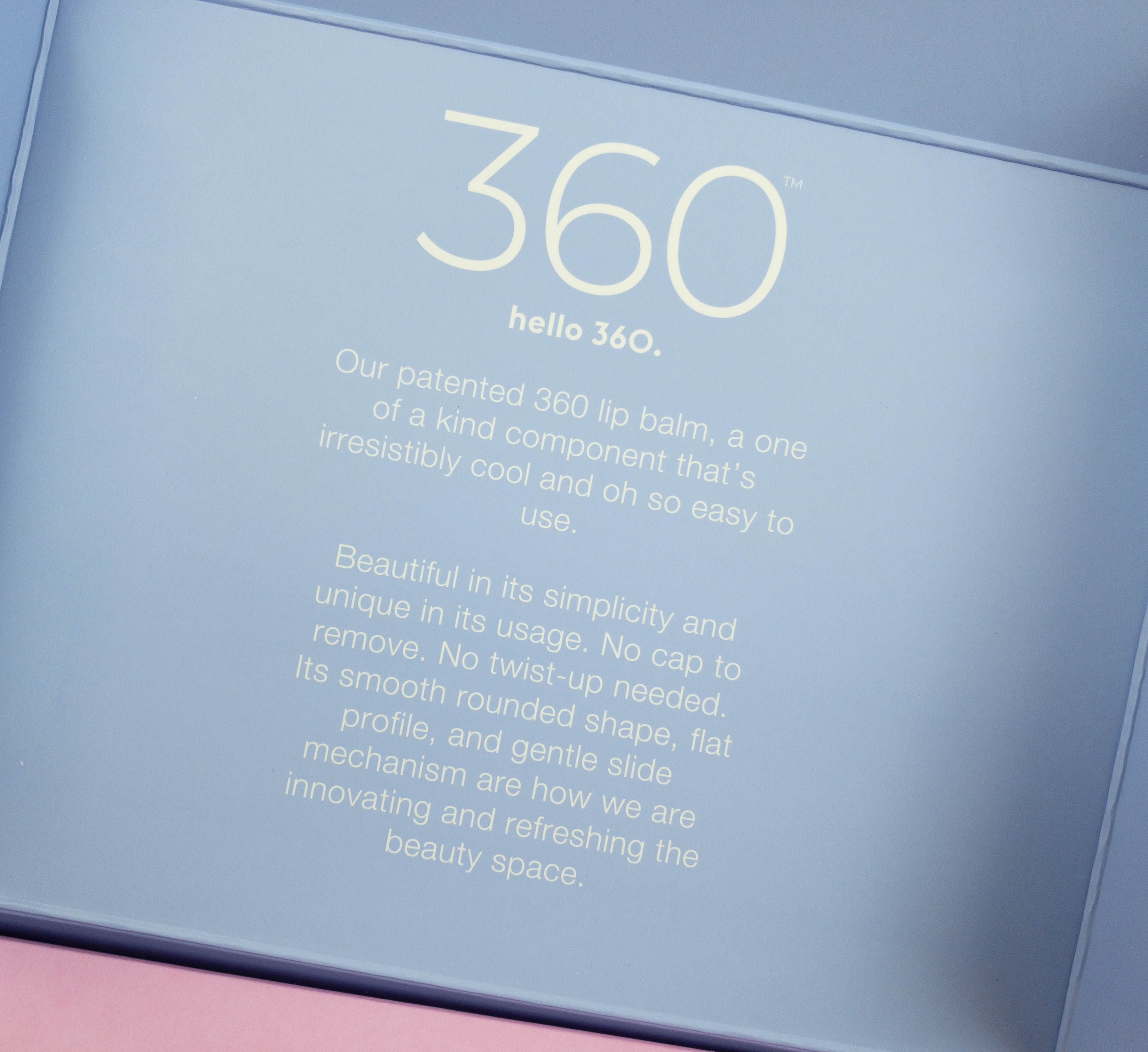 There's more information about the product on the back of the cover.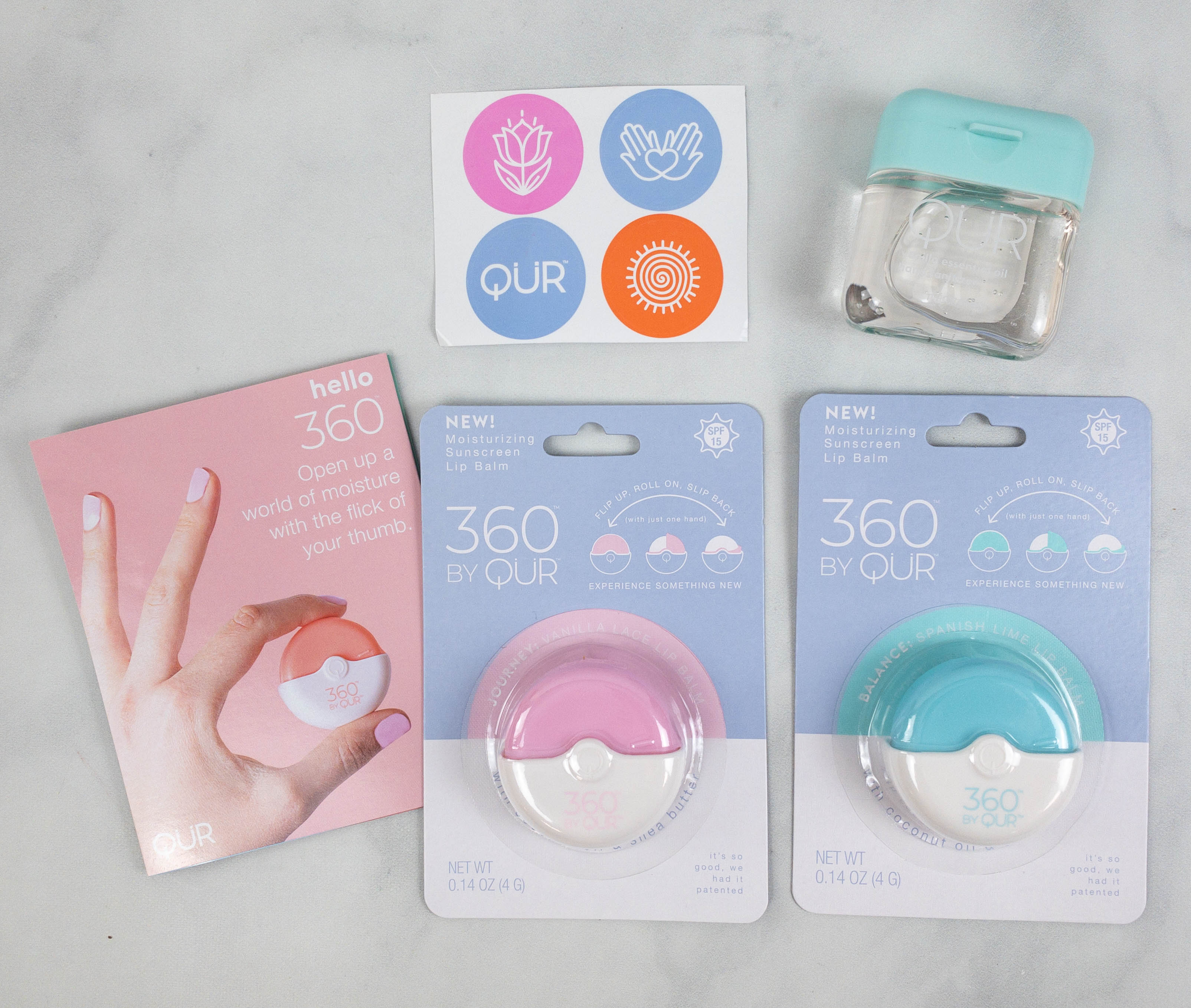 There are 2 lip balms inside the box. One has a pink cover while the other has blue. There's also a hand sanitizer in a cute clear container, plus a sticker sheet. The lip balms are quite unique because you can easily flip it up to open, roll it on your lips, and snap the cover back on using just one hand. It's really nice and convenient!
This quarter's box from Mom + Babes is loaded with great items! It includes healthy goodies for moms like the seasonings and cookies, as well as fun items like the bracelet and the lip balm set. I also appreciate the inclusion of the laundry machine cleaner! Once in a while, our laundry machine needs a good clean and this provides an easy way to do so. For babies, there's a mat that prevents them from slipping and slouching and some chalk holders. Overall, it's a jampacked box! It only ships 4 times a year and it's always worth the long wait!
What do you think of this month's Mom + Babes box?