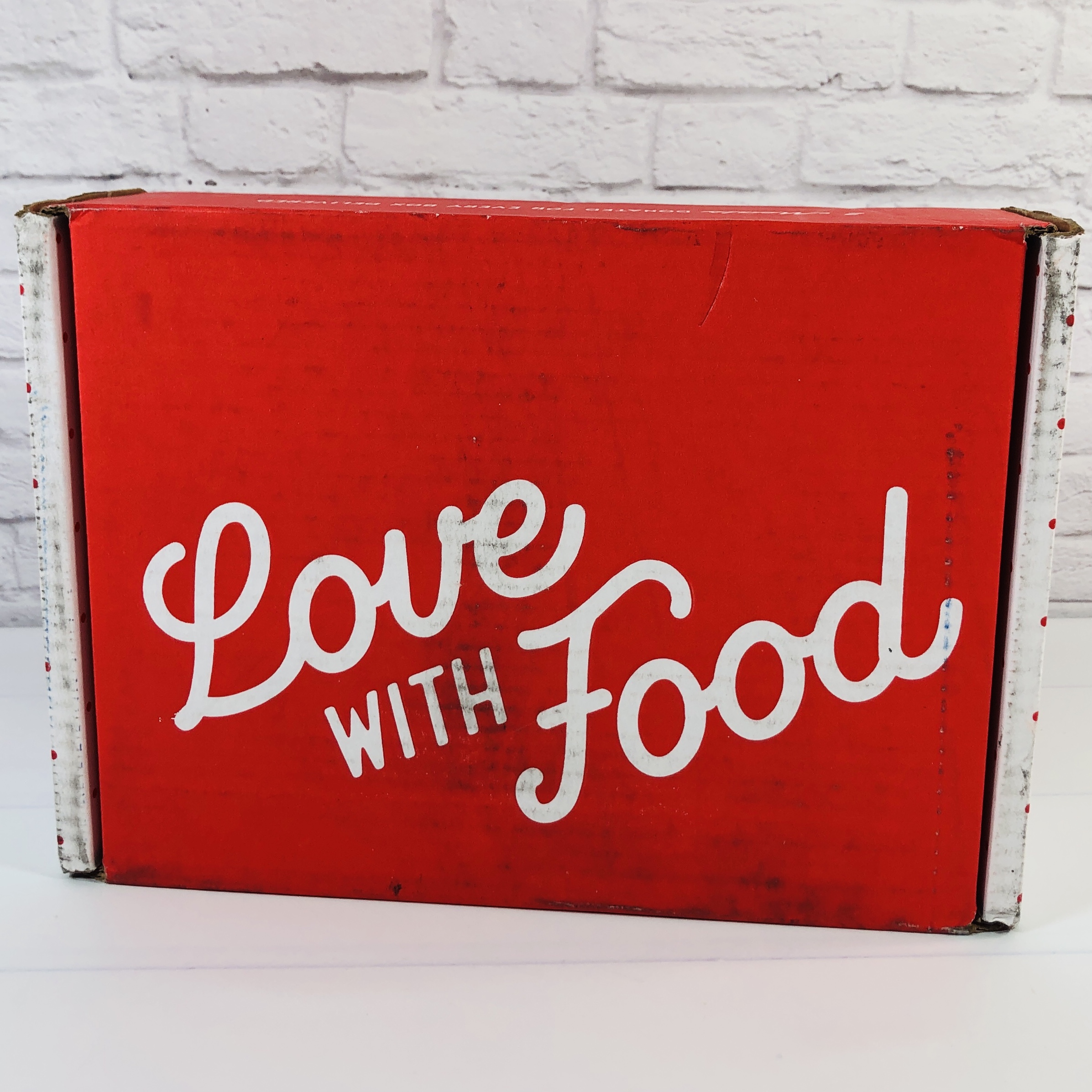 Love with Food Deluxe Box sends 15+ surprise snacks from various healthy snack brands each month. It's an ideal snack box for sharing at home or if you are a heavy snacker. This particular plan promises to include plenty of snacks for everyone and a few duplicates. Also, the snack box only includes snacks made with real ingredients and no added chemicals. The Deluxe Box is $19.95 a month with free shipping to the US (our readers voted it one of their favorite boxes under $25!), $3.99 for international. Love with Food also offers other snack boxes such as the Tasting Box and the Gluten-Friendly Box.
DEAL: Save 40% off your first Love With Food Box:
Or, save 25% off your first Gluten-Friendly Box: use this link to subscribe!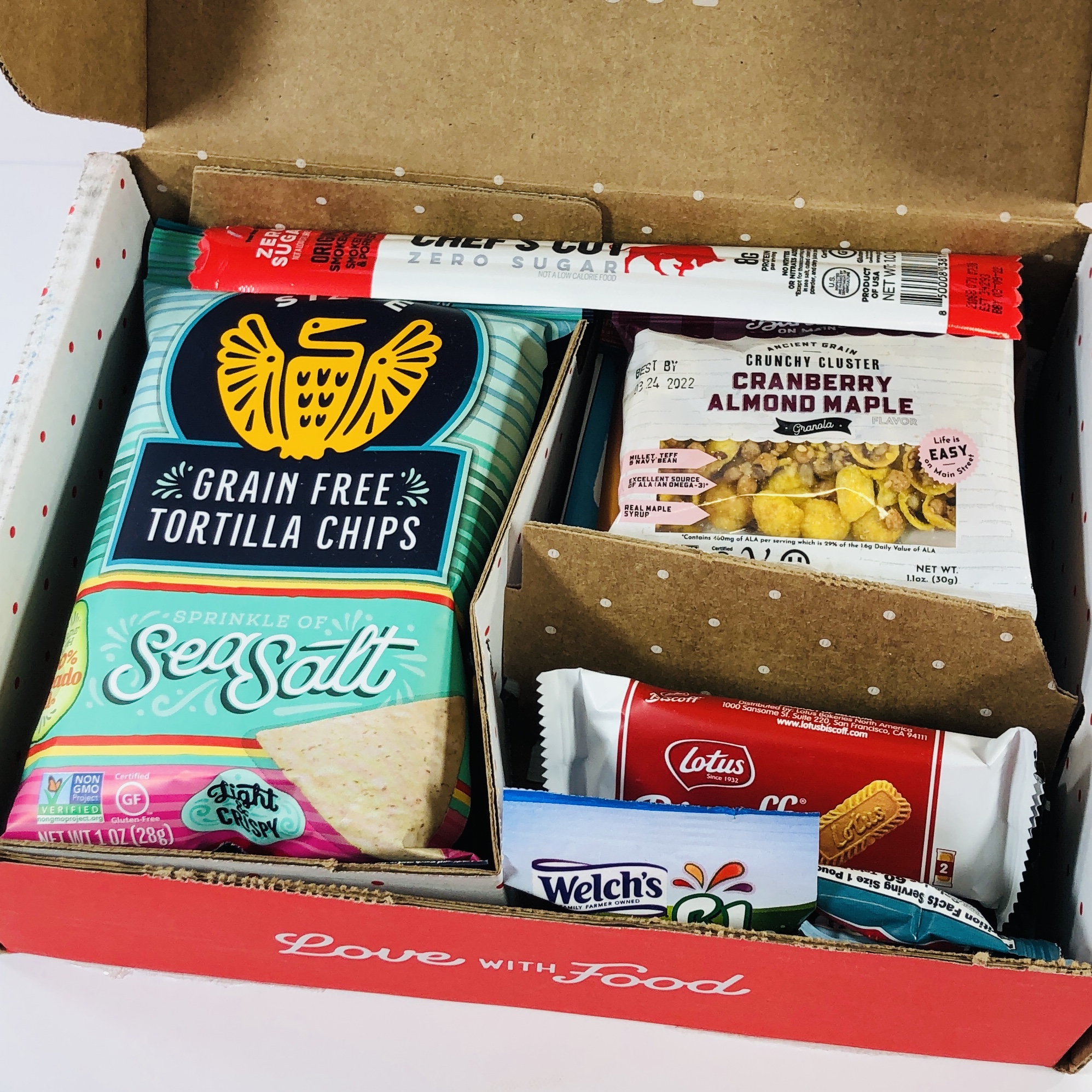 Packed to the top! You can find some of the items sampled each month on the Love With Food website.
I received a card that had a Kindness Bingo board.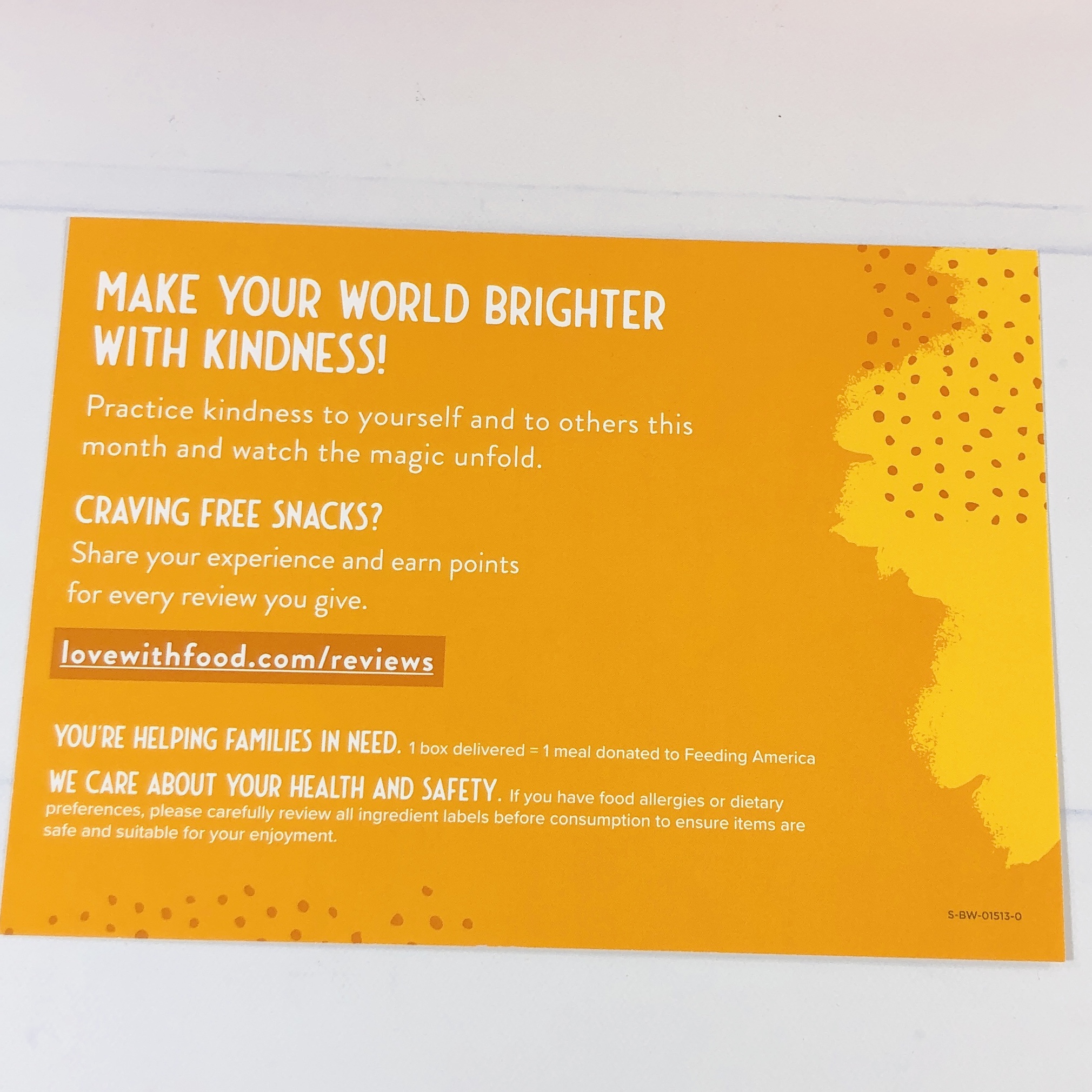 For every box sent to subscribers, Love With Food donates 2 meals to families in need. Don't forget to review your snacks so you can earn points for even more snacks!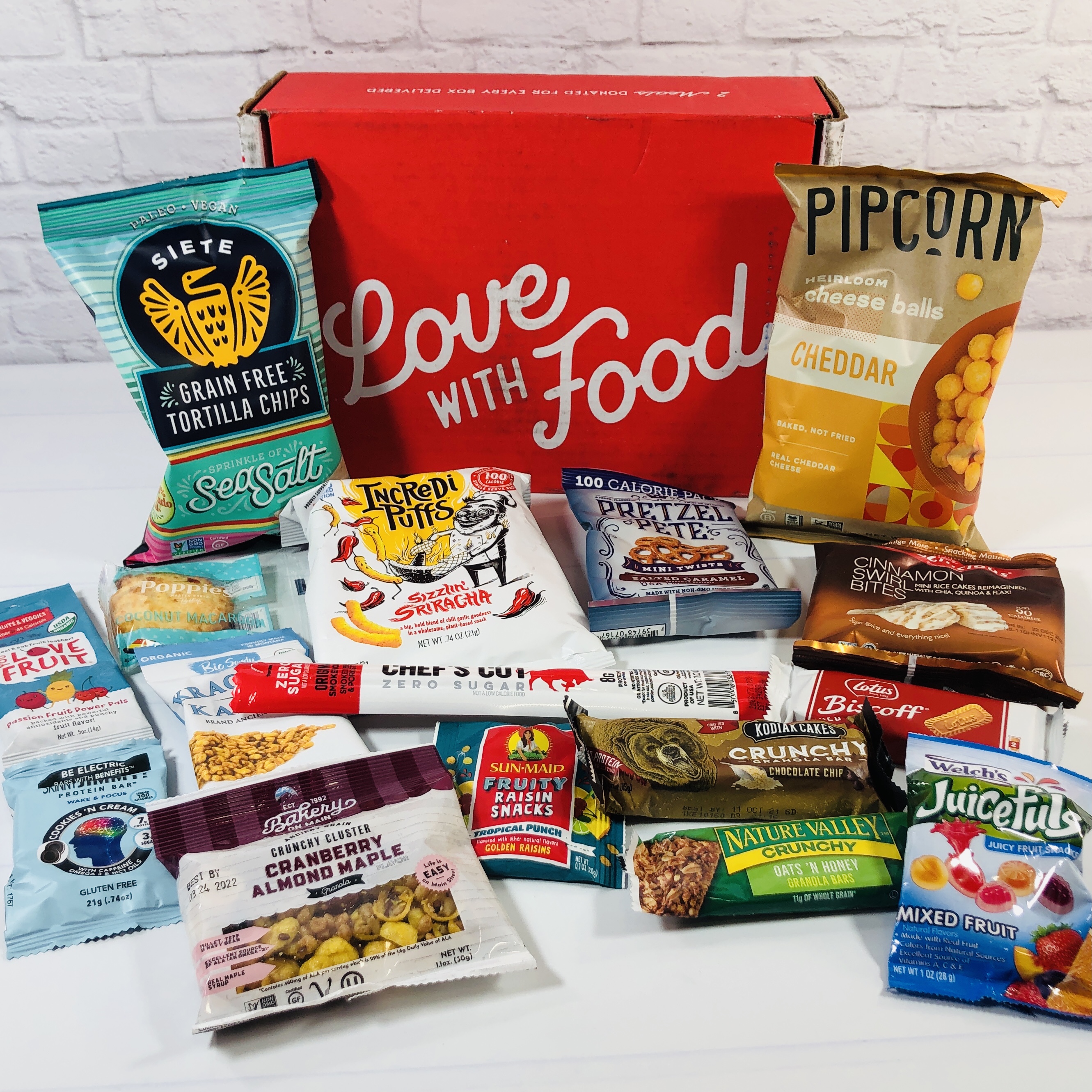 Everything in my box!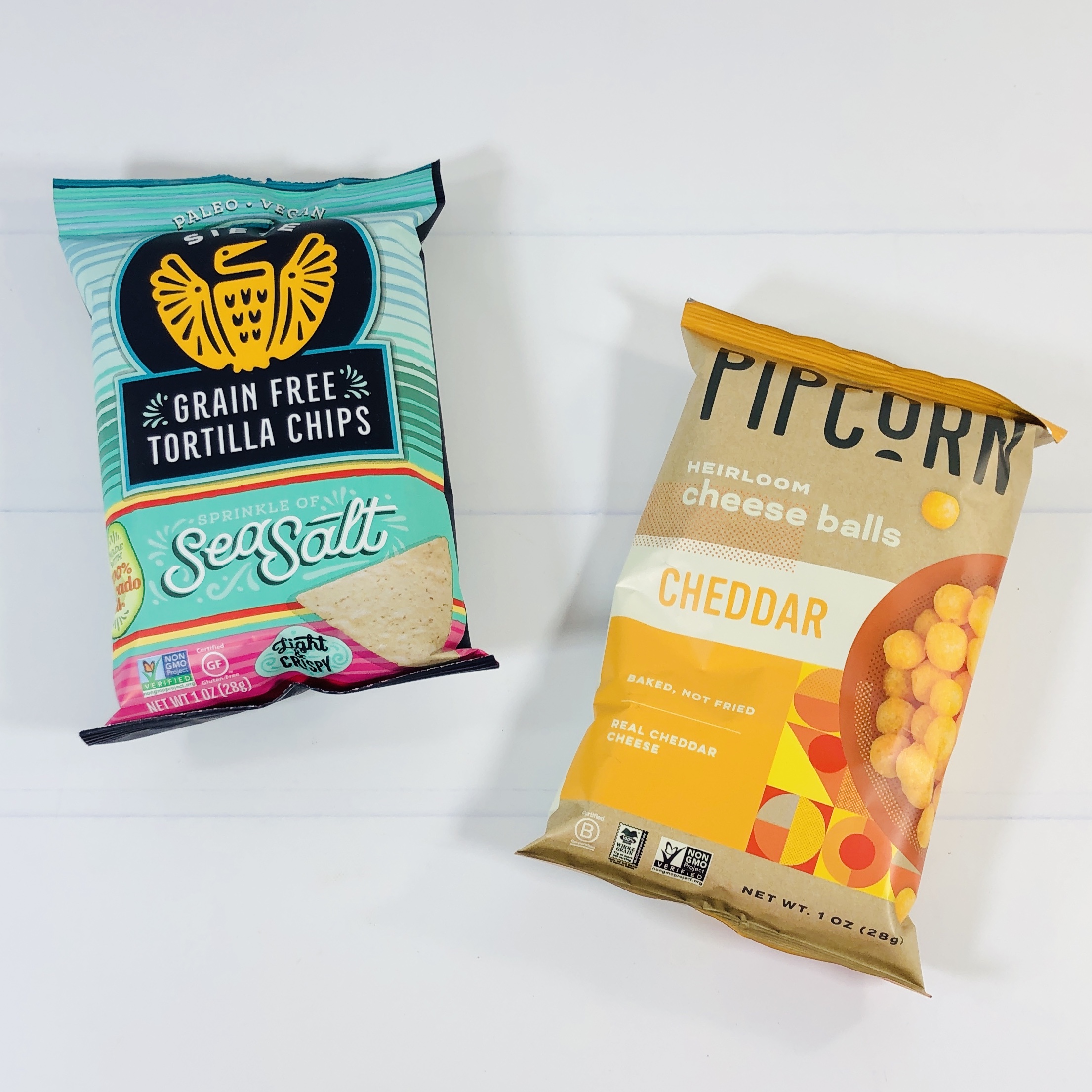 Siete Foods Grain Free Tortilla Chips I've tried these several times and I think they taste very similar to corn tortilla chips, but they are grain-free and made with cassava flour, coconut flour, and chia. They are lightly salted and I just eat them as is, I haven't tried them with salsa or queso but they would probably work well as a dipper too.
Pipcorn Heirloom Cheddar Cheese Balls I like to eat chips and the like with a meal, usually lunch, and these were pretty tasty. The texture reminded me of cereal rather than Cheetos, and the first ingredient is heirloom corn. They are colored naturally so no worries about having day-glo fingers and the flavor is on the mild side.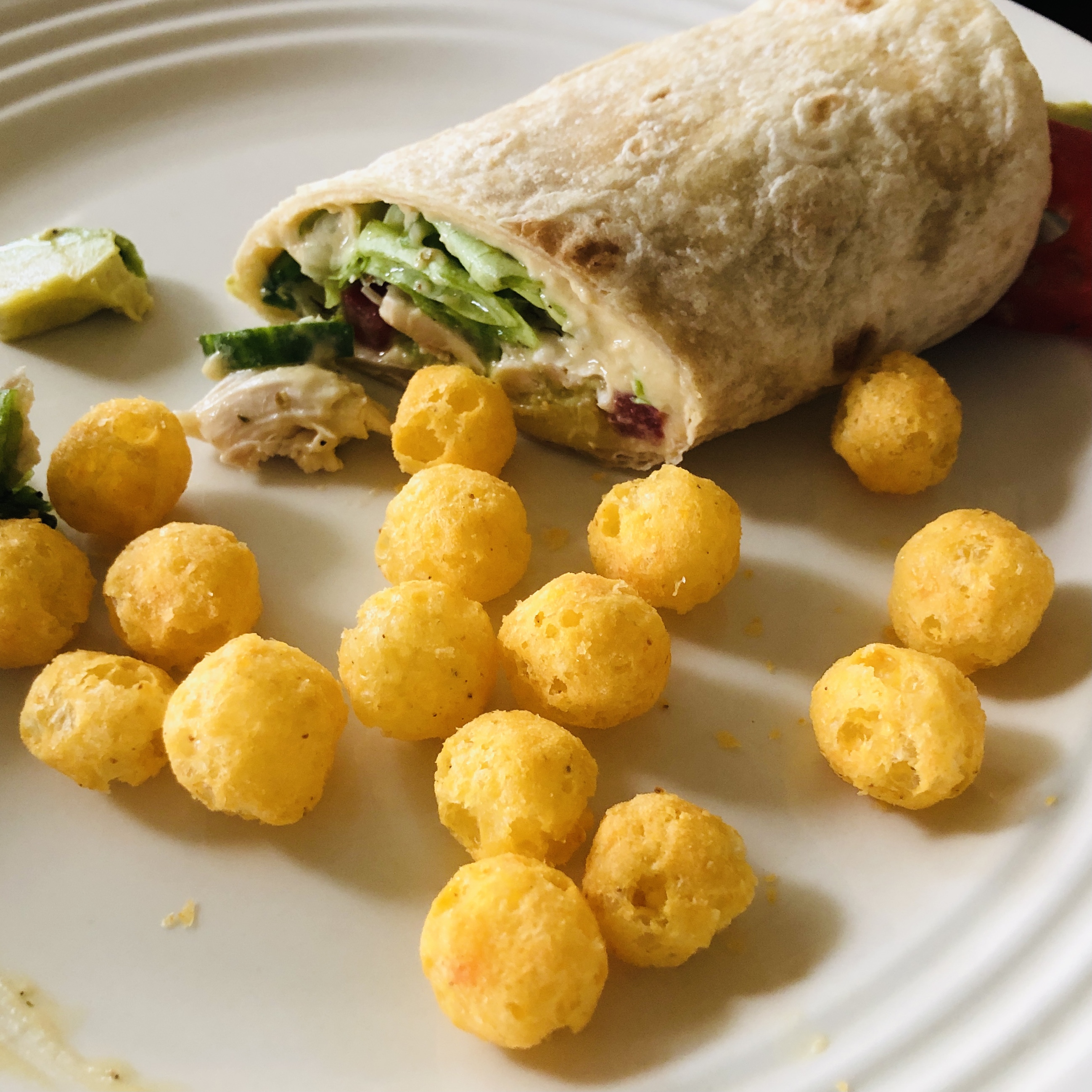 I ate them with a wrap.
IncrediPuffs Sizzlin' Sriracha I had to double check the ingredients list to see if these had cheese in them but they don't, yet they taste like spicy/cheesy/puffy pillows of flavor! The heat was just right, maybe a bit on the spicier side than I was expecting, and there was a hint of both tangy vinegar and sweet sugar. Yum!
Pretzel Pete Salted Caramel Mini Twists These were not bad, they had a sweet/salty/buttery flavored powder coating over traditional pretzels. Interesting.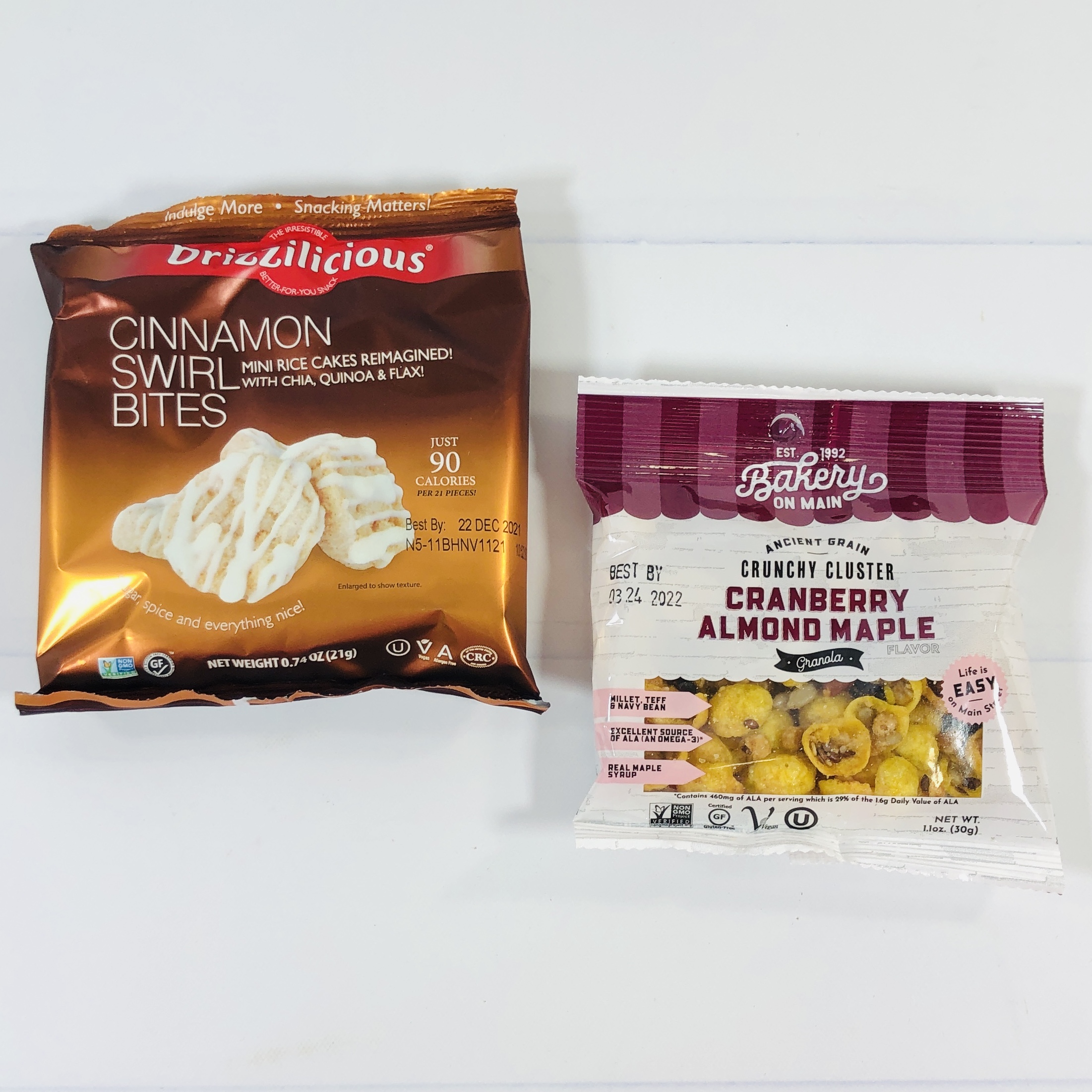 Drizzilicious Cinnamon Swirl Bites are like an upgraded version of rice cakes. They are made with rice, quinoa, and flax and they have a white candy coating drizzled over the top. This flavor reminds me of a churro, with yummy cinnamon and sugar.
Bakery On Main Cranberry Almond Maple We get this brand a lot and this is probably my least favorite flavor, mainly because the craisins are hard and some of the seeds are really tough to chew. I let my cereal soak in milk for a little bit before eating but it was still tough. The flavor is very sweet and I like that it has flax seeds. The crisps are even made with navy beans!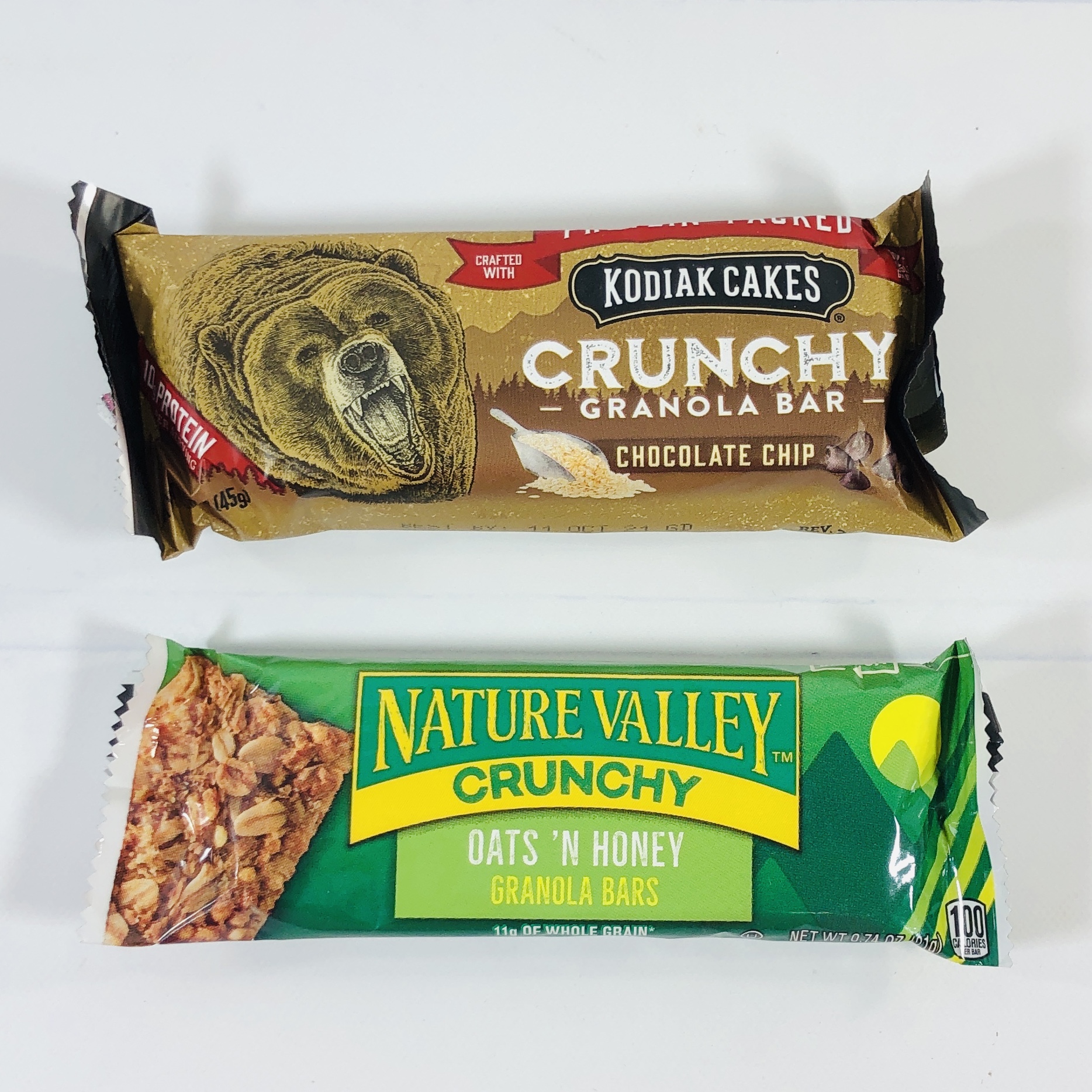 Kodiak Cakes Crunchy Chocolate Chip Granola Bar Have you seen this brand's ads on Facebook, they are hilarious (they feature a lumberjack family). This is a crispy, crunchy granola bar similar to the Nature Valley bar. I had it for breakfast and it was just enough to take the edge off until lunch.
Nature Valley Crunchy Oats 'N Honey Granola Bars I'm more of a chewy granola bar fan but this brand is my first choice for a yogurt parfait. Just pour some yogurt in a cup or bowl and crumble this over the top. You can eat it for breakfast or dessert!
Here's a picture of the Kodiak Cakes granola bar. Mine was broken into a few pieces this size and that's ok, but maybe eat it outside or over the sink because it will continue to crumble.
Poppies Master Baker Coconut Macaroon are a moist and super sweet coconut cookie. I could only take one bite because it was so sweet but the texture was soft and agreeable.
Lotus Biscoff If you've ever flown on a plane in recent years then you've possibly already tried this cookie. They are a type of crispy shortbread cookie with a caramelized flavor and are good with coffee or tea. You can also use them to make a crust for a refrigerator pie or bar cookies, and if you've ever had cookie butter then know that this is one of the ingredients.
Skinny Jimmy! Cookies & Cream Protein Bar The crispy, chewy texture of this bar always reminds me of a Butterfinger Bar for some reason. This bar has some caffeine thanks to guarana, although how much compared to, say, a cup of coffee isn't mentioned. MCT oil and Omega 3 oil are the last two ingredients but they are given one of the biggest fonts. The bar is very tasty but doesn't taste like cookies and cream or chocolate really, but I liked it anyways.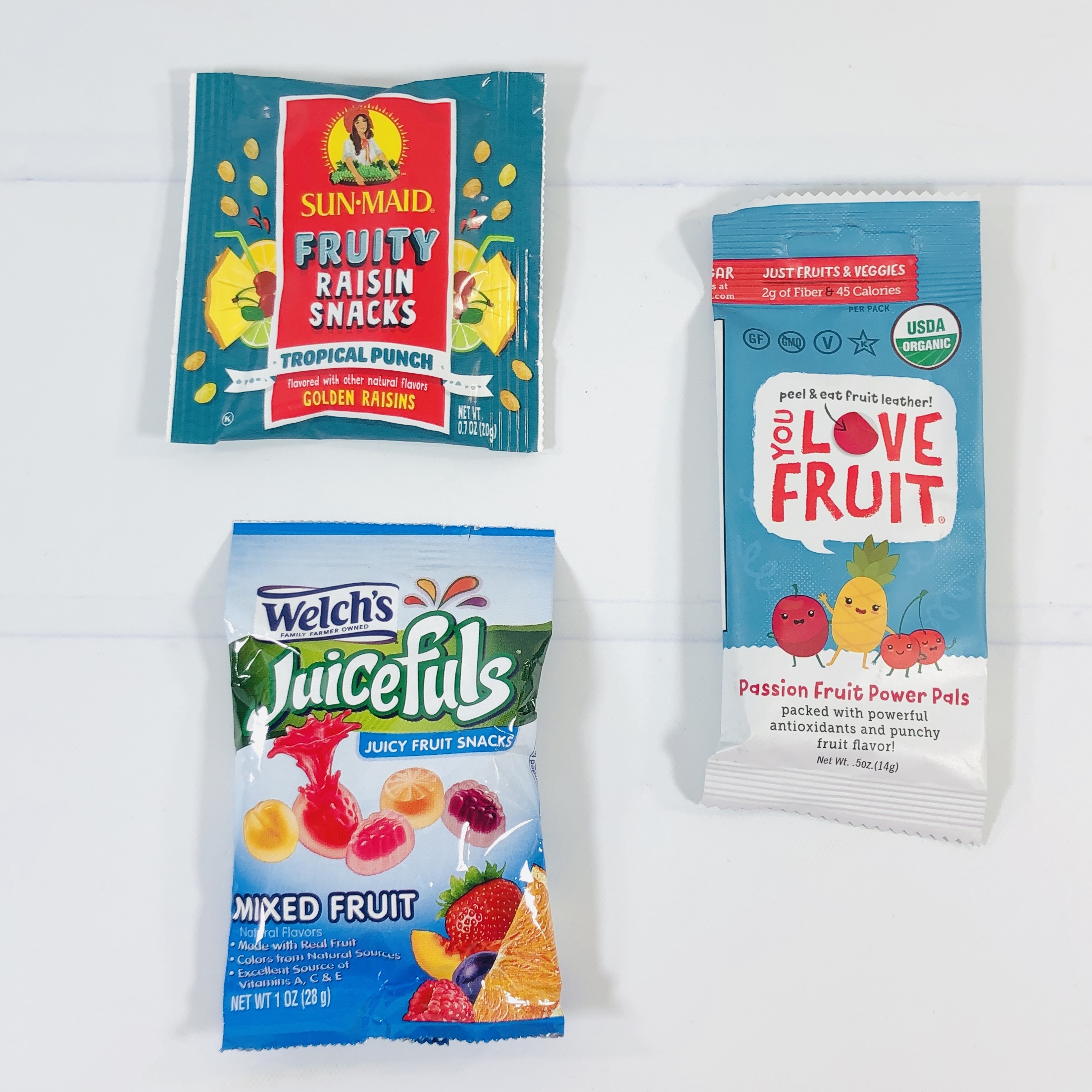 SunMaid Fruity Raisins Snacks Tropical Punch, Welch's Juicefuls Mixed Fruit, and You Love Fruit I am not a gummy fruit chew kind of person but my daughter loves this type of snack so these are all going to her. The raisin snack and You Love Fruit snacks are the least processed of these three snacks while the Welch's has lots of additives to make it more like candy.
Chef's Cut Zero Sugar Smoked Beef & Pork Stick I receive a meat stick of some sort in every single box and this time it's pork and beef and sugar-free (for those who eat keto). I guess it had a classic meat stick flavor, which reminds me of salami, but it's less greasy.
Big Sandy Organics Kracklin' Kamut In a world where products proudly proclaim to be "gluten-free" this snack was like, nope, I'm straight up wheat grains. Those grains are roasted with safflower oil and then seasoned with salt and I guess taste a little like sunflower seeds. They are also very hard and I have to let them sit in my mouth for a while before chewing because I'm worried about breaking my teeth but they are pretty portable.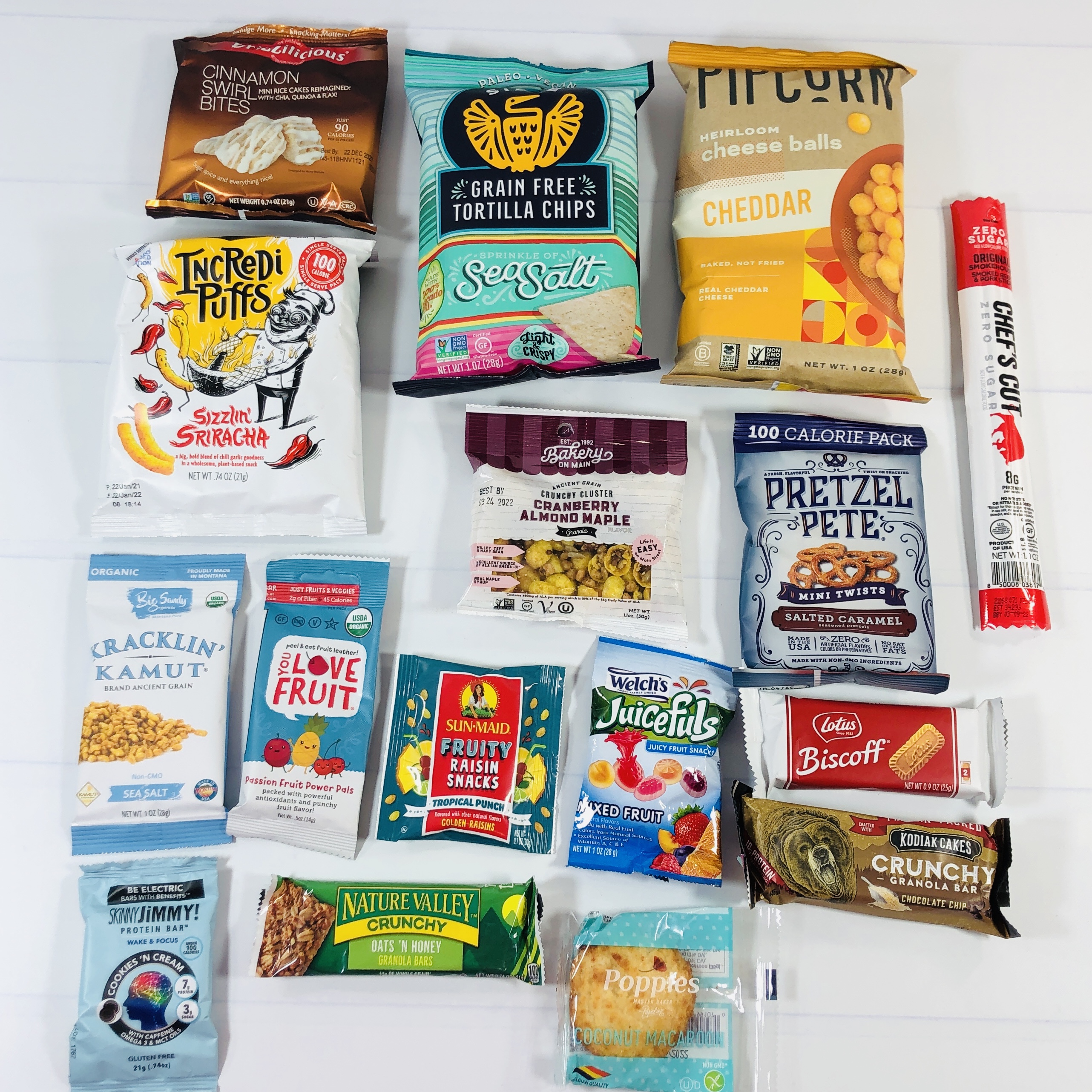 Love With Food had lots of different snack types for me to enjoy, including chewy, crispy, crunchy, sweet, salty, and spicy. I just grab one whenever I need a bite to eat and some of them go alongside a sandwich at lunch. They are portable, I can stick them in my bag in case I get hungry while out and about. My favorite item this month was the sriracha puffs, they were super tasty! There were 16 different snacks this month which breaks down to about $1.25 each but some of them were rather small so I hope they send bigger packs next month, or maybe they could count two or three bags of fruit gummies as one snack. Of course, individual snacks often cost more than a box so I try to keep in mind what a snack costs from a vending machine and it's never cheap, is it?
What's your favorite snack from the Love With Food Deluxe Box this month?
Visit Love with Food Deluxe Box to subscribe or find out more!