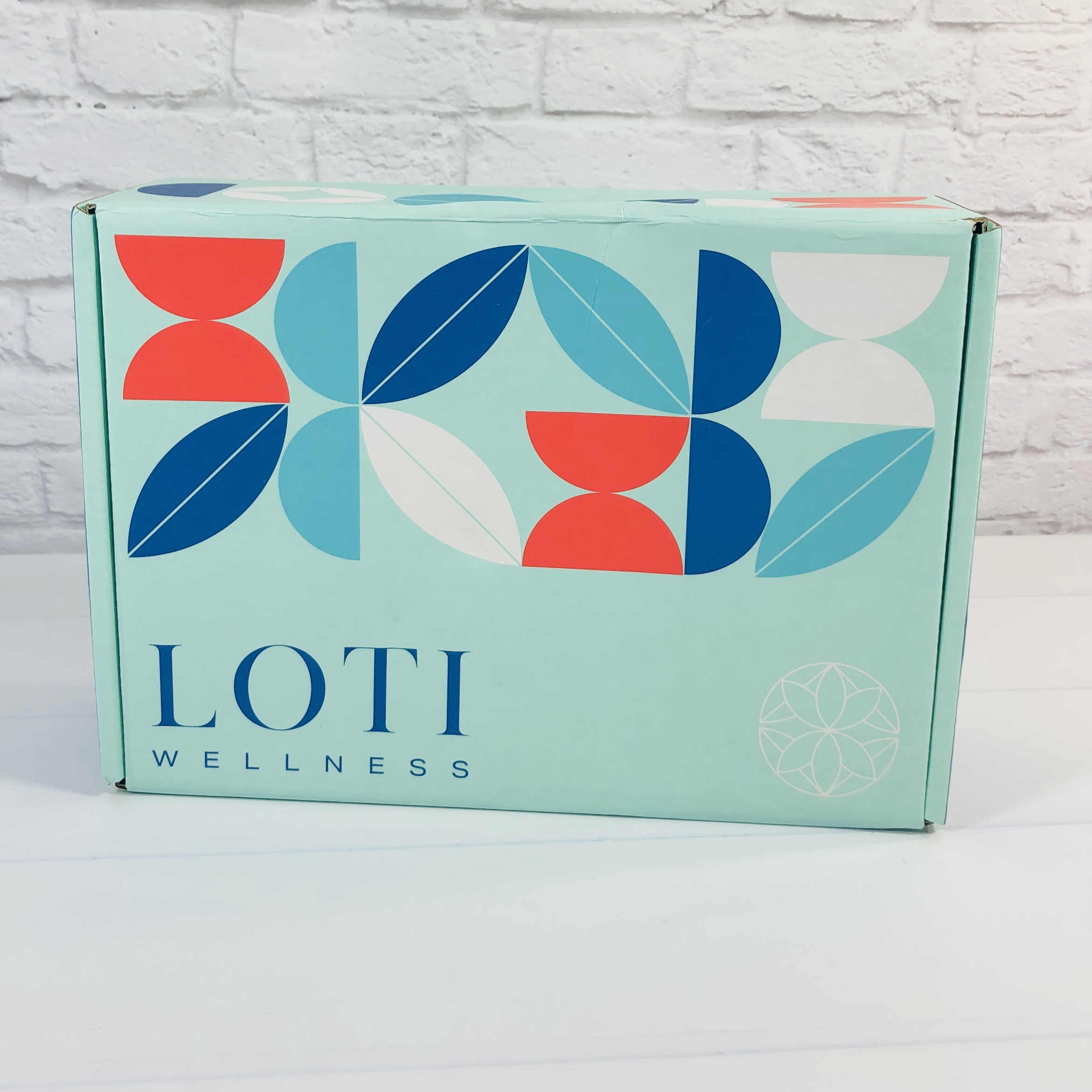 Loti Wellness is a subscription box with a focus on self-care. The box has a monthly theme curated by therapists to focus on items and rituals to promote positivity and improving one's self. Loti Wellness works with local brands and small businesses whenever they can, and choose cruelty-free and natural products. The box will have 5-8 products for self-care and wellness. The box is $49.95 CAD with lower prices on annual subscriptions – $41.62 USD. Shipping is $5.99 CAD to Canada and $7.99 CAD to the US (about $6 USD). A portion of proceeds go to CanadaHelps COVID-19 Fund.
A lotus is a flower that blooms from the mud. It symbolizes overcoming adversity and achieving your greatest potential. The Loti Wellness Box offers practical skills and products to reduce stress and anxiety, and improve your overall wellbeing.

Each Loti Wellness Box delivers the tools and strategies you need to cope with life's challenges, using research based in psychology and psychotherapy. The monthly themes focus on topics like reducing anxiety, setting goals, and even boosting positive mindsets to help you discover self-care and self-love.
DEAL: Save 10% on your first box! Just use this link and coupon code SUBSCRIBE10.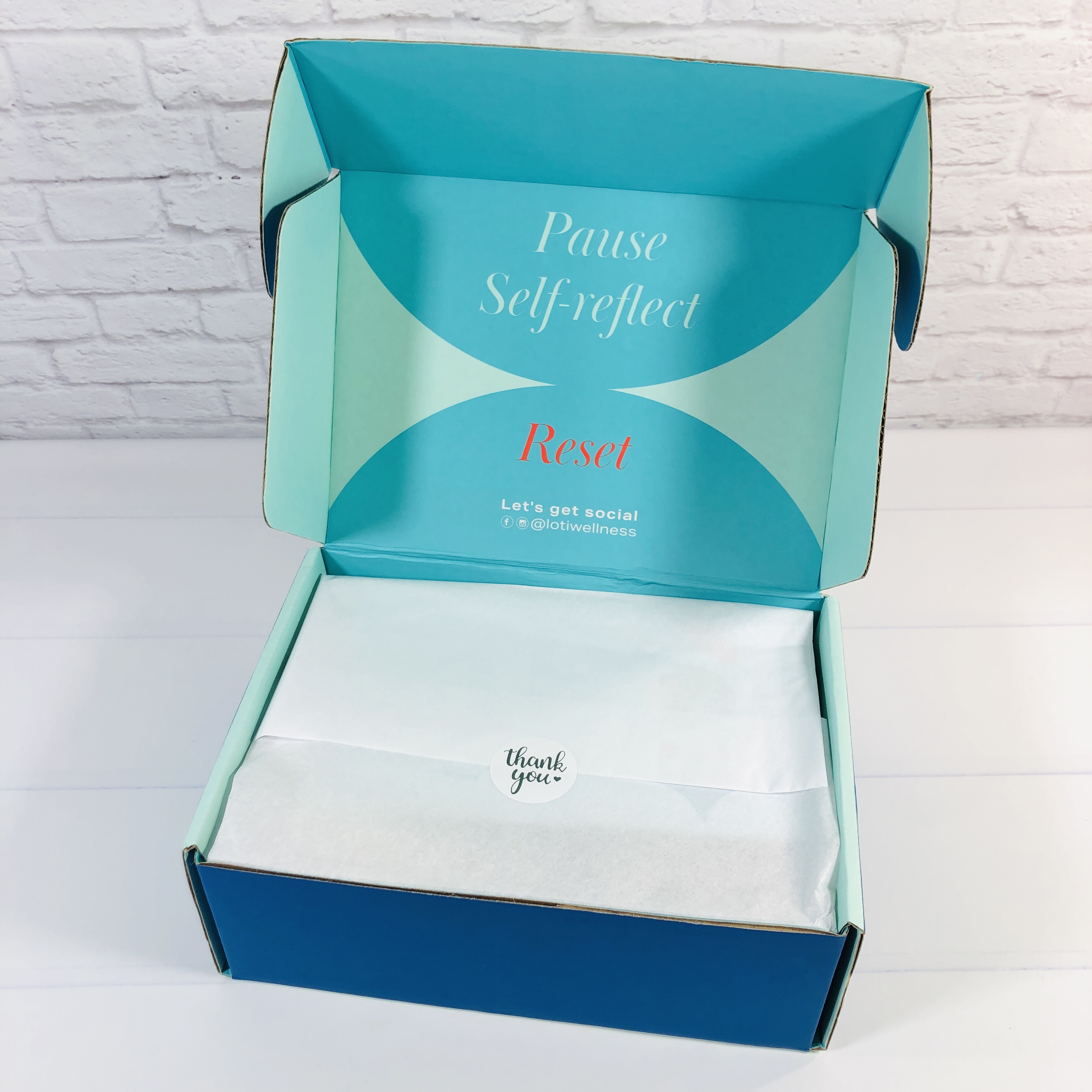 My items arrived in a blue box and were wrapped in white tissue paper that was sealed with a sticker. Did you notice that the box has had a makeover this month?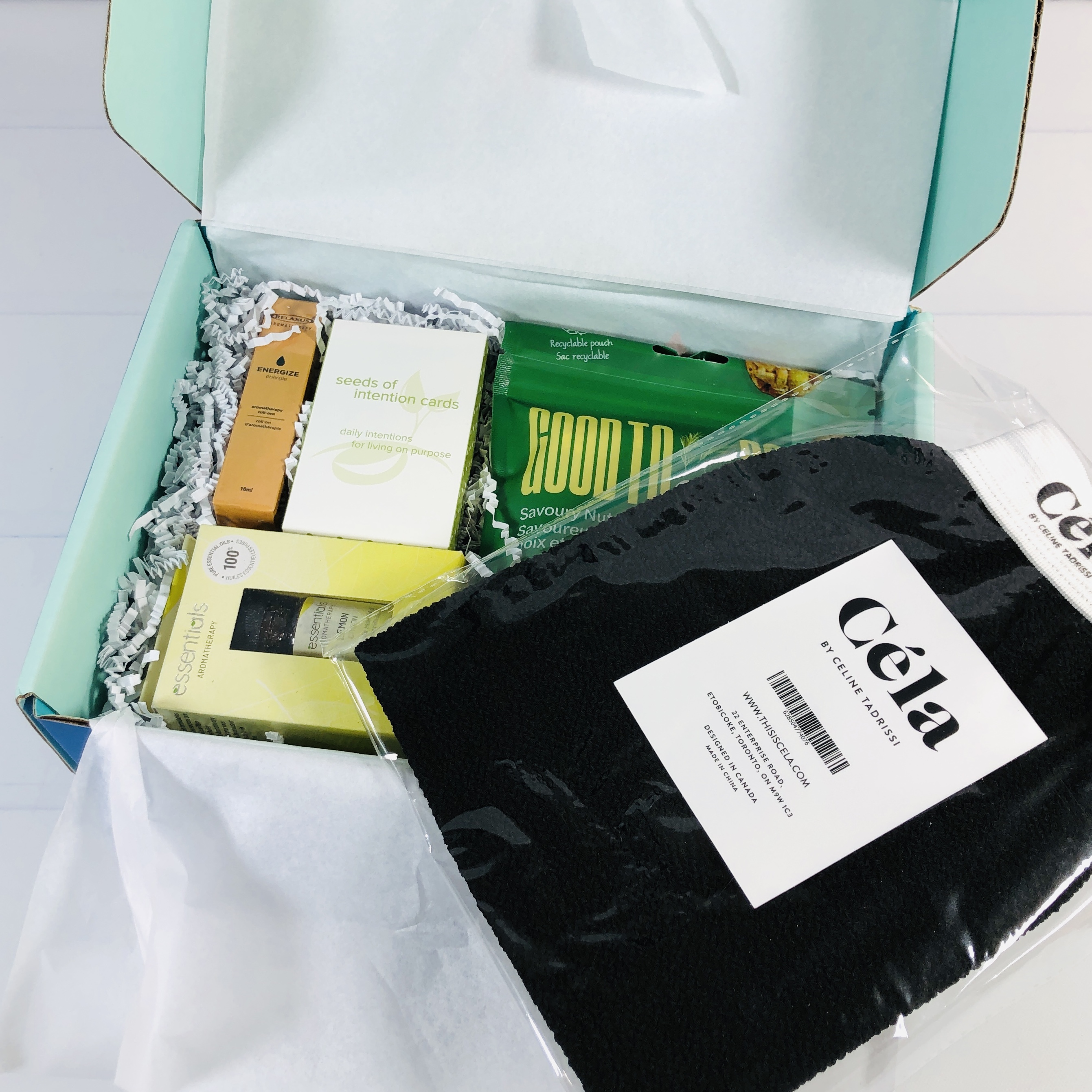 Loti sends the best stuff to help me relax and unwind.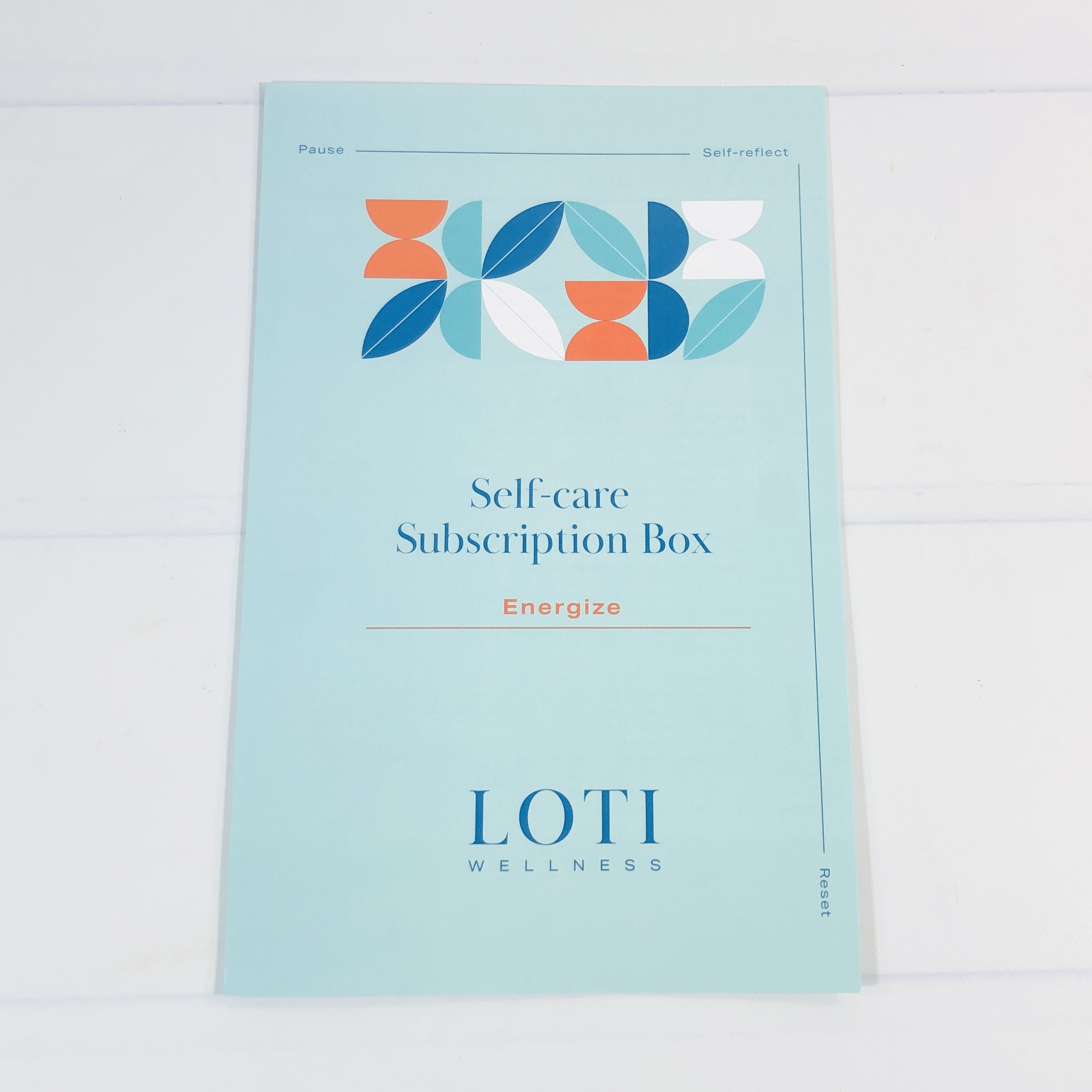 I received a brochure with the theme for June: ENERGIZE! (Yes, it is the June box. This box ships late in the month.)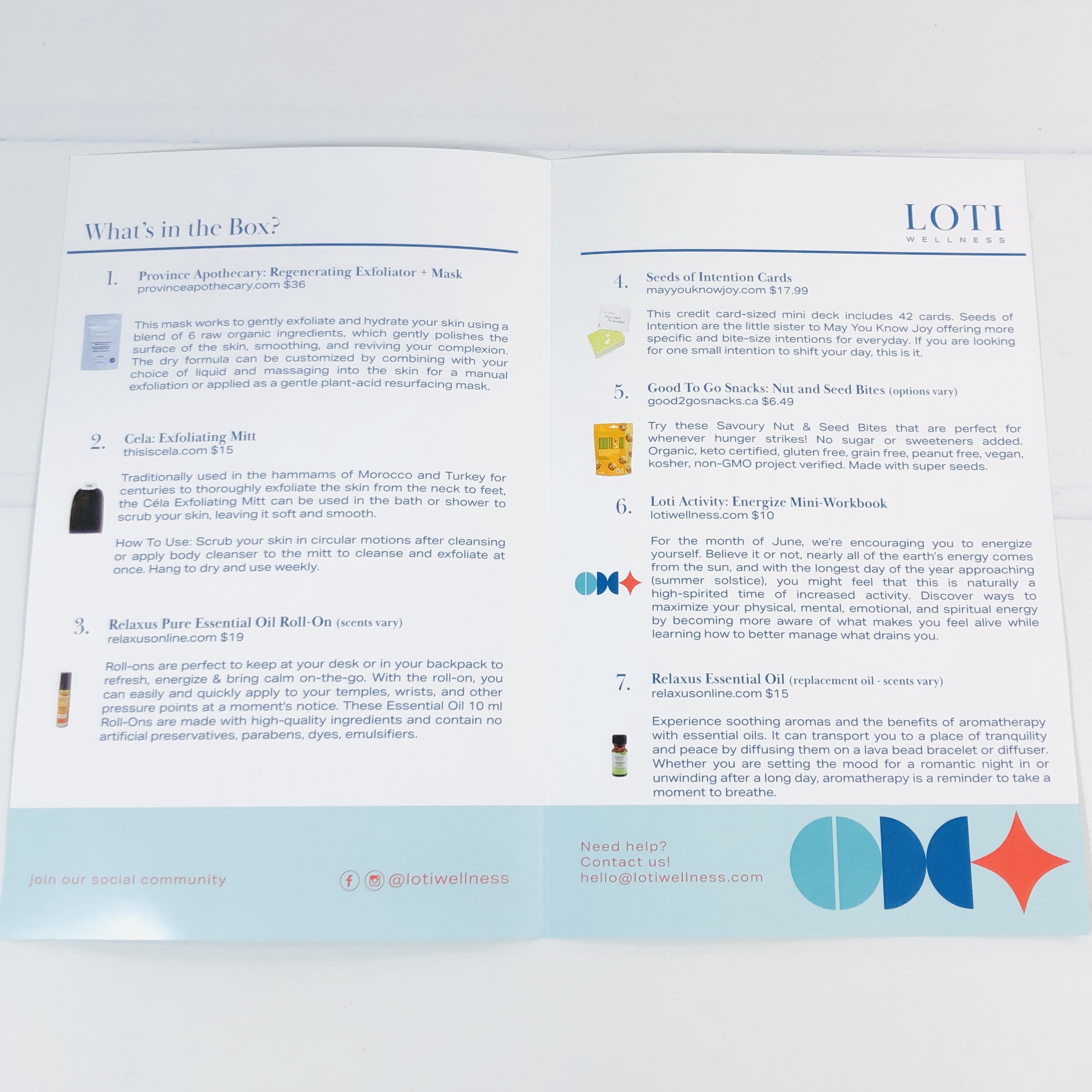 The inside of the brochure listed each item, MSRP, and website so you can stock up on more wonderful items from these brands.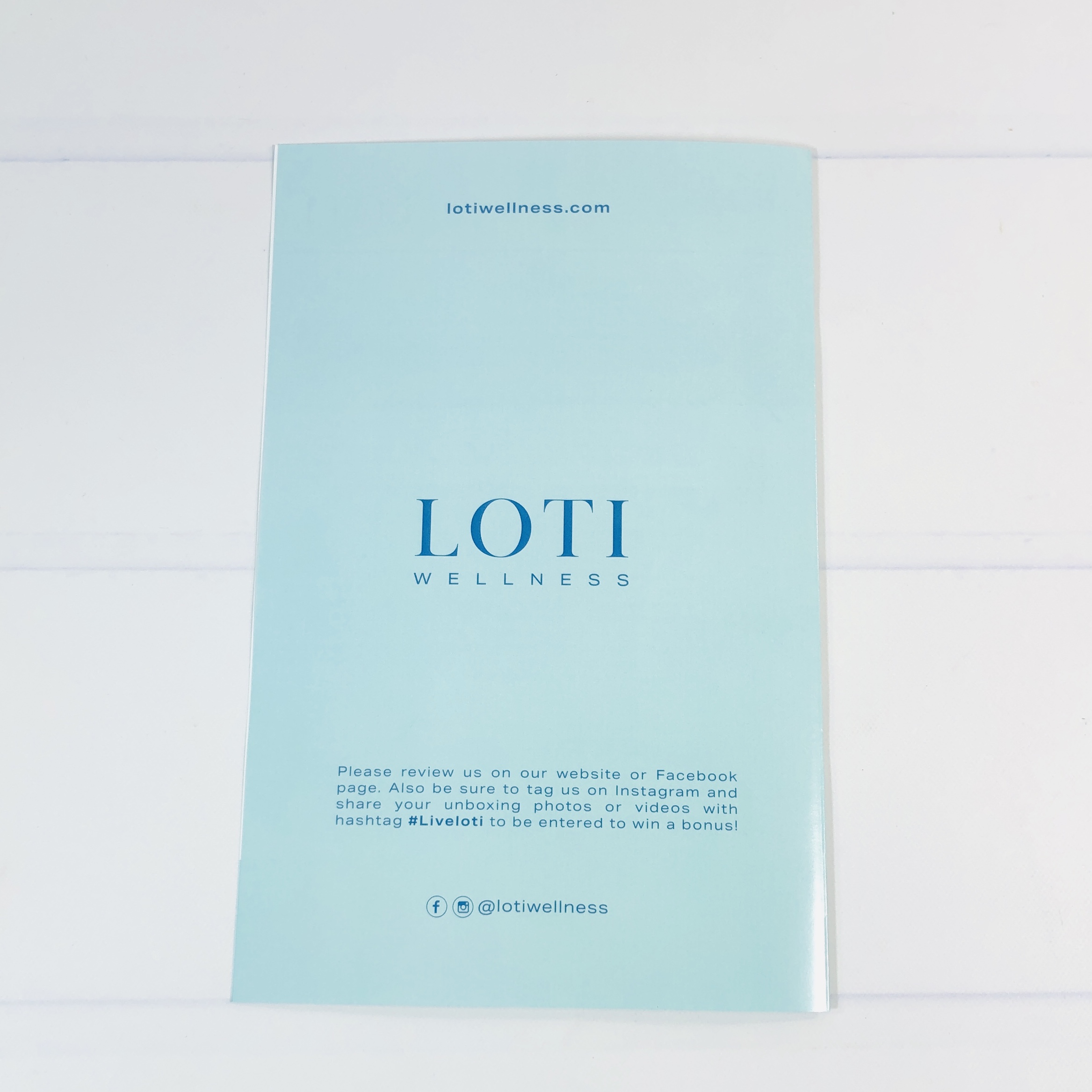 The back of the brochure showed on which social media sites Loti can be found.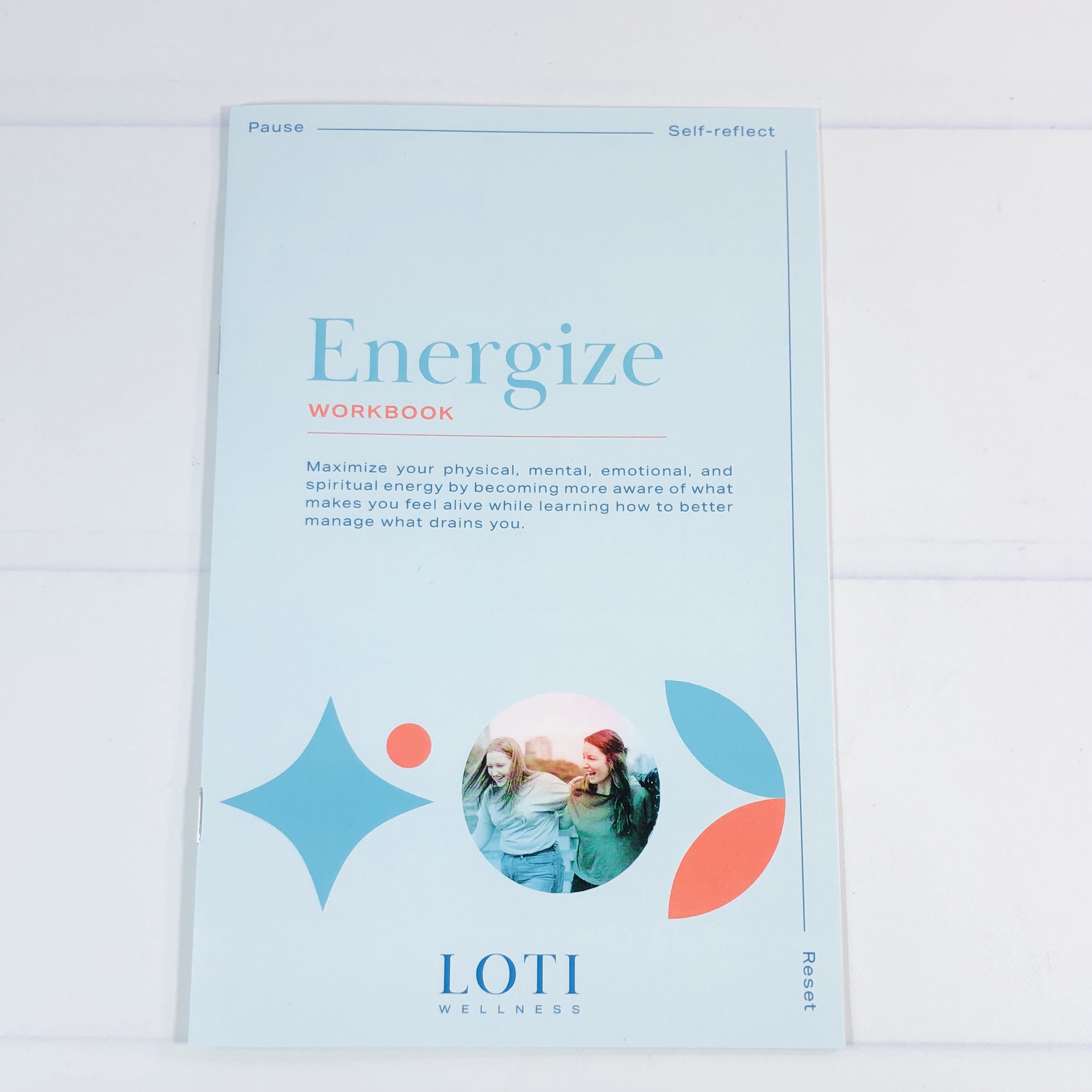 Next up was an ENERGIZE Workbook.
The booklet gave tips on how to track where your energy is directed, discover ways to get more energy, and how to recharge. There were charts and lots of ideas to follow. There were 10 pages total in this booklet.
Some of the items came in their own boxes.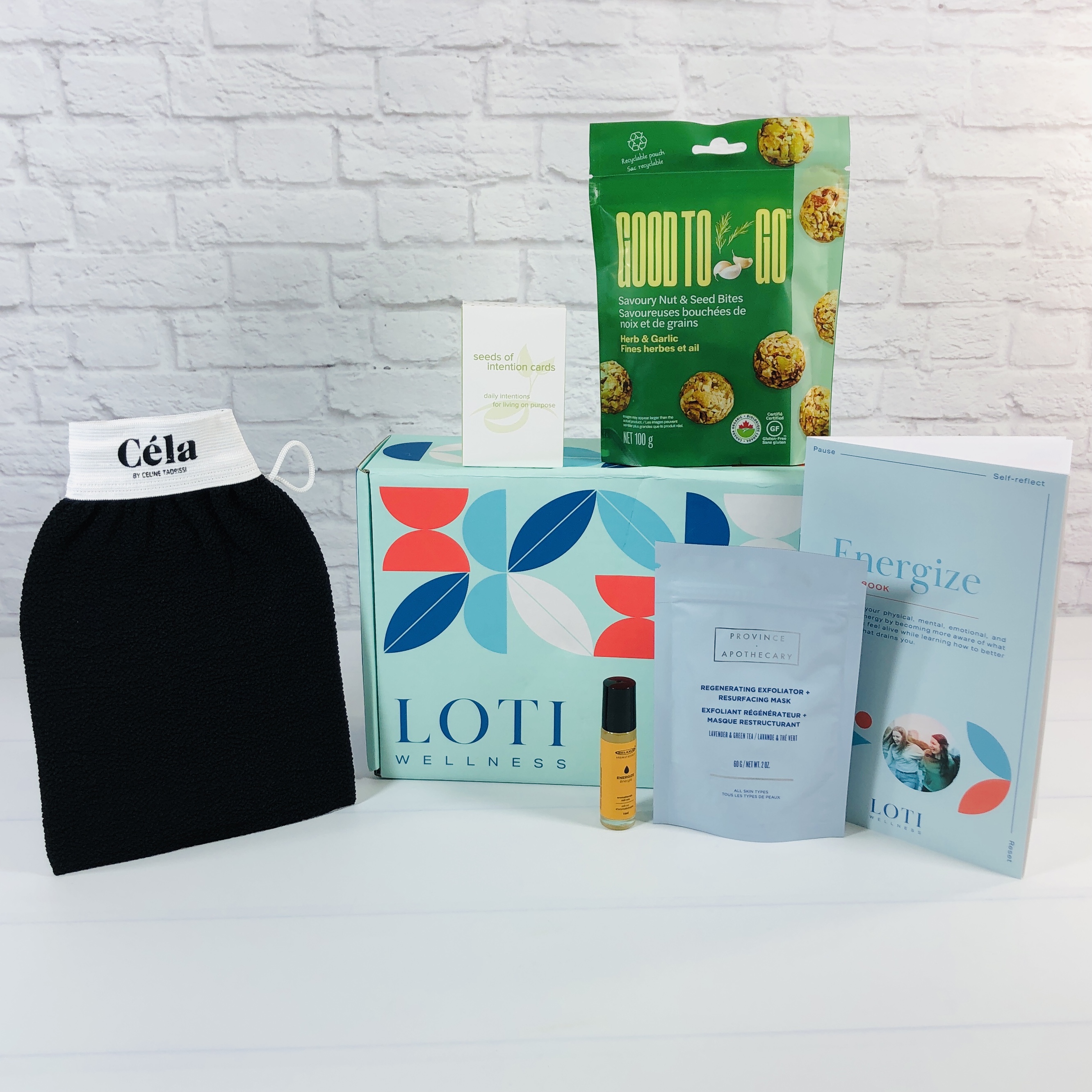 Everything in my box!
Relaxus Pure Essential Oil Roll-On ($19 CAD, about $15.18 USD) I have received three products from this brand through Loti: a diffuser bracelet, an essential oil to replace the sample sent last month (see that at the end of this review), and this rollerball. Guys, I am not loving this brand.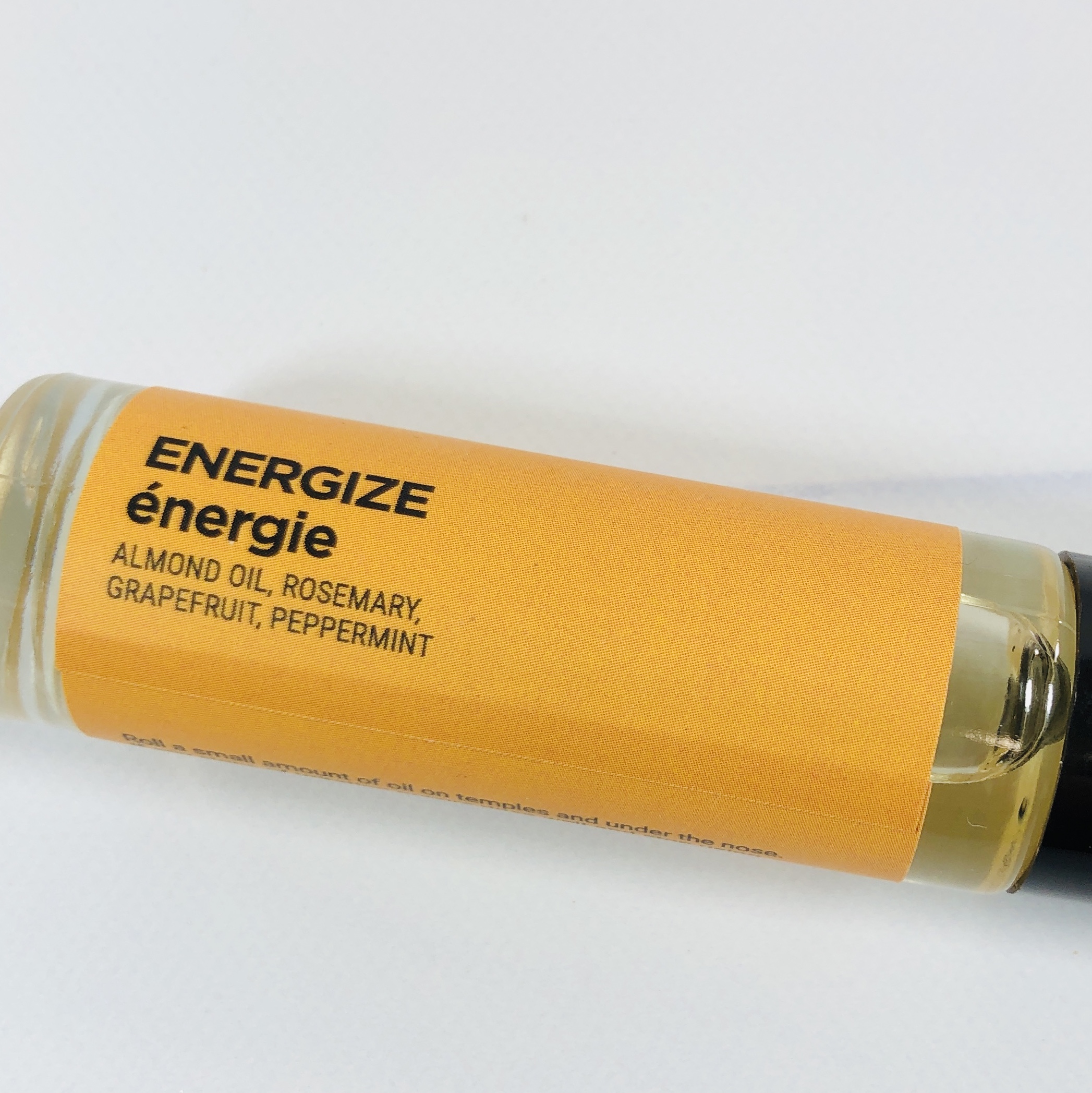 The base here is almond oil and mine was rancid, at least the oil on the outside of the bottle is but every time I remove the lid that's all I can smell. This was well wrapped, I don't believe it's ever been opened, and I couldn't tell when the production date was but as soon as I unwrapped it (which took a knife to do so), I could smell that the oil was off. It also has some rosemary, lemon, and lavender, but my husband said it smelled like furniture polish.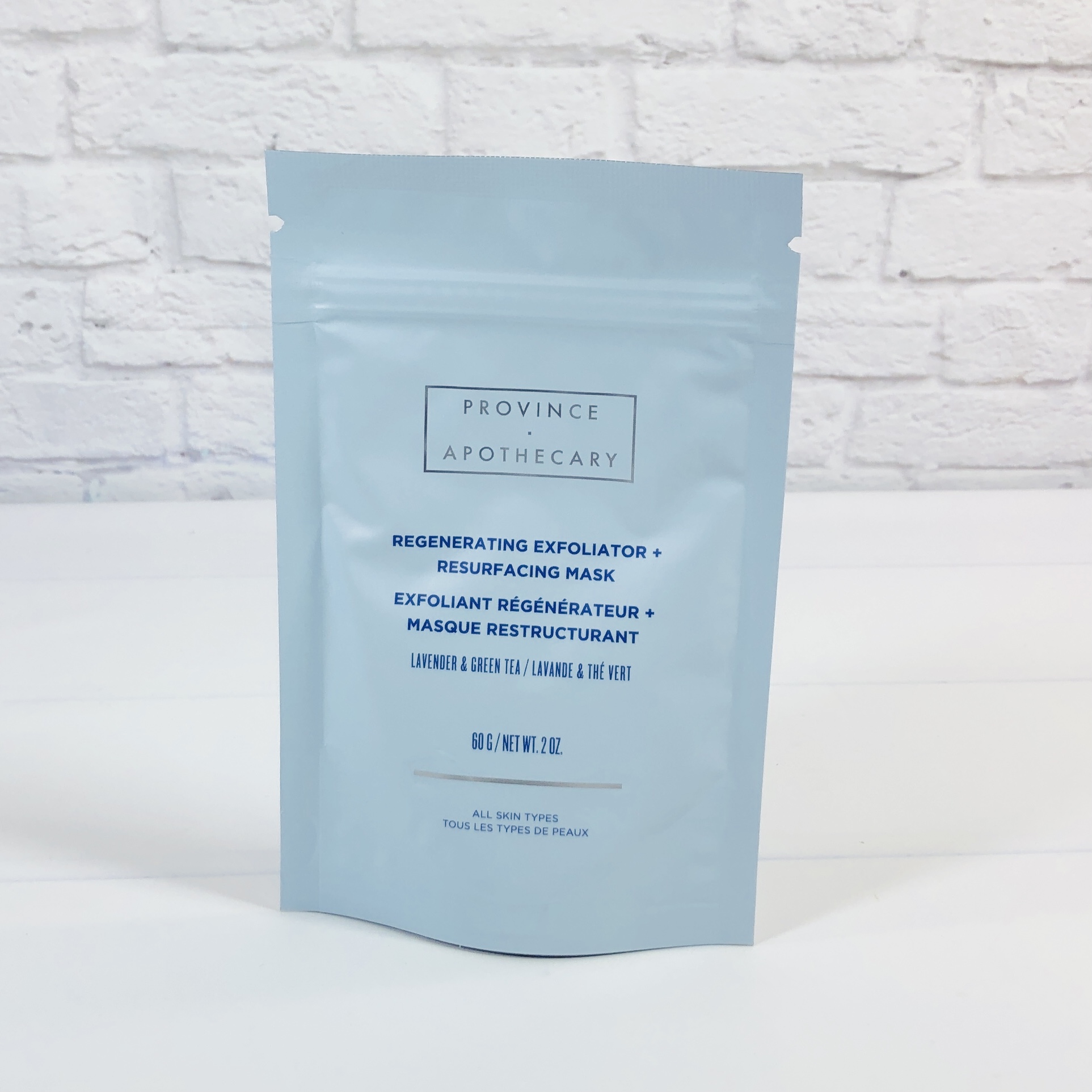 Province Apothecary Regenerating Exfoliator + Mask ($36) We received two exfoliating products this month — one for the face, and one for the body (shown below).
This is a mask and it has ingredients that are practically edible! The instructions say to mix with water or a moisturizing oil cleanser and leave on for 5 minutes before rinsing. The website has even more info, and says to mix it with yogurt or honey depending on your skin's type and needs.
Here's the dry powder.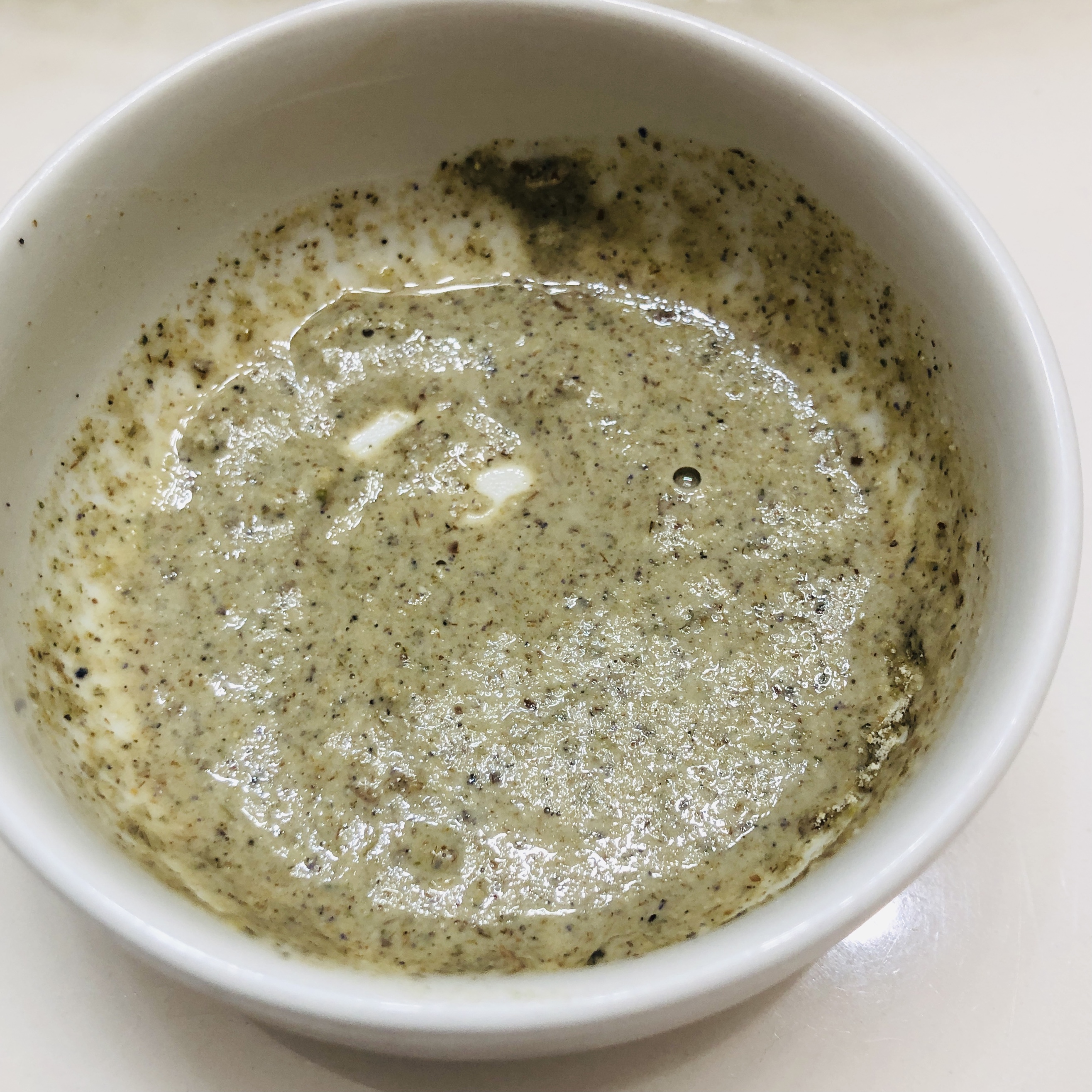 Here it is mixed up with some tap water. I applied it to my face and it provided a very gentle exfoliation, nothing too harsh or powerful. I let it sit for a few minutes before rinsing off in my morning shower. I was happy that it didn't fall off in chunks onto my bathroom floor. The smell reminded me of an adzuki bean exfoliator I used over 30 years ago from The Body Shop, maybe not the best but not too bad, just natural I guess.
Good To Go Snacks Nut & Seed Bites ($4.94) Hmm, these are interesting and although I've tried something similar I'm still not sure if I'm a fan. It's basically a nut bar that is savory rather than sweet or even neutral.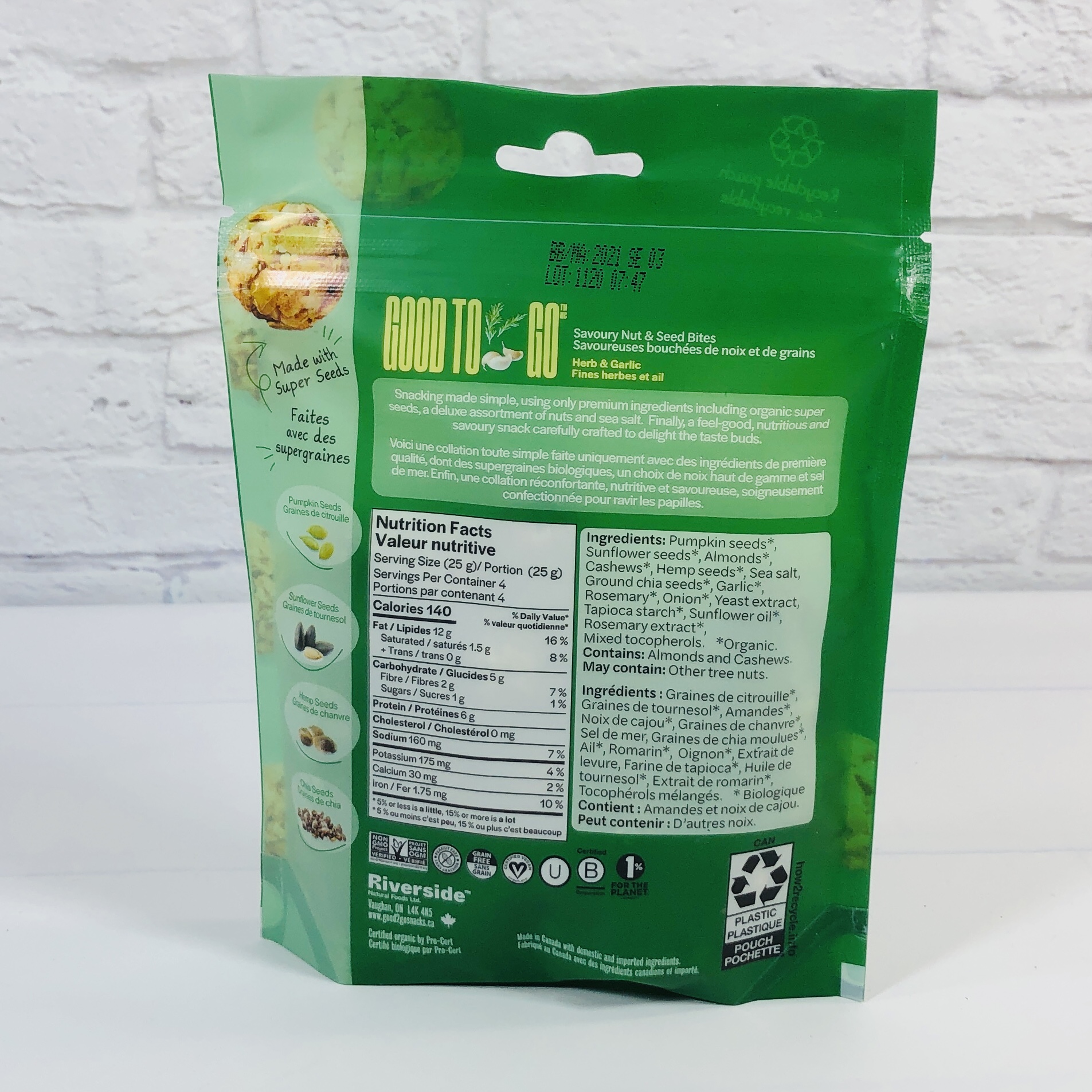 Pumpkin seeds, sunflower seeds, almonds, and other nuts make up the base and it's flavored with garlic, rosemary, and onion.
There are four servings in this re-sealable bag so you can either share or store them for another day. I love nut snacks, and these are fresh and good tasting, maybe a healthier alternative to flavored potato chips?
Cela Exfoliating Mitt ($15) Cela makes a lovely smelling body lotion but I had no idea they made a scrubby mitt!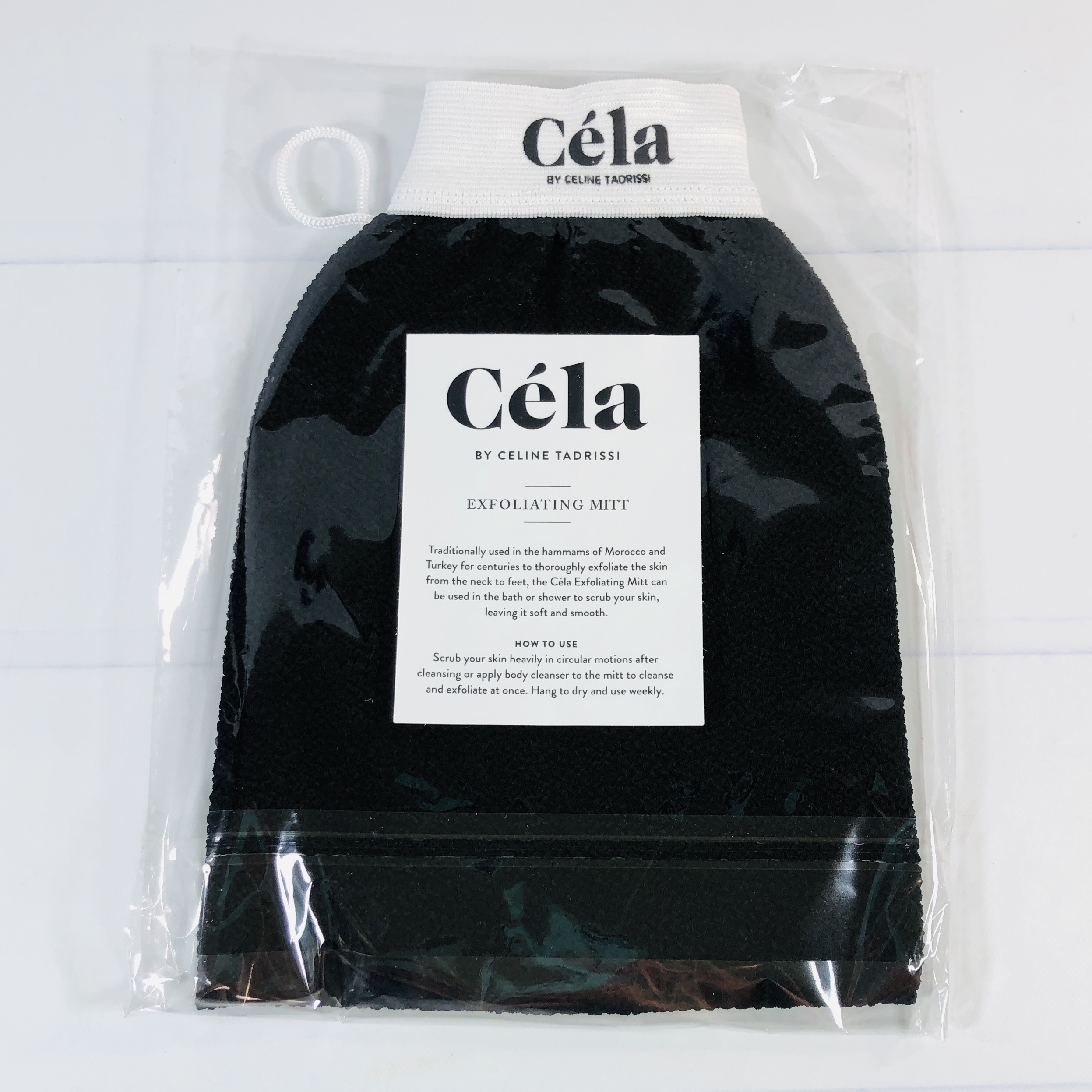 The instructions say to use on clean skin or with shower gel. I used it in my morning shower and let me tell you, this is a heavy hitter, if you have sensitive skin then be careful. It is meant for the body, it's not meant for the face.
I stuck my hand in the top part and it was rather snug. I poured body gel on the mitt and then used it on my arms, legs, elbows, knees, and feet. It's like steel wool but for the body (it's actually plastic or polypropylene or something like that) and I didn't even try to use it on my torso. It states to use once a week and I think that is doable, I can't imagine using it more often but maybe after a while my elbows will be softer, we'll see.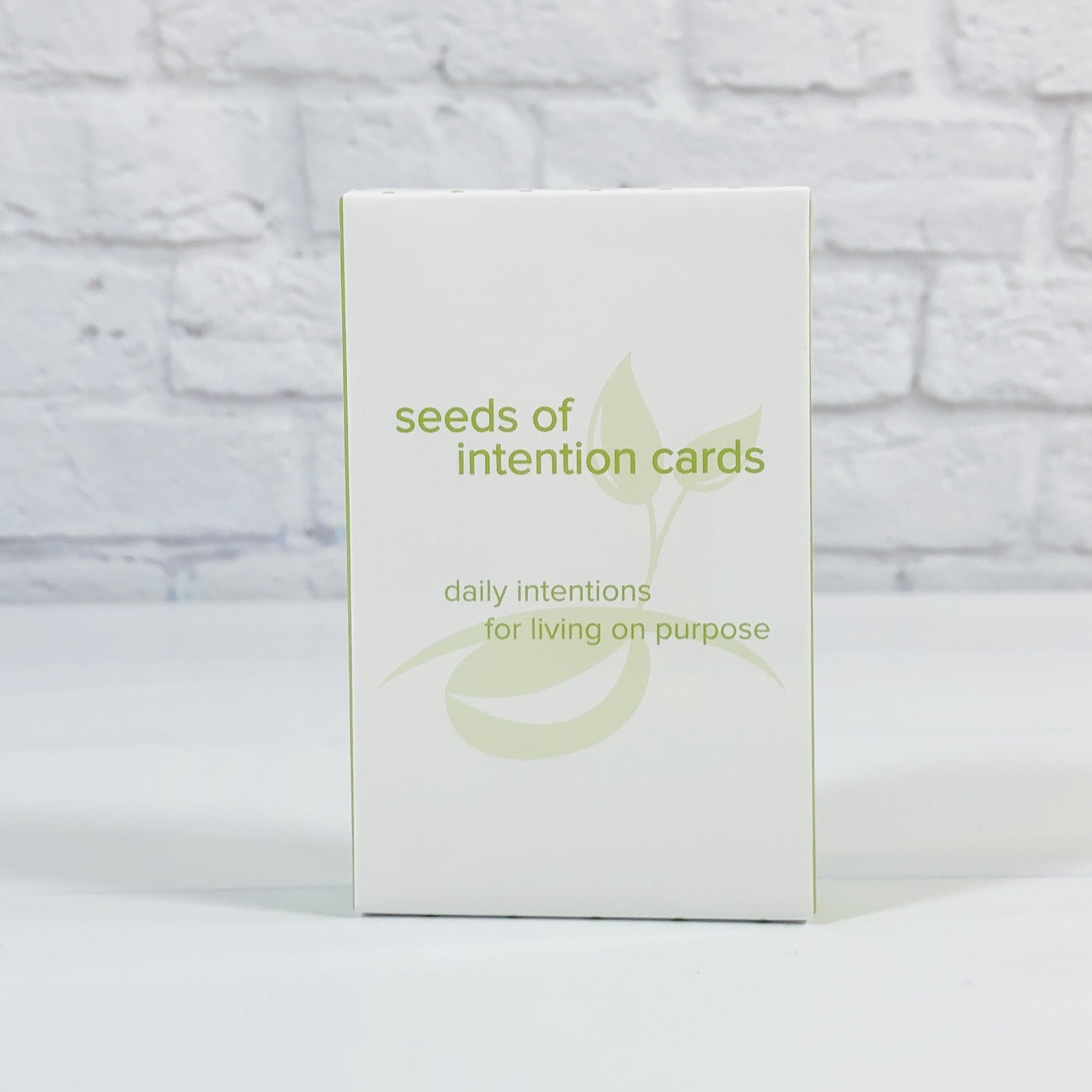 Seeds Of Intention Cards ($17.99 CAD, about $14.38) There are 42 cards in this deck and each one has a bite-sized mantra.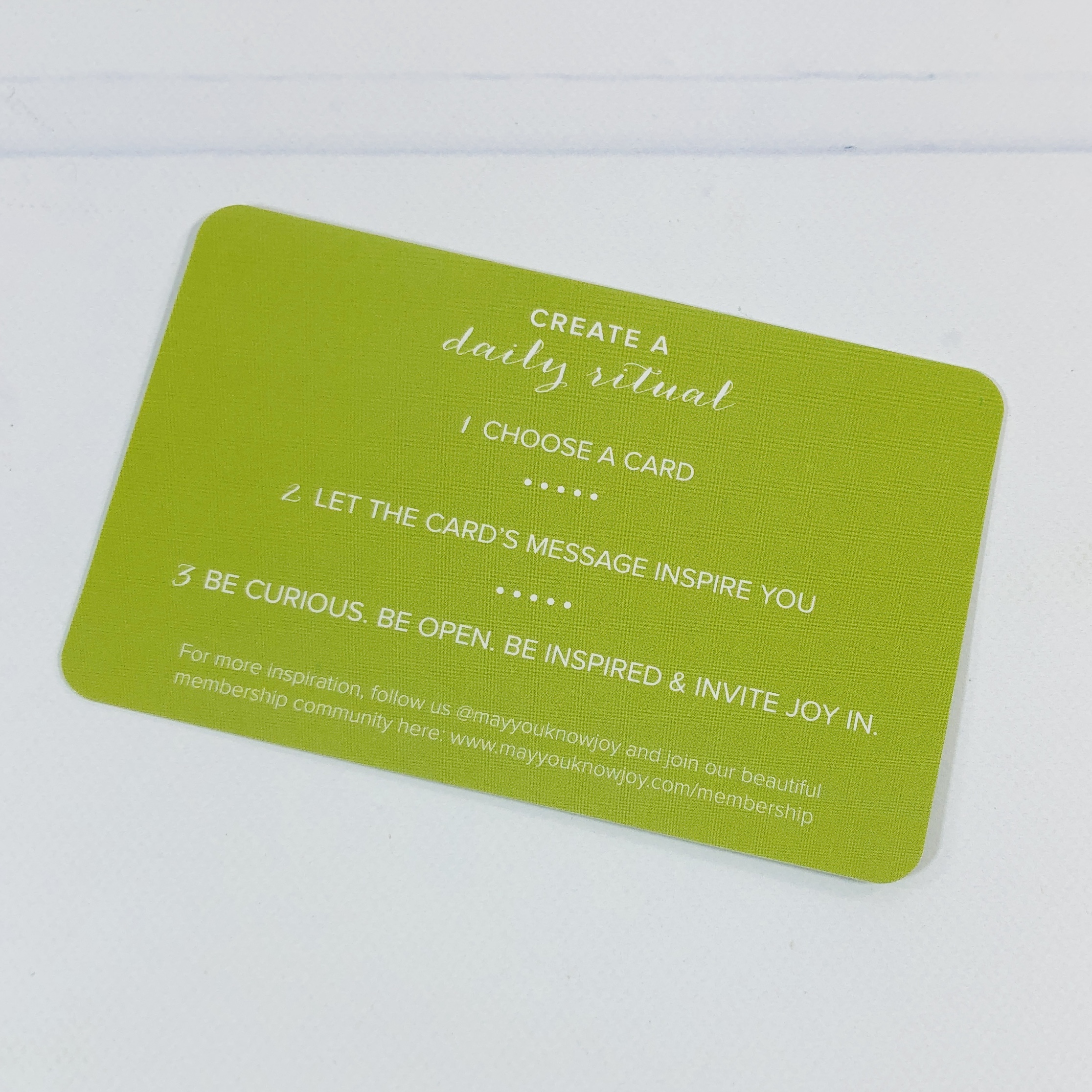 The instructions say to choose a card, let its message inspire you, then live the intention. There was a website listed for more info.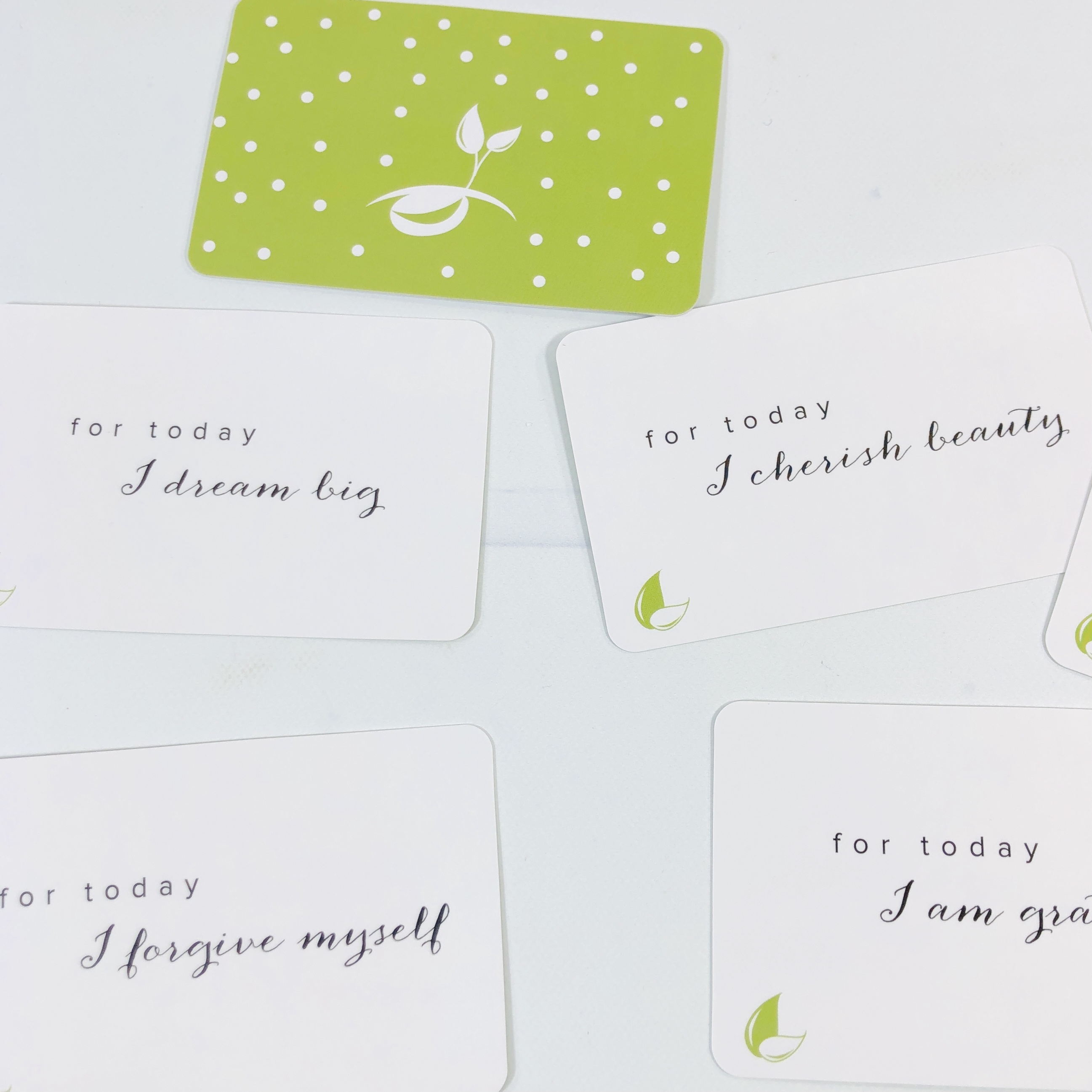 Each card has a doable intention and you can use it to make a small change or a huge one, it's up to you!
Relaxus Essential Oil ($10 CAD, about $8 USD) In a past box we received a diffuser bracelet with a sample of essential oil, but the oil was long gone, maybe it leaked or whatever. This product is a replacement item so I won't go into it in much detail, but new subscribers may not receive this item, or they may get it too as a bonus.
I love the Energize theme in this month's Loti Wellness Box! I especially needed the workbook this month, it gets so hot here in Central Texas this time of year and I tend to get dragged down thanks to the heat and humidity, so I will see if the tips help me find a boost to help me finish out my summer strong (so much to do before fall!). The intention cards help me keep a positive mind set throughout the day, I have a holder on my desk that I can stick a card into and see it often. The scrubby mitt certainly energized my skin! I also enjoyed the face mask which was completely natural and the snack was pretty tasty, even if it is different from what I am used to, and it's growing on me!
What do you think of this self-care subscription?